This was my Mom's go-to recipe for chocolate chip cookies, and we always devoured them as soon as the plate hit the table.
---
Jump to Recipe
---
There was always something about the hint of molasses and the vague infusion of coconut that made these melt in your mouth cookies absolutely divine.
As a kid, I really didn't care how they were made. All I cared about was how delicious they were and how many I could sneak out of the cookie jar before my mom would notice and threaten to hide them from us, or – worse yet – not bake them again.
But when I got older and more interested in cooking and baking, I grew more and more intrigued about what combination was used to create these delicious and magical chocolate chip cookies.
For years, I bugged and bugged and bugged for the recipe, to no avail. Perhaps it was my insistence that I should get the recipe that made her want to hold it as a "family secret" that I was not yet ready to behold.
Perhaps she liked the fact that she was the only person in the world (at least the only person that WE knew) who could whip up a batch of these magical cookies.
Or perhaps she wondered if I would be disillusioned by the actual ingredients.
When she finally caved and handed over the secret recipe for these magical cookies, I was surprised to discover the one ingredient that I have never expected… BRAN FLAKES!
Yes, you read that correctly. Bran Flakes.
Who puts bran flakes in chocolate chip cookies???
How would that ever occur to anyone as possibly being a thing???
But whoever did think of it was absolutely brilliant.
Baking up a batch of Mom's magical chocolate chip cookies
These chocolate chip cookies are super easy to make. First off, here's what you will need.
1/3 Cup Coconut Oil (You can substitute this with margarine or regular cooking oil, but – by doing so – you lose that hint of coconut in the final flavors)
1 Egg
1/2 Cup White Sugar
1/2 Cup Brown Sugar
1 Tsp Vanilla
1/2 Tsp Salt
1 Cup Flour
1/2 Tsp Baking Powder
1/2 Tsp Baking Soda
1 Cup Bran Flakes
2/3 Cup Semi-Sweet Chocolate Chips (although you can use milk chocolate if you prefer)
All you need to do is blend the coconut oil, sugar, egg, vanilla, and salt until they are thoroughly mixed.
Next step, you're going to add the flour, baking powder, and baking soda and mix on high for about 2 to 3 minutes.
Last but not least, you want to gently fold in the chocolate chips and the bran flakes.
You don't want to mix the bran flakes too much because it's important that they stay relatively cold as part of the baking process.
Once the mix is thoroughly blended, simply spoon about a small meatball's size worth of the cookie dough onto a greased cookie sheet and then bake at 375°F for 10 to 12 minutes.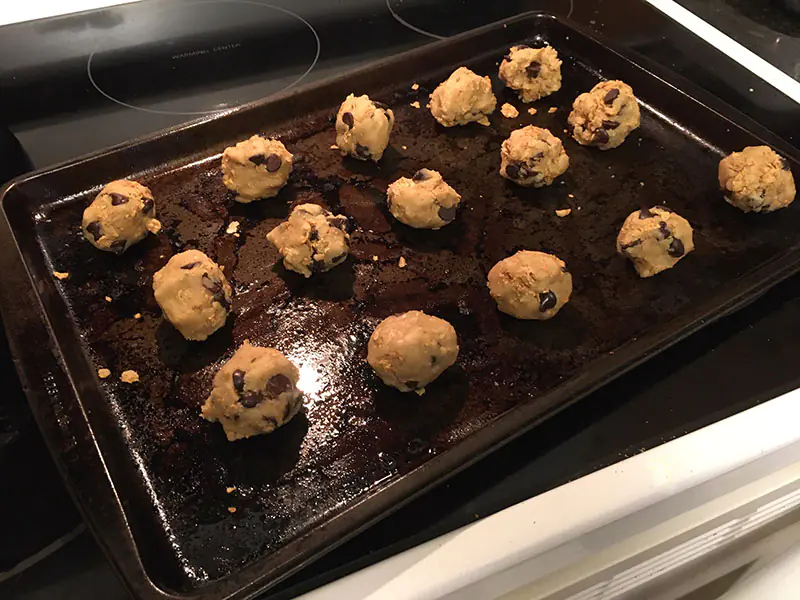 Delicious (And Healthy????) Chocolate Chip Cookies
I'm not sure if these are the healthiest chocolate chip cookies that you could possibly bake… or at least the healthiest chocolate chip cookies that don't taste like feet… but I feel like they must come pretty close. After all, brown sugar is considered healthier than white sugar, and this recipe is half and half. Dark chocolate is supposed to be healthier than milk chocolate, so another plus there. And, of course, bran flakes, which provide about 5g of fiber for each batch of cookies.
But when it comes to chocolate chip cookies, are we really thinking health benefits??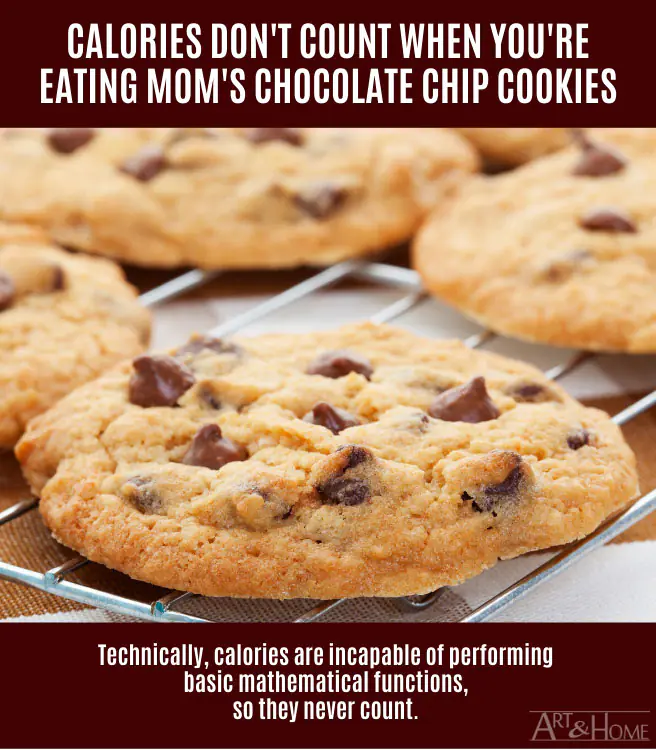 Options & Variations
Although the original recipe is always the best, you can use the base and change things up a bit if you so desire.
For example, replace the semi-sweet chocolate ships with white chocolate chips and add a 1/2 cup of macadamia nuts for a delicious white chocolate macadamia nut version.
Or, for a festive variation, you can replace the dark chocolate chips with red and green Christmas M&Ms to create a delicious plate of Christmas cookies.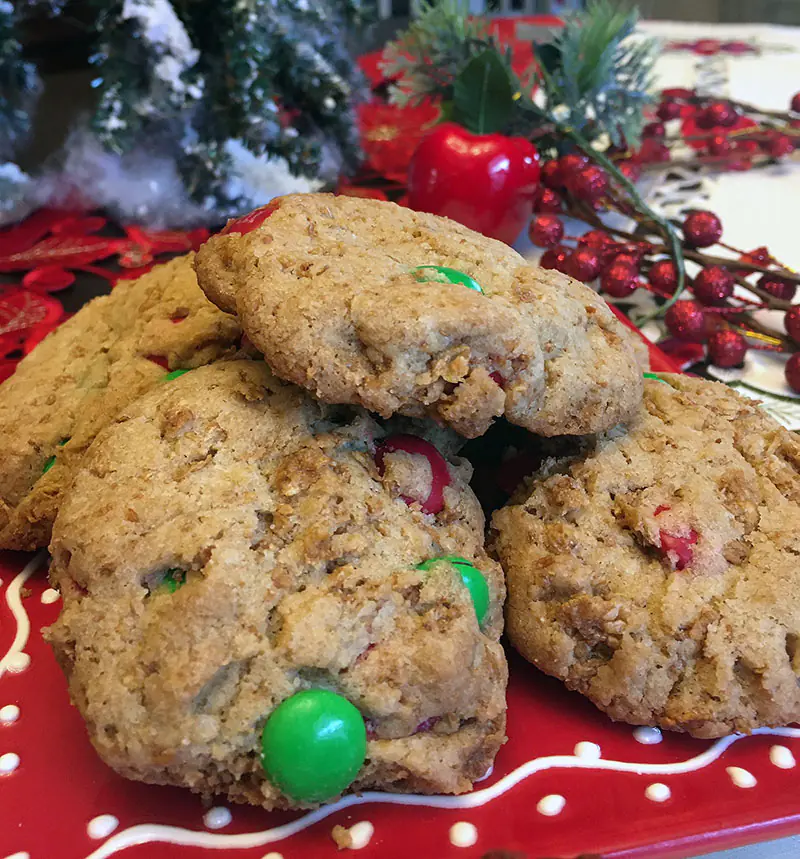 Try them for yourself and let us know!
We'd love to hear what you think of these magical chocolate chip cookies. Please let us know in the comments below!!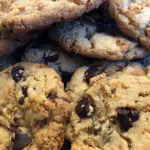 Print Recipe
Mom's Magical Chocolate Chip Cookies
This was my Mom's go-to recipe for chocolate chip cookies, and we always devoured them as soon as the plate hit the table.
Equipment
Measuring Cups and Spoons

Electric blender

Cookie sheet
Ingredients
1/3

Cup

Coconut Oil

1

Large

Egg

1/2

Cup

White Sugar

1/2

Cup

Brown Sugar

1

Tsp

Vanilla Extract

1/2

Tsp

Salt

1

Cup

All-Purpose Flour

1/2

Tsp

Baking Soda

1/2

Tsp

Baking Powder

1

Cup

Bran Flakes

2/3

Cup

Semi-Sweet Chocolate Chips
Instructions
Blend coconut oil, eggs, sugar, vanilla extract, and salt together in a large mixing bowl

Add flour, baking powder, and baking soda, and mix on high until well blended

Gently fold in bran flakes and chocolate chips

Spoon 1 Tsp at a time onto a greased cookie sheet

Bake for 10 – 12 minutes until golden brown