When creating your festive decorations, don't forget to look up. Through the creative use of ribbons, bows, garlands, ornaments, and more – your everyday chandelier can be transformed into a stunning Christmas masterpiece. Beautifully decorated Christmas chandeliers add a unique and delightful touch of holiday spirit to a home quickly and easily.
Here are just a few of my favorite finds from Pinterest (ok… maybe more than a few… but it's hard to contain myself sometimes) examples of exquisitely decorated Christmas Chandeliers.
Ornamental Christmas Chandelier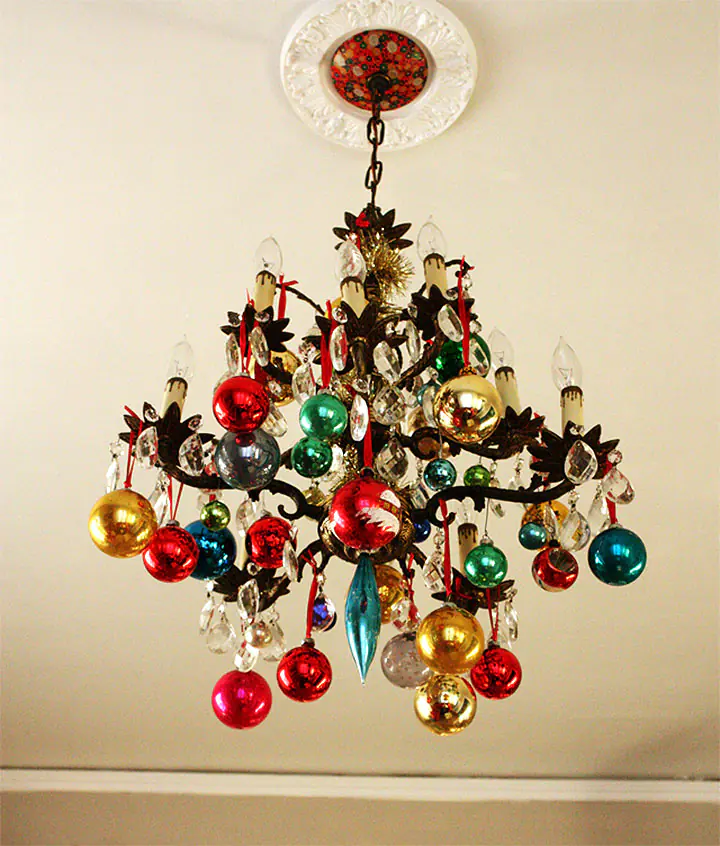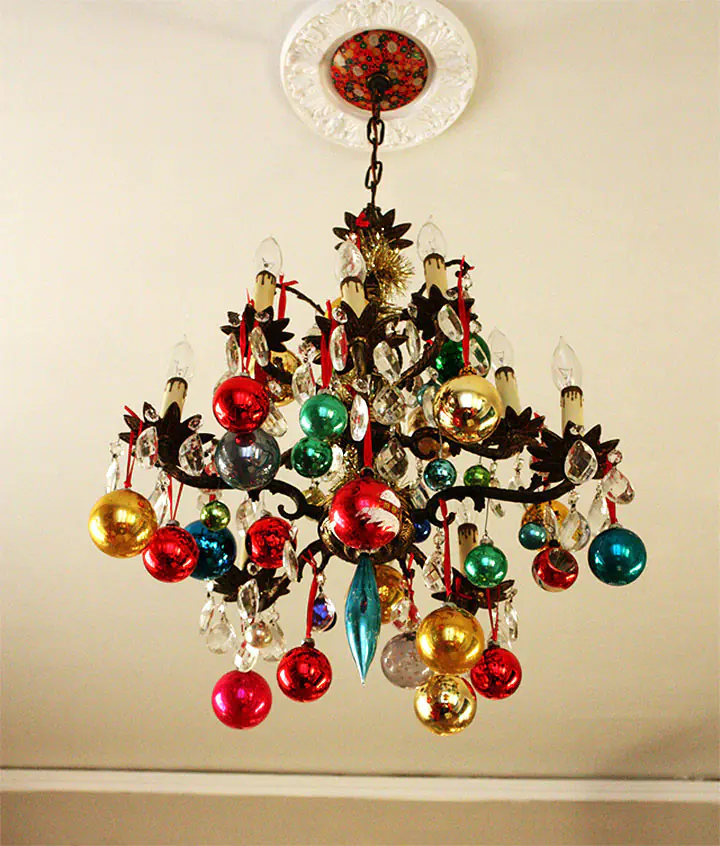 The rustic black & crystal chandelier creates a dramatic backdrop for the colorful Chrismas ornaments, creating a colorful display. The colors in the decorations match the flashing on the ceiling, which adds an extra layer of fun.
Cascading Gold Ornaments Chandelier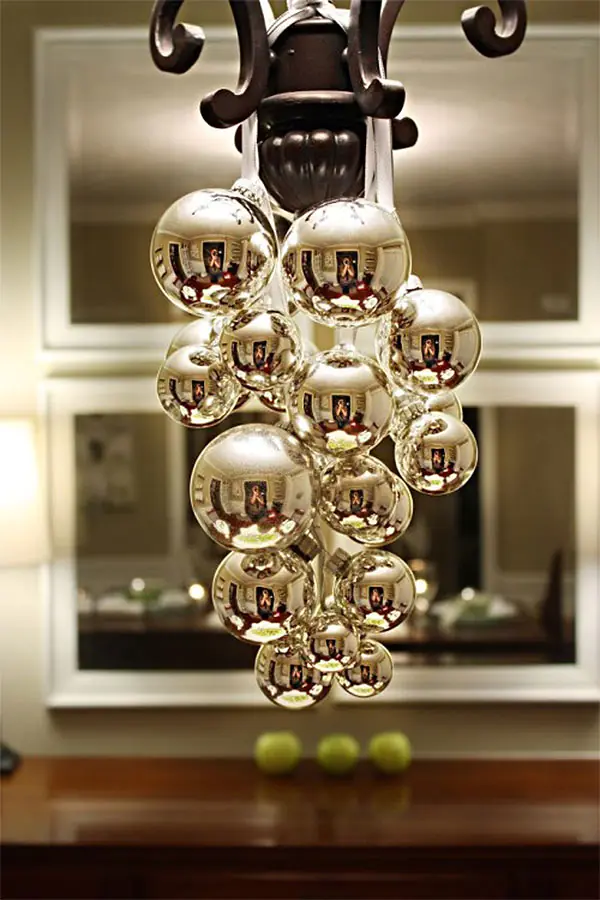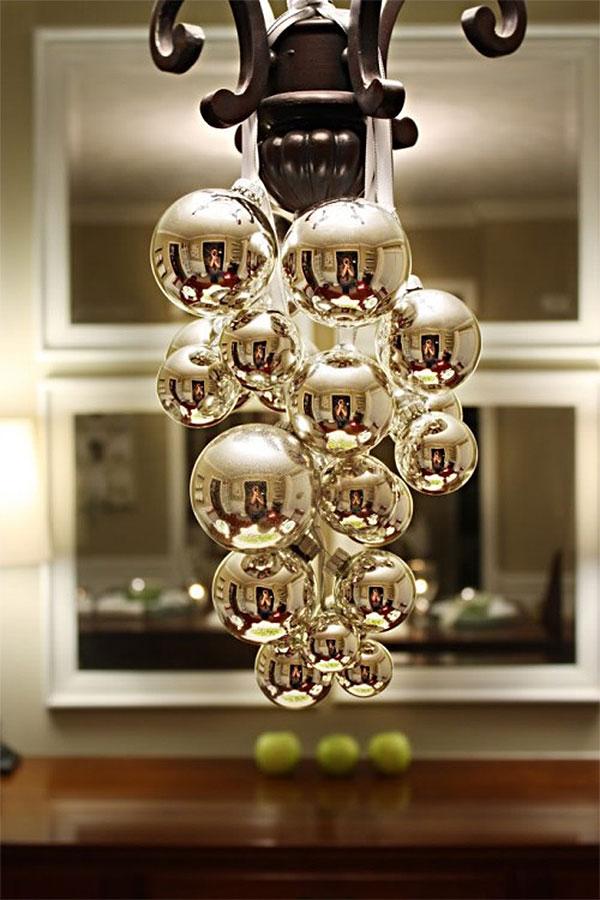 A collection of gold Christmas ornaments are strung on silky white ribbons to create an elegant extension to the existing light fixture. Of course, one of the downsides of this design is the number of times you show up in the picture you take of it. I count 11 times, but I might have missed one.
Country Christmas Charm Pine Light Fixture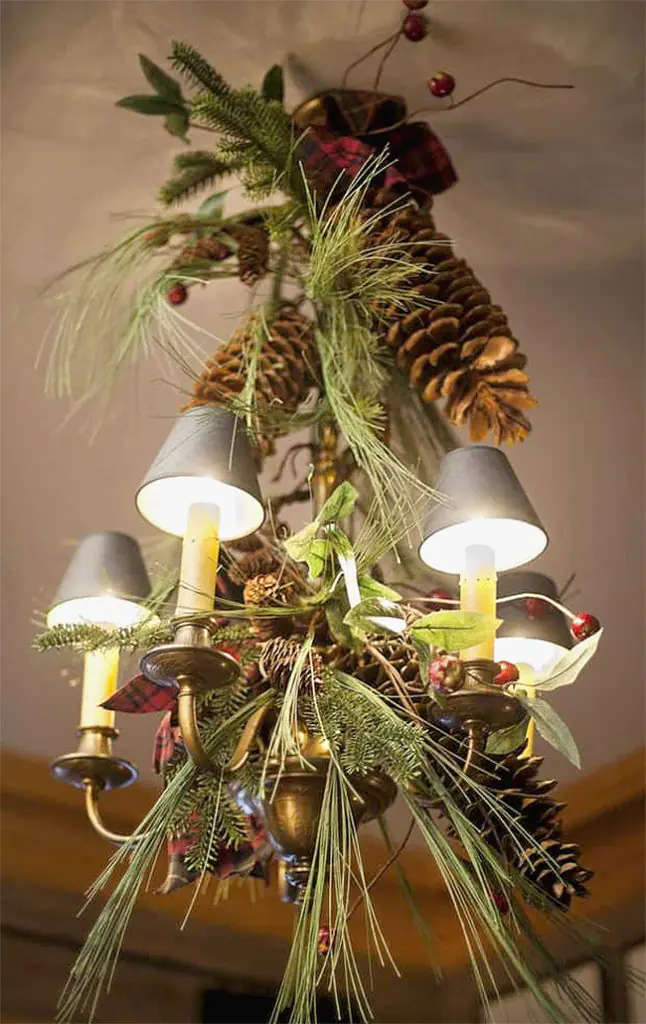 Pine, pine, and more pine. Simply keep adding elements of pine until you're happy with the results and then finish it off with a few red berries and plaid bows.
Red and White Christmas Chandelier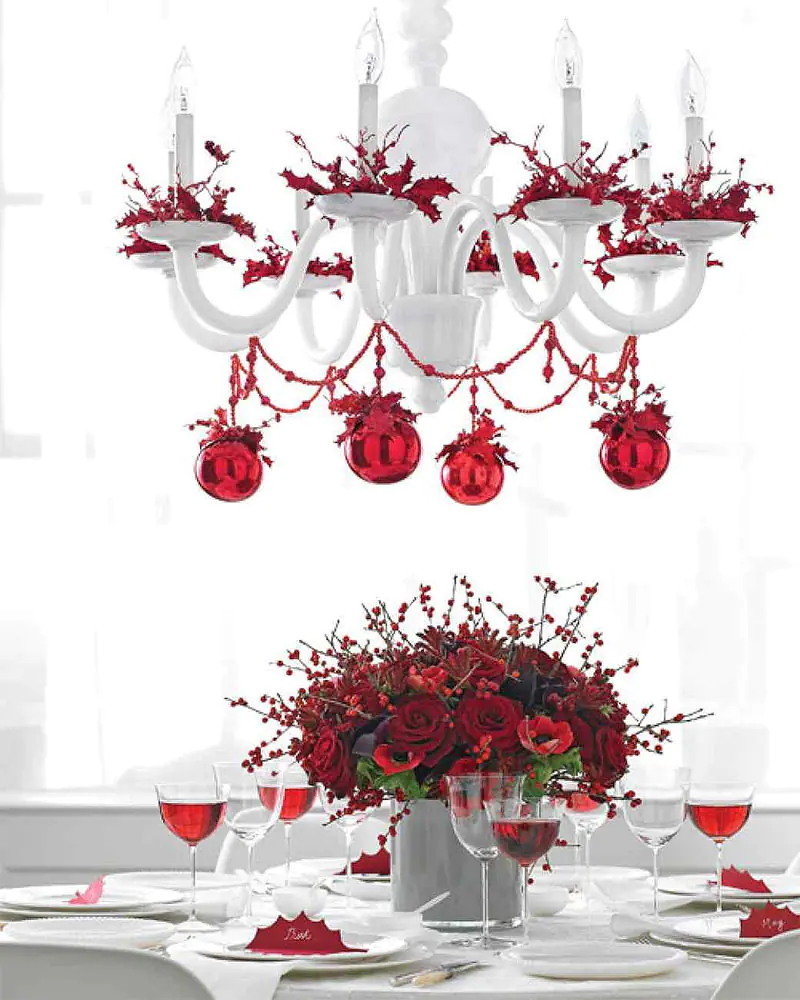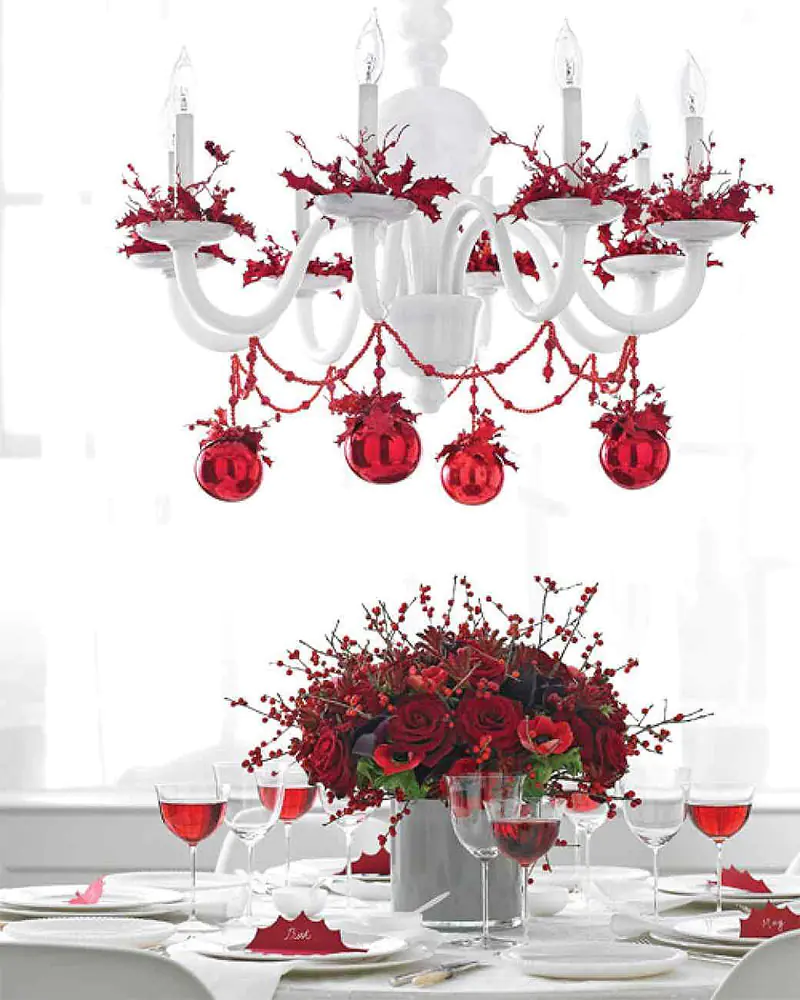 Part of a beautiful Red & White table, this red and white chandelier is deliciously striking!
---
---
Glamorous Silver & Gold Christmas Chandelier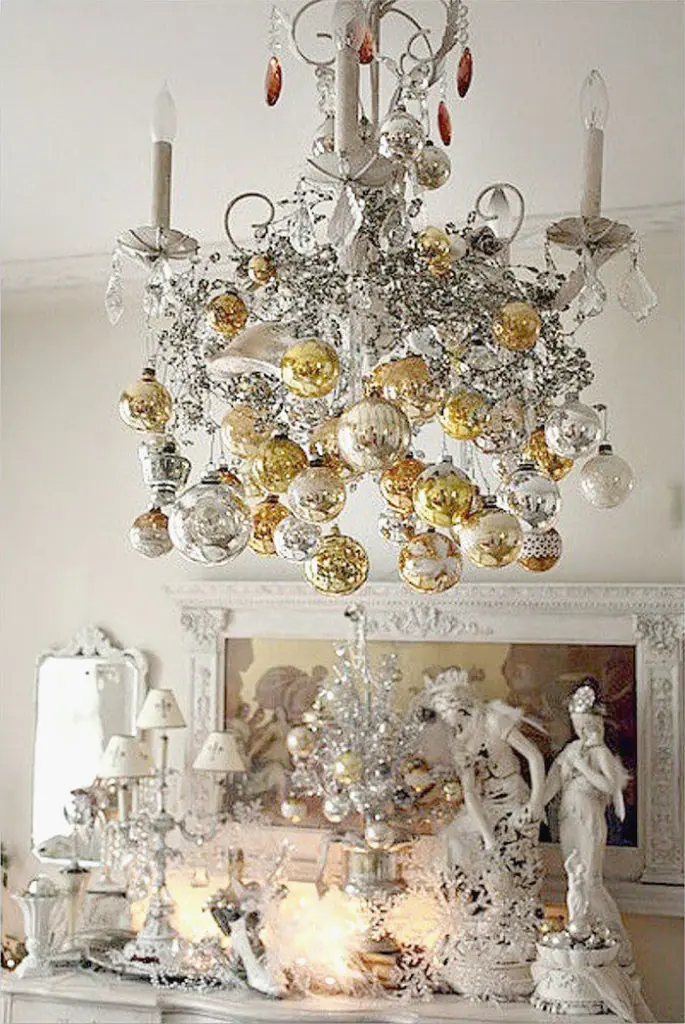 A very glamorous Christmas-inspired hanging light featuring gold and silver ornaments that positively sparkle!
Christmas Poinsettia Chandelier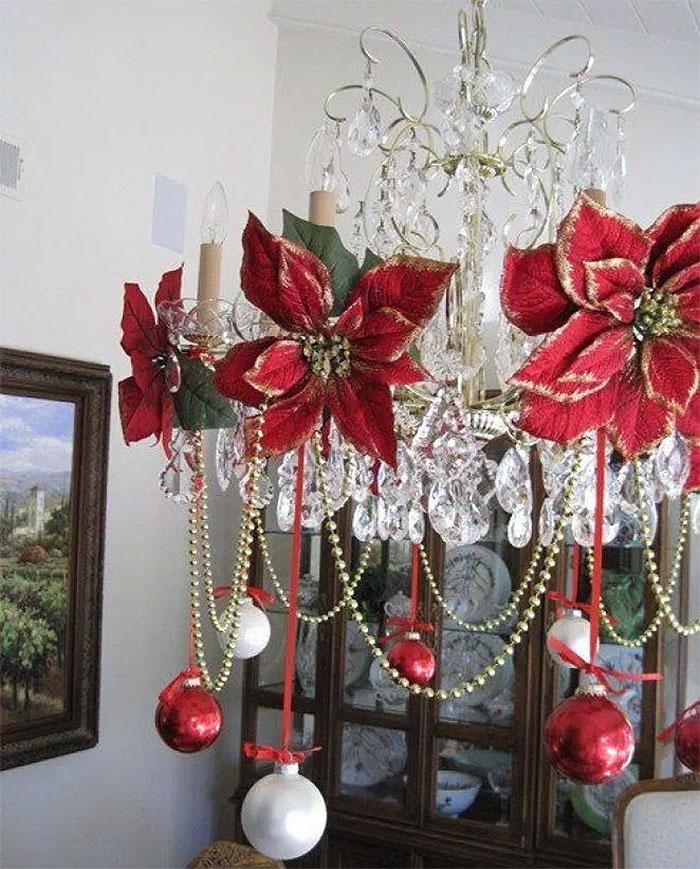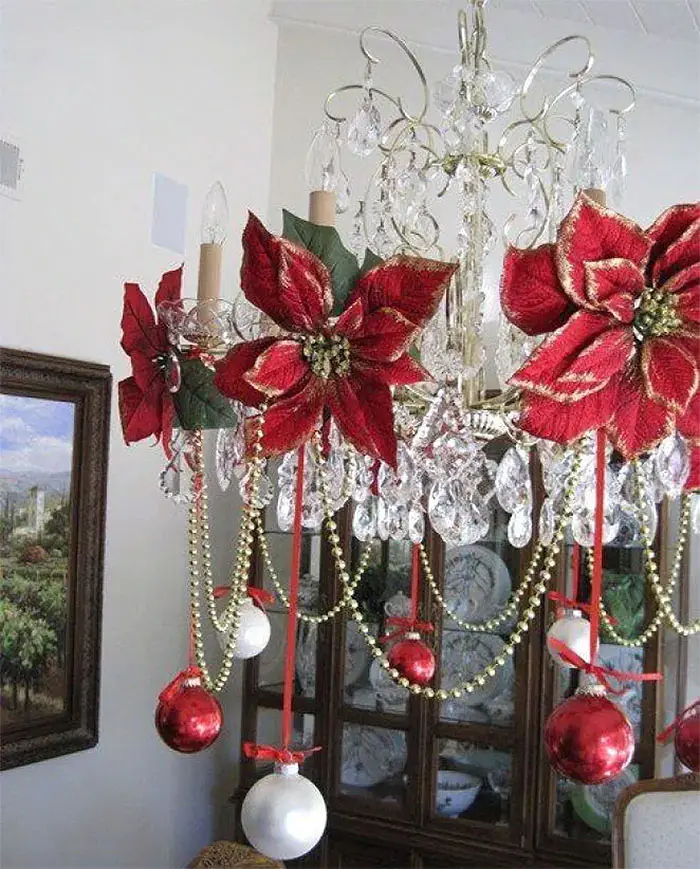 Red and white Christmas ornaments, gold beads, and delightful poinsettia clips are used to festoon this crystal chandelier.
Cool & Sophisticated Christmas Colors Chandelier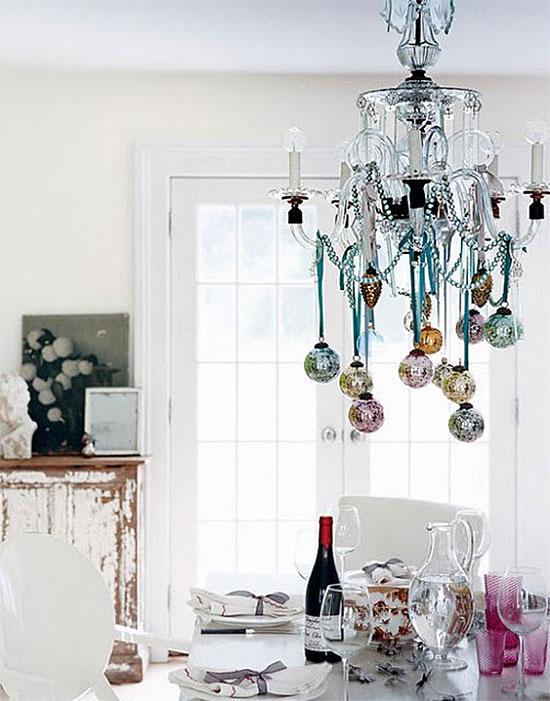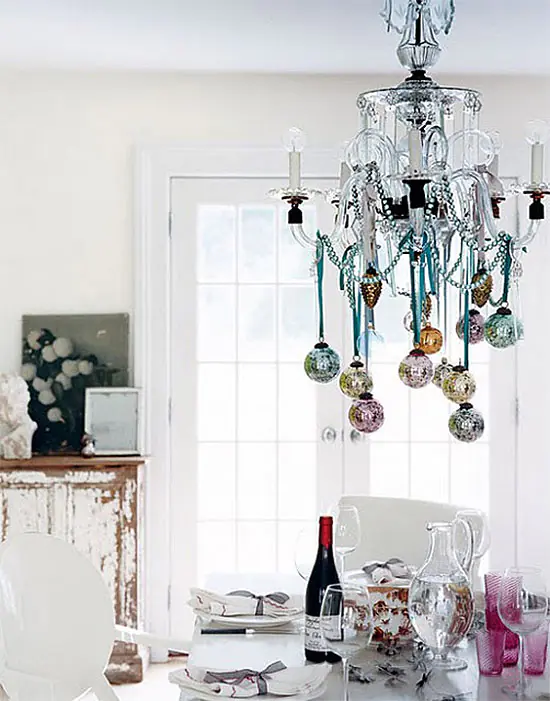 Cool Christmas colors adorn a sophisticated Christmas chandelier.
Rustic Twig Wreath Hanging Light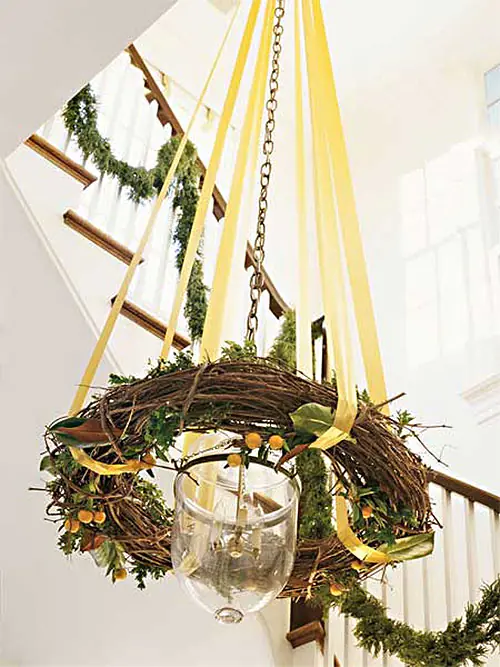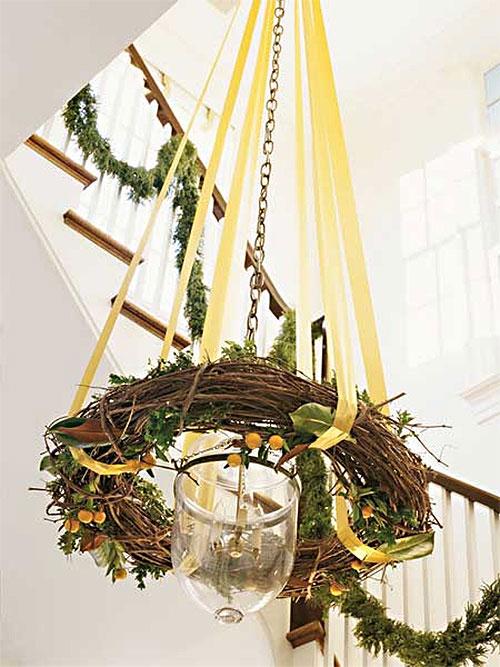 Using some ribbon (whatever color you choose), you can suspend a twig wreath around your existing light fixture to create a dramatic Christmas display.
Charming Farmhouse Holiday Lighting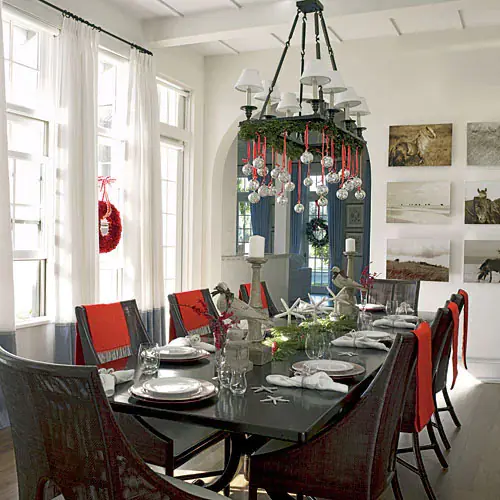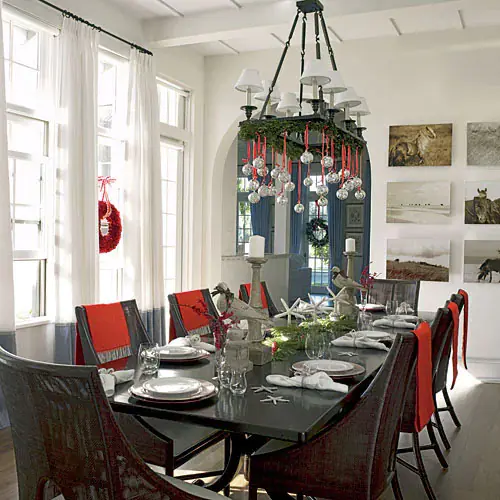 A black and white iron hanging light is giving a festive makeover through the addition of some green garland, red ribbon, and silver ornaments.
Holly Berry Balls & Bells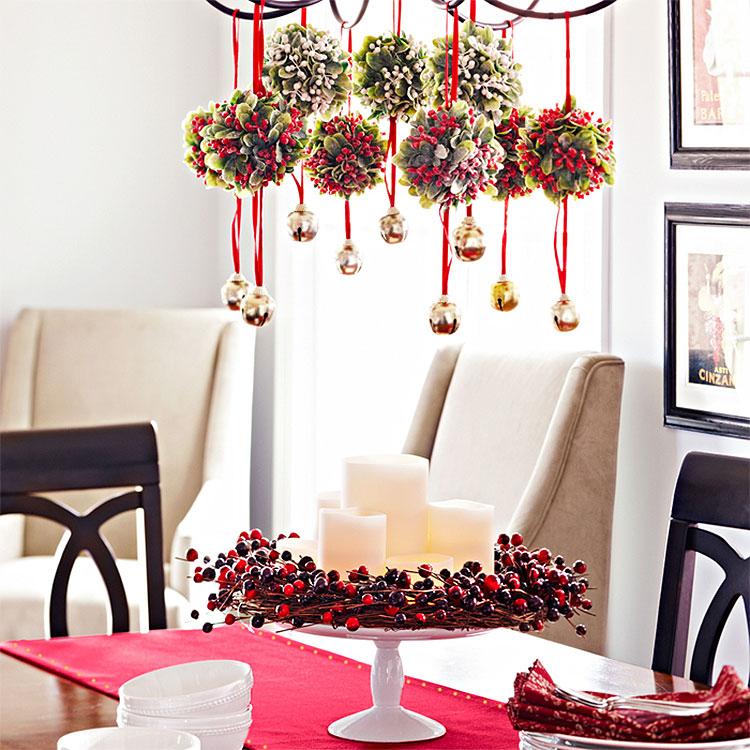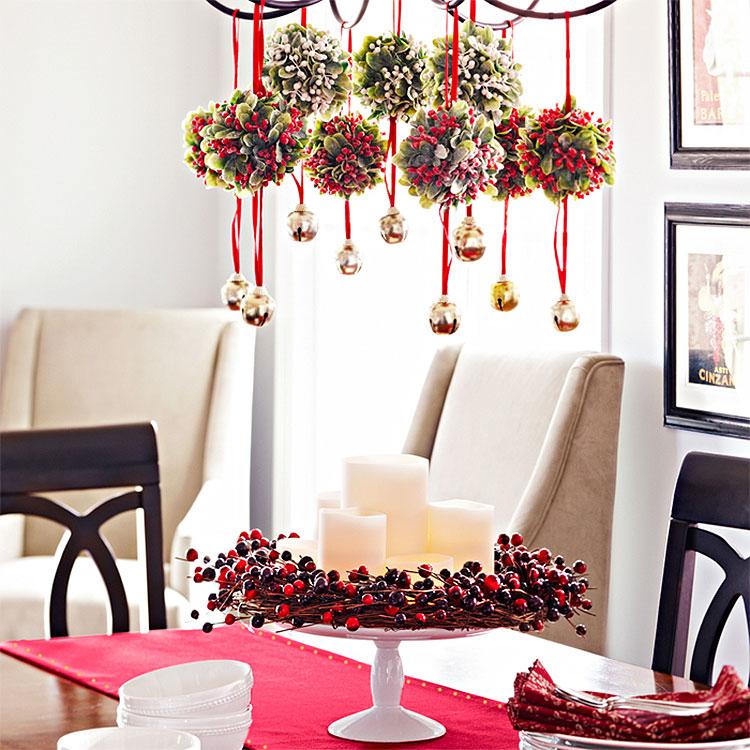 Try saying THAT three times fast! A simple, inexpensive, but delightful seasonal update to any hanging light fixture.
Simple Red & Gold Christmas Ornaments Chandelier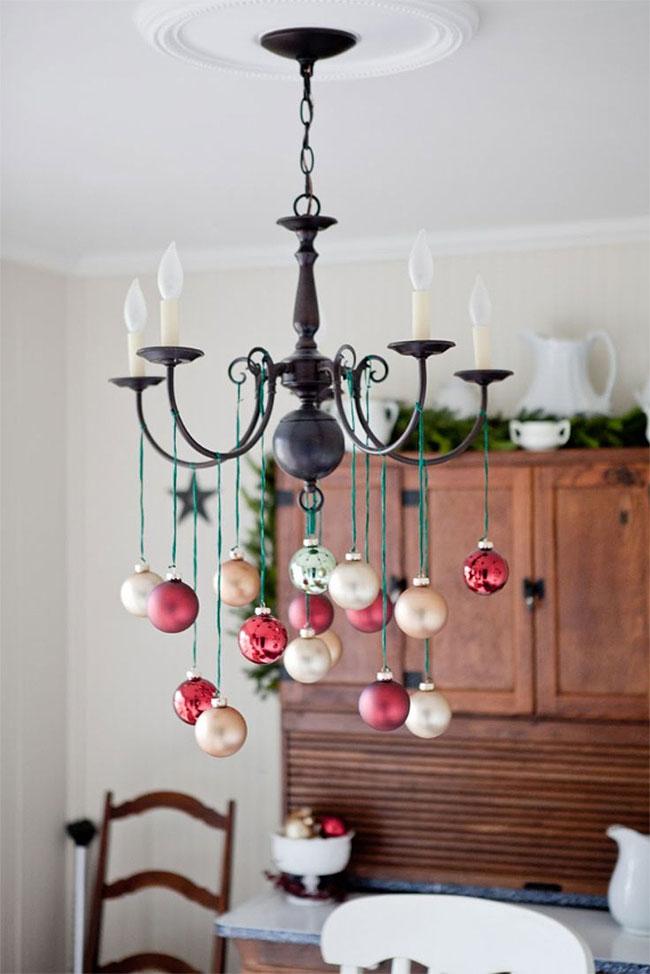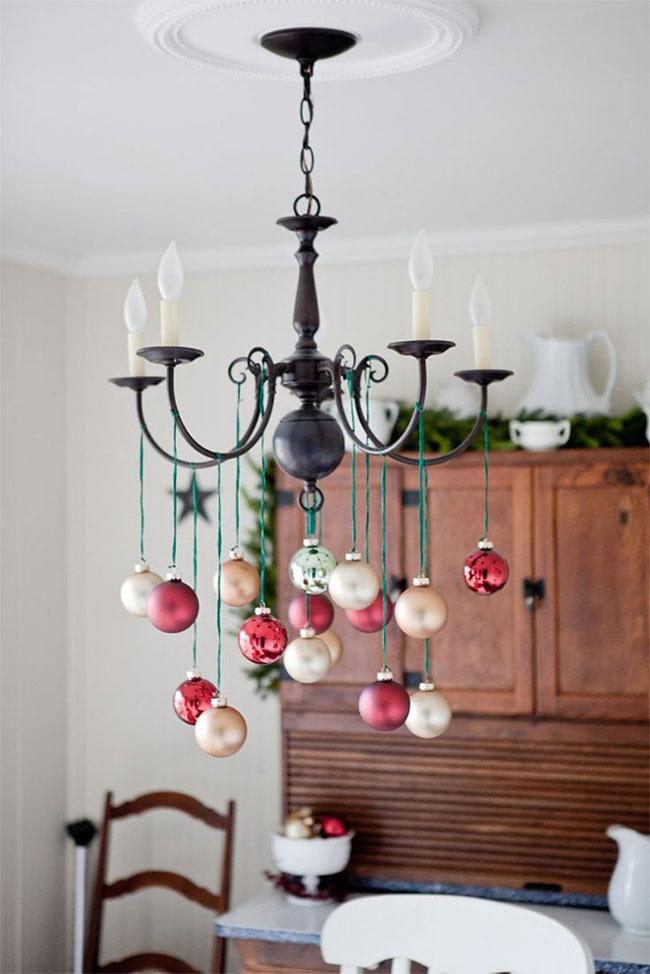 A mix of Red & Gold Christmas ornaments are suspended by green ribbon. So easy. So effective. So quaint.
Christmas Berries & Bows Hanging Light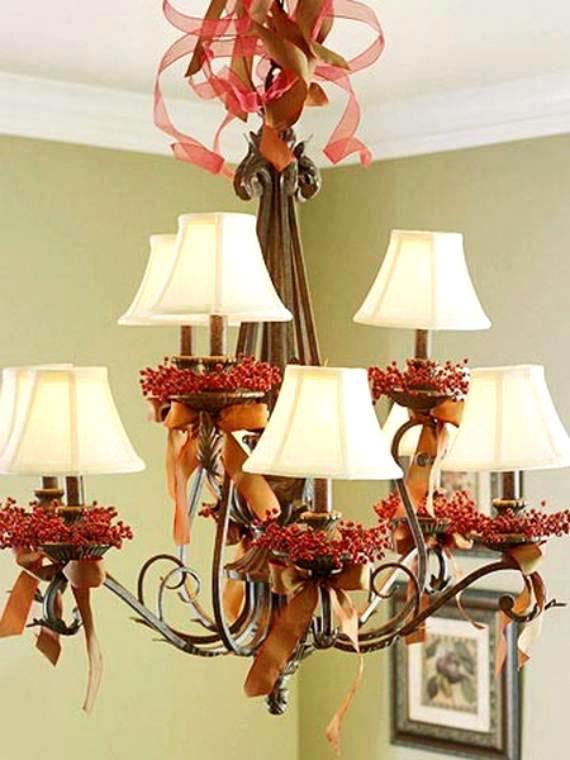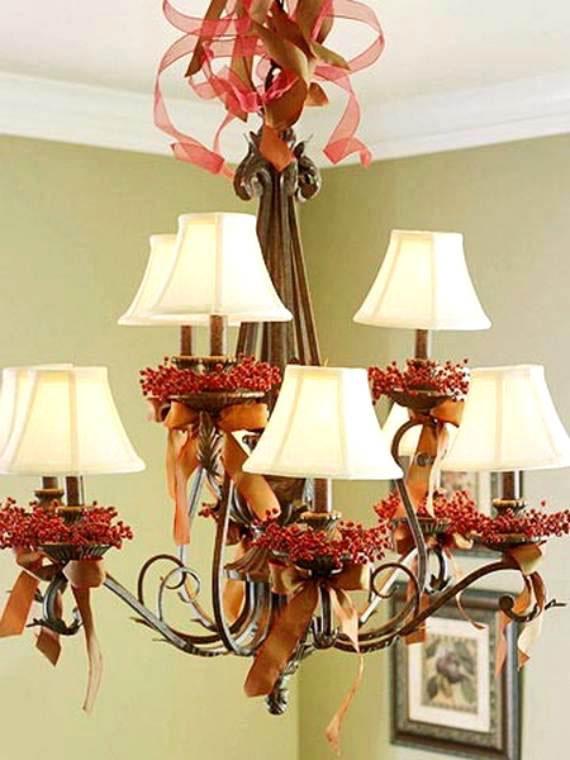 Berries are a fairly common theme for adding some holiday decor to your light fixture, and this is no exception.
Charming Country Christmas Hanging Light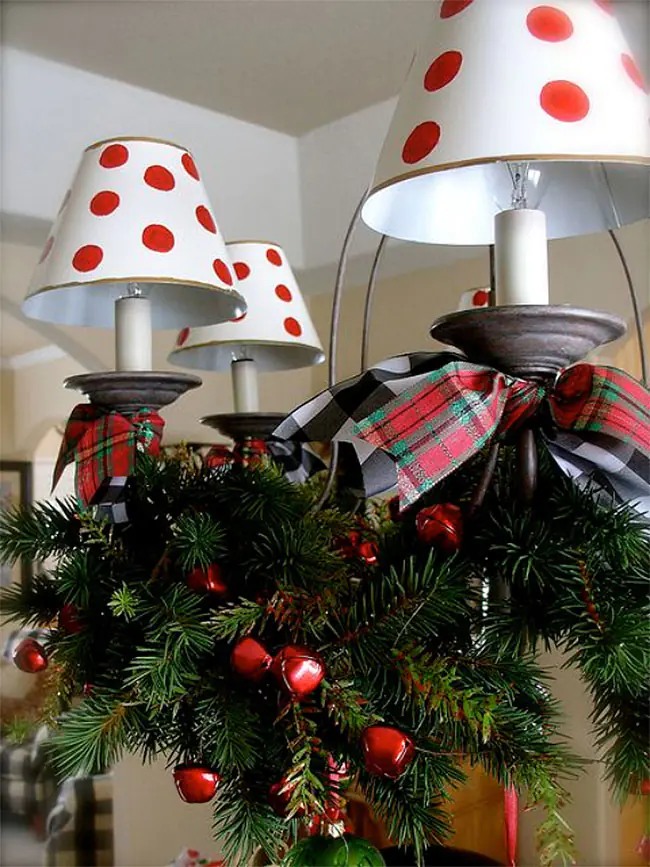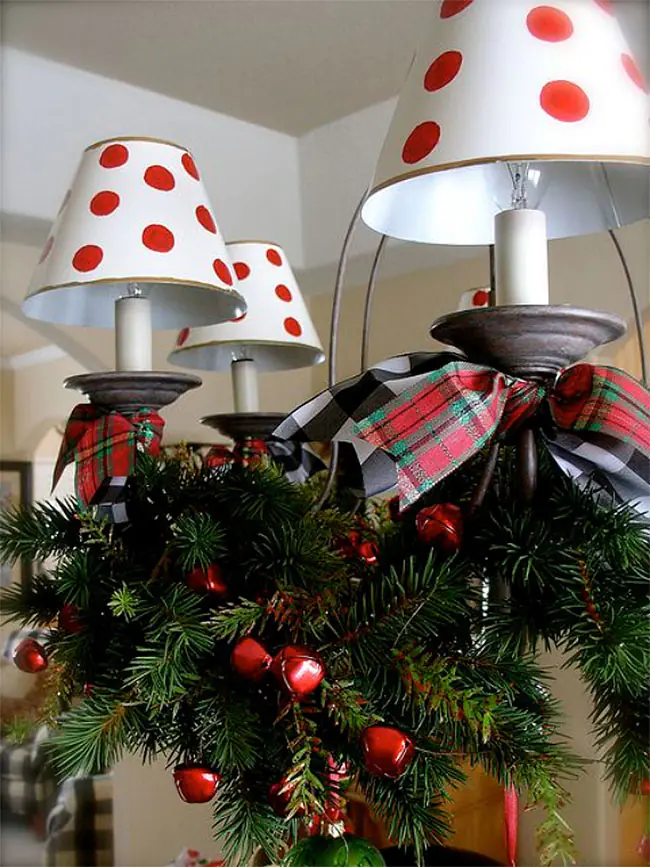 A charming mix of garland, red jingle bells, red & green plaid bows, and hand-painted red polka-dot shades at a touch of Christmas charm to this light fixture.
---
---
Elegant & Charming Christmas Chandeliers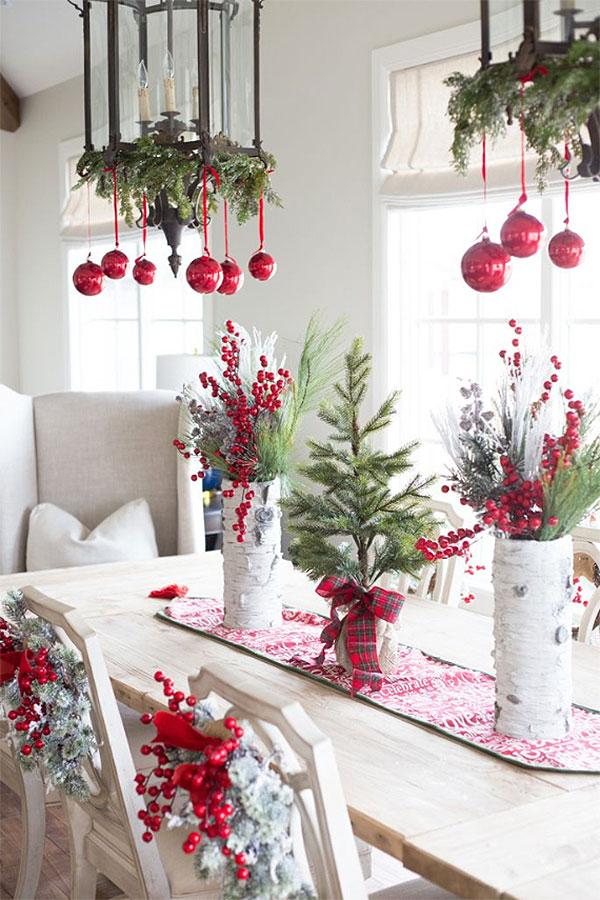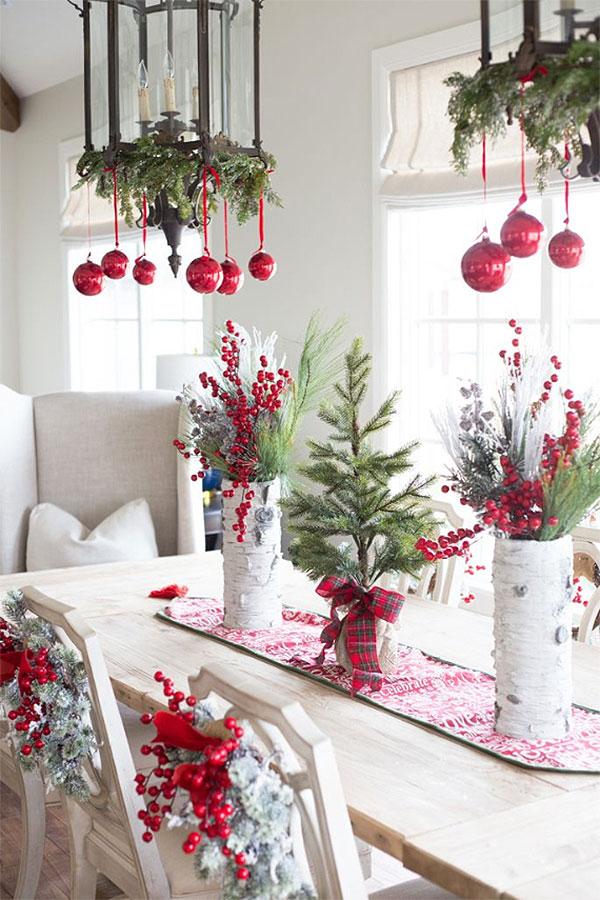 A pair of elegant chandeliers are given a festive update through the clever use of garland and red Christmas ornaments. Side Note: Love the birch bark vases!
A Berry Merry Christmas Chandelier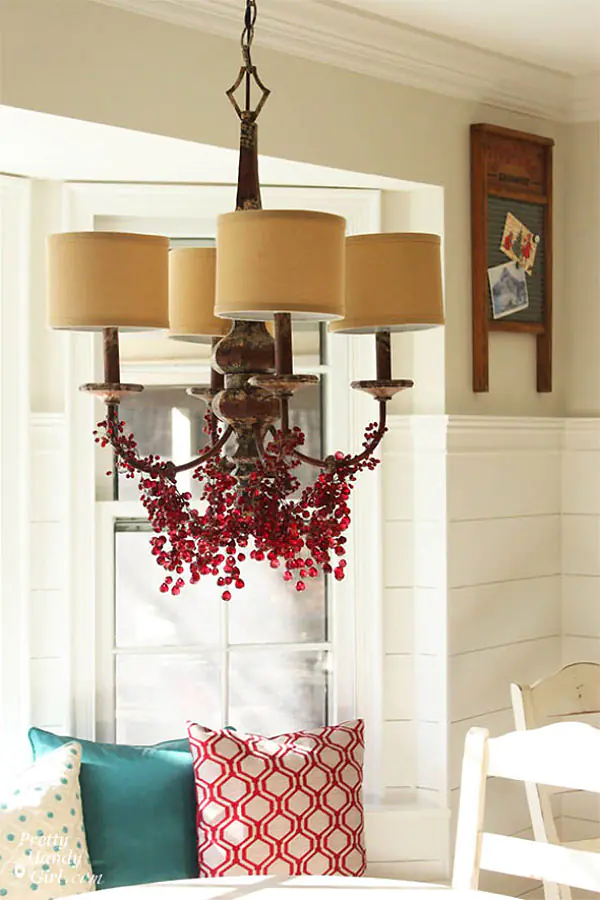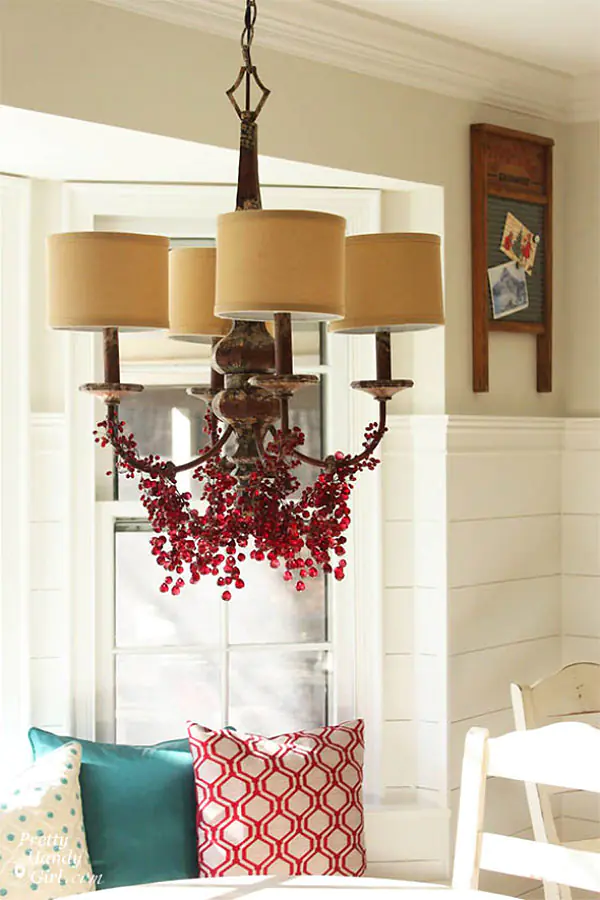 The glass holly berries add a subtle but delightful touch of seasonal decor to this rustic chandelier.
Frosted Pinecone Chandelier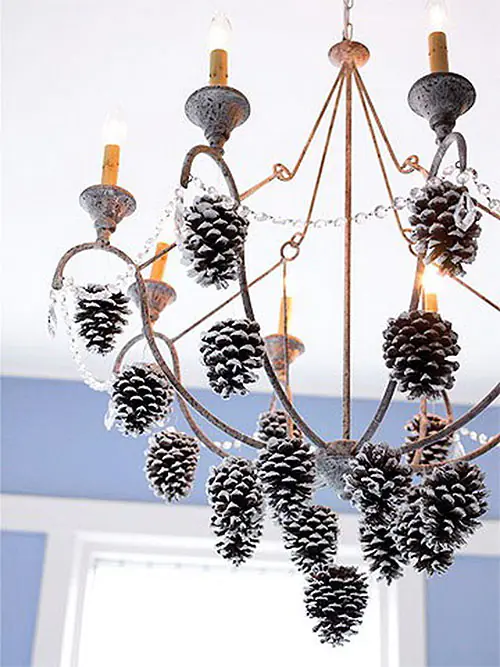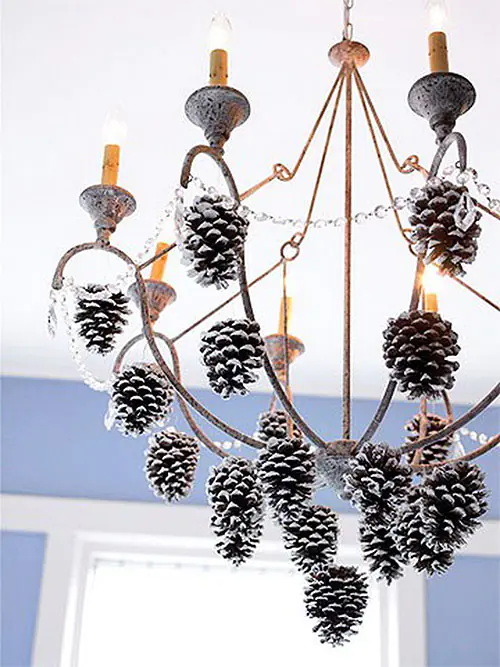 As you can see from this lovely Christmas Chandelier, it does not take a lot to give your everyday light fixture a Christmas makeover.
---
---
Pinecones & Gingerbread Christmas Chandelier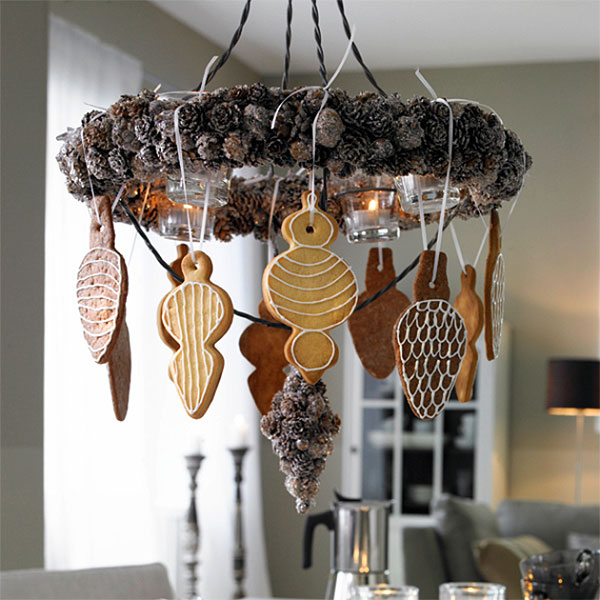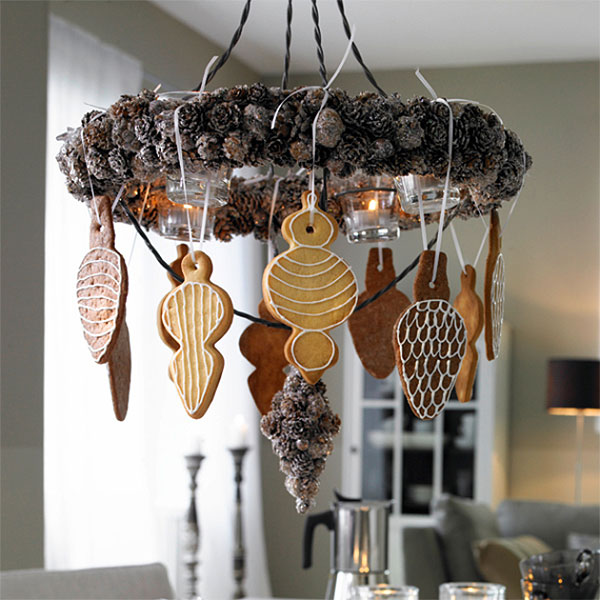 As an aromatic choice, a pinecone wreath and fresh baked Gingerbread cookies creates a Christmas chandelier that smells as good as it looks…. and is edible (parts of it) when the season is over.
Christmas Treats Decorated Chandelier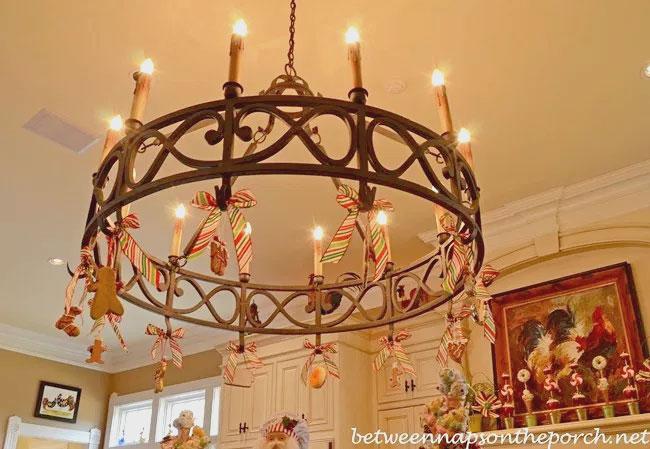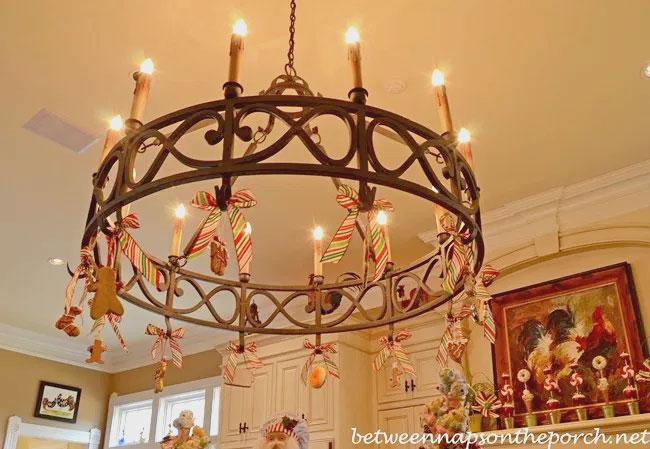 This decorated Christmas Chandelier from Between Naps on the Porch looks good enough to eat!
Pretty in Pink Christmas Chandelier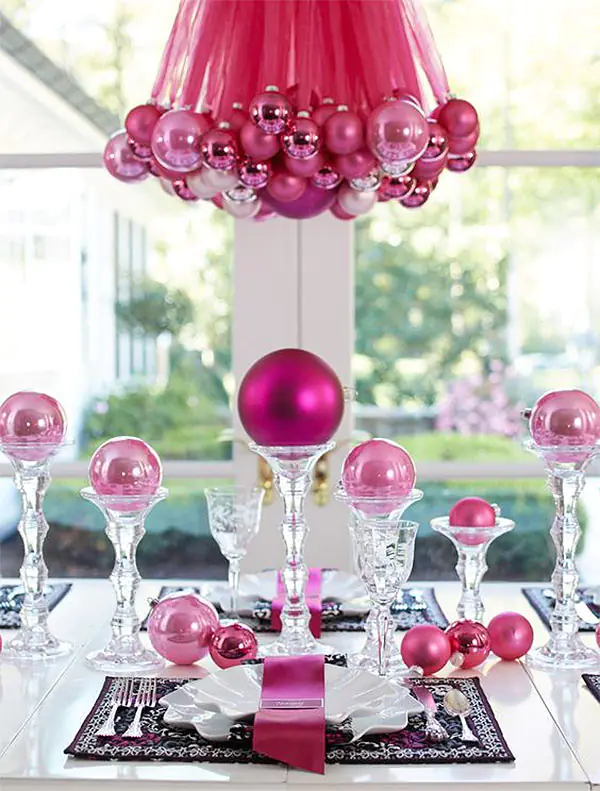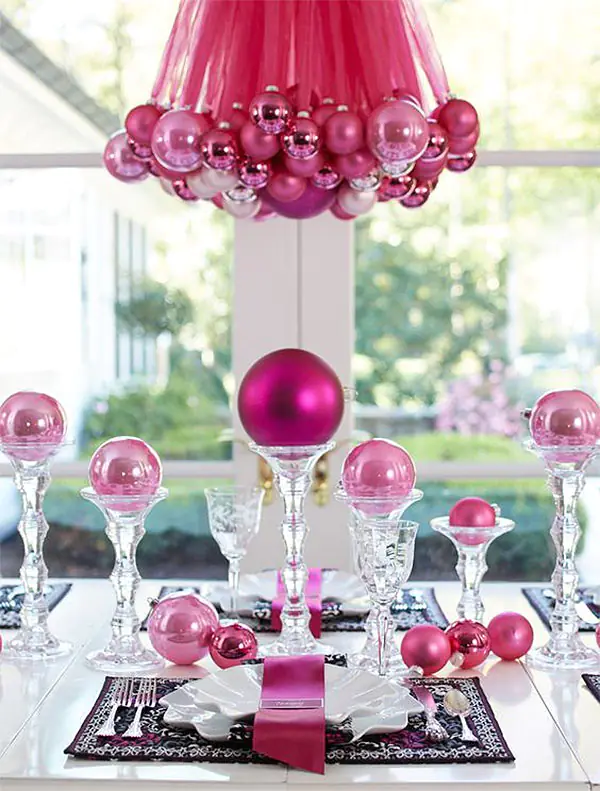 Sheer pink ribbons and various shades of Pink Christmas ornaments are used to create a dramatic display above the dining table.
Rustic Christmas Candelabra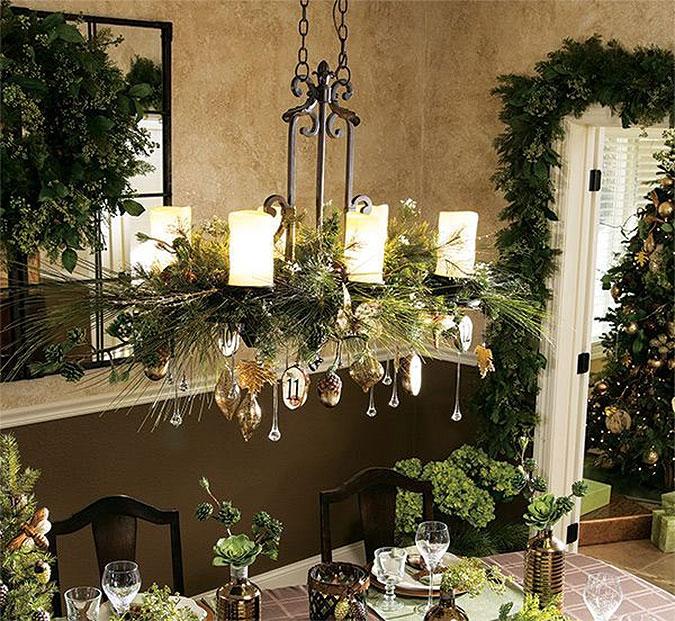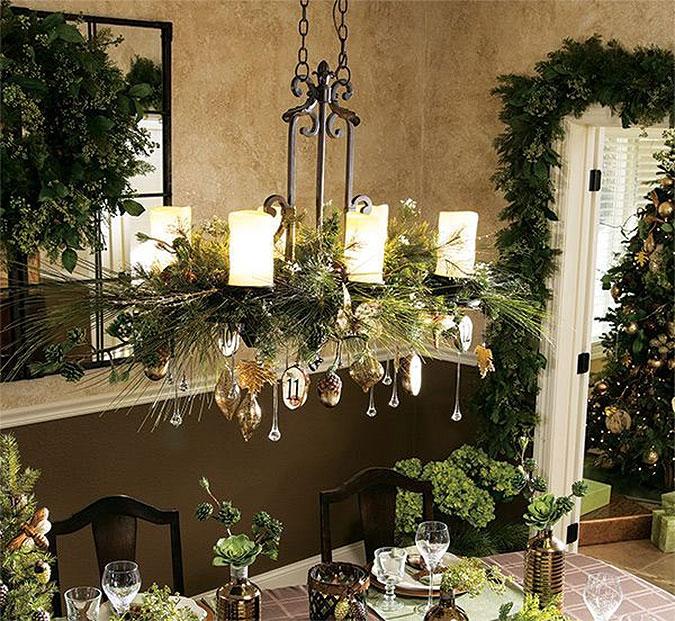 Perfect for the country Christmas table.
French Country Abundance Christmas Chandelier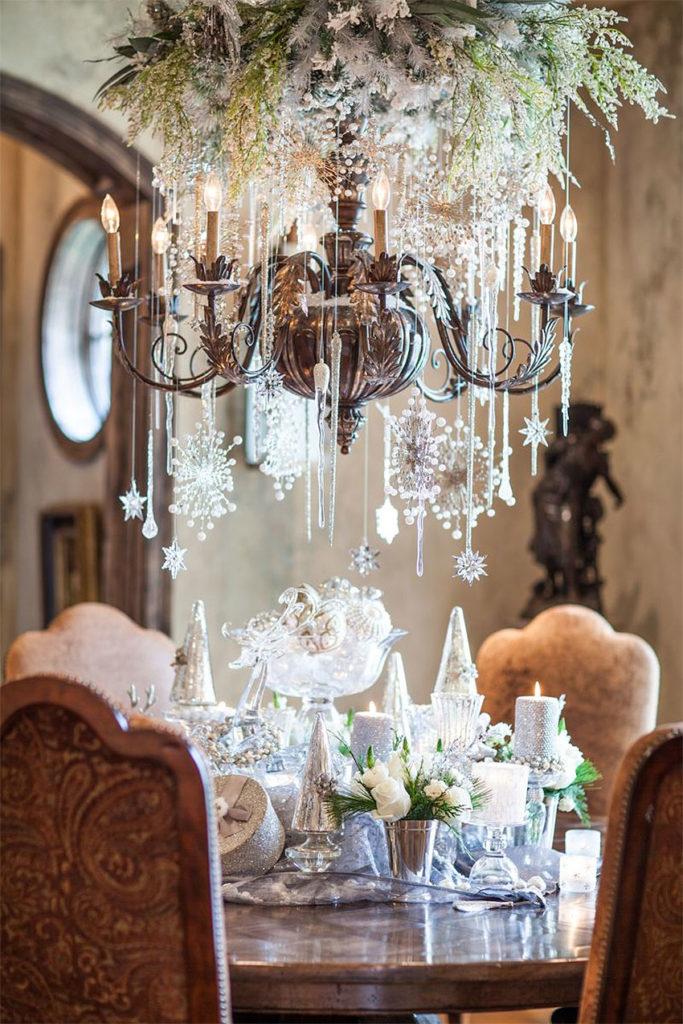 A mix of greenery at the top of the chandelier creates a wonderfully spray from which delicate glass snowflakes & icicles are suspended. The entire grand French Country decoration is perfect for an elegant Christmas dinner.
Rustic Red & White Berries Christmas Chandelier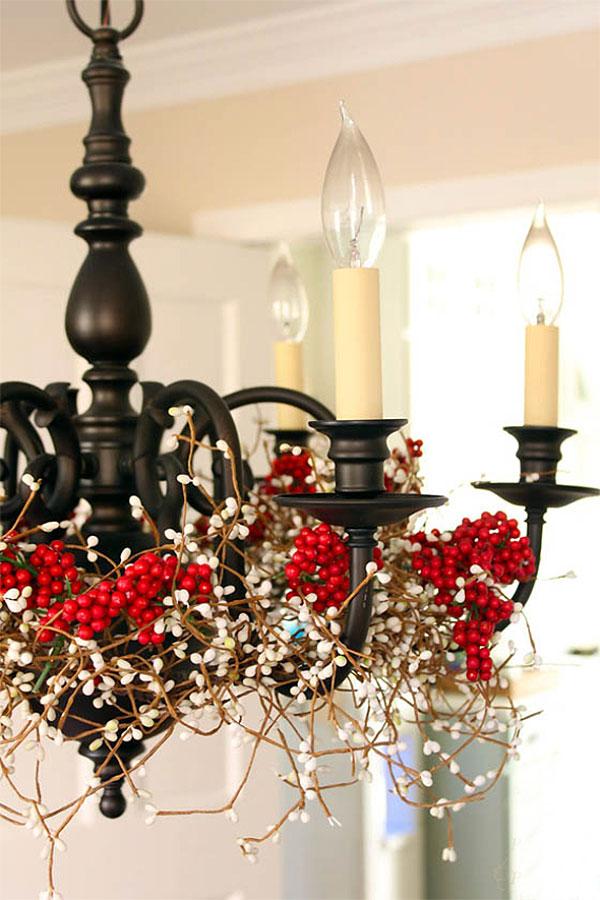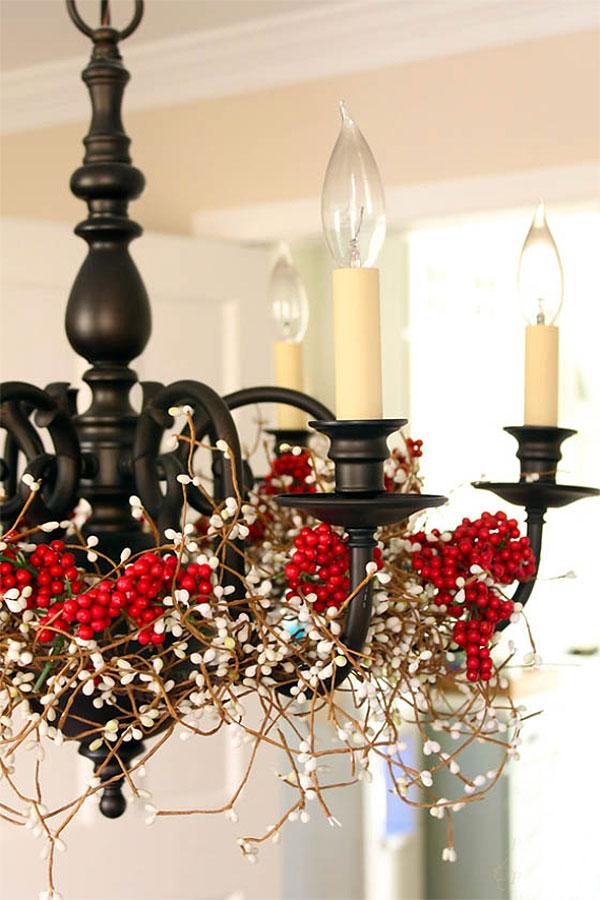 So simple, yet so effective, this rustic iron chandelier is given a charming Christmas makeover through the addition of some red & white berries. The result is an absolute delight!
A Celebration of Berries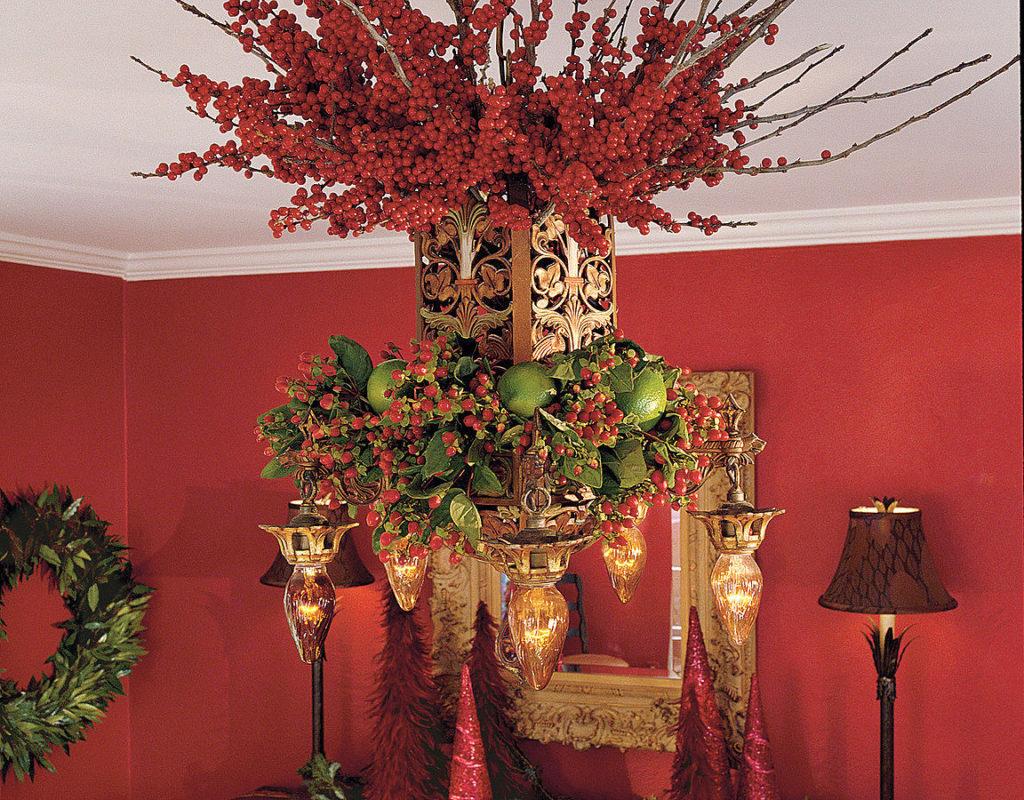 From one end of the Berry spectrum to the other! One of the more intricate Christmas Chandeliers on our list, florist wire is used to attache groupings of berry branches to the center of the chandelier. The wiring is then covered with more berries and greenery. This version is crafted with living plants (including a few limes for good measure), so the display would last about 7 to 10 days, but you could do the same with artificial stems for a longer lasting Christmas chandelier.
Winter Apples & Cranberry Christmas Chandelier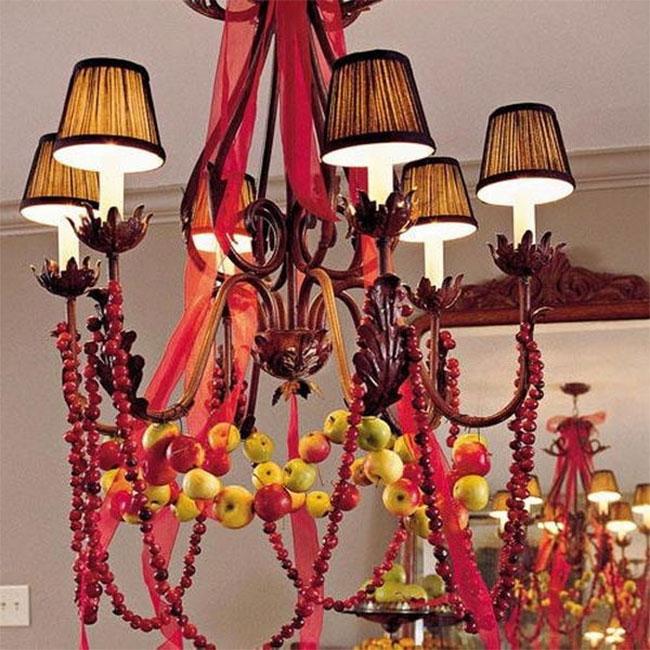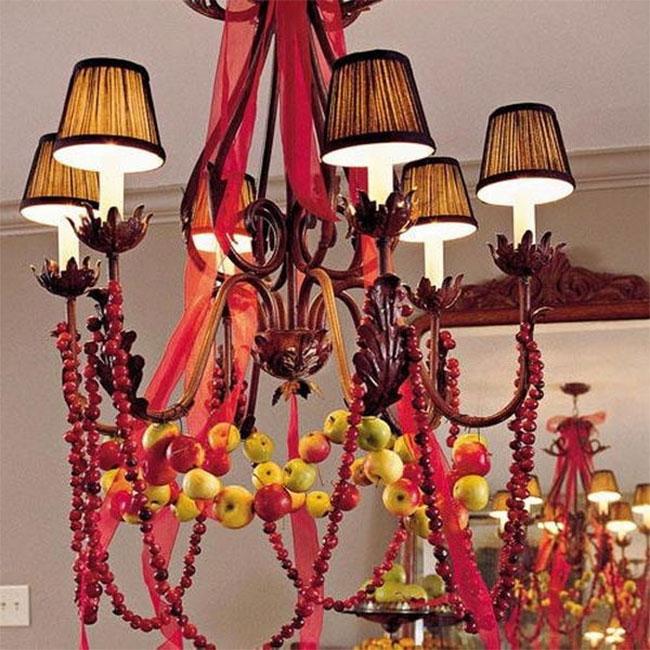 A string of Winter apples and a string of cranberries create a rustic yet festive chandelier.
A Chandelier with French Country Christmas Charm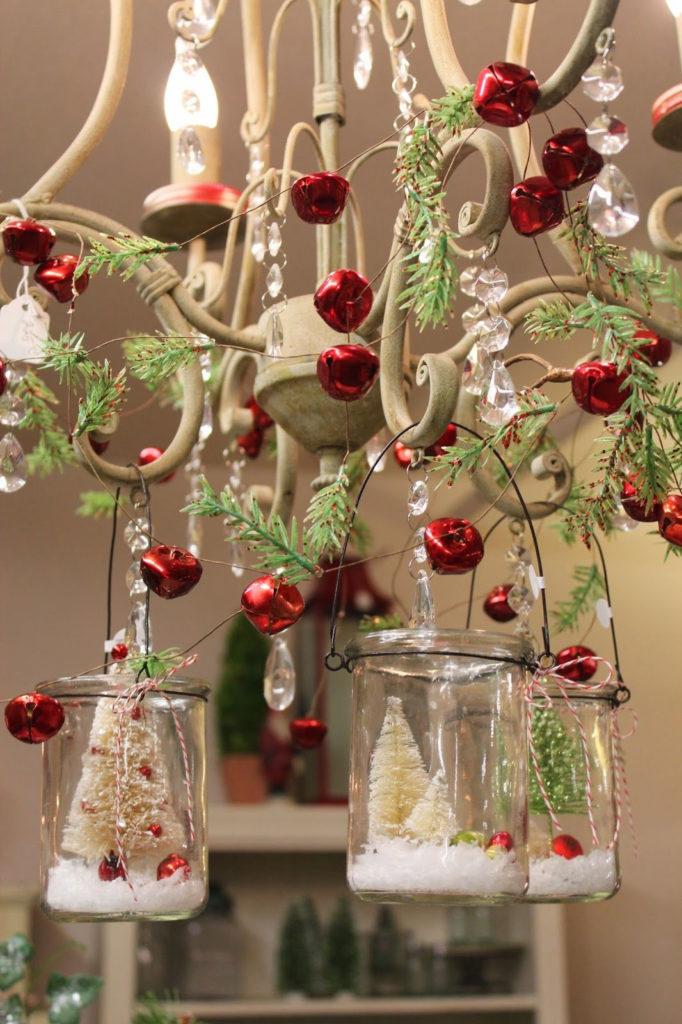 This chandelier gets a Christmas makeover with some delightful touches of Christmas charm, from sprigs of pine to red Christmas bells to Christmas trees in suspended jars. The entire creation is quite delightful!
Great Christmas Balls Chandelier

Goodness, gracious, great balls of Christmas!
Christmas Candy Cane Chandelier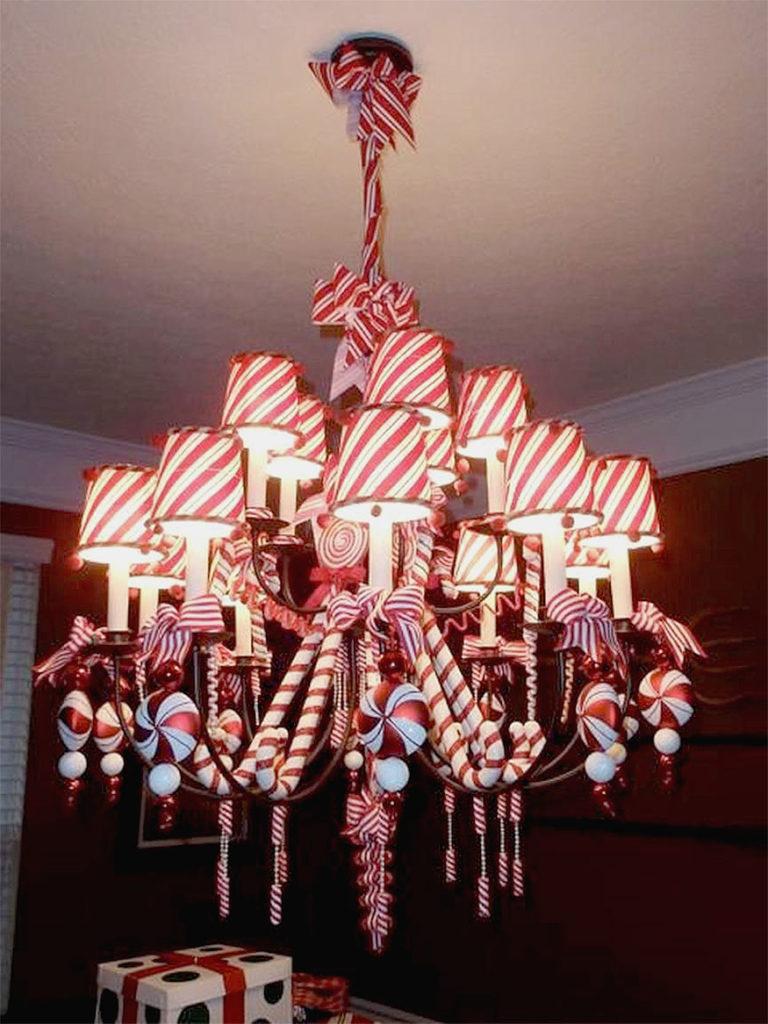 This must have taken HOURS to create, but it was worth it!!
Chandelier with Rustic Country Christmas Makeover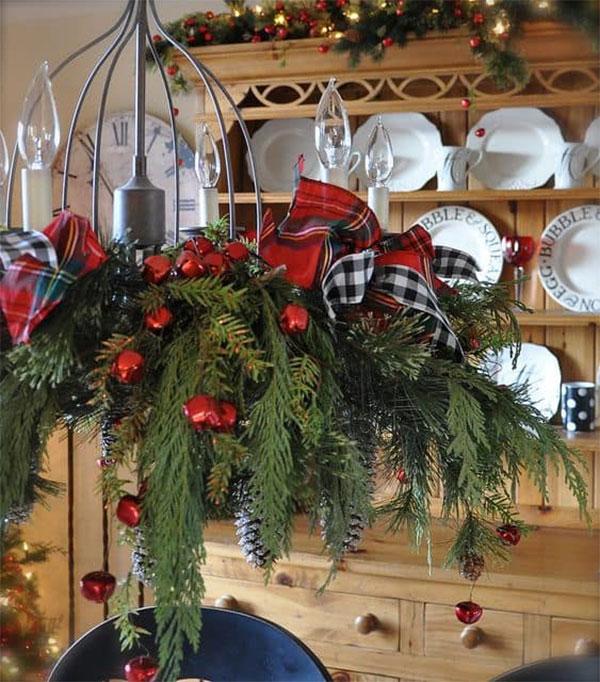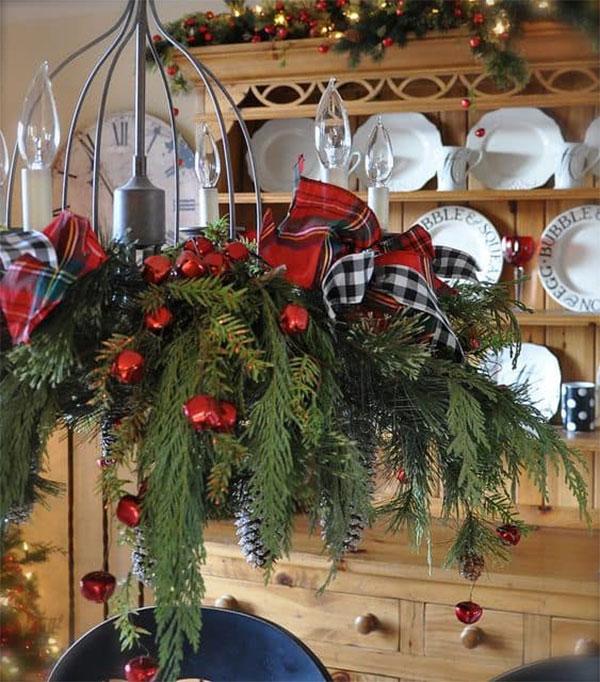 Country charm abounds when you add some live greenery, frosted pinecones, plaid ribbons and red Christmas bells to your chandelier.
Simple Yet Elegant French Country Chandelier Christmas Makeover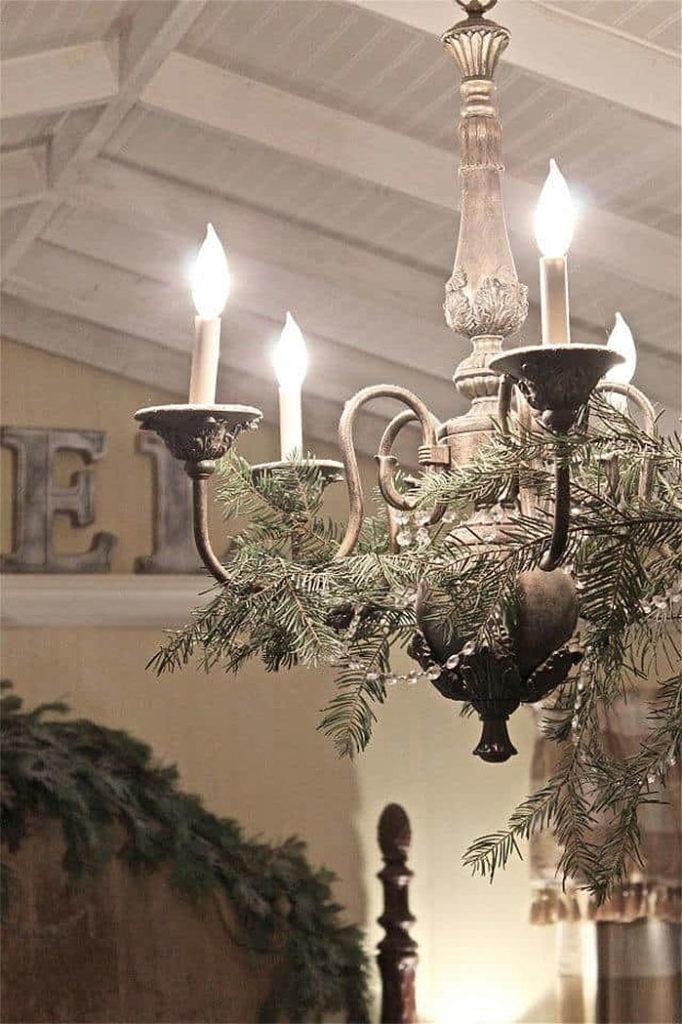 Don't underestimate the impact simply adding some fresh pine branches can have to your everyday Chandelier. The result is elegant, understated, but still divine.
---
---
Christmas Crystal and Gold Chandelier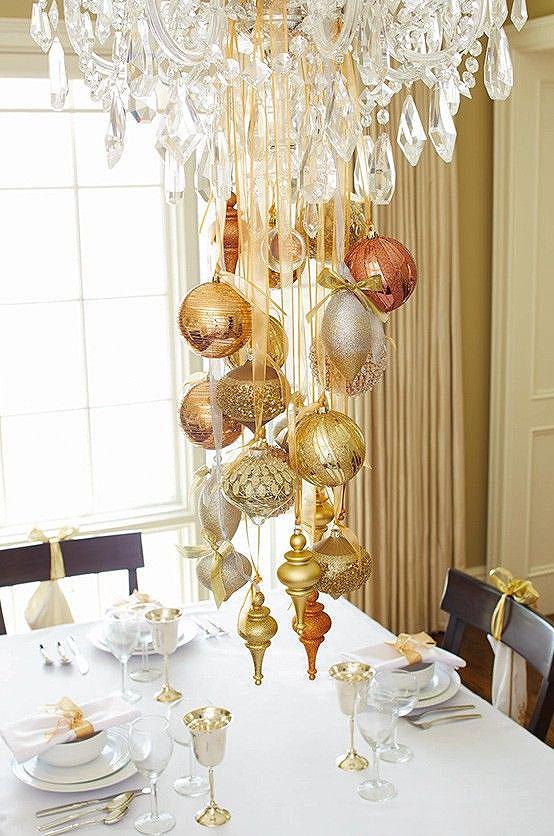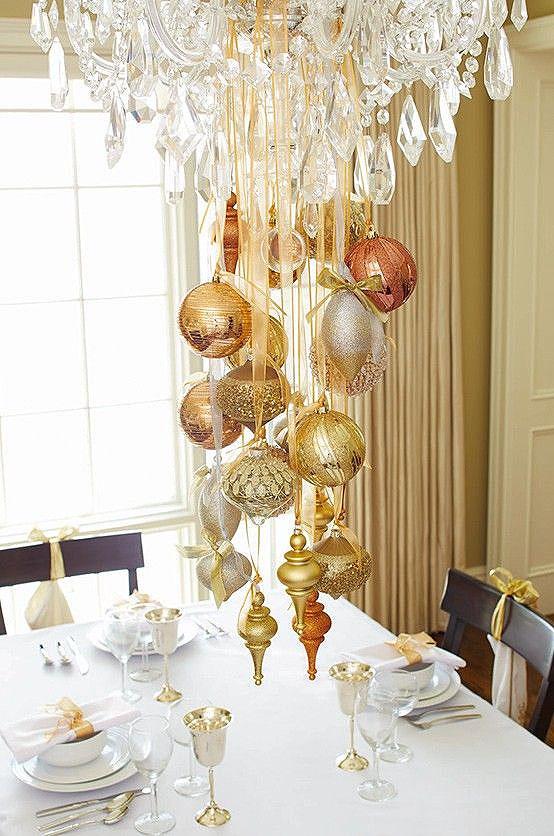 This crystal chandelier gets a truly elegant Holiday update that makes a statement.
Easy Evergreen Chandelier

Use some pine branches to quickly and easily add a touch of Christmas green to your light fixture.
If it Ain't Baroque…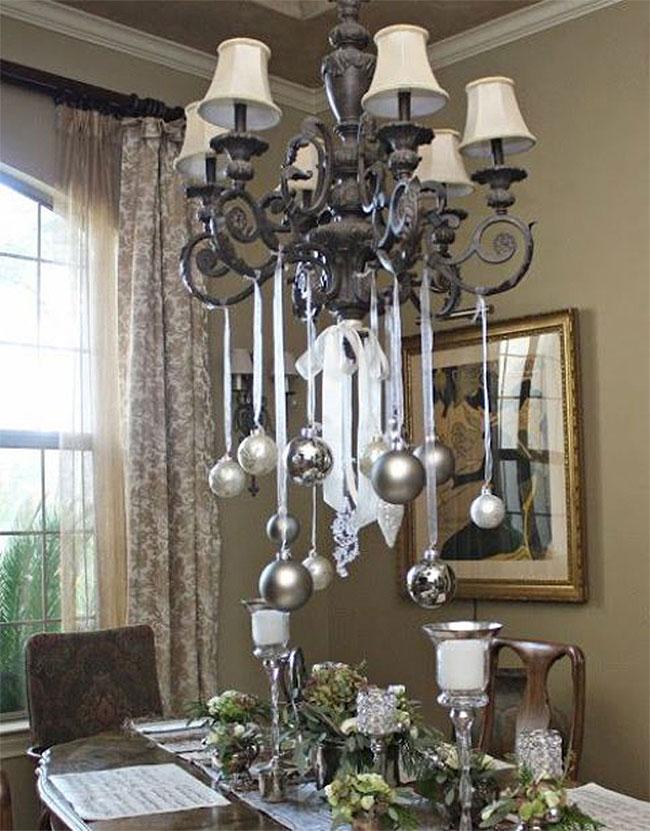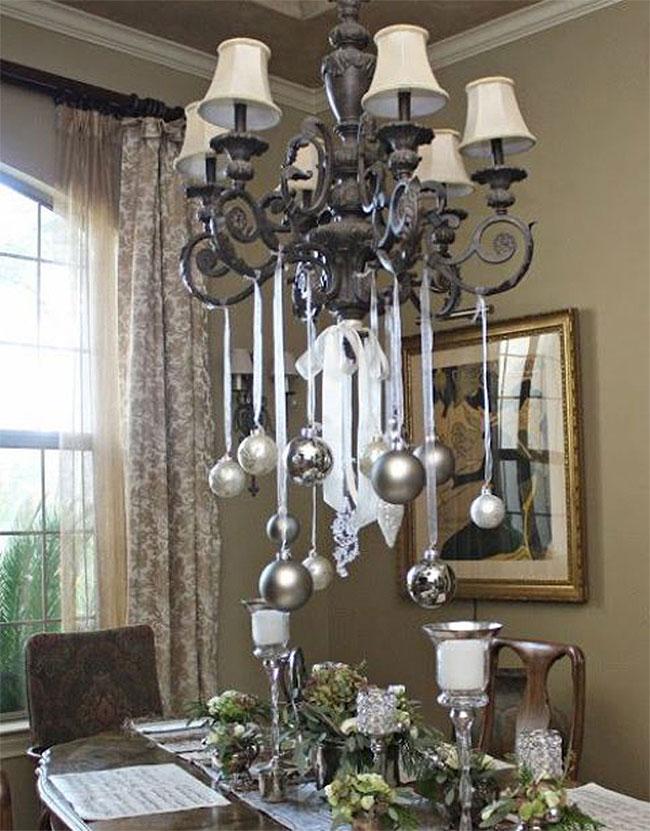 Silver ornaments hang from a beautiful baroque inspired chandelier, creating a dramatic display.
Black, White, Green, and Red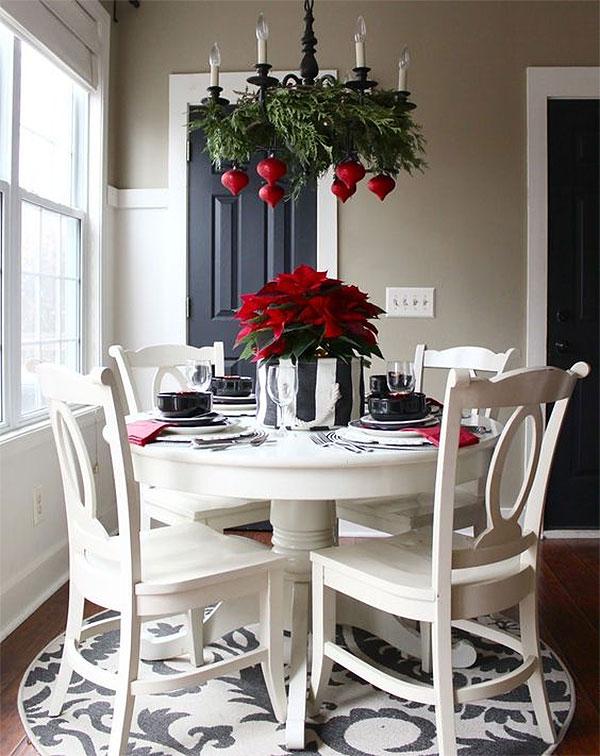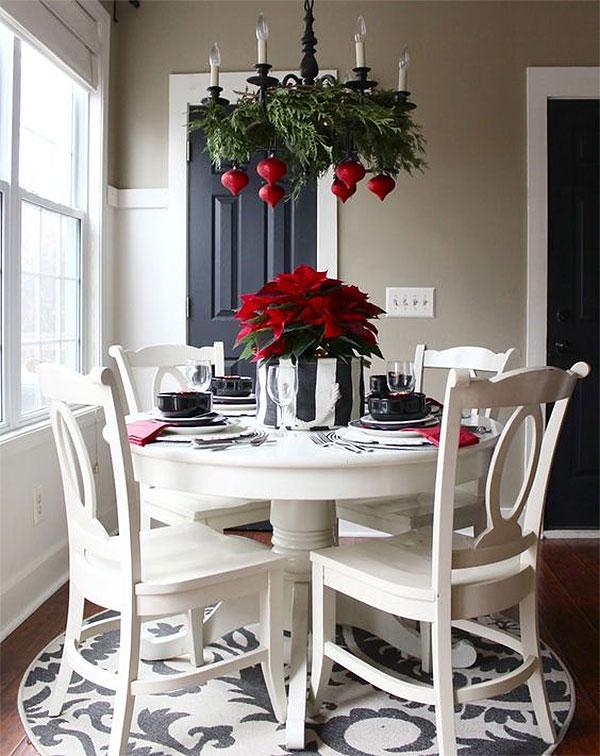 An otherwise black and white dining room gets a touch of Christmas color with some green garland and red ornaments.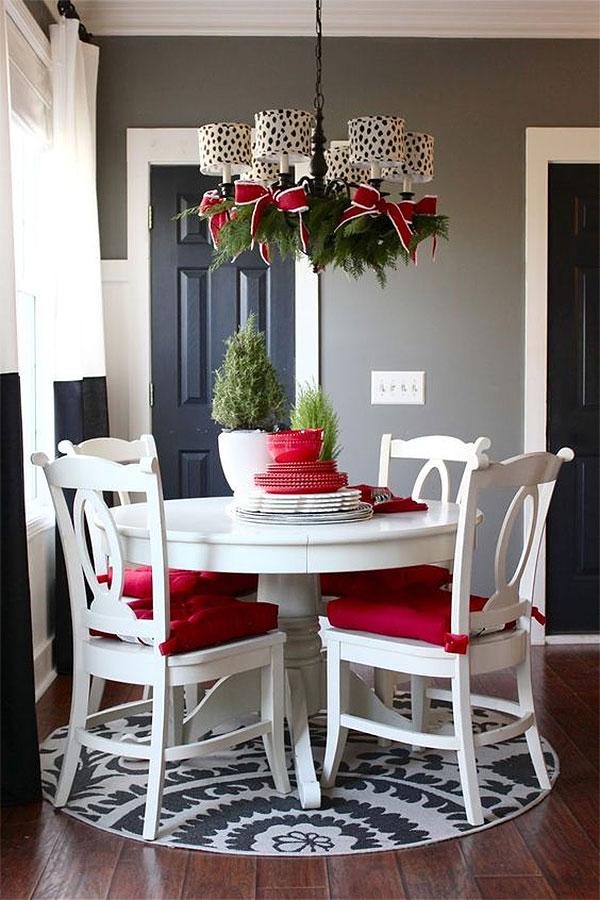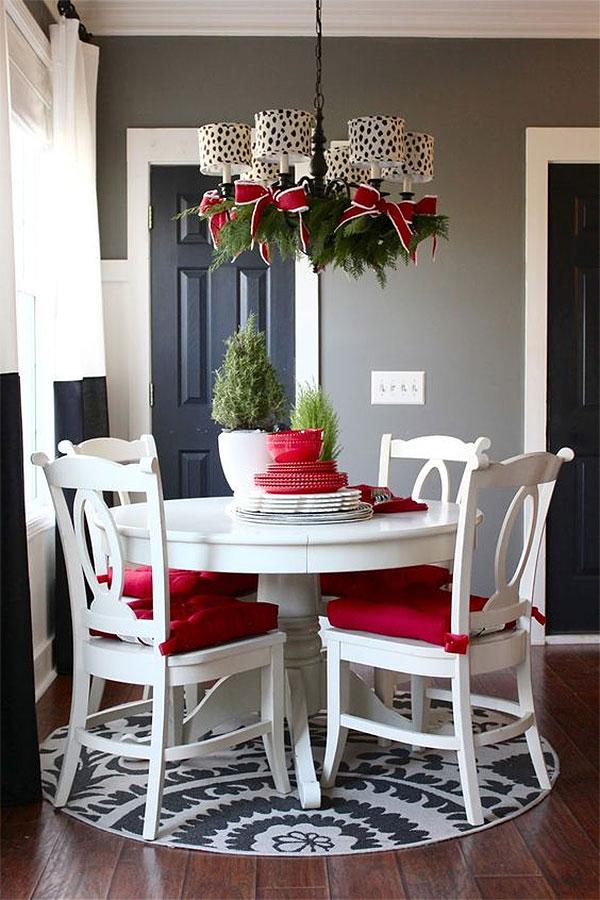 The same room, with a slight variation on the additional decorations to add a bit of fun to the decor scheme!
Snowflake Chandelier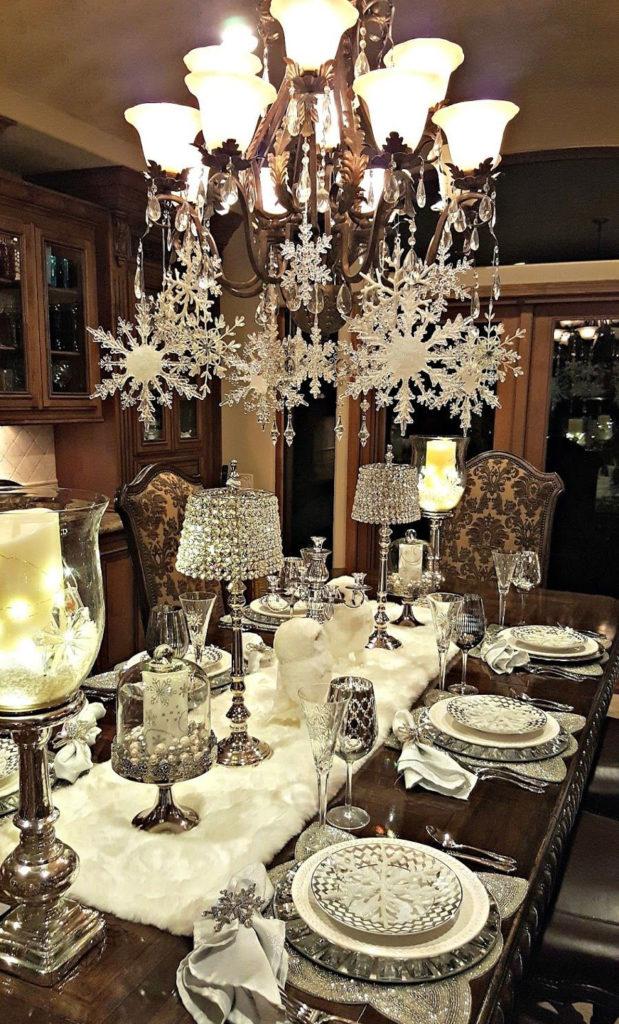 This french country chandelier looks resplendent with an array of snowflake ornaments. Beautiful! I also love the White Owls on the table, so unique and elegant!
Put a Ring on It…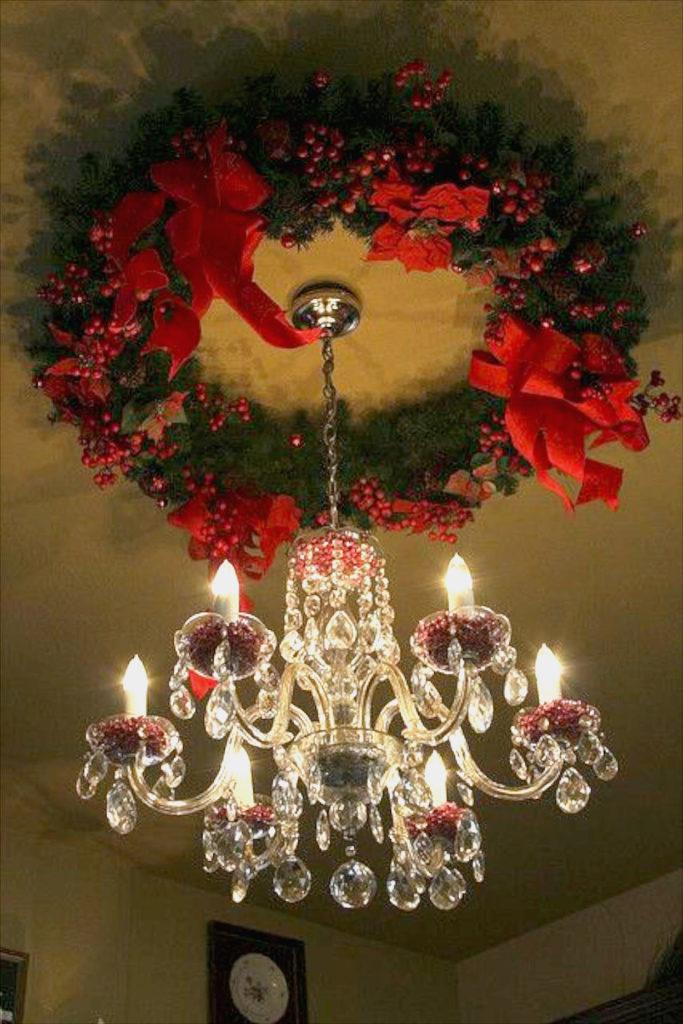 A large wreath becomes a ceiling medallion, creating a wonderful display. Additional red accents are added to the chandelier itself to complete the look.
Crystal & White Pinecone Chandelier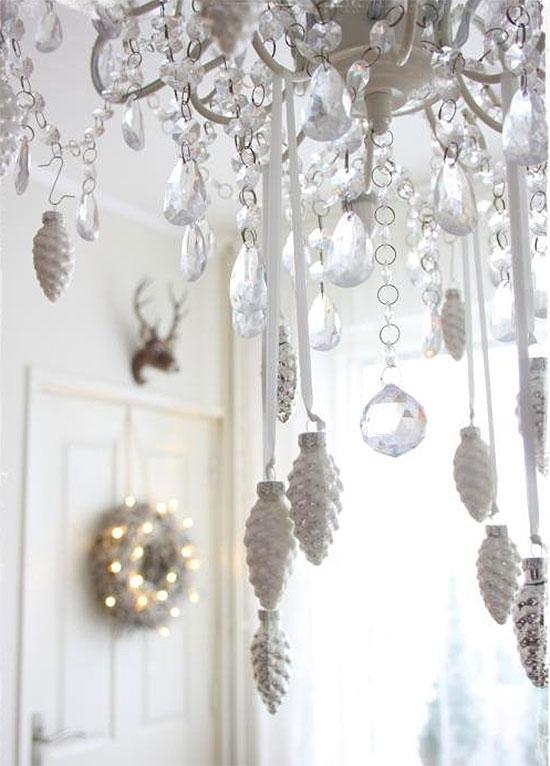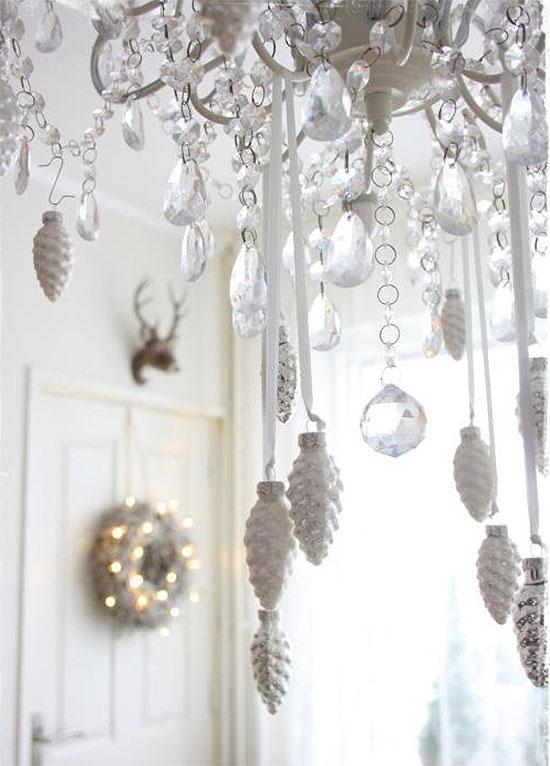 Simply elegant, in white and crystal, with some white pinecone accents delicately hanging from white ribbons.
Elegantly Simple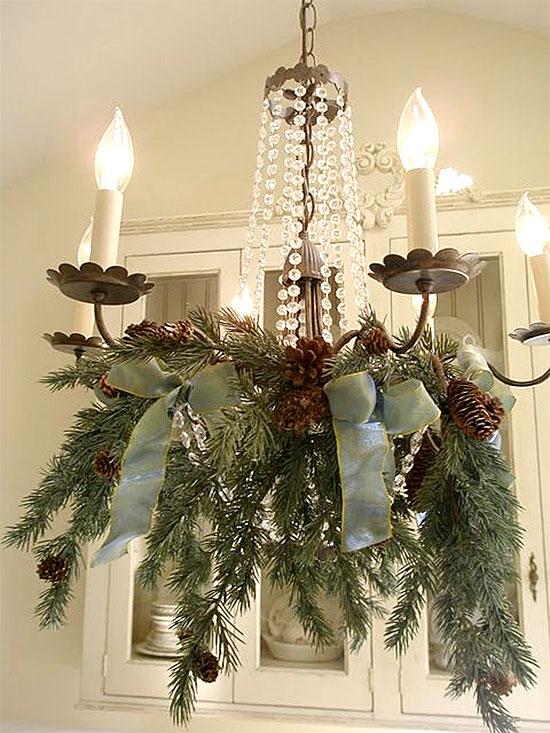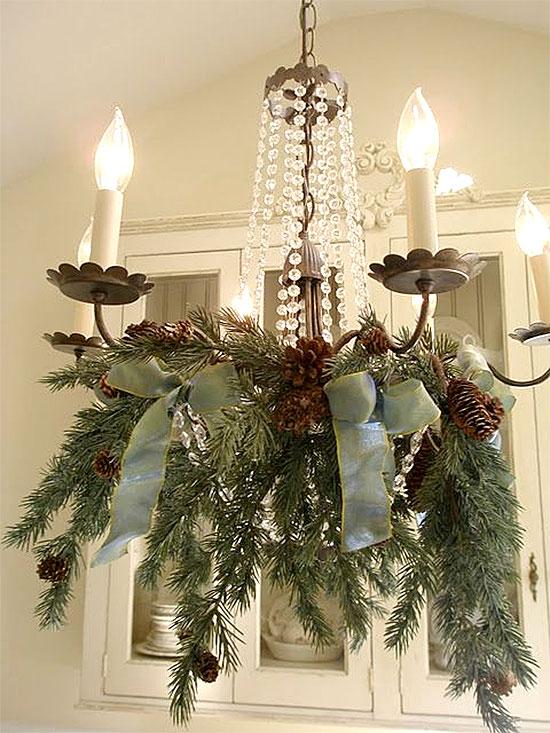 Continuing in the line of simple yet elegant, this light fixture uses pine branches, pine cones, and green ribbon to create a simple yet elegant display.
Wrap it Up in a Bow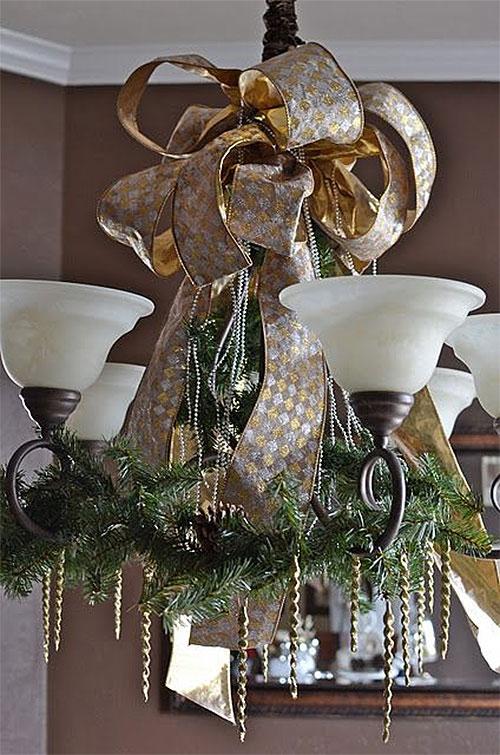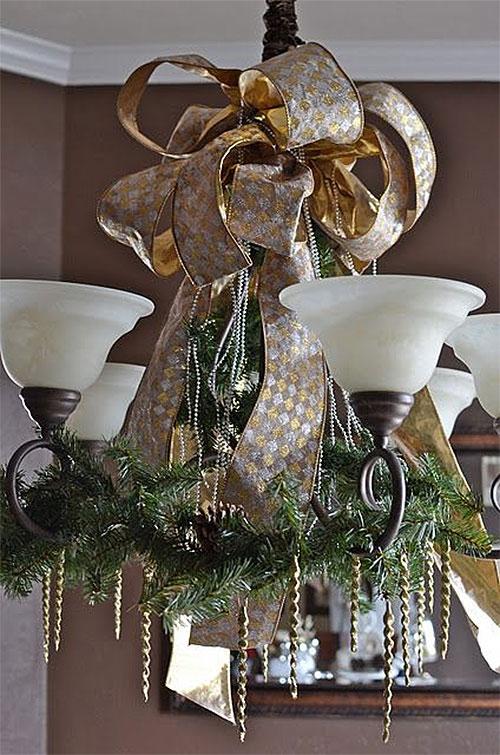 A big, beautiful bow adds a touch of wonderful charm to this decorated chandelier.
Rustic Bells & Balls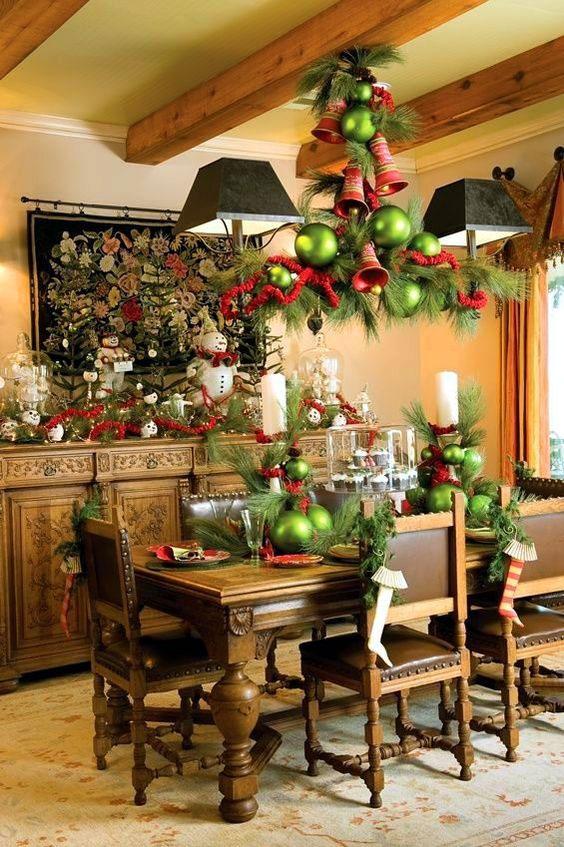 Oversized red Christmas bells and green ornaments wrap this light fixture in holiday spirit.
Christmas Chandelier Source Material & Additional Resources
Looking for More Christmas Decor Ideas?