Whether you are firing up the BBQ for the family, or for a bunch of guests, you can find some inspiration from this curated list of 43 of the Best Summer BBQ Recipes.
There is something quintessentially summer about firing up the BBQ and grilling some meat and/or vegetables.
These summer BBQ recipes are not only delicious, but are visually appealing so that you can impress your guests with your BBQ mastery!
Most of these are recipes that I have discovered from some of the best chefs and home cooks online, but a few are my own tried-and-true favorites.
Cheers to the Grill Master!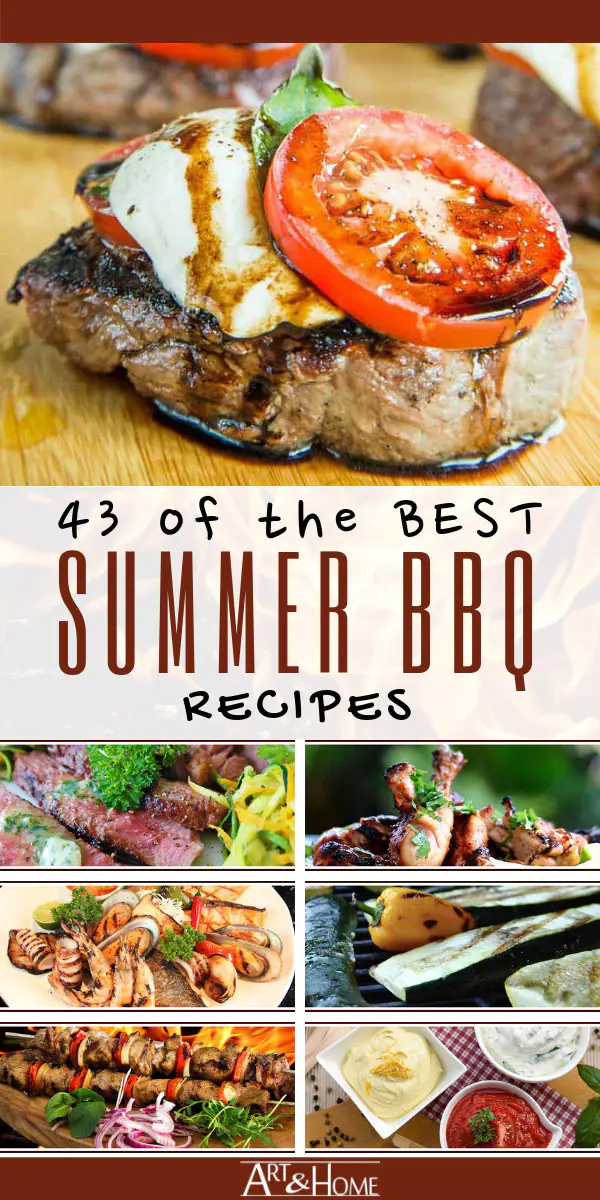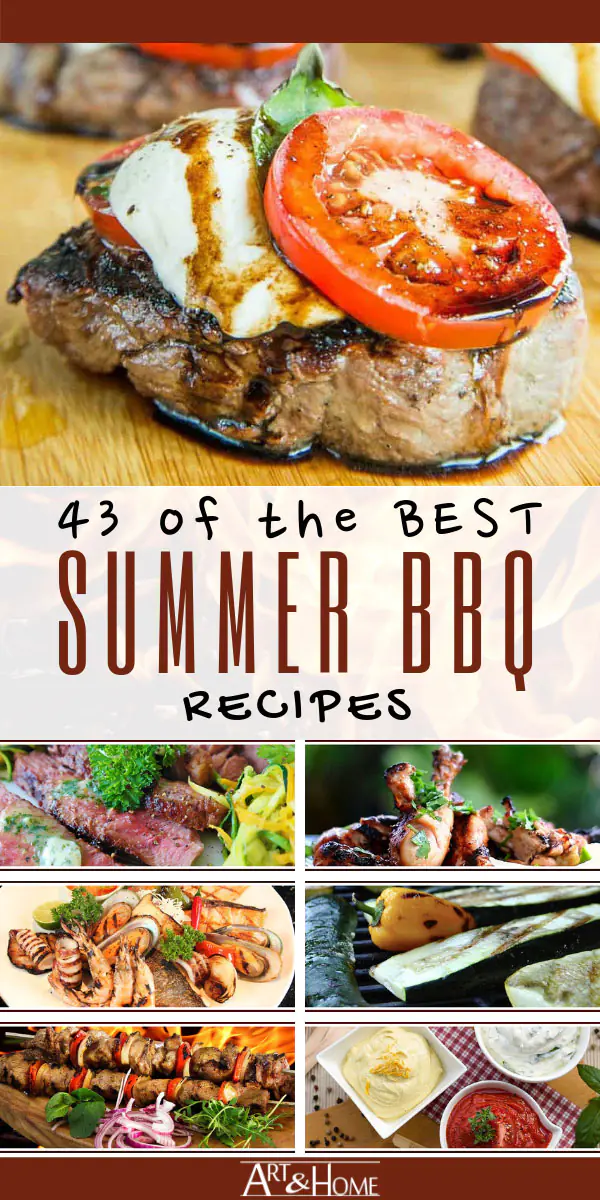 It doesn't matter if you prefer beef, chicken, pork, fish, or vegetables on the grill, there are summer BBQ recipe inspirations for (almost) everyone.
However – full disclosure, although this probably goes without saying given the subject of this post – most of these recipes are NOT vegan friendly. Sorry to my Vegan readers! If you're looking for Vegan BBQ recipes, I would suggest checking out this article by our friends over at The Vegan Society.
Best Summer BBQ Beef Recipes

There is something about a steak or burger on the BBQ that just SCREAMS summer. Living in a Northern Climate, one of the saddest days of the year is when I have to pack away the grill for the Winter, and one of the happiest is when I get to fire it back up again in the Spring.
This collection of Summer BBQ Recipes focuses on Beef, but you might find some veggies mixed in, just for fun.
---
Ultimate Onion, Brie & Sun Dried Tomato Burger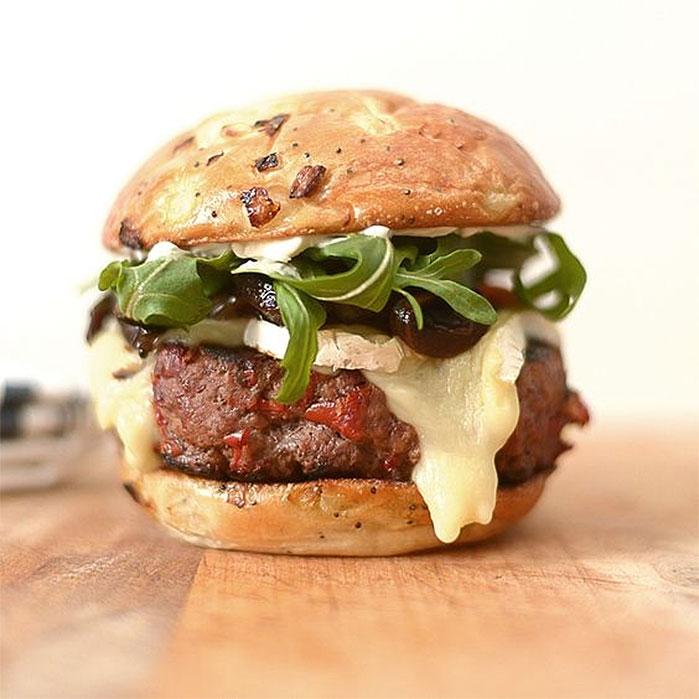 This multi-national burger pulls inspiration from Australia, France and Asia and combines them into one ultimate taste experience.
A cast iron grill on a side burner or right on the BBQ works just fine for creating the onion, soy and balsamic reduction that gives this burger its kick.
---
Balsamic Glazed Steak & Vegetable Rolls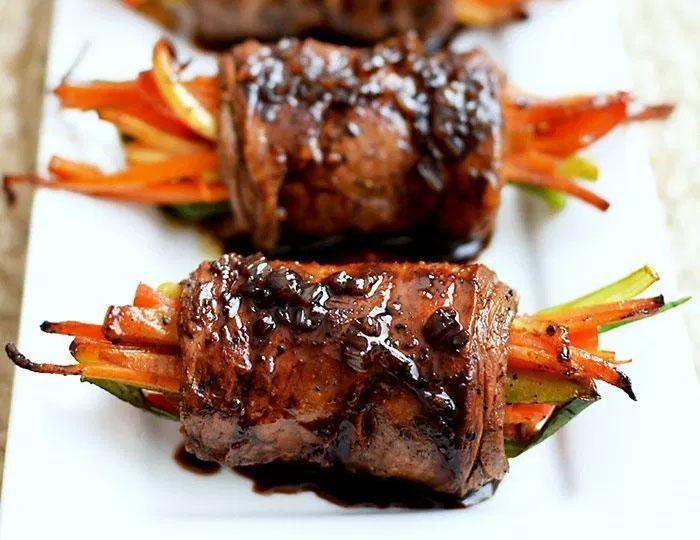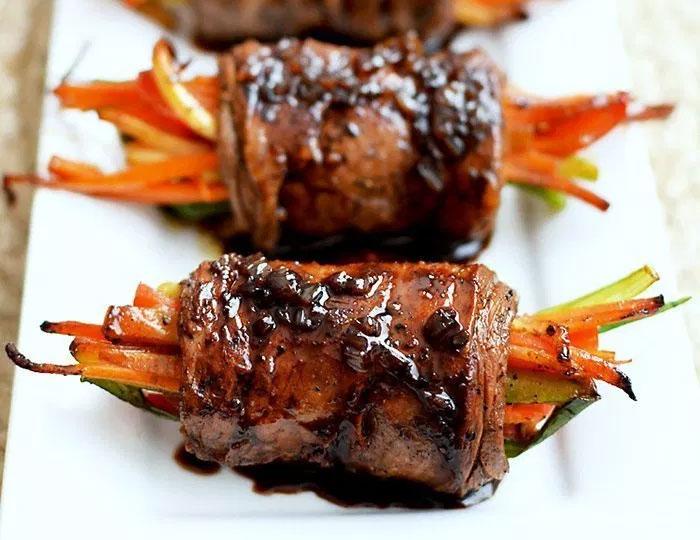 A fun easy and adaptable recipe for grilled steak rolls stuffed with veggies and topped with a delicious balsamic glaze steak sauce.
---
BBQ Steak with Jim Beam Bourbon Sauce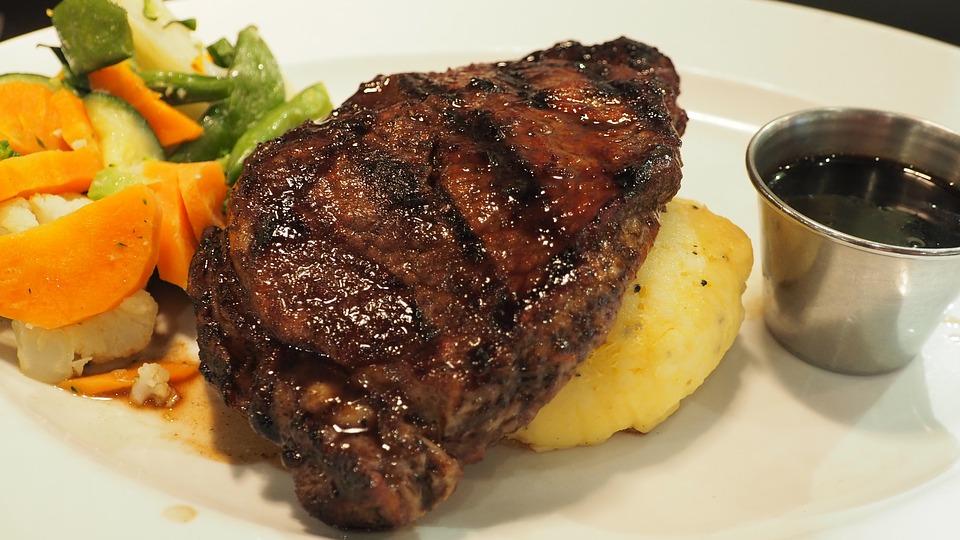 Get the Jim Beam Bourbon BBQ Sauce Recipe
If you like your beef to have a bit of zip, then this tangy sauce with a bit of heat is perfect. Plus, you can make a version of this with mushrooms… simply saute some mushrooms, add some Jim Beam BBQ Sauce, simmer, and then spoon on top of a perfectly cooked steak.
This is one of my favorite recipes, and I make it all the time for friends and family (well, the friends and family I actually like).
---
Tender Balsamic-Wine Marinated London Broil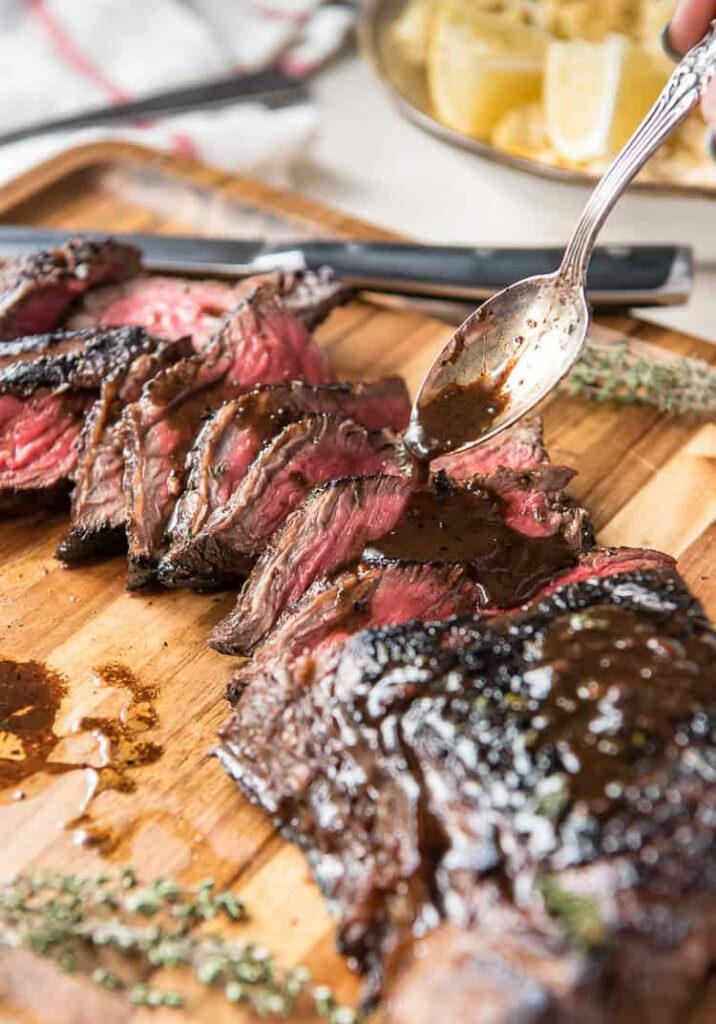 The secret to this insanely flavorful and tender Marinated London Broil is that it marinates in the simple balsamic-wine marinade for a full day before grilling to perfection and becoming a delicious dinner.
---
Italian Inspired Grilled Filet Mignon with Caprese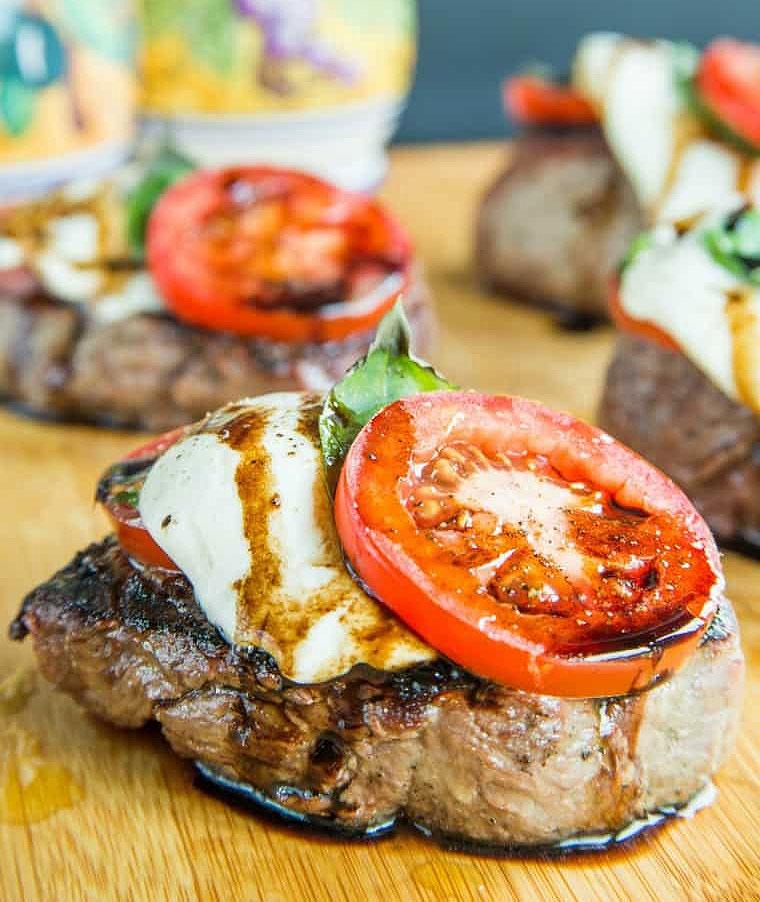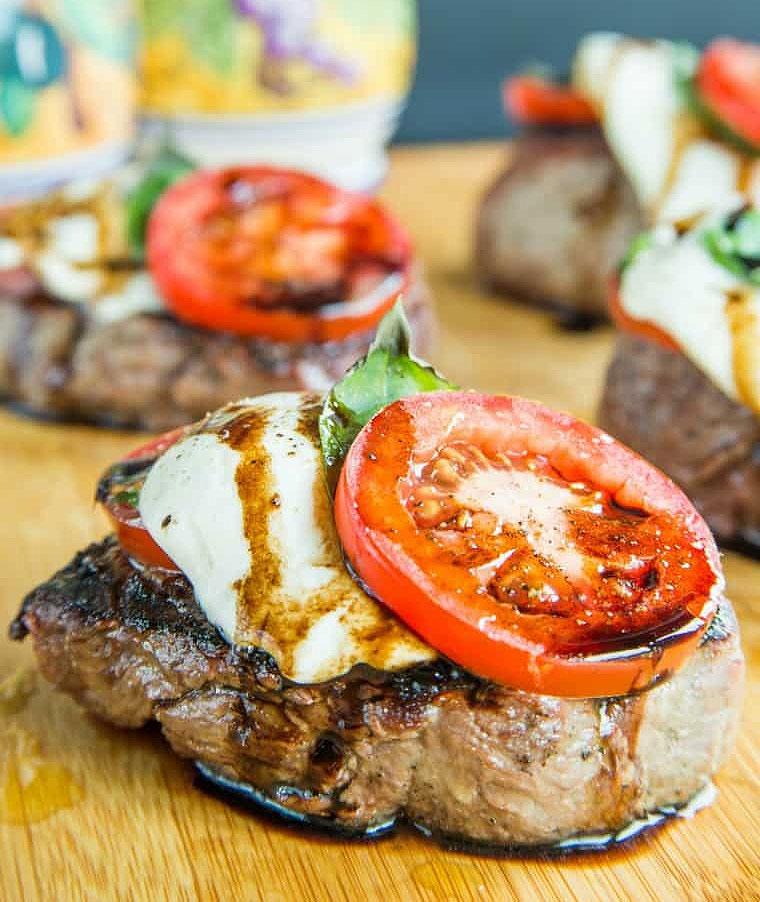 A traditional Caprese salad is deconstructed and placed on top of a perfectly grilled Filet Mignon. A simple but beautiful (and delicious) way to dress an amazing beef filet that provide an Italian inspired taste of summer in every bite.
---
Southern Style BBQ Pot Roast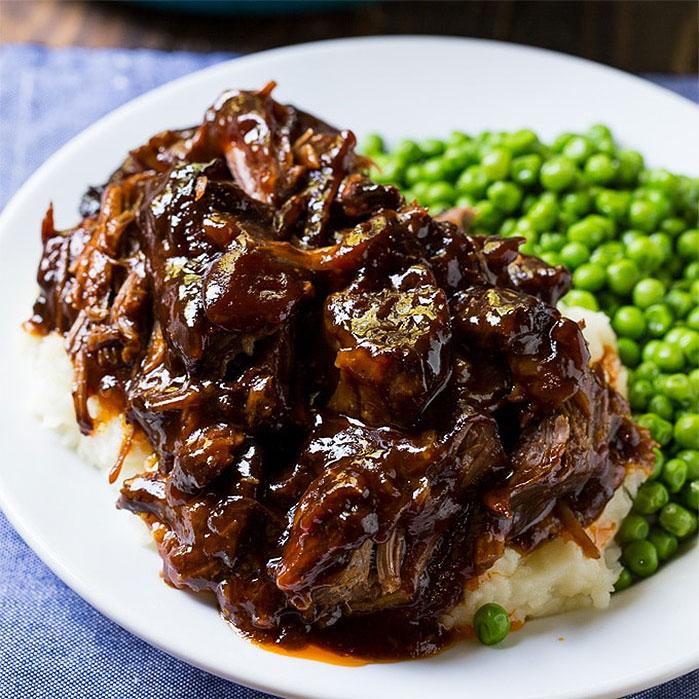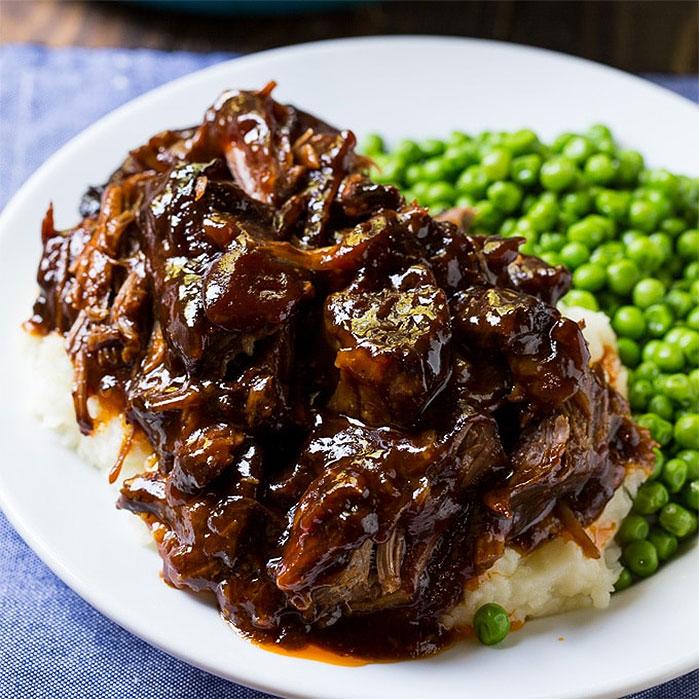 Just because it's summer, doesn't mean you can't enjoy a delicious pot roast. This beauty is slow-cooked in BBQ sauce with some onions and garlic. The result may just be the most flavorful pot roast you have ever tasted!
---
Classic Homemade BBQ Hamburger, with a Twist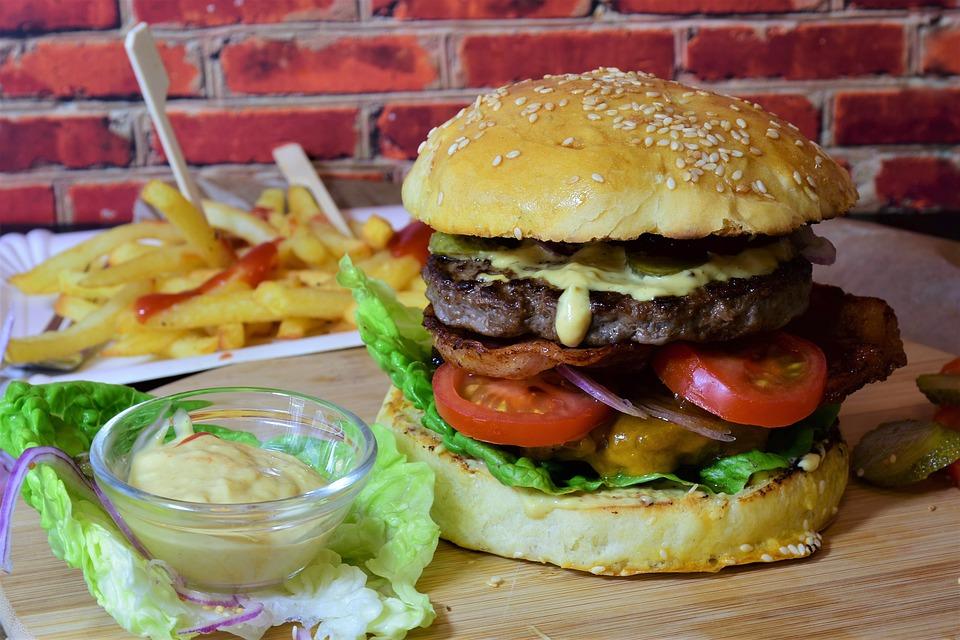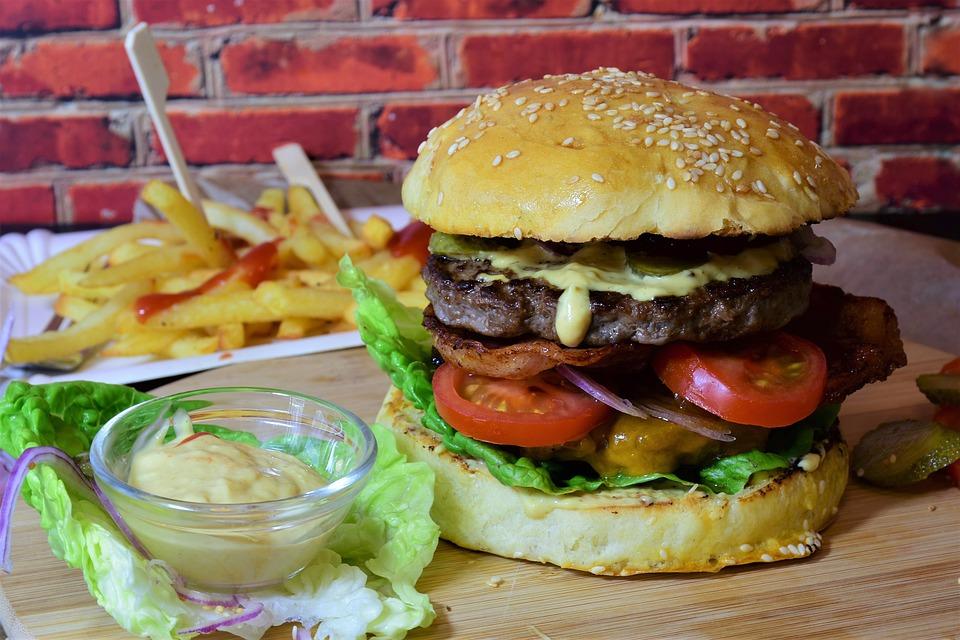 Yes, a second hamburger… but it's a list of the best Summer BBQ recipes, so you shouldn't be surprised. This one is my own tried and true recipe for an amazing and flavorful burger.
For this classically delicious burger, you'll mix 1lb ground beef, 1 envelope of dry onion soup mix, 1 egg, 1/2 cup of bread crumps, 1 tablespoon of Badia's Complete Seasoning, and a 1/2 cup of Sour Cream. Mix together, form patties, and BBQ to your desired temperature.
Feel free to add cheese and/or bacon, because cheese and bacon make everything better!
Best Summer BBQ Chicken Recipes
Chicken is one of the best things to cook on the BBQ. When done right, BBQ chicken can be flavorful, tender, juicy, and a visual delight.

Whether you are cooking drumsticks, breasts, or the entire chicken, here are some delicious recipes that are sure to inspire the mind and tantalize the taste buds.
---
Beer Marinated BBQ Chicken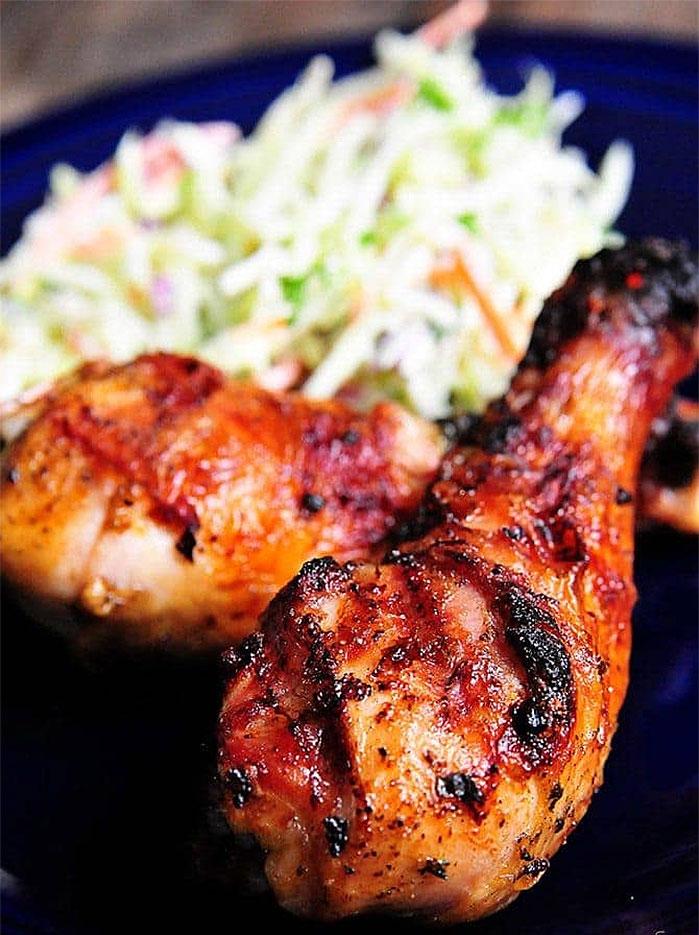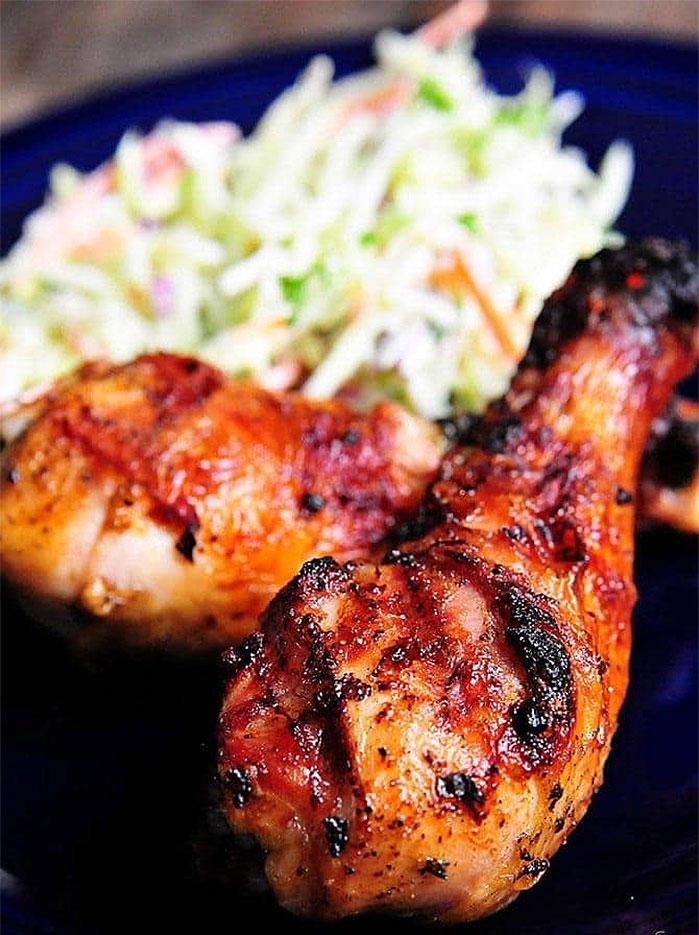 This recipe makes the perfect marinade for the best grilled chicken you'll ever have (at least, I think so)! Simple enough that you can make it when your at the cabin or in the RV, but delicious enough that you'll make it every time you can.
If you can't (or don't want to) use beer, you can substitute with Apple Cider (not Apple Cider Vinegar though!).
---
Grilled Chicken Breasts with Citrus Chimichurri Sauce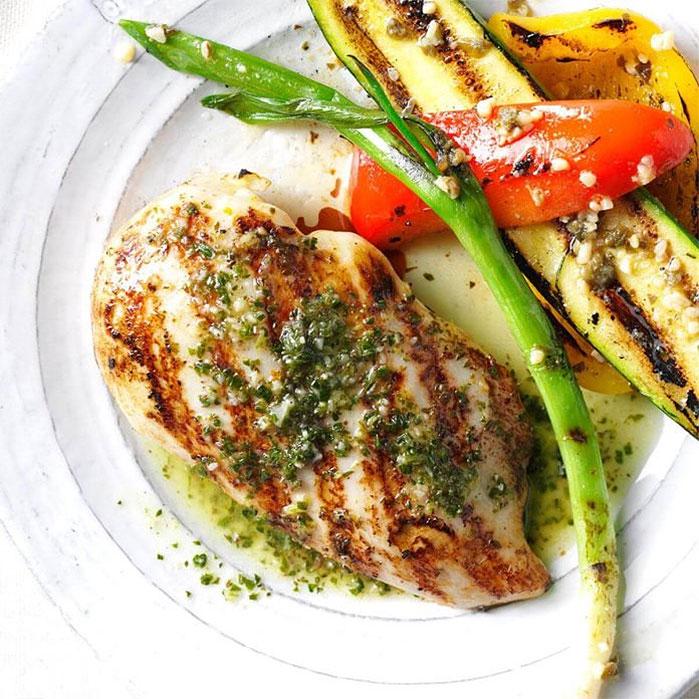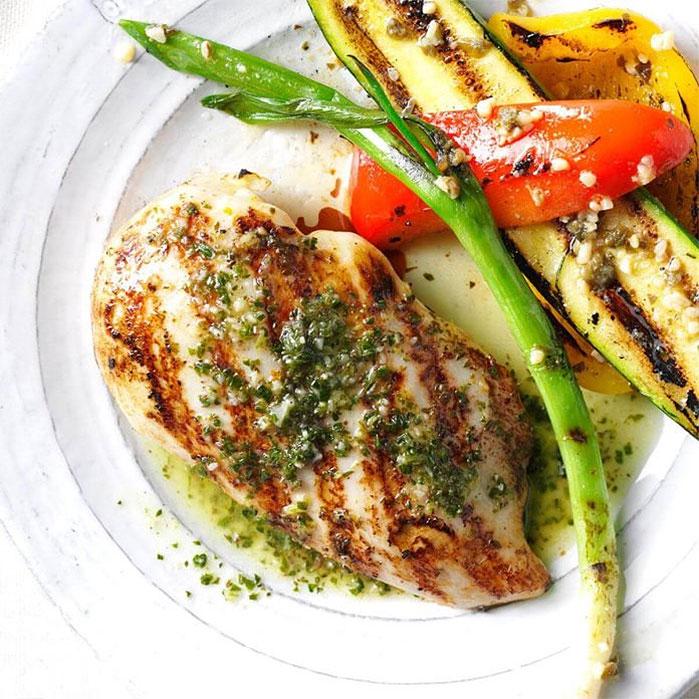 Chimichurri is a delicious green sauce from South America that goes with just about any grilled meat. This citrus version brightens up a perfectly grilled chicken breast, which has the added benefit of a brining technique that maximizes its flavor, juices, and tenderness.
---
Bacon Bourbon BBQ Chicken Kebabs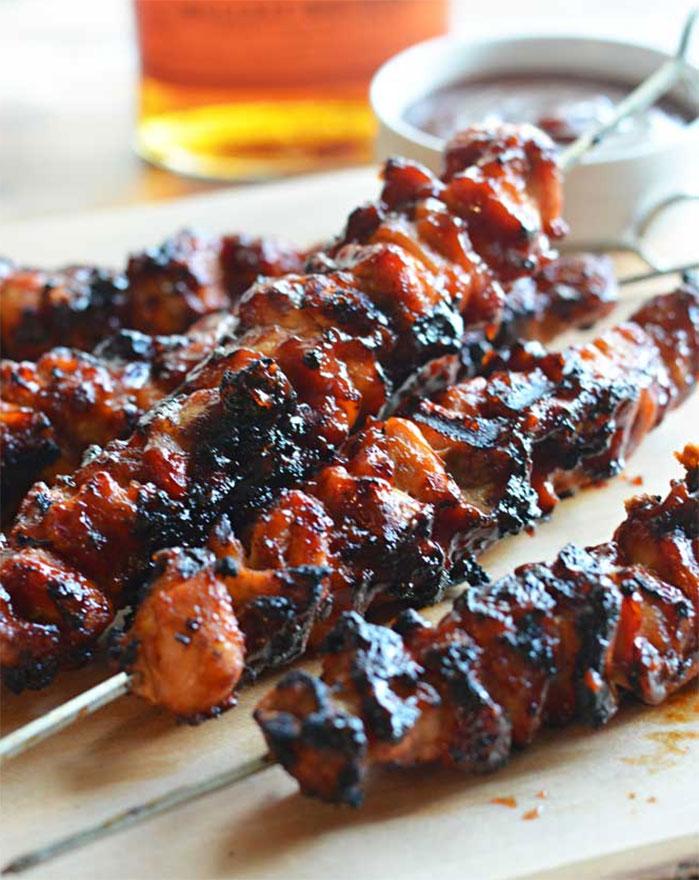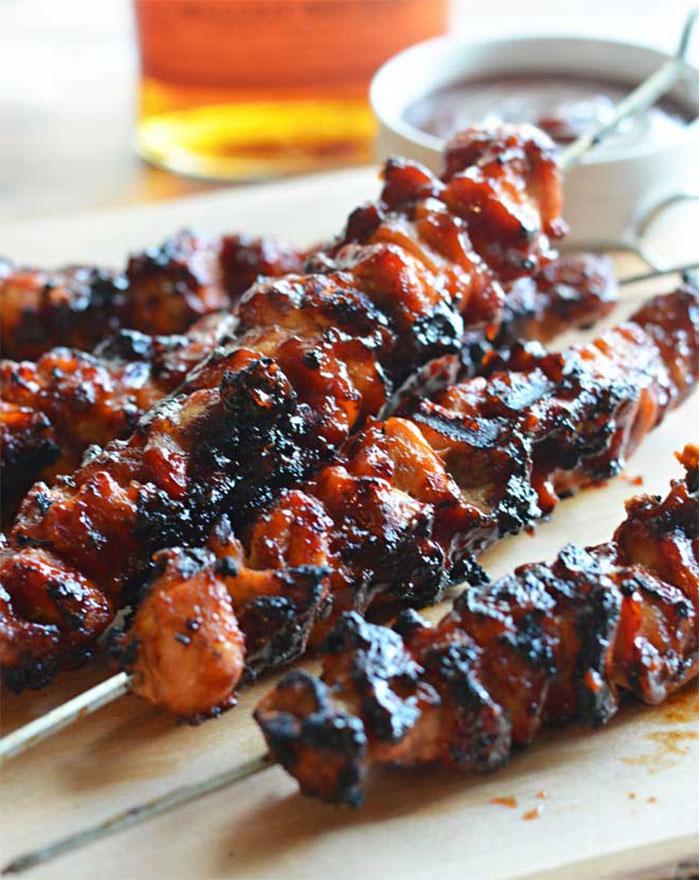 Chicken kebabs are perfect for any long weekend BBQ, family reunion, birthday, or a random Tuesday. After all, who really needs a reason to eat a chicken kebab?
The nice thing about Kebabs in general is that you can fit a LOT on the grill, and they cook fast.
---
Mouth-Watering BBQ Chicken Breasts
The most tender, juicy chicken grilled to perfection and smothered in a deliciously thick, homemade BBQ sauce that you can make ahead of time!
---
BBQ Chicken Alfredo with Grilled Apples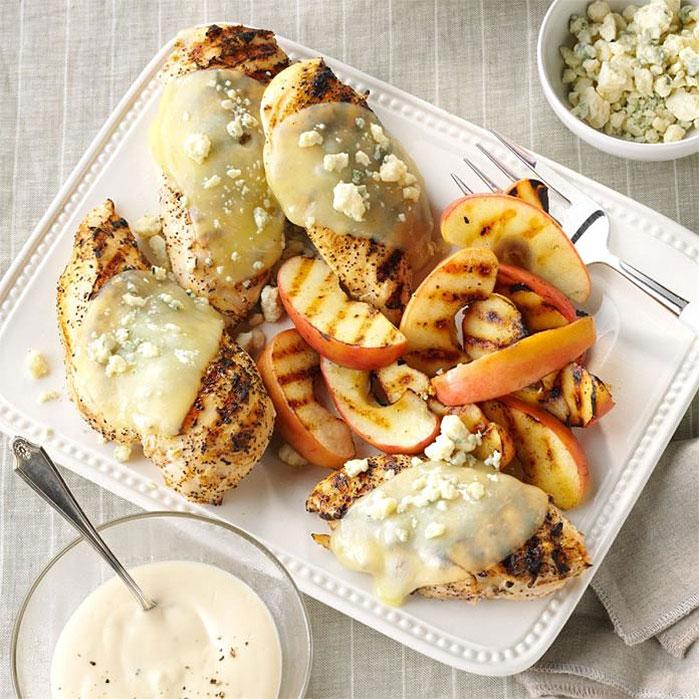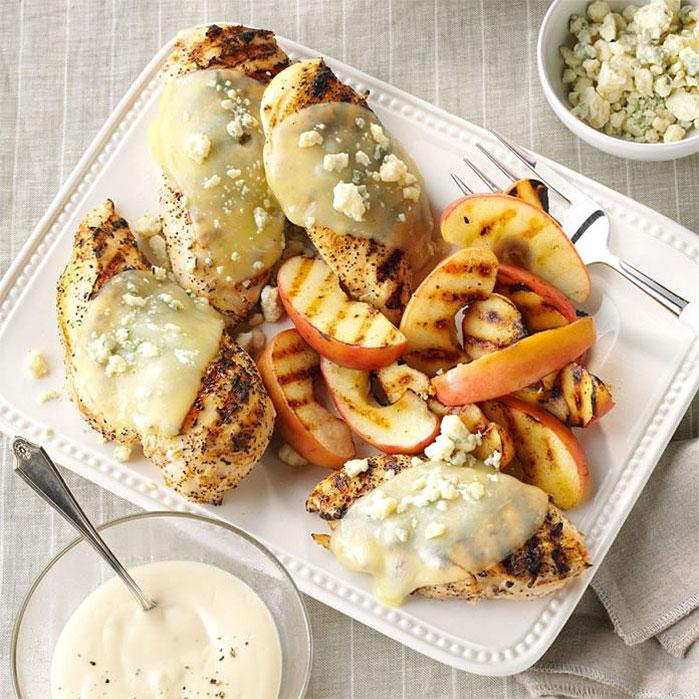 The classic Chicken Alfredo gets a deconstructed and a barbecued twist in this savory summer BBQ dish. The grilled apples are a unique but perfect accent, adding some bright flavors to this gorgeous dish.
---
Grilled Chicken with Spiced Red-Pepper Paste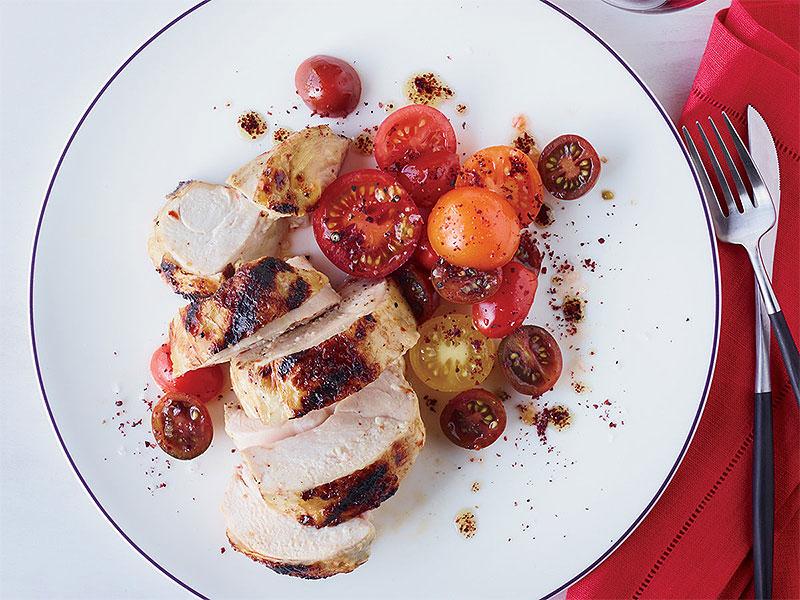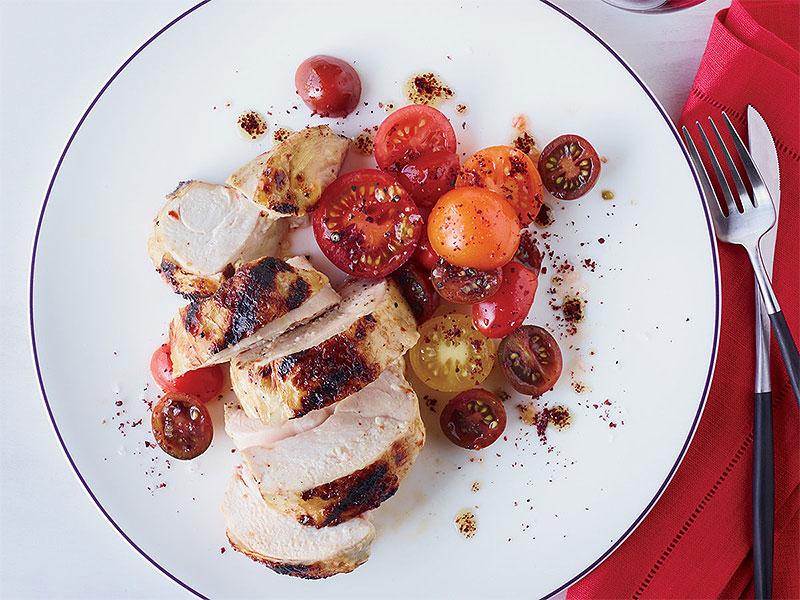 To mimic the flavor of Turkish red-pepper paste, chef Silvena Rowe recommends using a combination of red bell peppers and fresh jalapeños. As a wine pairing for this smoky, peppery chicken, may we recommend a bold Spanish rosé.
---
3-Ingredient Pesto-Grilled Chicken with Peaches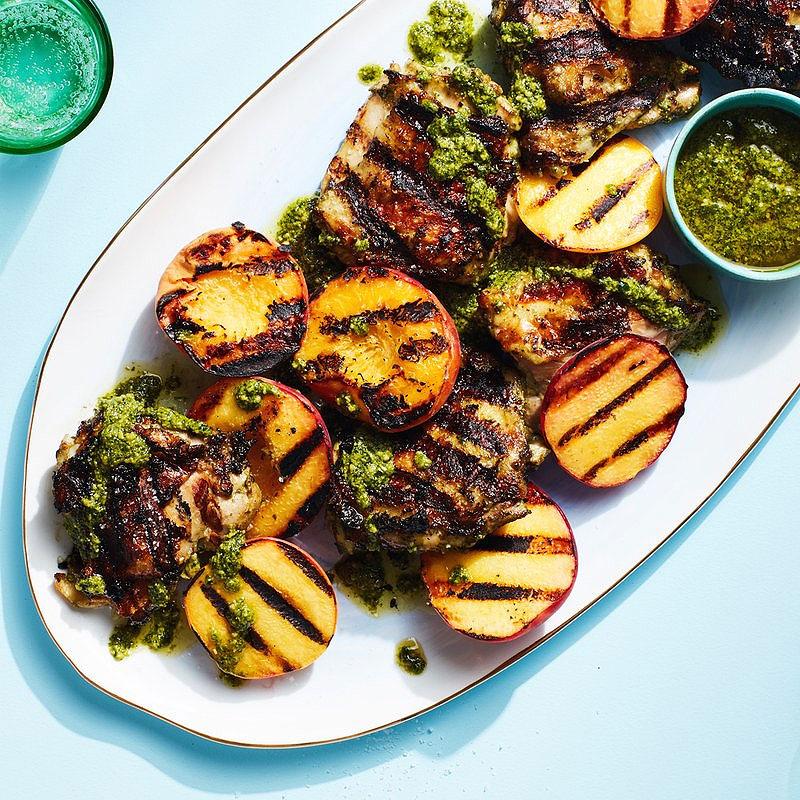 All you need for this easy summer BBQ dish is chicken, pesto (store bought or homemade, you're choice), and peaches.
Ok, you might need a little bit of vegetable oil, salt, and pepper… but "6 Ingredient Chicken" didn't sound as good.
---
Smoky Beer Can Chicken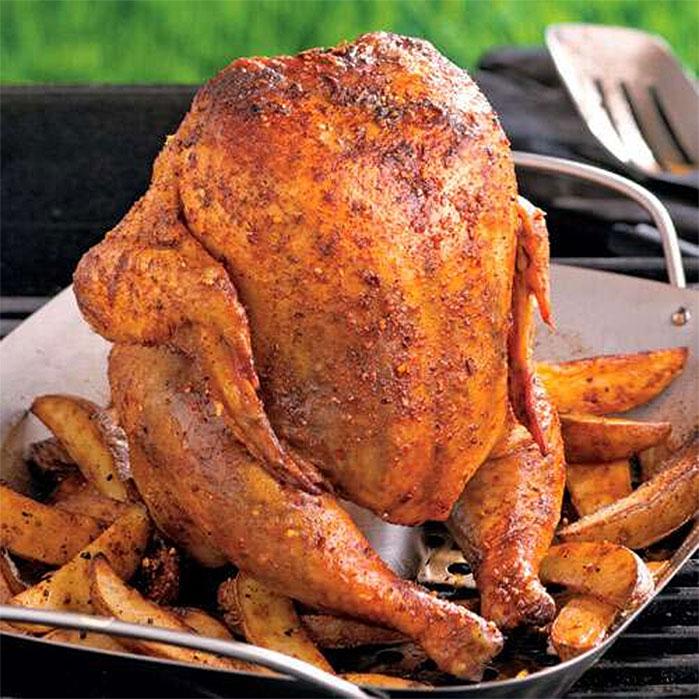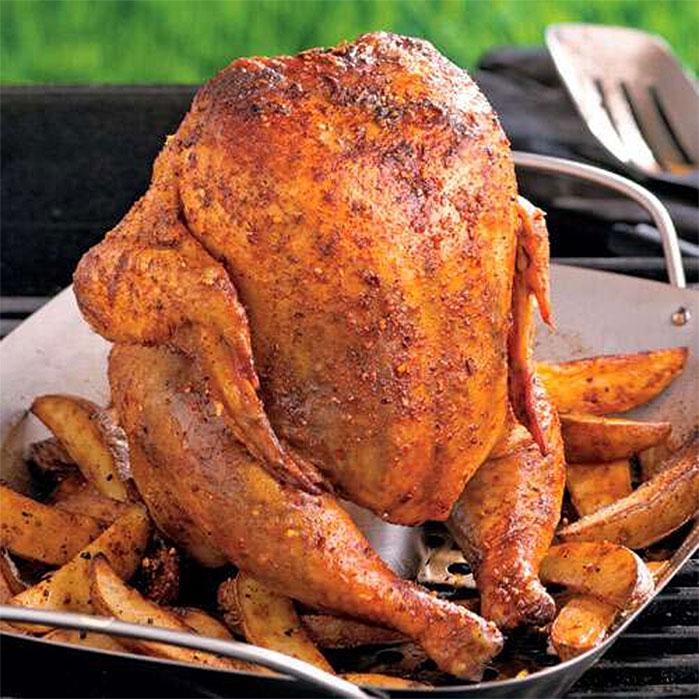 Of course, no list of Summer BBQ Favorites would be complete without the mouthwatering, always tender, always juicy, Beer Can Chicken.
This version uses a Smokey Applewood Bacon rub to give it that extra get-up-and-go.
---
Best Summer BBQ Pork Recipes
Pork – otherwise known as "the other white meat" is a Summer BBQ staple.


From Kebabs to Ribs to a complete Pork Roast cooked to perfection on the barbecue, you can't go wrong with a delicious serving of BBQ Pork.
---
Coca-Cola Marinated Pork Ribs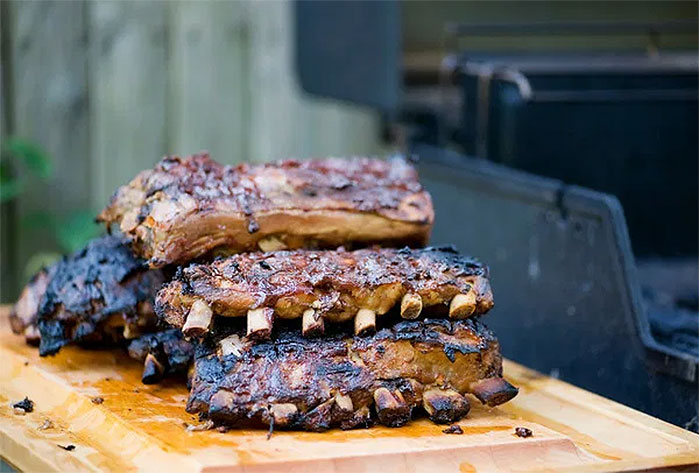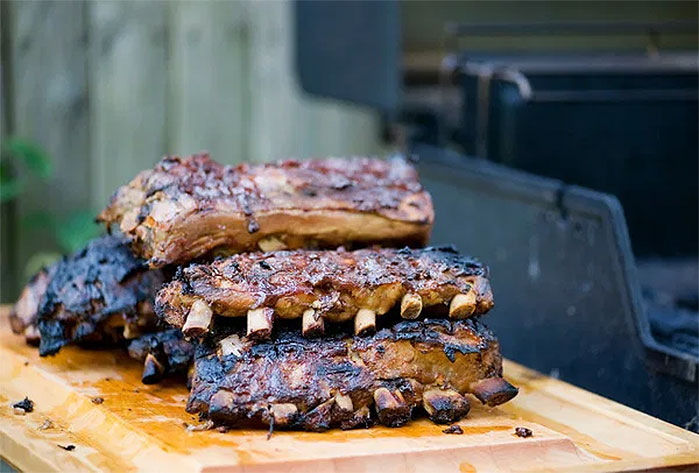 The secret to these delicious and tender BBQ pork ribs is letting them marinate in 2 cups of Coca-Cola (although Dr. Pepper will do in a pinch) overnight, plus a Coca-Cola infused BBQ sauce that is to die for! (We cover that sauce recipe below).
---
Perfectly Grilled Pork Chops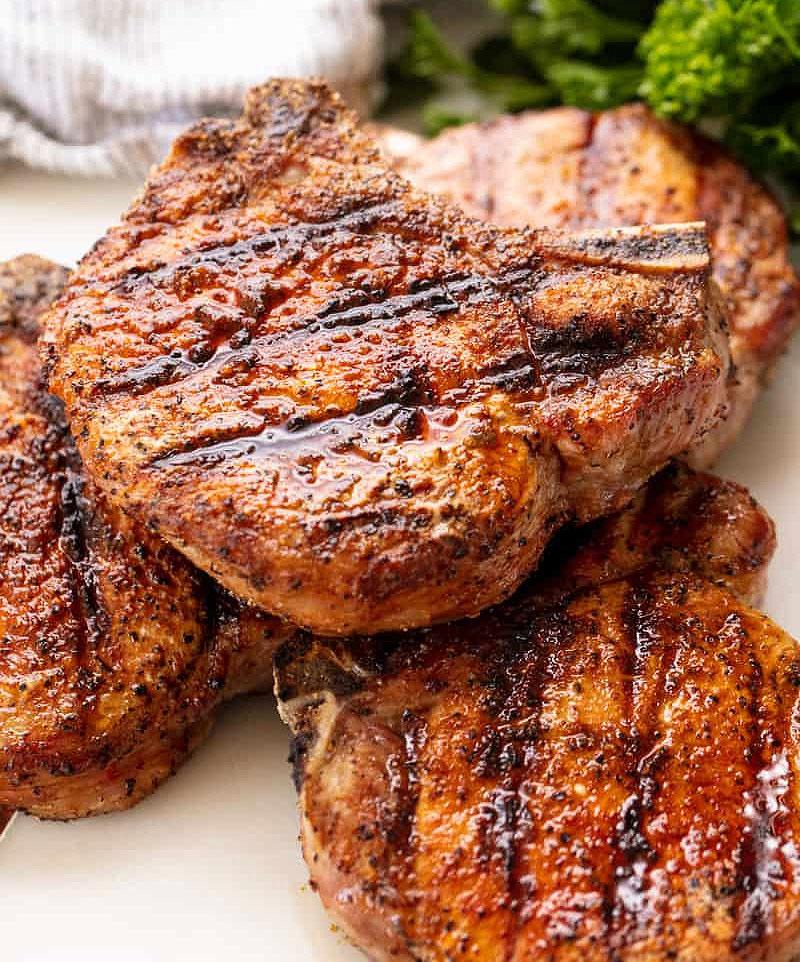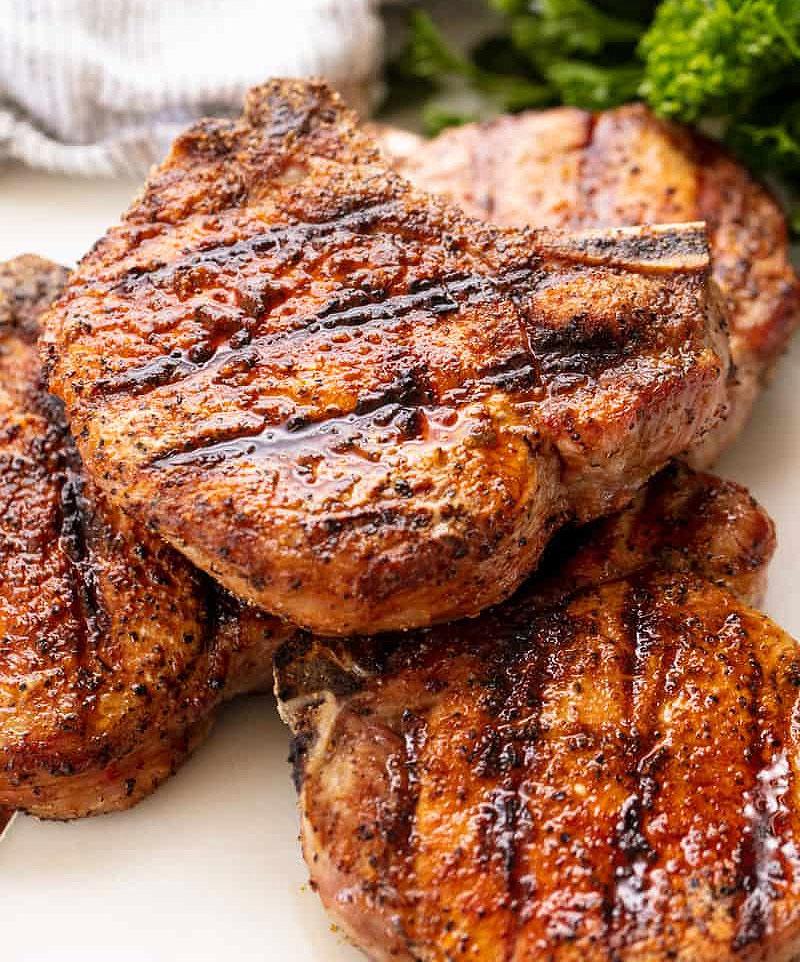 This simple, 5-ingredient pork chop recipe yields AMAZING results. Simple season your bone-in, thick, center-cut pork chops with extra virgin olive oil, paprika, salt, and black pepper and then grill at 500 degrees for 2 minutes on each side, and then move them to the upper rack, reduce heat to medium, close the lid and cook for another 15 minutes.
Actual cook time will depend on the heat of your grill and the thickness of your pork chop, but as long as your pork has been cooked to an internal temperature of 145 degrees Fahrenheit, you're good to go!
---
Grilled Pork Kebabs with Ginger Molasses Barbecue Sauce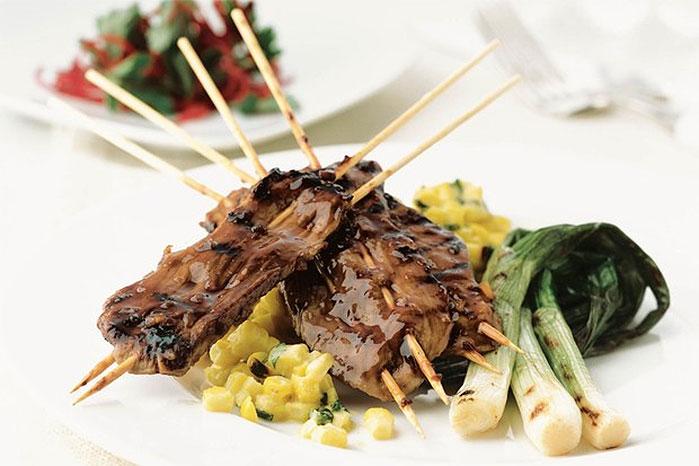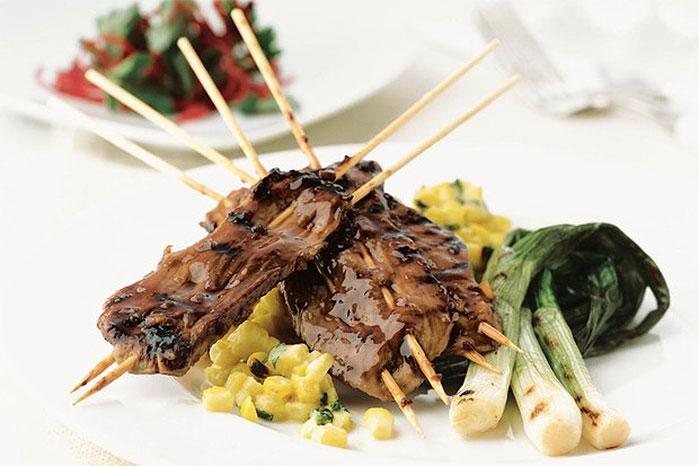 This dish will take a bit of work (about 45 minutes to prepare), but it's well worth it. Although I love the dual-skewer presentation of the pork slices, you can also make this recipe using traditional kebab-size cubes.
---
BBQ Cuban Mojo Pork Roast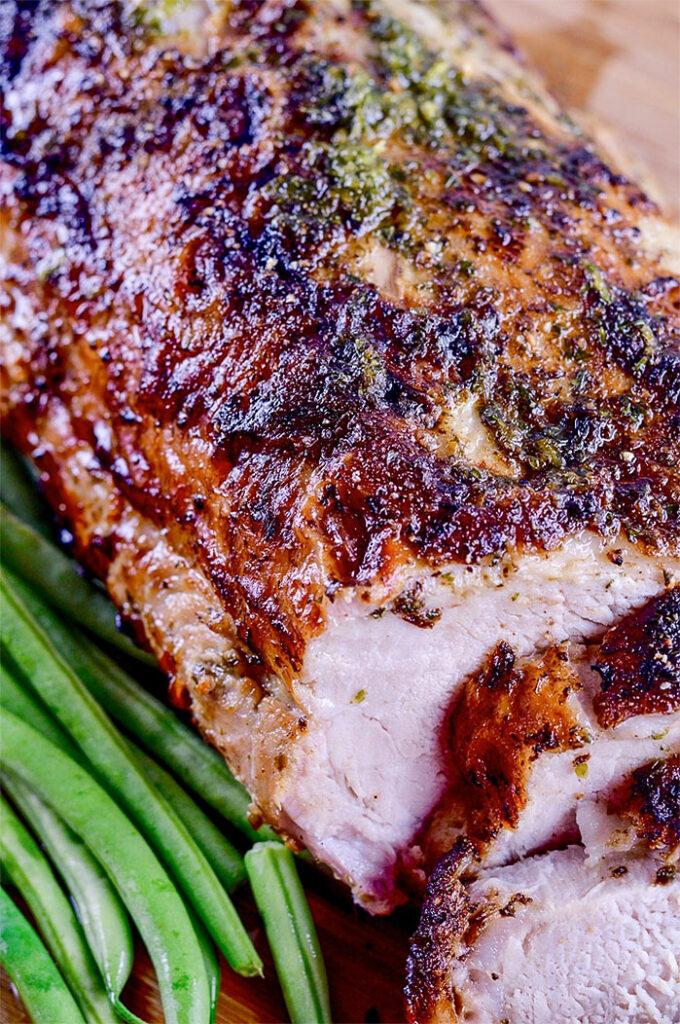 Tender, juicy and bursting with flavor from the garlic and citrus, this BBQ Cuban Mojo Pork Roast Recipe is an easy, but impressive meal to serve for family or special guests (whichever you like better).
---
Prosciutto-Wrapped Grilled Brie with Pineapple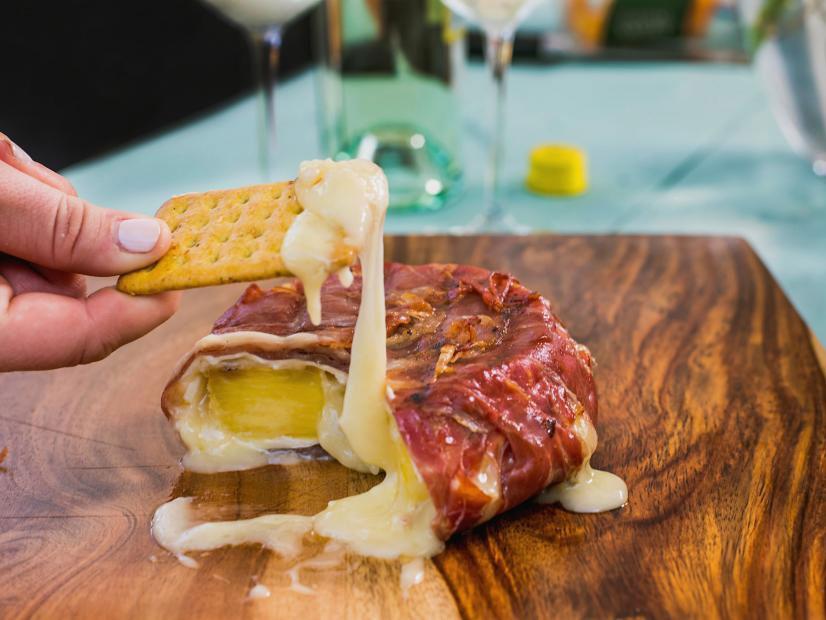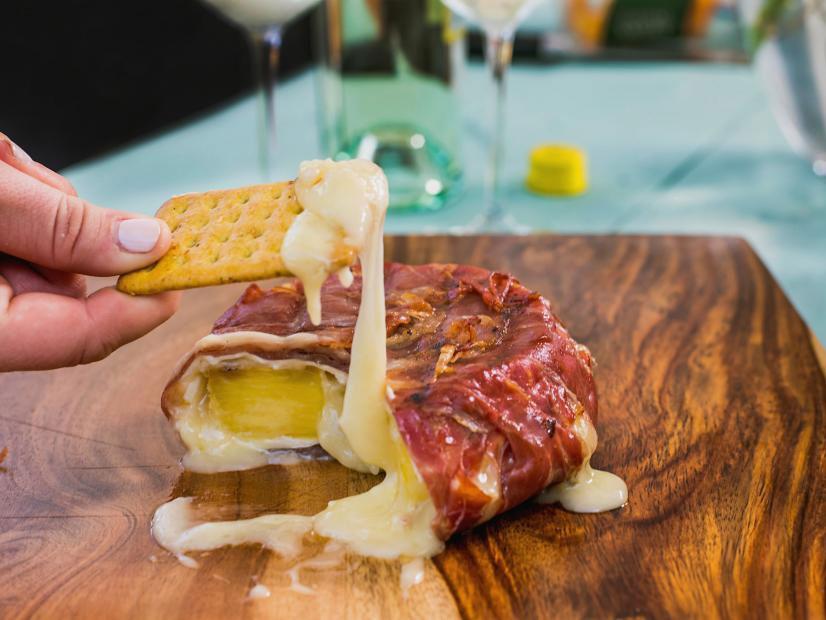 Everyone's favorite holiday appetizer get a summer vacation makeover, resulting in a sweet-salty twist for your cookout or pool party.
---
Scott Hibb's Whisky Grilled Baby Back Rib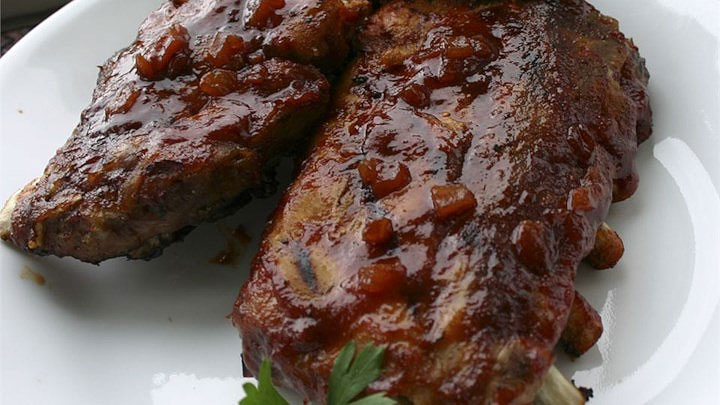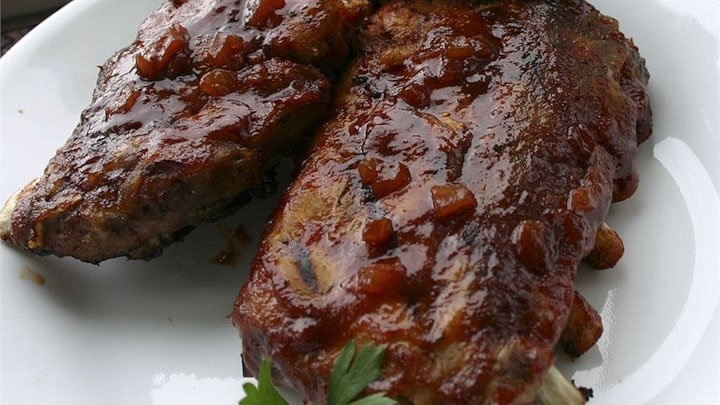 The trick to this awesome dish is to pre-cook your ribs slowly before grilling to keep them juicy and fall-off-the-bone tender.
---
Chinese BBQ Pork (aka Char Siu)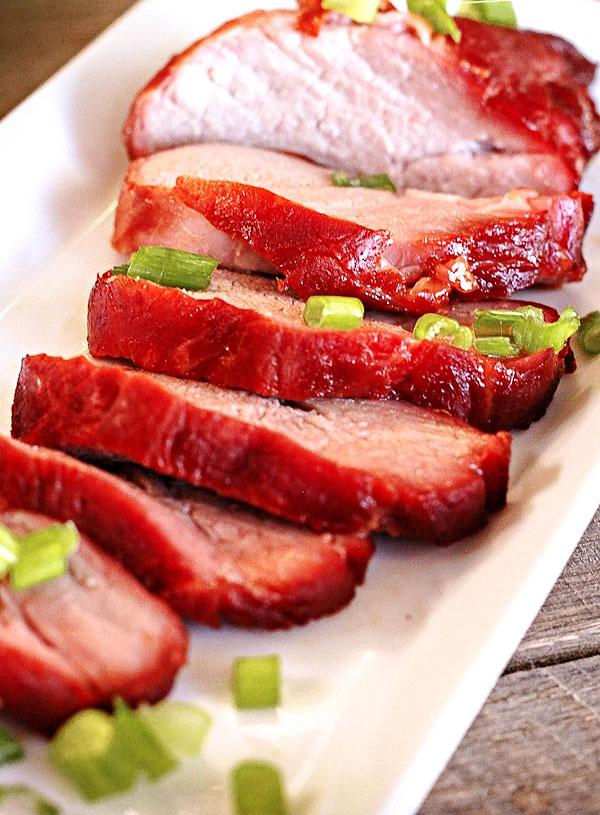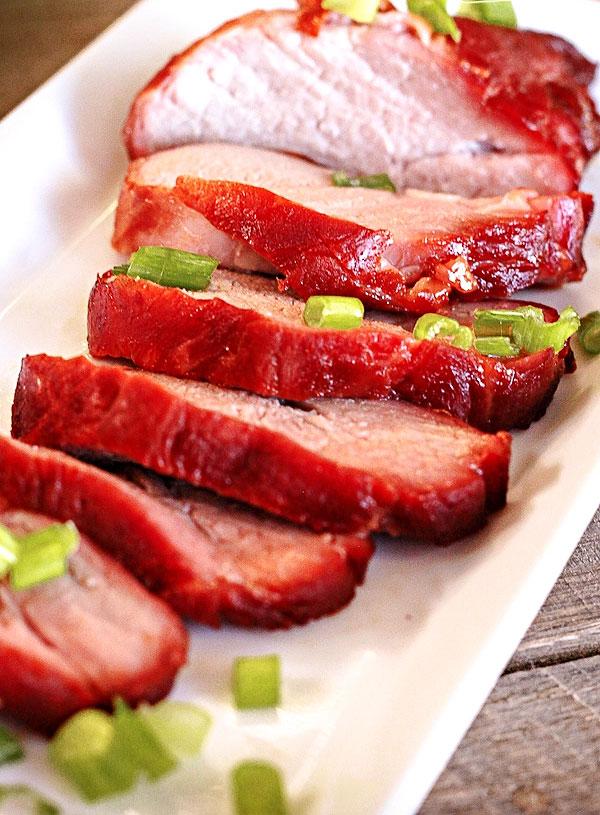 This Asian-inspired dish can be grilled or smoked to create a delicious and tender pork roast that is bursting with flavor.
---
Best Summer BBQ Fish & Seafood Recipes
Take your Summer BBQ game up a notch or two with these delicious BBQ fish and seafood recipes.

Perfect for the pescatarian in your life, these delicious recipes leave the turf behind in favor – and in flavor – for some delicious surf-inspired dishes.
---
Grilled Shrimp with Roasted Garlic & Cilantro Sauce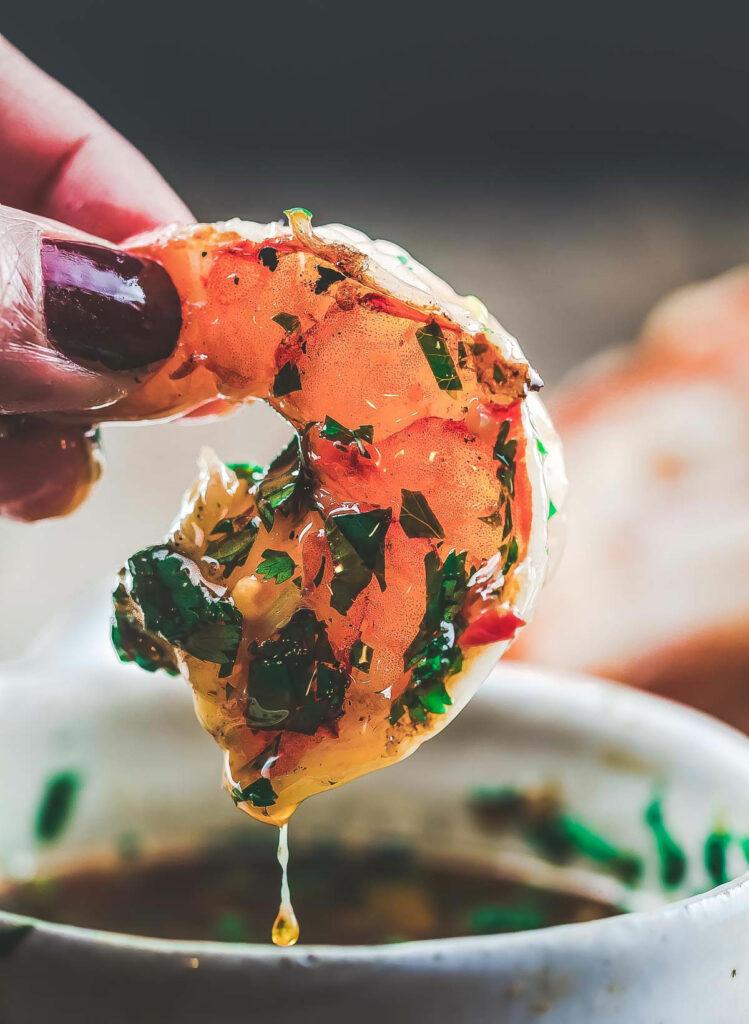 An easy but flavorful sauce makes these Shrimp extraordinary. A delicate blend of roasted garlic, fresh cilantro (mint, basil, or parsley will do if you're not a cilantro fan), white win, extra virgin olive oil, white wine and a bit of chili paste.
---
Martha Stewart's Grilled Scallops with Blistered-Yellow-Pepper Relish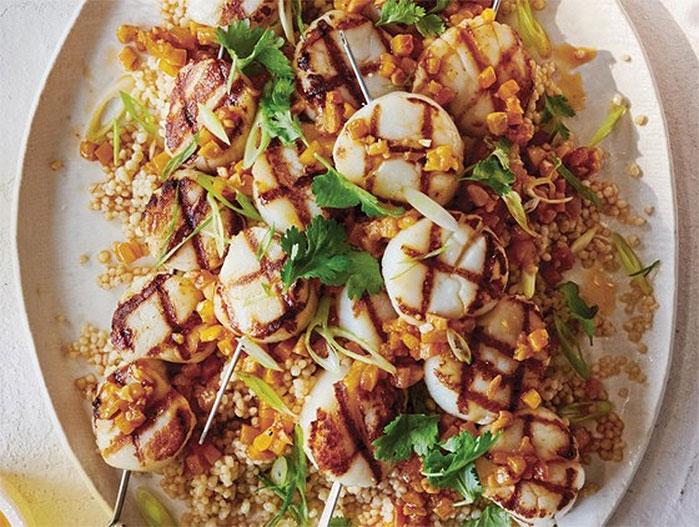 The mildly sweet goodness of the roasted yellow bell peppers relish creates the perfect match for succulent, perfectly grilled scallops.
---
Moroccan Style Grilled Fish Kebabs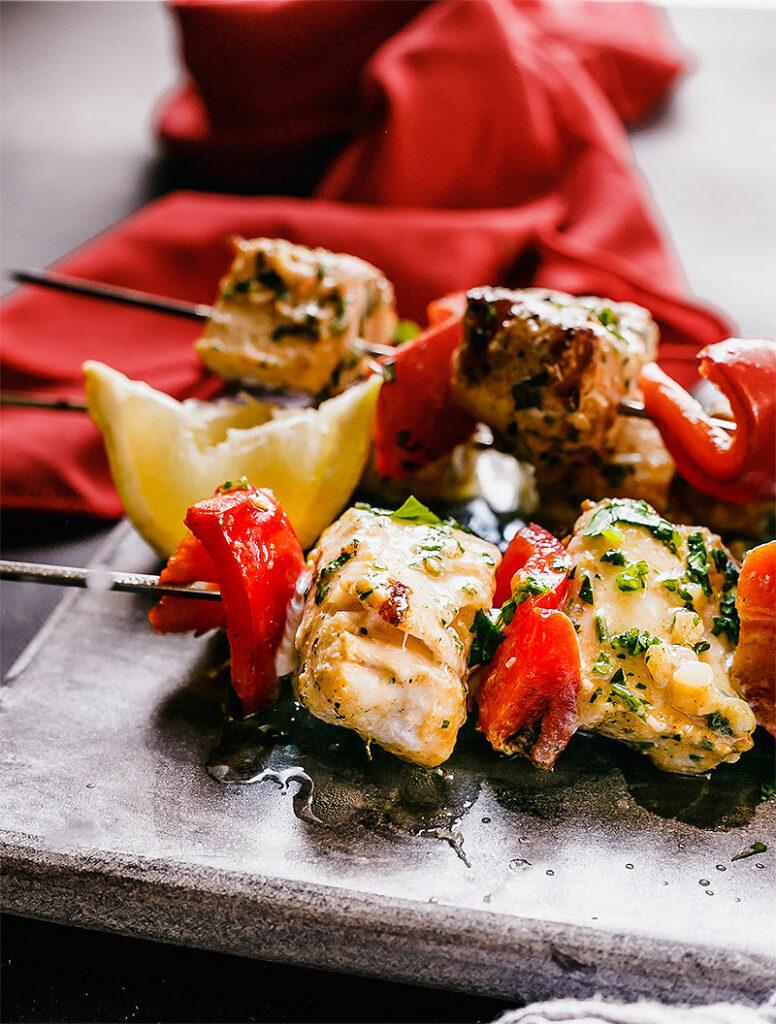 Fresh white fish in a flavorful marinade using everyday spices, with some red pepper to add a dash of color.
---
Soy, Garlic & Brown Sugar Grilled Salmon Recipe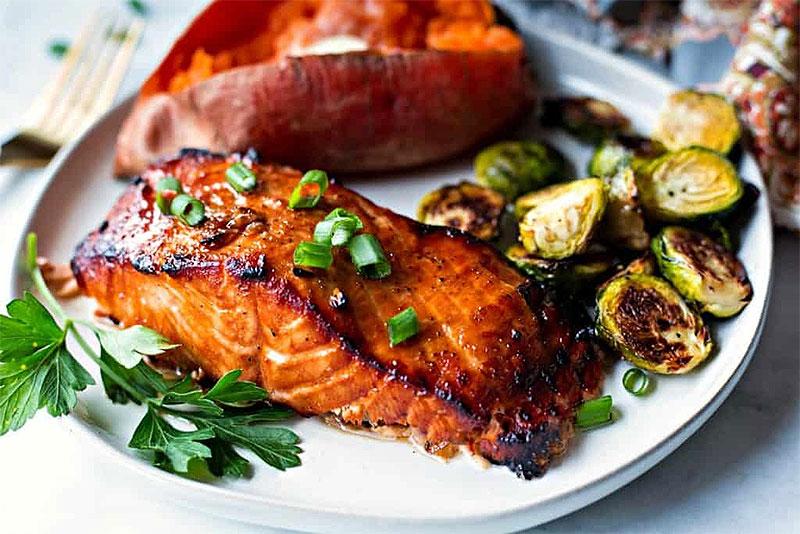 The key to this delicious dish is to combine the salmon with the marinade in a single gallon-size zip lock bag and refrigerate for at least an hour to allow the flavors to penetrate the fish.
---
Marinated & Seared Ahi Tuna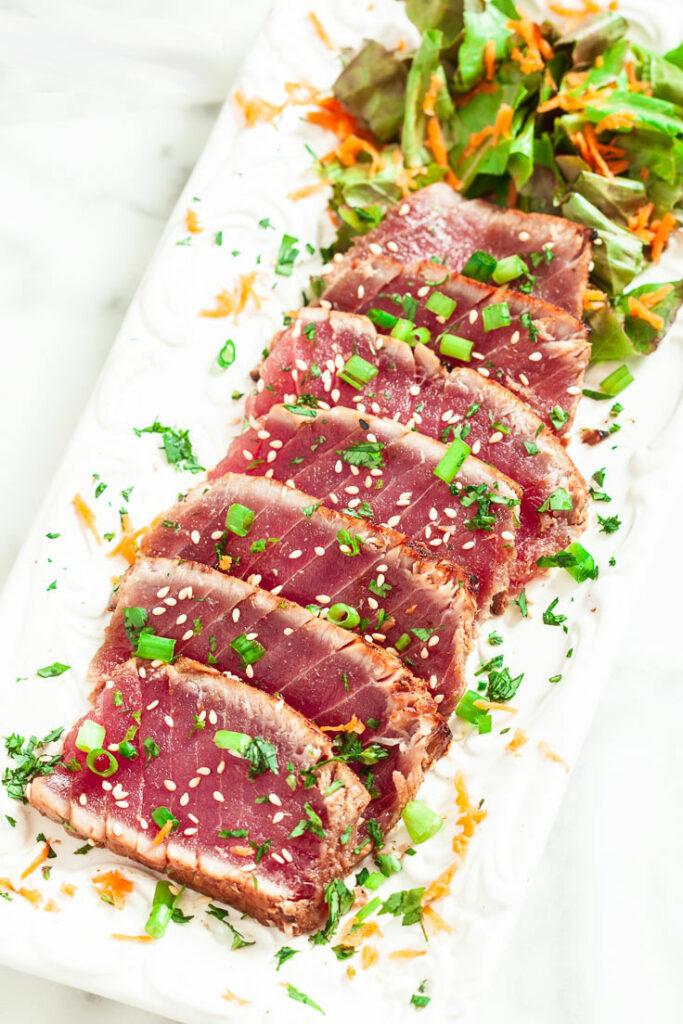 Although the original recipe calls for this to be made using a heavy skillet, this is a quick-cook dish can easily be made on the BBQ.
---
Grilled Triggerfish with Strawberry-Blueberry Relish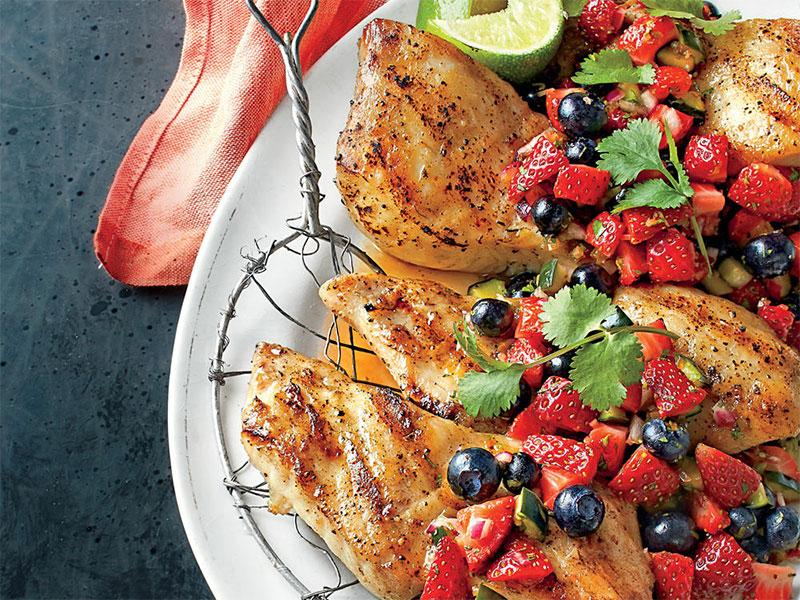 Fresh summer fruit creates a unique relish for this delicious grilled tiger fish dinner.
---
Grilled Mexican Red Snapper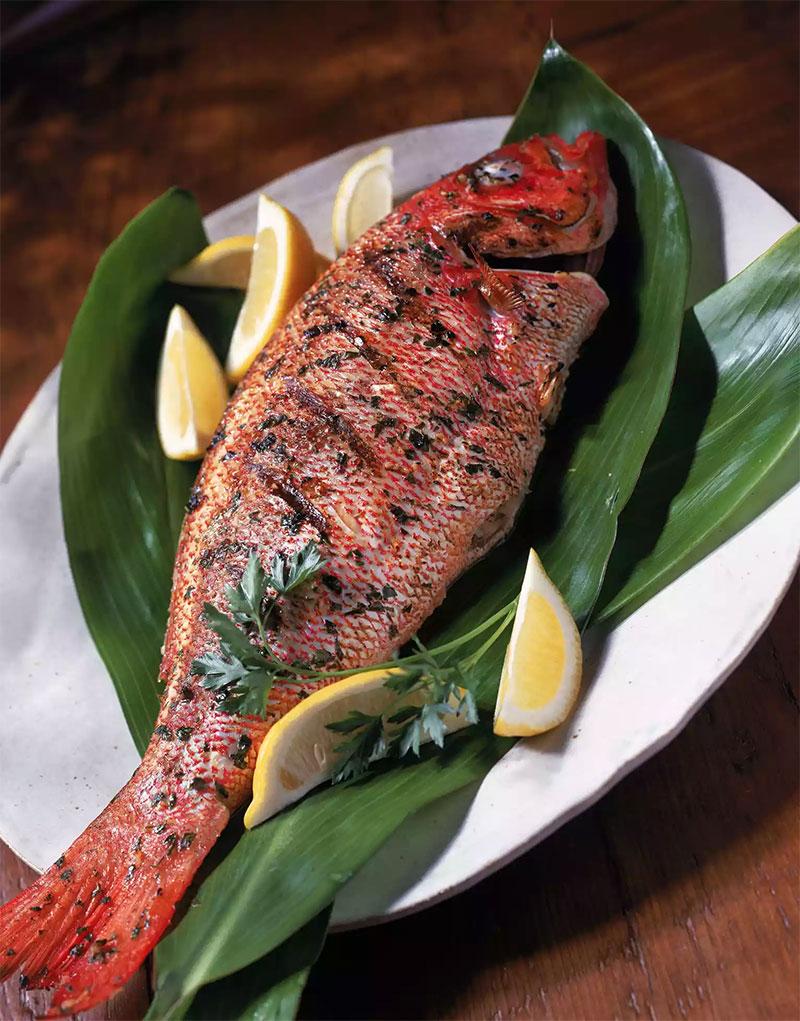 This is a classic Mexican Red Snapper recipe coats the entire fish achiote paste and citrus and then allows it to marinate for at least two hours to build the flavors.
---
Best Summer BBQ Vegetables Recipes
Summer vegetables and beautiful, bold, and bright and are perfect for cooking up on the grill. There's something about the grill char lines on a piece of freshly cooked zucchini that is so appetizing!


You can BBQ almost any vegetable, the only real challenge is that veggies cook at very different rates, so you need to make sure you cook different types of vegetables at different times so that they are all done to perfection.
Let's get started with some of the best recipes for cooking vegetables on the BBQ.
---
Spicy Grilled Eggplant with Red Pepper, Parsley, and Mint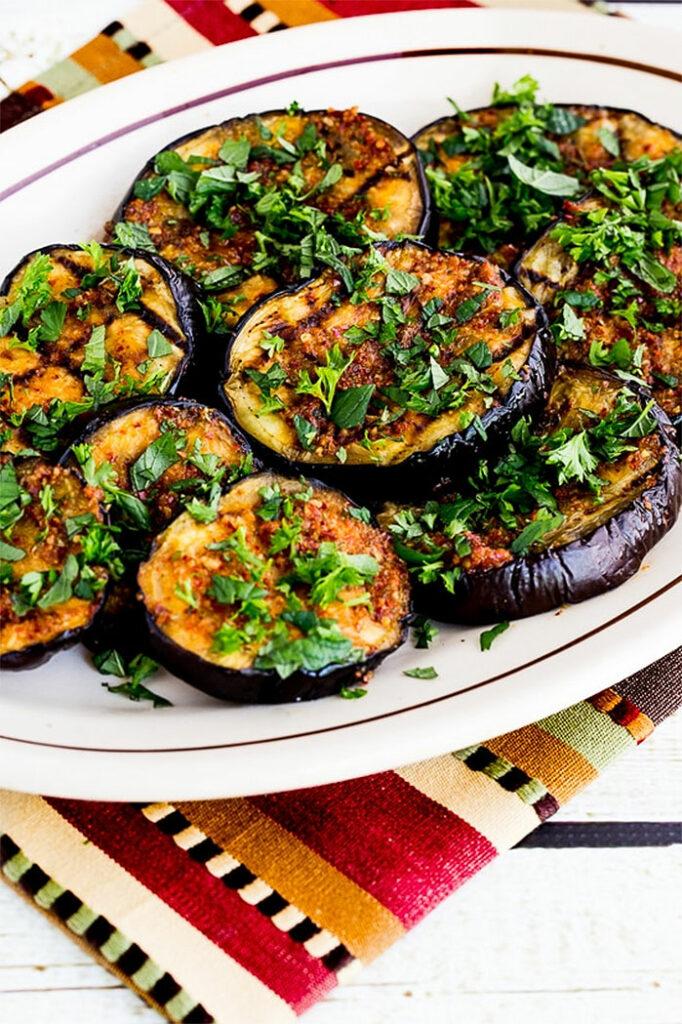 This Spicy Grilled Eggplant dish checks off all the dietary boxes, as it's low-carb, Keto-friendly, gluten-free, dairy-free, and – yes – vegan.
---
Grilled Vegetables with Goat Cheese & Reduced Balsamic Vinegar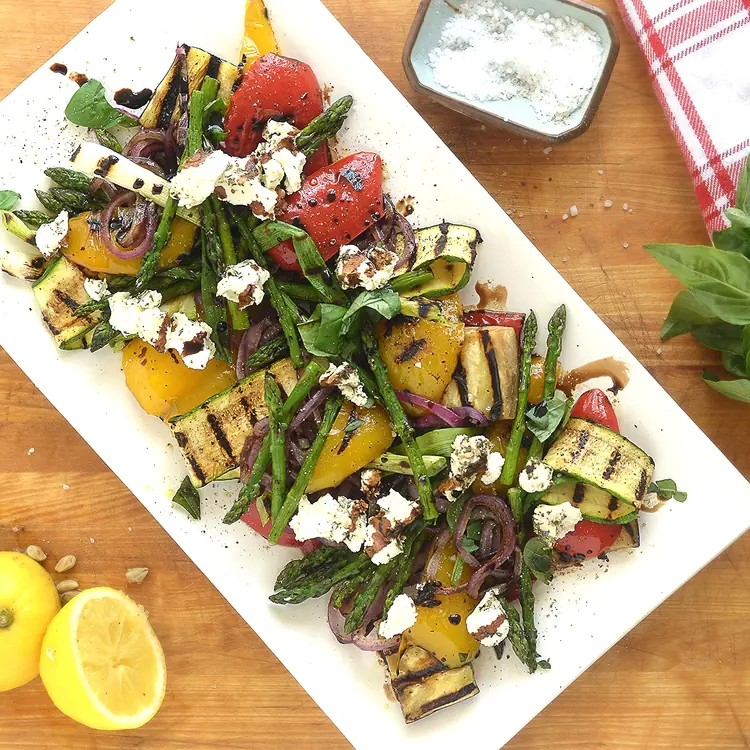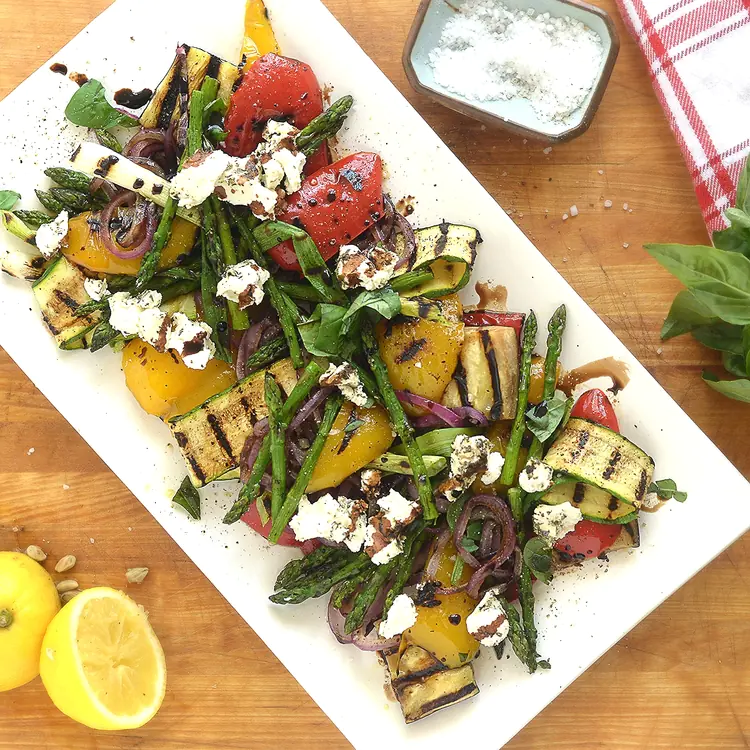 I love this dish because of the colors AND the flavors. Perfect as a summer side dish, but can also serve as the main course if you are serving up a fully vegetarian dinner.
The mix of vegetables includes red & yellow peppers, eggplant, zucchini, green onions, asparagus, and Spanish onions, plus goat cheese (although Feta will do in a pinch) and a balsamic vinegar reduction.
---
Giada De Laurentiis Grilled Vegetables Recipe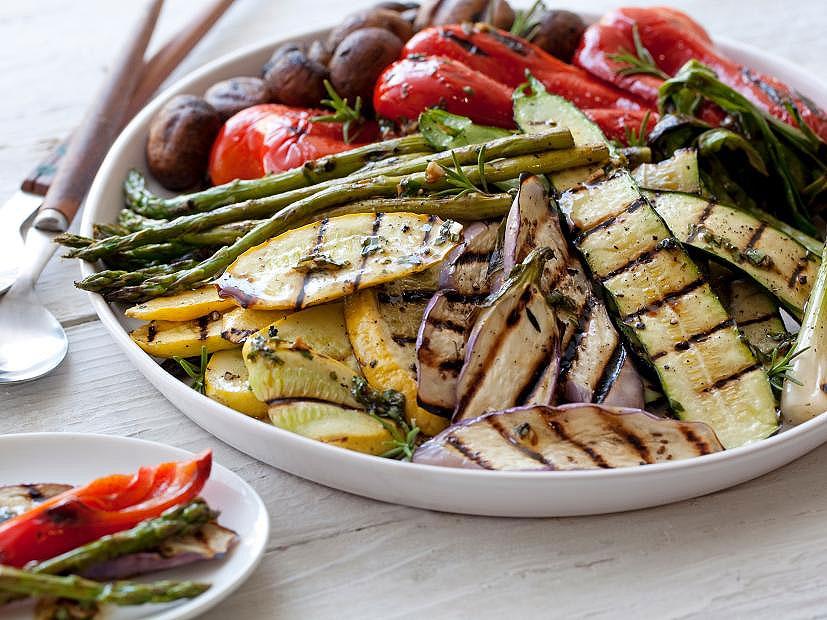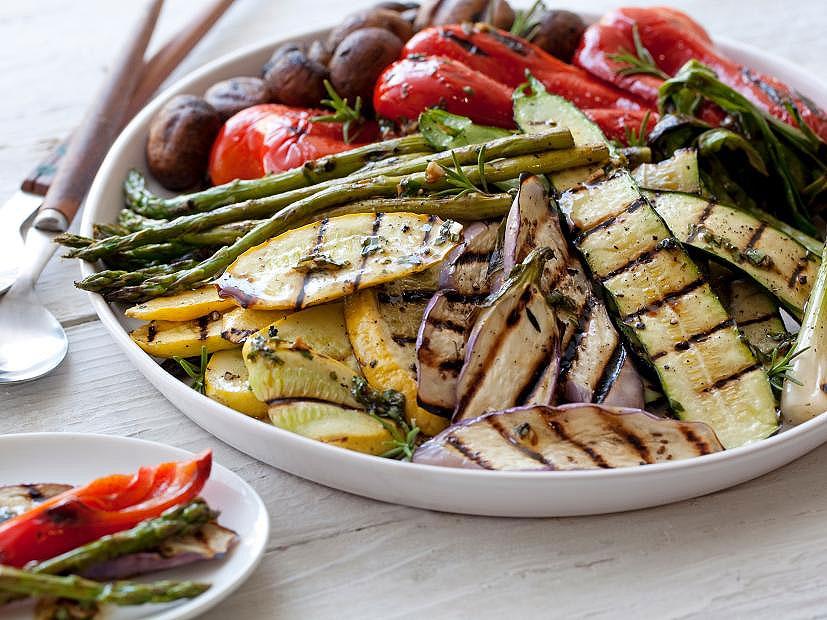 Italian-born American chef, writer, and television personality, Giada De Laurentiis, shares her receipe for beautiful grilled vegitables.
---
Corn with Cilantro-Lime Butter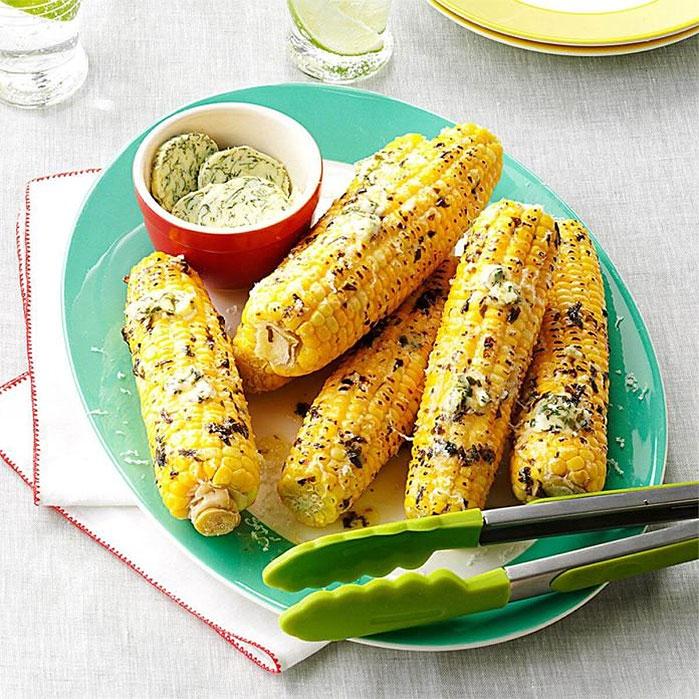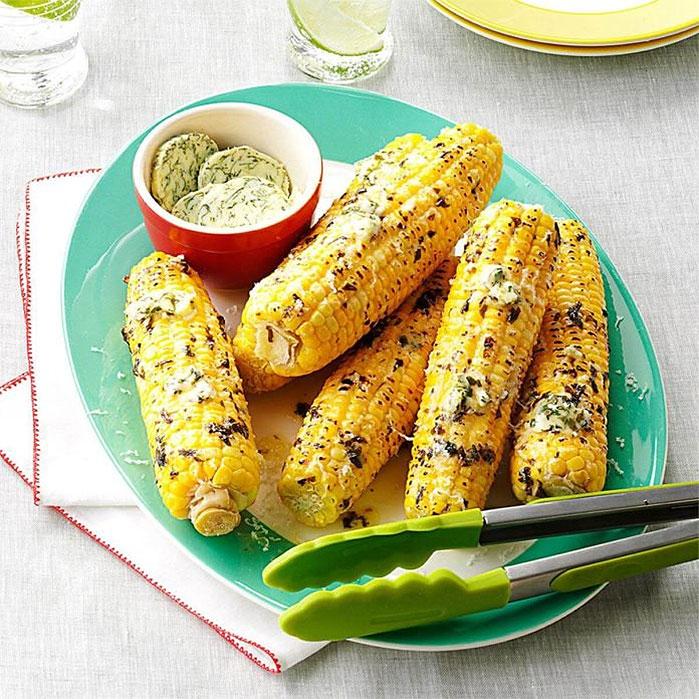 Fresh, lively, and bold. A perfect pick-me-up for summer corn.
---
BBQ Corn with Butter, Parmesan, Lemon & Tahini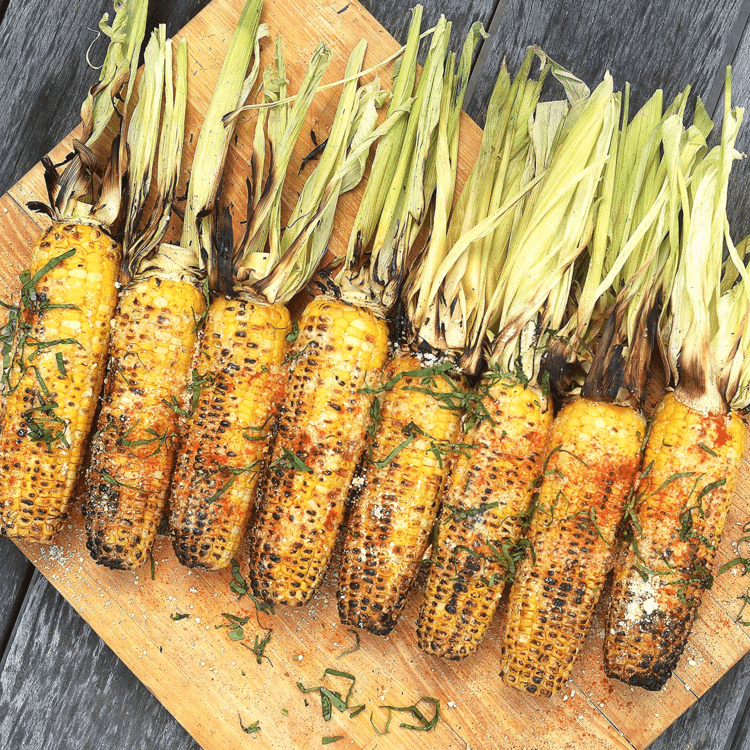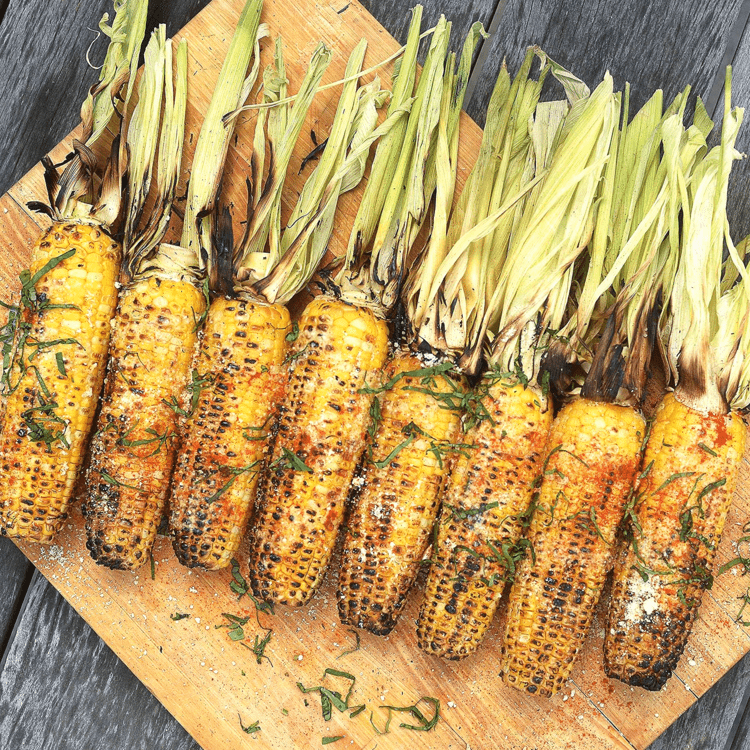 Another take on fresh summer corn, this version uses unsalted butter, grated Parmesan cheese, fresh squeezed lemon, and tahini sauce for a truly unique take on corn.
---
Grilled Bruschetta Portobello Mushrooms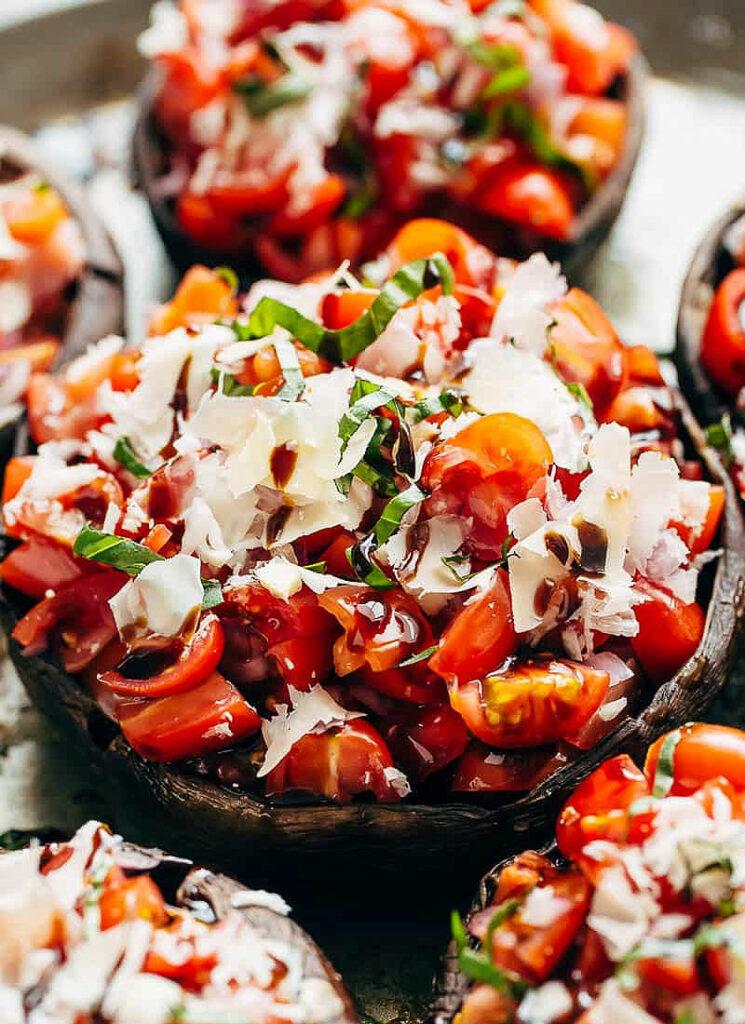 A unique take on the mushroom, Grilled Bruschetta Portobello Mushrooms are perfect as an appetizer, or for those on a low carb diet.
---
Grilled Vegetable Platter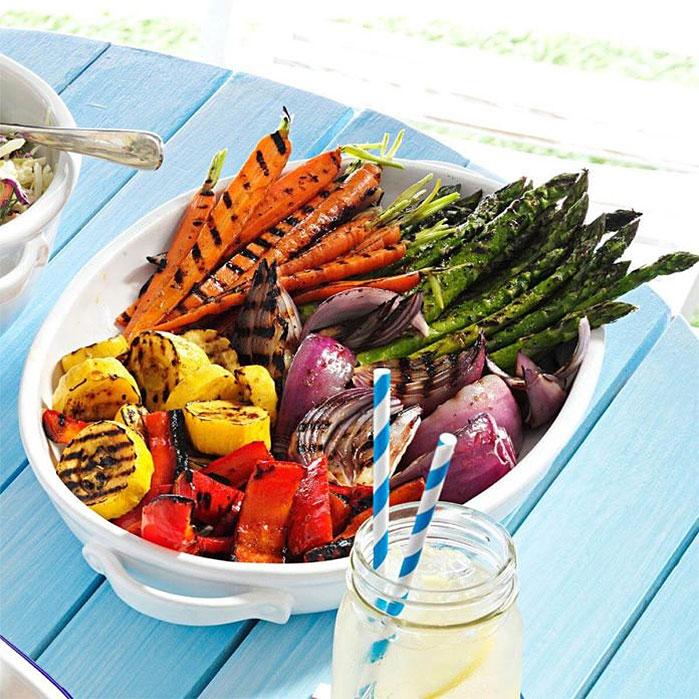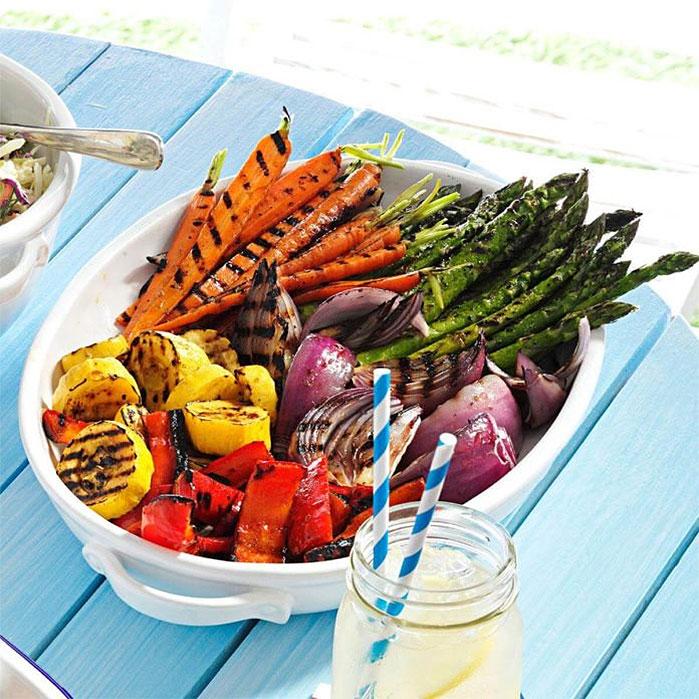 The best summer veggies, all in one beautiful dish! Not only is the mix of colors visually appealing, but the grilling process brings out the natural flavors in each of these vegetables. Perfect for entertaining.
---
Grilled Pepper and Red-Onion Pizzas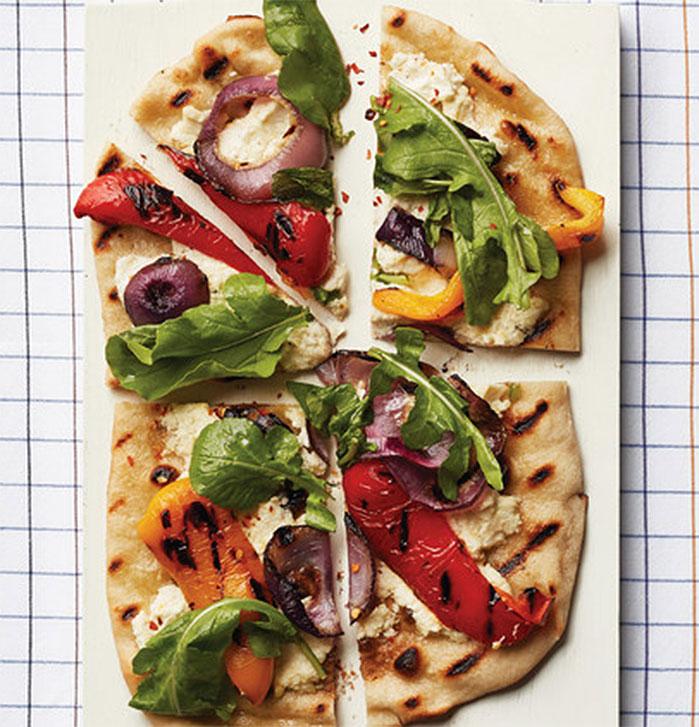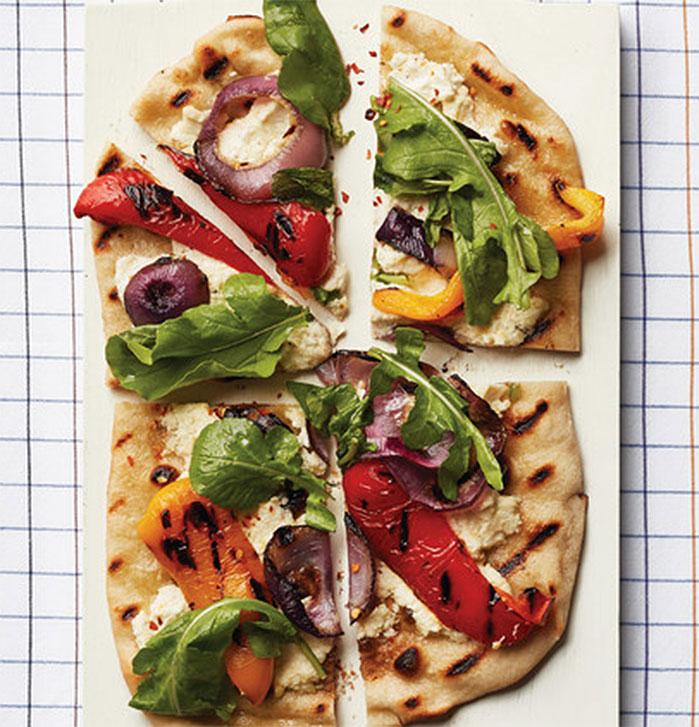 You can use store-bought pizza dough (or make your own if you wish) for this unique summer-tastic creation. Simply grill 1 side of the dough for 1-2 minutes, flip it over, top the cooked side with goat cheese, charred bell peppers and red onions, olive oil, and some lemony arugula and then grill for another 1-2 minutes. Fast, easy, and delicious!
---
Best Summer Sauces & Dips To Go with Your BBQ
Although often neglected, sauces and dips can make or break your BBQ. The right dip can add that perfect zing to an already amazing dish, or the right BBQ sauce can become the finishing touch on a perfectly grilled piece of chicken.


From classic BBQ sauces to zesty dipping sauces you can serve along side your perfectly barbecued dinner.
Jim Beam Bourbon BBQ Sauce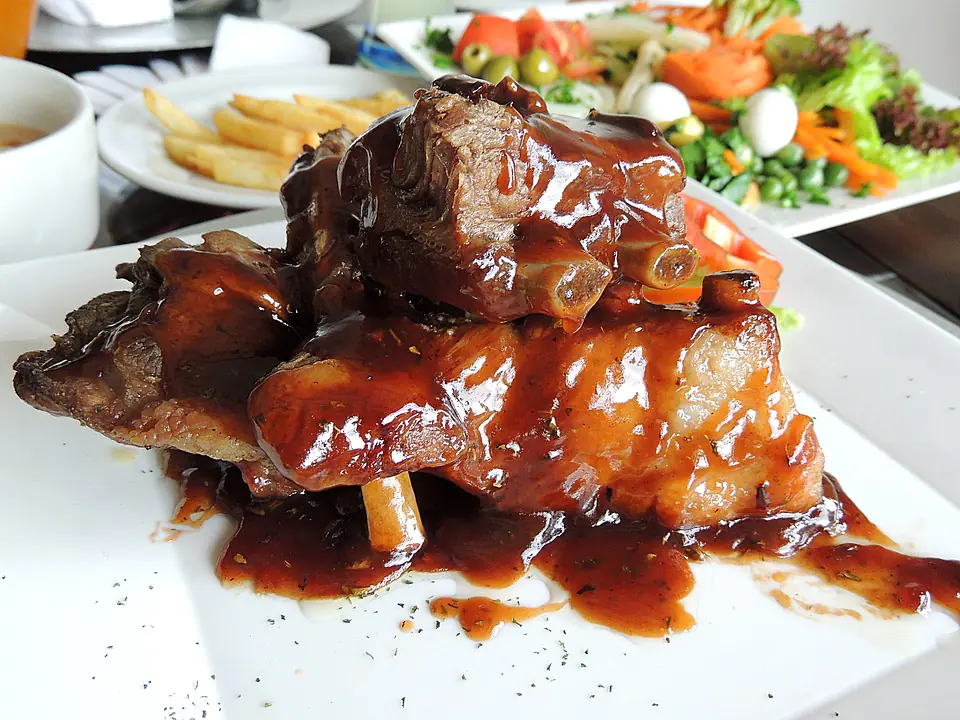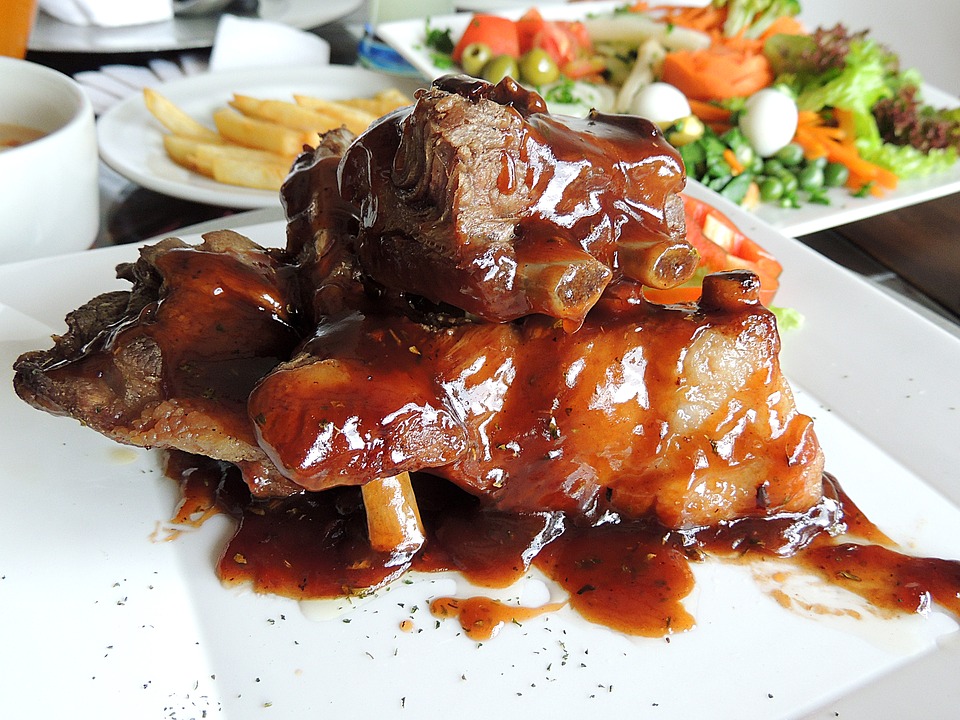 This tangy sauce is perfect on ribs, steak, chicken, or hamburgers. With the bourbon flavors and the heat from the cayenne peppers, you will not mistake this delicious and unique sauce.
---
Coca-Cola BBQ Sauce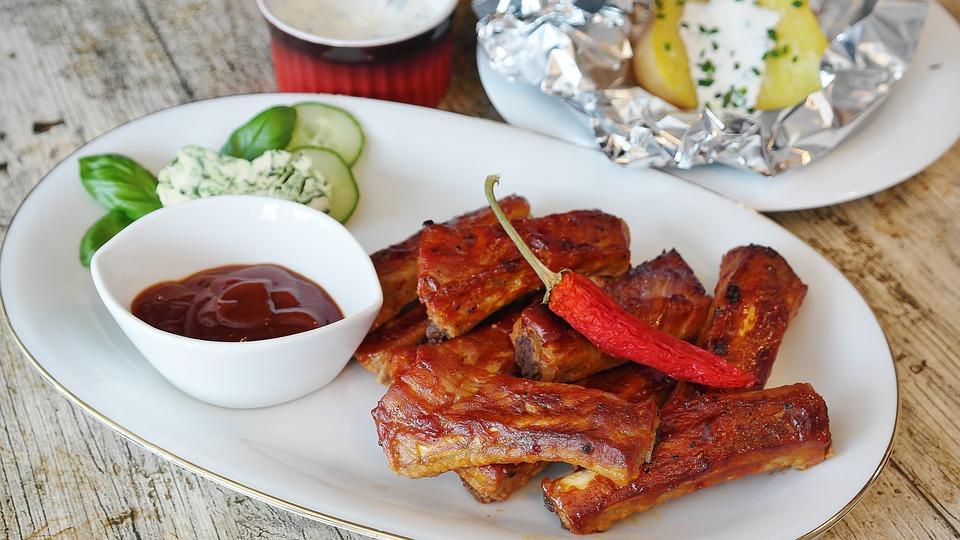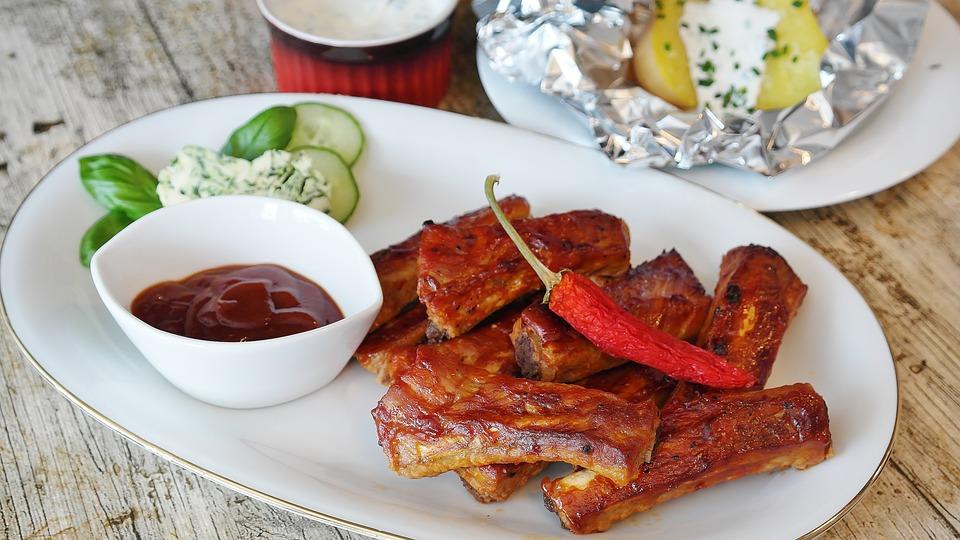 The secret to this sauce is 1 Cup of Coca-Cola, which creates an amazing sauce for ribs!
---
Lemon Dill & Horseradish Sauce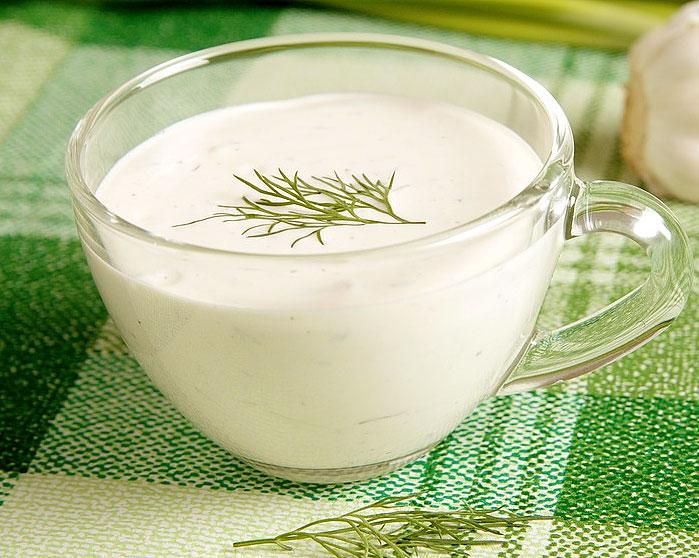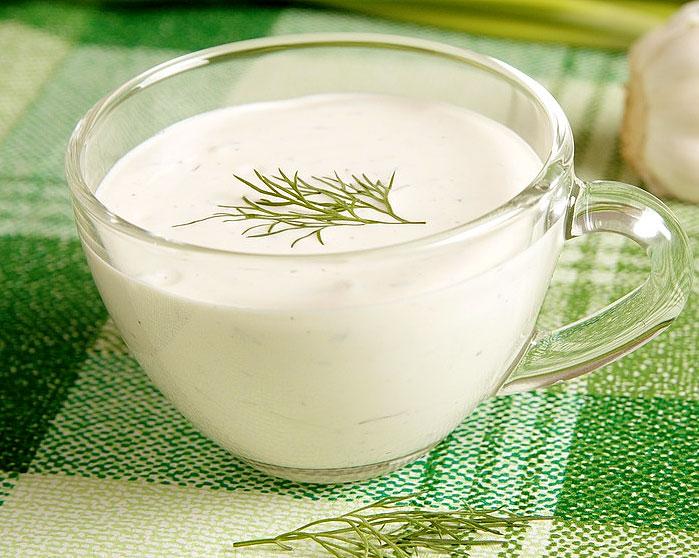 A tangy twist on the classic Lemon-Dill sauce, the horseradish adds a bit more zip. Perfect with grilled shrimp or a perfectly barbecued steak.
---
Bang Boom Sauce Recipe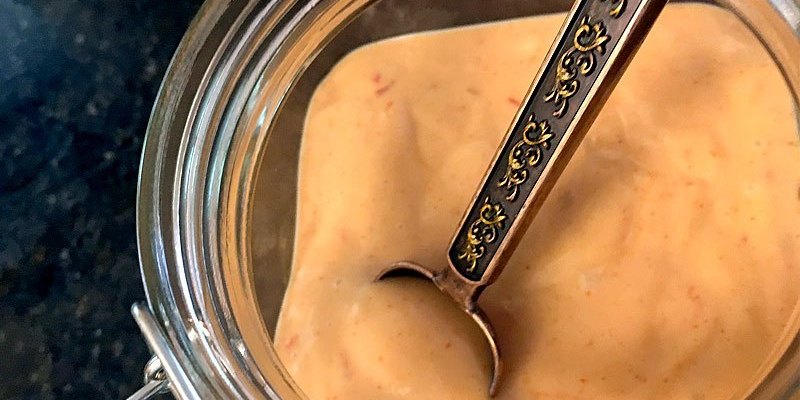 Get the Bang Boom Sauce Recipe
Boom Boom Sauce and Bang Bang Sauce are very similar sauces, with minor variations between them. Boom Boom sauce is a popular condiment which was made popular by the Sheetz chain of convenience stores.
Bang Bang Sauce is part of Bonefish Grill's popular Bang Bang Shrimp.
Both sauces have the main ingredients in common (Mayo, Thai sweet chili sauce, Sriracha sauce, but in slightly different measurements. And Boom Boom sauce includes a hint of garlic. I also like a dash of smoked paprika in my Boom Boom Sauce.
Either sauce is spectacular on burgers, but it also goes well with shrimp, fries, corn dogs, and more.
---
Simple Smoked Paprika Barbecue Sauce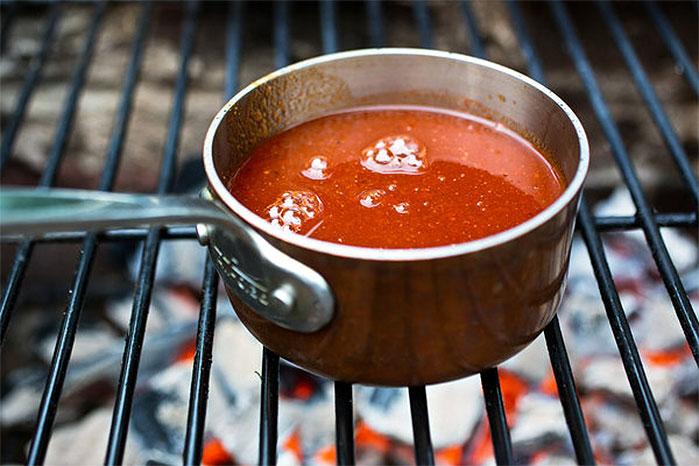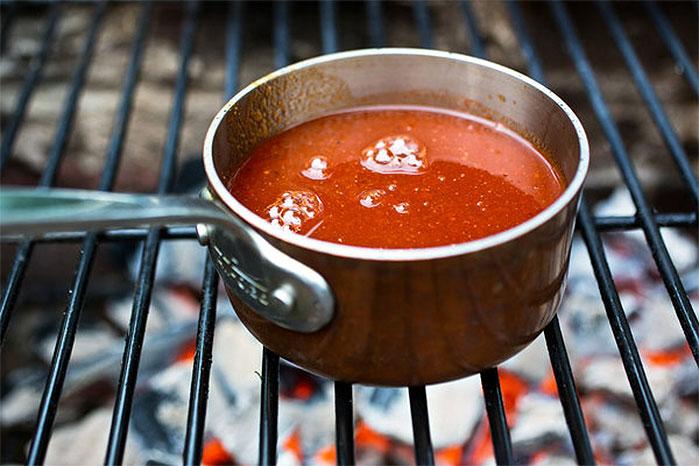 It's the ground cumin and smoked paprika that add the magic to this simple barbecue sauce. Pairs beautifully with pork and chicken. All you need is ketchup, cider vinegar, brown sugar, Spanish smoked paprika, ground cumin, salt, and pepper.
---
Fresh Pesto Sauce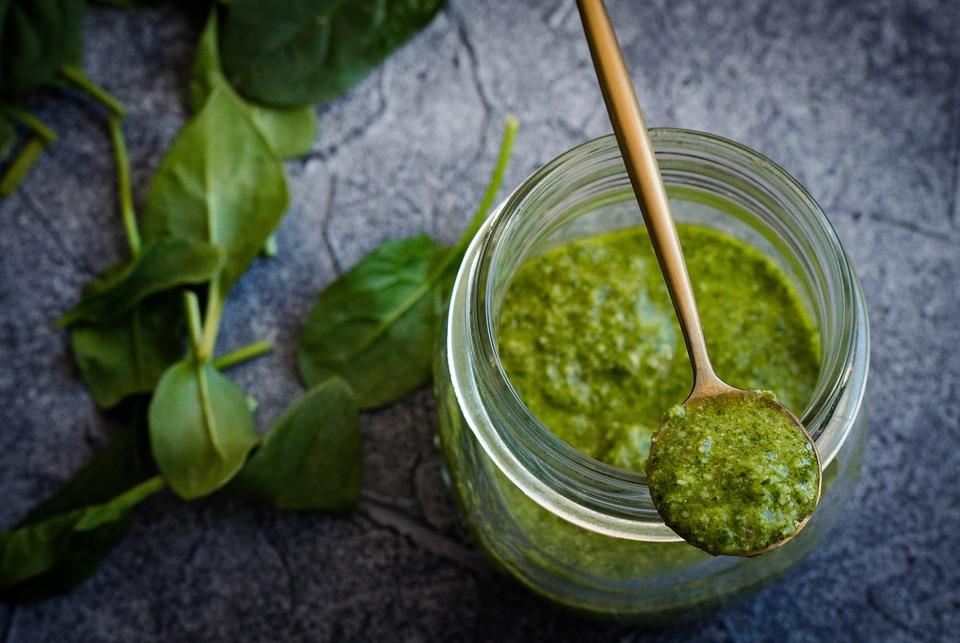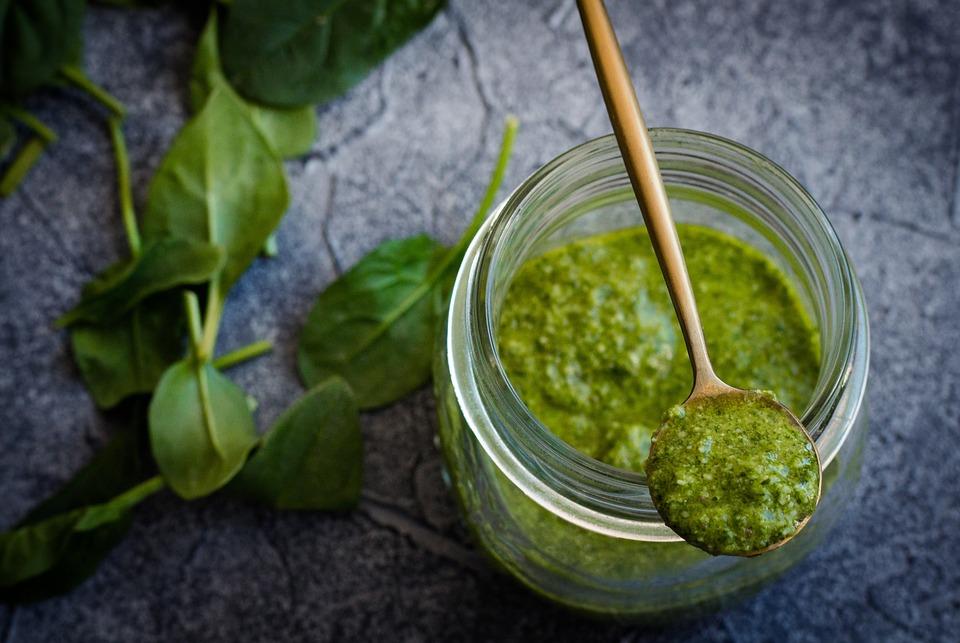 I love a fresh pesto sauce, it goes perfect with so many grilled and BBQ foods. Tossing grilled vegetables with pasta and some fresh pesto and you've got a beautiful mean that your company would eat up… literally.
---
Happy Grilling!


Serve up the true taste of summer with these delicious BBQ recipes and you're grill will be the talk of the town.
If you aren't hungry after reading this list, then there is something DEEPLY wrong with you!
May your summer nights be warm, long, and free of mosquitoes!