I like the idea of composting. It's environmentally friendly, it provides added nutrients for my soil, and it helps keep garbage out of the landfills. But, let's face it, most Outdoor Composters are ugly.


You've probably seen them, those plain black outdoor compost bins that are supposed to be placed in the yard to create a composting powerhouse.
Placed somewhere that gets enough sun to do the proper job of composting, so you can't even tuck these ugly outdoor composters away in some hidden and unused corner of the yard.
Or, perhaps you're more familiar with one of the green versions.


Sure, they're functional. And they're green, which is supposed to mean environmentally friendly. But they are NOT pretty.
And don't even get me started on the tumblers!!
Either way, they're not attractive. These outdoor composters are not something you want to display in your immaculately gardened and maintained back yard along with your plants and flowers and trees.
Functional, yes. Attractive, not so much.
At least they weren't.
For those who want the benefits of a composting without the ugly black or green compost bins, I have collected an assortment of DIY and store-bought outdoor composters that are pleasing to the eye, not just the planet.
I won't go so far as to say that they are all attractive. Some of them are. Some are borderline. But they are – after all – outdoor composters, and need to serve a particular purpose.
But let's just say that these fall into the category of "Not Ugly"
---
Koolatron Dynamic 50 Gallon Composter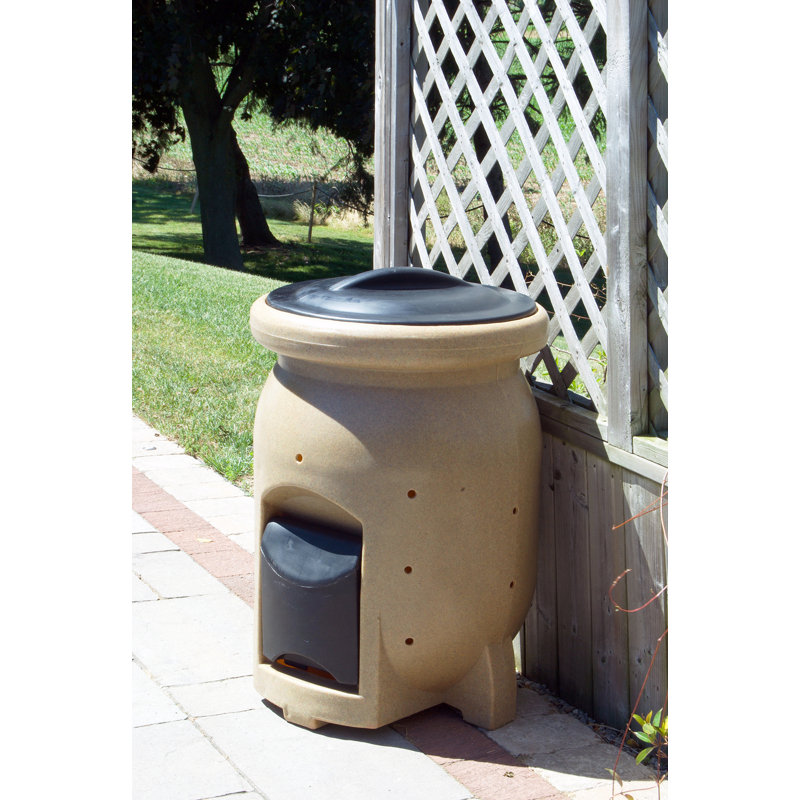 The Koolatron Dynamic 6.7 Cu. Ft. Composter has a contemporary style design and unique stone like appearance. It's an odd shape, but that at least gives it some visual appeal. In the garden, with some foundation plants around the bottom, I could see this blending in quite nicely.
---
Keyhole Composting Raised Gardens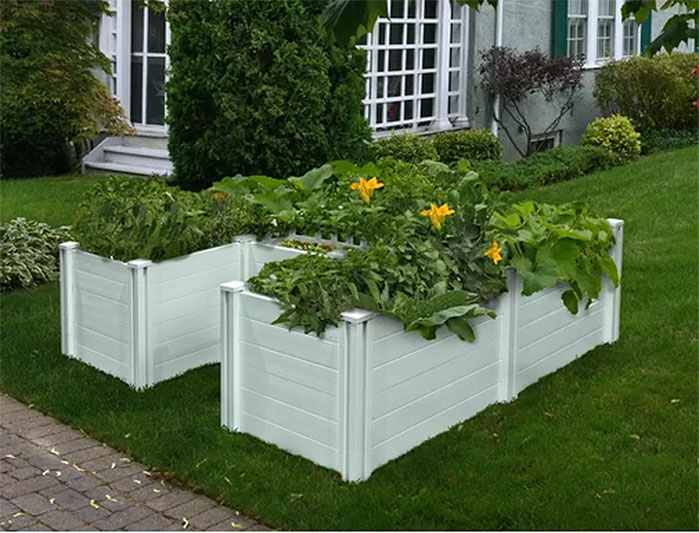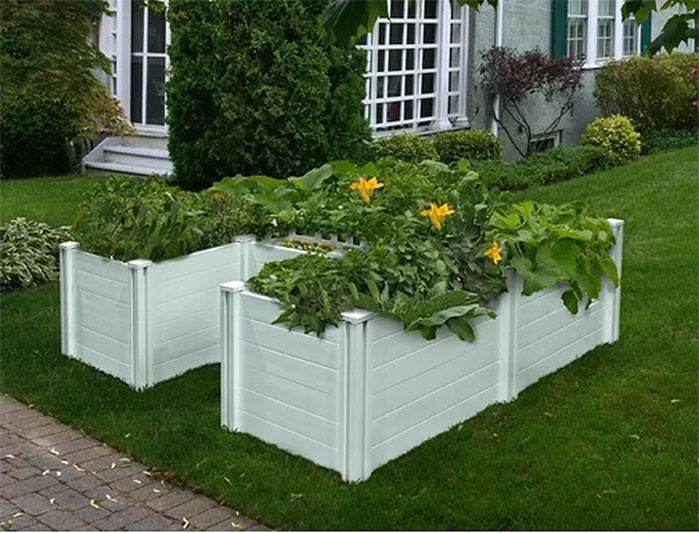 A decorative garden AND outdoor composter in one, this keyhole garden has a keyhole-shaped indentation on one side which allows gardeners to add their kitchen scraps into a composting basket that sits in the center of the raised flower bed.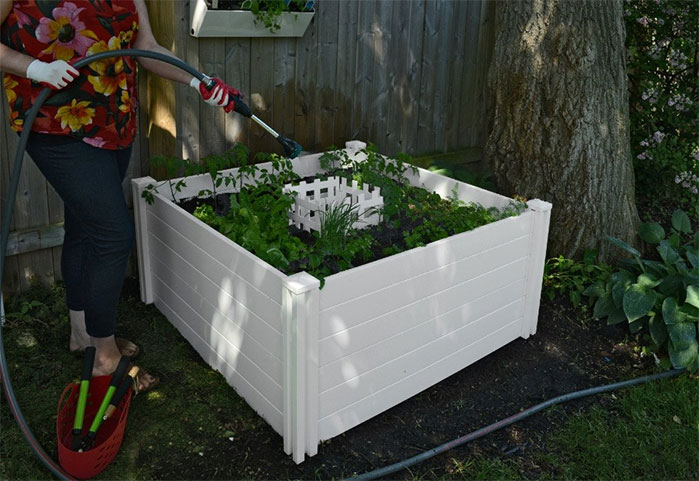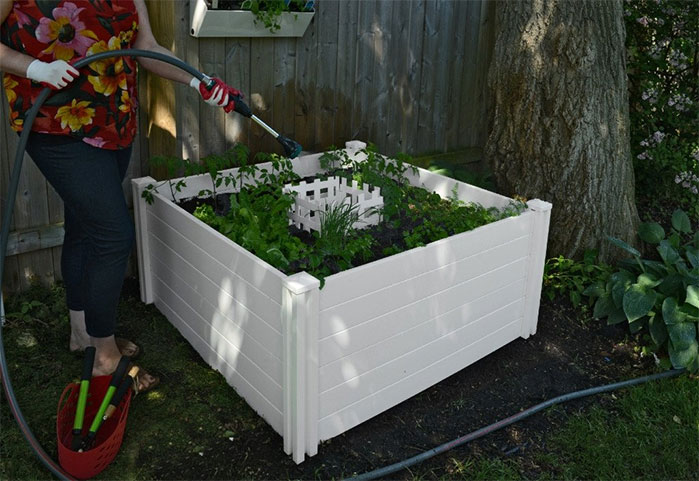 They come in a variety of sizes, shapes, and configurations to fit nearly any garden.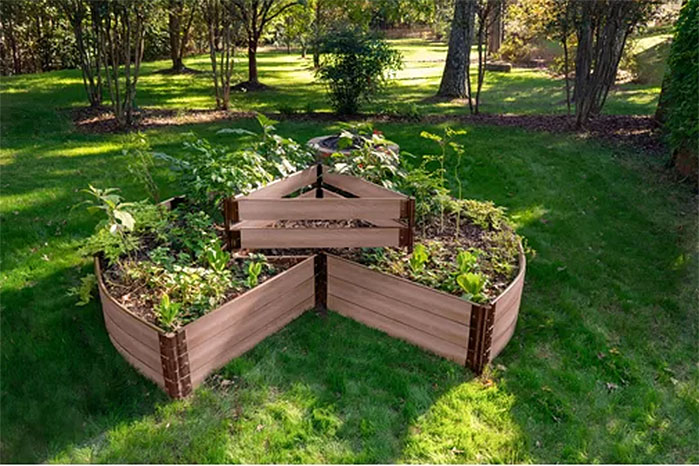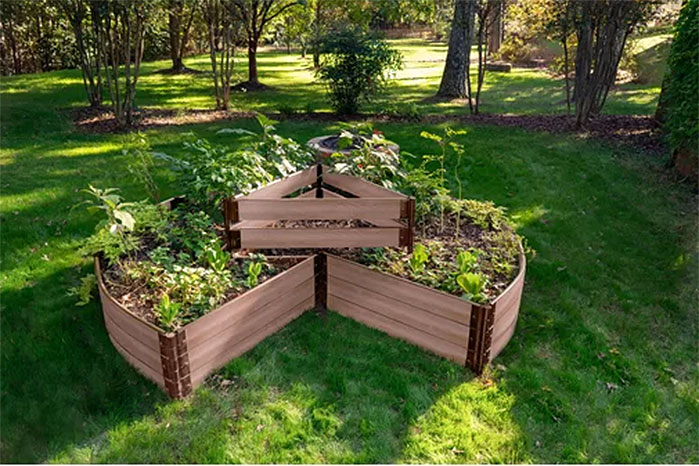 And you can find them in different colors, from natural to white, and more.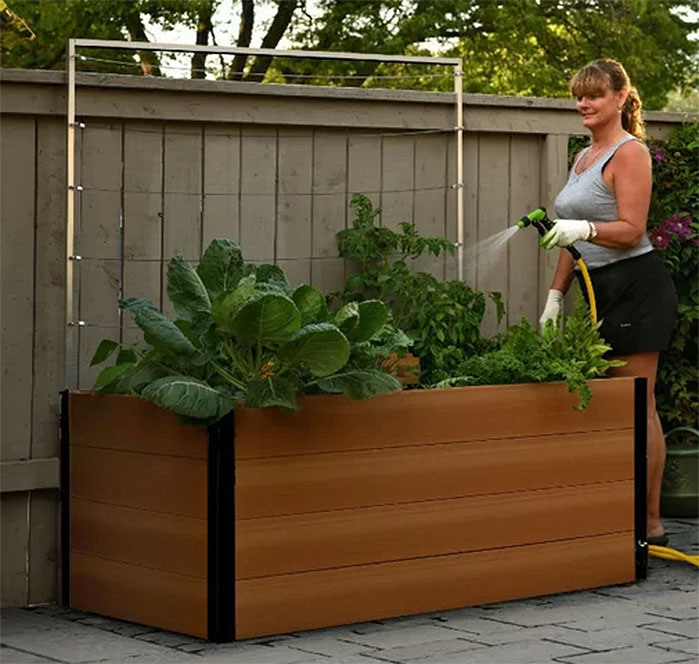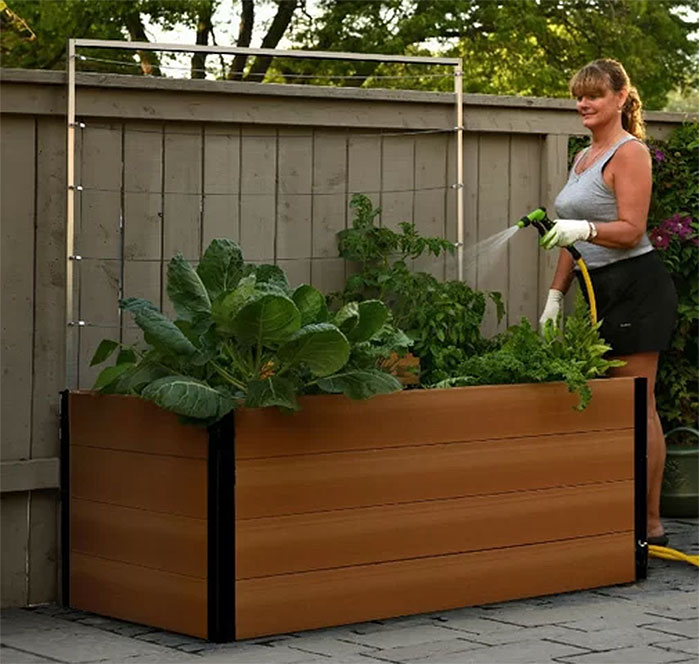 Many of the designs featured above are from Vita Gardens, a design-forward company whose purpose is to help you grow food in our innovative, unique, and long lasting garden products.
Shop Keyhole Composting Gardens >>
---
Wine Barrel Composter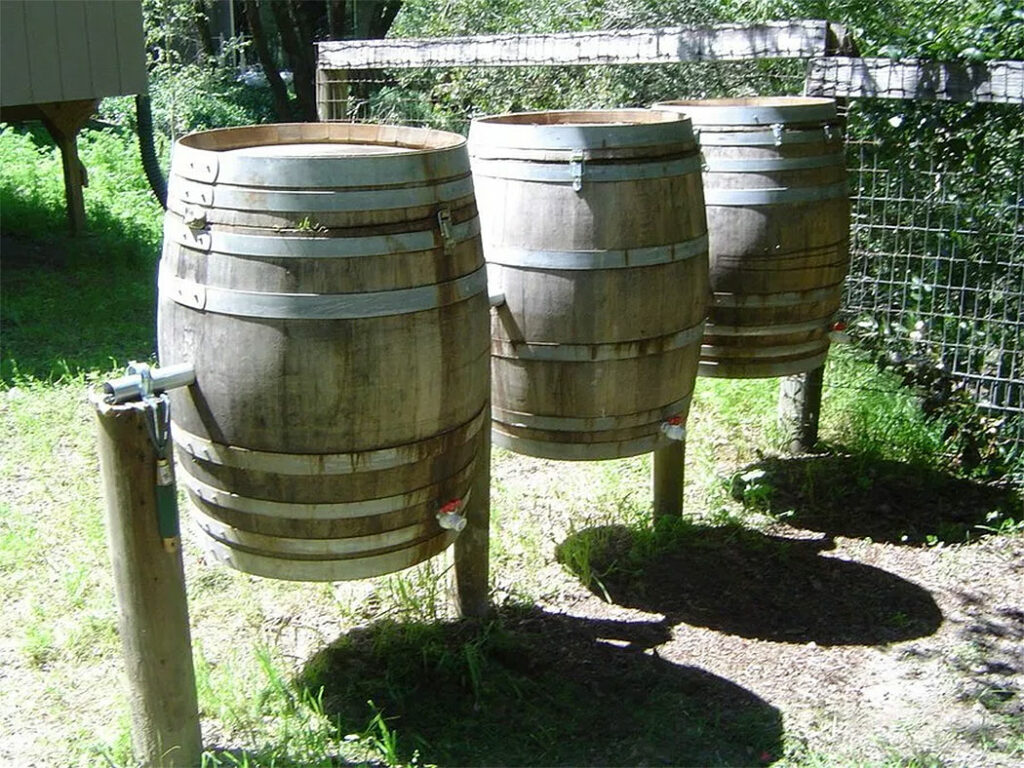 Charmingly rustic, especially for wine lovers, these tumbling composters re-purpose some classically designed wine barrels.
Because of the Old World flavor of the wine barrels, this could be dressed up even further and made into a feature piece in nearly any yard.
How often can that be said about outdoor compost bins??
---
Gronomics Solar Assist Composter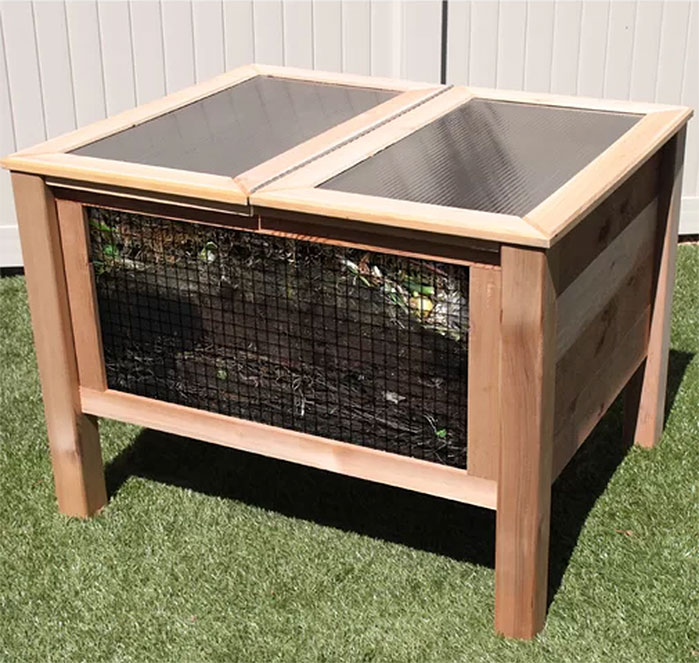 A sleeker version of the standard wood & mesh outdoor composter, the Gronomics solar assist composter features a light bronze finish, complemented by dark mesh sides and a corrugated poly hinged roof that lets the sun in to help heat up the composting materials.
---
Wood and Wire DIY Compost Bin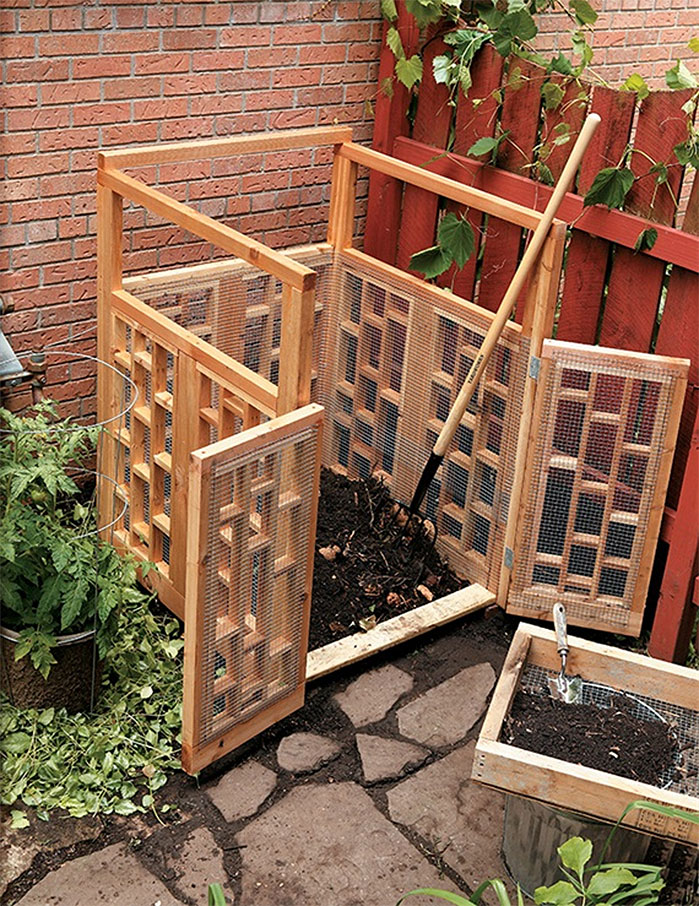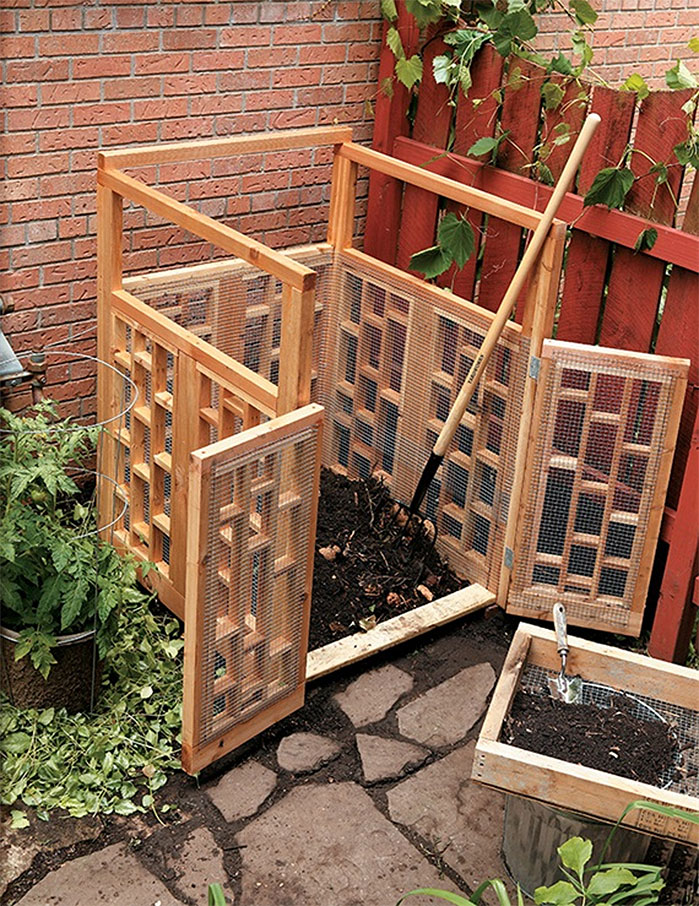 A fairly simple wood and wire DIY compost bin is elevated because of the decorative pattern of the cedar wood strips.
Personally, I would prefer a lid on this, but this is perfectly acceptable if all you are composting is yard waste.
---
Upcycle Red Barrel Compost Bin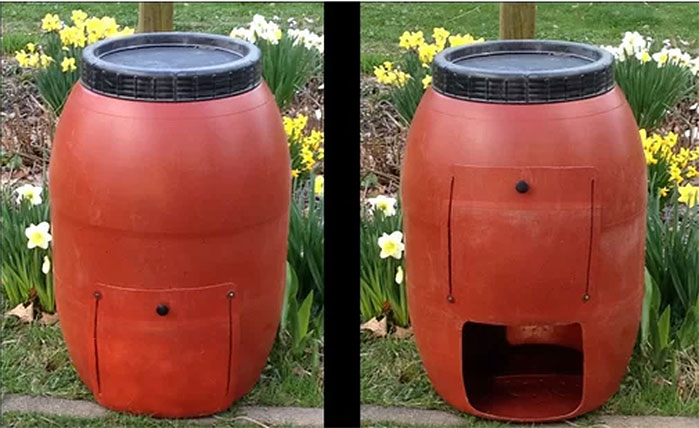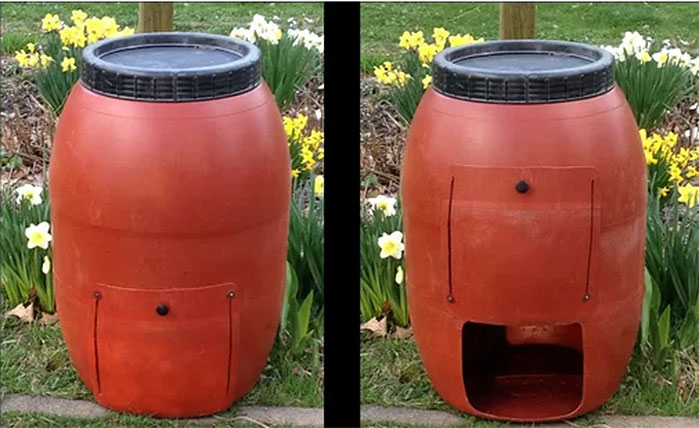 So, maybe it's not the prettiest in the collection, but there's something about the Upcycle Composter that has a rustic charm. These are cost-effective, usually costing less than $100, and are environmentally friendly right out of the gate because they are made from upcycled food grade barrels.
I wish they had done something better with the lid, but I'm sure you could DIY the crap out of that and make it much nicer. I couldn't, but I'm sure you could.
---
Basic Cedar DIY Compost Bin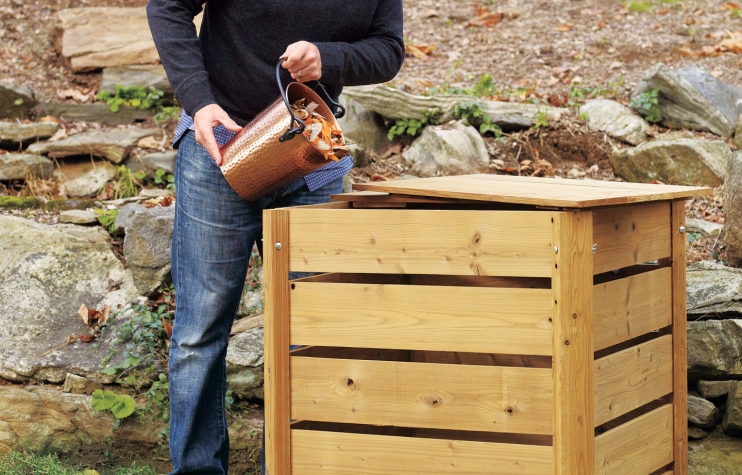 Nothing super fancy about this guy, but – sometimes – basic is good. In this case, at least, basic qualifies for "Not Ugly".
---
Wood Slat Outdoor Compost Bin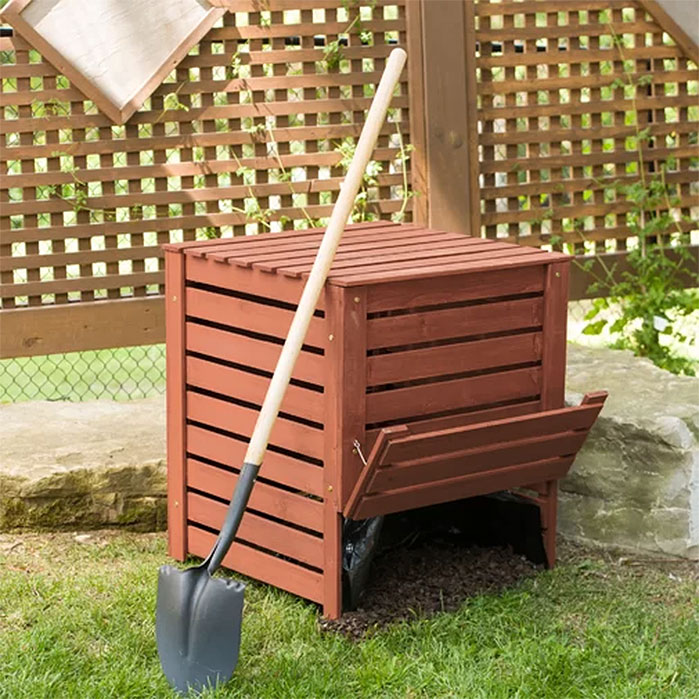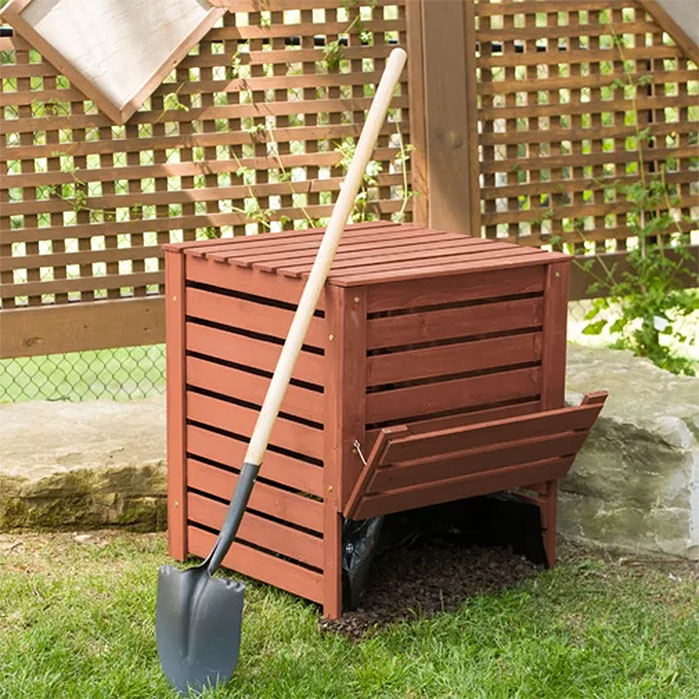 Another Basic Bin, but the simplicity of it is part of what makes it attractive. There are DIY versions already covered in this article, but this is the "DIY The Easy Way" version that you buy online and put together.
But, hey, you assembled it yourself… so that still counts as DIY, right???
---
English Composting Garden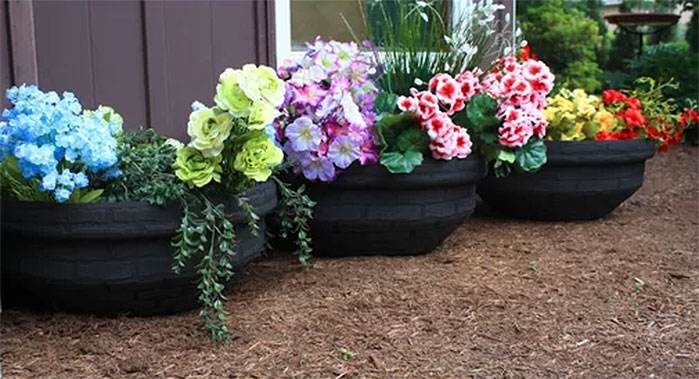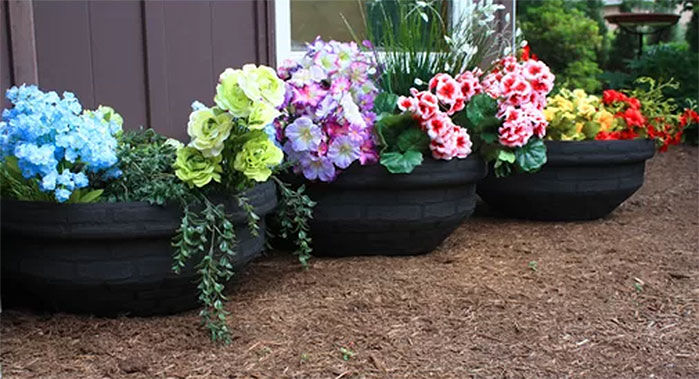 The English Composting Garden is designed with a brick texture to give it that classical, stone appearance.
The pods are stackable (up to 6 planters can be stacked on top of each other) or can be used as individual planters around the garden.
The composting happens in the hollow core which can be filled with additional soil, fertilizer, and compost to feed the plants all season long.
However, once they are stacked it becomes difficult to add additional compost into the lower containers.
It is available in 6 different designer colors, so you can choose the one that best fits your garden decor.
---
Beehive Decorative Outdoor Compost Bin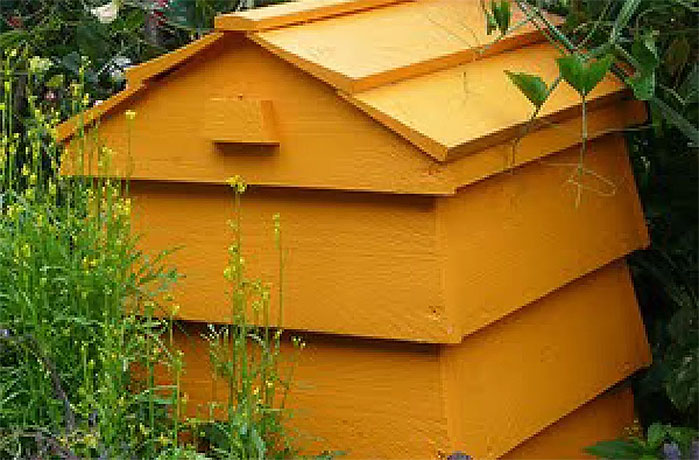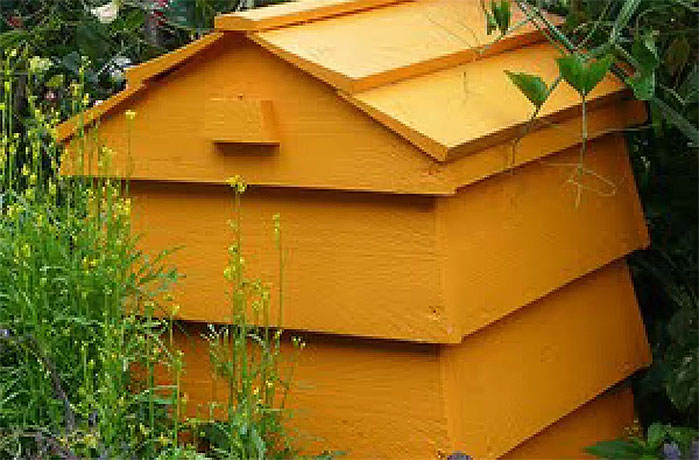 This one is very quaint. It looks like a beehive, but the lid lifts to provide access for dumping your compost in and the bottom slat opens for you to remove the composted materials from the bottom.
---
Algreen Terra 50 Gallon Compost Bin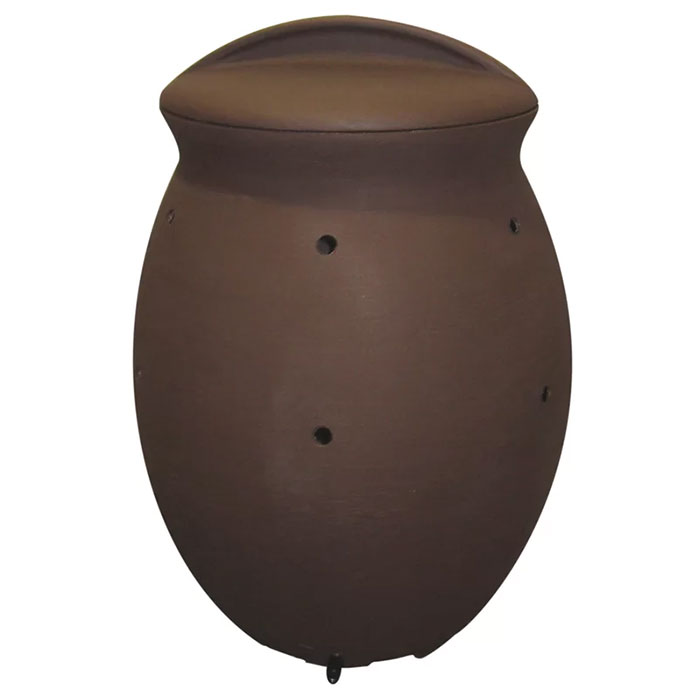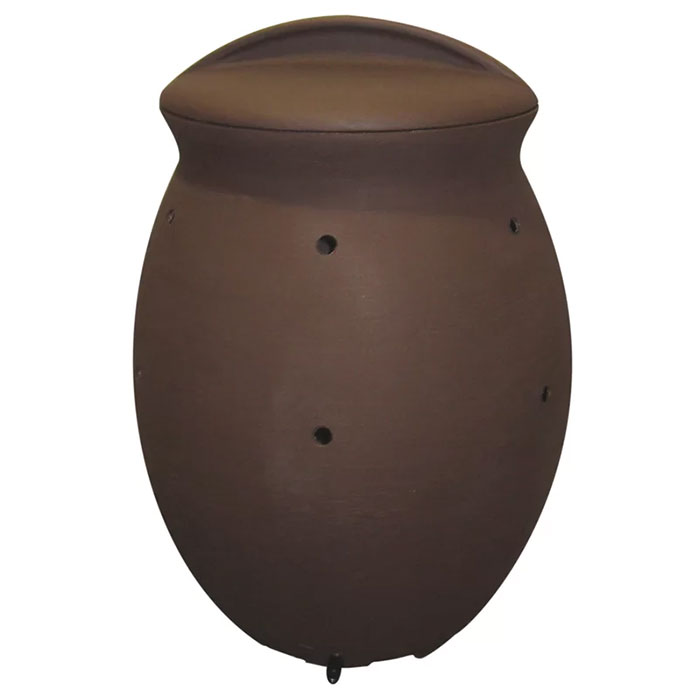 Definitely belonging to the "Not Ugly, but Not Beautiful" category is the Algreen Terra 50 Gallon Compost Bin.
What I do like about it is that it takes it's design aesthetic from a classic ceramic urn. It's a bit less attractive on it's own, but I could see this blending into a garden quite nicely.
---
Algreen Solar Kitchen Waste Composter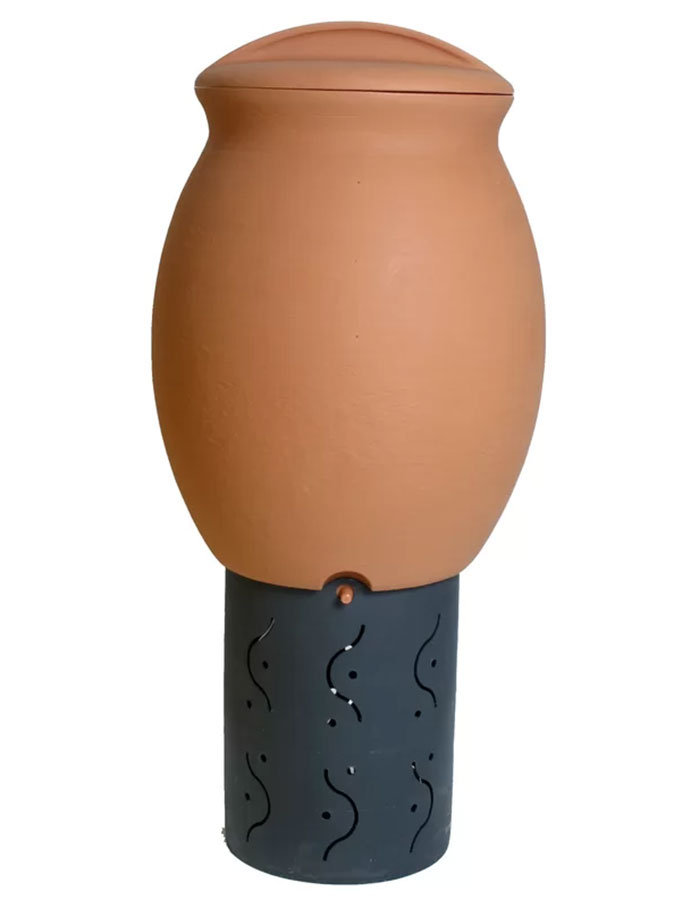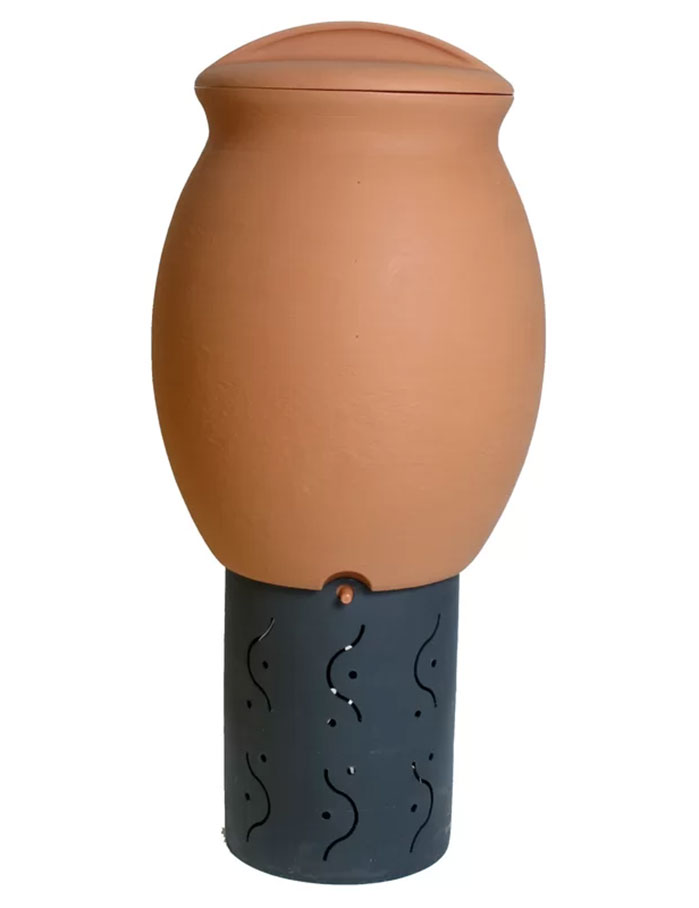 Another design from Algreen features a similar ceramic urn-inspired shape, with a black base that includes some decorative aeration work.
This is also a solar composter, which means it does more work to break down food waste faster, so it can accept a wider range of household kitchen waste and leftovers, including raw and cooked meat, bones and pet waste.
---
Recycled Shower Door Compost Bin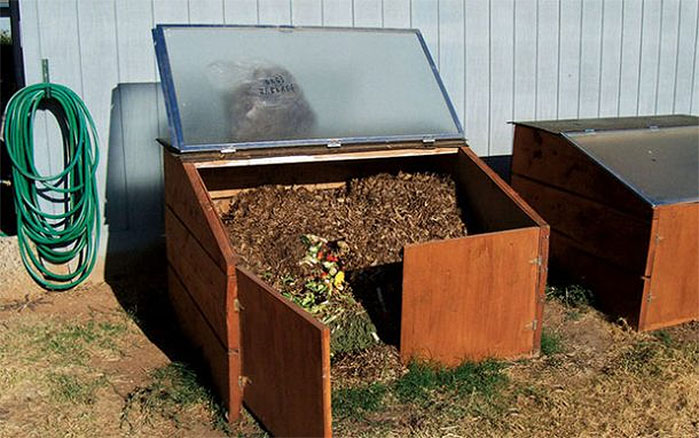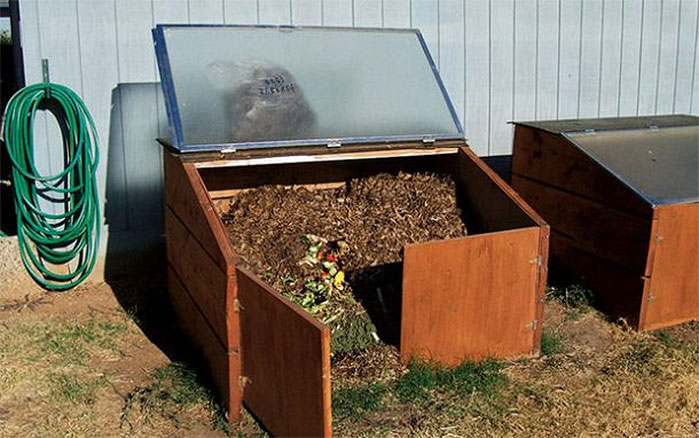 This design verges much closer to the ugly side of the design spectrum, but you have to appreciate the use of recycled shower doors in the design. This is someone taking Green to a whole new level.
Plus, if you keep an eye on the Habitat for Humanity Restores, you might be able to find one of those shower doors with a more aesthetically pleasing design on it that could be used as the lid.
---
Teracotta Home Composter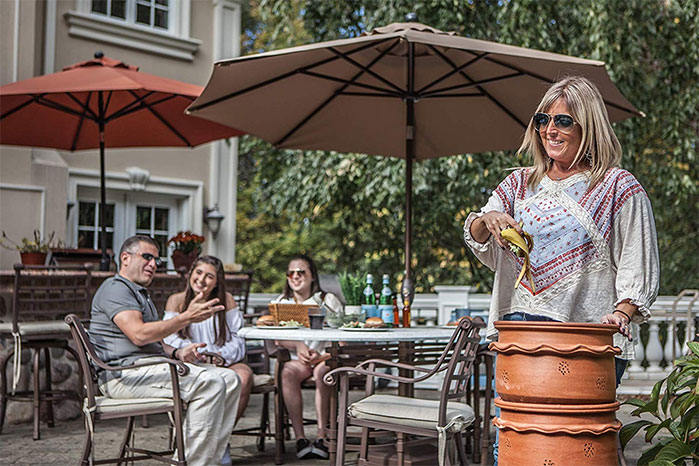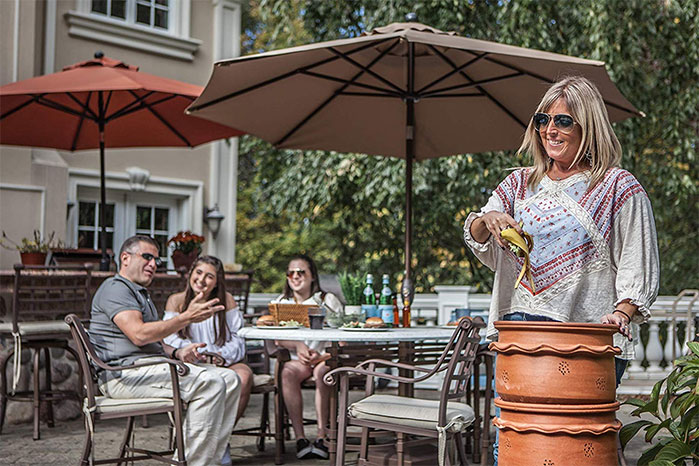 Terracotta creates ideal conditions for aerobic composting, and it absorbs the leachate from your food scraps.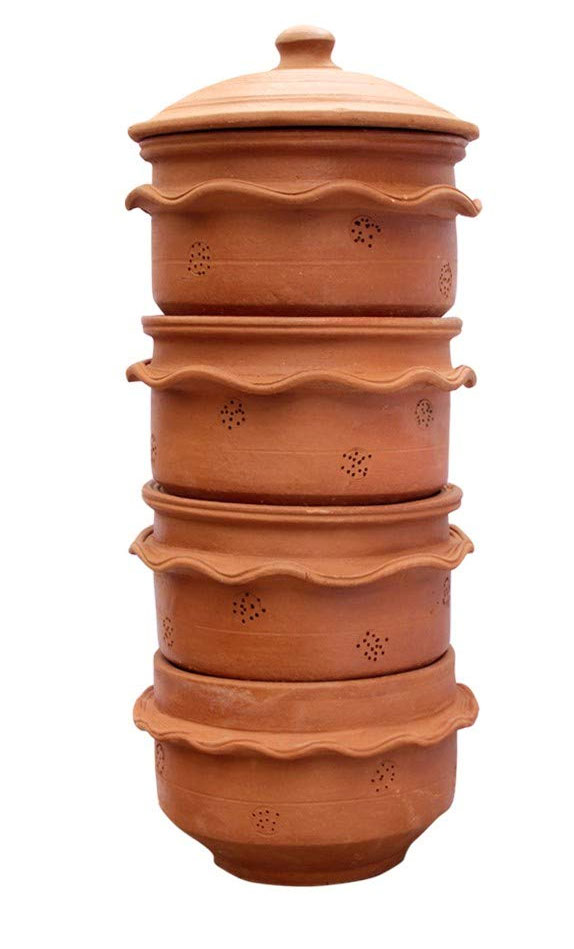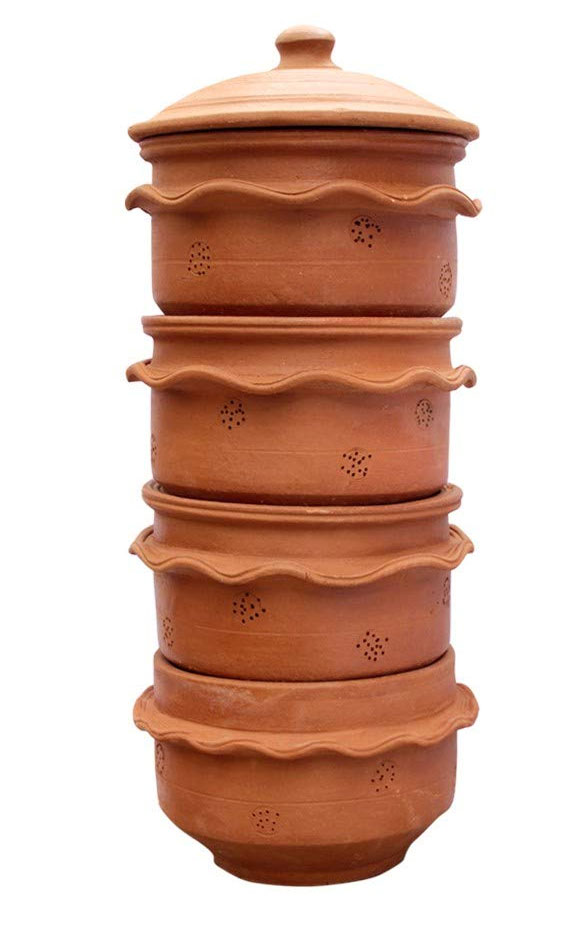 This stacking composter can be tucked in a corner of yard, garden, or patio.
---
Woven DIY Compost Bin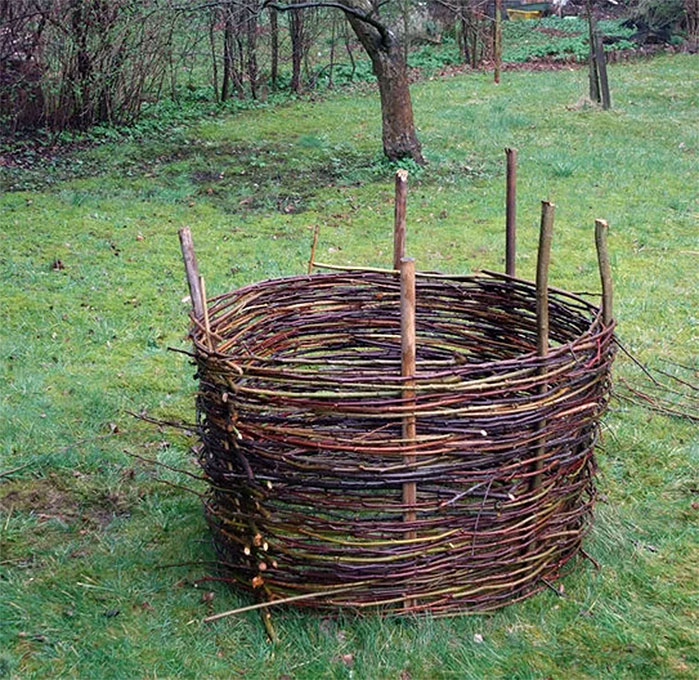 This bin is wonderfully rustic, and would be perfect for any country garden. Originally intended as a DIY raised flower bed, this particular design doubles perfectly as a decorative DIY compost bin.
If you're feeling really crafty, you may want to tackle trying to weave a lid as well.
---
Buried Compost Bin Walkway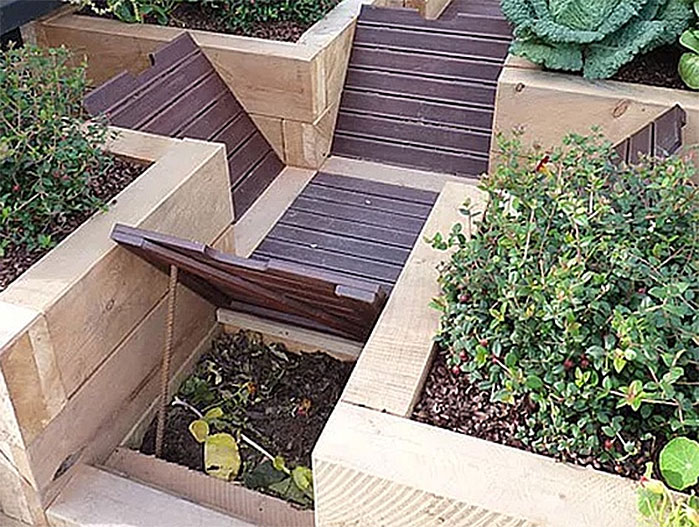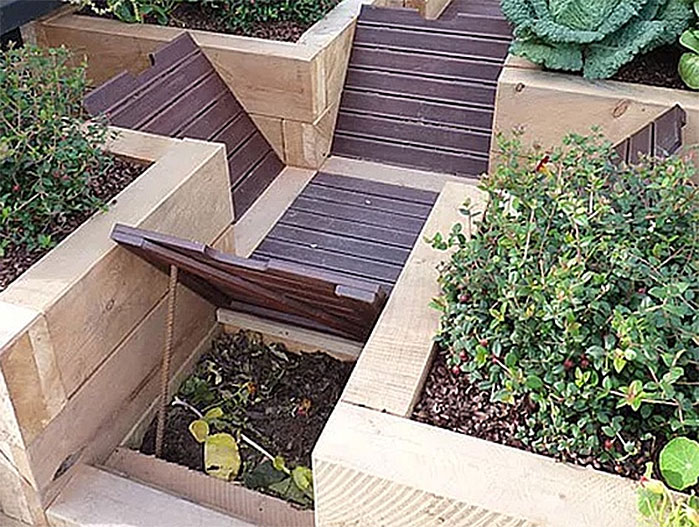 This particular design almost gives up and accepts the fact that you cannot make compost bins attractive, so it just hides below step panels in a buried compost walkway between raised gardens. Quite clever!1
---
Striped DIY Compost Hut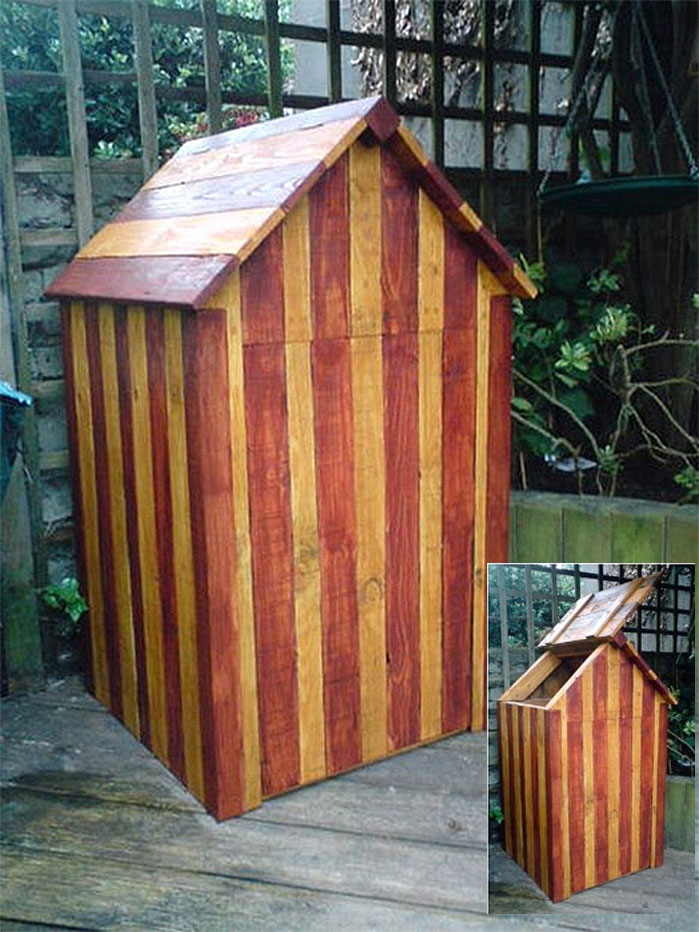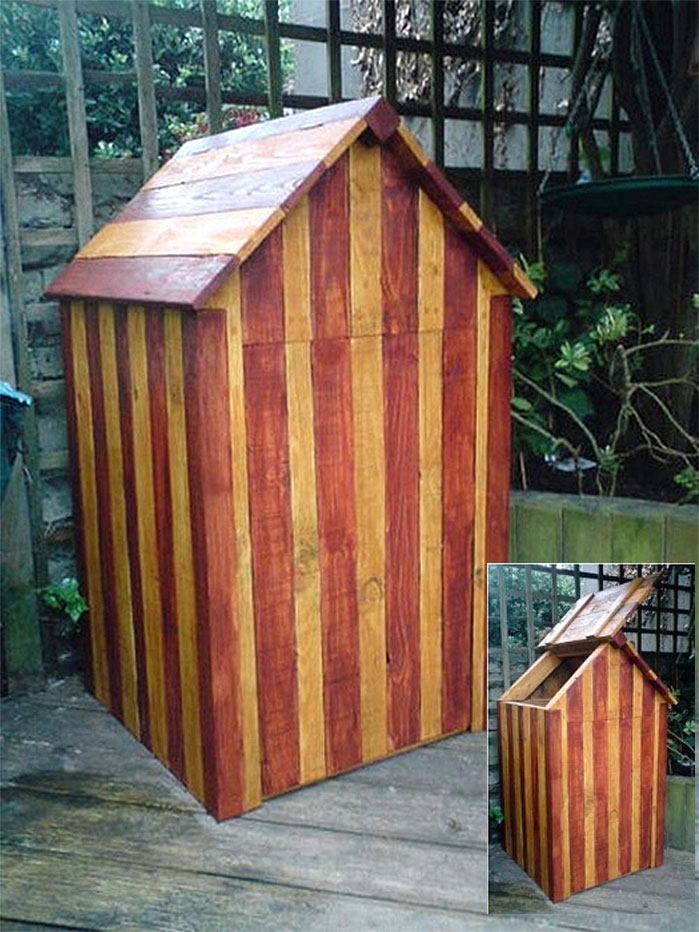 The hut shape of this design is classic, which is amplified by the alternating dark and light stain on the natural wood. This could go rustic or contemporary, depending on the rest of your garden's decor.
---
Now, you too can have an outdoor compost bit that is Not Ugly!
Whether you choose one of the DIY Outdoor Compost Bin designs or one of the easier store-bought versions, you now have some options when it comes to moderately attractive outdoor composters.