A bedroom is a place for rejuvenation, relaxation, and comfort. With the right design choices, you can create an aesthetically pleasing and relaxing bedroom that encourages restfulness. Here are some of the best tips to help you create a relaxing bedroom aesthetic.
Bedrooms are often seen as a retreat, so aim to create an inviting and relaxing atmosphere that will inspire you to sleep well each night! If there's one room in your house where it's ok for things like candles or potted plants with sharp leaves (for example cacti), then make sure this is in fact your bedroom because these items can really help bring out both the colors and textures found within your bedding ensemble when combined correctly.
Bedrooms should be calming spaces where people want to relax, not be stressed out. So if your bedroom doesn't feel like an escape yet or you're looking for ways to improve the aesthetics of this room in general then here are a few tips that can help.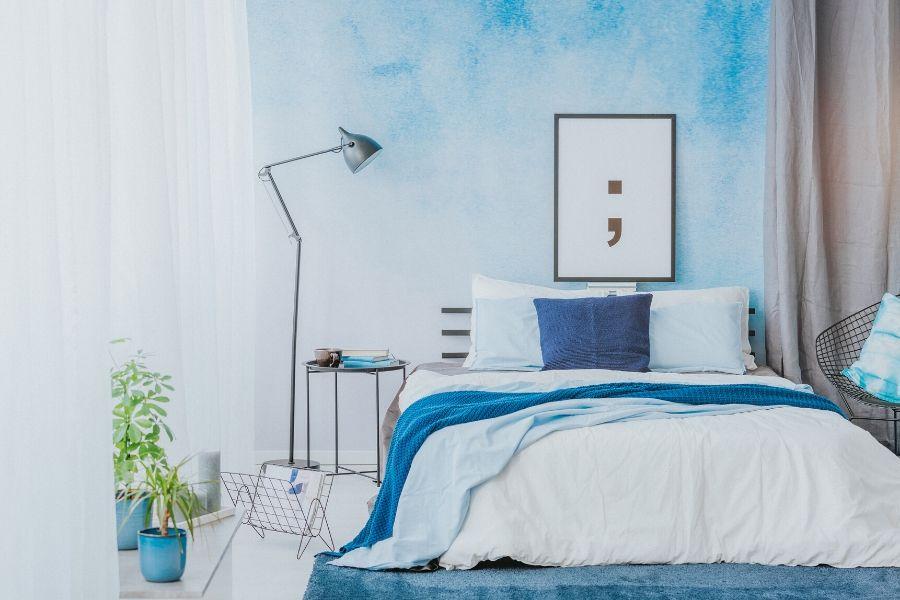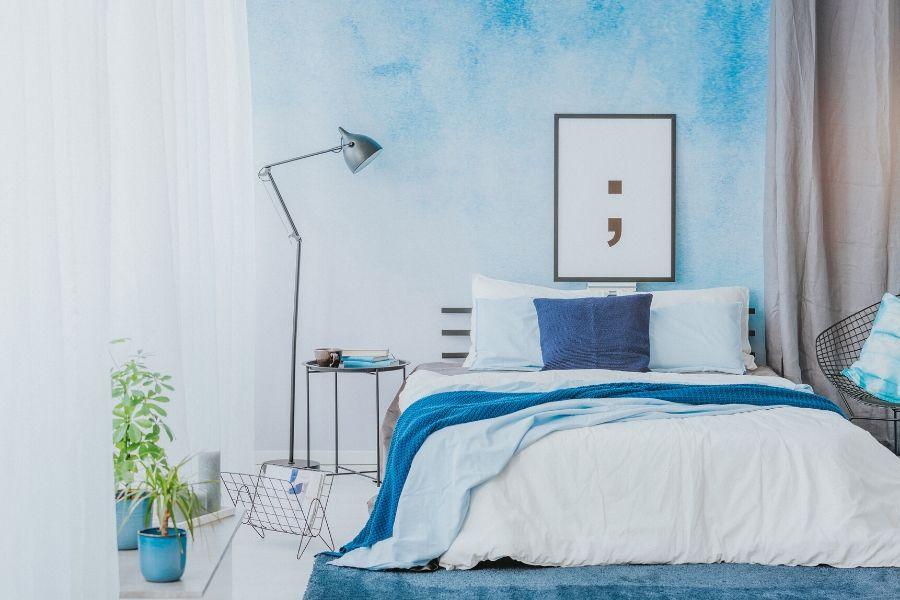 Bedroom Color Scheme
A bedroom color scheme should be calming, restful, and soothing.
You also want to pay attention to the color psychology of different tints before picking the right bedroom paint color for your own aesthetic. For example, the color red is known to increase one's energy and raise blood pressure. Red bedrooms can be a great place for passion and energy, but I rarely recommend them when people are trying to create a relaxing bedroom aesthetic.
Some great options are blue hues, gray hues, lavender hues, green hues, cream or white tones. Avoid sharp bright colors that will keep you awake at night! Bright yellows can also have a stimulating effect so go easy on those as well.
Bed Linens
Bed linens are often overlooked but they make a significant impact on the overall look of your bedroom aesthetic. When choosing the right sheets, not only are the textures important to consider based on what type of sheeting material works best for your climate, but the look of the sheets has a big impact on how inviting the bed looks.
Bedsheets, comforters, and such are one the main decor items when it comes to your bedroom so they should be comfortable, soothing, and something you enjoy looking at when you walk in. If you have trouble finding bedding that works for your aesthetic, then consider shopping online or shopping locally in retail stores with a more curated selection of textiles.
If you're not sure what direction to go with your bed sheet design, it's always safest to choose bed sheets that are white, cream, or another neutral color with no patterns for a more minimalistic approach. But if you want something bolder, choose darker colors such as navy blue and dark green.
Just one tip – from experience – if you are going with a very dark bedroom sheet, make sure to wash it several times before putting it on the bed… or the color can end up transferring onto the mattress. (My deep wine sheets are how I ended up with a pink mattress).
Aesthetic Lighting
Lighting plays an important part when it comes to creating a relaxing bedroom aesthetic. A general rule of thumb is to have either three sources of light on one side of the room or two on each end – these should be directed downward toward any seating areas. Harsh overhead lighting will result in shadows, which can make the room appear smaller and less calming.
Proper lighting is an important design aspect of any room, but this is especially the case for bedrooms. It can get dark outside very early during winter months which means most people will only use see their bedrooms when it's already dark outside – making lighting even more important. It's important to create a bedroom with adequate lighting that can be adjusted for daytime or nighttime activities.
Bed lamps, especially the gentle & elegant beauty of Tiffany Lamps, are an excellent option when you only have one free outlet nearby, especially if there is no overhead light available so choose carefully!
Bedroom fairy lights can bring an extra element of comfort to your bedroom. Even if you don't have the perfect lighting options for reading or doing work in bed, you can create a relaxing atmosphere with string LED lights that are battery powered and give off very little heat compared to other light sources like candles, incandescent lamps, halogen lamps, etc.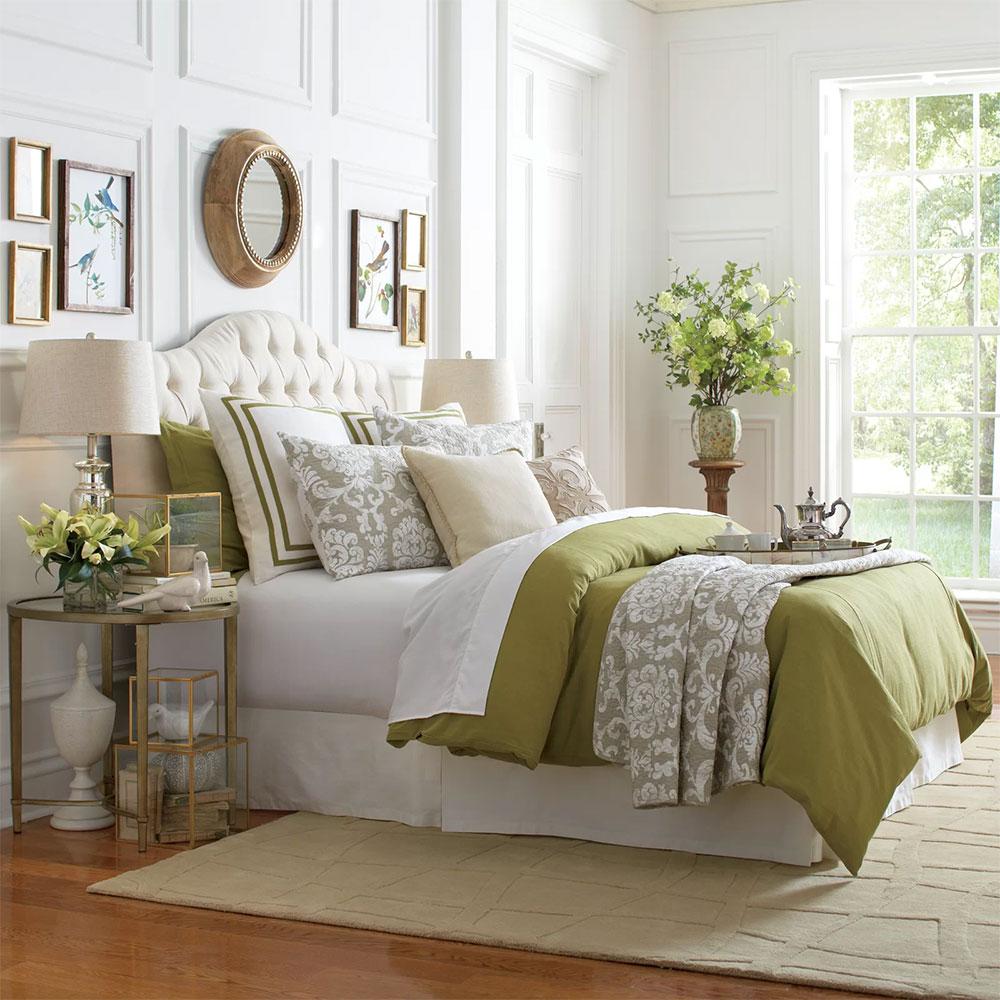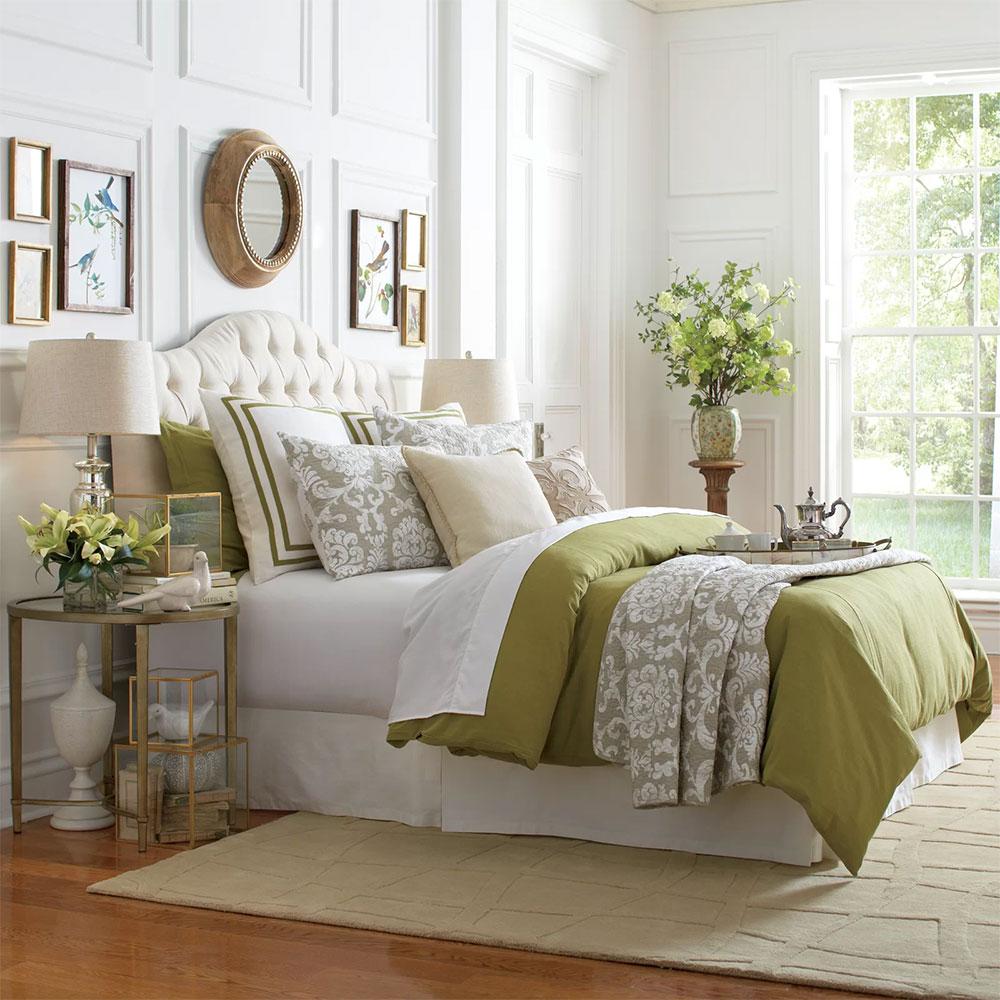 Plants (Live or Artificial)
Potted plants are a great way to decorate your bedroom, whether you opt for (and have the right conditions) for live plants or you go with something easier to maintain such as artificial plants and flowers.
Live plants have the added benefit of being beneficial for air quality – which is important since we spend so much time indoors during winter months when the cold season hits hard.
There's no need to go overboard with adding potted plants to every corner or surface in your bedroom because you can always choose just one large plant that will stand out as an accent piece and draw attention away from any areas you don't want people seeing unless they enter into those spaces first.
If you want to go for more of a natural feel, hanging decorative greenery vines on the wall can be a lovely way to create a warm and welcoming aesthetic in the bedroom.
Bedroom Organization
Having items randomly strewn about the room not only makes it look messy but also decreases how inviting it feels!
Having a good system of organization and storage in a bedroom is important because space should be used efficiently so there isn't too much clutter which may prevent us from falling asleep quickly. Bedside storage, bed risers/drawers, dresser/chest of drawers (if applicable), etc., will help keep things organized but it's still nice to add decorative baskets, bins, boxes under the bed frame for extra storage when needed.
Bedroom organization also includes organizing clothes and accessories! Tidying up is never fun so here are a few quick tricks on keeping things organized:
Clean Daily – You don't have to dust, vacuum, and scrub your bedroom daily, but if you stay on top of the mess by putting clothes away, removing dirty water glasses, etc. it is a whole lot easier to keep your bedroom clean than it is to dive headfirst into a room that has had clutter building up for weeks (or months).
Use Bed Risers & Sliding Drawers – Bed risers make storing bulky items underneath the beds more convenient while still providing additional storage space that doesn't take up too much space in the bedroom. Bed risers that maximize storage space are also great for storing seasonal clothing, bedsheets, or extra pillows during off months when you won't be needing them as much. Another option is drawer pull-outs, which are a unique addition to any bedroom because they give you additional storage without having it take up more space.
Storage Trunks – These can be a beautiful place to hide away clutter that you need to have handy, but you don't want to be seen. With some wonderfully aesthetic designs available, you can find the perfect storage trunk to tuck away the junk.
Bedside Tables
Bedside tables are useful because they provide surface space that can be used as nightstands with bed lamps, digital alarm clocks, charging devices, etc., but can also double as small side tables which makes them nice furniture pieces to decorate a bedroom with. Add decorative touches like candles, flowers, glass vases/containers filled with stones or pebbles, small figurines (i.e., owls), books, magazines on top of these surfaces for more visual interest and feel of the room's overall aesthetic.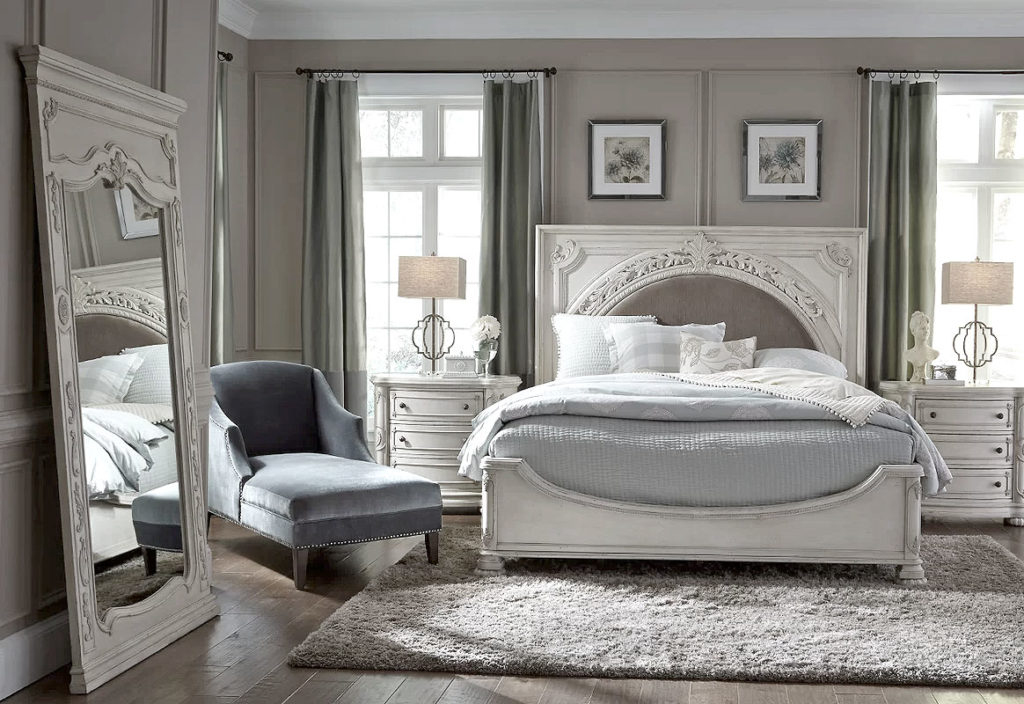 Bedframes & Headboards
Bedframes and headboards can be a great addition to any bedroom and will often set the tone for the overall bedroom aesthetic. Whether you decide to go with a statement headboard, or you go the minimalist route and have no headboard at all, the choice you make will have an impact on the room's overall look.
Statement bedframes are those with large posts, ornate carvings, tufted upholstery, or intricate details that draw attention to the bed and make it more of a focal point in the room. These are ideal if you want to focus the bedroom aesthetic around the bed itself.
Minimalist Bedframes lack eye-catching design elements like carved wood or metal tend to blend into the background since they're essentially just meant as a tool for holding your mattress up off the floor. This type of minimalistic look is ideal if you want to keep all eyes on other features around the bedroom such as wall art, decor accents, etc.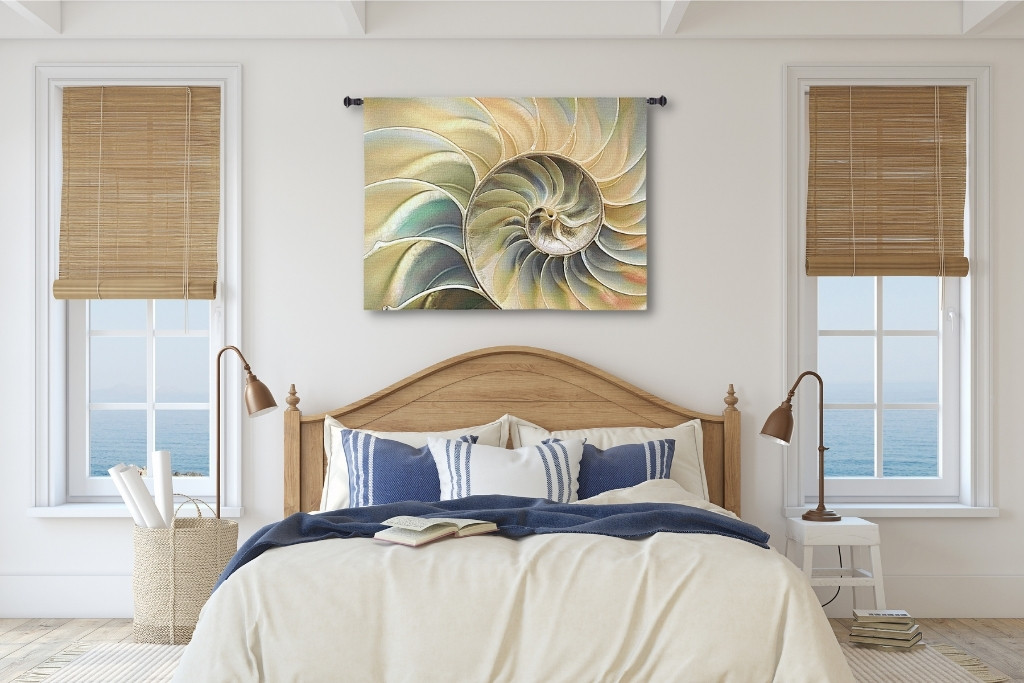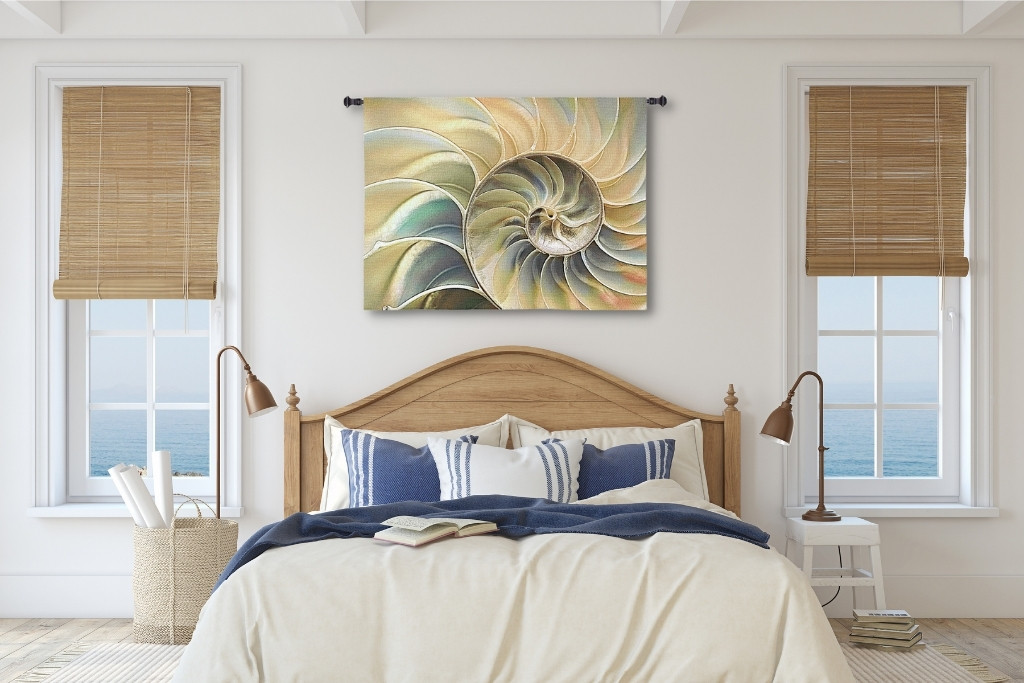 Bedroom Wall Decor
Bedroom wall decor is another key element of the room's overall aesthetic so choose items that match your personal style! There are many creative ways you can use wall art in bedrooms.
Tapestries are one of the best items to add to a bedroom to help improve that overall feeling of a cozy bedroom aesthetic. Not only are woven tapestries great because of the luxurious warmth, beauty, and texture they provide, but they can also provide the acoustic benefit of helping to dampen some of the sounds in the room to help you get a restful sleep.
Frames and canvases are other pieces of wall decor that can be used in the bedroom to add a little bit of color or pattern. Bedroom walls work best with more muted tones so if you want to go bolder on your choice, consider putting it elsewhere in the room such as behind the bed or along an accent wall.
Accent Pillows & Throws
Bedrooms often have neutral color schemes which can make them boring when they lack interesting patterns and designs. Add some interest by adding throw blankets and decorative pillow accents! Just remember not to overdo it because too many prints or colors will take away from whatever else is going on within the space (including other items hanging up on the walls).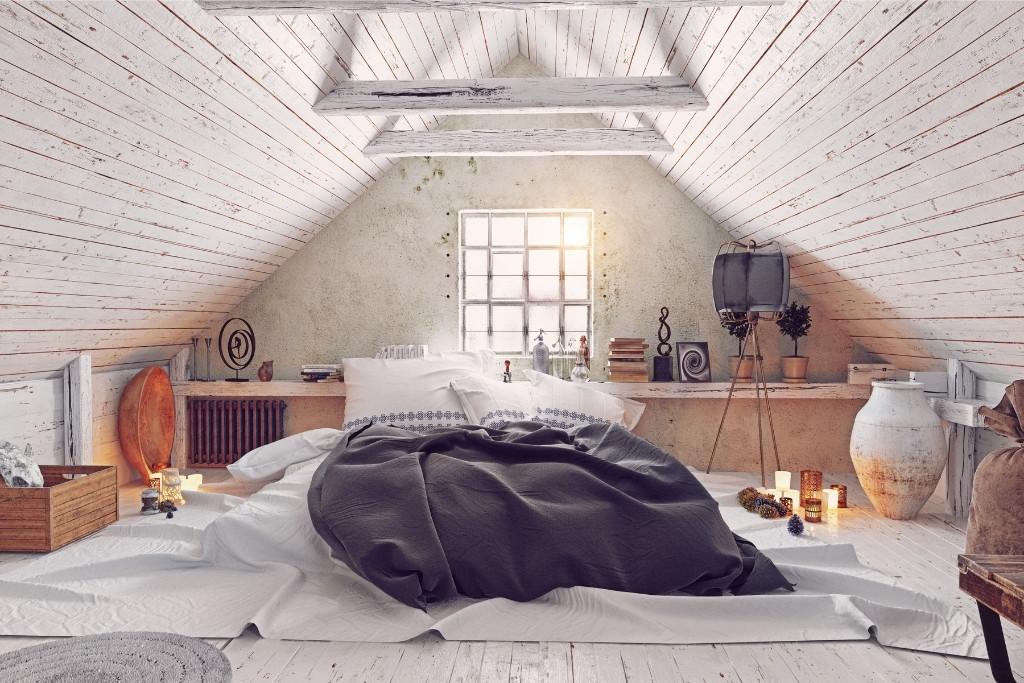 Other Decorative Accents
The bedroom should feel like an escape from the outside world so use decorative accents sparingly and only if they fit with your desired aesthetic. Bedroom accents don't need to be expensive either! You can find simple decorative items at thrift stores, make them yourself (i.e., DIY wood wall art), etc. Here are some lovely pieces that can add both form and function to your bedroom aesthetic.
Water Carafes – A water carafe on your bedside table is a nice way to encourage you to drink more water throughout the day since this often helps us fall asleep faster. Having some sort of drinking vessel by bed ensures you won't have too far to walk if you're thirsty. And some of these carafes can be quite charming to look at.
Bedroom Candles – A must for creating a relaxing vibe! Choose scents that match your desired aesthetic or make DIY soy candles. You can also use unscented white votives with tea lights instead if you don't want to worry about getting wax anywhere besides candle holders themselves. Just make sure to use caution when lighting candles in a bedroom as you don't want to fall asleep while a candle is burning.
Decorative Baskets – Bedrooms are definitely one of the best spaces to use decorative baskets for storage or decor. Baskets can be used under beds, in closets, and more. Just remember not to overdo it because too many items will take away from that overall relaxing vibe.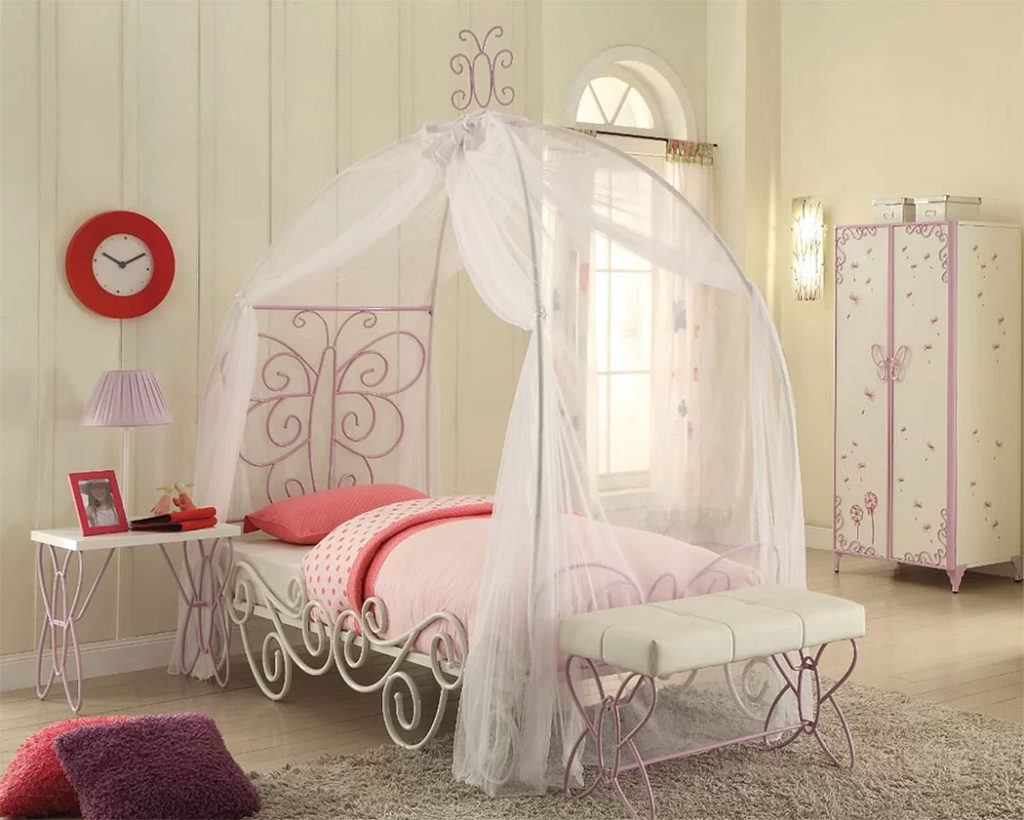 Bed Canopy
Bed Canopies are making a comeback! They're very romantic and add an element of fantasy to the bedroom's overall aesthetic. Bed canopies come in all shapes and sizes so they don't have to be overly feminine or too bed-like. Bed Canopies are also great at adding privacy since you'll likely want some measure of darkness if you're trying to sleep during the day!
Ready To Create Your Perfect Bedroom Aesthetic?
Bedroom aesthetics are important to creating a relaxing space for rest and relaxation, so it's best to put some time into making your bedroom feel like an oasis away from daily stresses!
When decorating your bedroom try sticking with simple clean lines or more ornate designs depending on what you find most relaxing in order to give off that desired vibe without too much clutter getting in the way of sleep.
Make sure not to overdo decorative accents since this can quickly take away from whatever else is going on within the room (including other items hanging up on walls).
If needed, remember that less really is more when it comes to adding elements such as candles or wall art! Don't forget about lighting either because dim or warm lighting can help you fall asleep faster.
Bedroom aesthetics are great for adding a little romance to your life, so why not make it feel like an adult playground with some canopy bedding and fun decor accents! Now go create the best bedroom space that's yours alone.