22 of the best bedroom storage hacks to help you squeeze as much stuff as you can into your bedroom without making it feel cluttered and crowded.
When bedroom space is at a premium, you need to do everything you can to maximize the functionality of the space. Not just for sleeping, bedrooms are often the place where we store clothes, linens, jewelry, shoes, and other accessories that we need for daily life.
Whether it's storing away your off-season clothes to make room for what you're going to wear during the current climate, or finding a place to tuck away the far-too-many pairs of shoes you own, or even storing the hard copies of your favorite CDs that you have downloaded onto your iPhone but can't bring yourself to part with the good on hard copy.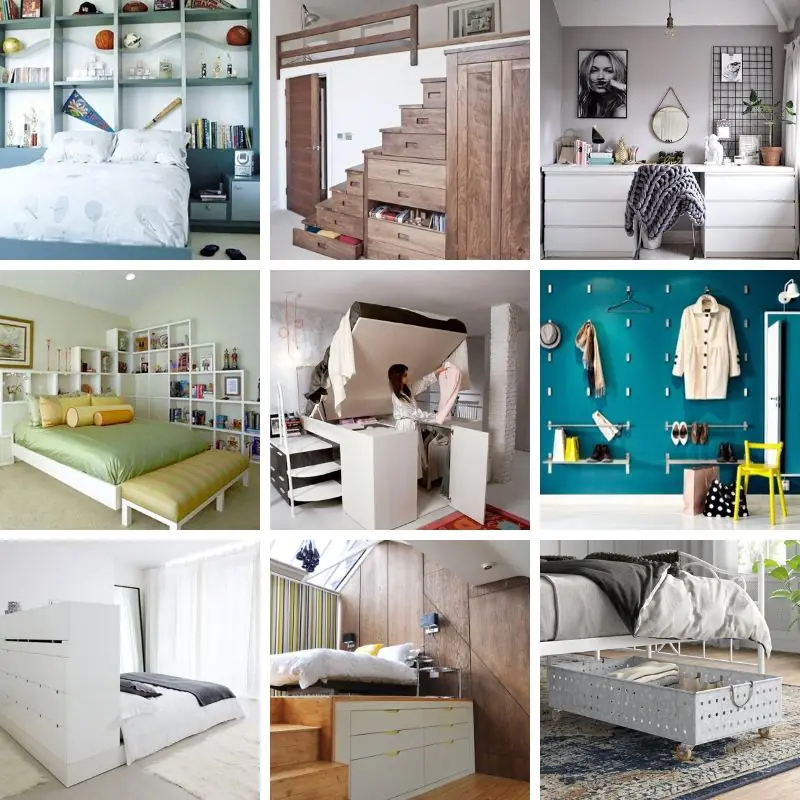 With all of this stuff to deal with, things end up piling up in places where they shouldn't. And those piles can become overwhelming very quickly.
Nobody wants to be that 22-year old who has to climb over a mountain of clothes to reach their bed. Especially once you're in your 30s or 40s. Being that 22-year-old at 46 is just plain sad.
But no need to panic. You don't have to do a massive Marie Kondo style purge in order to make it to the bedroom without climbing Mount Ever-growing-Pile-of-Junk.
There are some really amazing – and remarkably attractive – bedroom storage hacks that will quickly have all of your stuff tucked away neatly. Whether it stays tucked away is completely up to you.
From under-the-bed storage to built-in-storage headboards and more, I hope these bedroom storage hacks will help you get (and maybe even keep) your bedroom organized.
As you review some of these hacks, you will notice that some of them are soup-to-nuts DIY while others require hacking some existing pieces, such as IKEA shelves or kitchen cupboards, to make something new and wonderful. And we've thrown in a few that are commercially available for the DIY-challenged (no shame in that!).
Please note that Art & Home does have an affiliate relationship with some of the merchants listed below. We may receive a small referral fee – at no cost to you – for any purchases made at these retailers after following one of the links provided below. We use those funds to continue creating unique and wonderful content for you to enjoy. And, you know, to buy stuff… like clothes that I'll need to find a place to store in the bedroom.
Amazing Bedroom Storage Hacks to Help Organize Your Bedroom
Here are our picks for 22 of the very best bedroom storage hacks from some of today's top interior design and decor websites. These are not ranked these in any particular order, however feel free to let us know which ones are your favorites in the comments section below.
Room Divider Storage Headboard Dresser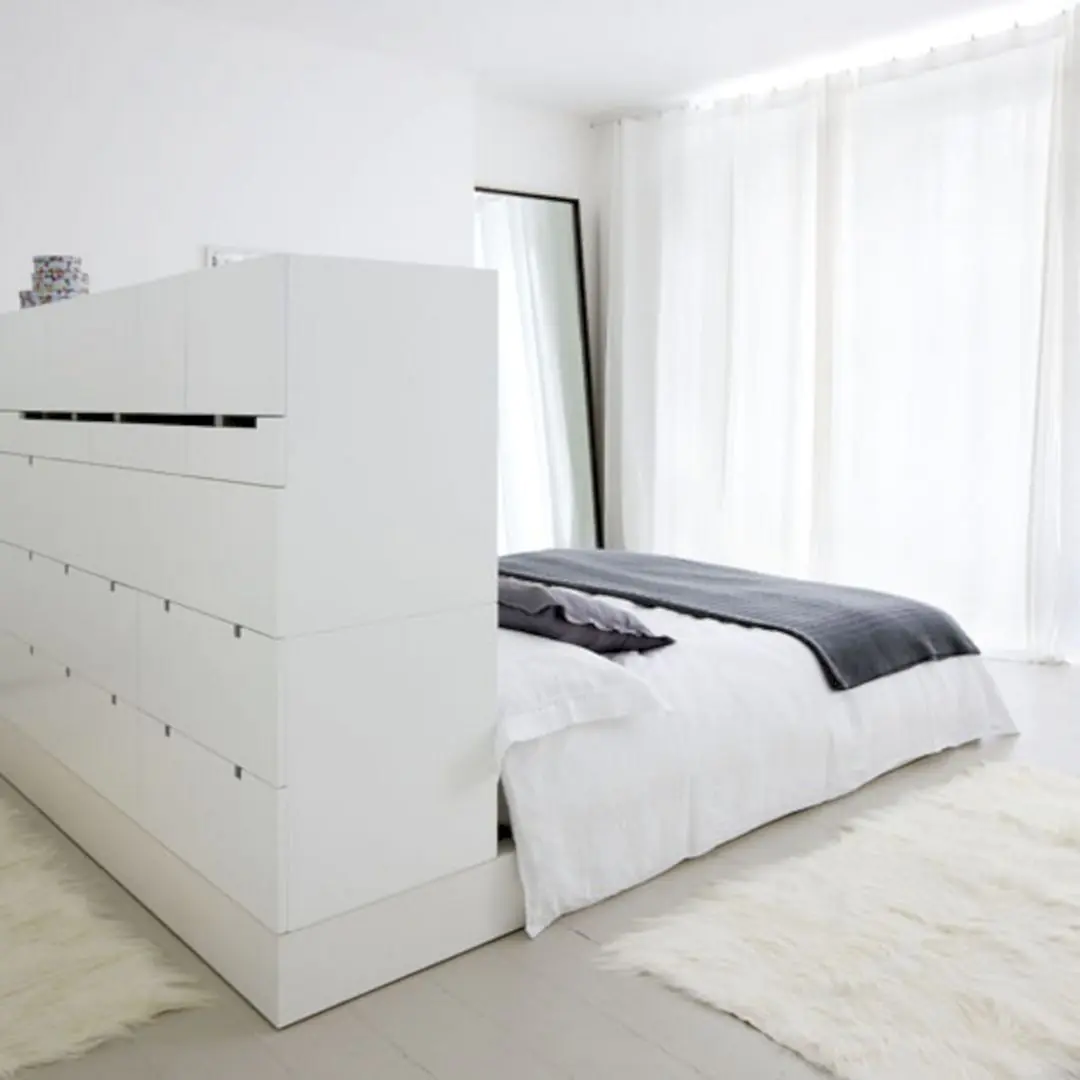 Source: Houzz
A great way to create some unique storage space is by using a tall dresser that can act as a headboard, a dresser, and a room divider. This allows you to create a dedicated dressing area, complete with storage drawers for your clothes.
---
Headboard Storage Towers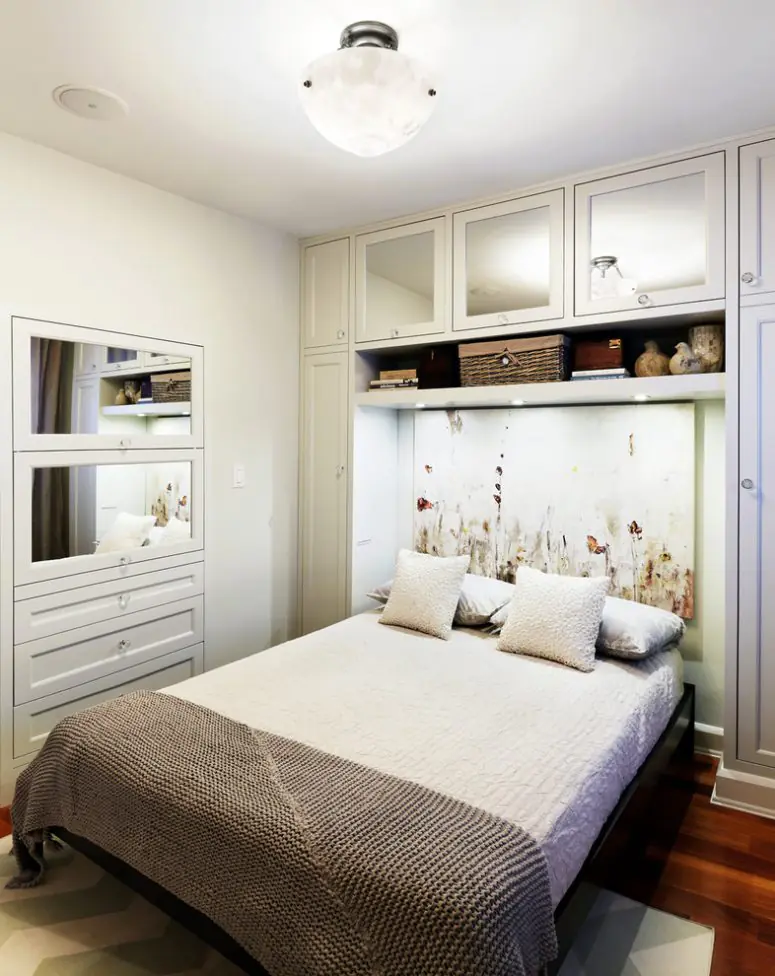 Source: DigsDigs.com
By framing off the entire bed with a clean-looking storage solution, you can create space to store your goods while maintaining the crisp lines of a sophisticated bedroom. And don't worry about not being able to reach the upper cupboards, because you have a built-in step stool with the bed itself!
---
Recessed Jewellery Cabinet with Mirrored Door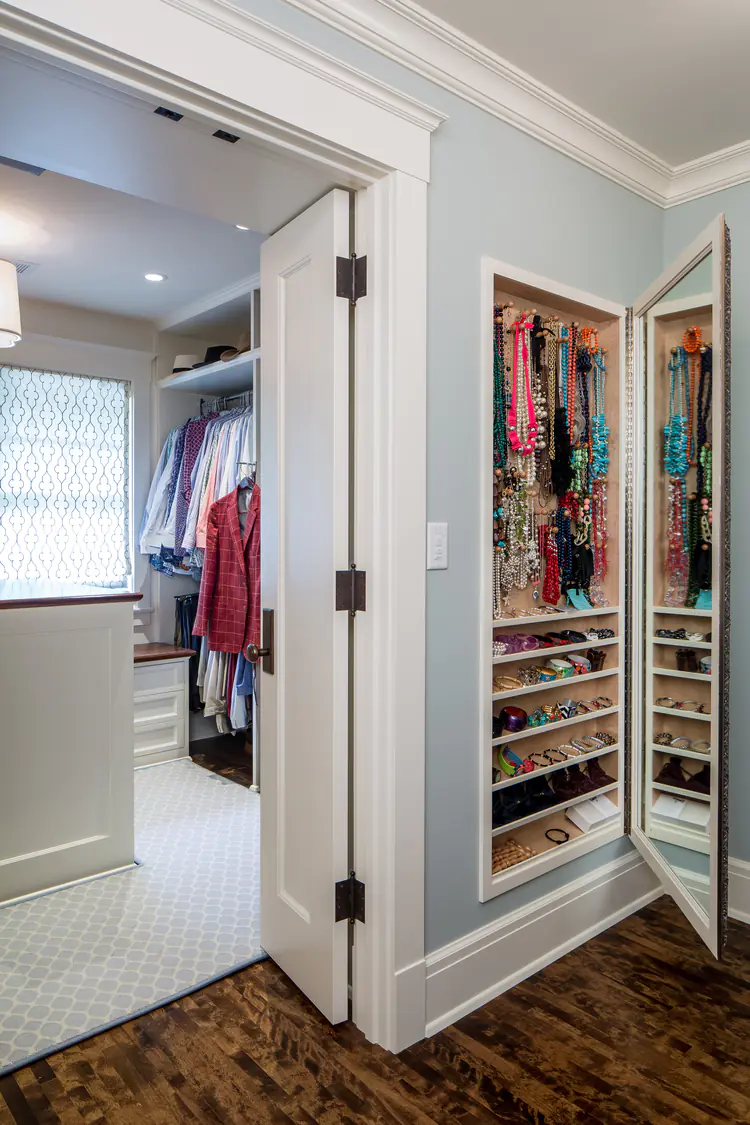 Source: J Korsbon Designs
With a jewelry cabinet that has been built right into the wall, you can store all of your bling out of sight without it being out of mind. Putting a wall mirror on both sides of the door is a great way to maximize the functionality of this storage cabinet, but I have also seen versions that use stretched canvas art as the door to hide your beautiful jewelry behind an equally beautiful piece of art.
An additional benefit – this hidden jewelry storage is a place that thieves may not think to look if they ever broke into your house.
---
Galvanized Metal Rolling Underbed Storage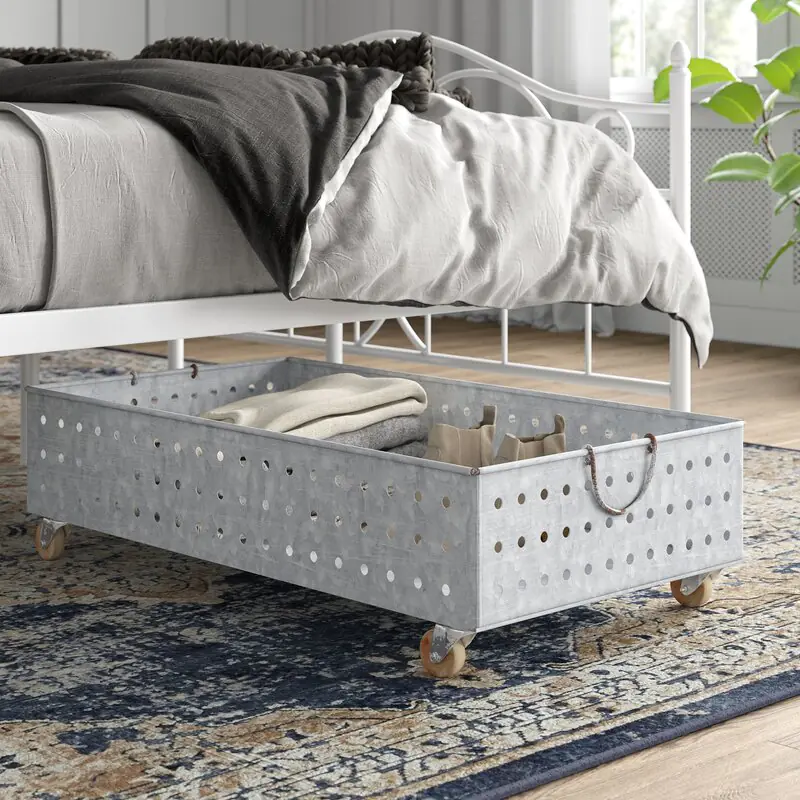 Source: Wayfair.com
A quick and easy way to turn the wasted space under the bed into functional storage is with one of these handy rolling underbed storage bins. This piece, from our retail partners at Wayfair.com, is crafted from galvanized metal for a unique and rustic look.
---
Recessed Wall Shelves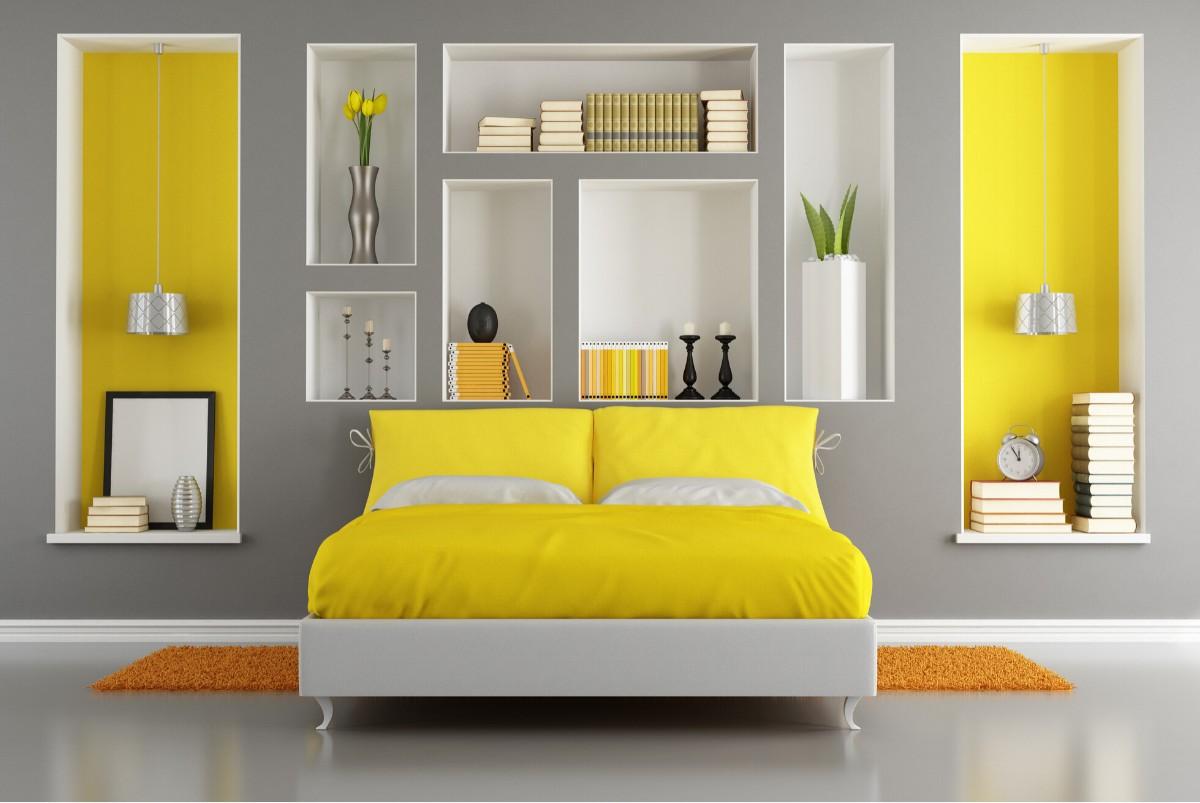 A great way to maximize the space is to go deep, into the walls. There's so much space between the studs to create functional – and attractive – storage solutions that doesn't take up any floor space in the bedroom. To create harmony with the bedroom, you can paint the back wall of the shelves (all of them, or just a couple) to pickup the decor colors in the bedroom.
---
DIY Storage Bookcase Headboard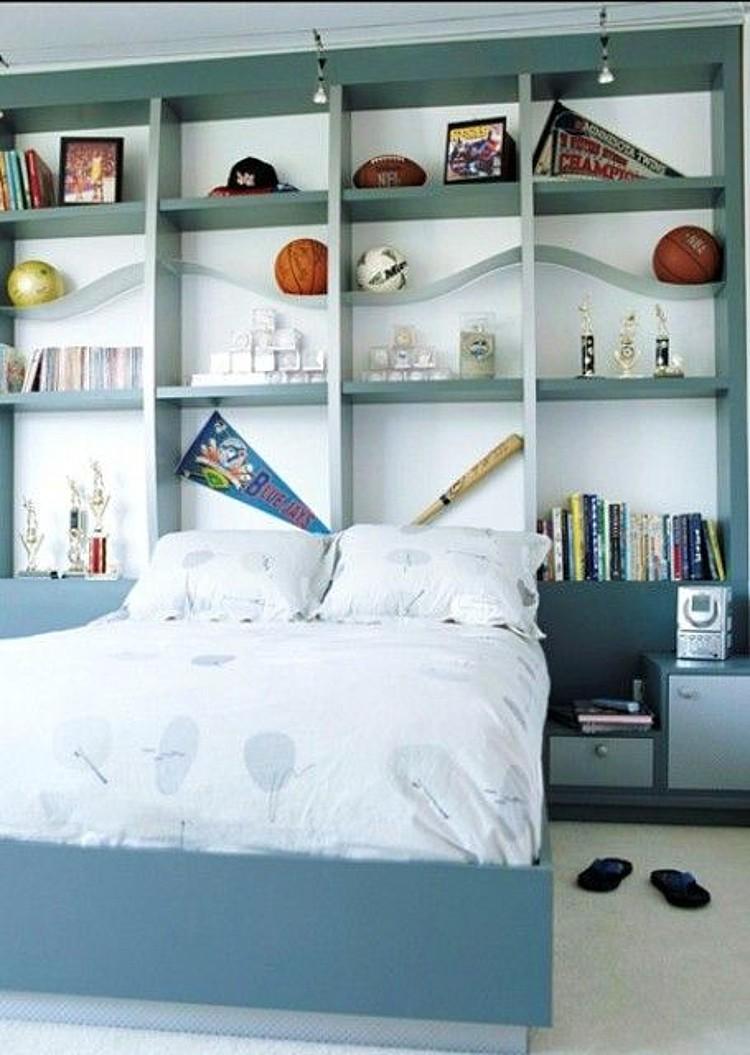 Source: Patch.com
Maximize the value of the space behind the mattress with built-in wall shelves or a bookcase design. I liked the design of this sports-themed shelving system, and the wave of bent metal adds visual interest. But there are so many different options that you can pick from to create (or buy) your own unique installation.
---
Retractable Shoe Shelves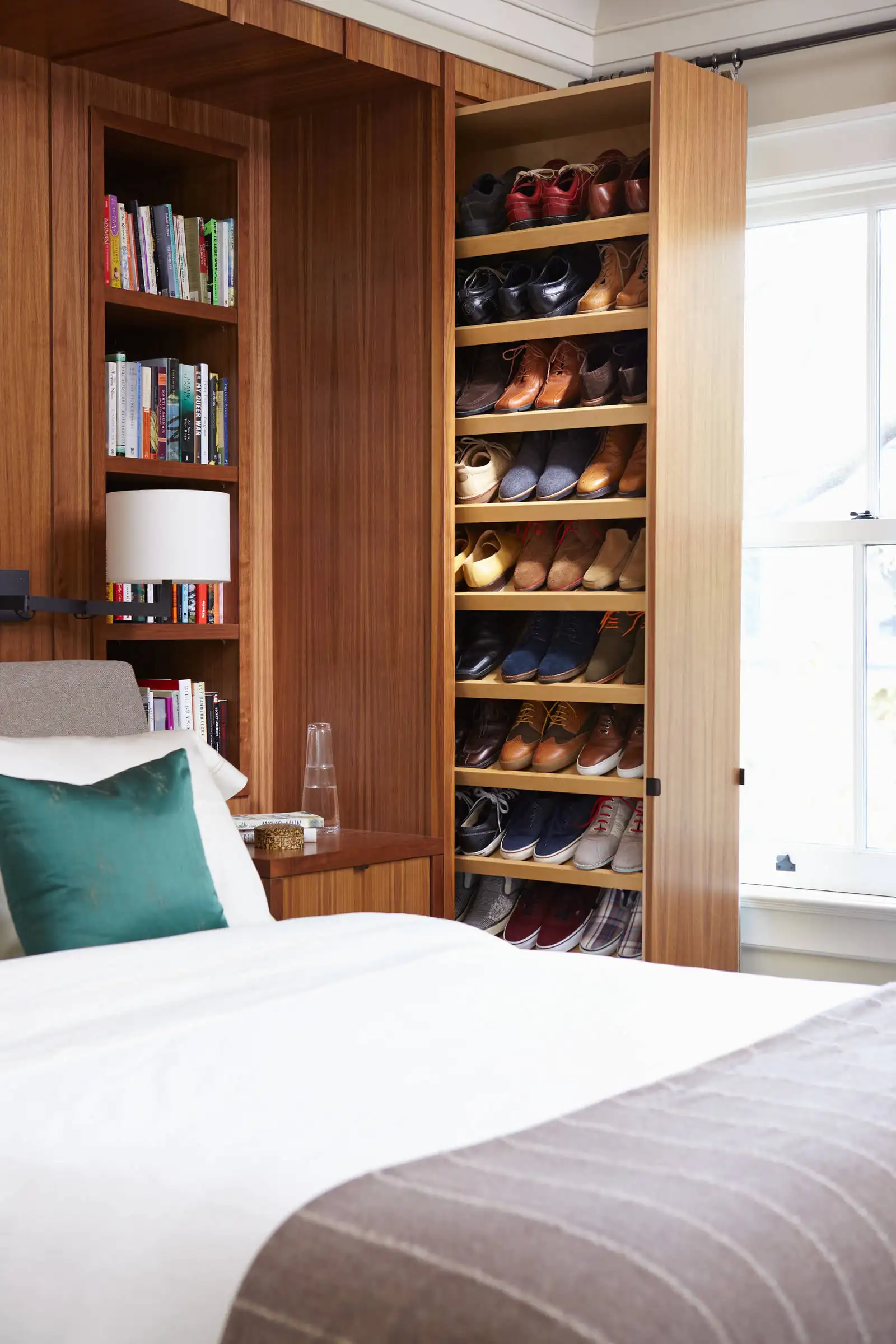 Source: Douglas Design Studio
A retractable shoe shelf is a great solution for storing a lot of shoes in a little bit of space. How you build them (single or double-sided) will depend on how many pairs of shoes you need to store. Simply pull the storage shelves out, pick the shoes you want to wear, and then slide the shoe shelves neatly back into place.
---
Wall-to-Wall Built in Wardrobe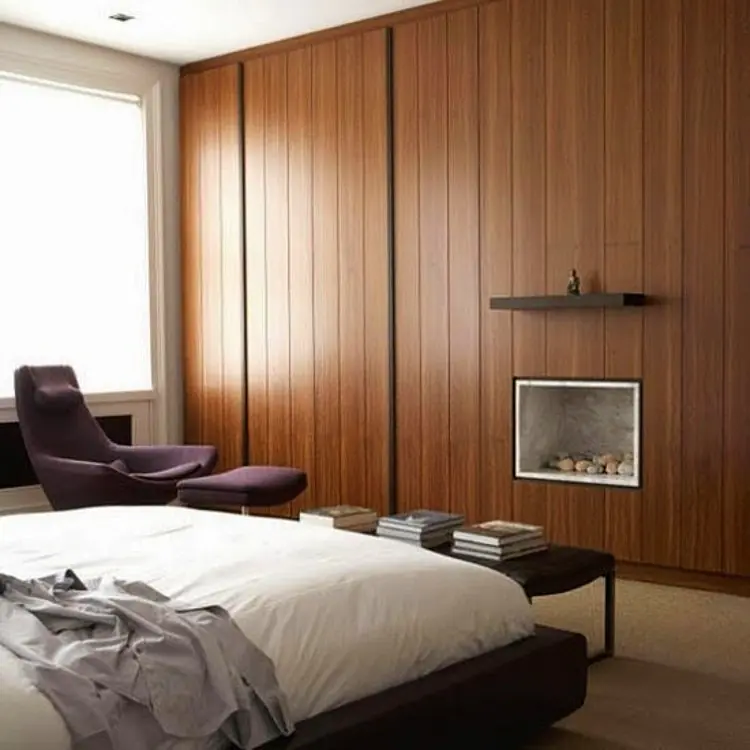 Source: Pinterest
This cool wall-to-wall wardrobe looks like it's just a vintage panelled wall, complete with a recessed faux fireplace. But this retro look hides a multitude of storage space. Of course, if you're not into the mid-century modern look, you can always pick a different color or texture for the wall treatment, but the idea stays the same.
---
Underbed Storage Cases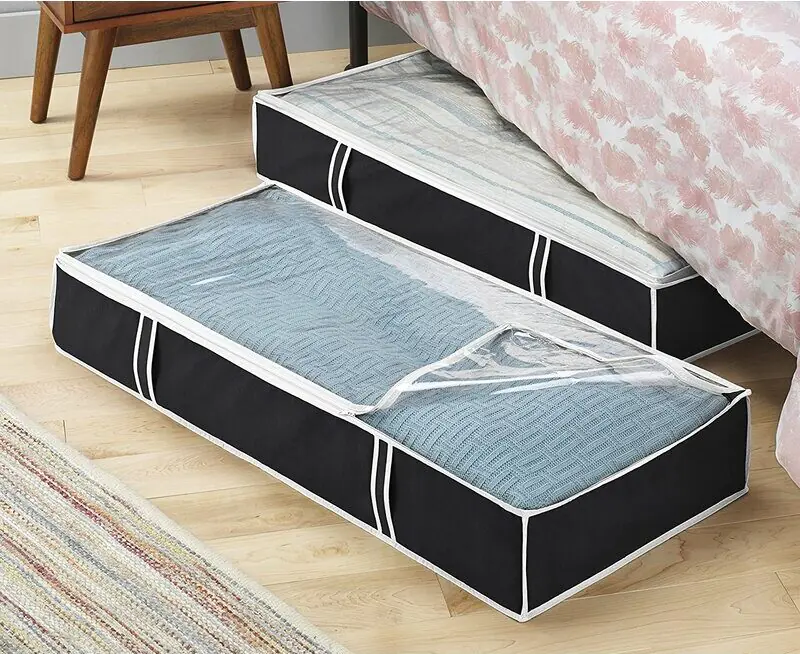 Source: Wayfair.com
Nothing super-fancy about these, but they can be really handy for packing up seldom-used or off-season items and tucking them safely and discretely under the bed for future use.
---
Raised Loft Bed with Storage Drawers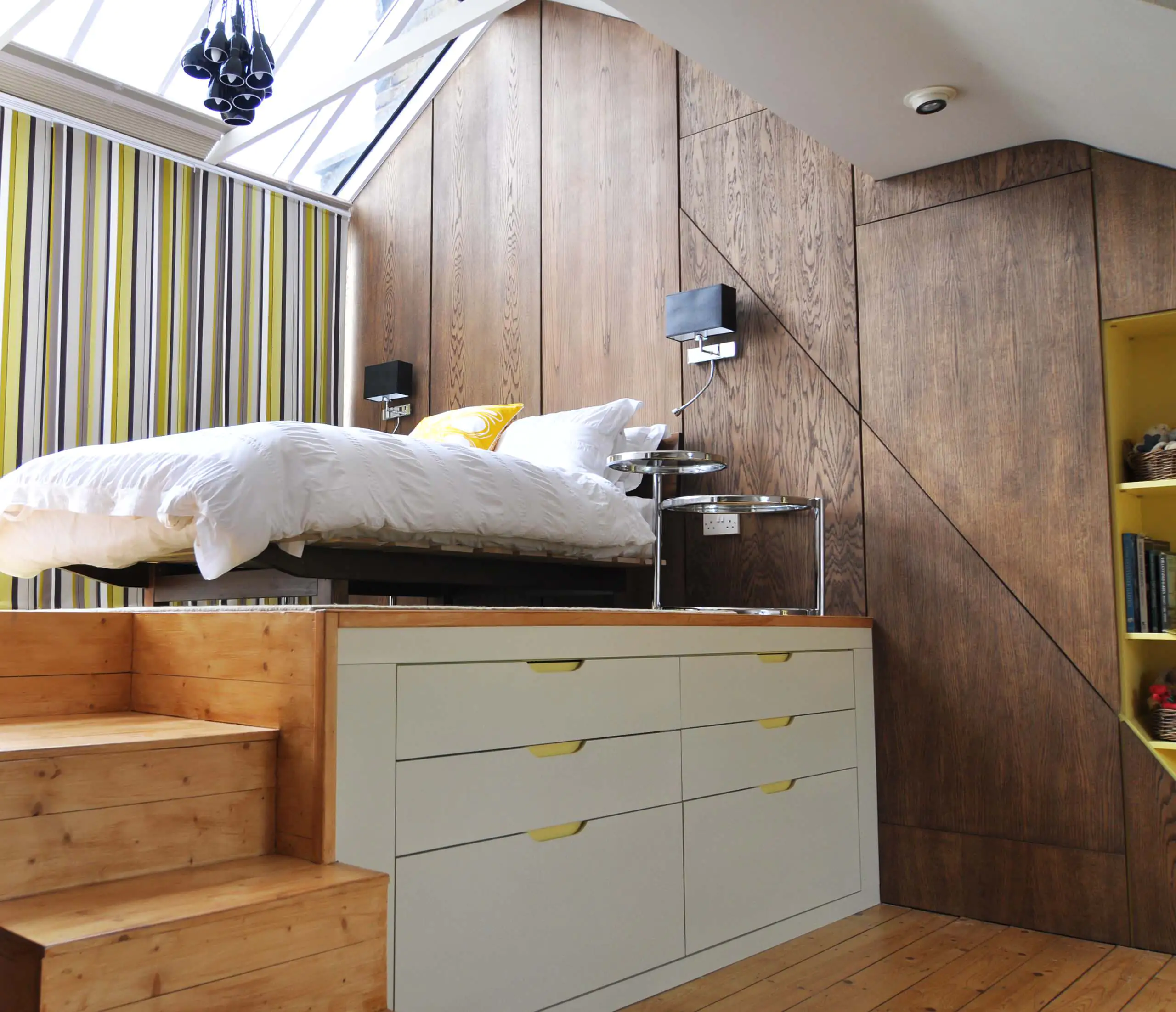 Source: Houzz
You can create a tonne of storage under the bed by lifting the bed a few feet off the ground and installing storage drawers underneath. You'll need a set of stairs to get up to the lofted bed, but even those can be created to add additional storage by putting the star caps on hinges (if you so desire).
---
Staggered Bedroom Storage Cabinets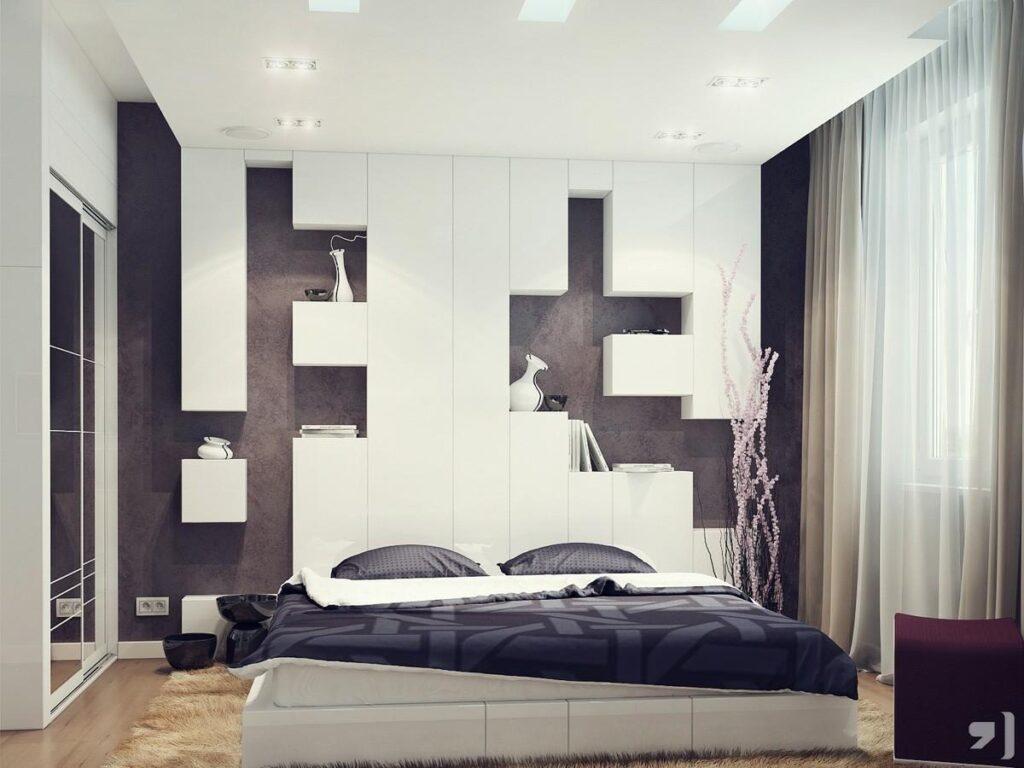 Source: Decoratorist
For a thoroughly modern look that is packed full of storage potential, this set of crisp storage cupboards have been installed in a staggered pattern to provide hidden storage and open shelves with plenty of visual interest.
---
Storage Window Bench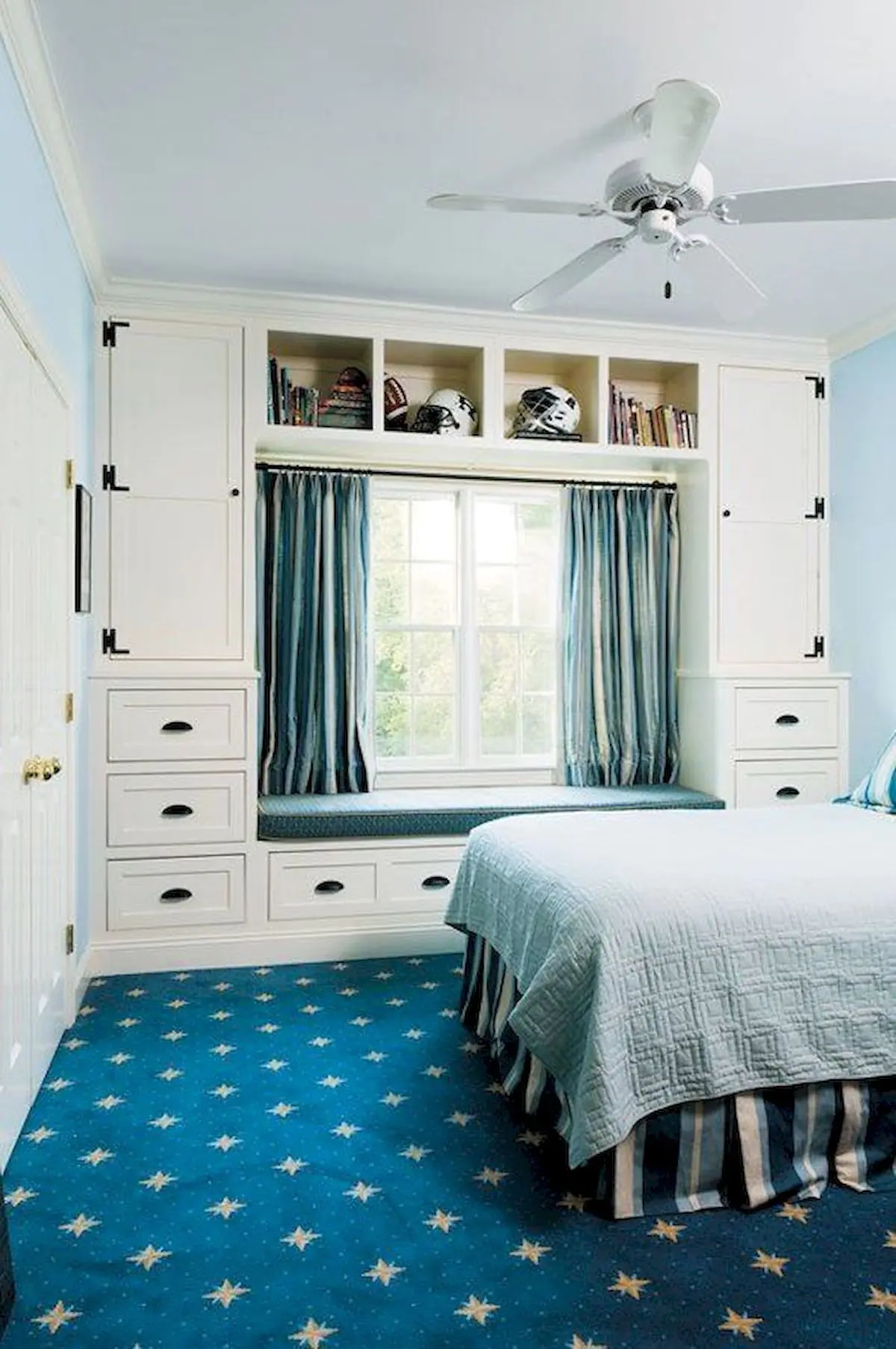 Source: Googodecor
I love the classic look of a window bench. You can almost picture the angst-ridden teenager spending hours writing in her (or his) diary about the daily goings-on of their life. Or, perhaps, a full-grown adult spending a few hours curled up in that comfy space with a really good book. This version of the classic window bench adds the additional element of some much-needed storage cabinets.
---
Building a Closet Under the Bed

Source: Pinterest
I don't know how they came up with this really cool configuration, but I'm very glad they did. The closet – which is about midriff height – is sufficient enough to hang clothes and install shelves for folded items. Just lift the bed using the hydraulic hinge to get what you want out of the closet, and then put the bed back down to hide all of the clutter.
---
Surround the Bed with Storage Cubbies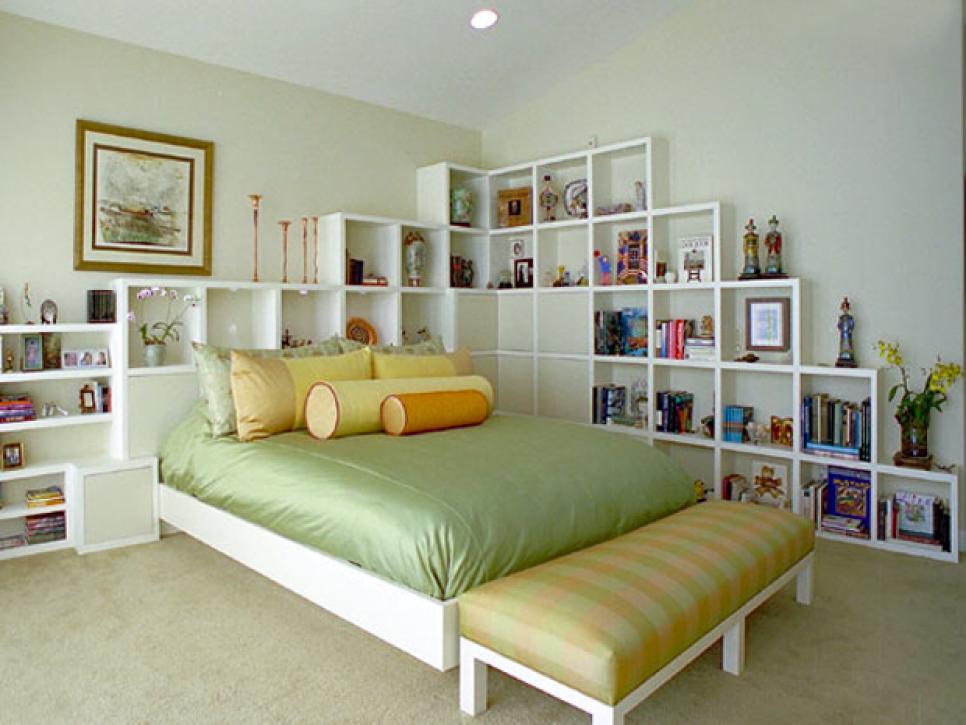 Source: DIY Network
This simple – yet effective – bedroom storage solution uses a variety of storage cubbies scattered around the bed in a step-style installation. This provides plenty of storage and creates some nice visual interest.
---
Storage Murphy Bed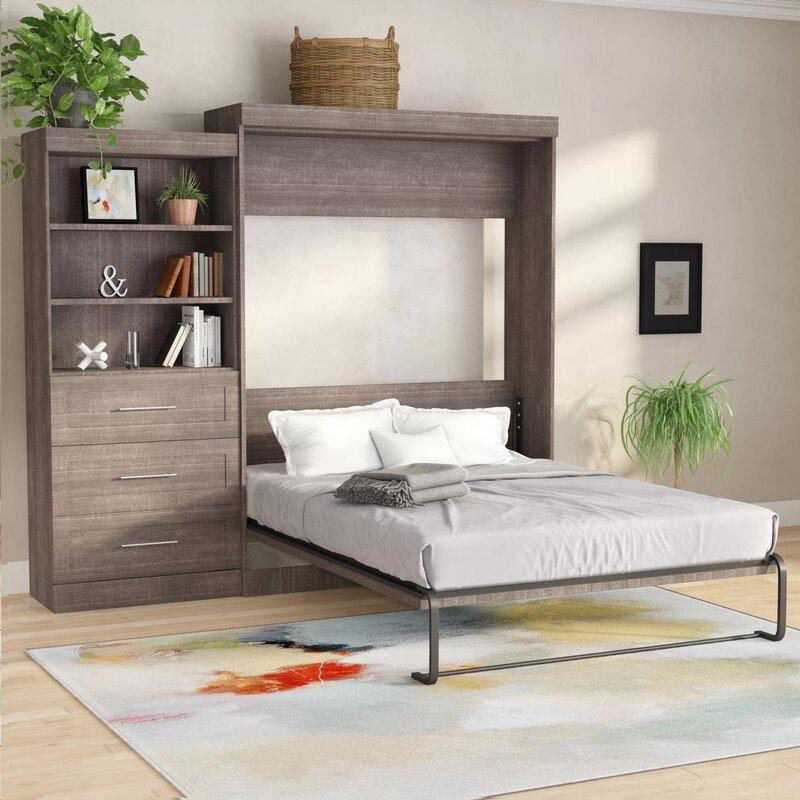 Source: Wayfair.com
This unit lets you store a lot of things, including the bed itself. This clever solution is really handy for very small spaces, studio apartments, or guest bedrooms.
---
DIY Under the Bed Sliding Storage Drawers
Source: Decor.net
This storage solution looks like it would be the audiophile's (or videophile's) dream bedroom. But this concept could just as easily be applied to other items, including shoes, clothes, linens, and more.
---
IKEA Storage Hacks for the Bedroom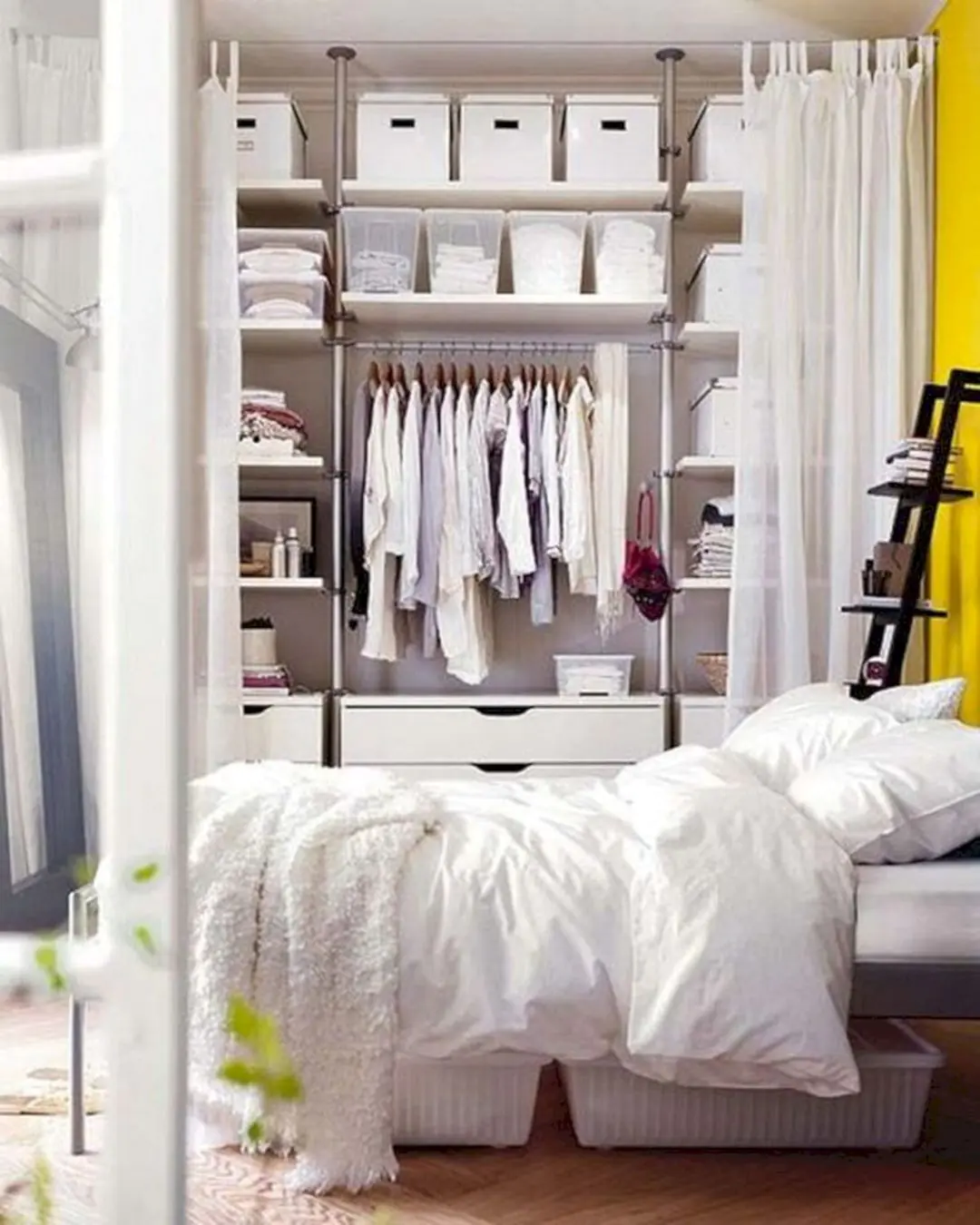 Source: Decoratorist
I've seen hundreds, possibly thousands, of cool ideas about using IKEA furniture in new and different ways, including how to maximize bedroom storage. Known around the world as IKEA hacks, these are a hybrid of DIY and store-bought installations. This example, which semi-hides a fully-functional IKEA closet behind some light & airy curtains, is just one of many of these hacks.
Here are a few more really great IKEA bedroom storage hacks.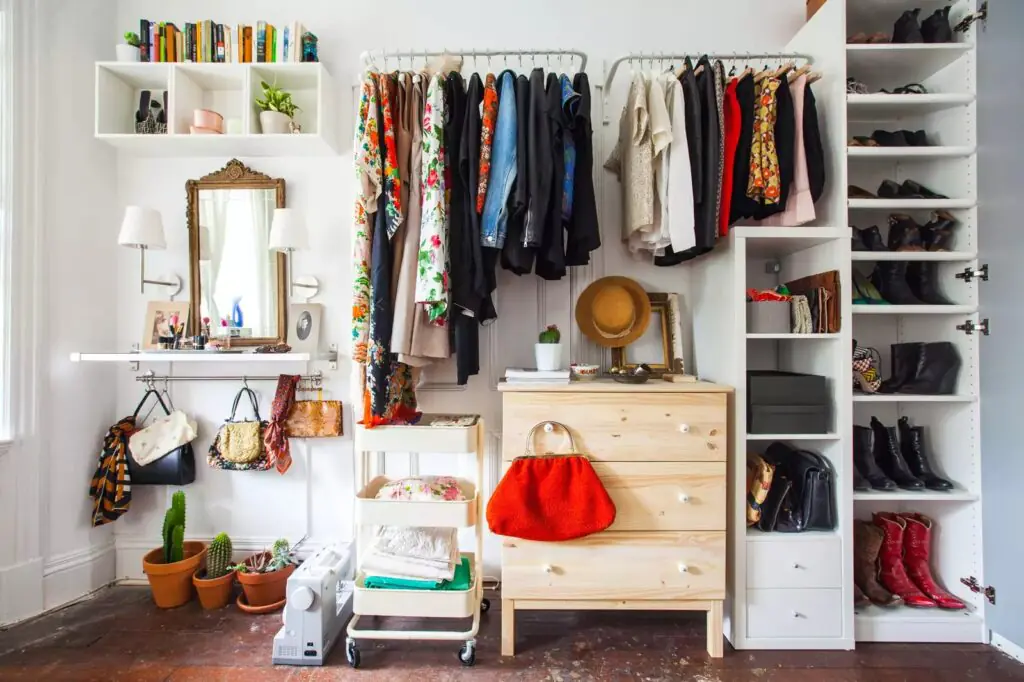 ---
Upcycled Picture Frame Wall Shelves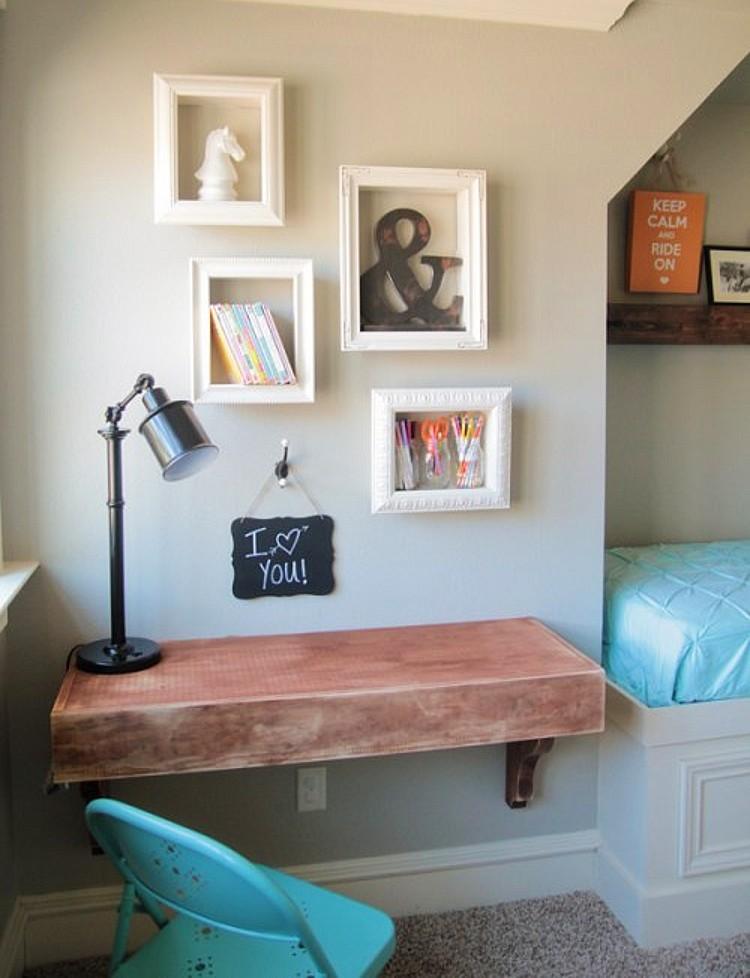 Source: Shanty 2 Chic
You can re-purpose some old picture frames, perhaps from your own basement or ones you pick up from a thrift shop or yard sale, and use them to create some unique and attractive wall shelves that can hold various decorative accents, books, and other items. This helps get them up and off surfaces so that you can use them for other purposes.  
---
Storage Loft with Storage Stairs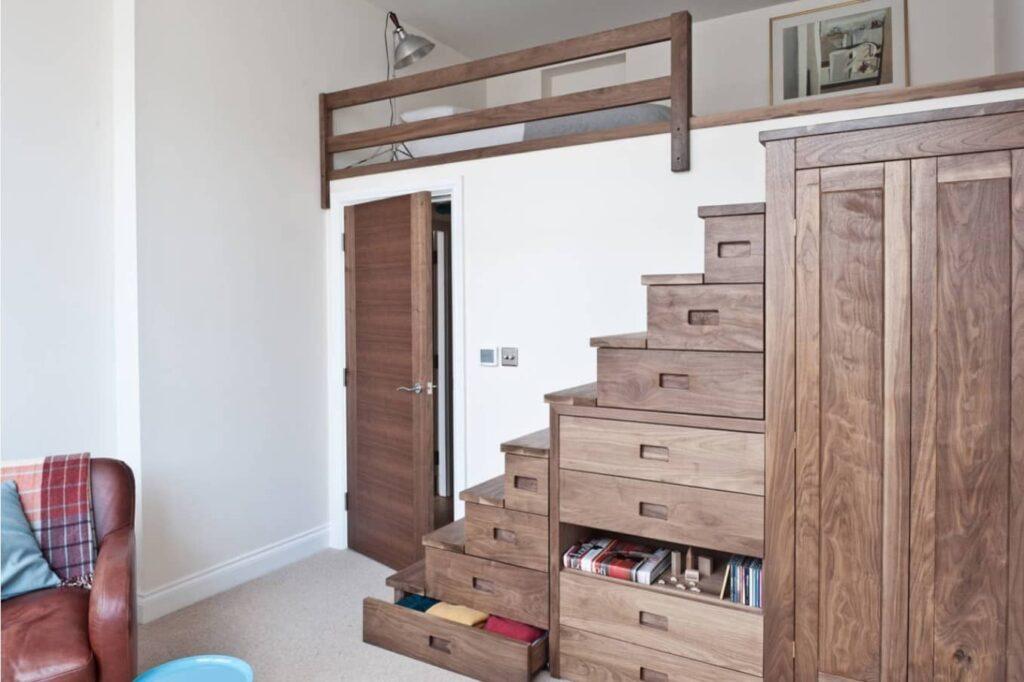 Source: Small Design Ideas
An idea that takes the loft bed to new heights, every square inch of space has been utilized for storage. A bed rests above the closet under the bed, with a combination of storage drawers used as stairs and a wardrobe at the top as the platform leading to the sleeping area.
---
Alcove Bed Surrounded by Storage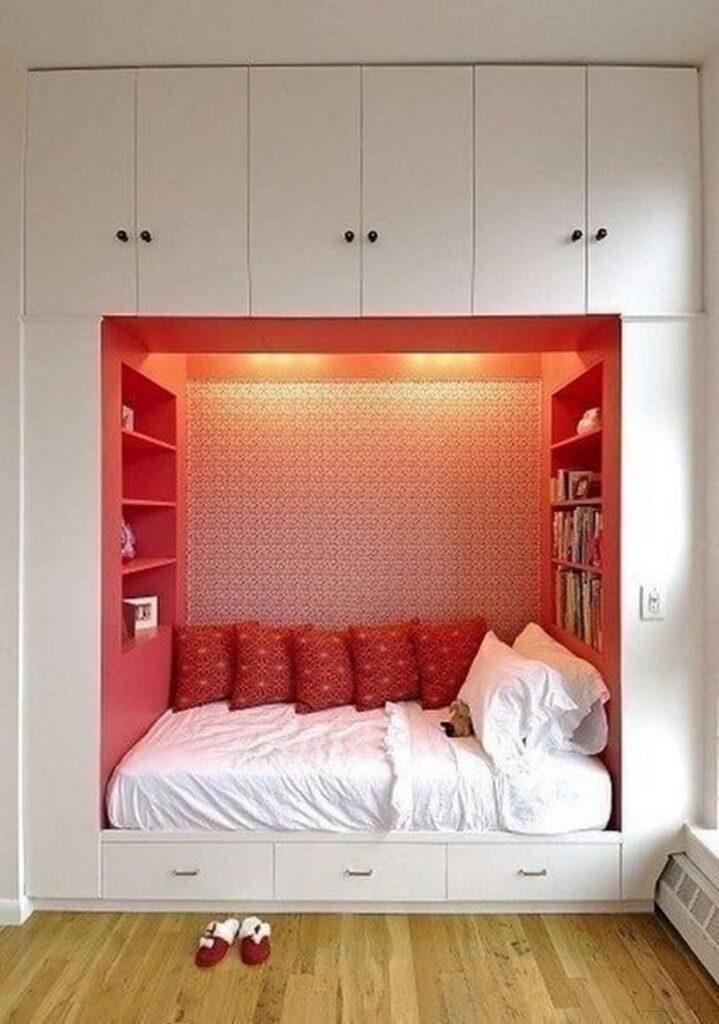 Featured in the article about Red Bedrooms, this cool design features an alcove bed with storage on all sides. The rich red colors inside the alcove, along with accent lighting that has been built in above, really make this bedroom design pop!
---
Storage Platform Beds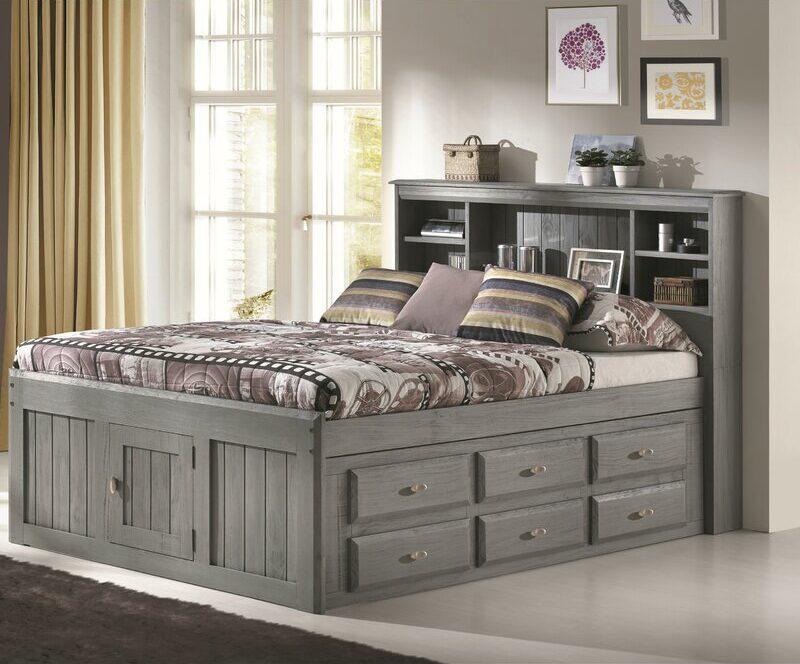 Source: Wayfair.com
A quick an easy way to add some storage in the bedroom, without a full-scale DIY build, is through one of these pre-built storage platform beds. There are tonnes of configurations, colors, and styles to choose from to help you find the perfect piece to add to your bedroom.
---
Storage Cubicles Platform Bed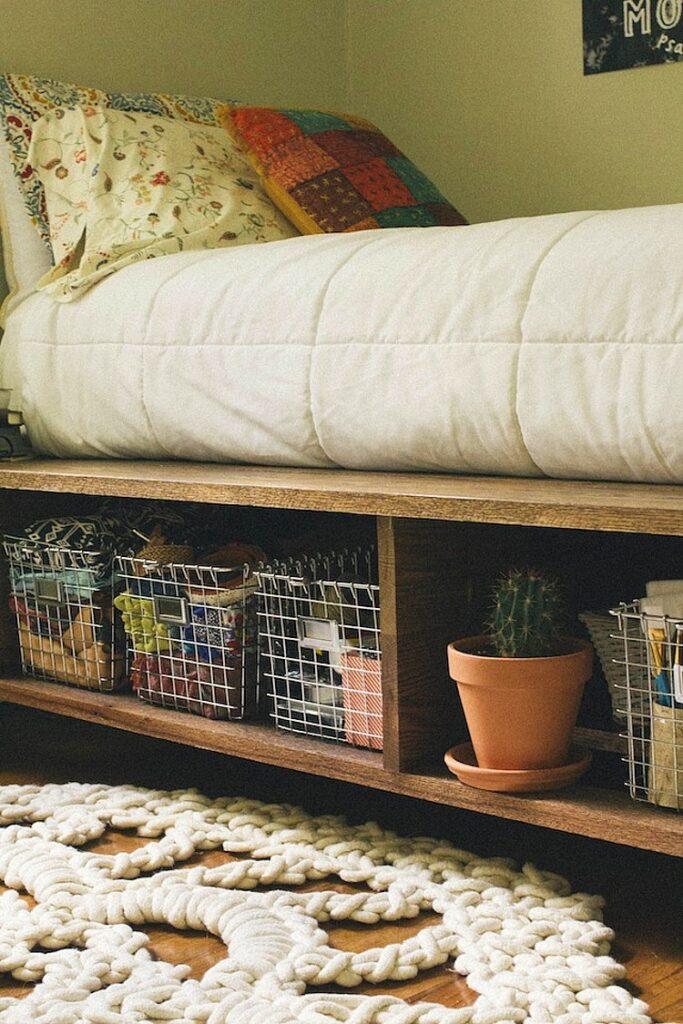 Source: AlwaysRooney.com
Get rid of the box spring or foundation and use a platform bed chock full of storage cubicles. This easy-to-make DIY platform bed can be combined with some attractive storage baskets to create an attractive and handy storage solution.
---
Bedroom Storage Solutions That Make the Most of Your Space
Any one of these bedroom storage hacks will help you maximize your storage space and get the most out of your bedroom. Or, you can combine a few different ideas into a unique installation (and if you do that, I'd LOVE to see the outcome!).
They say that the best way to maintain an organized bedroom – and an organized home – is to have a place for everything and everything in its place. These bedroom storage hacks will help with the first part of the equation. The second part is completely up to you.