I love the artwork of Eric Waugh. As an artist, his unique creativity is truly astounding. As an artwork, these pieces create a lively and colorful focal point.
Please note that Art & Home has an affiliate relationship with some of the merchants listed below and we may receive a small referral fee – at no cost to you – for any purchases that you make utilizing the links provided. We use those funds to continue building Art & Home's unique collection of home decor articles and inspiration. And, you know, to buy stuff.
A Montreal native (now residing in Austin, Texas), Waugh's works have an unmistakable charm, flow, and appeal through the use of shapes, lines, and vibrant colors that are distinctly Eric Waugh.
I remember, not that long ago, an interior designer friend of mine posted an image of a recently updated master bedroom. On the wall above the headboard, I immediately spotted this bright and lively painting that blended perfectly with the modern and stylish look of the room. The contrast was perfect. The colors were perfect. And the style of the art was unmistakably Eric Waugh.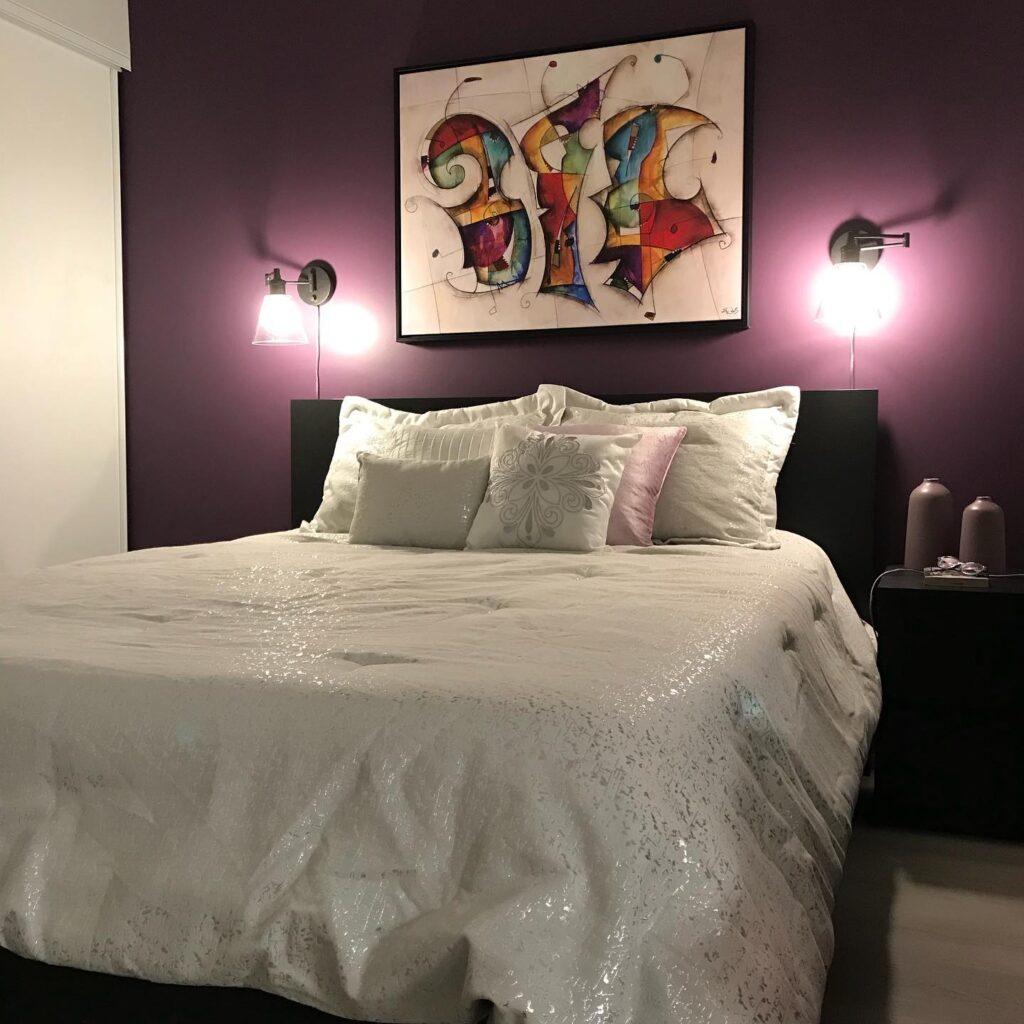 There's always a very creative flow to Waugh's artworks. And the colors are always perfectly selected to blend with the theme, the emotion, and the viewpoint of the work. If you want something modern and crisp, with a unique viewpoint on the world around us, you don't have to look much further than a Waugh art piece.
Not only does this make his artworks perfect for adding a pop of visual interest to a room, but it allows you to notice different details about the artwork each time you look at it. And isn't that what great art does?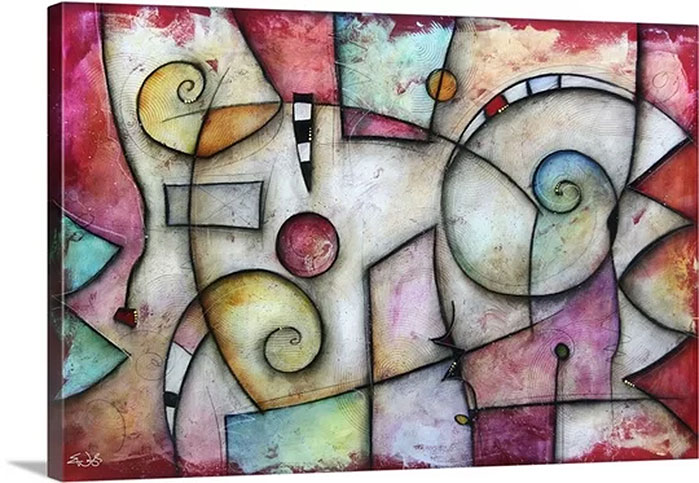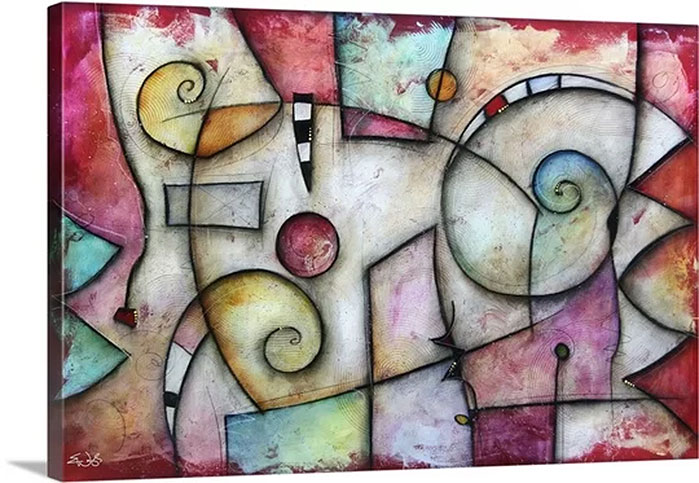 Image: Jive by Eric Waugh Painting Print on Canvas
Plus, no matter what he's painting, all Eric Waugh's artworks exude an undeniable sense of fun. Take this Urban Trio piece as an example. You get the unmistakable feeling of being on a busy street in some urban center (perhaps it's New York, or Maybe LA, or maybe even Waugh's hometown of Montreal) enjoying life and the wonderful music that they're playing.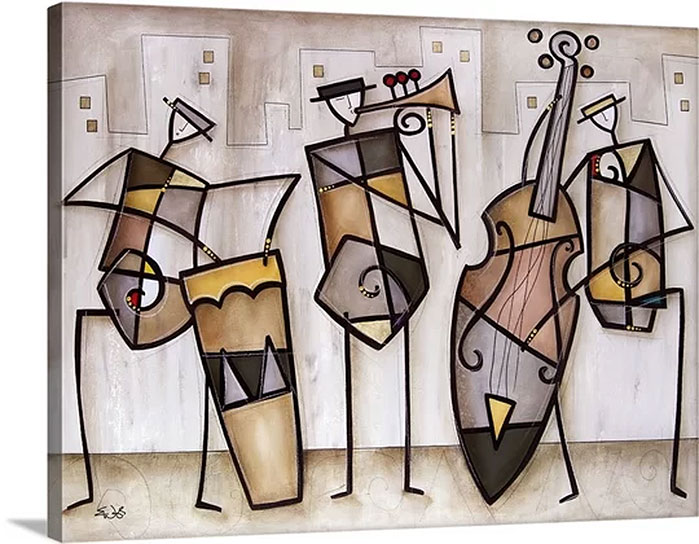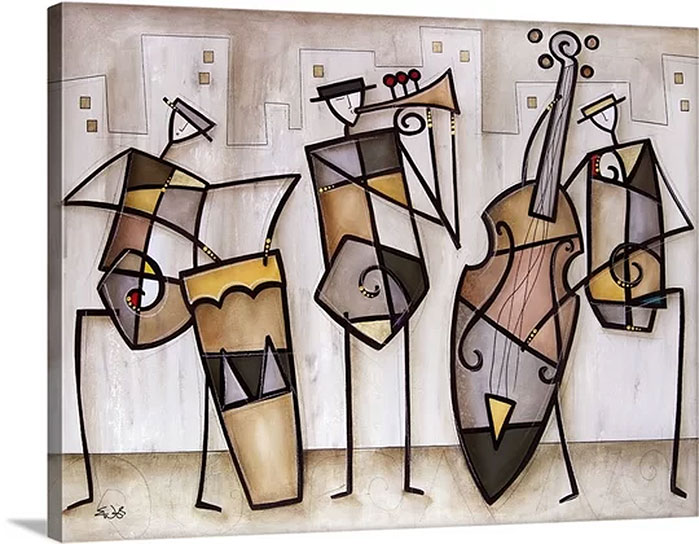 Image: Urban Trio by Eric Waugh Painting Print on Canvas | Canvas On Demand
Waugh's artistic themes embrace the excitement and energy of urban life.
Eric Waugh's Early Career
Waugh is a self-taught artist. He started out in graphic illustration and product design before discovering his love of painting in 1988. 30 years later, Waugh can boast of having sold over 45,000 original works during his career. That makes him one of North America's most recognizable and collected artists.
And, looking at his paintings, you can probably understand why.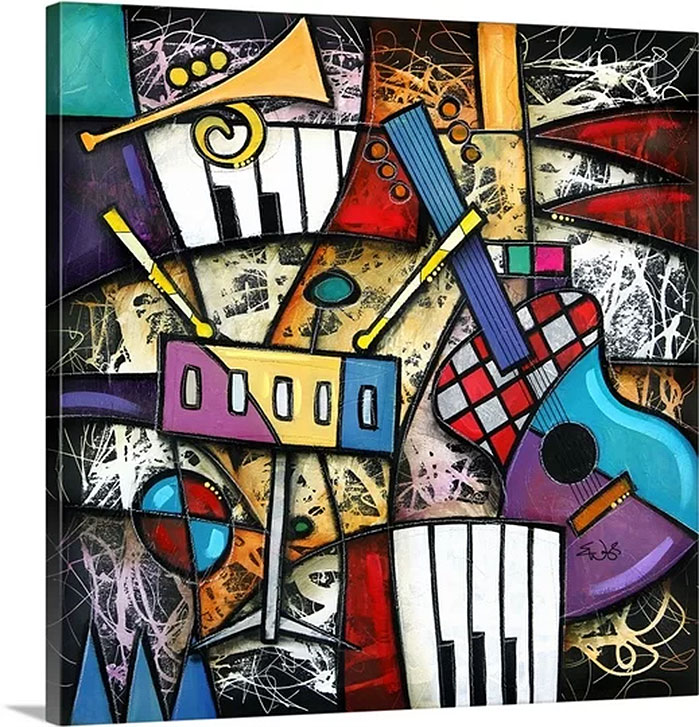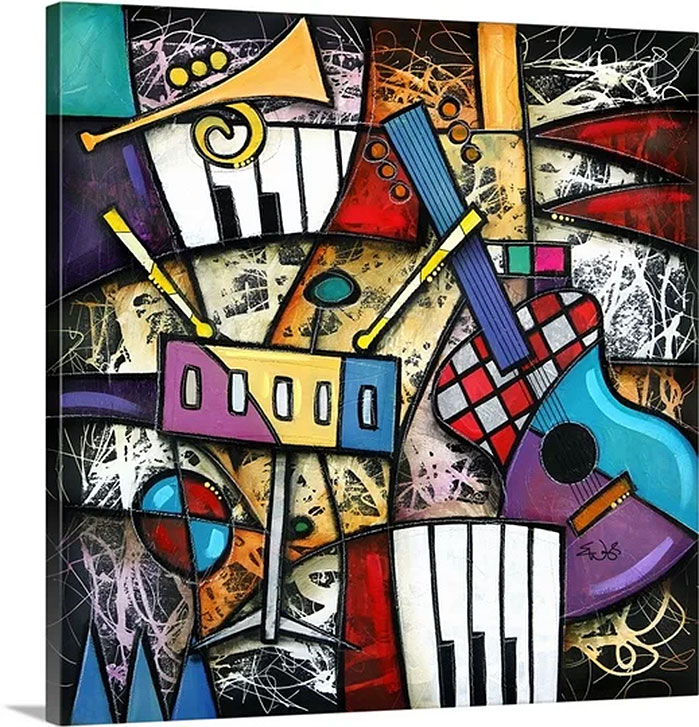 Image: Checkered Guitar Jam by Eric Waugh Painting Print on Canvas
With his masterful use of vibrant colors, rich textures, and lively subject matter, Waugh's fun yet sophisticated art celebrates life.
The Musical Influence on Eric Waugh's Art
Eric Waugh has taken his love of Art & his love of music and has merged them on canvas and off. Aside from the obvious musical influence in many of his artworks, Waugh has painted live at many large musical events. During these events, Waugh lets himself become inspired by live music and creates original works of art right before audiences' eyes.
This love of music is evident in many of his pieces as well.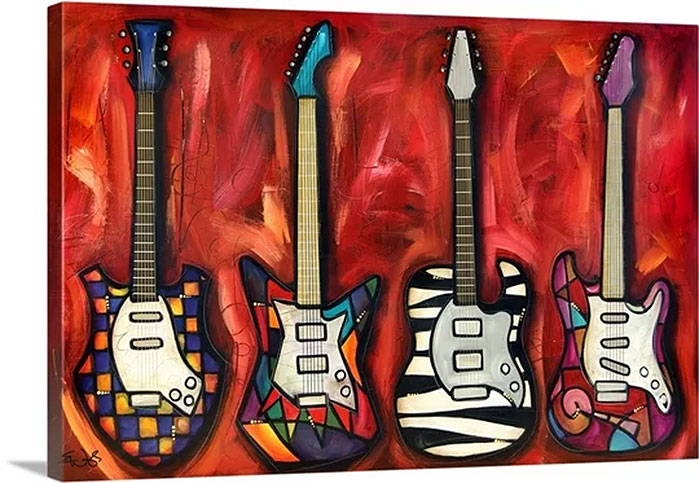 Image: Tools of the Trade Painting Print on Canvas
Although I think I see a small hint at what Waugh's own personal preference in music might be. If I was to judge solely by his painting, I would say that his taste in music leans towards Jazz. But that's just a guess. Perhaps I am completely wrong about that….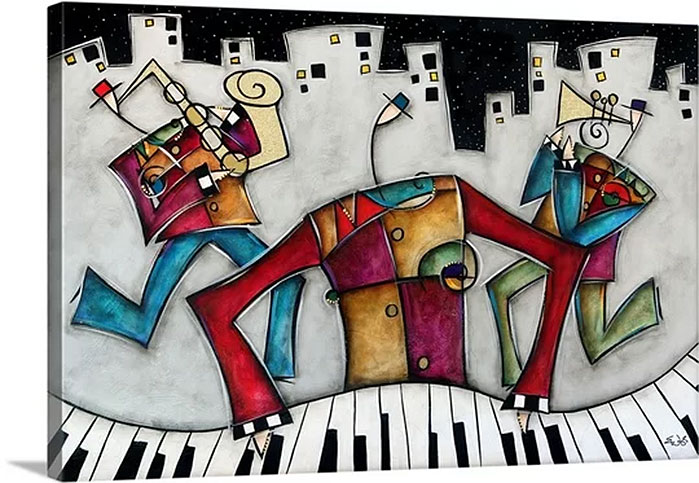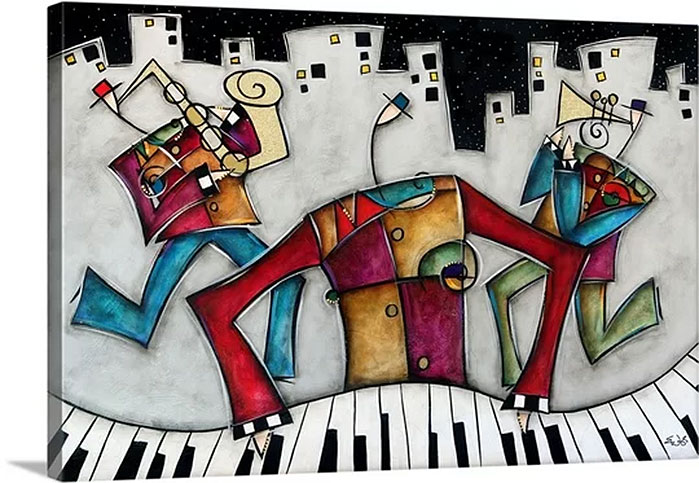 Image: Silver City Jazz Painting Print on Canvas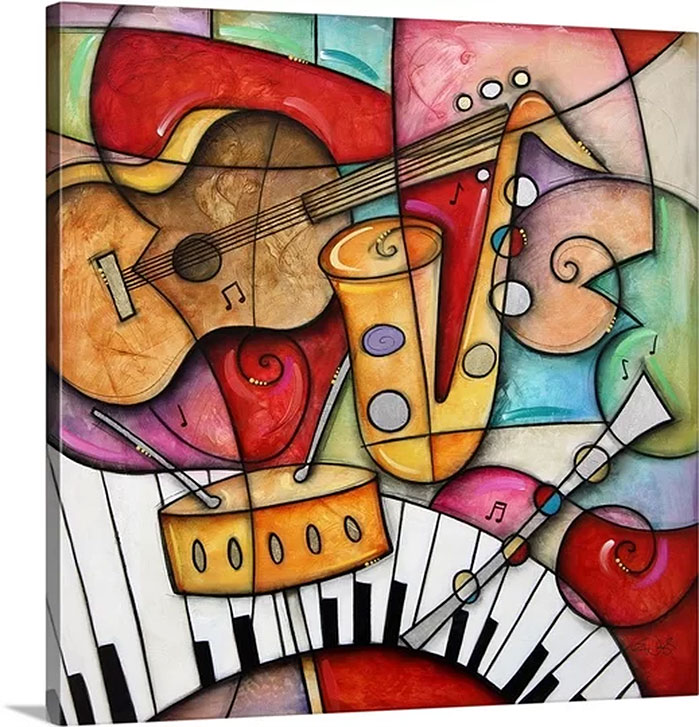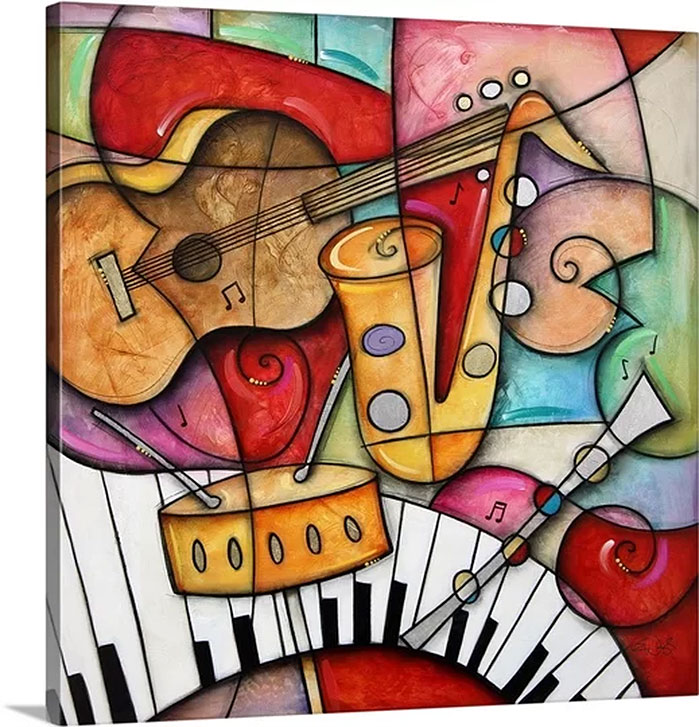 Image: Jazz Makers I (Sax) by Eric Waugh Painting Print on Canvas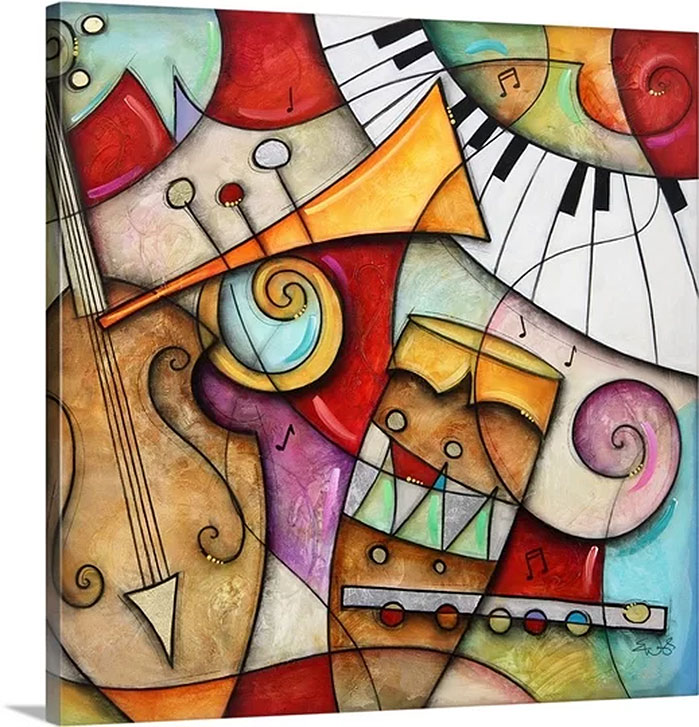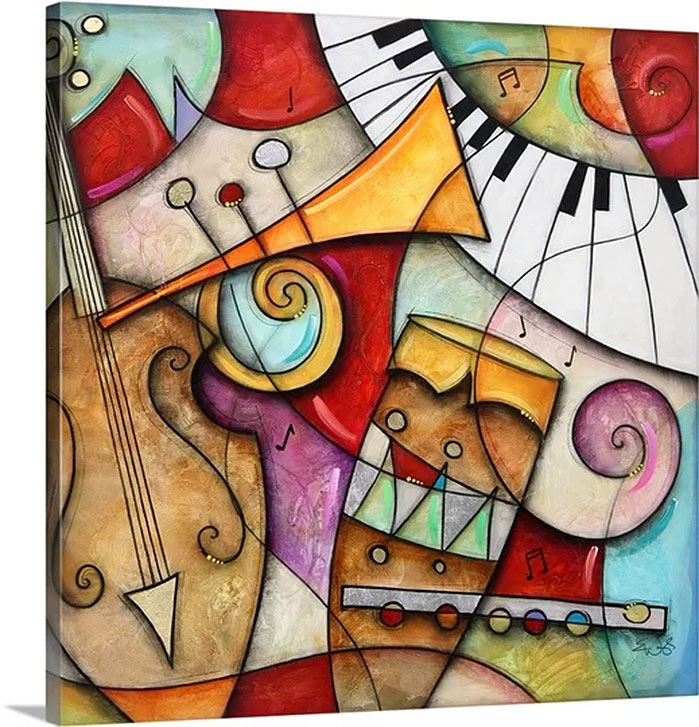 Image: Jazz Makers II by Eric Waugh Painting Print on Canvas
Who knows. Maybe I'm right about his taste in music. Maybe I'm wrong. It could go either way, really. But if I am wrong, I will be quite surprised. Someday, perhaps, Eric himself will read this post and let me know in the comments below.
Waugh's musically inspired artistry delights both art and music lovers alike.
Erich Waugh as the Whole Artist
Although his love of music is evident, Waugh certainly doesn't limit himself to that one theme. Waugh's artistic eye captures the wide (and sometimes wild) energy of urban life, including (of course) music, romance, and even pets.
His dog pop art pieces (or – as I refer to them – Pup Art Pieces) have become incredibly popular among art collectors, and dog-lovers.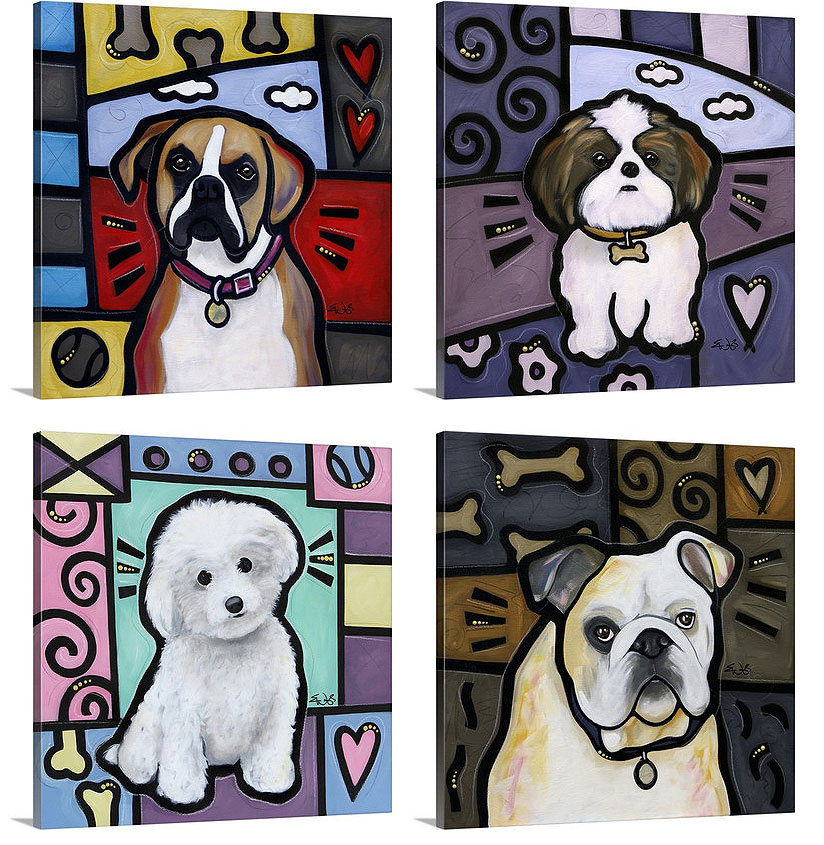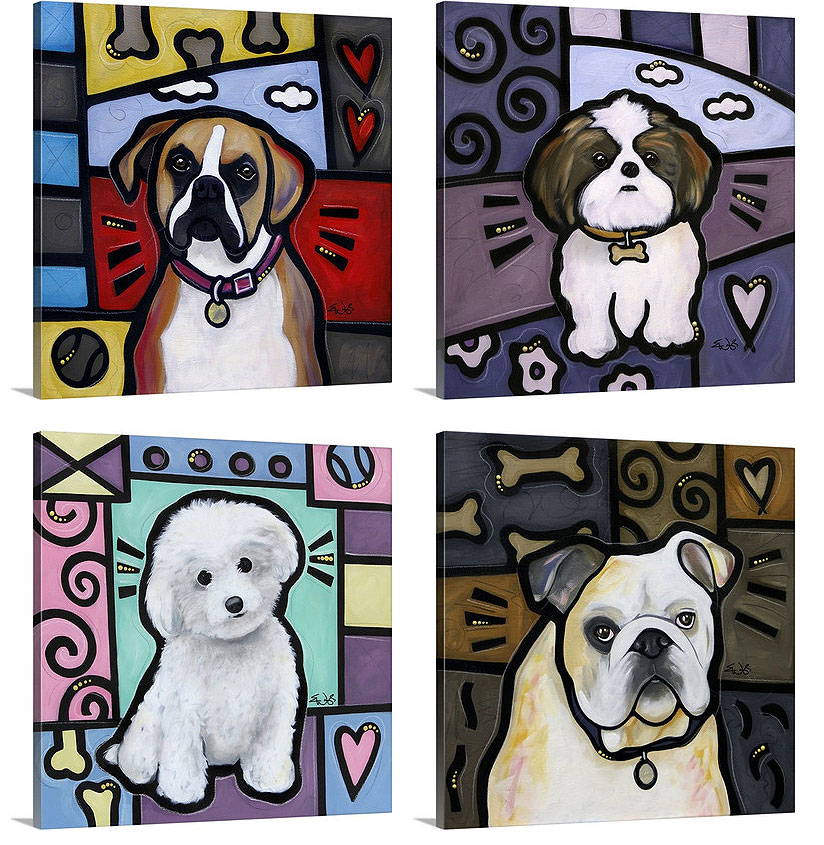 Image: A sample of some of Eric's Delightful Dog Pop Art Pieces
In general, you can tell that Waugh's art reflects his own passions for life and the world around him.
Waugh's charitable efforts have helped raise over $1,000,000 for worthy causes.
As you can see by that small sampling of his collection, Waugh's artworks are uniquely his. His vision and his style is something that stands out from the crowd and can be instantly identified as his. And that – in my opinion – is always a fantastic sign of an artist who understands himself, his vision, and his art.
Even when he does something fun and playful, such as his pop art pieces, they are still very much within his style.
Waugh's art reveals his own positive and enthusiastic outlook.
Art as a Reflection of Eric Waugh the Artist
If Art reflects the Artist's personality, Waugh looks like he would be a fun, energetic, passionate person to be around… which is not a bad way to be thought of.
And, if I can use his own art to reflect how I feel about his art… well, somehow, that feels appropriate.
Do you enjoy Waugh's artwork as much as I do? Let me know in the comments below!