Large wall decor, including canvas art sets, metal sculptures, and oversized tapestries are just a few of the many different large items you can use to create an impressive focal point for any room in your home. From large geometric shapes to large animal silhouettes, there is no limit to what you can do!
[Feature Image: Melissa Graves Brown Jewel River Tapestry]
Large wall decor is versatile and offers so many options. Not only that but it's an easy way to brighten up your interior space! If you're tired of the same old decor or want a quick update for any room in your home, large wall art may just be what you need. Large metal wall sculptures, art sets, and large tapestry wall hangings can add a touch of color and texture to any space.
Perfect for the living room, entryway, dining room, master bedroom, or kitchen, you can make your own statement by hanging giant art over the sofa in the living room or above the fireplace mantle in the den.
It's so much easier to fill a space with one large piece of wall decor than it is to try to arrange photos or other pieces of art to create a photo wall. However, you can accent a large wall decor piece with two smaller pieces on each side to further extend your display.
If you're looking to create drama with impact, look no further than creating an entirely new focal point around one large tapestry, canvas art set, or even an oversized wall sculpture.
Decorate your walls with large tapestries to add texture and color. You can use one large piece or create a gallery effect by hanging multiple large tapestries near each other in the same space, such as along the walls of a grand staircase. One great tip is to choose colors and designs that complement each other such as navy blue & white stripes or red & pink paisley. This will allow you to mix patterns while still creating harmony within the space.
Artfully arrange large metal sculptures of deer, elephants, horses, and more to create an exotic jungle-like feel. You can also use one large sculpture as part of the room's main focal point while using smaller pieces throughout the rest of the interior design. This will ensure there is harmony within each area without having too many large decor items cluttering up your walls at once.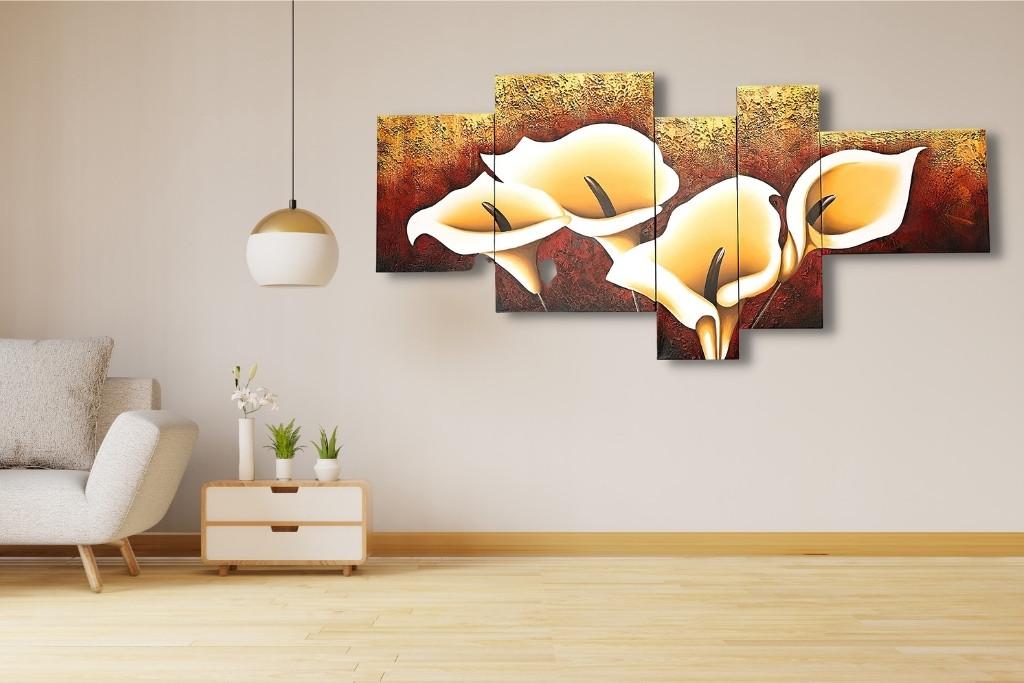 What is a focal point and why does it matter?
A focal point in a space is the large item that attracts your eyes when you walk into a room. Whether it's large wall art, large metal sculptures, or large tapestries – this piece should be bold and make an immediate statement to visitors of any age. If there are multiple pieces within one area they should complement each other while allowing each large decor item to have its own impact.
A large metal sculpture of a deer will attract attention immediately, so placing this piece at the center point of your living room or near a large window will ensure everyone sees it when entering the space. In contrast, if you place an entire gallery wall filled with large tapestries across from your entryway guests will actually be drawn to the large tapestry wall hanging as you greet them.
Large decor is not only an easy way to create a focal point but it can also be used as a finishing touch for any room in your home. Large animal sculptures, large geometric shapes, and large metal wall hangings are edgy pieces that bring life and energy to any space.
Large wall decor is an investment in design and decor so it's important to think carefully about how you would like the room to feel before adding large art, large tapestries, or large metal sculptures throughout your home.
What Is Considered Large Wall Decor?
Large wall art is large decor pieces that can be used to create a focal point in any interior design space. These large art pieces come in many different styles and colors, but they all share the commonality of being large enough to attract attention while adding interest with texture or color.
There are several types of large art including metal sculptures, canvas sets, and tapestry wall hangings which all work well as singular large wall decor items within your home. Metal sculptures offer shapes like curving lines or symmetrical designs making them easy to match existing style elements throughout your home while still creating visual impact when hung on the walls for dramatic effect! Canvas sets provide an entire gallery wall filled with unique images and patterns within a large wall hanging while tapestry hangings are large enough to instantly become the focal point of any room.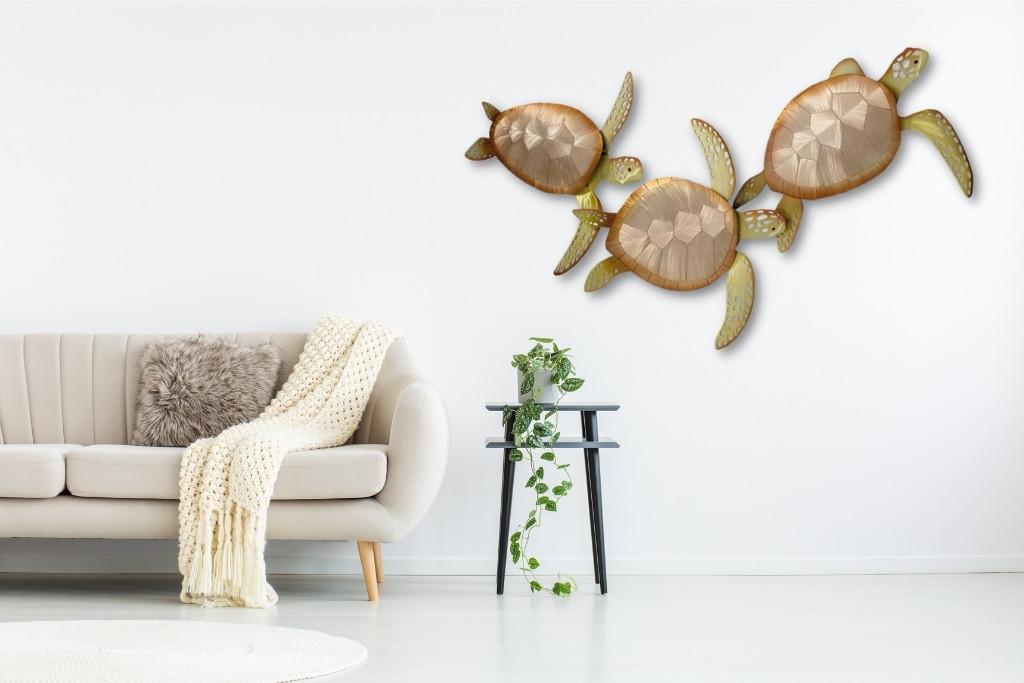 What Are Canvas Art Sets?
Canvas art sets are large wall decor items that can be used to create an entire gallery wall within any interior design space. These pieces of canvas work together as a set or to fill the empty spaces on your walls with color and texture, while also creating visual interest in your home.
The best part about canvas art sets is how easy it is to create unique gallery walls within any design space.
They are most often complementary pieces or a single image that is spread across multiple canvases.
What Is Large Metal Wall Art?
Large metal wall art is large decor pieces made from heavy materials such as aluminum, steel, or other metals. These large metal sculptures are a great way to create an instant focal point within any interior design space and can be hung on the walls of your home for a dramatic look with high impact style.
Unlike most large wall decor items these large metal sculptures often come in one single color, but they do offer interesting shapes like curving lines and symmetrical designs that make them easy to match to existing spaces throughout your home. There are also many different styles available including animal sculpture, abstract modern sculpture, and more!
What Are Tapestry Wall Hangings?
Tapestry wall hangings are large decor pieces made from heavy materials like cotton or silk. These large tapestries work well as the main focal point of your room because they can easily be hung on any wall in your home to transform a space with a high-impact style.
These large tapestries come in many different colors, sizes, and patterns making them an easy way to match existing design items within your home while still achieving visual interest with their unique textures and shapes.
How to Choose the Right Wall Decor For Your Home
Any large wall decor you choose should be based on the style of your home, existing design elements like furniture and color schemes throughout each room to create a cohesive look through large art pieces.
If your home has a contemporary feel, you want to stick with contemporary-styled wall decor. Otherwise, your home will start to have a fragmented feeling without a strong decorating voice.
That's why it's important to choose large decor items that fit in with your home's color scheme and existing design elements throughout each room.
For more inspiration, look at large wall decor pieces you already have, or use a large art piece to compliment any area of the room instead of hanging it up on the walls for dramatic effect!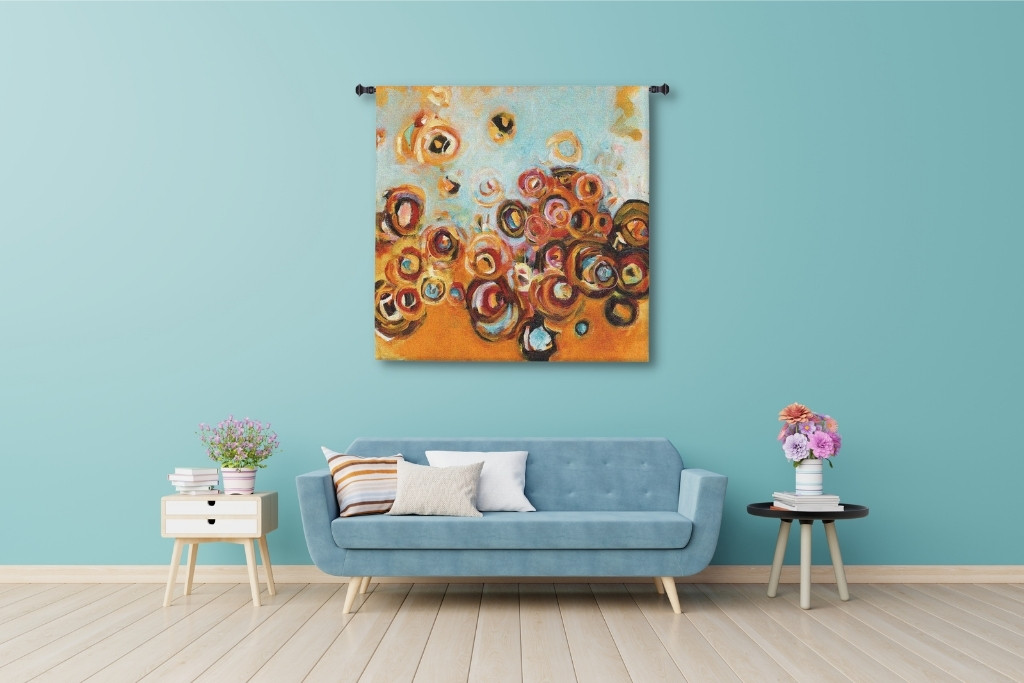 How To Hang Large Wall Decor
Hanging large wall decor can seem like a daunting task, but it's actually very simple.
When hanging large metal sculptures you'll want to make sure the frame is securely attached and that there are no loose screws or hinges which could cause injury if touched by small children or pets. You also want to ensure your large art piece isn't so large that it can't support its own weight.
When hanging large tapestry wall hangings you need to measure the area where you want to place your large art piece and make sure there's enough room for it within the space or create a false wall behind an existing one if needed. Read more about how to hang a tapestry.
Large canvas sets are usually designed in such a way that you can place them in several different ways, which makes it easy to adapt large wall decor pieces into any room layout.
What Are Some Benefits Of Large Wall Decor?
Quickly create a dramatic focal point
Establish a cohesive aesthetic
Easily match existing design elements
Less muss and fuss trying to hang multiple items to fill a large space
Available in a wide variety of styles, materials, and colors
Although they can be pricey, they are often less expensive than purchasing multiple wall decor pieces
Transform Your Space With Large Wall Decor
There's nothing worse than walking into a bland interior design space that lacks personality! One simple solution to transform any room in your home is large wall decor. These large art pieces, metal sculptures, and tapestry hangings create an immediate focal point while adding interest with texture and color. Large metal sculptures, large animal statues, and large canvas sets are just some of the many styles available for creating visual impact within your interior design spaces.