Backyard sculptures can add a unique and personal touch to any outdoor space. Whether you're looking to create a peaceful retreat, a lively gathering spot, or simply enhance the visual appeal of your backyard, sculptures offer endless possibilities. In this post, we will explore the benefits of incorporating backyard sculptures into your outdoor living space and offer some tips for choosing the perfect sculpture for your backyard.
Gardening is truly one of life's greatest pleasures. Not only can gardening help to reduce stress, anger, and sadness, but it can also boost your home's curb appeal. But no one said you have to only include flowers and vegetables on your lawn. Sculptures can also improve your property.
Some of the best sculpture parks in the world, like the Hakone Open Air Museum and the Storm King Art Center, are able to effortlessly combine large, looming structures into their landscape.
As backyards become extensions of our living spaces, you'll find that you'll want to accessorize them with incredible sculptures and artwork. From whimsical garden installations to modern abstract pieces, backyard sculptures come in a variety of styles and materials, allowing you to express your creativity and personality. With our tips, you can make your own museum.
7 Ways to Enhance Your Garden With Sculptures
Before you rush out to buy a piece or ask an artist to go to work, you'll need to consider a few things first. Here's how you can incorporate sculptures into your backyard or finished garden.
1. Start By Getting Inspired (Look at Sculpture Parks)
There are hundreds of sculpture parks all around the world that could serve as inspiration for your own. Some of our favorites include the Kröller-Müller Museum in the Netherlands and the Tarot Garden in Italy. You can also use Pinterest to search for some truly stunning pieces.
With that said, don't simply copy someone else's garden, and not for the reason you think. Your garden would be much smaller, and you should compensate for that by finding the right scale and proportion for your art. These sculptures also have to harmonize with their surroundings.
Keep in mind that any size sculpture can fit in any backyard, so long as you plan appropriately. Draft out a few ideas before you settle on one, or you may have issues integrating your art.
2. Prioritize How You Feel About the Sculpture or Piece
We see many different pieces of art every single day, but not all of them speak to us. It would be a shame to pass by your sculpture garden and feel nothing, so prioritize how you feel about the piece. When art moves you, you'll find ways to incorporate it into a space, one way or another.
It's often said that a sculpture works better with its setting if you build the rest of your aesthetic around it, and that's often true. However, that doesn't mean you can't find a way to include it in your garden. You may need to do a bit of adjusting or think about a different placement.
If you already have other pieces in your garden, ask yourself if you want to gut the yard and start again. Or, you could use the sculpture as a focal point and forget about a central theme.
3. Consider Finding One Big Statue as a Focal Point
Using a sculpture as a focal point is a great idea because they're often so massive. For a piece of art to qualify as a focal point, it has to be easily visible. It can frame a view or vista and should be placed on a long axis visible from a window. Make sure you can see it from many viewpoints.
If you have a narrow garden, consider placing it at the end of the lawn to give the impression that it's far away. You may need to move the sculpture around before it looks just right, so be sure to find affordable moving services online if you need help with shipping or handling.
It's also important to note that getting one statue as a focal point is very cost-effective. On average, one large statue made from quality materials can range from $100 to $2,500 USD.
4. Create Flow by Suiting the Sculpture to the Location
As a rule, you should think about your wider garden design and place the piece where it generates a sense of flow. If you're placing your sculpture away from interested eyes, it can express less complicated emotions, like anger or sadness, and could be shorter and smaller.
On the other hand, a sculpture that's meant to be a focal point must be majestic and powerful. After all, your intent is to make a person's eye dart to the piece, not look around for it. But when done right, you could insert a statue strategically so it introduces an element of surprise.
Don't forget about the setting when looking for a statue. If your garden features a lot of wood, then consider adding a sculpture made of the same material. Alternatively, you could find a material that completely contrasts with the place, like bronze, plaster, marble, or steel.
5. Know Where You're Going to Plant Trees and Flowers
Those starting with a totally blank canvas have the benefit of placing their statues wherever they want. Once you've incorporated them, you can start planning what else to add to the garden.
But even if you already have trees sprouting and herbs blooming, you can still find the right sculpture. While that may mean you'll need to uproot some flowers, it's still possible. If you're really lucky, you'll have enough empty space to plop your sculpture amongst the leaves.
To ensure your sculpture works well with your landscape, think about the scale and color of the surrounding flowers and foliage. Do you want your sculpture to blend in or stand out? Consider pairing lower sculptures with naturalistic planting and large sculptures with formal flower beds.
6. Opt for Practical Materials That Are Easy to Maintain
Sometimes we can get so swept up in the aesthetics that we forget about practicality. If you want your sculpture garden to last for a long time, you're going to have to consider materials.
Natural and untreated sculptures made from wood are going to age the fastest. They attract lichen and moss, but even something as sturdy as stone will discolor. Over time, ceramics and glass will become lighter, and frost will collect on all pieces if you experience cold weather.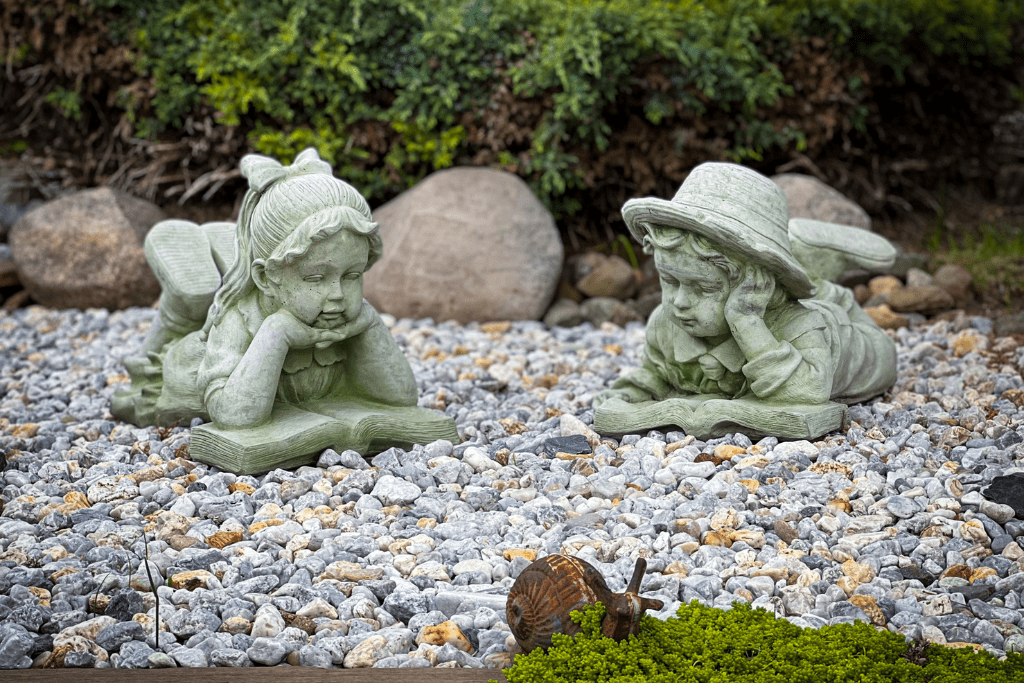 But sculptures aren't just susceptible to extreme weather; they're also affected by the times. Maybe a piece looks perfect in your garden now, but it's possible certain styles will become old hat in a matter of years. When in doubt, opt for classic styles that don't ever seem to age.
7. Incorporate Lighting to Produce Pleasant Shadows
If you want to add color and texture to your outdoor space, then using light is one great way to do it. With that said, strategic light placement can bring out the beauty in your statue garden.
Your sculptures shouldn't just be enjoyed at night. With the right outdoor lighting, you and your guests can enjoy your garden at any hour. When it comes to lighting, always think about the shadows and positioning. Typically, large sculptures look best when lighted from below.
Don't forget about natural light. While it's way harder to plan statue placement based on the sun, it's still a good idea to test how your statues will look at all hours of the day. Then, factor in how much of a statement the sculpture makes depending on how little the sun shines on the piece.
Conclusion
Creating a stunning sculpture garden takes time, patience, and a lot of muscle. But with our tips, you'll make a sculpture garden that the entire neighborhood will want to see. If you're having trouble finding the right piece, consider speaking to an artist and getting a custom sculpture.