Summer is the perfect time to invite friends and family over for a fun and delicious backyard BBQ Party. These parties can go from casual to elegant depending on the amount of work you put into the food, the cocktails, the decor, and the dinnerware.
But whether you are having a sophisticated affair in the backyard, or a casual pool party with the entire family, you'll want to explore some of these tips and tricks for hosting the PERFECT summer BBQ Party.
---
Best Summer BBQ Recipes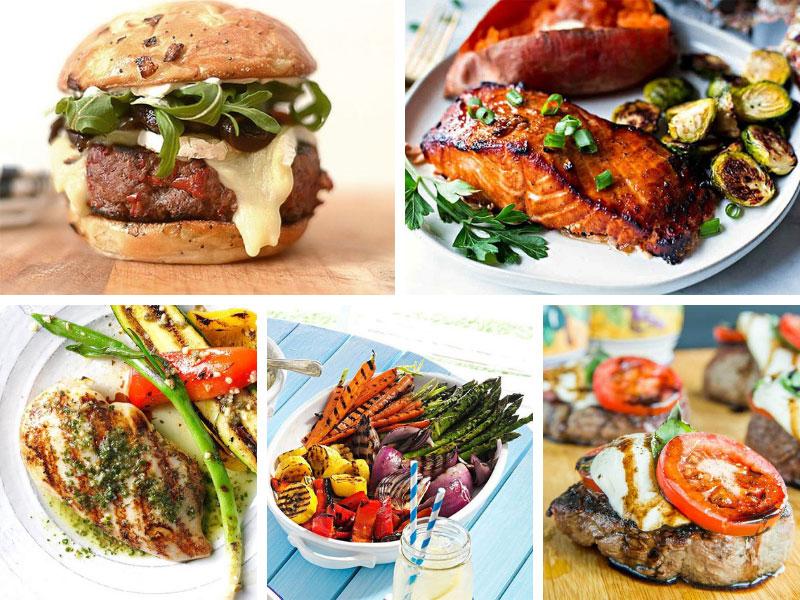 One of the most important parts of a successful Summer BBQ Party is the food. Pick your BBQ dishes carefully, making sure to take into consideration any dietary restrictions your guests may have.
If you don't know about your guests diets, make sure to ask!
---
Perfect Summer BBQ Table Settings
Image: Melamine Plates for Your BBQ | Source
When serving your guests at your Backyard BBQ, the last thing you want is a broken dish to spoil the fun. Paper plates can be handy, but are often too flimsy to handle a full plate of delicious BBQ. That's where these lovely Melamine Plates come in handy. Available in a wide variety of colors and patterns, melamine dinnerware is lightweight and resistant to breaking, making it perfectly suited for an outdoor BBQ.
Dress them up with some weather resistant platters, napkins, cutlery, and some flowers on the table, and you have a perfectly delightful table setting.
---
---
Serve Hand-Held Appetizers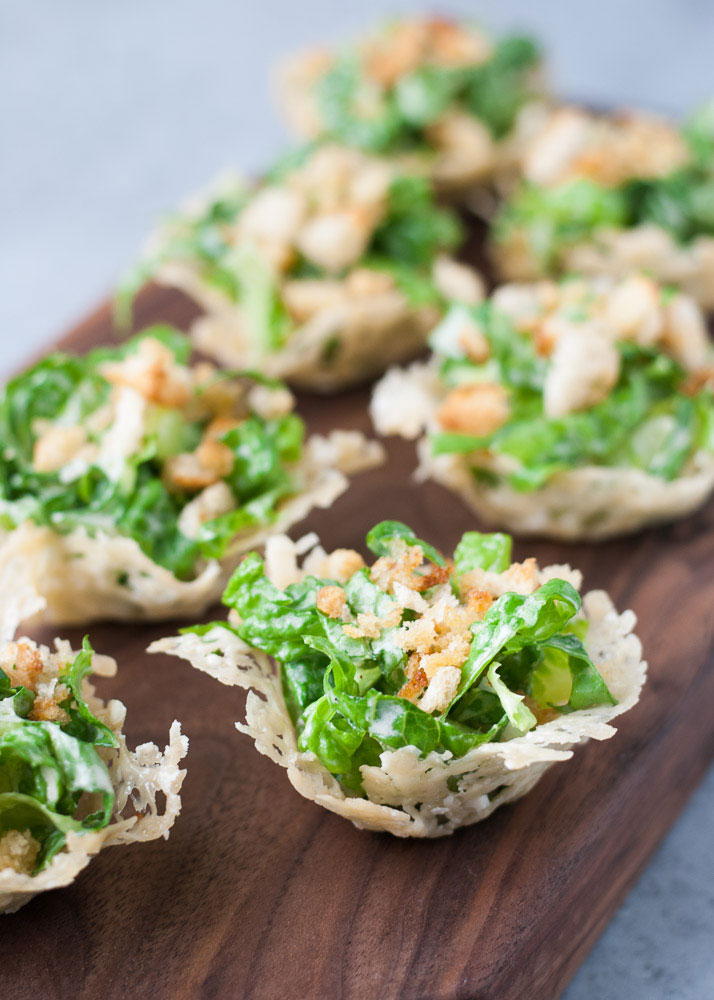 Image: Mini Chopped Caesar Salad Cups | Source
Although you can't avoid dishes entirely (or at least it is VERY hard to do so), you can minimize how many plates and bowls you will require by making your appetizers in finger-food form, such as these delightful Caesar Salad Cups.
---
Let the Kids Set Up a Lemonade Stand
Image: DIY Lemonade Stand | Source
Keep the kids busy AND keep your guests refreshed by setting up a homemade lemonade stand and let your little ones man the station.
Put a cute little tip jar on the station, and watch your kids eyes grow wide as people drop money into their collection just for serving up some refreshing drinks.
---
Heat Up Your BBQ With a Backyard Fire Pit
Before, during, or after the BBQ, give you guests a place to gather around a beautiful backyard fire pit. These not only provide visual interest, but can also be quite handy to warm up when the night cools off.
---
Create Grill Your Own BBQ Skewers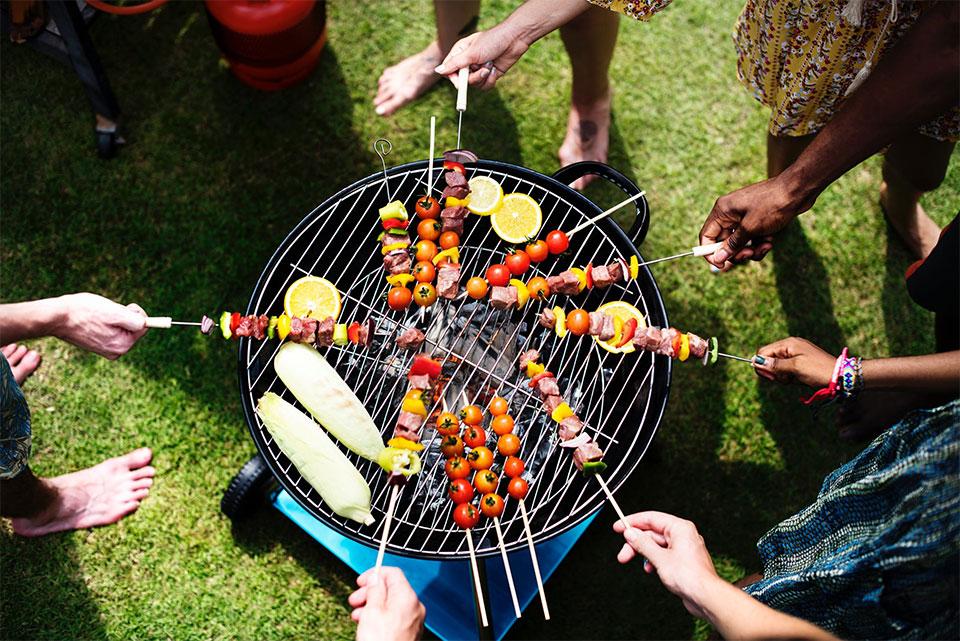 If you don't want to tackle the heavy lifting of cooking for all of the guests, you can create an outdoor "Fondue-style" station and let people grill their own BBQ skewers to their own liking.
You can either create a variety of skewers, including some that are Vegetarian, Vegan, Meat Lovers, and more… or you can setup a "make your skewer" section where people can pick and choose what they want on their very own, personalized shish kebob.
---
Fruit and Cheese Platters
Rustic fruit and cheese platters on a wood serving board make a fantastic visual and tasty addition to your BBQ table. As an appetizer or a side dish, these fun trays let people pick and choose what they want to eat next.
---
Bring Some Indoor Glamour to Your Outside Summer BBQ
For a more sophisticated BBQ party, don't be afraid to bring some indoor glamour to your outdoor eating area. Proper linens, candlesticks, napkin rings and some lovely garden-inspired centerpieces can help create a lovely, sophisticated presentation while still maintaining the joy of eating outdoors.
---
Serve a Signature Summer Cocktail
Whether you create your own concoction or serve up one of these cocktail classics, it's nice to have a signature adult beverage that everyone can enjoy!
---
Have Plenty of Seating
Make sure you have enough seats to accommodate your guests. If you are planning a sit-down dinner, you may need to rent some chairs from your local event specialists.
But even if you are planning a casual party & dinner will be served in true Al Fresco style, people will get tired of standing after a while. Make sure you create enough sitting areas so that people can rest and chat with each other in comfort. But we'll touch on that a bit more a little later…
---
Create Several Conversation Areas
Depending on the size of your guest list, you will want to create multiple conversation areas that can support 4 -8 people in a group, in addition to the main gathering point.
This will allow people to gravitate into their own smaller groups while they mix and mingle with each other, without everyone having to squish themselves onto the one good set of patio furniture you have.
You don't have to go overboard. After all, you don't want the BBQ Party to fragment into weird little cliques. But a few chairs by the fire pit, a cozy little garden bench in the corner of the yard, and maybe even a bistro set by the pool will provide alternative gathering nooks to let your guests spread out and feel comfortable.
Just, whatever you do, make it feel inviting but not isolated.
---
Set the Mood with Patio Lighting
If you plan on letting your party continue past dusk, make sure you have enough patio lamps, garden lights, solar lanterns, and more to keep the right amount of ambient light shining on your gathering.
---
---
Make Your Cooler COOL!
Image: Rattan Style Outdoor Patio Pool Cooler Table | Amazon.com
Everybody knows that you can't have a Summer BBQ Party without ice. And everybody knows that ice melts quickly in the summer heat.
But you don't have to settle for some off-the-rack Styrofoam cooler when there are so many other, cooler (pun intended) options.
For a slightly more rustic version, try using an old wheelbarrow, canoe, or rowboat (for larger parties) filled with ice as a decorative cooler. Just make sure you clean it thoroughly first.
---
Have Some Sweet Frozen Treats on Hand
A delicious way to beat the heat is through some sweet frozen treats. Popsicles (store bought will do, but homemade using a Popsicle making kit is best), or ice cream cones can help people cool off while enjoying a delicious dessert!
---
Create Fun & Unique Drink Stations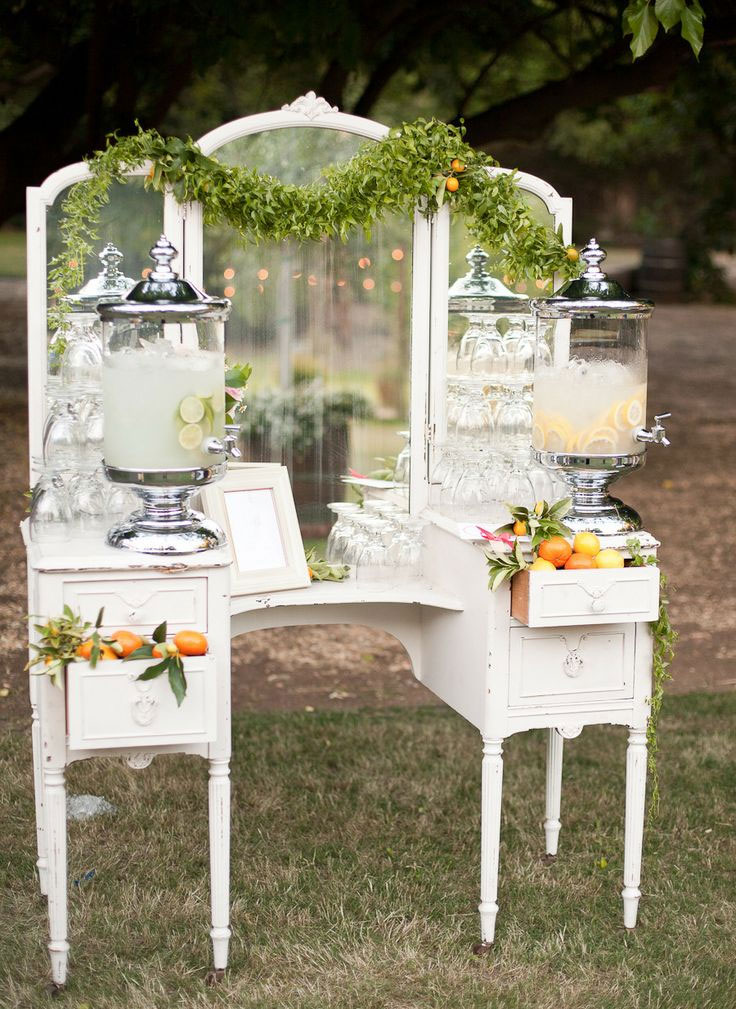 Image: Old Dresser Turned Into Drink Station | Source
Whether your are offering adult or non-alcoholic beverages, you can create some really fun and unique ways to set up drinking stations.
Weddings do this all the time, and if it works at a wedding, it will work at your Summer BBQ Party!
---
Serve Up Some Delicious Desserts
From beautiful pies to delicious cupcakes to fresh fruit treats and almost anything in between, finish the meal off in style with some delightful desserts.
---
Take Time to Enjoy Yourself!
It is far, far, far too easy to get wrapped up in the needs of your guests that you forget to take the time to actually enjoy your own party.
Even if everyone else had the time of their lives, if you did not enjoy it – there is no way you can classify it as The Perfect Summer BBQ Party!
---
---