Looking for ways to clean up and organize your garage? We've collected some of the best DIY Garage Hacks to help you achieve that goal.
It is far too easy for the garage to become the dumping ground for all things outdoors (and many things that belong indoors). I know this from personal experience, given that I live in a house with a 3 car garage but for MANY years could not even consider fitting a car inside the garage.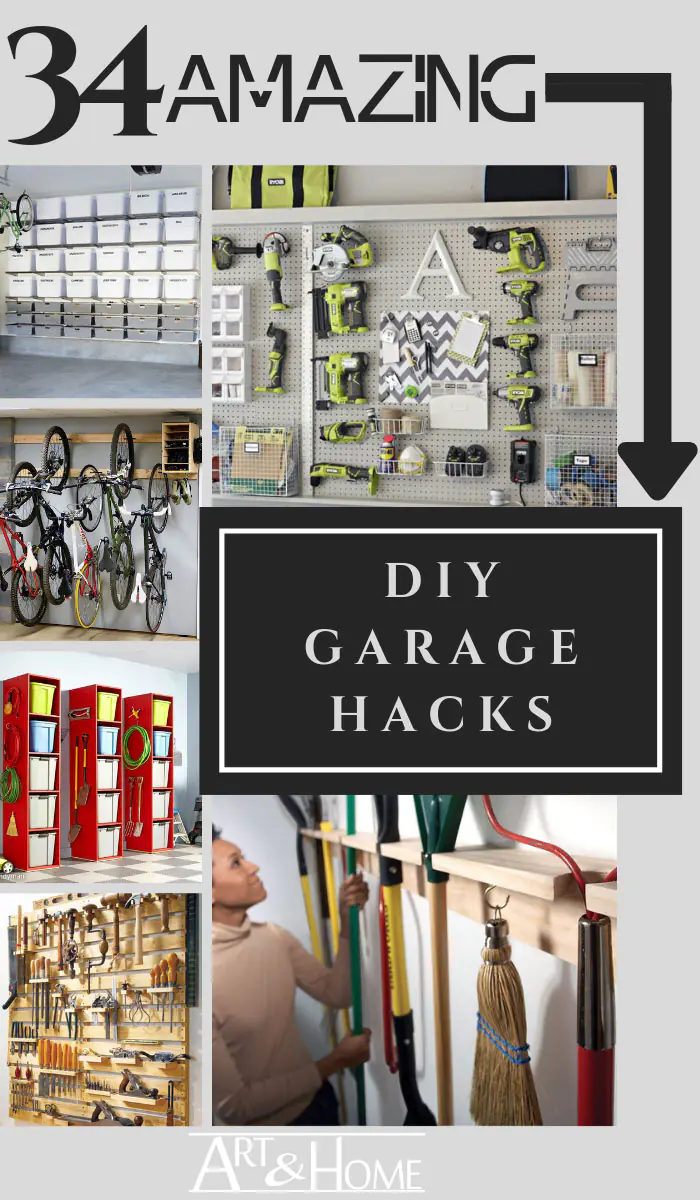 A friend of mine once pointed out that we store all of our cheap crap safe and sound inside the garage, which means we have no room to place our (relatively) expensive cars.
Not that I drive anything fancy, but even a decent Mazda is going to coast you more than those 4 bikes that you have been piled up in the corner, which nobody rides because nobody can reach them.
To that end, we have collected some of the best DIY Garage Hacks to help you clean up and organize your garage so that maybe…. just maybe… you can fit a car in there someday. Maybe.
---
DIY Pegboard Garage Storage Wall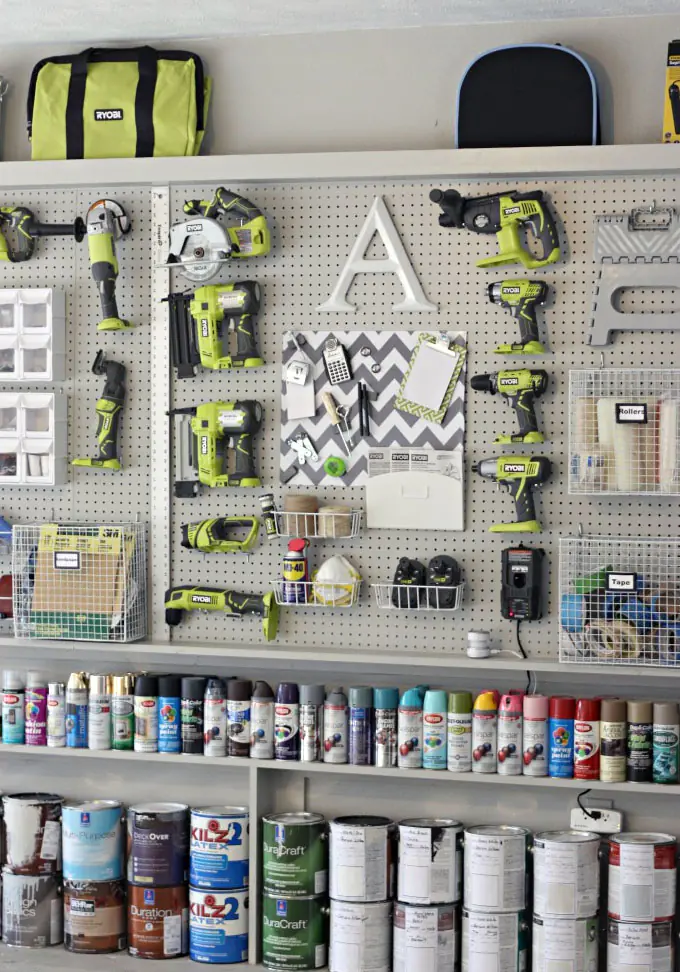 This low-profile pegboard storage wall creates plenty of space to store all of your tools, paint, and other garage accessories without taking up much floor space.
Although the monogrammed letter in the middle isn't really necessary for storage purposes, it does give a nice, personalized touch. Who says that DIY garage hacks can't be pretty?
---
Magnetic Drill Bit Holder as a Quick & Easy DIY Garage Hack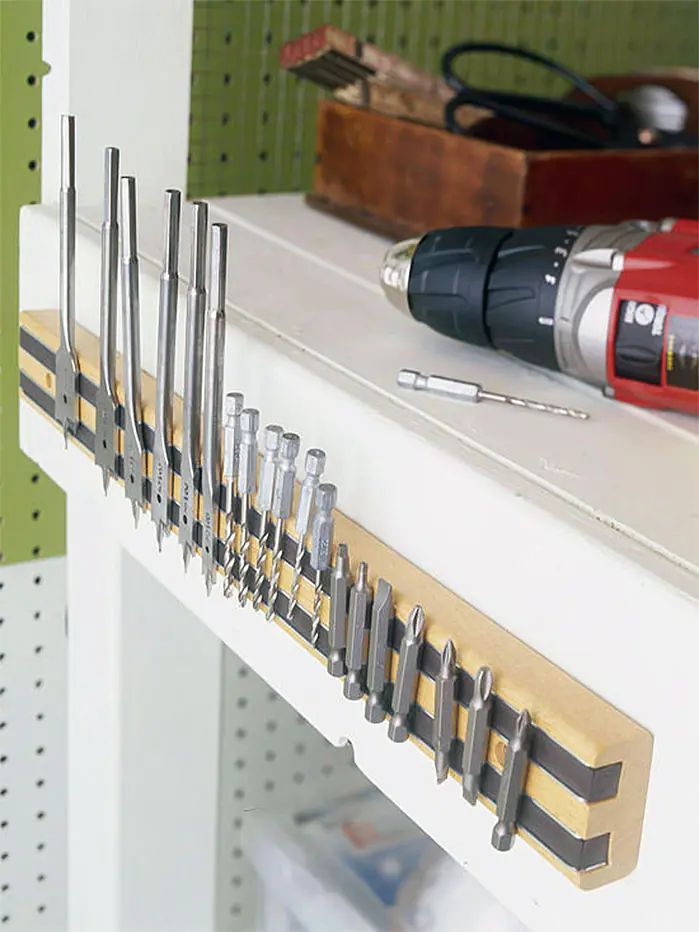 Never deal with the frustrations of having to dig through the tool box to find the right drill bit ever again. This hacked magnetic knife bar works perfectly as a quick and easy way to store drill bits so they are readily available to grab for the next DIY project.
---
---
DIY Wood Saw Blade Caddy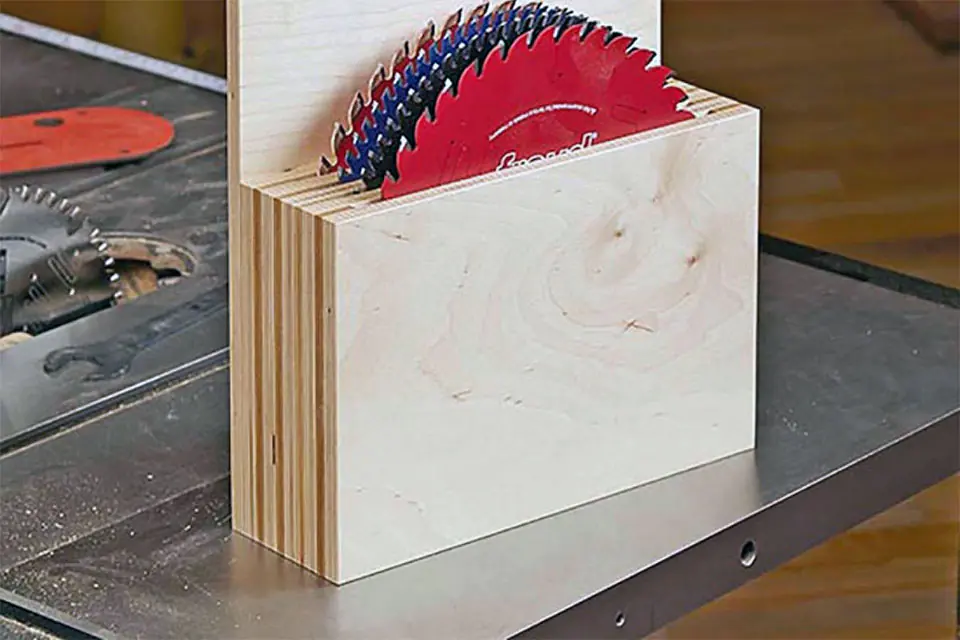 Keep your saw blades separated and protected with this simple blade caddy. Best part is that you can easily adjust the plans to add more slots (if needed) to handle more blades (if you have them).
---
---
DIY Hanging Bike Rack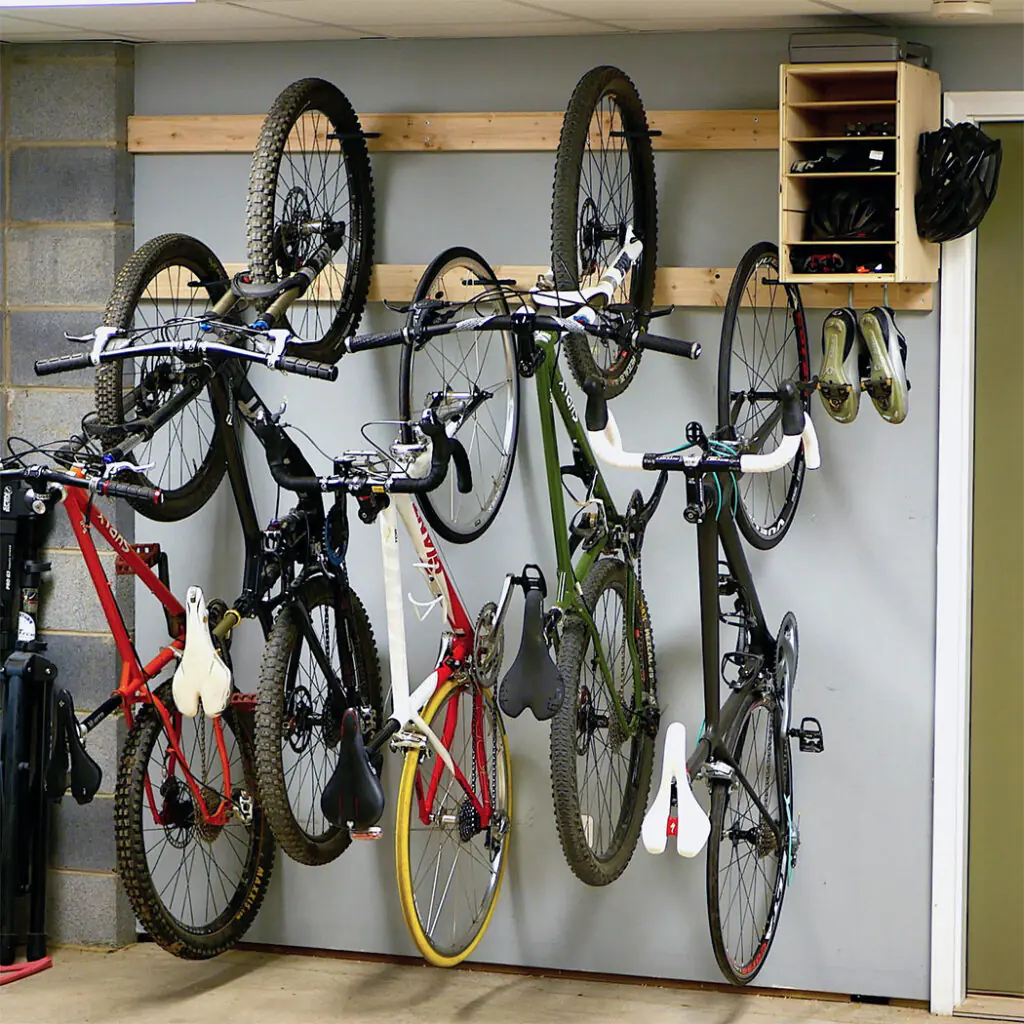 This inexpensive bike rack (less than $20 in materials) can help you get the entire family's bikes off the garage floor and safely stowed away against one wall.
There's even room for helmets and other biking accessories!
---
Use Old Jars to Store Leftover Paint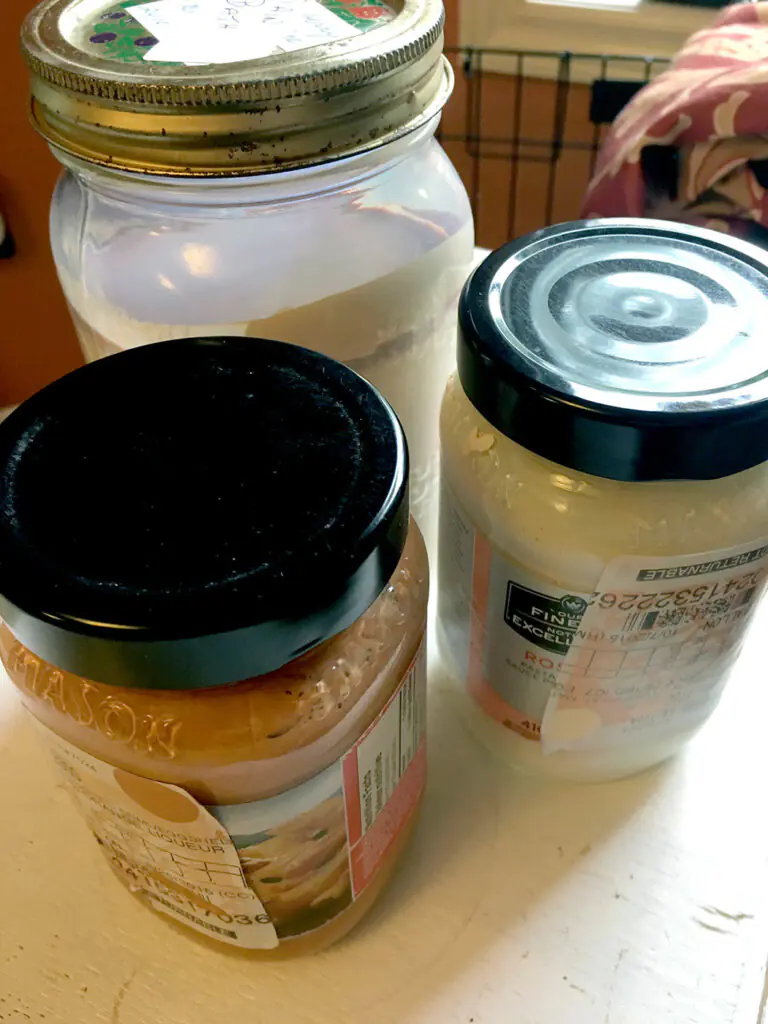 Old paint cans take up a LOT of space in the garage, even if there's only a tiny bit of paint left. But you always want to hold onto leftover paint for as long as possible just in case you need to touch up a spot somewhere down the line.
By pouring leftover paint into old jars, you can give the paint a nice tightly sealed container with less air inside, which helps the paint last longer AND takes up less space.
Just remember to peel the paint color formula label off the can (if you can) or simply add a label on top to indicate what paint is inside the jar in case you need to have more mixed later.
If you live in a colder climate (where the paint would freeze during the winter), this might not as appropriate as a DIY garage hack, but you can still use this trick to store your paint indoors.
---
DIY Slip & Slide In Shelves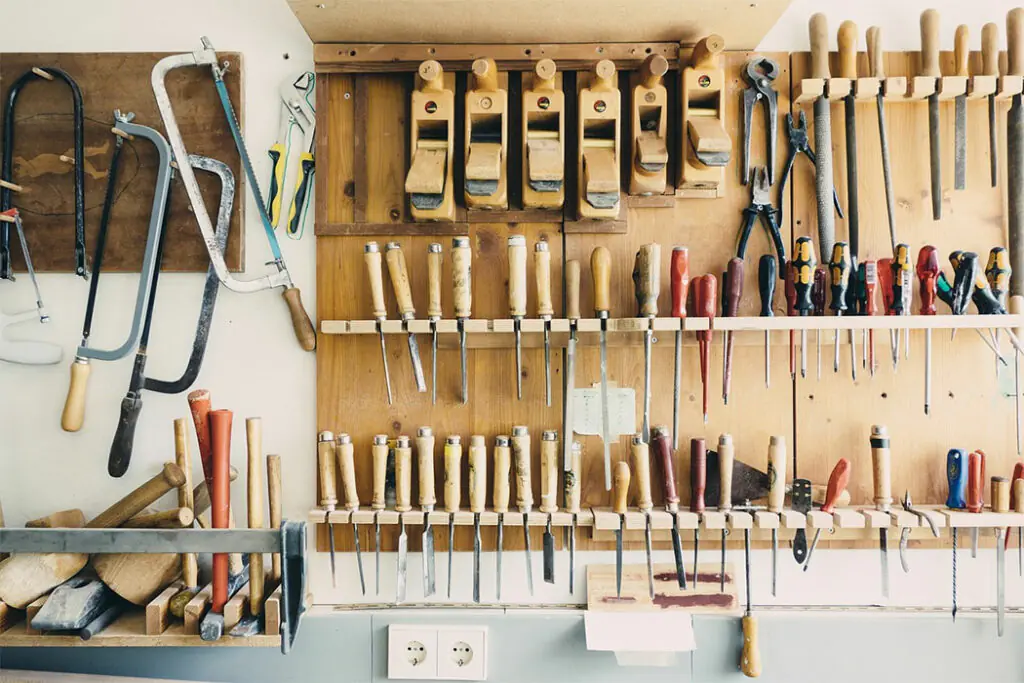 By creating a set of shelves to hold your individual tools, they can always be easily located and easily put back in their place.
Drill holes in a 1 x 4 piece of wood to house a variety of screwdrivers. Add slide-in slots by cutting grooves into the wood to house wider tools including your chisels.
Smaller pieces of wood can be placed over each other to create slats that will hold larger hand tools such as planes. All you need is a gap at the top to grip the top edge of the plane, and a ledge at the bottom for the plane to rest on.
---
DIY Plastic Pipe Cord & Hose Holders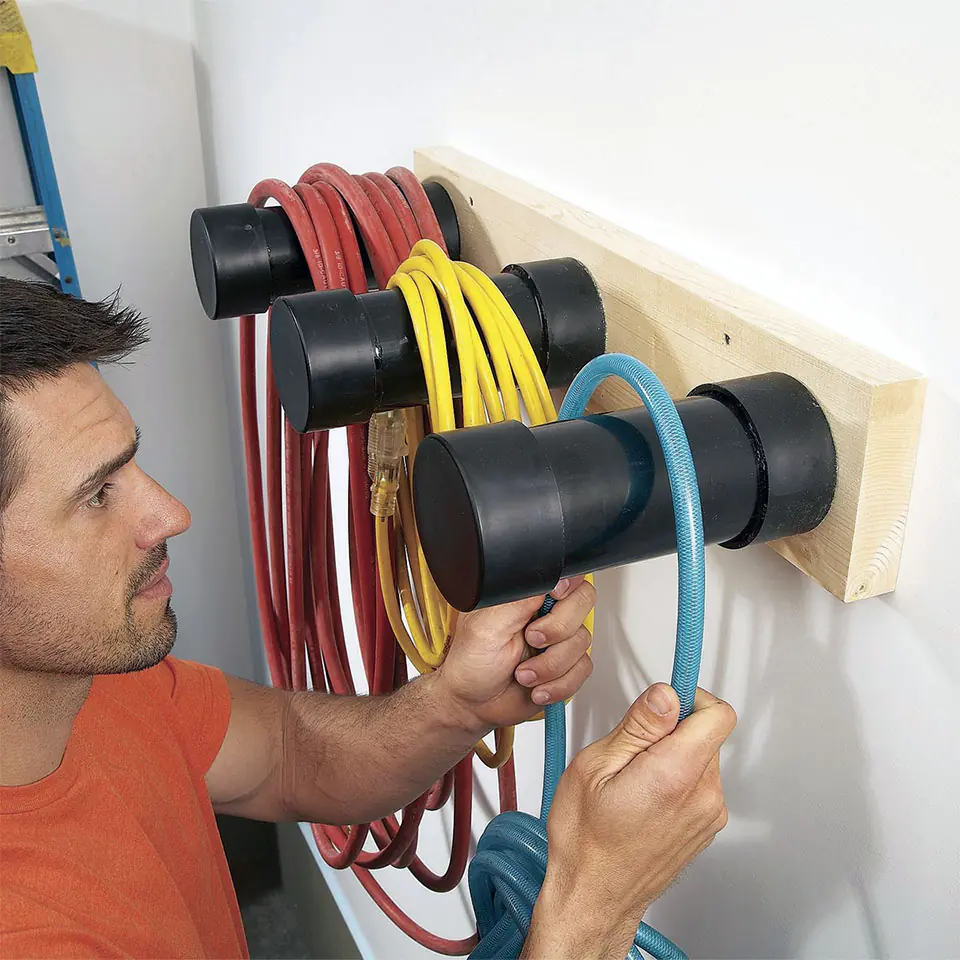 This simple DIY garage organization hack uses pieces of 3″ ABS plastic piping to create a rounded holder that is perfect to avoid kinks and damage in your electrical cords and water hoses.
---
Inexpensive DIY Garage Storage Wall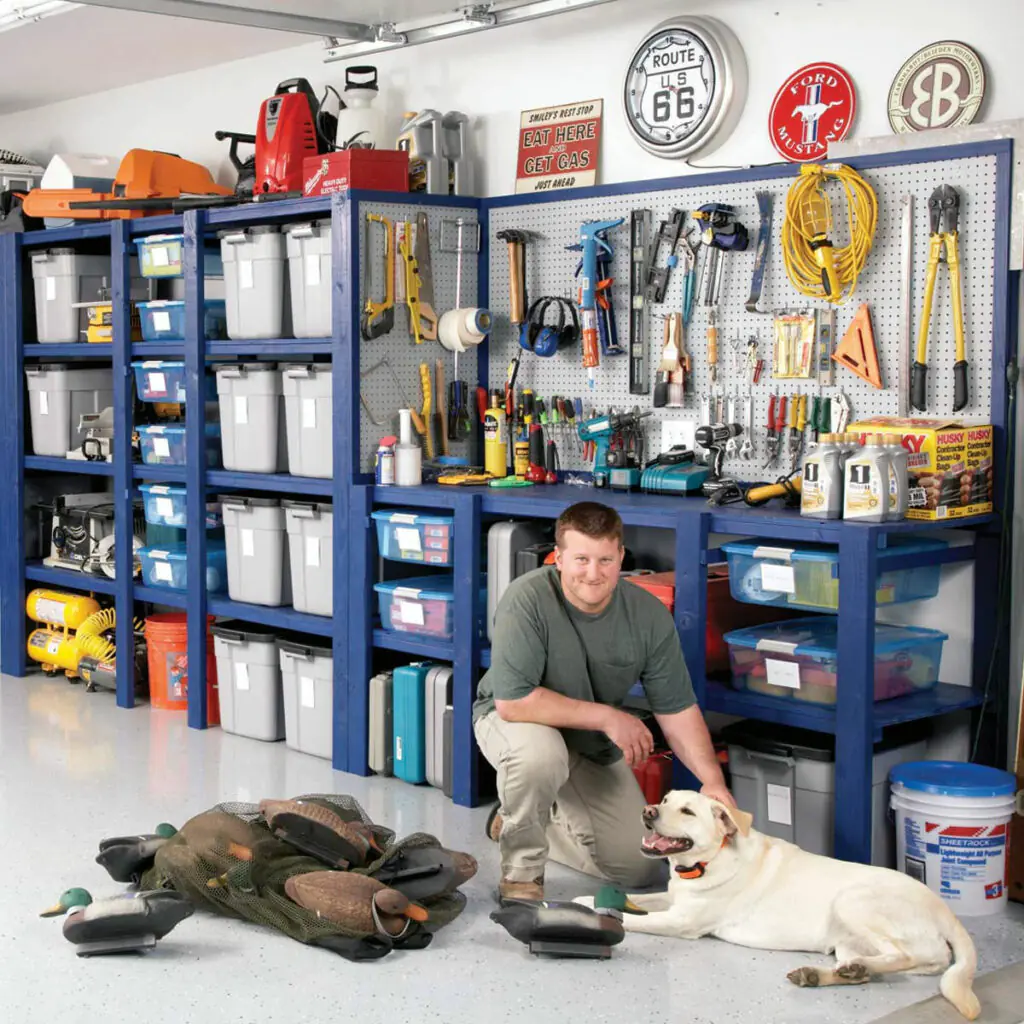 For less than about $300 in materials, you can build this amazing storage wall to handle ALL your stuff… in less than a day!
I stress the "You" in that equation being "You, who is relatively handy…" It would take me about 2 or 3 days to get this done, but I'm slower than most.
---
---
DIY Slatwall Storage Bin System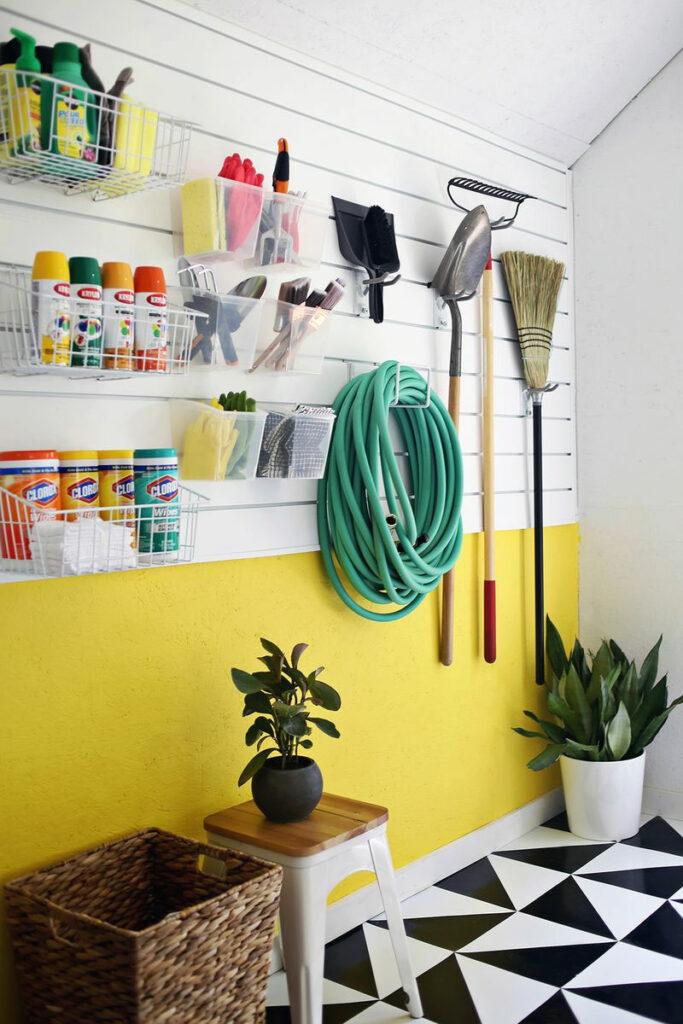 One of the key advantages of a slatwall storage bin system is that is interchangeable to fit your current storage needs.
Different hooks or pegs, different bins, and entirely different configurations are all possible with these easily adjustable storage systems.
---
DIY Garage Storage Lazy Susan Shelf
See the Step-by-Step Instructions
Tucked into the corner of the garage, these rotating Lazy Susan shelves shelves maximum storage while keeping things readily at hand and easy to find.
By mounting the rounded shelves on two Lazy Susan disks, one attached to the bottom and one to the secured wall-shelf at the top, this unit spins nicely without fear of toppling.
And nobody likes a Wobbly Lazy Susan!
---
DIY Garage Storage Bin System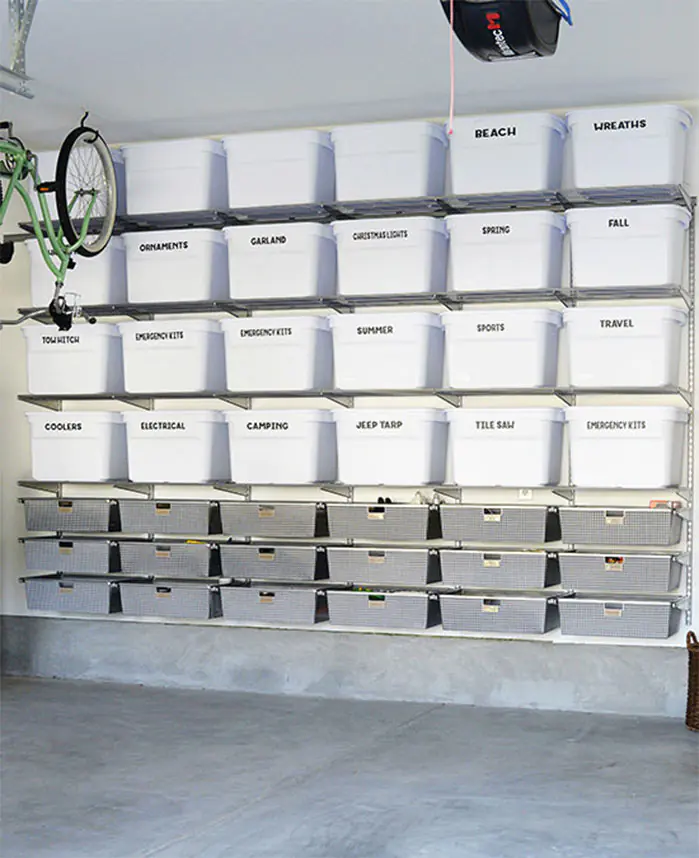 As featured in our 50 Nifty DIY Storage Ideas article, this handy system uses some basic bins in two sizes (and two colors for a bit more of an aesthetic appeal) that will let you organize everything you need in the garage.
This is certainly not one of our most complicated DIY garage hacks, but it gets the job done!
---
---
Overhead Garage Storage Bins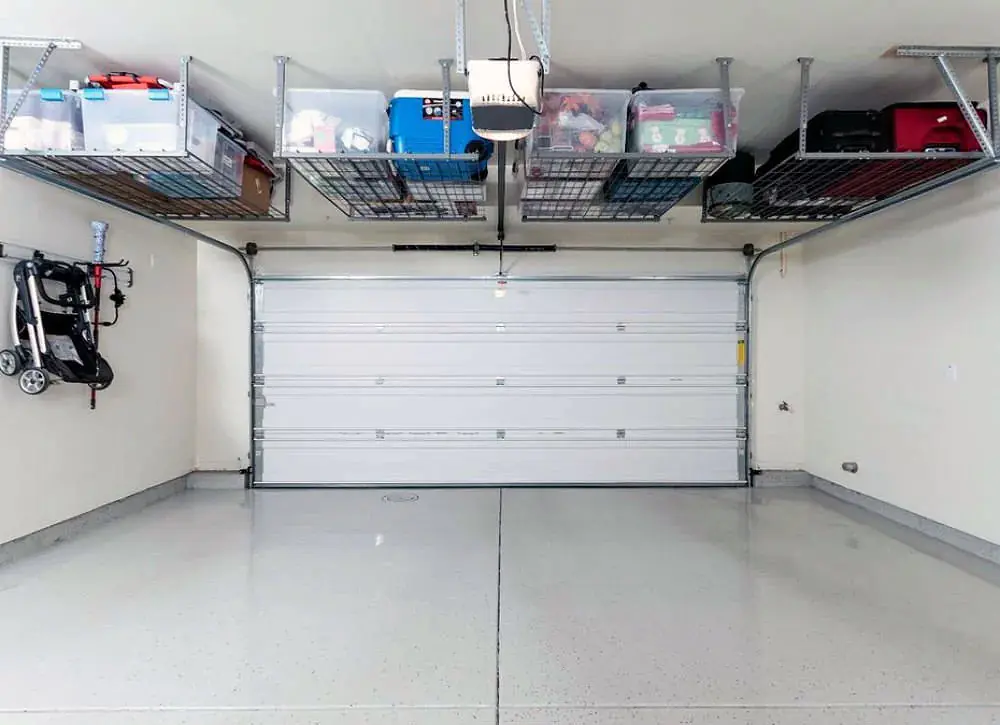 If a wall-mounted storage system won't work for you for whatever reason, you can get the stuff you don't use very often up and out of the way with ceiling mounted racks that can hold all of your storage bins.
This is a great place to store seasonal decorations, summer toys (during the winter) or winter toys (during the summer) as well as anything else that you only need once in a blue moon.
---
Jar Hardware Containers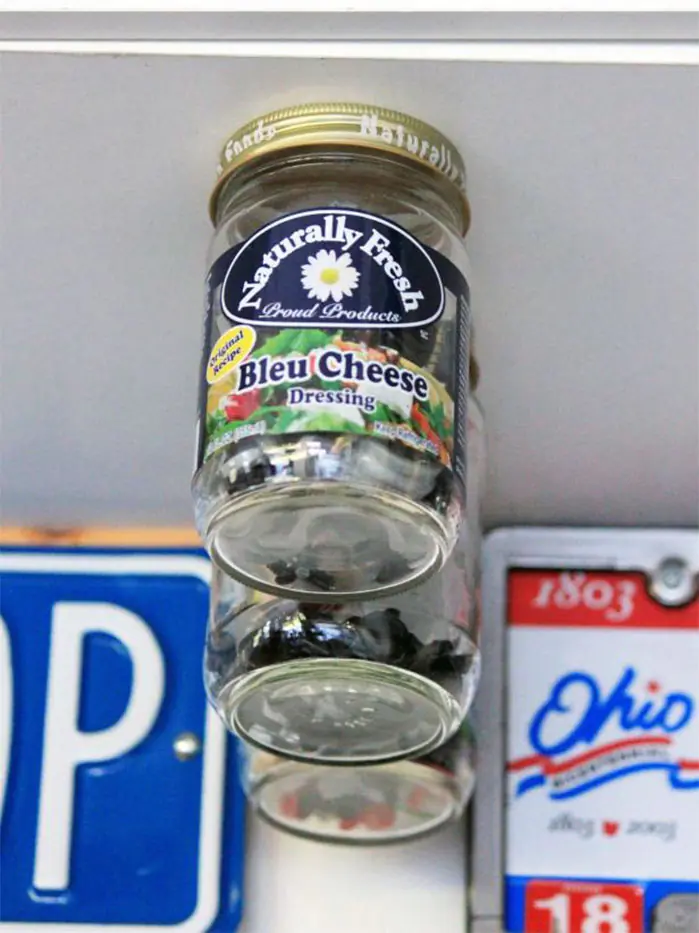 Jars of various sizes make the perfect storage container for smaller hardware items including nuts, bolts, washers, nails, screws, and more.
Simply nail or screw the lid onto a solid surface and then twist the jar into place.
---
---
Stacked Bin Storage Towers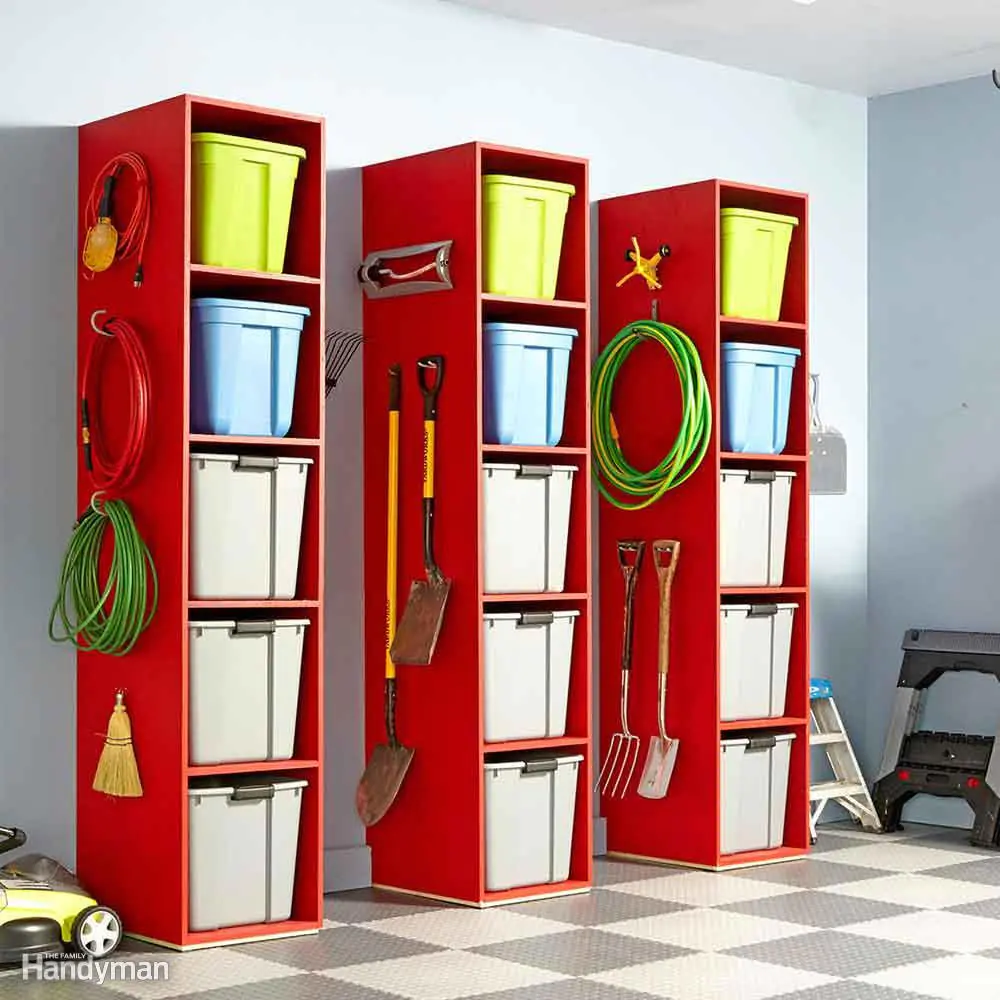 Stacking bins are a great way to store infrequently used items, until you need to get to something that's in the bottom bin.
This space-saving design allows you to neatly stack the bins, but each can be pulled out and accessed individually.
Plus, this design provides additional hanging storage on each of the sides.
As we continue to look at some amazing DIY Garage Hacks, I hope you are finding some inspiration for ways to clean and organize your garage.
If you're anything like me, you would have a repeating cycle of cleaning up the garage, making it spic and span, and then two months later the junk would slowly but surely pile up again until your garage was unrecognizable again.
These DIY Garage Hacks are intended to help you to clean and organize your garage, and keep it that way.
It's far too easy to ignore the garage, unless you are parking in it on a regular basis. But who does that??? Or is not being able to fit the car into the garage just a me thing?
---
Jumbo Tape Dispenser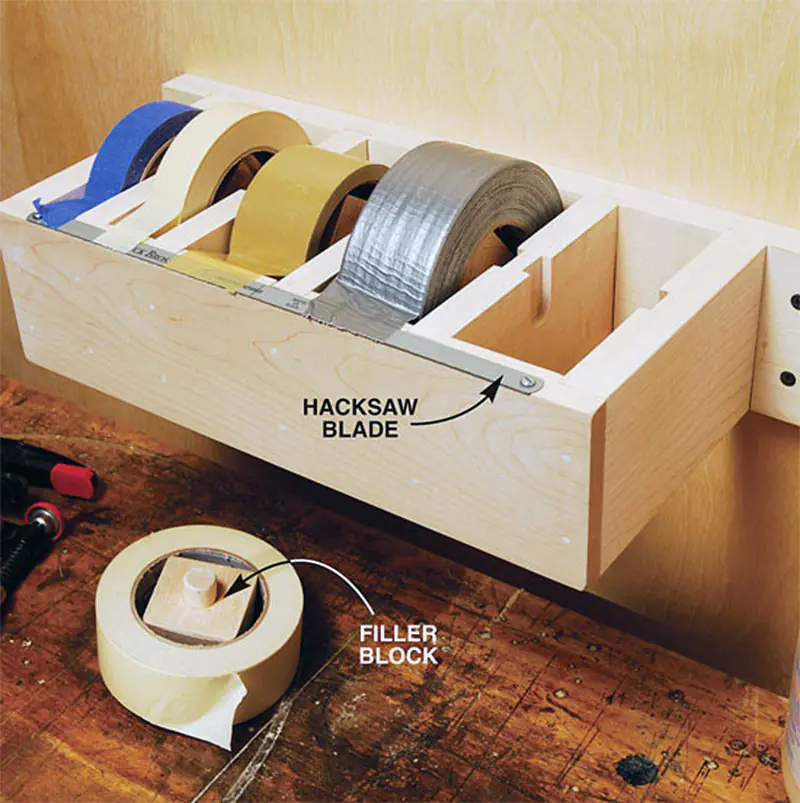 Get More Info on this DIY Project
This clever little DIY project gives you the perfect place to store AND dispense the tape you need, including packing tape, duck tape, masking tape, and more.
The built in re-purposed hacksaw blade also provides a nice edge for cutting off just the amount of tape you need, or you can remove the entire roll (filler block and all) and take it where you need it.
If I was to make one change to this DIY project, I would make it so that the either the individual or the entire tape dispenser could be removed from the wall and taken to wherever you needed to use the tape.
---
Copper Clamps Tool Storage (The Do Not Touch Tray!)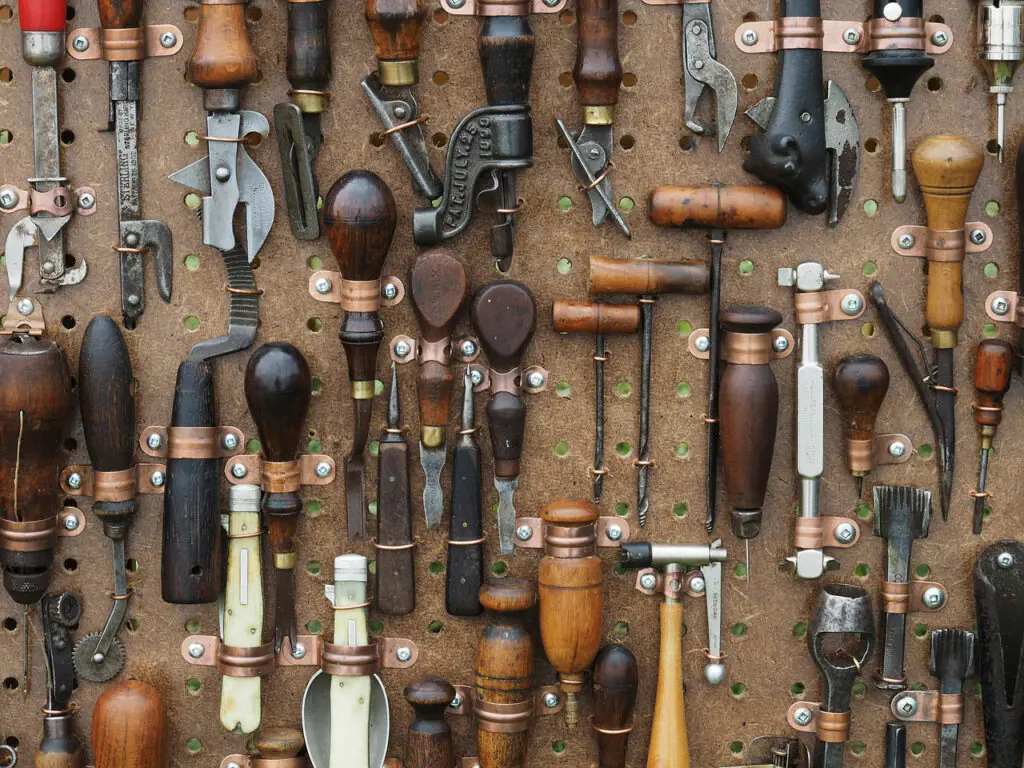 This piece is more decorative than it is functional (I pity the person trying to remove any of these tools from their resting place).
But if you have a bunch of unique or antique tools that you want to keep without taking up much-needed storage space, consider displaying them like art inside the garage.
---
DIY Bike Storage Shelf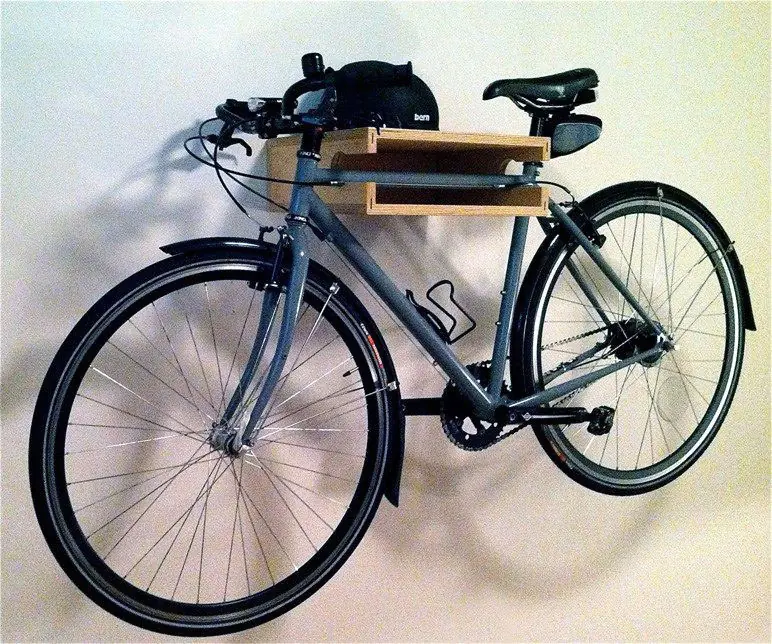 A narrow wood box, with a cut out big enough to slide the bike into place, provides the perfect wall-mount for a single bicycle, plus room for a helmet and other accessories on the shelf itself. Neat, and simple… just the way I like my DIY projects!
---
---
Multi-Purpose DIY Tool Rack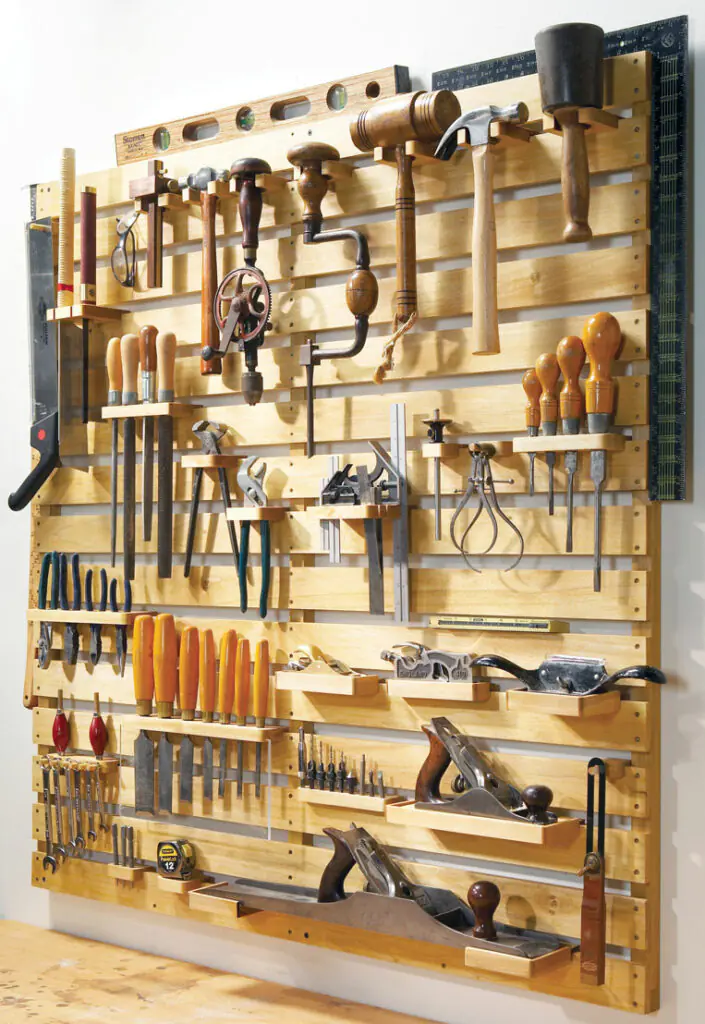 Source- Popular Woodworking
This easy-to-make tool rack will hold almost anything you throw at it. The rack itself is made from slats fastened to a simple frame.

Individual tool hangers are crafted with a groove which allows them to slip snugly onto any of the slats, so this board can easily be rearranged as needed to fit more tools.
---
DIY Wheelbarrow Storage Mount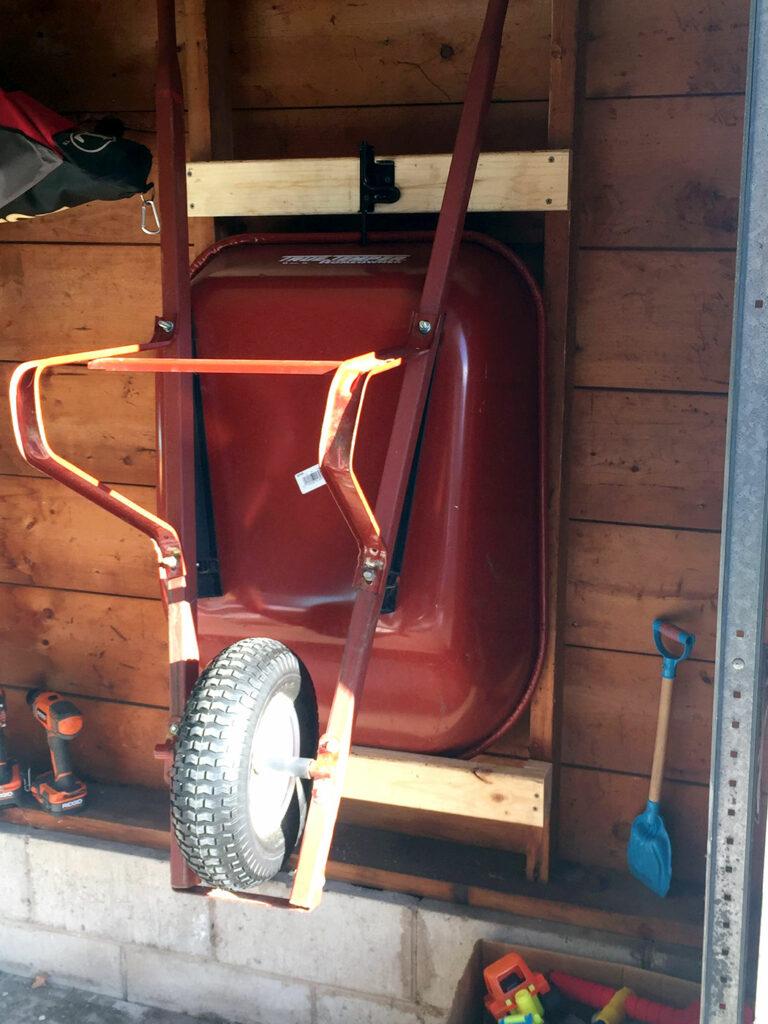 Wheelbarrows take up a lot of floor space in the garage, but you want to make sure they are handy for whenever you need to haul a heavy load.
This easy to make DIY storage holder lets you slip your Wheelbarrow into it's own reserved parking space on the wall that takes up far less floor space.
---
Garden Tool Tubes Quick and Easy DIY Garage Hack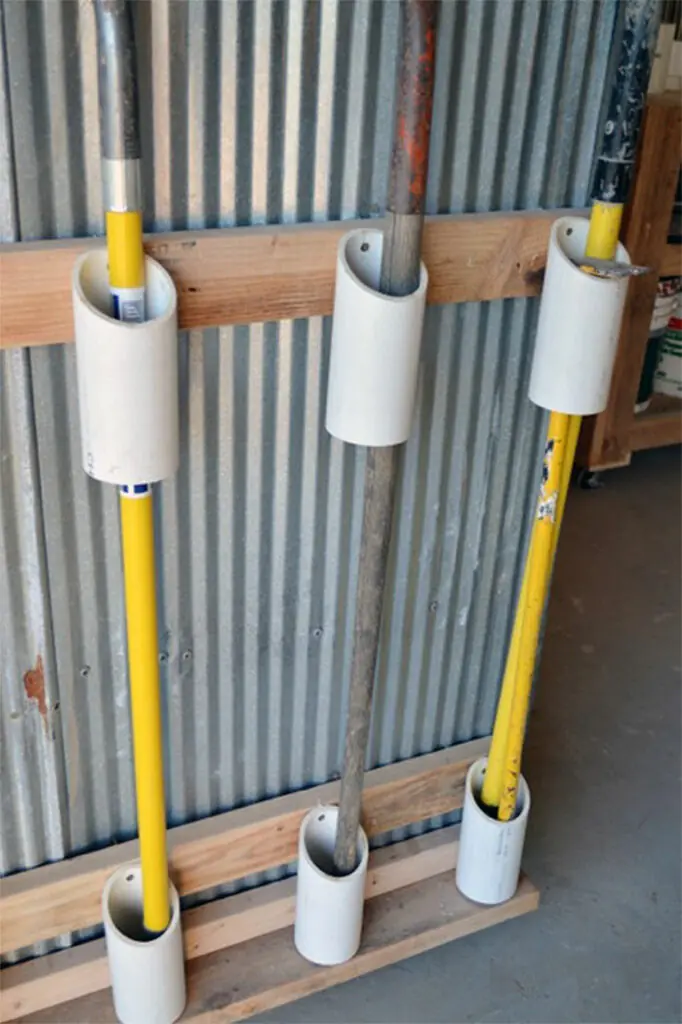 This DIY garage hack is SUPER easy and SUPER effective.
All you need is several pieces of PVC piping (scrap will do) and and cut them at an the angle so that you can screw them onto the backing boards. One piece of PVC at near the middle of the tool handle and one piece at the bottom will keep them securely in place, while a board across the bottom gives the tools a place to rest that is off the ground.
---
DIY IKEA Hack Garage Workbench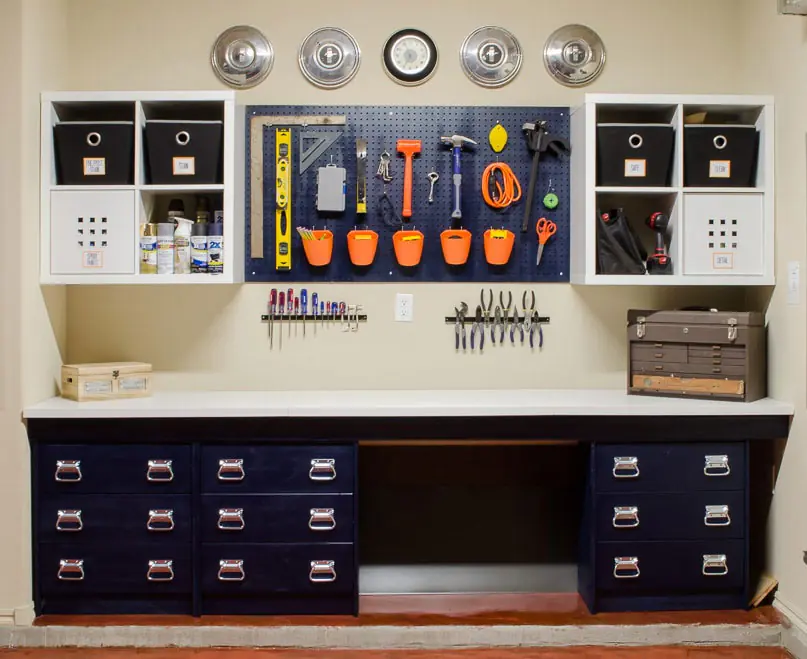 One of the most popular parts of our 50 Nifty DIY Storage Ideas post, this garage storage and work bench are created using hacked IKEA pieces which are turned into an awesome custom garage workstation
---
DIY Lockable Pegboard Cabinet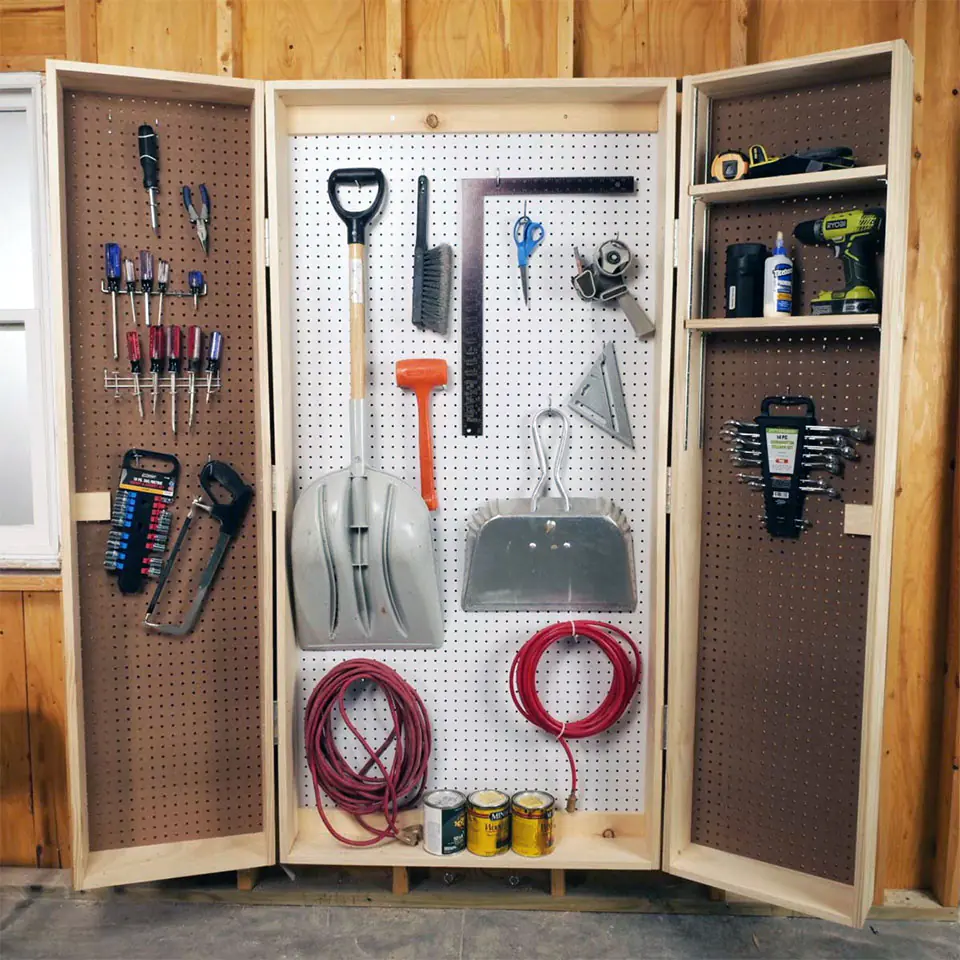 Learn How to Build This Yourself
When organizing your garage, you can utilize the beauty of pegboard combined with the adjustable shelving & security of a lockable cabinet with this inexpensive design.
---
Standing Garage Storage Coral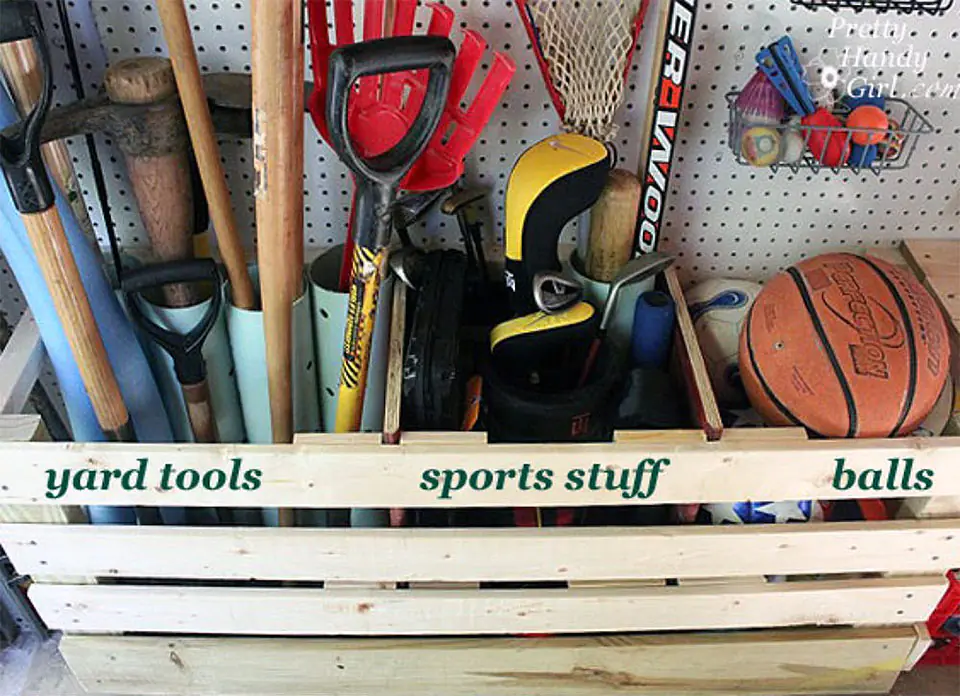 Perfect for those awkward items that don't stand up on their own or stack neatly in piles. Use this for gardening tools, sporting goods, balls, brooms, and more.
This really easy to build wall-mounted box only takes a bit of wood (a recycled pallet works VERY NICELY for this DIY garage hack) and a couple of hours to create. For double duty, back it with some peg board for hanging smaller items.
---
DIY Yard & Garden Tool Organizer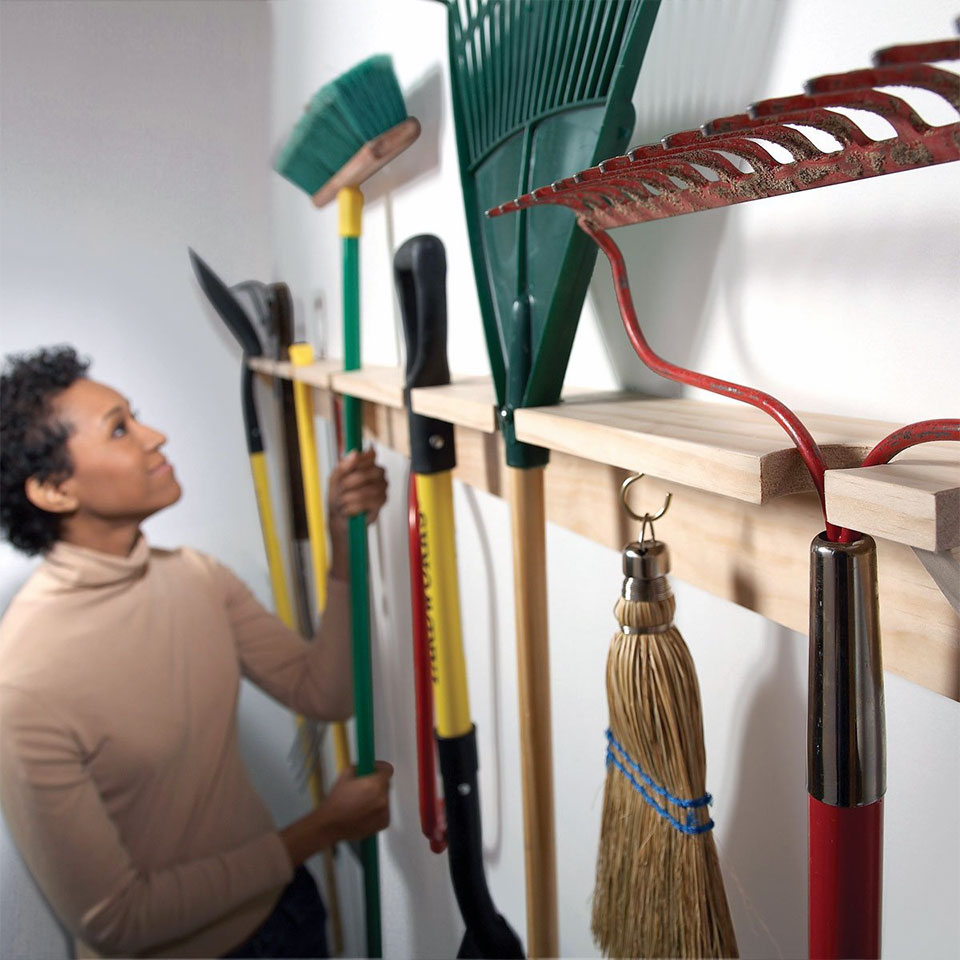 All it takes is a couple of 1 x 4 pieces of wood and some cleverly placed holes to quickly and easily get your yard and garden tools off the floor and neatly stored on the walls.
---
---
Build a Mudroom in the Garage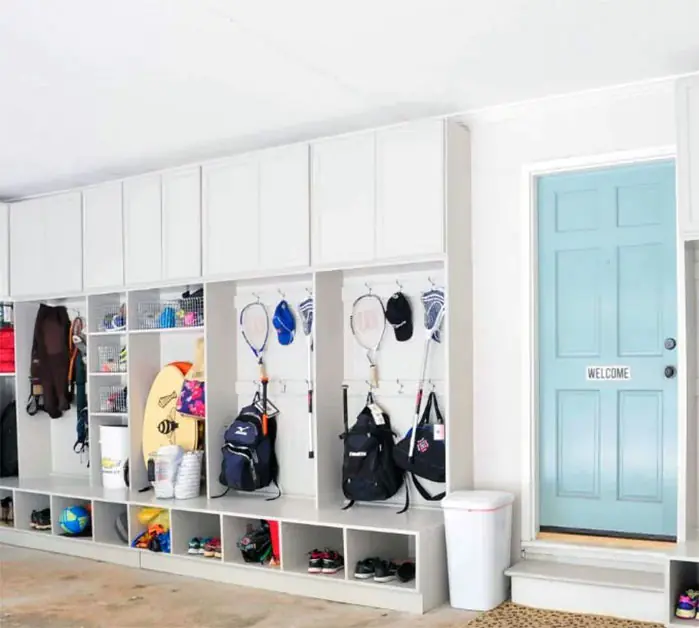 Tired of all the kid's stuff being strewn around your front hallway? This DIY Mudroom can be created on the inside wall of the garage and is the perfect place to store backpacks, shoes, coats, and more.
---
Magnificent Magnets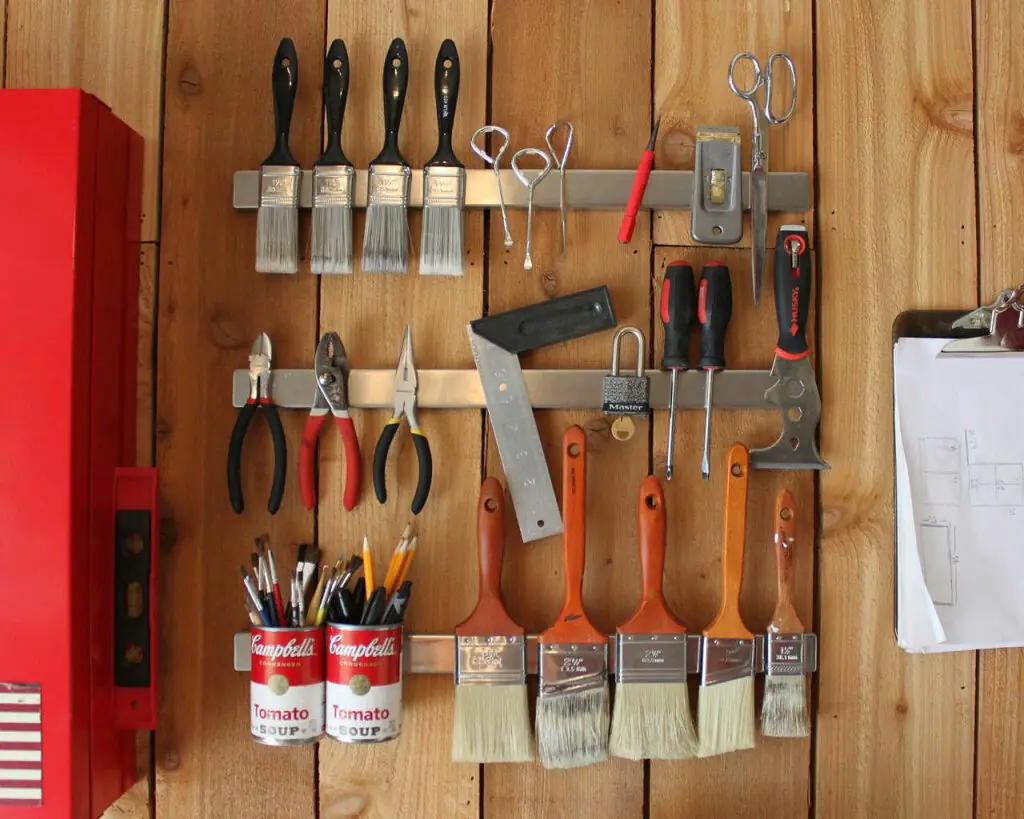 A simple magnetic strip can make a huge difference when trying to find a place to store household and garden tools while keeping them close at hand.
This may be the easiest of the DIY Garage Organization Hacks and a great way to get – and keep – your garage organized.
---
DIY Fold Up Storage Garage Workbench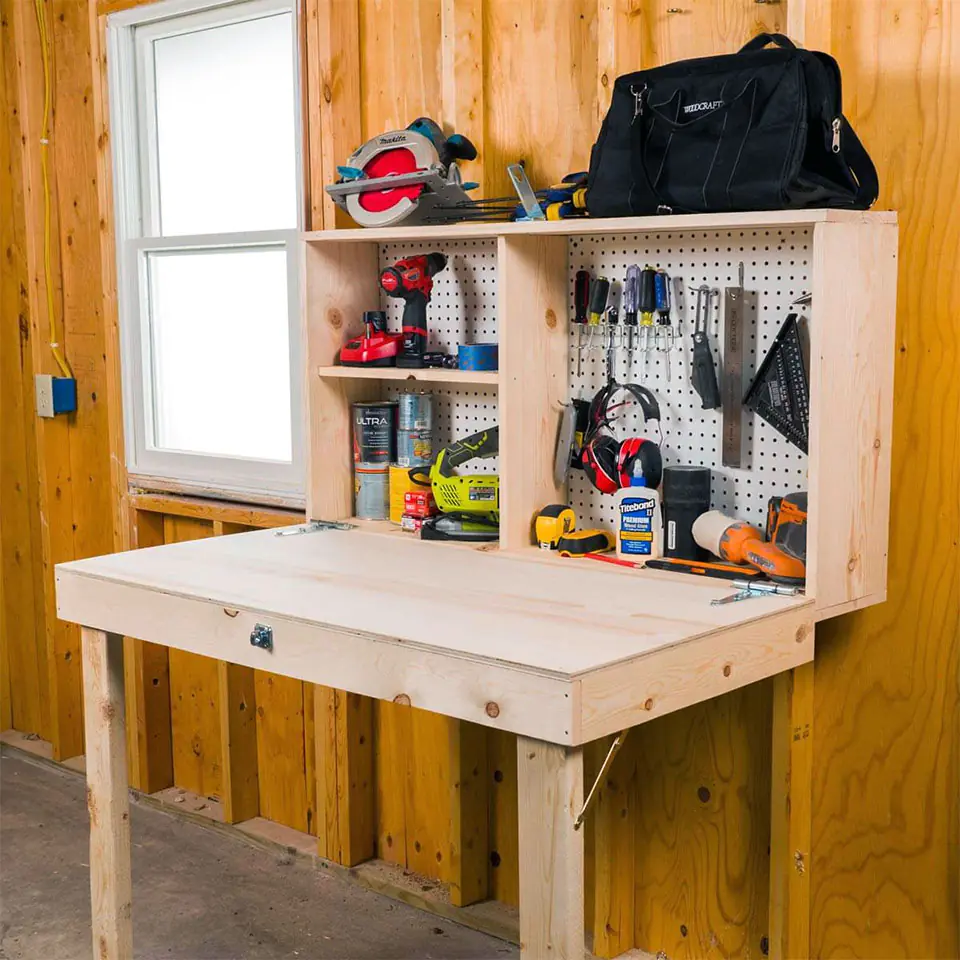 This space-saving workbench is perfect for providing a place to store your most-used tools and equipment, while simultaneously providing a work space when needed.
When you're done, simply close it up, fold the legs back into place and it tucks neatly away. Best of all, it can be built in a single day!
---
DIY Cordless Tool Caddy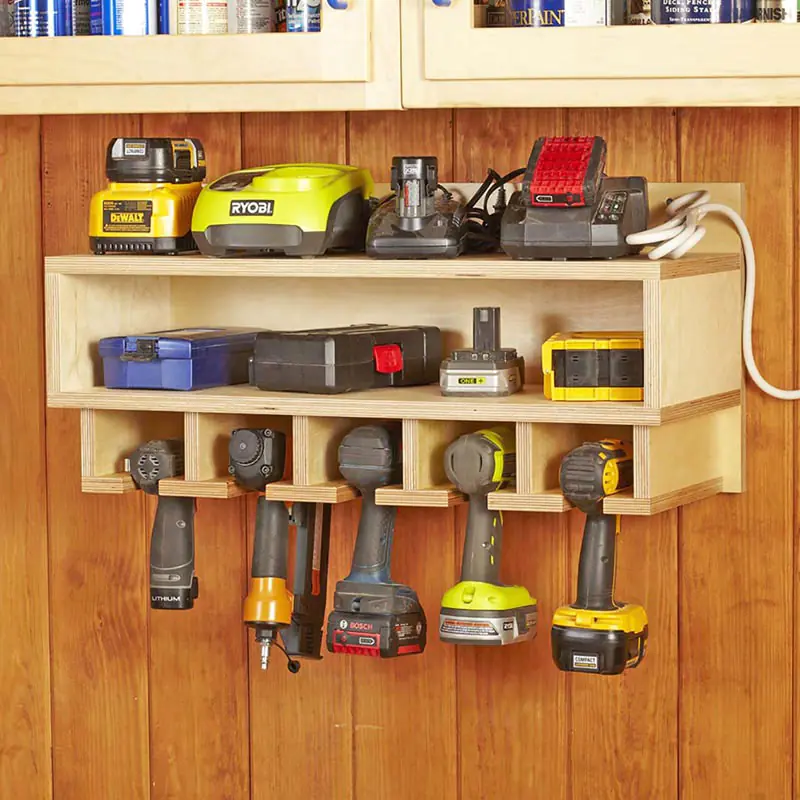 If you read our article on 50 Nifty DIY Storage Ideas, you may have already seen this. But this hack to help keep all of your cordless tools organized and easy to reach was worth repeating.
---
Slatwall Garage Storage Systems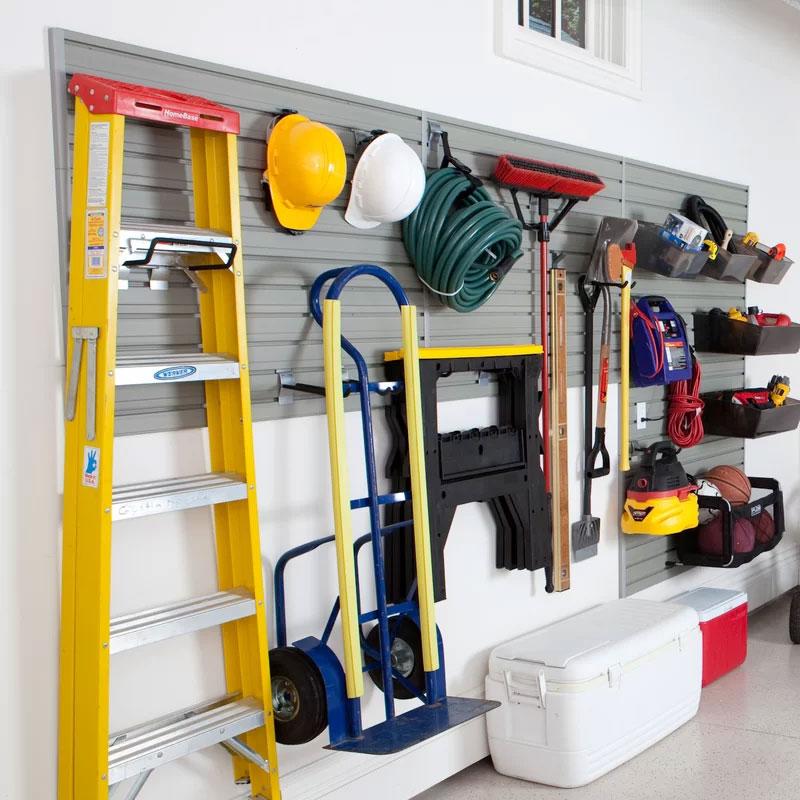 Example Slatwall Storage System from Wayfair
It's amazing how much of your garage stuff can be mounted onto the wall with the installation of a Slatwall Garage Storage System. The main DIY part of this project is installing the right elements (slatwall boards, clips, buckets, etc.).
If you have no idea how to pick what you want, you can also pick up complete Slatwall Garage Storage Systems through online shops such as Wayfair or at your local home improvement store.
---
DIY Recycle Bin Hangers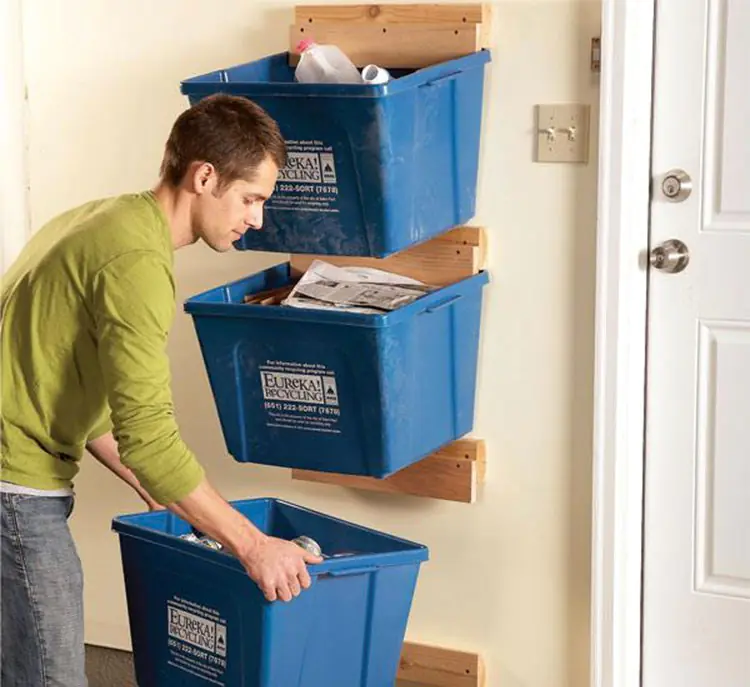 An easy way to keep your recycling bins from taking up precious floor space in the garage.
With a few pieces of wood and some screws, you can easily create these DIY recycle bin hangers to keep your bins on the wall.
---
Sliding Pegboard Tool Storage System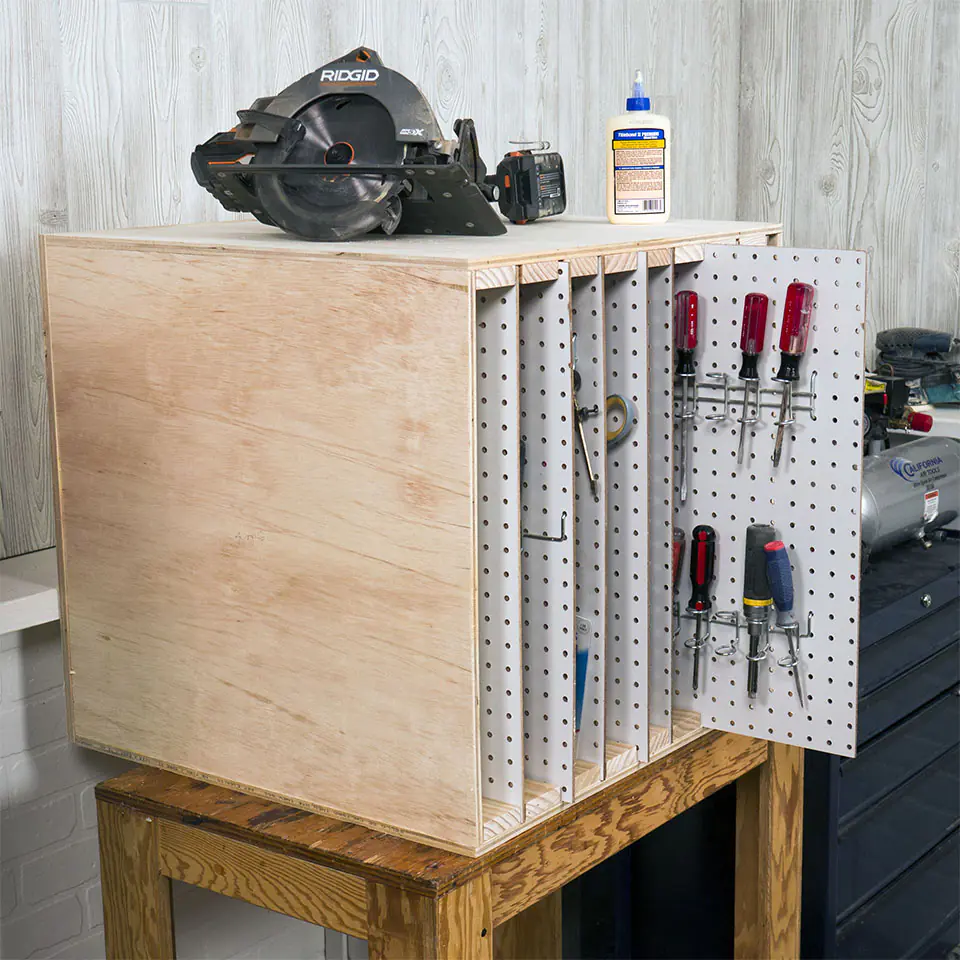 Store your home and garden tools in the compact, space saving design that uses both sides of seven pieces of pegboard, which slide in and out of a a compact storage box.
You can customize this design to include however many pieces of pegboard you need based on how many tools you need to store.
---
---
DIY Sports Ball Corral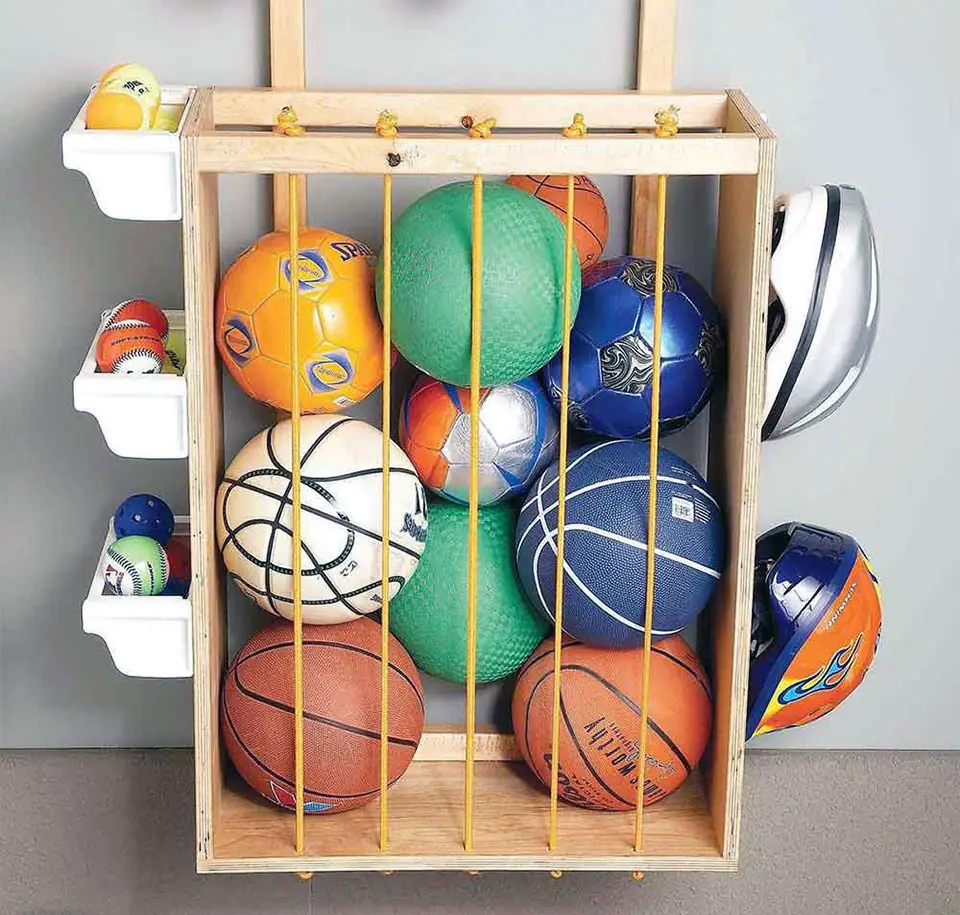 This clever storage bin features a bungee cord wall that makes it easier to get the balls out from the bottom without having to dig through the entire box of balls.
Plus, smaller storage bins on the side can be used to hold softballs, tennis balls, golf balls, baseballs, etc.
---
Re-Purposed Kitchen Cabinets for Garage Storage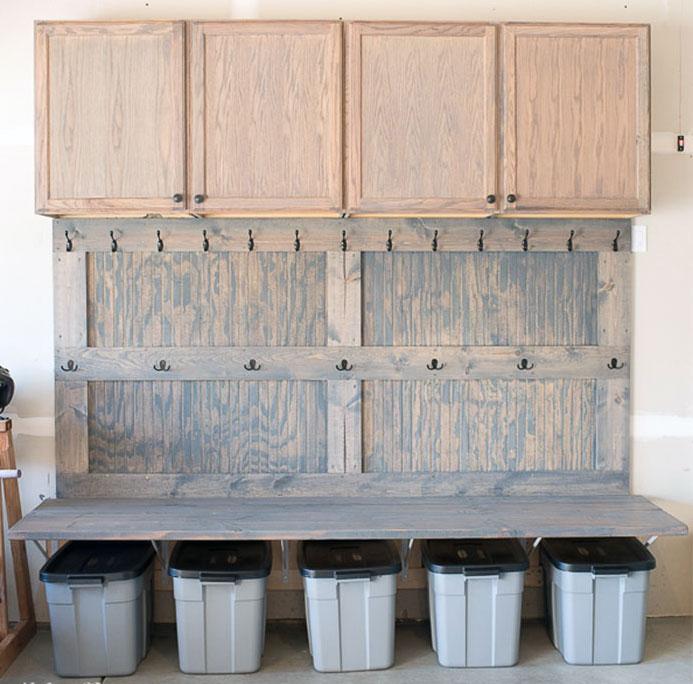 Source Wild Ruffle
You can use kitchen cabinets in the garage to create attractive and functional storage space.
This project is perfect if you are currently renovating your kitchen and don't want your old cupboards to end up in the landfill, or you can purchase new or used kitchen cabinet uppers for this project.
The Habitat for Humanity Restores are a great place to find recycled building products that are perfect for DIY projects.
In the above example, the kitchen cabinets were combined with Beadboard paneling, 2 x 12 planks, heavy duty shelf brackets, and a crap-load of hooks.
---
Sliding Space-Saving Shelf System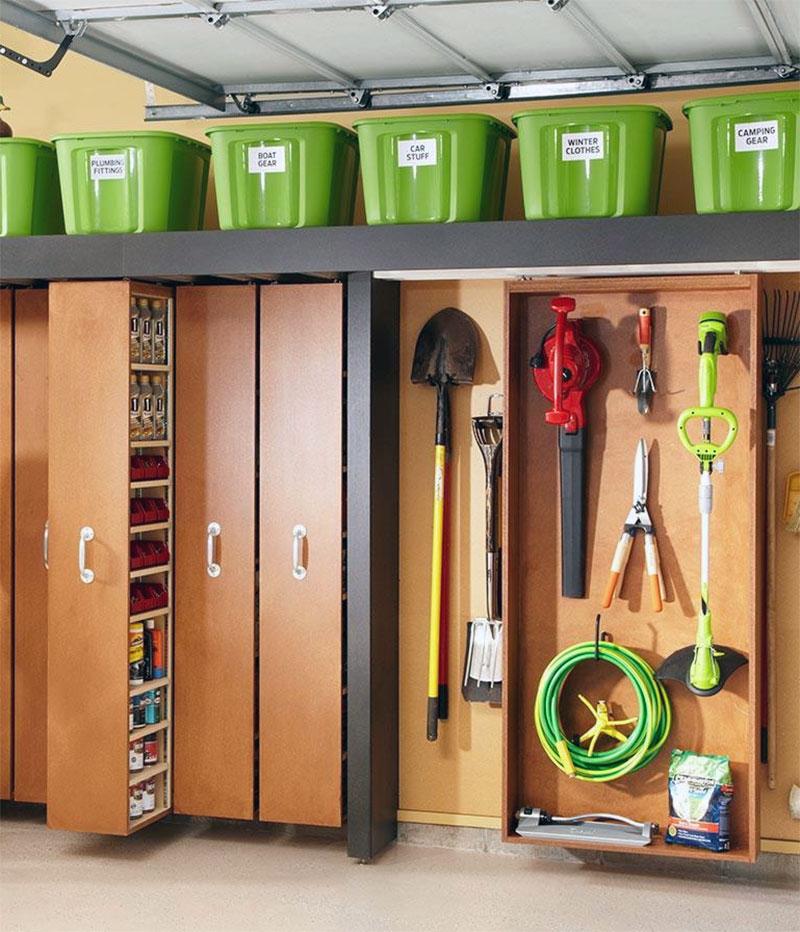 Possibly one of the grandest of our DIY garage organization hacks, this complex system features roll-out shelves as well as sliding bypass units that help you tackle ALL of your storage needs.
---
DIY Garage Hacks to Help You Clean and Organize
We hope you have found this collection of DIY garage hacks to be helpful and informative.
If you have anything to add, or if you've tried one of these DIY garage hacks for yourself, let us know in the comments below!