Tapestry hangings have long been used to add beauty and design to a home.
When decorating with wall tapestries, there are so many different kinds from which to choose that it really is very easy to find one that will complement the style of your home.
These beautiful wall hangings can add a sense of art and style to any room, and can add warmth as well as elegance and luxury. Plus, it's really easy to hang a tapestry on the wall.
Although tapestry wall hangings are often thought of specifically in regards to more traditional decorating styles, including Tuscan and Southwestern styles of decorating, these beautiful hangings are available in styles that can also accentuate almost any style of decorating.
Popular Tapestry Styles Include
In addition to the beauty that they can add to a home, wall tapestries also have a number of useful purposes. If you have an unsightly wall, hanging a wall tapestry in front of the blemished area can be a great way to disguise the problem.
They can also be hung over window areas in the winter to provide additional insulation, or to create a unique and beautiful headboard effect in the bedroom.
They can also be used to block doorways, provide a barrier to certain areas of the home, or simply to add a touch of charm and sophistication to your home.
Tapestry wall hangings can be made from a variety of materials, including wool, cotton, silk, chenille and linen.
Tapestries made from the softer fibers such as cotton, chenille are especially useful for adding a look of warmth to a room. Designs can be quite varied, and can include subjects such as wildlife, outdoor scenes, patriotic and country motifs, spiritual subjects, or floral patterns.
The colors in tapestry wall hangings can range from delicate and muted to bold and vibrant.
Tapestry textures also tend to be quite rich, which generally adds to the beauty of the room.
Tapestry Options for Every Design Style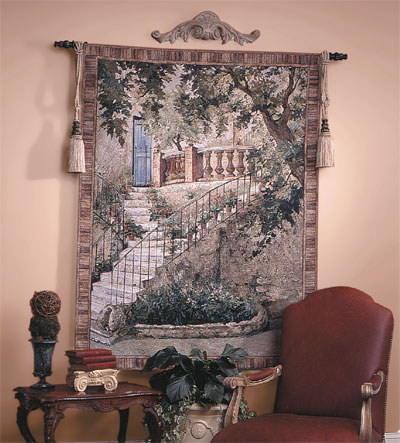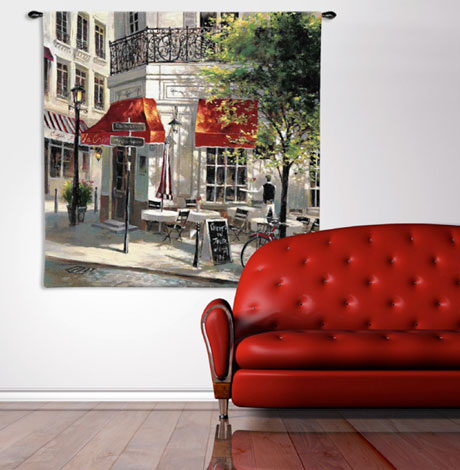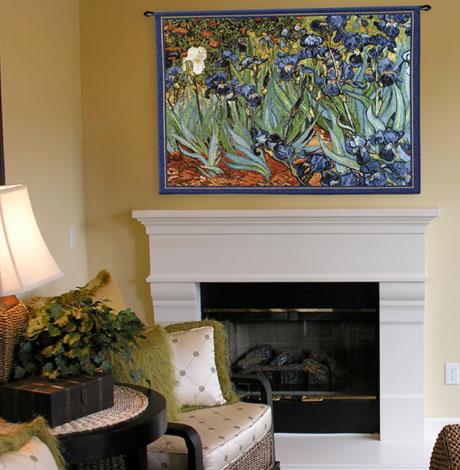 Tapestries can be used effectively in many different rooms of the home. In the living room, formal designs and geometric shapes with rich textures can add a look of elegance and sophistication.
Wall tapestries can be used quite effectively as a focal point in the living room, and the wall area over a fireplace is often a popular choice for tapestry hangings.
They can also be used to visually segment a section of the room that may have a special use, such as a corner of the living room that is used as a reading area.
In the bedroom, wall tapestries can be hung on the wall behind the bed to create a decorative headboard effect. Depending on the overall style of the bedroom, subjects such as floral patterns and tranquil nature scenes often work well in bedrooms.
In a family room, game room or media room, choosing a wall tapestry with an associated theme, such as music, travel or a favorite hobby or sport can add a casual and attractive look.
Wall tapestries with rich designs of fruits, vegetables or other food related motifs look great in the dining room or even the kitchen.
Take a moment and browse our Tapestry Wall Hangings collection.