Looking for a way to keep warm this winter? An electric fireplace is a quick and easy way to add a touch of warmth to any room.
This post has been developed in partnership with Wayfair.com. We may receive a small referral fee for purchases made using the links from this article, which will help support Art & Home. However all opinions are our own.
As the days grow shorter and the nights grow colder, we who live in the Northern climates start to brace ourselves for the soul-crushing cold that is about to invade our lives.
Gone are the warm summer nights when you can spend the evening in shorts and a t-shirt and sleep with nothing on top of you but a thin cotton sheet. Instead, it is time to bundle ourselves under multiple layers to keep the cold from seeping into our bones. Deep, deep into our bones.
One lovely way to keep the deep cold Winter at bay is with the use of an electric fireplace. These pieces of functional furniture have come a long way in the last few years and now add function, beauty, and warmth quickly and easily.
Instead of gas or wood-burning fireplaces which can be expensive to install or dirty to operate, the electric versions are available in a range of designs and styles, and can be plugged in and ready to deliver a warming glow within minutes of arriving at your doorstep.
We've teamed up with Wayfair to present some of the most beautiful designs and unique installations of lovely and warming plug-and-play fireplaces.
With so many variations and styles to choose from, you're sure to find just the right electric fireplace to suit your individual needs.
Here Are Our Favorite Electric Fireplaces
We went through the entire collection of Beautiful Fireplaces at Wayfair.com and selected our very favorite designs.
Camilla Simulated Brick Fireplace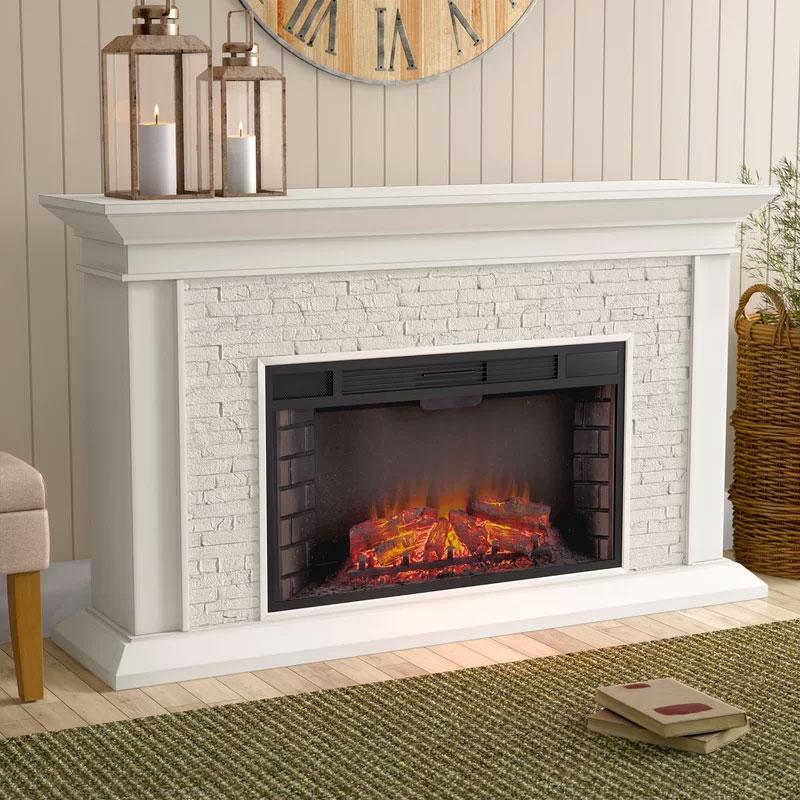 Create a cozy and classic look in your living room or bedroom this beautiful fireplace, featuring a polyresin stone surround that provides the tastefully textured look of painted brick, while a molded mantel gives the design a traditional flair.
If you are planning on roasting marshmallows, this probably isn't the fireplace for you. Granted, neither are any of the fireplaces on this list. Sorry, electric fireplaces are not roasted marshmallow friendly.
---
Contreras Traditional Electric Fireplace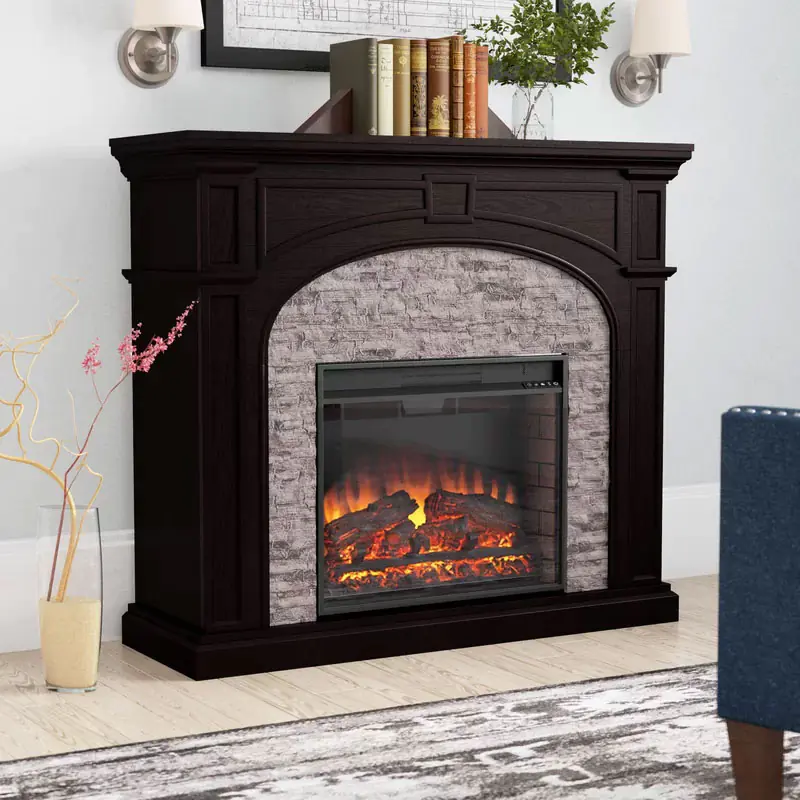 Creating a cozy living room look should always center around a fireplace, however many homes do not come with one built in. That's where these handy plug-and-play fireplaces come in. Surrounded by comfortable sofas and arm chairs, they help set the stage for family time, cocktail parties, or just solo nights in. And even when not in use, these free-standing fireplaces offer a mantel on top ideal for staging your own customized display.
---
Alfaro Faux Brick Fireplace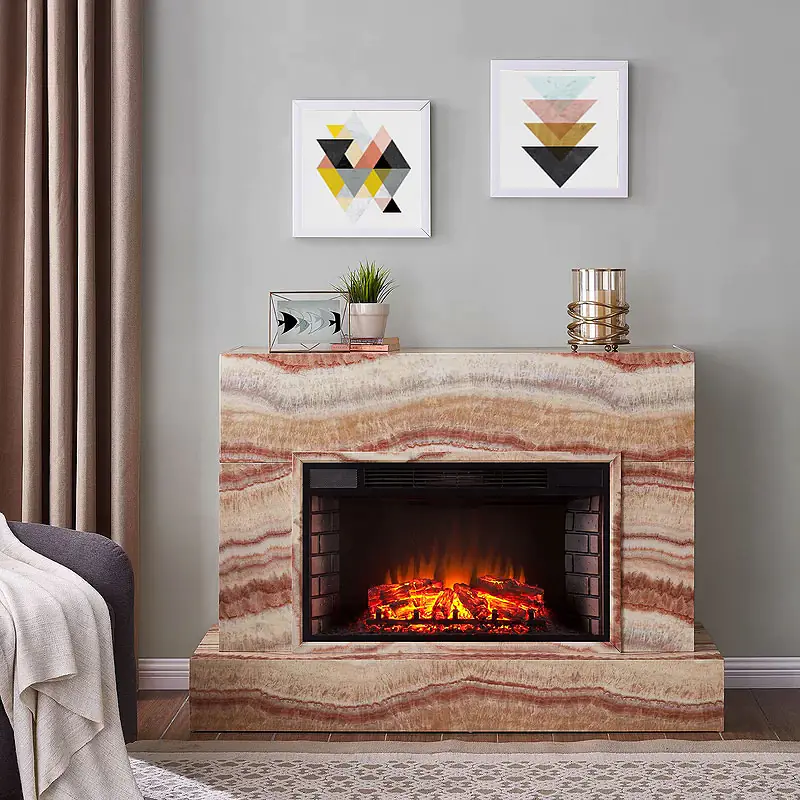 Grace your space with this dramatic hearth which adds height and sophistication. A faux brick firebox interior with lifelike flames and embers lights up a realistic fireplace look. The extra-wide LED screen crafts a cozy, authentic look. Warm up to elegance and sophistication when you place this fireplace in your living room or open concept living space.
---
Quesinberry Wall Mounted Electric Fireplace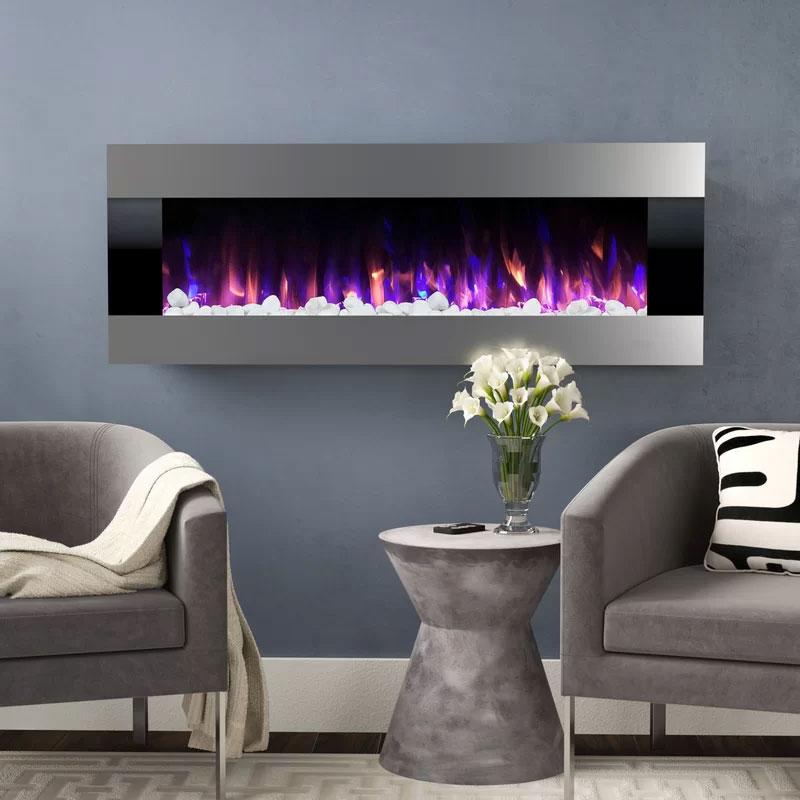 Form and function perfectly align in this sleek wall mounted electric fireplace. This elegantly designed stainless steel framed fireplace adds the ideal touch of modern style and comfort to your home.
Hanging your Christmas stockings on this fireplace could be a little bit tricky – and potentially awkward. But that's not really the point of this piece. The point is to be fabulous.
---
Millen Etagere Fireplace Bookcase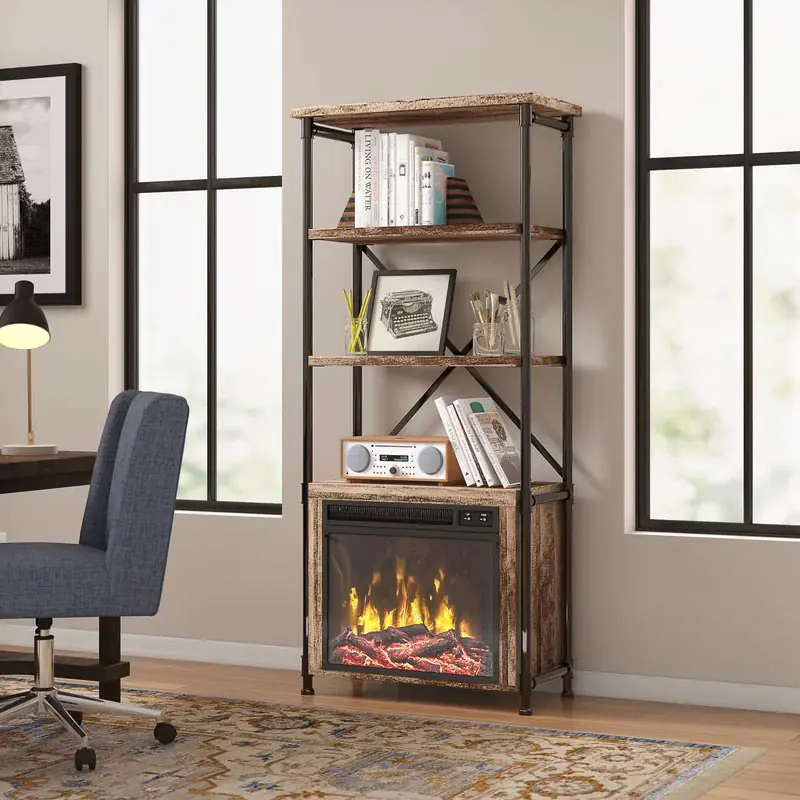 Pairing an industrial look with modern accents, this Etagere bookcase plays well with a variety of decor styles. Its frame is crafted from metal with a versatile black finish, while the three tiers of shelves are made of wood for a contrasting look that ropes in a hint of rustic charm. The fireplace can be used with or without heat, so you can have to ambiance of a flickering flame all year round.
So if you can't decide between the comfort and warmth of a fireplace and the convenience of extra shelving, then this is definitely the one for you.
---
3D Flame Effect Infrared Quartz Electric Stove
The infrared quartz heat helps to maintain the natural humidity in the air, resulting in comfortable heat that doesn't dry out the room's air. This electric stove features a durable metal body construction with side viewing windows and an operable, beveled glass door. Patent-pending 3D flame effect technology offers a layered flame effect to create a fire experience . The flame effect with a glowing log and ember bed provide the ambiance of a gentle rolling fire.
If your space is as limited as your current heat sources, this is an excellent choice.
---
Sherrie Simulated Stone Convertible Fireplace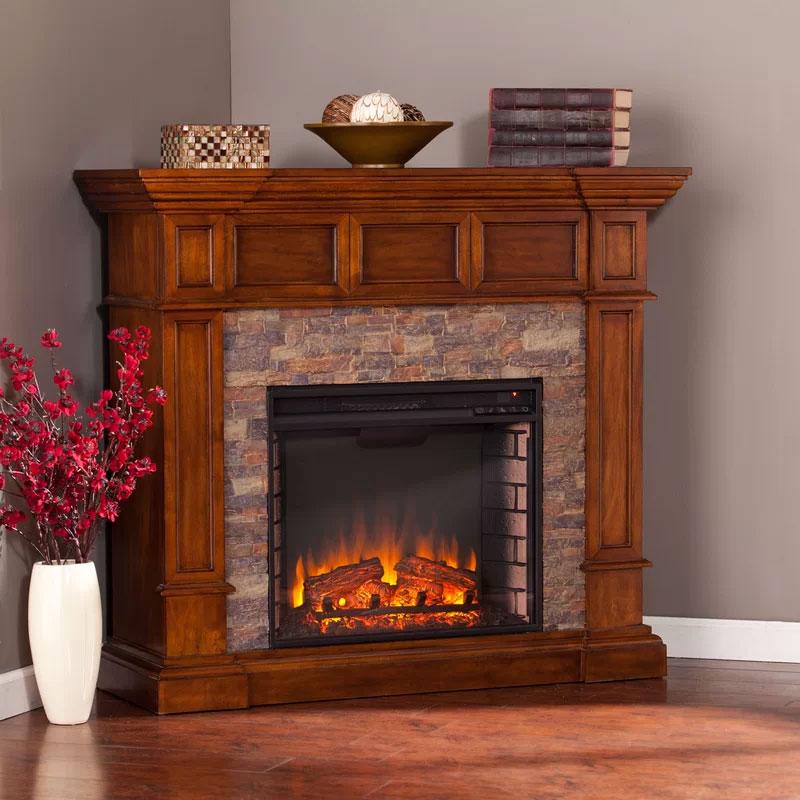 Explore the old west with this handsomely carved buckeye oak fireplace. Smartly stacked simulated stone is framed by dynamic, dimensional woodwork. Designed to stand against a wall or use the corner extender to pace it neatly in the corner of the room.
This unit just screams "hang stockings on me!!!" It's a little bit aggressive that way, but – otherwise – it's quite low key.
---
Danyell Fireplace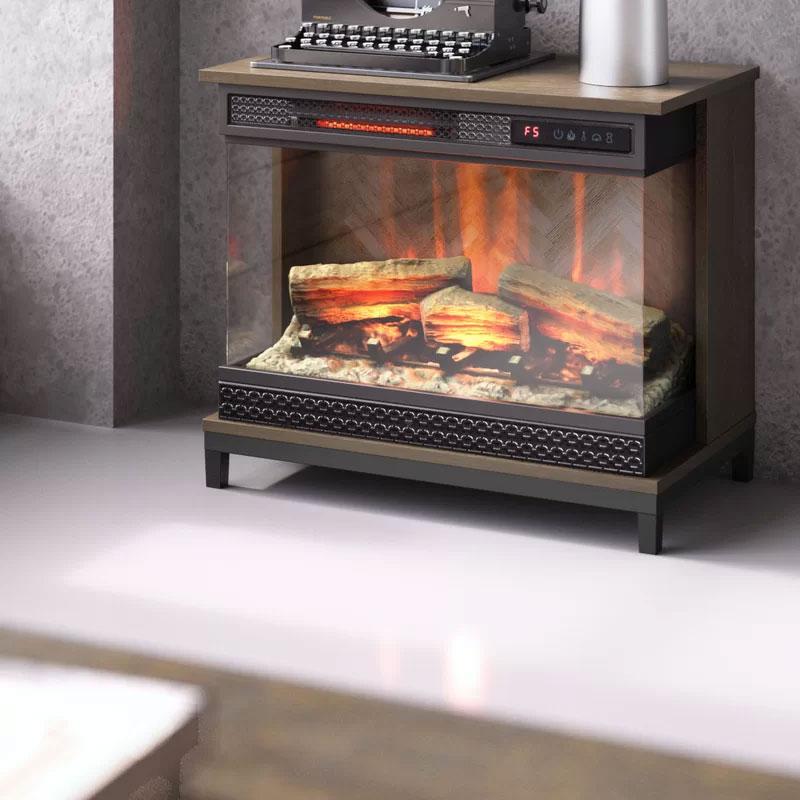 Whether you're enjoying a cozy night in or setting the mood for entertaining, the panoramic views of this electric fireplace are the perfect thing for every occasion. With a three-sided glass display, you and guests can enjoy the ambiance of flickering flames from any seat. A decorative panel featuring a chevron-patterned faux wood design is a chic backdrop for your fire and provides an instant style upgrade for any room.
I feel like the antique typewriter should come with this unit, because it just seems to fit the fireplace so well. But, alas, it does not.
---
Aarav Mirrored Electric Fireplace
Dressed in a galaxy of dazzling silver crystals and framed with gleaming mirror panels, this fireplace is not one to shy away from the limelight. Whether you are hosting an elegant dinner party with associates or a casual games night with friends and family, the crackling fire will put all your guests in a relaxed and merry mood.

And just imagine what this could look like decked out with some beautiful Christmas decor!
---
Vegas Wall Mounted Fireplace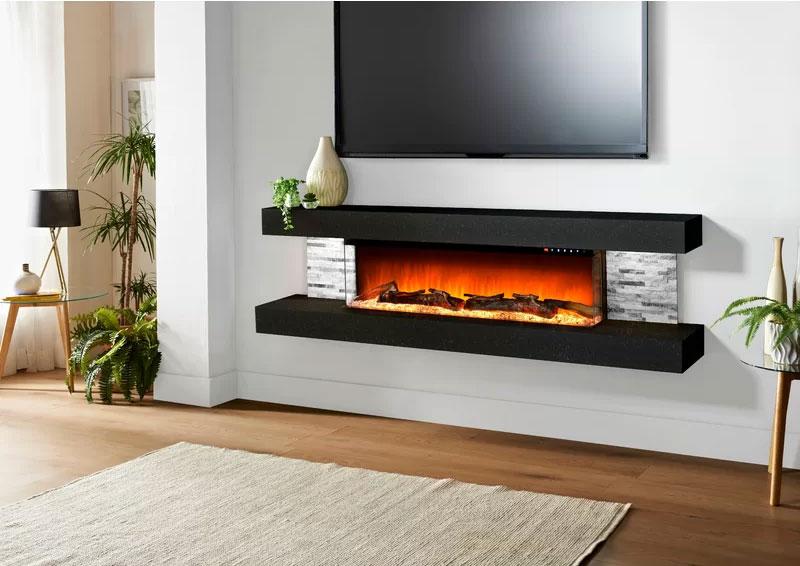 The 3 sided plug-and-play fireplace is a beautiful floating focal point. Sleek an stylish, it is packed full of amazing features and adds a touch of glamour to any wall.
---
Alcott Hill Glass Shelf Fireplace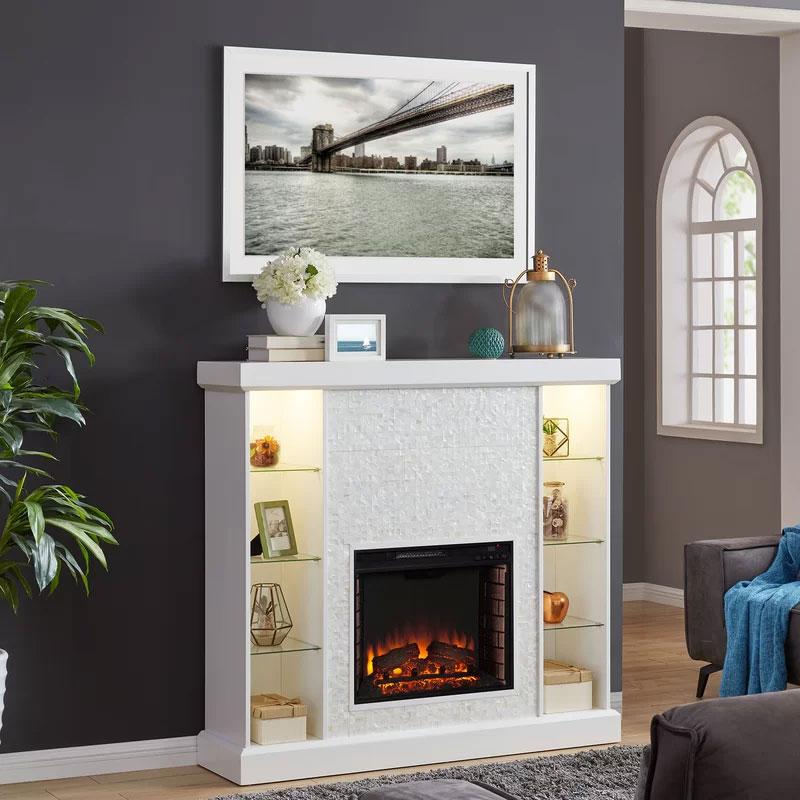 Style and storage combine in this tiled fireplace with storage shelves. Mosaic-inspired glass tiles are staggered across the fireplace face, creating a delightful pattern. Adjustable glass shelves on other side provide plenty of space for books, old movies, or decorative treasures. In all, this unit provides crisp, clean lines that make it perfect for a minimalist or modern room.
---
Swedish Hill Petite Fireplace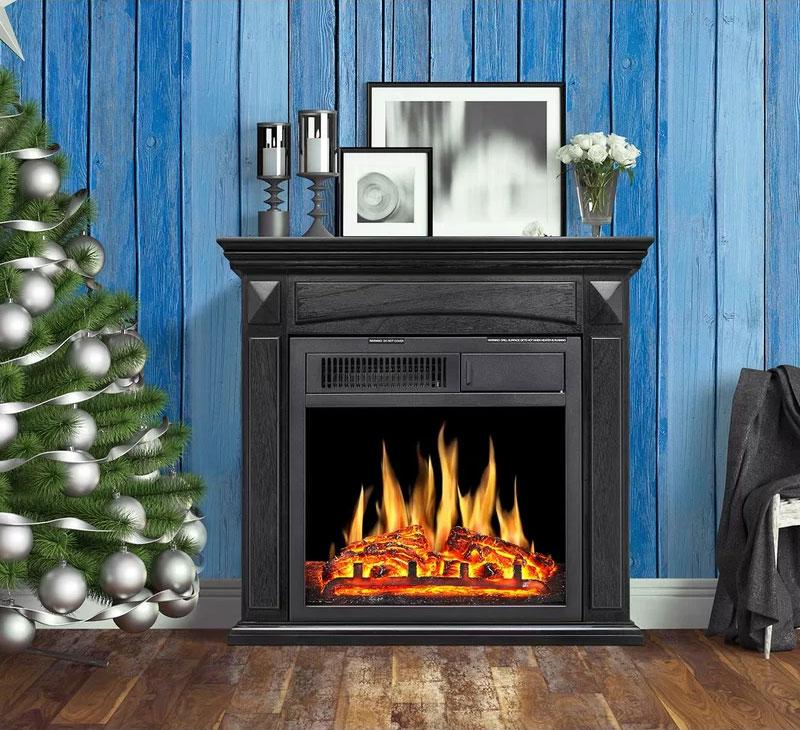 Measuring only 29" H x 28" W x 14" D, this petite fireplace is perfect for adding style and warmth to a small space. Beautifully crafted in a classic yet modern design that could add that touch of warmth to your living room, bedroom, dining room, or any room in the house that you choose.
---
Chateau Corner Electric Fireplace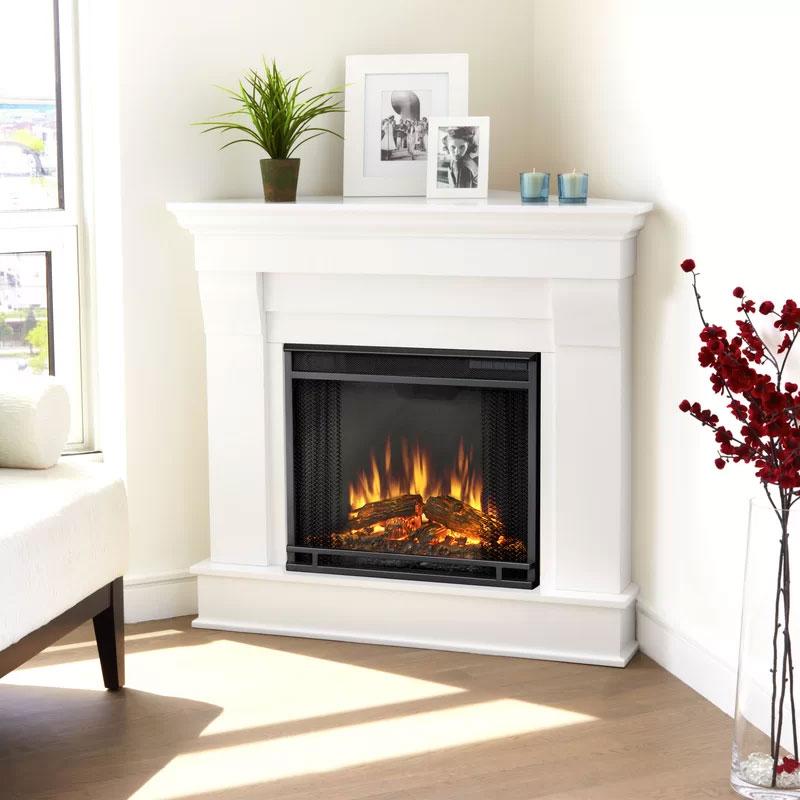 Add style and warmth to an empty corner in your living room, den, or bedroom by decking it out with a this gorgeous Real Flame Chateau Corner Fireplace.
Simple, yet classic, this style blends seamlessly with almost any decor.
Plus the extended corner top gives you plenty of run to store tonnes of crap. Not that you'd want to. But life – and crap – happens sometimes.
---
Rawlins LED Wall Mounted Electric Fireplace
Bring the luxury and warmth of a real fireplace to your home without taking up floor space with one of these beautiful wall mounted electric fireplaces. With energy-efficient LED technology, adjustable brightness, multicolor flame effects, and 3 media backgrounds, you can instantly transform your living space with the simple click of a remote.
---
McGregor Mobile Fireplace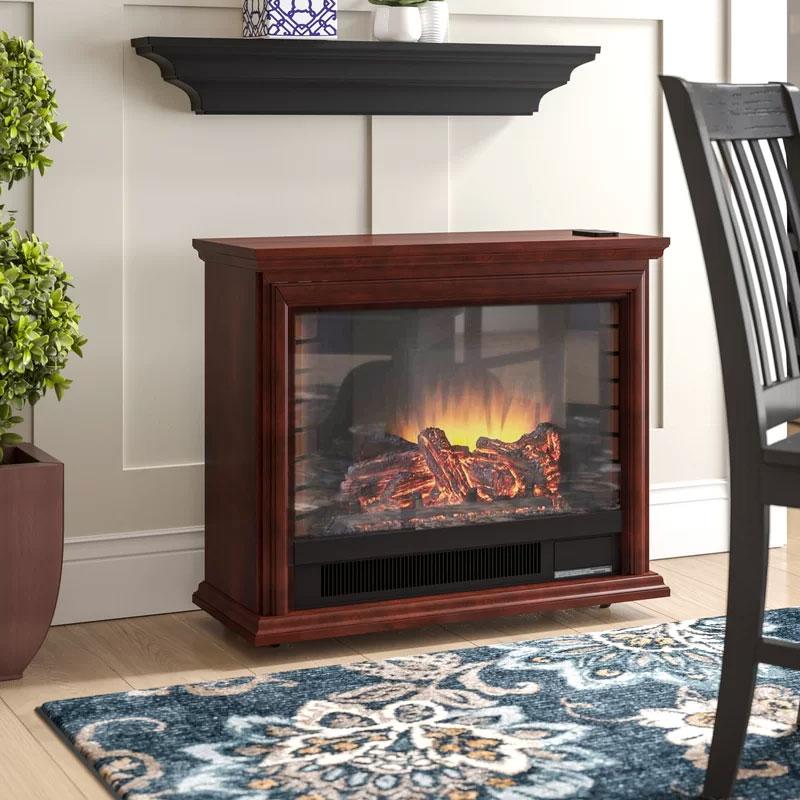 Clean and classic lines surround a powerful 5,200 BTU infrared header that can quickly heat up to 1,000 square feet, but is small enough to move around wherever and whenever you need. Crafted from wood, its frame features crown molding for a traditional touch, while the neutral finish allows it to blend in with almost any color scheme.
Just don't start carrying it around like a security blanket. And, whatever you do… don't name it. People will start looking at you strangely. Believe me, I know.
---
Boutin Rustic Fieldstone Fireplace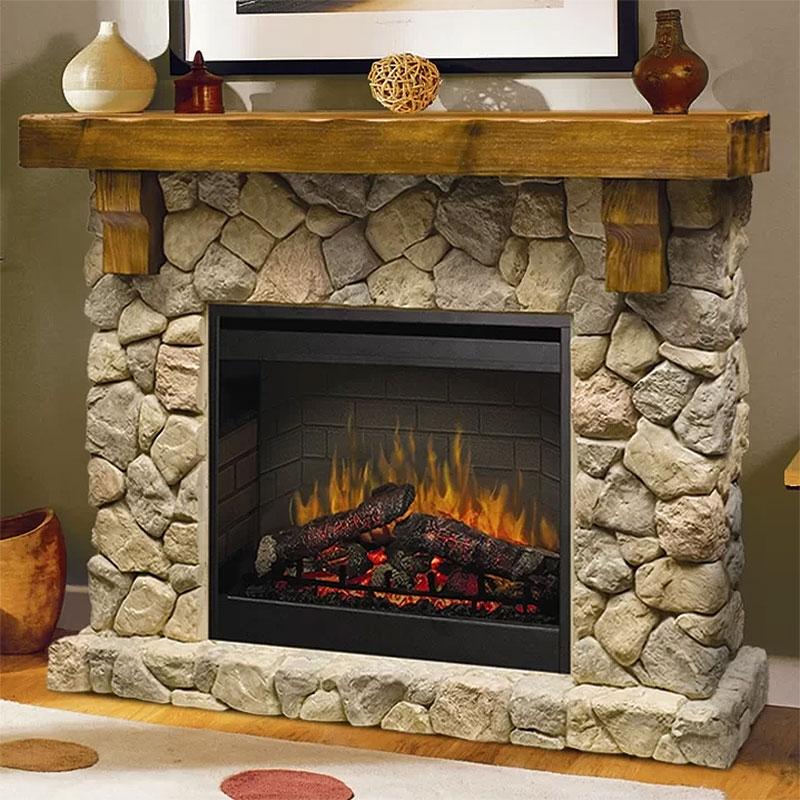 Bring home the feeling of a cozy, rustic retreat, no matter where you live, with this fieldstone-inspired plug-and-play fireplace. This dramatic focal point faithfully recreates the look a traditional stone mantel with solid pine corbels and mantel providing the rustic and wonderful touches of authenticity.
---
Shoalhaven Electric Fireplace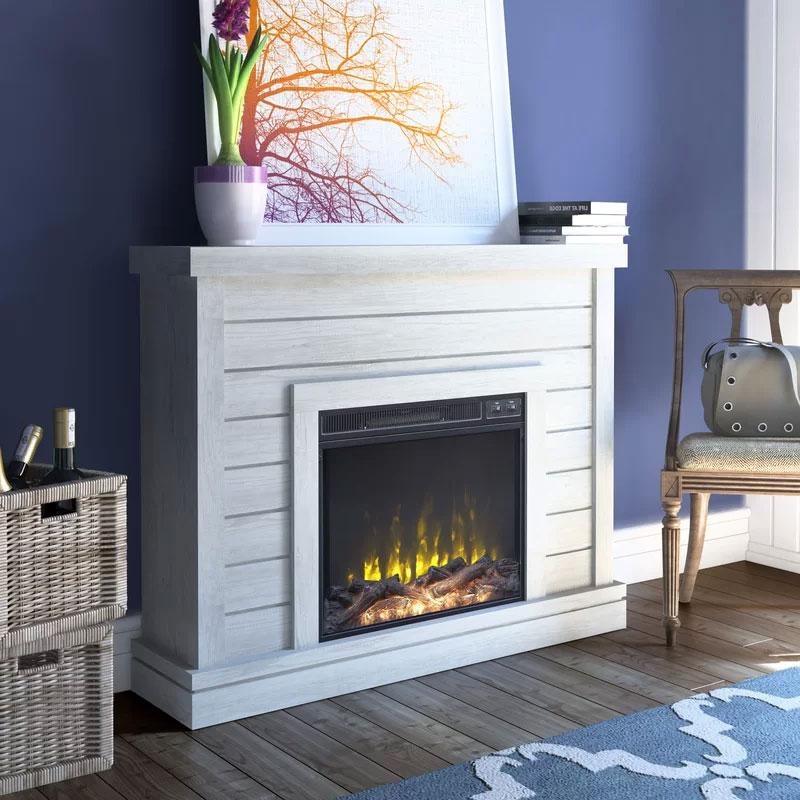 Perfect for the coastal home, this shiplap electric fireplace makes for a beautiful focal point to gather around with friends and family. Whitewashed shiplap details help to create a lovely coastal feel alongside a brilliant fire that can be enjoyed with or without heat.
---
Henjes Mission Oak Corner Fireplace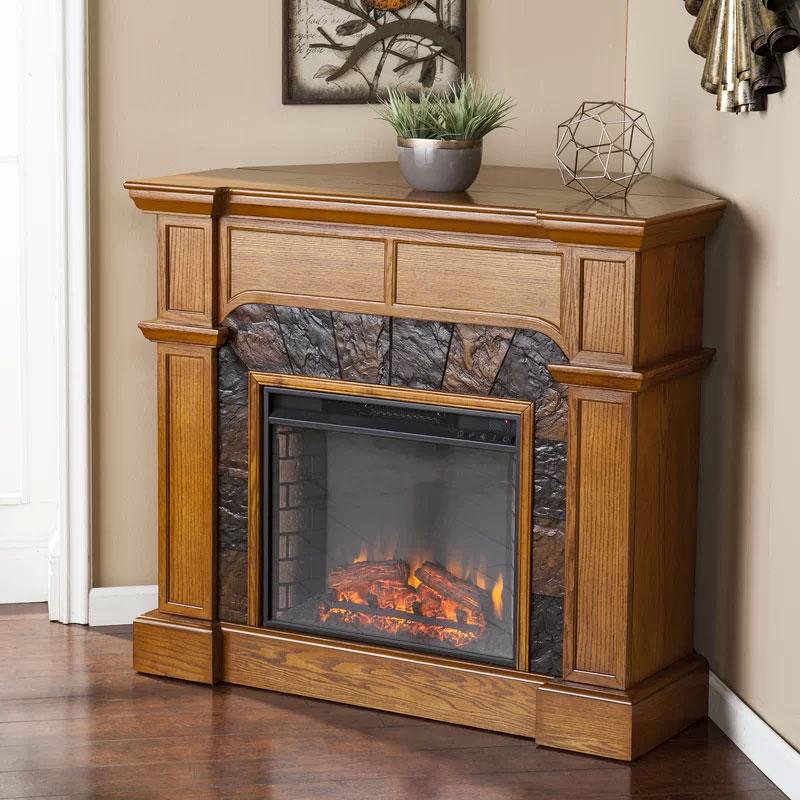 The traditional mantle features tasteful molding and attractive paneling, while faux-stonework offers the natural touch of slate tile. The end result is simple, yet warm, wonderful, and very inviting.
Just imagine how much warmer your toes can be this winter!
---
Ornelas Bolder Creek Carved Widescreen Fireplace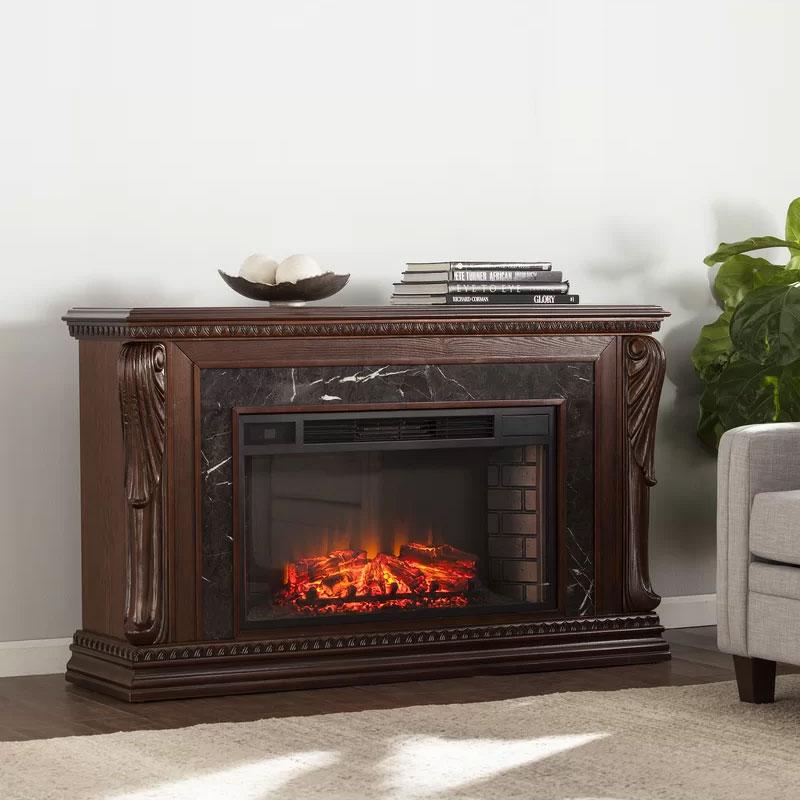 Dazzle your guests with the classic sophistication of this real marble Ornelas Bolder Creek Carved Widescreen Electric Fireplace. Perfect for a formal living room, dining room, or entry parlor this fireplace hearkens back to grand manor homes and expansive estates. Traditional grace warms to life in this glorious widescreen fireplace.
---
Albro Wood and Mirror Fireplace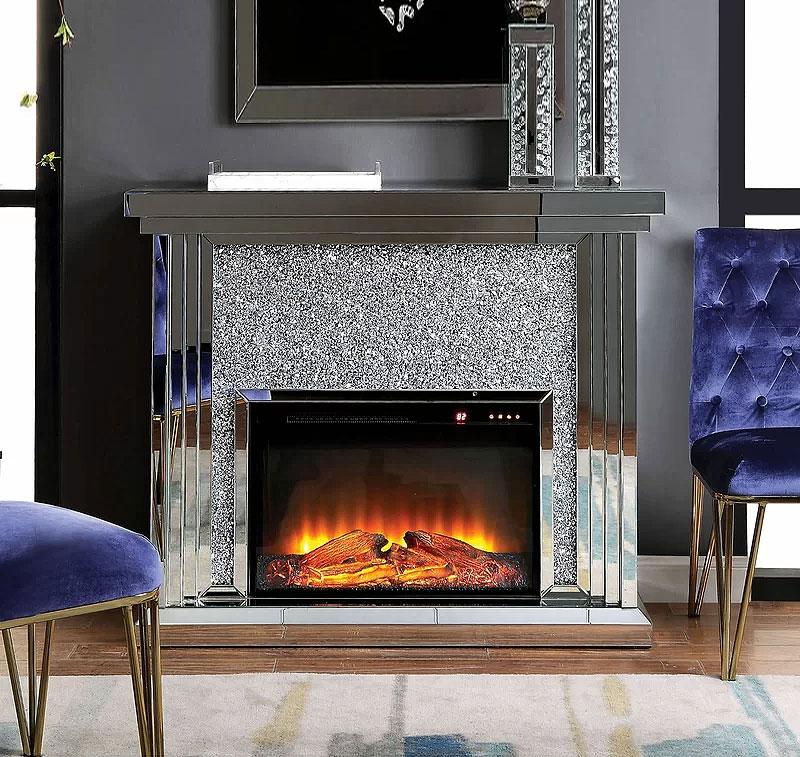 Live the Hollywood Glam lifestyle as you sip on a lovely glass of wine while the fireplace crackles in the background. Set this piece against the wall of your living room and create a scene of indulgence by adorning the mantle with your treasured family portraits, prized works of art, or fragrant flowers.
I don't think I've ever seen such a sparkly fireplace! Not for the feint of heart, but – wow – what a statement piece this would be!
---
Fraenzel Curve Wall Mounted Electric Fireplace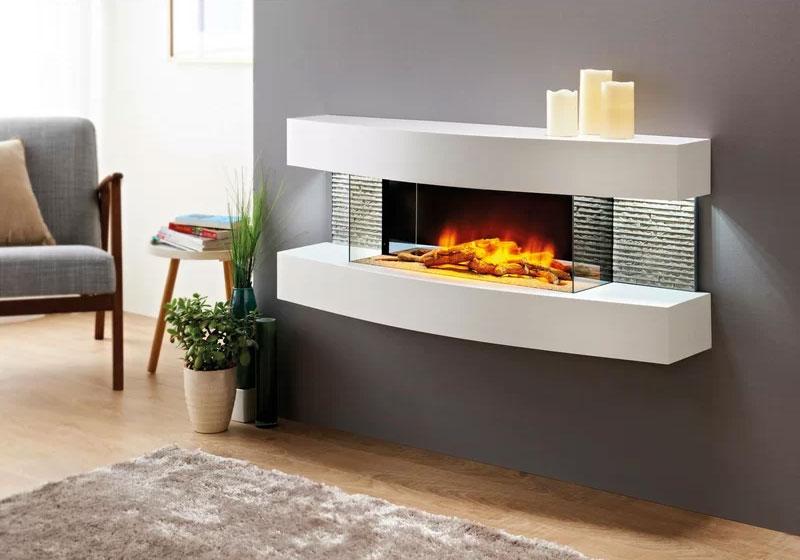 With all the allure of conventional fireplaces – minus the soot, smoke, and safety hazards – this wall-mounted electric fireplace is a cozy, fuss-free addition to any room of the house. It features an adjustable flame with a flickering effect and a maximum BTU output of 5000 BTU to cover around 150 square feet. What's more, the wall-mount installation creates a clean, modern look on your walls.
---
Louis Fireplace Surround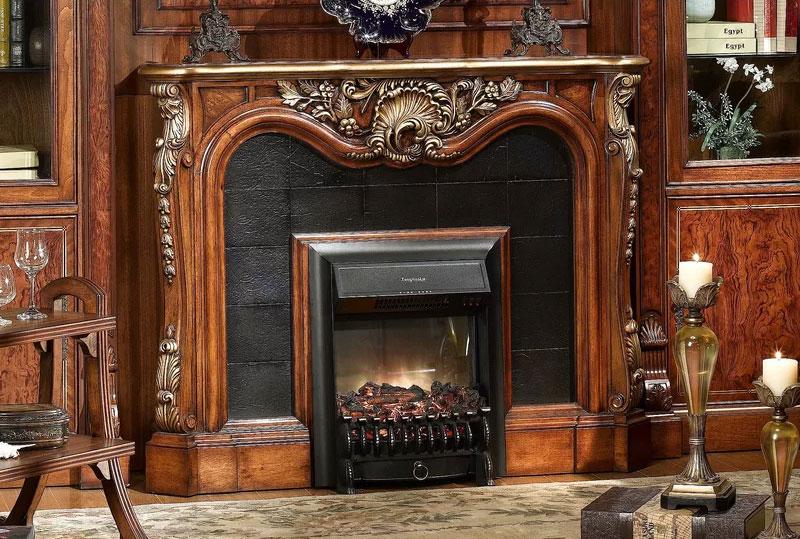 If you already have a fireplace and just want to upgrade the mantel or surround, Wayfair also offers a beautiful collection of fireplace mantels, such as this gorgeous Louis Fireplace Surround.
---
Alcott Hill Classic Fireplace
This classic fireplace design showcases a dual column mantel with a floral design that can host vases, picture frames, and decorative objects, as well as stockings during the holiday season.
---
Koret Electric Stove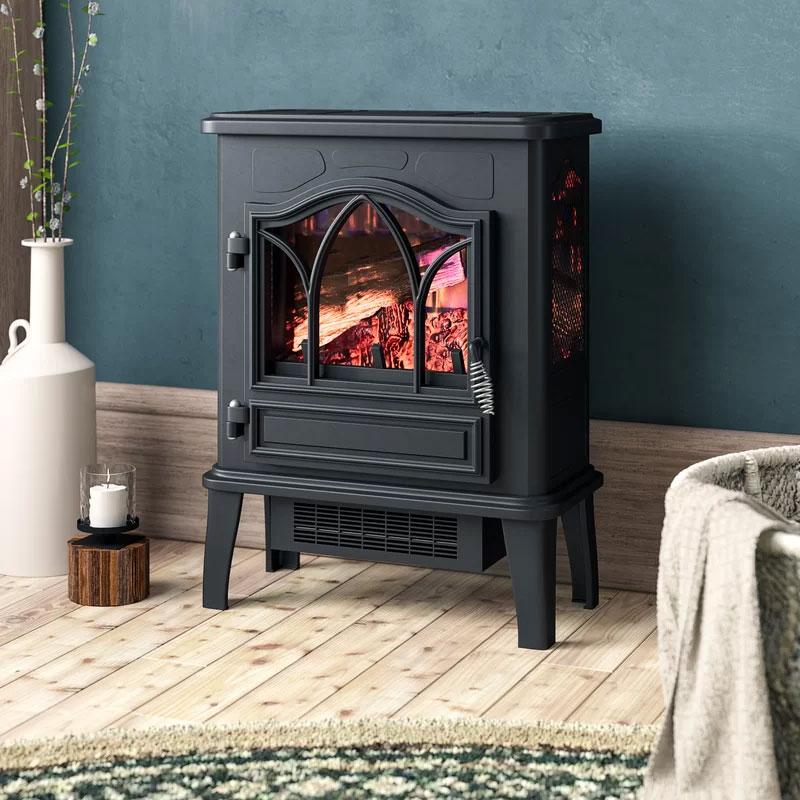 Warm-up any large space on a cold night to create a more comfortable room with this beautiful infrared quartz stove. The black metal body and operable door with an arched frame provides the classic look of a wood stove, wile the infrared heater can warm up to 1,000 square feetwhile maintaining the natural humidity in the air.
I have a unit almost exactly like this in the master bedroom because I like things toasty warm when I'm crawling into bed. You'd be amazed at how much nicer the world is when your toes don't freeze and fall off on the way from the bathroom to the bed.
---
Hazelwood Simulated Stone Infrared Electric Fireplace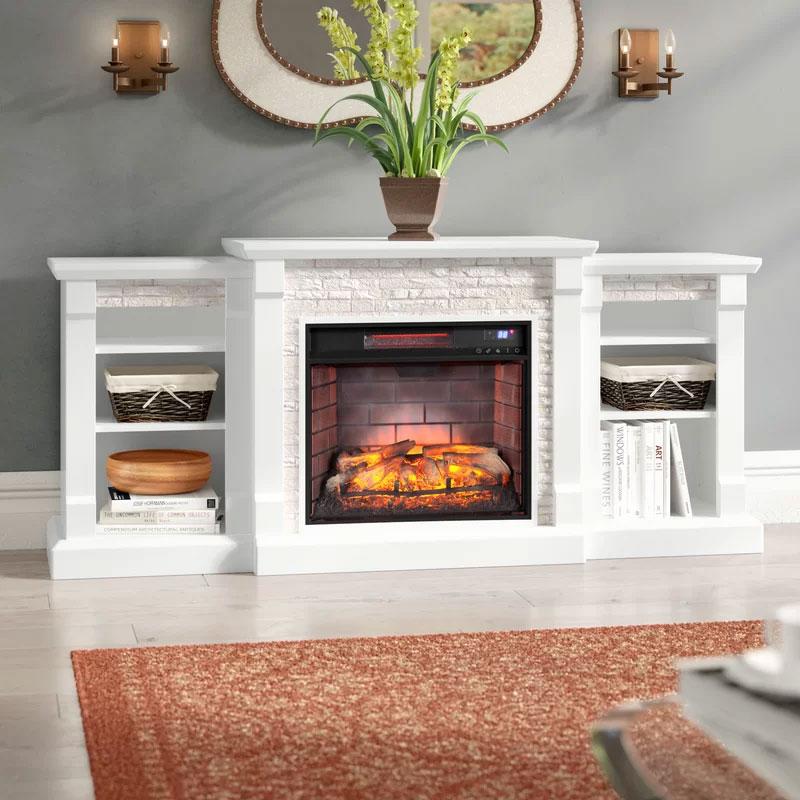 Showcasing glowing embers on a stack of faux logs, it offers the charm of a flickering flame without the fire. Its manufactured wood and stone frame features a brick texture and white finish, creating a mantel and six shelves for keeping anything from books to framed photos.
---
Henjes Electric Fireplace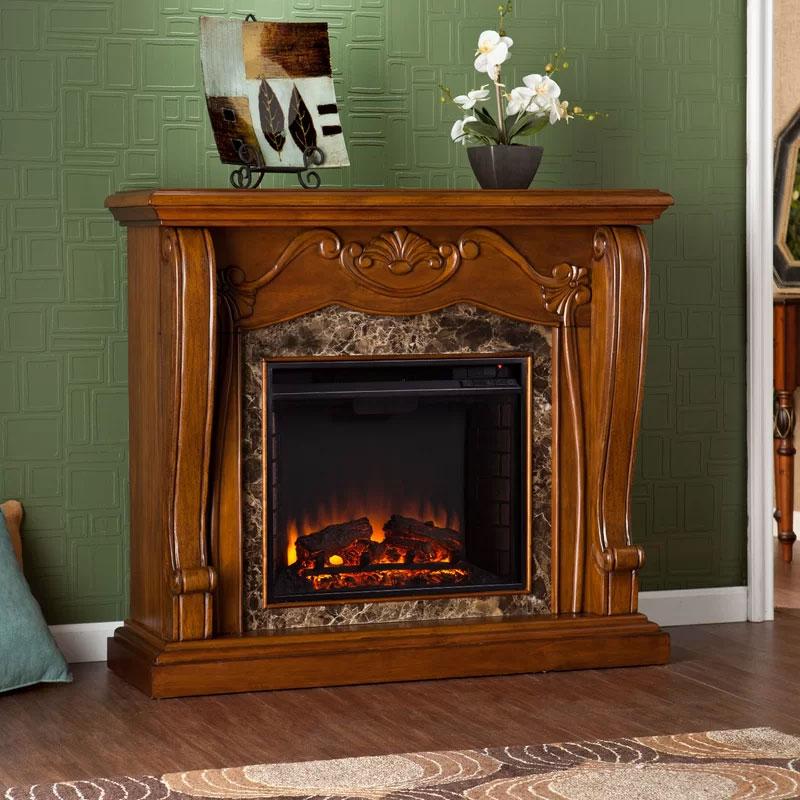 A classic look with carved front and a real marble insert that makes this an outstanding piece to add to any living room or bedroom.
---
Katlyn Wall Mounted Fireplace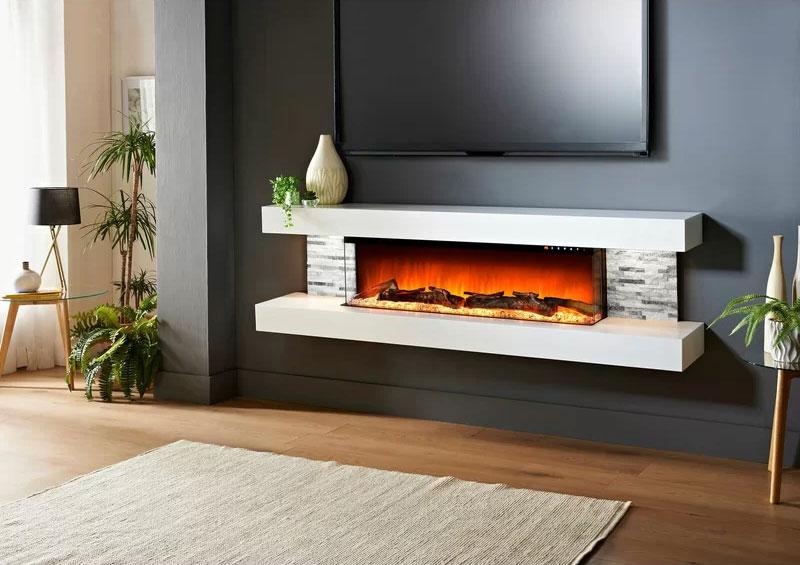 This European style wall mounted fireplace provides a contemporary look while putting out plenty of warmth. Classic lines and a 3-sided glass fireplace insert make this a standout piece for a modern or minimalist living room or bedroom.
---
Congdon Electric Fireplace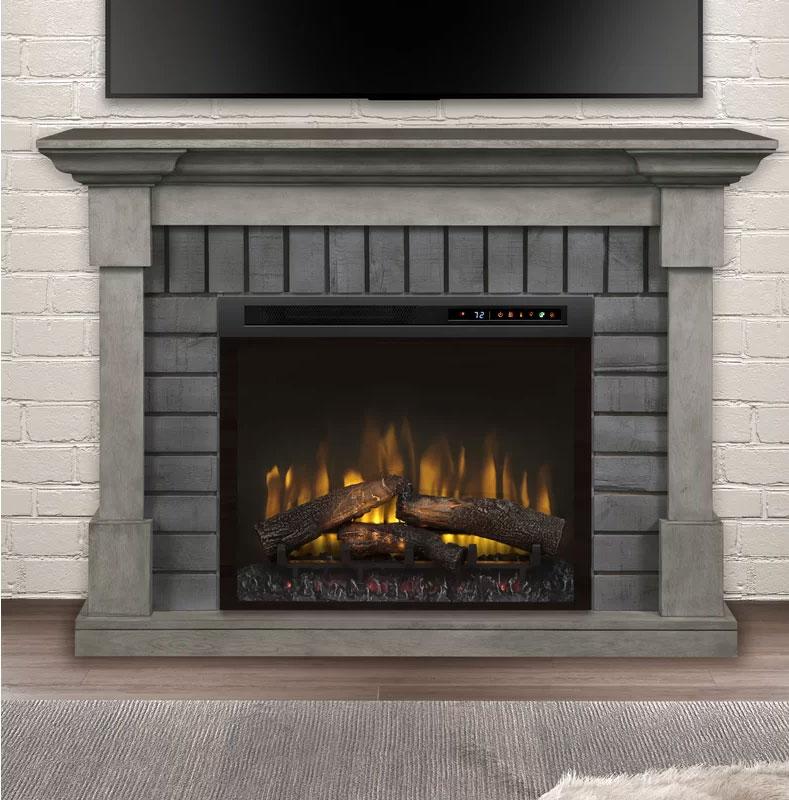 The classic shape of crown molding is enlarged to provide a striking profile and follows the break-front design of the mantel. Clean overall lines are highlighted by traditional elements for a relaxed design that can work in a variety of decors.
---
Alcott Hill Stacked Stone Fireplace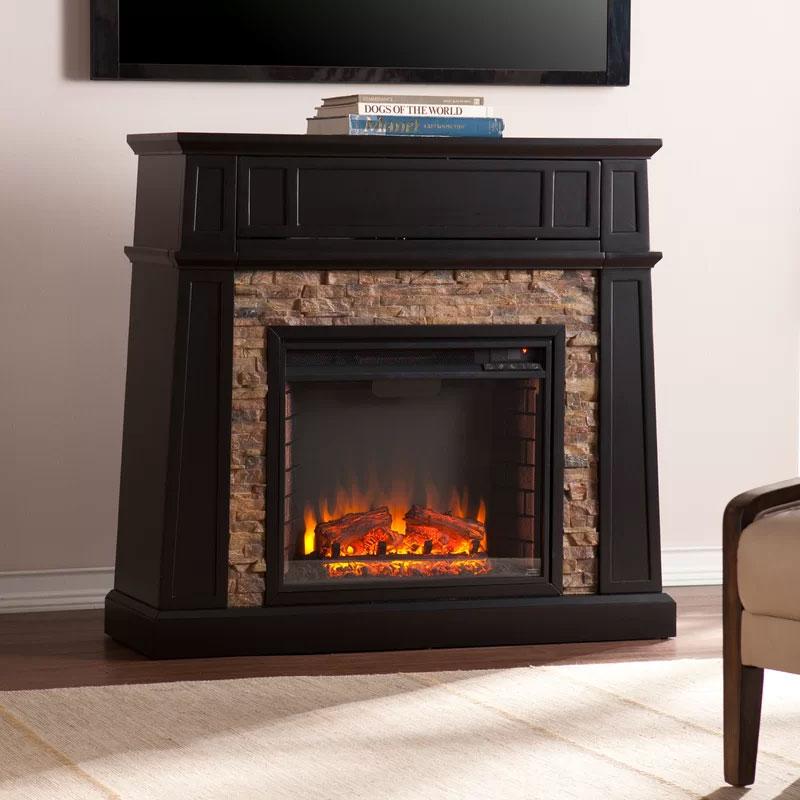 Take your living space to a land of smooth lines and textured stacked stone with this impressive electric fireplace. Designed as an entertainment console to be snuggly placed under a wall mounted TV, with a well-hidden recessed door that discretely conceals a media compartment full of accessories. This black fireplace with lifelike stone makes a quietly chic statement, complementing any transitional style home.
---
Ridgewood Electric Fireplace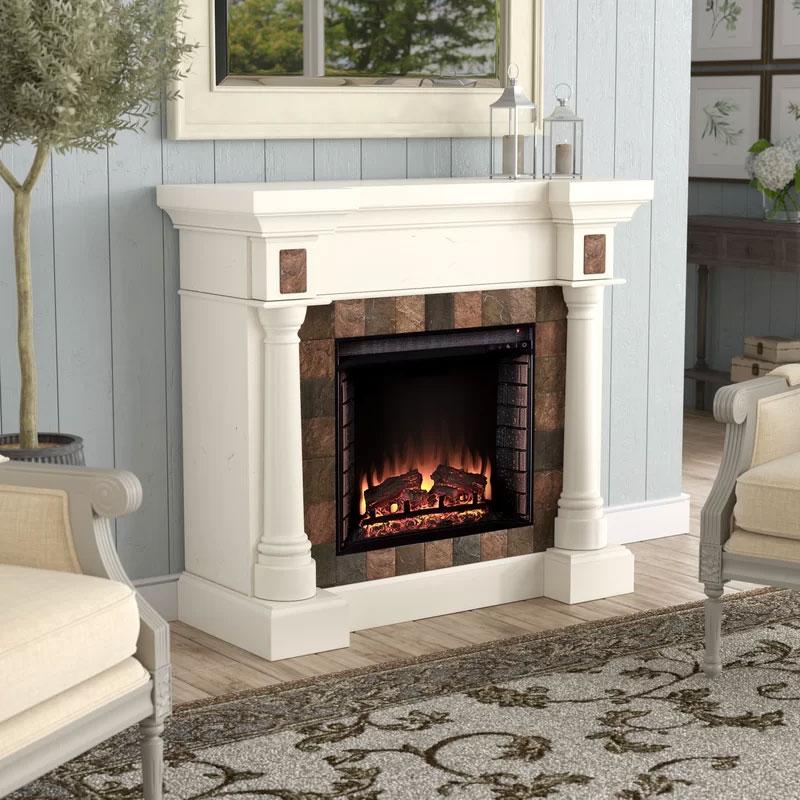 Gone are the days of chopping firewood and shoveling up ash. This design brings the cozy warmth and ambient glow of burning wood to your home without all the fuss of a wood-burning fireplace and at a fraction of the cost of installing a gas fireplace. Featuring an LED flame with a flickering effect, this energy-efficient electric fireplace safely emits heat throughout your home.
I love everything about this fireplace, except for the fact that it's not already in my home.
---
Everly Quinn Milo Mirrored Fireplace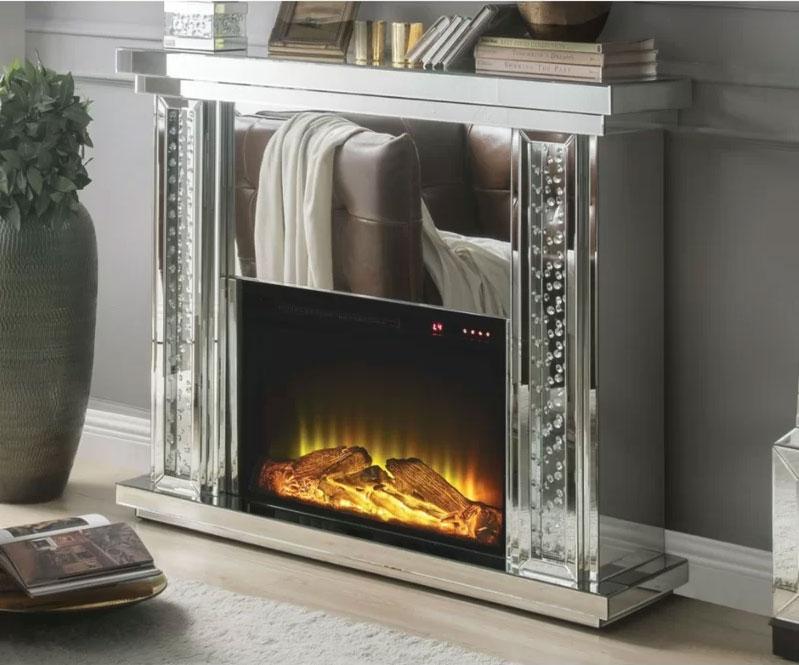 Bring home this realistic looking Mirrored Electric Fireplace to amaze everyone with it's no real flame or smoke effect. With easy access this will not only bring romantic warmth to the room but will also upgrade the interior of your modern, sophisticated living spaces. Featuring beveled mirrored finish with clear glass and faux crystal inlay, this is a very elegant fireplace that you can have up and running in time for your next dinner party.
---
Callum Glass Tiled Media Center Fireplace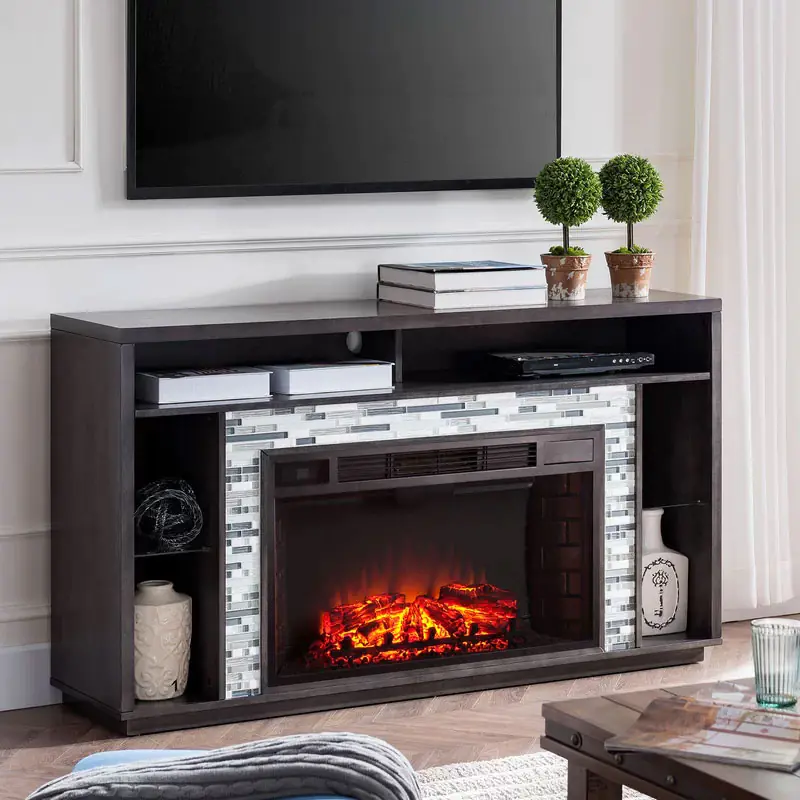 The sophisticated glass tiles alternate clear and white, adding texture and dimension, surrounding the widescreen electric firebox. A faux brick firebox interior with lifelike flames and embers lights up a realistic fireplace look.
---
Belden Wall Mounted Electric Fireplace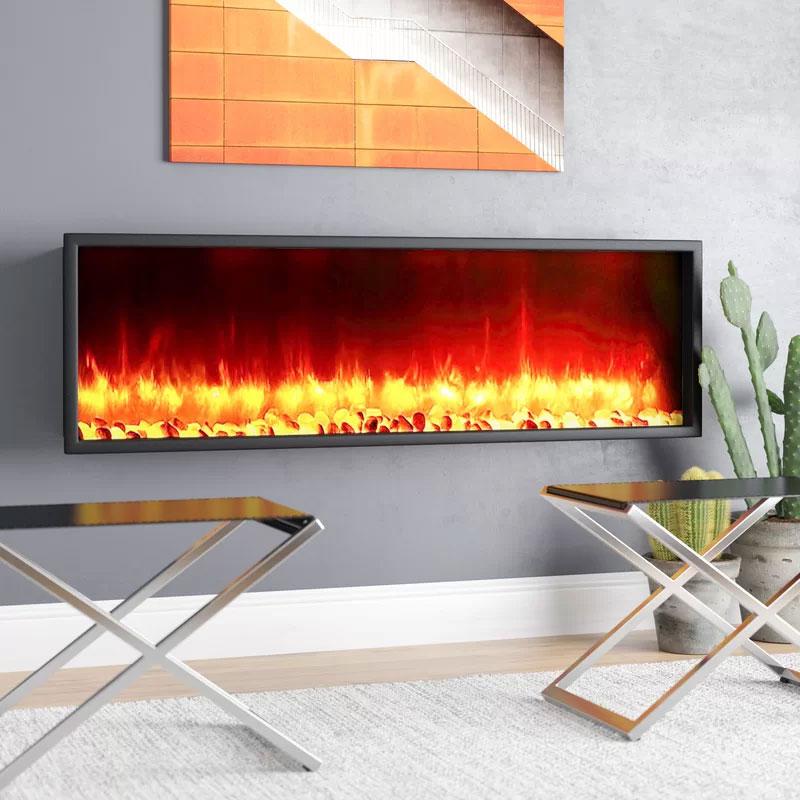 A contemporary take on a classic design, this clean-lined electric fireplace insert turns your living room layout into a cozy retreat while still maintaining a modern aesthetic. Designed to sit recessed in your wall, this fireplace features an LED flame light display and front-facing air vents to heat up to 300 square feet.
---
Gardiner Classic Fireplace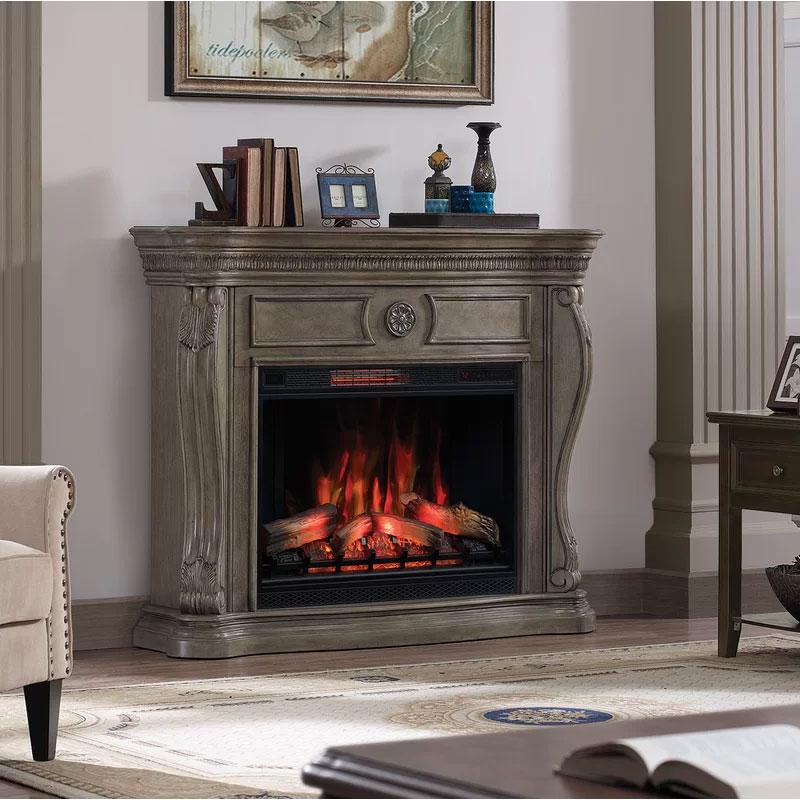 With recessed side and center panels, plus a crown molding top and a substantial bullnose base, this transitional fireplace is framed by solid hardwoods and real wood veneers. The electric fireplace insert provides supplemental zone heating for up to 1,000 square feet and showcases realistic flame effects to create a welcoming environment that friends won't stop talking about.
---
Abbott Electric Fireplace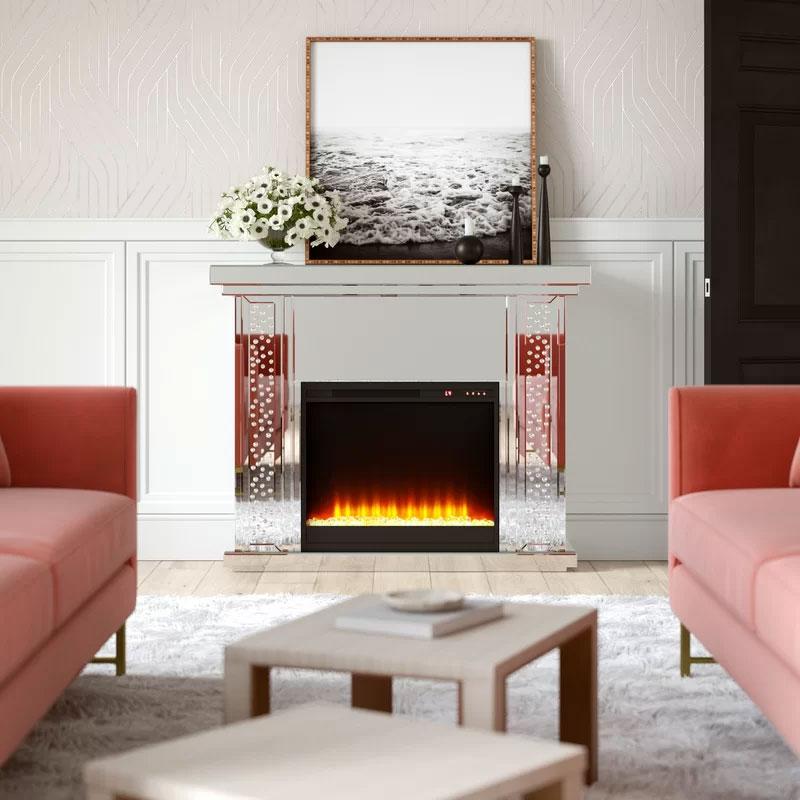 If you want to shy away from subtlety, this lavishly designed mirroed fireplace might be just what you are looking for. The sparkling crystals embedded in the columns glisten and gleam with an air of leisurely beauty, while the mirror panels offer splendid grandeur.
---
Newport Electric Fireplace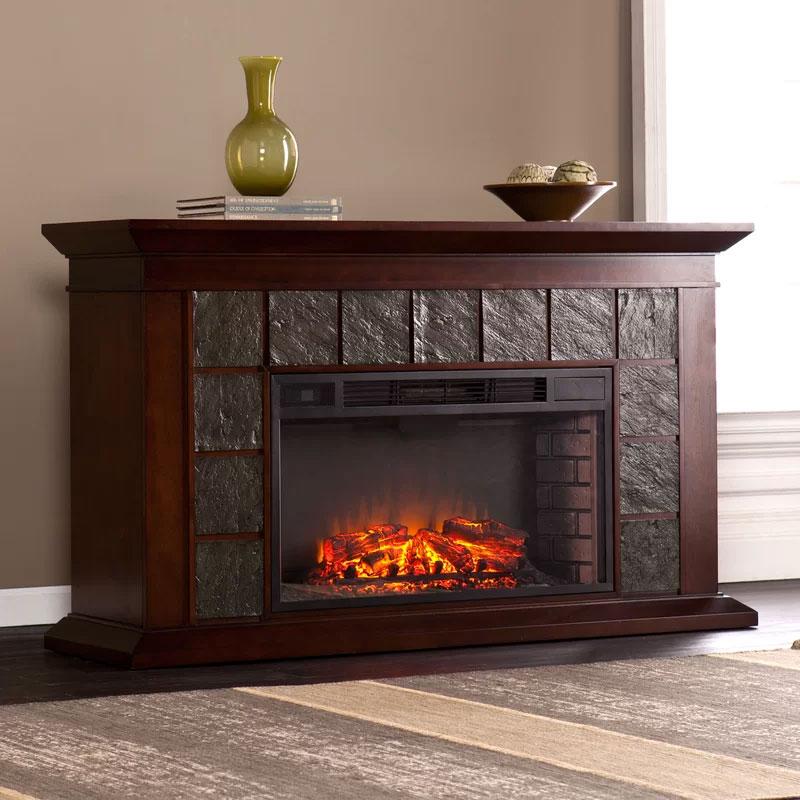 This sleek, transitional fireplace features streamlined crown molding and a warm brown walnut finish. Gray tiles in a slate style surround the firebox for stunning sophistication. The widescreen firebox has realistic, multicolor flames and glowing embers with an interior brick design for a more lifelike look.
---
Gallaudet Wall Mounted LED Fireplace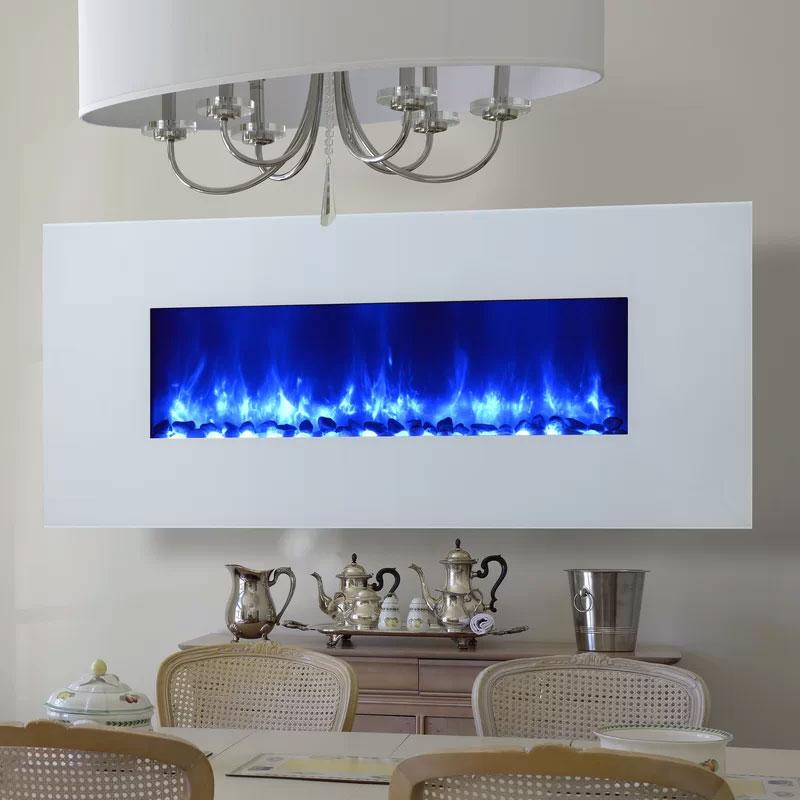 Chic, stylish, and sophisticated, the Gallaudet LED Wall Mount Electric Fireplace is an extravagant option for your living room, family room, or bedroom. Constructed out of premium-quality glass, it has a pure white finish, which looks elegant and blends well with all kinds of decors. This fireplace has flames that flow from a bed of pebbles to impart it with a quintessentially contemporary look.
It's a different kind of blue flame than the one I grew up with as a kid, which is a good thing.
---
Constance Recessed Electric Fireplace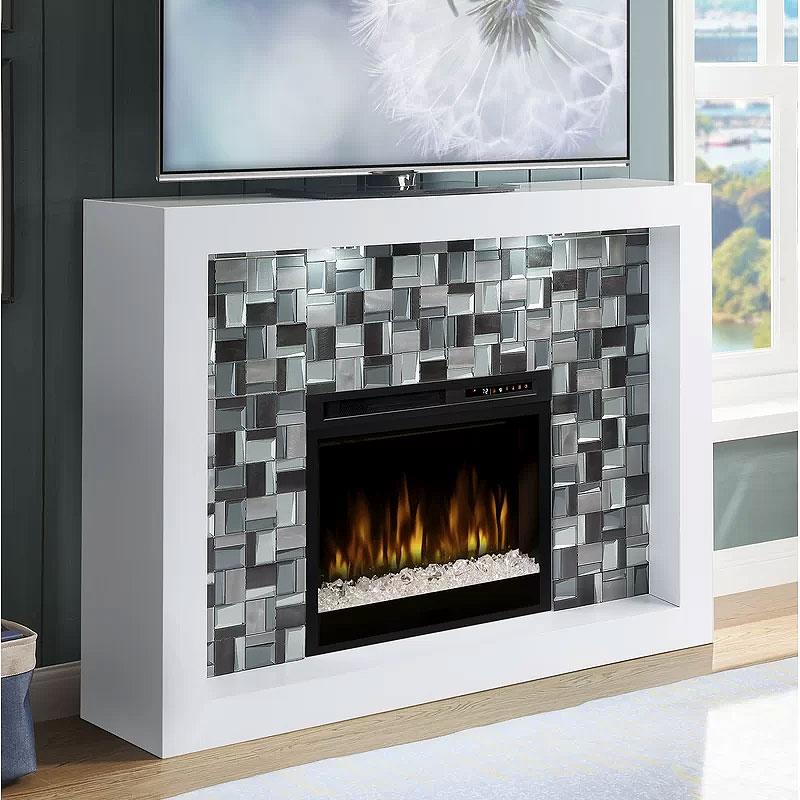 This unit will have your friends and family gasping in awe at the elegant White shadow-box surround, and mosaic tile design leading your eye to electric fireplace at the center. With a simple touch to the control switch, recessed lights (set into the underside of the shadow box) shines down upon the dazzling tile surround. The Mantel is a show-stopper, designed to adorn any wall in decor.
---
Henjes Black and Gold Electric Fireplace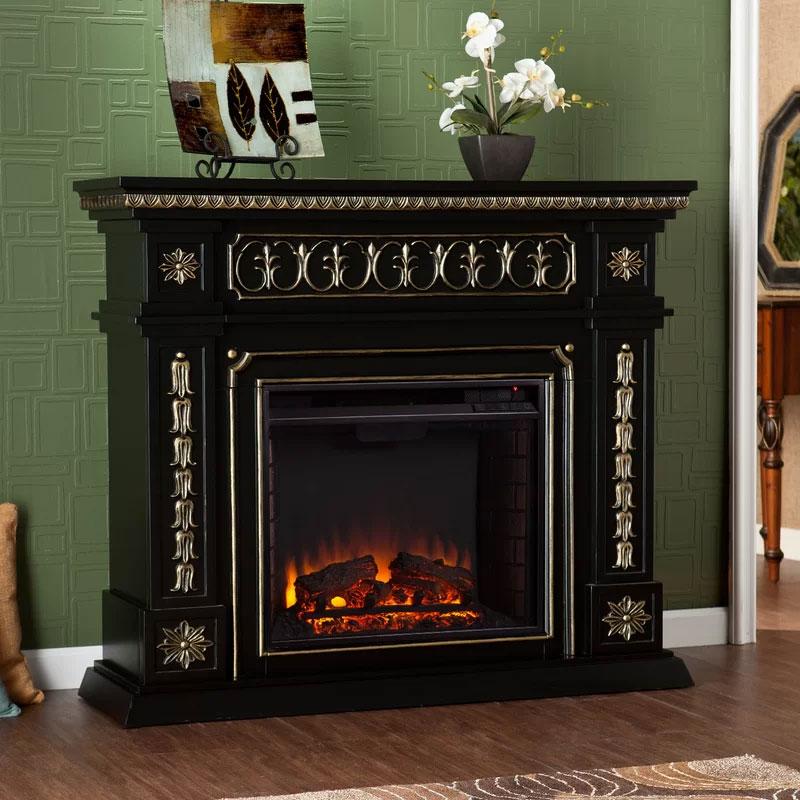 Last, but certainly not least, this stunning piece that will make for a warm and wonderful focal point in any traditional home. This particularly gorgeous electric fireplace is crafted in solid black with intricate gold accents that really stand out.
---
Still Can't Find the Right Electric Fireplace For Your Home?
If you've finished browsing this wonderful collection of electric fireplaces and you didn't find just that right piece to fit in your home, don't worry… there's still more to discover at Wayfair.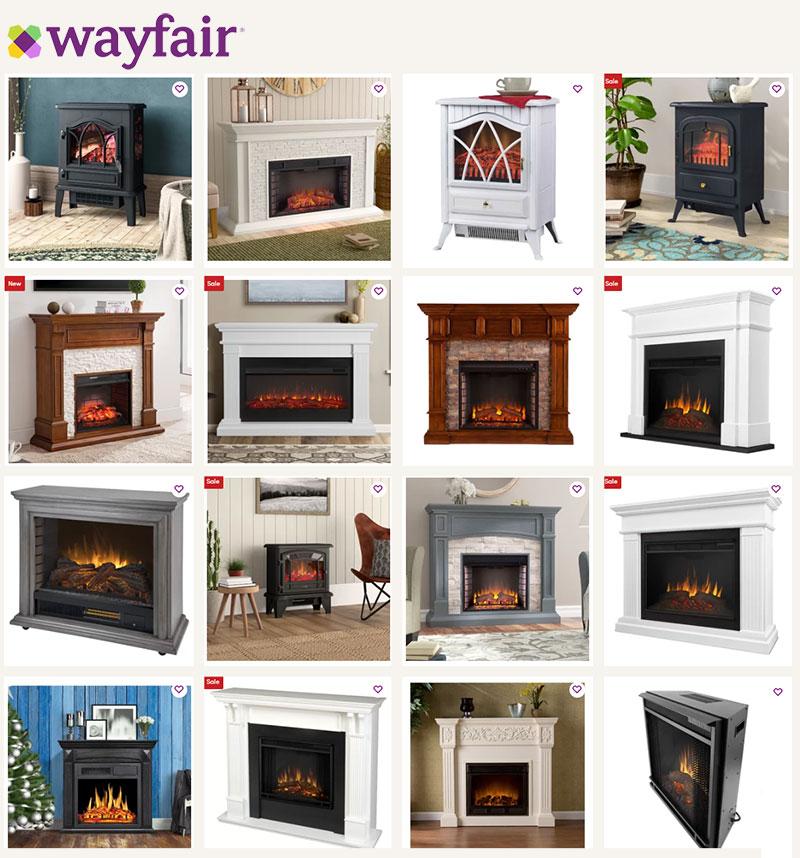 Check out Wayfair's complete collection of Electric Fireplaces. Click Here to see them all!
---
An Electric Fireplace FAQ

Are electric fireplaces energy efficient?
Most electric fireplaces operate at approximately 1500 Watts per hour when set to full heating power. Based on the average cost per kilowatt hour of 13.19 cents, a full hour of your electric fireplace will cost about 20 cents. The flame effect uses very little power (about the same as a light bulb) and will rarely cost more than a few cents per hour.
Are electric fireplaces safe?
Yes, they are. Electric fireplaces do not emit any fumes, CO2, smoke, emissions or any other pollutants. And because they operate on the same safety protocols as most of today's in-room heaters, most have automatic shut-offs to avoid any danger of overheating.
Do I need special electrical for an electric fireplace?
No, most electric fireplaces plug into a standard wall outlet.
Can an electric fireplace be moved?
Because electric fireplaces do not require special venting they can easily be moved from one location to another. Depending on the size and weight of your fireplace you may require two (or more) people to move your fireplace.
Do I need a permit to install an electric fireplace?
For most plug-and-play electric fireplaces, no specific permits are necessary. However, it is recommended that you contact a certified electrician if you are installing a direct wired fireplace that will be built into your wall or other structures.
Does the glass front on an electric fireplace get hot?
Unlike your traditional gas or wood-burning fireplace, the heat source does not come from behind the glass so the glass will remain cool to the touch and is perfect safe for humans and pets.
What maintenance is required with an electric fireplace?
Depending on the unit you purchase, some electric fireplaces require a compact replacement bulb to power the flame effect, usually a 40 watt or 60 watt chandelier-style bulb. Others utilize LED bulbs which can last for up to 20,000 hours and should not need replacing during the lifespan of your fireplace.
Can I buy an electric fireplace without the heating option?
Most electric fireplaces come with a heating element as a part of their standard equipment, however they do offer the option to operate without the heat turned on if you only want the visual of the flame.
Can you put an electric fireplace on a time or smart plug?
It depends on the control module for the fireplace. Keep in mind that all a timer or smart plug does is interrupt the power flow to the device that's plugged into it. If your fireplace has a manual (e.g. a toggle) switch or the control module "remembers" your settings during a power outage, then you should be able to use a timer or smart plug. If not, a timer or smart plug will not work.

The easiest way to find out is to turn your fireplace on, unplug it, wait 30 seconds and plug it back in. If it returns to the previous function, then a timer should work. If you have to use the control module or remote control to activate the fireplace again after the power interruption, the same thing will happen with a timer or smart plug.