Crispy on the outside, soft and chewy on the inside, and coated with decadent dark chocolate, these coconut macaroons make a lovely treat any time of the year.
Jump to Recipe
As a fan of coconut, I have always loved coconut macaroons, but I struggled to find the right recipe. Some would turn out too dry. Others would end up as a soupy mess that never quite baked correctly.
None of the recipes I tried had that perfect mixture of a crisp and golden outside while remaining tender and chewy on the inside, which is how I like my coconut macaroons.
At least until I finally figured out the secret to making perfect macaroons every single time.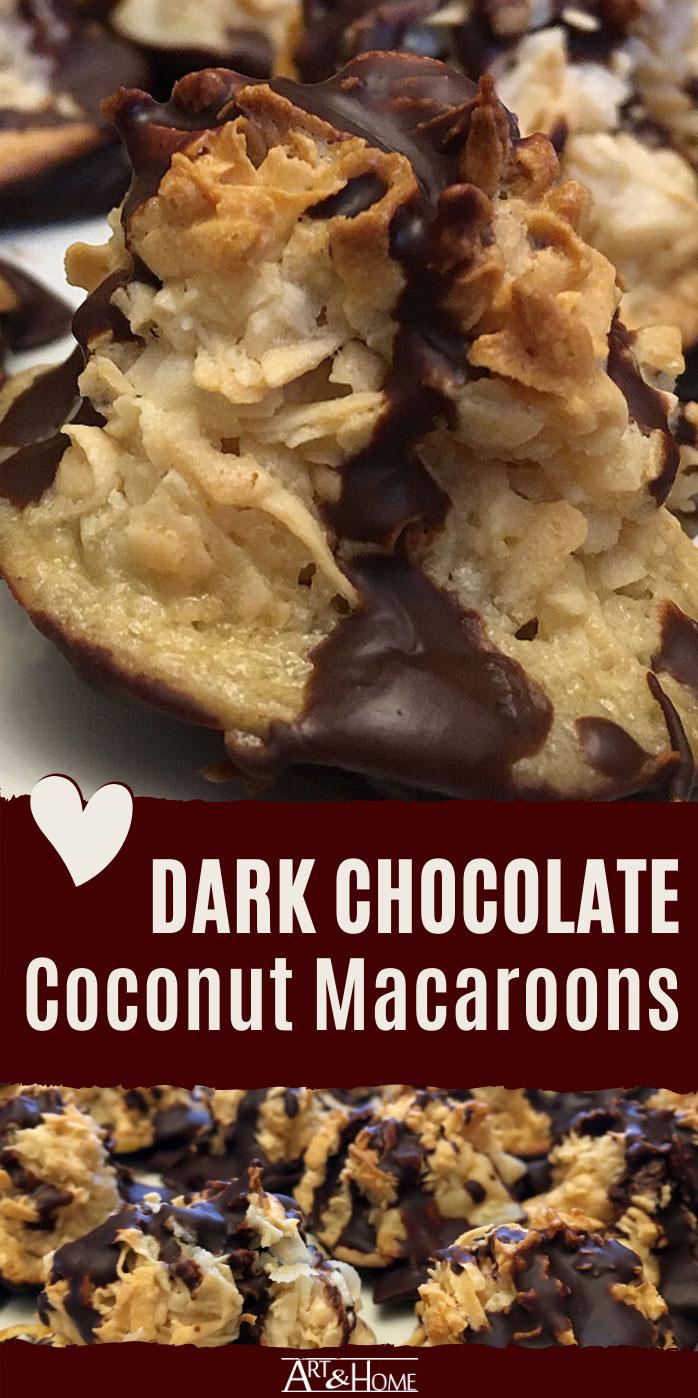 Eventually, I learned an important trick from Jenn Segal; you have to watch your liquid (aka sweetened condensed milk) to coconut ratio to make sure that these macaroons aren't too dry or too soupy.
Through my own experimentation, I have found that the measurements below create the perfect blend of crispy and chewy macaroons that bake up beautifully every single time.
The only downside with these measurements is that they don't always align perfectly with the pre-measured bags of coconut or chocolate chips, so you might need to find other uses for some of the left-over ingredients.
Perhaps a dark chocolate cheesecake? Or a batch of magic bars? Just an idea (or two)!
---
Baking up a Batch of Dark Chocolate Covered Coconut Macaroons
The first step in this easy to follow recipe is to mix the coconut with the sweetened condensed milk and the vanilla in a medium bowl. You want to fold them together using a wooden spoon or spatula until the coconut is well covered with the sweet mixture.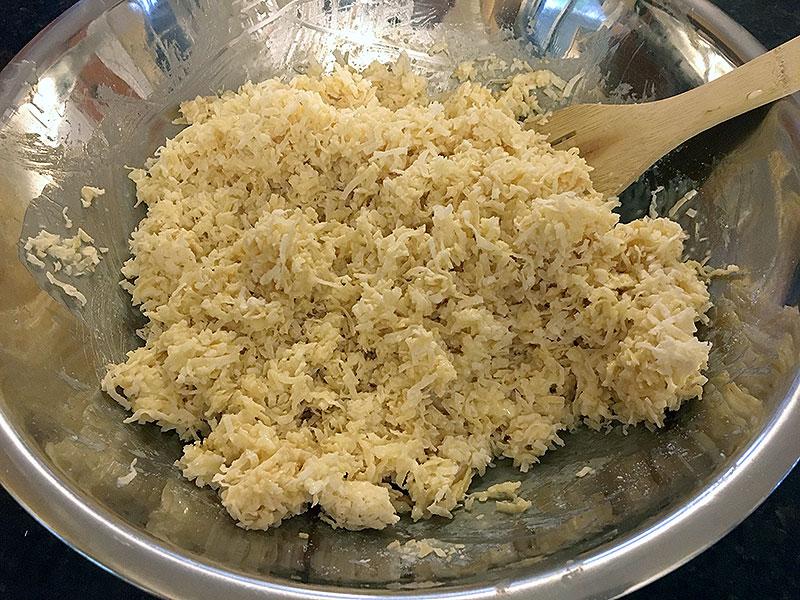 Then you can set the mixture aside to set while you work on the egg whites.
In a separate, smaller bowl, divide the egg whites and then add 1/4 teaspoon of salt. Then whip it. Whip it good!
You want to create a sort of a meringue, so keep whipping until you see stiff peaks form in the egg whites.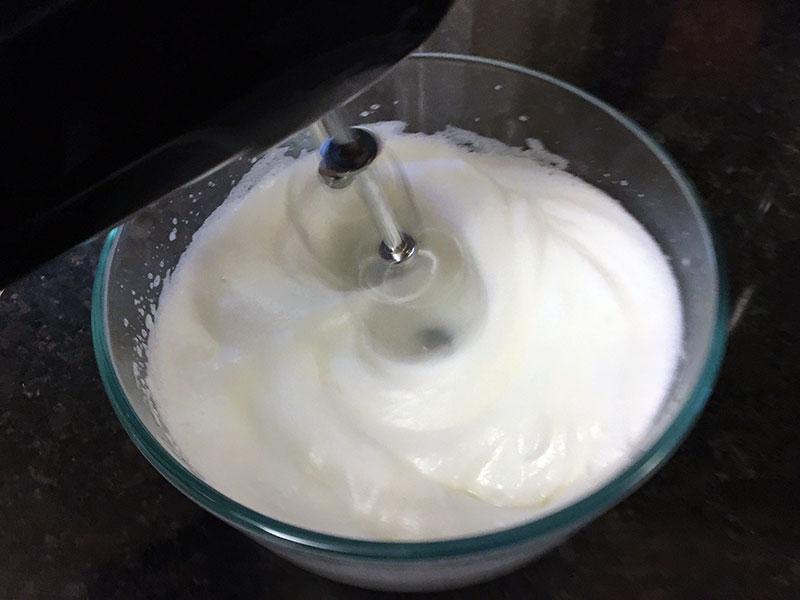 Then you can use that same wooden spoon or spatula (I'm being very dishes conservative here, can't you tell??) to fold the egg white mixture into the coconut mixture.
And that's it, the first part is done!
Make sure your oven is preheating to 325° F as you spoon your mixture onto prepared baking sheets.
I highly recommend using a small cookie scoop to spoon the mixture, but you can use everyday tea spoons if you don't have one of these handy scoops.
Unfortunately, I lent my cookies scoop to a friend and I didn't realize that I they hadn't returned it yet, so I had to resort to the "two-spoon" method for this batch.
If you're using spoons instead of the scoop, pack the mixture well. If you leave it too loose, the macaroons tend to flatten out into more of a cookie form than the traditional macaroon shape while baking.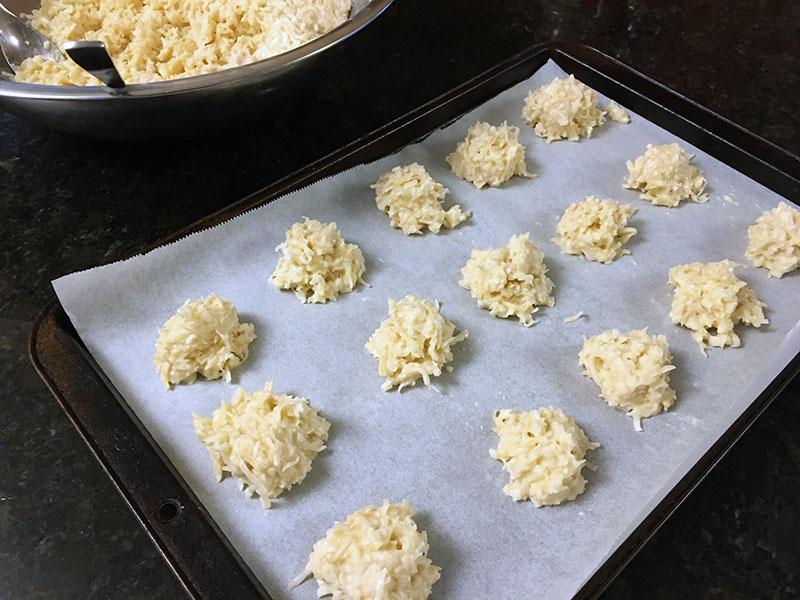 You'll probably need to use 2 cookie sheets unless you have one of those really massive baking sheets. Just make sure you leave about 1 inch between each of the coconut macaroon.
Put your cookies into the oven, as close to the middle of the oven as possible and bake for 24 minutes. If you're using two sheets on different rakes, you may want to rotate the sheets halfway through.
If you do open the open to rotate the racks, I usually recommend adding 1 minute to the cooking time to account for the heat loss when you open the over door. Just watch your times the first time you bake them to make sure they aren't over or under-cooked based on how accurate your oven temps are.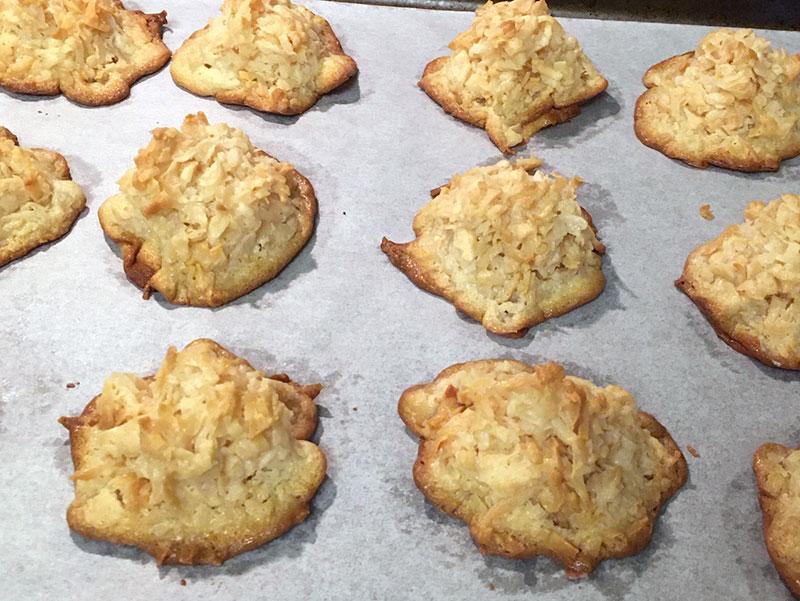 Once the coconut macaroons come out of the oven, you'll be tempted to eat them just as they are, because they will look DELICIOUS! But try to control yourself (aka limit your snacking to 1 – 3 macaroons at the most). They get even better after the next step, and you'll want to save room.
---
Next Comes the Chocolate Coating
About half of the chocolate is used for dip the macaroons and the other half is used to drizzle on top. It's your call if you want to melt it in two stages, or melt all of the chocolate together.
I usually melt both cups at the same time because I find it easier… but it's completely your call.
Once the macaroons have thoroughly cooled and your chocolate is thorough melted, you want to dip the bottoms of each coconut macaroon into the chocolate and then place back on the baking sheets.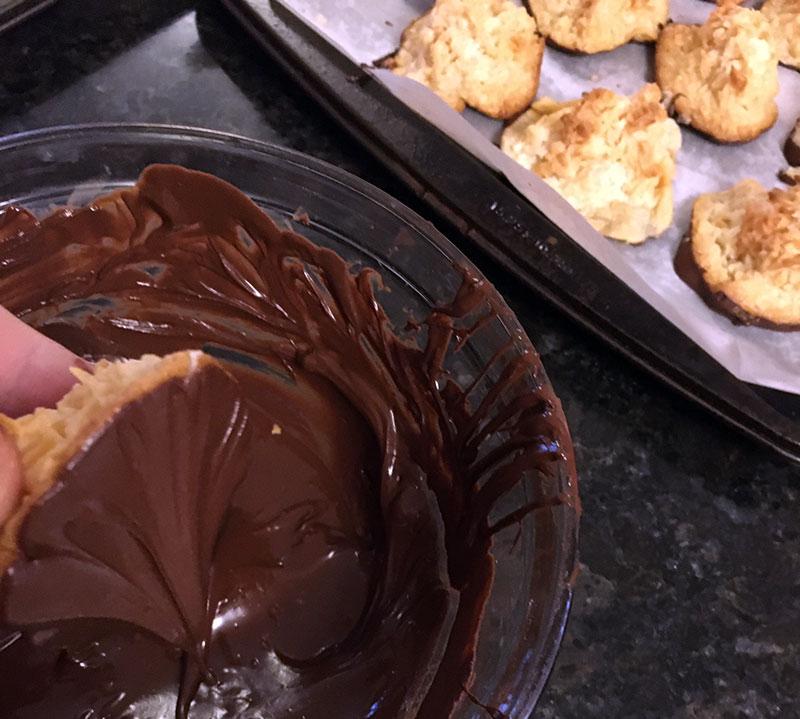 You want to place them as close together as possible, so you can probably get them all squeezed onto a single baking sheet at this time. But leave the parchment paper on, as that will help get them off the pan once the chocolate has cooled.
When all of the bottoms are covered, mix 1 tbsp of coconut oil into the remaining melted chocolate chips. This will help smooth out the chocolate and makes it much easier to drizzle. But don't go overboard on the coconut oil or the chocolate will not set properly afterward.
Although I prefer to use coconut oil for coconut macaroons (for obvious reason). If you don't have any handy, standard vegetable oil will also do the trick.
Using a spoon, scoop up some chocolate mixture and drizzle to your heart's desire across the top of your macaroons. Once they are well drizzled (if that's a thing???), place them in the fridge and let them cool.
---
Mixing it Up
For a seasonal variation, sprinkle some Christmas (or other themed) sprinkles on top before the chocolate has had a chance to set.
You can bake up a batch of these chocolate covered coconut macaroons for any occasion… Christmas, birthdays, Halloween, housewarmings, or you can keep them exactly as they are and just to snack on them by yourself while watching your favorite movie on Netflix.
Not that I'd EVER do such a thing like eat an entire batch of coconut macaroons myself. That would be silly (of me to admit).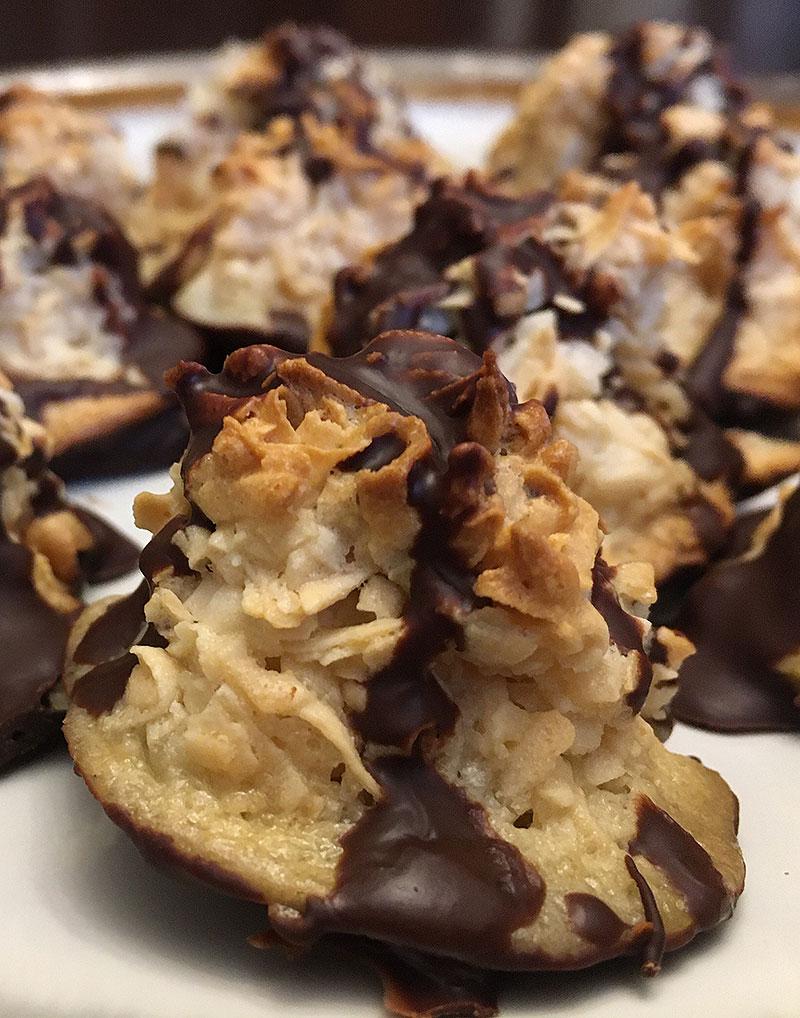 ---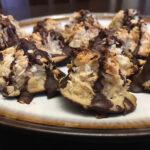 Print Recipe
Dark Chocolate Covered Coconut Macaroons
Crispy on the outside, soft and chewy on the outside, and coated with decadent dark chocolate, these coconut macaroons make a lovely treat any time of the year.
Equipment
Measuring Cups & Spoons

Mixing Bowls

Electric Mixer

Cookie sheets

Parchment paper

Spatulas

Cookie dough scoop
Ingredients
6

Cups

Sweetened Coconut Flakes

1

Can

Sweetened Condensed Milk

1

Tsp

Vanilla Extract

2

X-Large

Eggs

Egg Whites Only

1/4

Tsp

Salt

1

Cup

Semi-Sweet Chocolate Chips

1

Tbsp

Coconut Oil
Instructions
Making the Coconut Macaroons
Preheat the oven to 325° F

Line cookie sheets with parchment paper.

In a medium mixing bowl using a wooden spoon or spatula, mix the coconut, condensed milk, and vanilla. When thoroughly mixed, set aside to rest while you work on the next step.

Separate egg whites into a small bowl and add 1/4 teaspoon of salt.

Beat the egg whites & salt on high until firm peaks form like a meringue.

Gently fold the egg white mixture into the coconut mixture.

Use a cookie scoop to drop mounds of the mixture about 1 inch apart onto the parchment-covered baking sheets.

Bake for 24 – 25 minutes until the tops are a lovely golden brown. If you are using multiple baking sheets, you may need to rotate them halfway through.

Remove from oven and let cool completely before proceeding to next step. To speed this process, you can cool in the fridge if needed.
Covering the Coconut Macaroons with Chocolate
Melt chocolate chips in the microwave or using a double boiler

Dip the bottoms of the cooled macaroons into the melted chocolate and place back onto the lined baking sheets, leaving as little space between them as possible

Once all of the bottoms are covered, mix 1 tbsp of coconut oil into the remaining melted chocolate. You may need to return to heat quickly if the chocolate has begun to cool. This will add a bit more liquid to the chocolate to allow it to drizzle easily.

Using a spoon, drizzle the remaining melted chocolate on top of the coconut macaroons, creating whatever patterns you desire.

Put in the fridge and allow the chocolate to set for 10 – 20 minutes.