Whether or not you live in a place where you can experience the beauty of fall colors in person, this collection of pictures of fall foliage will let you virtually enjoy all the beauty that fall has to offer. Think of it as a Fall Foliage Color Tour, but from the comfort of your own home!
Fall is a season of change, as summer fades away and makes room for winter's sleep, the world starts to change its color palette, seemingly overnight. As the changing landscape explodes into a kaleidoscope of warm & rich fall colors, it is a gorgeous sight to behold.
Yes, there is something a little bit melancholy about fall, as it signals the end of summer and the pending onslaught of winter's wrath. It is a season of falling leaves, pumpkins, spiced lattes, and breaking out those warm, woolly sweaters yet again. It is a time when we don't want to turn the heat on quite yet, but often have to cave when the temperature dips a bit lower than we're comfortable with.
But, despite it being the harbinger of colder times, for a brief yet glorious period, the world around us is filled with beautiful fall colors. Fall also provides a bounty of naturally sourced materials for DIY Fall decor.
Granted, not everyone lives in a place where this seasonal phenomenon occurs.
That's why travel operators offer Fall Color tours, to let people spend a few days exploring this unique world filled with orange, yellow, and red. From scenic fall train tours through the Canadian Rockies to some of the best fall foliage trips in the USA, people around the world go out of their way to experience this force of nature.
The reason I love fall is pretty self-explanatory, but I'll briefly explain anyway… this is a blog, after all. Fall is the perfect time to fall in love with all of your sweaters again, it's the perfect time to cozy up on the back deck with a steaming cup of hot chocolate. The days are lovely and warm, but the nights provide cooler weather that is perfect for cozying up by the fireplace.
Fall is also considered a transitional season. That's why many people are inspired by the fall colors and find themselves dreaming of painting their houses red, brown, yellow, or rustic orange.
It's the perfect time to start baking warm fall desserts (chocolate cheesecake anyone? Or maybe you'd prefer a seasonal pie?). It's the perfect time to settle in for a relaxing night with a movie, either something new from Netflix or you can re-watch one of the classic movies from the past. There's also something about the sounds of nature that are especially relaxing at this time of year.
The Science Behind Fall Colors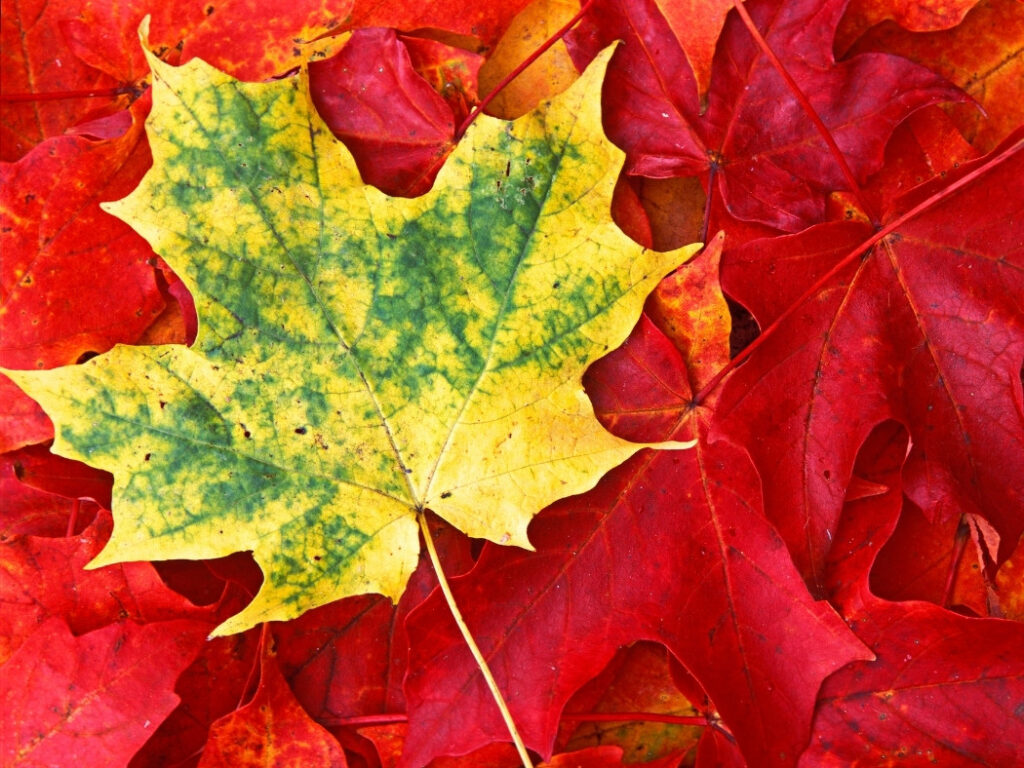 You can see the early signs of fall have in parts of the country. For a few weeks now, the air has gotten noticeably cooler at night, leaves are starting to turn colors, and you can see the early birds starting their migration south for the winter.
When I was younger, I didn't understand why people loved fall so much, after all… winter (my LEAST favorite season) wasn't far behind, so fall was always a sad reminder that summer was finally over. But after having experienced it in more ways than I ever thought possible, I'm now convinced that fall is one of the most beautiful times of the year.
But how is it that such a beautiful, atmospheric time of year happens at all? What makes leaves change colors? Why does every part of the fall experience have to be beautiful, from the first hint of red in the early days of fall to the last smudge of yellow as the last leaf falls?
There is a science behind the beauty of fall. And the funny part about fall foliage is that the color doesn't actually "change" from green to its autumnal shade, it simply reveals itself. According to National Geographic, chlorophyll (the compound which gives leaves their rich, green color) begins to break down, which allows for the masked pigments to show themselves. These pigments, sometimes carotenoids and sometimes anthocyanins, are usually dominated by the green chlorophyll pigments during the summer months. But as fall approaches and the leaves start to die back, the chlorophyll loses its hold on the other pigments and they are allowed to shine through for a brief but beautiful moment.
When a tree has carotenoid pigments, the bright yellow-orange color is always there, but it's just hiding until the green chlorophyll begins to die. The long, cooler nights of fall trigger this process, which effectively erases the green and exposes the subtler yellow and orange colors underneath.
Those vibrant red leaves get their impressive fall colors from anthocyanins, which form during the onset of autumn, and are derived from the sugars inside the cell sap. They can show themselves as deep reds, pinks, or purples. When the days are warm and sunny, sugar production increases which lead to more red pigments. When night falls, the cooler temperatures cause the leaf's vein structure to close up, which prevents the red pigments from flowing back out or spreading across the leaf. That's why you see those clearly visible vein patterns in red leaves.
Last, but not least, there are trees – such as the mighty oak – which have leaves that are rich in tannin. This causes the leaves to die back to a warm, rich, brown color. Although when we think of fall colors, we don't normally celebrate the brown leaves, there is something so warm and comforting about that soft and gentle color.
Sunny days, cool nights, and not too much rain are the perfect combination to create the most glorious display of fall colors.
There are so many reasons why fall is a beautiful time of year. And luckily, there are so many things that you can do in order to see the best fall foliage that nature has to offer, especially if you live in an area where it doesn't get its show on.
Why Fall Has An Emotional Impact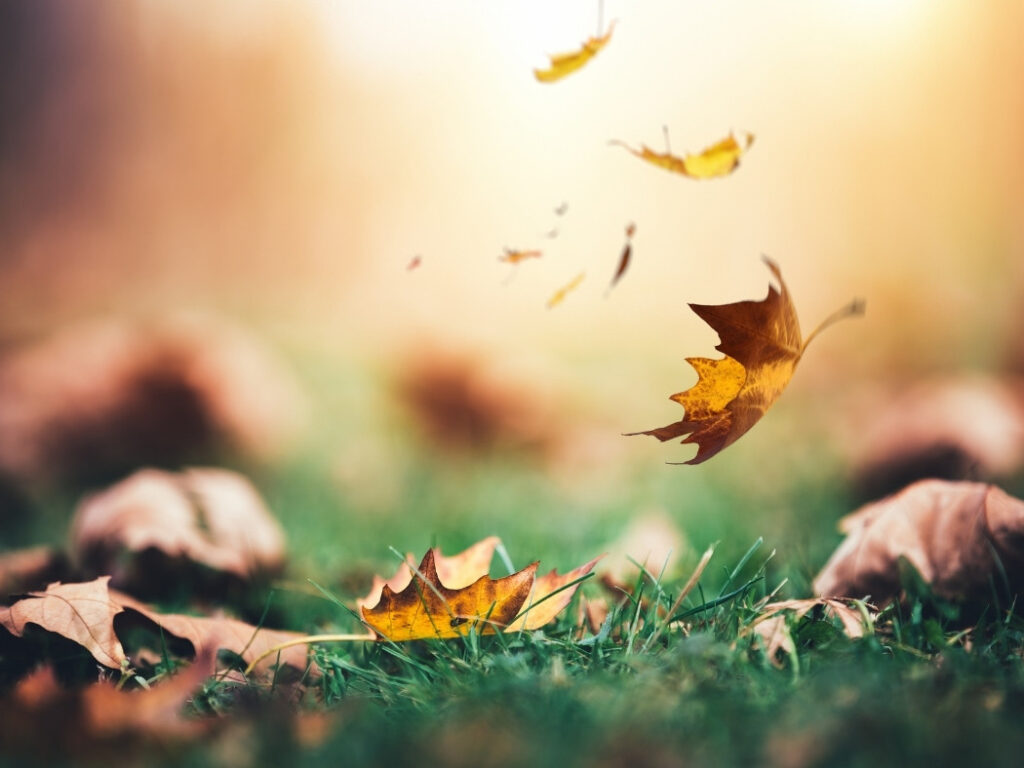 If you live in a concrete jungle where fall doesn't really bring a change in the landscape, you may not realize just how amazing fall colors can really be. Of you might live in a part of the country where the leaves don't have a spectacular transformation as the temperature starts to drop.
The typical oak, maple, cherry, and birch trees you see are very different from the colors you get in a forest full of red and orange leaves. There is something so serene about watching a pretty red leaf slowly fall from the branches of an oak tree. You see the ripples in the fall leaves as the wind makes them dance, and you can actually feel the colors changing as you watch. If you've never experienced an autumn season of falling leaves before, you may not realize just how deeply they can affect you. Foliage is so evocative that many people report feeling nostalgic and spiritual when they witness it for the first time.
If you don't live somewhere that paints its landscape in the colors of fall, perhaps a Fall Colors Tour is in order, either in person or virtually.
Top 25 Most Beautiful Places for Fall Color
If you're thinking about taking a trip to experience fall colors for yourself, these are (in my opinion) the Top 25 Places in North America where you can enjoy beautiful fall colors.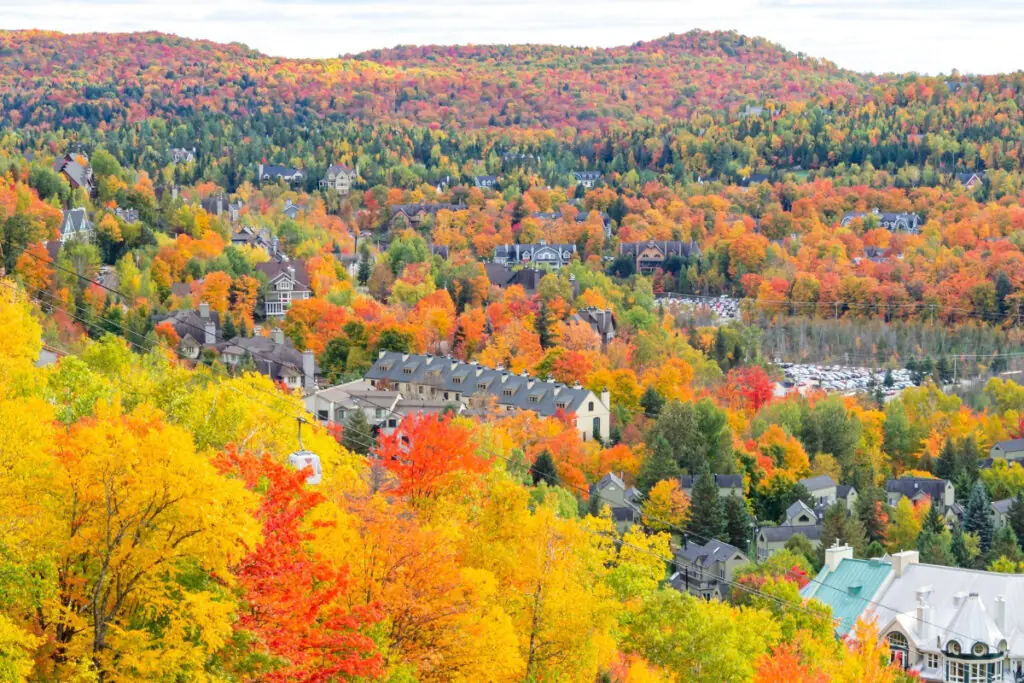 Mont Tremblant, Quebec
Mont Tremblant is a ski resort area in Eastern Quebec, Canada. It is best known for its world-class ski slopes, but it also features the most beautiful fall foliage in the country. If you want to be inspired and want to plan a Fall Foliage Holiday, Mont Tremblant is the perfect destination.
This picturesque mountain town is home to many beautiful waterfalls. If you're planning a trip to Canada this fall, you may want to make a stop at Mont Tremblant to experience the fall foliage in all of its beauty.
In addition to its stunning fall vistas, this quaint town has lots to offer, including a ski hill, a lakefront, a golf course, a waterpark, a spa, and more! That way, you can relax with a pedicure after you've taken a scenic drive through the fall colors.
---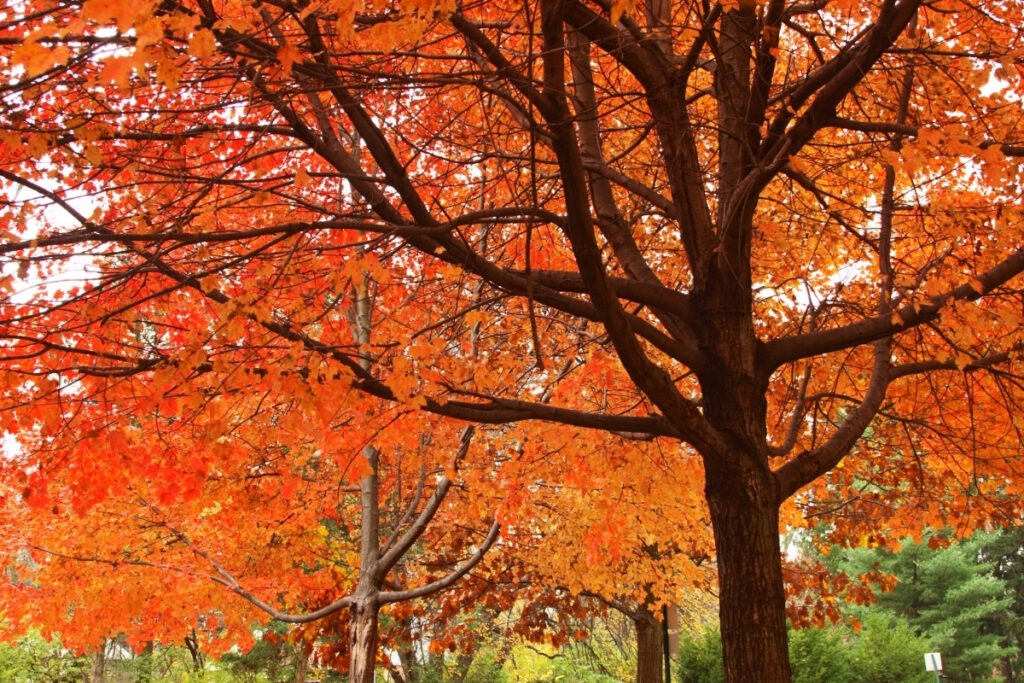 Indianapolis, Indiana
If you're a fan of foliage, look no further than Indianapolis, Indiana. With some of the prettiest trees in the region, Indianapolis is the place to go to see fall colors. The capital of Indiana also features a growing foodie scene with dozens of restaurants and bakeries opening in the past few years including farm-to-Table dining and a variety of wineries.
While there are many places around the country where you can catch a glimpse of the changing season's changing colors, Indianapolis has a special significance for many people because of its history as a cultural center for the Midwest.
But, as you can see, the fall colors are also abundant in Indiana. Whether you're enjoying the changing colors from your vehicle or from a nearby park, you'll find something that speaks to your soul in the beauty of Indiana's fall foliage.
---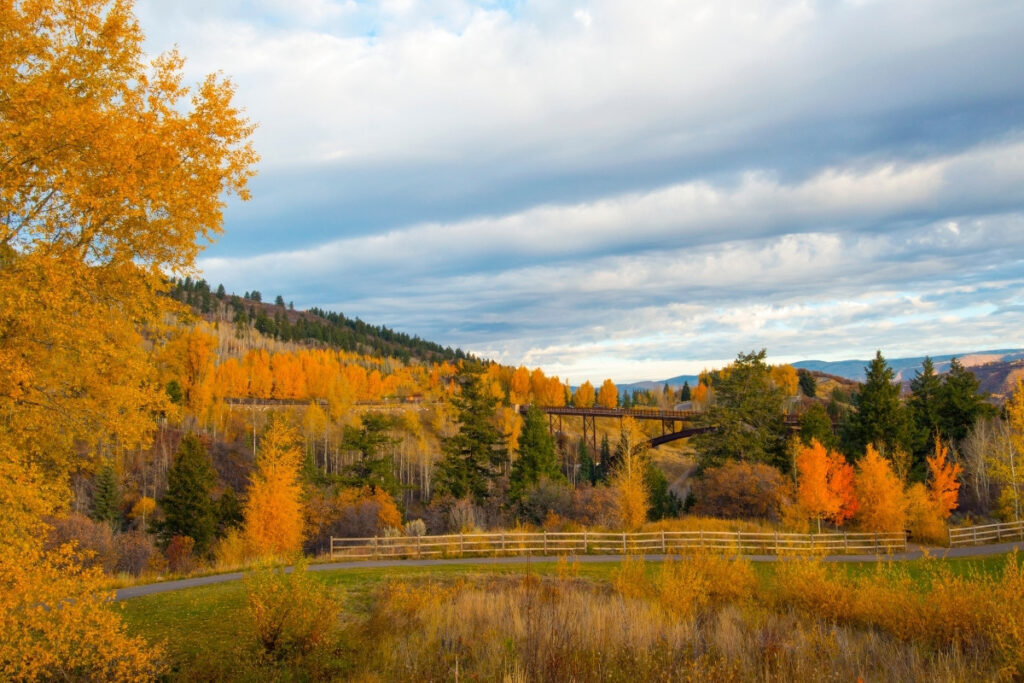 Aspen, Colorado
Aspen, Colorado is one of the most beautiful places in the United States. You can't find a more beautiful place to visit in the fall than Aspen. The town itself, along with the surrounding mountains, are aglow in color for the entire month of October.
From the tree-lined streets of downtown to the dramatic mountain top views, to the charming and historic hotels that dot the town's bustling Main Street, there is nothing not to love about Aspen.
---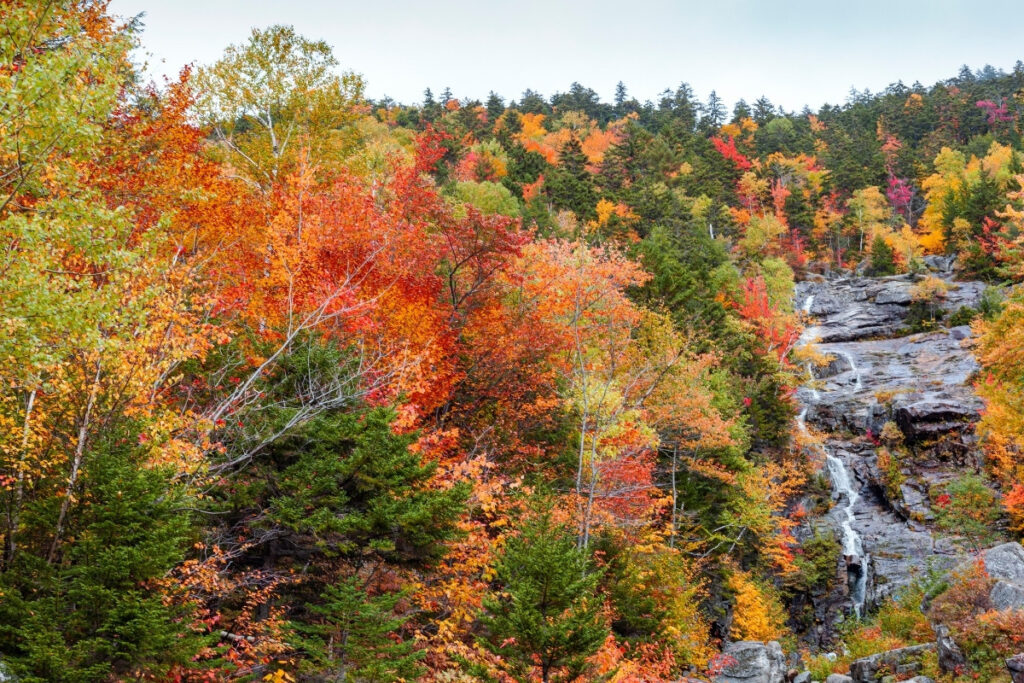 The White Mountains Trail, New Hampshire
The White Mountains are considered the true heartland of New England. You will find lakes, lakeside hiking trails, lakeside playgrounds, historical sites, historical monuments, great hikes, stunning views, colonial-era homes, and much more!
The White Mountains make up one of the most beautiful areas in the world, and they have many spectacular hiking trails with outstanding views during the fall. Take some time exploring some of these hiking trails and you'll discover how truly breathtaking they are. The fall colors are just too perfect to pass up. Plus, the trail names will help you learn the names of the beautiful trees and shrubs that are abundant in the forest.
---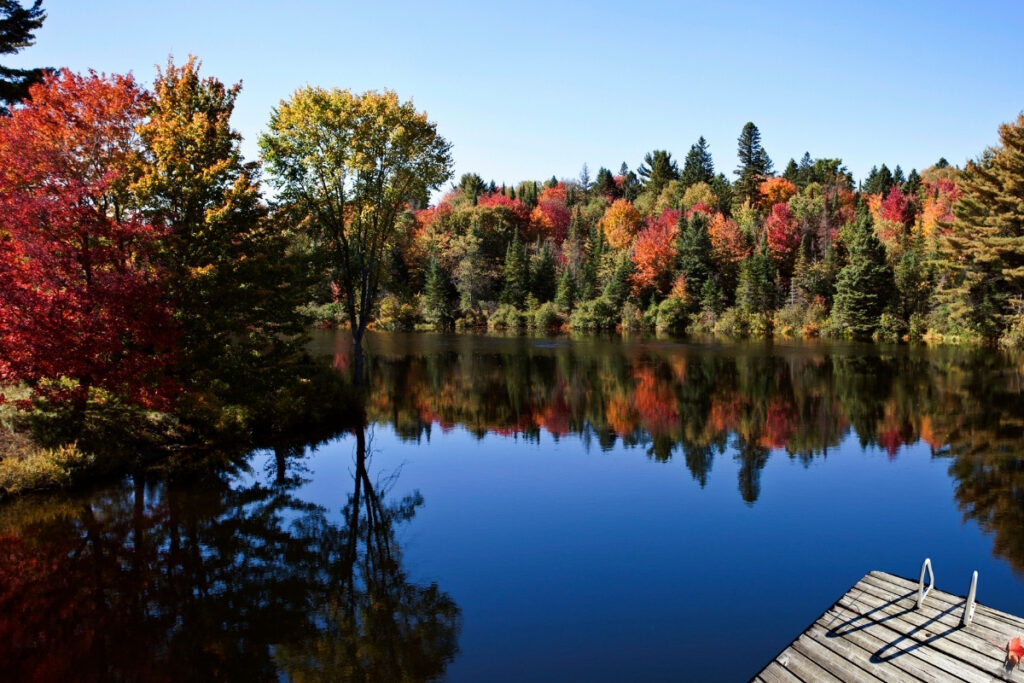 Muskoka, Ontario
For those living – or planning on traveling – north of the border, it's important to make time to visit places like Muskoka, Ontario, where all the colors are on full display during the peak.
Muskoka is a beautiful, natural environment and plenty of outdoors fun. You'll find beautiful lakes, a vast network of national parks, picturesque forests, and farmlands with gorgeous homes. Muskoka is located in Central Ontario, north of Toronto, and is considered a fairly touristy area.
---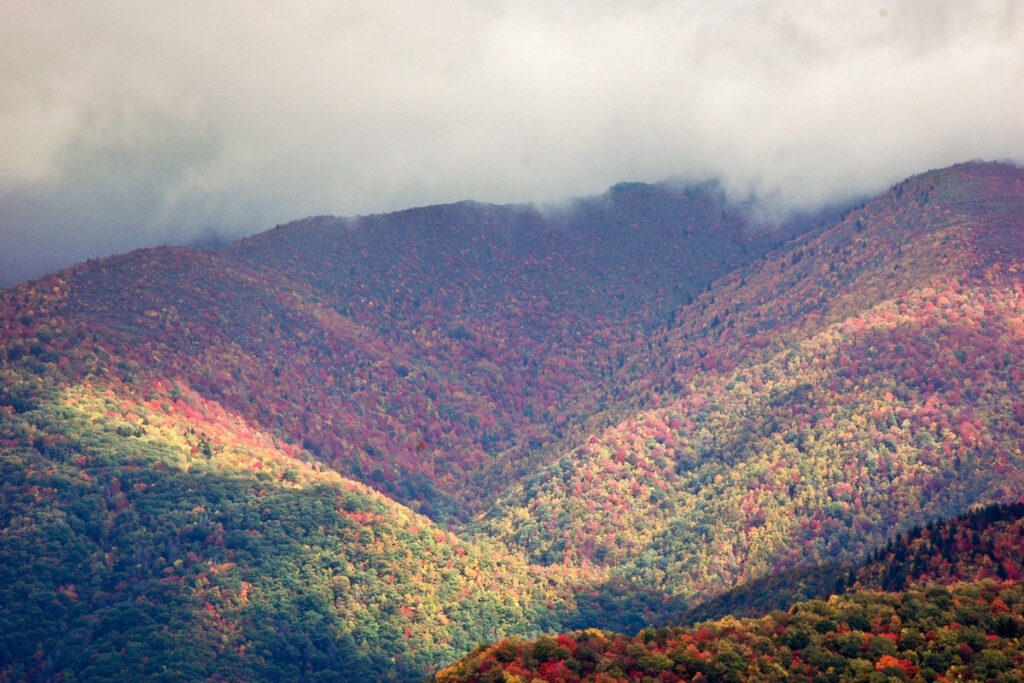 Blue Ridge Parkway, North Carolina
From Carolinian spruce forests to sandhills, the Blue Ridge Parkway in North Carolina is one of the most popular places in the United States to see fall colors. It's an incredible 3,970-mile long scenic highway that offers a variety of terrain and viewing angles.
In my opinion, this is one of the most incredibly scenic drives in the entire US and I think you'll agree after you see some of the pictures.
So put on your favorite foliage gear, grab some gourmet snacks, and prepare to enjoy some incredible fall foliage and scenic beauty.
---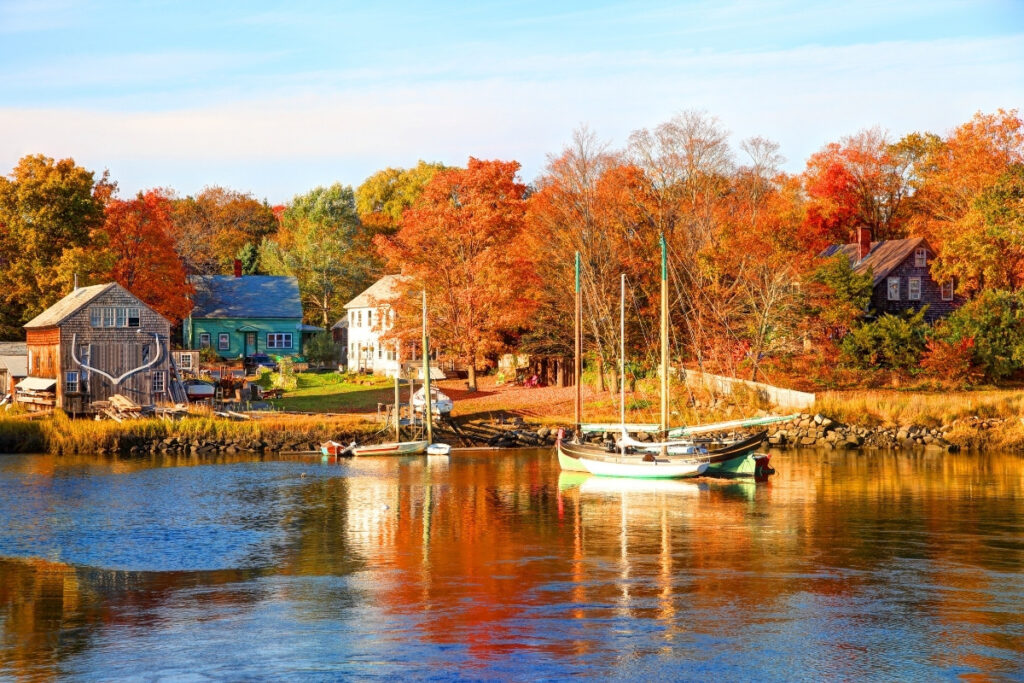 Essex County, Massachusetts
Essex County is well known for its beautiful fall foliage, so much so that it was once listed as one of the "Top 10 Fall Destinations" in the United States. And while you may not have had the chance to experience these autumn colors in person (yet!), you can see just how stunning they are in pictures.
Beyond Essex County's fall color display, it also boasts a whole lot of natural beauty and charm. And, since there are 7 towns and villages in Essex County, it's a nice way to take your trip a bit farther than what just one town might have to offer!
---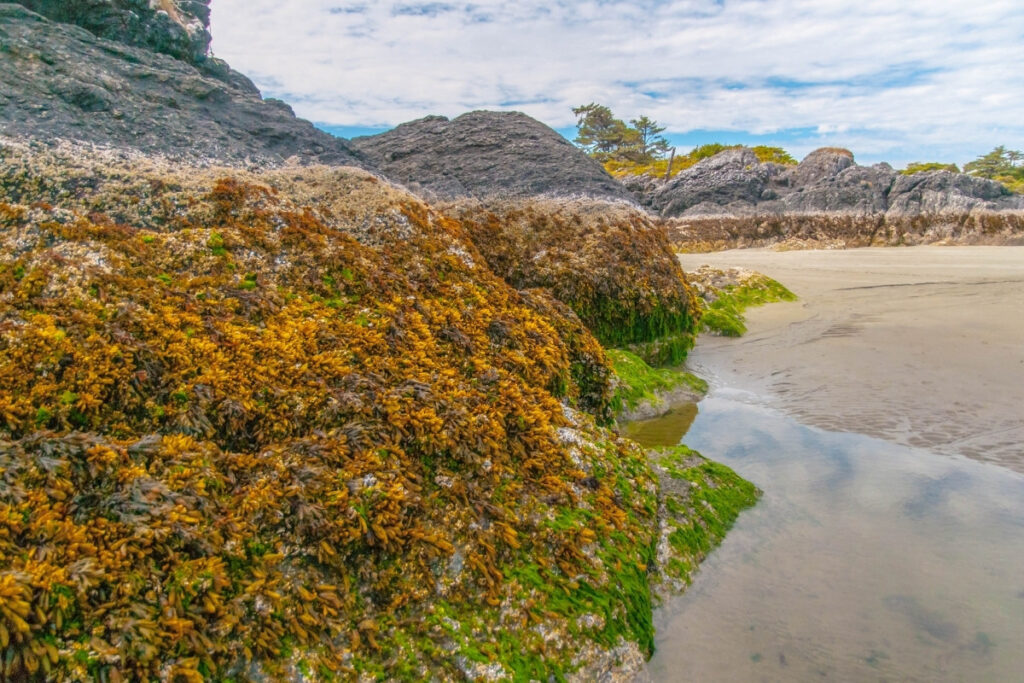 Tofino, British Columbia
This beautiful little island town is located on the western tip of Vancouver Island and is just 3.5 hours away from Seattle. It offers a vibrant array of beaches, quaint tourist traps, and a wide range of activities, from whale watching to hiking and rock climbing.
Tofino has tons of nature to explore, as well as wonderful art galleries and boutiques. You can hike the beaches and snorkel in the ocean, or take a scenic drive through the rainforest. Some of the best whale and sea lion watching along the west coast of the USA can be found in the summer, but come fall, it is even better! There is no better time to watch humpback whales pass through and feed on the local food resources. It's a truly magical time to visit!
---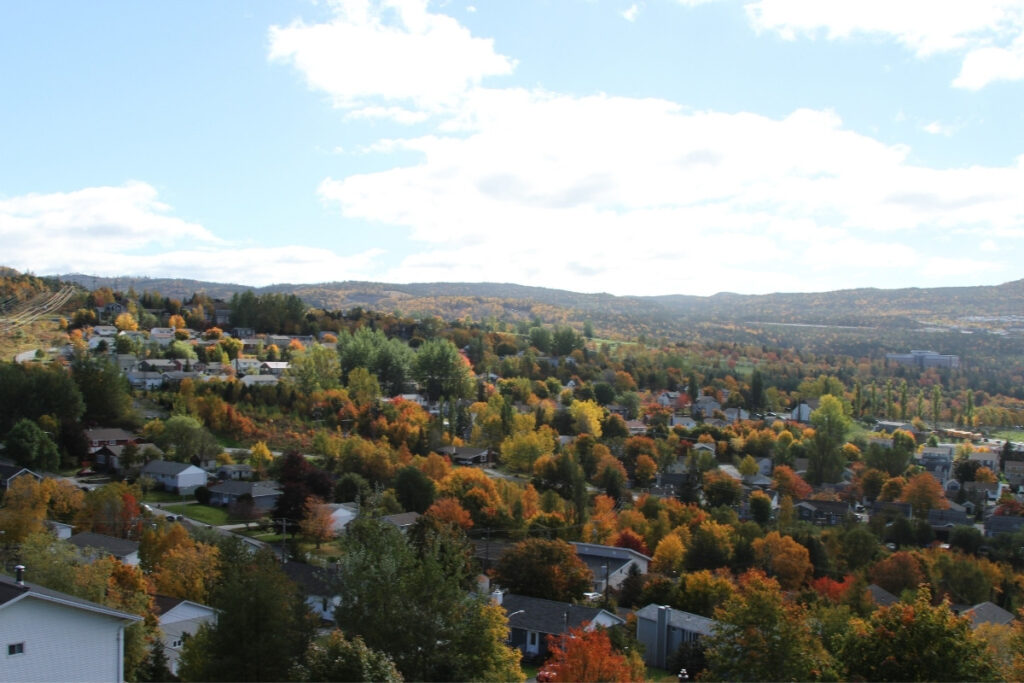 Humber Valley, Newfoundland
If there's anywhere that calls out to be photographed in fall, it's the forests of Newfoundland and Humber Valley. If I had to describe it in a single word, I would say that Humber Valley is "totally insane", but in a good way! (ok, that was two words, but I won't tell if you don't).

If you haven't been to this area before, you're this fall might be the perfect time to check it out.
---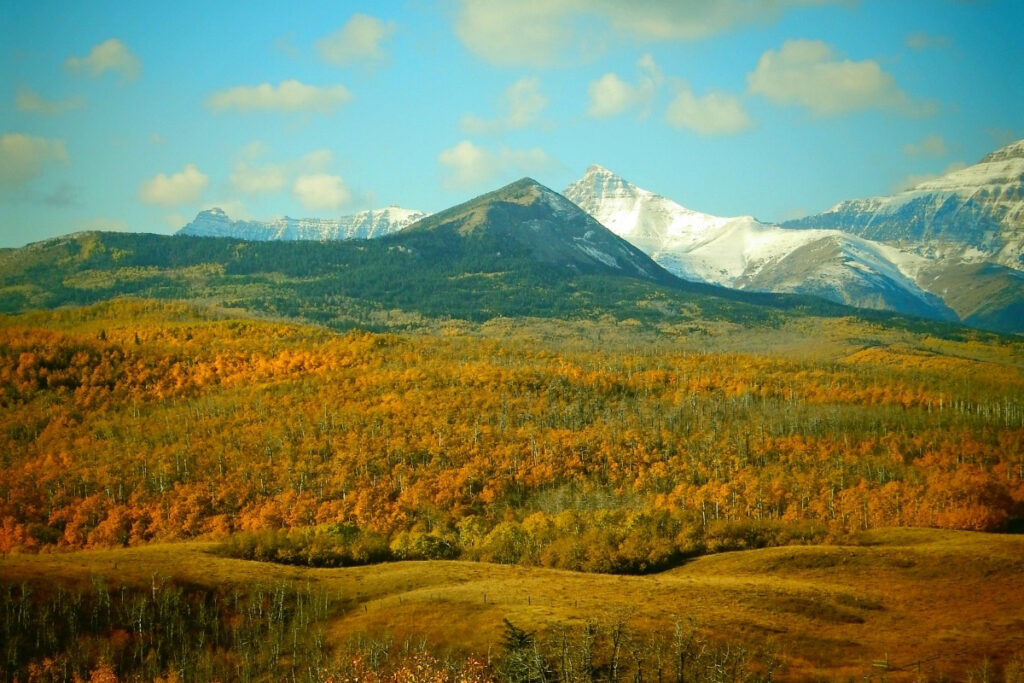 Rocky Mountains, Alberta
This region of North America is home to breathtaking natural landscapes, vast scenic valleys, and pine forests. This area is filled with lush mountains, snow-capped peaks, and plenty of mountain trails to explore in beautiful fall colors.

Banff is a particularly well-known part of this region, famous for its wilderness, waterfalls, mountains, and fabulous scenery!
---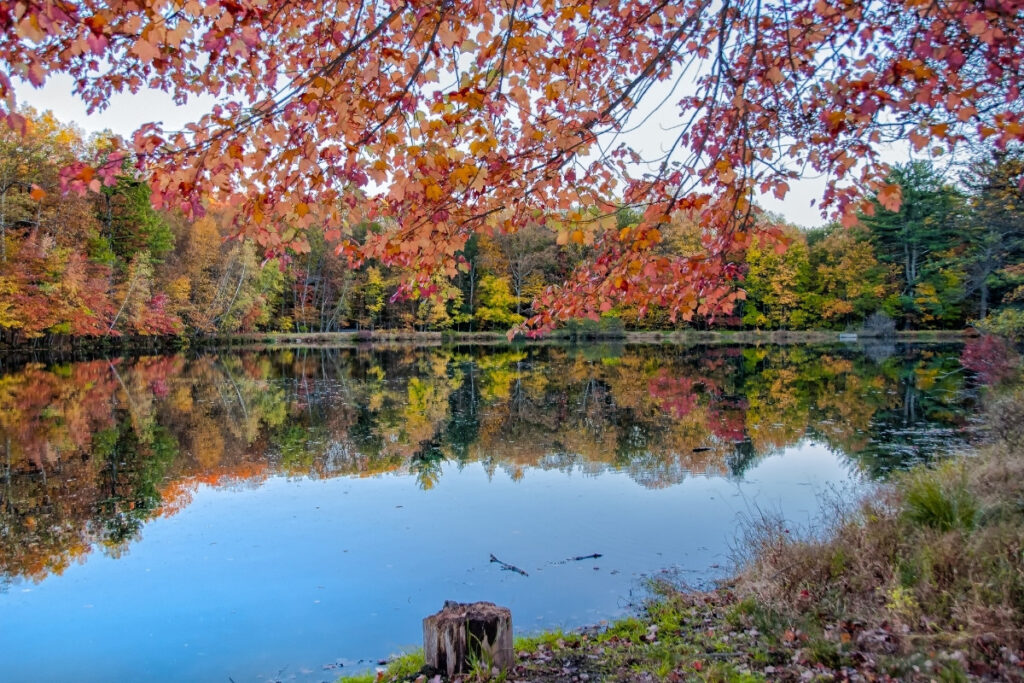 Laurel Highlands, Pennsylvania
Whether you're just passing through, or you live in Pennsylvania, you should take some time to appreciate the beauty that Laurel Highlands has to offer. Just a 30-minute drive from Harrisburg are the picturesque mountains and valleys that lie in Laurel Highlands.
There's no excuse not to experience a little of this Fall Foliage Beauty while you're in the area.
---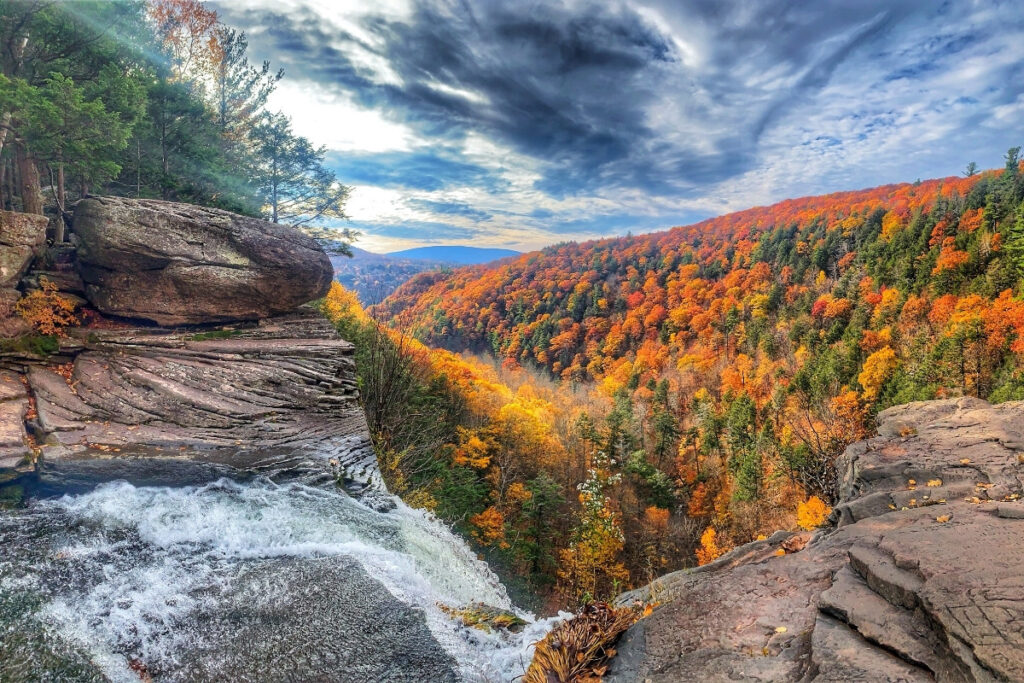 The Catskills, New York
The Catskills are a place of pure beauty. They offer everything from outdoor activities to wineries and museums. Plus, the fall foliage views are absolutely breathtaking! When it comes to experiencing the vibrant colors of fall, the Catskills is a great destination to add to your list!
As a bit of bonus trivia, although The Catskills served as the setting for the film Dirty Dancing, the film was actually shot at the Mountain Lake Lodge in Pembroke, Virginia.
---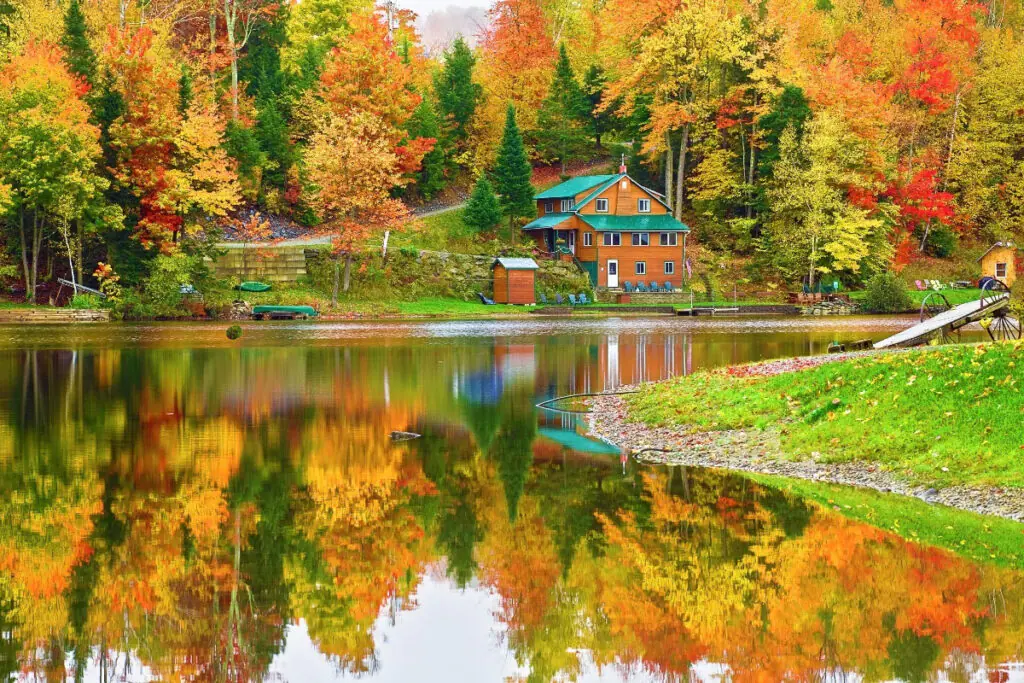 Stowe, Vermont
Situated near the border of Canada, Stowe, Vermont is one of the world's most famous ski resorts. Although winter is the most popular season for tourists, there are a wide variety of things to do in the area during the fall season.
This is a great area to visit if you are looking for a weekend getaway, since you don't have to go far to get there. The leaves are beautiful, the weather is mild, and the crowds are nowhere to be found. And the skiing is amazing too!
---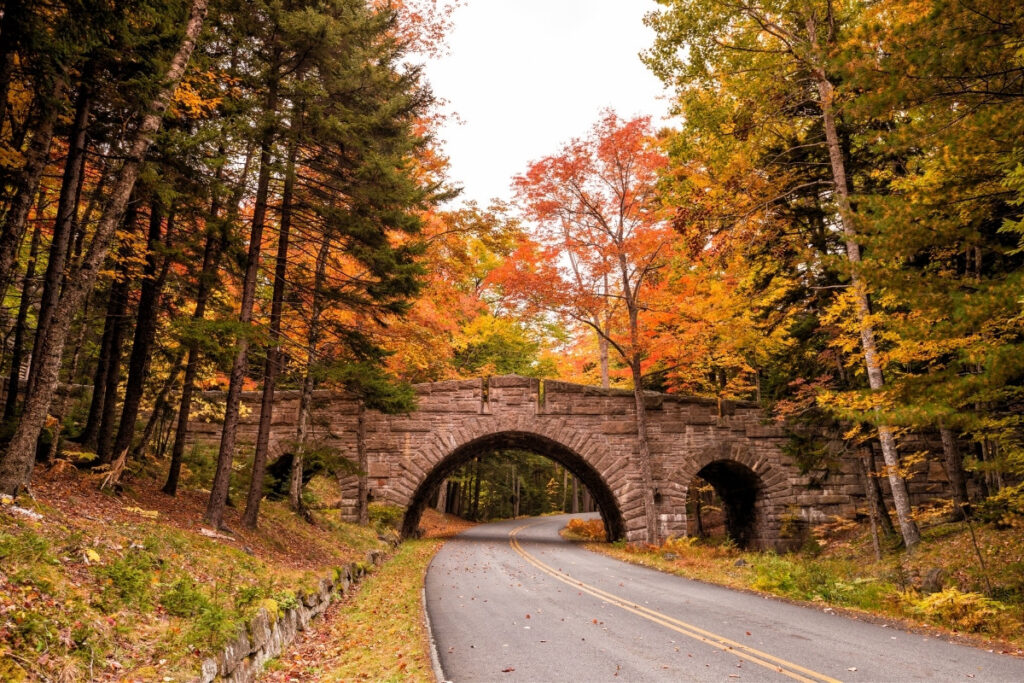 Acadia National Park, Maine
Acadia National Park is known for having beautiful fall colors. Most of the leaves in the park turn yellow before falling. The other trees in the park, however, turn orange or red before falling. This combination provides a stunning panorama for the eyes, including the purest fall colors of gold, browns, and reds, all within a peaceful setting that will take your breath away.

In fact, Acadia was recently voted as the "Best Park In The U.S." by Conde Nast Traveler readers.
---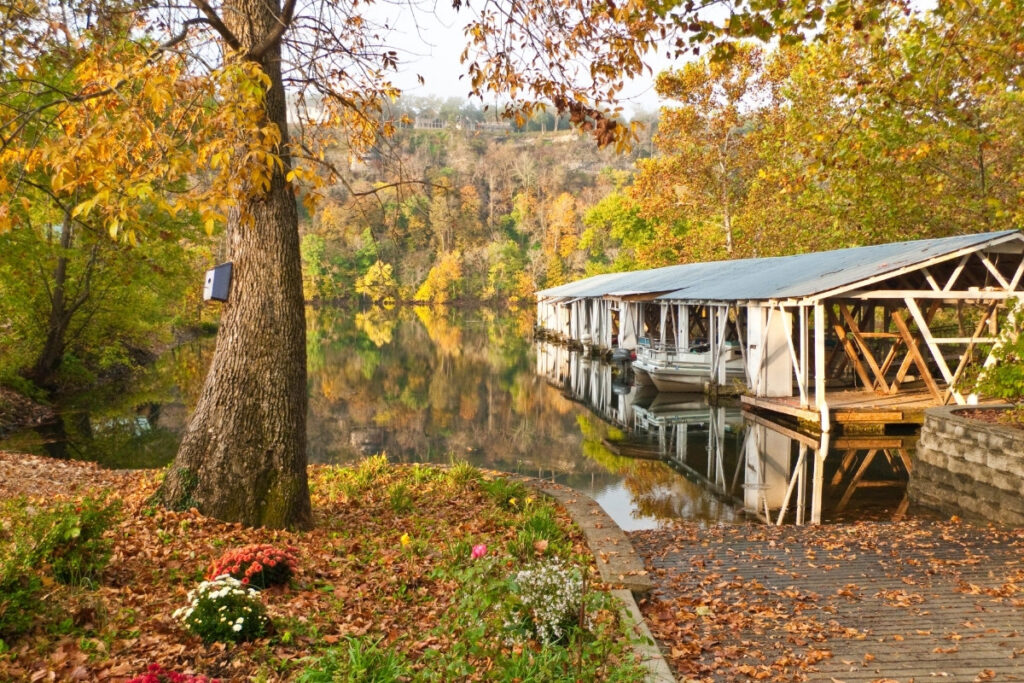 Lake of the Ozarks, Missouri
Located in southwest Missouri, the Lake of the Ozarks covers 4,500 acres and is about 45 miles east of Kansas City. It is nestled in between the Twin Lakes and the Big Thicket National Preserve. The Lake of the Ozarks was named for its resemblance to the Lake of the same name in Kentucky. Since the water is clear and crystal clear, you can see almost 100 feet below the surface.

This picturesque area is well-loved because of its natural beauty, recreational opportunities, lake life, and unparalleled and picturesque nature.
---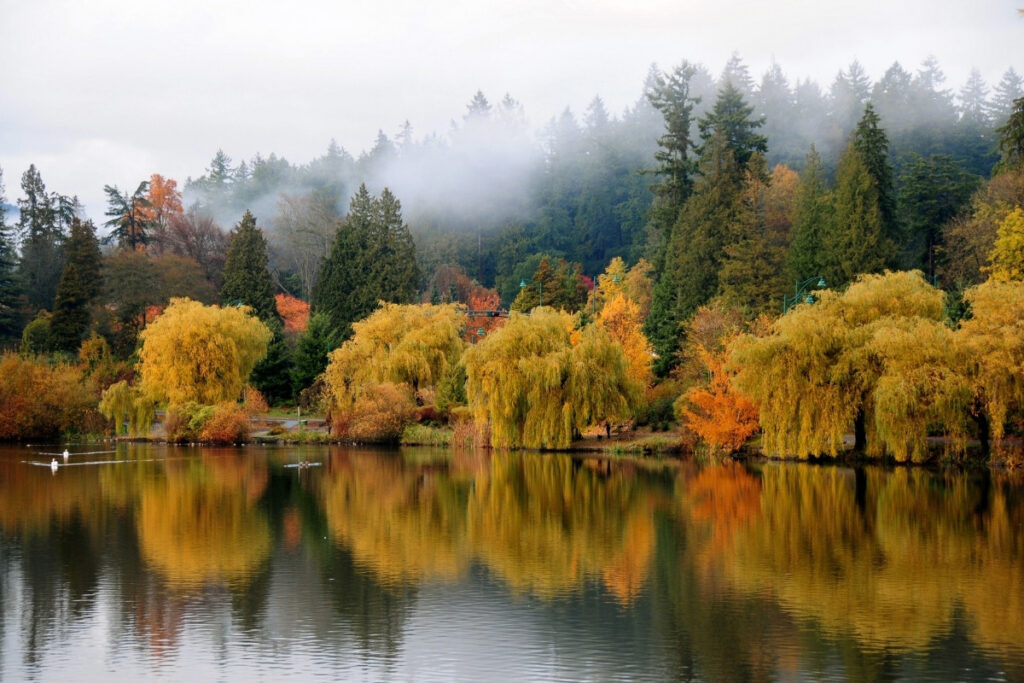 Stanley Park, British Columbia
With over 6,000 acres of parkland, Stanley Park is a must-visit destination for any fall colors tour. The coast of Vancouver Island boasts over 600 miles of trails and Stanley Park has 59 miles of those miles. These trails take you along the park's coastline, which sees 20 feet of saltwater flow into it each day. It is the largest park in British Columbia, a vacation destination, and the nation's largest urban park.
You can take a long, romantic walk on the beach or hike through the forest, which is the perfect spot to take in all of the beautiful fall colors.
---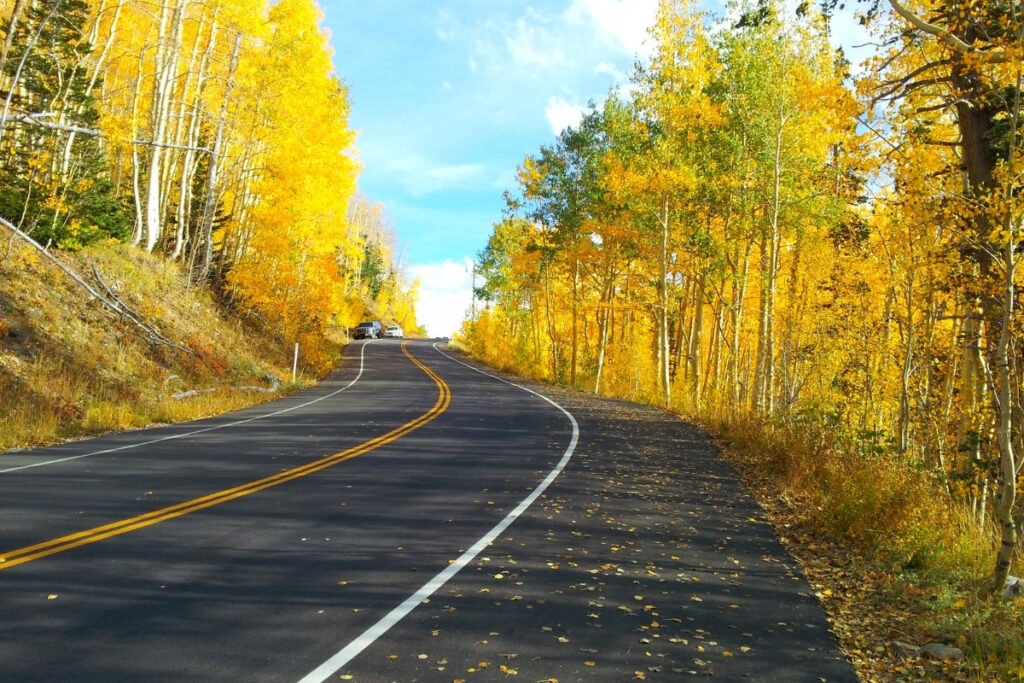 Guardsman Pass Scenic Byway, Utah
Guardsman Pass Scenic Byway is quite possibly one of the most beautiful – and one of the more treacherous – byways in the USA. If you want a place where you can experience the beauty of fall colors blending perfectly with mountain scenery, Guardsman Pass can't be beaten.

The scenic byway is usually only open from May to October and is closed all winter due to heavy snowfalls. However, even during the open season, the Utah Department of Transportation discourages people from taking the Guardsman Pass. "Motorists will encounter sharp turns on uneven, gravel roads. Slippery conditions at every turn will make driving challenging."

The total drive time is about one hour each way, but – if you're anything like me – you'll probably take longer because of an overwhelming need to stop for photos. Plus, of course, you'll want to take those twists and turns carefully!
---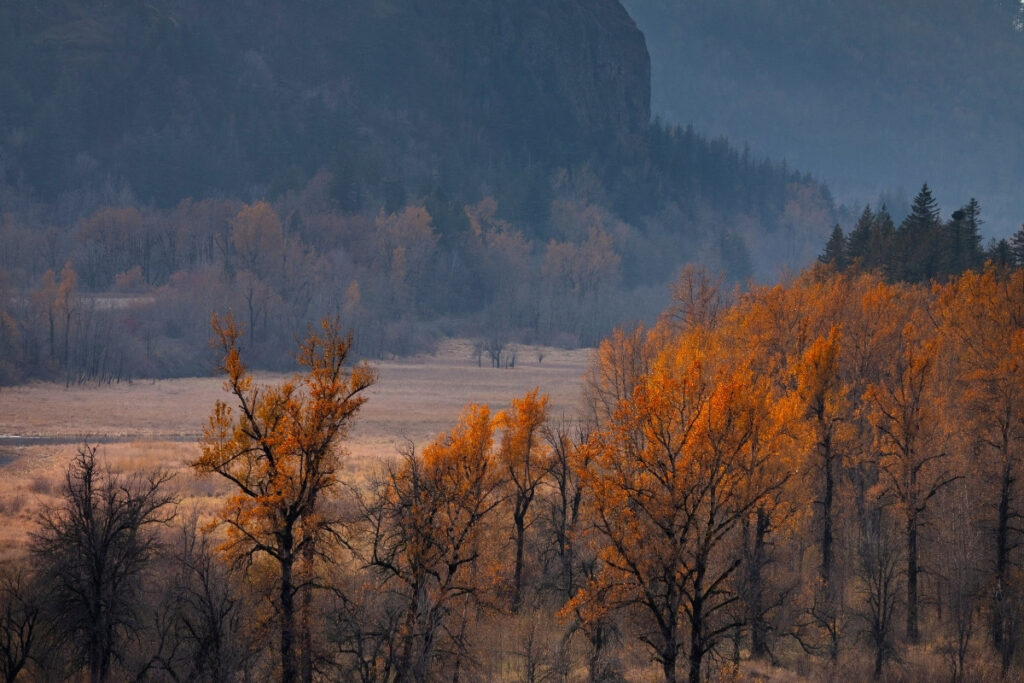 Columbia River Gorge, Oregon
Located just north of Portland, Oregon, the Columbia River Gorge is home to some of the most breathtaking natural wonderlands in all of the Pacific Northwest. Lush forests, historic mansions, rivers, waterfalls, and bridges are among the beautiful natural sights you will see while you are there.

This stunning tourist attraction is so popular that the National Forest Service has reduced the number of cars allowed into the scenic road into the Gorge to reduce traffic delays and ensure everyone gets to experience the colorful fall foliage.
In all, Columbia River Gorge provides the best of autumn in the Pacific Northwest – over 300 miles of river valleys and waterfalls. It's the perfect place to ride dirt bikes, cycle, hike, and see the amazing fall foliage.
---
Eastern Shore, Maryland
Eastern Shore, Maryland is located about 20 miles south of Baltimore. The area has so many amenities, whether you are looking to enjoy the water, enjoy hiking, visiting the beach, or just driving through the winding roads.
The region is surrounded by the Chesapeake Bay, and it is filled with historic sites and historical homes, as well as several golf courses and natural attractions. If you enjoy the beauty of fall foliage, this is the perfect spot to see it.
---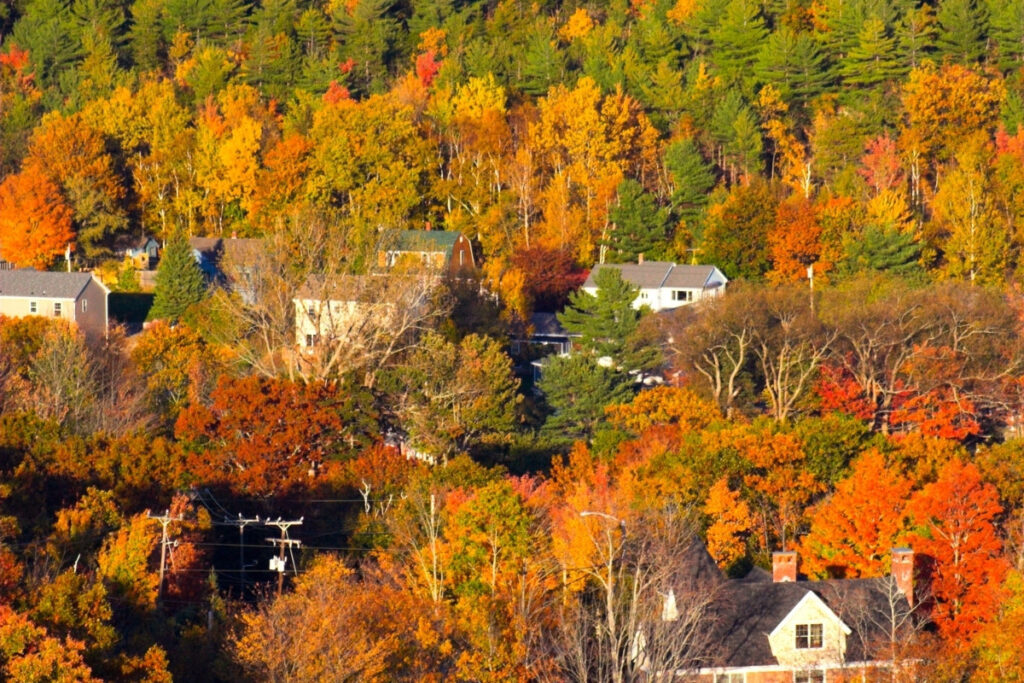 Bar Harbor, Maine
Bar Harbor is the one area in Maine where you can see nearly all of the colors of fall without having to travel miles and miles to get there. Bar Harbor's lively downtown area, many quaint inns and lodgings, beautiful vistas, and easy access to the beach make it the perfect place to visit and share in the wonderful beauty of fall.

A National Historic Landmark and a popular tourist destination since the 1880s, Bar Harbor is a small coastal town right on the tip of Mount Desert Island. The public ferry departs from Main Street in downtown Bar Harbor and takes you to the towns of Southwest Harbor, Tremont, Swan's Island, and Port Clyde.
If you're lucky, the ferry might also be traveling to nearby Acadia National Park (See #14 on the list), one of the only protected "open" canyons left in the U.S. If you're planning to visit Acadia National Park, you should definitely make a stop in at Bar Harbor.
---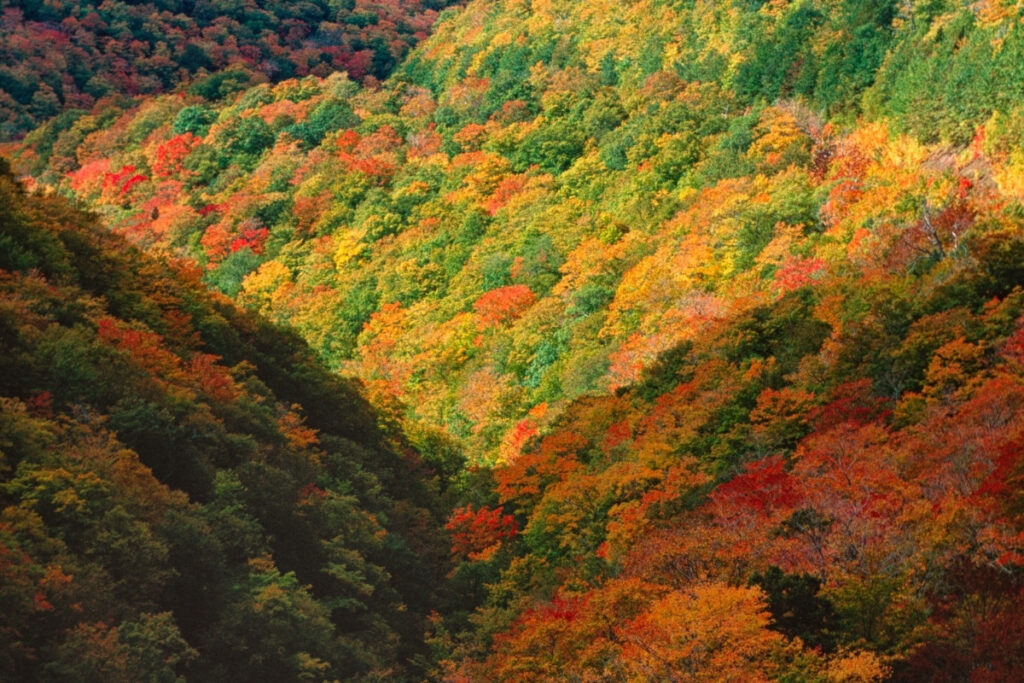 Cape Breton Island, Nova Scotia
Cape Breton Island is a unique and wonderful spot on the fall colors map. With it's beautifully etched shoreline and gorgeous trails that provide miles of natural enjoyment. To know this spot is to know an unyielding beauty with a fierce spirit, resolute pride, and resilient communities brought together by tradition and a love for the place they call home.
As a destination, Cape Breton island has something for everyone — at least if you are a traveler interested in the thrill of hiking, watching the sunset, spending time on the water, or just strolling around. The island offers everything from breathtaking coastal trails to historic and gorgeous villages and towns.
---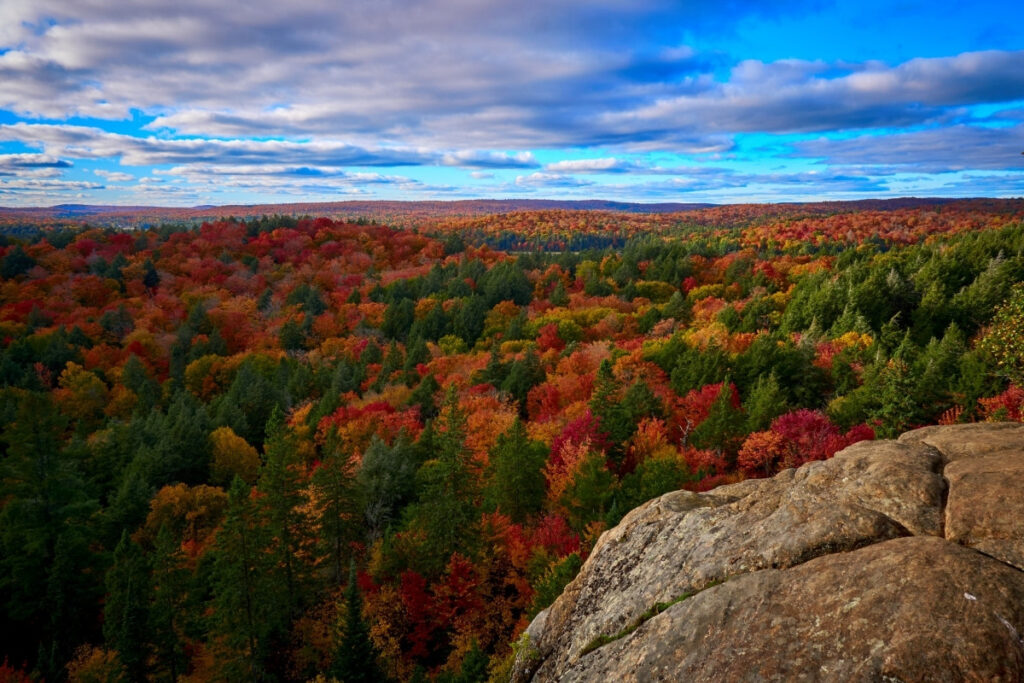 Algonquin Provincial Park, Ontario
With nearly 500 miles of winding roads, it only makes sense that Canada's largest provincial park is on this list! Located on the north shore of Lake Superior, Algonquin Provincial Park covers a whopping 824 square miles and is home to three different mountain ranges, three waterfalls, and a whole lot of fall colors!
Algonquin is also a major tourist attraction in Northern Ontario, particularly for those who love nature. The park receives over 20,000 visitors every single day, and that number increases dramatically during the fall months, thanks to all the stunning colors on display.
The ideal time to visit Algonquin Park to enjoy the fall colors at their peak is usually in very late September through mid-October, depending on the weather – as a warmer fall can sometimes delay the full extent of the colorful display and cooler weather will start the cycle early.
---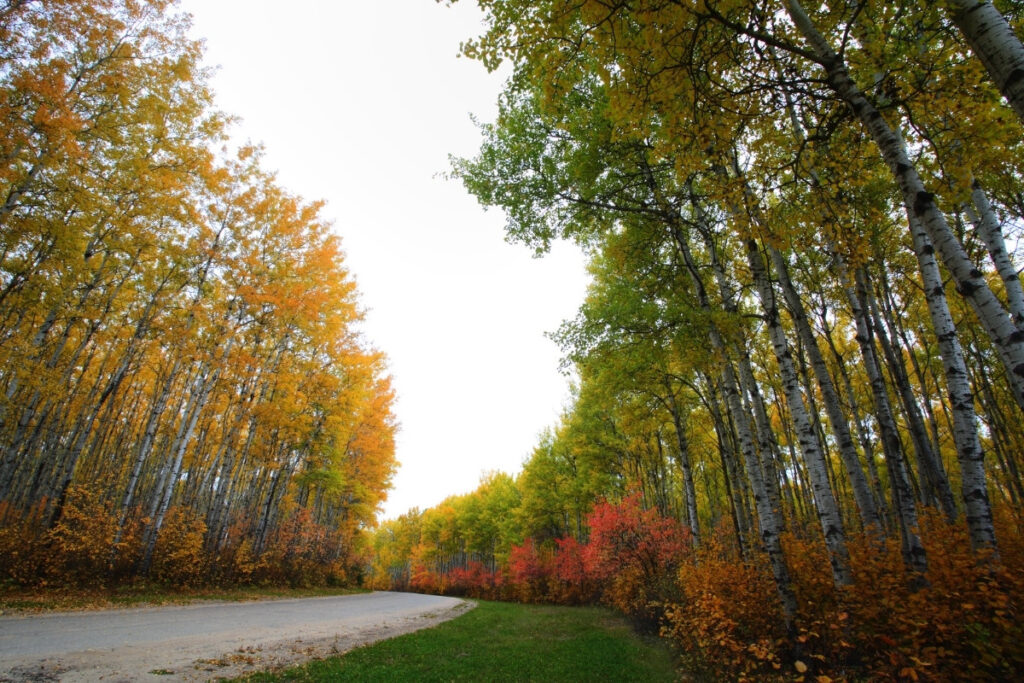 Meadow Lake Provincial Parks, Saskatchewan
Meadow Lake Provincial Park is located on a gorgeous peninsula and is home to beautiful scenery and some of the most stunning waterfalls in the province of Saskatchewan. In addition to waterfalls and the spectacular green landscape, there is an amazing fishing lake, mountain biking trails and tons of camping locations. The Meadow Lake Provincial Park is an easy day trip from Edmonton or Saskatoon, making it the perfect destination for a scenic fall drive.
---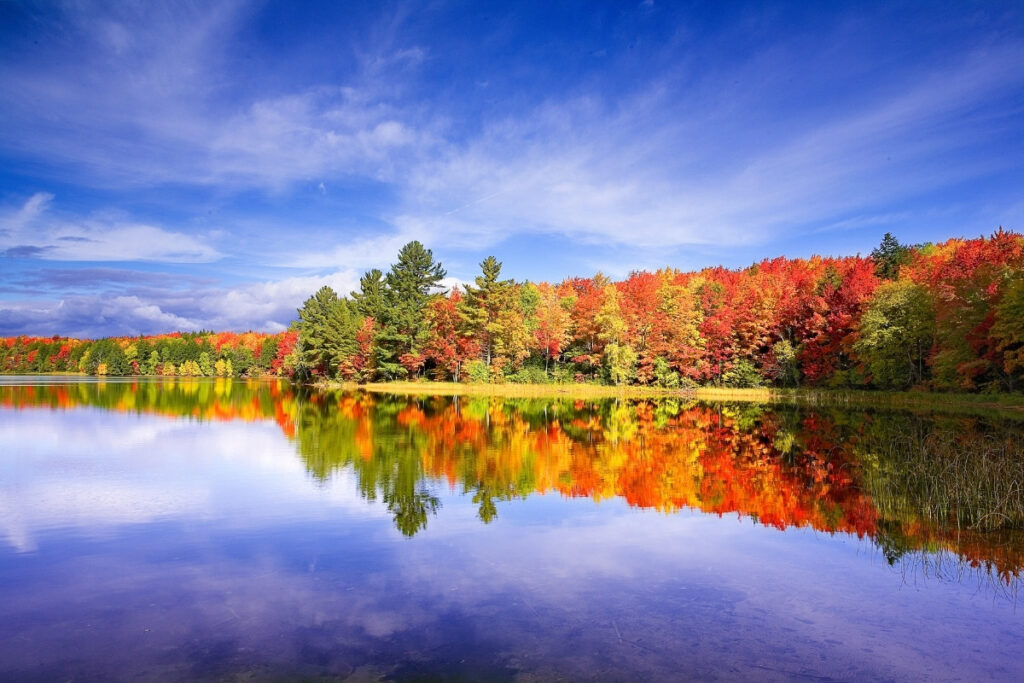 Upper Peninsula, Michigan
Within the Upper Peninsula of Michigan lies some of the most gorgeous natural wonders in the United States. There are a number of reasons that it is worth the trip up to the north, including Michigan's Sleeping Bear Dunes National Lakeshore, which is a must-see if you're going to the Upper Peninsula. The beauty of the lake, the red-orange sands, and the surrounding forest make up this natural wonder.
Aside from the gorgeous fall colors and breathtaking views, Upper Michigan is also a popular summer tourist destination. Tourists come here to see beautiful Mackinac Island, kayak in Lake Superior, and see all the Michigan lighthouses.
---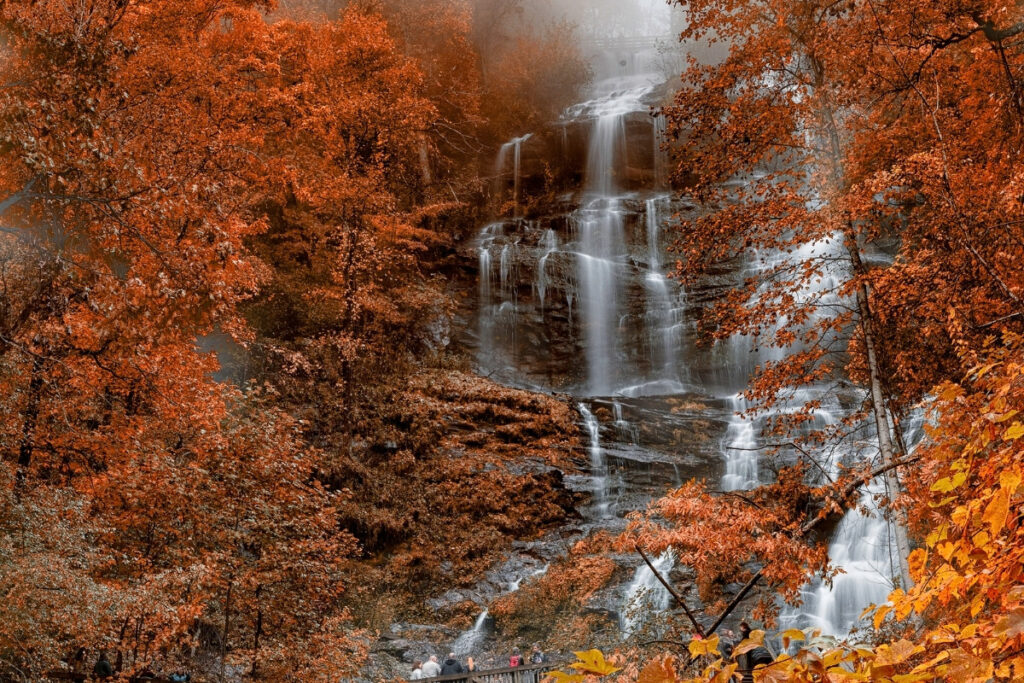 Amicalola Falls, Georgia
Amicalola Falls is one of Georgia's best-kept secrets, it boasts the deepest pool of blue in the Southeast, plus it has one of the best waterfalls in the United States.
There are a few great reasons why this picturesque location would be a great destination for a fall colors tour. For one, because the stunning vistas of Amicalola Falls are just outside of Atlanta, so they are just a quick, scenic car ride away!
Georgia has been known as the "Garden of the South" for years, and Amicalola Falls offers just about every element of nature to enjoy in Georgia – an amphitheater, a waterfall, woodlands, and nature preserves.
---
Did I Miss Your Favorite Spot to Enjoy the Fall Colors?
There are – without a doubt – far more than 25 amazing places to enjoy the beauty of fall's bounty during a scenic drive or a picnic, but we had to stop somewhere… didn't we???
Perhaps we stopped too soon? Do you know about a hidden gem where the fall colors explode like fireworks? Is the place closest to your fall-loving heart missing from the list above? Let me know in the comments below!
Regardless of where you live, seeing the leaves turn colors is an amazing way to appreciate the beauty of autumn, and you can experience it in a lot of different ways!
For even more fall color enjoyment, we've put together a collection of some of our favorite scenic fall photos. Enjoy!!!
Beautiful Photos of Fall Colors
For those who don't have the luxury of planning a live Fall Colors Tour, here's a compilation of over 90 more photographs of fall leaves in all of their splendor from across the US and Canada. You'll get a taste of the magical, natural beauty of fall right here.
Enjoy photos from more America's most picturesque and scenic destinations. From the Appalachian Mountains to the Grand Canyon and everywhere in between, this beautiful collection of fall colors pictures is perfect for the whole family.
Oak Trees Fall Colors

Mt Timpanogos Utah

Trees in the Fall

Scenic Fall Drive in Washington State

Fall Colors at Sunset

Fall Colors With Mountain Range

Fall Foliage with Road

Upper Peninsula Michigan in Autumn

Acadia National Park Maine in the Fall

Misty Morning Fall Colors

Colorful Georgia Mountain

Algonquin Park in the Fall

Fall Colors River

Massachusetts Cranberry Bog

Ohio Pyle State Park

Vibrant Fall Colors

Trees Showing Fall Colors

Fall Colors in St Mary & Virginia Falls

Beautiful Mixed Fall Colors

Amicalola Falls Georgia

Bright Fall Colors Reflecting Off Water

Walking Trail Through Fall Forest

Aspen Colorado Fall Colors

Fallen Leaves on the Ground

Fall Colors and Waterfall

Fall Tree Lined Street

Bar Harbor Maine Fall Colors

Fall Colors Surrounding a Lake

Muskoka Ontario Fall Colors

A Beautiful Fall Drive

Blue Ridge Parkway North Carolina Fall Colors

A Pop of Yellow from Fall Trees

Fallen Maple Leaves in Yellow and Maroon

Closeup of Maple Tree with Orange Fall Leaves

Cape Breton Island Nova Scotia Fall Colors

Park with Orange Trees in the Fall

Gorgeous Yellow Forest in the Fall

Columbia River Gorge Oregon Fall Colors

Fall Colors and Hay Bales

Fall Colors on Tree Lined Street

Fall Colors and Lake with Mist

Aspen Colorado Fall Colors

Lovely Park in the Fall

Walking Trail Through Fall Colors

Essex County Massachusetts Fall Colors

Babbling Brook and Fall Colors

Lovely Path Through Fall Colors

Guardsman Pass Scenic Byway Utah Fall Colors

Dark Pink Colors in Fall Japanese Garden

Aerial View of Fall Forest

Indianapolis Indiana Fall Colors

Fall Colors Reflecting Off Water

Trees in Fall Orange

Mont Tremblant Quebec Fall Colors

A drop of Water on Fallen Leaves

Muskoka Ontario Fall Colors

Yellow Tree in Fall

Gorgeous Fall Colors Drive

Fall Trees at the Fence line

Rocky Mountains Alberta Fall Colors

Rustic Barn Surrounded by Fall Colors

Old Mill Surrounded by Fall Colors

Banff Alberta Fall Colors

Fall Colors and Lake at Sunset

Fall Colors and Lake

Fall Colors at Sunset

Fall Colors Across the Field

Sun Shining Through Fall Leaves

Dark Red and Yellow Fall Maple Leaf

White Mountains Trail New Hampshire Fall Colors

Looking Up at Fall Foliage

Big Yellow Fall Trees

Aerial View of Fall Colors

The Catskills New York Fall Colors

Fall Maple Leaf with Yellow and Orange

Warm Orange Fall Foliage

Fallen leaves on Rocks

Stowe Vermont Fall Colors

Scenic Fall Colors Road

Closeup of Branch Covered in Fall Leaves

Warm Orange Fall Colors

Rocky Mountains Alberta Fall Colors

Closeup of Fall Leaves

Fall Colors and Snow Covered Mountain

Beautiful Fall Colors

Lakeside Park in Fall

Fallen Yellow Leaf

Fall Colors and Rocks

Fall Colors Drive

Road Through Beautiful Fall Colors

Fall Colors Along a Lake in Long Island, NY

California Aspen Trees Covered in Yellow Fall Leaves

Mountains Covered with Fall Colors

Closeup of Red Fall Leaves

Scenic Fall Colors Drive

Birch Trees in the Fall
More Fall Ideas To Explore
Looking for more ways to celebrate the beauty of fall? Check out some of our other Fall-inspired articles.