Looking for ideas, inspiration, tips, and tricks for your DIY Fall Decor Projects? This brilliant collection features 88 of the best DIY Fall Decor Ideas for the home and the garden.
As summer draws to a close, it's time to turn our eyes & hearts to the colors of fall. A rich bounty of natural beauty, fall is a celebration of earth-tone colors and rich textures. Fall is a great time to get outside, make time for friends, and enjoy the changing colors.
If you are looking for fabulous DIY Fall Decor, look no further than our fantastic collection of stunning and inventive Fall Decor Ideas! These 88 amazing ideas for DIY Fall Decor will take your décor to the next level this season! When it comes to making your own Fall Decor, you will find plenty of inspiration in this comprehensive DIY Fall Decor Idea Guide (plus a few suggestions for the less DIY-inclined among us). These DIY Fall Decor Ideas will not only give you a chance to create a truly unique Fall look, but they're also great ways to create Fall color schemes in your home. From fall rugs to easy DIY placemats, there's no limit to the possibilities!
It's nice to start getting into a Fall mood around the beginning of September. This is when all of the gorgeous bright colors, crazy colors, and interesting patterns start showing up in the stores.
If you're looking to do your Fall decorating early and make a statement about Fall with your home, you can't go wrong with these DIY Fall Decor Ideas. Here are some of our favorite DIY Fall Decor Ideas for the home.
The Colors of Fall
The color palette of fall is also one of my favorites. Warm, rich earth tones dominate the fall color schemed, and blend beautifully into the rich red and orange of Halloween as we transition to the red, white, green, and blues of Christmas.
Fall is by far one of the most colorful and photogenic times of the year. Fall comes alive in the warm, rich tones of yellows, reds, and oranges mixed with deep rich browns and neutral tan colors. When creating fall decor for inside your home, you want to try to infuse that beautiful landscape into the decor accents you are creating. From top to bottom, you can find fall inspiration in the form of crisp clean leaves, colorful toadstools, candles in shades of red, orange, and yellow, and more.
These beautiful fall decor ideas come in a wide variety of colors and all have a simple, timeless, easy DIY decorating scheme that makes an impact with minimal effort. The beautiful colors of the changing season can inspire a wide array of decorating projects. Whether it's using vibrant hues to create a color palette, or simply adding color around your home and inside or out, this collection has all sorts of inspirational photos that will inspire you.
But remember that these fall DIY decor ideas are not limited to decorating the inside of your home. They can also be applied to your outdoor space. From decorative metal pumpkins to pumpkin lanterns and corn stalk wreaths, you will be amazed at how you can incorporate Fall DIY Decor Ideas into any space you have inside and outside your home.
The Fabrics of Fall
What I love most about these Fall Decor Ideas is that they show you how to create a fall-like living space and they're as easy as pie. Plus, most of these projects would be easily done at home. Even if you're not much of an interior decorator, you can still do many of these DIY Fall Decor Ideas for your home.
When picking the materials for your DIY fall decor projects, think texture. Burlap, richly woven cotton and wool fabrics, tree bark, branches, dried fruit, and found objects such as moss or leaves can be used to create stunning fall decor installations.
Pick up some new, autumnal shades of color to add to your decor, and a few of your own unique items like wooden matchsticks, painted leaves, old planters, pebbles, broken jars, and other random things you find on the road or in your backyard.
Easy DIY Fall Decor Ideas for the Home Keep the warmth and the change of season alive at home by decorating it with new and exciting designs that match the season.
Sharing Great Fall Decor Ideas
I know you're just going to love these sweet DIY Fall Decor Ideas for the home and the garden. If so, please feel free to share them with your own social followers so that they can get into the fun as well.
The only thing I don't love about the Fall is that it is the harbinger of Winter which is – I will admit – my least favorite season. Well, except for Christmas. I love Christmas! But let's not let January and February… which are still MANY months away… spoil the beauty that is autumn!
To celebrate the season in style, we have pulled together an absolutely massive collection of ideas, tips, tricks, and more to help inspire your next DIY Fall decor project!
This collection includes some of our own personal favorites as well as some of the best Fall decor projects from some of the best DIY minds on the Internet.
So grab a pumpkin spice latte, sit down, and enjoy!
DIY Cut Bark Owl
All you need is a jigsaw, some wooden balls from the dollar store, and a large piece of bark to create this wonderful DIY owl decoration.
DIY Mason Jar Fall Luminary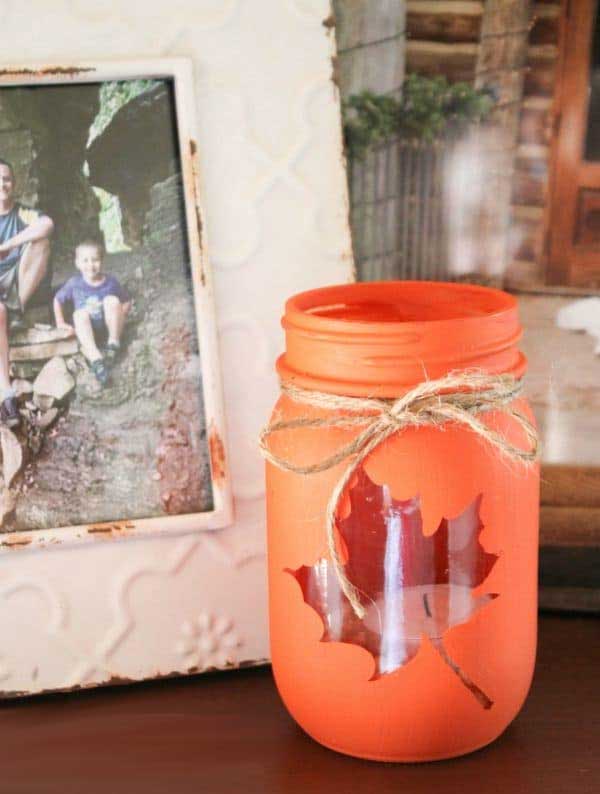 Simply cut out some adhesive vinyl in any fall-inspired shape you want and paint the entire jar with acrylic paint. When it's dried, gently peel the way the vinyl decal, add some popcorn kernels and a votive candle, and trim with some sisal twine.
Orange and Cinnamon Candle Holder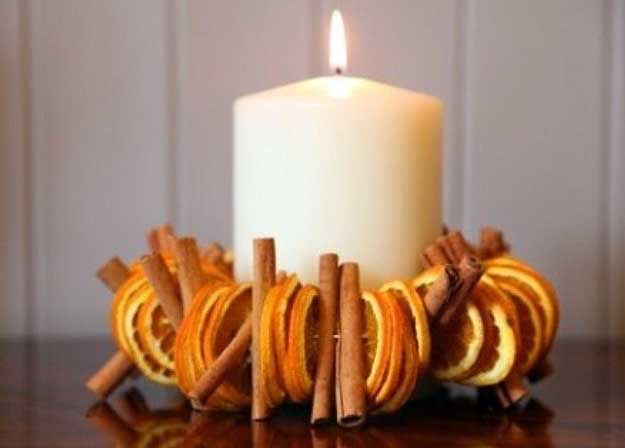 String together some cinnamon sticks and dried, sliced oranges to create this delightfully rustic fall candle holder.
Hanging Basket of Gourds
A wire hanging basket with some straw or coconut coir fiber in the bottom, and then a variety of gourds are placed on top for a simple but delightfully rustic fall decoration.
Rustic Fall Sweater DIY Candle
Fall is the time of sweaters, and this candle holder, which takes the cuff of an old sweater and sews it onto a glass candle holder, is the perfect way to celebrate that.
---
---
Glammed Up Dollar Store Pumpkins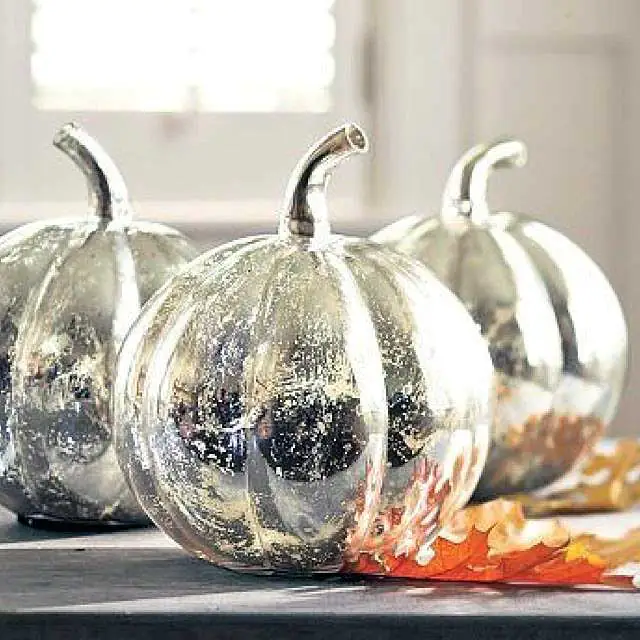 Completely transform ceramic, glass, or foam dollar store pumpkins into a glamorous decoration using some white acrylic paint and reflective mirror spray paint.
DIY White and Floral Painted Pumpkins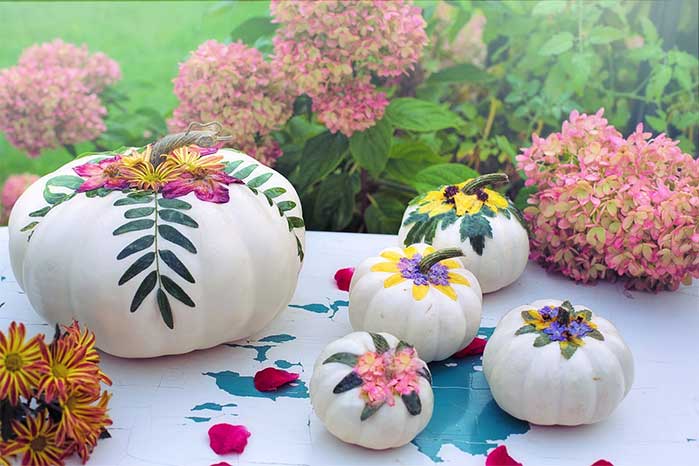 For late summer leading into early fall, this delightful DIY project takes the best of both seasons and combines them into one terrific DIY craft project.
All you need are some dollar store pumpkins, some paint, a glue gun, and some artificial flowers. You can change this project up with different colored paint and different flowers to suit your own decor or the time of the season.
No Sew Burlap Pumpkins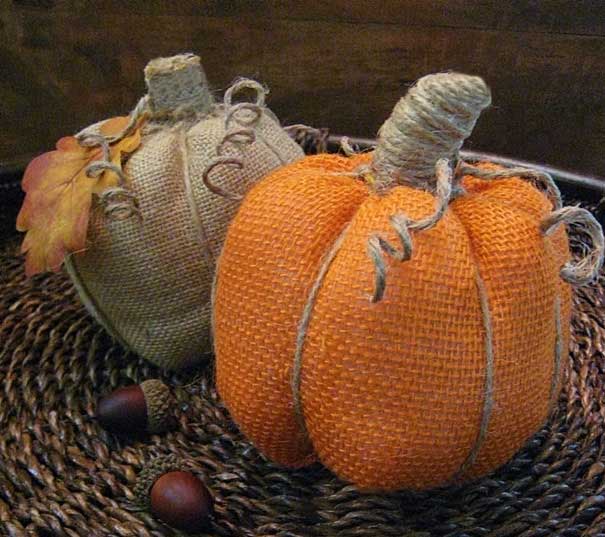 A super easy and wonderful fall decor made from some burlap, jute twine, stuffing, and some rubber bands.
---
---
DIY Fallen Leaf Art Plaque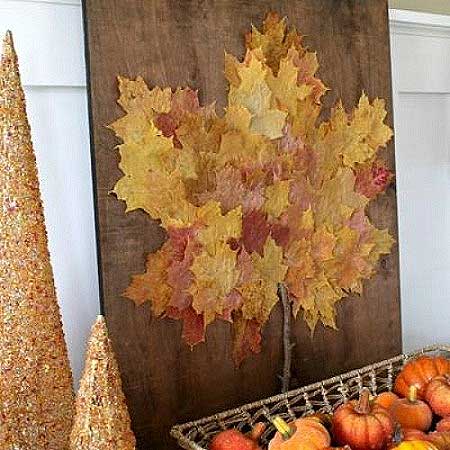 Hot glue some fallen leaves to a darkly stained wood board to create this quick and easy piece of DIY Fall decor.
DIY Fall Potpourri Bowl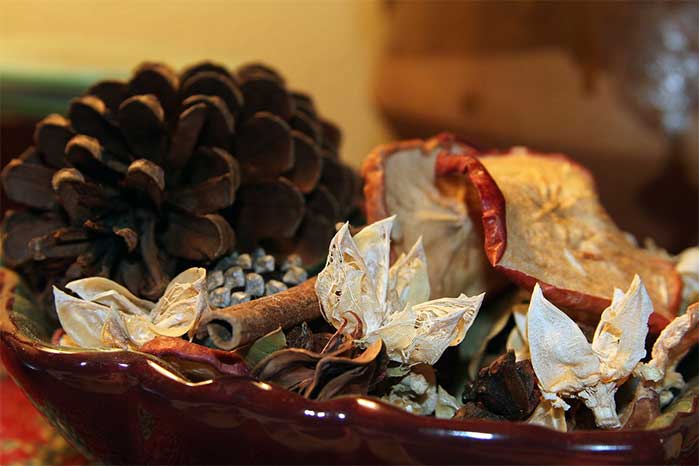 Collect some fall botanicals, including matured seed pods, pine cones, sticks, leaves, bark… whatever you desire. Add a couple of cinnamon sticks and some dried apple slices for a lovely DIY Fall Potpourri Bowl.
---
Maple Leaf Wrapped Candle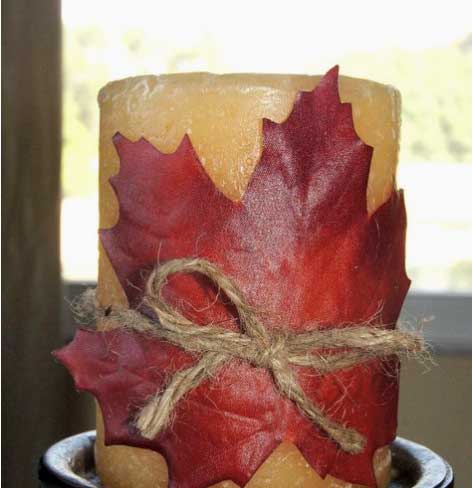 Give your candles an instant Fall makeover by wrapping a freshly fallen maple leaf around the candle with a jute twine bow.
DIY Fallen Leaf Tree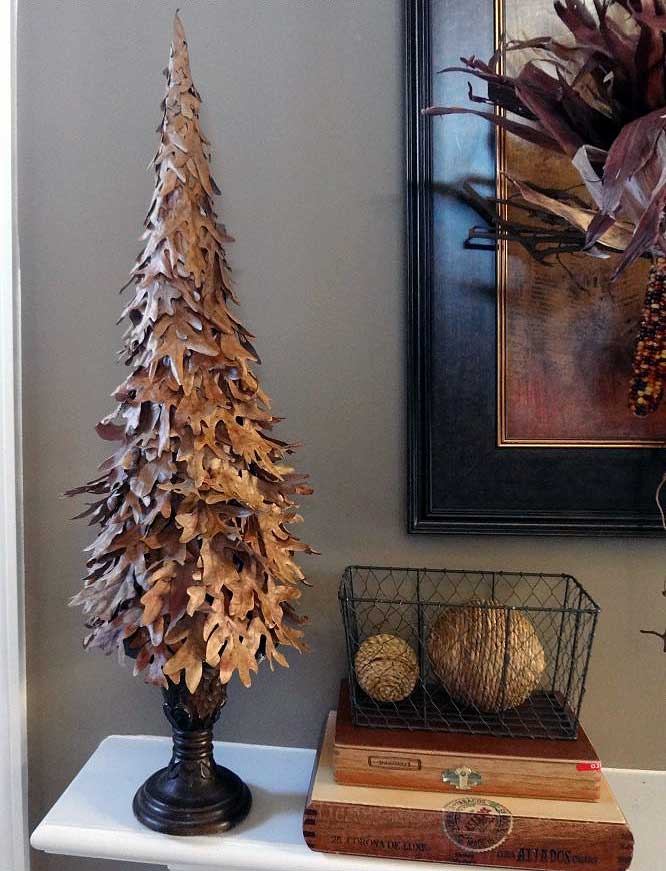 Combine some rolled poster board with some freshly fallen leaves from your own garden to create this wonderful Fallen Leaf Tree.
Hemlock Cones DIY Candle Holder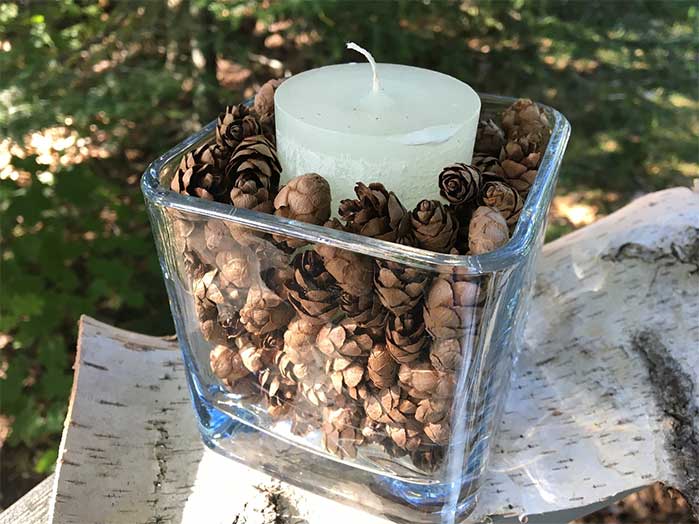 A square glass jar and white pillar candle from the dollar store are combined with some hemlock cones (small pine cones will do nicely as well) to create a wonderfully rustic DIY candle holder.
---
---
DIY Fall Leaf Bowl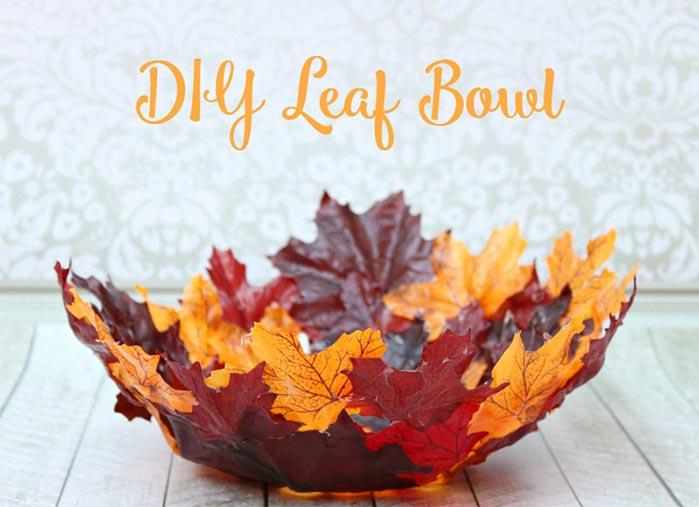 Isn't this DIY fallen leaf bowl lovely!?!? The end result of this Fall DIY decor project is beautiful, but it is also very lightweight and pliable, so you can't fill it with anything heavy (such as apples) but it would look quite lovely with some silk flowers or pine cones.
DIY Pumpkin Flower Arrangement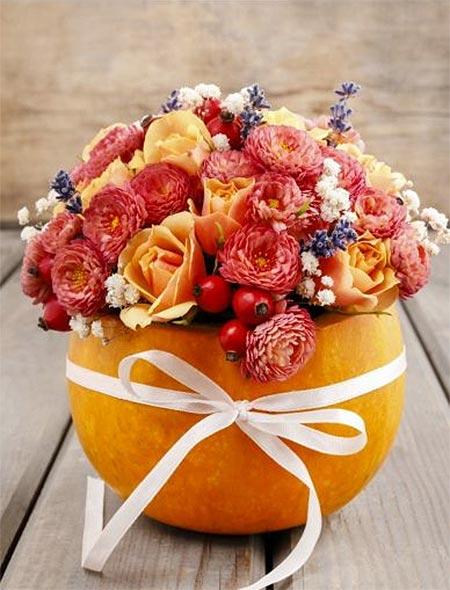 Hollow out a pumpkin and use it as the vase to create one of these delightful fall flower arrangements.
DIY Delicious Apple Wreath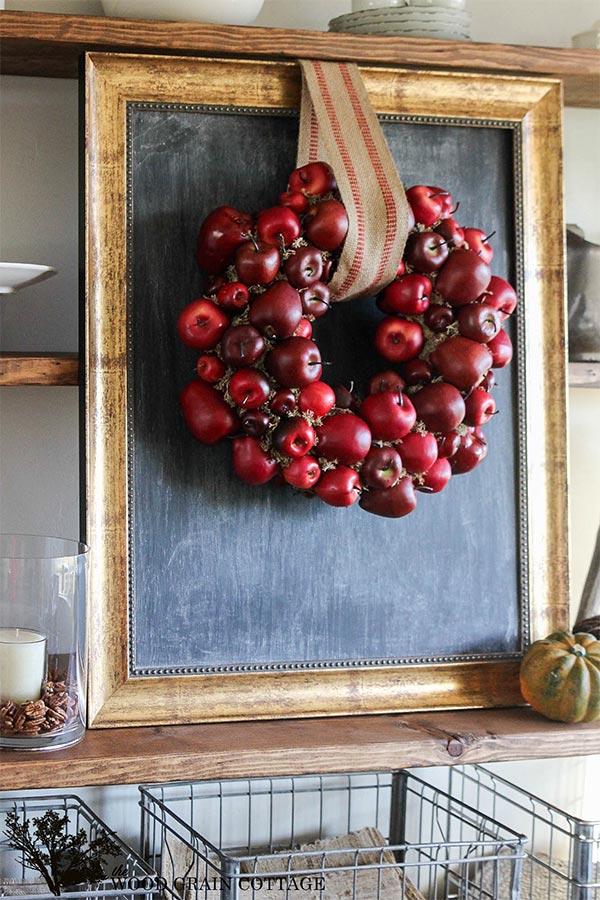 You can create this huge wreath full of delicious apples using a Styrofoam wreath, burlap strips, artificial apples in various sizes, moss, and some hot glue.
---
---
Outdoor DIY Fall Decor Wagon & Scarecrow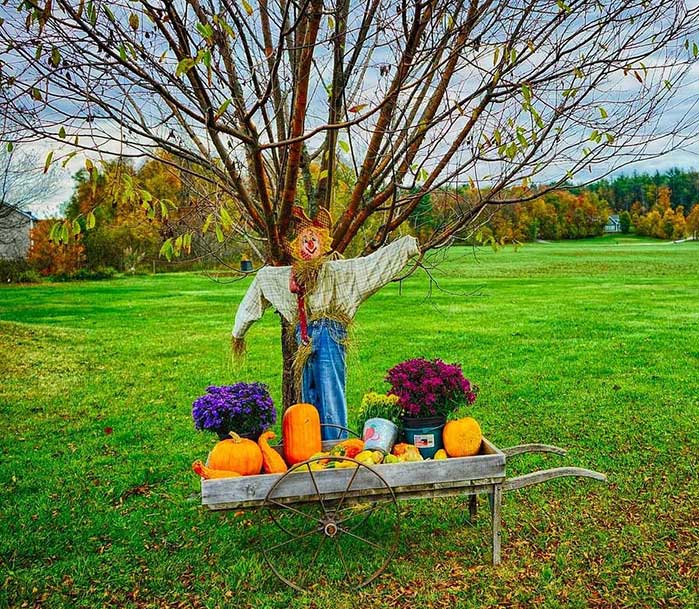 A rustic wagon is filled with some fall pumpkins and gourds, plus a few colorful mums. In the background, some old clothes are stuffed to create a DIY scarecrow that completes the look.
Birch Bark Hearts DIY Votive Candle Holders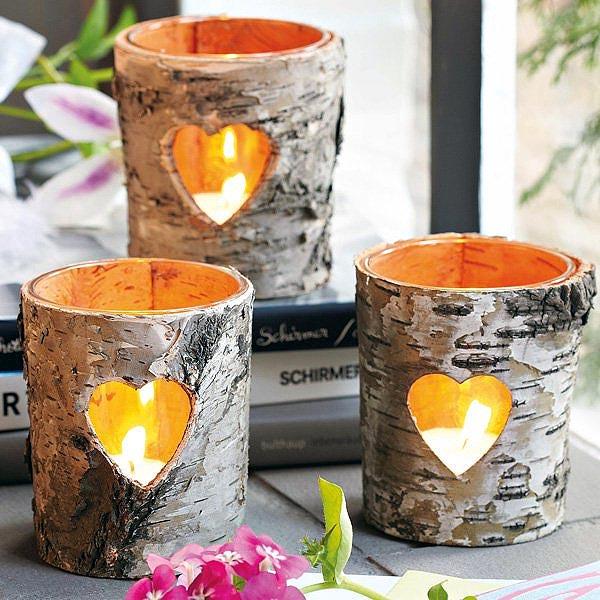 Dollar store glasses are wrapped in some beautiful birch bark with heart cutouts. Easy to make and so lovely!
DIY Candy Corn Ombre Wine Bottles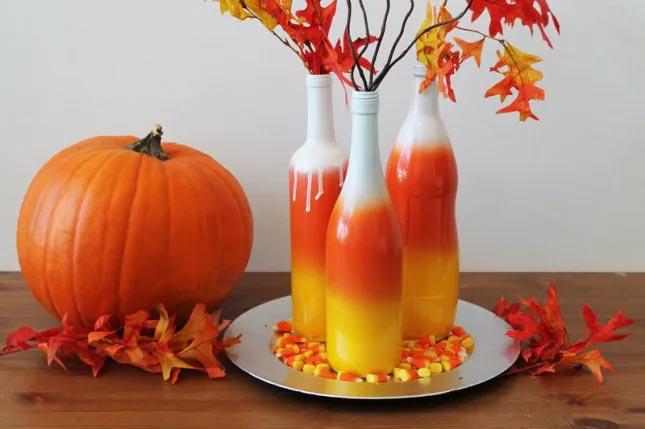 All you need is a little bit of orange, yellow, and white spray paint to upcycle some old wine bottles into these delightful fall (and Halloween) inspired vases.
Rustic DIY Fall Centerpiece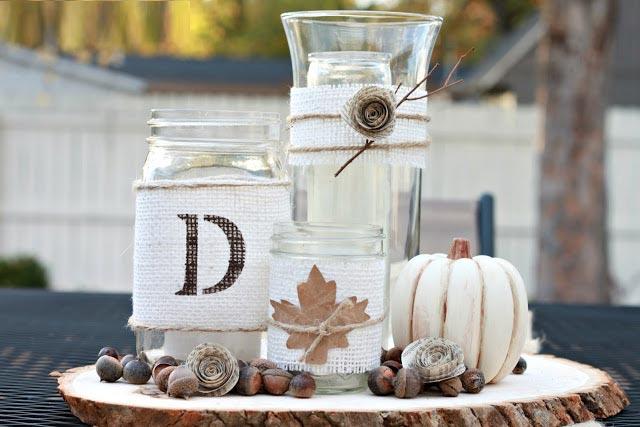 A dollar store vase, jelly jar, and a mason jar are turned into this delightful fall centerpiece using some white burlap, twine, stencil paint, and some old book pages.
Sliced Wood and Pine Cones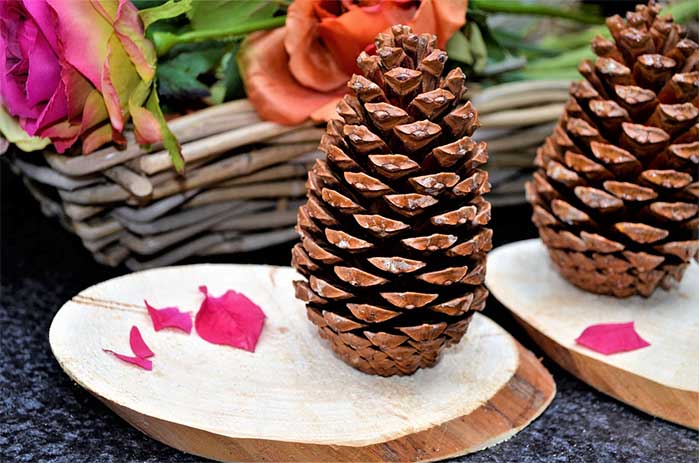 This super-simple DIY fall decor project takes a few slices of wood (which is probably the most complicated piece of this project) and then hot glues on a few large found pinecones. You can use these to hold some tealight candles, or for whatever you would like. So cute!
Rustic Fall Mason Jar Vases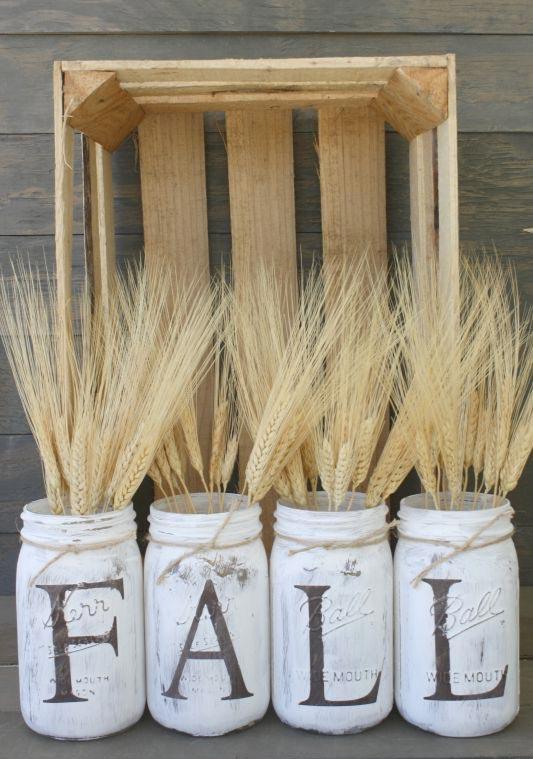 Four mason jars get a rustic makeover using white and brown acrylic paint and then finished off with some twine and some wheat stalks. A super-simple DIY Fall decor project that has major impact.
DIY Corn Husk Wreath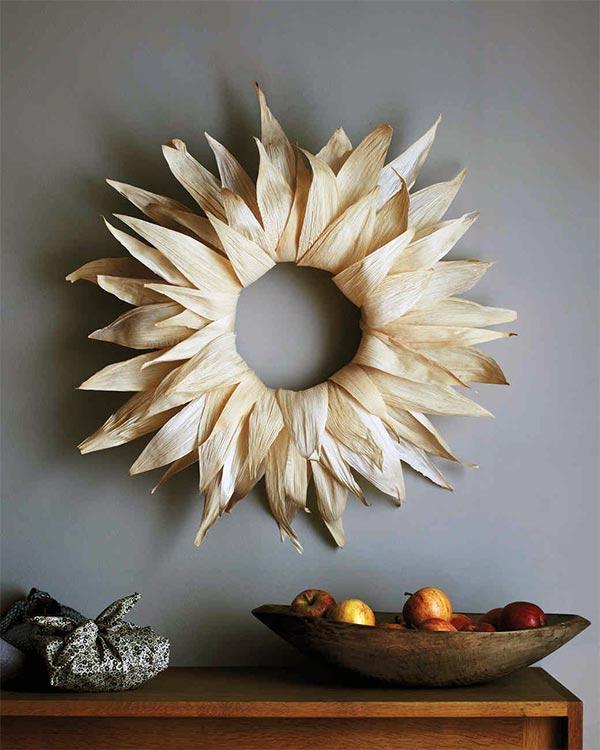 A nod to the harvest season, this rustic wreath is made using tamale wrappers from the local grocery store. So clever!
Twigs & Mushrooms DIY Fall Decor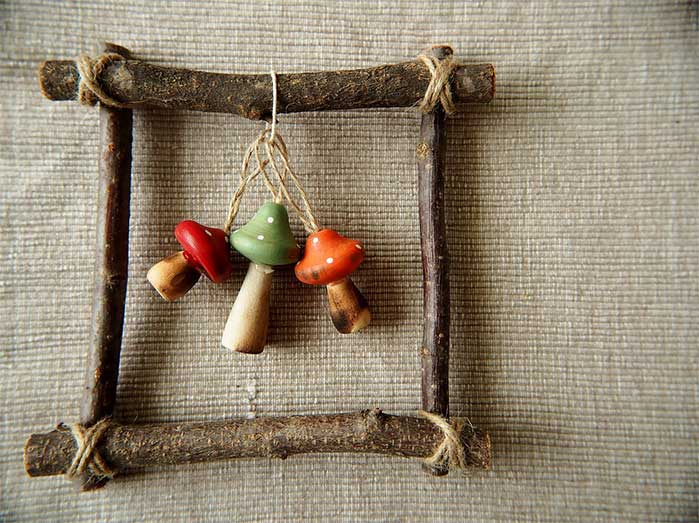 All you need for this cute little DIY Fall decor project are some twigs from the backyard, a bit of twine, and some little mushroom decorations that you can pick up from the dollar store!
---
---
DIY Twig Letters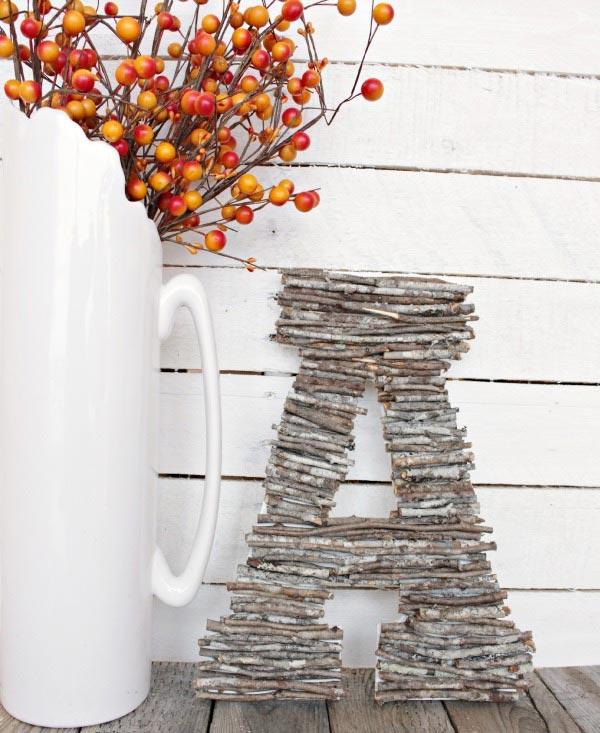 Craft your own monogram out of twigs that you've collected from your own backyard. The epitome of personalized DIY Fall decor!
Super Simple Fall Leaf Wreath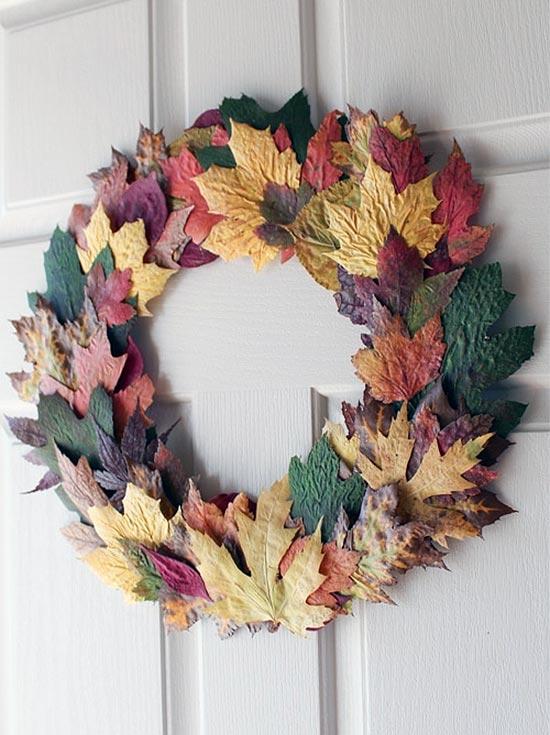 Fall leaves are collected and then preserved using a simple microwave (for a few seconds per leaf, inside parchment paper) and then iron (to flatten and remove remaining moisture) technique.
Then all you need to do is glue the leaves over a cardboard circle to create this simple and nearly free DIY Fall wreath.
I have a love/hate relationship with fall. I love the colors and the cool nights. I love the fact that the mosquitoes return to the hell from which they came. I love being able to throw on a sweater and curl up in front of the fire on a cool autumn evening, but still enjoy the warm sunshine on an Indian Summer's day.
There are a lot of natural materials available for DIY Fall decor projects. Fallen leaves, fallen branches, pine cones, tree bark, mature grass, and more is all plentiful at this time of the season.
Rustic Basket, Crate, and Pumpkins DIY Fall Garden Decor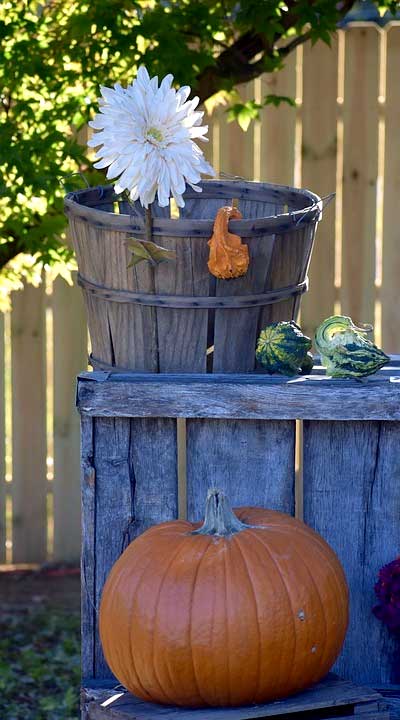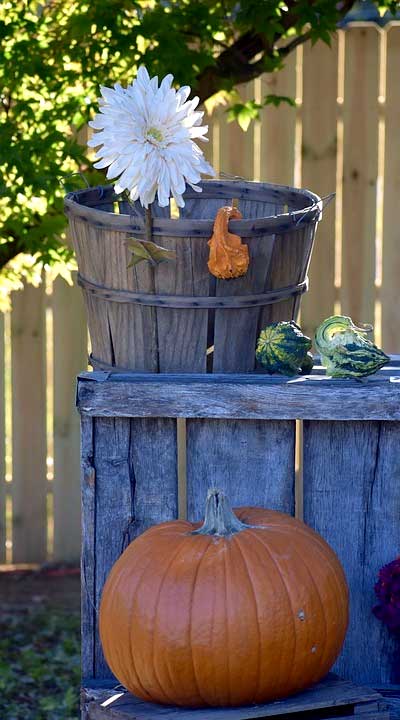 A blue-stained crate and aged wood basket make the perfect backdrop for a pumpkin and some uniquely shaped gourds. An oversized daisy (or any flower of your choice) can be added during early fall and then replaced with some clipped fall branches later in the season.
DIY Log Candle Holders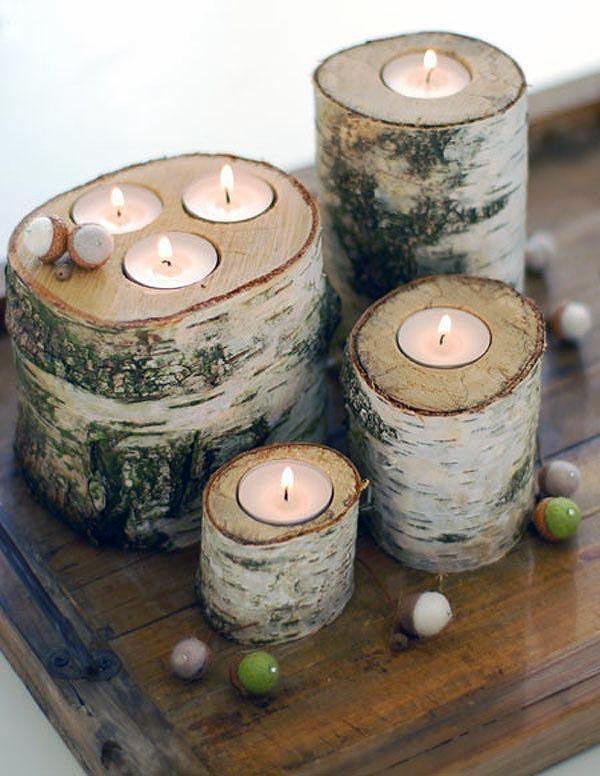 You can use any type of log to create these lovely votive candle holders. Just pick the right-sized drill bit (usually 1.5″ does the trick) to drill out the holes for the votive candles.
---
---
DIY Glittering Fallen Leaves Garland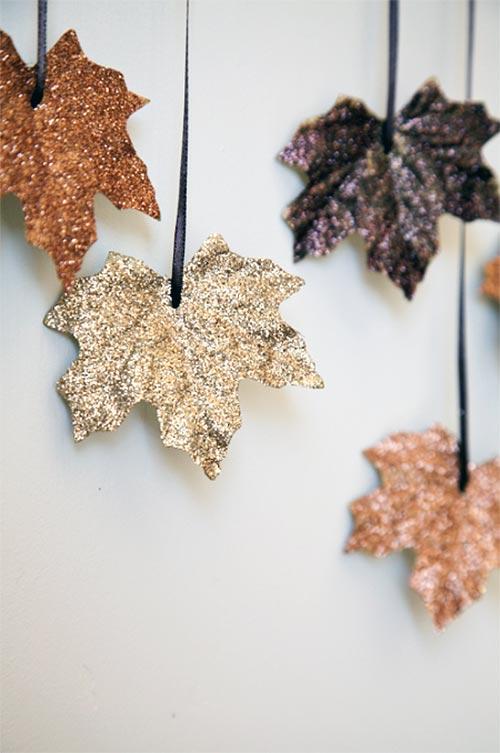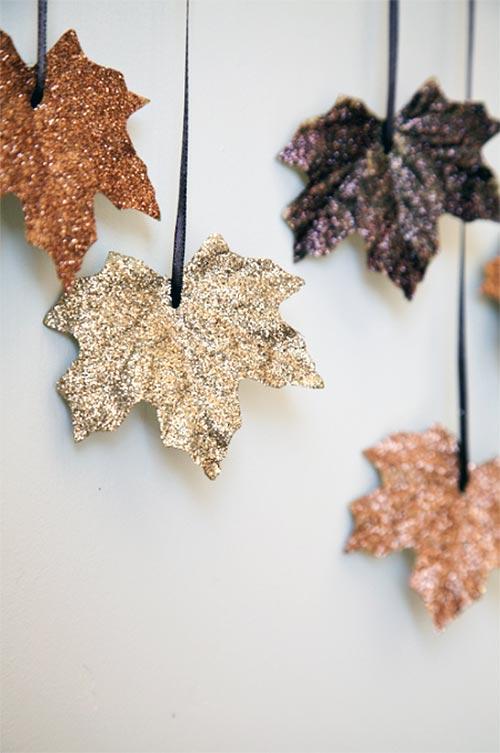 Source: House of Jade Interiors
Some artificial leaves from the dollar store, some glue, some glitter, and some ribbon, and VOILA you have this amazing and sparkly DIY Fall garland.
Gourd Wreath DIY Decor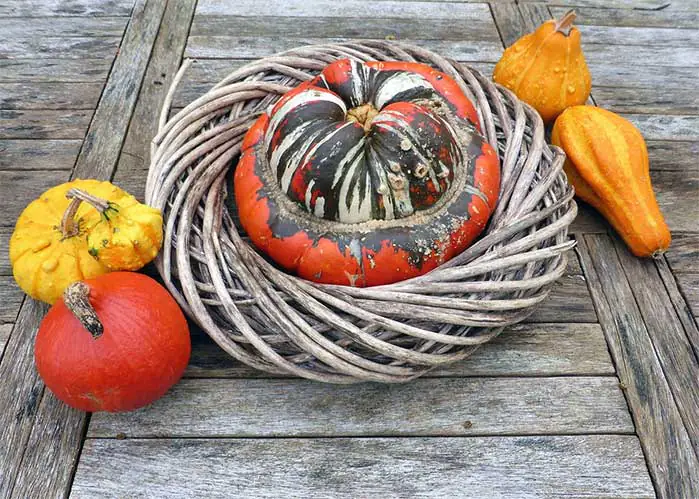 An old wicker wreath creates a rustic surround for these unique, ornamental gourds. Simple but effective fall DIY decor.
DIY Rustic Burlap & Yarn Fall Wreath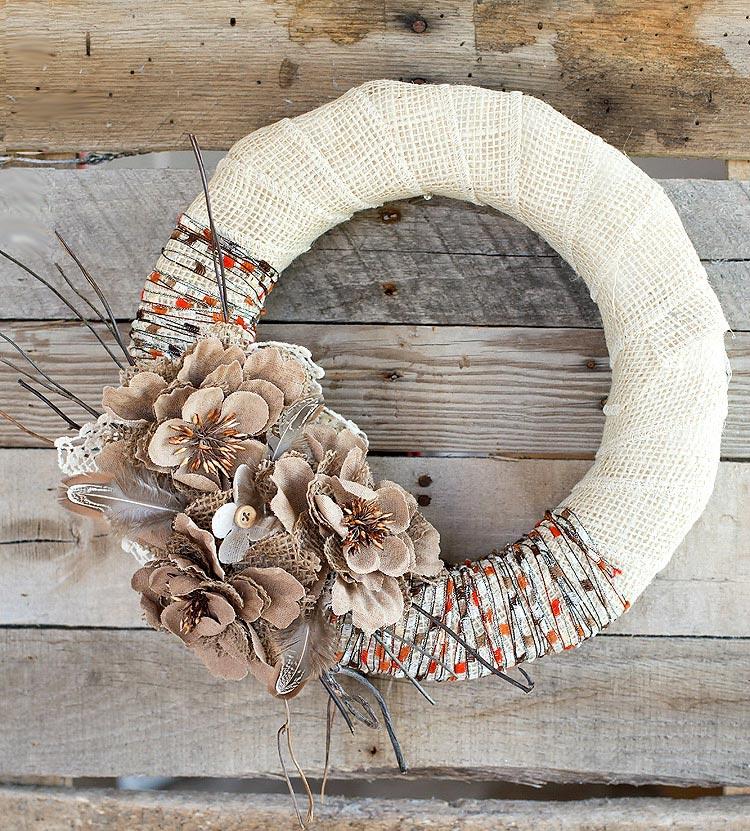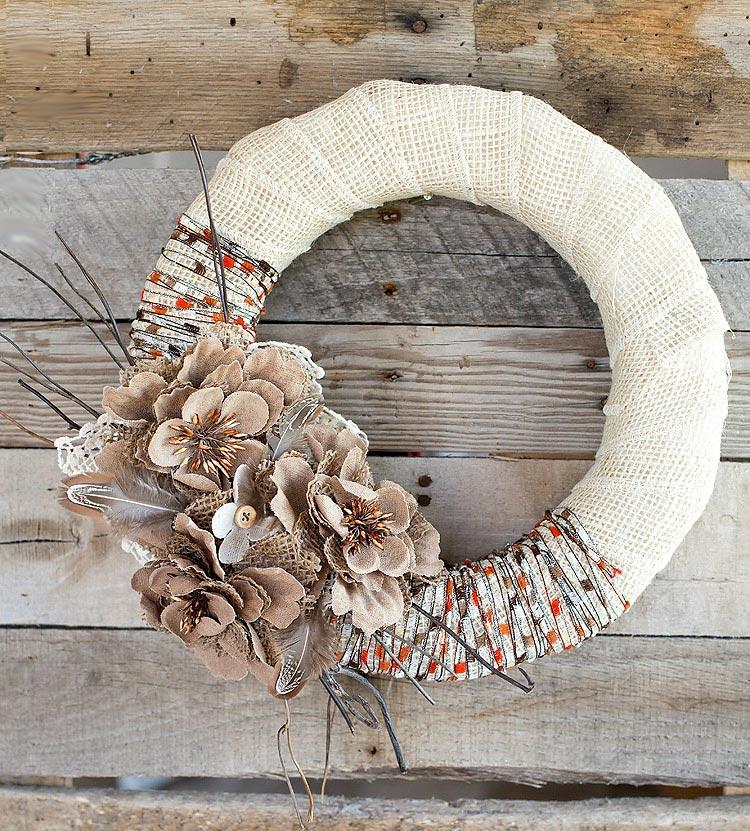 The subdued tones of this DIY wreath are perfect for celebrating the fall season while maintaining a neutral palette.
DIY Rustic Wood Sign
A delightfully rustic wood sign that is perfect for the front porch. Hand-painted and hand-lettered, this sign is one of a kind, as will yours be.
Painted Pumpkin Faces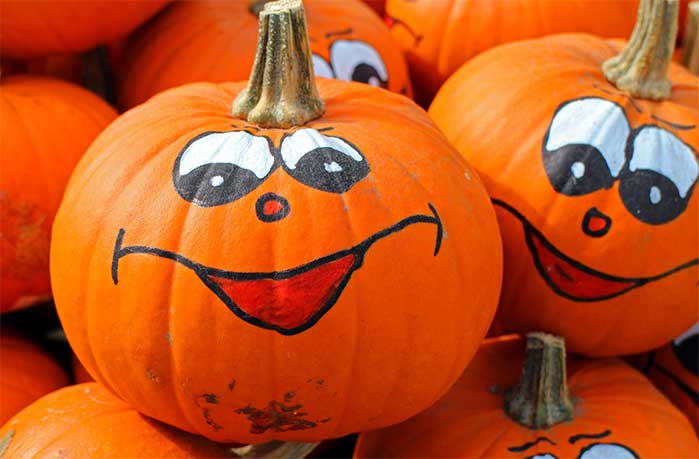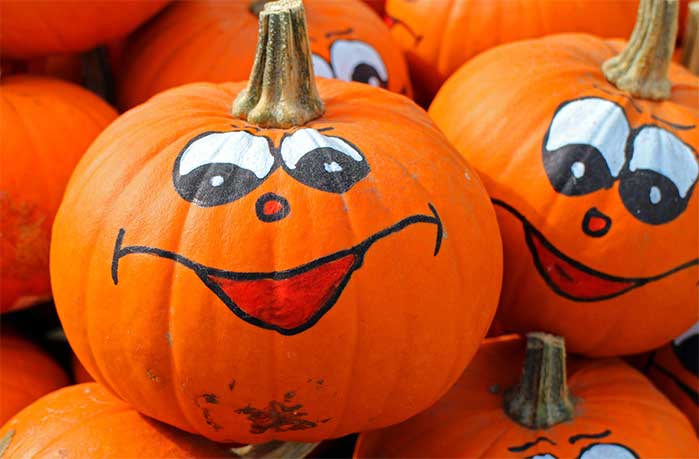 An adorable and easy way to add some fun to your own pumpkin patch!
---
---
Framed Fall Printable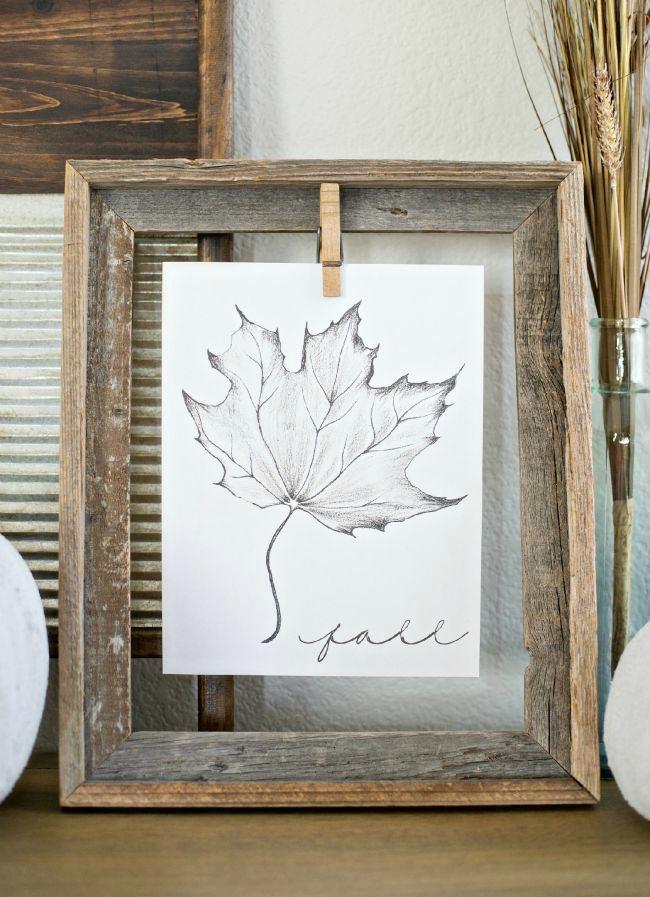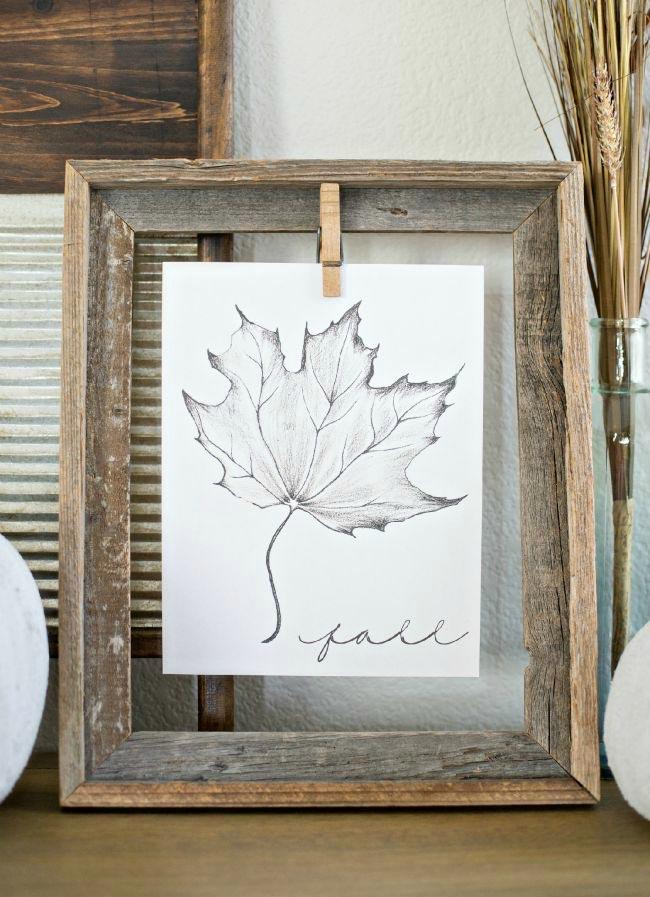 Download the Printable Shown Above
Looking for something unique to add to your fall decor, try one of these Free Fall Printables, created for you by Art & Home.
Fall is a beautiful time of the year, bursting with color. It's also a time when cool nights and crisp days allow for a lot more fall family outings.
And fall is a great time to indulge in some DIY Fall Decor, including some delightful (at least we think so) printables that we whipped up just for you!
These printables are all 8 x 10, with a little bit of room for trimming. Just click on the image you want to download to open the full-sized file, then right-click and use the "Save As" function to download the file to your computer.
Once printed, you can do so many things with these printables. Frame them, pin them, table them, you can even use iron on transfer paper to make a delightful fall pillow.
A quick and easy way to create some DIY fall decor is by framing a fall-themed printable. You can often pick up rustic-looking frames at the thrift store or dollar store, and then you just need to find the image that you want to showcase inside.
Here are a few more Free Fall Printables you can use for your own DIY Fall Decor
To access these free fall decor printables, simply click on the thumbnail, click on "view full size" and then right-click and choose "save image as" to save the printable image file to your computer.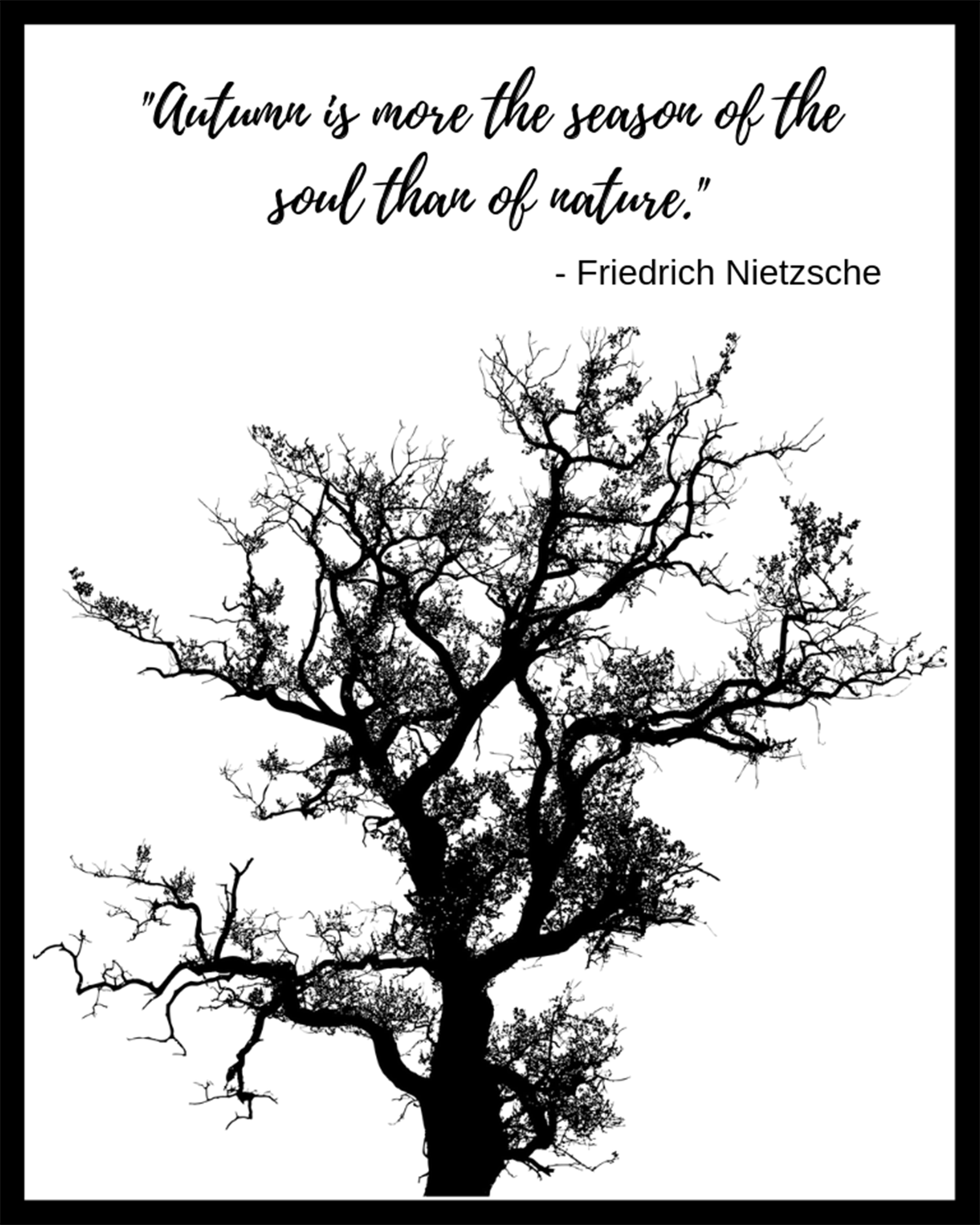 ---
---
Cute DIY Hedgehog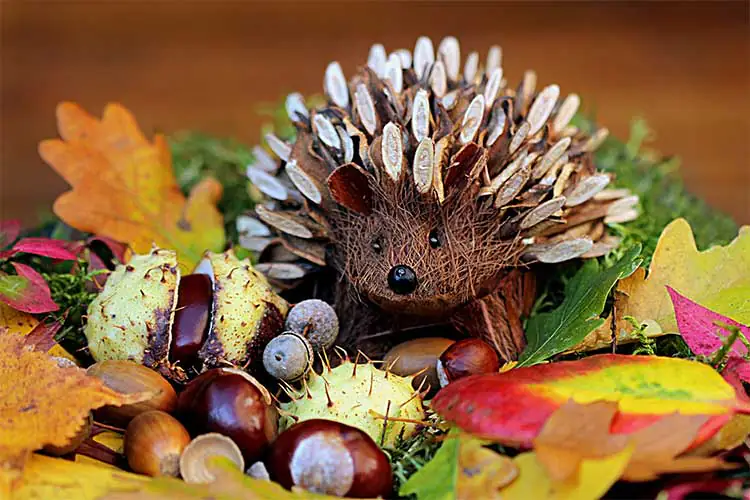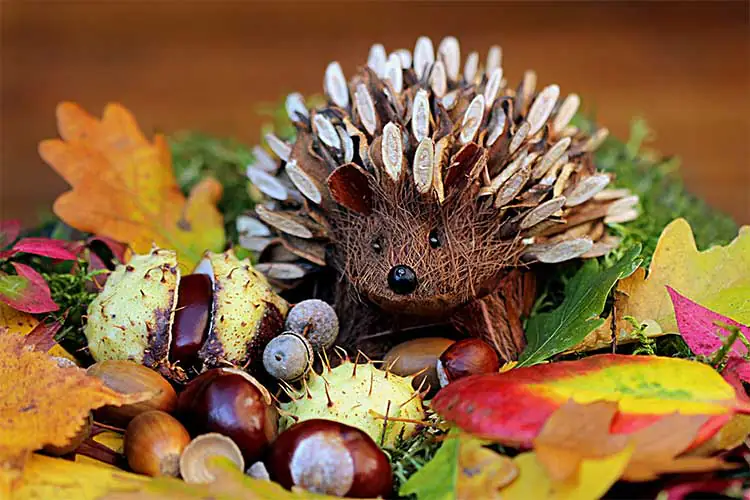 This DIY Hedgehog is absolutely adorable, and perfect for creating a fun DIY fall decor display.
Framed Chalkboard Turkey DIY Fall Decor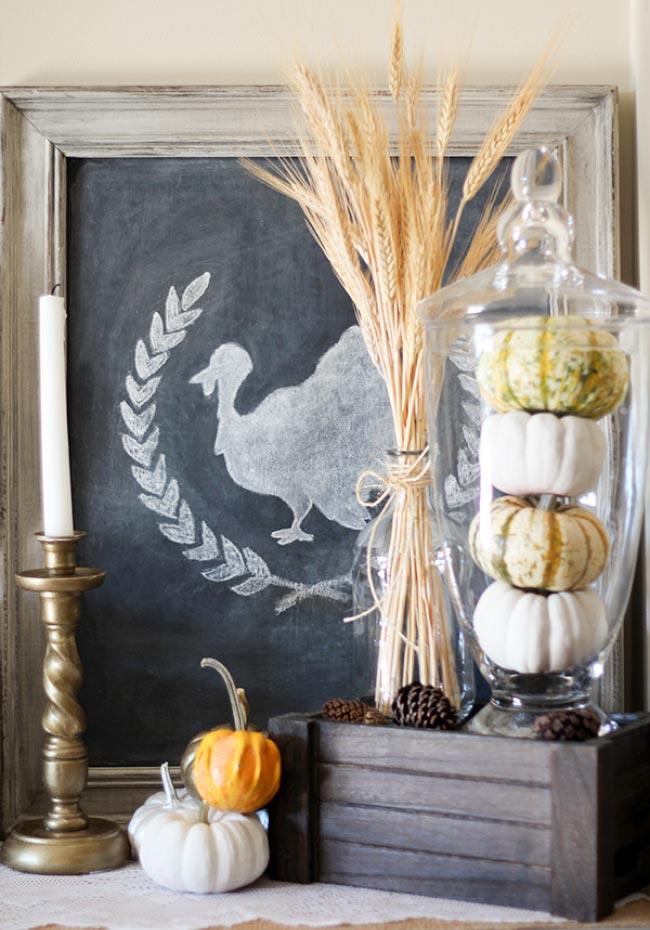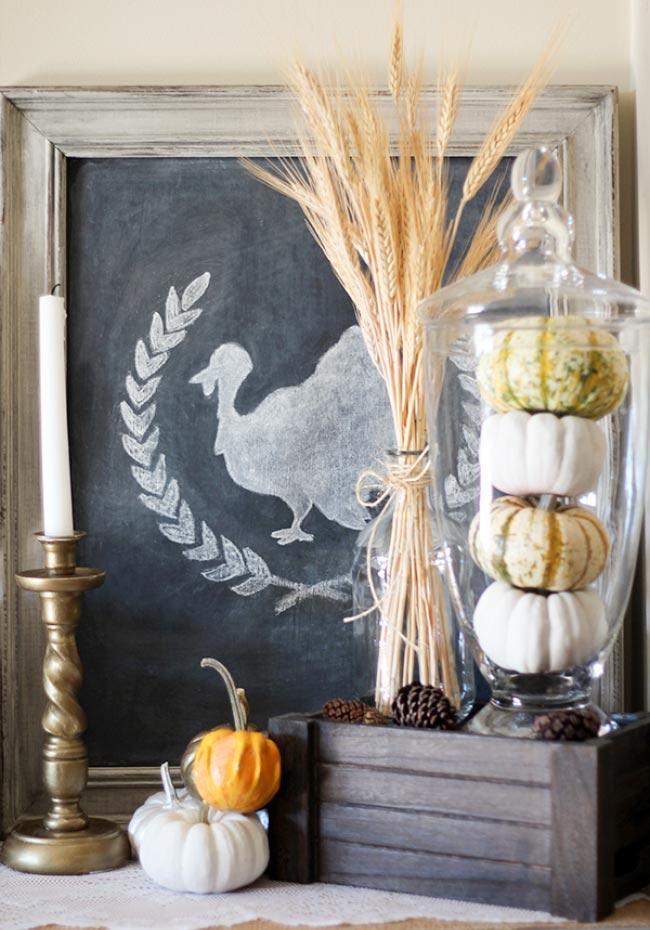 The great thing about having a framed chalkboard handy is that you can use it to create almost any decor theme you are working on.
Distressed Painted Mason Jars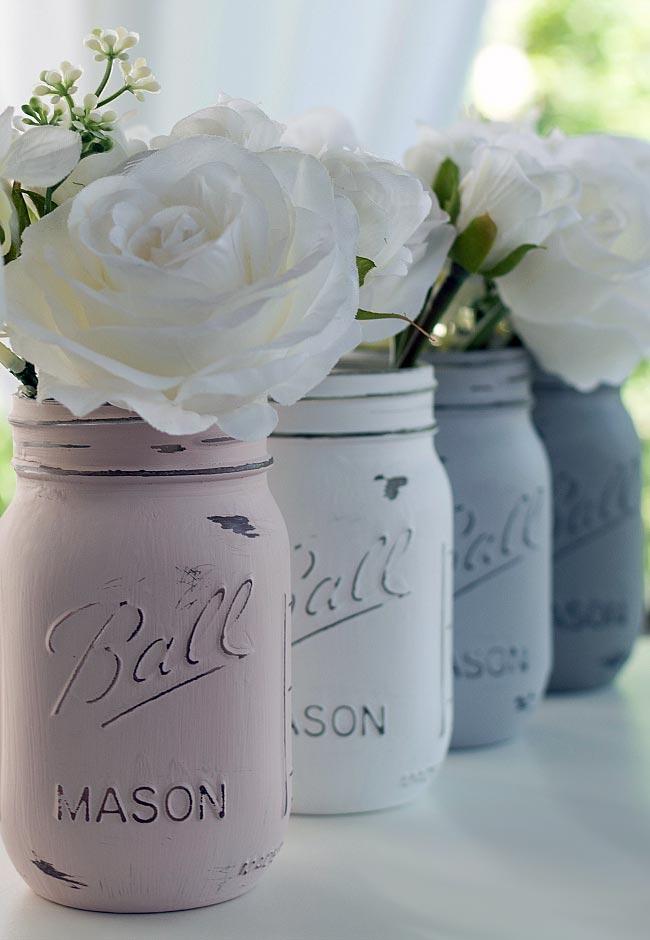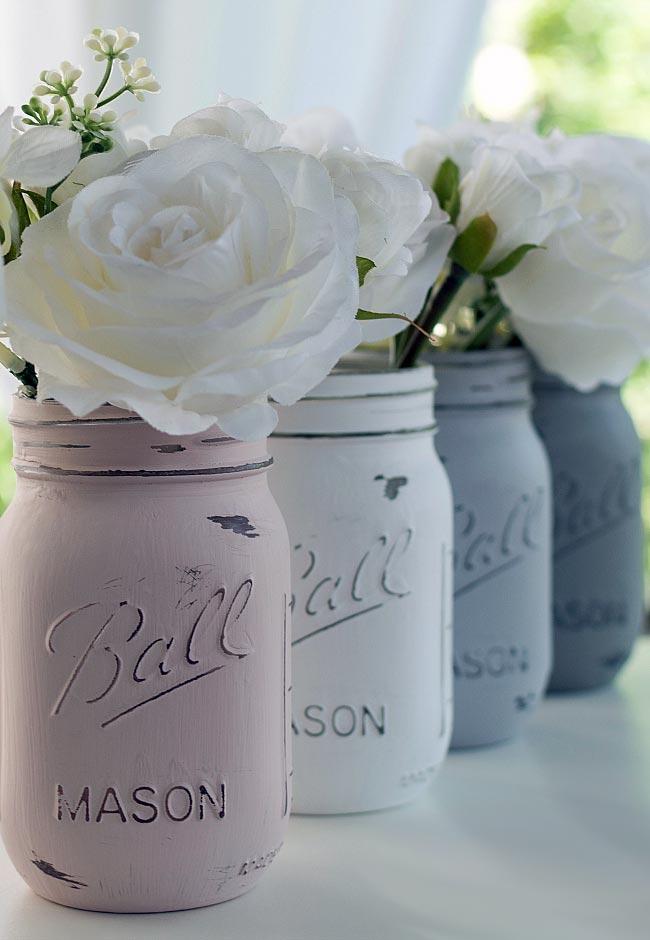 These lovely and rustic distressed Mason Jars are perfect for adding a bit of subtle color to your fall decor. You can also create these for Spring, Christmas, Halloween, Summer… just change up the color palette and you're good to go!
---
---
Colorful Fall Gourds for DIY Decor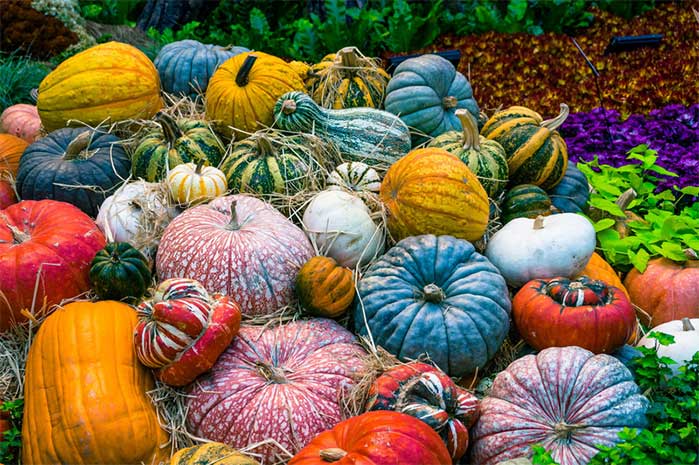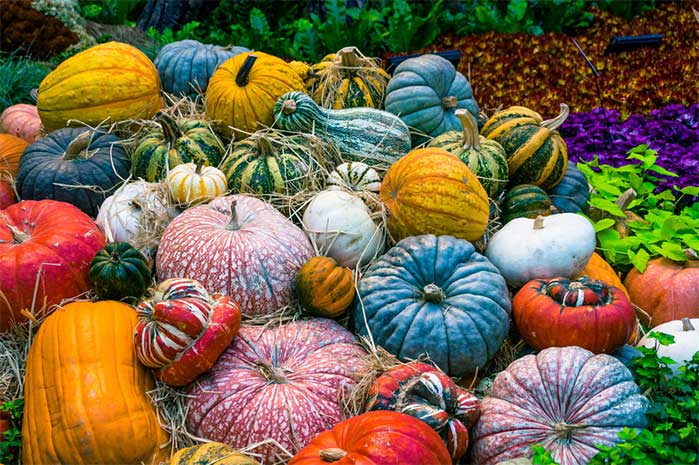 You can create an amazing fall display in your yard by laying out a variety of pumpkins and gourds in a mix of unique colors.
Reclaimed Wood DIY Pumpkins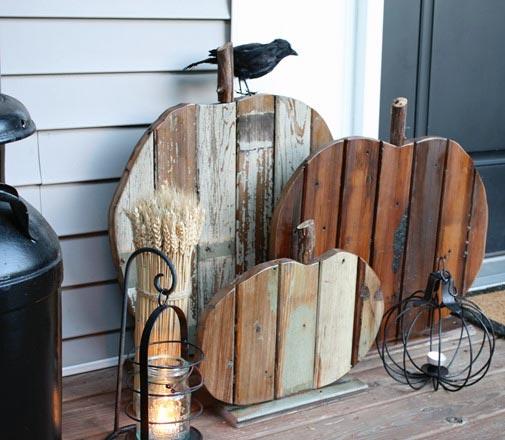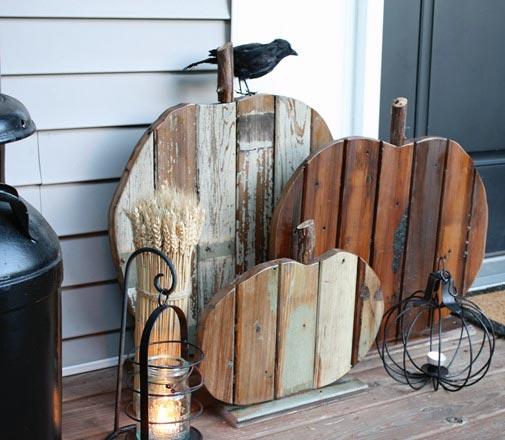 A bit of salvaged wood, some plywood, a few tools, and some found tree branches is all you need to create these lovely and rustic fall pumpkins.
Some of these DIY Fall decor projects and ideas can blend seamlessly from late summer into early fall, through Halloween, and then into early Winter.
This is great for those people who like to keep their decorations up for as long as possible without having to change out the displays as each season changes. But those same people are likely the ones who keep their Christmas Lights up well past Valentine's Day, so we really don't want to think about them. 😉
Pumpkins, scarecrows, and candles are a much-loved theme when it comes to DIY Fall decor. And there is nothing wrong with sticking with traditions, as long as you put your own personal spin on it.
DIY Wine Cork Pumpkin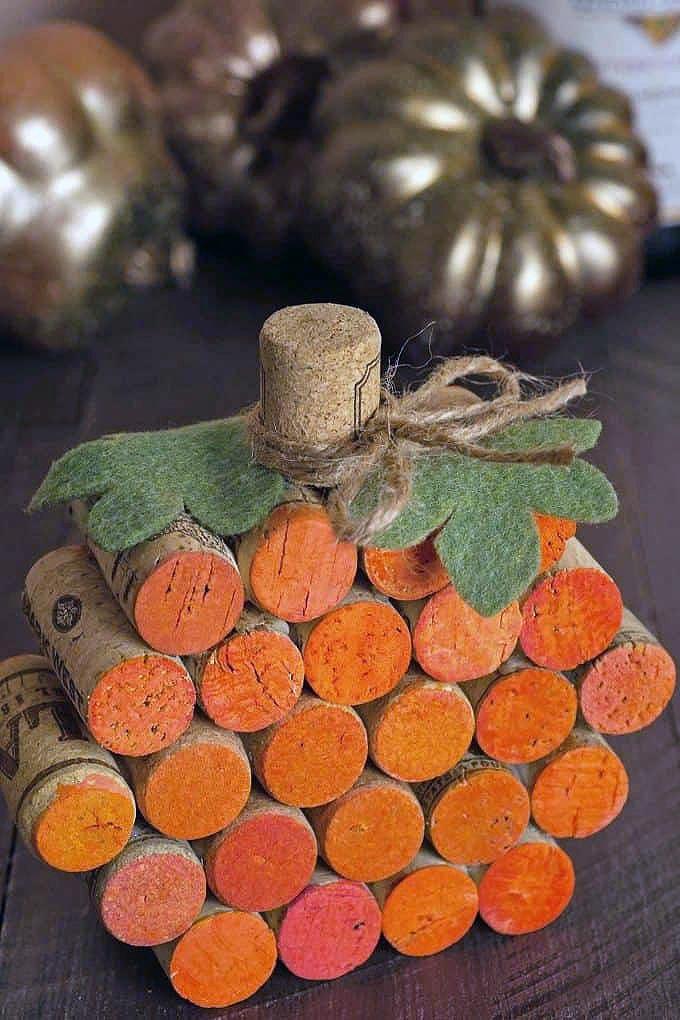 Combine your love of wine with your love of fall with this cute little pumpkin crafted using old wine corks.
Edible DIY Apple Display
Sometimes, it's the smallest things that can create the loveliest of displays. A few ripe apples and some nuts are scattered with some mums and other fall flowers. Throw a personal element in there, like this vintage sheet music, and you have an edible fall display that tastes as good as it looks.
Ladle DIY Tea Light Candle Holder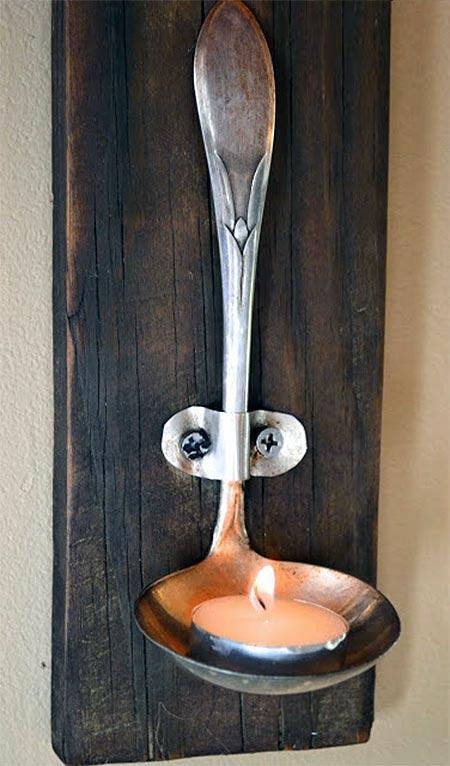 I love this project because it takes a thrift shop find, such as an antique ladle, and turns it into a wonderfully rustic and unique tea light candle holder.
DIY Scarecrow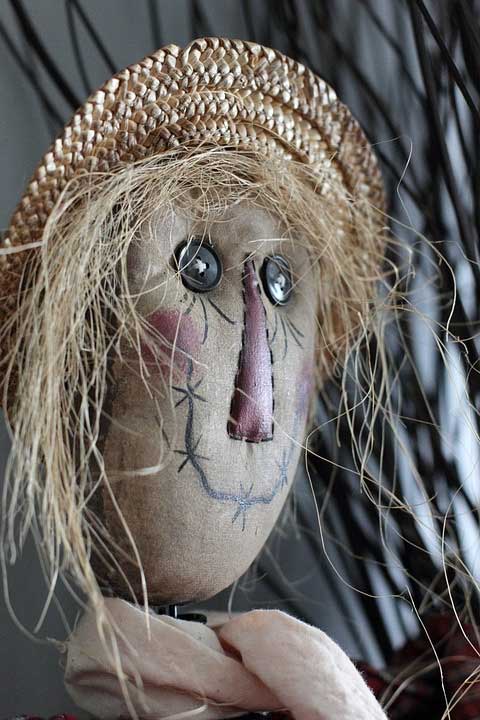 This scarecrow is anything but frightening, and so easy to make. All you need is an old burlap bag, some black buttons and thread, and a little bit of fabric paint (although sharpie markers will do in a pinch). Top it off with some straw hair and an old straw hat and you've got a delightfully welcoming scarecrow.
---
---
Small Terracotta Pot Scarecrow
A few small terracotta pots, some twine & burlap, and some craft straw – all of which can be picked up at the dollar store – can be quickly transformed into this adorable little scarecrow.
Milk Crate Pumpkins Outdoor DIY Fall Decor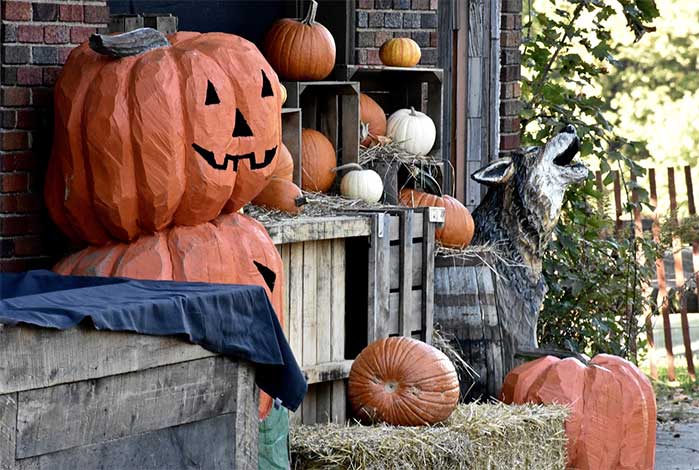 This rustic outdoor display uses a mix of real and artificial pumpkins in a variety of colors, some rustic wood crates, an old barrel, and a bale of hay. The end result is wonderfully rustic!
Fall Luminary Tree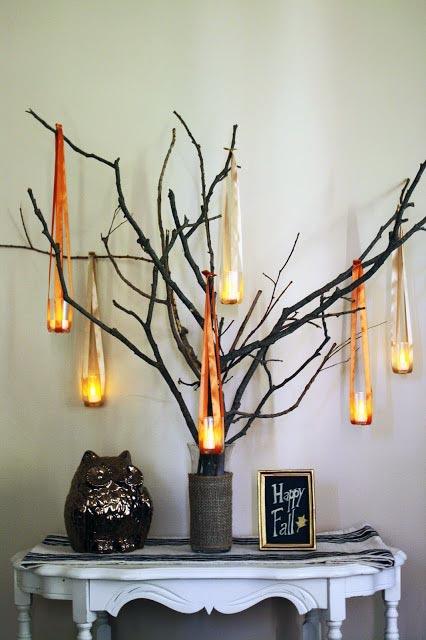 Hang some battery-operated votive candles (do not use real candles for this DIY Fall decor project, as it would be a fire hazard) from tree branches with some wide ribbon for a dramatic display. Perfect for the hall table!
Mr. and Mrs. Pumpkin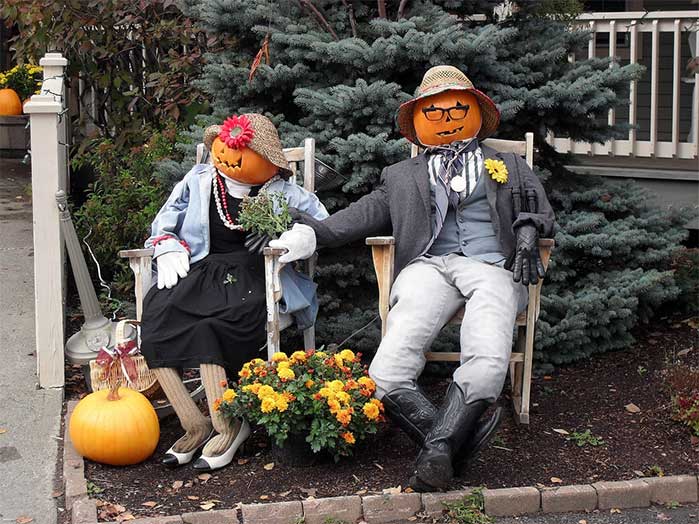 You can create a wonderfully welcoming fall display using some old clothes, a couple of salvaged rocking chairs and some quaintly carved pumpkins.
DIY Fall Wreath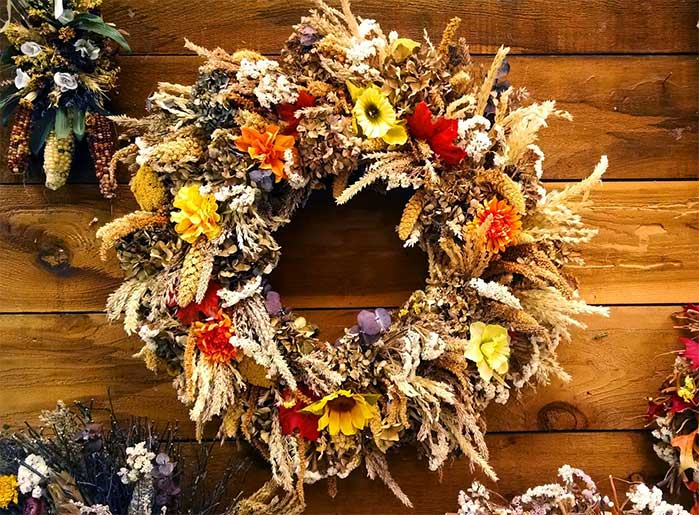 Create your own wonderful fall wreath using fresh or artificial flowers and grasses in warm earth tone colors.
---
---
White Pumpkin with Paper Flowers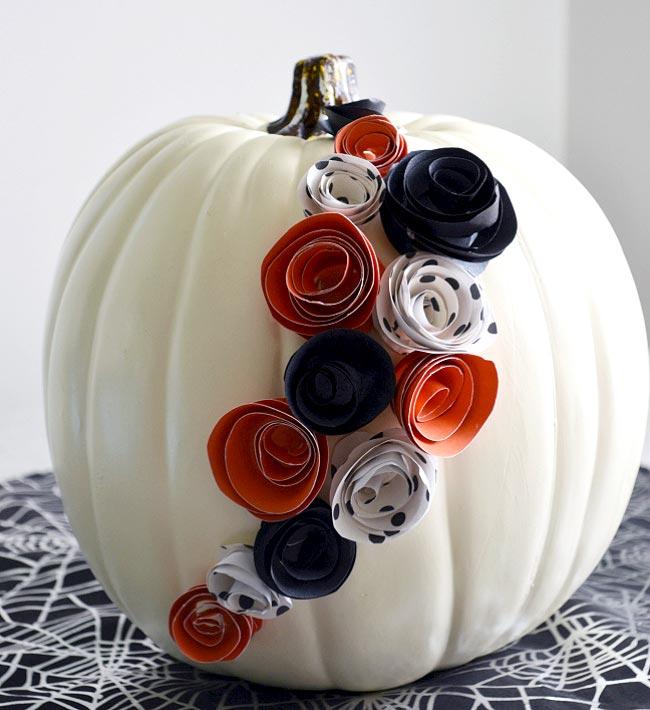 You can use a craft pumpkin or a real pumpkin for this project because the real hero is the paper flowers.
DIY Fall decor doesn't have to be complicated. Sometimes the simplest of presentations have the biggest impact.
Fall Harvest Bowl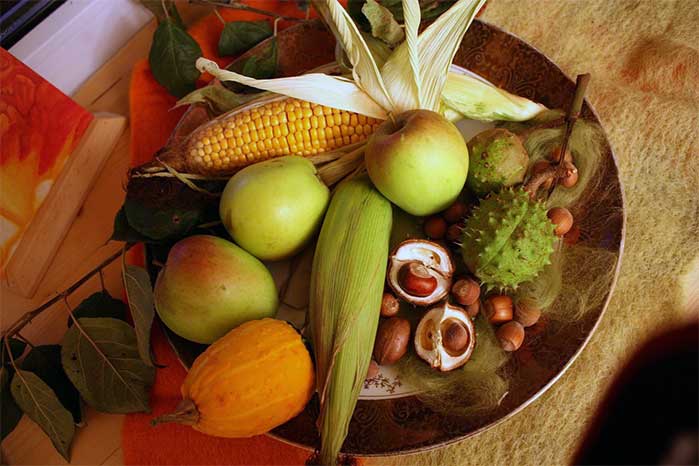 Fill a decorative bowl with some pickings from the crop, including an ear of corn, some fall apples, chestnuts, and more. Use some of the silk from the partially husked corn for an additional filler!
DIY Scrapbook Pumpkin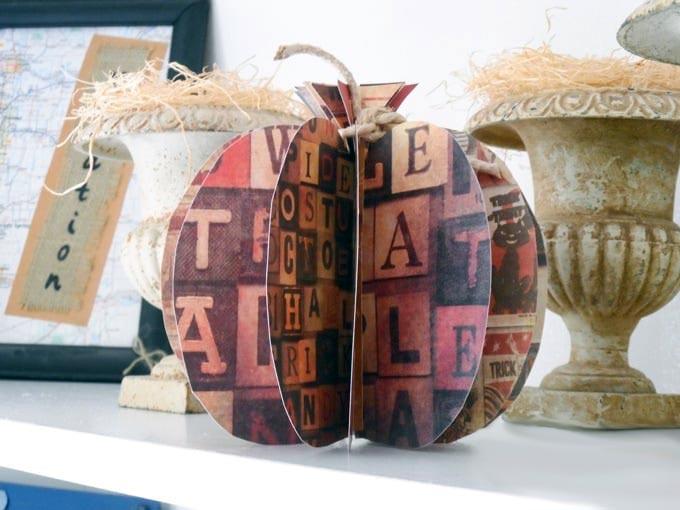 These beautiful DIY paper pumpkins are crated using heavy-duty two-sided scrapbook paper in a lovely fall theme.
Mum's the Word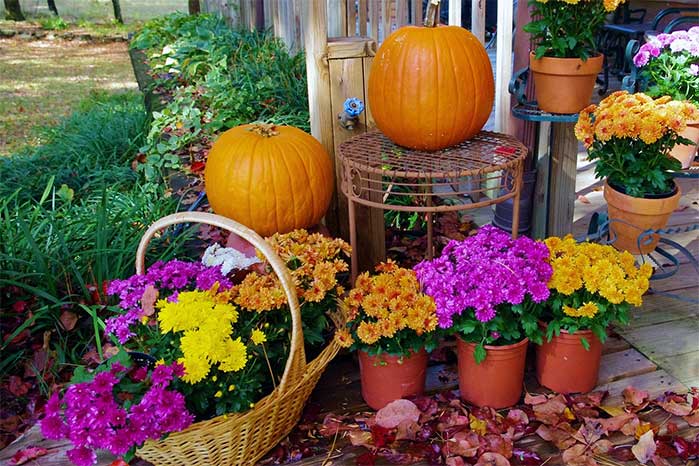 It's amazing how quickly you can create an outdoor fall display using some colorful mums, pumpkins, and a variety of rustic items to display them in.
DIY Scarecrow Wreath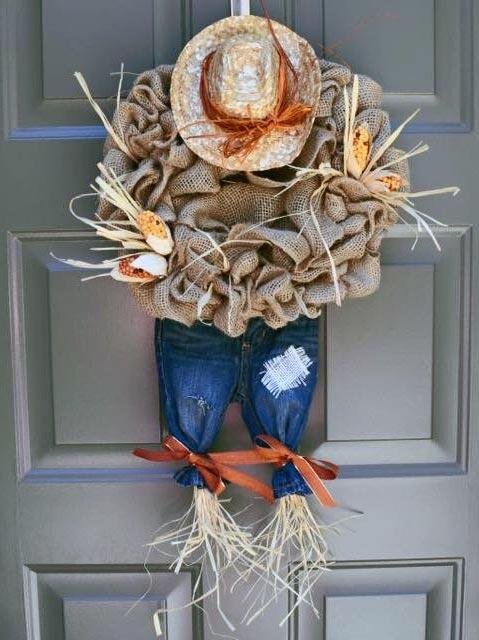 Such a cute idea, using some burlap and small pieces of Indian corn in the wreath, then accented with some baby clothes (patched-up jeans and a cute straw hat) to complete the look.
---
---
DIY Distressed Wood Heart Ornaments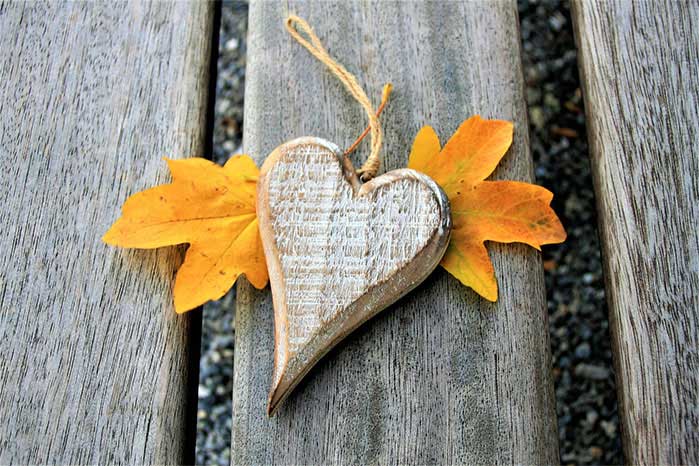 Pencil out and then cut some elongated wooden hearts. Router the edges to create a contour. Paint and then distress the finish. Burn the edges and the corners to create a warm look, and then tie some twine around a simple eye hook so that you can hang them wherever you want.
DIY Harvest Barnwood Sign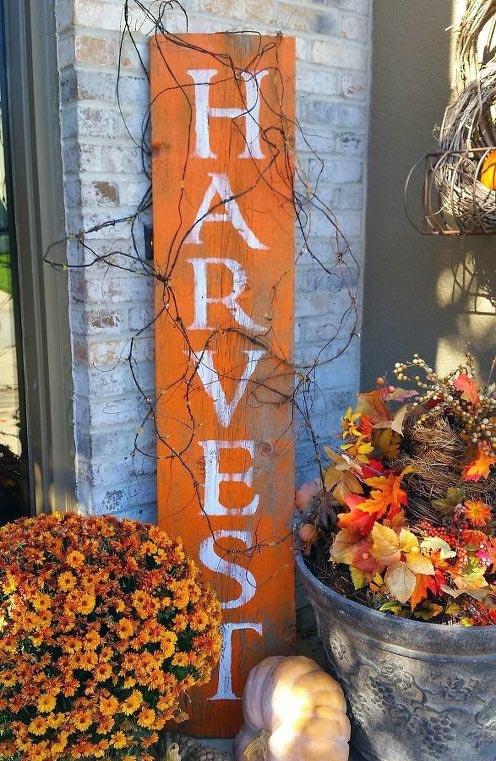 Some salvaged barn wood is transformed using a custom-made stencil and some paint into a wonderful fall-inspired Harvest sign.
DIY Pine Cone Wreath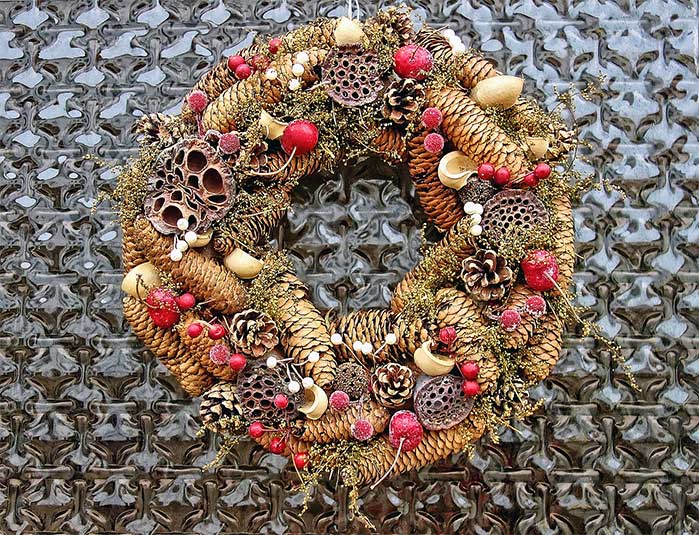 Grab some pine cones and other decorative dried plants from the dollar store and let your imagination go wild!
---
---
Farmhouse Fall Centerpiece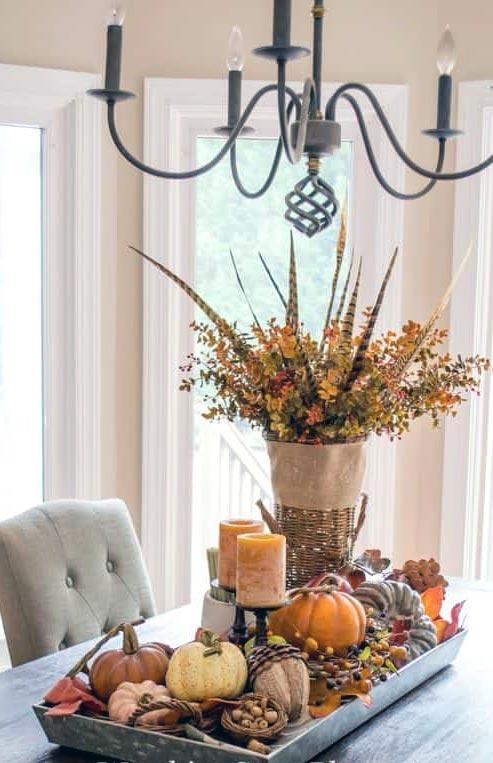 A galvanized metal tray is filled with fall colors and loads of texture to create this rustic farmhouse fall centerpiece.
Painted Gourds & Pumpkins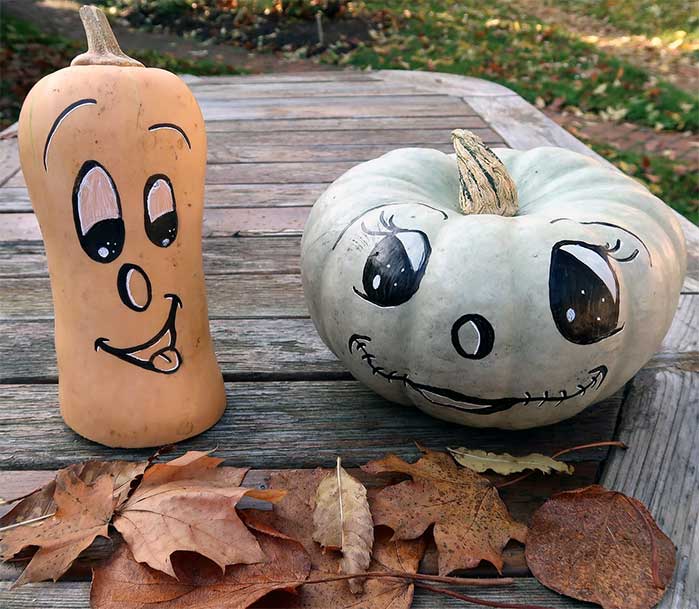 You can use real gourds and pumpkins or pick up some artificial ones at the dollar store. Then paint on some cute faces. It's as easy as that!
DIY Fall Indian Corn Wreath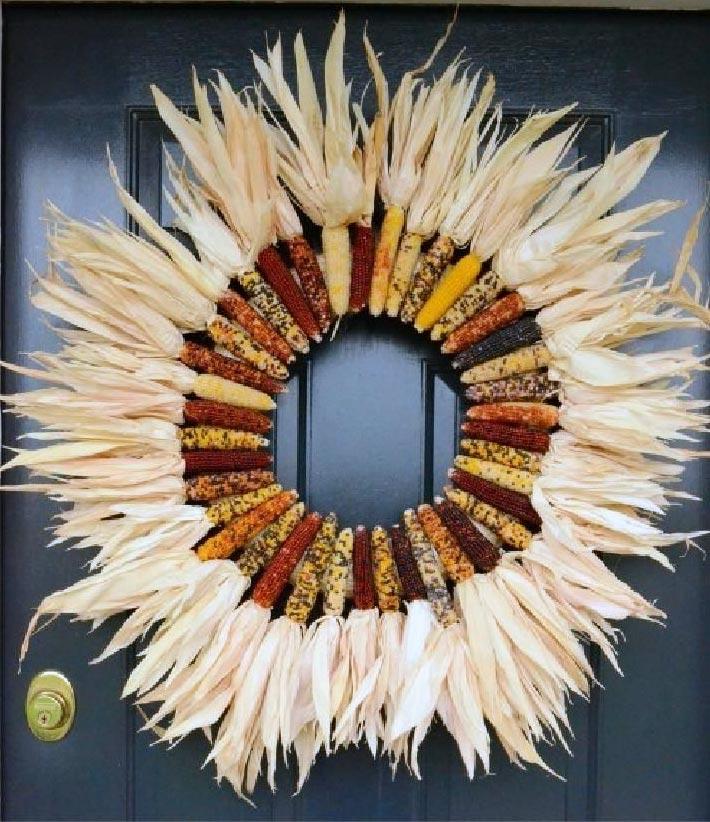 Some shucked Indian corn creates an impressive display when arranged as a wreath.
Fall Garden Jars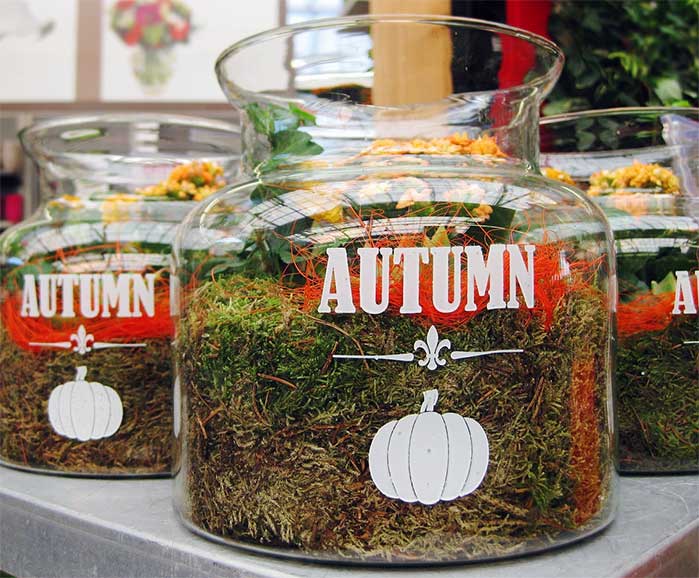 Pick up some glass jars from the dollar store, stencil paint them with an autumn theme of your choice, and then fill them with some natural fall botanical… aromatic ones would be best!
Or, you can fill them with some loose-leaf tea in browns and greens, making it a useful gift!
DIY Fallen Leaf Roses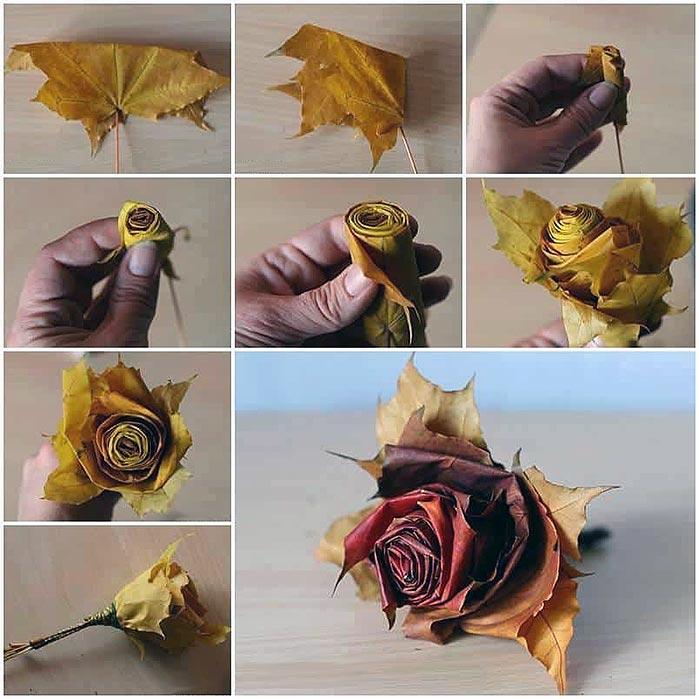 Turn fallen leaves into beautiful roses! A fun and beautiful DIY craft you can do with the whole family.
We continue our collection of awesome DIY fall decor projects and ideas with some fun concepts that help bring the spirit of the season into your home and garden.
It's really about the colors, the textures, and the sentiments of the decor you create and less about the intricacy of the designs. Leave that for Spring!
DIY Wood Slice Kitchen Owl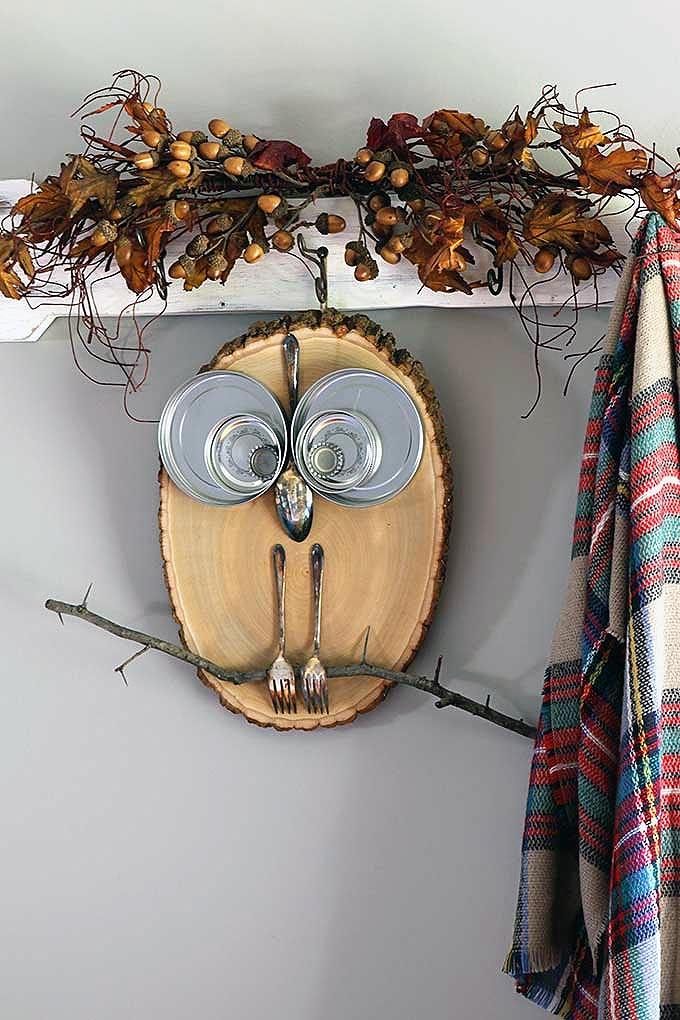 Perfect for adding some DIY Fall decor to your kitchen, this cute kitchen owl is comprised of a slice of rustic wood, a fallen tree branch, some old cutlery (easily found at a local thrift show), and a variety of bottle lids and caps.
---
---
Indian Corn Fan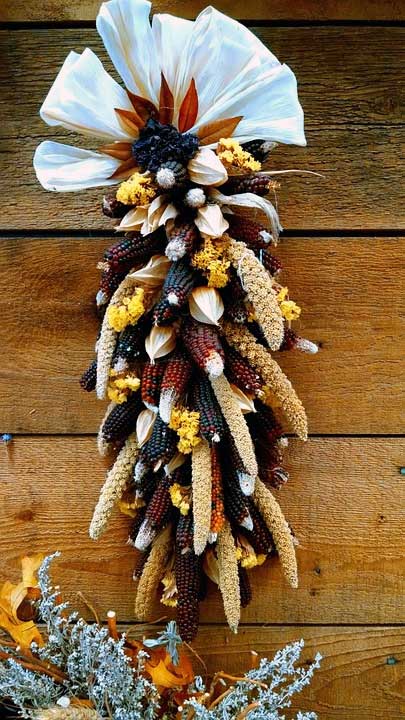 I love this rustic wall hanging made from dark and wonderful Indian Corn!
White Pumpkin Coffee Table Centerpiece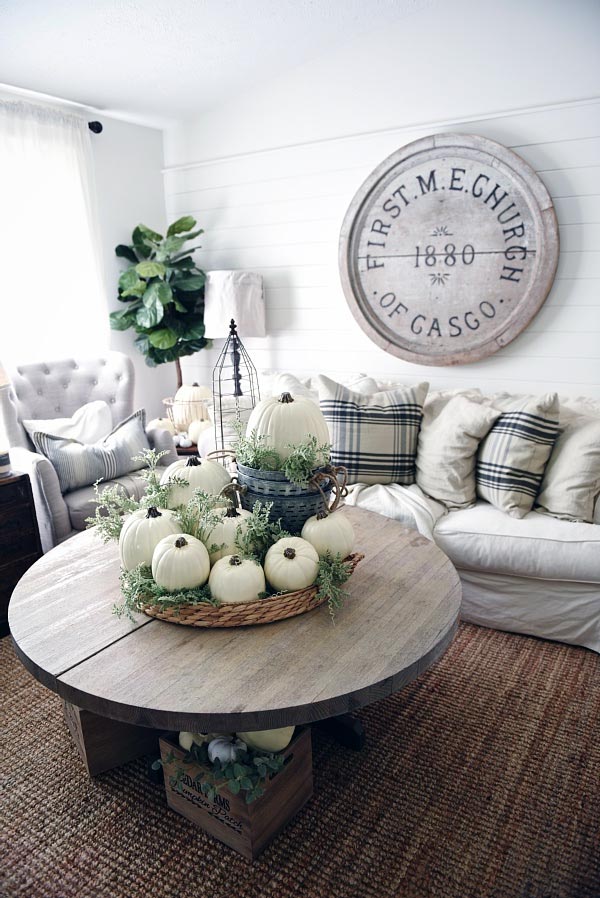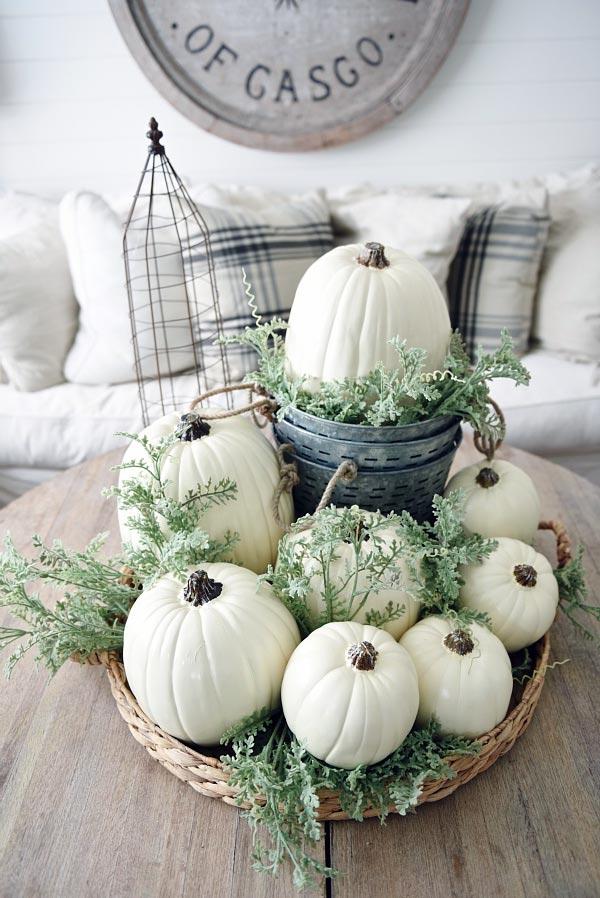 A rustic tray, some white dollar store pumpkins, a few galvanized pails, and some faux greenery combine to create this impressive display.
DIY Fall Burlap Wreath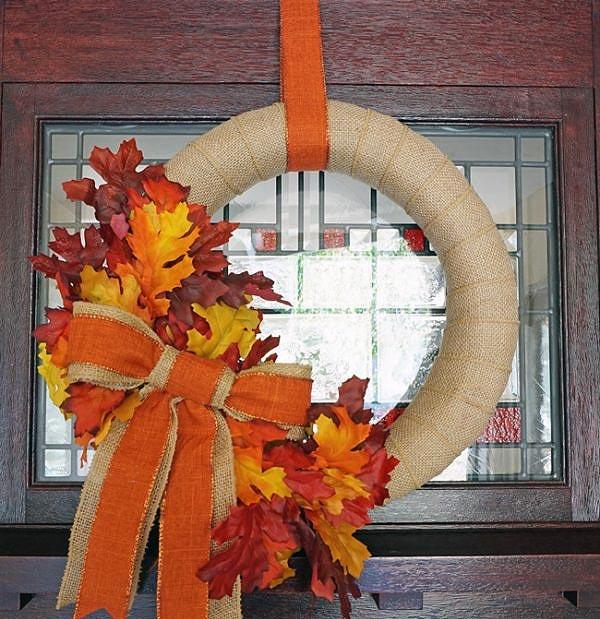 This simple but high-impact DIY fall wreath uses a 14″ straw form wreath, some burlap, and silk fall leaves to create a lovely accent to your front door.
---
---
Candy Corn Buttons DIY Fall Wall Art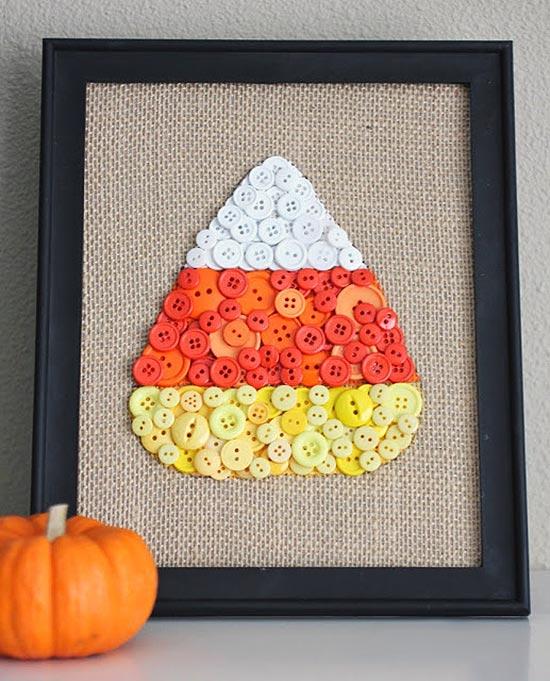 A handful of different-sized buttons in white, yellow, and orange (either purchased that way or spray-painted those colors), a piece of burlap, and an 8×10 frame from the dollar store are all you need to create this wonderfully rustic DIY Fall wall art piece.
Well, maybe a glue gun & some mod podge as well. 🙂
Cut Fabric Leaves on a String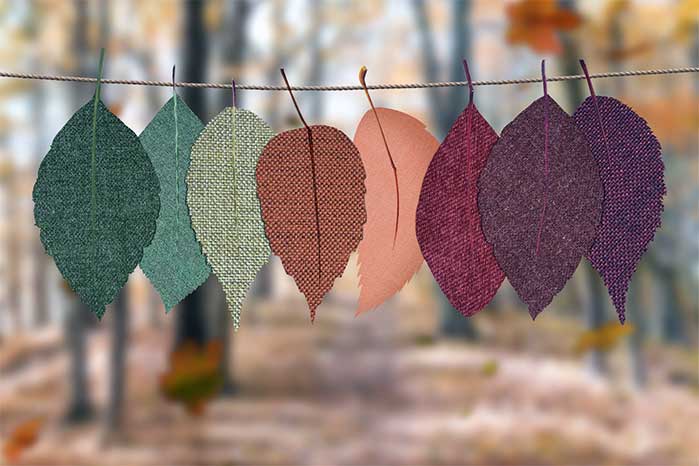 Some rustic fabric in traditional fall colors are cut out and then hung on a string to create a lovely fall display. Perfect for decorating your windows for the fall!
DIY White Birch Coasters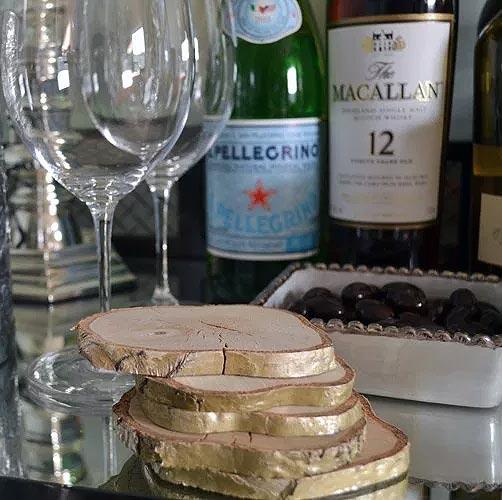 These rustic coasters get an elegant upgrade by adding some gold spray paint around the rims. A fun, easy, and functional piece of DIY Fall decor.
Grateful Thankful Blessed DIY Wood Sign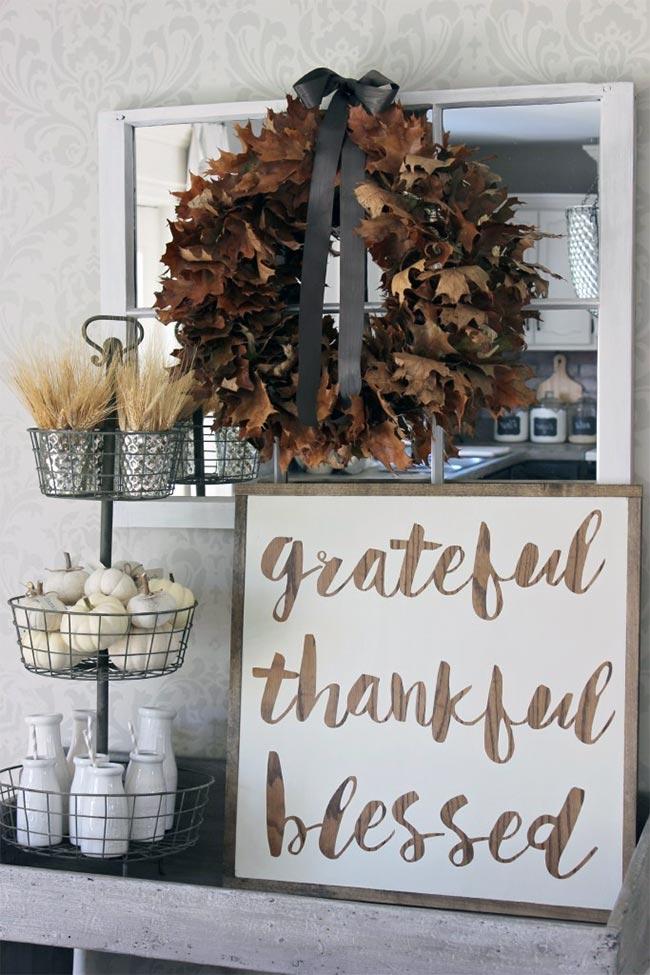 Take a sheet of vinyl and carefully cut out the words and stick it to the sheet of stained wood. Tape off the exterior edges to create a frame. Paint the entire board. Once dry, carefully peel off the vinyl to reveal the letters.
This one is a bit trickier from a DIY standpoint, but the results are lovely!
Pumpkins and Sunflowers Tabletop Display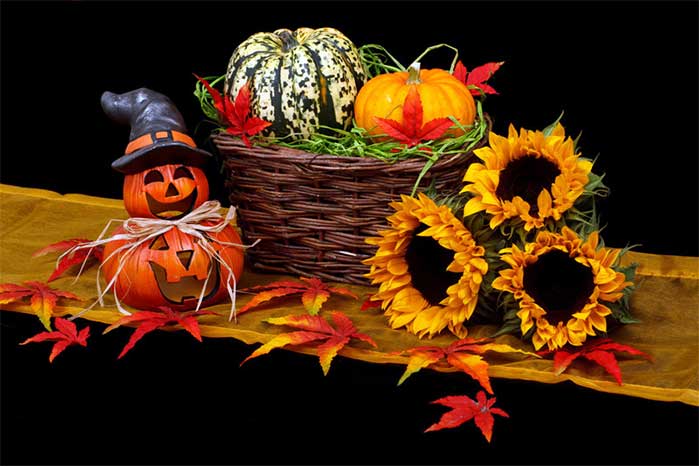 Combine some small pumpkins and gourds, a few sunflowers (silk will do), some leaves, and some dollar store pumpkin decorations into a lovely display.
DIY Stamped Burlap Placemats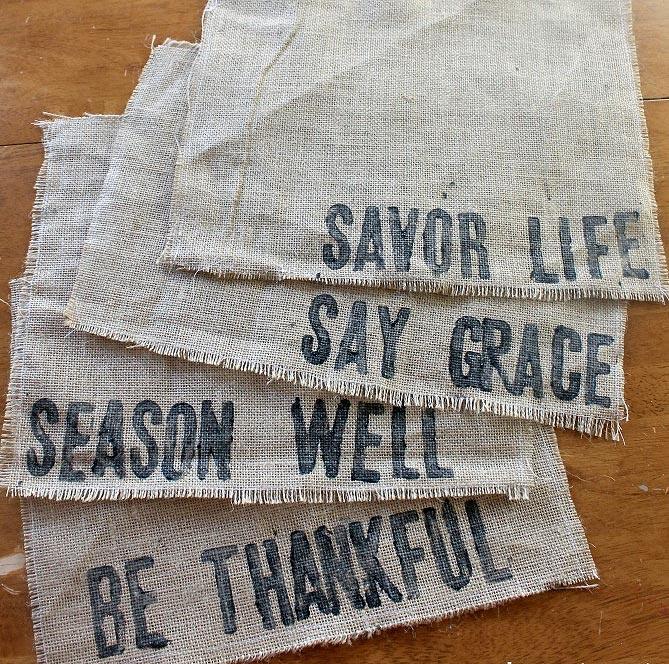 Such a fun and easy project. All you need is some burlap, a set of foam alphabet stamps, and some paint to create these personalized and rustic fall placemats. This technique could also be used to create your own napkins, tablecloth, and more.
Fall Bicycle Flower Basket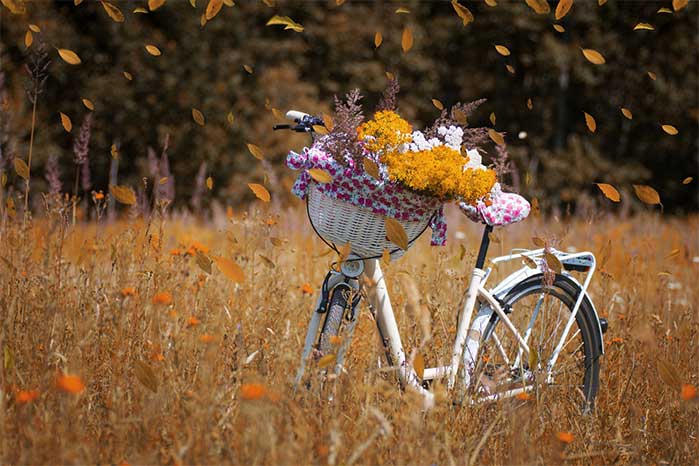 When the time comes to retire your bicycle for the season, throw a wicker basket on the front with some fall flowers for an attractive display.
DIY Fall Letters Door Hangers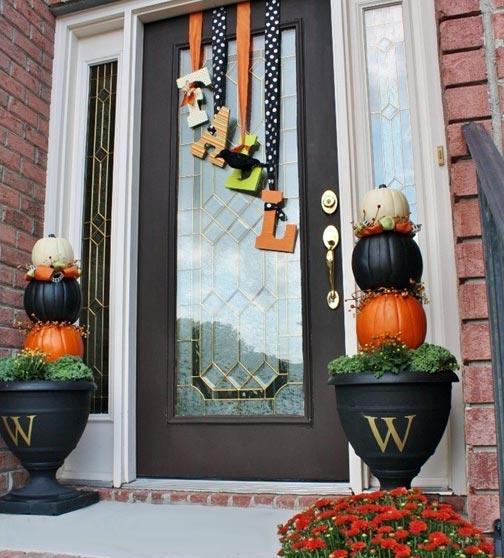 If you use pre-cut MDF letters, this DIY Fall decor project is so fast and easy. The rest of the project is the fun part of decorating the letters with colored and patterned tissue paper and then hanging them with the wide ribbon of your choice.
---
---
Water Pitcher Fall Flower Arrangement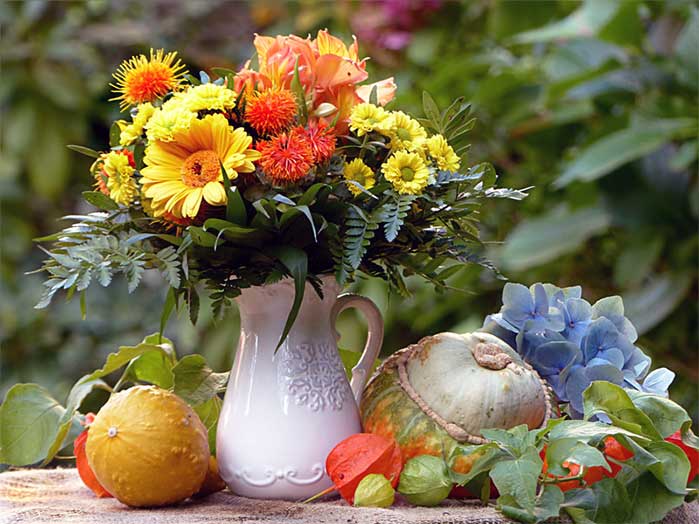 A vintage water pitcher makes a lovely base for this beautiful fall floral arrangement. Accent with some foliage and a few decorative gourds to complete the look.
DIY White Pumpkin Vase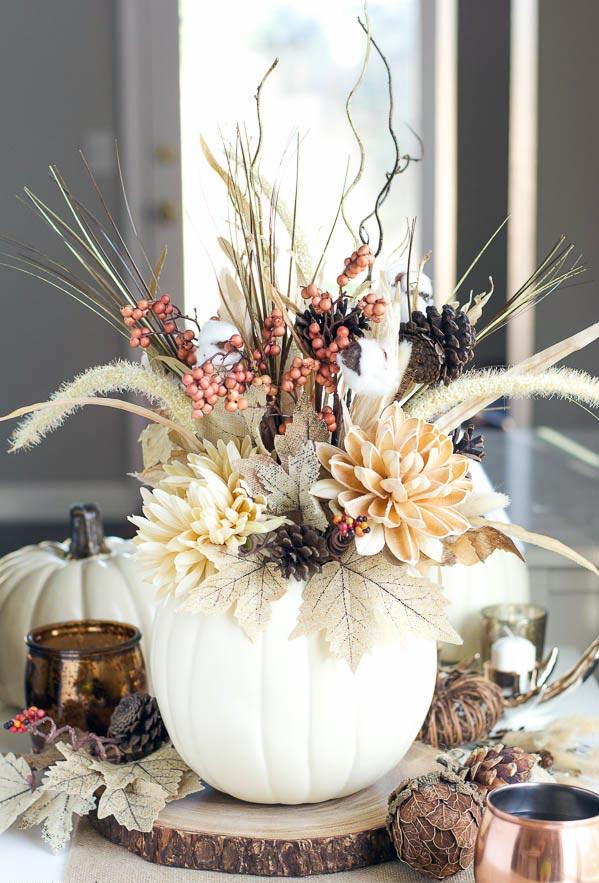 Transform a dollar store plastic pumpkin into a wonderful floral centerpiece for your table.
Gourd Cornucopia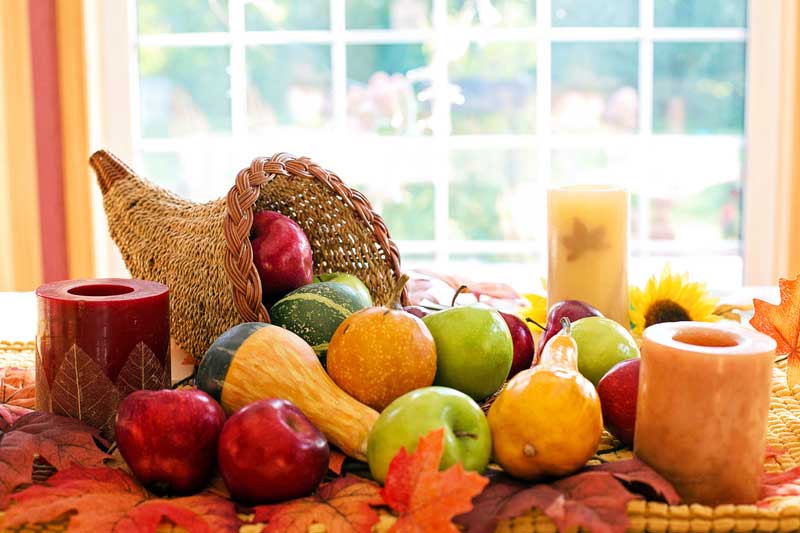 A mix of colorful gourds, some candles, and a cornucopia-shaped basket accented by some fallen leaves and flowers help create this lovely fall display.
DIY Pumpkin Tower Planter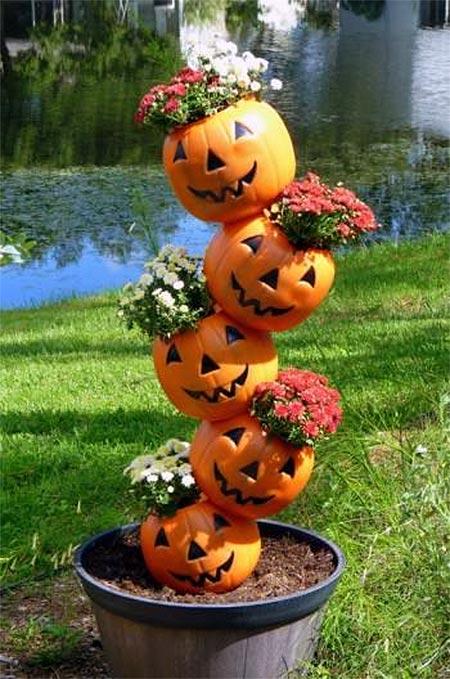 Turn inexpensive pumpkin trick-or-treat buckets into a delightful DIY fall planter.
Decorative Wood Pile House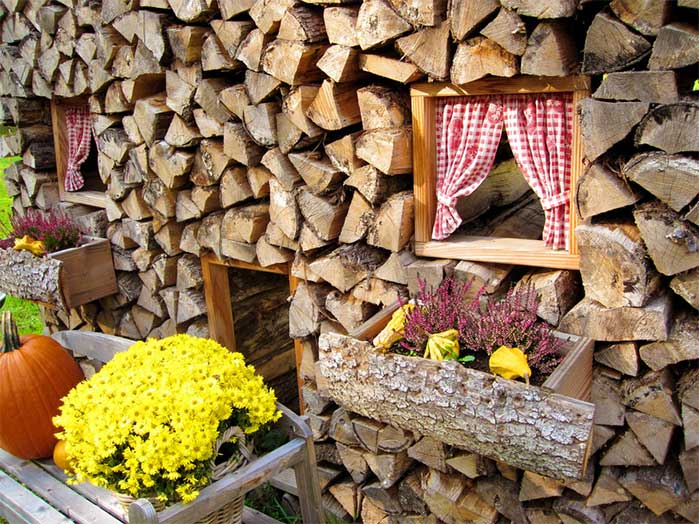 Storing all your chopped wood for the winter? Take your wood storage to the next level with something like this decorative woodpile. All you need is a few wood frames for the "windows" and the "door" and some fabric to make little curtains. Accent the windows with these rustic DIY window boxes, and add some flowers and pumpkins to make your woodpile house look like a home.
---
---
DIY Terra Cotta Mosaic Pumpkin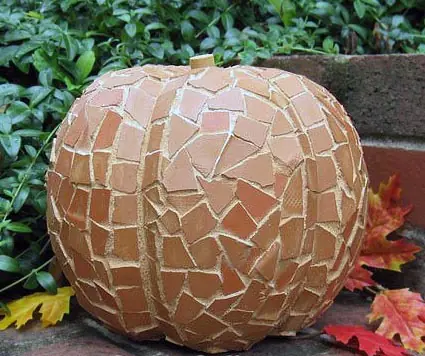 A great way to use some broken clay or terra cotta pots. Simply glue the pieces to a dollar store foam pumpkin to create a wonderful fall display piece.
Paperclip Leaves DIY Fall Decor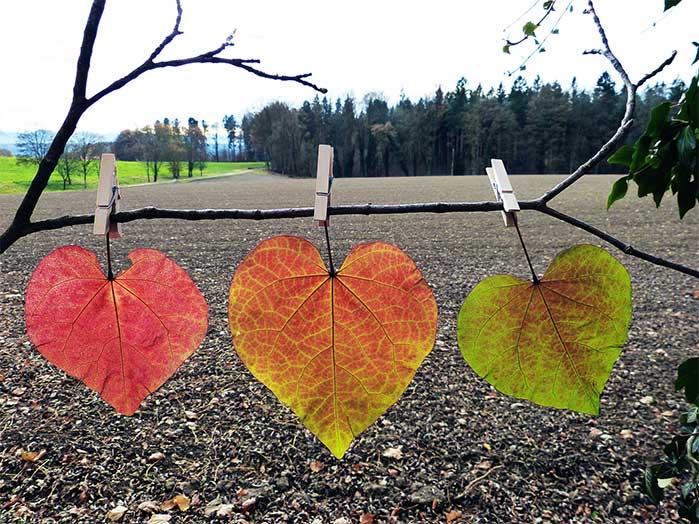 So quick and easy, all you need is a few fallen leaves, some paperclips, and something to clip them onto (a branch will do quite nicely) and you can create your own lovely and natural DIY fall decor.
DIY Sunflower Pomanders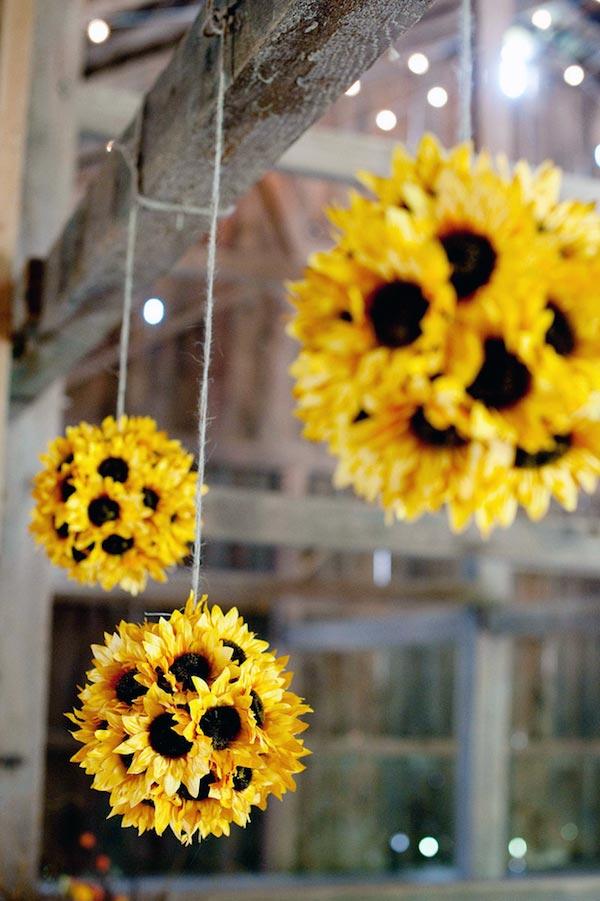 The secret to this fun and easy DIY Fall decor project is Wiffle balls. Yup, you read that right… Wiffle balls.
DIY LED Fall Garden Light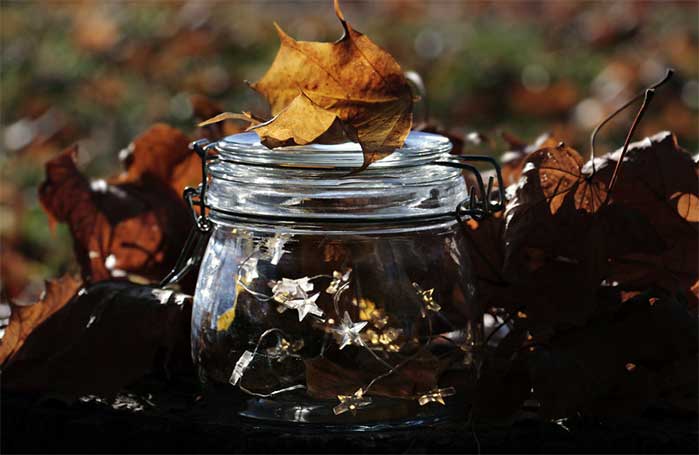 All you need are some clear class locking canisters from the dollar set and a string of copper wire LED string lights to create your very own personalized fall garden light.
DIY Mason Jar Owl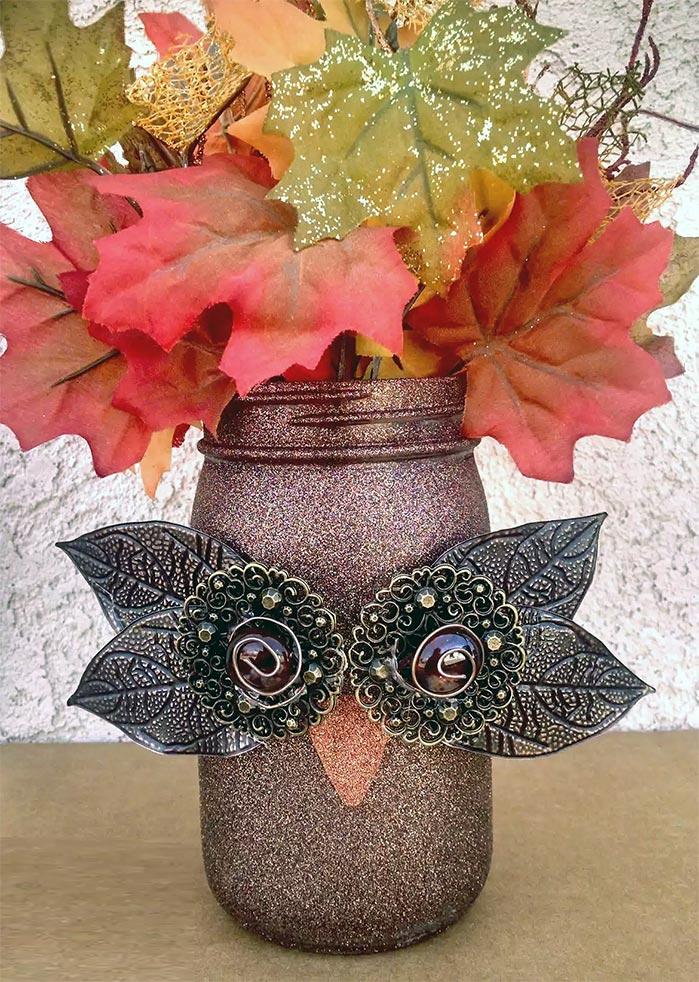 These glittery owls are as much fun to make as they are to display! You'll need some mason jars, glitter spray of your choice, metal leaves, and other decorative buttons or embellishments, and some marbles and copper wire for the eyes.
---
---
Easy Punched Tin Can Candle Holders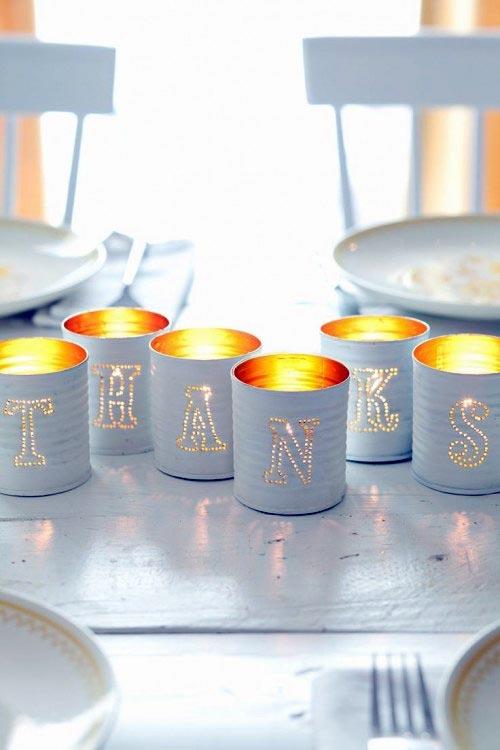 A fun and easy Fall DIY craft project that turns old tin cans into a lovely and meaningful set of votive candle holders.
Rustic Stitched Hearts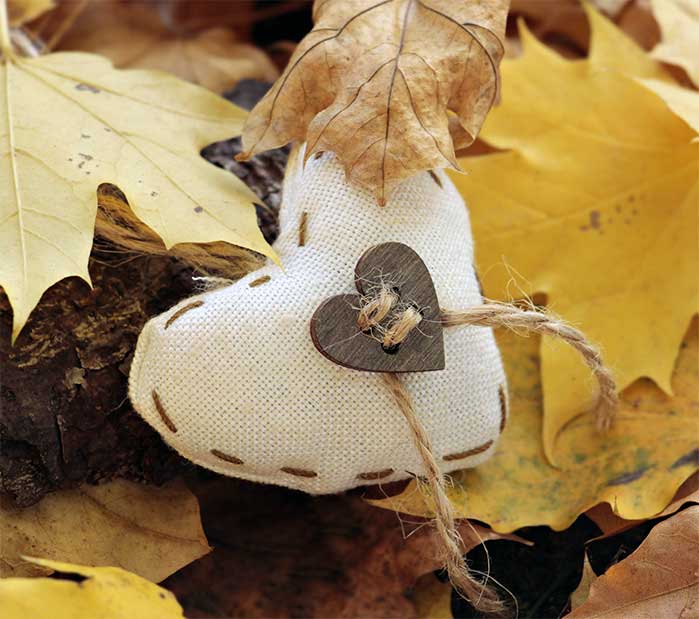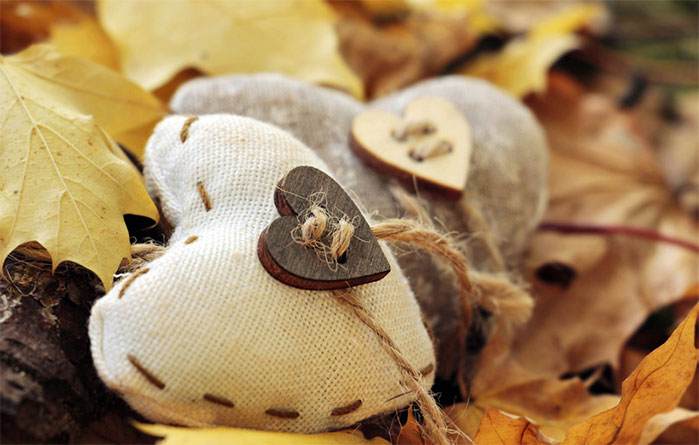 Show your love of fall with these quaint and delightfully rustic stitched hearts. You'll need some fabric, twine, brown wool, and some heart buttons from the dollar store.
DIY Dollar Store Pumpkin Door Hangers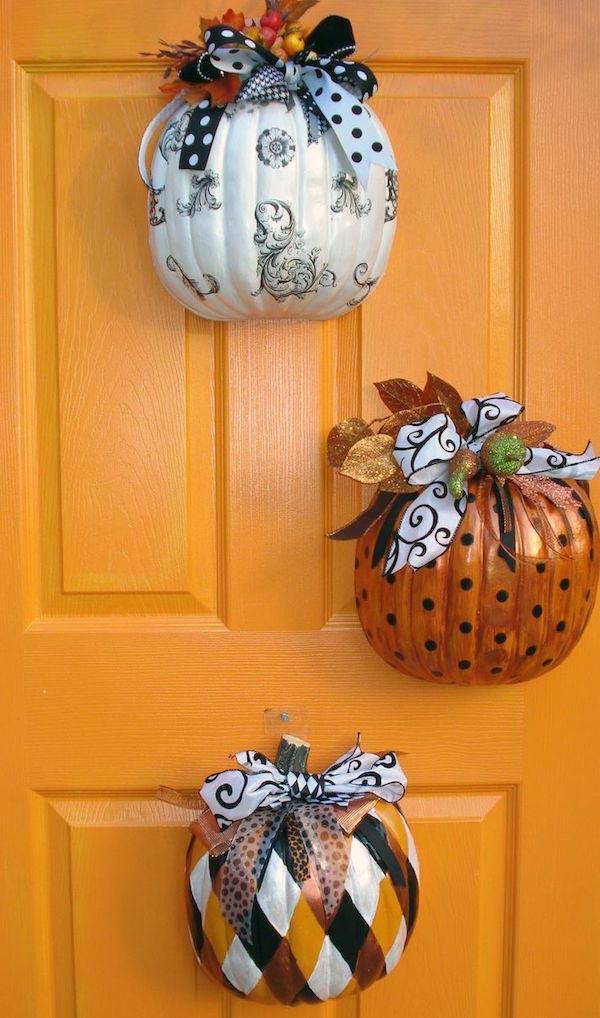 Pain and decorate some dollar store foam pumpkins that have been cut in half to create these fun and easy DIY Fall door hangers.
Wrapped Cinnamon Sticks and Cranberries on a Rustic Plate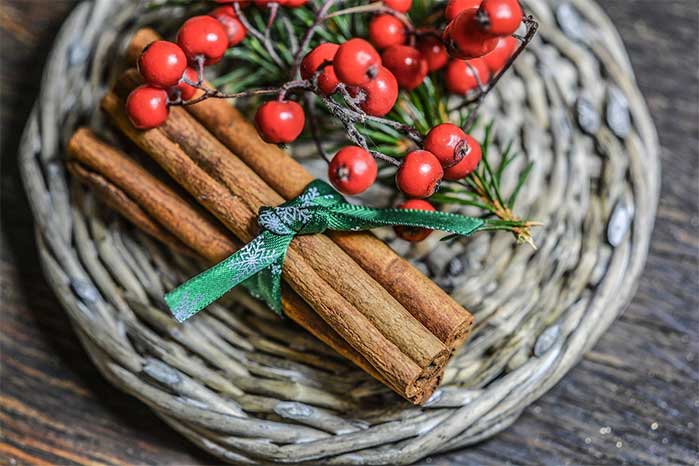 This super-simple DIY fall decor project takes a bunch of cinnamon sticks, a few twigs of fall berries and displays them on a rust wicker plate. The best part is that this can be updated to be more Christmas-focused by simply changing out the ribbons and/or the plate.
Book Page Pumpkin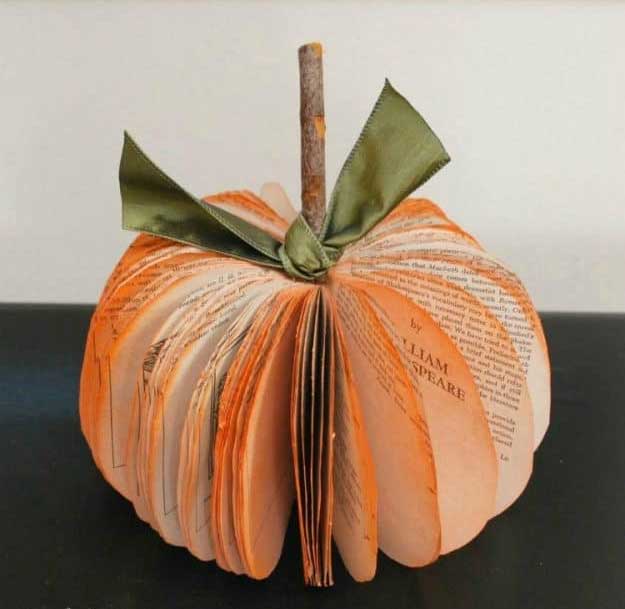 You can often purchase damaged books from the library for next-to-nothing, which lets you create these delightful DIY fall decor projects AND save books from ending up in the local landfill. It's a win-win!
---
---
DIY Leaf Stamped Dinner Napkins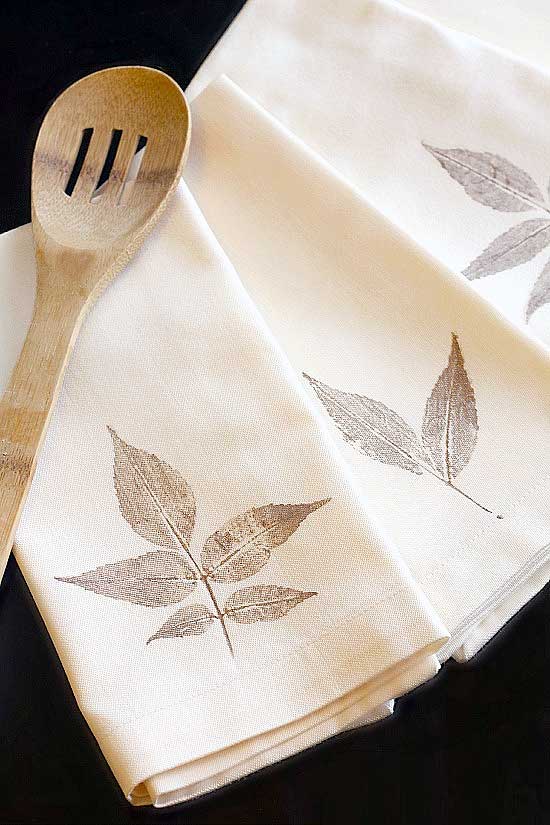 Use a leaf stamping technique to create a set of one-of-a-kind napkins (or dinner cloth) that you can use to serve your guests all season long!
Show Off Your Preserves as Decor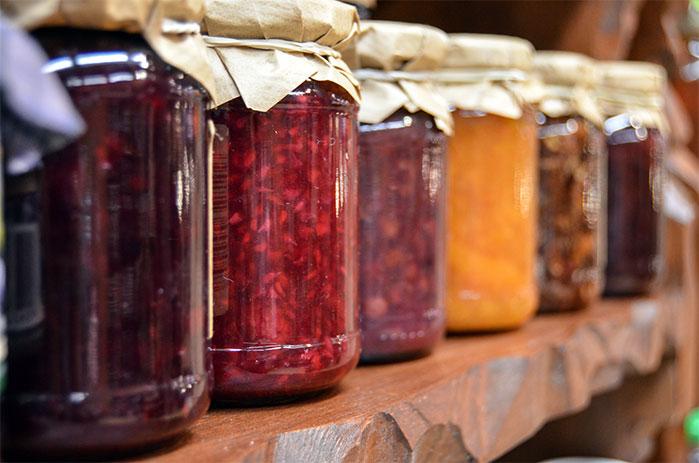 People often underestimate the decorative value of preserves. The colors are always so rich and delicious. And all you need is some rustic paper and twine or sisal rope to cover the lids.
The best part is that these wonderful decorations become fantastic edibles once the season is over!
Rustic Wood Pumpkins & DIY Barn Wood Shutters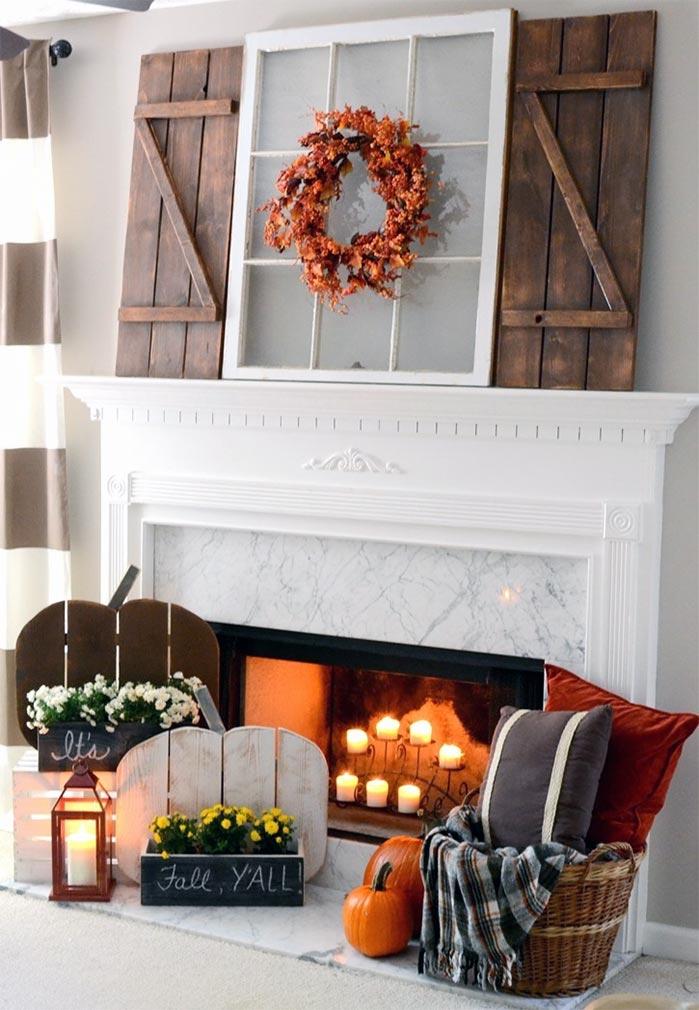 This fall fireplace mantel is so inviting. The wreath. The reclaimed window. The DIY barn doors. The DIY wood pumpkin planters. It's all so cozy and wonderful!
White Pumpkin Thanksgiving Table Setting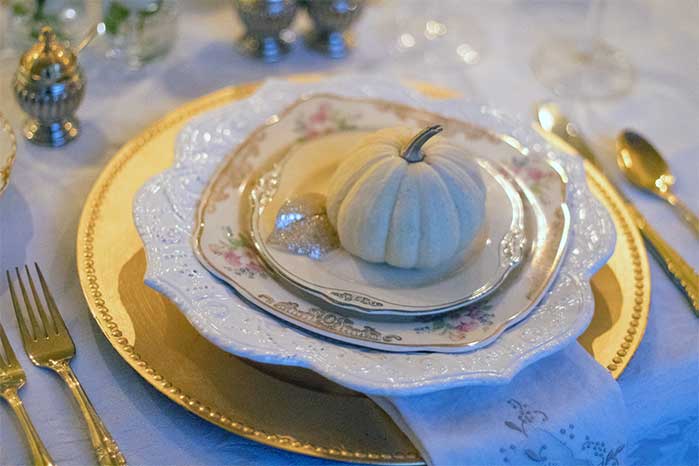 Some dollar store pumpkins are painted with white chalk paint to elevate and add a fall theme to this Thanksgiving table setting. So simple yet so elegant!
---
Still Need more Fall Decor ideas?
Browse this gallery of over 40 additional ideas and inspirations for your fall decor creativity.
There is something lovely about celebrating the change of seasons as Summer fades away into Autumn. These DIY Fall decor projects and ideas help bring the warm colors and textures of autumn into your home and garden displays.
One of my favorite things to do in the fall is to take a drive through the fall colors. There's something beautiful about cresting a hill and seeing the fall colors for miles and miles and miles.
This season always reminds me of the quote by Stanley Horowitz.
"Winter is an etching, spring a watercolor, summer an oil painting and autumn a mosaic of them all."

– Stanley Horowitz