Looking for DIY Backyard Ideas? Art & Home has curated a collection of 45 of the very best DIY projects for your backyard, patio, or garden.
Puttering in the garden is one of my favorite things to do when the weather allows. I love planting things and watching them grow and mature into beautiful plants and flowers.
But there is more to a garden than just the greenery, and this collection focuses on some unique DIY Backyard Ideas to add something truly special to your yard, patio, or garden.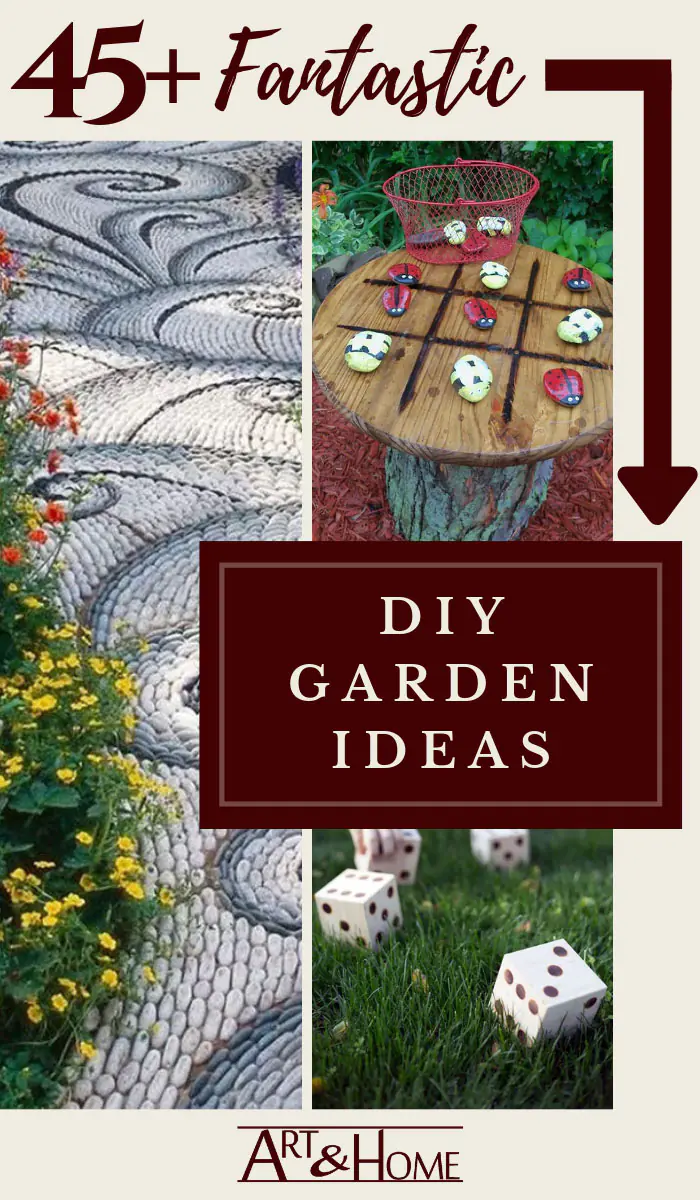 Curated from some of the brightest minds on the Internet, this collection of DIY Backyard Ideas & Projects provides tips & how-to tutorials as well as offers some design inspiration and project ideas. Some of these projects will take a certain level of skill to recreate. Others are so easy that even I could do them.
We hope you find this collection inspiring! And feel free to let us know which you think is the very best of the best DIY Backyard projects in the comments section below.
---
DIY Spiral Rock Garden Path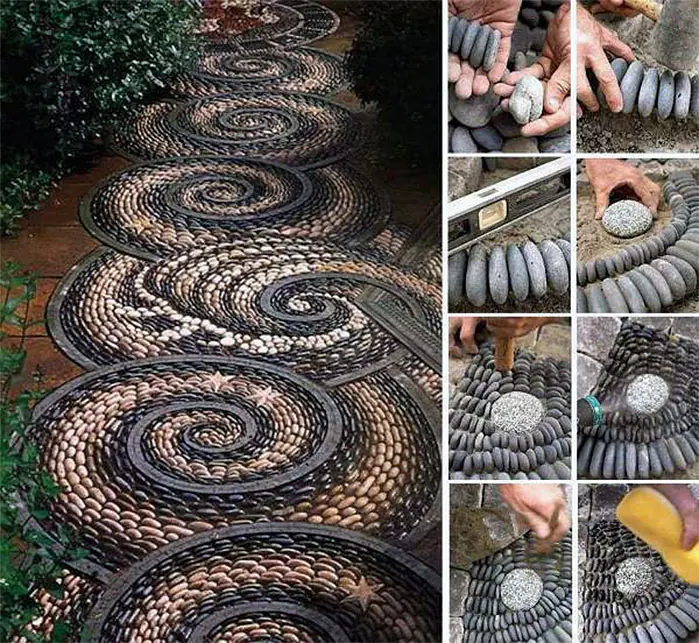 An intricate and elegant addition to your yard, if you have the time and the patience to do it right!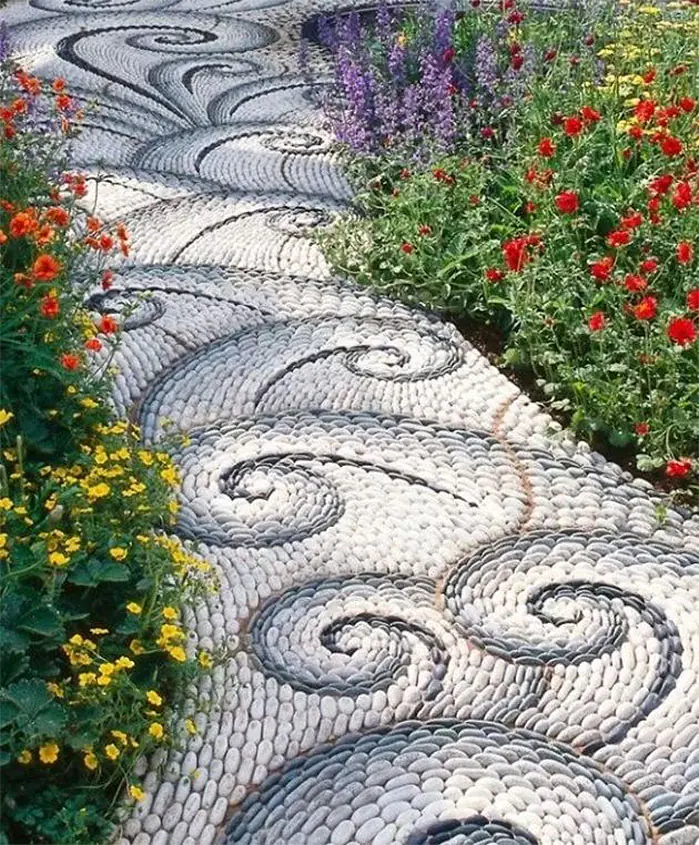 Another beautiful example of an intricately created path using pebbles.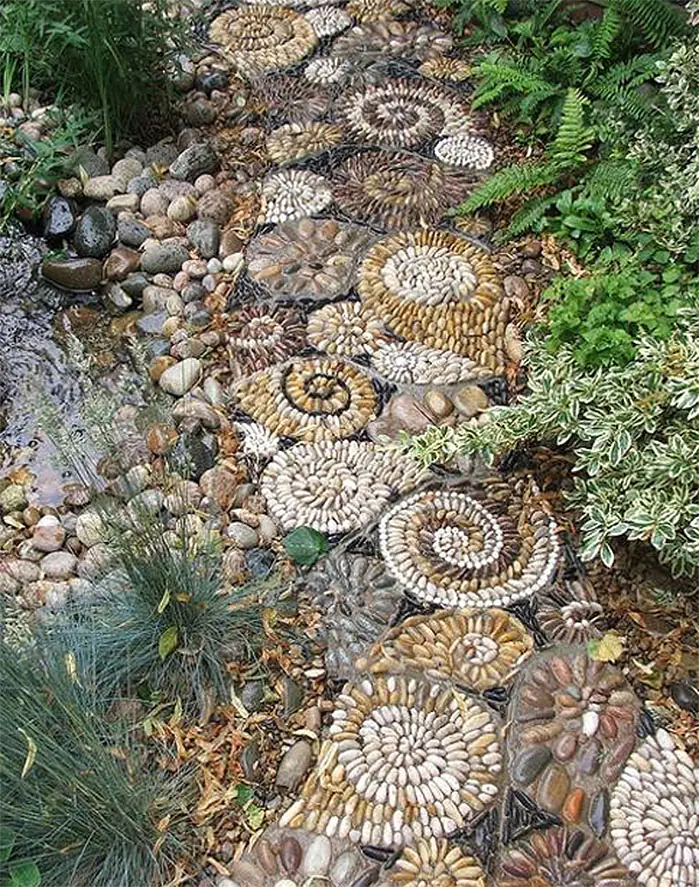 And one more unique river rock and pebble garden path, just for good measure!
---
---
A Literal Garden Bed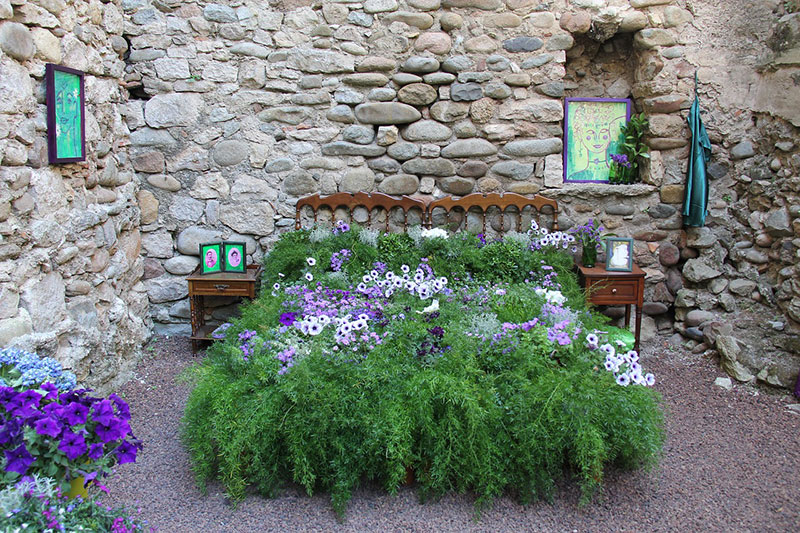 I love it when people do the unexpected. In this case, they have created a literal garden bed, complete with a headboard and end tables. So unique!
---
DIY Vertical Herb Garden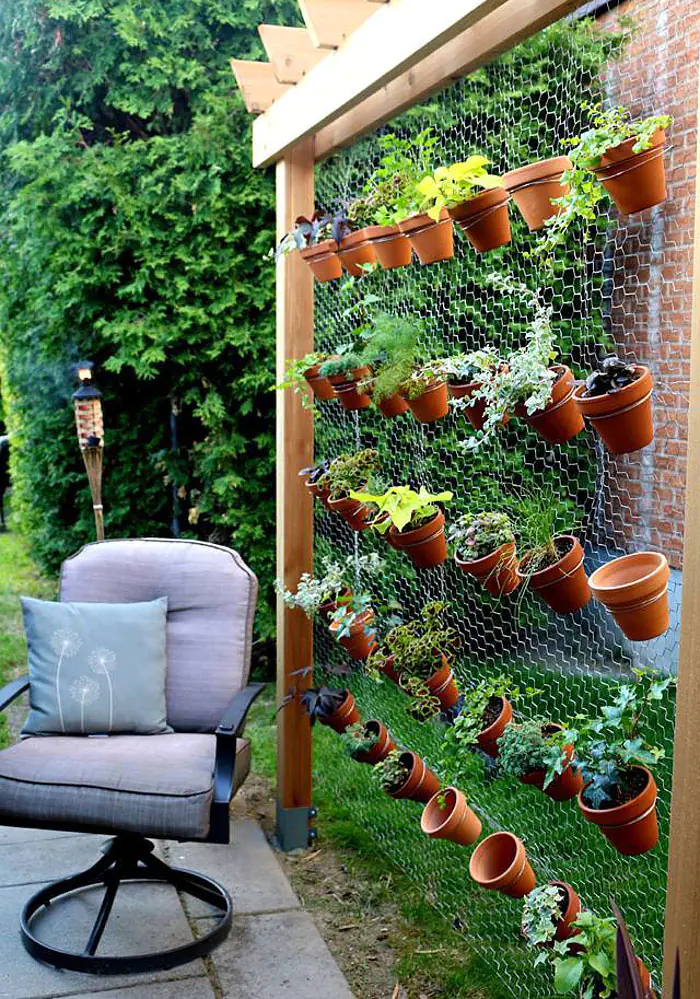 The challenge with Herb Gardens in the ground is two-fold. Firstly, some of these herbs (let's take mint as an example) are invasive species and can end up spreading and taking over your entire herb garden, and then the lawn, and then the neighbor's lawn.
By keeping them contained (pun intended) in this DIY Vertical Herb Garden, you get a lovely garden accent and access to fresh herbs all summer long.
---
DIY Backyard Checkers Game Board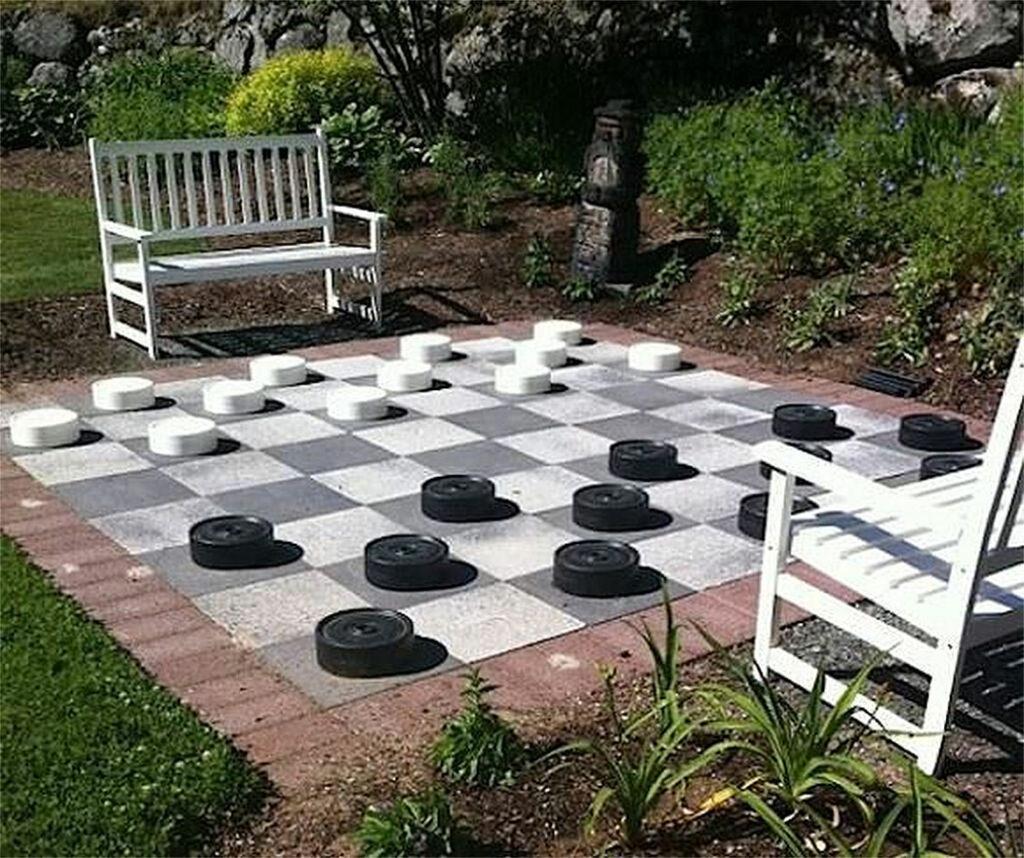 A great idea for creating a fun conversation piece in the backyard. All you need are patio stones in two colors (lite and dark gray were used here), and something you can use as the back and white checkers that is weather-resistant and light enough to move.
If you want to go smaller and simpler, consider this same project for a Tic Tac Toe board!
---
DIY Sunken Fire Pit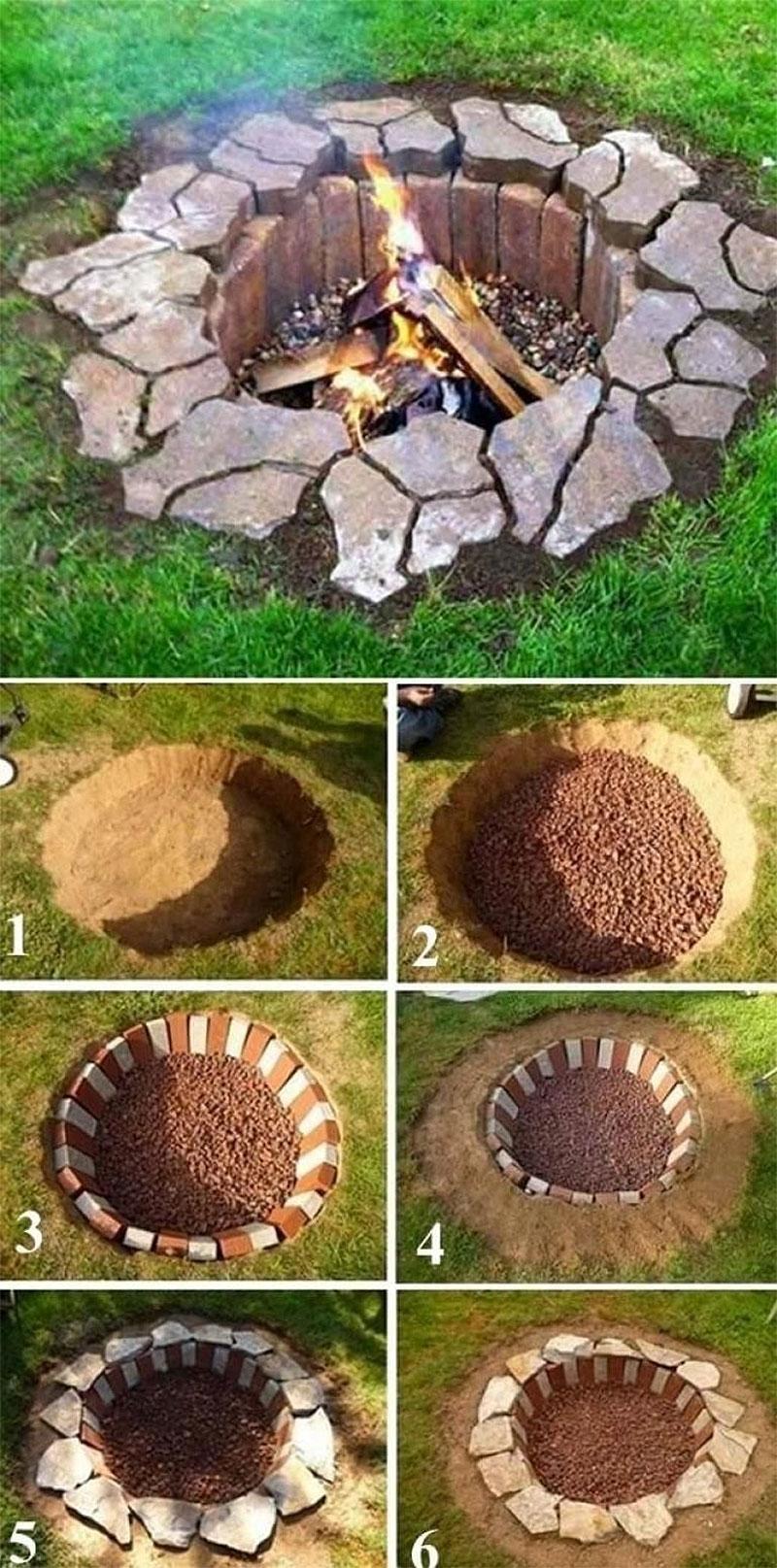 This easy-to-build fire pit gives you all the beauty of a beautiful fire on a Summer evening, with the added advantage of being flush to the ground.
It looks far harder to make than it actually is, in fact… all the instructions you need are shown in the image. Just dig a circle a little bit wider than you want the finished fire pit to be.
Lay some gravel in the bottom and bricks around the rim. Lay flagstones around the outside and – voila – you're done.
Depending on the outdoor burning regulations in your area, you may need to purchase a fire pit screen to place on top.
This is also a great way to re-purpose the space if you've had a tree services removal company take out an old tree.
---
Upcycyled (Pun Intended) DIY Bicycle Planter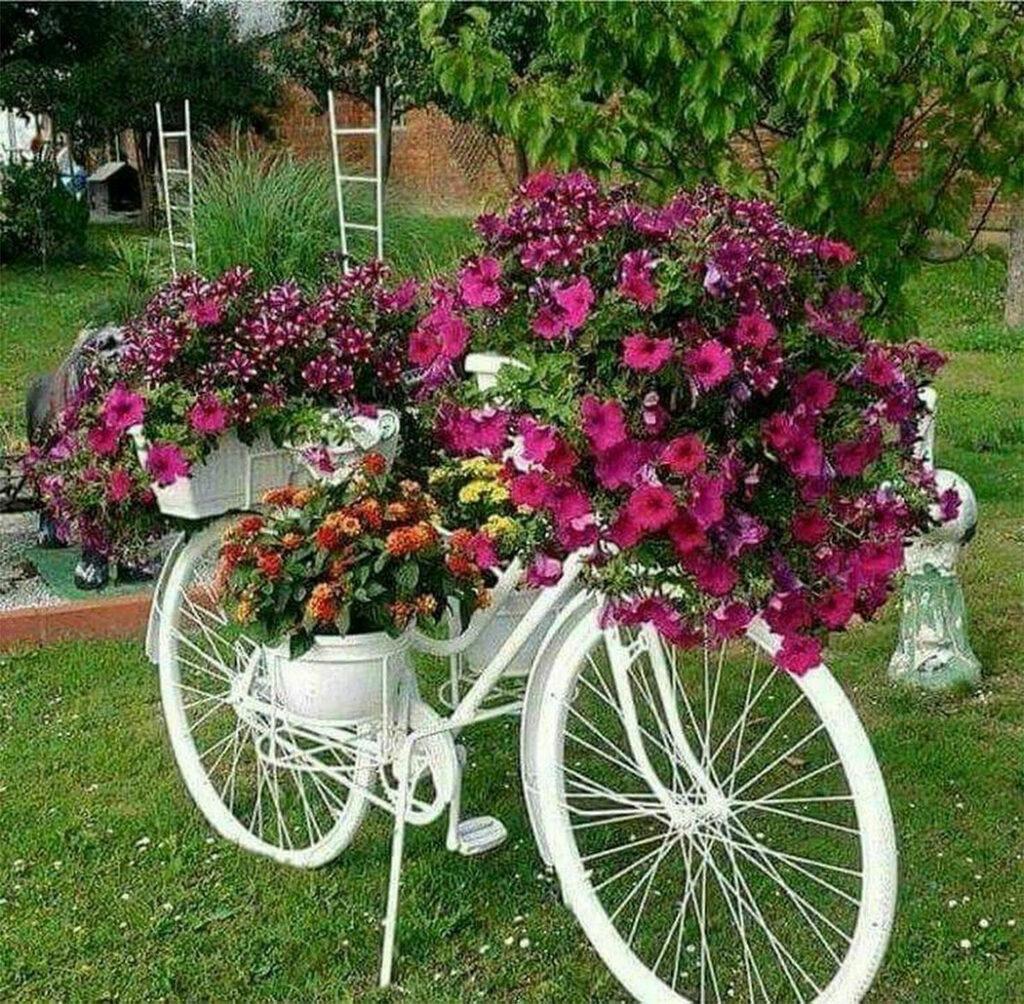 Do you have an old bicycle just sitting in the garage taking up space? Spray paint it white (or whatever color you desire) and add some matching white flower baskets everywhere you can fit one to create this showy display.
---
---
In Case of Zombies DIY Tool Rack
All you need is some vinyl outdoor lettering and some tool hooks to create this fun way to store your tool in case of zombies, or – you know – yard work.
---
Colorful DIY Hopscotch
Pick up some patio stones from the local garden center and paint them in a mix of lively colors to create this colorful DIY Hopscotch game.
---
Small DIY Greenhouse from Old Windows & Table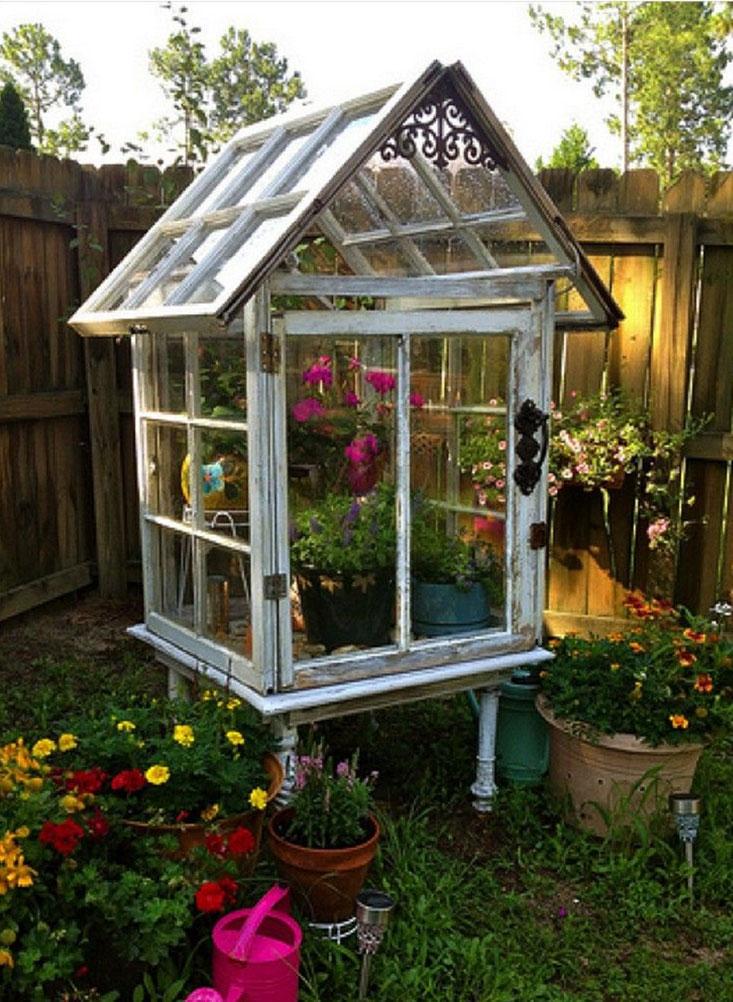 If it's time to upgrade the windows in your home, don't let those classic windows end up in a landfill, use them to create this fun backyard DIY greenhouse instead!
---
Decorative Pool Spitters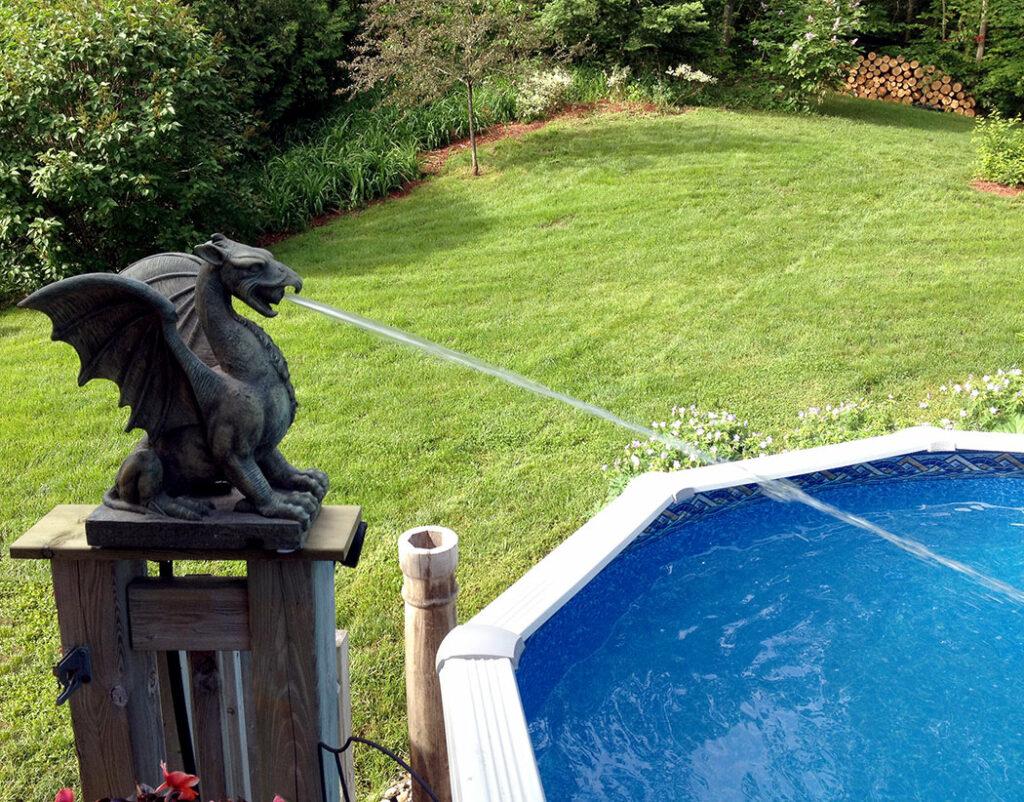 I will admit that I had a little bit of help with this particular project, but I'm so happy with how it turned out.
Long story short, I wanted something better than a standard hose for topping up the water in the pool, so when I was having my irrigation system installed, I asked them to add a line but leave the piping open so that I could adjust it to a standard hose fitting.
I then picked up a couple of pond spitters at the local home improvement store, built a little ledge to secure them to the deck posts and… VOILA!
I get the biggest Ooohs and Aaaahs whenever I turn these on.
So much so that – soon after – I tapped into the pool piping so that the water could circulate through these pool spitters any time I wanted (without adding any more water to the pool).
If you don't have an inground sprinkler system to tap into, these can easily be made with standard garden hoses as well.
---
---
Tea Cup Vertical Garden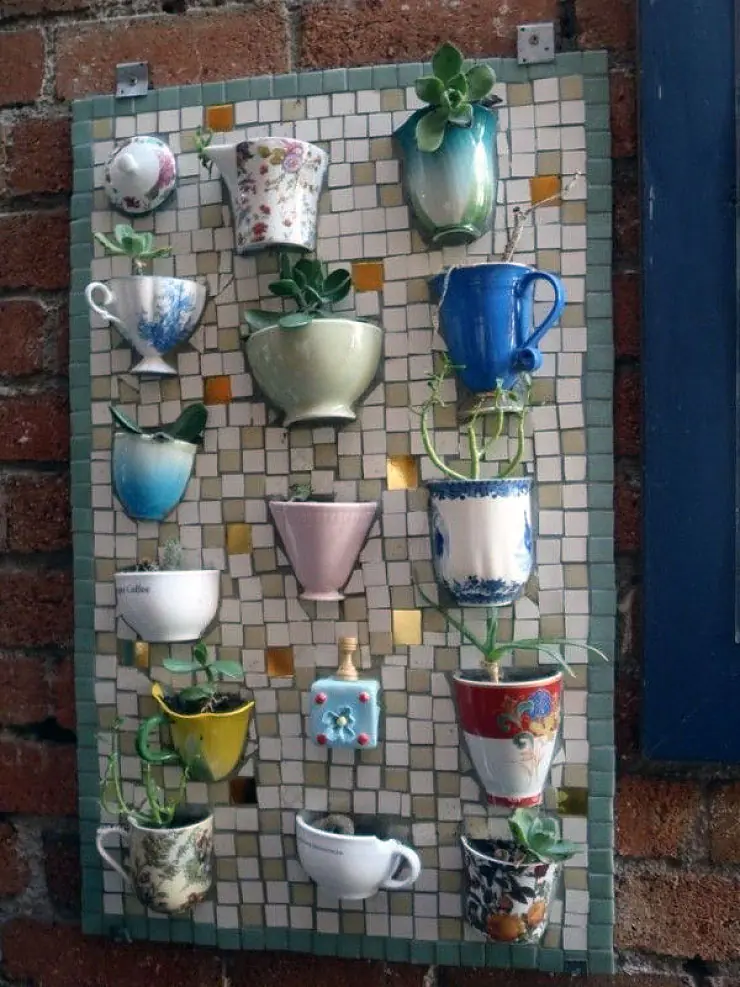 A collection of old teacups are mounted onto a tile wall to create this delightful and unique vertical garden. A great way to give new life to some broken dishes!
---
DIY Letter-Shaped Hanging Succulent Garden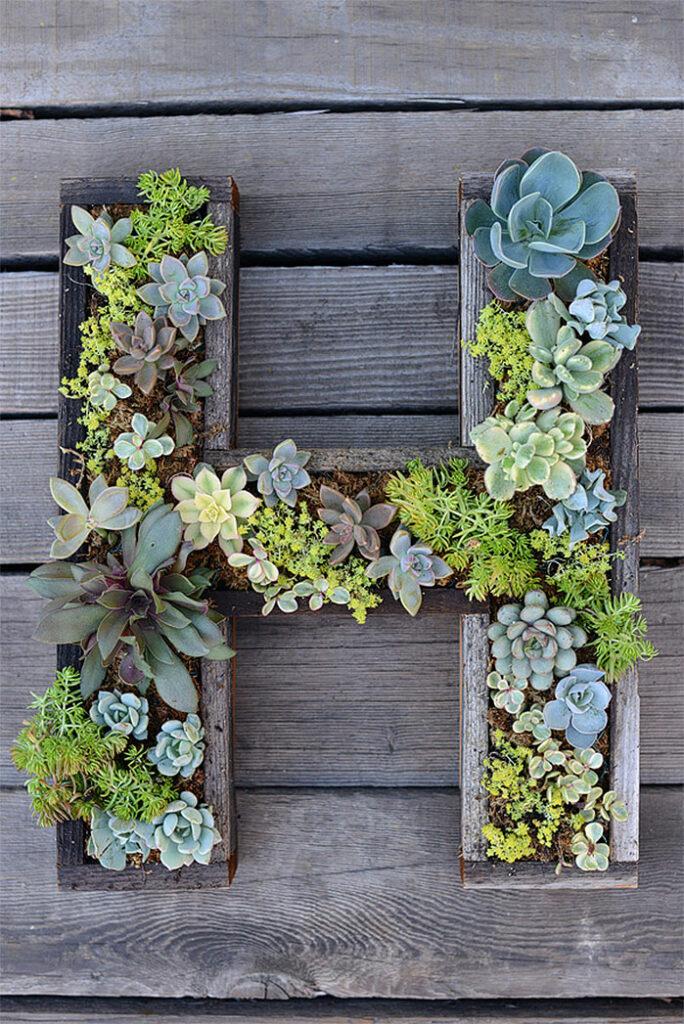 A fun way to personalize your backyard or patio, these DIY succulent gardens can be crafted to create a monogram.
Obviously, this project will be easiest with one of the straighter letters (A, E, F, H, K, I, L, M, N, T, V, Y, and Z and a little harder (aka take more skills than I could ever hope to possess) if you need to "curve" the wood.
---
Poured Concrete Piano Garden Path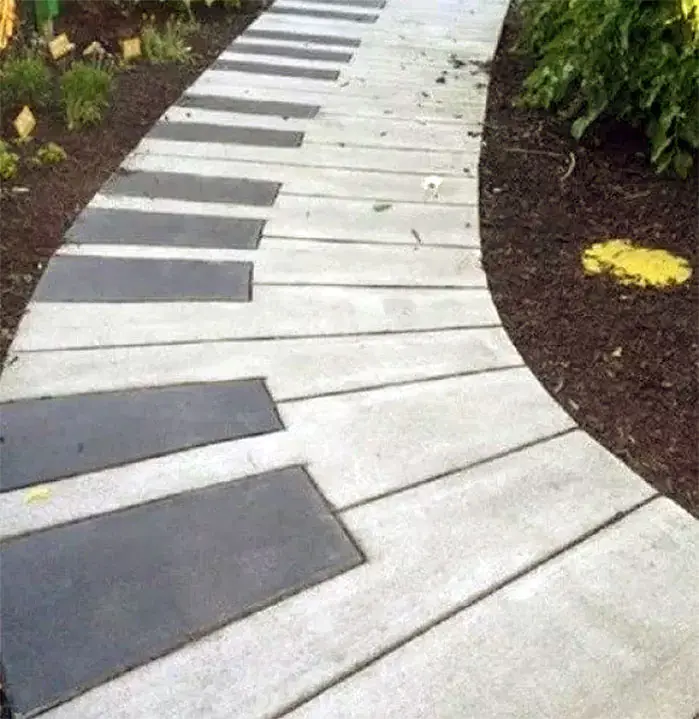 Music lovers rejoice! This garden path made using light and dark poured concrete to simulate the keys of the piano is truly delightful!
---
DIY Lady Bug & Bumble Bee Tic Tac Toe Garden Table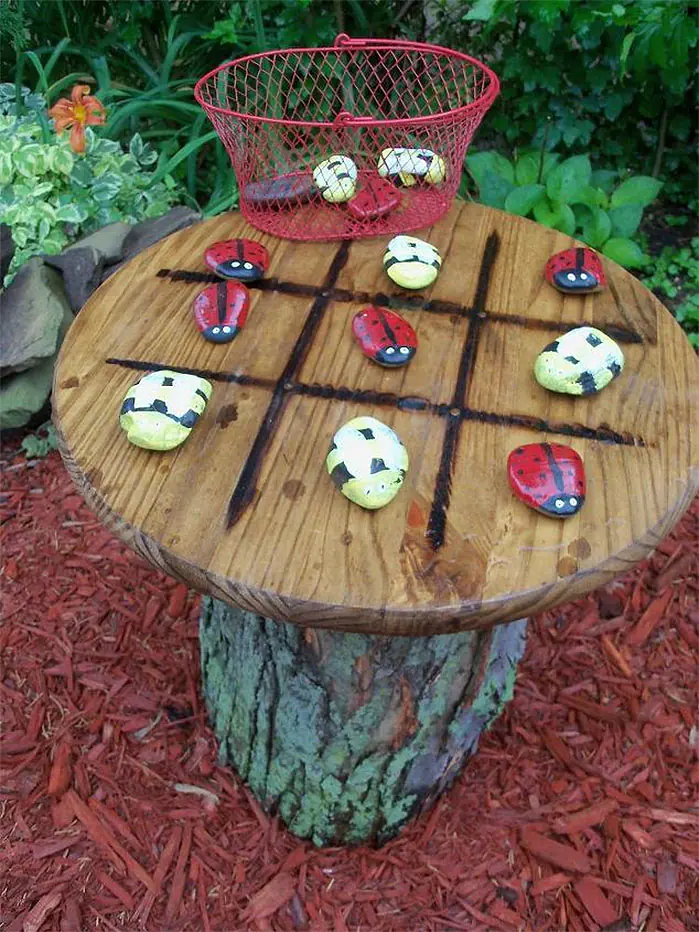 This is a cute project that you can involve the whole family in both the creation and the future fun of playing games of Tic Tac Toe.
Get the younger generation busy painting the rocks (this cute version uses Lady Bugs and Bumble Bees, but you can pick two images from whatever theme you prefer.
The tabletop can be cut from scratch or reclaimed from an old piece of furniture, burned and/or routered to create the lines, and then screwed into an old tree trunk to maintain a rustic feel.
---
---
DIY Succulent Garden Pallet Table
This super-simple rustic garden table uses an old crate that has been adjusted to create a living succulent garden in the middle. No need to put out a fancy centerpiece for garden parties when you have a beautiful one growing for you!
---
DIY Garden Trellis and Solar Lanterns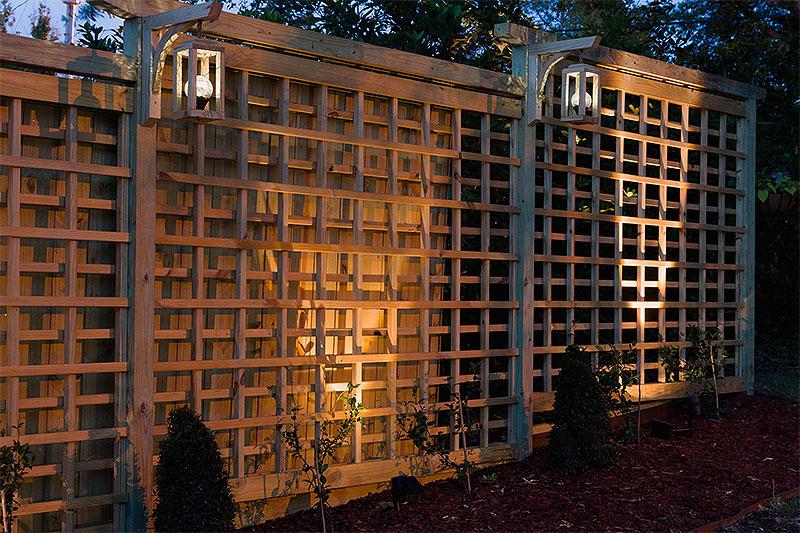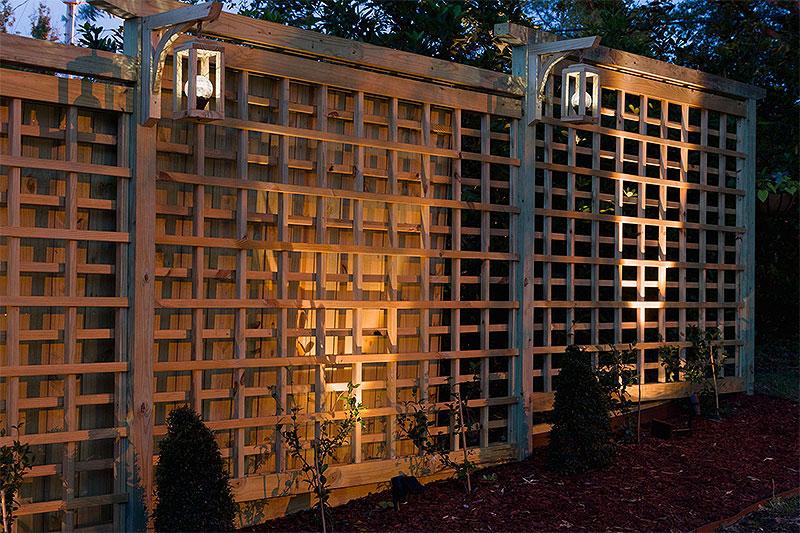 Source: Kippi at Home
As featured in our 2019 Spring Garden Roundup, this lovely lattice privacy divider, and DIY solar lanterns create a beautiful focal point in the garden.
---
Sliced Tree Stump Stepping Stones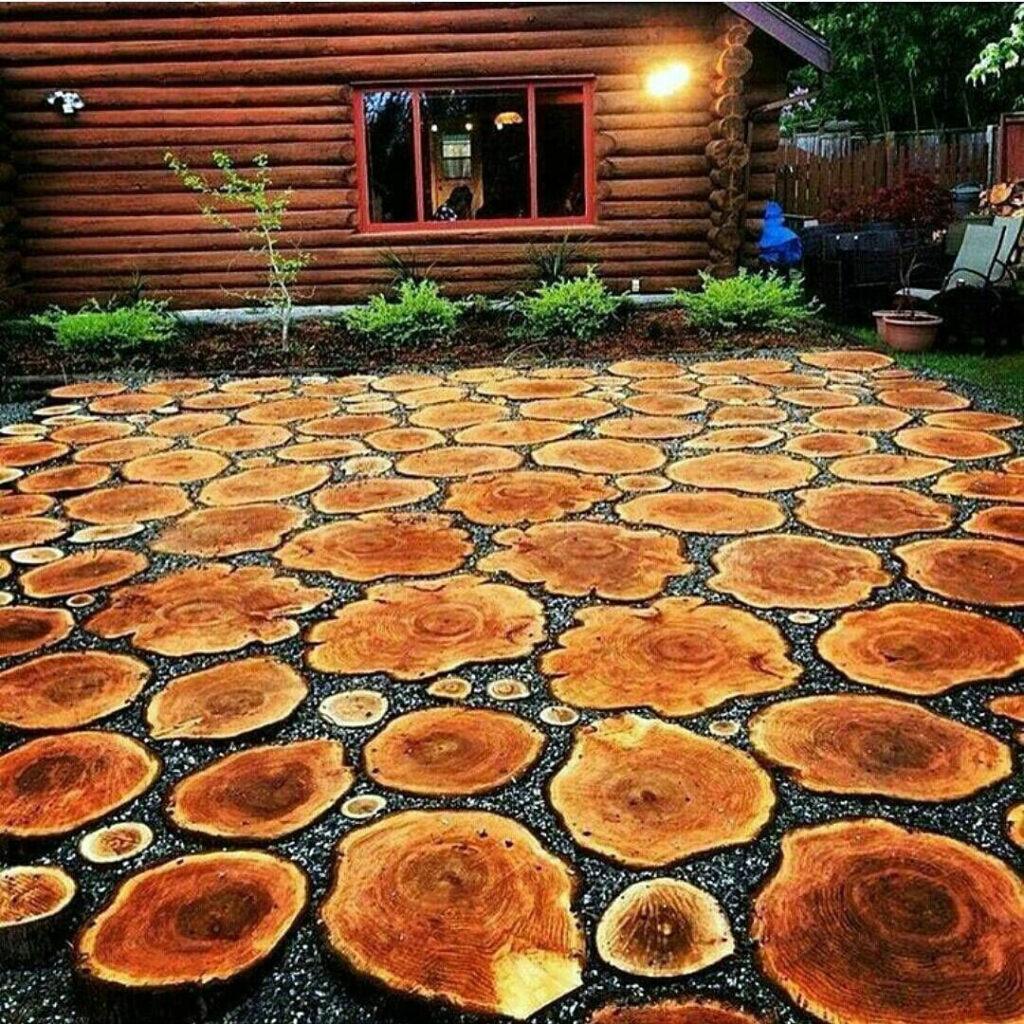 This might not be for everyone, but I love the rustic look of this yard treatment. It would be perfect for a country home, cabin, or lodge.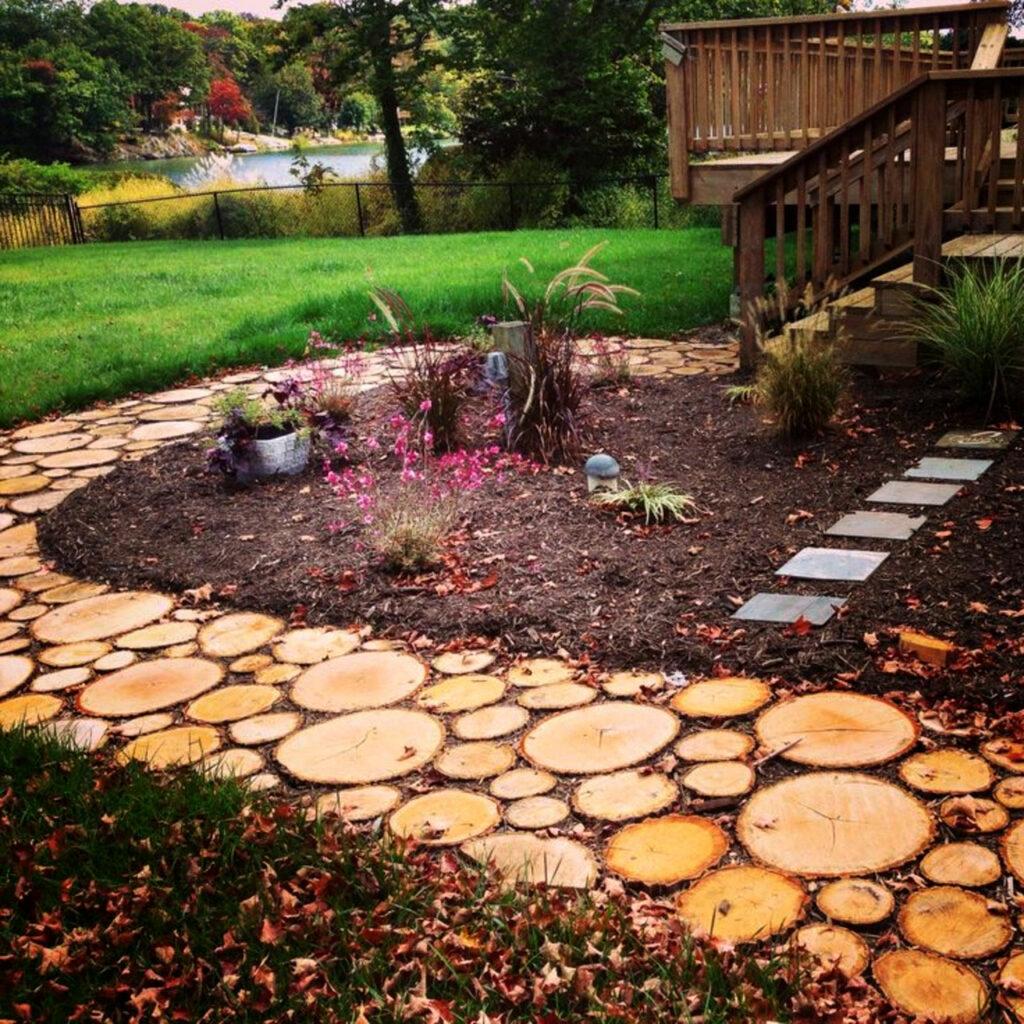 Here, you can see a similar approach, but this has been used to create a walking path to the deck. Still a lovely, rustic approach… but much less time-consuming!
---
DIY Farmhouse Terra Cotta Herb Garden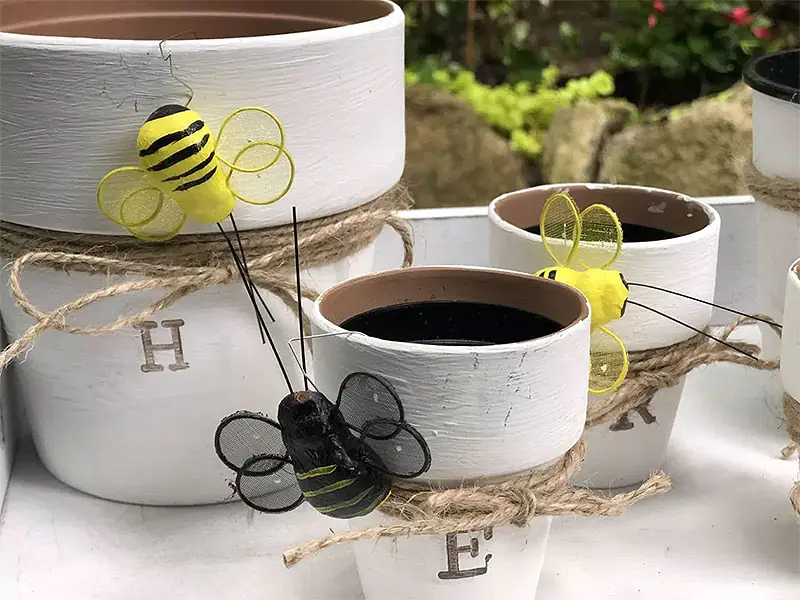 Source: Just the Perfect Piece
All you need is a few Terra Cotta pots, some chalk paint & sealer, some robe or ribbons to decorate, a letter stencil (or a very steady hand), and your own choice of decorative attachments (although the Bees ARE adorable) and you too can have a quaint and practical herb garden made from plain old pots.
---
One of the things I love most about my job at Art & Home is finding inspiration from beautiful and brilliant people across the country and around the world.
It is amazing how small touches can make such a big difference in the garden, or on the patio.
Whether you are currently in the thick of the gardening season or are reading this in order to plan ahead for the next set of projects you want to tackle, you are sure to find some amazing DIY Backyard Ideas that are sure to inspire!
It doesn't take a lot to take your backyard living from good to great, and we hope these DIY backyard ideas help!
---
DIY BBQ Tool Set Holder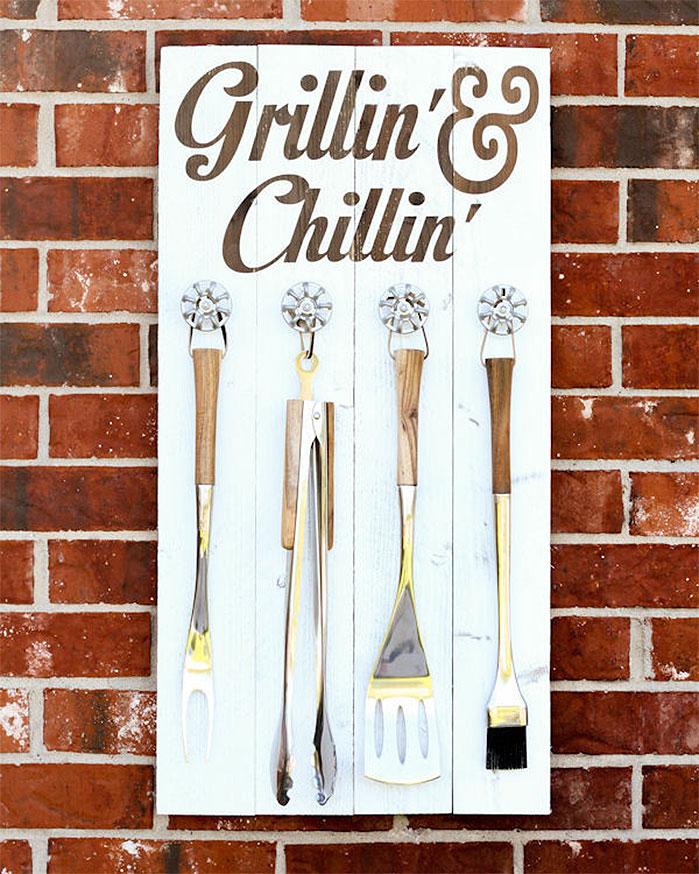 Keep your BBQ tools handy by the grill with this decorative and rustic DIY BBQ Tool holder. All you need are some fence panels, paint, aging solution (steel wool and distilled white vinegar), screws, some vinyl to cut out your letters, and some tap knobs. And, of course, the BBQ toolset itself.
---
DIY Garden Inukshuk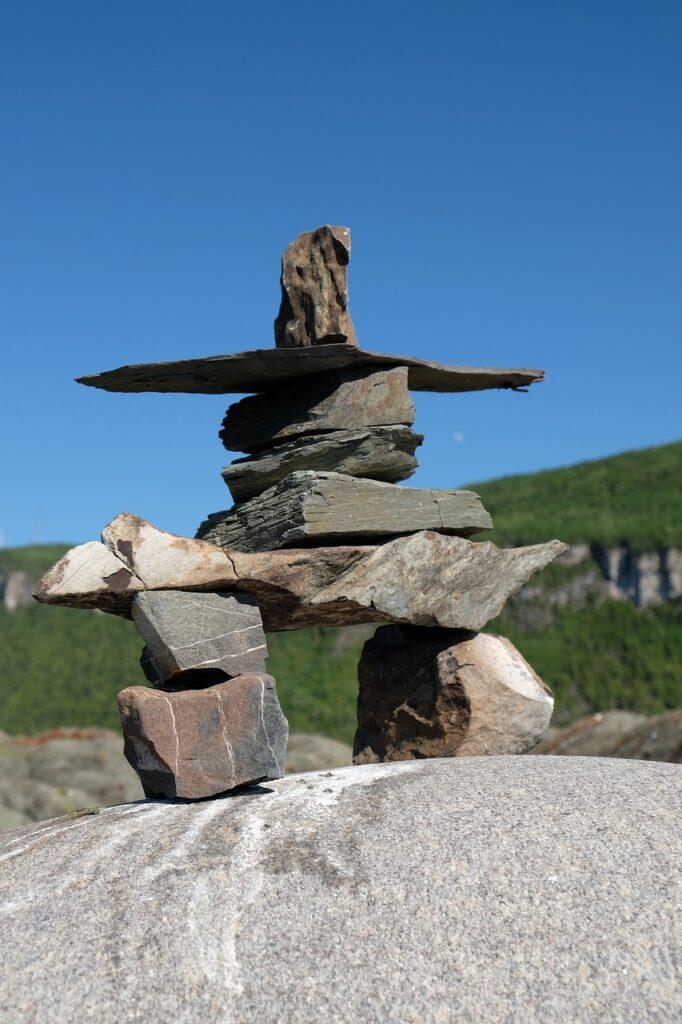 An Inukshuk is a man-made Native American stone landmark originally built as "helpers" by the Native peoples of the Arctic region of North America. They were used as an important part of their navigation, often denoting specific hunting grounds, or as a marker of a food cache.
Using a variety of flat stones in the general shape of a person, the Inukshuk symbolizes signifies safety, hope, and friendship.
---
DIY Pebble Stepping Stones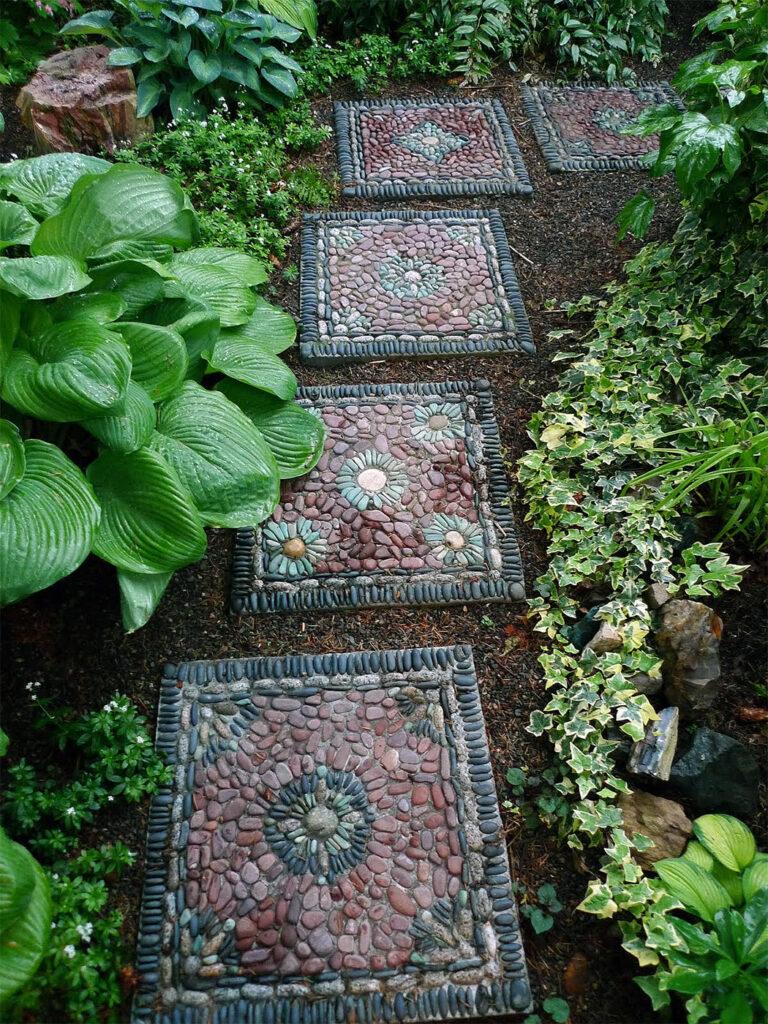 Create your own beautiful garden stepping stones using pebbles of different sizes and colors.
This is detailed and painstaking work, but the end result is spectacular!
---
---
DIY Garden Toadstools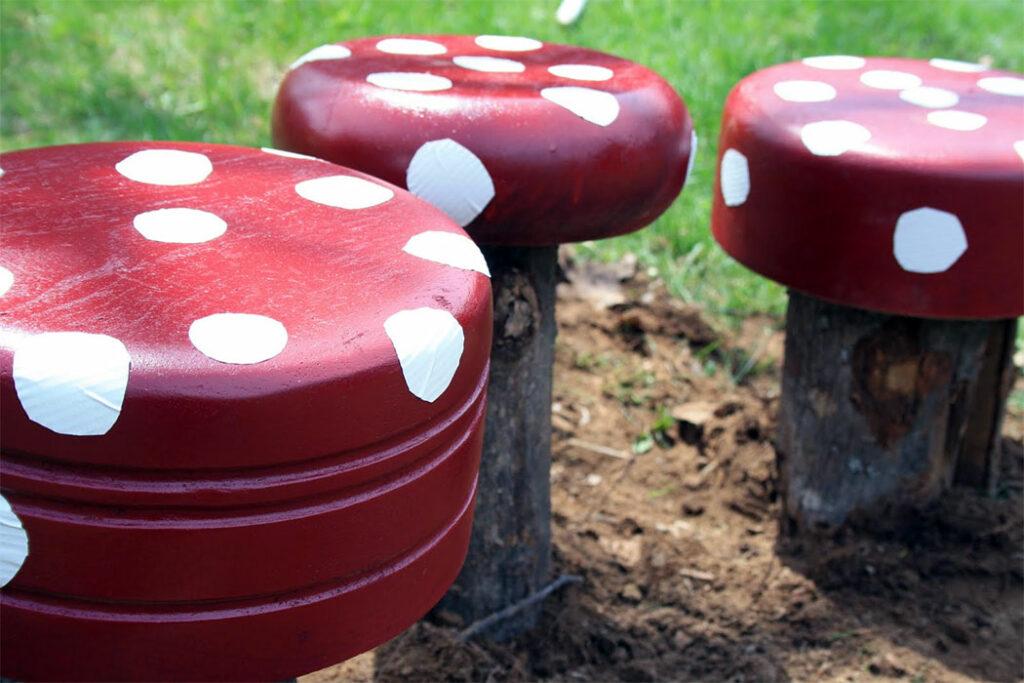 These fun garden-themed stools are perfect for adding a bit of functional decor to your backyard using some old logs and upcycled wood salad bowls.
---
DIY Sand Cast Birdbath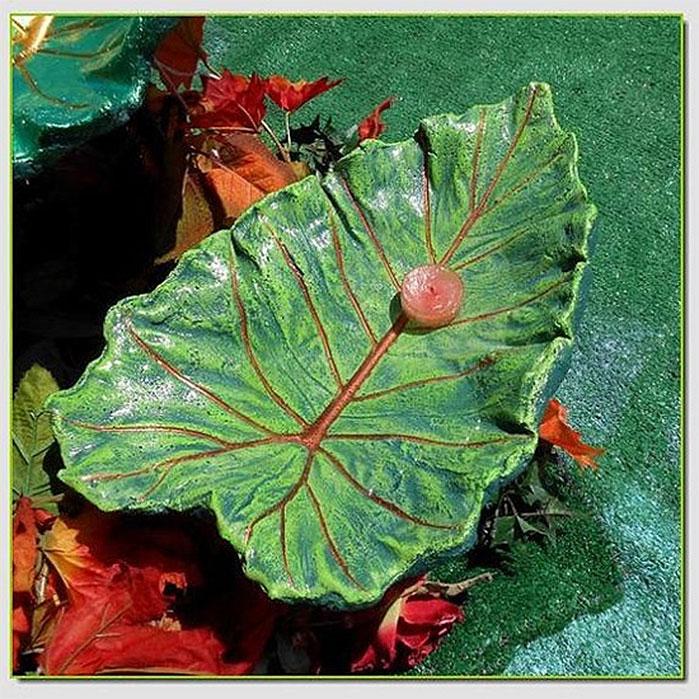 Source: Wonderful DIY
Pull a large leaf from your garden and use it to cast a delightful, one-of-a-kind bird bath for your backyard.
---
Criss Cross Gardens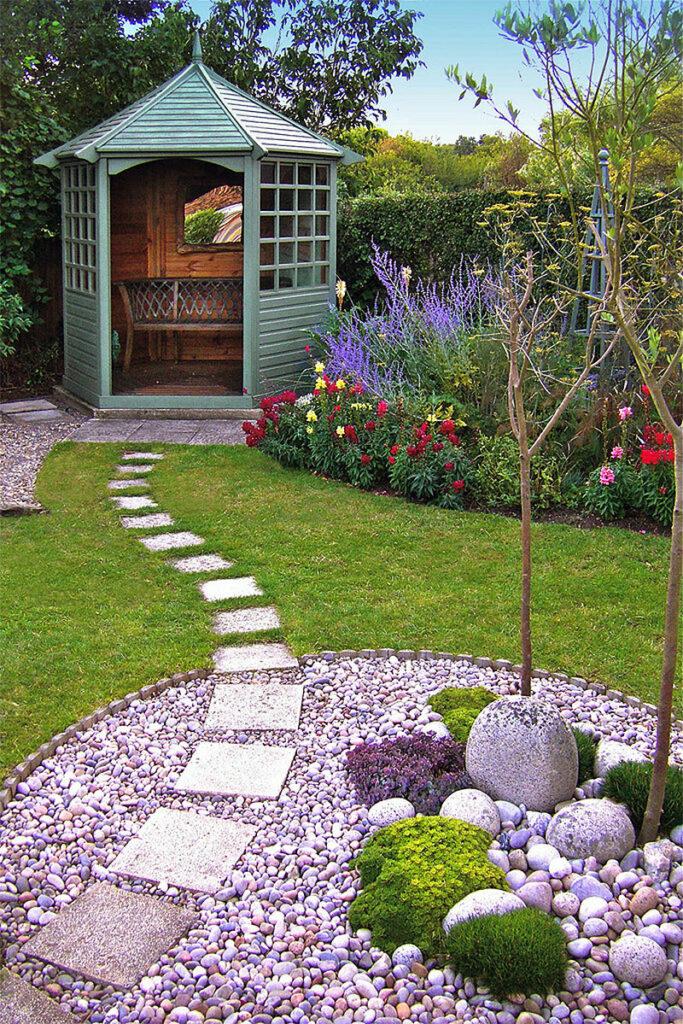 I like this unusual approach of letting the walking path flow in and then out of a river rock garden. It really helps create that welcoming flow into the lovely gazebo at the back of the yard.
---
DIY Yard Yahtzee Dice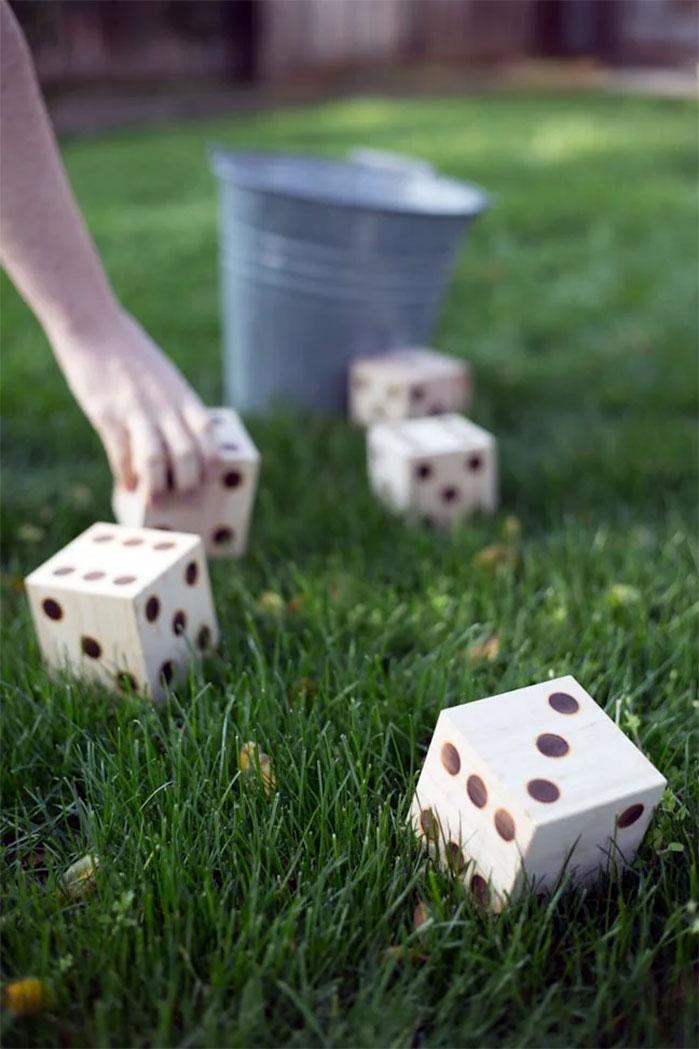 Looking for a fun DIY Backyard project that can also provide hours of Backyard fun? With a few blocks of wood and some wood-burning tools, these easy-to-make DIY Yard Yahtzee Dice can provide lots of outdoor fun for the whole family!
Just make sure you double-check the dice before you start playing the game. A friend of mine recreated this for the family cottage, but accidentally made one of the dice with two fives and no four, so it made the game a bit more interesting.
---
DIY Painted Stone Garden Markers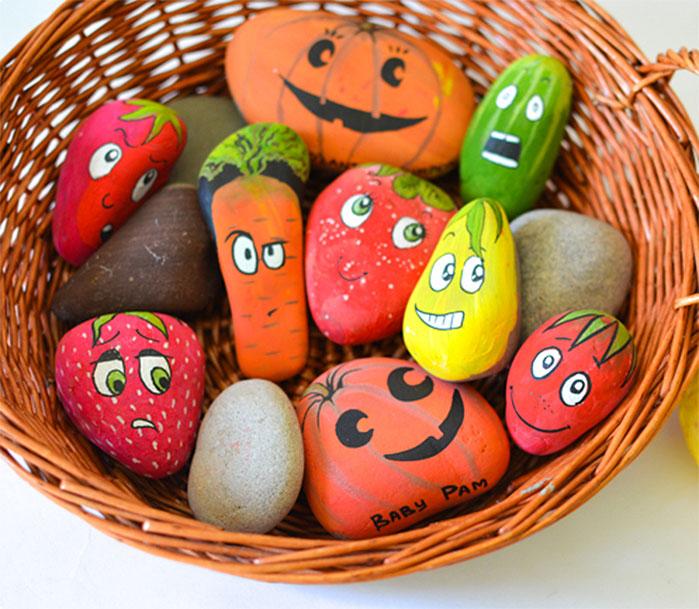 If you have a bit of an artistic flair, you can use it to create these adorable garden markers. All you need is some found rocks, gouache or acrylic paints, and some outdoor varnish to protect your finished works of garden art from the elements.
---
DIY Cracked Log Garden Lights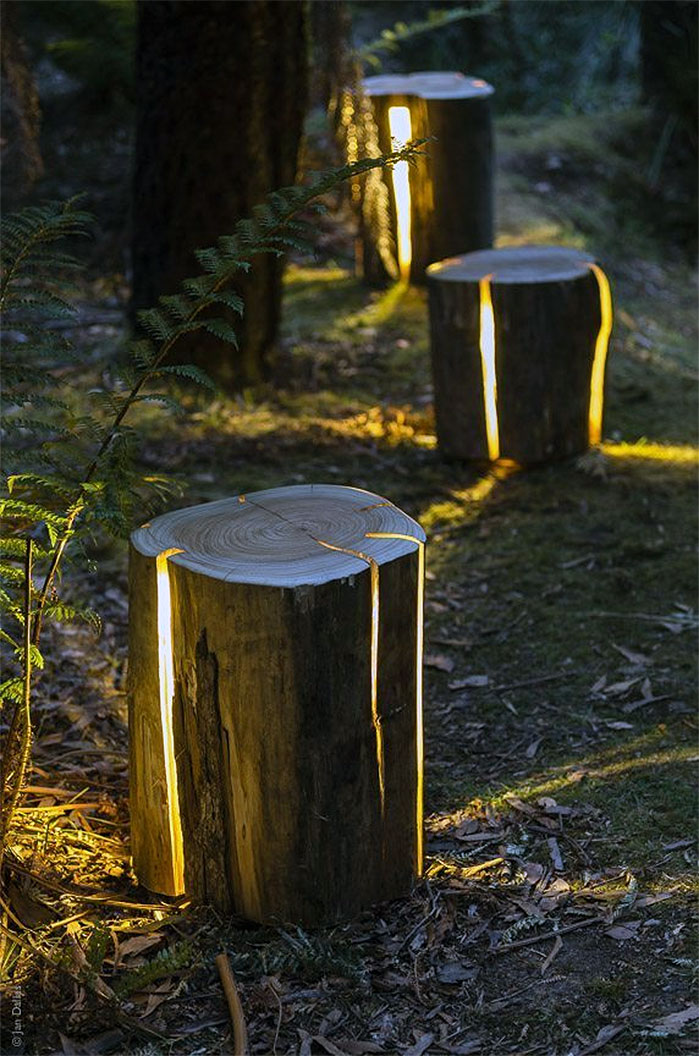 Based on the idea found on Sustainable Home Hub
A beautiful way to recycle some fallen trees into natural and rustic garden lights, providing a unique and functional accent to your backyard.
These designs, created by Duncan Meerding, could be recreated in DIY fashion with a little bit of trial and error.
All you need to do is hollow out the stumps (if not hollowed out by nature) and then split them enough to allow the light from a low voltage or solar light set (you'd need the kind where the charger is strung separately so that it is not shadowed by the log) to shine throw. And, if you accidentally split the logs all the way… just add them to the pile for the fire pit!
---
---
DIY Cast Concrete Leaf Stepping Stones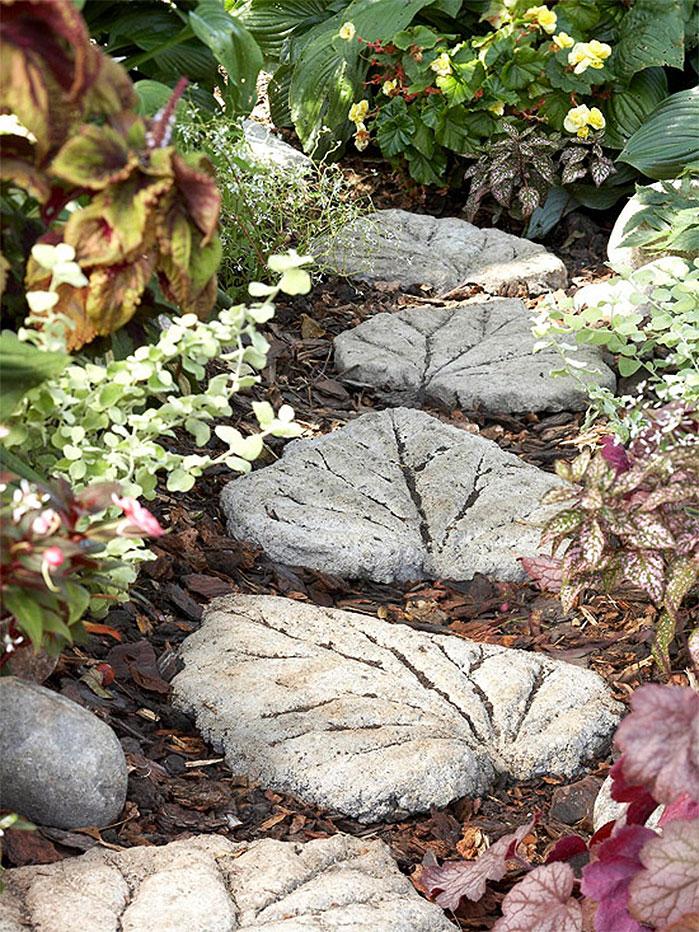 Nature provides a stunning variety of shapes, patterns, and textures that can be transferred onto some beautiful concrete stepping stones. The beauty of these DIY cast concrete leaf stepping stones is that they will seamlessly blend in with their surroundings while installing a bit of your own personality to the garden.
---
Heart Brick and Concrete Walking Path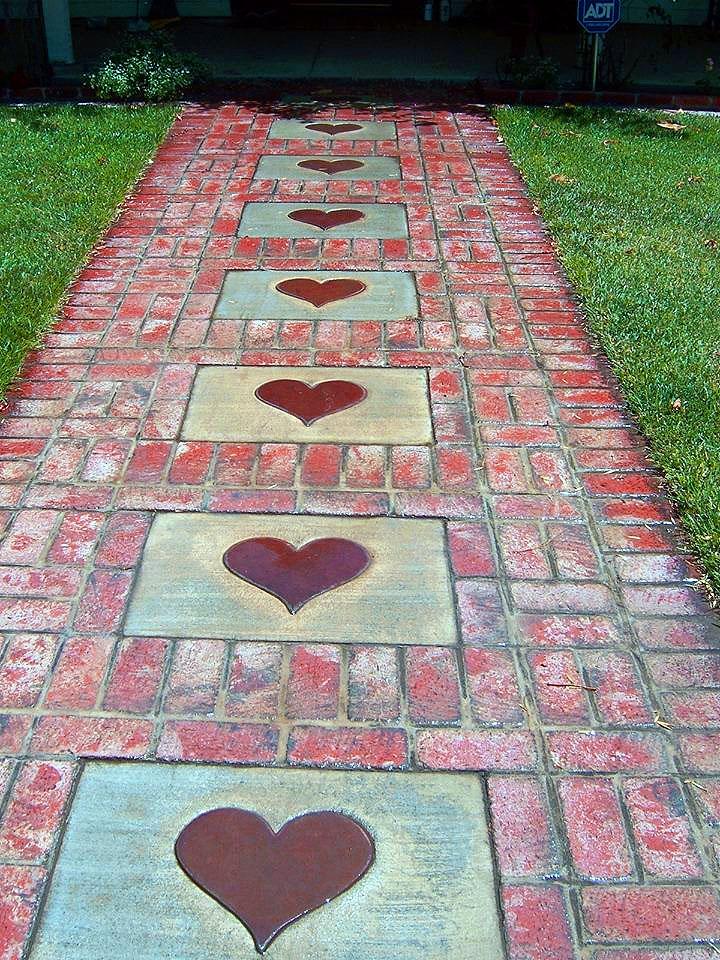 Blend some traditional brick pavers with some custom poured, carved, and painted cement stepping stones to create this lovely (pun intended) and welcoming walking path.
---
DIY Concrete Block Bench Seat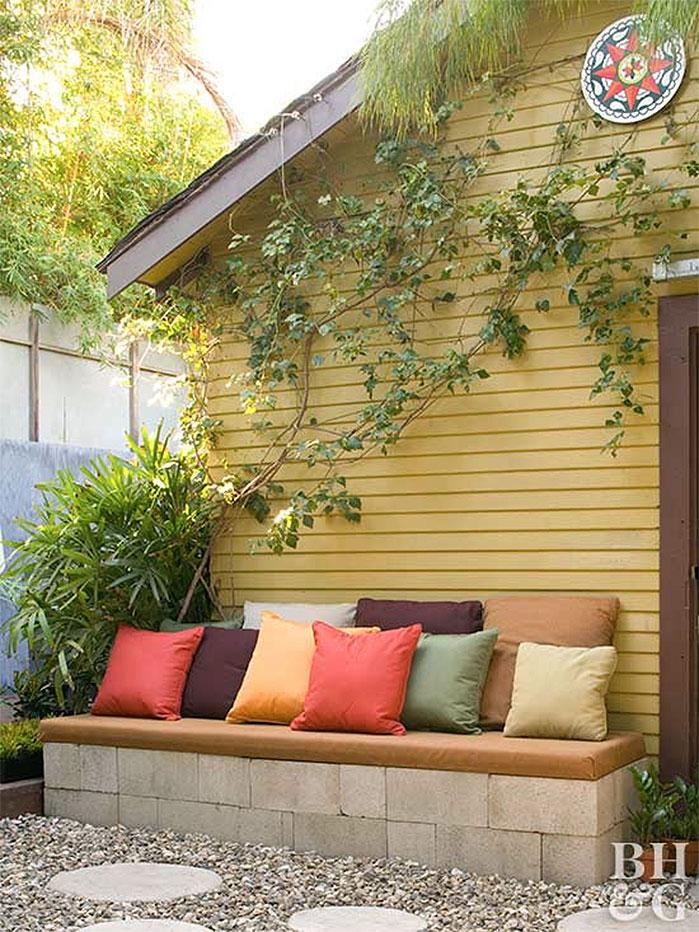 This DIY concrete bench is perfect for adding some additional seating to your backyard as well as providing a sturdy place to store garden tools and accessories.
You can even make your own pillows if you want to be a DIY purest!
---
---
DIY Tile Yard Art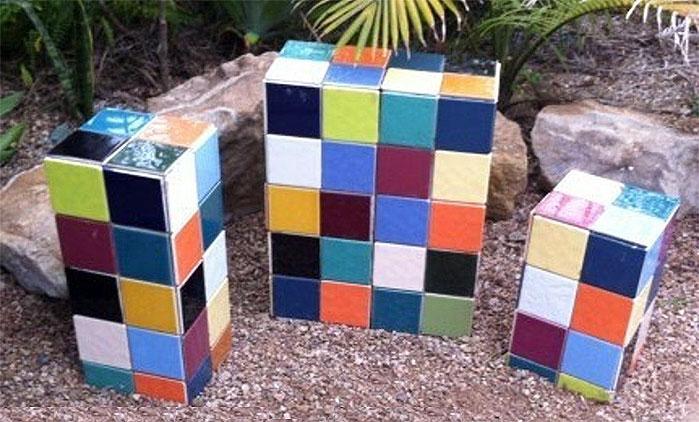 Create your own functional and colorful garden accents using some old, random tiles. These lively accents can be used as tables, plant stands, and more!
---
DIY Vertical Succulent Garden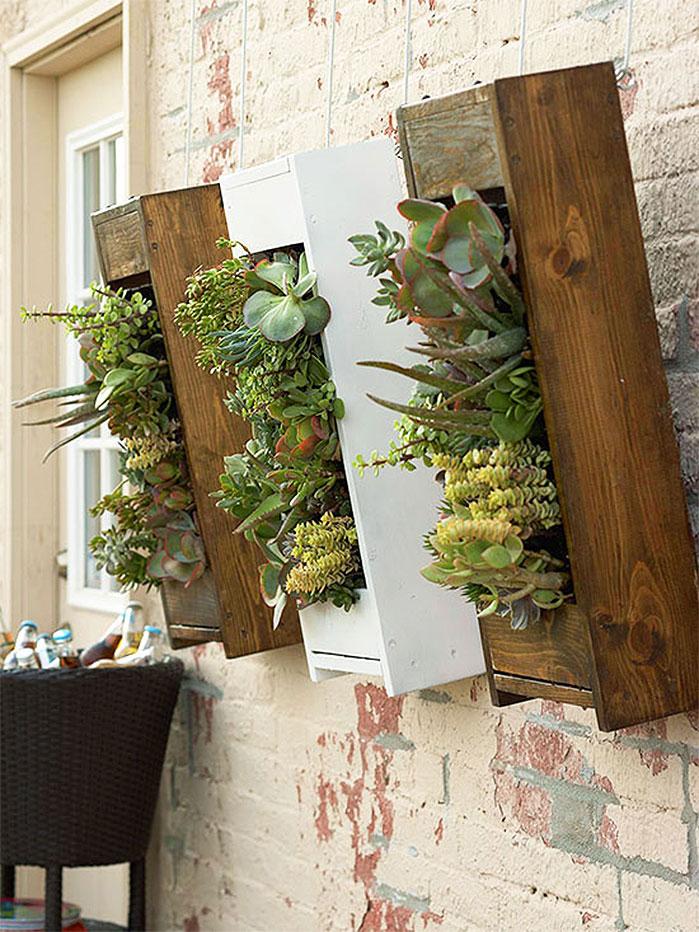 This is not our first Succulent Garden entry in our list of DIY Backyard Ideas, and it probably won't be our last. I like the simplicity of these, as well as the contrast of the two darkly stained versions on either side of a crisply-painted white planter box.
---
DIY River Rock Patio Stone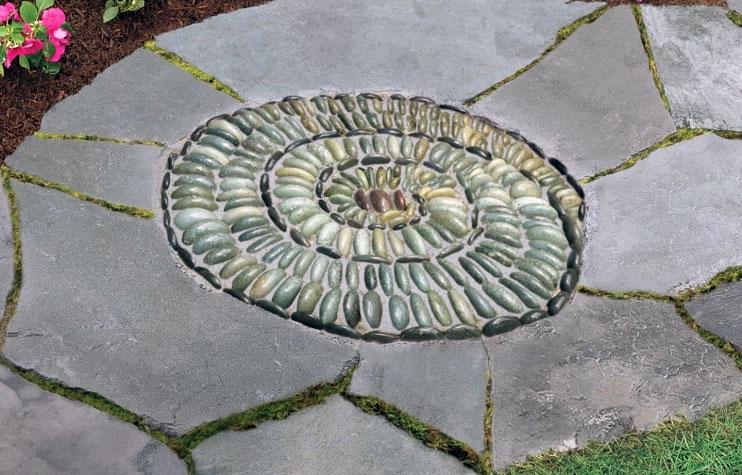 If you have the time and the patience (this is NOT a quick and easy DIY), you can turn some lovely flat river rocks into a delightful outdoor path accent.
This DIY backyard project will probably take a full weekend, maybe even a long weekend, but it's well worth the effort for this unique and wonderful accent.
---
DIY Garden Mosaics
DIY Garden mosaics are a lovely way to put your own personal stamp on your backyard. They can be painstaking and time-consuming, but the end results are almost always worth the effort!
Thanks to the following sites for the Garden Mosaic DIY Backyard Ideas!
---
---
DIY Square Fire Pit Table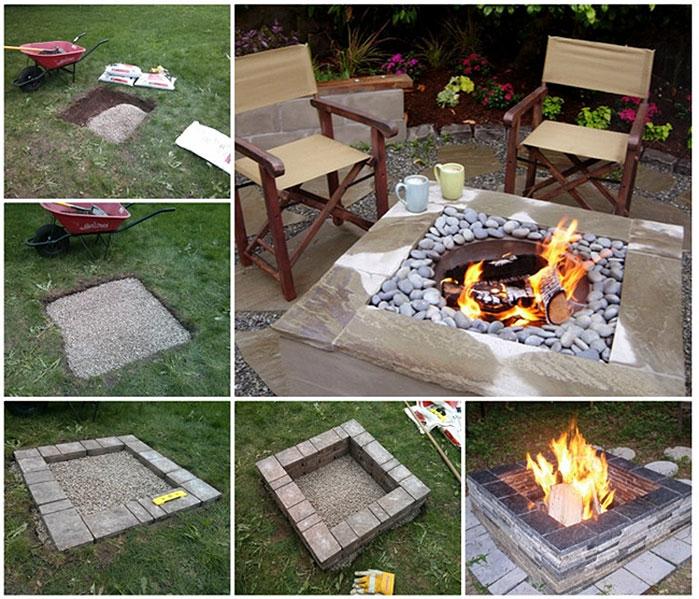 This attractive version of a versatile fire pit table combines the beauty of an outdoor fire pit with the convenience of a patio table where you can place your hot cocoa or adult beverage.
---
DIY Butterfly Stepping Stones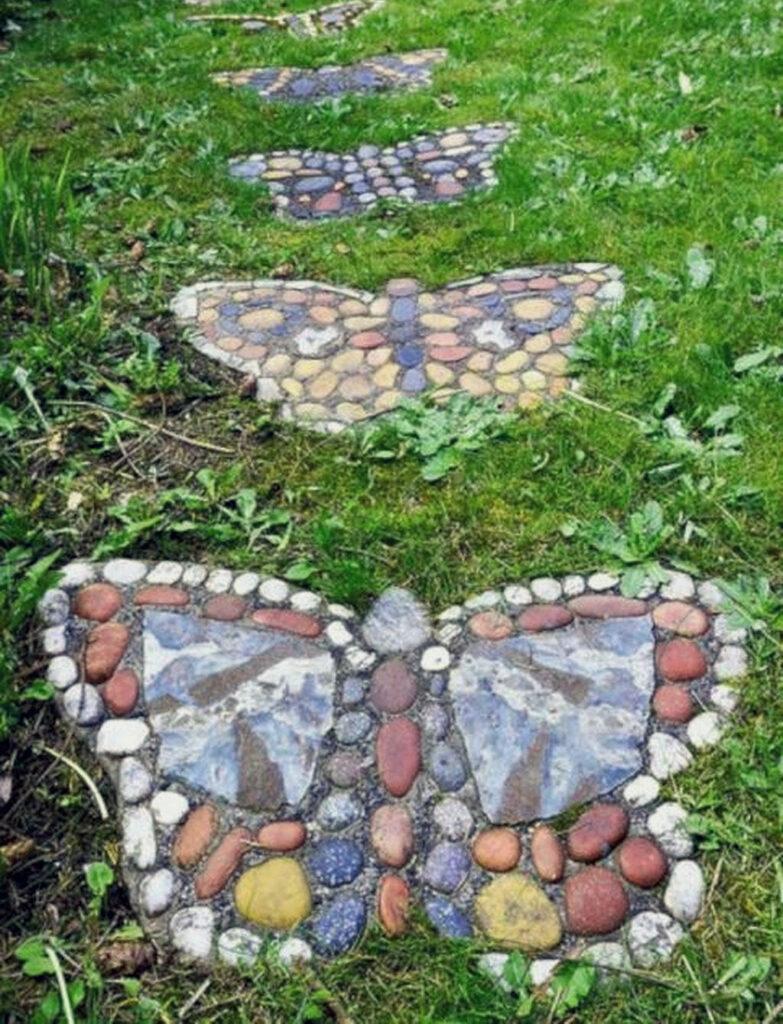 If you love butterflies, these lovely butterfly-shaped DIY garden stepping stones make a unique and personalized accent to the garden. This fun craft project for the backyard is one of the DIY Backyard Ideas that the entire family can get involved in finding, painting, and placing the stones.
---
DIY Footprint Garden Stones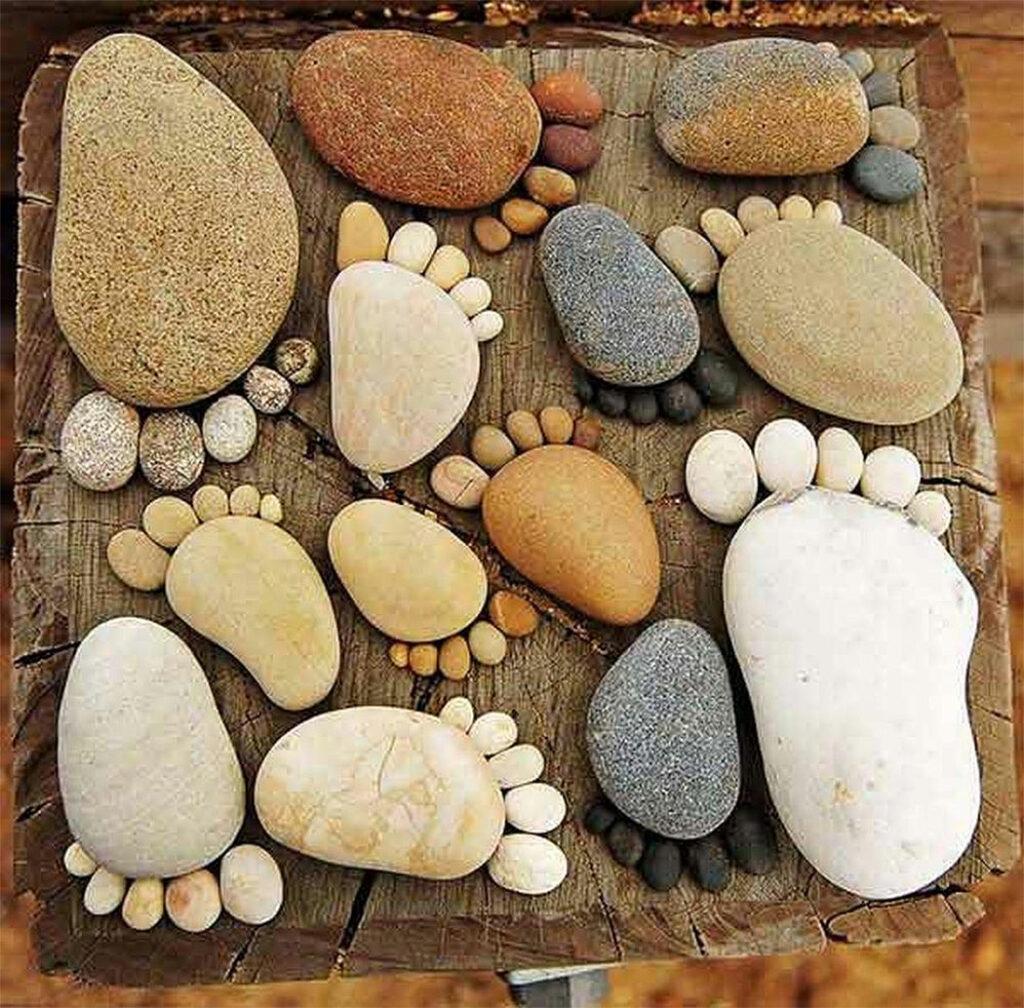 This cute DIY Garden project will likely take more time finding the right stones than it will to create these delightful little garden accents.
You'll need 1 large, flat, smooth stone as well as 5 smaller stones of varying sizes to create the toes.
---
Enough DIY Backyard Ideas to Keep You Busy!
We hope you have enjoyed this collection of fantastic DIY Backyard Ideas.
How some new ideas, or did you try one of the ideas from this list? Let us know what you think in the comments section below!