As the holiday season approaches, I've gathered some of my favorite blogger friends to share with you which they think is the best Christmas cookie, including delicious recipes that you can try at home.
Christmas and baking have always gone hand-in-hand in our household. The variety of delicious treats are so fun to make. But, out of all the Christmassy Deliciousness out there, the tried and true Christmas Cookie is always one of the most popular.
To help with the debate over which type of cookie make for the best Christmas cookie recipe, I've gathered some of the most brilliant baking minds that I know. Below, you will find their take on their favorite Christmas cookies, and why they love them so much. I like to think of them as edible Christmas decorations, but maybe that's just me!
According to Real Simple, the most popular Christmas Cookies include a variety of different flavors, baking techniques, and ingredients. Such as:
Sugar Cookies
Peanut Butter Blossoms
Spritz Cookies
Oatmeal Cookies
Snowball Cookies
Gingerbread Cookies
Crinkle Cookies
Snickerdoodles
Black & White Cookies
But to help narrow down that field, we decided to check with the experts, including our fellow bloggers as well as our own readers. Below you will find their absolute favorite and best Christmas Cookie recipes that you can try out for yourself.
Which Do You Think Are the Best Christmas Cookies?
Take the short survey below, and see if you agree or disagree with your fellow readers. You can select multiple cookie types if you just can't decide which you think is the best.
---
In order to gather some intel on the Christmas Cookies of choice, we asked some of our favorite home, garden, and recipe bloggers to provide their unique take on these different types of Christmas cookies. From classic gingerbread to fun Christmas crack cookies, you'll discover a unique take on all of these Christmas classics.
Sugar Cookies with Icing | Sugar Spun Run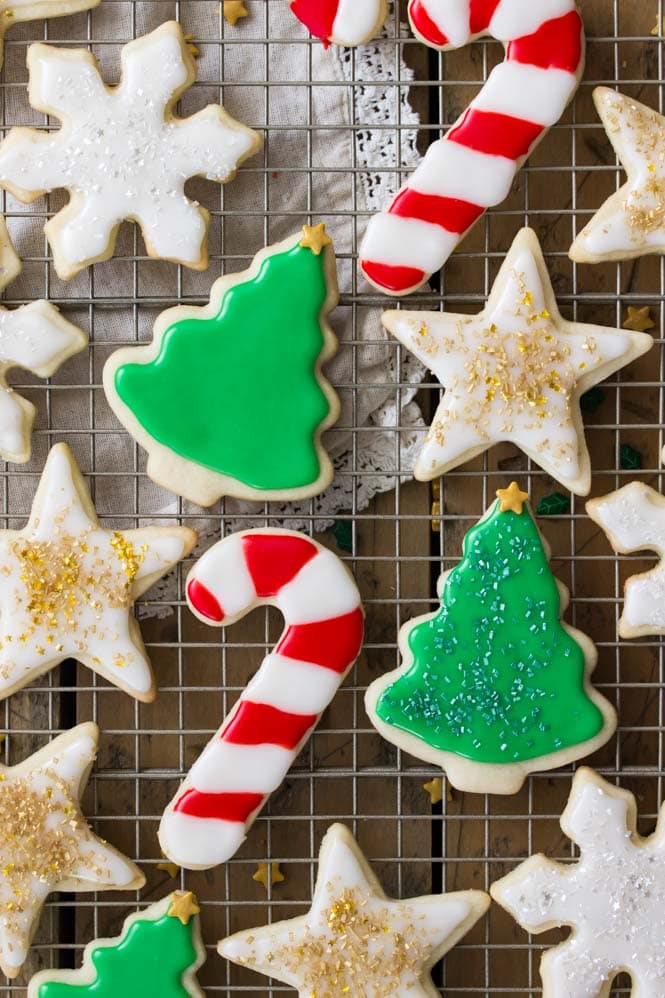 It is amazing how easy sugar cookies are to make. Most recipes only call for a few ingredients and you don't need any fancy mixing or techniques to get beautiful and delicious sugar cookies. A particular favorite is the easy cut-out sugar cookie recipe with icing like the one shown above. Because it's easy to make and easy to decorate, it is destined to become your future Christmas cookie platter staple.
The sugar cookie dough is easy to roll and to work with and doesn't spread when baking, so your cookies will always have sharp, defined edges! You can decorate these cookies with sanding sugar, or you can use my recipe below for a simple (and tasty!) pipe-able sugar cookie frosting (one that's not royal icing!).
---
Peanut Butter Blossoms | The Chunky Chef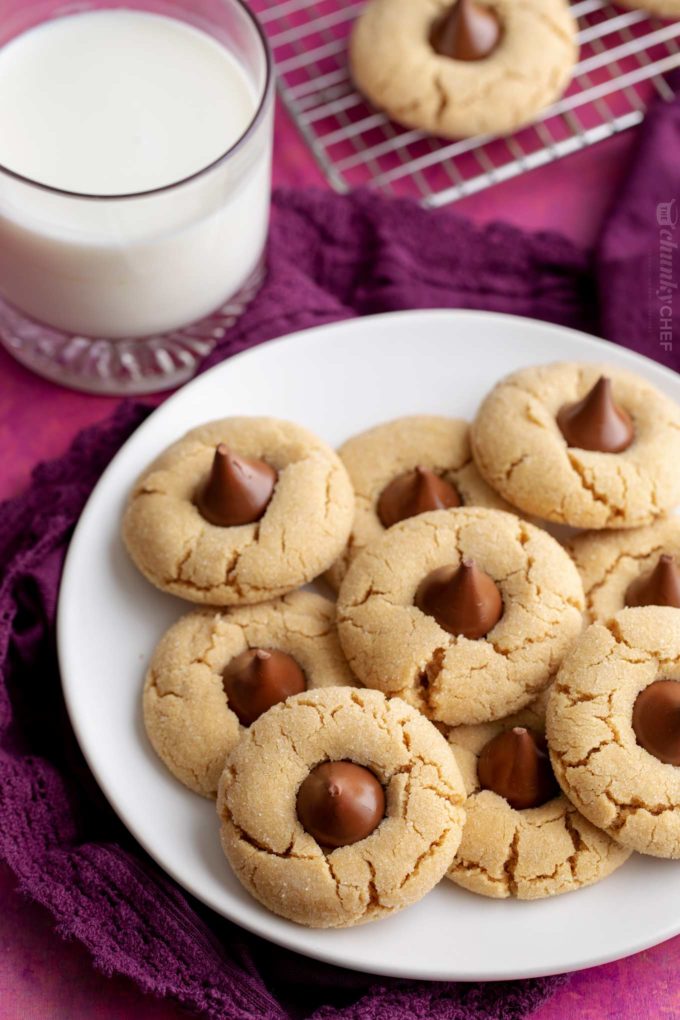 If you have kids, this is a great Christmas cookie recipe to bake with them. The recipe is so simple that there are lots of steps along the way that your kids can help you with, and it's all the more fun for them to enjoy cookies they helped bake!
Peanut Butter Blossoms are a holiday stable, and one that you are sure to return to year after year after year.
One hint when making peanut butter blossoms is to refrigerate your chocolate kisses until you're ready to add them to the baked cookie dough. By chilling them first, they don't melt when pressed into the hot cookie, that way they stay perfectly formed.
---

---
Spritz Cookies | Sally's Baking Addiction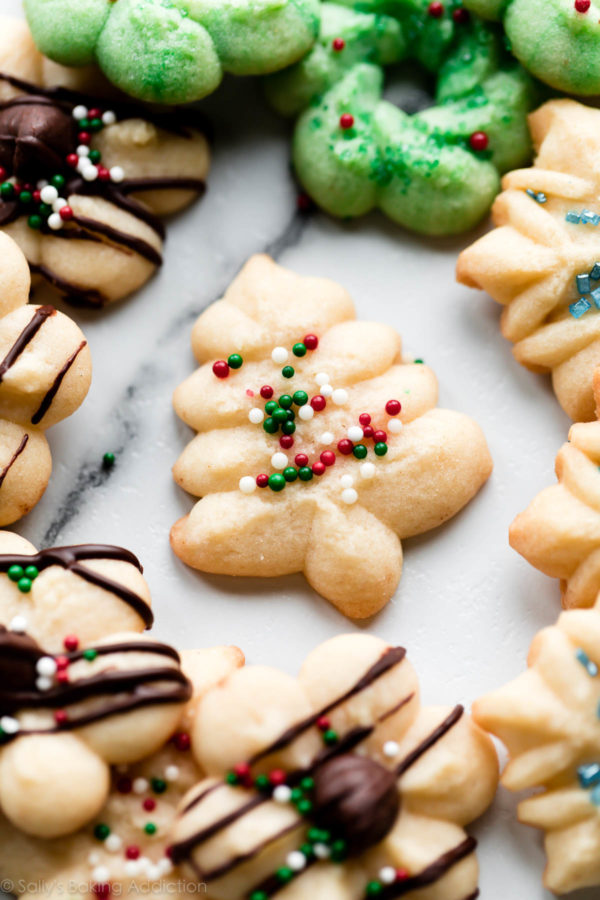 Spritz cookies have a lot of the same characteristics as sugar cookies, but the presentation is where they set themselves apart. Spritz cookies are sweet & buttery and, with the right recipe, hold their intricate shapes even after they've been baked. Unlike sugar cookies, which are shaped using cookie cutters, spritz cookies are shaped with a cookie press.
Spritz cookies are also often compared to shortbread cookies, however, most spritz cookie recipes contain an egg, which shortbread cookie recipes do not. That's because it's the eggs that help the spritz cookies hold their shape, so they don't crumble the same way shortbread cookies do.
As to the reason they are called Spritz Cookies. The word "spritz" comes from the German word spritzen which means "to squirt." That is because spritz cookies are made by pushing – or squirting – the cookie dough through a cookie press.
These delightful little treats are one of my favorite Christmas cookies!
---
Christmas Oatmeal Cookies | Live Well, Bake Often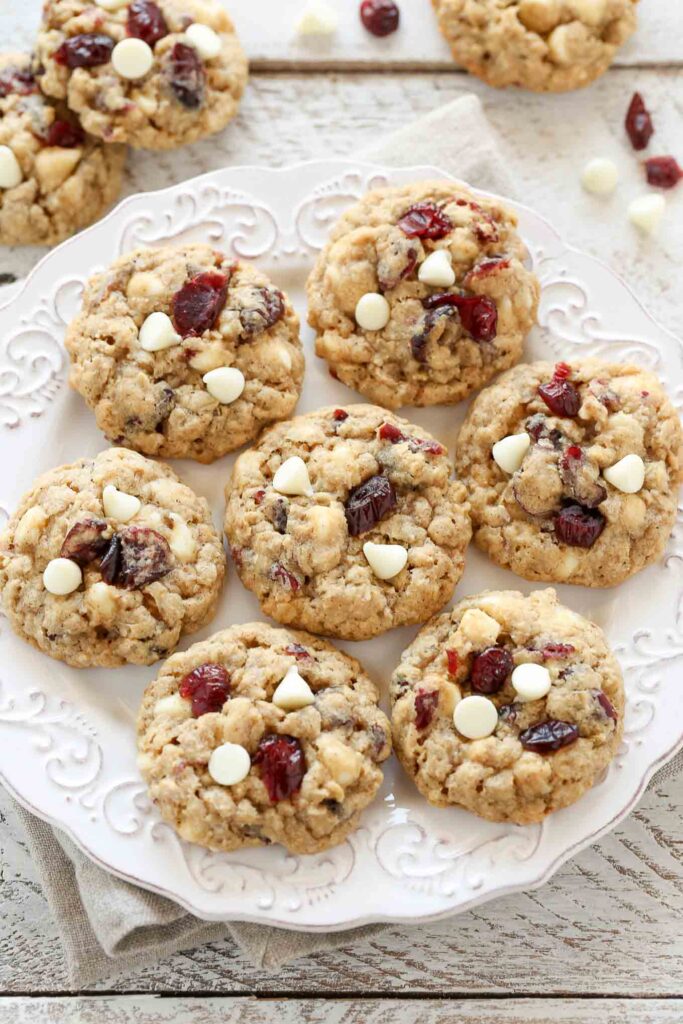 Oatmeal cookies are a bit of a year-round stable, but this recipe takes the traditional cookie and amps it up with some holiday flavor. These soft and chewy oatmeal cookies are easy to make and are packed with white chocolate chips and dried cranberries to give them a bit of a seasonal twist.
Not only are these cookies easy to make, but they're also jam-packed with goodness. If you want, you can even add some chopped pecans to boost the crunch factor.
---

---
Christmas Snowball Cookies | Bigger Bolder Baking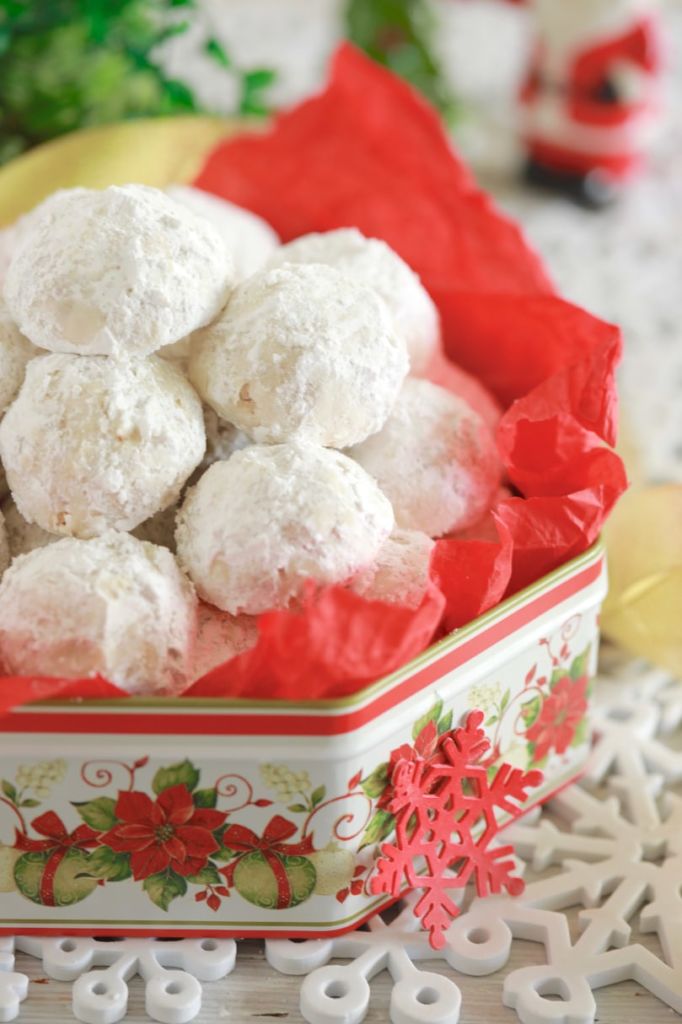 Snowball cookies are a delightful combination of ground pecans, butter, flour, and just a hint (1/3 cup) of sugar on the inside and then coated with a powdery dusting of powdered sugar. Hence their name!
Also known as Mexican Wedding Cookies, these Christmas treats aren't too sweet but do get their rich flavor from the butter and the pecans. The combination of a savory interior with the sweet powdered sugar exterior is heavenly!
---

---
Gingerbread Cookies | Gimme Some Oven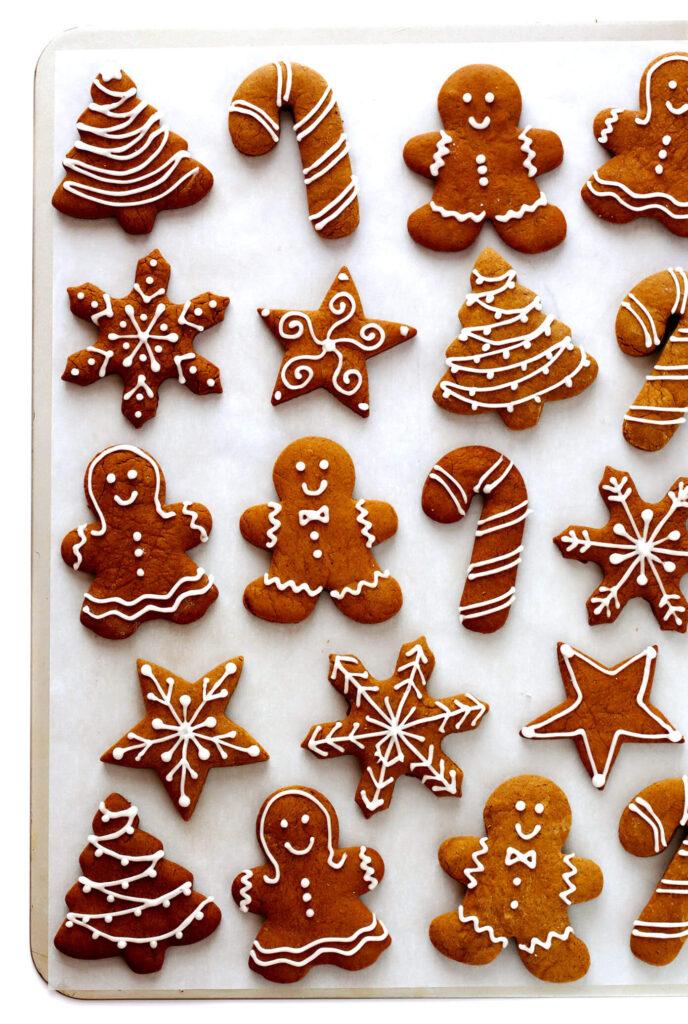 I will admit that I love a beautiful gingerbread house, but when it comes to a classic Christmas cookie it is hard to beat the old-fashioned gingerbread cookie.
Simple but delightful, these cookies tend to be more about the shapes and the the flavor than the colorful icing, and that's perfectly OK with me.
This recipe is made with the tastiest warming spices, including bunches of cinnamon and – of course – ginger. Plus, as a bonus, when you are baking up a batch of these gingerbread cookies, your home is going to smell amazing!
---
Chocolate Crinkle Cookies | Cafe Delites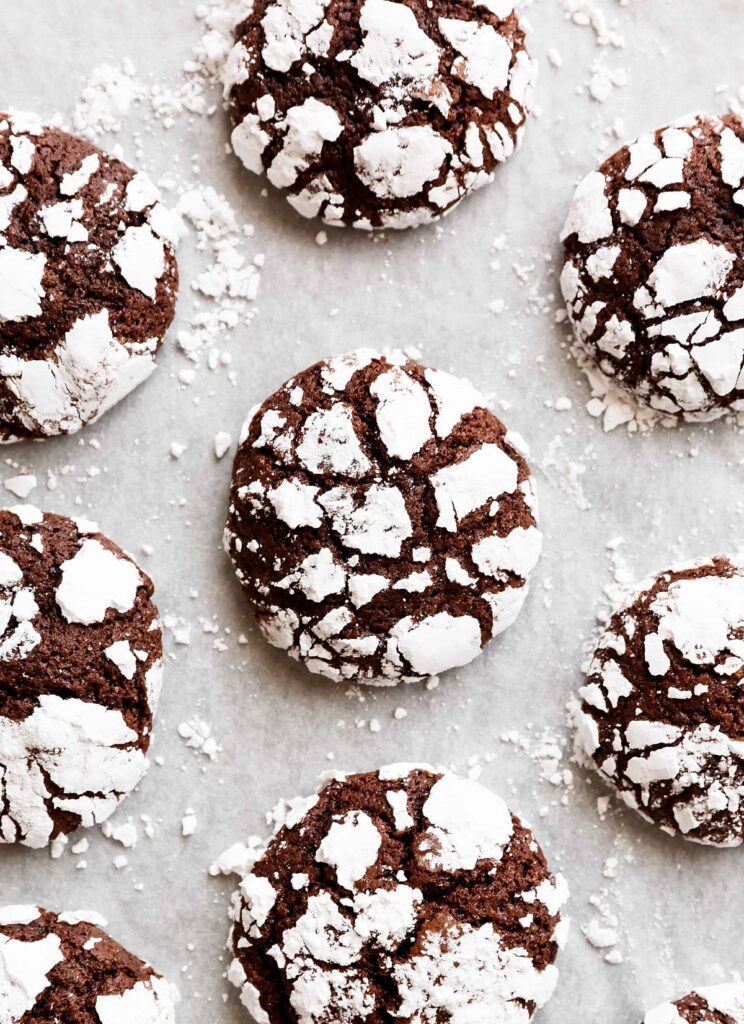 This crinkle cookie recipe is the perfect last-minute type of recipe when you need to whip up something delicious in a hurry. It is really easy to make and super decadent (perhaps not as decadent as our Chocolate Cheesecake recipe, but what is?).
Chocolate Crinkle Cookies have an irresistible brownie-like texture in the middle, but with a cookie crunch on the outside! That's what makes these delicious bites one of the best Christmas cookies!
---
Christmas Snickerdoodles | Buy This Cook That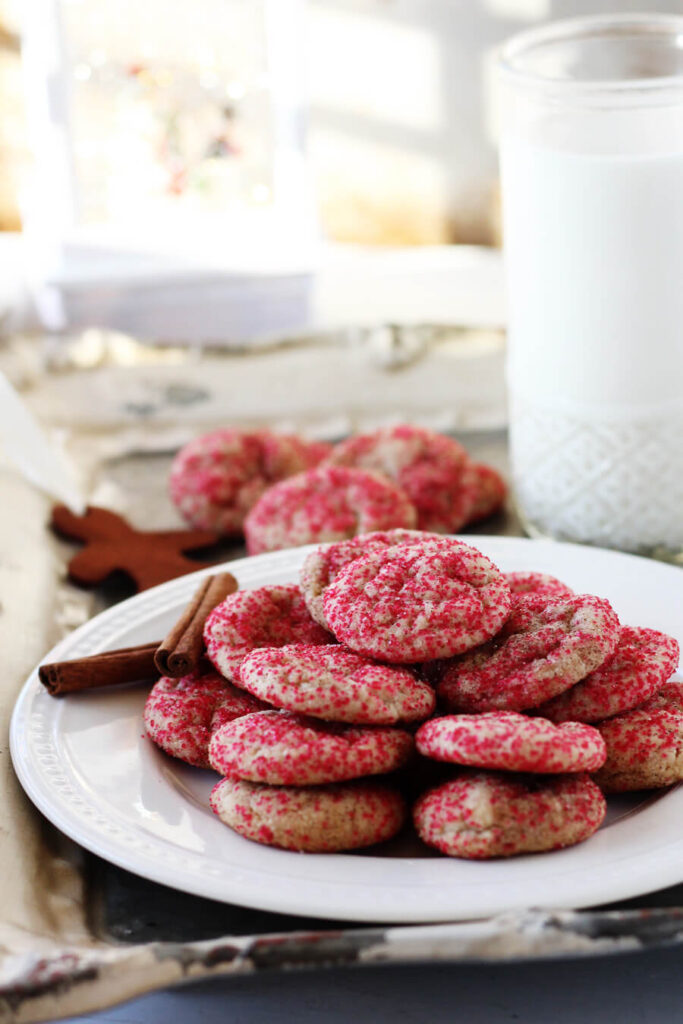 The classic snickerdoodle cookie recipe is always, no matter what time of the year it is. However, by adding a little bit of extra Christmas flare, these delicious Christmas cookies are perfect for the holiday season.
Bake up a batch of these Christmas Snickerdoodles and you will have Santa sliding down the chimney to get his fill. Unfortunately, he may not be able to fit back up the chimney if he eats too many of them. But all is fair in love and Christmas.
These cinnamon-sweet treats are the perfect level of soft and chewy.
---

---
Classic New York Style Black & White Cookies | Dinner Then Dessert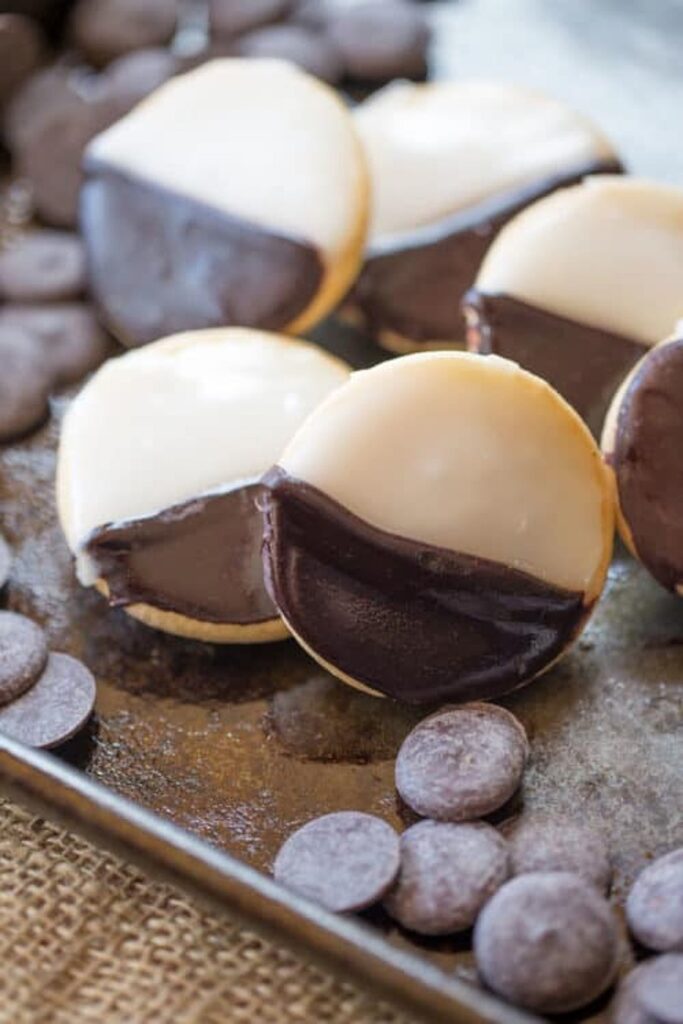 Just like classic Christmas Movies, sometimes things are just better in black and white.
Black and White Cookies are probably one of the most classic New York desserts of all time, second only to New York-style Cheesecake. They offer the perfect combination of a cake & cookie, which has been topped with alternating chocolate and white frosting.
---
Reverse Black & White Christmas Cookies | Liv for Cake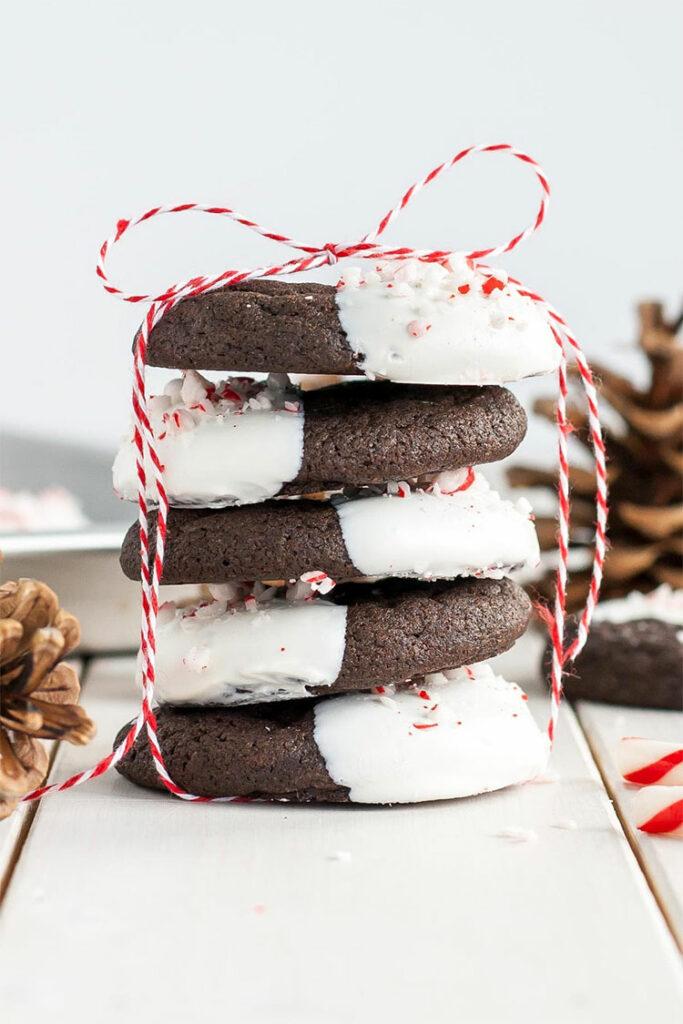 If you like the idea of Black & White cookies, but want something a little bit different, have I found the Christmas Cookie Recipe for you!!
Although a little different than your classic, New York-style Black & White cookies, these rich chocolate cookies feature a splash of peppermint and some crushed up candy cane. The combination makes these unique versions of the Black & White cookie the perfect festive treat for the holidays!
---
Colorful Christmas Crack Cookies | Art & Home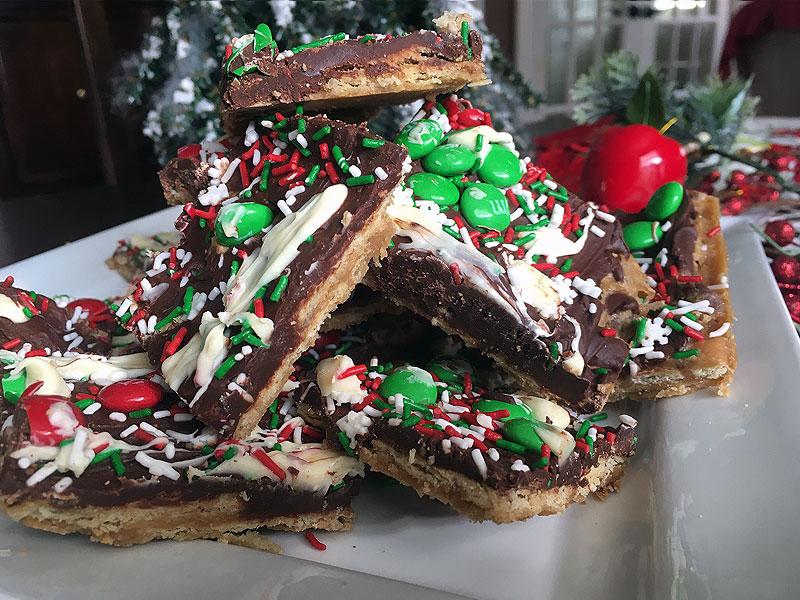 The deliciously sweet and fun to say Christmas Crack Cookie is my pick for the best Christmas cookie. It's super-easy to make, colorful, and delicious. My version takes the basic Christmas Crack Cookie Recipe and adds some additional color with Christmas sprinkles, red & green M&Ms, and some white chocolate chips.
I love how easy these are to make. Although I do enjoy my Christmas baking, I am not the expert that some of my friends, family members, or fellow bloggers are. So simple and delicious works out really well for me.
Even if you're a novice baker, you can whip up a batch of these cookies in about 20 minutes or so.
---
Aren't Those the Best Christmas Cookies You've Ever Seen!
And there you have it! Some of the best in the business have weighed in on which are their favorite Christmas cookies. Did you do a bake-off to determine which you believe to be the best Christmas Cookies from this list? We'd love to see the results!
Do you agree or disagree? Feel free to let us know in the comments below!