If you're a fan of beautiful tapestries, then you need to know about William Morris. He was a master of art, design, and tapestry weaving. His stunning tapestries are still treasured today.
William Morris' artworks were inspired by nature, and his biography is fascinating. If you're interested in learning more about this incredible artist, keep reading. If you already know about William Morris and simply want to own a stunning tapestry inspired by his legacy, skip right down to our favorites!
The Fascinating History of William Morris
William Morris was born in 1834, and he showed an early interest in art. He studied at the University of Oxford, where he met some other artists who would go on to become very famous, including Dante Gabriel Rossetti and Edward Burne-Jones.
Morris was educated privately from the age of 13, at Marlborough College, before going on to read theology at Exeter College, Oxford, in 1853. Thomas Carlyle, Charles Kingsley, and John Ruskin's social criticisms persuaded him away from becoming a priest.
He began his career as an architect at university, married Jane Burden, and formed close relationships with the Pre-Raphaelite painters Dante Gabriel Rossetti and Edward Burne-Jones. The two encouraged him to develop an interest in art and architecture. This was the start of a magnificent professional life that spanned many disciplines – artist, author, activist, and craftsman.
Morris began his career as an artist by painting murals and designing furniture. However, it was his tapestry work that really made him famous. His tapestries are intricate and beautiful, often featuring elaborate designs inspired by nature.
Morris also designed wallpaper, textiles, and other household objects. He was a master of his craft, and his work is still admired and appreciated today.
One of Morris' most famous pieces is a tapestry called "Strawberry Thief". It is exquisitely detailed and a true representation of Morris' work. If you've ever considered hanging a tapestry in your home, you can't go wrong with this choice!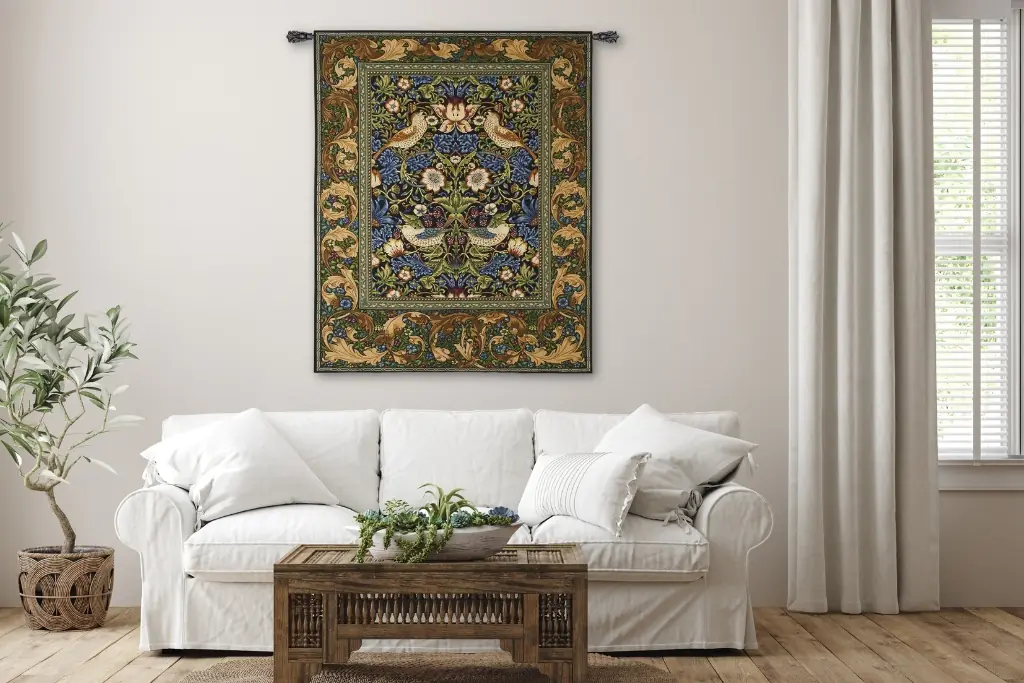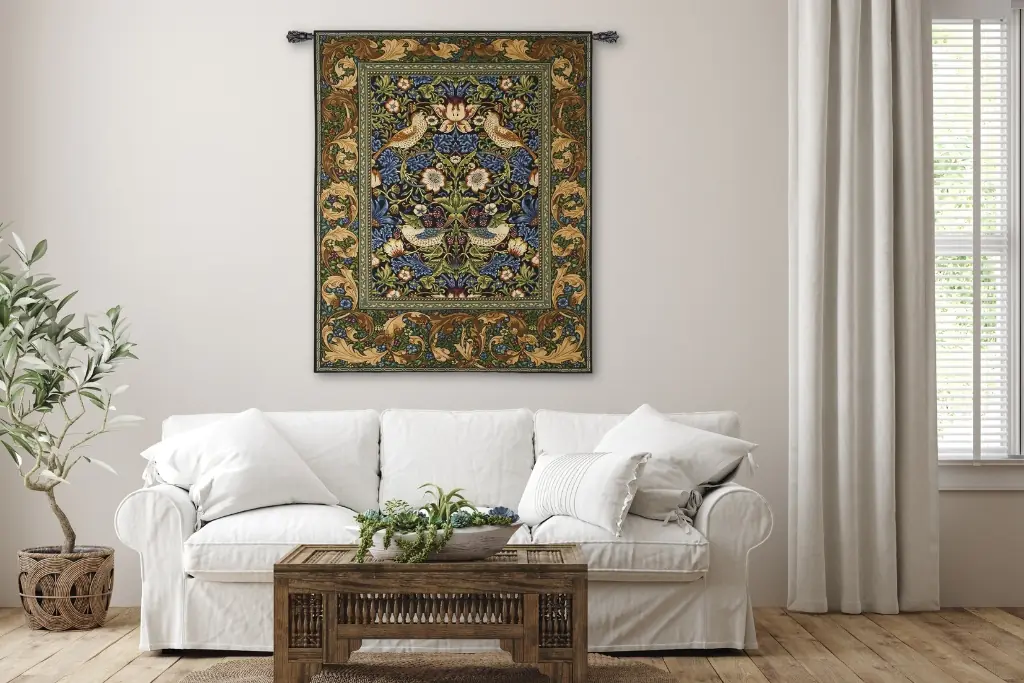 His other works include Acanthus, European Summer Quince, Tree of Life, The Orchard, Panel of Tiles, and The Woodpecker series.
In 1891, he established the Kelmscott Press to produce limited-edition illustrated volumes. It was a cause that he dedicated his final years to and became a significant passion and part of his legacy. The Kelmscott Chaucer, considered by many to be the press's greatest work, was completed shortly before his death in 1896.
Even though he died over 125 years ago, William Morris is still considered one of the most important figures in art and design. He was a master of his craft, and his work has been exhibited all over the world.
The William Morris Society is located in London, but you can visit the society's website here for more information about their work and how you could get involved with them too!
William Morris Tapestries
Morris' tapestry work is especially well-known for its intricate beauty. He was inspired by nature and the natural world around him, which can be seen in his designs.
The William Morris Society preserves his legacy today, as well as promoting education about art and design through a fellowship program that provides funding to students who want to pursue careers in those fields.
The William Morris Tree of Life tapestry is one of the most beautiful pieces of art that was created by this famous artist. The tapestry is a circular design that features a tree in the center, with branches and leaves spreading outwards. It is made up of several different colors, including green, blue, and yellow. You can see all of the unique and wonderful versions of this stunning tapestry in a variety of sizes.
William Morris Quotes
Not only a talented artist, but William Morris was also a brilliant and thought-provoking man. Here are some of his most famous quotes:
Have nothing in your house that you do not know to be useful, or believe to be beautiful.
The moment we want to believe something, we suddenly see all the arguments for it.
The true secret of happiness lies in taking a genuine interest in all the details of daily life.
Give me love and work – these two only.
Not on one strand are all life's jewels strung.
The past is not dead, it is living in us, and will be alive in the future which we are now helping to make.
I do not want art for a few any more than education for a few, or freedom for a few.
It took me years to understand that words are often as important as experience, because words make experience last.
History has remembered the kings and warriors, because they destroyed; art has remembered the people, because they created.
We shall not be happy unless we live like good animals, unless we enjoy the exercise of the ordinary functions of life: eating, sleeping, loving, walking, running, swimming, riding, sailing.
The reward of labour is life. Is that not enough?
If you cannot learn to love real art, at least learn to hate sham art and reject it.
The Lasting Legacy of William Morris
William Morris was a master artist, craftsman, and designer who left an enduring legacy. His work is still celebrated today, and his influence can be seen in the art and design of subsequent generations. He was a pioneer in the Arts and Crafts movement, which sought to revive traditional craftsmanship techniques and create beautiful objects that were functional as well as aesthetically pleasing.
Morris also championed the idea that everyone should have access to arts and culture, regardless of social class or financial status. He wanted to create things of beauty that were affordable for people from all walks of life.
We couldn't agree more!