100 beautiful wedding cake ideas to help you find exactly the right wedding cake for your reception, no matter your style or color scheme.
With the wedding season fast approaching – whether we are ready for it or not – minds are turning to the accouterments that are involved in a wedding ceremony & reception.
One of the key elements of any wedding celebration is, of course, the wedding cake.
From classic to contemporary, sophisticated to rustic, today's wedding cakes take on a variety of shapes, forms, and colors.
My, How Things Have Changed
I still remember our wedding cake. It wasn't the prettiest thing you've ever seen, but it was absolutely delicious. We bucked the trend at that time and went for a carrot wedding cake, instead of the traditional vanilla or fruit cake options, and we never regretted that decision.
It was delicious. And it froze beautifully so that we could have our one year anniversary celebration cake, and it was just as delicious a year later.
Part of that cake choice had to do with our decision to use a local bakery that we frequented regularly at the time, but that did not specialize in wedding cakes. When we asked them if they would do our wedding cake, they gave us this really quizzical – I'm not sure you realize what you're asking for – look.
But when we assured them that we were more interested in the flavor than the look, the eventually agreed. And it certainly didn't hurt that the triple tier cake carrot cake from our favorite bakery ended up costing about one third of what a fully decked out cake would have cost us.
Was it the grandest wedding cake you've ever seen? No. Did people ohhhh and ahhhhh when the cake was revealed? No. Did not having a super pretty cake have any negative impact on our wedding celebration? Not at all.
But that was us. And we had a very simple, family style wedding… on a very tight budget. If I could back and do it all again, maybe I'd splurge on a fancy wedding cake. Maybe. Especially after doing all of the wedding cake research for this post.
And for those who want something a little better than our makeshift-carrot-cake-tower-of-glory, I have collected over 100 glorious wedding cakes to foster your wedding inspiration and your wedding dreams.
My Personal Picks for the Most Glorious Wedding Cakes
I spent hours browsing through some of my favorite sites for wedding cake ideas & inspiration, including Martha Stewart Weddings, Elle Decor, The Knot, and Brides.com to find some of the most amazing wedding cake ideas for you to explore!
Like birthday cakes on steroids, these cakes come in an amazing variety of shapes, colors, designs, and flavors.
I hope you enjoy browsing this collection of wedding cake ideas as much as I enjoyed creating it! And I assume that you'll probably be just as hungry for a big slice of cake when you're done reading as I was!
Cascading Orchids Wedding Cake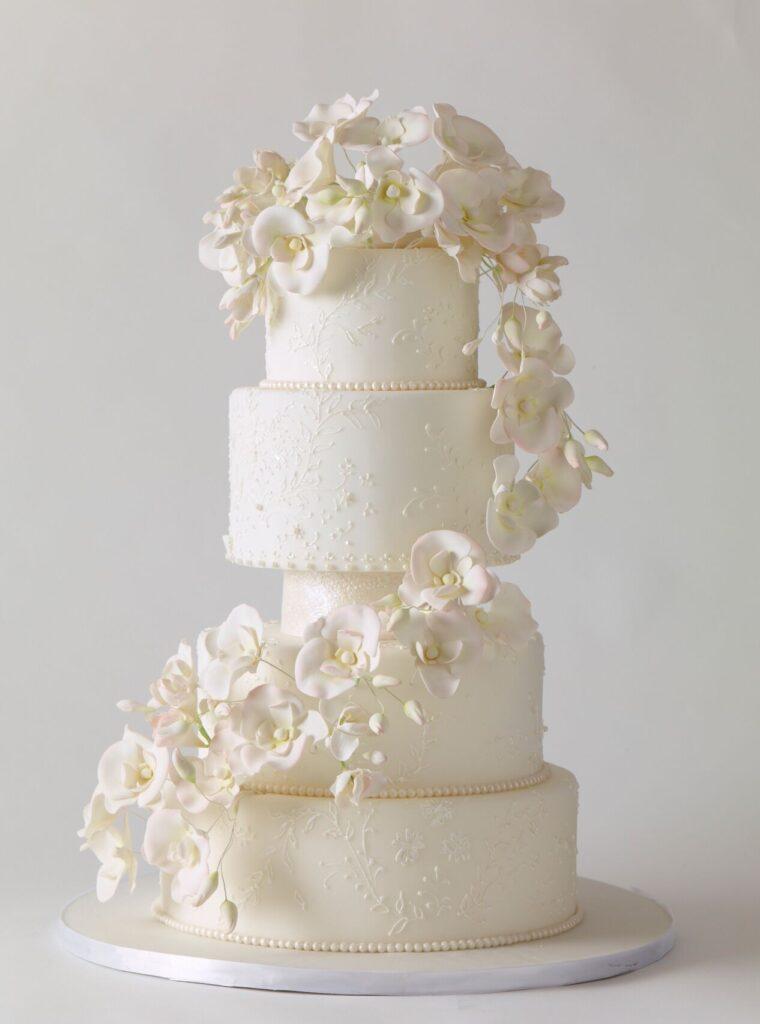 A glorious spray of cascading white orchids covers this multi-tier white cake.
---
Elegant Blooms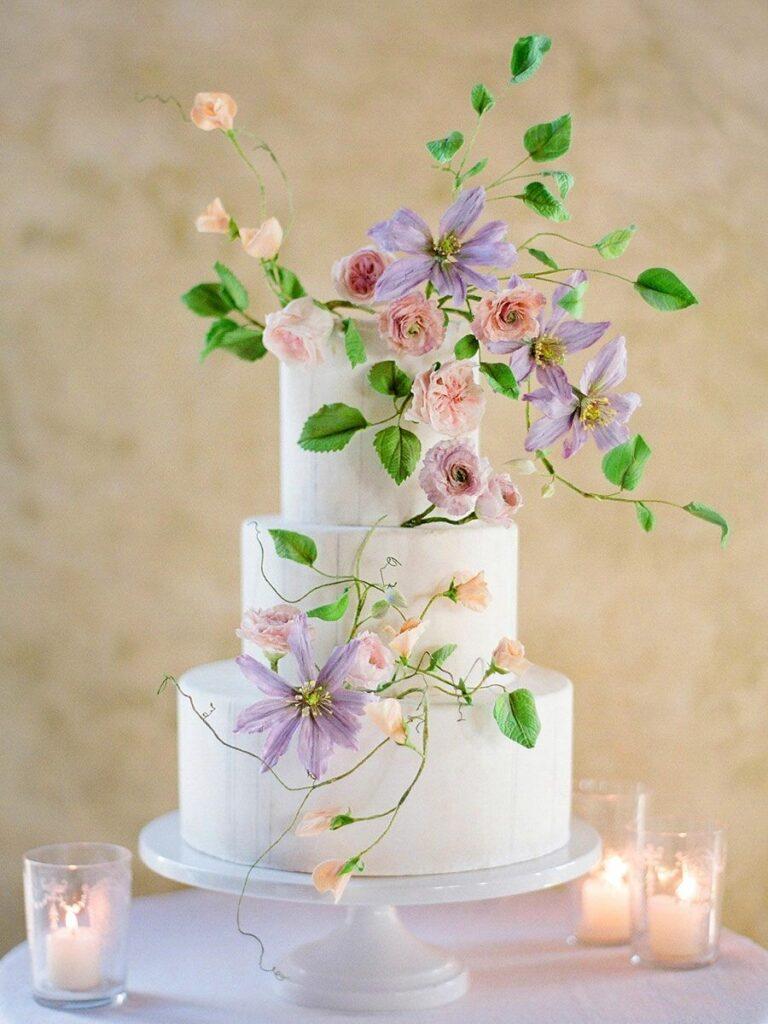 A classic white 3-tier wedding cake creates an elegant backdrop for the beautiful vines of colorful flowers and foliage.
---
Pretty in Pink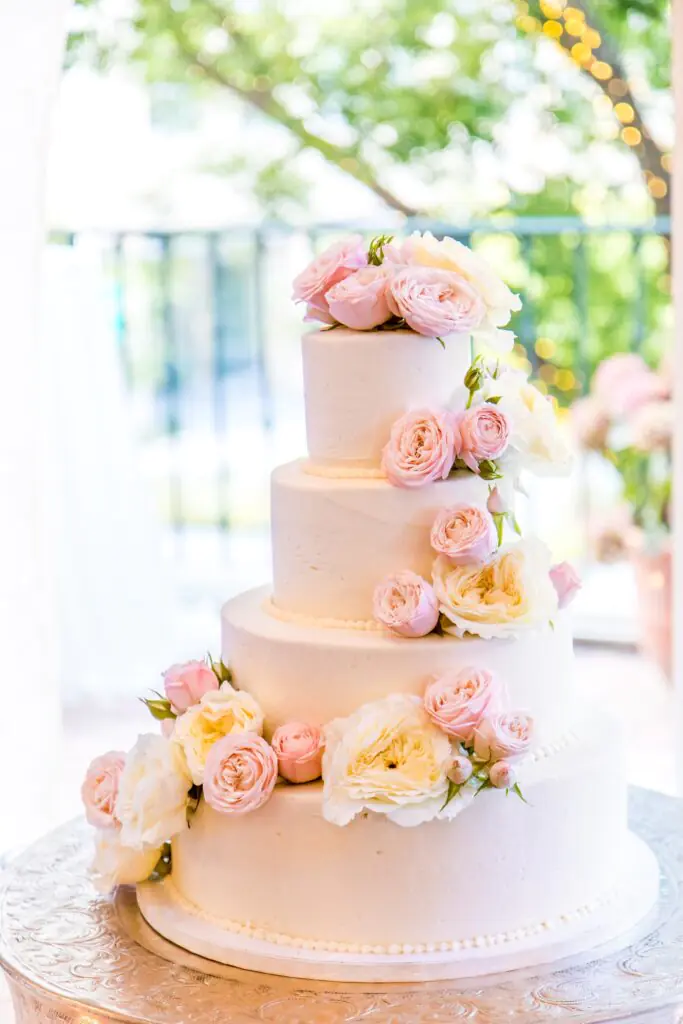 This gorgeous cake brings a whole new meaning to the phrase "pretty in pink".
---
Bursting With Color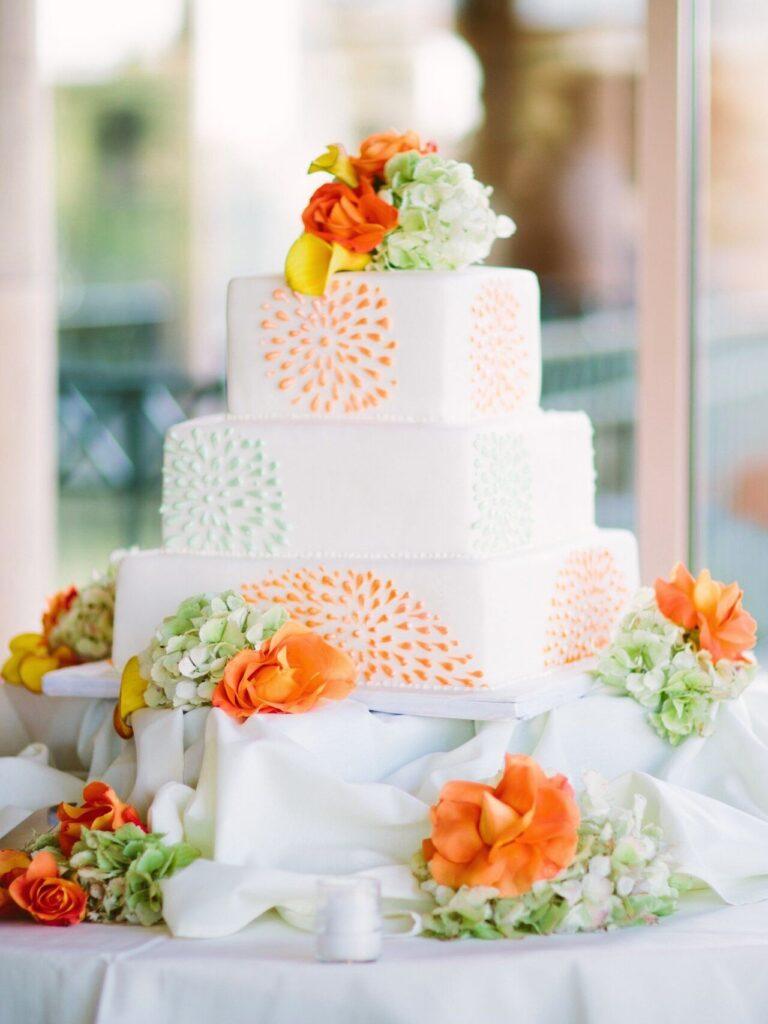 A simple, square multi-tier white cake is decorated with bursts of color in orange and green, which perfectly coordinate with the edible flowers.
---
Trailing English Roses Nearly Naked Wedding Cake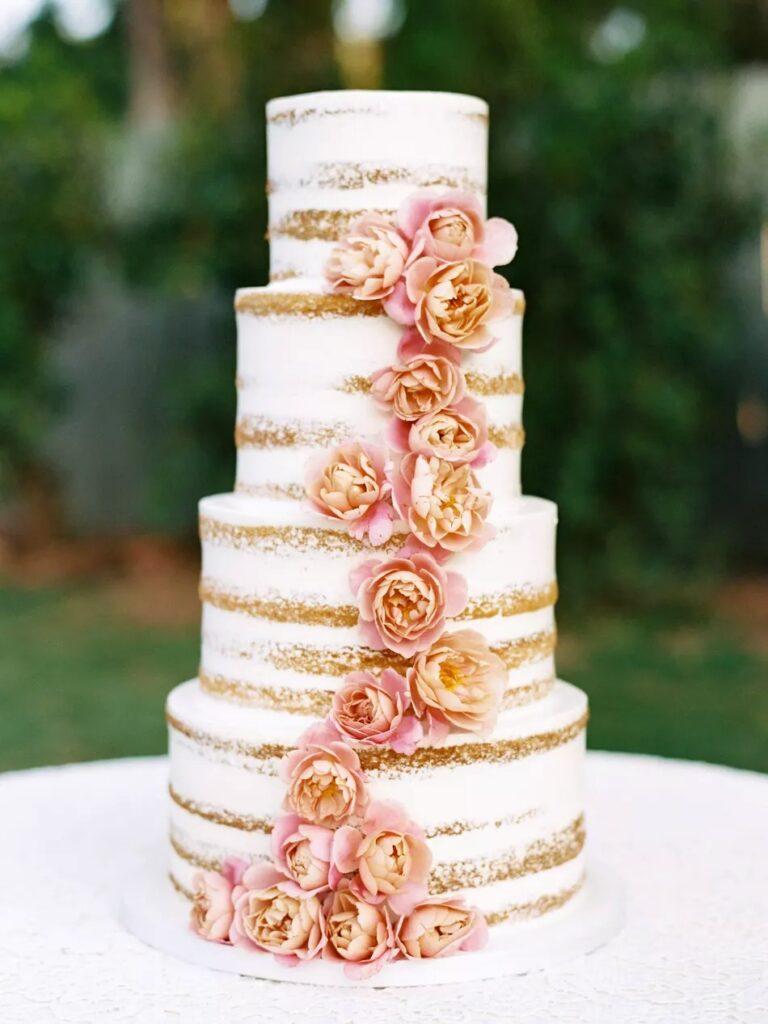 This gorgeous creation by Lele Patisserie is proof positive that you don't necessarily need fondant or buttercream to make a beautiful statement on your wedding day.
---
Beaded Beauty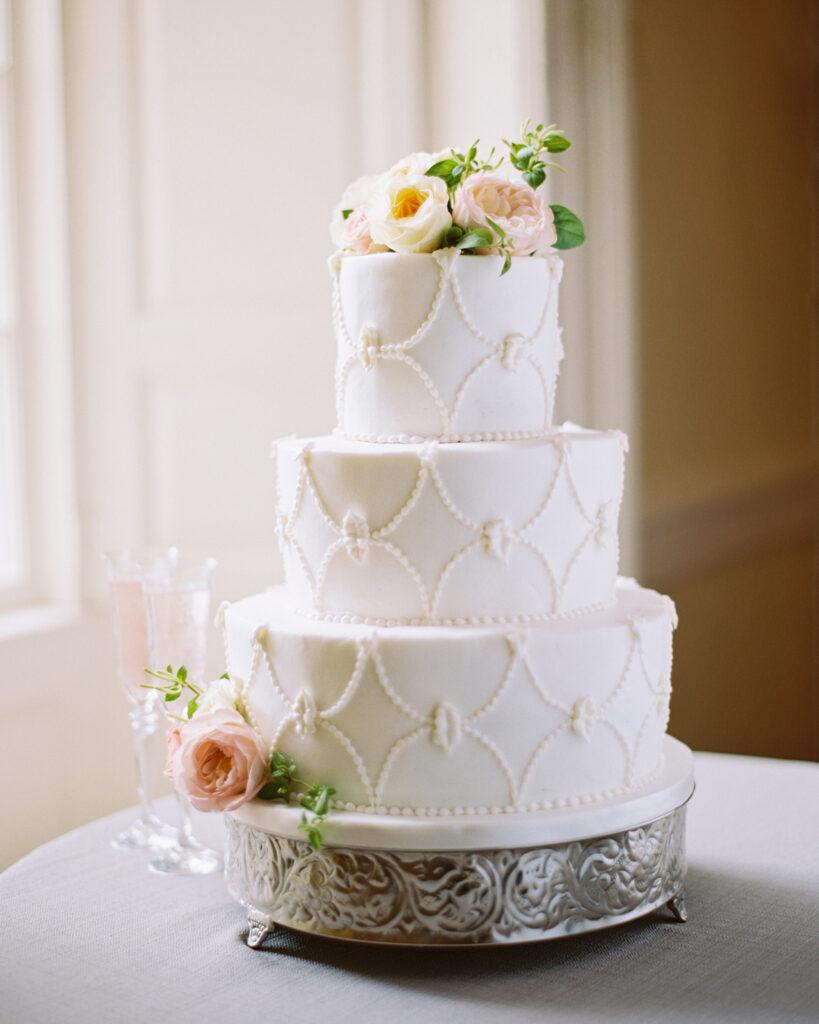 The beading on this classic wedding cake from Buttercream Bakery is truly spectacular! And I'm not just saying that because I like the alliteration of "Beaded Beauty from Buttercream Bakery!"
---
Painted Cupcake Wedding Cake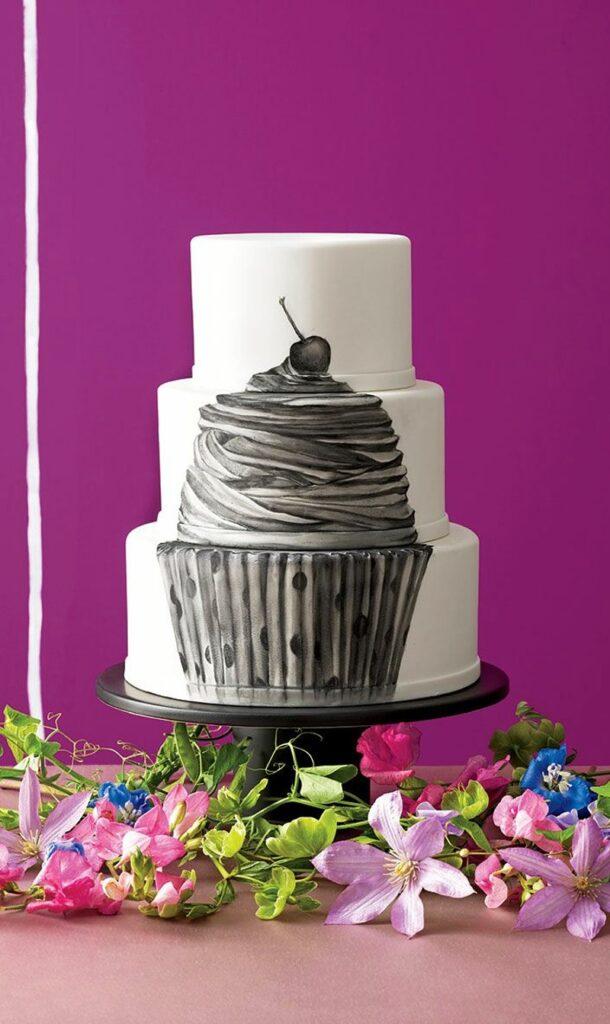 Can't decide between the traditional three-tier wedding cake and wedding cupcakes? Here's the perfect compromise!!
---
Birch Bark and Pine Cones Nearly Naked Cake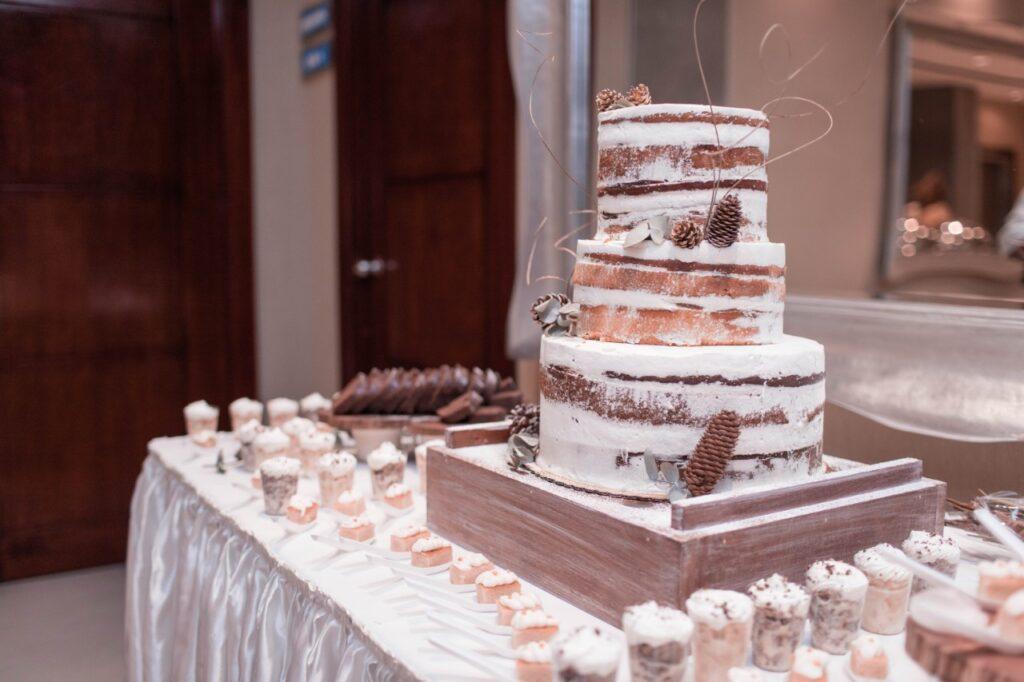 This rustic creation uses a nearly naked application on vanilla cake to create a look that resembles beautiful birch bark.
---
Octagonal Garden Cake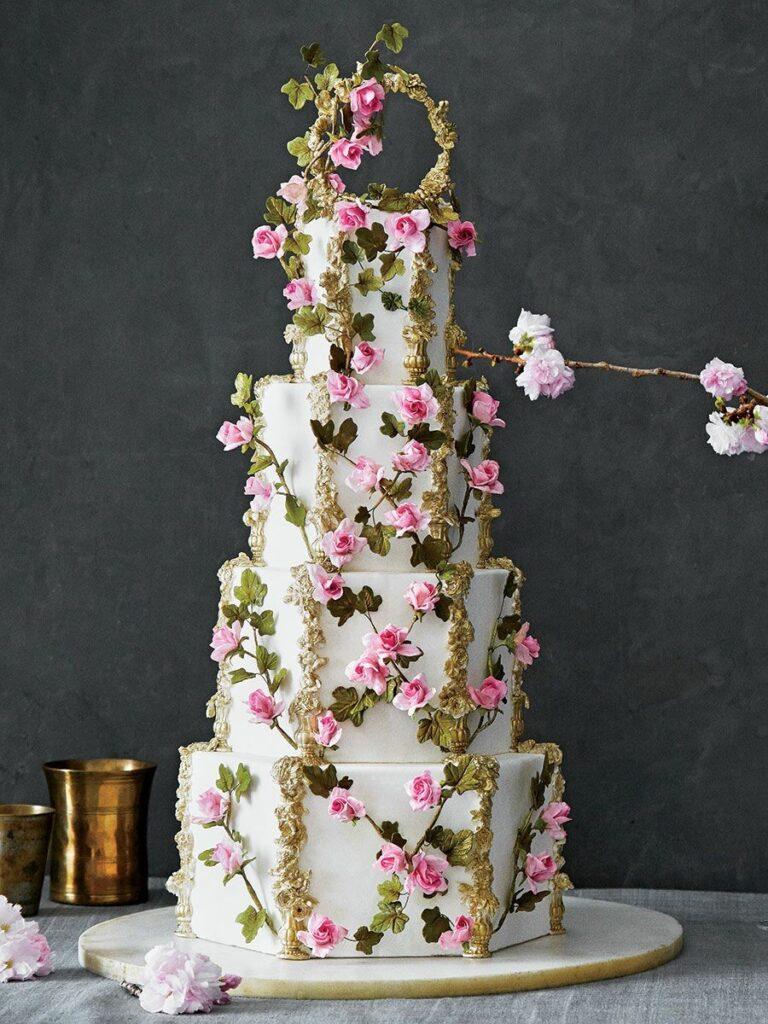 This gorgeous cake bucks the traditional round tiers and goes for an octagonal shape, which is absolutely covered with vines of flowers.
---
Black and White Stripes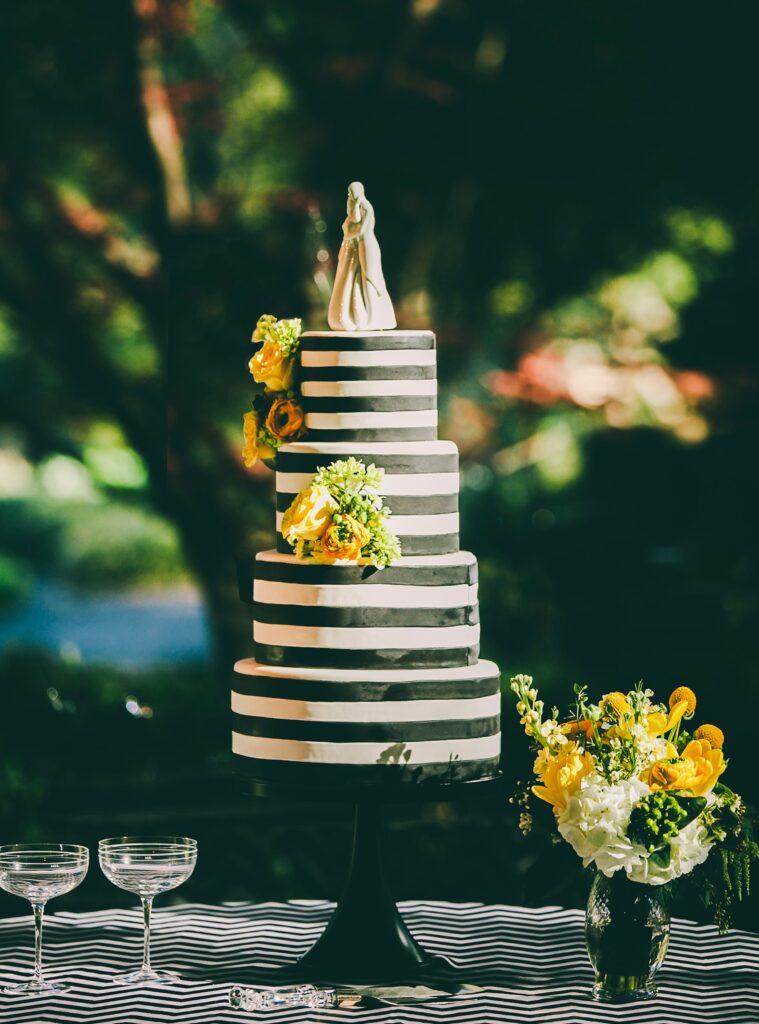 A striking departure from the classic white cake.
---
Semi Naked Drip Cake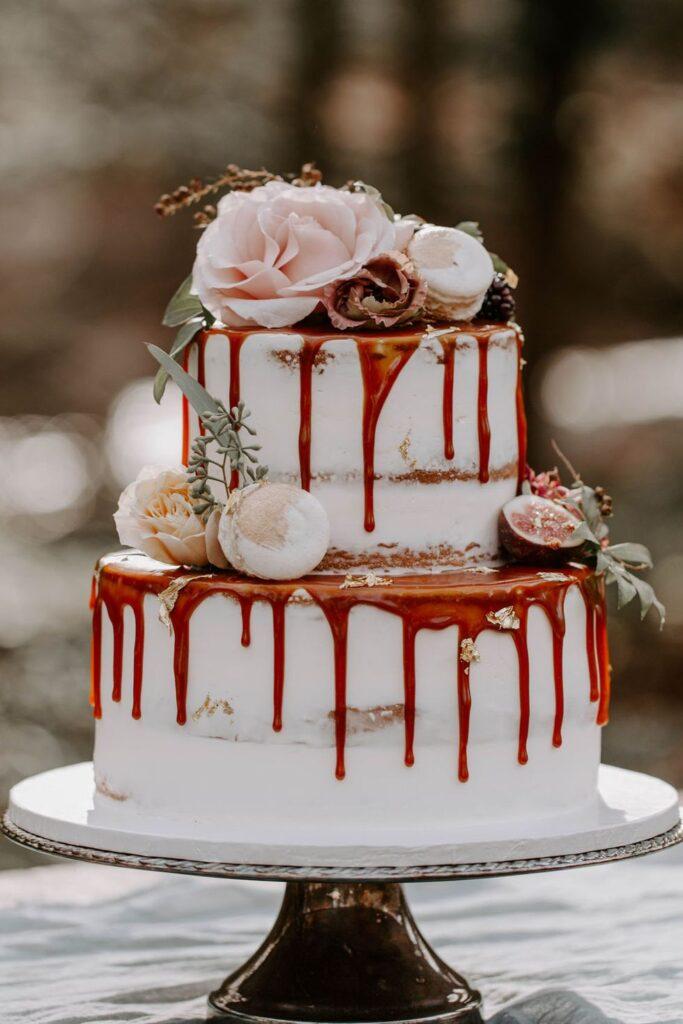 The autumnal colors, seasonal roses, and greenery make this cake from Amy's Sweet Bake Shop perfect for a fall wedding.
---
Blue Ribbons Cake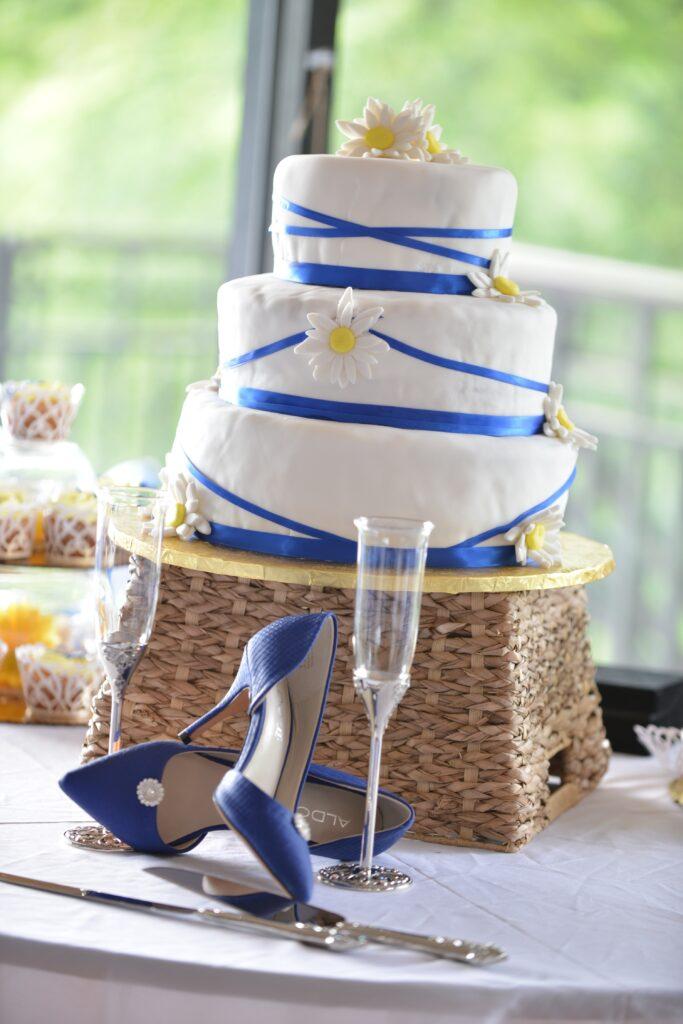 What do you do for wedding cake ideas when you need your cake to match your Bridesmaids' shoes?
---
Cascading Berries Cake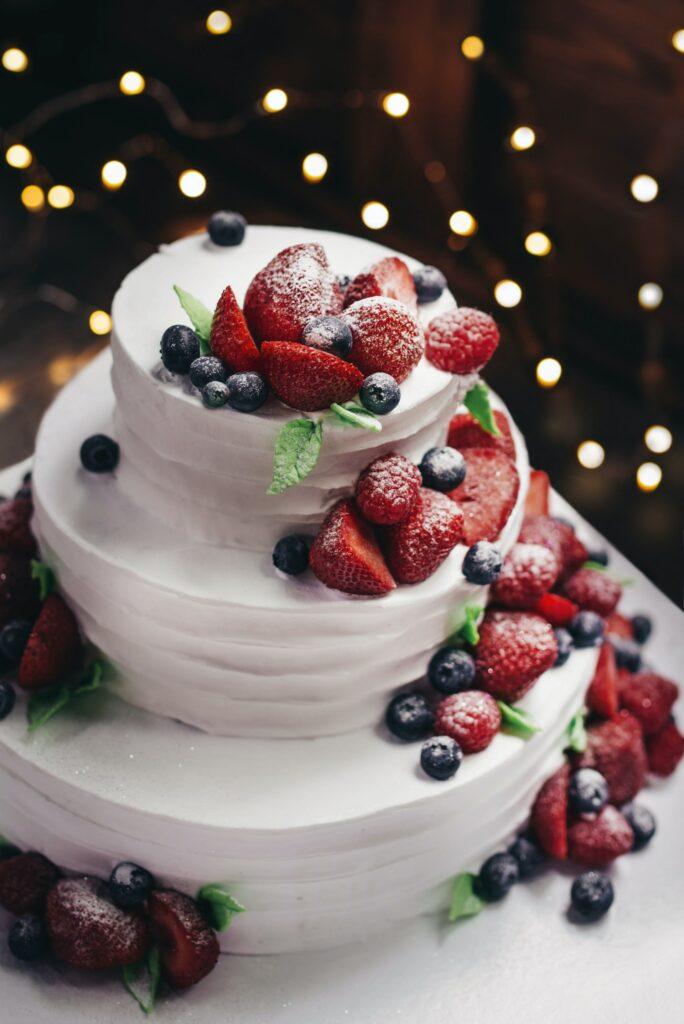 Perfect for a summer wedding, a collection of strawberries, raspberries, and blueberries provide rich color against the textured buttercream icing.
---
Berry Cake with Dripping Glaze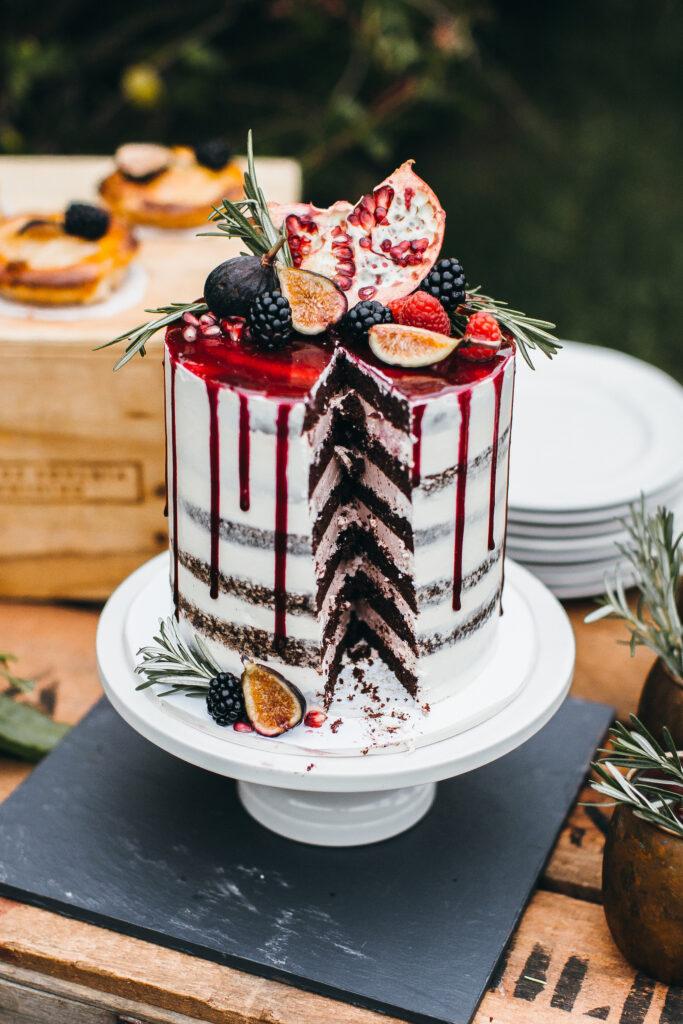 This berry-full chocolate and white icing cake by Erica Obrien bucks the multi-tier tradition and goes for 6 layers of chocolate cake crammed full of vanilla icing. The top features a wild variety of fruits and a dripping berry reduction glaze. Talk about original wedding cake ideas!
---
Cascading White Roses Wedding Cake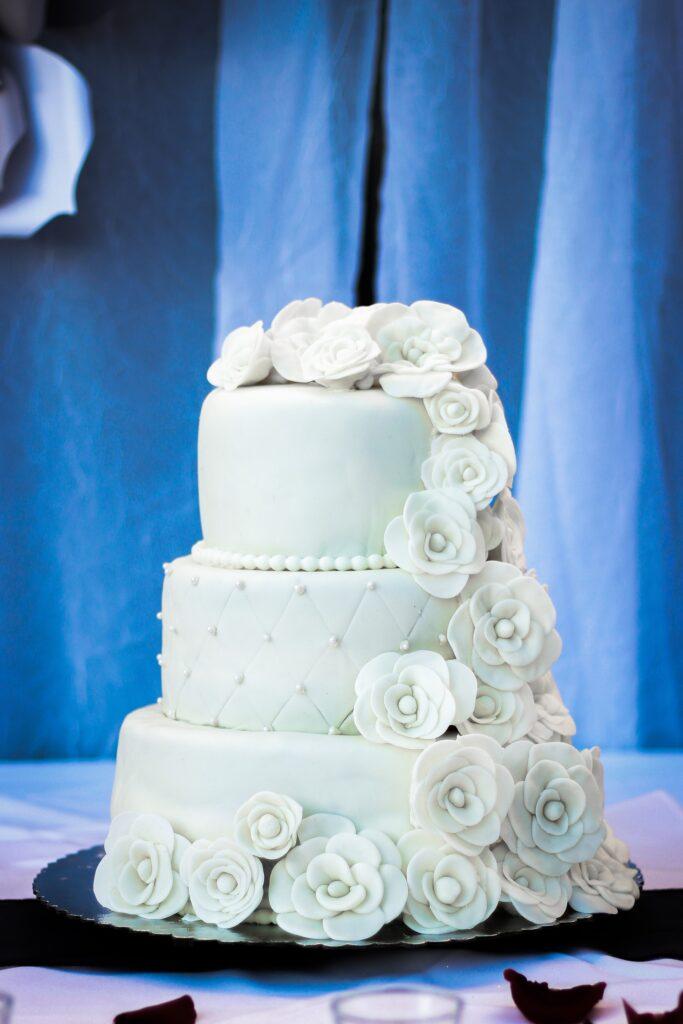 An abundance of sugar flowers create a classically beautiful look.
---
Marble Two-Tier Cake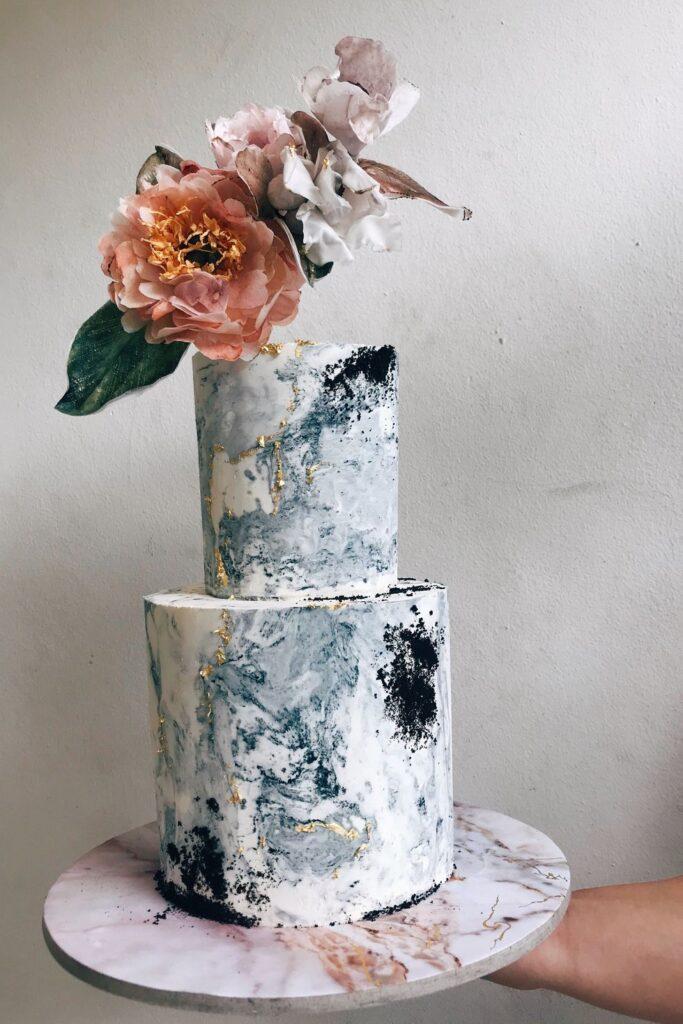 A gorgeous marble effect is crafted onto this Semi-Naked two-tier wedding cake by Cupplets Bakery.
---
Field Berries Naked Cake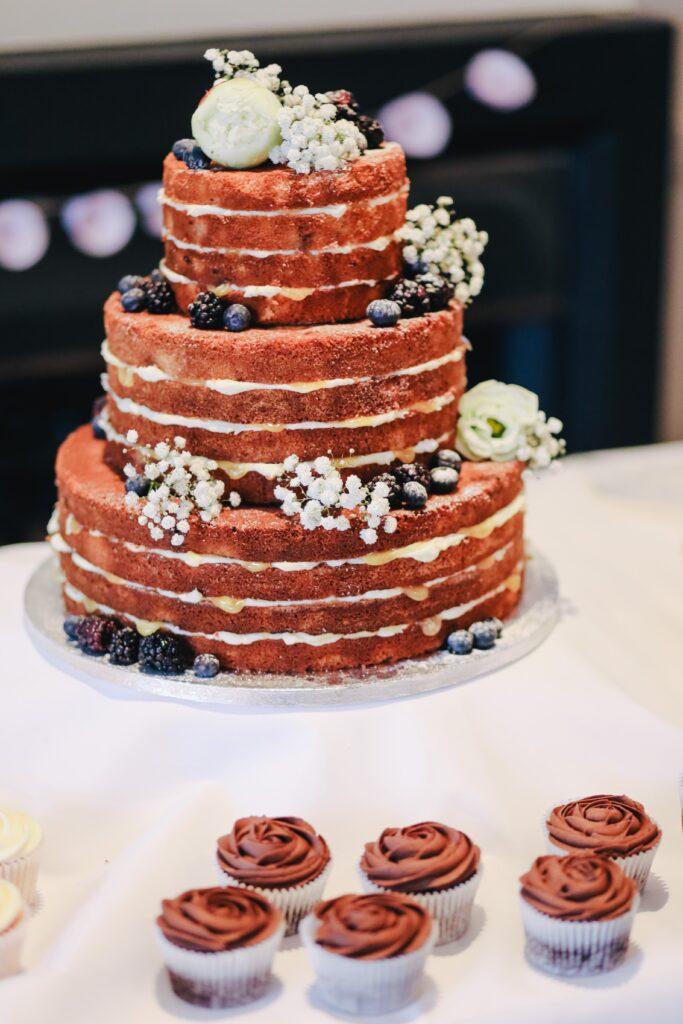 Simple, elegant, and rustic… this naked cake relies on the delicious vanilla cake, a moderate amount of buttercream icing, and some gorgeous summer field berries to create an impressive display.
---
Burgundy Dahlia Naked Wedding Cake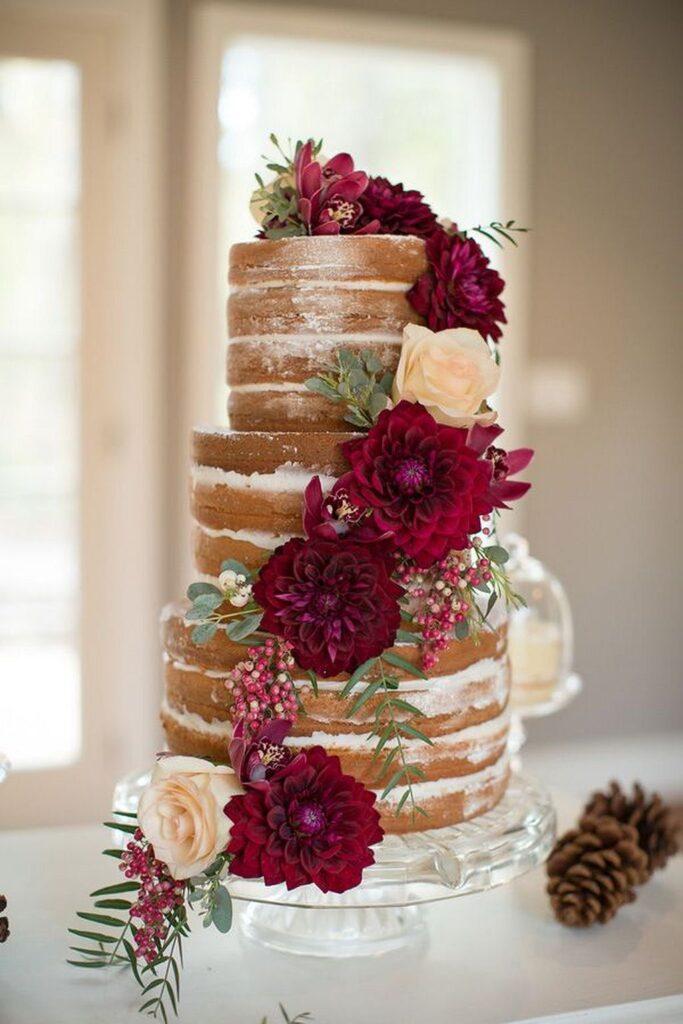 Beautiful burgundy dahlias really pop against the muted background of this naked 3-tier vanilla cake.
---
Gold and Marble Three-Tier Cake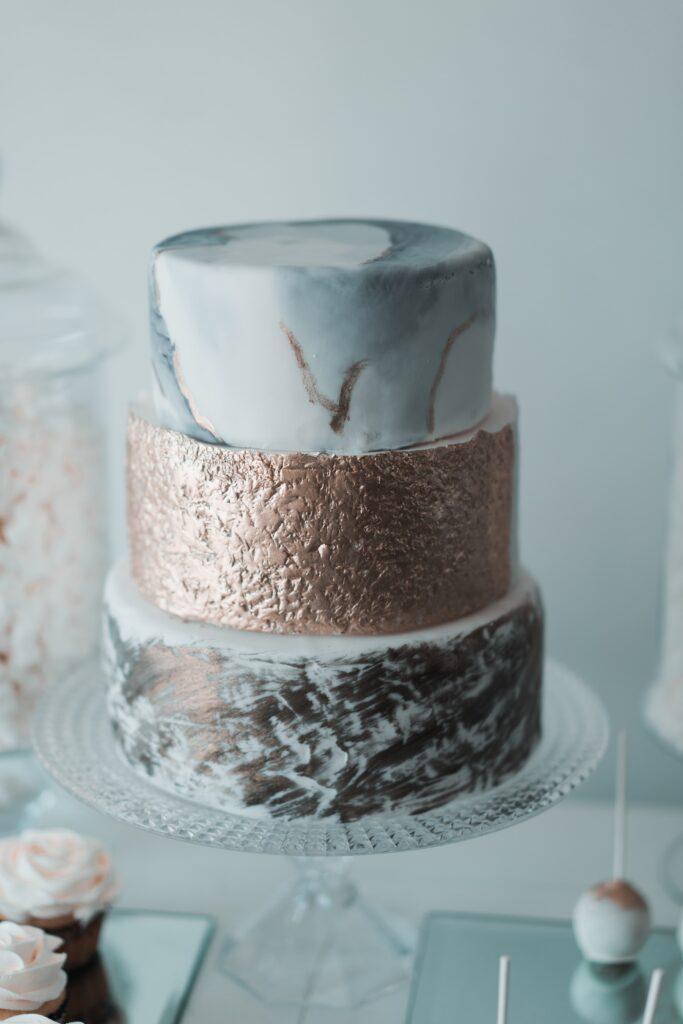 Marbleized upper and lower tiers surround a textured gold-frosted middle layer.
---
All You Need Is Love Blue Ribbon Cake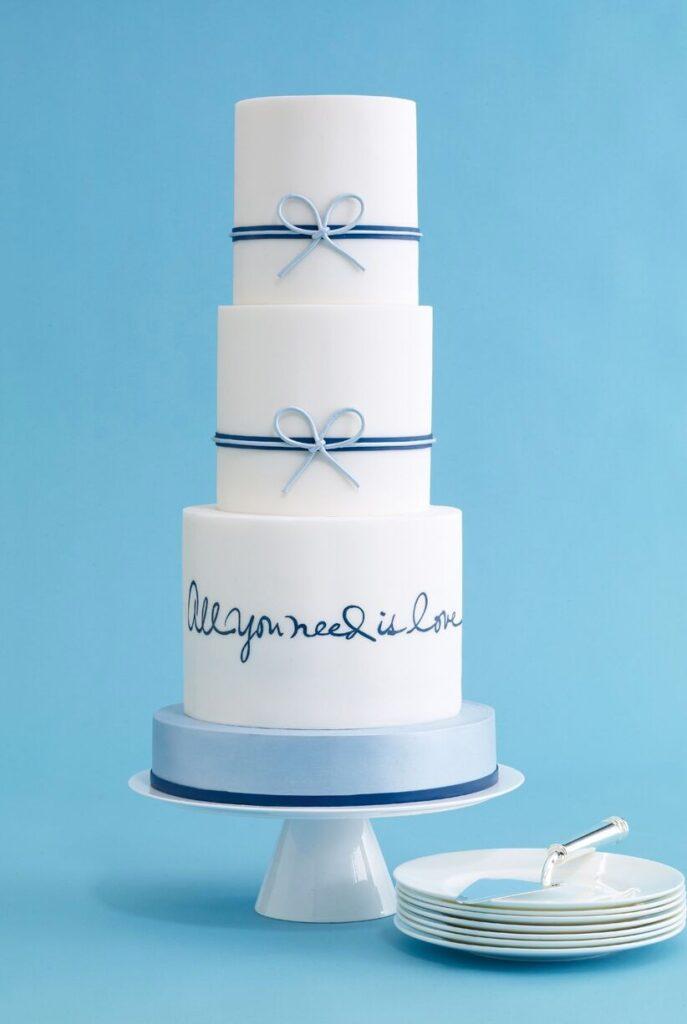 This sleek and sophisticated blue and white wedding cake is wrapped in sugar ribbons with pretty blue bows, complimented with the edible ink phrase: "All You Need Is Love."
---
Heart Scrolls
Delicate icing scrolls cover this wedding cake with love.
---
Dramatic Black Wedding Cake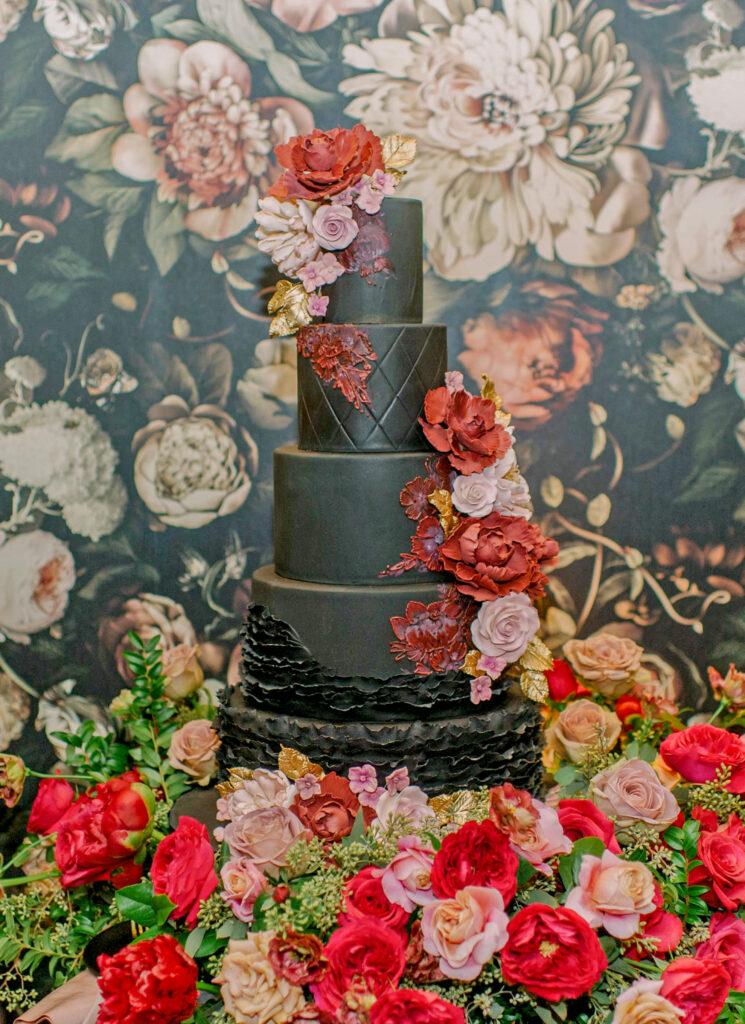 The Vanilla Bakeshop in California created this dramatic black fondant cake festooned with richly colored sugar flowers. You might expect this dark and decadent wedding cake to feature a more savory flavor inside, but you might be surprised the the couple choose strawberry shortcake.
---
Love Baby's Breath Cake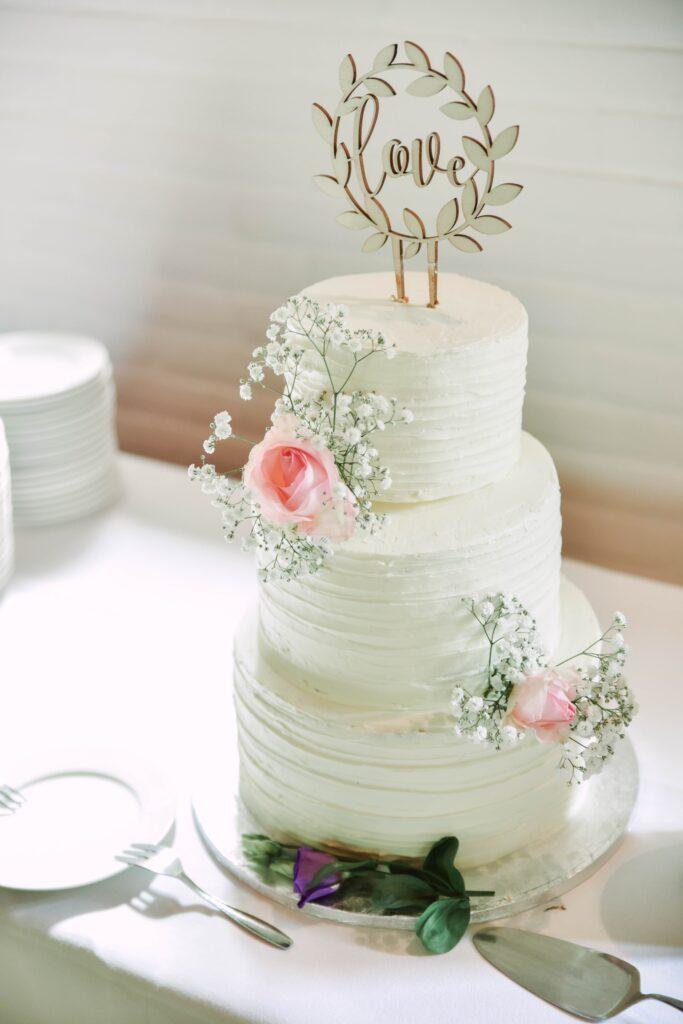 Textured white icing creates a backdrop for two beautiful pink roses surrounded by baby's breath.
---
Raspberry Delight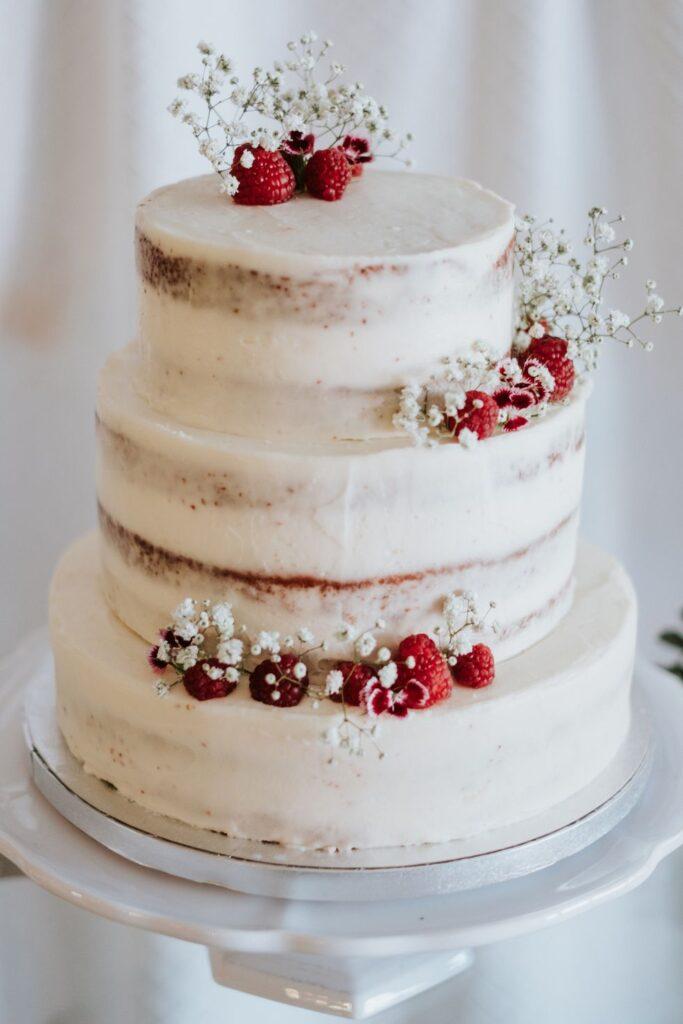 Simple, yet elegant. This cake designed by Ofelia Bakery features a semi-naked, three-tier cake with raspberries and baby's breath as the garnish.
---
Multicolored Pastel Wedding Cake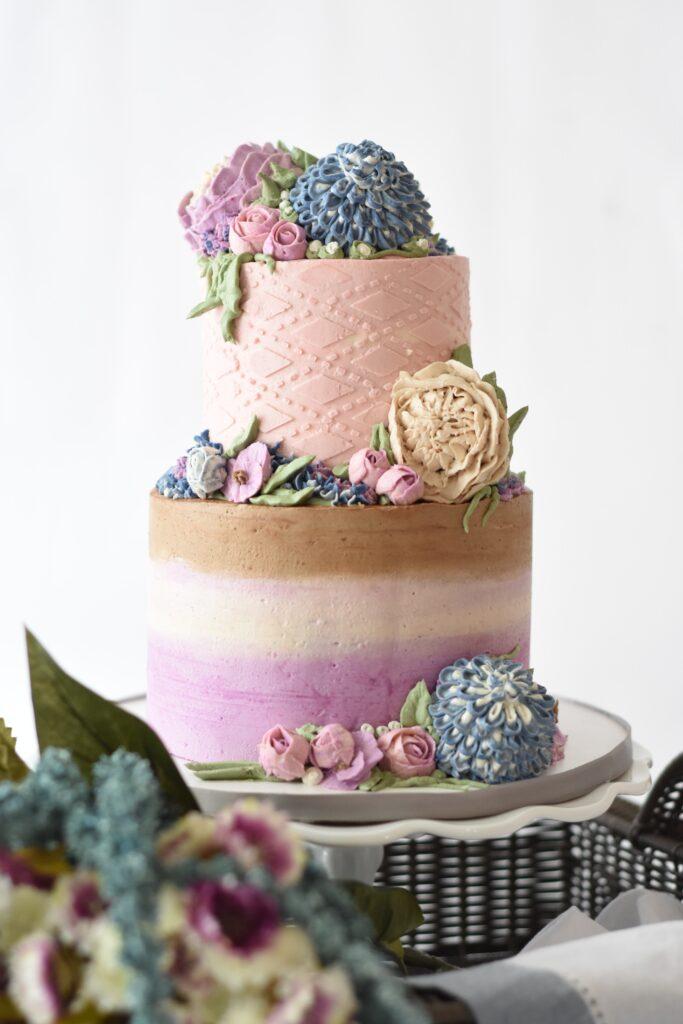 Muted pastel colors flow through this beautiful two-tier creation.
---
Nearly Naked Rose Bouquet Cake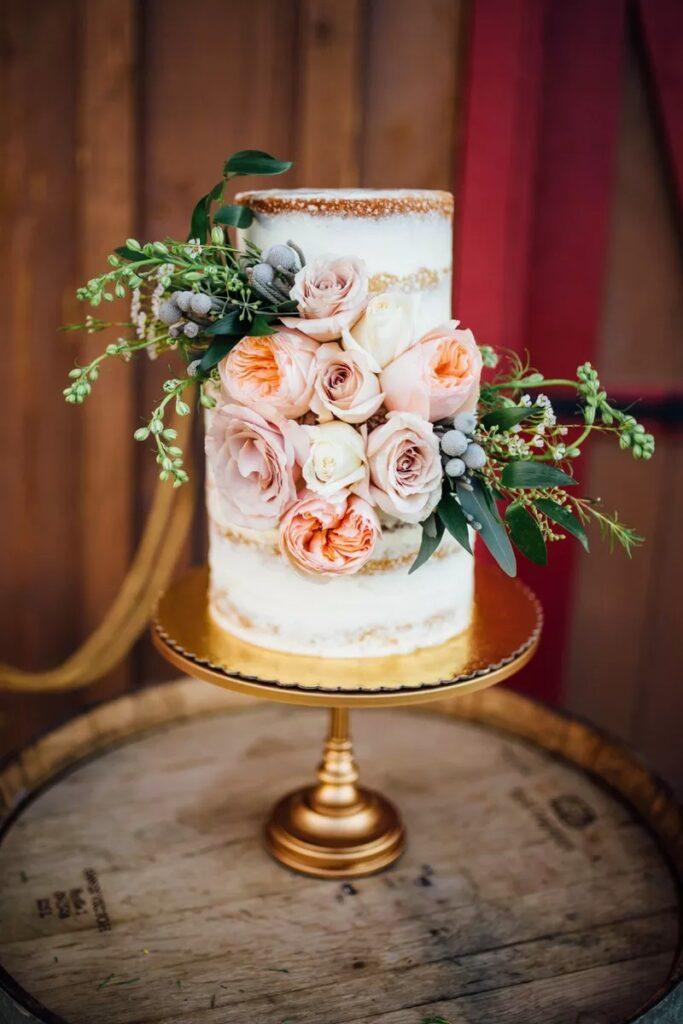 Simple, yet romantic, the nearly naked vanilla cake base really lets the rose bouquet shine in this gorgeous creation by Ava Bakes Cakes.
---
Nature's Bounty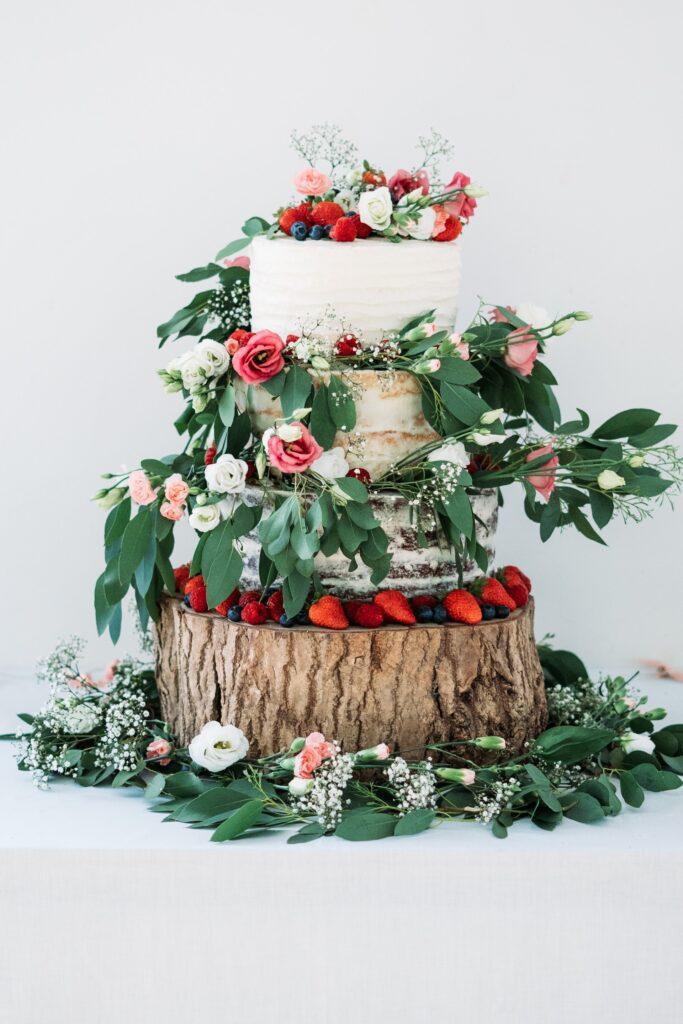 An abundance of botanical elements surround this three-tier cake which features one iced vanilla tier, one nearly naked vanilla tier, and one nearly naked chocolate tier.
---
Floral Swirl Wedding Cake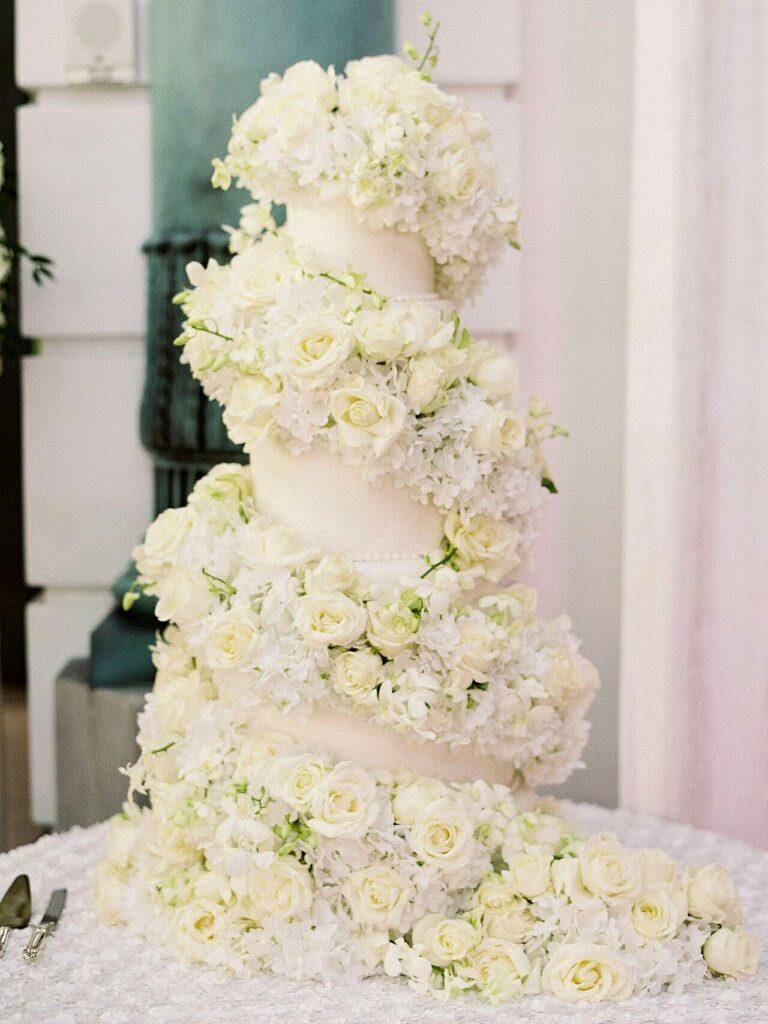 An absolutely phenomenal swirl of white roses help create this elegant and sophisticated cake.
---
Nearly Naked Fig Wedding Cake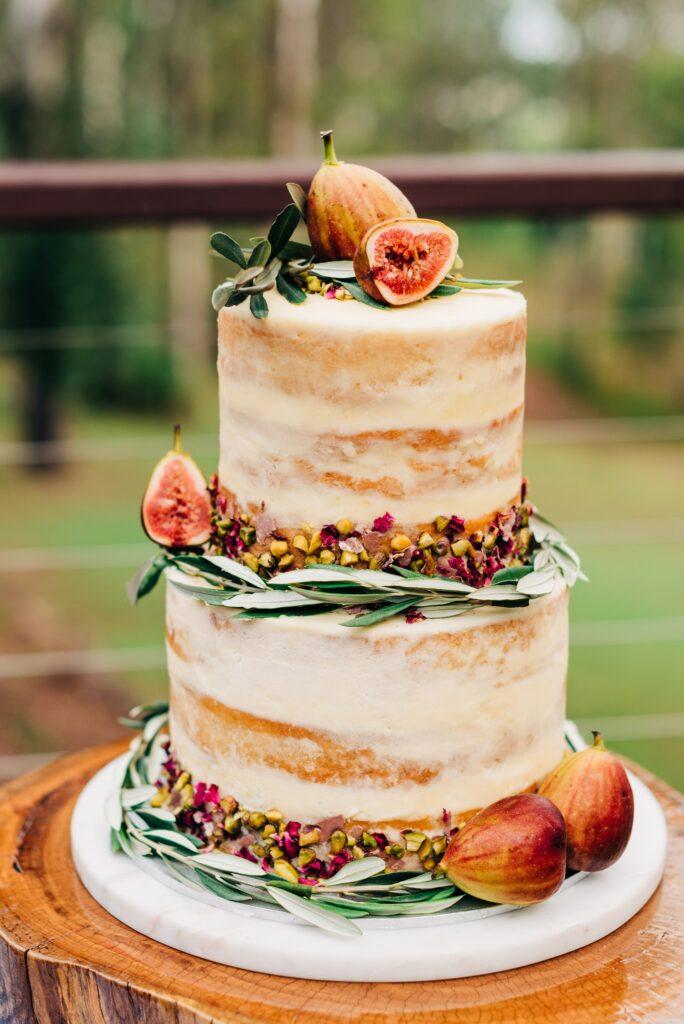 Perfect for a fall wedding, this nearly naked cake features fig and eucalyptus accents for a rustic overall look.
---
Confetti Naked Wedding Cake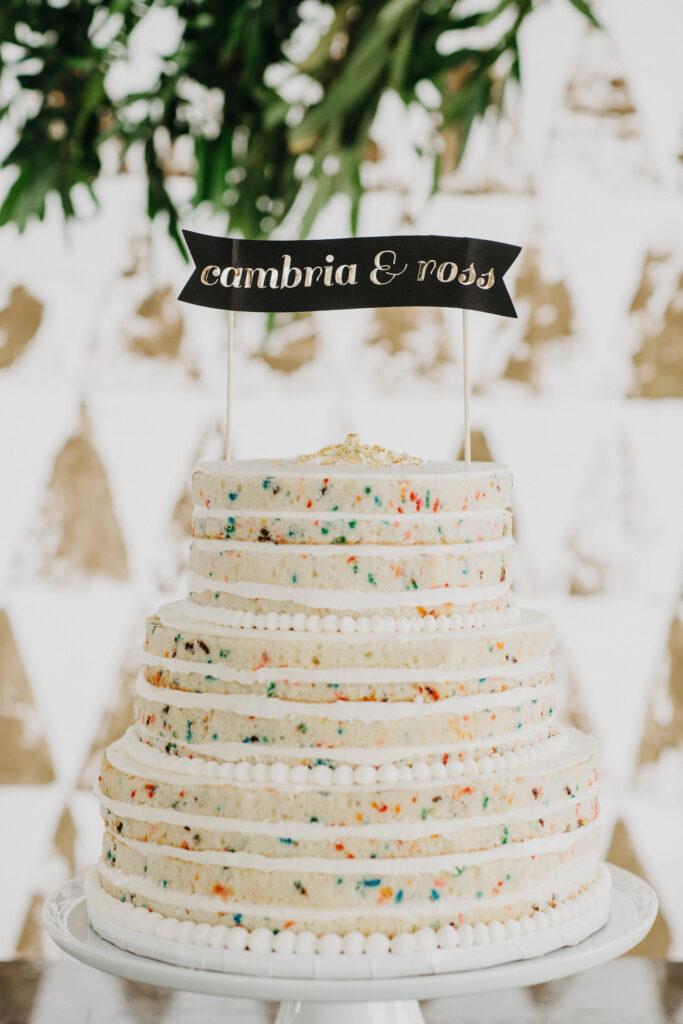 This super-fun confetti cake from Mayflour Confections lets the colorful confetti cake shine through with the use of minimal frosting.
---
Pine Forest Wedding Cake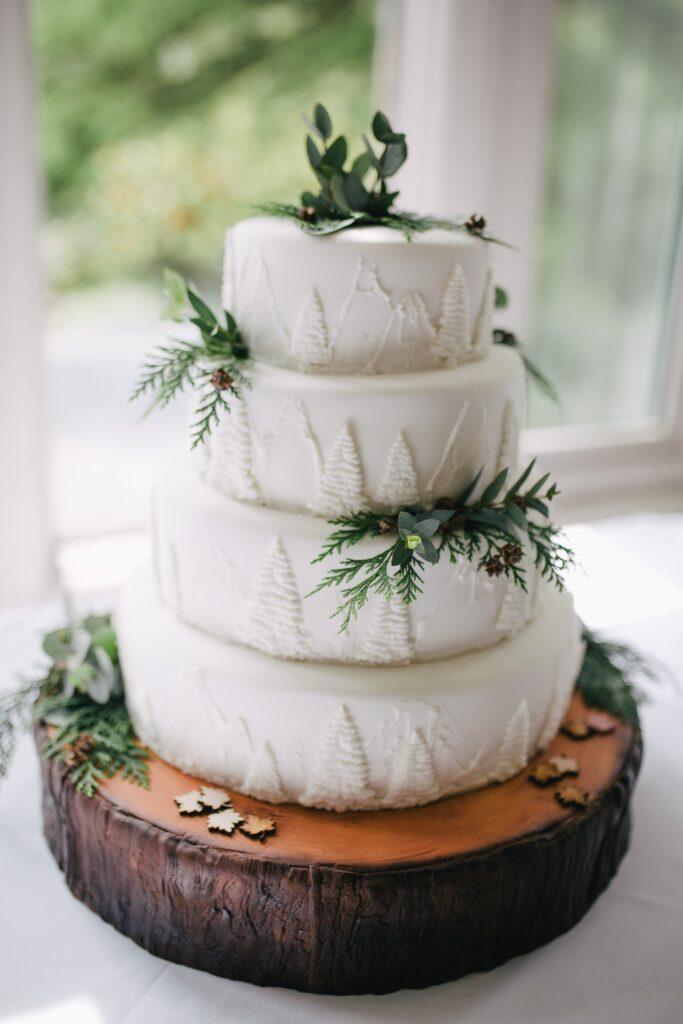 A forest of sugar pine trees completely surround this 4-tier cake.
---
Oversize Bloom Cake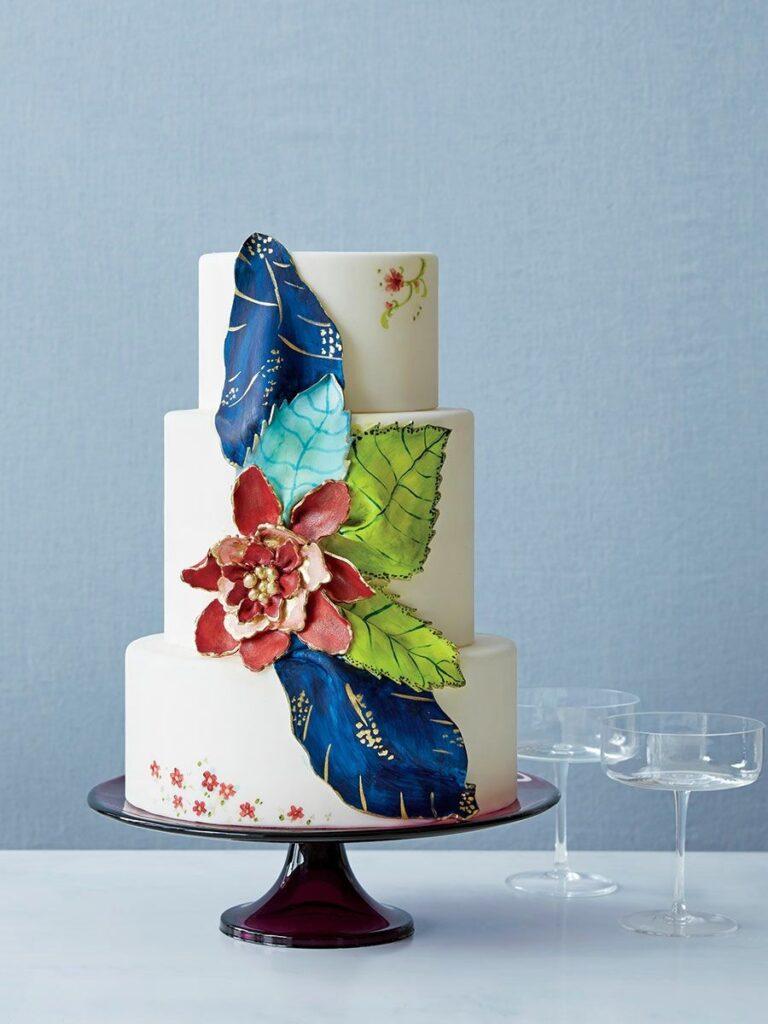 An oversize sugar flower and colorful leaves create a dramatic display against a classic white backdrop.
---
Bohemian Basket Wedding Cake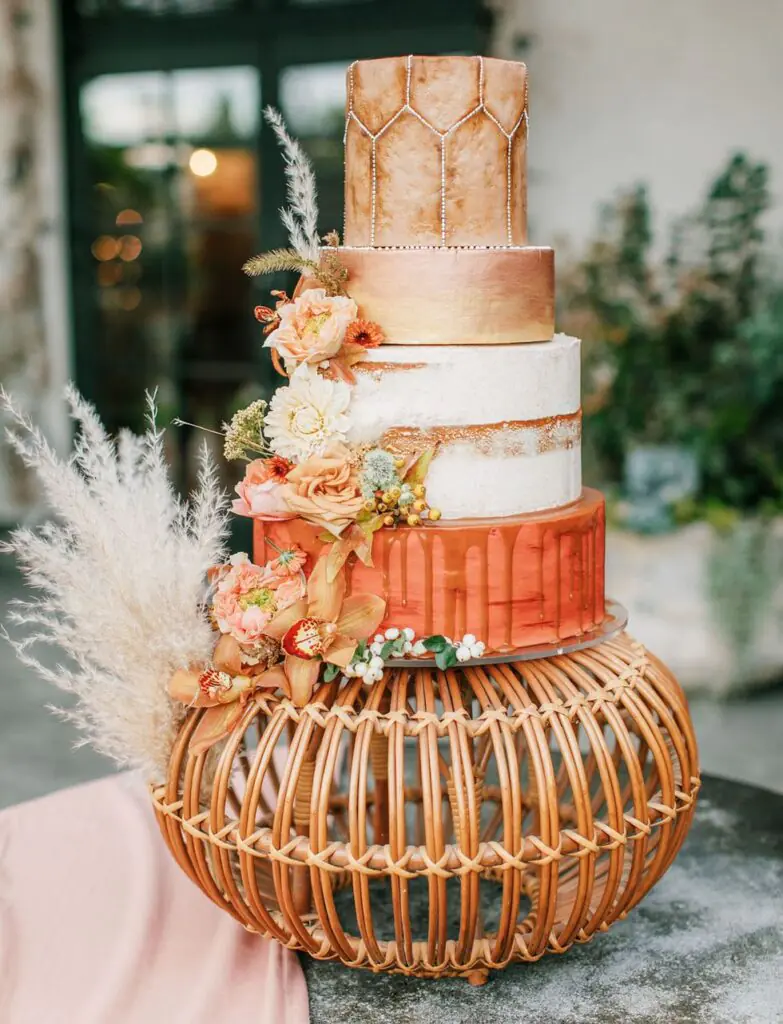 I love the fall colors and the cornucopia feel to this gorgeous fall-inspired wedding cake by Nutmeg Cake Design.
---
Set of 3 Wedding Cakes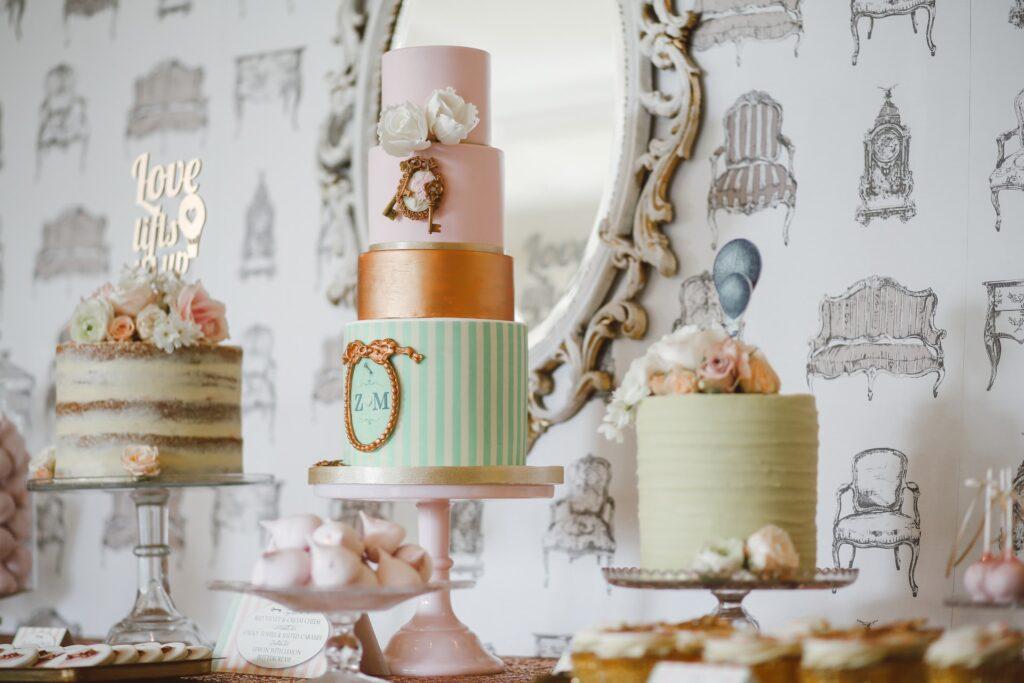 If you're having troubles picking the right wedding cake for your reception, why not go for a trio of different styles and flavors.
---
Cactus Cake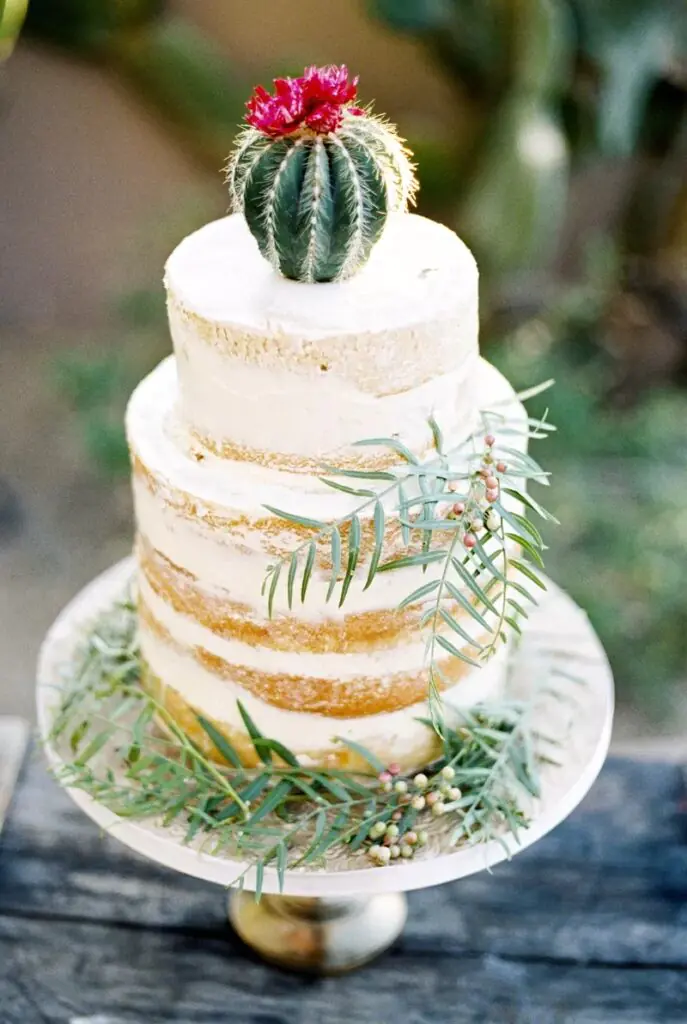 Perfect for a desert-chic (not to be confused with dessert-chic) or Southwestern-style wedding.
---
Spring Bouquet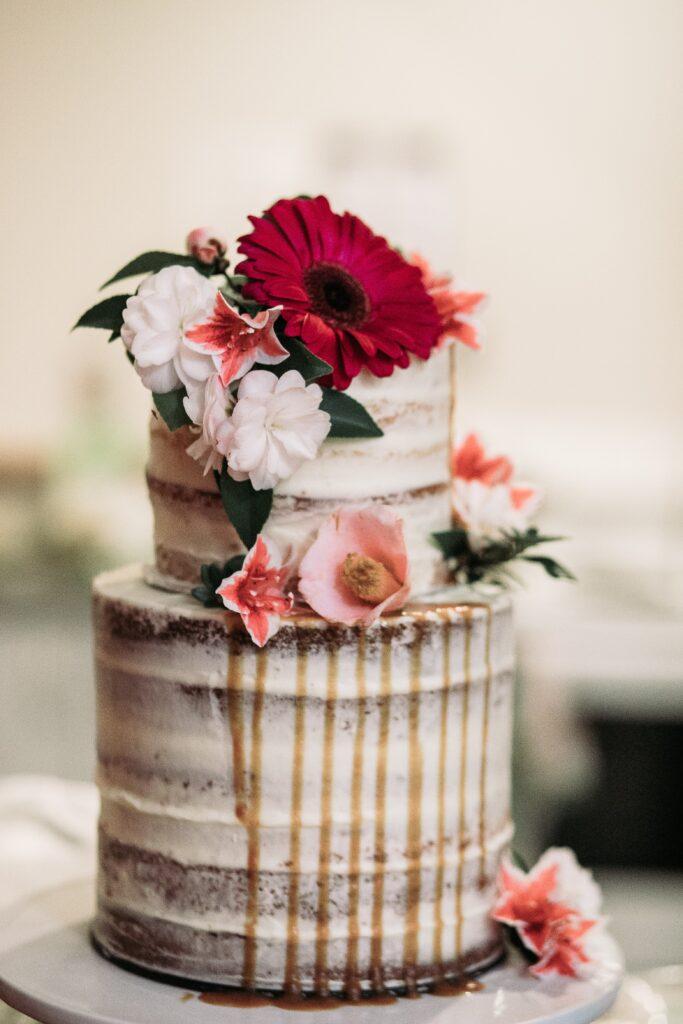 A gorgeous collection of spring flowers sits atop a semi-naked chocolate cake.
---
Daisy Delight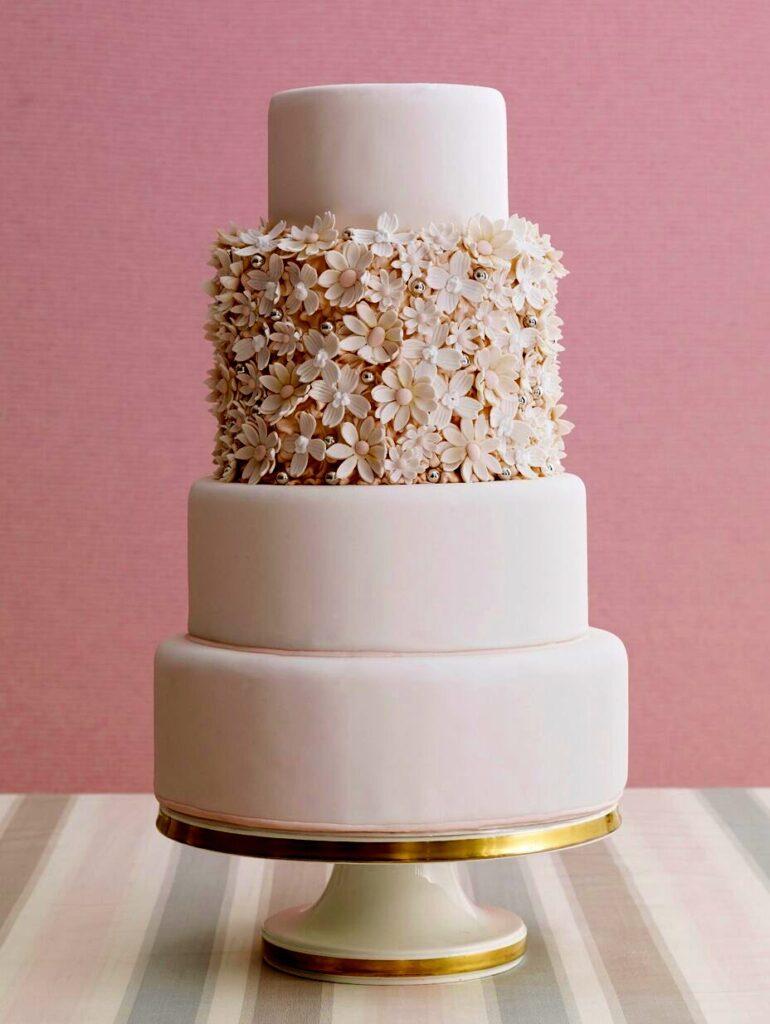 The pop of details with the daisy-encrusted layer among the rest of the cake – which remains classic white – really makes this cake stand out.
---
Tower of Mini Naked Wedding Cakes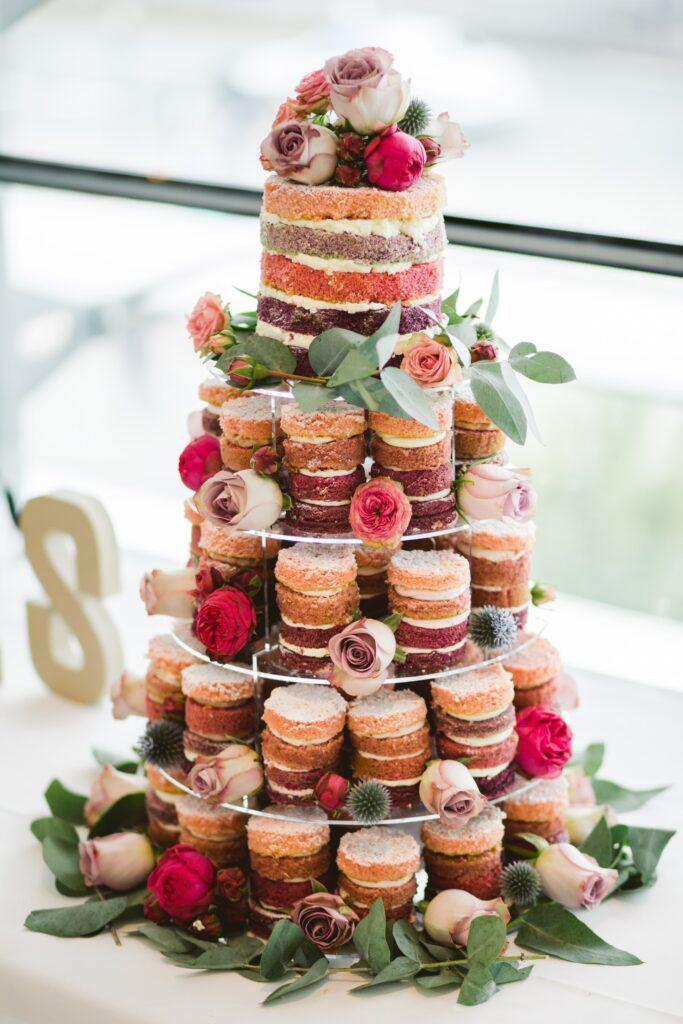 A unique variation on the cupcake tower, this gorgeous display features a collection of mini, naked, multi-colored wedding cakes.
---
Hand-Painted Wedding Carrot Cake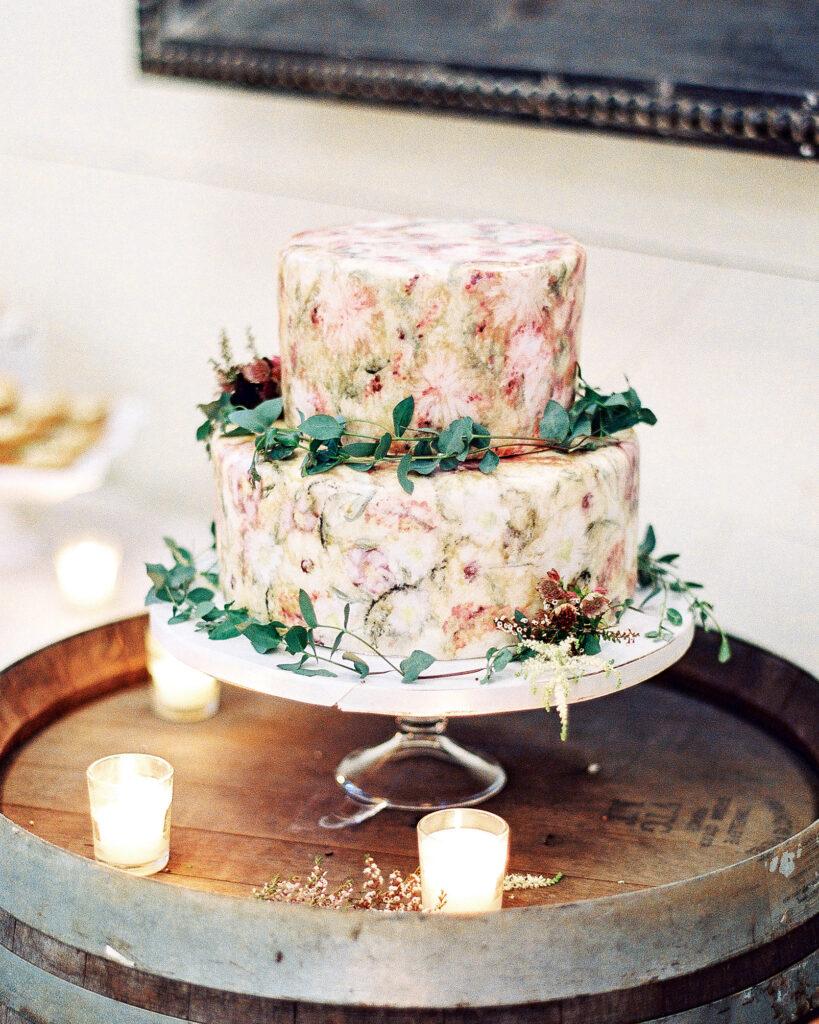 Smaller than your standard wedding cake, what this 2-tiered, hand-painted carrot cake from Paradox Pastry lacks in height, it makes up for in beauty.
---
Anchors Away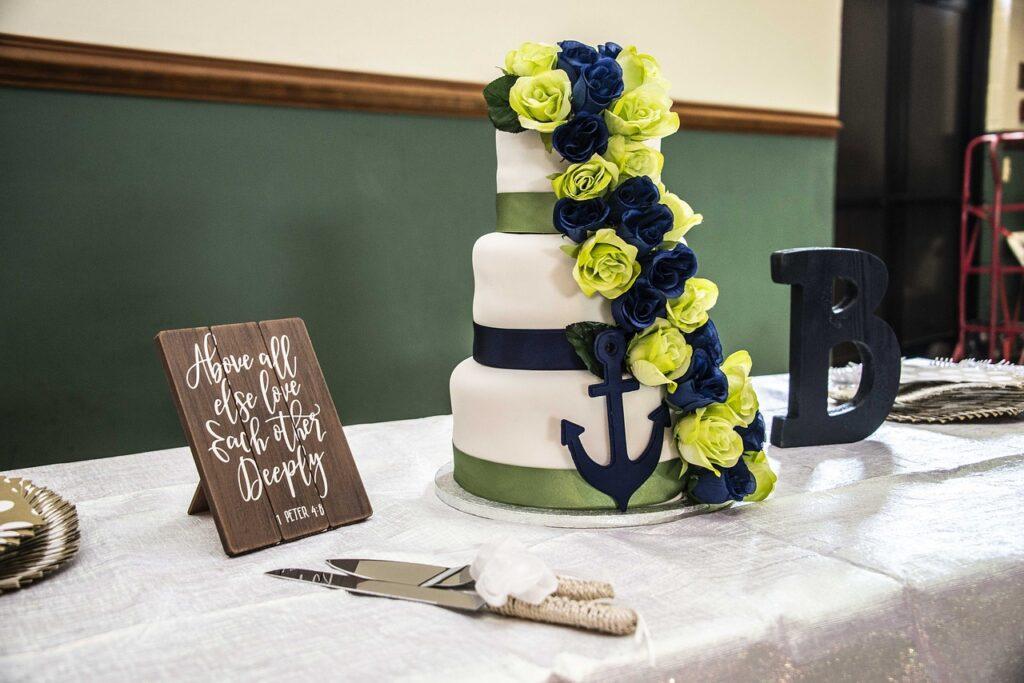 For those who love the sea, this gorgeous wedding cake features rich nautical colors of green and blue and a nautical anchor to hold it all together.
---
Baroque Wedding Cake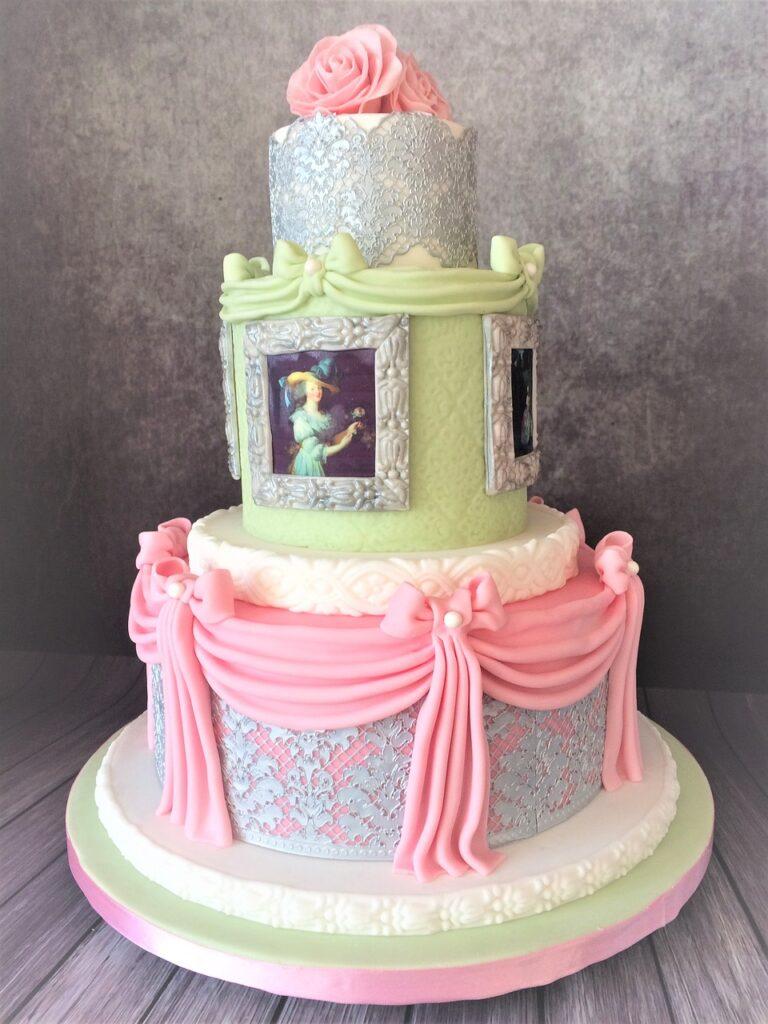 You know what they say…. if it ain't Baroque, don't fix it!
---
A Wedding Cake of Galactic Proportions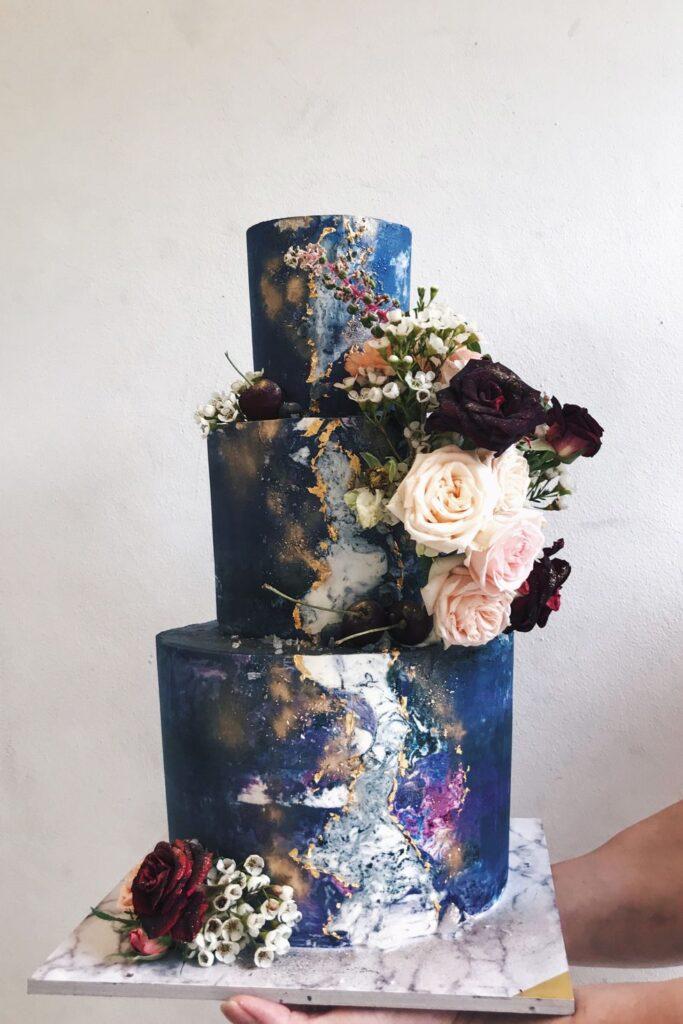 An out-of-this-world design by the masters of cake making at Cupplets Bakery.
---
Blue and White Wedding Cake and Cupcake Combo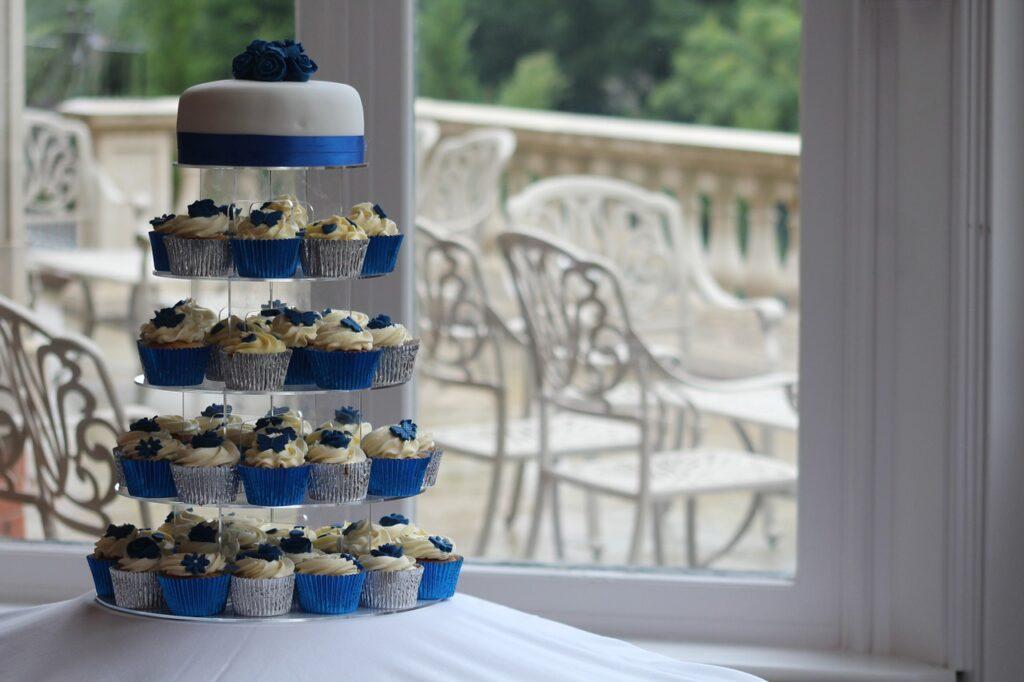 Sophisticated yet fun, this cupcake tower has a single cake at the top for cutting, making it an attractive and easy to serve variation on the traditional wedding cake.
---
Botanical Elements Wedding Cake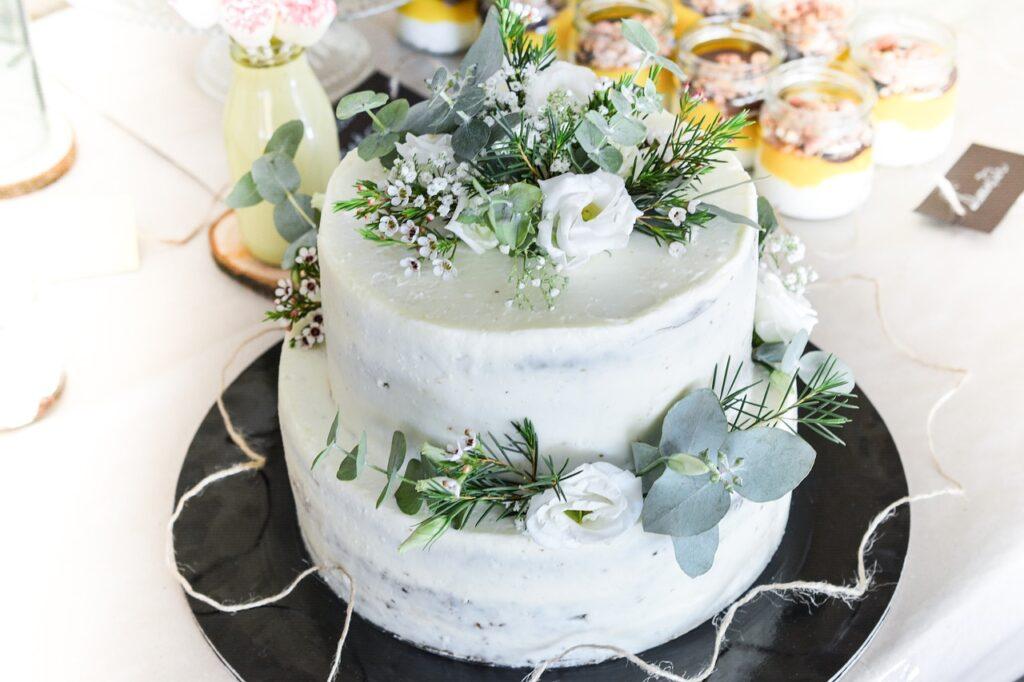 Lightly iced and adorned with natural botanical elements.
---
Bursting with Flowers Wedding Cake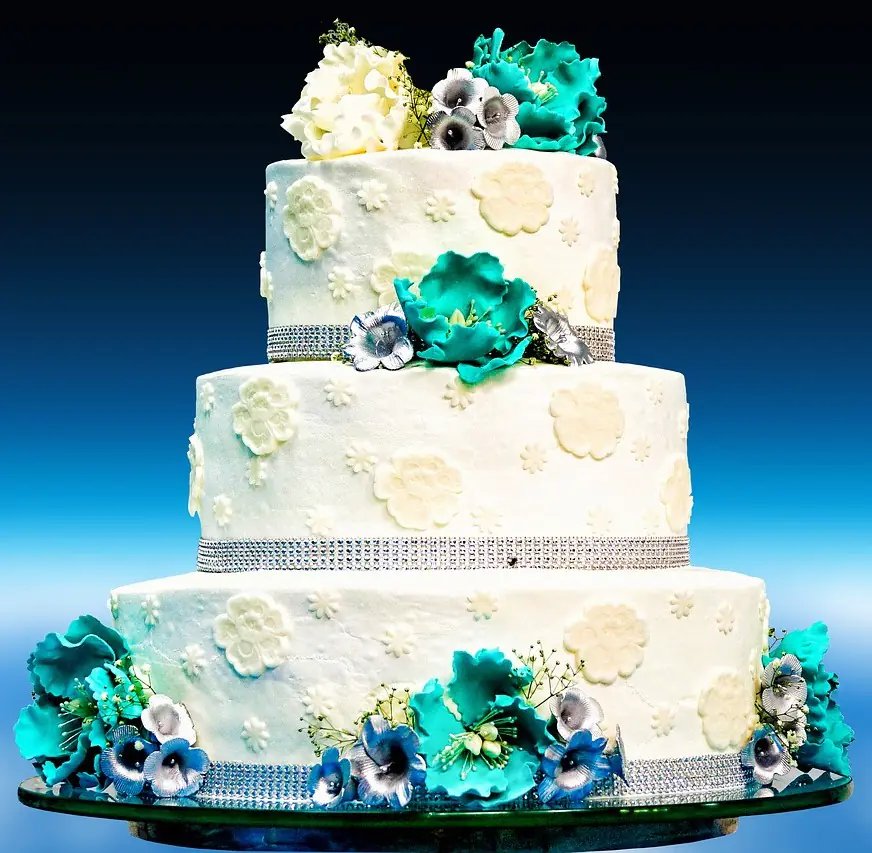 Sugar flowers, EVERYWHERE!!!
---
Pink Macaron & White Chocolate Tower Wedding Cake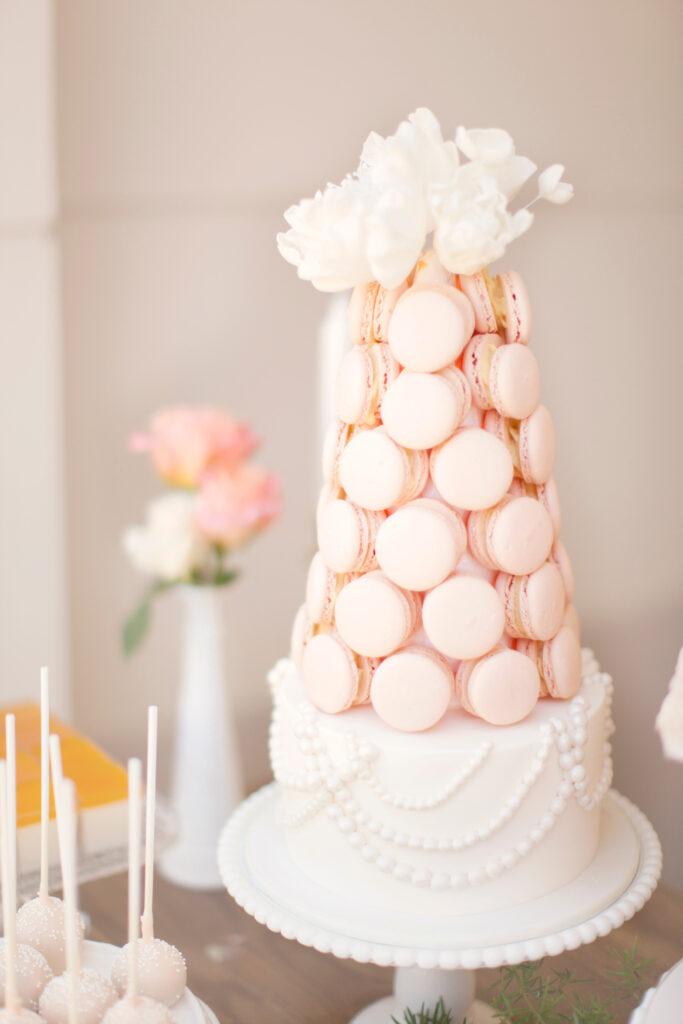 This gorgeous cake by Sweet Bloom Cakes in Australia takes the tower concept to a whole new level.
---
Chocolate Hello Kitty Wedding Cake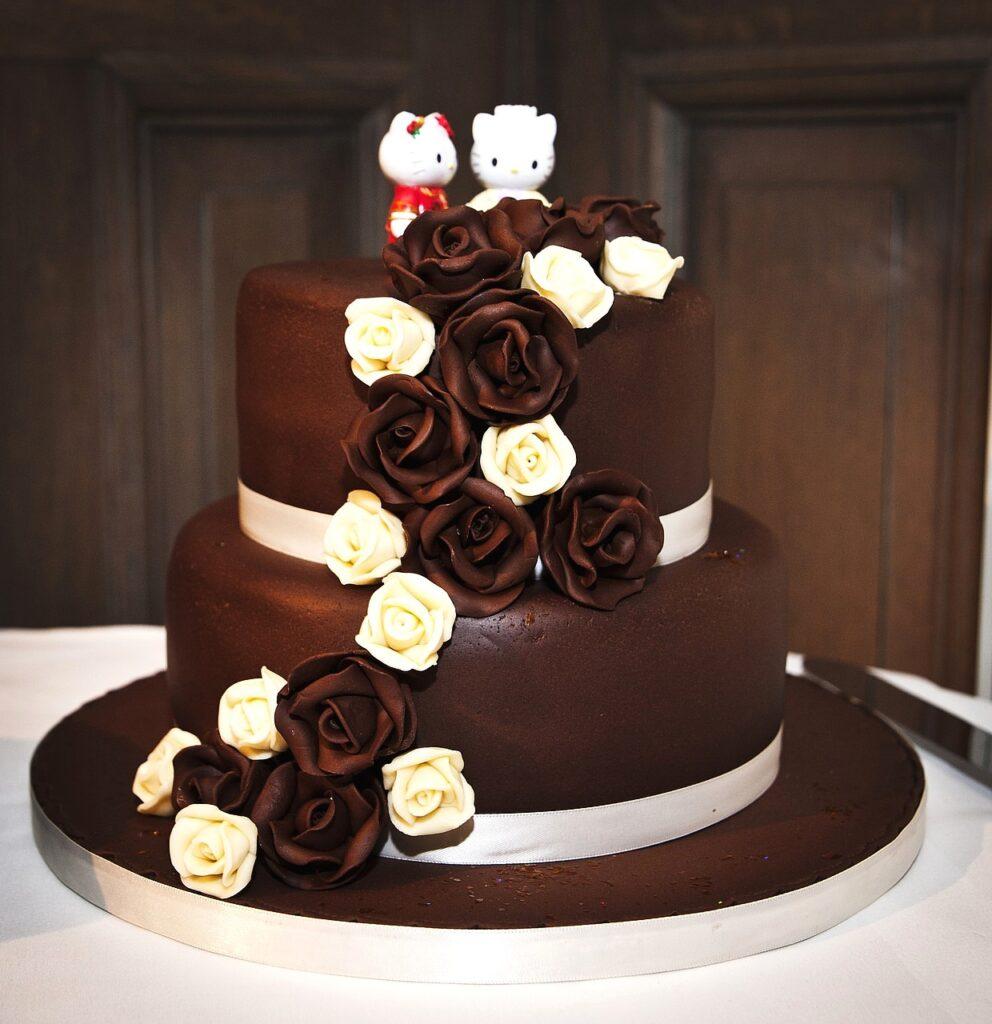 If the bride and groom love some Hello Kitty, celebrate that as part of the wedding with this fun, custom cake creation.
---
Royal Inspiration – Princess Eugenie of York's Wedding Cake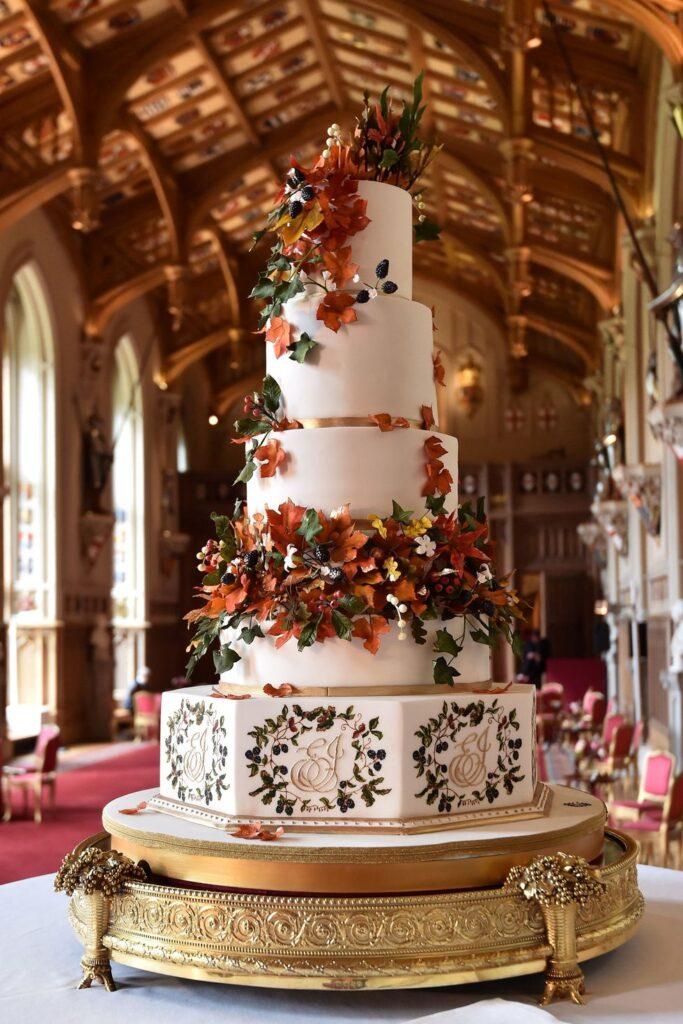 Fit for a princess, literally. This glorious wedding cake was featured at the wedding of Princess Eugenie of York. Its cascading fall foliage and monogram design was perfect for this autumnal royal wedding.
---
Classic White Ribbons Wedding Cake with Flowers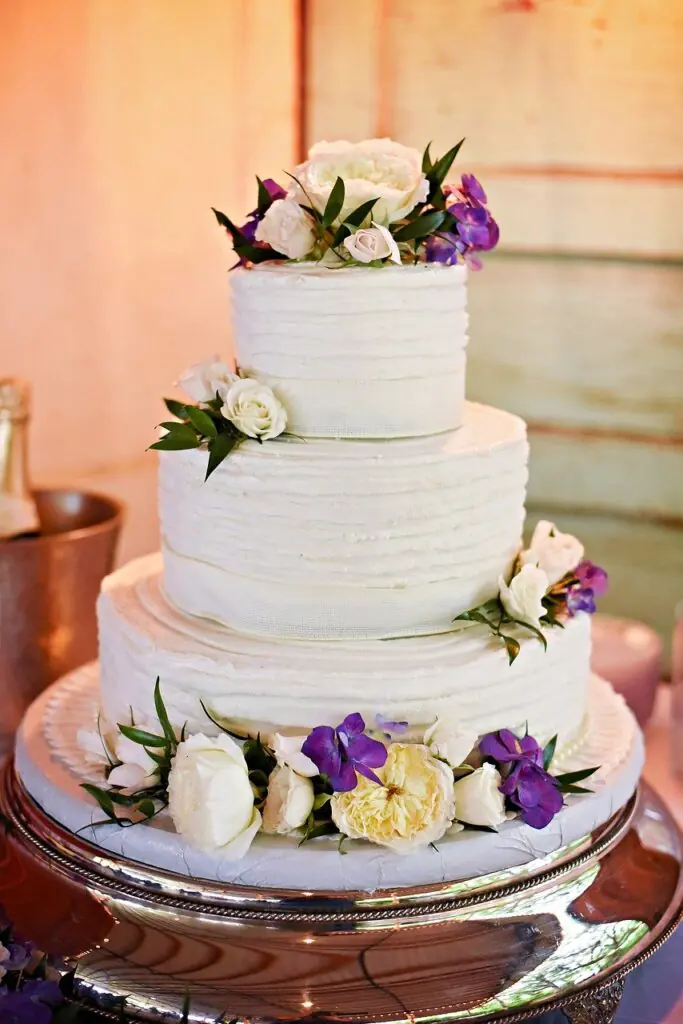 There is nothing wrong with going simple, classic, and elegant.
---
Eyelet Lace Wedding Cake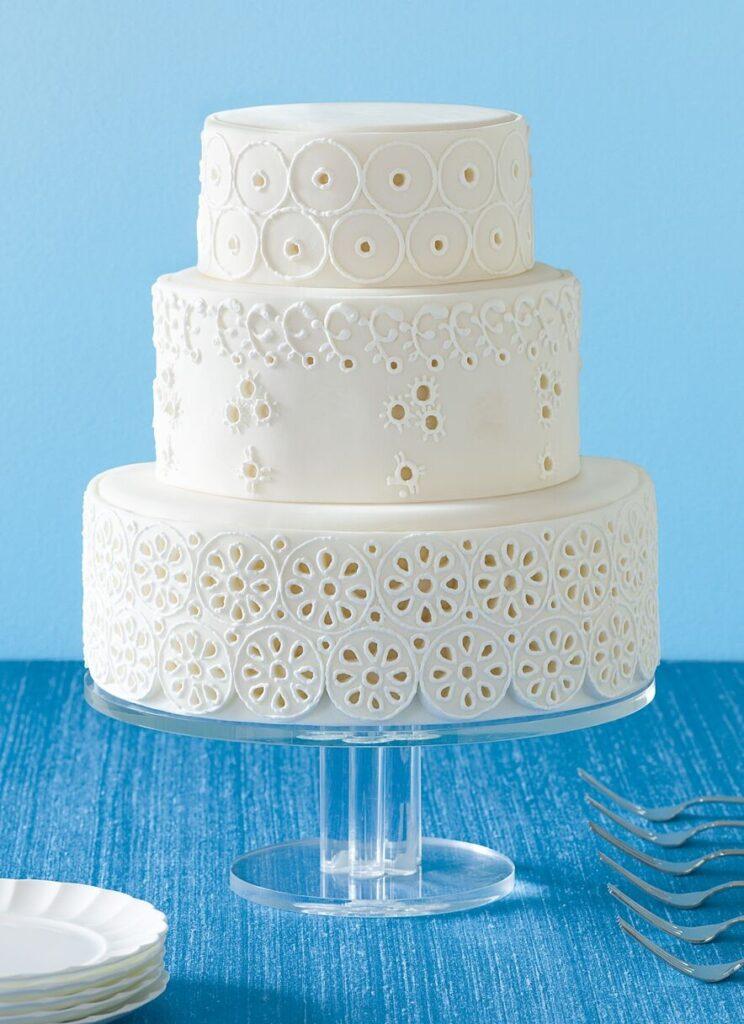 The eyelet details in this cake make the icing look like lace.
---
Climbing Flowers Wedding Cake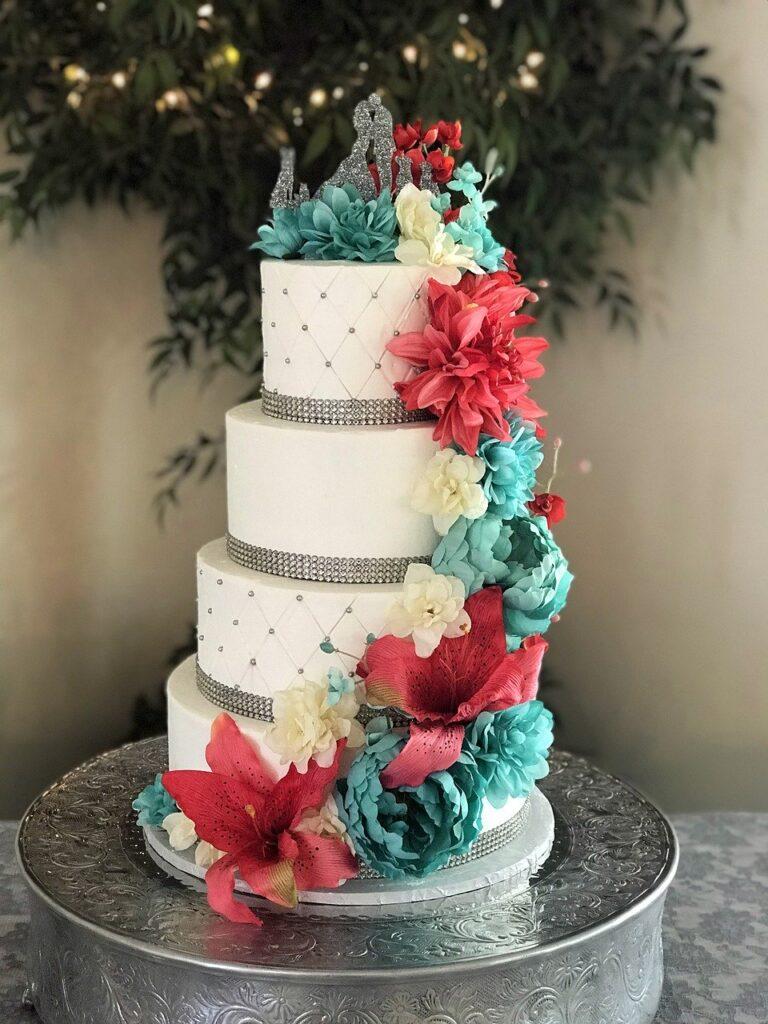 Lovely red, white, and blue flowers adorn this classically elegant cake. Perfect for a 4th of July wedding!
---
Red Velvet Nearly Naked Wedding Cake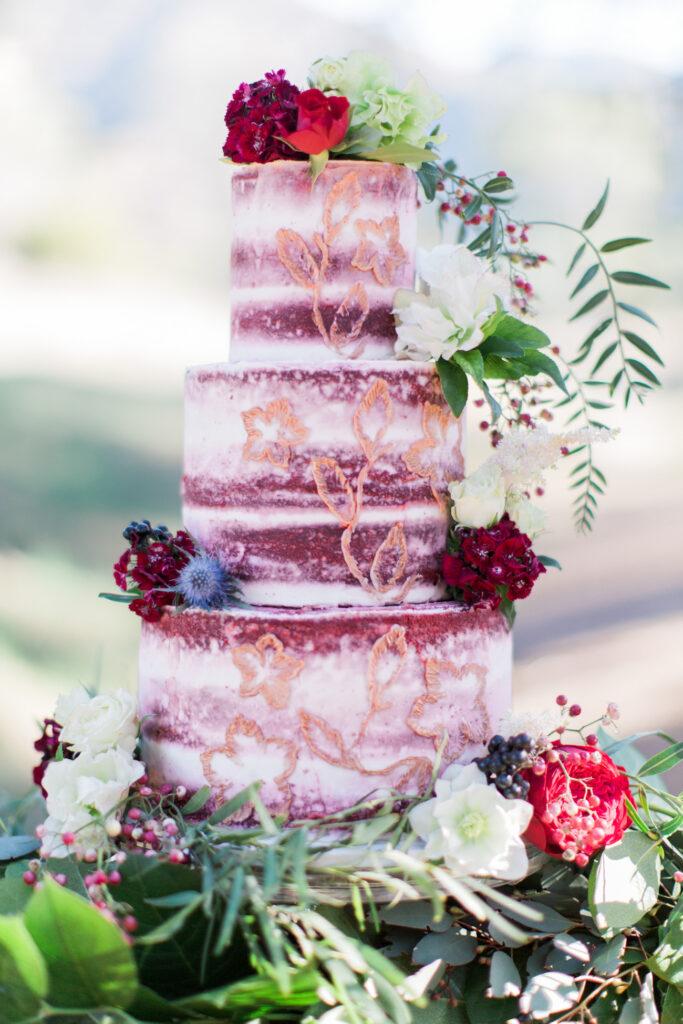 This amazing cake by Frost It Cakery lets the color and beauty of the popular red velvet cake shine through.
---
God Gave Me You Naked Wedding Cake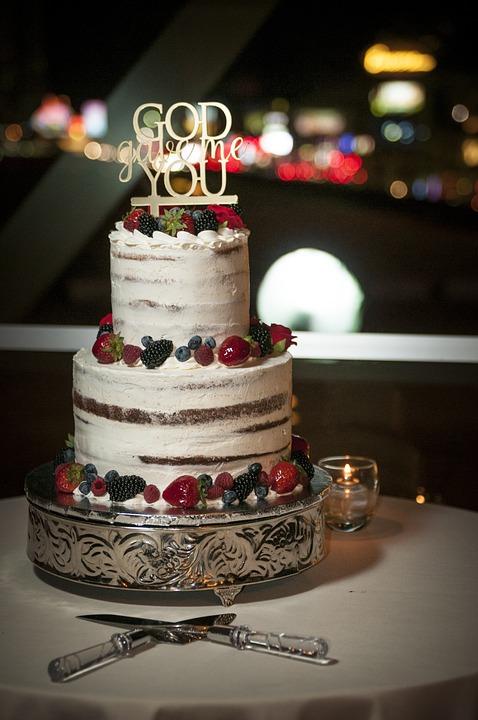 A semi-naked cake is decorated with field berries and a lovely "God Gave Me You" cake topper.
---
In case you haven't found the wedding cake of your dreams yet, here are even more glorious wedding cake ideas for you to explore!
Nearly Naked Chocolate Wedding Cake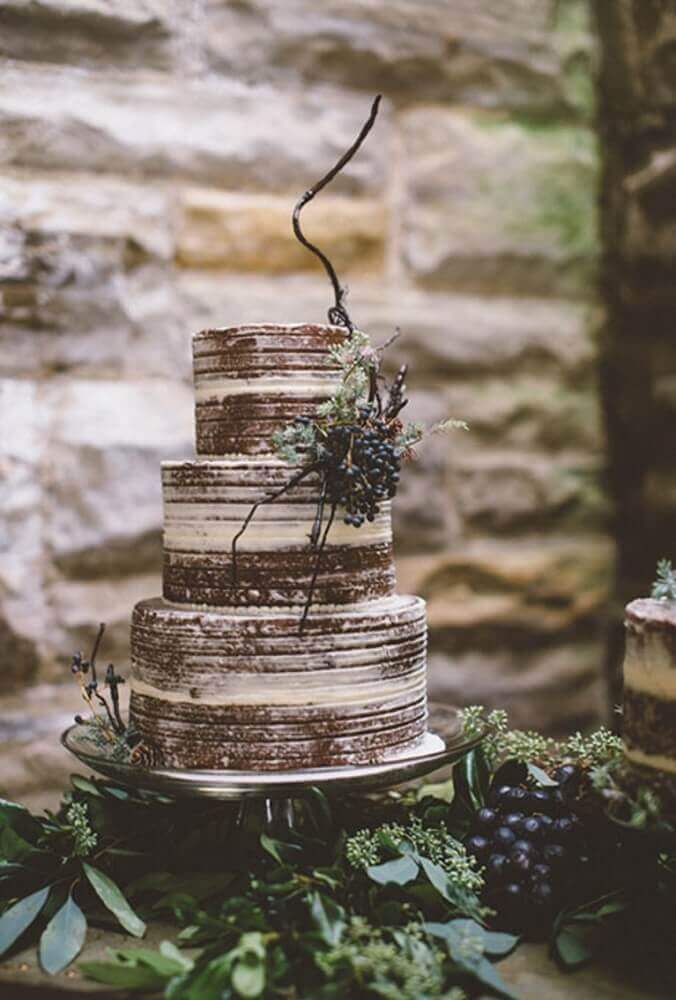 Simple yet elegant, this stripped down chocolate cake has minimal icing and a pop of color provided by a bushel of grapes. Perfect for a rustic or modern wedding.
---
Icing Roses Ombre Wedding Cake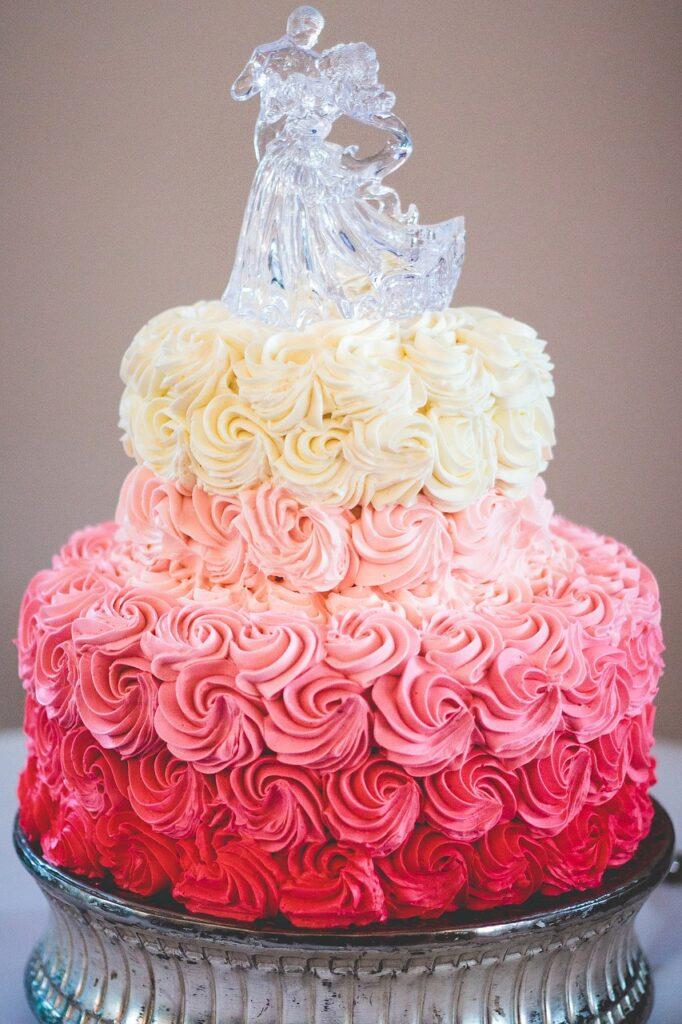 This ombre wedding cake transitions from deep red to a light cream for a festive appeal. And the glass dancing couple wedding cake topper is simply adorable!
---
Dripping with Caramel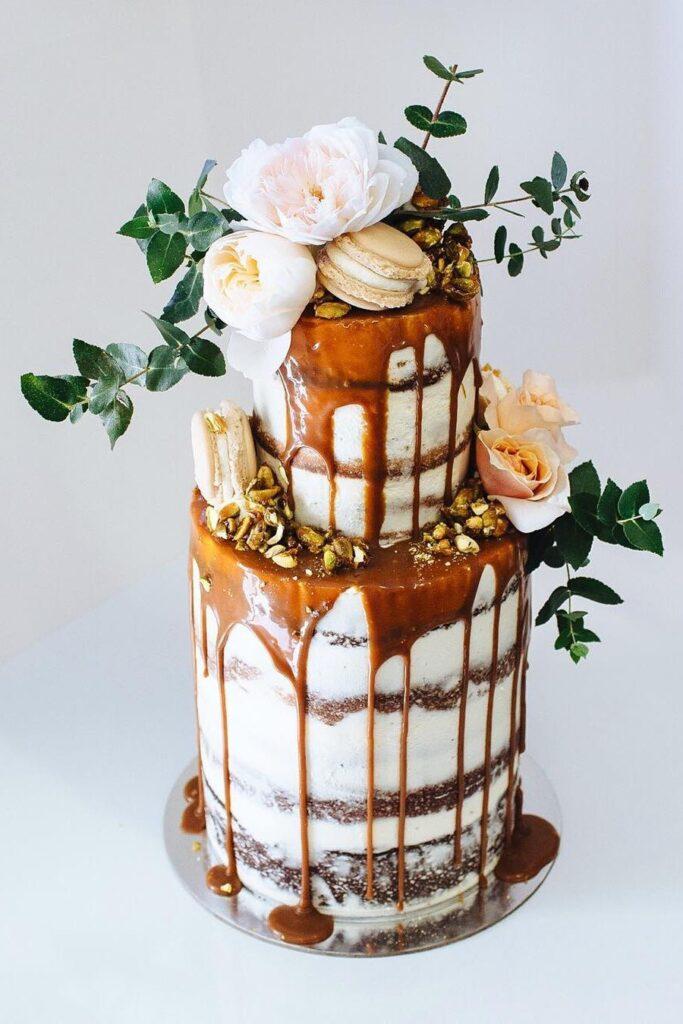 Alita O'Brien of TOME created this absolutely stunning semi-naked cake that's literally dripping with caramel.
---
Love Orchids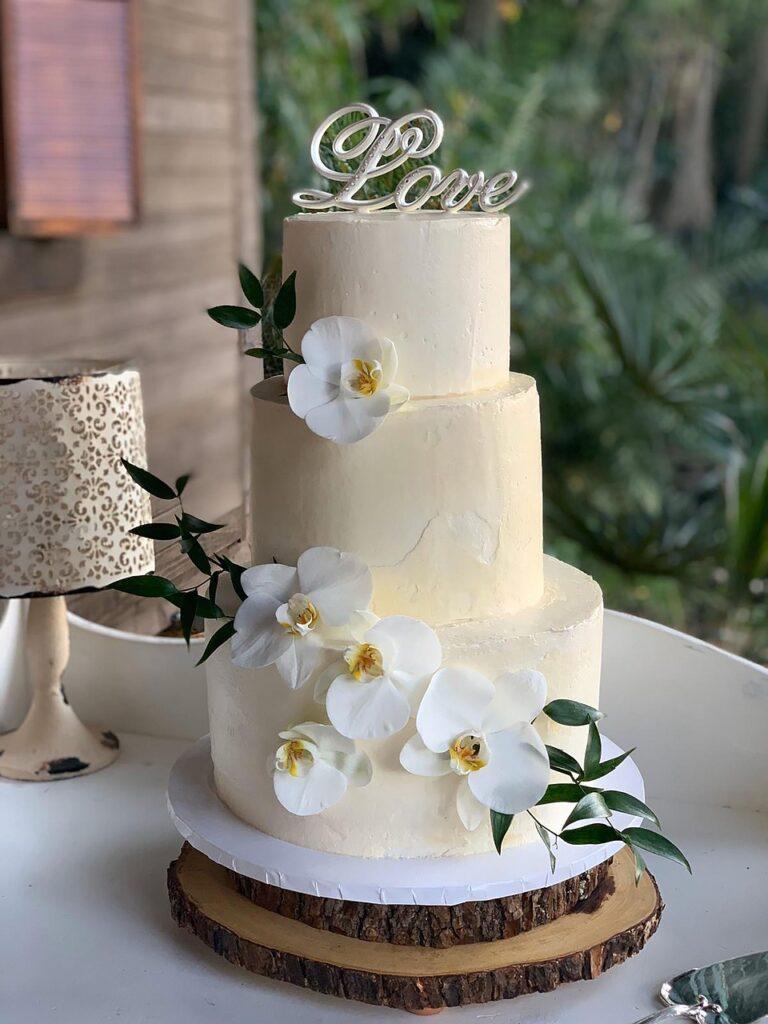 The elegance of orchids and the romance of love combine in this simple yet sophisticated wedding cake.
---
Bright Impasto Modern Art Wedding Cake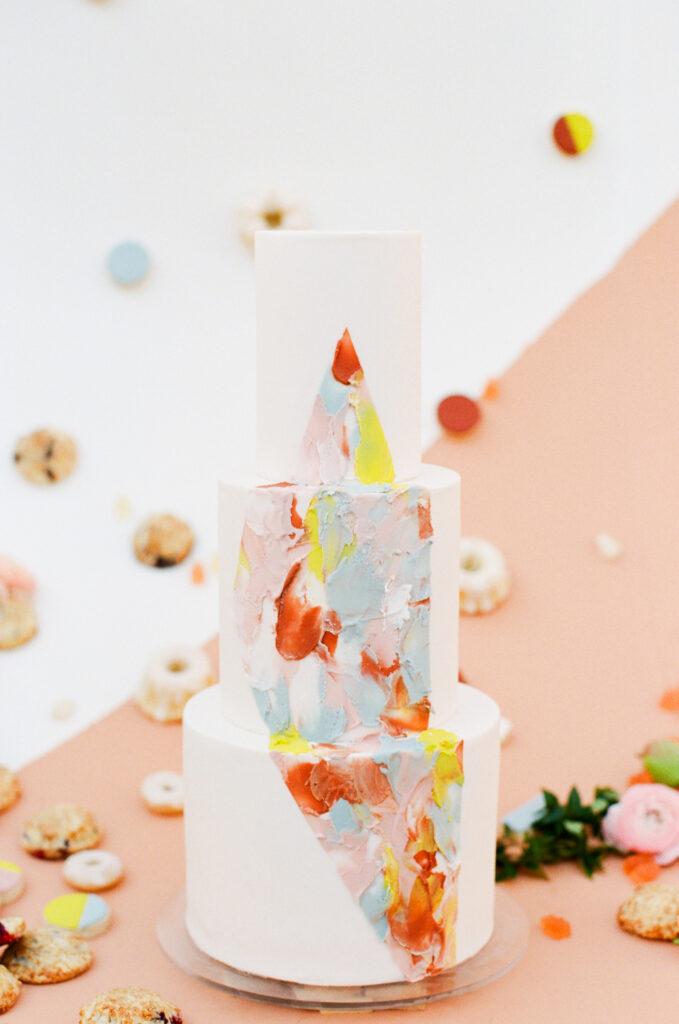 This amazing cake from Hey There, Cupcake looks like a piece of edible modern art.
---
Minions Wedding Cake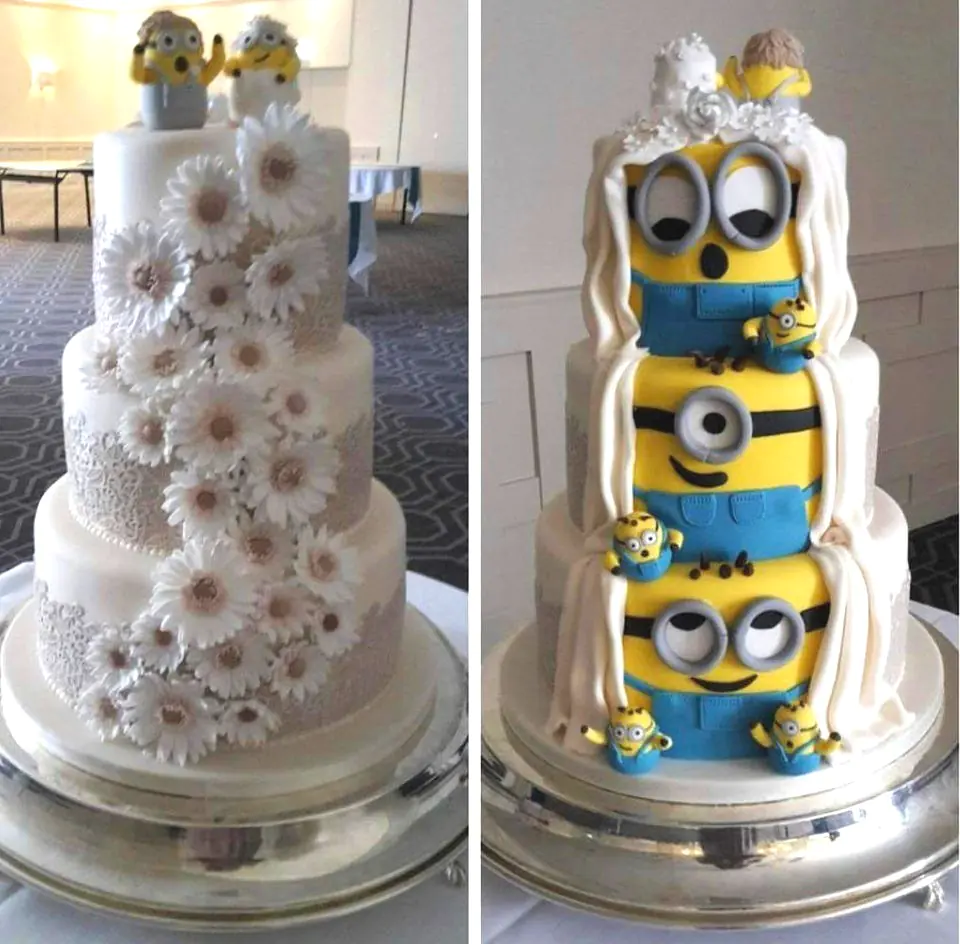 This two-sided minions wedding cake from Reddit is absolutely amazing, and full of miniony fun. The one side is classic white wedding cake beauty, while the other side shows the minions cleverly hiding inside.
---
Blue & White Floral Wedding Cake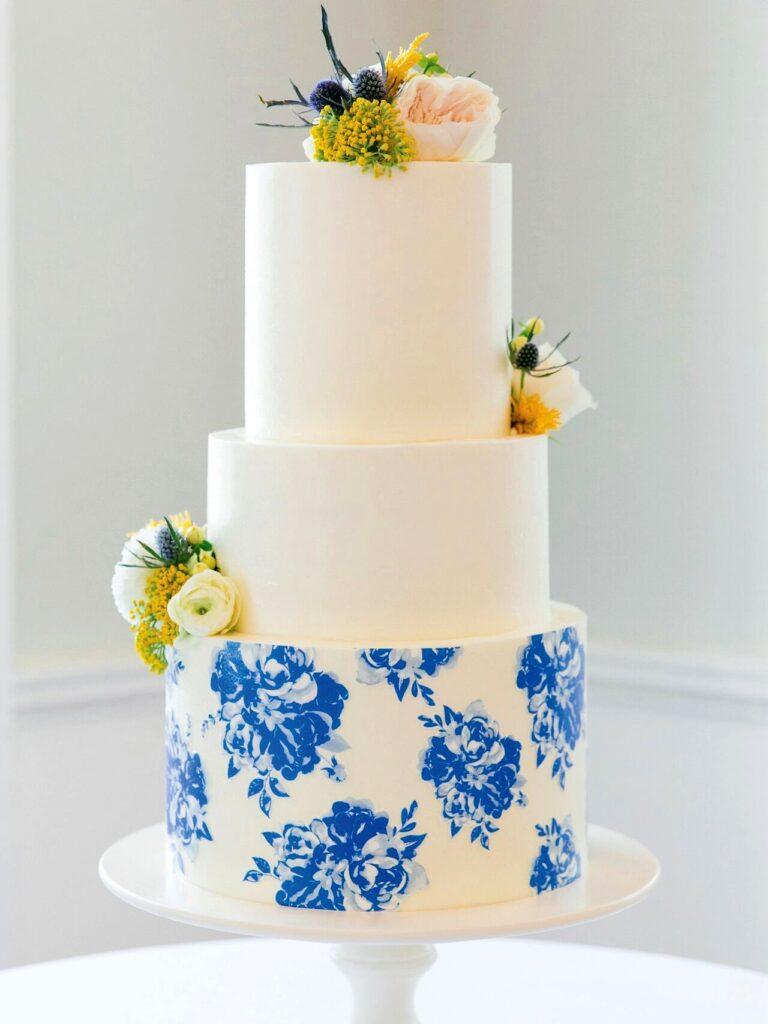 Only the bottom tier is decorated in a lovely blue floral pattern, making this simple cake sophisticated and elegant.
---
Ribbon & Sash Wedding Cake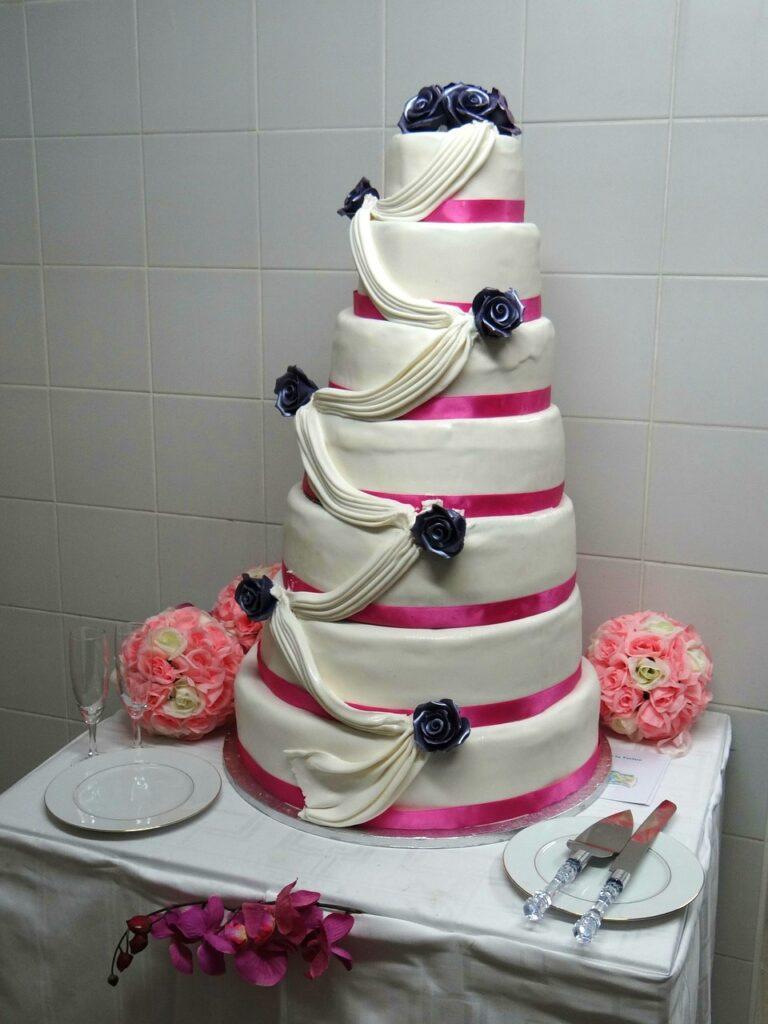 Pink ribbons and dark purple flowers decorate each of the 7 layers on this oversized cake, with an icing sash connecting them all.
---
Black & White Ombre Perfection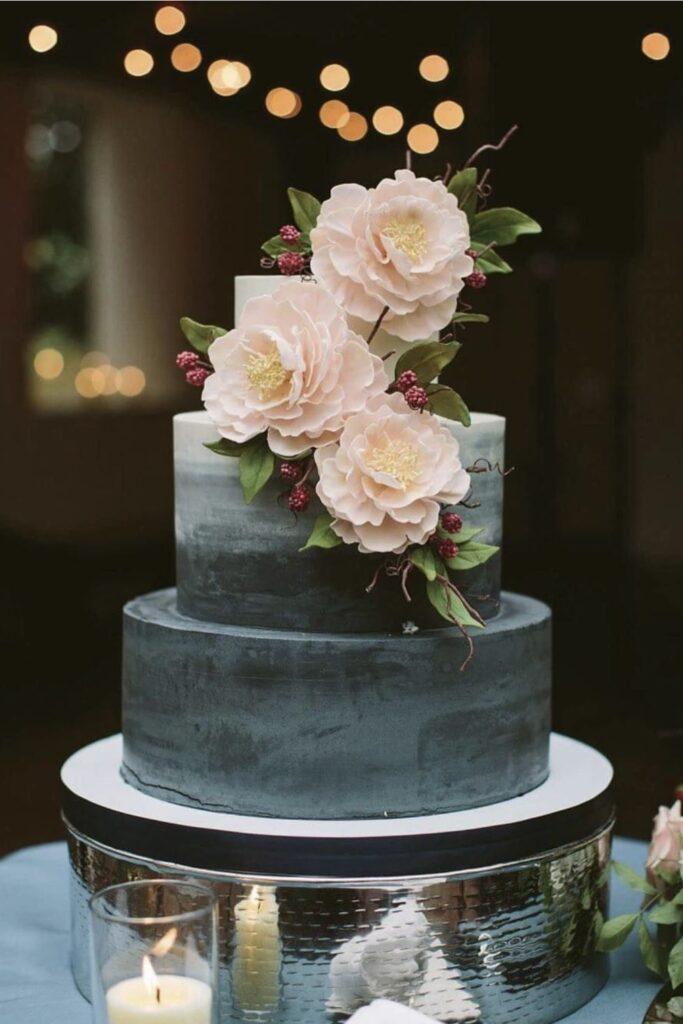 A classic three tier cake gets a sophisticated twist by Fluffy Thoughts Cakes with this black to white ombre cake adorned with some handmade flowers.
---
Square Wedding Cake with Gray Bows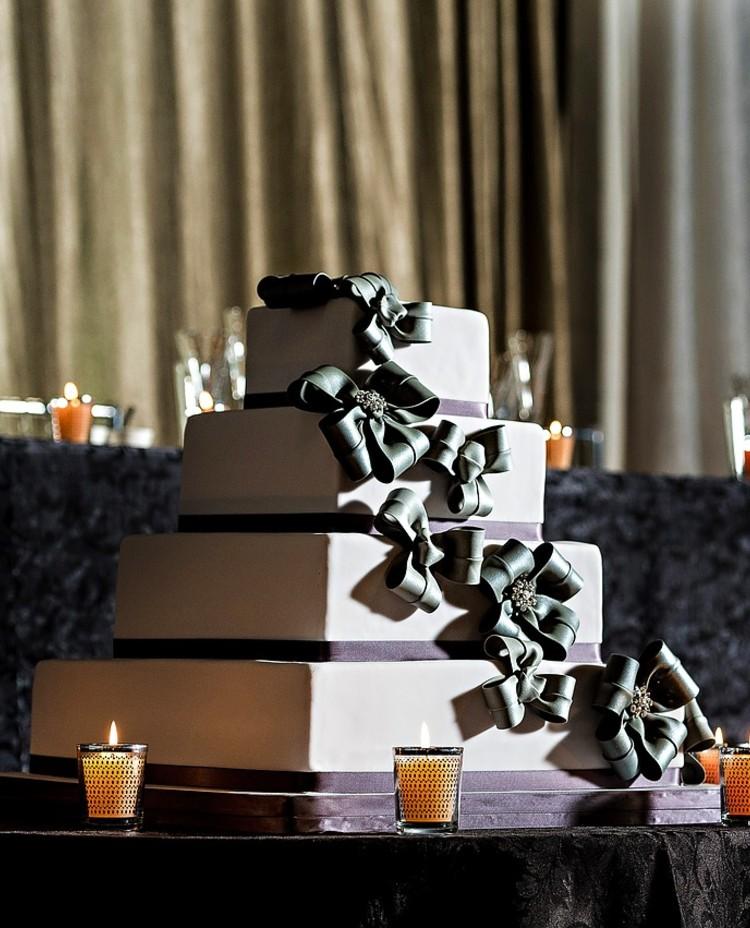 Sophisticated and modern, for today's bride and groom (or bride and bride, or groom and groom).
---
Stone Tiered Wedding Cake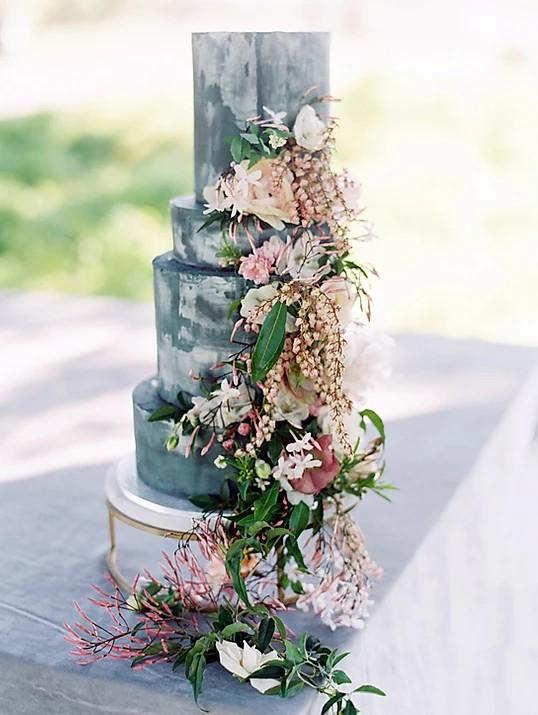 Another gorgeous creation from the San Diego modern cake design house of Hey There, Cupcake.
---
Wedding Cake and Cupcake Combo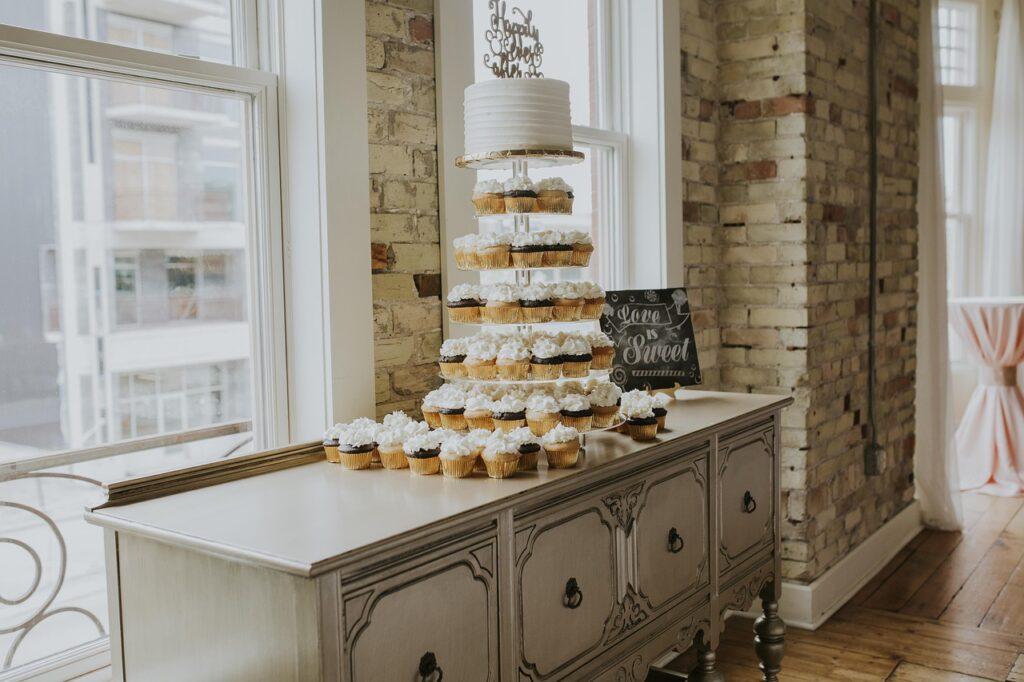 Another gorgeous example of combining a classic wedding cake with a cupcake tower.
---
Fuchsia Cascade Square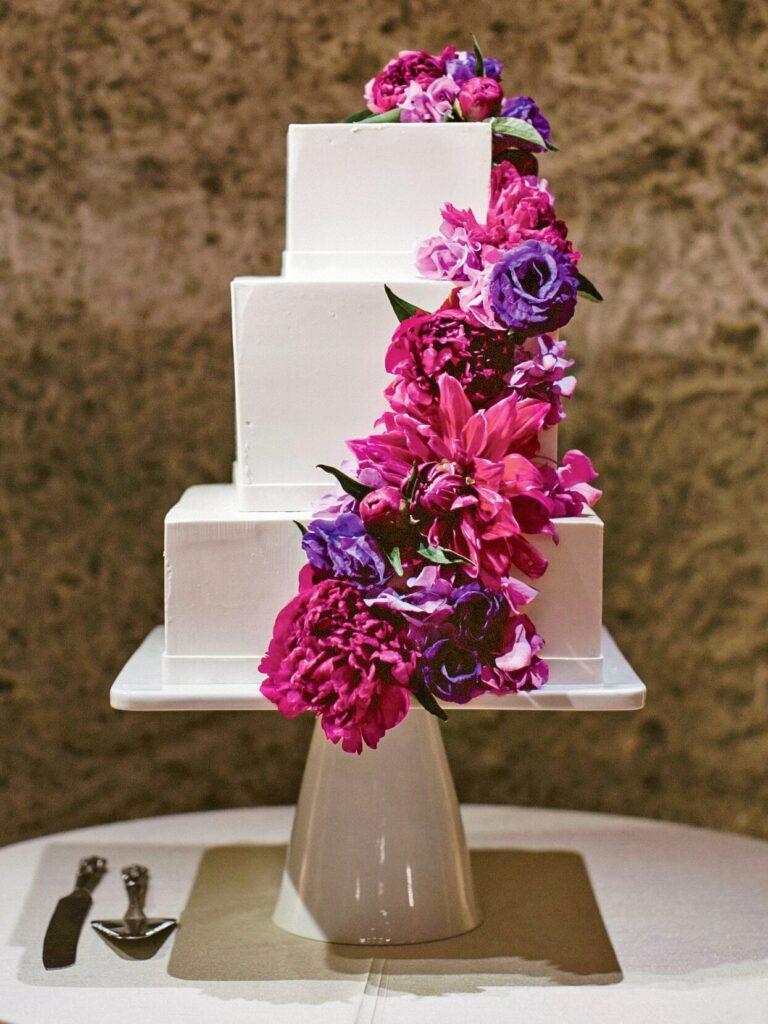 Who says square can't be elegant and beautiful? Not the makers of this gorgeous cake!
---
Frosting Ribbons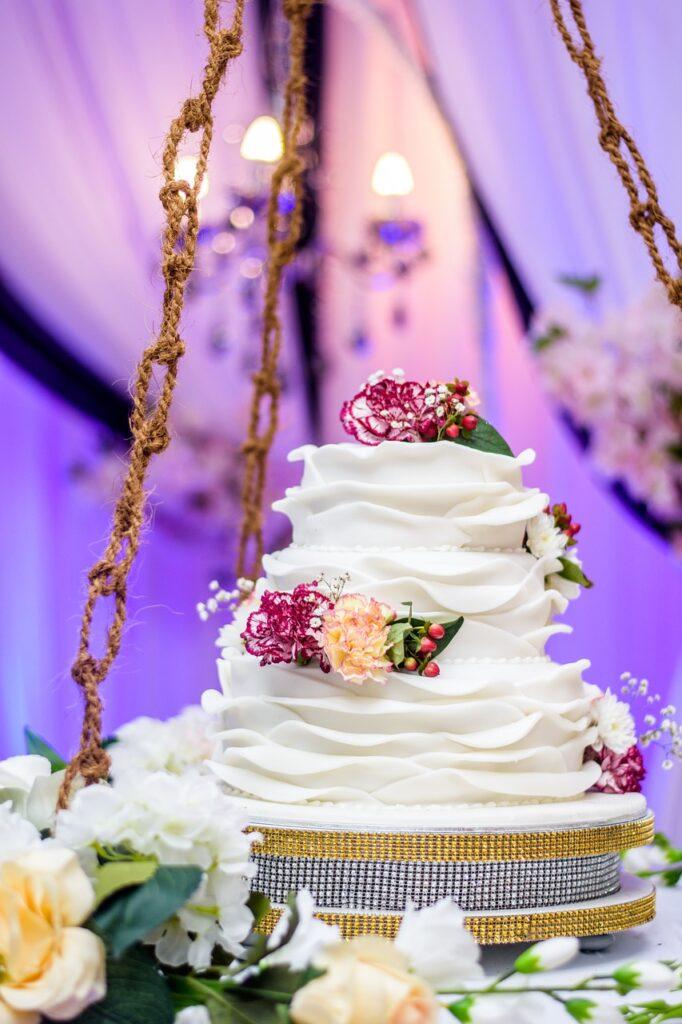 Thick, white ribbons of buttercream frosting cover all 3 layers of this simple but beautiful cake.
---
Chocolate and Gold Foil Rustic Wedding Cake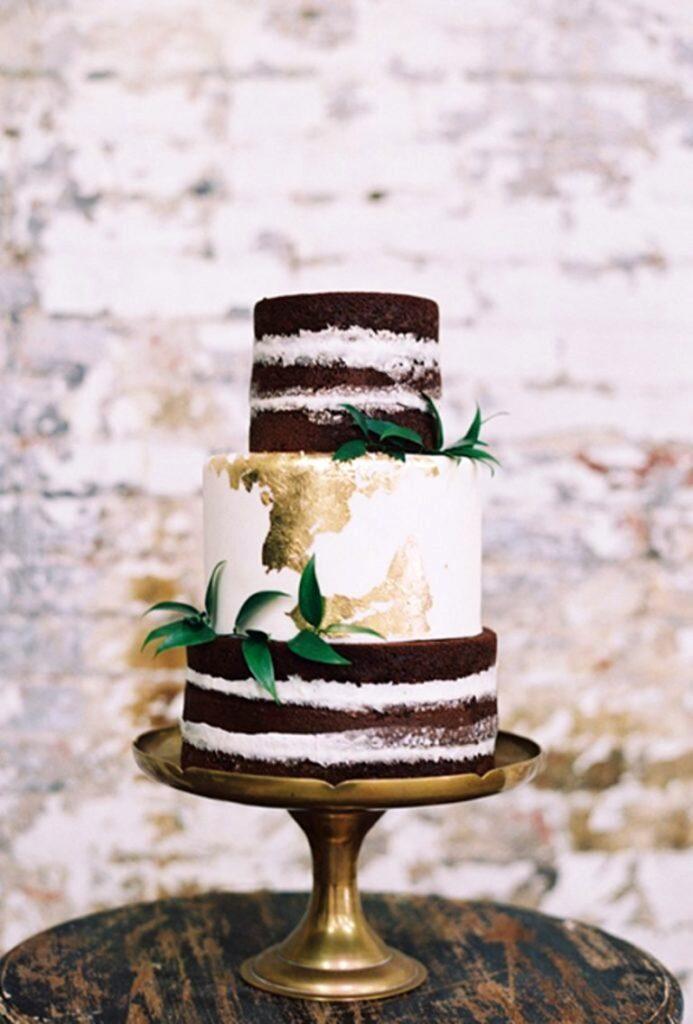 Two naked chocolate tiers surround a white and gold foil middle layer that adds a touch of rustic glamour in this delicious looking cake from Sasselina Sweets.
---
White Eucalyptus Sprigs Wedding Cake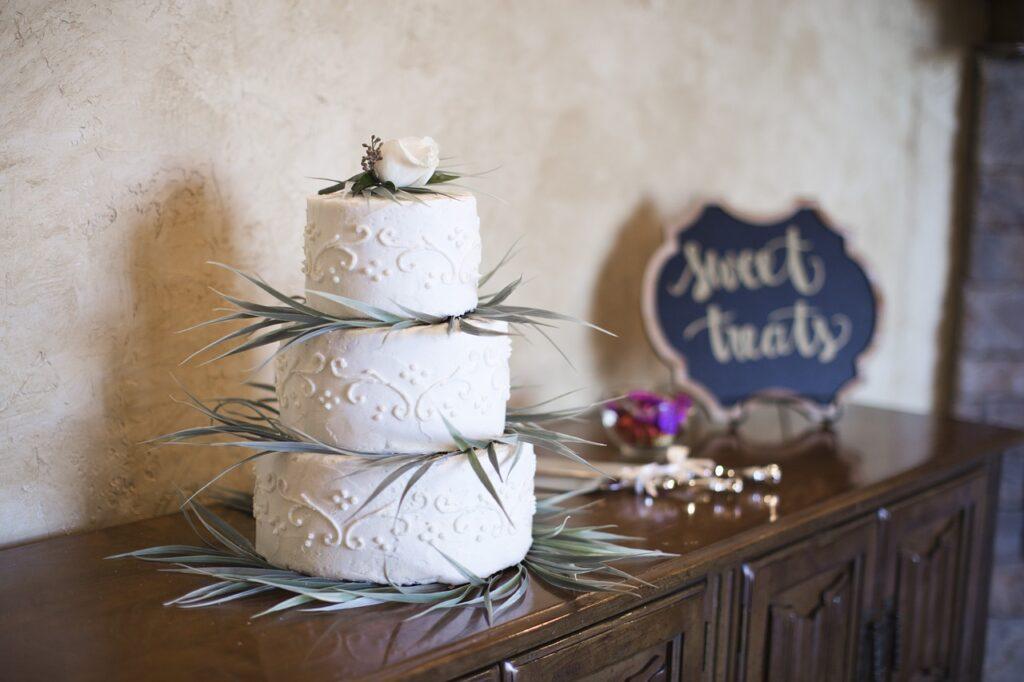 Eucalyptus leaves separate each tier in this classically beautiful cake.
---
Red Velvet Semi-Naked Wedding Cake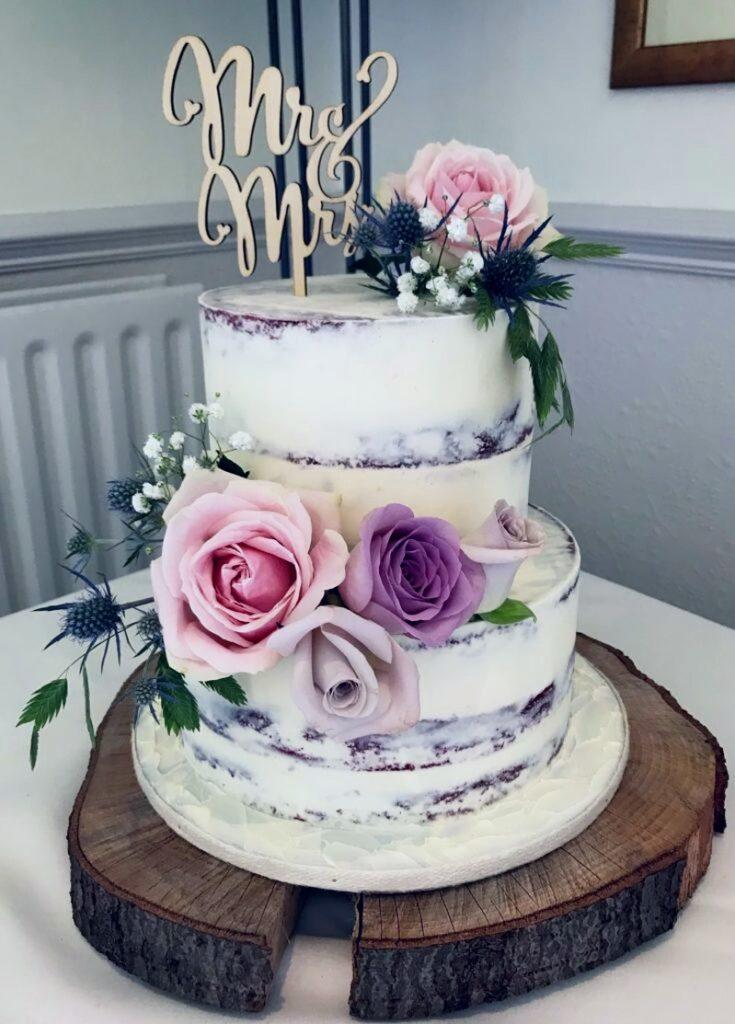 Another gorgeous creation from Sasselina Sweets, this one features a semi-naked red velvet cake adorned with pink and purple roses.
---
7-Tier Classic Wedding Cake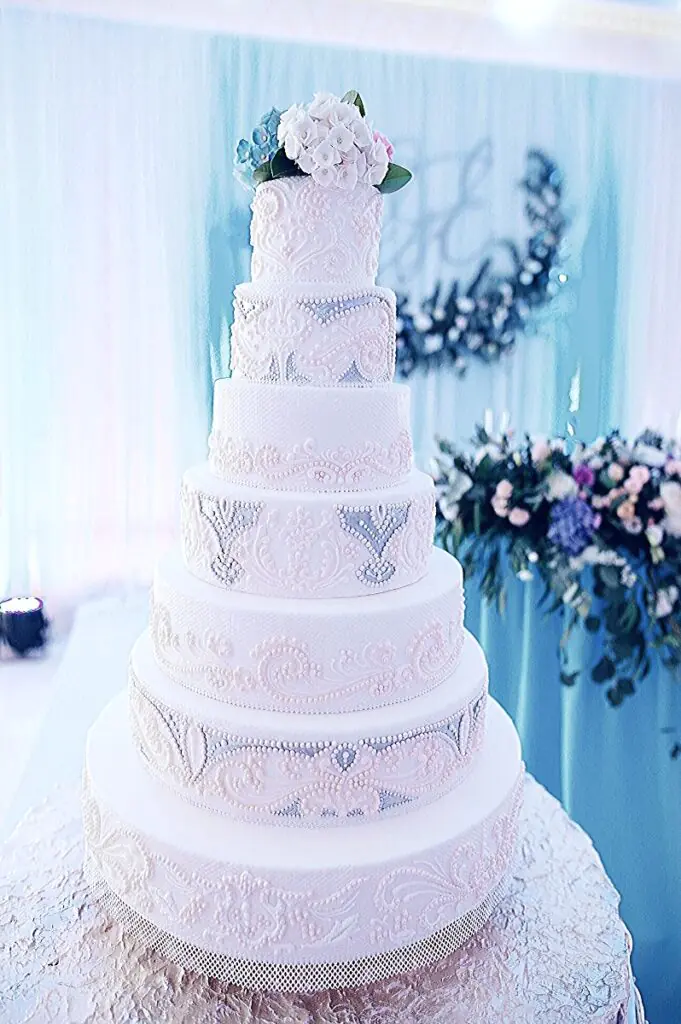 A classic beauty, in all its grandeur.
---
Color-Block Glam Wedding Cake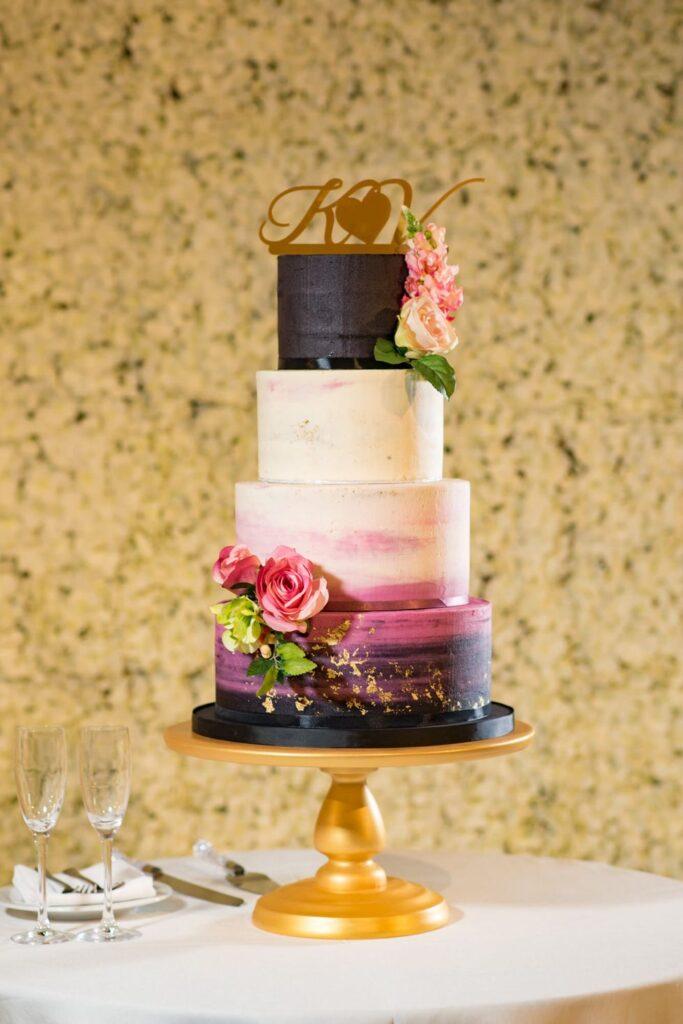 Sophisticated and glamorous, black and fuchsia combine in this gorgeous creation by Maya Dahlia Cakes. Some gold embellishments and a gold cake stand complete this eye-popping design.
---
Blue & White Scrollwork Wedding Cake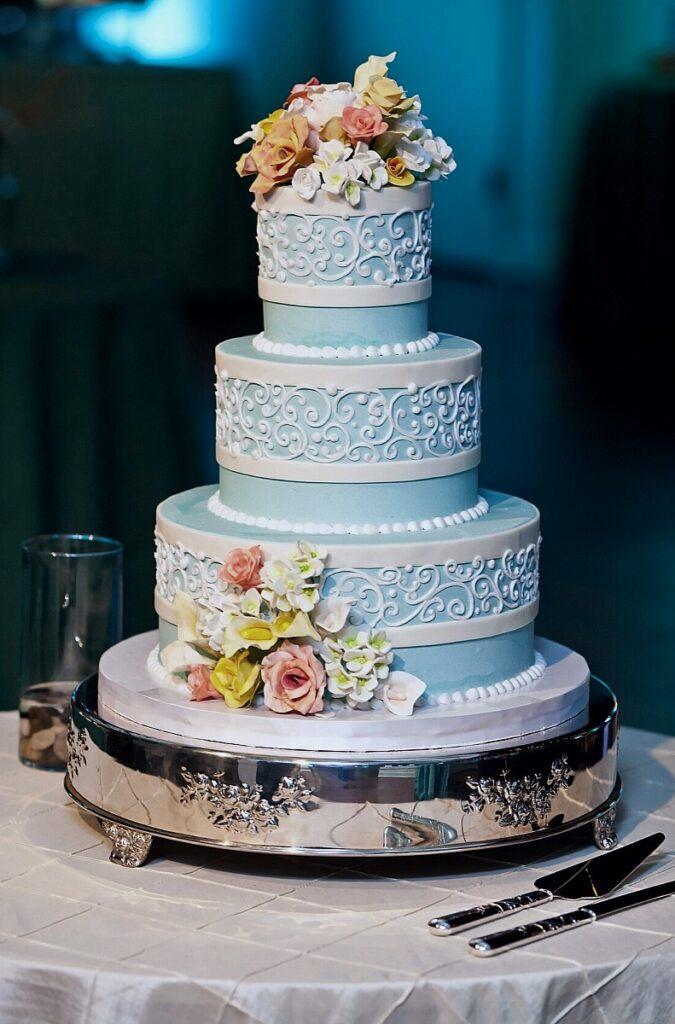 Delicate blue icing is overlaid with intricate white scrollwork for an elegant finished product.
---
Colorful Geometric Wedding Cake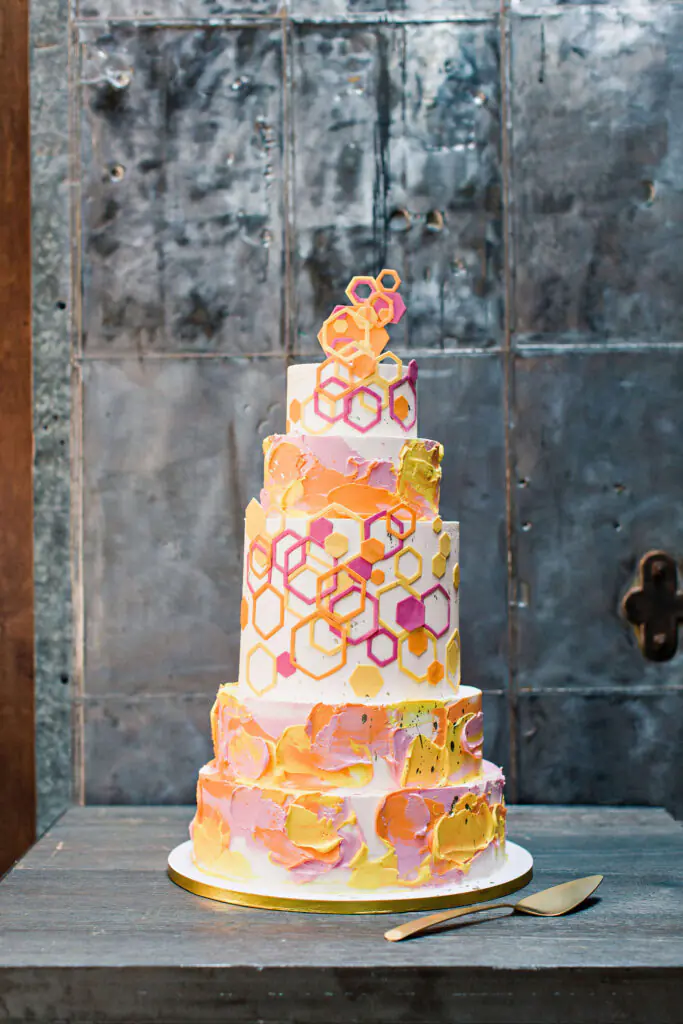 A super-fun cake creation from Nine Cakes featuring bright colors and geometric shapes, all the way up to the wedding cake topper!
---
Cally Lily and Roses Wedding Cake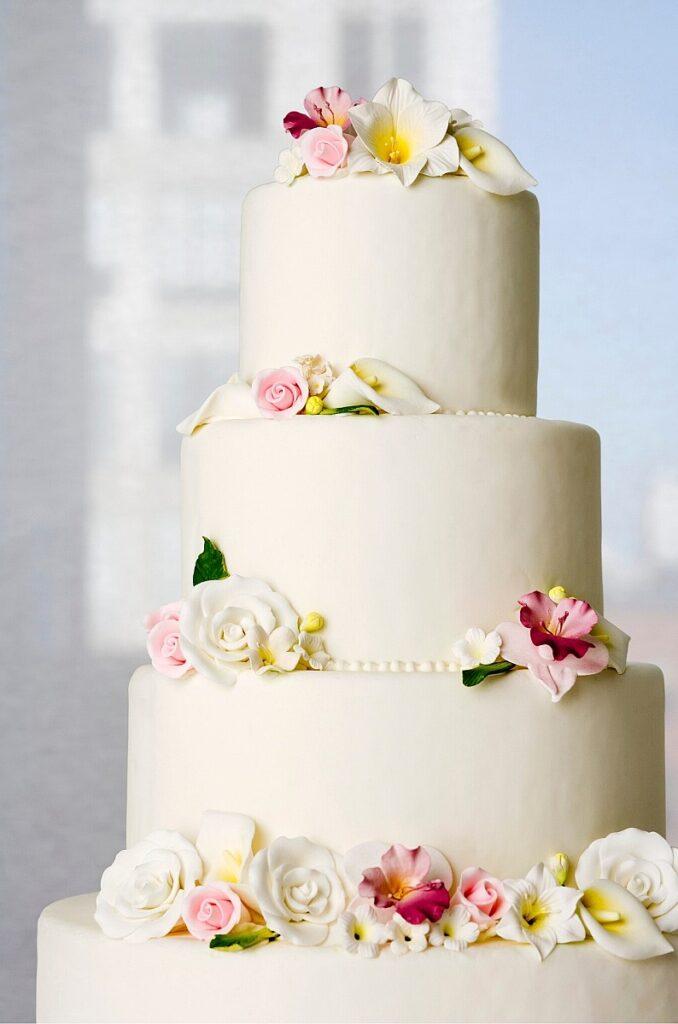 I have always been a sucker for the gorgeous Calla Lily.
---
Blue, White, and Gold Modern Wedding Cake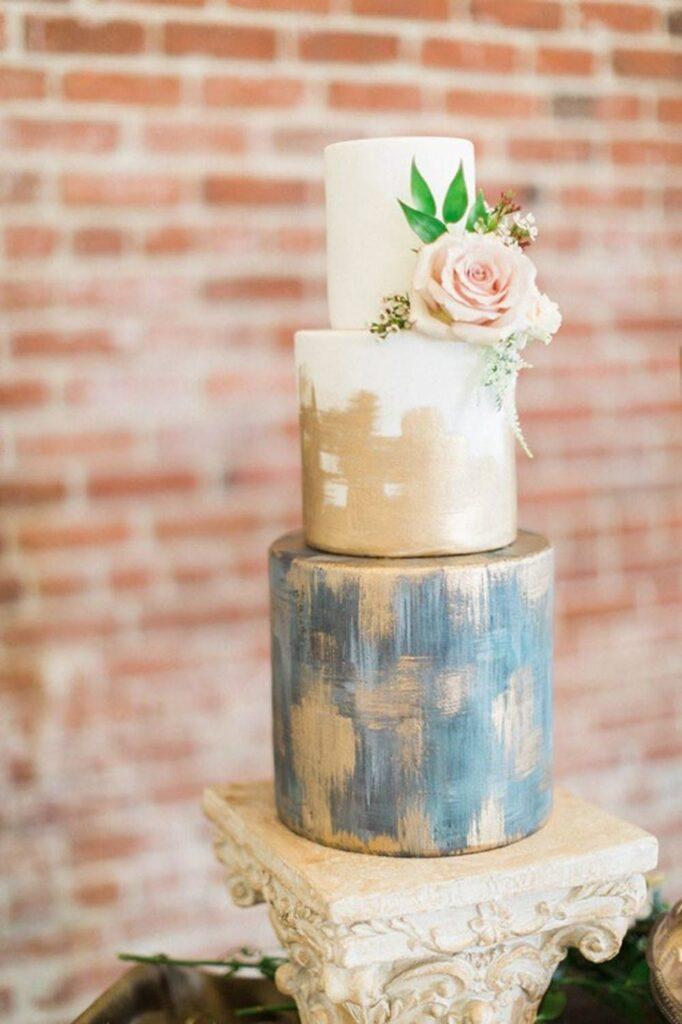 A beautifully abstract blue, white, and gold modern cake by Elise Cakes.
---
Classic Red Roses & White Wedding Cake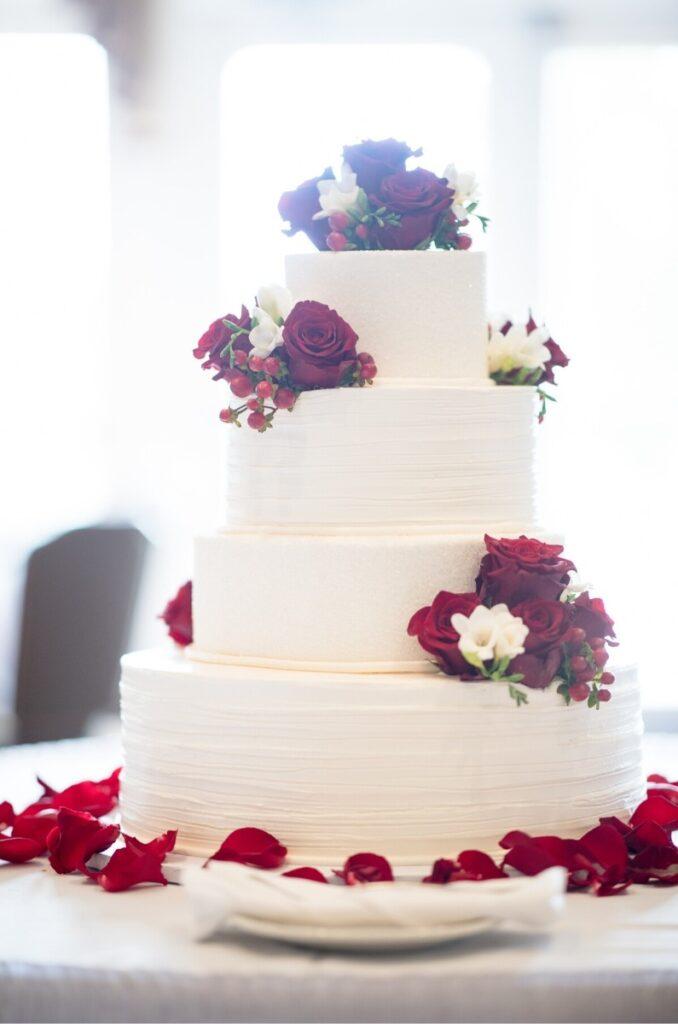 A classic, and for good reason. The contrast of the dark red roses against the brilliant white icing is truly stunning.
---
Fallen Leaves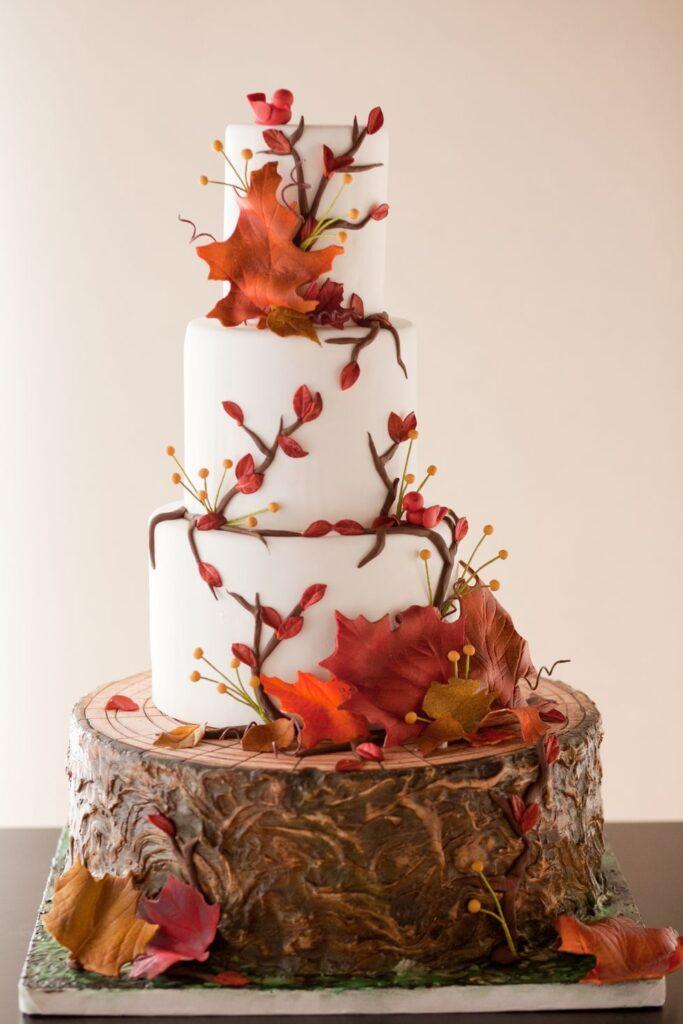 Edible autumn foliage makes this leaf-inspired wedding cake by Erin Bakes perfect for a fall wedding.
---
Daisies and Bows Wedding Cake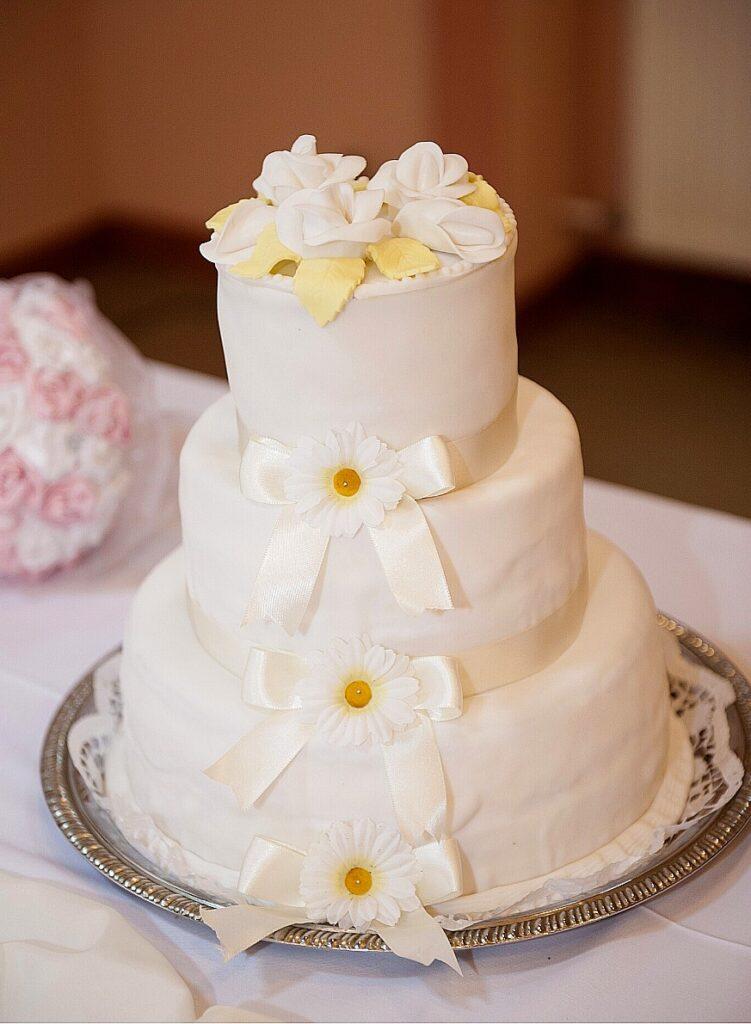 This cute-as-a-button cake features white ribbons, bows, and delicate daisies on each tier.
---
Dripping Blue Icing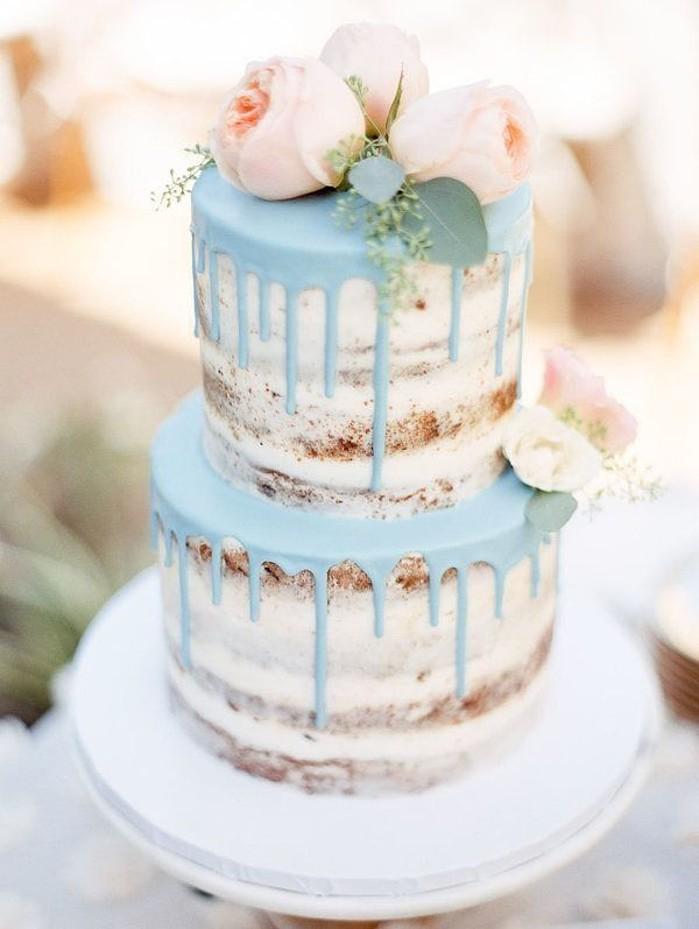 A semi-naked two-tier cake is decorated by Sasselina Sweets with some gorgeous pink flowers and beautiful pale blue dripping icing.
---
Dripping with Figs Nearly Naked Wedding Cake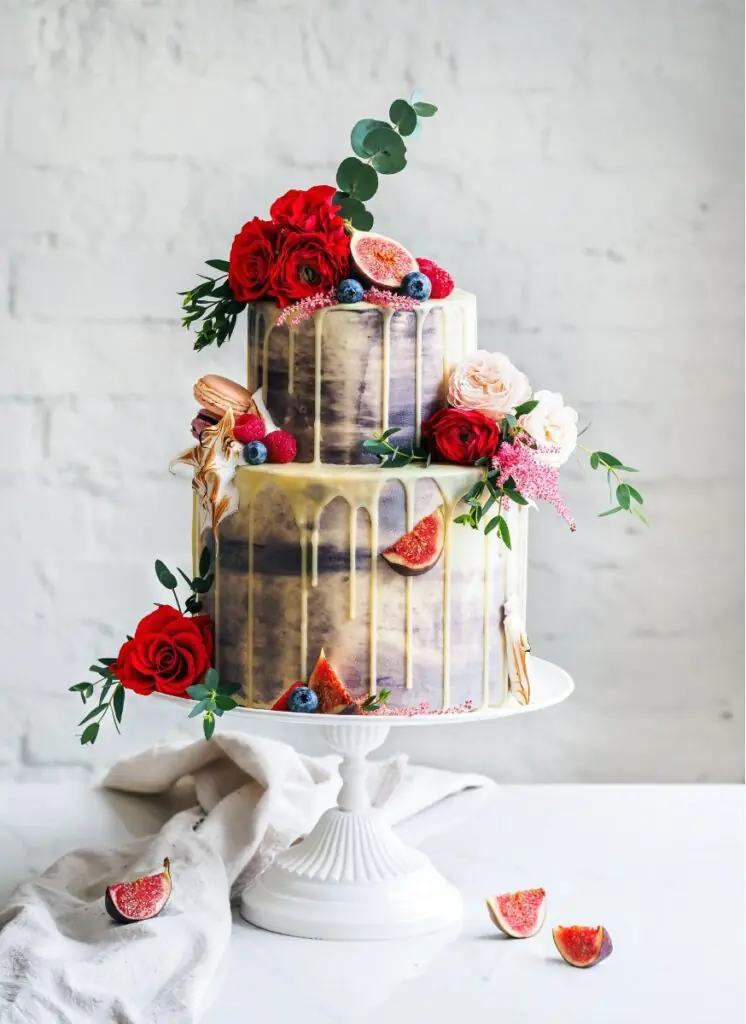 Figs, figs, and more figs. Plus some flowers and a couple of macarons make this a uniquely wonderful and colorful cake.
---
Mr & Mr Geometric Wedding Cake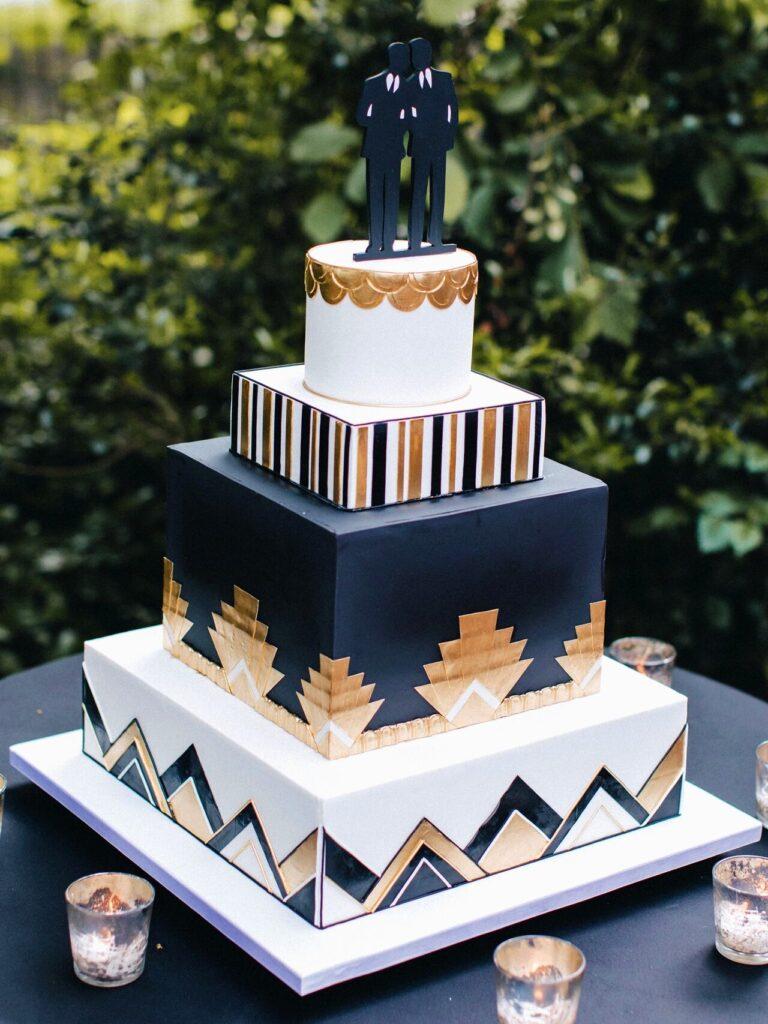 Geometric motifs and masculine colors make this the perfect cake for the two grooms.
---
Flowers and Lace Wedding Cake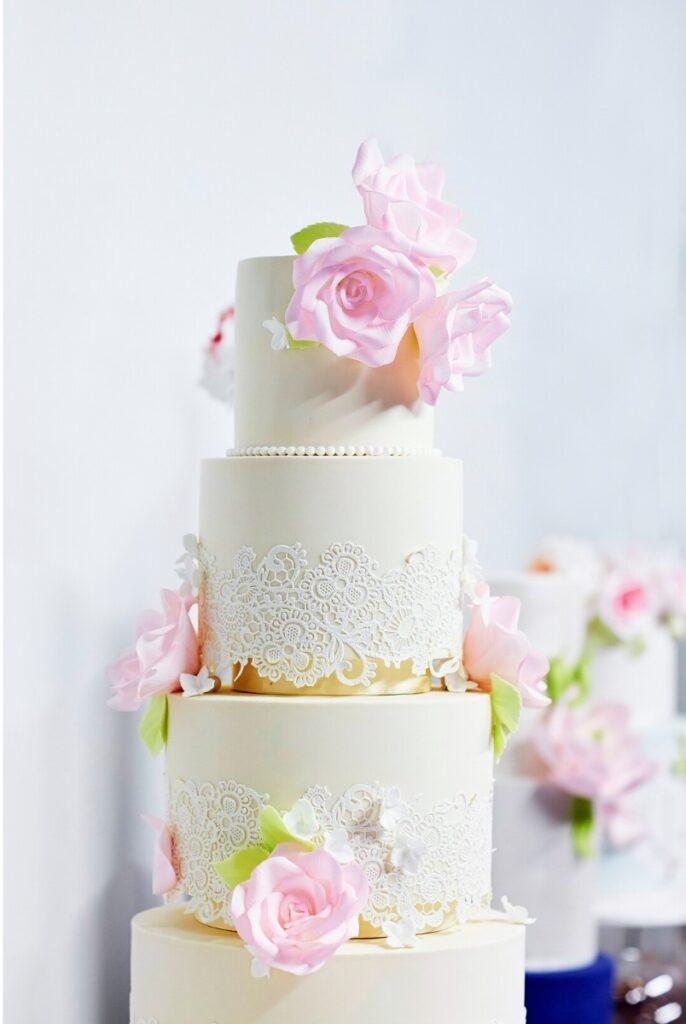 Delicate, elegant, and lovely!
---
Savory Cheese "Cake"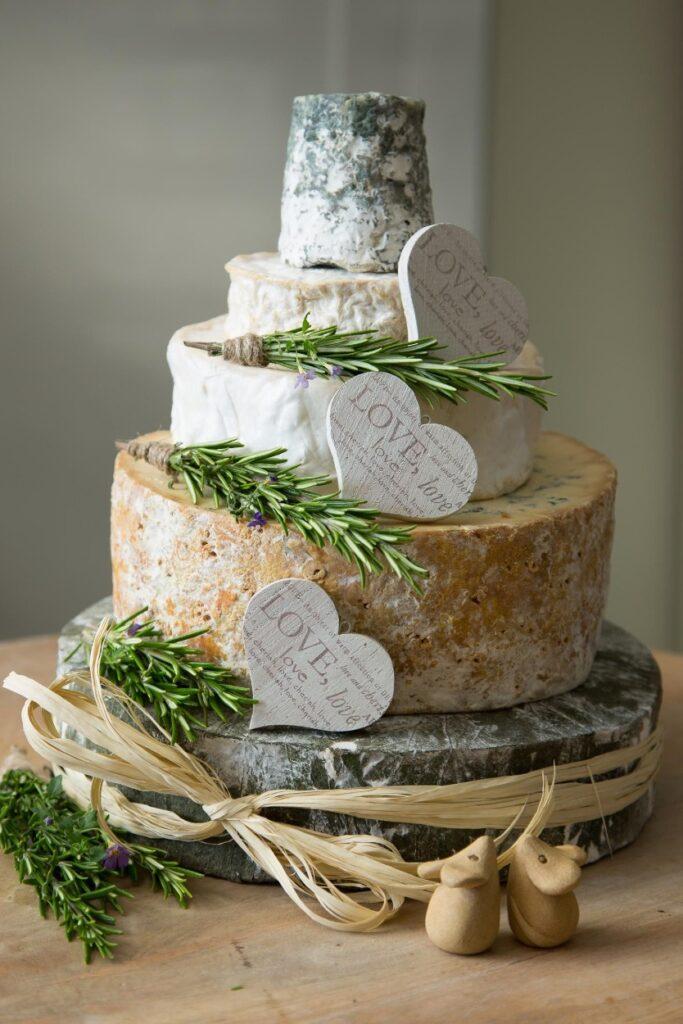 For those looking for something COMPLETELY different, this "cake" is made from 4 tiers that are actually wheels of delicious cheese from West Country Cheese Co.
---
Flowers and Stucco Wedding Cake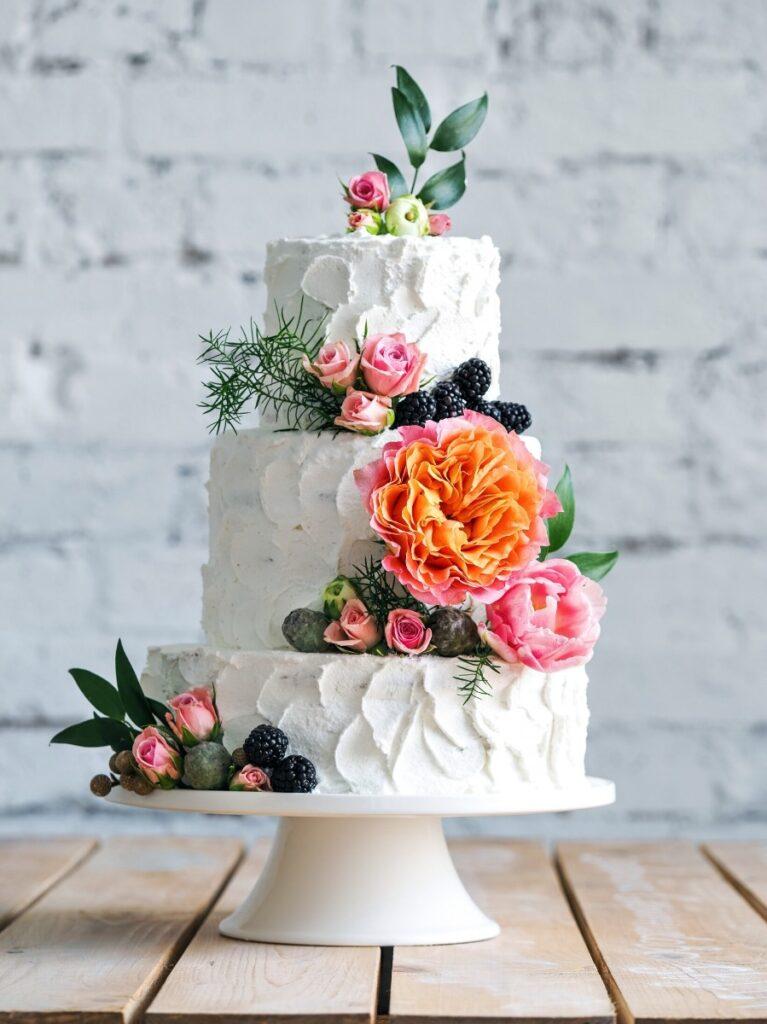 Deeply textured white icing gives this cake a stucco texture, which is offset by the bright and beautiful flowers.
---
Almond Cream Fresh Tulip Wedding Cake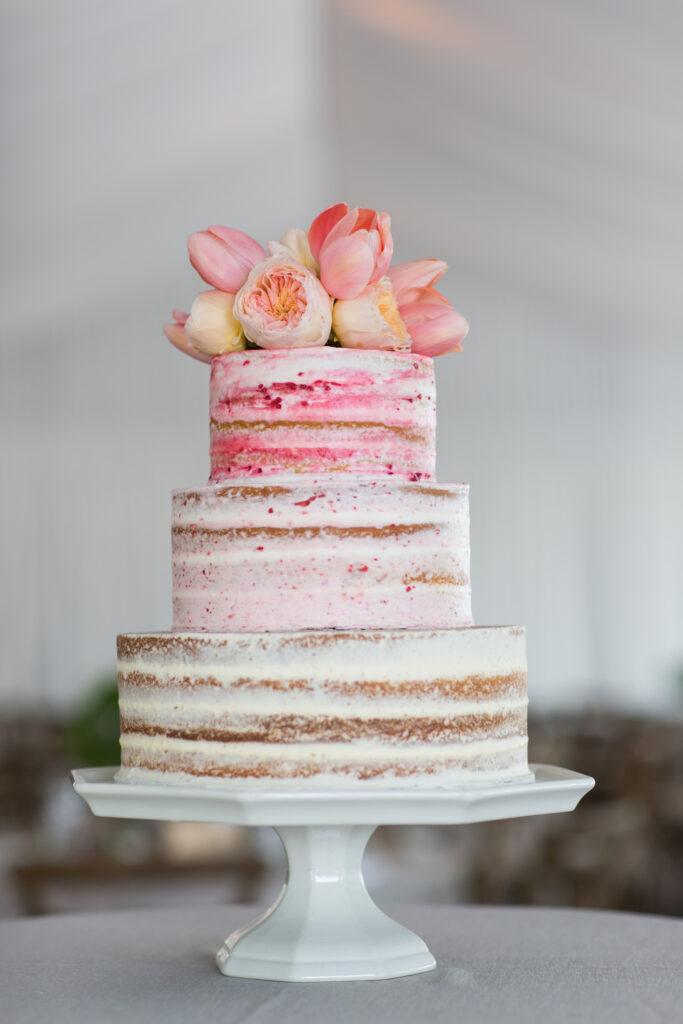 I love how the layers "grow" in color, like nature. The bottom layer of this wedding cake creation by Jackson Cake Company is more earthy, while the top layer explodes with raspberry compote to mimic the colors of the tulips resting on top.
---
Lavender Sprigs Wedding Cake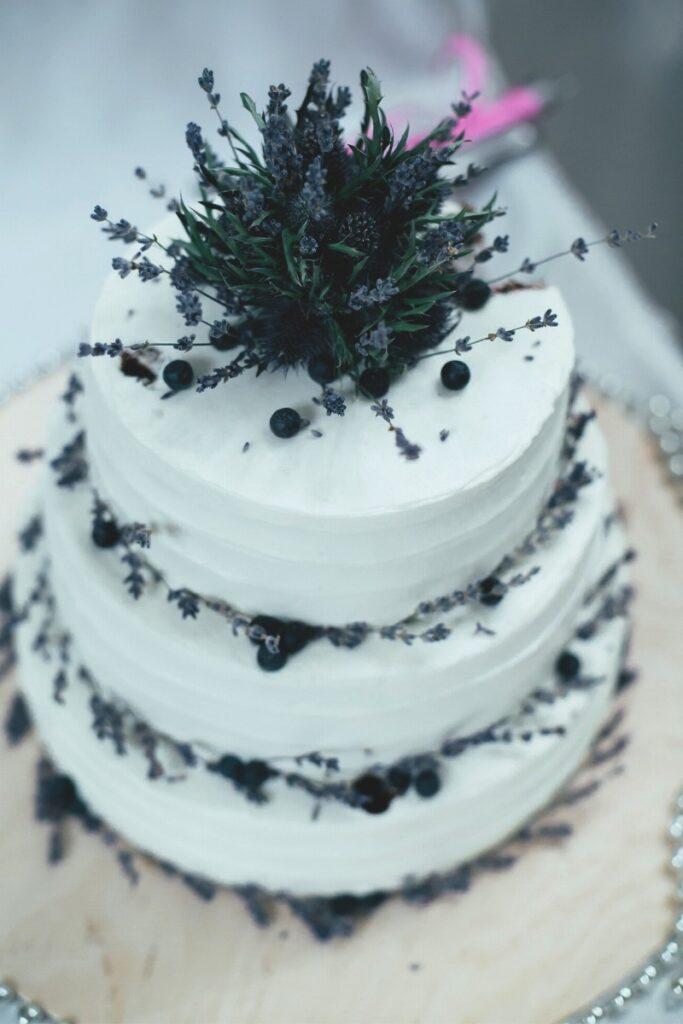 Hints of lavender accent each layer of this classic white cake, with a large spray on top that creates a dramatic impact.
---
Navy & Gold Fall Wedding Cake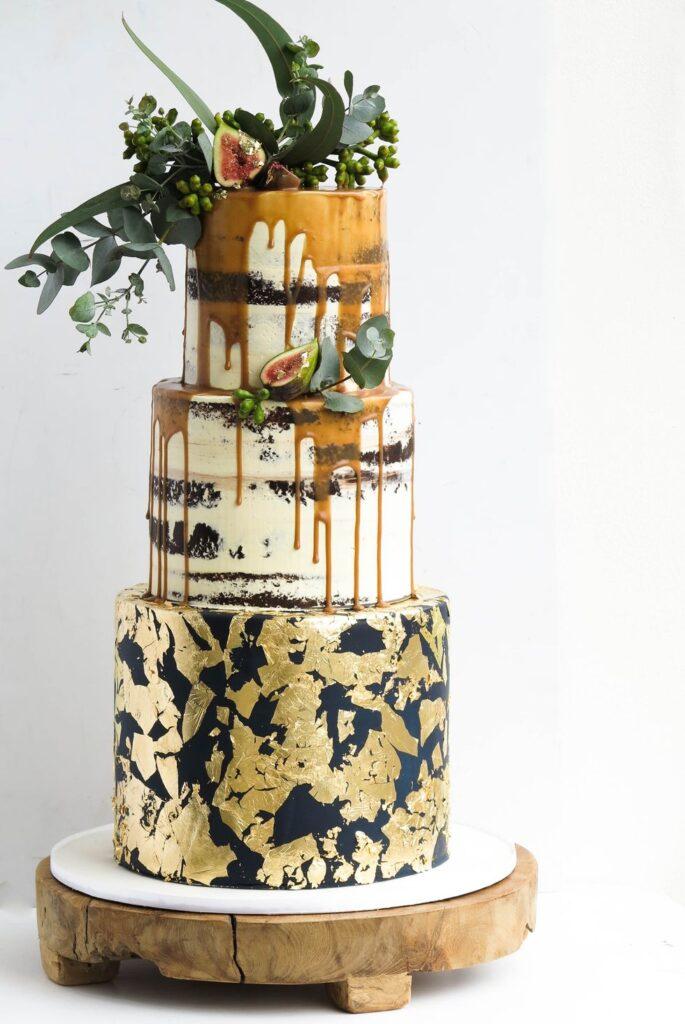 Shout out to Boutique Cake Art for their amazing sense of creativity with this gorgeous navy and gold cake. The seasonal foliage makes this piece perfect for the fall, but that could be easily adapted for other season.
---
Mauve Roses Naked Wedding Cake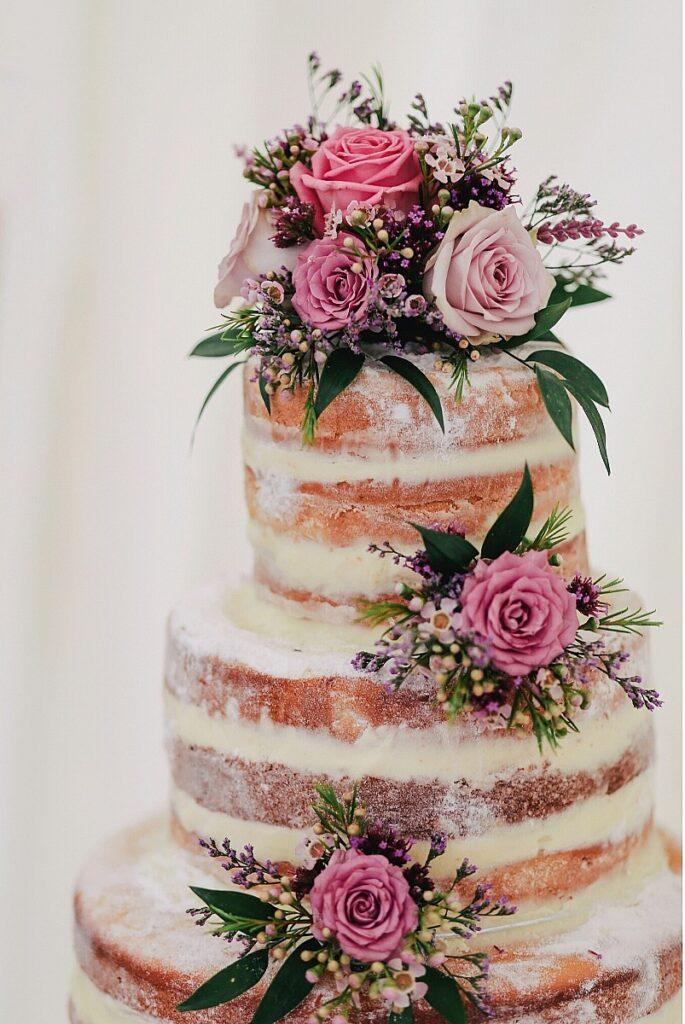 A collection of light and dark mauve roses adorn this simple, nearly naked vanilla cake.
---
Stars and Moon Gold & White Wedding Cake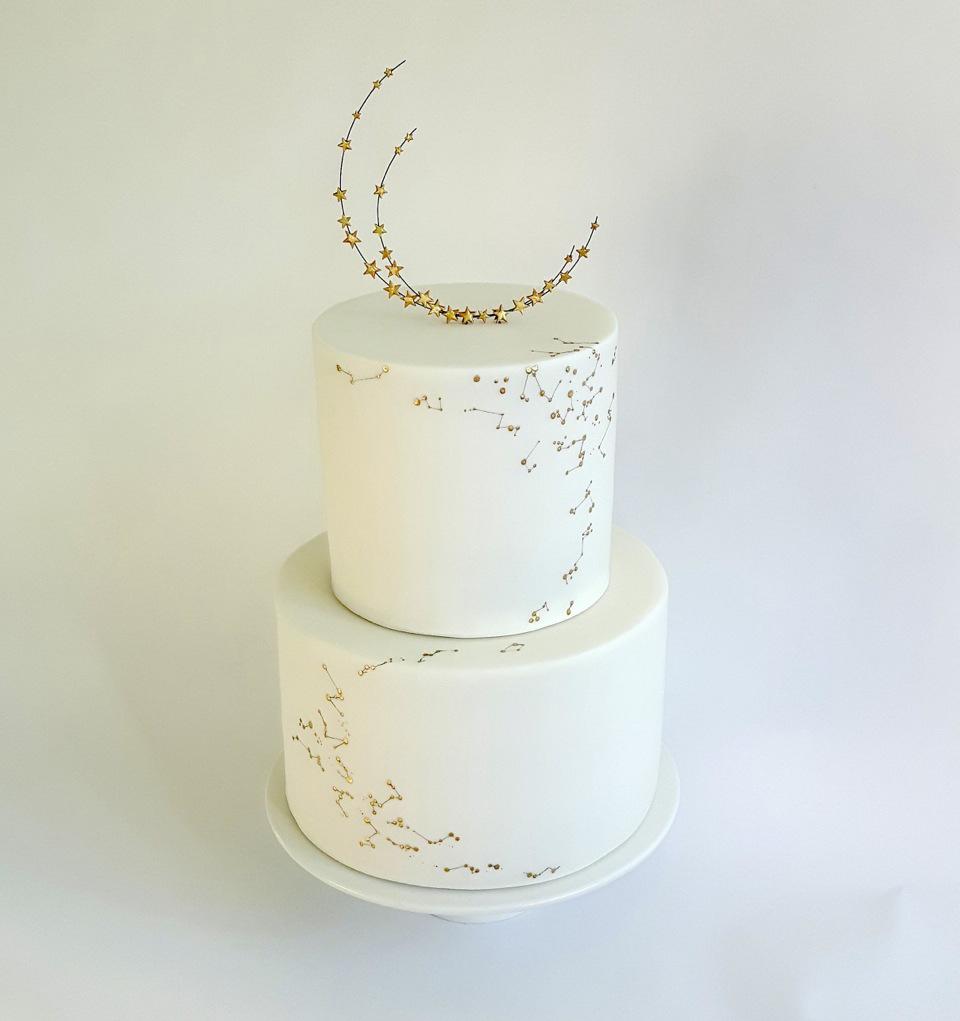 A divinely simple yet elegant cake from Claire Owen Cakes, this white cake is beaded with gold that leads the eye up to a set of two half-moons decorated with stars.
---
Pearls and Flowers Summer Wedding Cake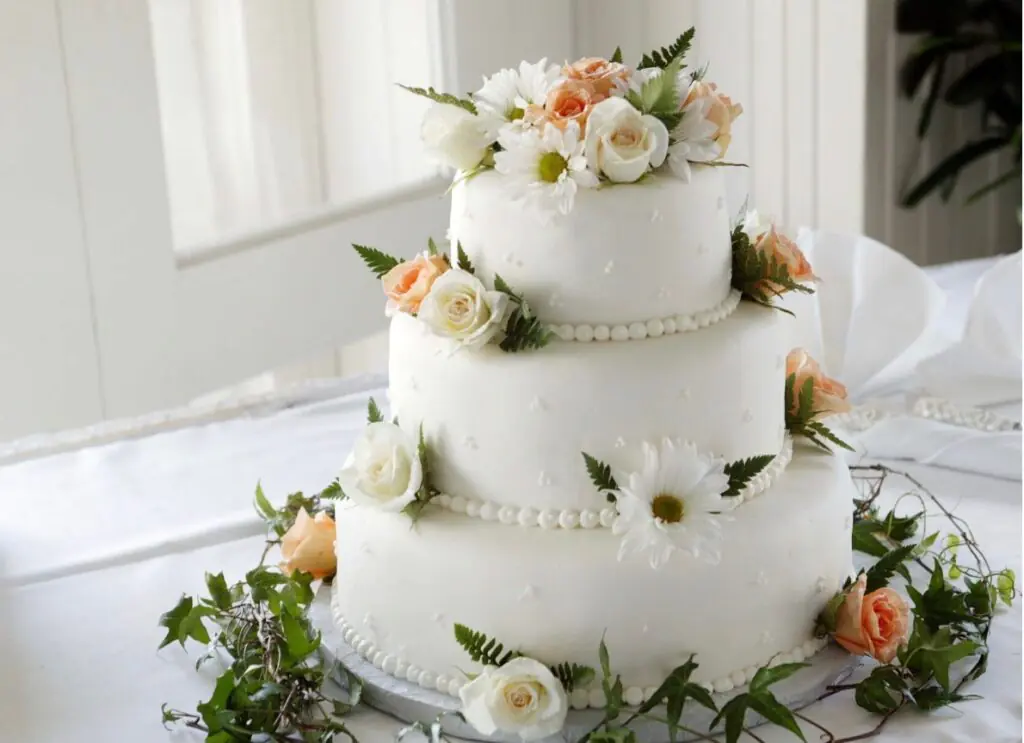 Pearl icing beads on each layer combine with bi-color roses and daisies to create the perfect cake for a summer wedding.
---
Purple Passion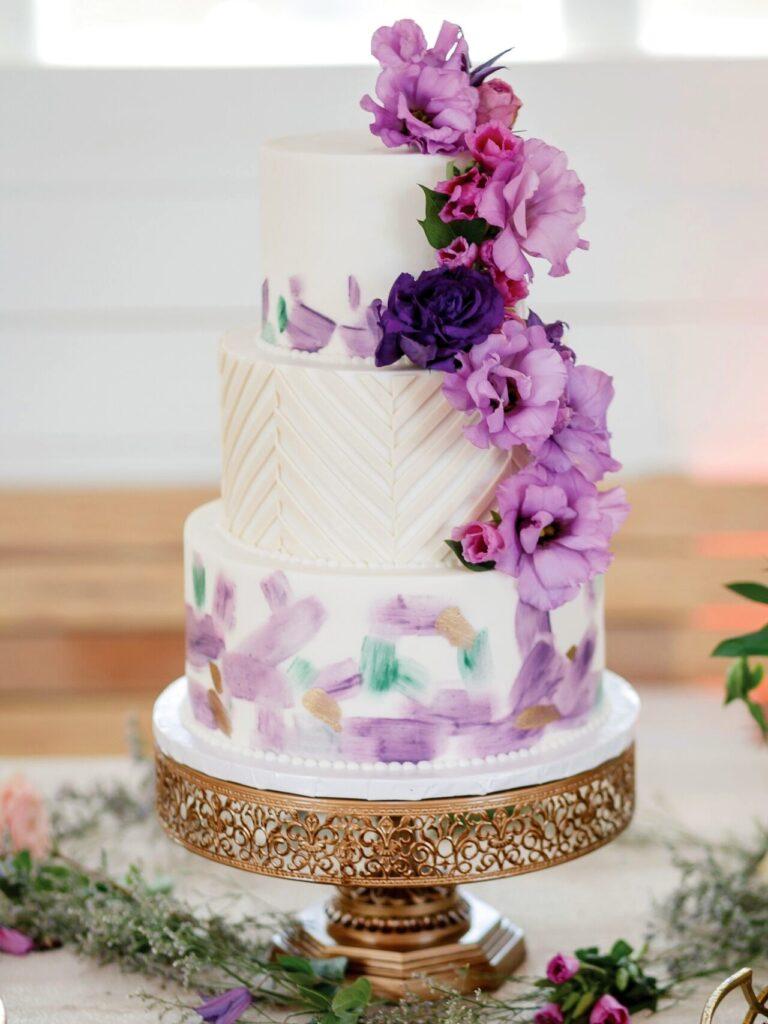 Purple flowers, hand-painted purple abstract details, and a chevron tone-on-tone pattern make this cake perfection in purple.
---
Purple Ombre Wedding Cake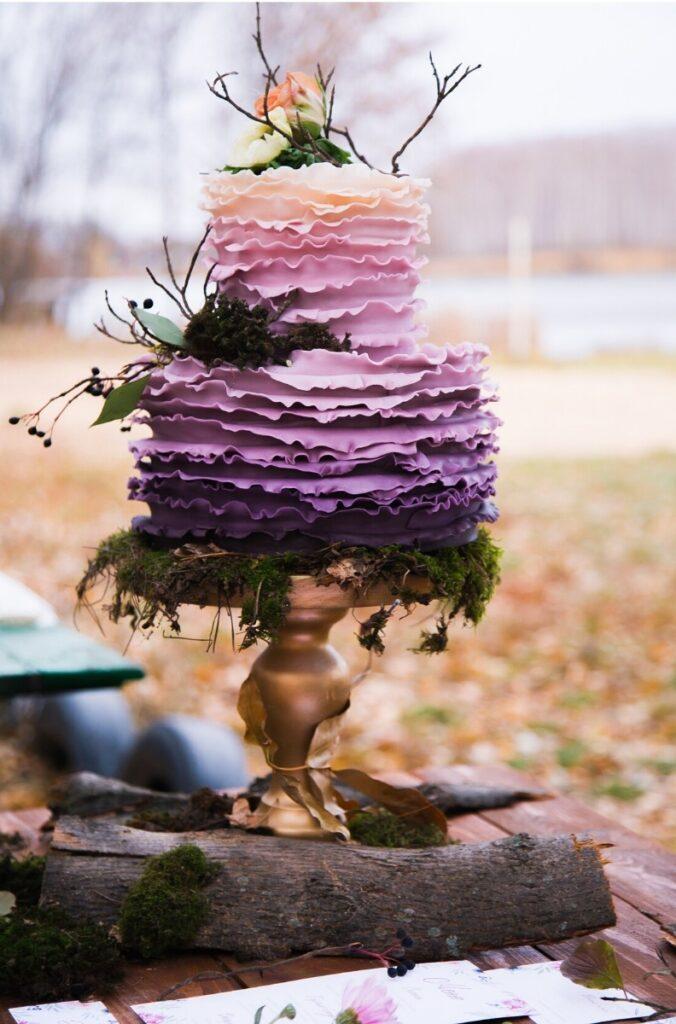 Ribbons on ombre icing go from dark purple to light cream in spectacular fashion.
---
Cascading Fruit, Marshmallow, and Dripping Caramel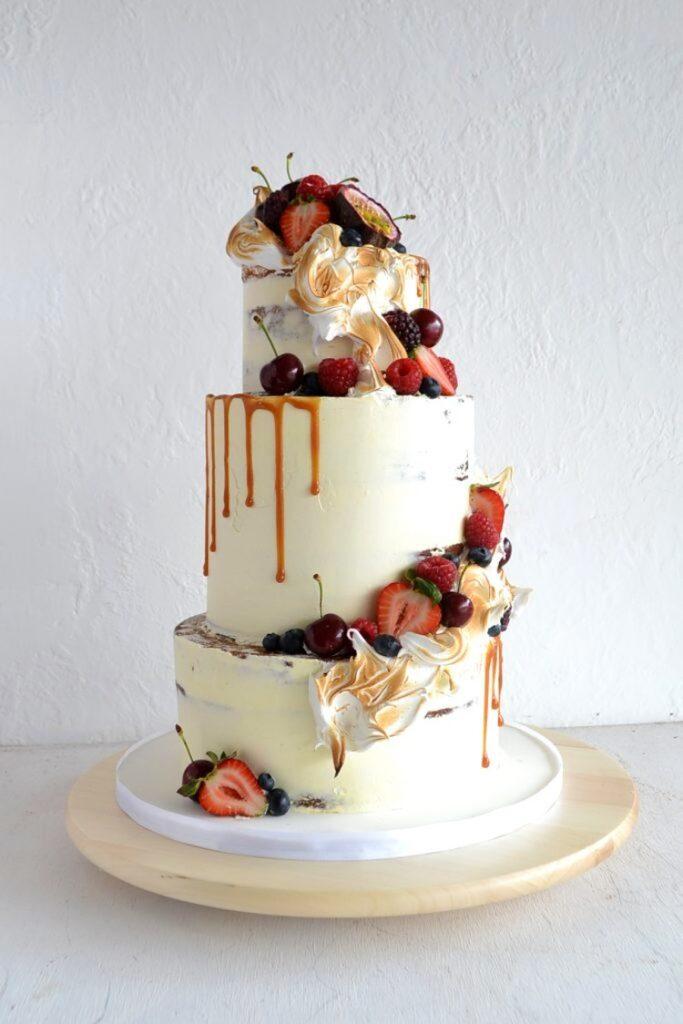 For me, it's the accents of torched marshmallow that make this unique creation by Miss Ladybird Cakes really stand out!
---
Snowball Wedding Cake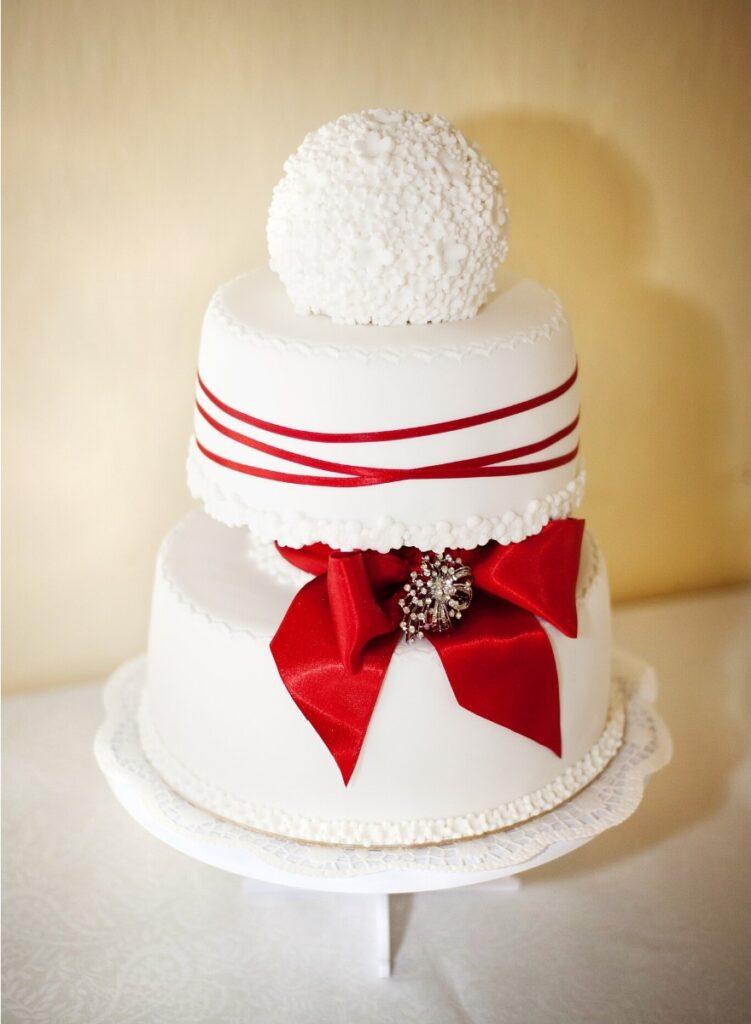 Perfect for a winter wedding, this cake features a sugary snowball on top!
---
Bird's Nest Wedding Cake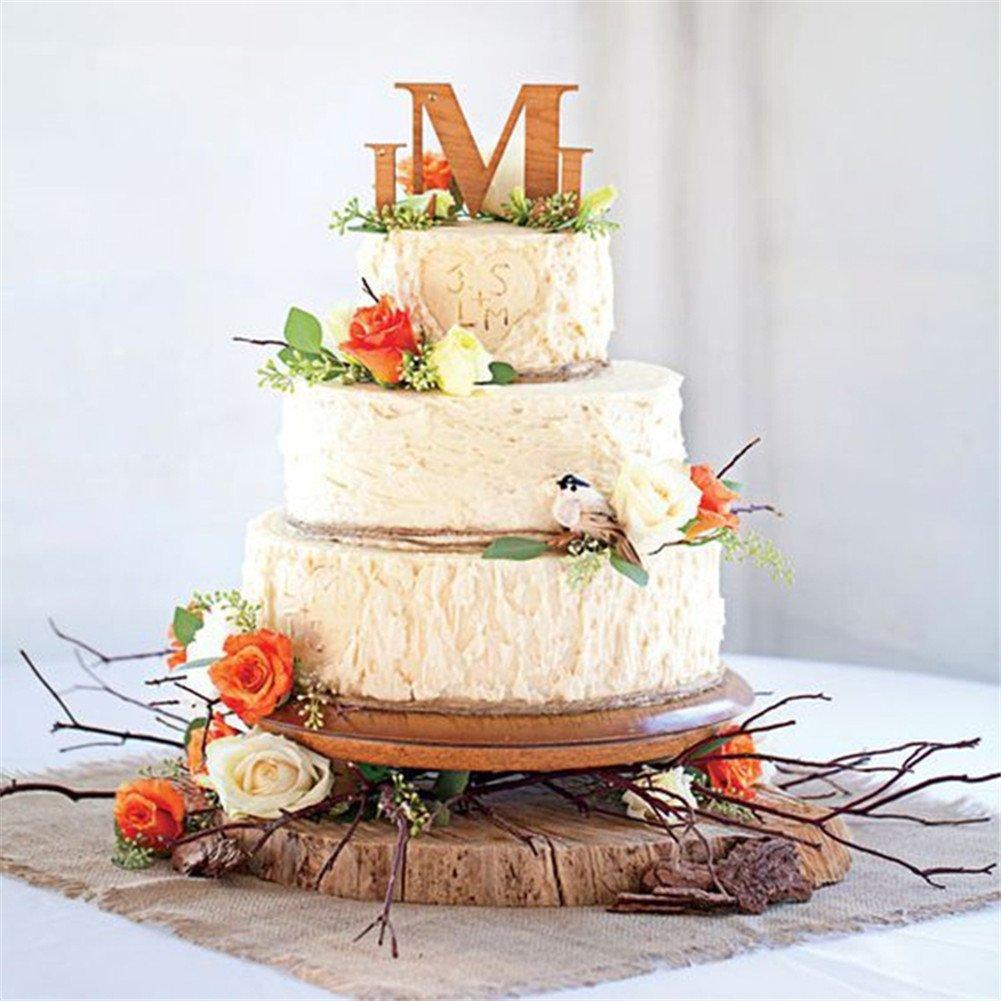 Textured buttercream icing covers all three layers of this rustic cake. It is then festooned with twigs, flowers, a love bird, and a carved heart with the bride's and groom's initials. Delightfully rustic and beautiful.
Crafted using tree bark texture silicone fondant molds.
---
Spring Bounty Wedding Cake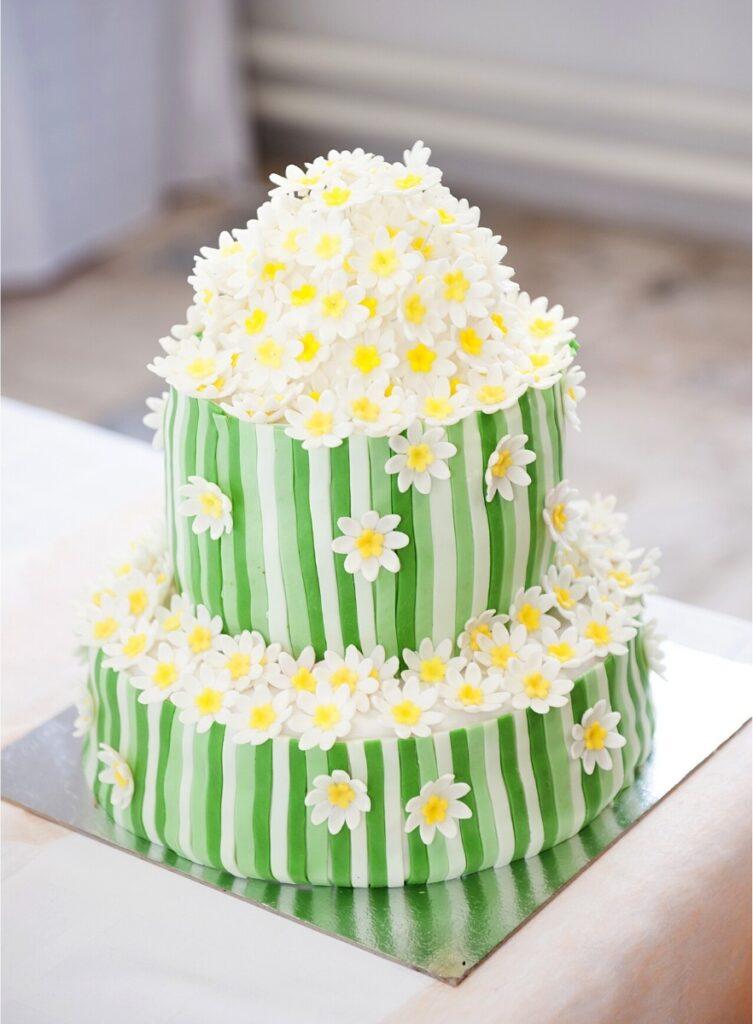 Stripes of green and white fondant icing are covered with a spray of sugar daisies for a fresh and floral look.
---
Tiered Boxes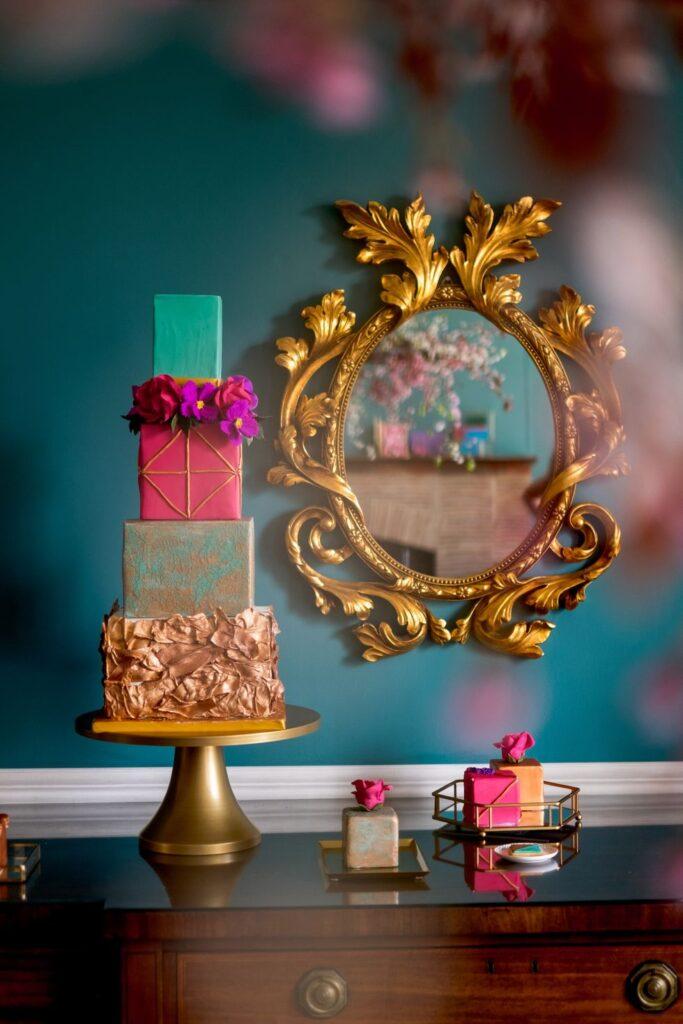 Richly-colored "wrapped" boxes are stacked on top of each to create this wonderfully unique cake by MonAnnie Cakes.
---
World Map Travelers Wedding Cake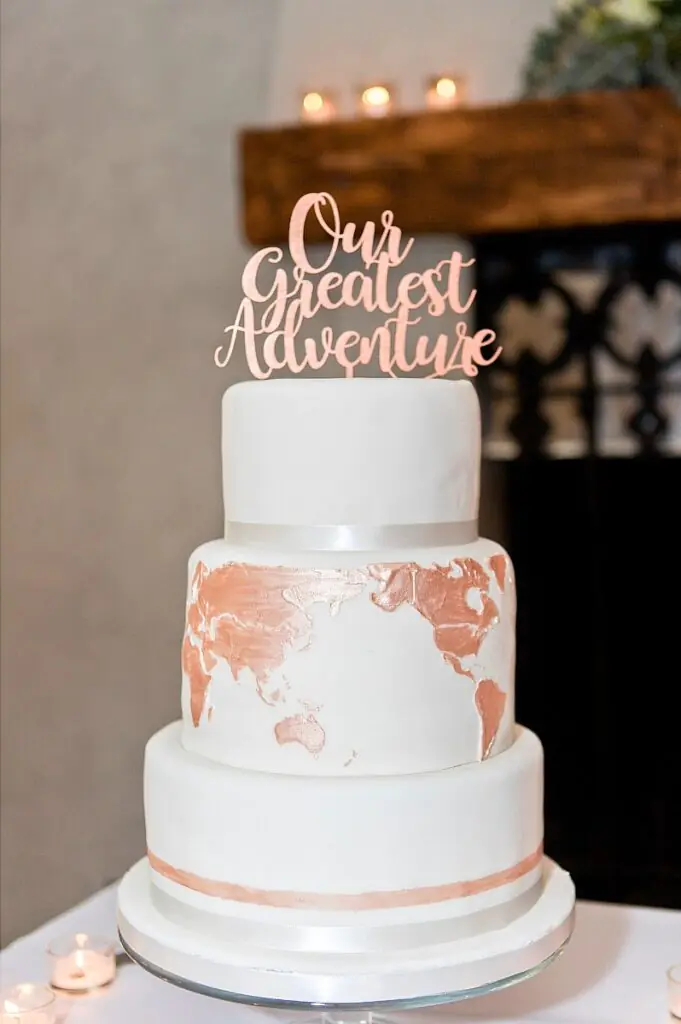 For those who love to travel, this classic white cake features a hand-applied world map in gold on the middle layer.
---
Gold Leaf and Flowers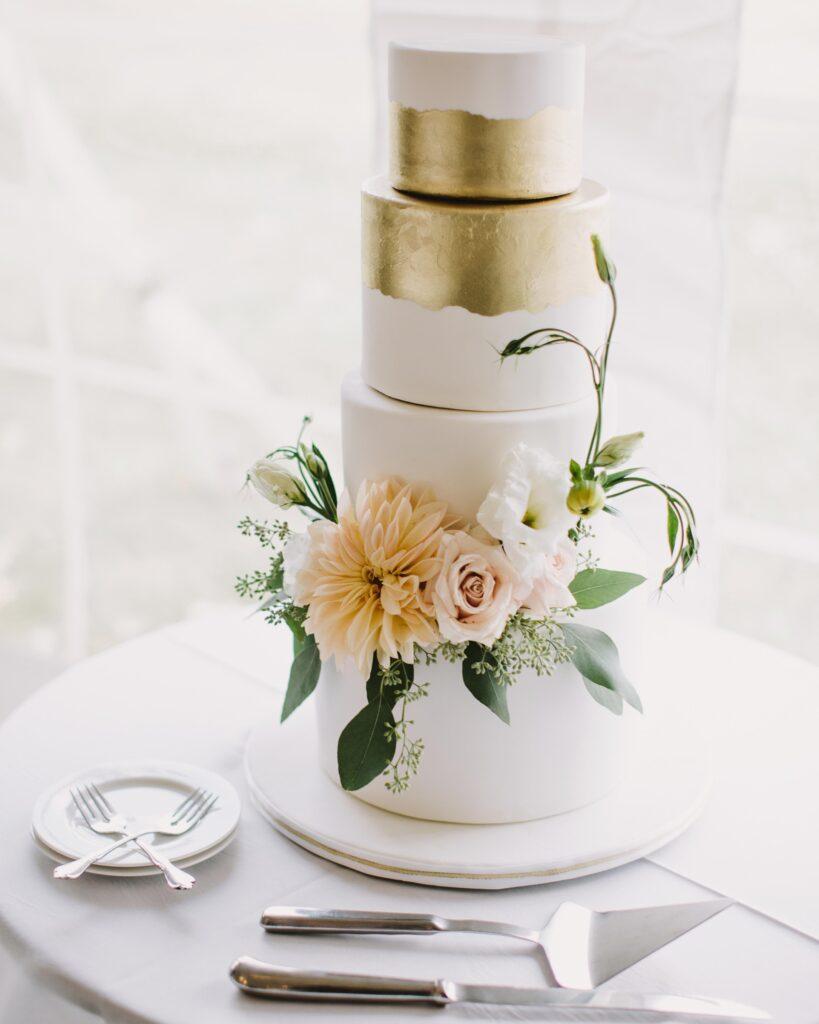 I love the way the gold is applied on the two layers to create a unique visual impact. Created by Sweet Heather Anne bakery in Ann Arbor, Michigan.
---
Summer Garden Naked Wedding Cake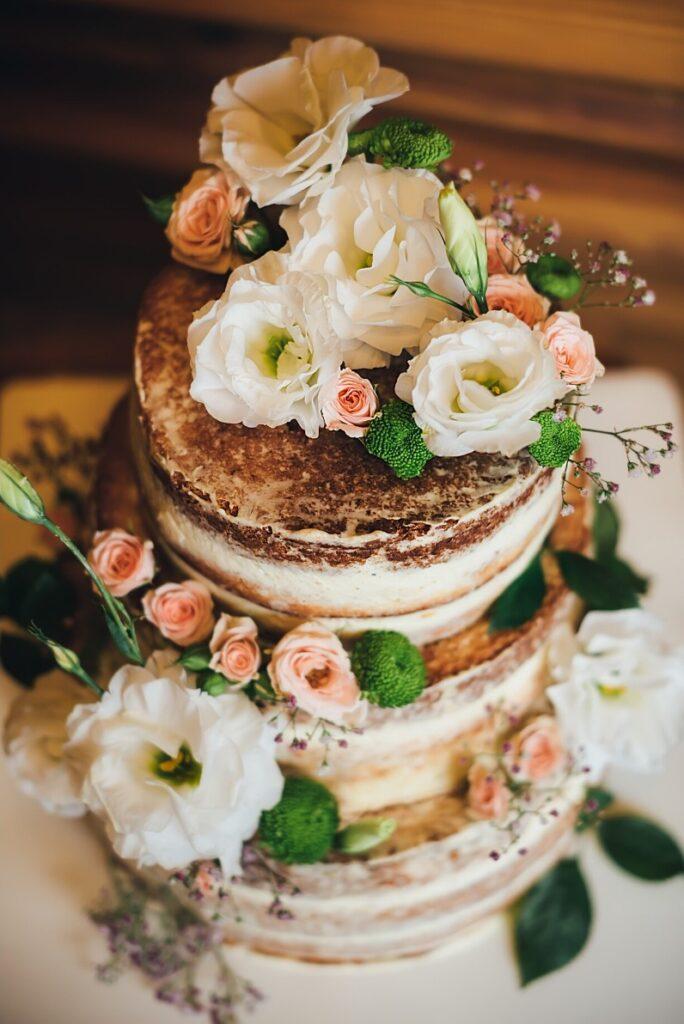 Big, bold, beautiful flowers adorn this rustic naked cake.
---
Birch Bark Rustic Wedding Cake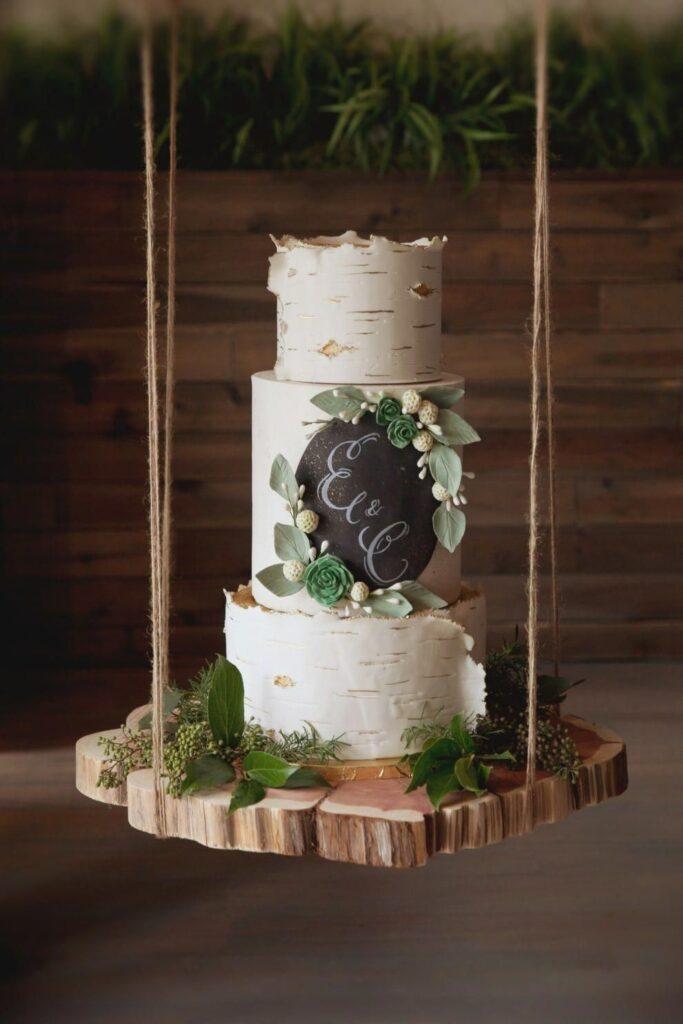 Inspired by the classic and beautiful birch tree, this three-tier rustic cake is wrapped with edible paper to resemble birch bark and finished off with a chalkboard monogram for a perfectly rustic look. I also love the wood swing it is sitting on for its unique cake presentation.
---
Square Marble Tiered Wedding Cake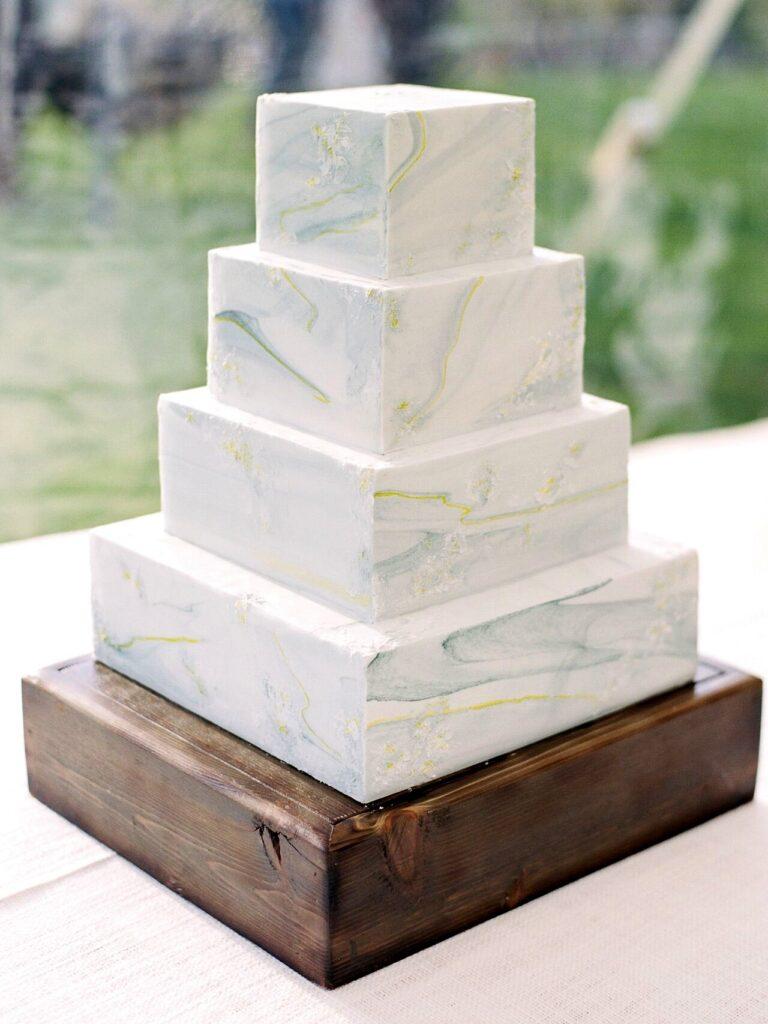 A minimalist design with 4 square tiers iced with the luxurious look of marble.
---
Fall Floral Explosion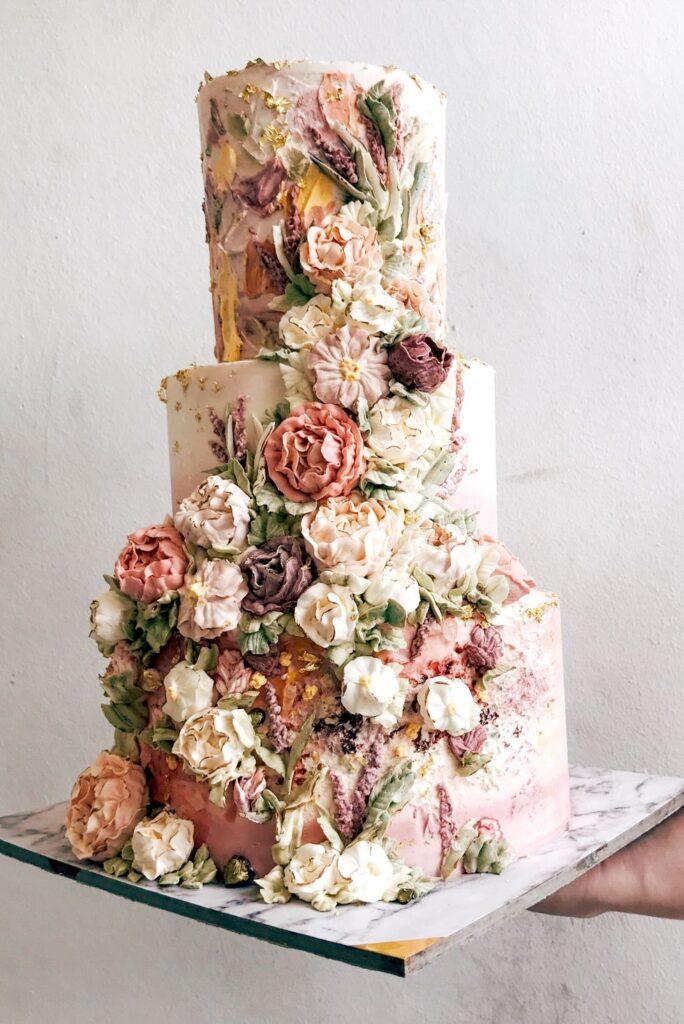 Cupplets Bakery brings yet another stunning wedding cake creation to life with this gorgeous semi-naked cake decked out with edible fall flowers.
---
Spring Bouquet Wedding Cake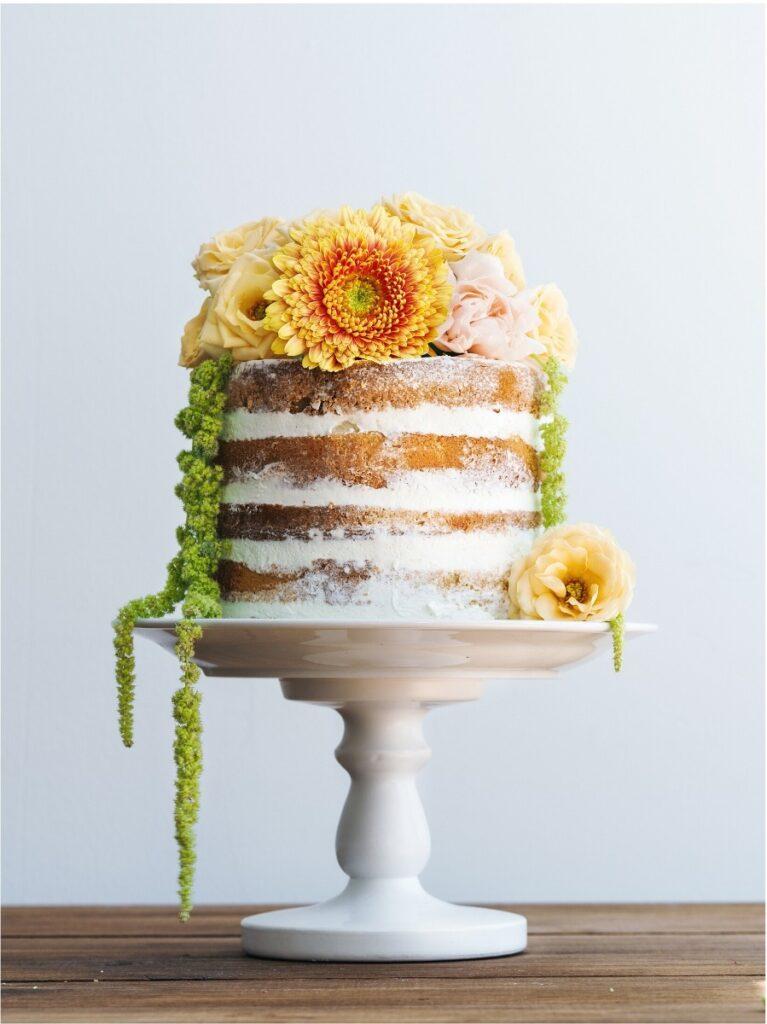 A gorgeous bouquet of spring flowers sits atop a clean and simple nearly naked vanilla wedding cake. Instead of tiers, this cake focuses on the gorgeous layers of buttercream icing between layers of vanilla bean cake.
---
Square Purple Ombre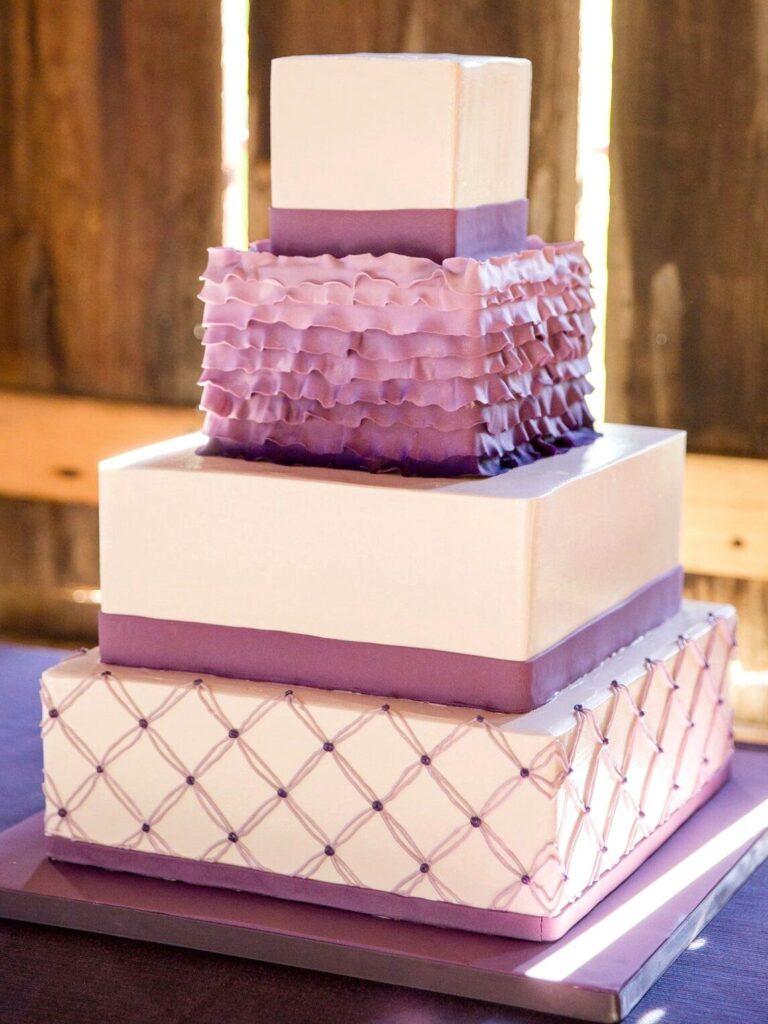 The ruffled purple ombre layer sets the tone for this elegant cake, and and contrasts nicely against the purple and white layers above and below.
---
Copper Glory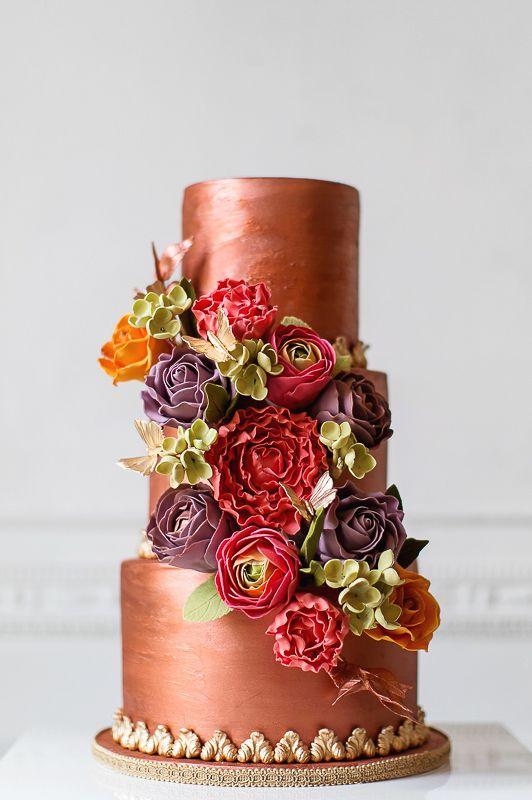 This absolutely stunning copper creation is brought to you by the talented team at Elizabeth's Cake Emporium.
---
Plum Falling For It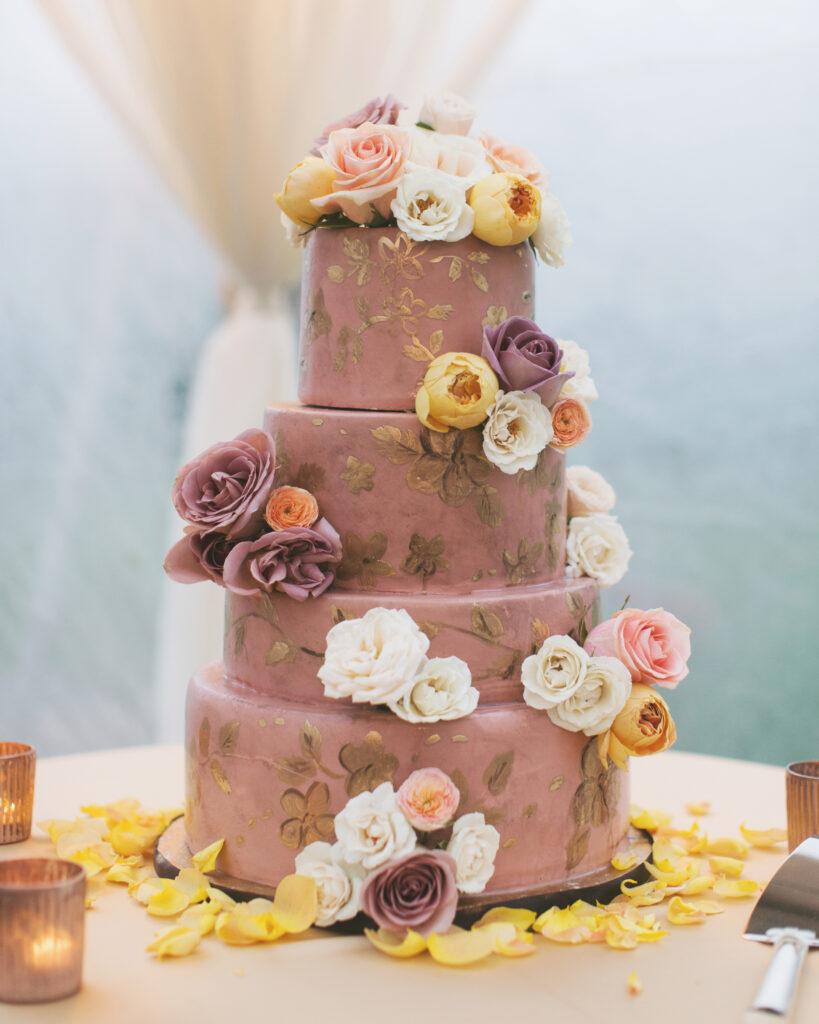 The perfect wedding cake for fall, this pumpkin cake from One Sweet Slice features a beautiful plum fondant icing that has been hand-painted with gorgeous botanicals.
---
Geode Crystal Wedding Cake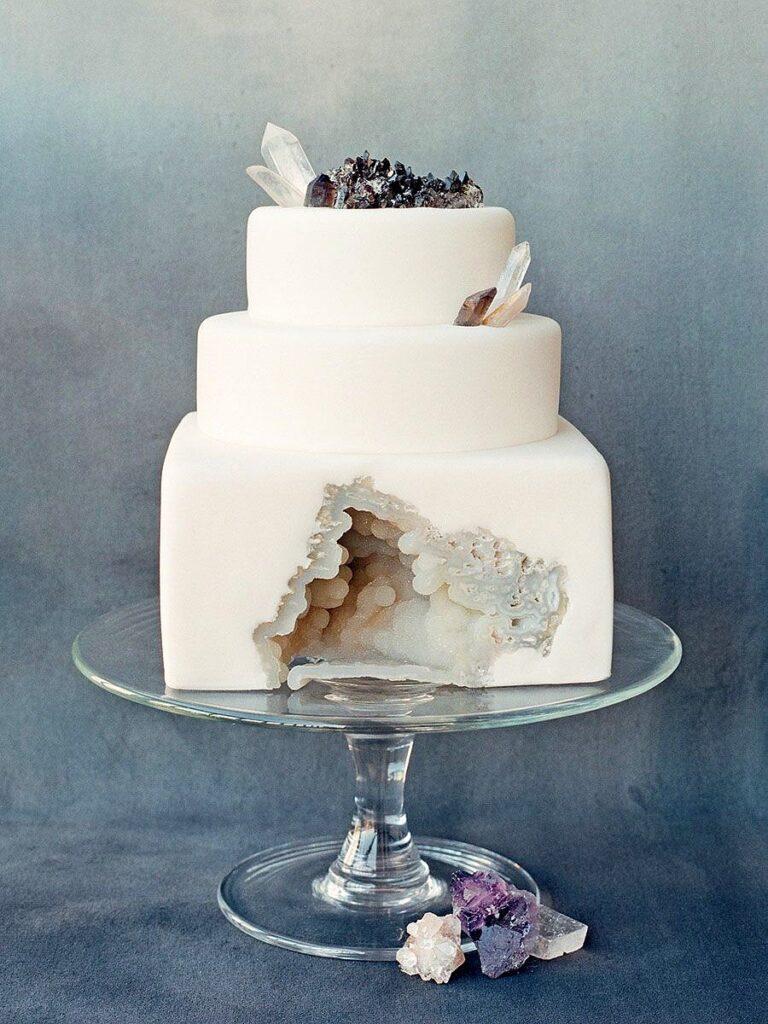 For those who love the natural beauty of crystals, this geode-style cake is the perfect choice.
---
Split Open Floral Wedding Cake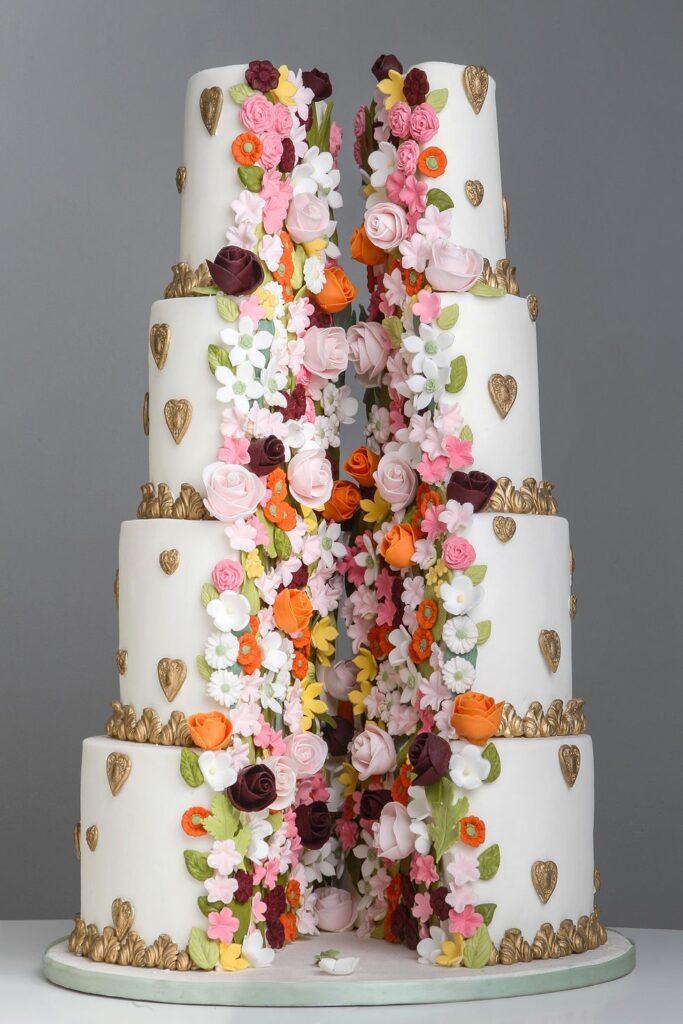 Golden hearts on the outside, and the inside filled with soooo many flowers that the cake literally burst open! Yet another amazing work of wedding cake art by Elizabeth's Cake Emporium.
---
Blue and Gold Floral Elegance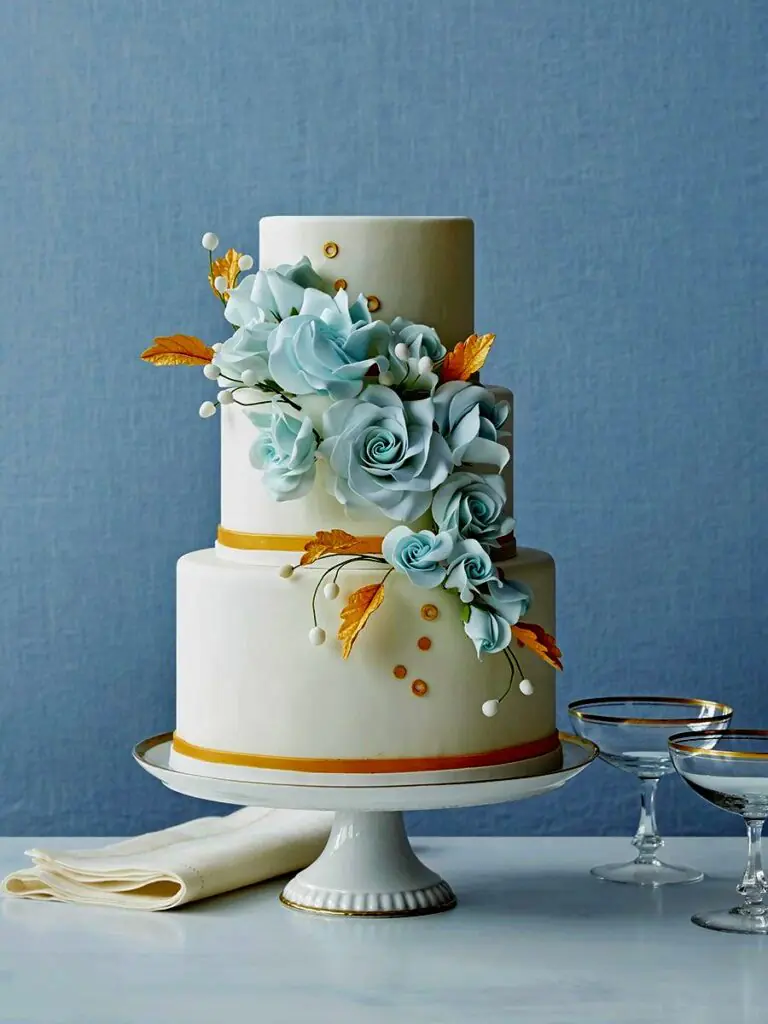 A classic three-tier white wedding cake is the perfect canvas for gorgeous, pale blue roses, Grecian gold leave, and little gold rings.
---
Rustic Twigs Wedding Cake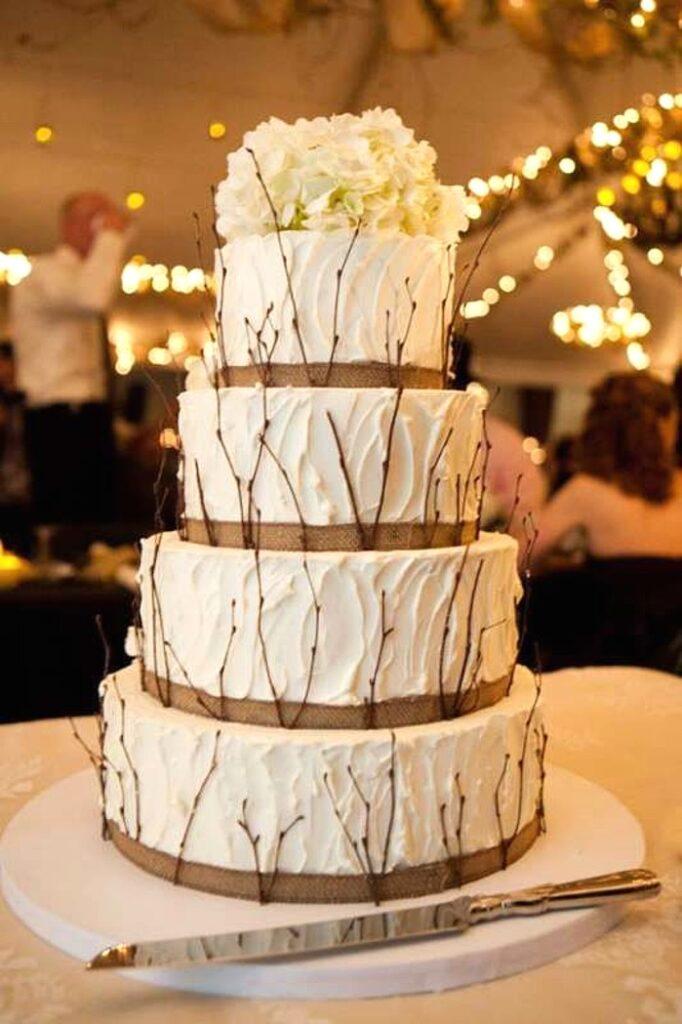 Rustic twigs surround this textured 4-tier cake, giving it a very natural vibe.
---
Illustrated Wedding Cake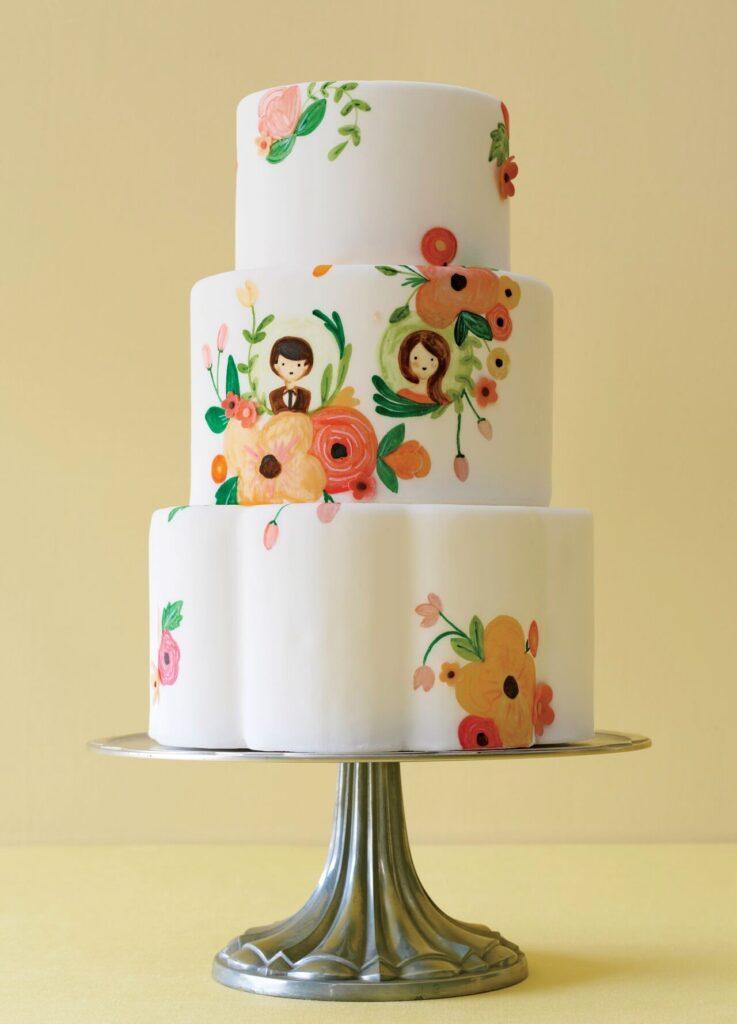 Hand-painted wedding cakes provide a lot of freedom to create a design that is perfectly unique and perfectly you.
---
Rich Black Wedding Cake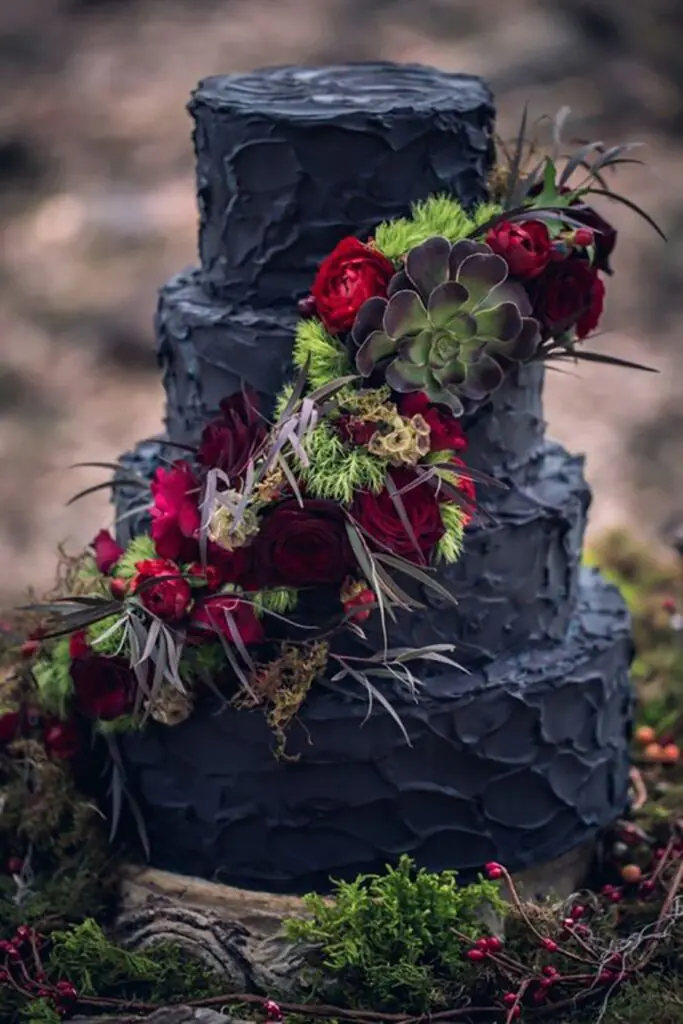 Black textured icing creates a dramatic backdrop for richly-colored fall foliage in this stunning cake by Artistic Bites.
---
Flowers and Pinecones Rustic Wedding Cake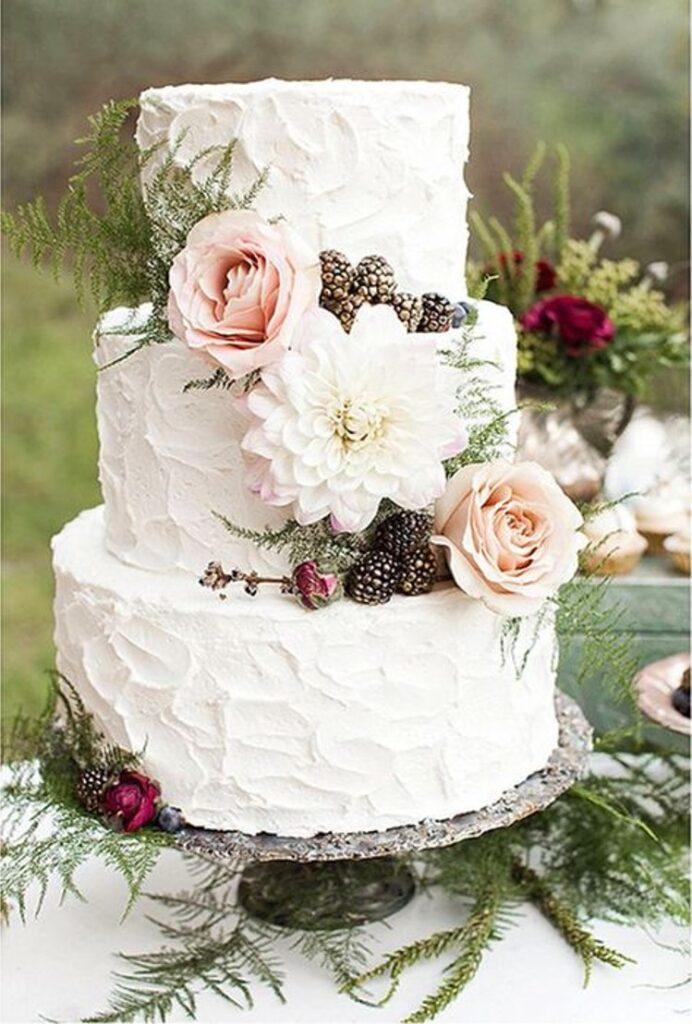 A three-tiered, textured white wedding cake features lush blooms, and rustic pinecones. Expertly crafted by Elise Cakes.
---
Tea Cup Wedding Cake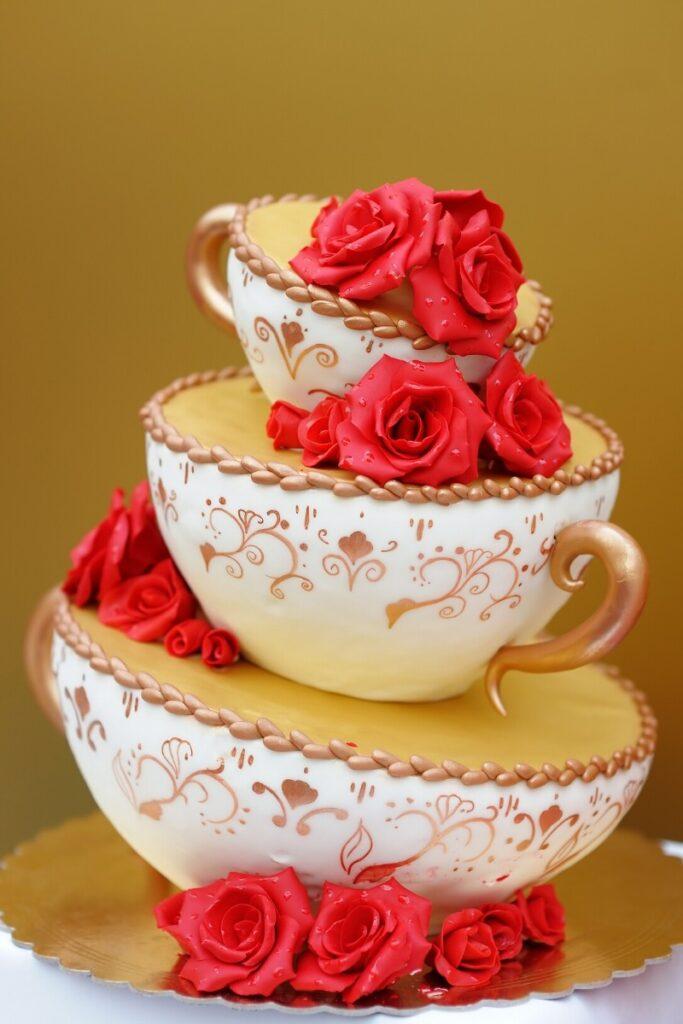 I have no idea how they made this, absolutely none! But I am SUPER impressed!
---
Crystal Chandelier Cake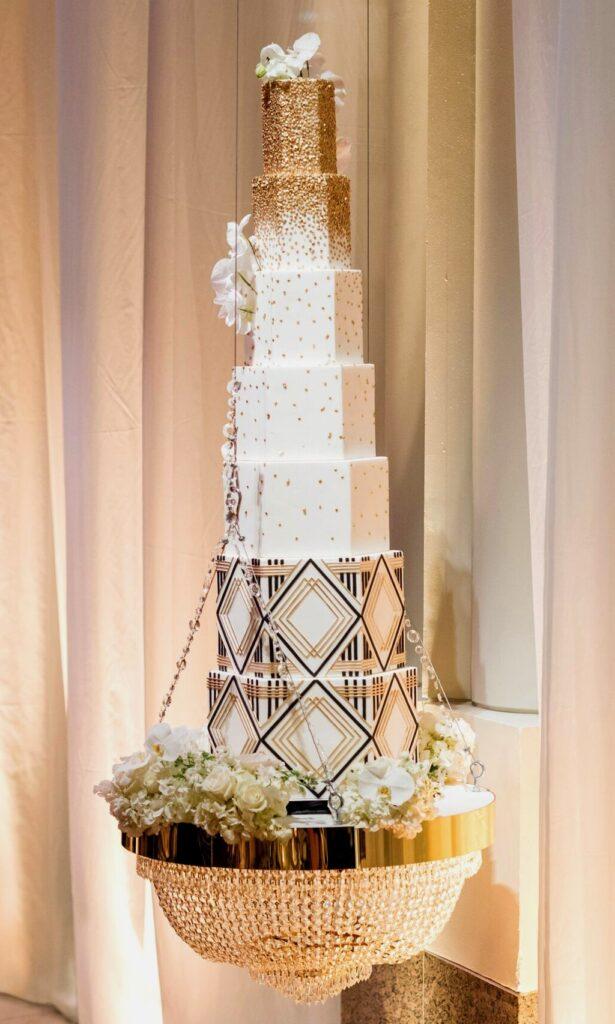 Resting on a base of a classic crystal chandelier, this 7-tier cake takes elegance to new heights.
---
Purple Penguins Wedding Cake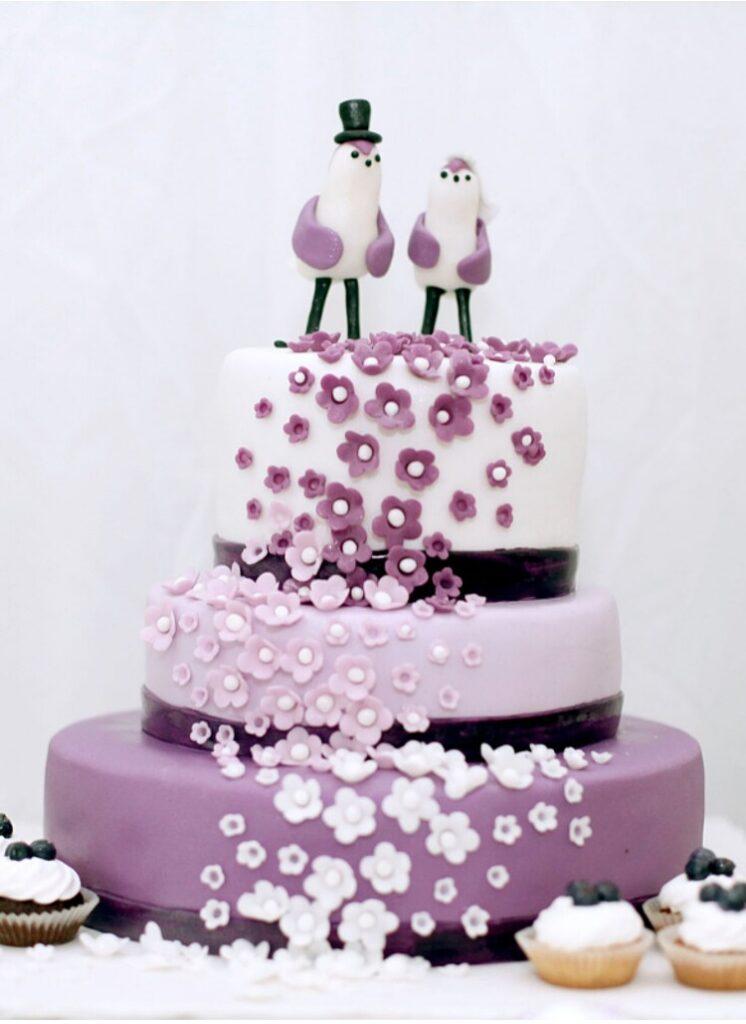 Just in case you need some wedding cake ideas that include penguins, we've got ya covered!
---
Woodland Vines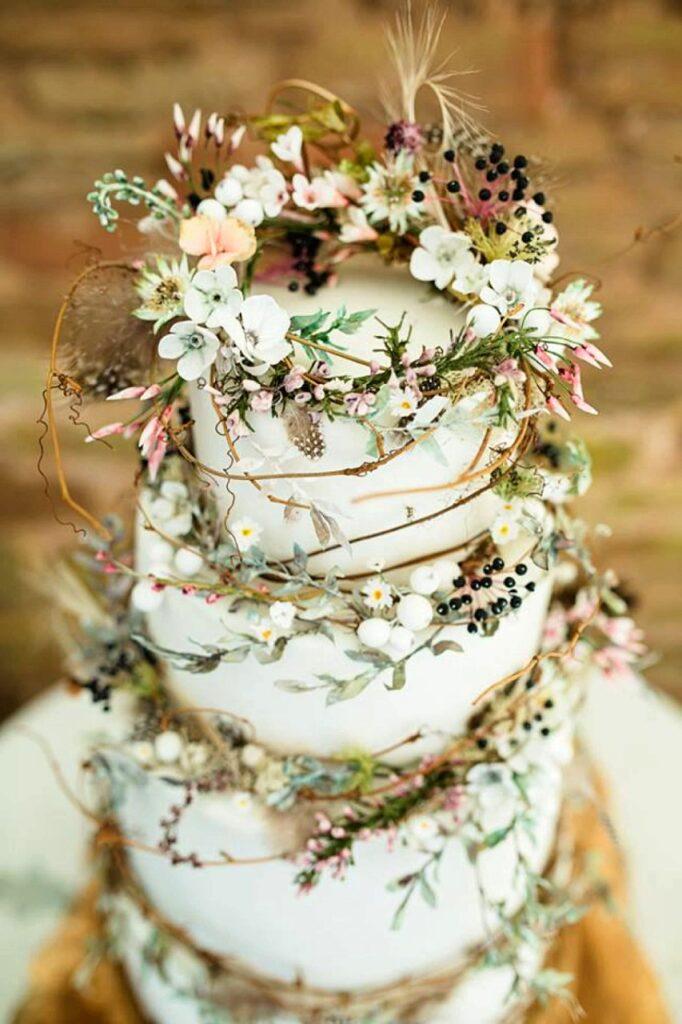 Amy Swann Cakes created this gorgeously rustic three-tiered cake that is absolutely crawling with woodland vines and flowers.
---
Lavender and Cream Wedding Cake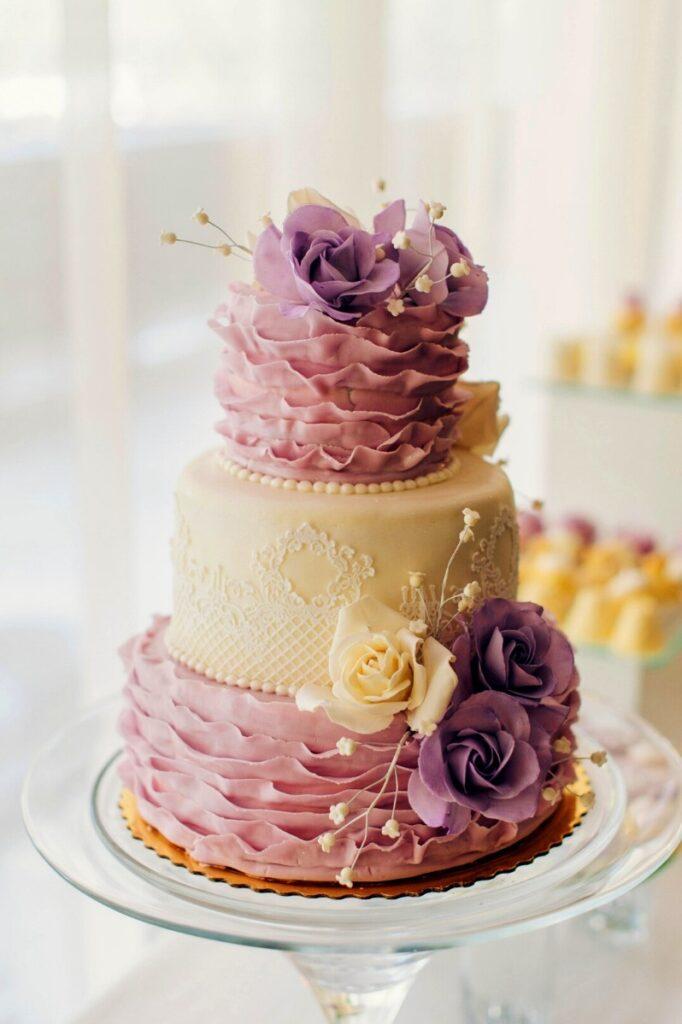 Two layers of lavender buttercream ribbons surround a delicately decorated cream-colored layer for a wonderful effect.
---
Butterfly Flower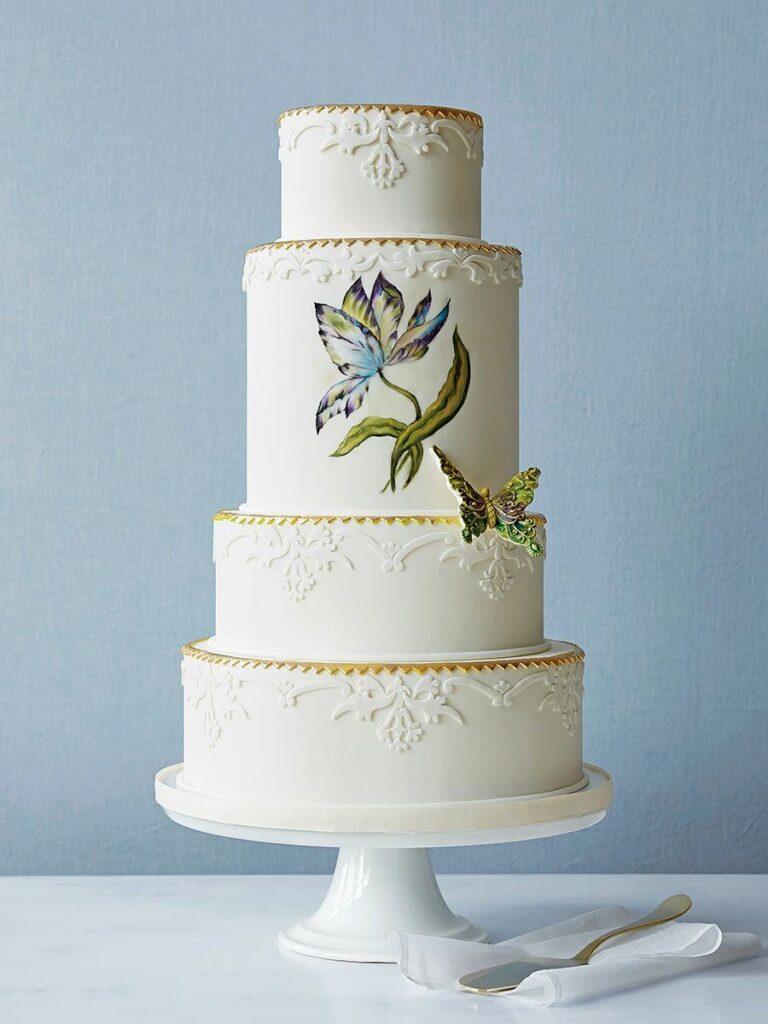 Classic white and gold elegance is accented by icing scroll-work, a hand-painted flower, and a lovely buttery. Simply beautiful.
---
Still Hungry for More Wedding Cake Ideas?
I always find that as soon as I think I'm done, I stumble across at least a dozen or so new ideas that make me go "WOW!"
So, I've decided to create a little gallery to collect all of the new and amazing wedding cake ideas I stumble across. That way, I can keep updating this collection with new and amazing sources of wedding cake inspiration.
Do you have a beautiful wedding cake that you think deserves a spot in this gallery? Let us know and you might see it featured here!
A Wedding Cake FAQ
What is the most popular wedding cake flavor?
Vanilla (or vanilla buttercream) has been – and continues to be – the most popular wedding cake flavor. Although it used to make up nearly half of all of the wedding cakes being made, it has dipped to closer to one quarter, with chocolate and red velvet gaining popularity at weddings in recent years.
How many tiers should a wedding cake have?
From an aesthetic standpoint, that is completely up to you. A classic wedding cake has at least 3 tiers, but you can go shorter or taller if you desire. From a serving standpoint, your average three-tier wedding cake will serve between 60 to 80 guests, so you may need more tiers (or additional cakes / cupcake options) if you are having more guests.
Why does a wedding cake usually have at least 3 tiers?
This is based on a long standing tradition where the bottom tier was served during the wedding ceremony, the middle tier was distributed to guests and other family and friends who couldn't attend after the event, and the top tier was saved to be eaten on the anniversary of the marriage.
What is the most common color for a wedding cake?
White continues to be the most common color for today's wedding cakes, although more and more colors are being used every year.
What is the difference between a Wedding Cake and a Groom's Cake?
Sometimes you will see two cakes at a weddings. The traditionally large, often white, tiered cake – aka the classic wedding cake – is called the bride's cake. A second flavor, if offered, is often referred to as the "groom's cake". It is widely believed that this traditional originated in England because the male guests considered the white-iced bride's cake "too light" for male guests.
How did the concept of a tiered wedding cake originate?
The tiered wedding cake started way back in a medieval tradition, as individual cakes were stacked up as high as possible and the task for the bride and groom were to kiss over the stacked cakes. If they could do so without knocking the cakes over, it was considered a positive sign of a happy marriage to come.
What is a "naked" wedding cake?
Often referred to as "naked" or "semi-naked" (sometimes known as "nearly naked") these cakes have little or no frosting on the outside, creating a unique and rustic look.
Why do the bride and groom cut and feed each other wedding cake?
The cake cutting ceremony – when the bride and groom cut a slice and then feed each other a small bite of cake – symbolizes the commitment they are making to each other to provide for one another for the rest of their lives.