Having a picnic or party to celebrate Independence Day? Here are 44 delightful 4th of July Cupcakes to give you some ideas that we hope will help you WOW your guests.
We've found some of the best, brightest, most interesting 4th of July cupcake ideas and are pleased to present them to you.
Fourth of July Firecracker Cupcakes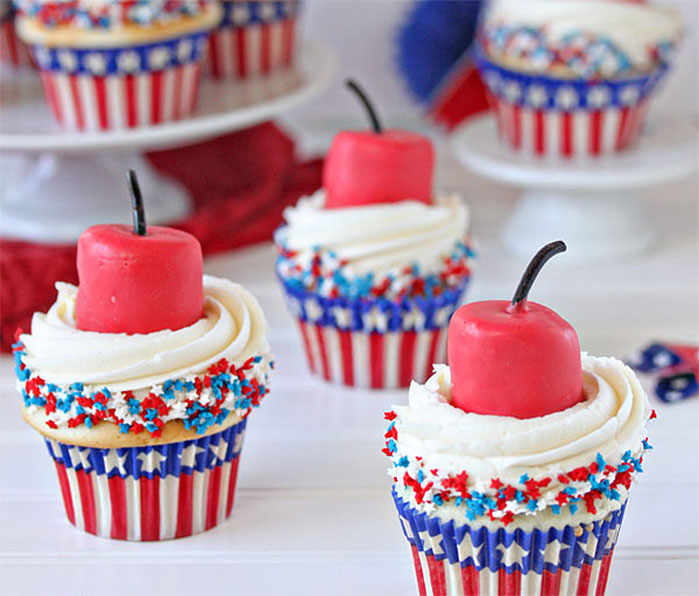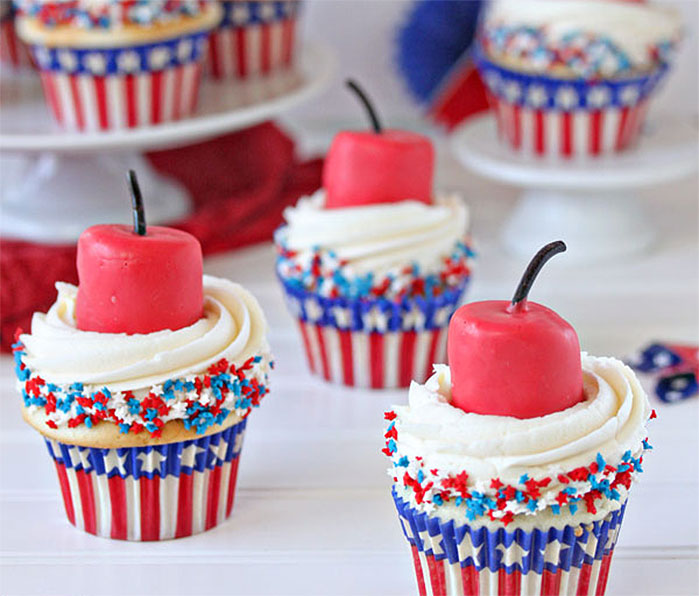 These clever cupcakes look like they've got a live firecracker plopped on top, but they don't. That clever creation is made from marshmallows, red chocolate coating, and black licorice.
---
Fourth of July Bunting & Rosettes Cupcakes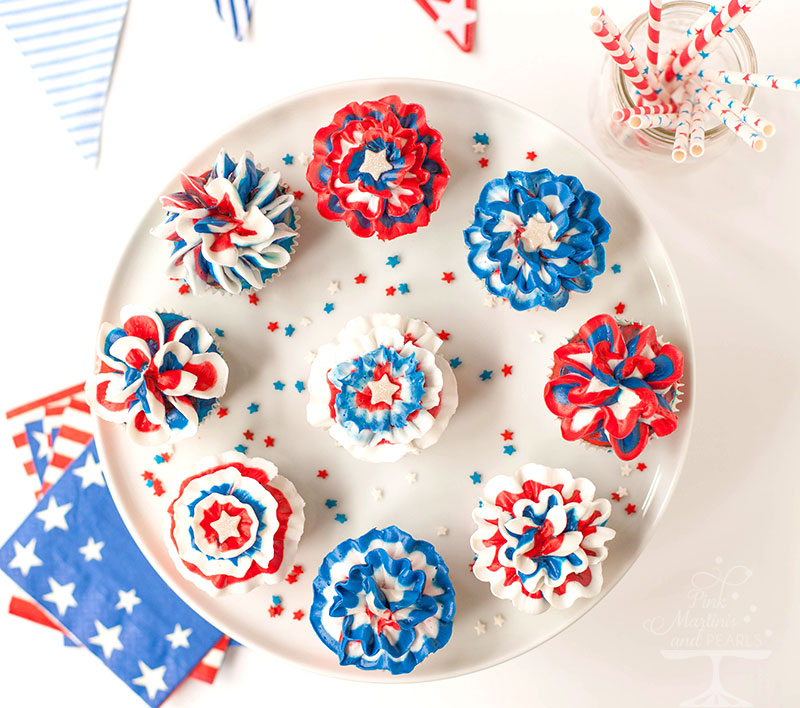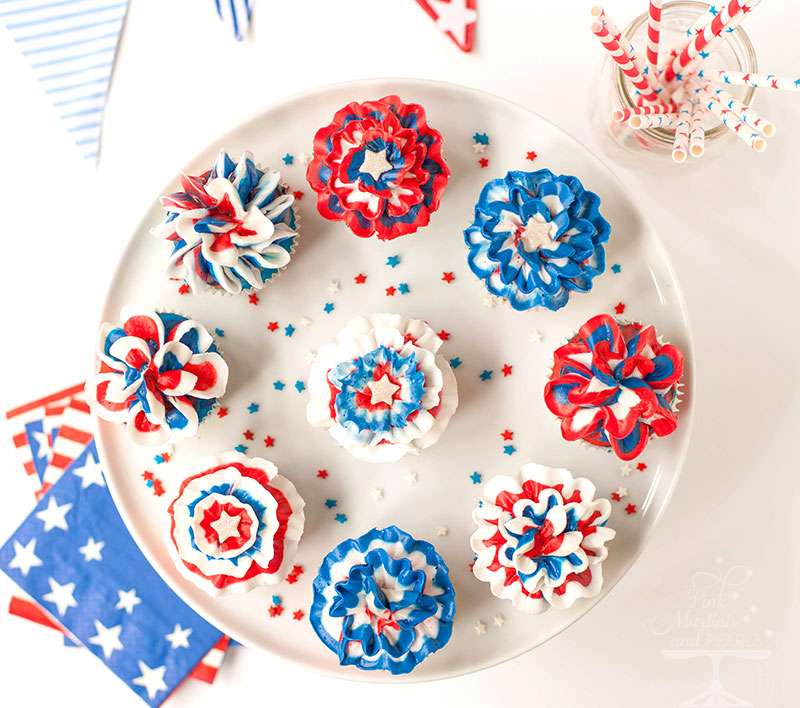 These bunting and rosette inspired Red, White & Blue Cupcakes are quite delightful! To achieve this look, you'll need a 3-Color Coupler piping bag, like this one.
---
Red, White and Blueberry Cupcakes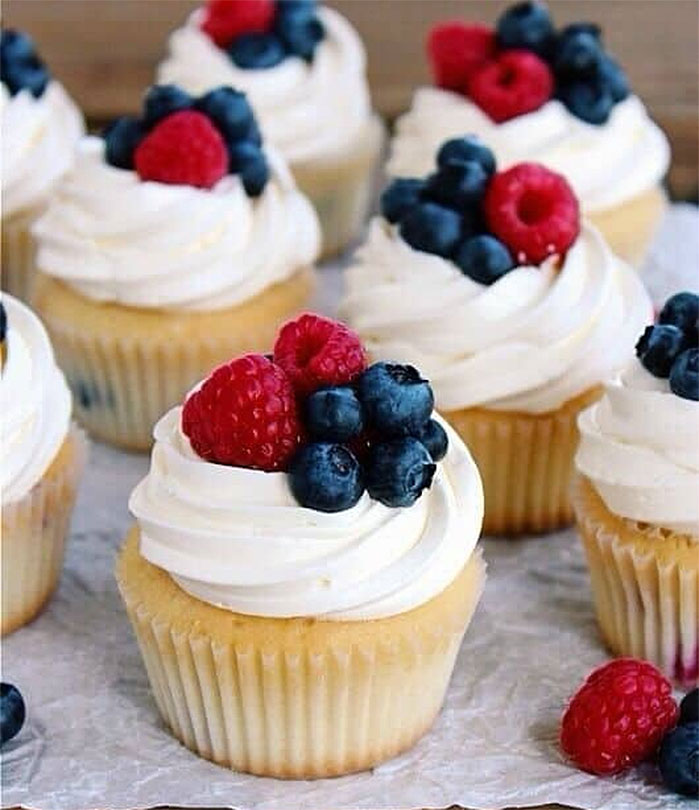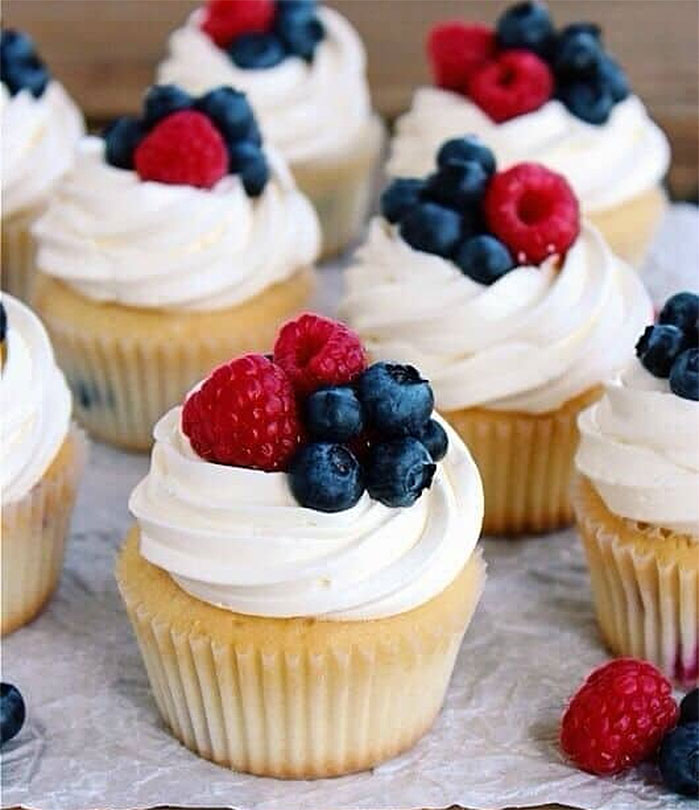 Simple, fresh, and delicious. All you need are some white cupcakes, cream cheese icing, and red & blue fruits including strawberries, raspberries, or blueberries.
---
Star Spangled Cupcakes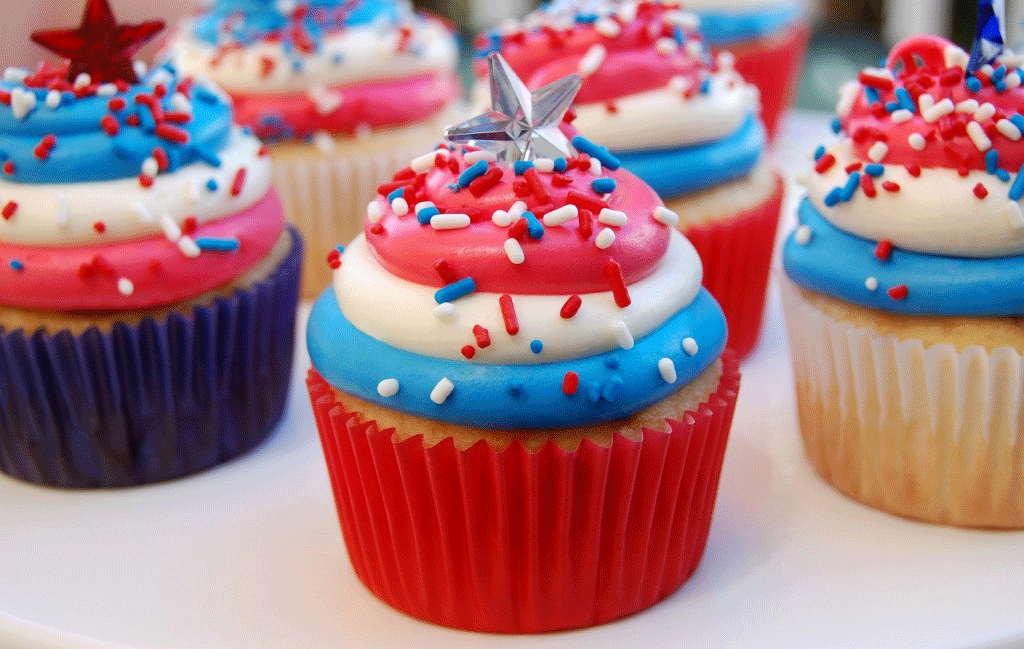 Get the recipe at Cooking Mamas
Vanilla swirl cupcakes with red, white and blue frosting, topped with sprinkles and a star.
---
Patriotic Stars Sugar Cookie Cupcakes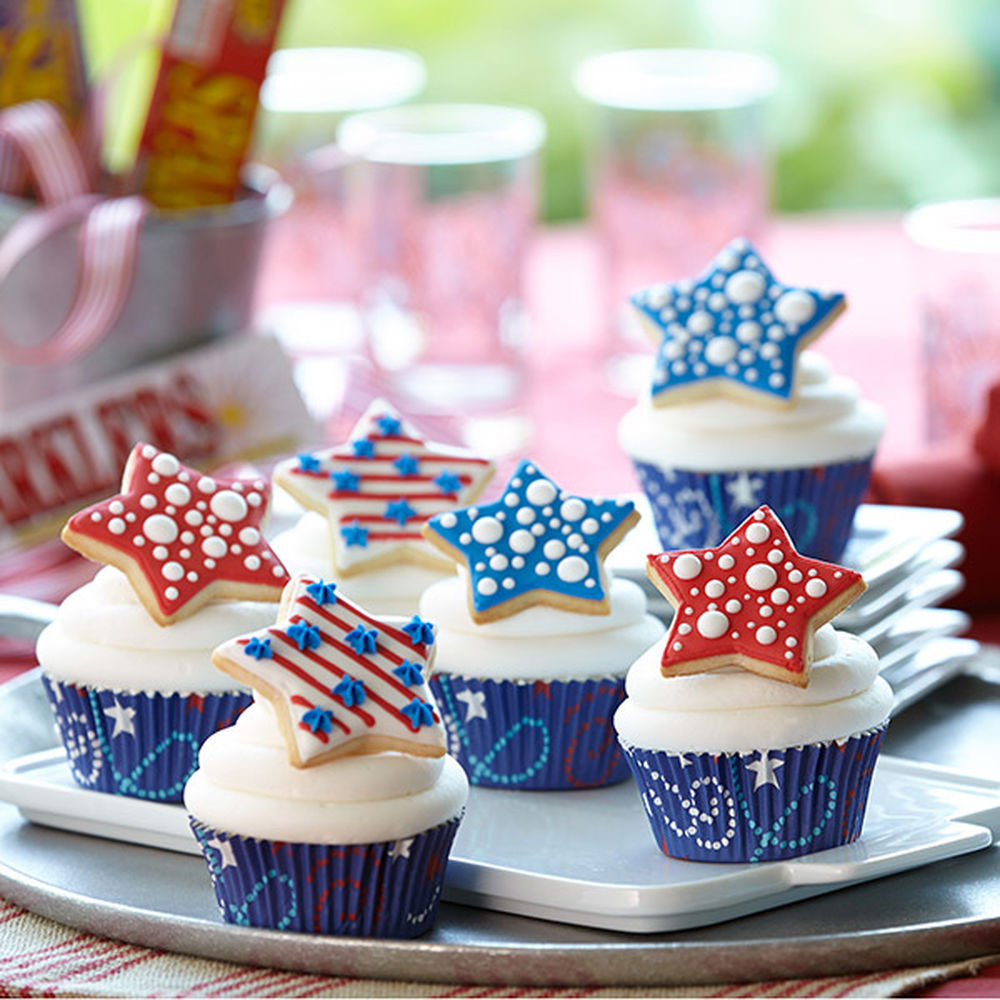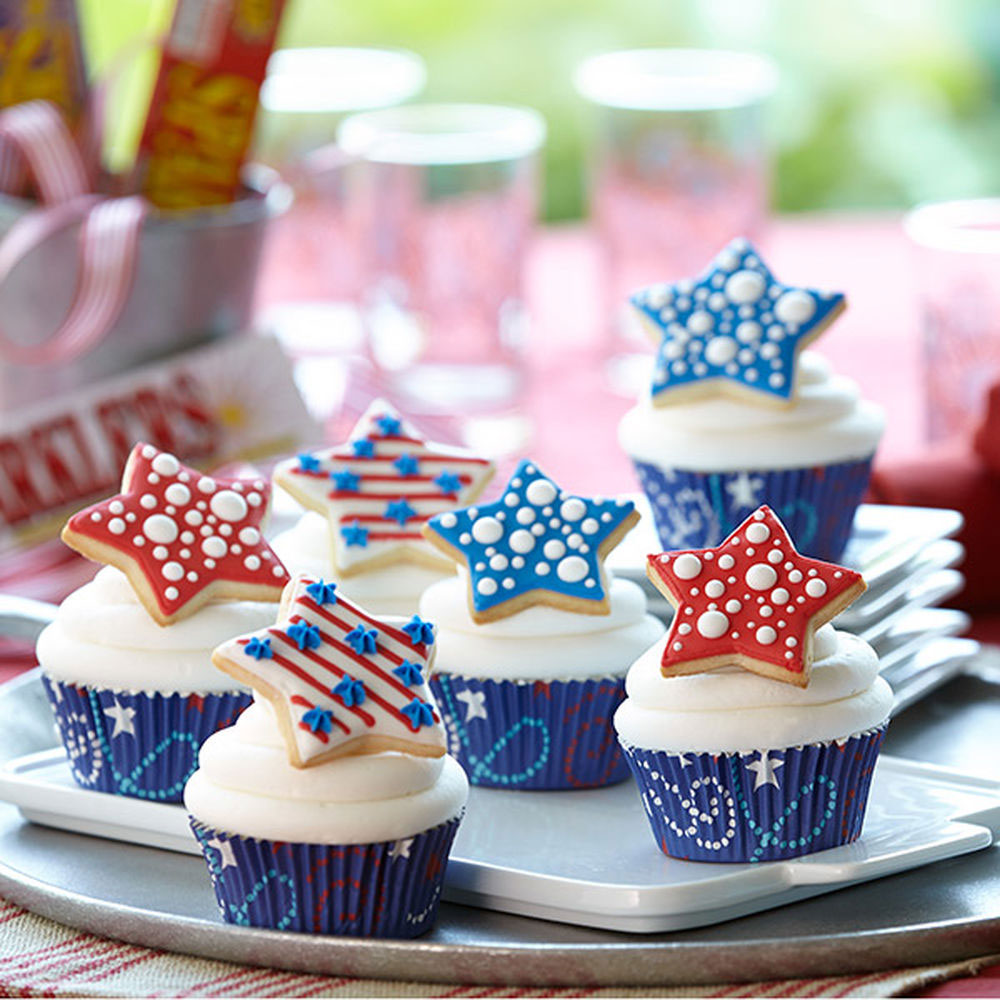 These spectacular Independence Day themed cupcakes are topped with colorful cookie treats, giving you two desserts in one. The cupcakes are baked in Wilton Blue Celebration ColorCups for an additional festive flourish.
---
Red, White and Blue Roses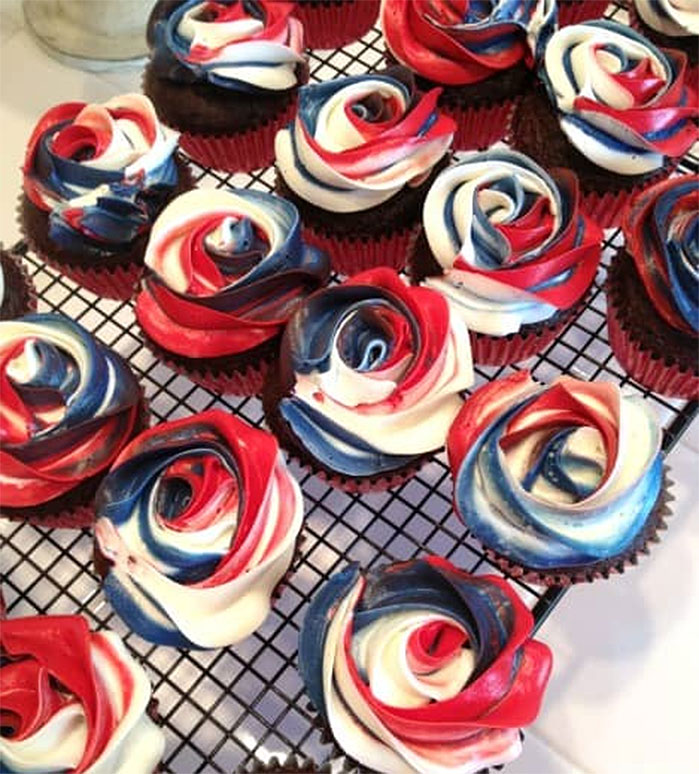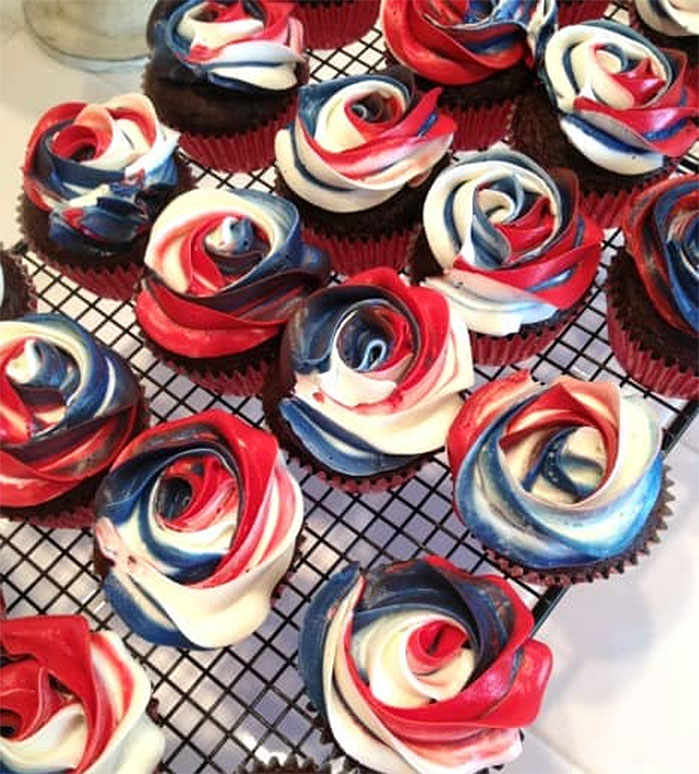 To achieve this look you'll need to fill from the tip to the end of the piping back with red & blue icing on the outsides and then white in the middle.
As a handy trick when trying to mix colors in one piping back without getting them all swirled up, lay the frosting out in lines on a piece of Saran wrap, roll it up into a log and slide it into the piping bag.
---
From Sea to Shining Sea Patriotic Cupcakes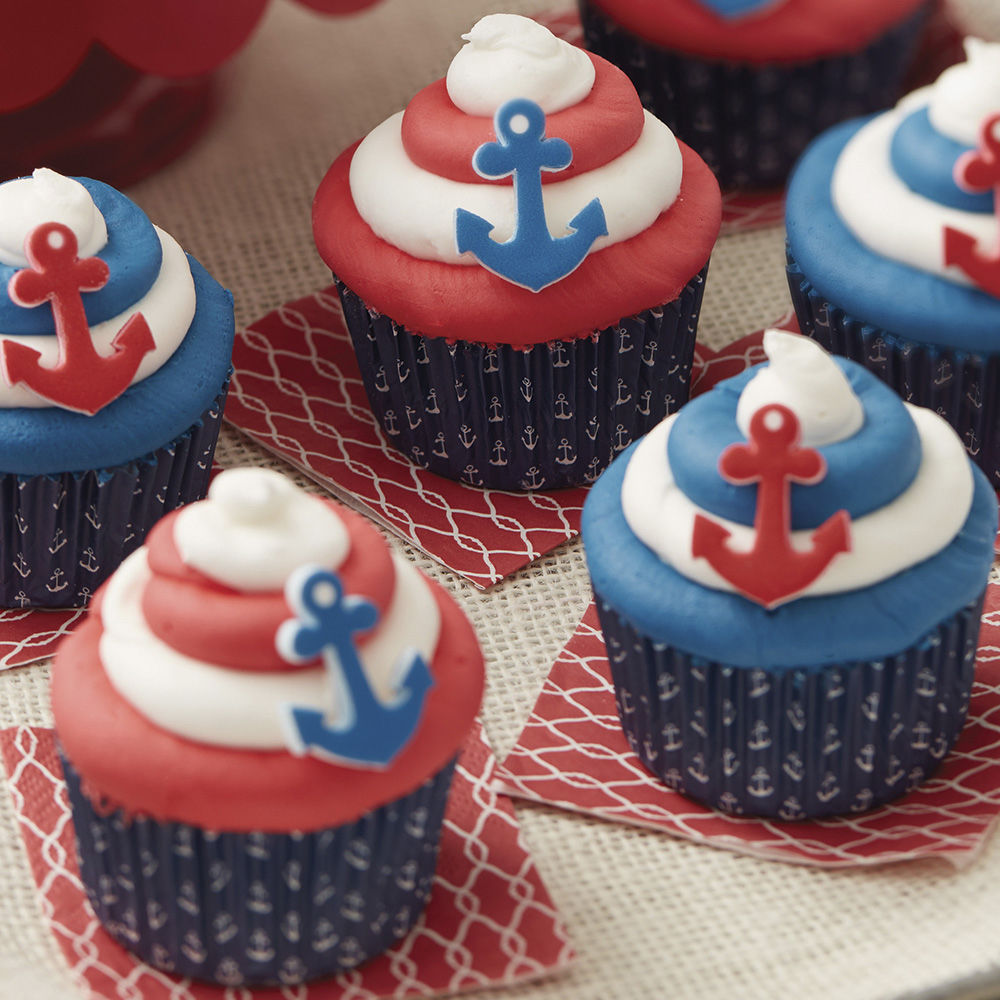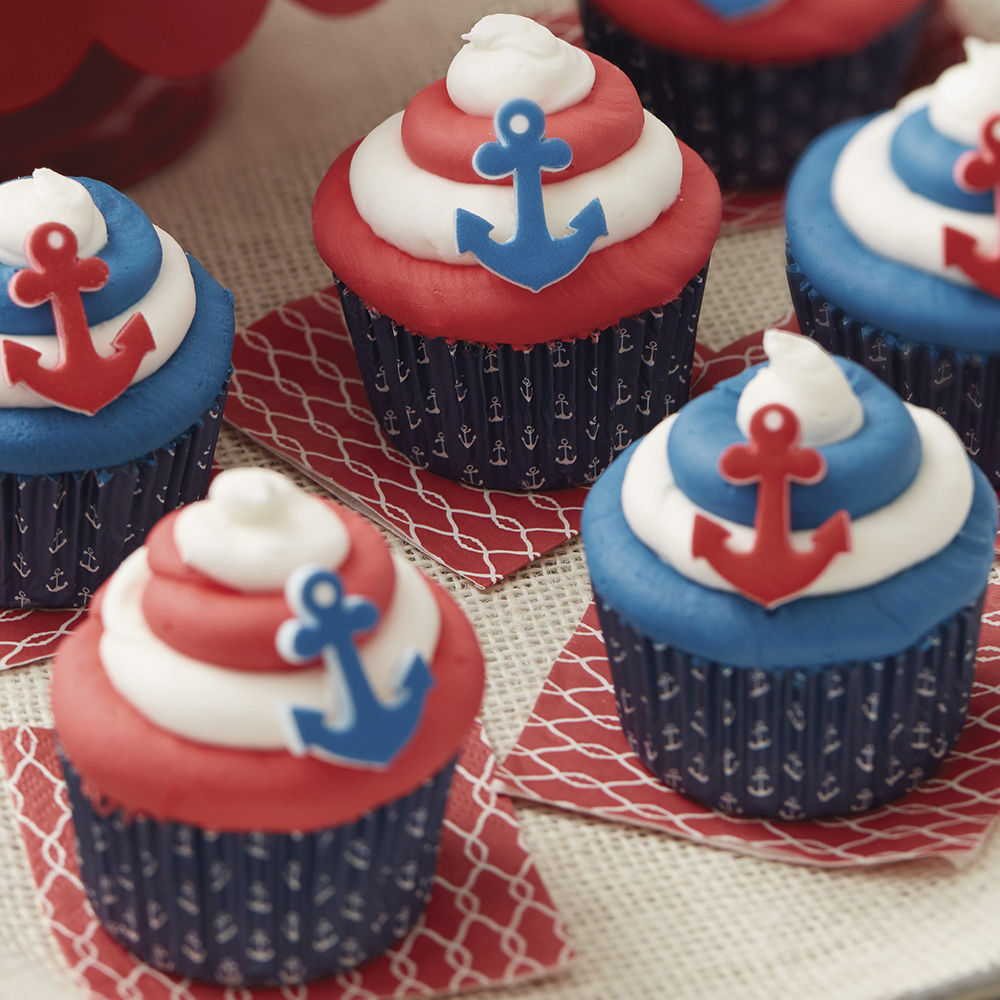 Patriotic cupcakes with a naval flare, these are perfect for a beach-side Fourth of July BBQ. All you need are some cute anchor icing decorations to top off these easy cupcakes.
---
American Flag Cupcakes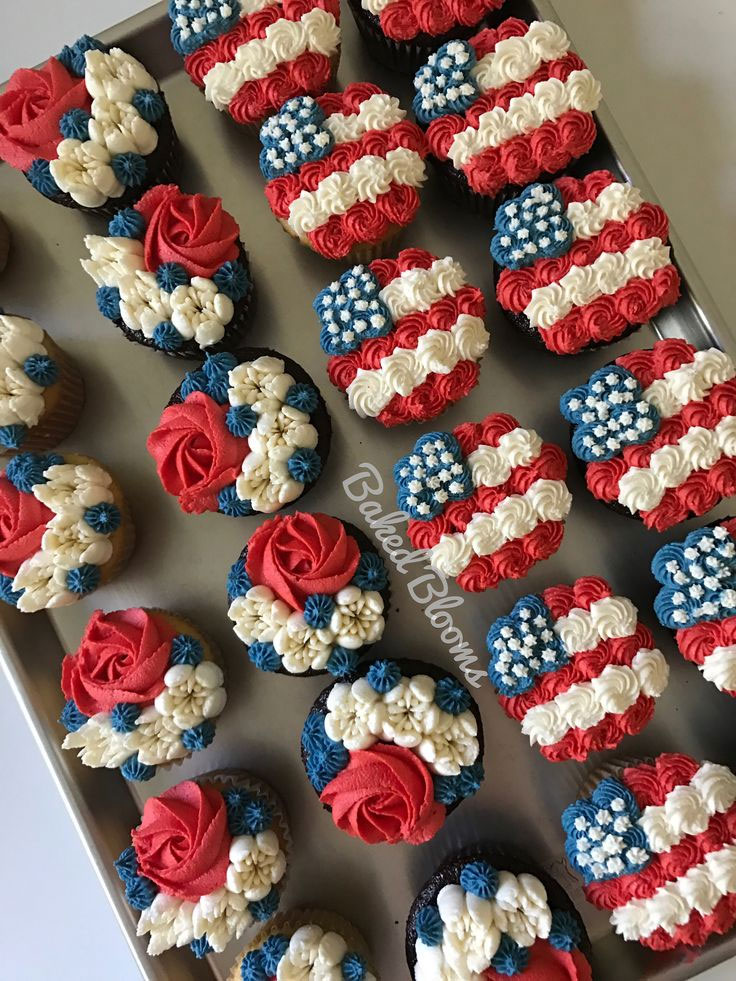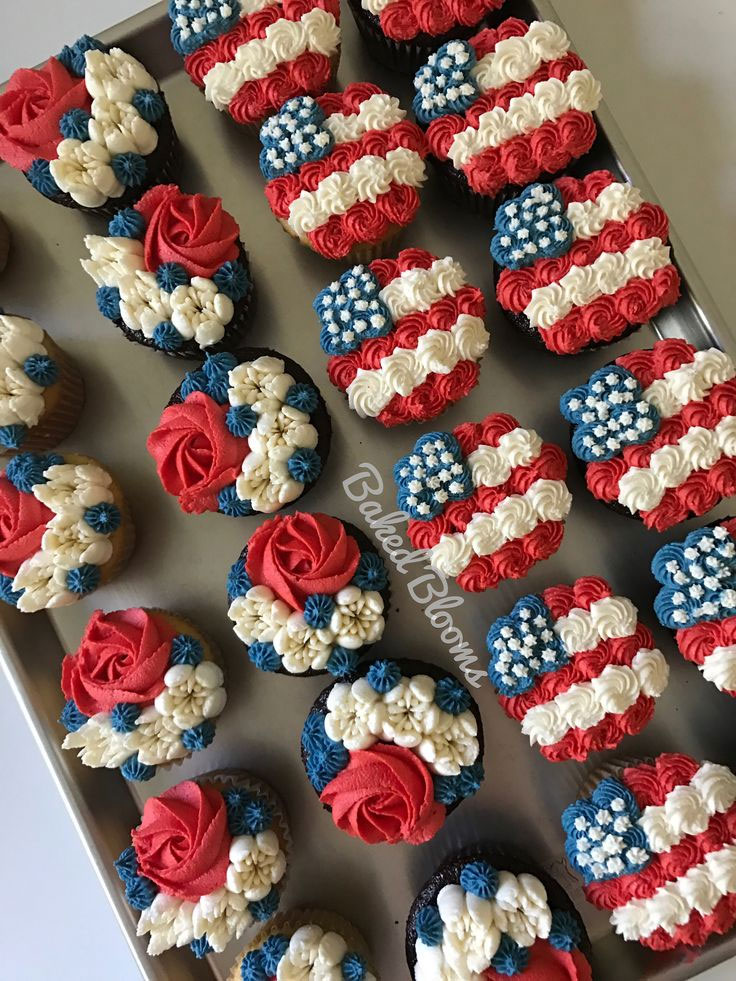 The Stars & Stripes come alive as delicious little cupcakes. As an added bonus, these matching floral cupcakes keep the same color scheme.
---
Ruffled Red, White and Blue Cupcakes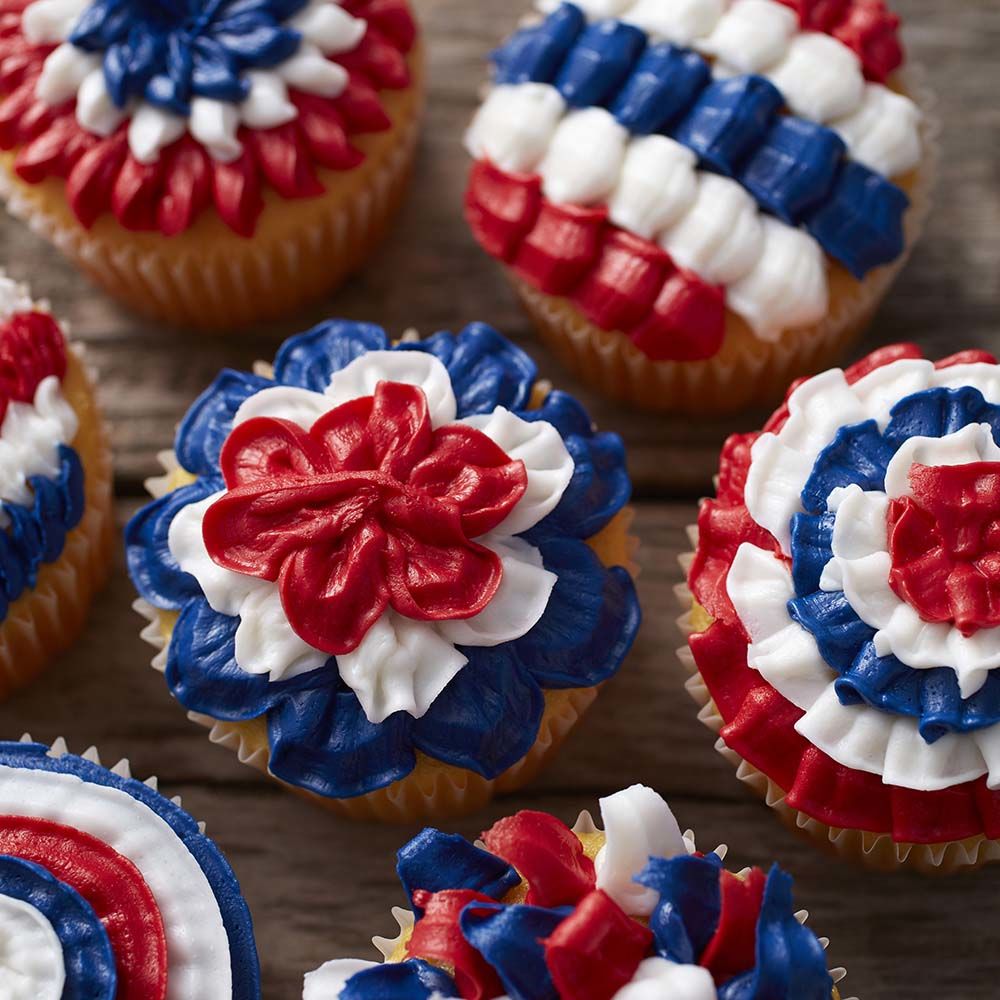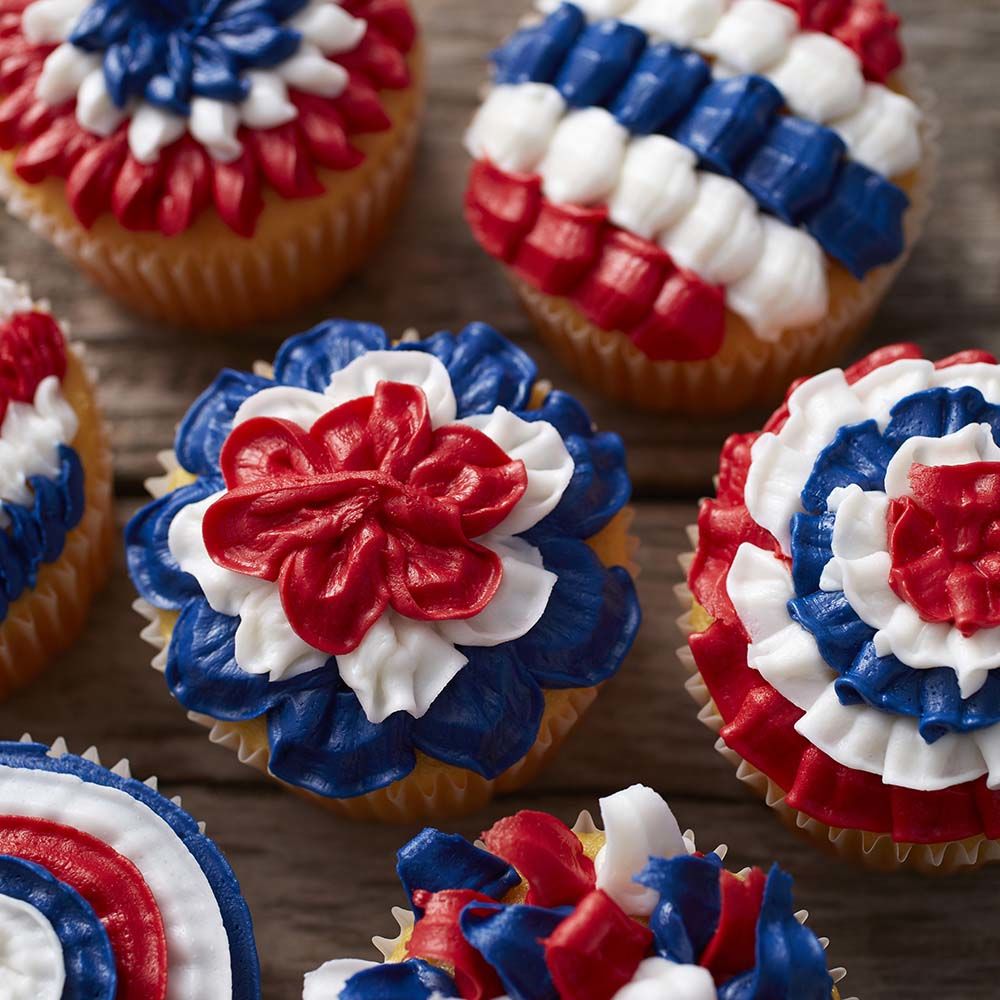 You're going to need Wilton Tip 100 to achieve this look. If you don't have one, you can pick it up as part of a Set of 4 Wilton tips right here!
---
Old Glory Cupcakes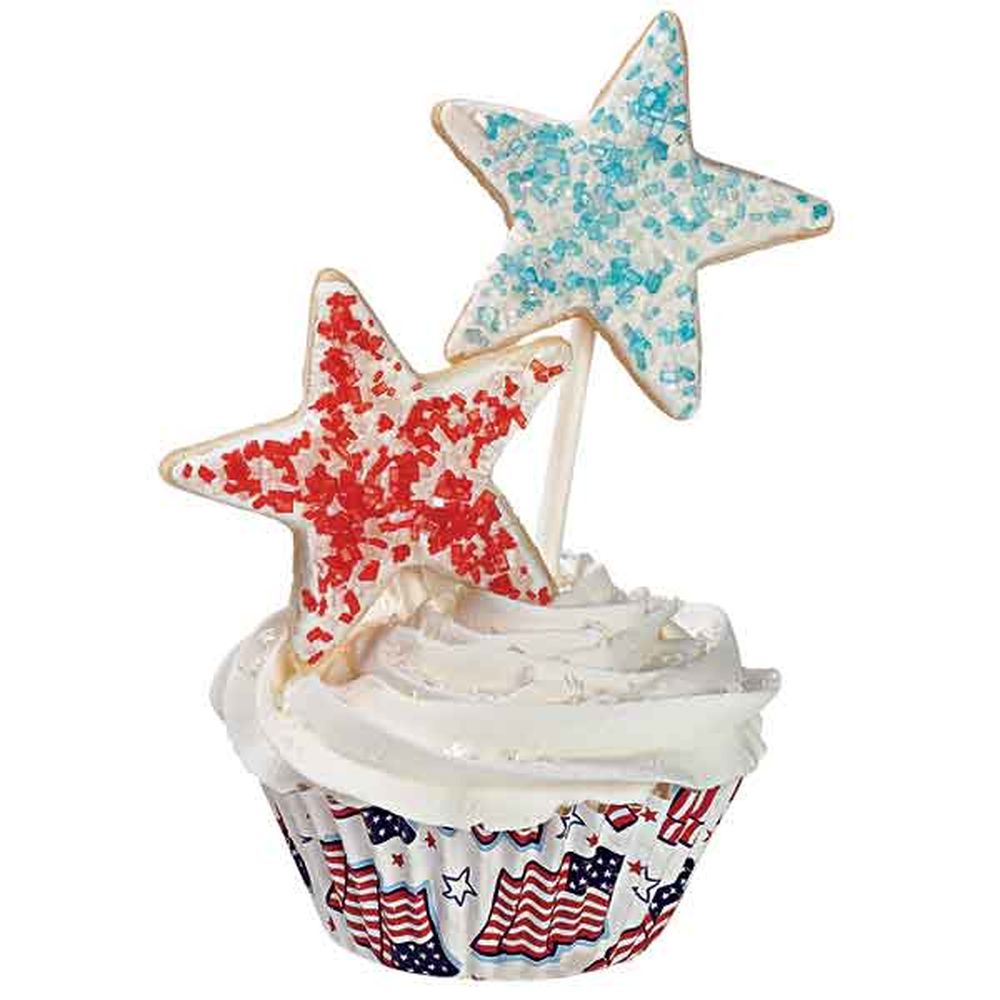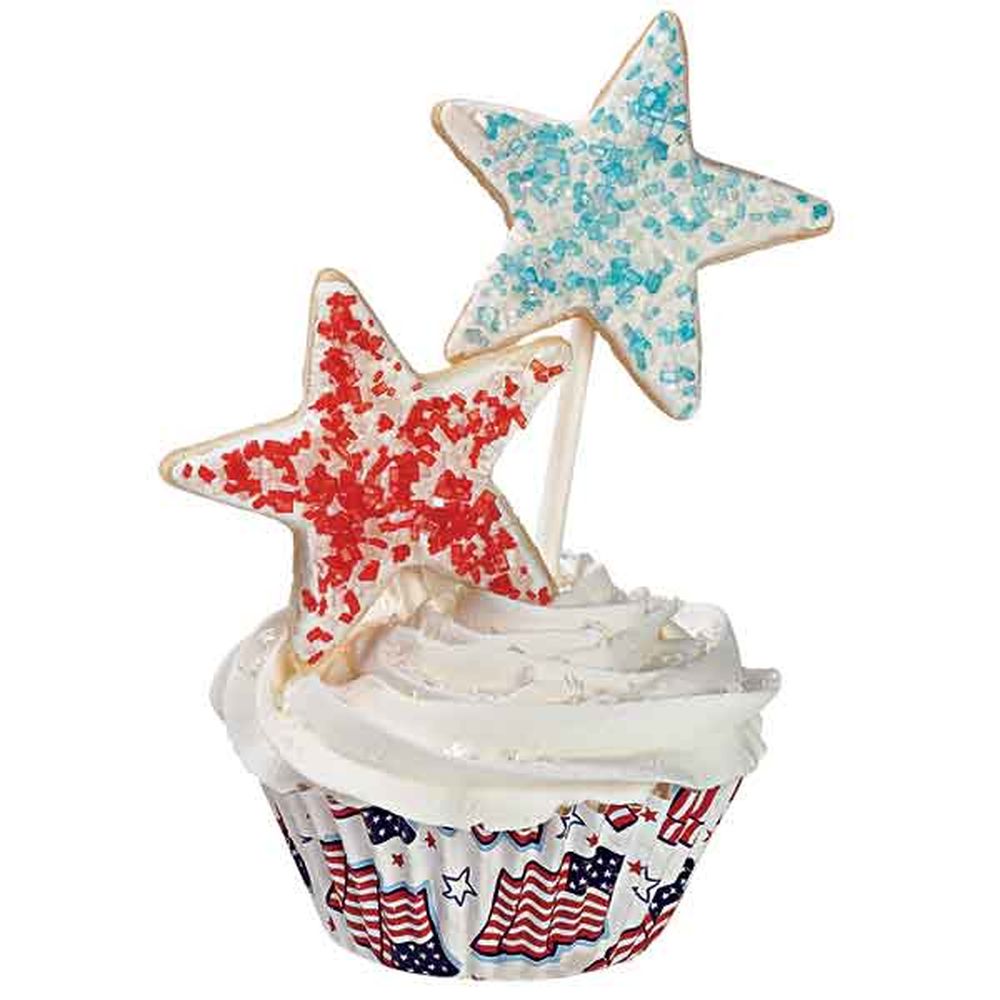 Sparkling star cookies set in a set of Wilton's cute Old Glory Baking Cups are a great way to get the fireworks started.
---
4th of July BBQ Cupcakes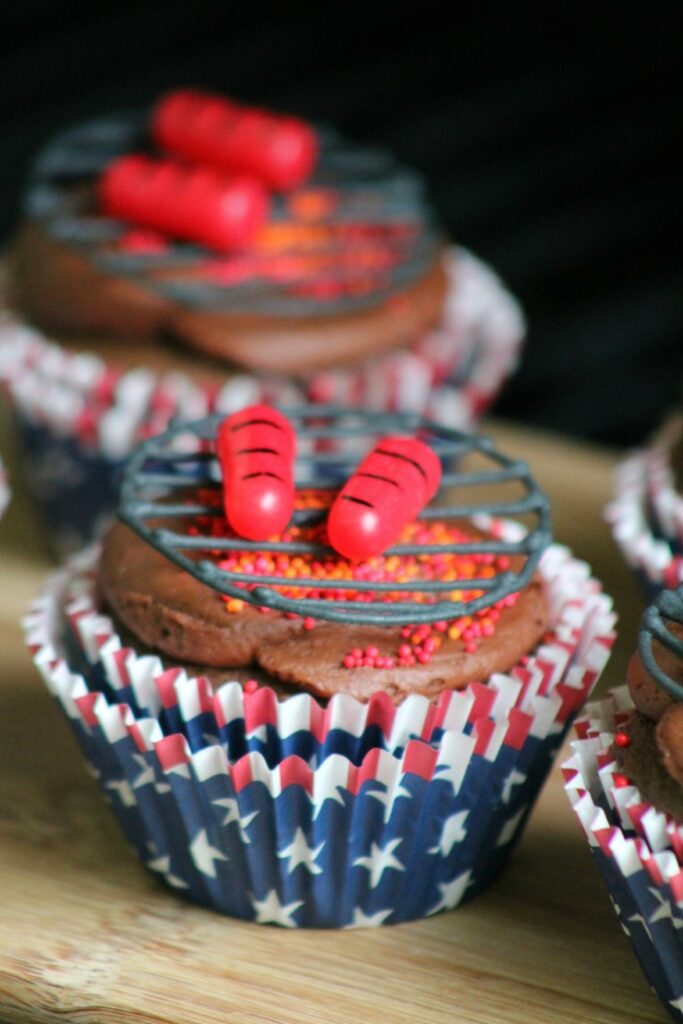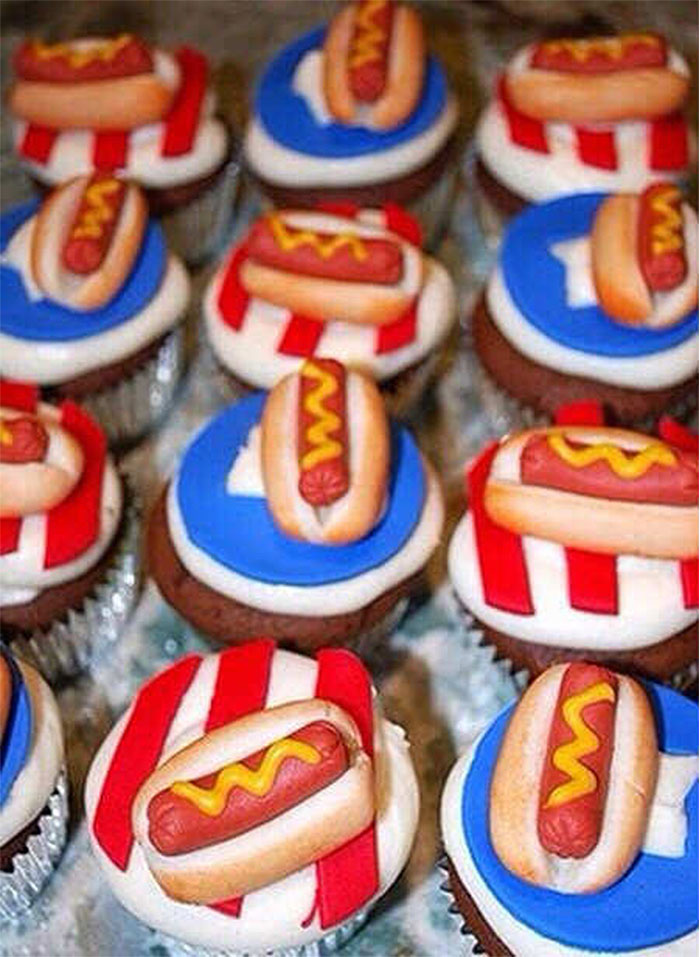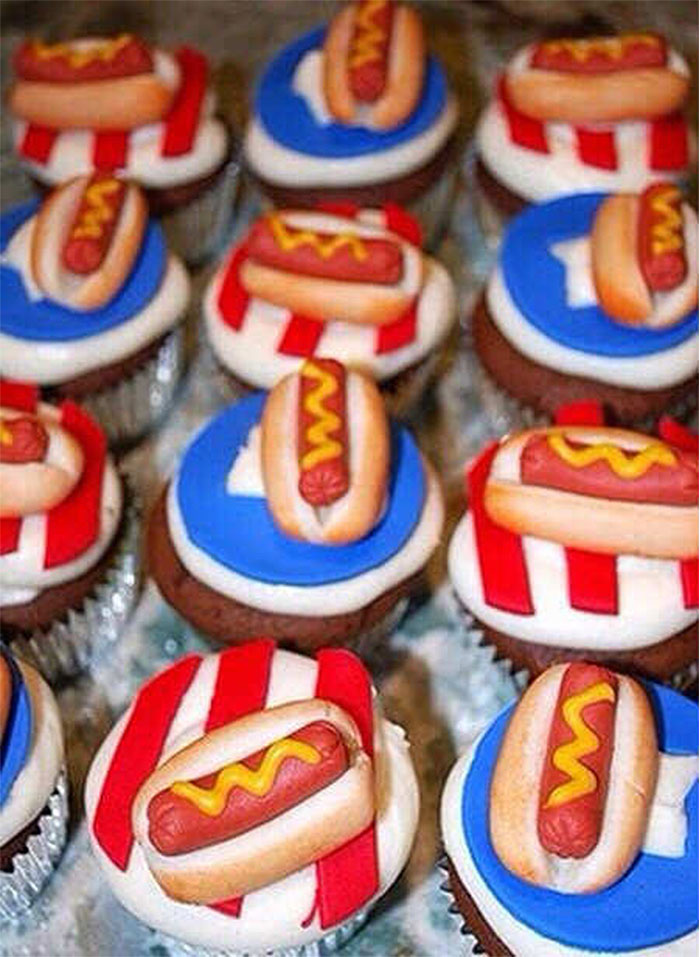 What is more American than a 4th of July BBQ? Celebrate that time of the year with these delightful BBQ inspired desserts.
---
Red White and Blue Strawberry Cupcakes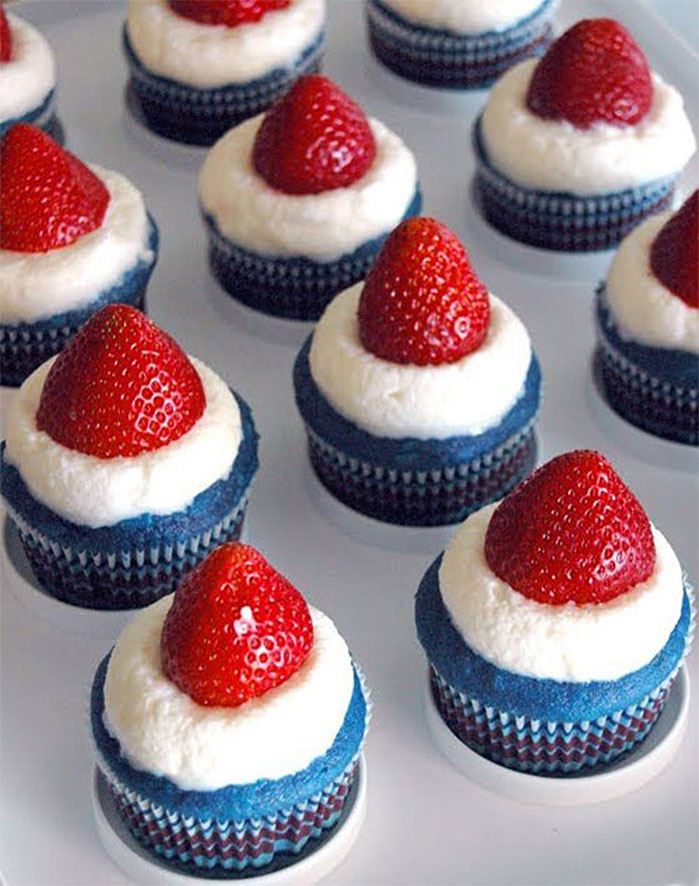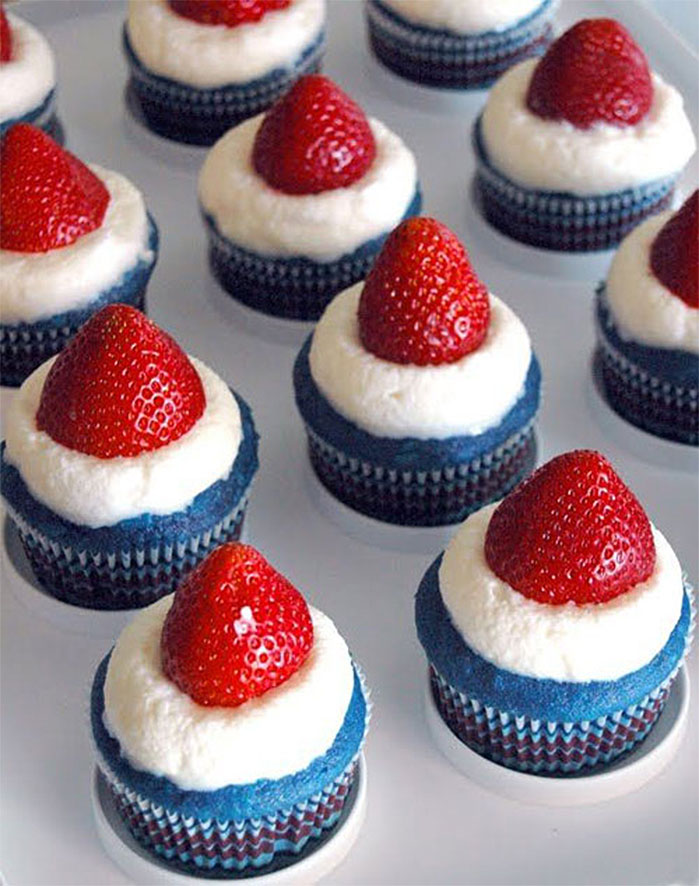 Some blue food coloring provides a nice twist to the Red, White and Blue cupcake by making the cake itself a beautiful blue, the icing serves as the white and fresh strawberries add that pop of red.
---
Bursting in Air Cupcake Tower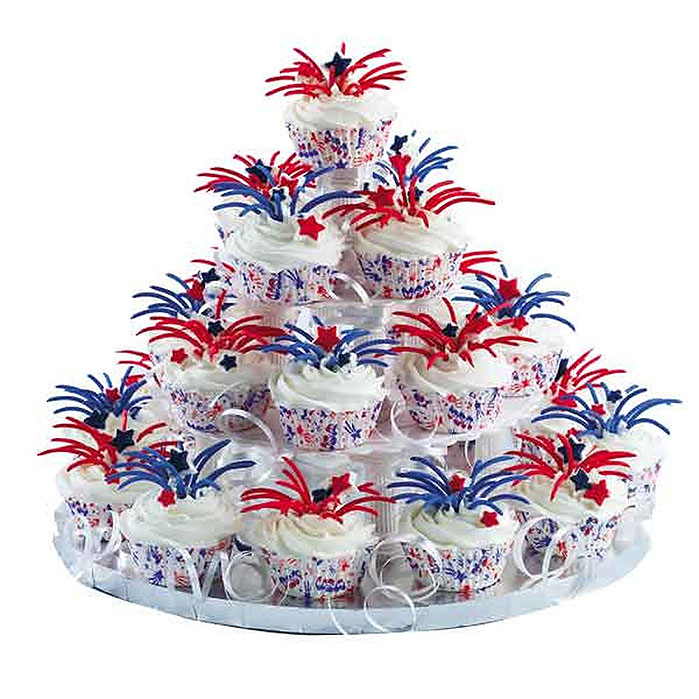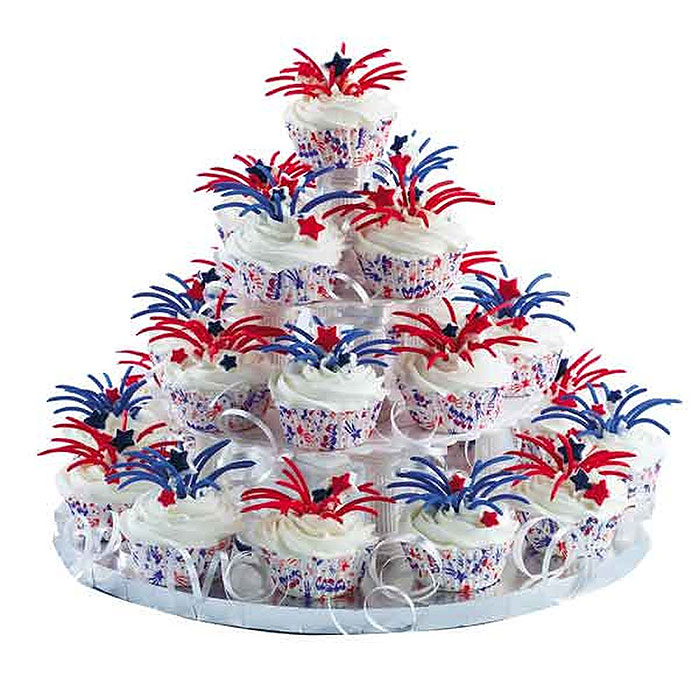 Some painstaking effort went into this festive tower. The trick is to use Wilton's # 5 Round Decorating Tip to pipe out the fireworks arcs in advance so that they can dry in time to be inserted into the cupcakes. This particular set of 24 uses 240 blue and 240 red fireworks arcs (20 for each cupcake), but make extra to allow for breakage.
---
Stars and Stripes Fourth of July Cupcakes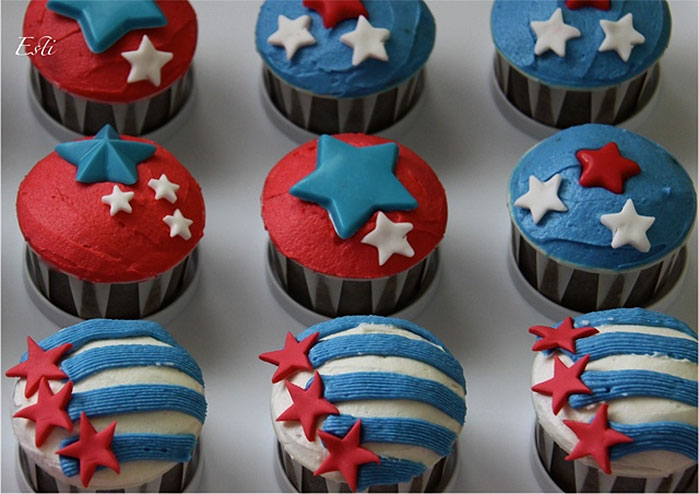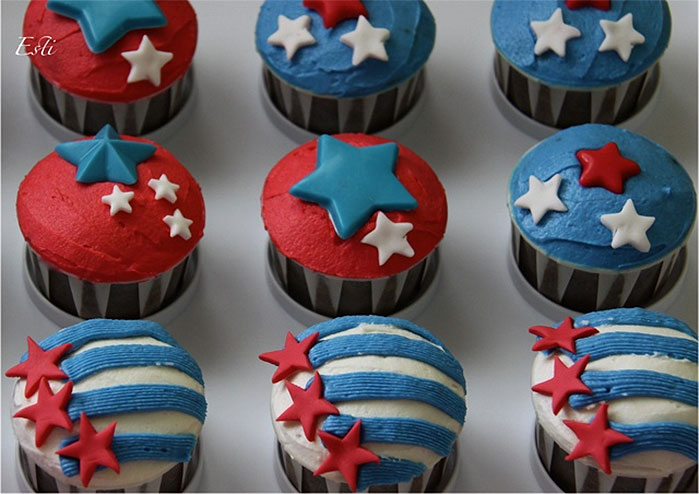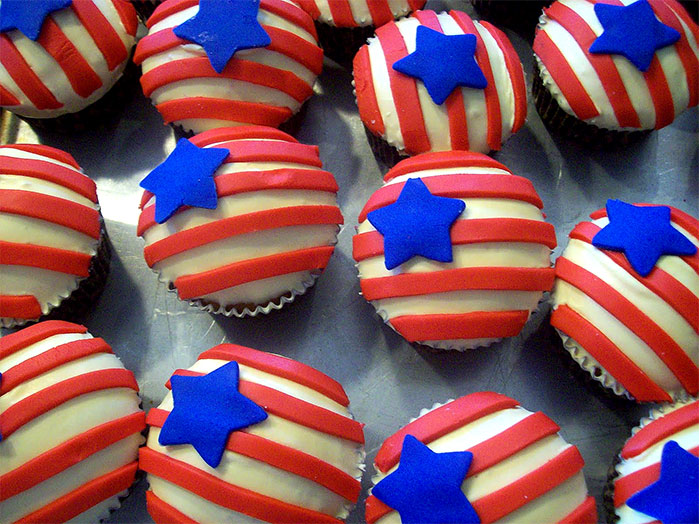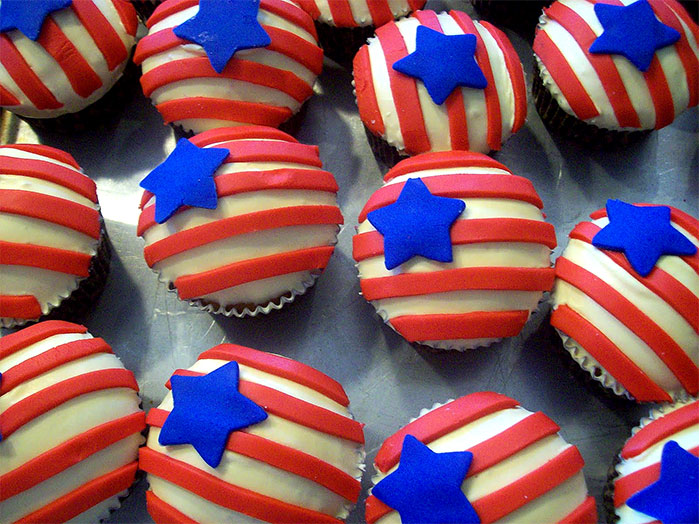 Decadently decorated, these cupcakes are a feast for the eyes.
---
Red White and Blue Patriotic Cupcakes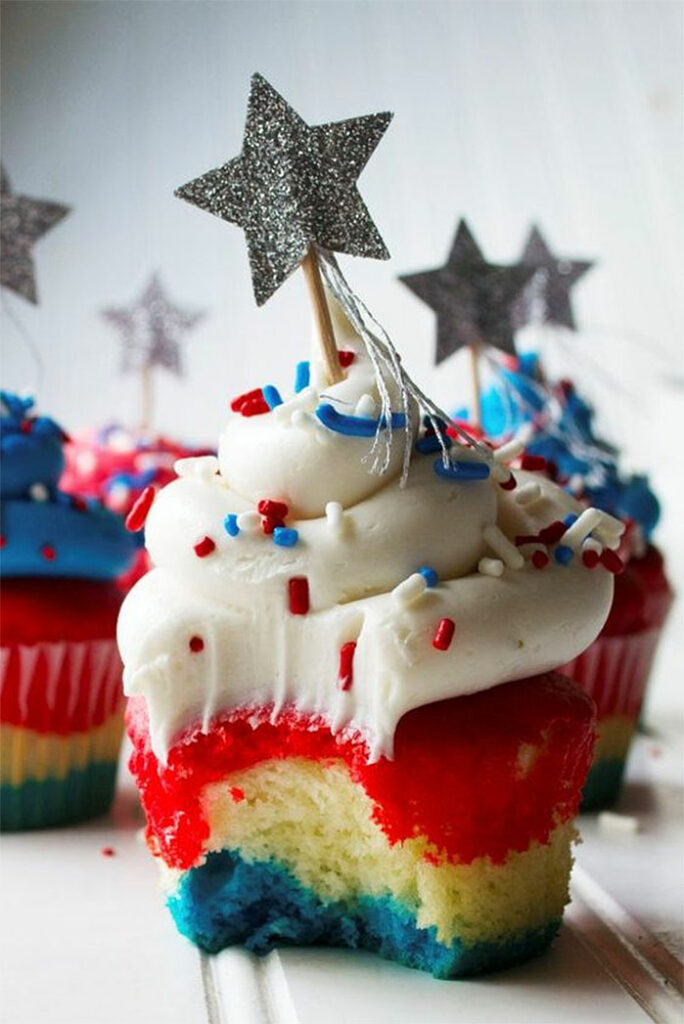 These tri-colored Fourth of July cupcakes are sure to be a hit with your guests.
---
Patriotic Red Rosettes Cupcake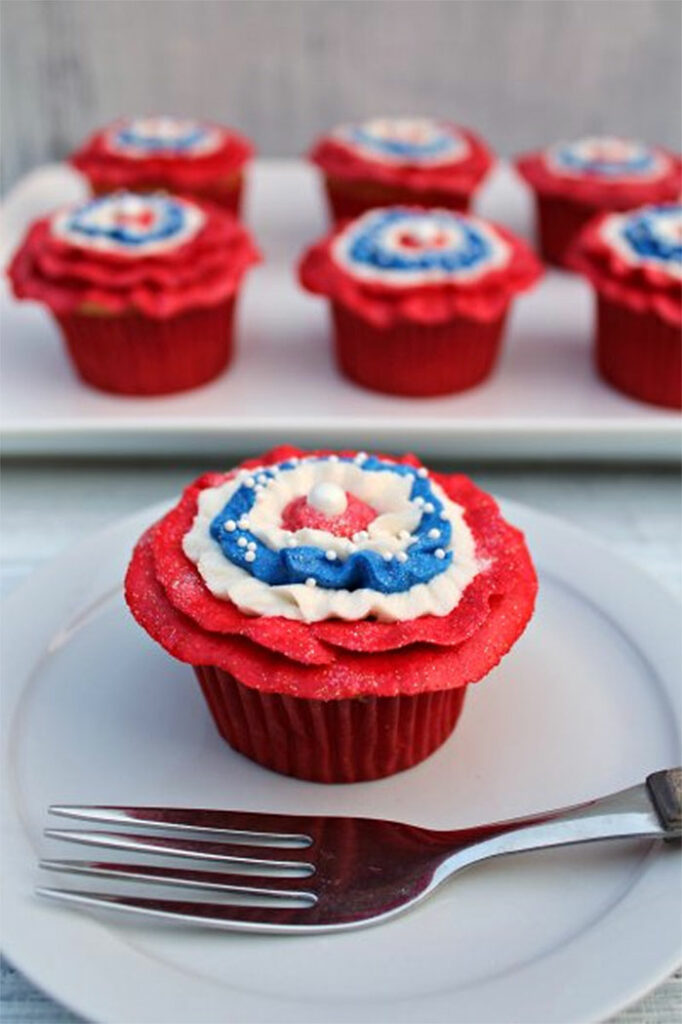 Inspired by the rosette porch banners, these adorable little red cupcakes will be quite a delight at your Fourth of July party!
---
Fourth of July Fireworks Cupcakes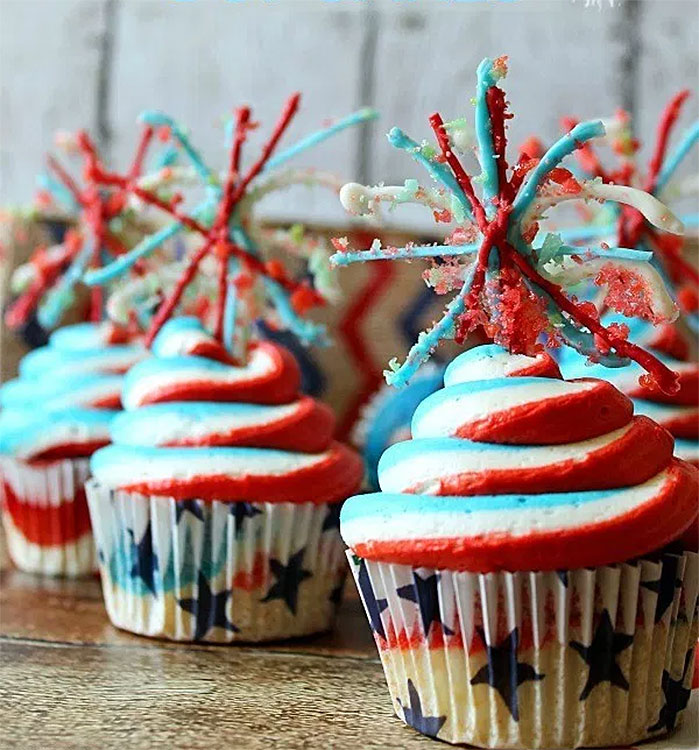 Super cute! The Red, White and Blue swirl icing is topped with sugar-crusted sparklers!
---
Our Flag Was Still There Patriotic Firecracker Cupcake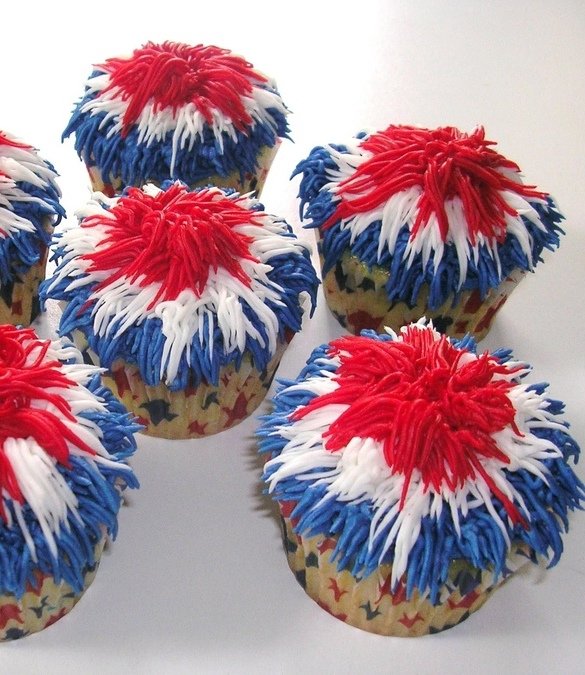 Creative piping makes a delicious fireworks display.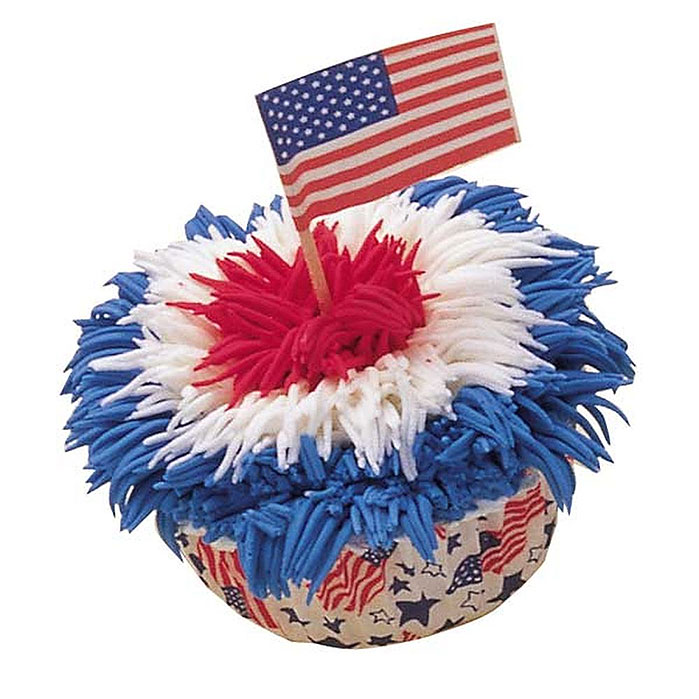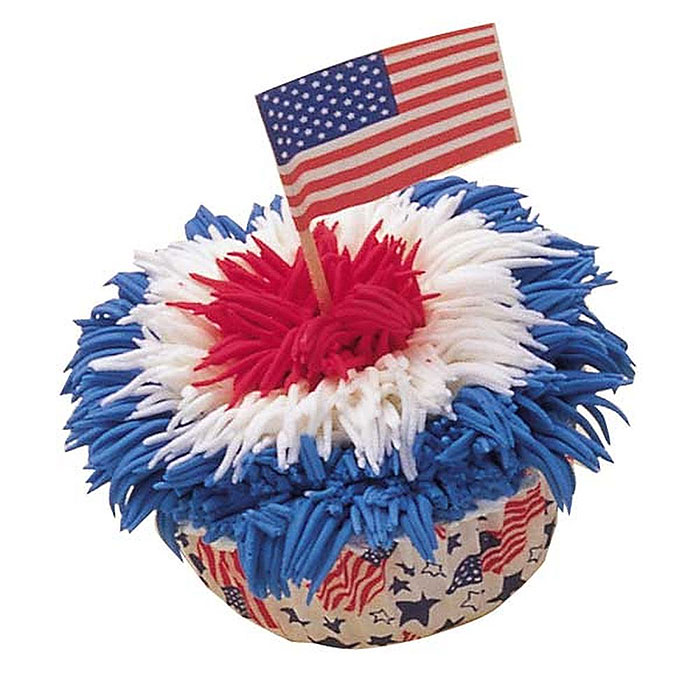 Add a flag on top for an additional touch of patriotism, not that you need it with these delicious looking Fourth of July cupcakes.
---
The Toast of the Town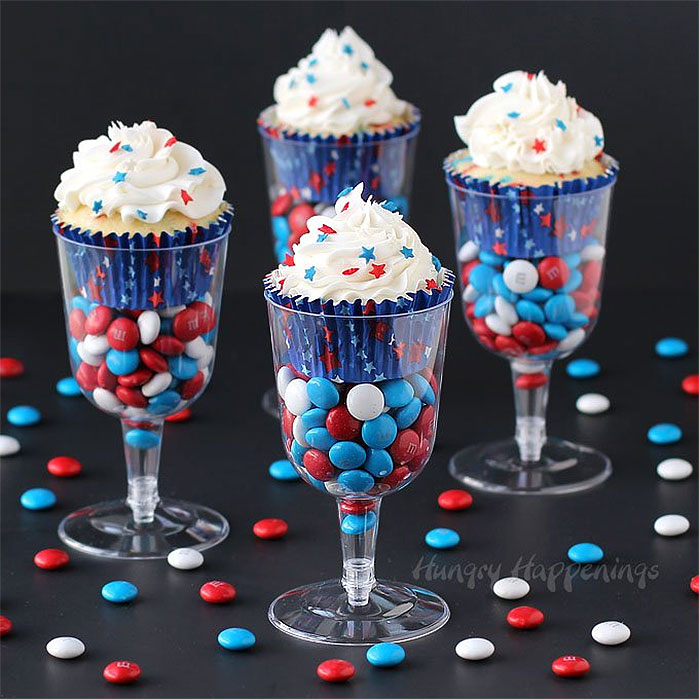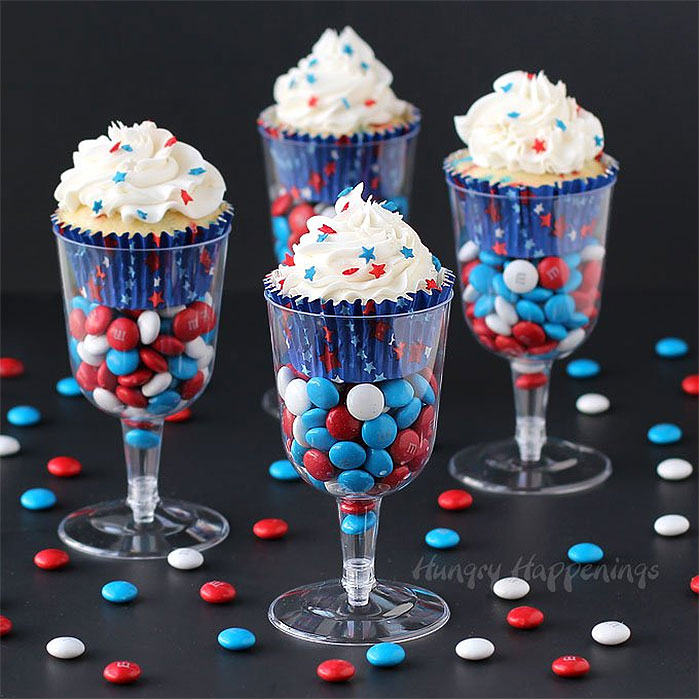 To take your cupcake display skills up a notch, simply fill a plastic wine glass about half with red, white, and blue candies (M+Ms work perfectly in this situation). Place your cupcakes on top and you've got a dessert that will make them raise a cheer.
---
Red, White and Blue Cupcake Snow Cones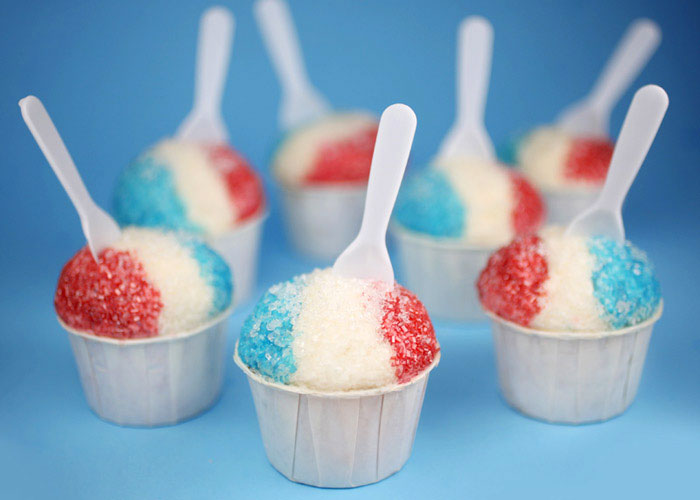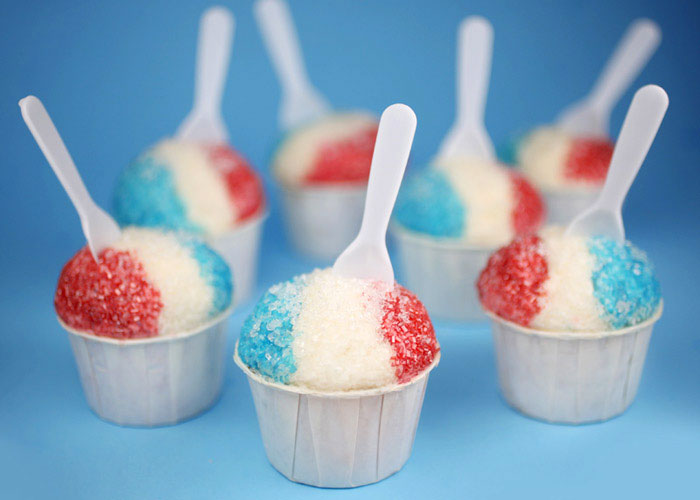 They look like tiny snow cones, don't they? Well, they're actually delicious cupcakes frosted in Red, White, and Blue and then dipped in sugar crystals to give it that icy look.
---
Old Glory Cupcake Platter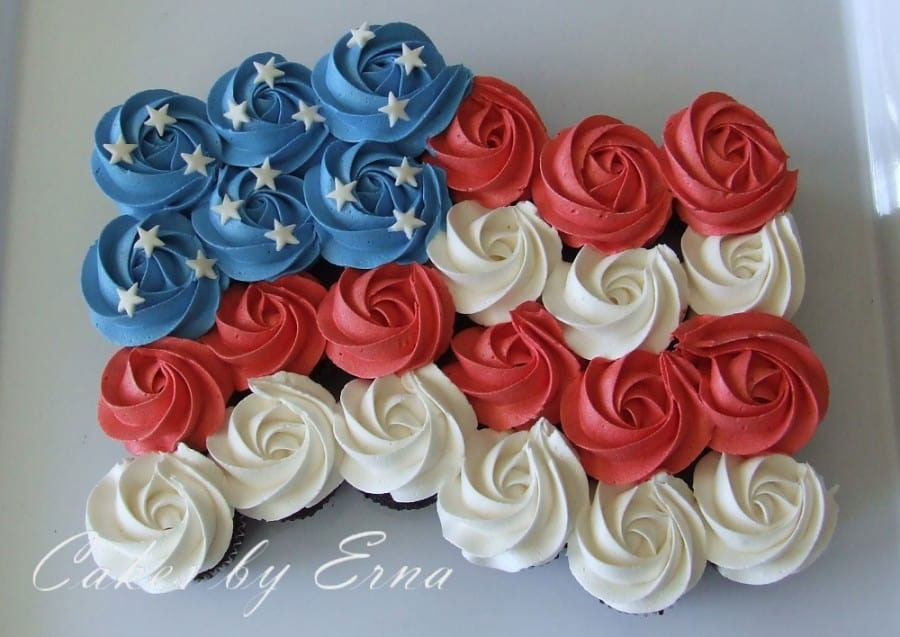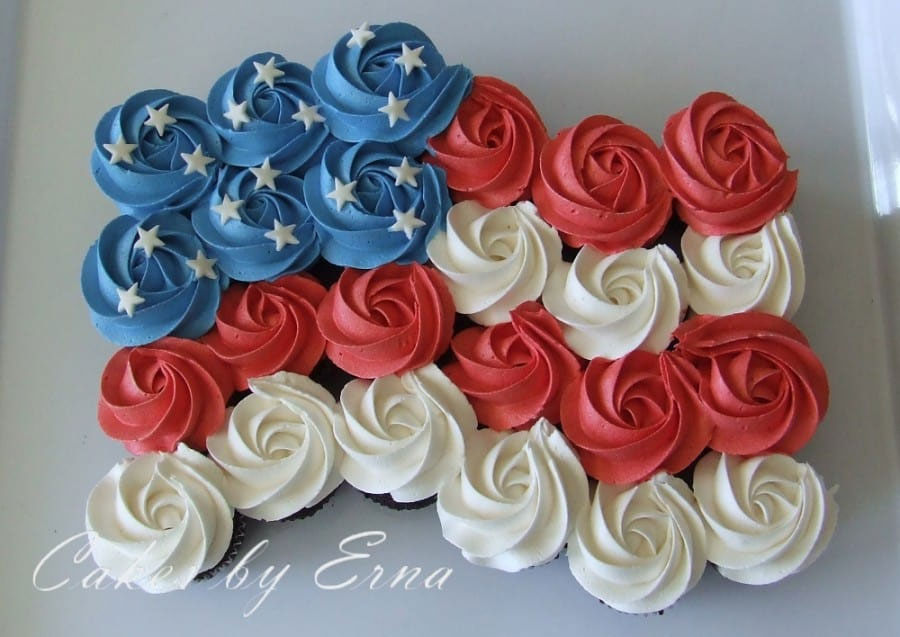 Arrange frosted cupcakes into an Old Glory shape, and then add some icing stars to top off this presentation.
---
Chocolate Fireworks 4th July Cupcake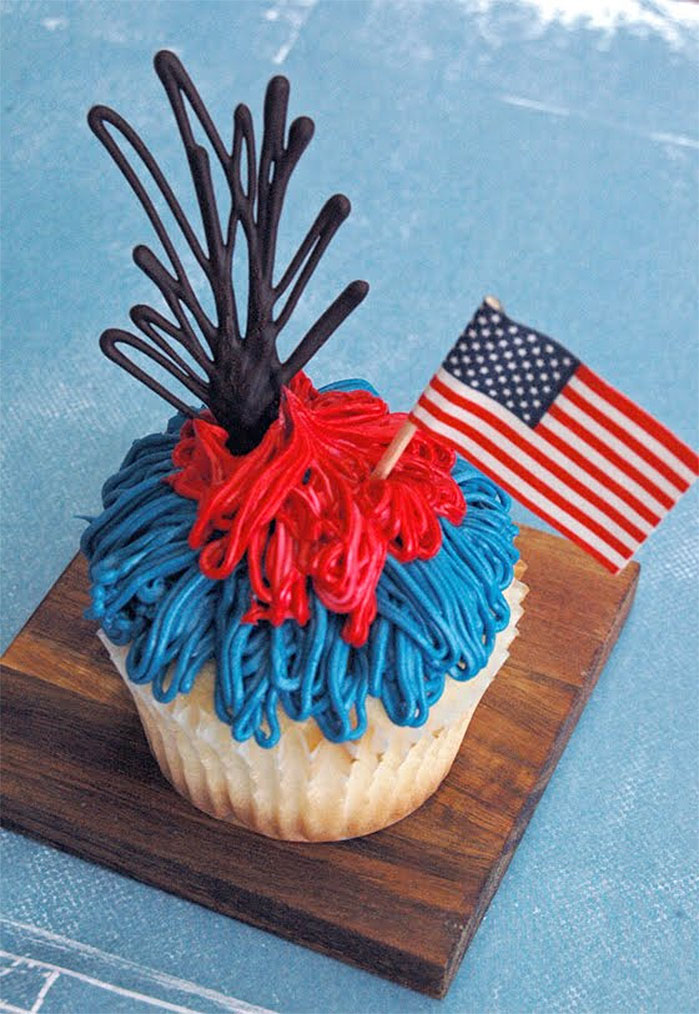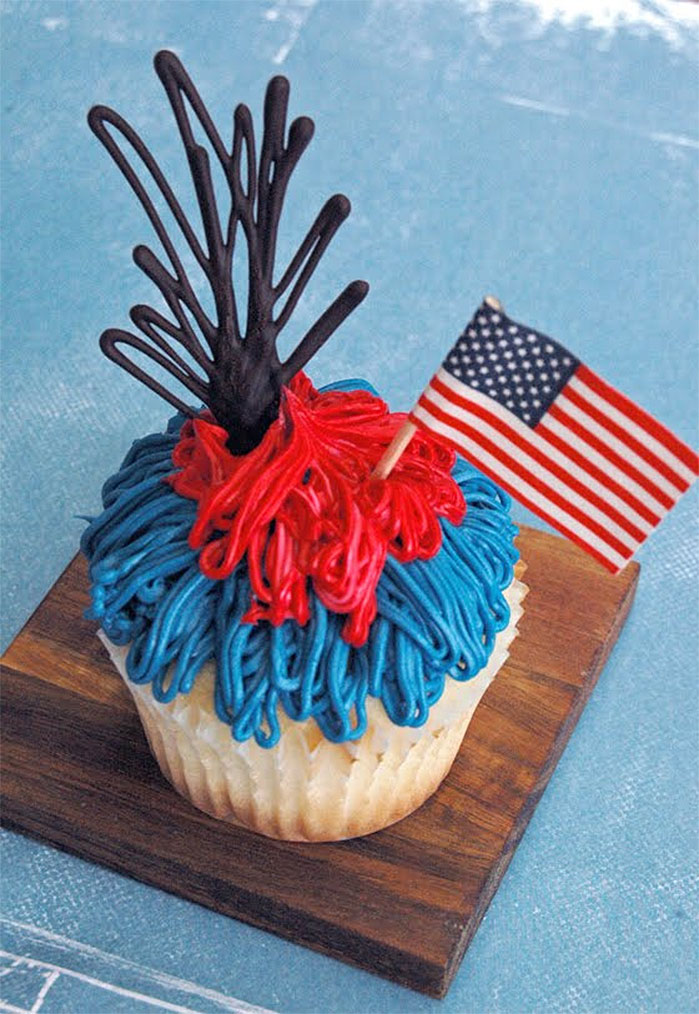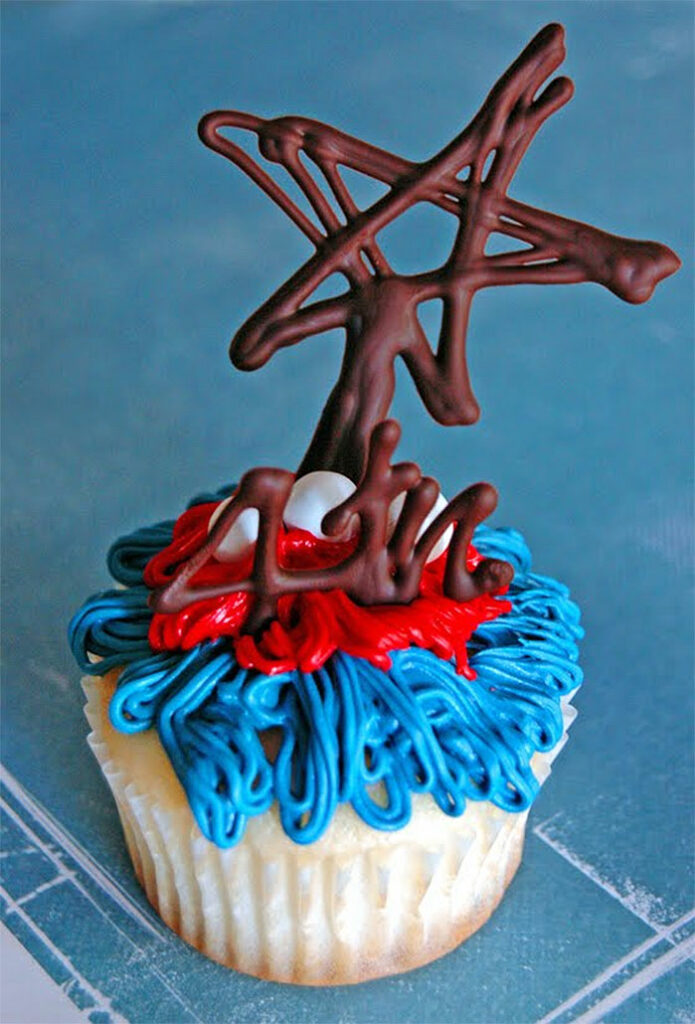 Some creative use of chocolate helps make these Fourth of July cupcakes extraordinary.
---
Betty Crocker American Cupcakes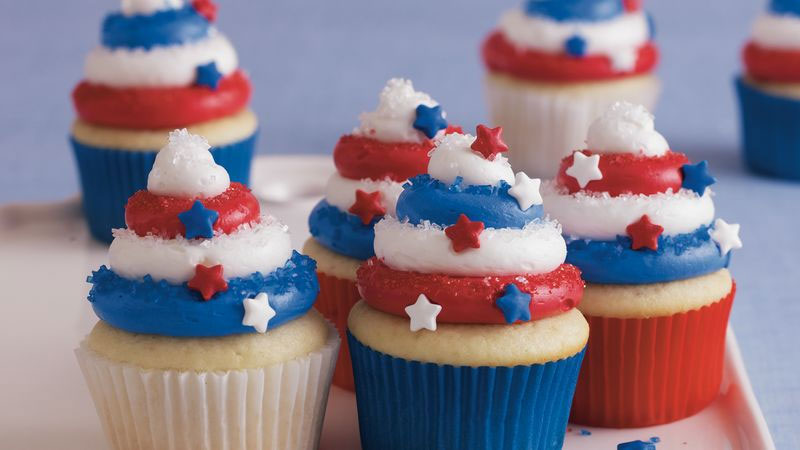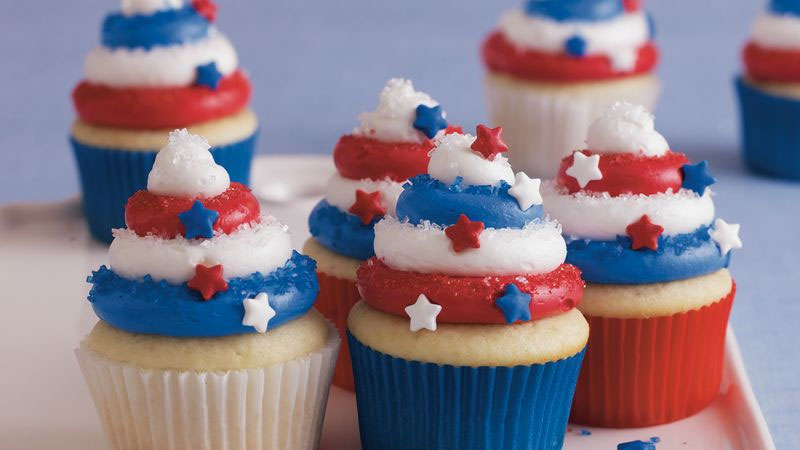 Of course, no list of patriotic cupcakes would be complete without at least one recipe from Betty Crocker.
---
Firecracker Cupcakelettes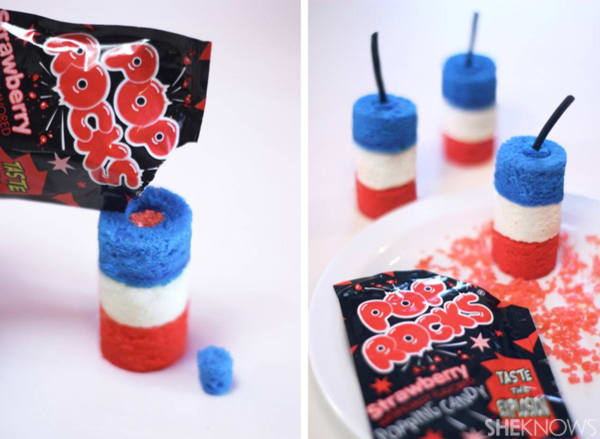 Two classic treats in one, these red, white and blue cupcakelettes are shaped like firecrackers and filled with Pop Rocks for a huge Fourth of July payoff.
---
Cyclone Popsicle Cupcakes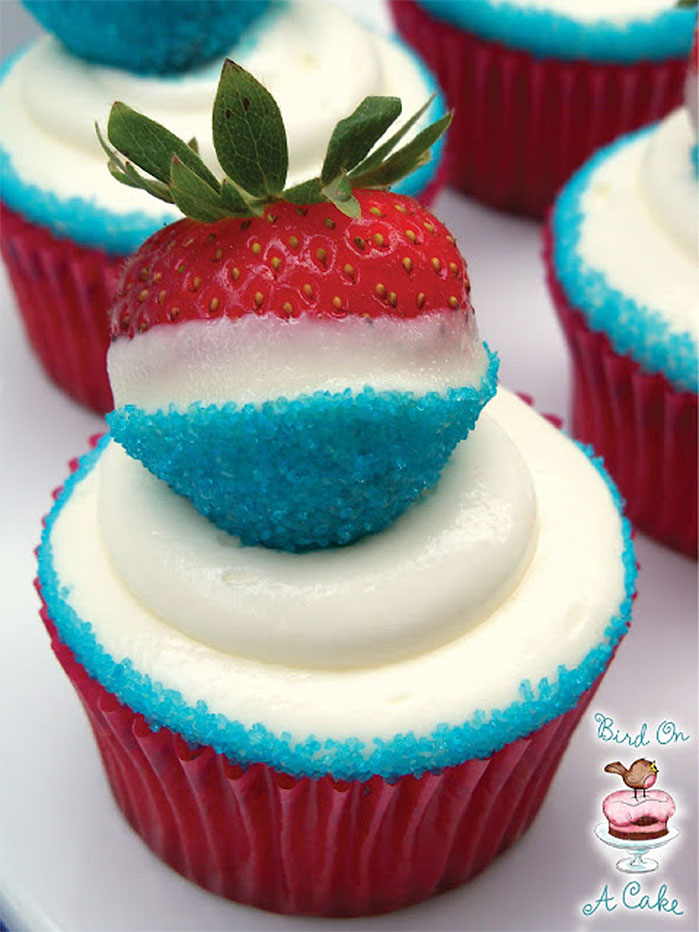 The classic Cyclone Popsicle serves as inspiration for this amazing Red, White and Blue creation.
---
Red, White and Blue Striped Cupcakes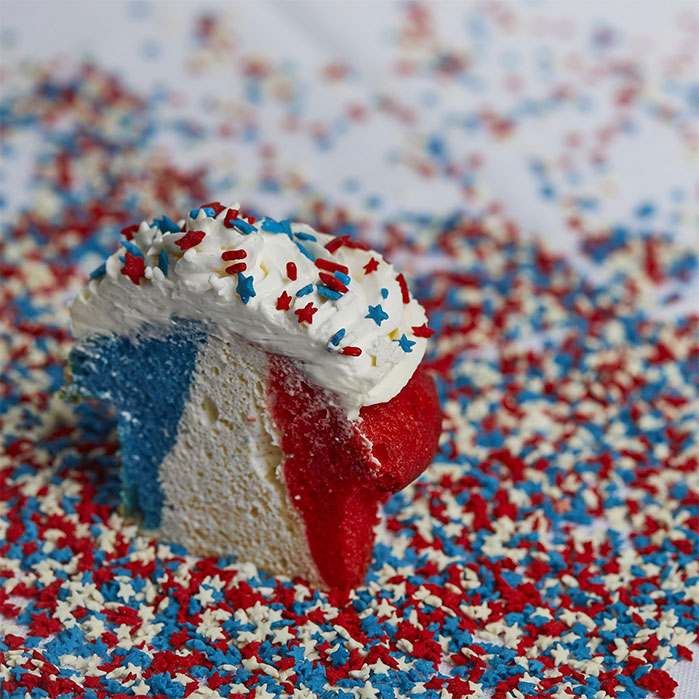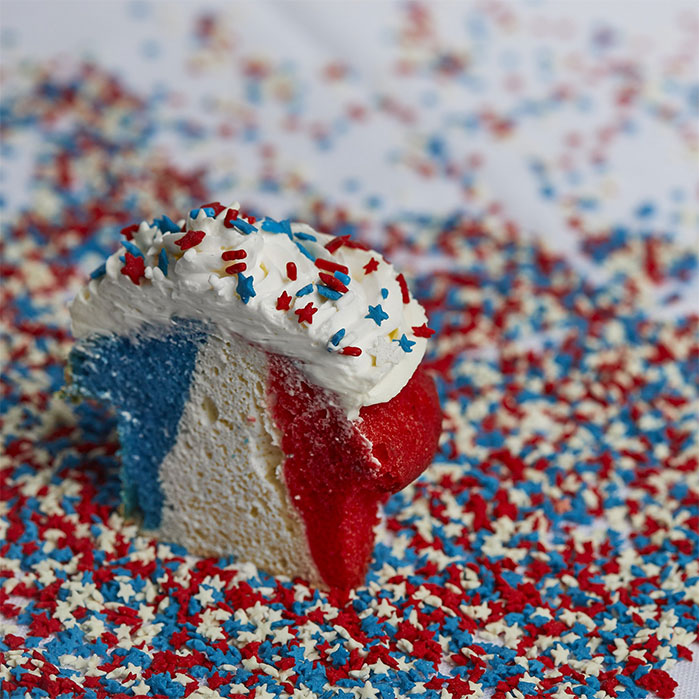 This recipe takes the patriotic Fourth of July colors right to the core with Red, White and Blue stripes of cake batter baked together, then frosted and sprinkled.
---
Fourth of July Sparkler Cupcakes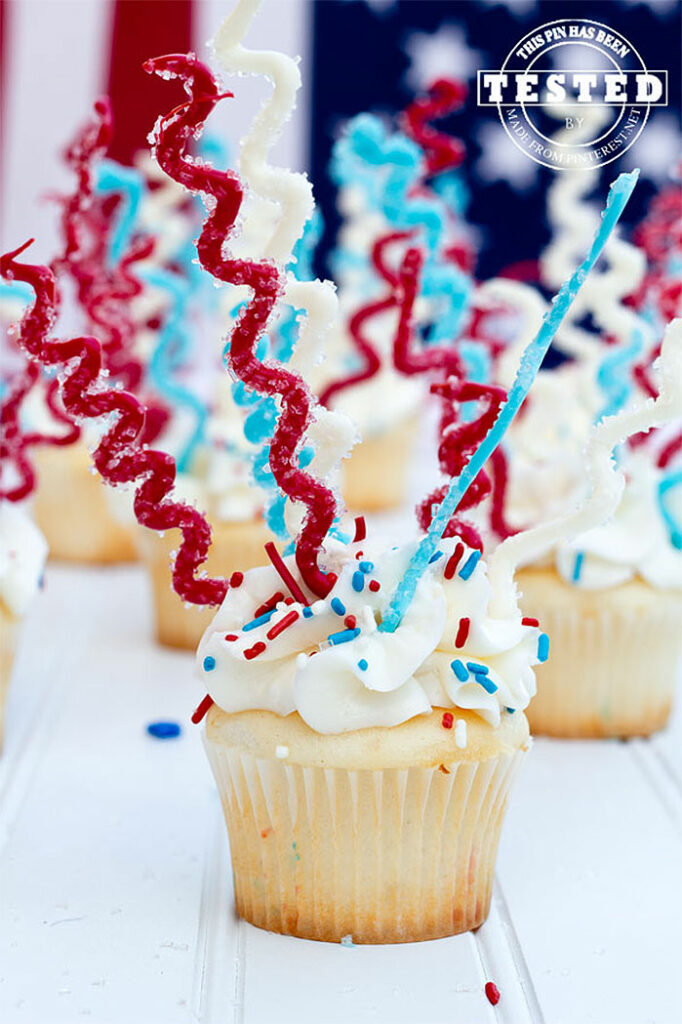 With come creativity, melted chocolate, sugar crystals, and white cupcakes, you too can create these amazing 4th of July treats for your guests.
---
Ice Cream Cone Fourth of July Cupcakes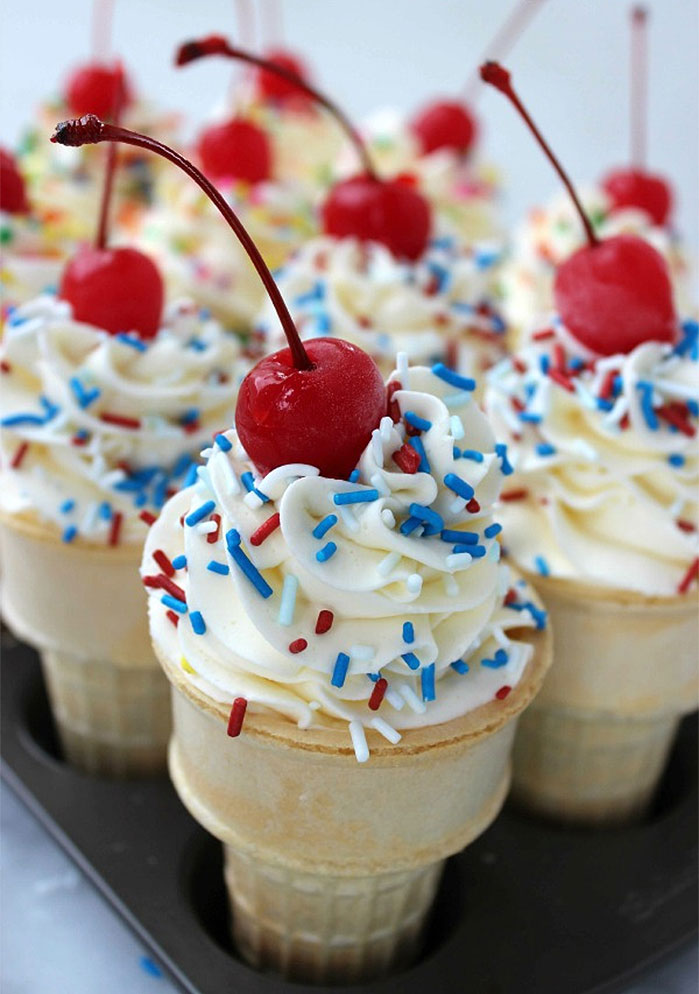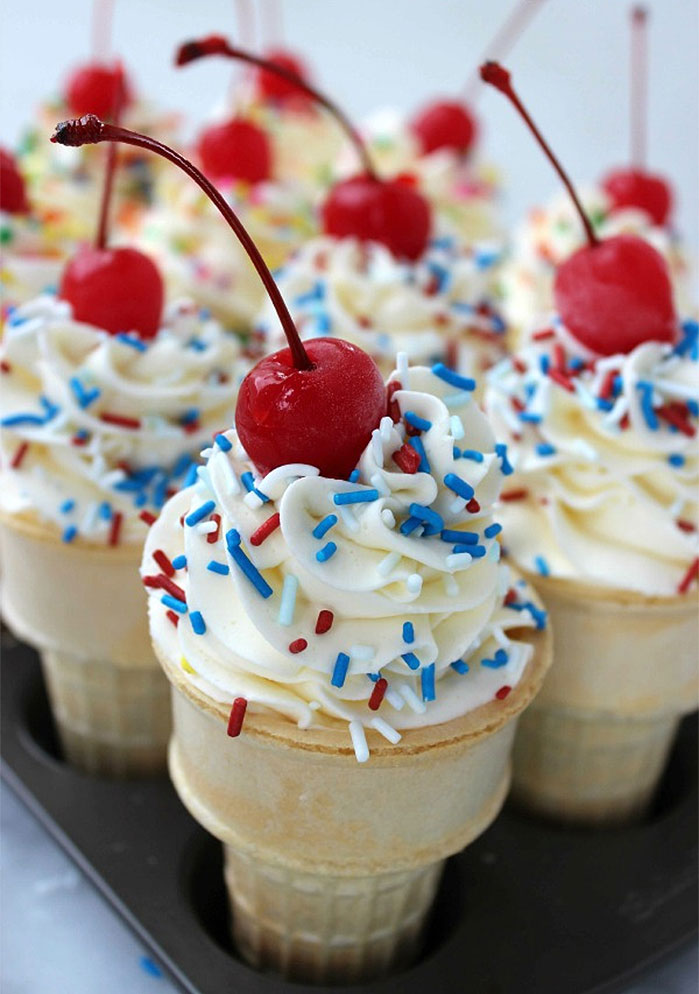 Simply fill ice cream cones about halfway full of cake batter, bake inside a muffin tin (so they stay upright) and frost away!!
---
Stars Bursting Into Air Cupcake Tree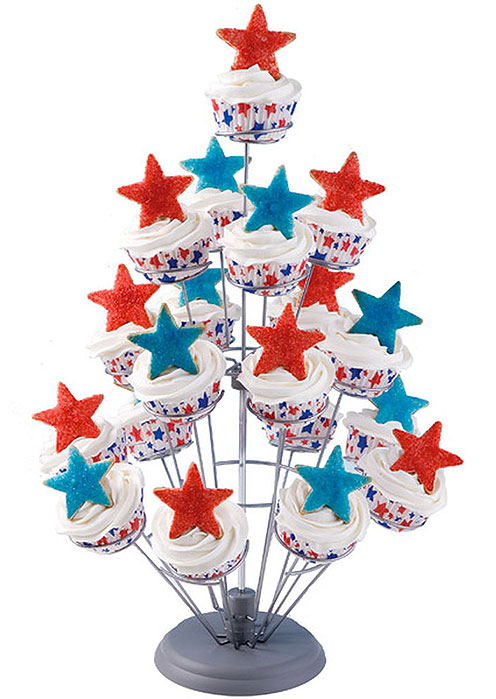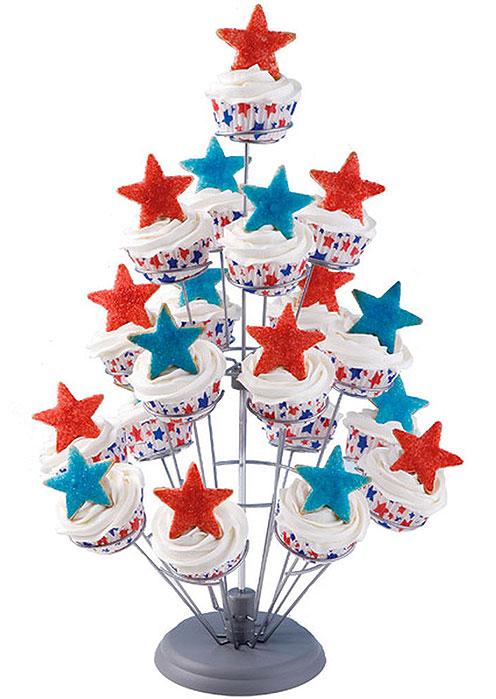 This creative display features festive cupcakes… festooned with stars on top and on the baking cups… all displayed on a decorative cupcake party stand, like these ones.
---
Fourth of July M+M Cupcakes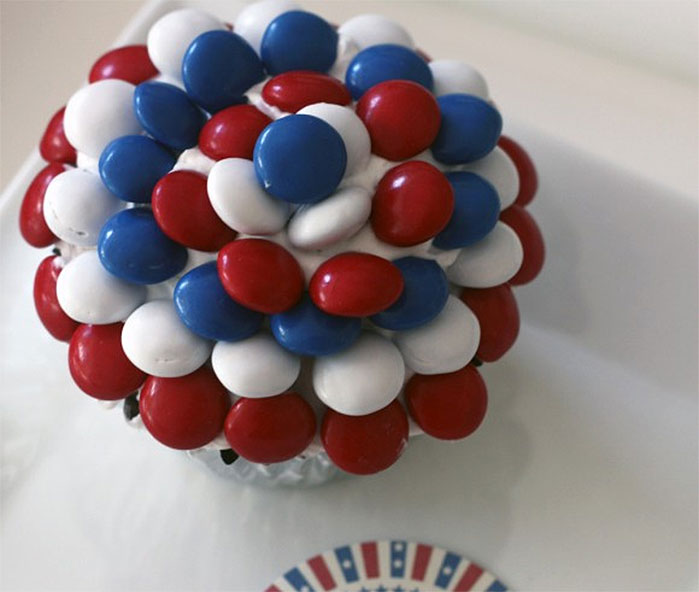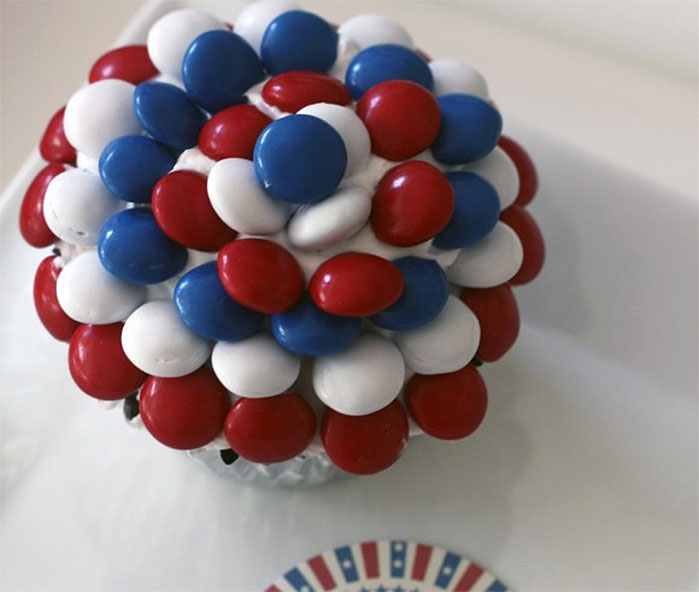 This time of year, you can often find seasonal candies… like the red, white, and blue M&Ms used to decorate these vanilla cupcakes (although chocolate would do just fine as well).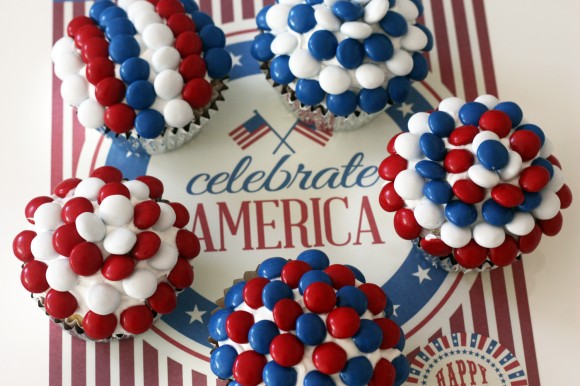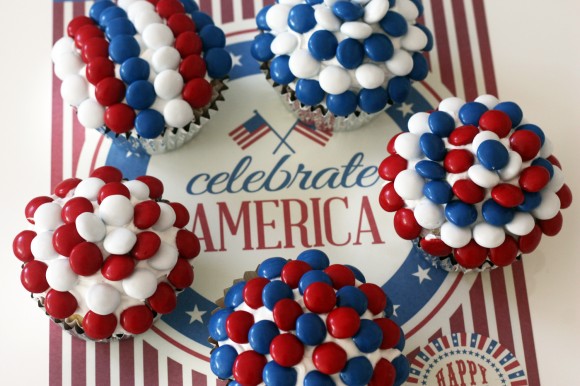 Simple to design, fun to make, with quite the punch of color to help celebrate the Fourth of July!
---
Fantastic Fireworks Cupcakes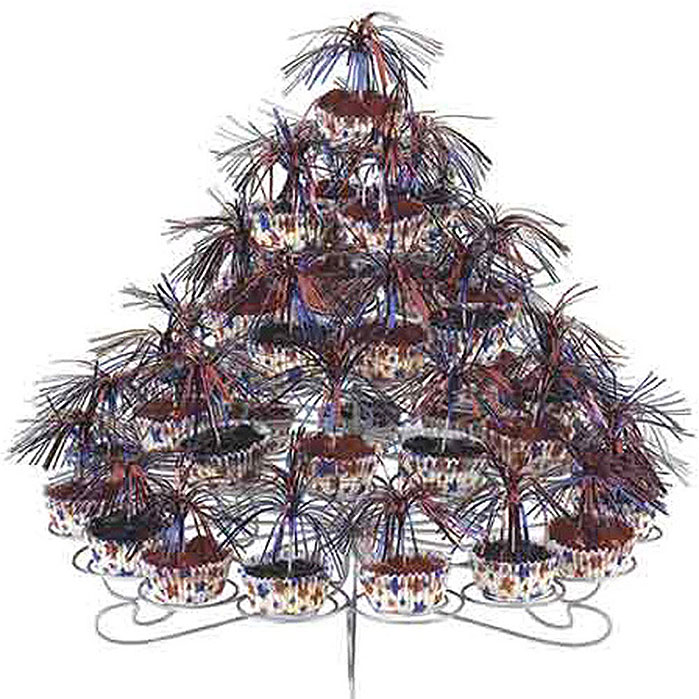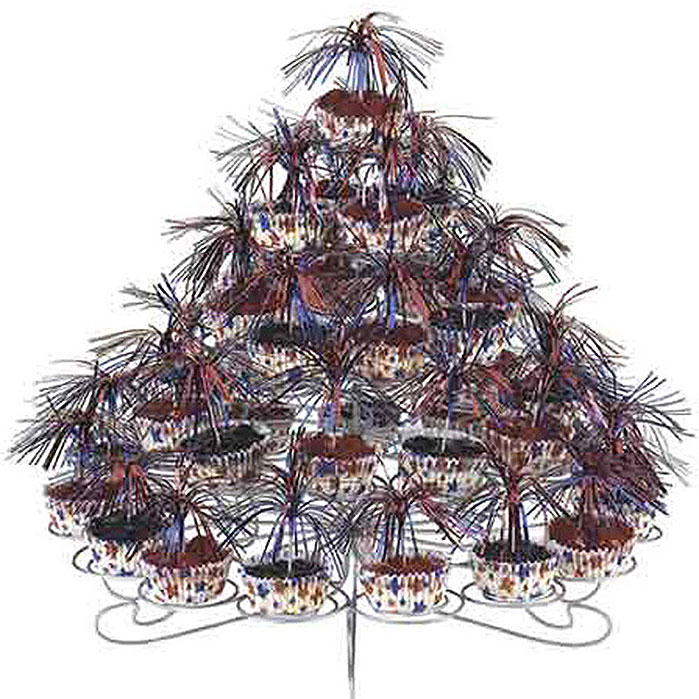 And over-the-top display utilizing Wilton's Patriotic Stars Baking Cups & Patriotic Foil Fun Pix. You'll need 4 packages of the Fun Pix to recreate this look.
---
Red Velvet 4th of July Cupcakes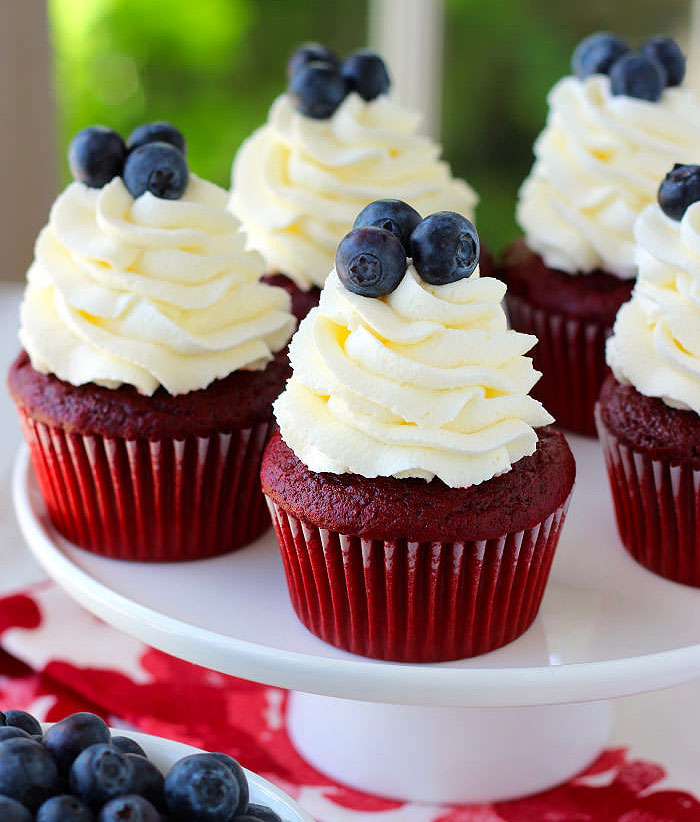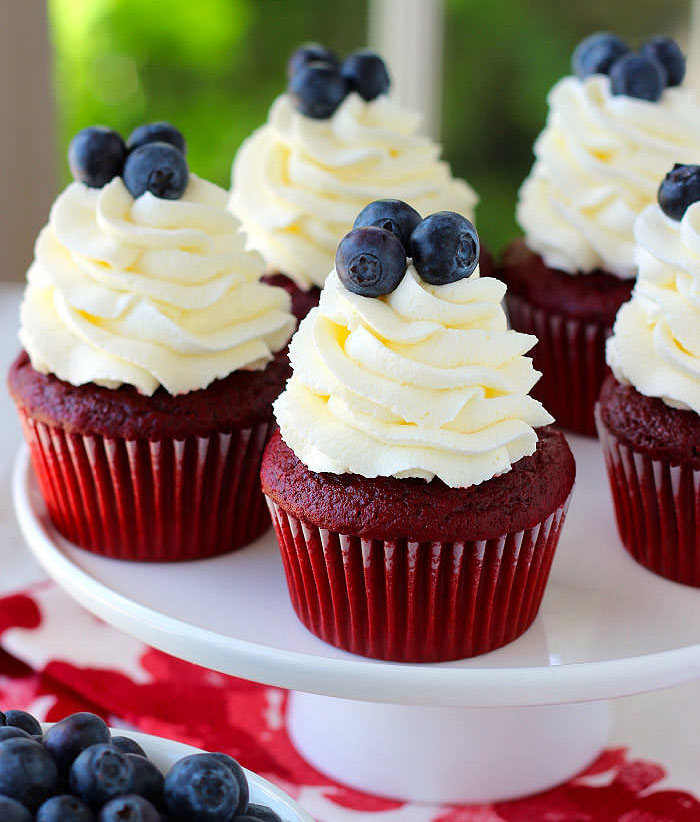 One of the easiest to make from our collection of Fourth of July Cupcakes, this one features a classic Red Velvet Cupcake, Cream Cheese Icing, topped with some Blueberries to complete the color trio.
---
Red, White and Blue Jar Cupcakes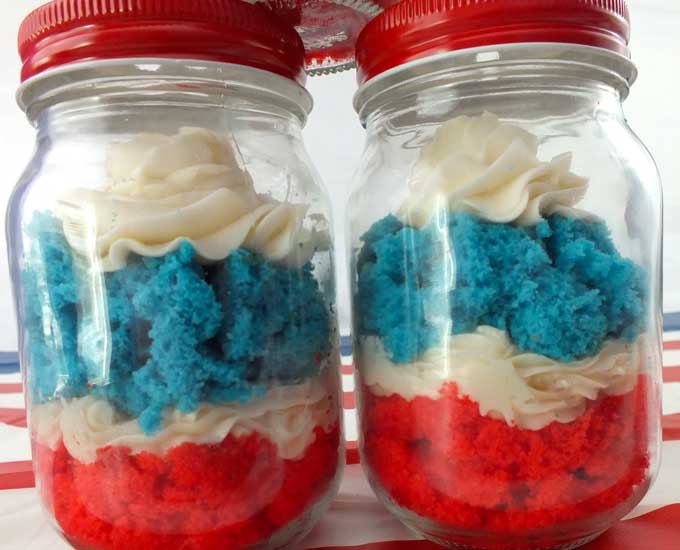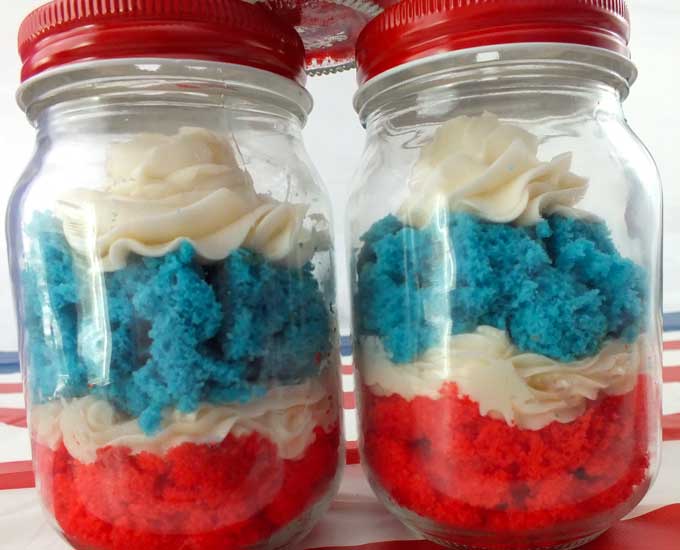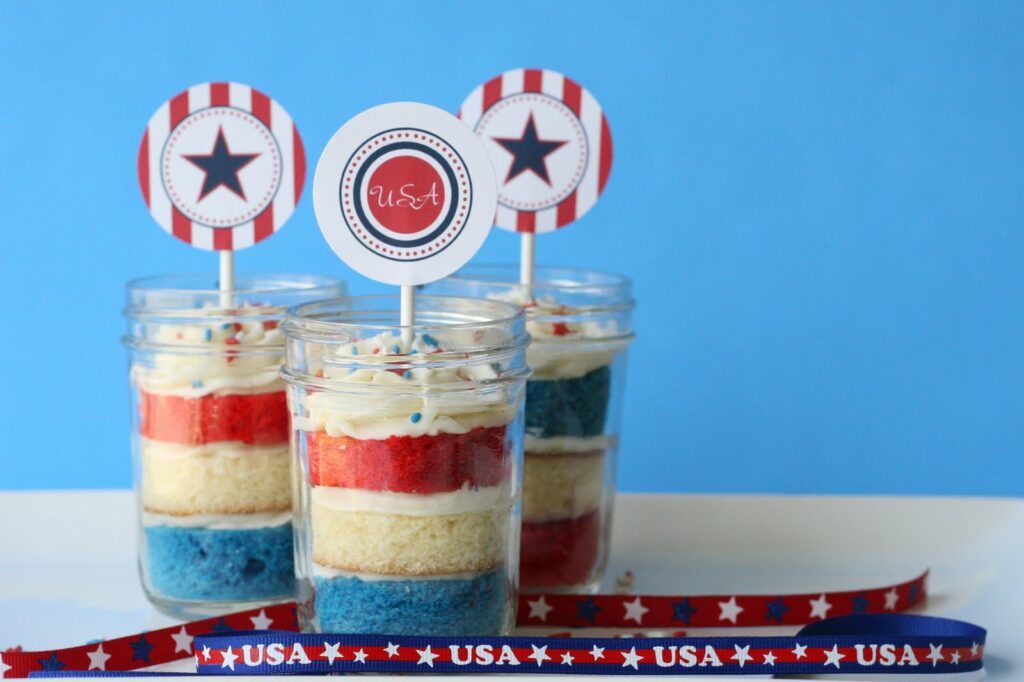 A unique alternative to the traditional cupcake, these deconstructed jar cupcakes make for a delightful, colorful, and festive treat.
---
Sprinkles will Fly Patriotic Cupcakes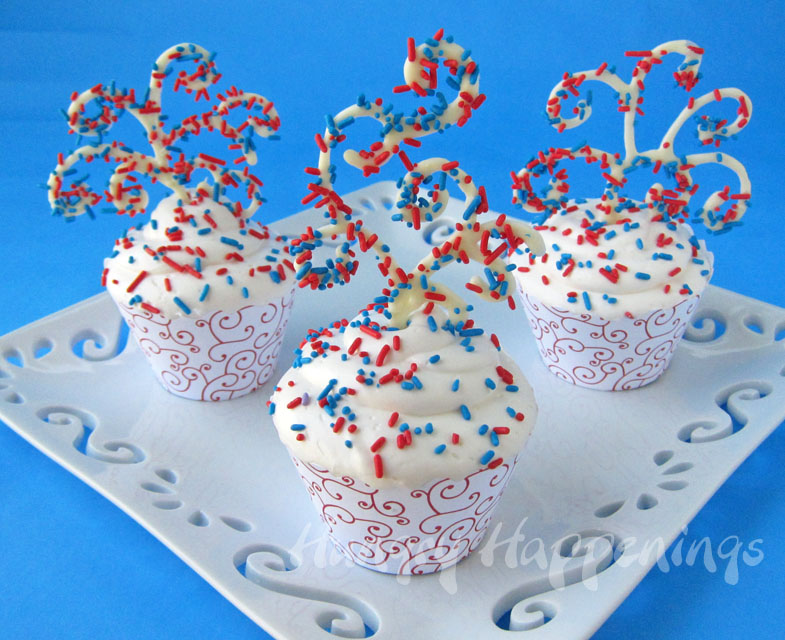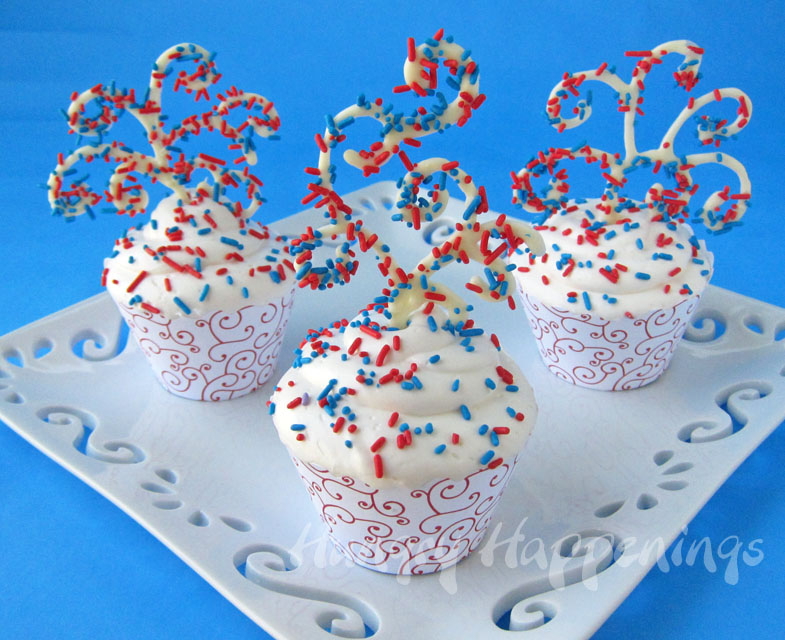 The key to these beauties is the melted white chocolate that is delicately squeezed out of a pastry bag to create these tree-like structures that are then covered with sprinkles.
---
Fruity Fourth of July Cupcakes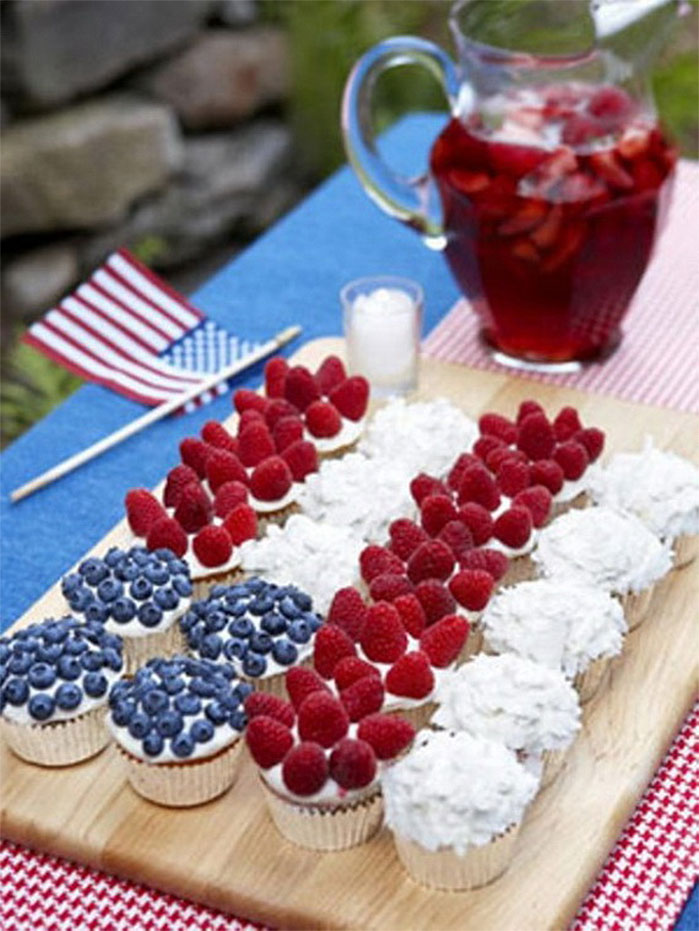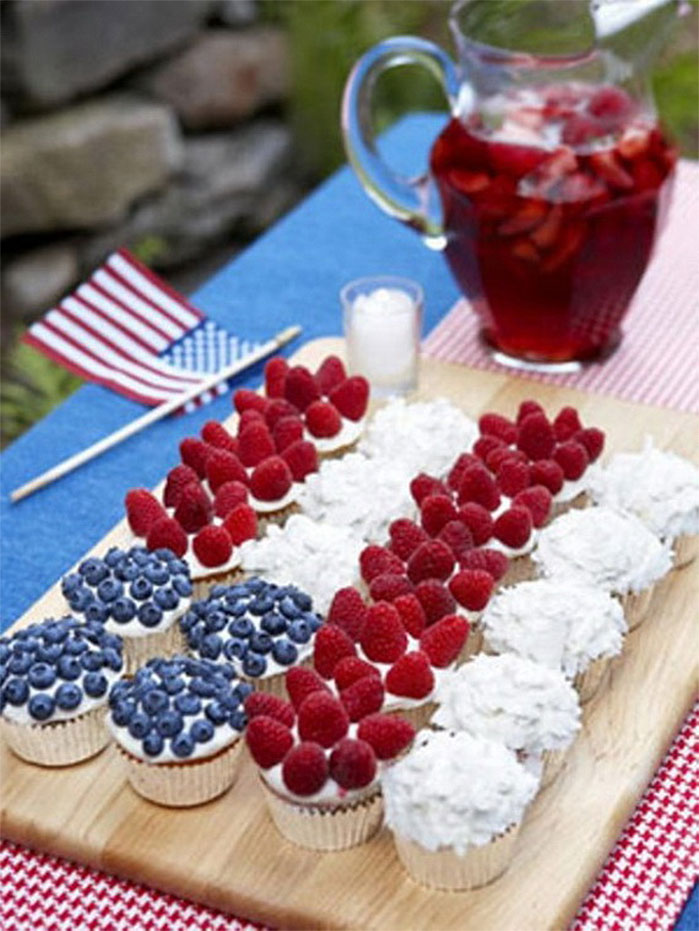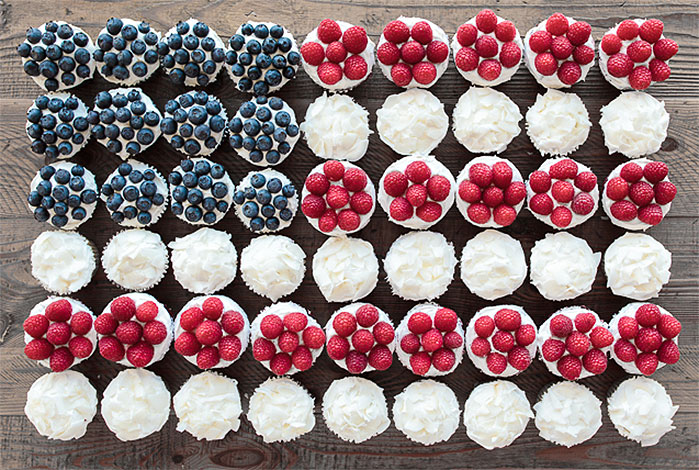 Raspberries, coconut, and blueberries serve as the Red, White, and Blue in these fruity and flavorful cupcakes.
---
Red, White and Blue Swirl Chocolate Cupcakes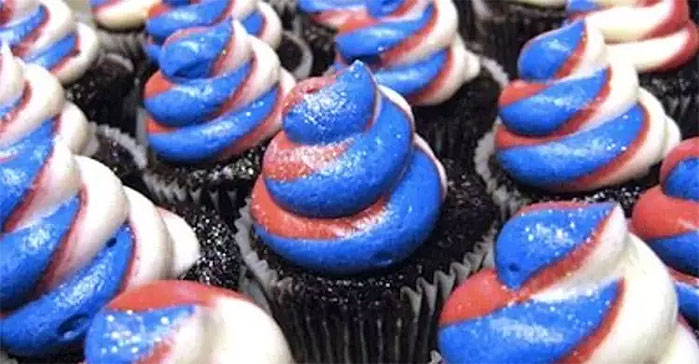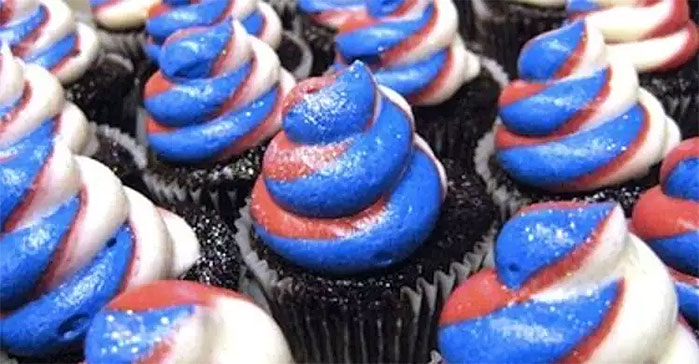 These tri-color Red, White and Blue cupcakes are swirled to perfection!
---
Patriotic Ice Cream Cupcakes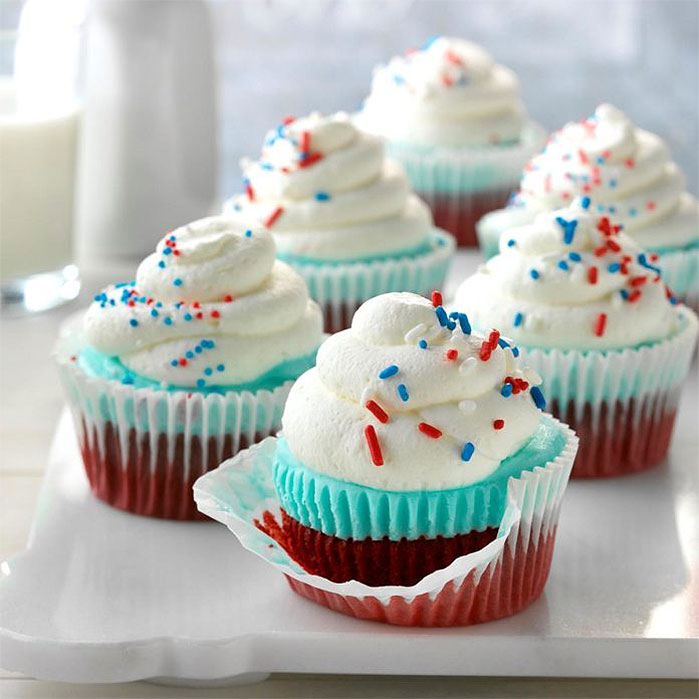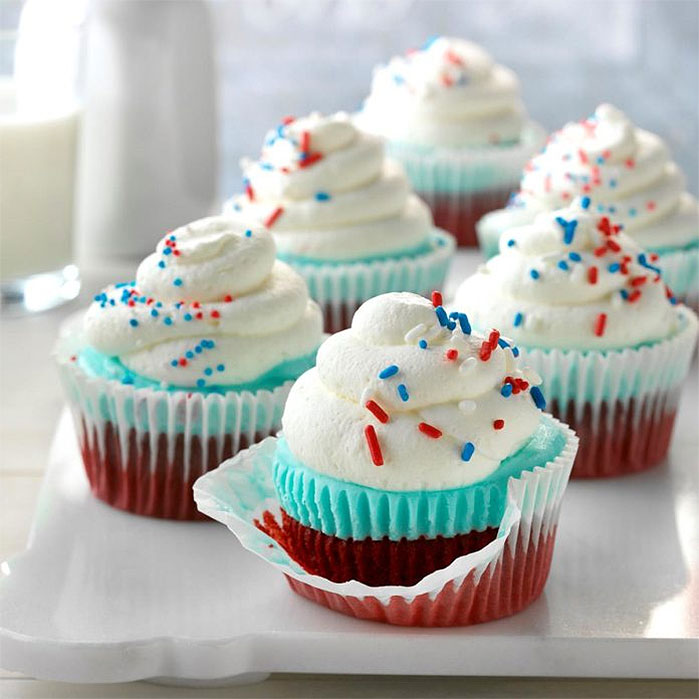 Cake and ice cream combine into a beautiful Fourth of July threat. These adorable cupcakes feature red velvet cake on the bottom, blue moon ice cream in the middle, with creamy white icing and patriotic sprinkles on top.
---
Twizzler Fireworks Cupcakes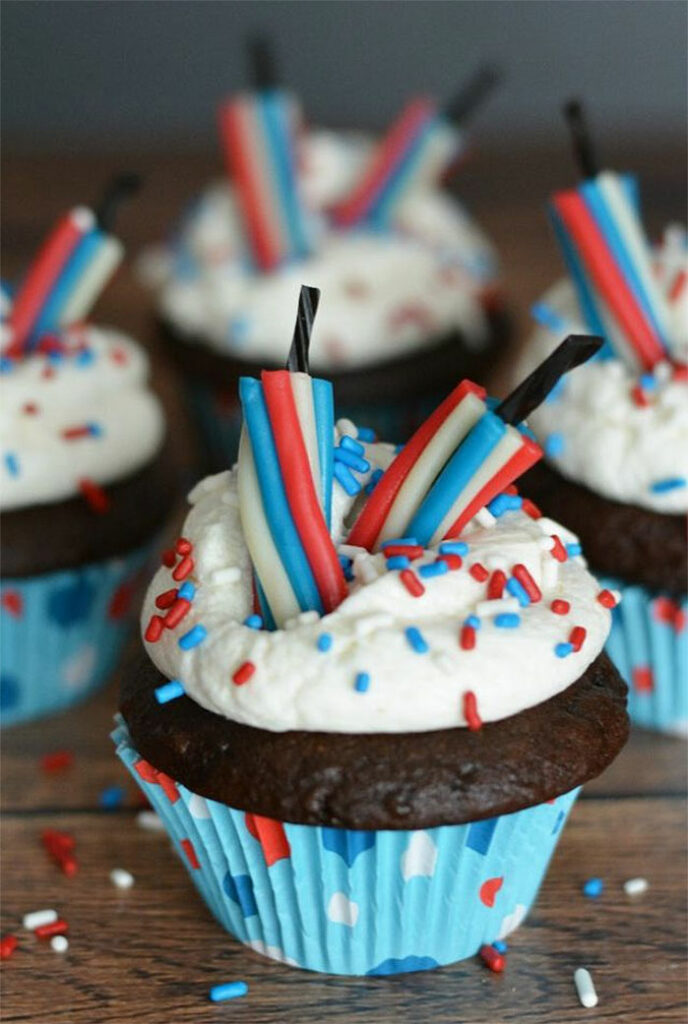 Special Red, White and Blue Twizzlers, with a little bit of black licorice for the fuse, adorn these adorable Fourth of July Cupcakes.
---
Berry Topped Fourth of July Cupcakes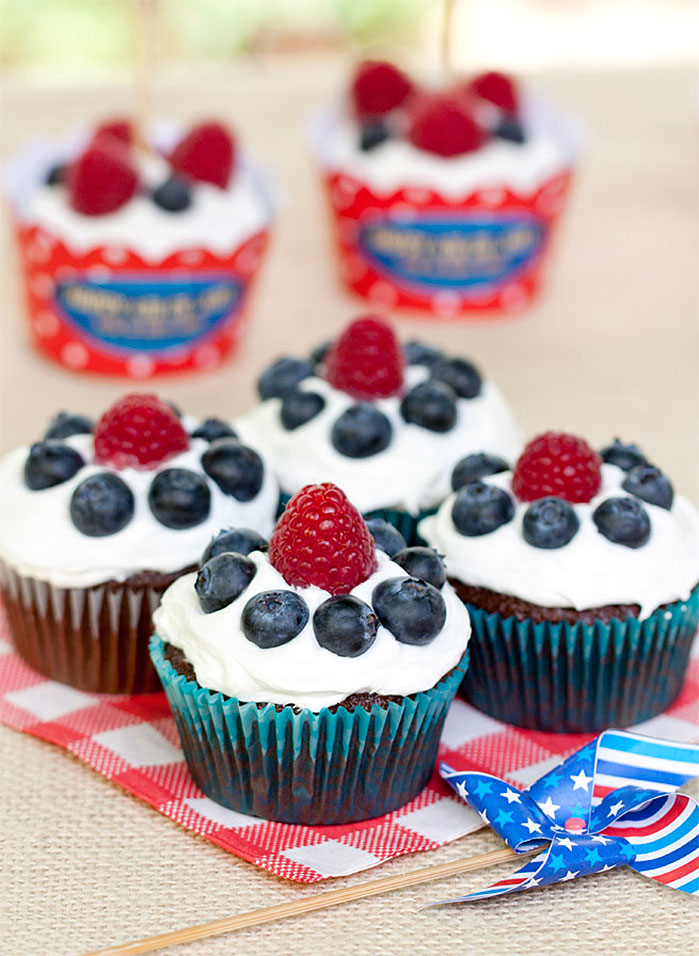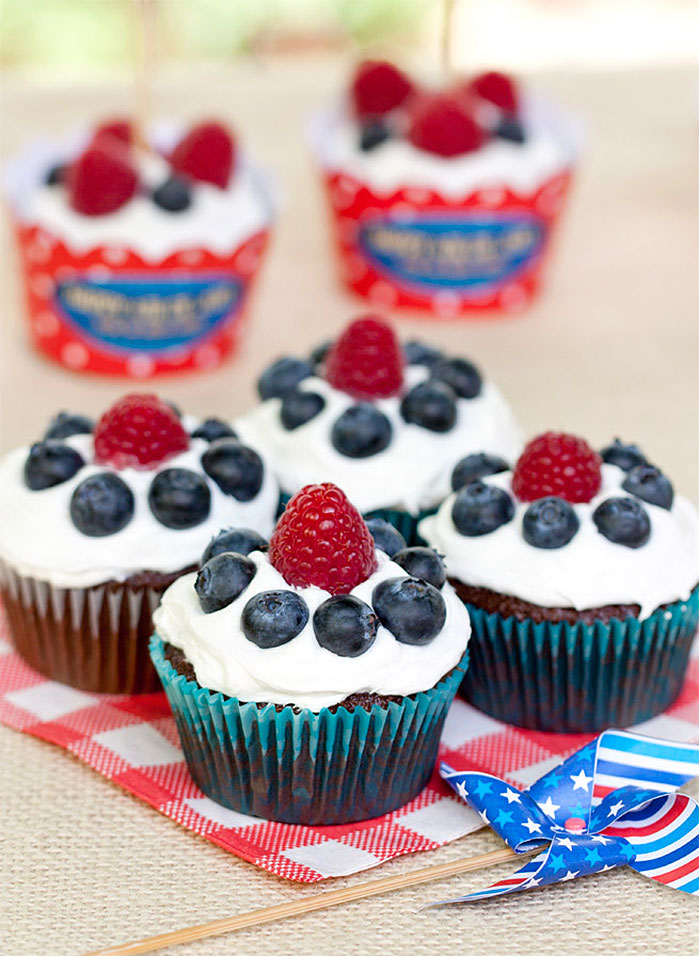 Red, White and Blue can be seen in the Red Velvet cake mix, the white and blue cupcake wrappers, the white icing, the red raspberries and the blueberries.
---
Marble Fourth of July Cupcakes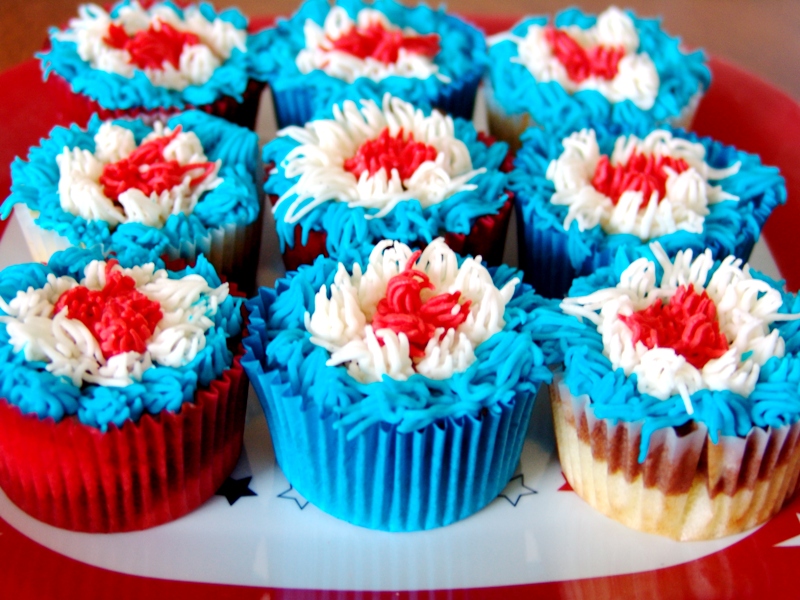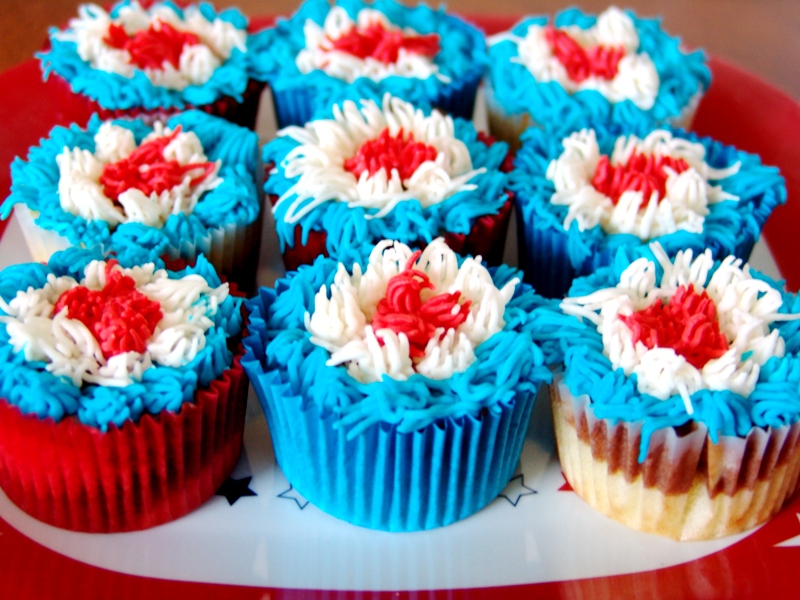 Marble cake, Red, White and Blue cupcake liners and Red, White, and Blue icing make these colorful creations perfectly patriotic.
---
Patriotic Pinwheel Cupcakes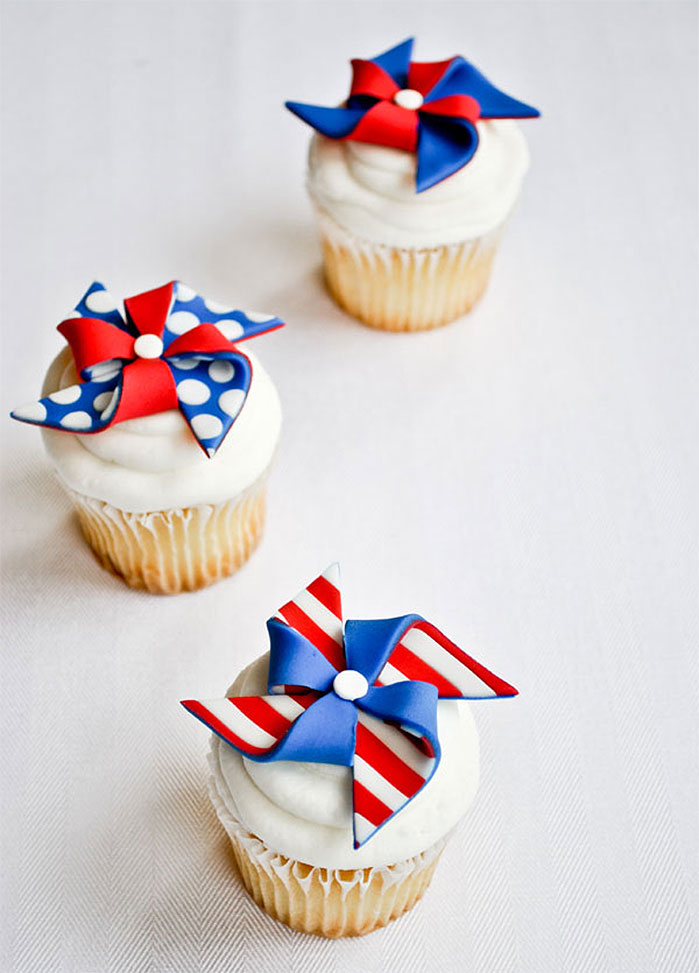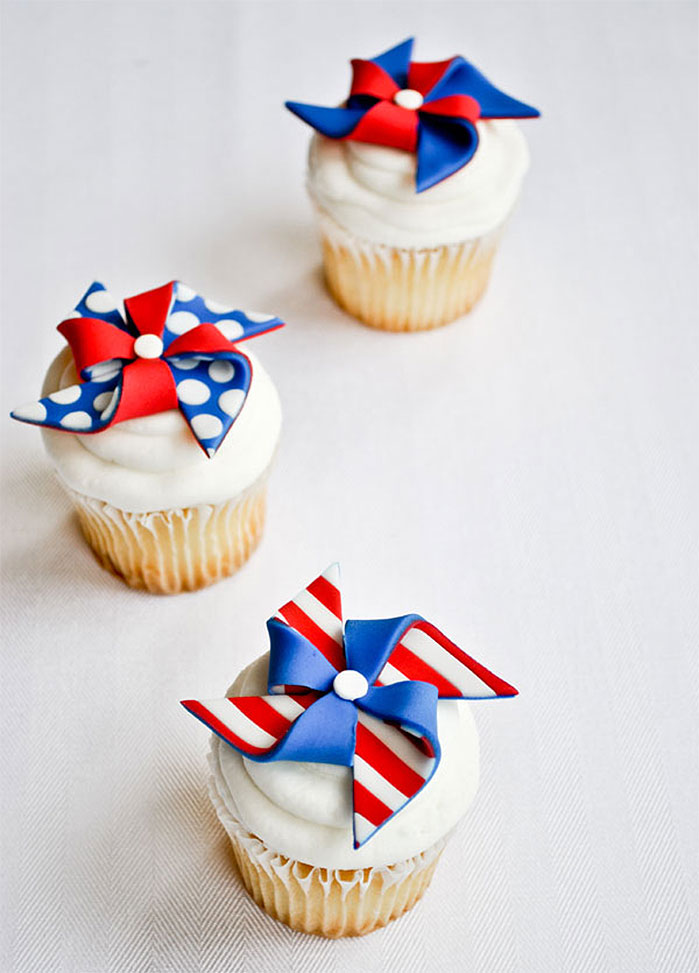 Rolled and cut fondant pinwheels are placed on top of delicious white cupcakes for a dramatic, colorful, and patriotic display.
---
And there you have it. 44 of the best Patriotic Fourth of July Cupcake Ideas we could find.
Looking for More 4th of July Party Ideas?
Check out some great 4th of July Party Ideas, full of useful tips, tricks, and inspiration from some of the best bloggers on the web.
Plus, for even more deliciousness, checkout our collection of over 55 Beautiful Birthday cakes.