An elegant wall tapestry can create an eye-catching focal point in any home, both modern and traditional. By adding a beautiful wall tapestry to your home, you can define your space in a unique way, unlike any other art form.
Not only can you set a particular mood with a beautiful wall tapestry, but you can play with textures, colors, and style to create a look that is uniquely yours. This is what makes the wall tapestries so unique and beautiful, and the perfect way to bland walls into beautiful focal points.
Today's tapestries are a cross between the ancient art of weaving and the visual arts. This amazing craft consists of weaving intricate designs and shapes onto flexible cotton, wool, or silk masterpieces. What makes a tapestry a unique form of art, however, is that it is very detailed but very thin, giving it the ability to be as colorful or as intricate as the tapestry artisan wishes.
It's no secret that tapestries are highly stylized creations that are designed and constructed using delicate, subtle handwork and threads. These fabrics are selected from natural fibers – most often cotton, wool, or silk – so they have a very natural feel and look. Tapestries are truly beautiful works of art that can still be found in today's modern homes. They are beautifully adorned with vibrant colors and intricate patterns and designs.
An extension of your home, wall tapestries are a great way to enrich the aesthetic appeal of your space.
The History of Tapestry Wall Hangings
Long before men started building our industrialized nations, they were hanging thick tapestries in their homes. From ancient castles to elegant manors, to warm and welcoming farmhouses, tapestries have held a revered spot in the home decor world for centuries.

It's estimated that an average Egyptian family could provide a tapestry to the king as a gift, however, a lot of families would have enough fabric to make it their own, creating pieces that could be hung by the fire or placed above the door. The pieces themselves could vary from simple geometric patterns to intricate tribal pieces that celebrated a particular tribe. In Europe, tapestries were also part of the nobility and could be used as a conversation piece, much like a painting, which allowed everyone in a room to see it.
The Benefits of Wall Tapestries
The benefits of using a tapestry to add beauty to your home are many. For one, the tapestries are as beautiful as they are useful. Even the barest spaces in your home can make a beautiful focal point with the use of a tapestry.
Wall tapestries are extremely versatile. You can hang a tapestry in a wide range of ways, depending on the pattern and size. And wall tapestries come in a wide variety of sizes, from large tapestries, such as 15-foot long statement pieces that would hang in historic castles, to smaller, more detailed tapestries that can be used for smaller rooms.
In some cases, you may be able to mix and match different tapestries to create a more harmonious style throughout your home. I know this from personal experience because I have several tapestries hung throughout my home and they complement and counterbalance each other perfectly!
The great thing about today's tapestries is that they are available in a wide variety of patterns, so you can find the perfect design for practically any room. This includes floral designs, abstract designs, color themes, and more. Wall tapestries come in a wide variety of colors, so you can use them to create a varied style palette or a calming look.
You can even swap them out for the different seasons, replacing a classic tapestry with a Christmas tapestry to help celebrate the holiday season.
And the quality of jacquard woven tapestries is unsurpassed. Since most high-end tapestries are woven out of high-quality cotton, wool, or silk, and not cheap material such as polyester, the materials are super strong and can hold up to the wear and tear of your average family home breaking down or wearing out.
The Acoustic Benefits of Wall Tapestries
Some tapestries are truly amazing in both appearance and function. These beautiful tapestries can play an important role in defining your space, and in bringing a bit of class and sophistication to your home. They can also be used to spice up your home decor in many different ways. But beyond that, tapestries have an acoustic benefit that most other types of wall art do not.
The first reason for adding a wall tapestry to your home is the amazing acoustics that you will experience. While you may have low-quality acoustic material in your home, using a wall tapestry can help reduce the echoey sound in any room, even those that don't have a lot of other furnishings or fabrics.
Because of the soft and absorbent nature of wool and cotton, tapestries are perfect for absorbing noise and providing a natural sound wall. A framed print, on the other hand, doesn't allow for sound absorption. In fact, a framed print under glass will actually continue to bounce the sound around the room, increasing that hallow or echoey feeling.
This is especially helpful for anyone who lives in an apartment building or condominium, where a sound wall can be a benefit for absorbing your own – and your neighbors – day-to-day noises.
The Insulation Benefits of Wall Tapestries
Wall tapestries are a fantastic way to add color and warmth to your living room in the winter months. They add a sense of coziness that keeps the room warmer and happier. A simple wall tapestry will instantly create a cozy and comfortable feeling all year long.
Plus, every single layer that stands between you and the outside elements increases your personal comfort level.
The Design Benefits of Wall Tapestries
The overall design benefits of wall tapestries vary based on your unique style, taste, and design aesthetic. They can be used quickly, easily, and affordably define a single space or be placed strategically throughout the house to tell an artistic story. For example, these wall tapestries allow you to combine various colors, designs, and imagery to help people move through your home artistically while maintaining consistency in the medium.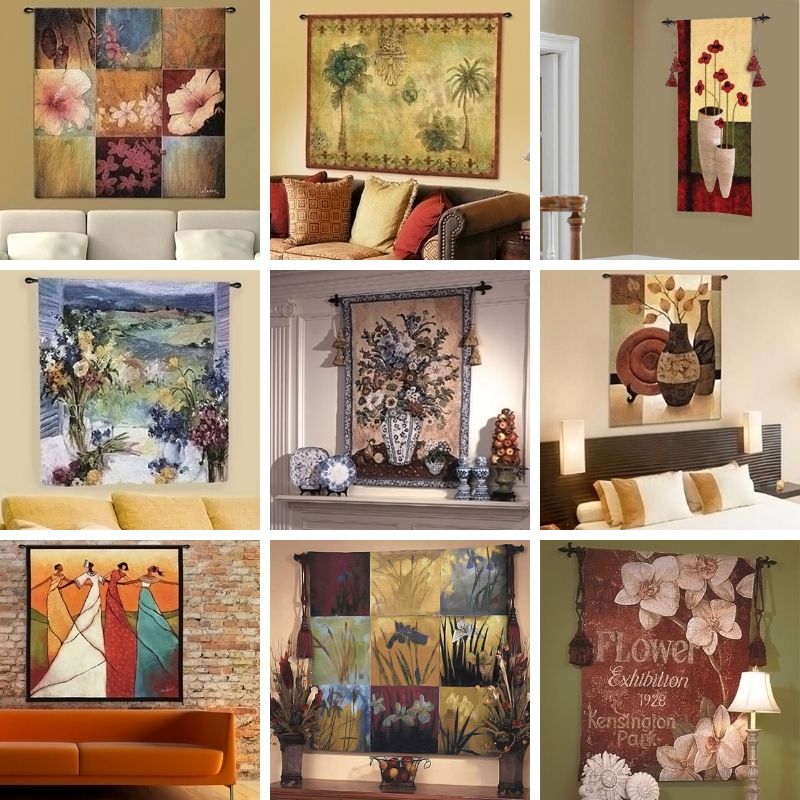 One design can bring a fresh sense of sophistication to your bedroom, while another can add a warm and rustic appeal to the kitchen. A third can bring a sense of fun and whimsy to the family room. The opportunities to express your personal design style with a wall tapestry are practically endless.
Instead of just throwing some cheap art on the wall, add a beautiful tapestry instead. You'll instantly create a new aesthetic that you and your guests will appreciate for many years to come. My tapestries have been hanging in my home for nearly a decade now, and I still love looking at them every single day.
The Lasting Benefits of Wall Tapestries
You may wonder why you would ever choose a wall tapestry over something else, such as a painting. There are a number of reasons to include a tapestry in your home. Wall tapestries are a great way to add drama to any room, without having to spend a fortune. You can choose different types of tapestries to suit your tastes, from vintage to contemporary, creating a stunning and unique focal point.
Wall Tapestry Styles
When people think of wall tapestries, they often picture the medieval classics that could be seen hanging on castle walls. That's not the case anymore. Although those classics are still available, tapestry designs have evolved to match today's decor trends. You can now find beautifully woven tapestries in a variety of design styles, from traditional to abstract, to rustic, and even Christmas or Kids tapestries.
Weaving this amazing textile art is becoming more and more popular as a household decorating style. The type of tapestry to use when you want to create a room's design is determined by the theme or subject of the room.
That's one of the reasons why adding a wall tapestry can be a fun and creative way to really make a statement in your home. This is especially true if you have limited funds for other decor items.

Traditional Wall Tapestry Designs
Traditional tapestries are a modern version of this ancient art form and evoke a feeling of traditional elegance. These designs often surprise contemporary art lovers with their attention to detail, their ability to capture emotion, as well as their exploration of timeless themes such as love and romance.
With a traditional wall tapestry, you get the best of centuries-old craftsmanship, modern manufacturing techniques, and beautiful traditional imagery, all of which combine to create a unique art experience that will be loved for generations. These tapestry recreations of famous artworks capture the drama of historical art, perfectly blending it with modern weaving methods. The end result is faithful to the original artists' vision, with all the durability and appeal of modern fabrics.
For stunning quality, elegance and durability, Traditional Tapestries are an extraordinary choice.

Modern Wall Tapestry Designs
Modern Tapestry Wall Hangings are the perfect decor accent for any contemporary home. Combining centuries-old craftsmanship with modern imagery, these tapestries create a unique art experience.
Intricately woven on Jacquard looms for stunning quality and durability, tapestry wall hangings are the perfect decor accent providing both visual and acoustic benefits. Not just art, tapestries are woven elegance. The combination of visual appeal, acoustic benefits, and practicality give tapestries a unique and stunning appeal in any home.
The blend of bold colors and striking designs executed using the techniques from the ancient art form of tapestry weaving produces artworks like nothing seen before.

Country & Rustic Wall Tapestries
More times than not, you may be scared to use a design element that's outside of your normal decorating genre, simply because you aren't sure how it will look in your home. But, never be afraid to use wall tapestries in your decorating endeavors.
Country & Rustic Tapestry Wall Hangings are the perfect decor accent for any country home or farmhouse. Extraordinary shabby chic, country, and rustic images are intricately woven on Jacquard looms for stunning quality and durability.
Wall tapestries are a great way to add a charming touch of woven decor to any farmhouse, lodge, or country home. These pieces combine the wonderful beauty of country imagery with the meticulous craftsmanship of a woven tapestry wall hanging. Wall tapestries can also be used as decor pieces that you can use to set a cozy atmosphere in your home.
If you choose the right wall tapestry, you can easily create a warm and rustic feeling to even the blandest of spaces.

Floral Wall Tapestries
Floral wall tapestries are the latest fad, not only in the decor industry but all over idea boards and in magazines. These elegant tapestries can be transformed into a stunning art installation, bringing florals into your home with little effort. Gorgeous images of beautiful flowers & fauna are intricately woven on Jacquard looms for stunning quality and durability that changes with each viewing angle.
Bursting with color, these beautiful floral wall tapestries are alive with design, style, and texture. Whether you prefer a traditional view to floral art, or want something with more of a contemporary flair, this collection has got you – and your walls – covered.
With nearly 300 designs to choose from, you can quickly and easily bring a luxurious touch of spring & summer indoors that you can enjoy year-round with these beautiful tapestries.

Landscape Tapestries
Sometimes all you need is a big beautiful wall to make the most of your room. One of the best ways to accomplish this is by using a beautiful landscape design woven into a stunning tapestry.
By using a design with wonderful greenery and flowers, you can really make a statement in your living room.
Landscape Tapestry Wall Hangings are the perfect decor accent for any home. Intricately woven on Jacquard looms for stunning quality and durability, each tapestry features a unique vista, in a variety of vibrant and rich colors.
From the Amalfi coast to French vineyards to rolling rivers to wide-open fields of blooming sunflowers or lavender, each design is meticulously crafted to create heirloom-quality wall decor.
Heirloom quality tapestries provide both a visual and an acoustic benefit and the stunning landscape imagery creates a warm and inviting decor accent that will be loved for generations.
The Texture of Tapestries
Each style of wall tapestry looks different due to the texture of the weave. Although the patterns, images, and colors may be very similar to what you might find in other artforms, the unique variations caused by the weaving method make each and every tapestry unique.
A tapestry wall hanging is both ancient art and the hottest new trend in wall decor. There are thousands of designs to choose from, to let you pick the right tapestry wall hanging for your home. The combination of the colors and weaves creates a unique art experience that changes with each angle. See for yourself why tapestries have proven their worth for over a thousand years.
Conclusion
There are many beautiful wall tapestries that can add a touch of drama, whimsy, or elegance to any home. Each one is unique and tells a story, so you are sure to find one that is just right for your home. With beautiful designs, vivid colors, and unique textures, you will transform your home.
Have you considered the addition of a beautiful wall tapestry to your home? If not, we encourage you to explore the possibilities and to shop online for wall tapestries.
Read Next: How to Hang a Tapestry