With Valentine's Day just around the corner, we browsed through Etsy to find some of greatest Valentine's Day decor items.
If you're looking for something special to help celebrate Valentine's Day with your loved one, we've got your covered… and so does Etsy.
Etsy is such a wonderful place to find unique, often hand-crafted gifts and decor items. I have spent many an afternoon lost browsing through the delightful crafts and creations, and I did that – once again – looking at all of the marvelous Valentine's Day Decor items that Etsy has available.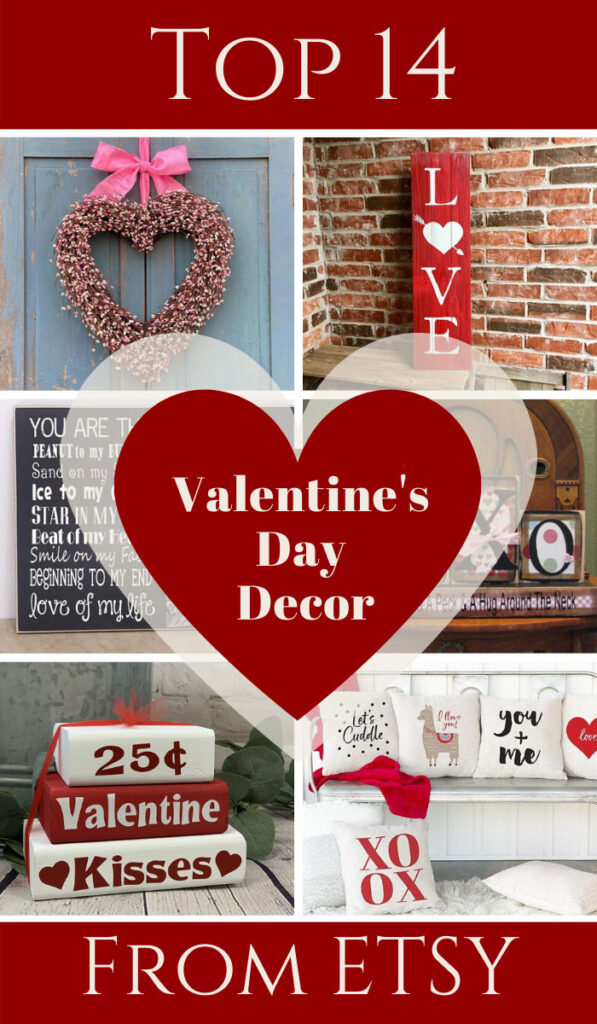 Top 14 Valentine's Day Decor Finds on Etsy
Through painstaking research (ok, just browsing pretty things… but "painstaking research" sounds better), I have narrowed down my 20 favorite Etsy finds when it comes to Valentine's Day decor.
Love Collection Throw Pillow Covers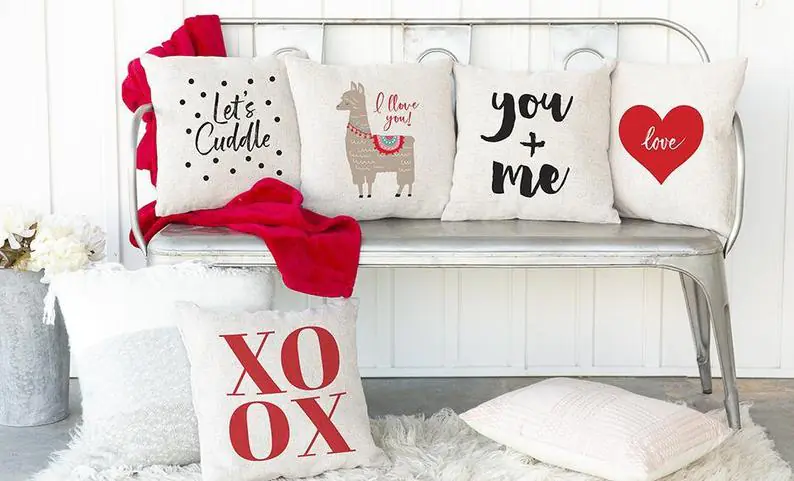 Quickly transform your throw pillows into a quaint celebration of love with these adorably designed throw pillow covers.
Each cover measures 18″ x 18″, so they are perfect for covering a standard throw pillow. Available in 7 super-cute designs.
Priced at $14.99 each
---
Rustic Reclaimed Wood Love Sign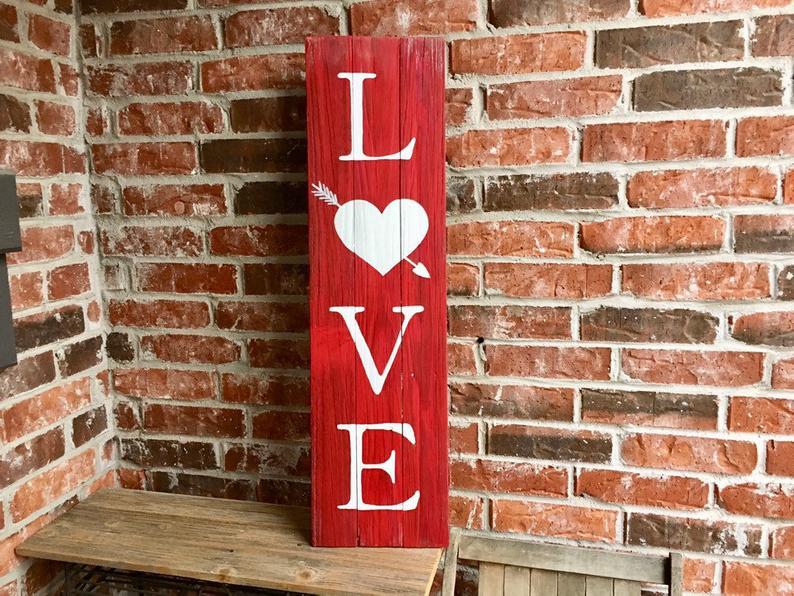 This super-cute and rustic wooden "LOVE" sign is handcrafted from reclaimed wood. It looks great propped up on your porch, mantle, or sofa table but also also includes hangers on the back so that it can be hung on the wall. It also makes great porch decor!
This item is available in two sizes and is made to order and is handcrafted so color and wood features may vary.
Price: 7″ x 21″ – $39.99 | 10″ x 30″ – $59.99
---
Large Custom Copper Flame Heart Valentine's Wall Decor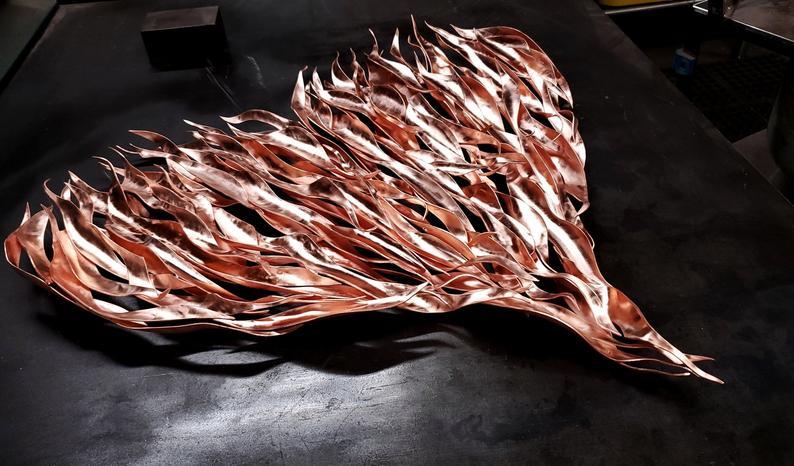 If you are looking for something larger than life to show how much you love that special someone, you're looking in the right place!
This limited edition, large Solid Copper Flame Heart is handmade and custom-welded and measures approximately 23″ wide x 236″ tall.
Price: $429.99
---
Valentine's Day Kisses Decorative Stacker Blocks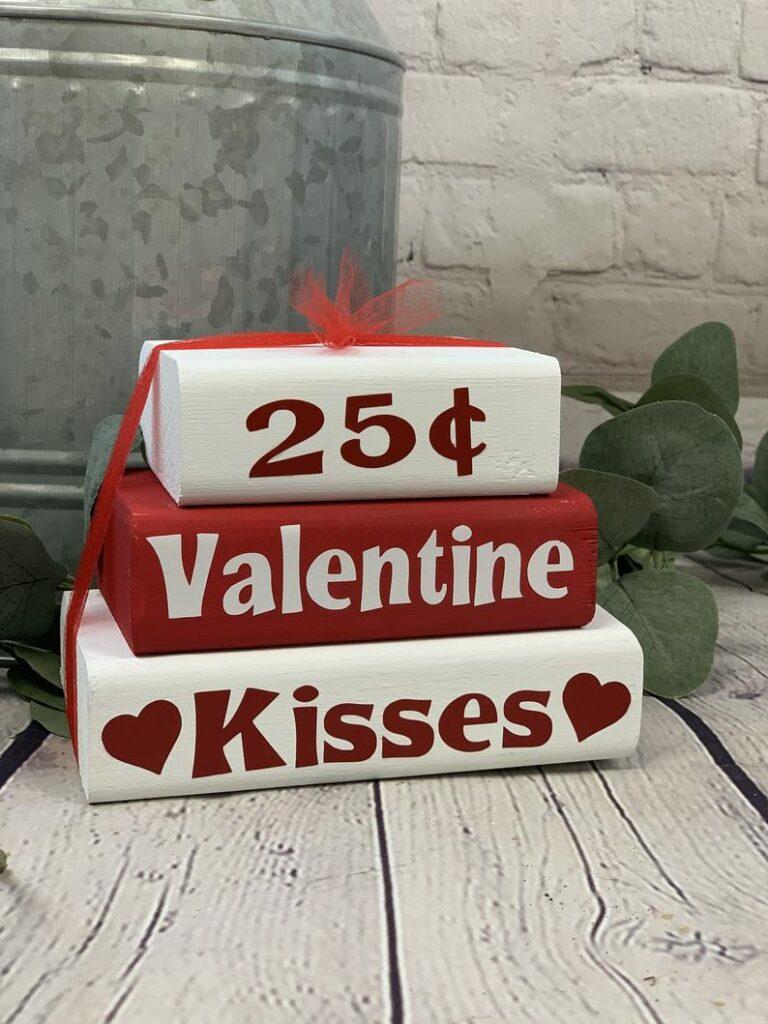 This quaint set promises Valentine Kisses for only 25 cents, but – as a decorative accent for the romantic holiday – it's absolutely priceless.
Crafted from wood blocks that are sanded and hand-painted, they make an adorable accent around Valentine's day.
And at only $13.00, the price can't be beat!
---
Heart-Shaped Valentine Ornaments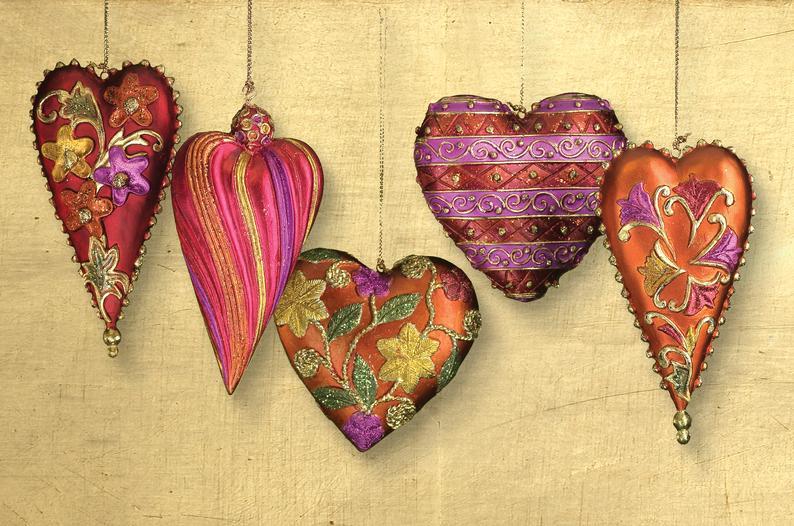 Inspired by the fashion industry, these Filipino artisans have interpreted the latest fabric & fashion trends into a set of 5 magnificent hanging Valentine's ornaments. Original molds of the fabric patterns are carved from plaster and clay and used to cast heart-shaped ornaments from a special blend of polyresin. Each is hand-finished and painstakingly hand-painted with attention to detail – no two ever alike.
The shortest of the ornaments measures approximately 3.25" and the longest is 4.75″.
The set of five with metallic gold cords is priced at $70.00.
---
Pip Berry Heart Wreath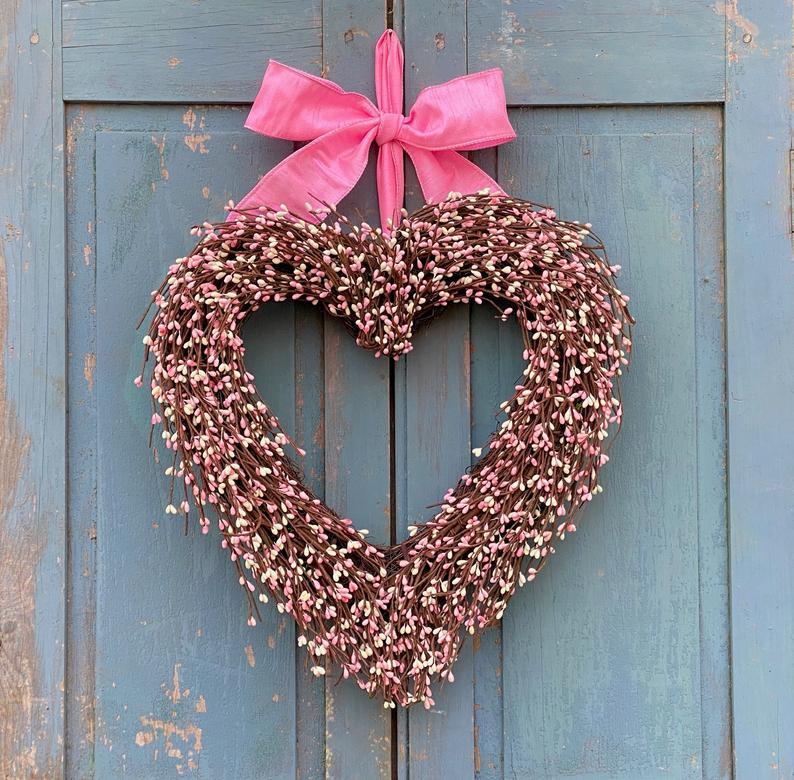 A delightful heart wreath made with your choice of bow, berry color, and size so that you can have it exactly the way you want it! And isn't that how everything should be on Valentine's Day??
Your front door will be the envy of the neighborhood with your beautiful design from Etsy!
Prices start at $25.99
---
Love You A Bushel and A Peck and Hug Around The Neck Valentine Sign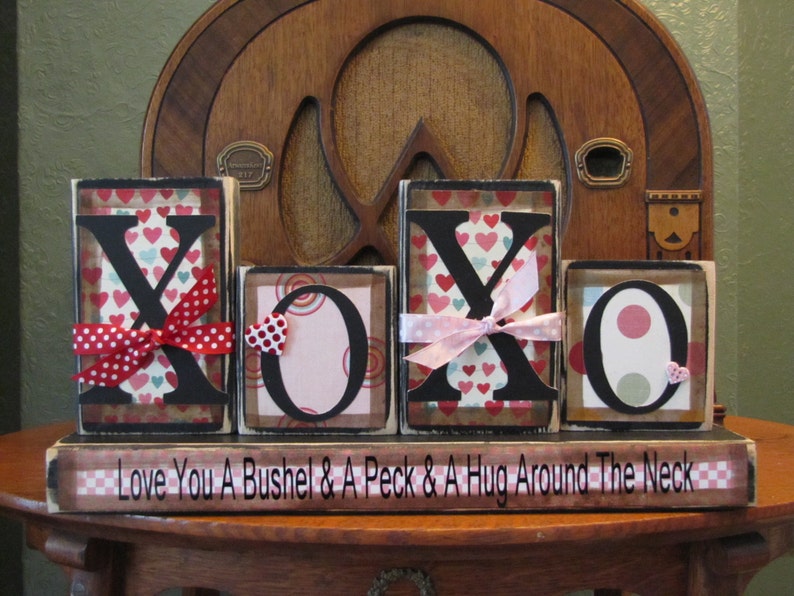 Add a delightful touch of whimsy to your Valentine's Day decor or just tell that special someone how much you love them with these "XOXO" word blocks.
Each block has been painted and distressed with quality scrapbook paper and embellishments applied.
The total piece measures 14″ wide and 7″ tall.
Price: $30.00
---
Valentine's Love Poem Photo Clipboard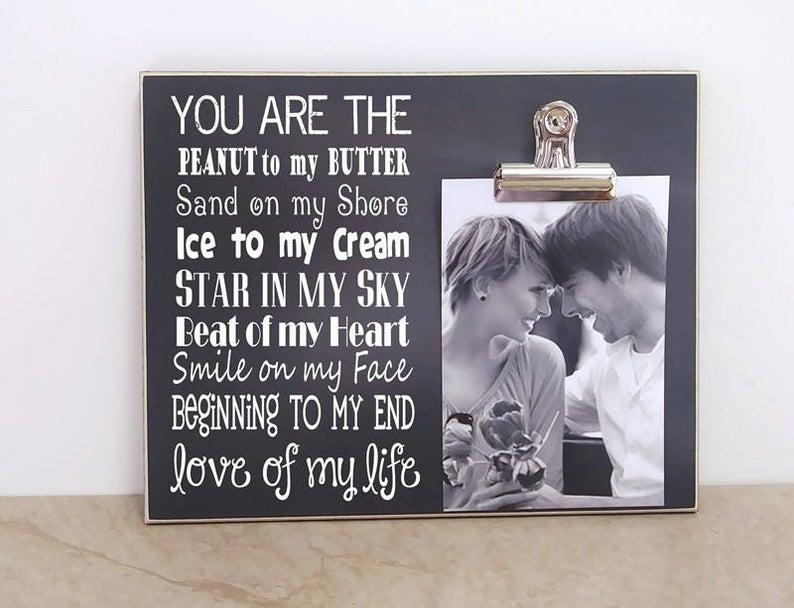 This Photo Clip Frame makes a fun and sweet gift, and a lovely bit of romantic art.
The words, printed on crystal archive paper, spell out a lovely Valentine's Day poem:
You are the
Peanut to my Butter
Sand on my Shore
Ice to my Cream
Star in my Sky
Beat of my Heart
Smile on my Face
Beginning to my End
Love of my Life
---
Tiered Tray Valentine's Day Decor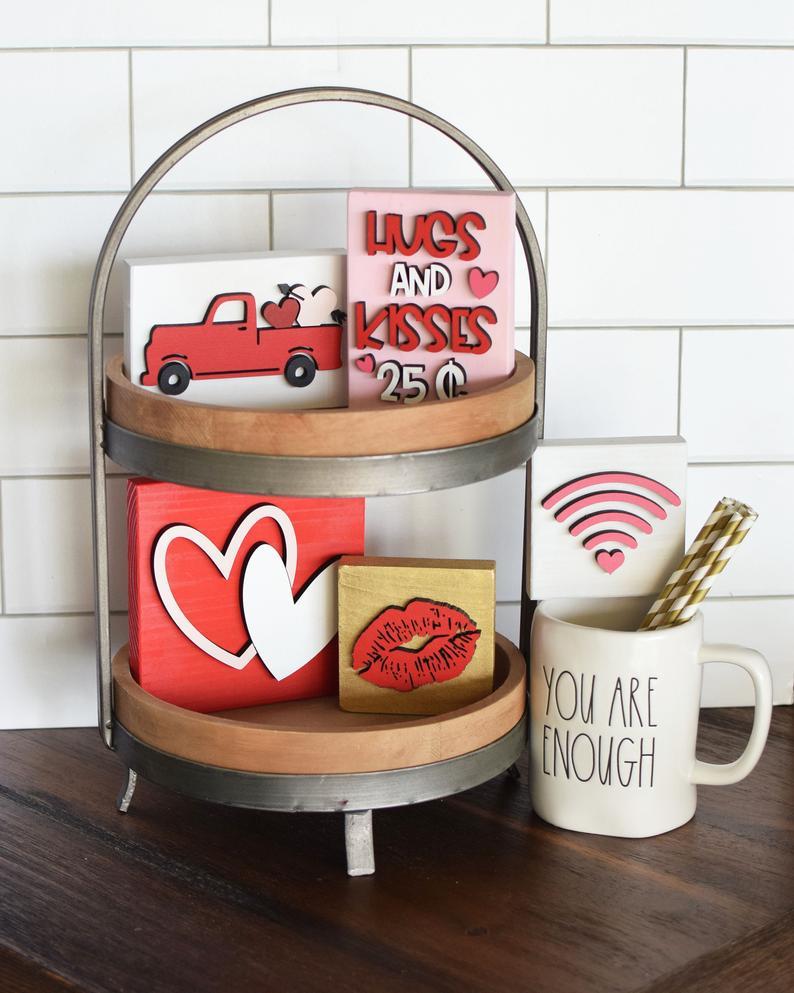 These super-cute mini 3D signs are the perfect addition to your Valentine's Day decor! Don't worry about storing large signs that you only use once per year, these mini signs fit great in tiered trays, hutches, mantles, or floating shelves.
The set shown includes:
Red Lips – 3.5″ x 3.5″
Love Wifi – 3.5″ x 3.5″
Red Love Truck – 3.5″ x 5″
Hugs & Kisses – 3.5″ x 5″
Joining Hearts – 5.5″ x 5.5″
But you can pick just the pieces you want to add to your own tiered tray!
The entire set costs $57.95
---
Tulip Valentine's Day Heart Wreath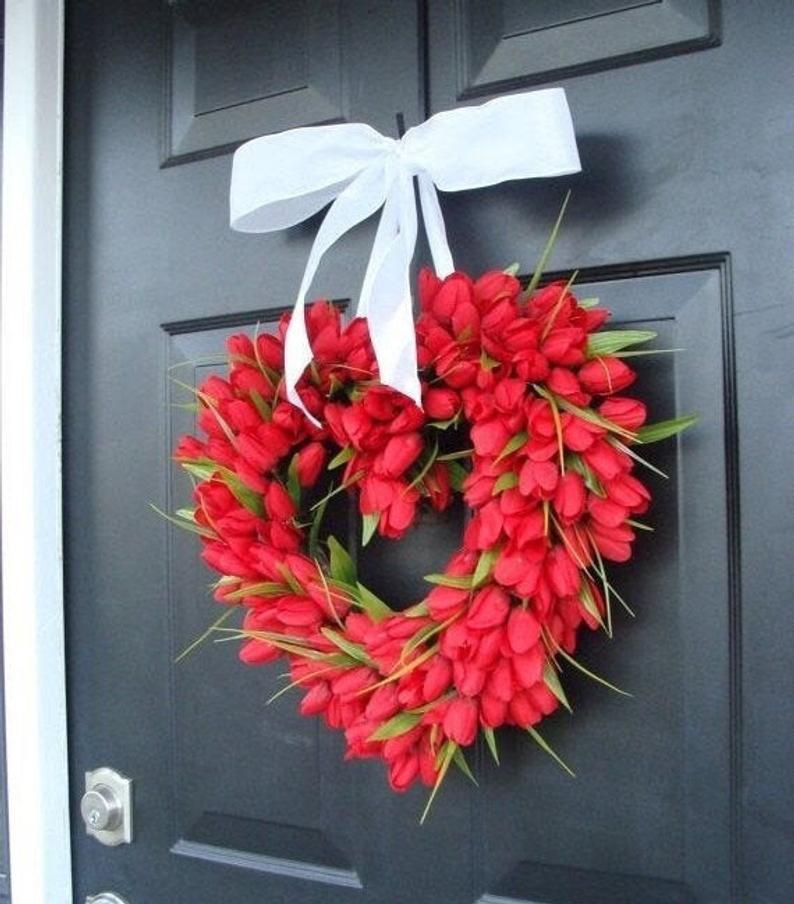 This gorgeous silk tulip heart-shaped Valentine's Day wreath is the perfect way to say I Love You to someone you care about. The wreath measures 24 inches high with bow and 17-18 inches wide and is available in several artificial tulip color combinations of red, white and light pink.
Accent it with your choice of high quality 2 1/2 inch wired ribbon.
Price: $100
---
Personalized "Where It All Began" Valentine's Day Sign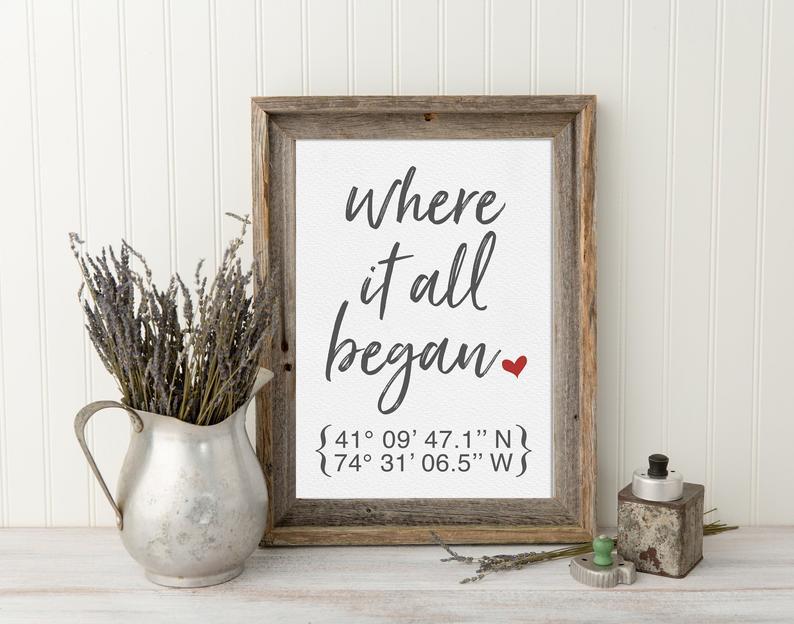 Turn the coordinates of where you first met into a unique personalized framed piece of Valentine's Day art (that you can display all year round)!
And you don't have to worry about figuring out what those coordinates are, just let the Etsy artisan know the full address and they do the rest.
Perfect as a unique Valentine's Day decor or gift item.
Price stats at $31.50 unframed, or up to $71.99 framed.
---
I Love You to the Moon and Back Metal Wall Decor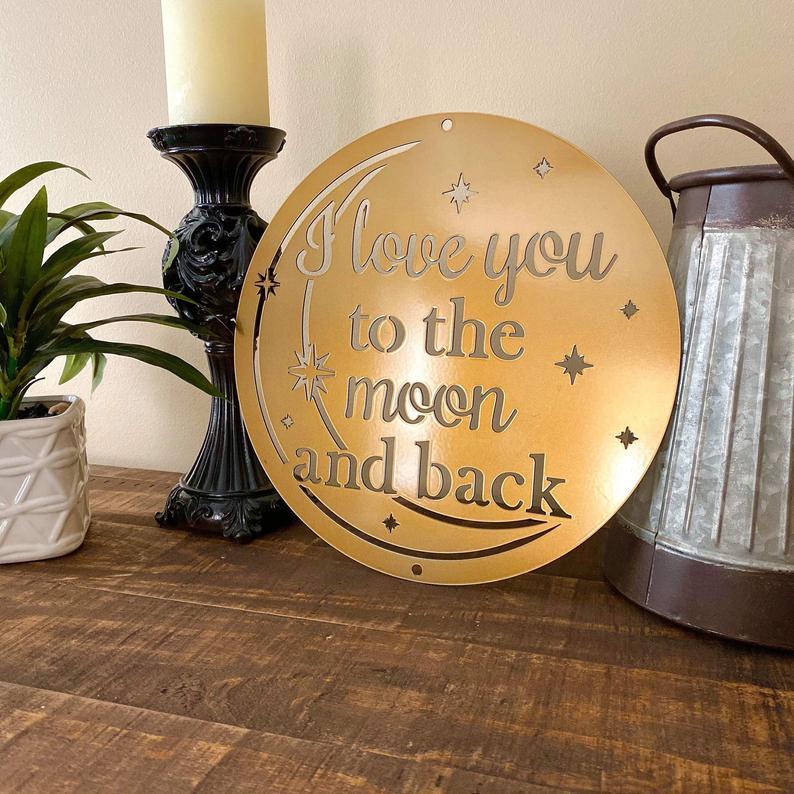 Tell your loved one just how special they are to you with this beautiful custom metal sign!
Laser-cut from 15 gauge steel, it is triple sanded for a smooth, high-quality finish.
---
Metal Valentine's Day Glitter Heart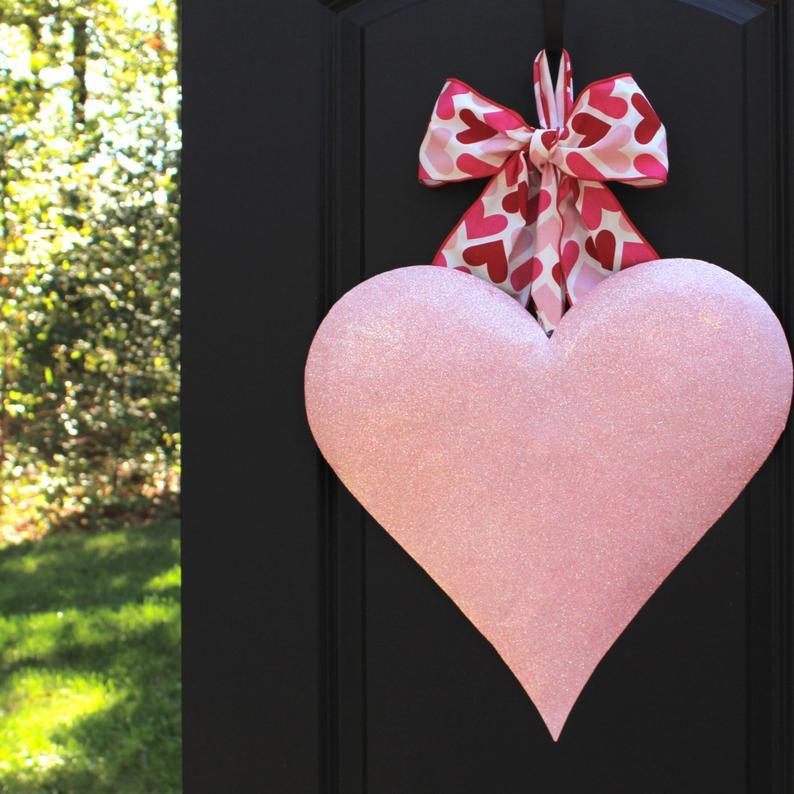 This gorgeous glitter heart is perfect for adding a unique splash to your Valentine's Day decor.
Choose your color (red, pink, or white) size (18″ or 24″) and your bow (from 26 beautiful options) to make it your very own!
Prices start at $29.99
---
Hugs, Kisses, & Valentine Wishes Wall Plaque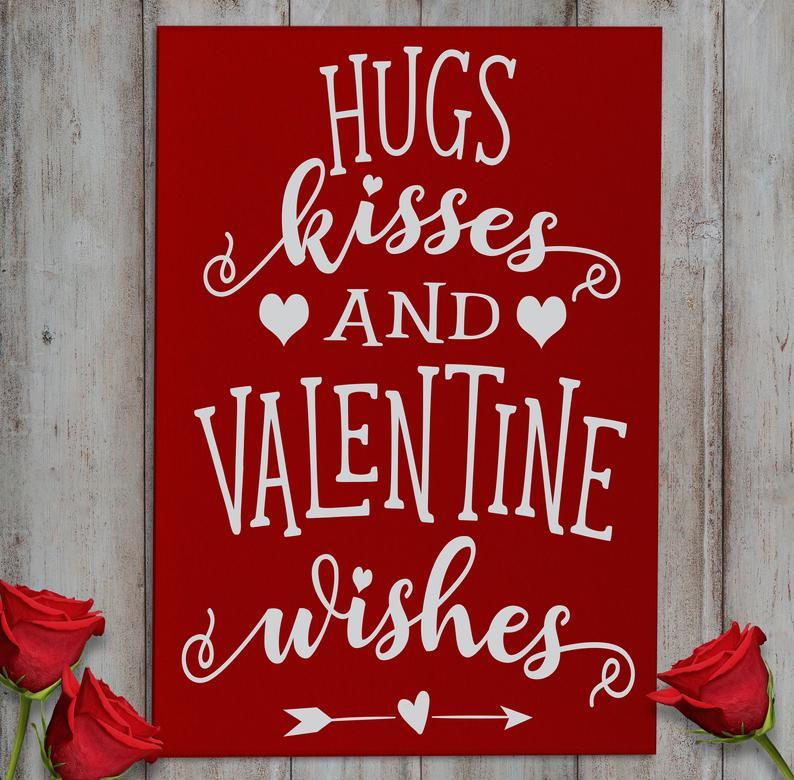 This wonderfully romantic sign expresses all the things you want to give your loved one on Valentine's Day. Well, maybe not ALL the things… but all the things you'd want to hang up on a wall to display for all the world to see. 😀 😀
Pricing starts at $30.95
---
Still Need More Valentine's Day Decor Ideas?
Have no fear, we've only just begun to scratch the surface on the thousands of items available in the Etsy Valentine's Day Collection!!!