This religious-themed Creation of Adam tapestry wall hanging showcases Michelangelo's exquisite work in lush colors. This tapestry is perfect for anyone who wants to add a touch of religious or renaissance art to their home. Featuring Michelangelo's iconic painting, the Creation of Adam, this piece is sure to impress guests and add a touch of elegance to any room.
The Creation of Adam is a fresco on the ceiling of the Sistine Chapel by Michelangelo. It was painted from 1508 to 1512. The painting depicts the moment when God breathed life into Adam, the first man.
Many have misinterpreted the painting to show God and Adam shaking hands. In fact, their fists are touching but it does not depict a handshake. The exact moment of creation, when God breathes life into Adam, as depicted by Michelangelo with a small blast of wind emanating from his mouth just before reaching Adam's fingertips, which he is about to touch. People who think the picture shows a handshake might be thinking of Raphael's version in the School of Athens.
Michelangelo painted an enormous amount for this small space – over three hundred figures. This had never been attempted before in a fresco. Some parts are unfinished.
A tapestry wall hanging features a unique combination of thread colors and weaves that creates a unique art experience that changes with each viewing angle.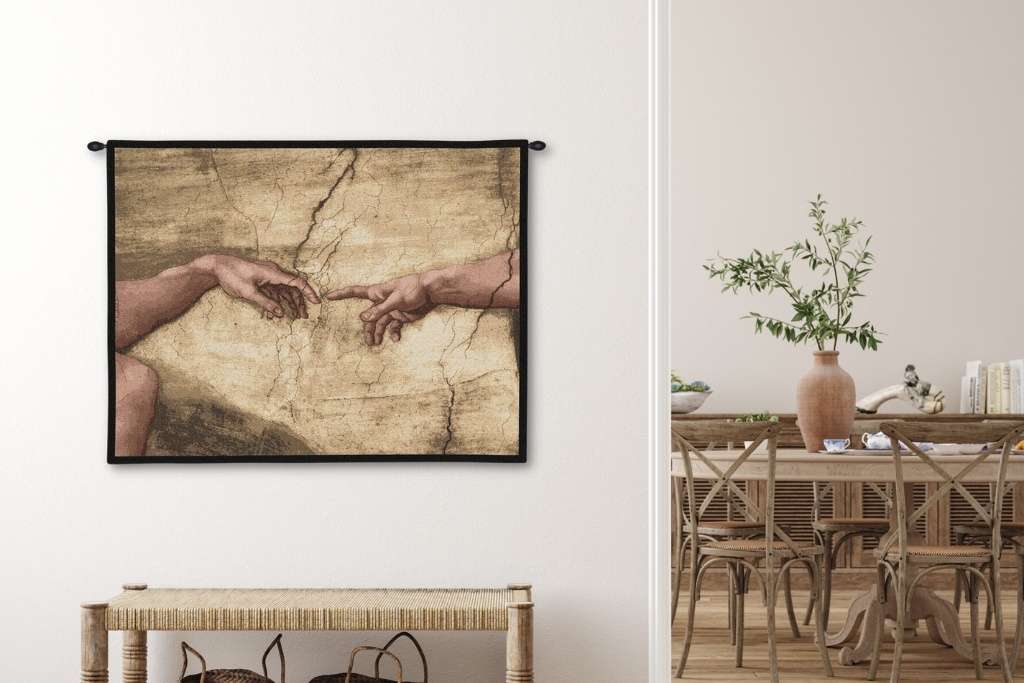 Creation of Adam by Michelangelo Wall Tapestry Features:
Size: 34 x 26
Jacquard-woven on heirloom-quality looms
Hand-finished & backed with a cotton lining
Proudly Manufactured in North Carolina
Tapestry Hanging Rods, Finials, and/or Tassels are not included.
This awe-inspiring Creation of Adam Tapestry is the perfect way to add a touch of whimsy and religious sentiment to your home.  With beautiful colors and intricate details, it's sure to infuse any room with an air of sophistication. Wherever you choose to hang it, this exquisite wall tapestry is sure to impress.
All tapestries are special order items. Although most orders will ship within 3 – 5 business days, please allow up to 3 weeks for delivery.
More Tapestry Wall Hangings
For over 15 years, our family has been proud to provide your family with a stunning collection of unique and wonderful home decor products.
Just a few of the wonderful words of praise we've received from our customers:
"The colors are wonderful, and I am very pleased!"
"This Is Gorgeous. Five Stars!"
Art & Home is proud to offer this Creation of Adam Tapestry as part of our Tapestry Wall Hanging collection.
Read More from Art & Home
---