An olde world style map is pictured on this wall tapestry. Vibrant blues are prominent in this stunning wall hanging.  A fine art tapestry wall hanging, woven on jacquard looms, A New and Accurate Map measures 67″ x 53″
Bring a touch of the past and the world around you into your home with this Old World Map Tapestry Wall Hanging. Depicting an ancient map of the world, this tapestry is perfect for spicing up any bare wall. Made on jacquard looms, this tapestry is a high-quality piece of art that is sure to impress guests and add personality to your home decor.
This tapestry wall hanging combines modern home decor with over 200 years of weaving heritage to create a stunning accent for your wall. The combination of the thread colors and weaves creates a unique art experience.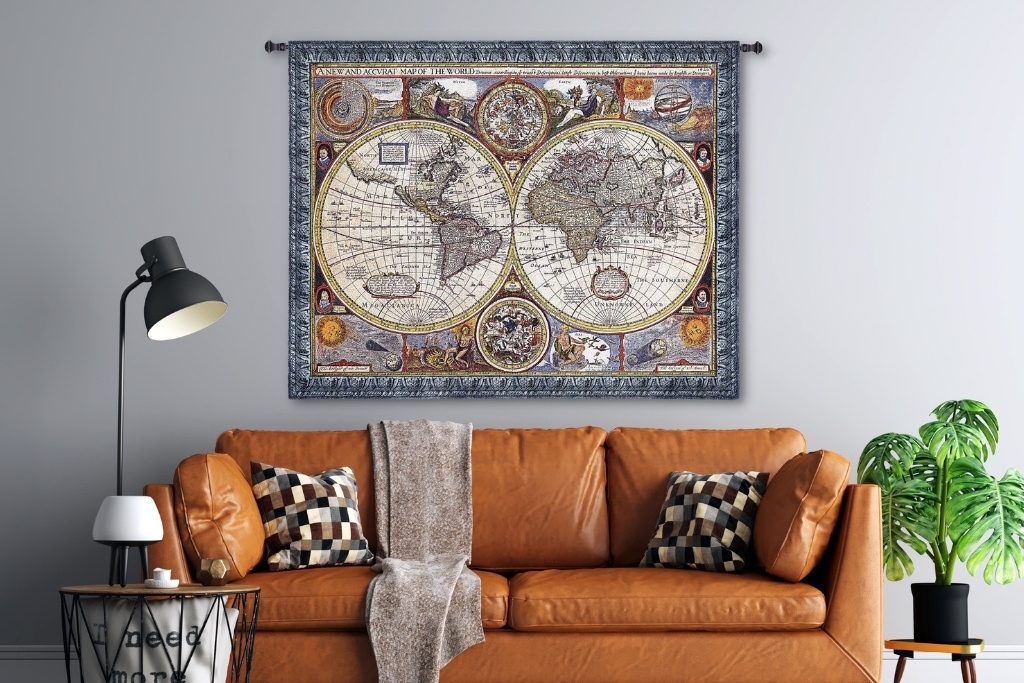 A New and Accurate Map Woven Wall Tapestry Features:
Size: 67″ x 53″
Jacquard-woven to produce true depth, exquisite detail & texture, outstanding color, and richness
Beauty and functionality combine based on the sound softening acoustic benefits
Hand-finished with a soft, solid cotton backing and a rod-pocket for easy hanging
Made in the US
Tapestry Rods, Finials, and/or Tassels are not included.
All Wall Tapestries are Special Order items, please allow 7 – 10 Business Days for delivery. We're sorry, but rush shipping is not available on these unique products.
About Fine Art Tapestries:
Fine Art Tapestries are quality weavers with an attention to detail that can only be found in classic American-made products. All Fine Art Tapestries wall hangings are Jacquard-woven from 100% Cotton to create a style that provides outstanding color, extraordinary detail, true depth, texture, and richness
Each tapestry wall hanging is individually woven and hand finished. Although this may cause minor irregularities in the shape, weave, or colors, that also adds to the uniqueness of your tapestry.
Taking Care Of Your Woven Wall Tapestry:
Tapestry wall hangings may require a light dusting or the occasional vacuuming using the upholstery attachment. Do not wash with soap and water. If you get a stain on your tapestry, please consult a professional before attempting to clean the tapestry yourself.
Art & Home is a family-owned and operated business. For more than 10 years, our family has been proud to provide your family with a stunning collection of unique and wonderful home decor products. Don't just take our word for it! Here are just a couple of the comments we've received from our tapestry customers:
"I love this beautiful tapestry. The colors and quality are great. Fast shipping and good price for what you are getting!"
"Pricing was excellent for the quality. I am very pleased."
Art & Home is proud to offer these wonderful pieces as part of our Woven Tapestry collection.
Browse More Wonderful Tapestry Wall Hangings
Home Decor Shopping at Art & Home
This lovely piece is just one of the lots of remarkable decor products that Art & Home has cherry-picked to help you enhance your home.
To do this Art & Home has joined forces with many of America's best home decor & furniture retailers to bring you some of the most amazing home decor and furniture collections available on the market today. Through this and other relationships, Art & Home seeks to provide you with access to loads of outstanding home decor products and save you the time & hassle of surfing dozens of different retail websites.
From Luxurious Rugs to Living Room Furniture to Clocks, Art & Home dedicates itself to uncovering the most remarkable furniture & decor so that you can create the home of your dreams. As a family-owned and operated company, Art & Home knows how important it is to love your home.
Purchasing from our partners is effortless. Simply click on the Unlock Current Deal button above to see the full details, up-to-date pricing, and get a shipping estimate to your location.
We hope you enjoy exploring this fantastic collection as much as we enjoyed crafting it.
All the Best!
Art & Home
Read More from Art & Home
---