Looking for a fun DIY project to keep you busy? We scoured the web and narrowed it down to these top 21 DIY platform bed tutorials. Which one will you try? 
Forget about spending money on a bed frame; why not build your own DIY Platform Bed instead?
A platform bed is a type of bed frame that features a flat and even surface, sometimes with a raised border along the edges. This type of bed frame is designed to provide an even surface without the need for box springs or any other supportive bedding underneath. Platform beds tend to be sturdier than regular bed frames as they are built with heavier materials, such as wood, metal, and in some cases, leather. They often feature sleek lines and can easily integrate into nearly any bedroom décor style.
In addition to their aesthetic appeal, platform beds are also known for their ergonomic benefits. The firm, even surface provided by these beds helps to distribute weight evenly across the mattress and body while sleeping, helping to reduce pain and pressure points. Also, because platform beds usually sit higher off the ground compared to regular bed frames, they may offer more support for those suffering from back pain or discomfort during sleep.
Platform beds come in many sizes and styles depending on individual preferences. Some models feature headboard designs for added elegance and comfort, while others are simple enough that extra pillows can be used for added comfort and relaxation. Furthermore, some platforms have integrated drawers for added bedroom storage space, making them perfect for small bedrooms needing extra storage solutions.
In short, a platform bed is crafted to provide ample support for your mattress without the need of any extra box springs or foundations.
Benefits of a DIY Platform Bed
Cost savings compared to buying a bed frame,
No need for extra box springs or foundations, providing ample support for your mattress,
A wide variety of DIY Platform Bed Ideas are available online to choose from, and
A fun, easy, and customizable project to keep you busy.
Whether you're looking for something simple or more intricate, there's a DIY Platform Bed idea out there for everyone. So what are you waiting for? Use these ideas to inspire you and get building today!
Use Reclaimed Wood
The pleasure of giving old wood a new purpose is truly unmatched. Find some boards that require a makeover, and stain them to your ideal color for an exceptional DIY bed made from reclaimed wood.
Reclaimed wood has been previously used for various purposes, such as in construction projects, furniture-making, and flooring. It is often reclaimed from old buildings and structures that have been taken down or no longer used. Reclaimed wood can also be found in discarded shipping crates, wine barrels, boats, barns, and other sources. The interesting thing about this type of wood is that it comes with its own unique history and story.
Reclaimed wood offers a variety of unique benefits over newly sourced lumber. Firstly, the reclamation process helps conserve natural resources and prevents deforestation by giving new life to neglected timber pieces. Secondly, due to its age, the grain patterns in reclaimed lumber are much more developed than those seen in freshly cut lumber – meaning it is much harder and more durable than newly sourced wood. Lastly, using reclaimed wood can help create a one-of-a-kind look for your project as no two pieces of this type of wood will be exactly alike due to its history and previous uses.
In addition to its aesthetic appeal, reclaimed wood is also known for being environmentally friendly since it does not require new raw materials or additional energy for production (unless it needs additional treatment, such as surface sanding). This makes it an excellent choice for those looking to build green projects or reduce their environmental impact overall.
Thanks to its versatility, reclaimed lumber has become increasingly popular among DIYers who are looking for sustainable building materials with a unique character that cannot be replicated with regular new timber. Whether you're creating furniture pieces or structures like shelves or bed frames out of reclaimed material – you can rest assured that your project will be completely unique!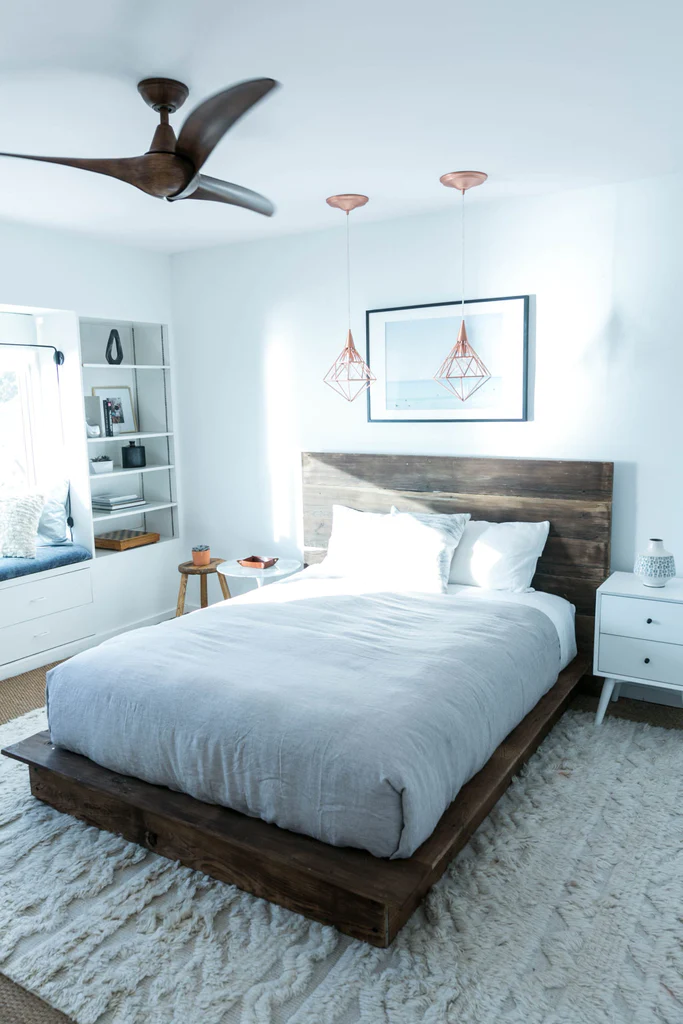 Easy Peasy Simple Plank Platform Bed
You can craft the ideal DIY platform bed with ease and minimal supplies! You only need a few boards to create an incredibly functional bed frame.
To start, simply measure your mattress and cut your wooden planks to the right size. You can stain or paint them however you like; alternatively, if you want to leave the wood in its natural state, use a sealer for protection against stains and moisture.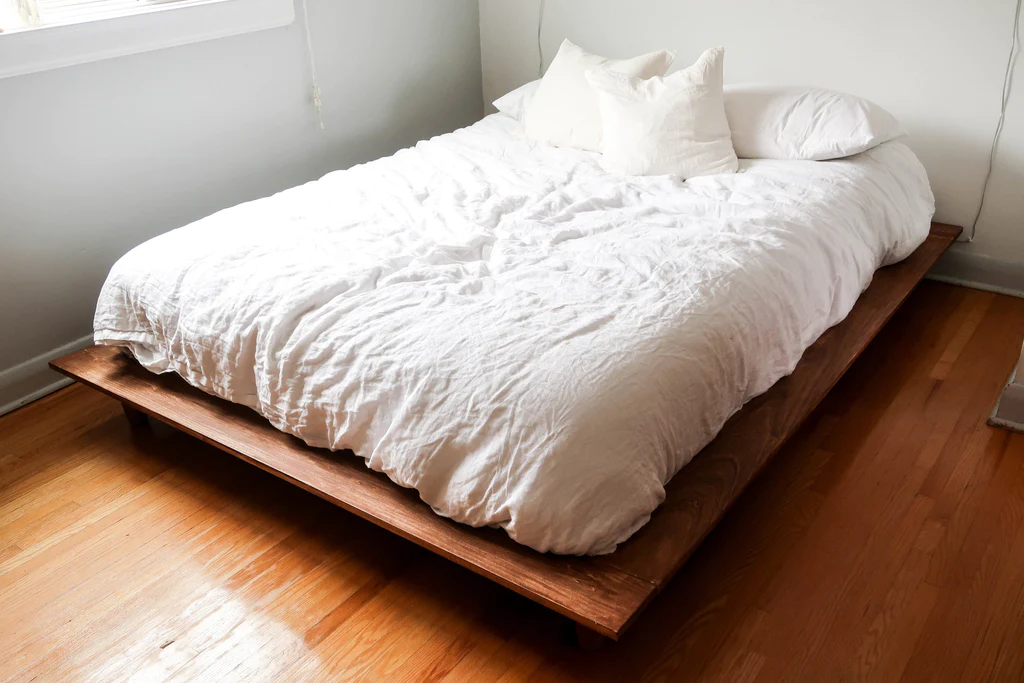 Create a Farmhouse Feel
Platform beds don't always have to look like platform beds.
If you're looking for an inexpensive way to turn your house into a farmhouse, look no further! This DIY tutorial will show you how to construct the perfect bedframe that is tailored perfectly for country living – without breaking the bank. With this guide, bring homey vibes and rural charms into your bedroom while saving money.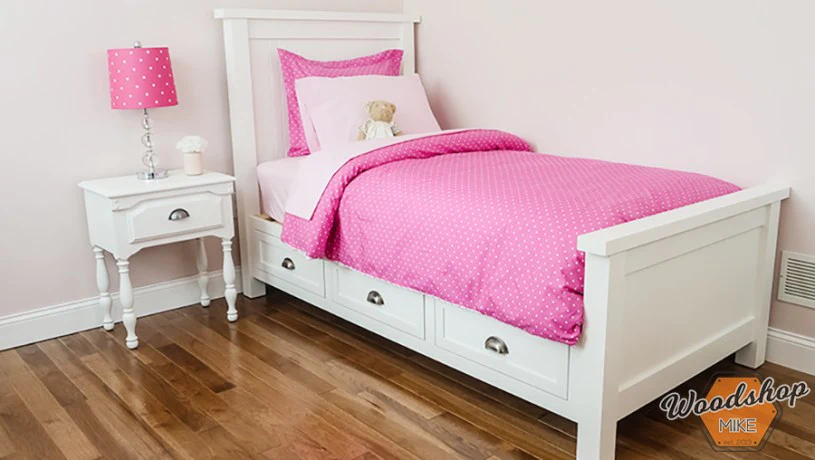 DIY Pallet Board Bed
Transform pallet boards into a stunning DIY platform bed frame in no time by simply stacking them side by side. If you desire, paint the boards to complement your bedroom's theme or keep their natural look for an organic charm!
Pallet boards provide an additional storage area with their open slats, granting you extra space to keep all of your items.
Best of all, you can complete this project for a fraction of the cost of buying a new bed – making it an ideal choice for those on a tight budget. In fact, you can often snap up pallet boards for free from local grocery stores or big box retailers.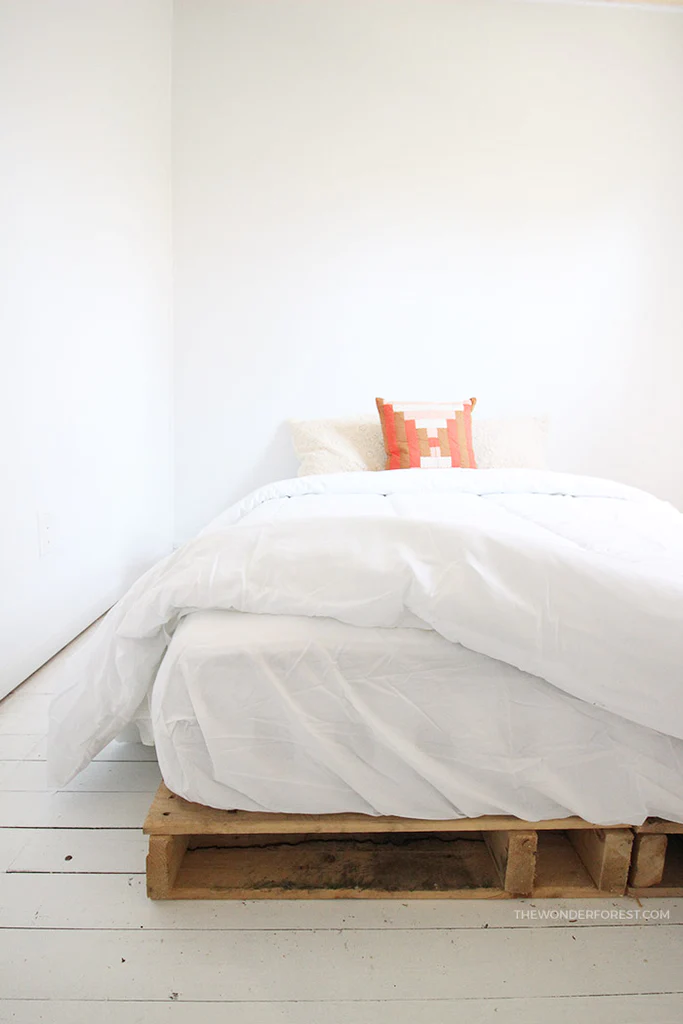 Simply Modern Platform Bed
This video will demonstrate how to assemble a modern platform bed that exudes pure sophistication. If you're after an up-to-date style, this is the ideal project for you!
This tutorial provides diagrams and step-by-step instructions that make the process easy – even for beginners. Whether you're looking to build a bed or craft one as a gift, this is an excellent option that will impress your friends and family.
Float Your Bed
Contrary to what many might think, it's not a special talent or mystical ability that lets you make a bed float – all it takes is relocating the support beams from the frame corners to its center. With this small adjustment, an ordinary bed can become an extraordinary one!
This DIY platform bed not only looks great, but it won't break the bank either. For a truly eye-catching design, why not take things one step further with matching floating nightstands?
Build It Up For Added Space
Looking to make more room beneath your self-made platform bed? Or perhaps a standard platform bed is simply too low to the ground for your liking? Simply increase the height of your frame's legs to create additional storage space below. And rest safe knowing that this tutorial will show you how to construct a sturdy, supportive structure.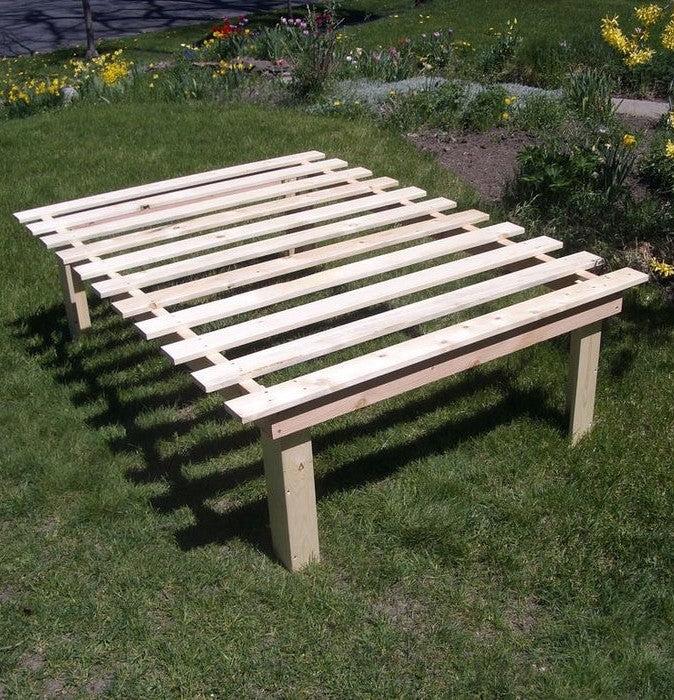 DIY Platform Bed with Drawers
Another option for storage space is building a DIY platform bed with storage drawers. This is a bit more complex than your simple platform beds, but the additional DIY storage is worth the effort.
Do-it-yourself bed frames are the perfect solution when searching for a personalized experience. Whether you're looking to add additional storage or build an entirely unique piece, it allows you to create precisely what your bedroom desires. The great part is that drawers can be easily integrated into any frame design!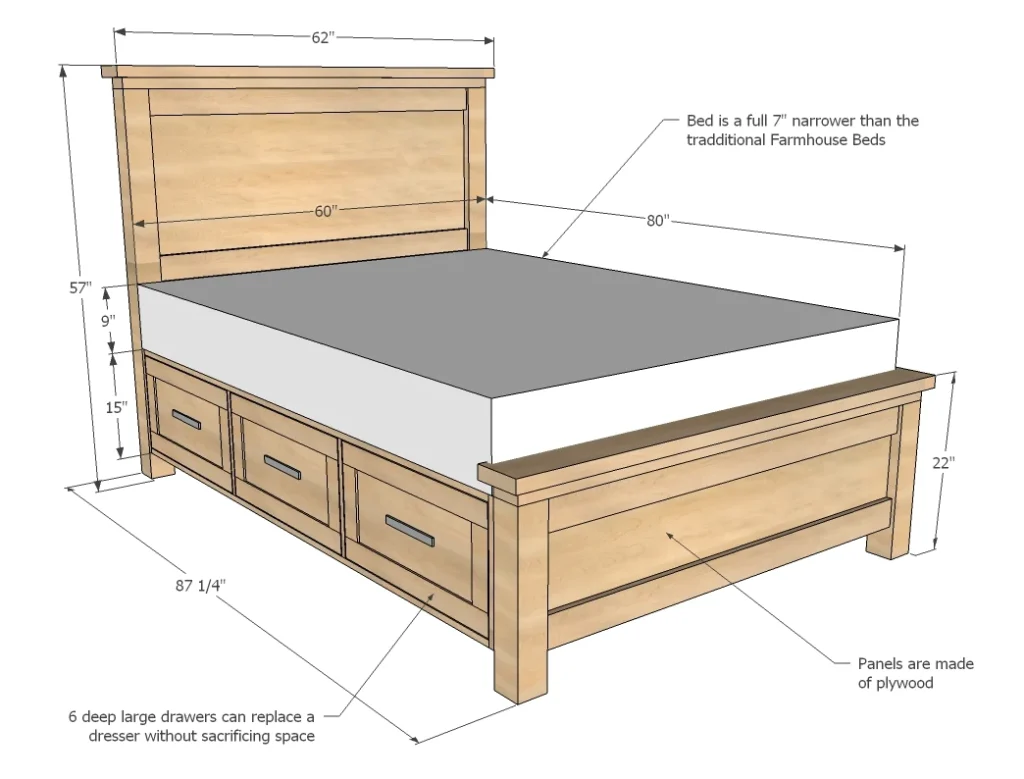 Stairway to Bedtime
Take your DIY bed – and your storage game – to the next level by constructing a taller frame and including stairs. This is an ideal option for children, as they will enjoy having their own personal staircase!
Add oversized pull-out drawers to create an abundance of storage space.
Modern & Easy Geometric Platform Bed
Transform your DIY platform bed with geometry by using only three tools! This tutorial will guide you through each step of creating a distinctive and stylish bed.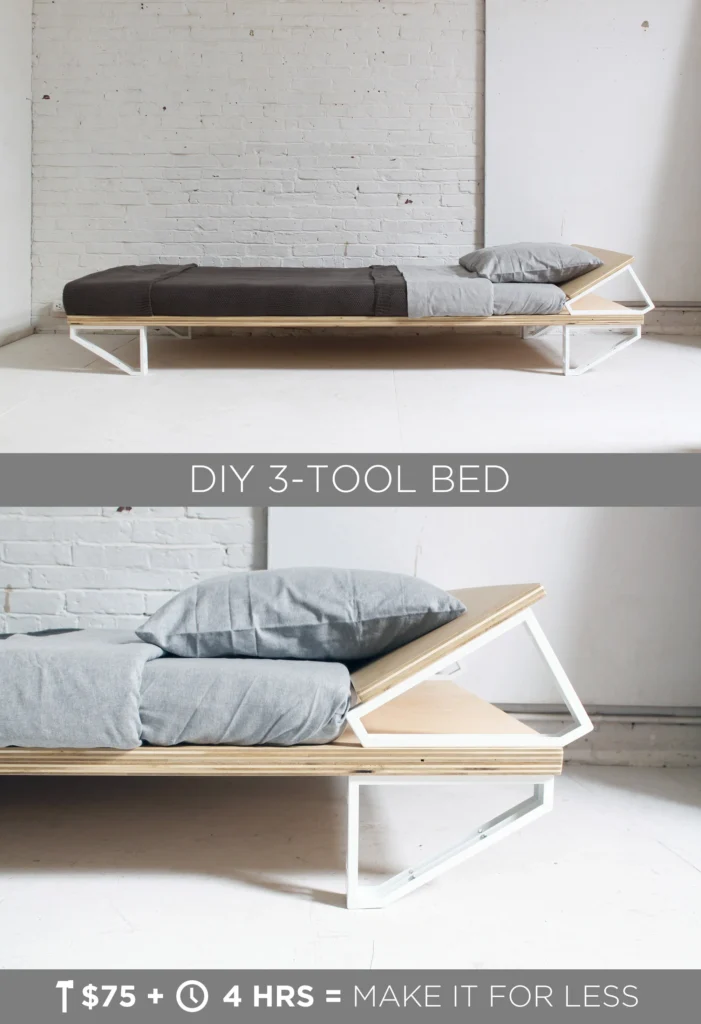 There's Nothing Wrong With the Basics
A basic platform bed is an ideal solution for designing a stylish and functional bedroom. Its simple design and compact size make it perfect for any space, small or large. Plus, you can customize the look of your bed with different fabrics or colors, giving it a personal touch.
With the help of this tutorial, you can craft a beautiful platform bed at an affordable cost – just $100! Let's get started and show everyone how to make their dream bedroom come alive.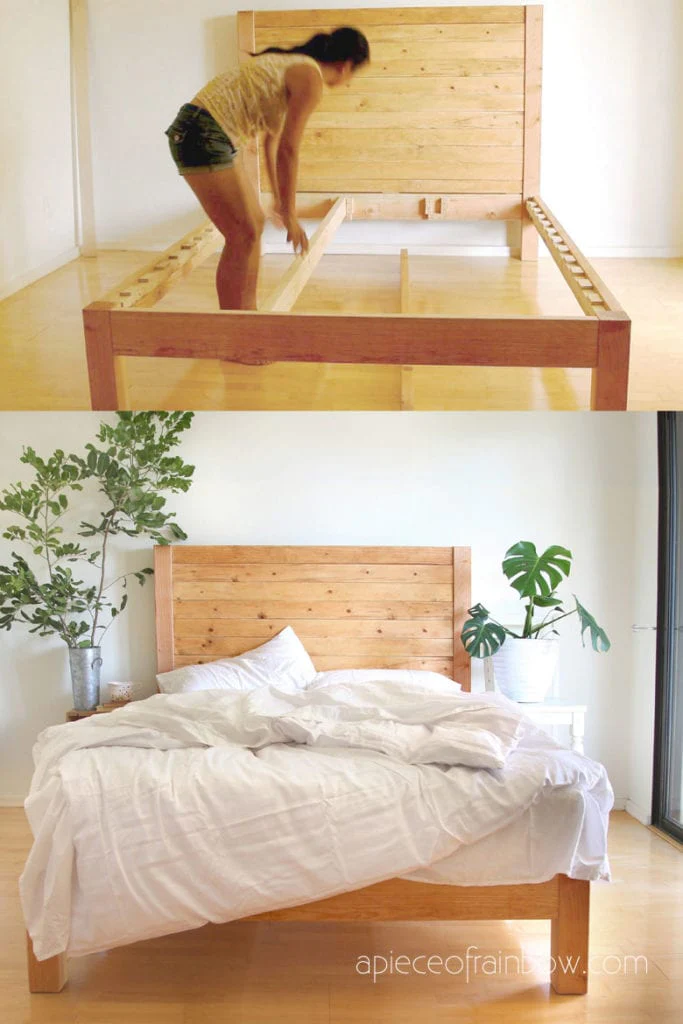 Cuddle Up in Rustic Comfort
Speaking of beds for less than $100!
You deserve a bed that you can cuddle up in with your favorite pair of fuzzy socks and an amazing book! Pair your DIY platform bed with a chunky knit blanket or a warm and furry throw and a few rustic accents for the ultimate dreamy look.
By following this step-by-step tutorial, find out how to make the perfect rustic platform bed for inviting comfort.
Roll Into Bed
Adding wheels to a bed helps make it easier to move around. This is especially helpful for those who rearrange furniture often or are looking for a way to quickly clean under the bed without having the hassle of picking it up
A DIY platform bed frame on wheels will make your life so much easier in the long run, or should I say long roll.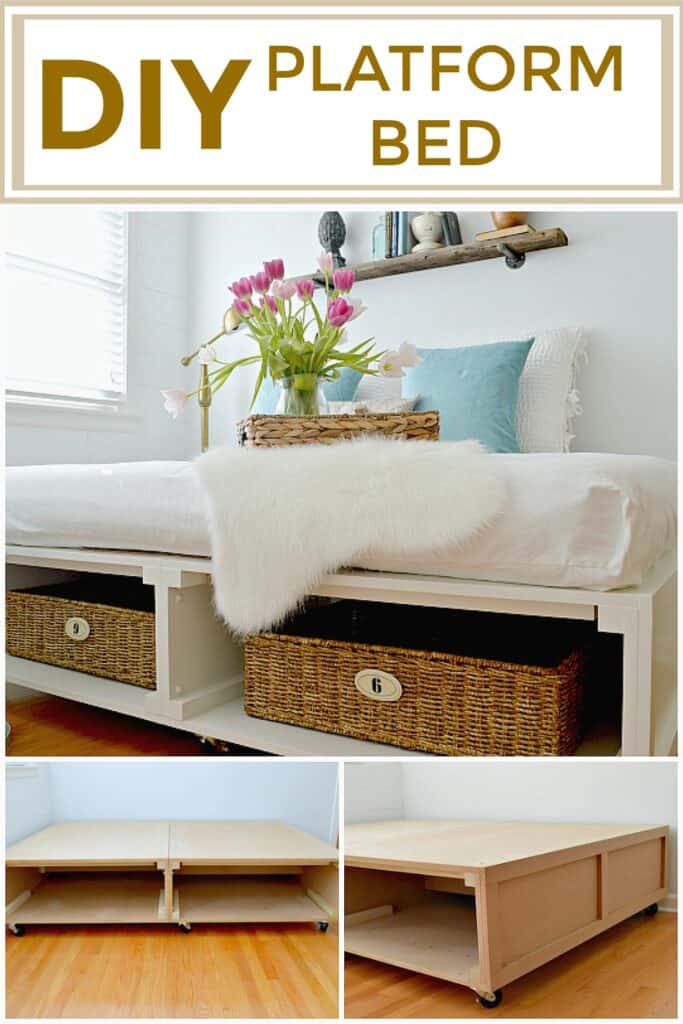 Concrete Block Platform Bed
It may take a bit of muscle, but there is no easier solution to adding some lift to your bed than using cinder blocks.
Combine two looks by putting concrete blocks under a pallet bed to add some height.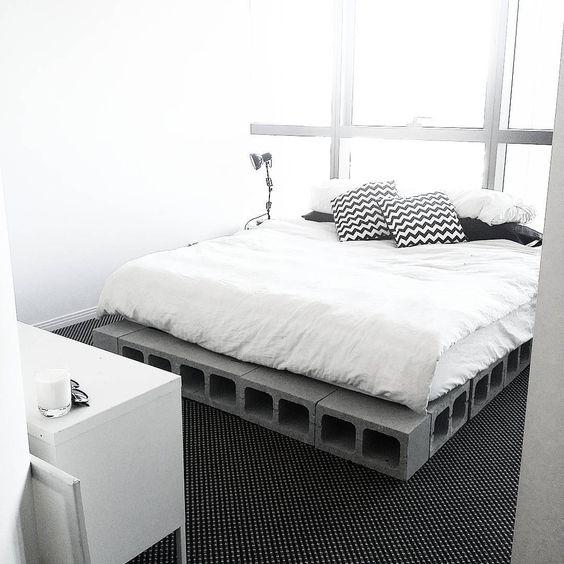 Patterned Wood DIY Platform Bed
With the right know-how, you can create an array of bed frame patterns and designs. As a starting point, why not try this chic DIY rustic plank King platform bed for inspiration?
Whether you're looking for an elegant and refined design or something a bit more free-spirited, there's no limit to the number of styles that you can create with a DIY platform bed.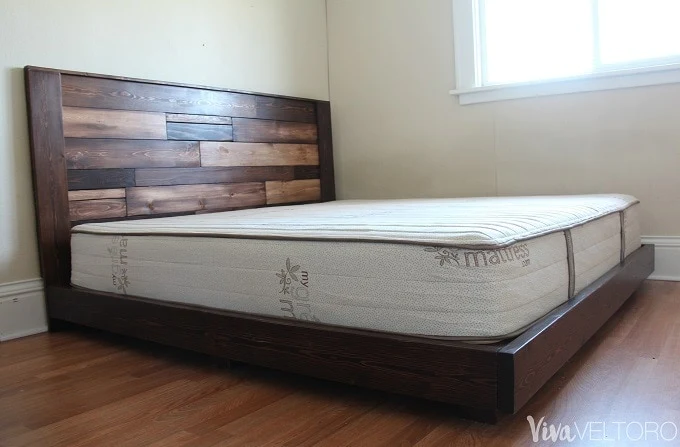 How to Upholster a Box Spring
Instead of investing in lumber and supplies to construct a DIY platform bed, why not take advantage of what you already own? By upholstering your box spring with the help of this tutorial, your effort is minimized for maximum efficiency.
Upholstering a box spring is an easy and affordable way to create an inviting look for your bed. With the right supplies and some careful preparation, you can transform your box spring in just a few steps.
The first step is to measure the box spring, taking into account its width, length and height. You will use these measurements to cut the fabric for upholstering. It's best to use a heavy-duty fabric like canvas or vinyl that can hold up against wear and tear.
Next, you will need some foam padding, batting, and quilt batting. Measure out the dimensions of the box spring and cut pieces of foam padding, batting and quilt batting slightly larger than this size. Place these pieces on top of your box spring before covering it with fabric so they don't move around while you're attaching them.
Once everything is in place, start to attach the material to your box spring. Using a staple gun or strong adhesive tape (depending on what type of material you are using), firmly secure the fabric to one side of the box spring beginning at one corner then working your way outward until all sides are covered. Make sure that each piece is securely attached before moving onto another section.
After the fabric is attached, trim off any excess material from around the edges with scissors for a neat finish. Now you are ready to accessorize! You can add buttons or tassels for extra detail if desired or keep it simple with just a few patterned fabrics for subtle flair.
To ensure longevity when using vinyl or similar fabrics, consider adding a layer of Scotchguard or Clear Coat Fabric Protector spray after upholstering your project is done! This additional step will help keep your bed looking beautiful while protecting it from dirt and stains over time.
Upholstering a box spring is an easy way to give any bedroom an update without spending too much money or time! With just some basic tools and supplies, you can have yourself a custom-made platform bed in no time. So grab those materials and get started on creating something truly unique today!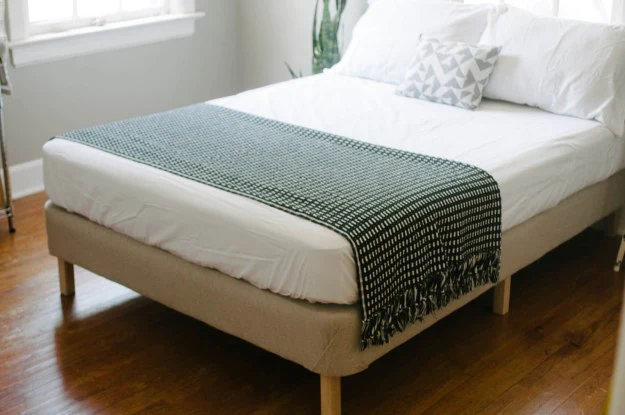 DIY Woold and Metal Platform Bed
Wood and metal make a great combination when it comes to decorating any space, especially in the bedroom. The juxtaposition of these two materials creates an interesting contrast that can bring warmth and comfort to any room. Furthermore, wood has a natural beauty that is enhanced by the cool qualities of metal, making it a perfect choice
Combine rustic wood with metal legs for your DIY bed frame to achieve more of an urban or industrial look.
Rustic DIY Platform Bed With Matching Nightstands
Looking for a rustic yet modern DIY platform bed? Look no further! Create the perfect rustic-chic platform bed with matching nightstands.
You'll need a touch more carpentry experience to pull this one off, but the design is simple and straightforward. This project requires some basic tools and a bit of imagination.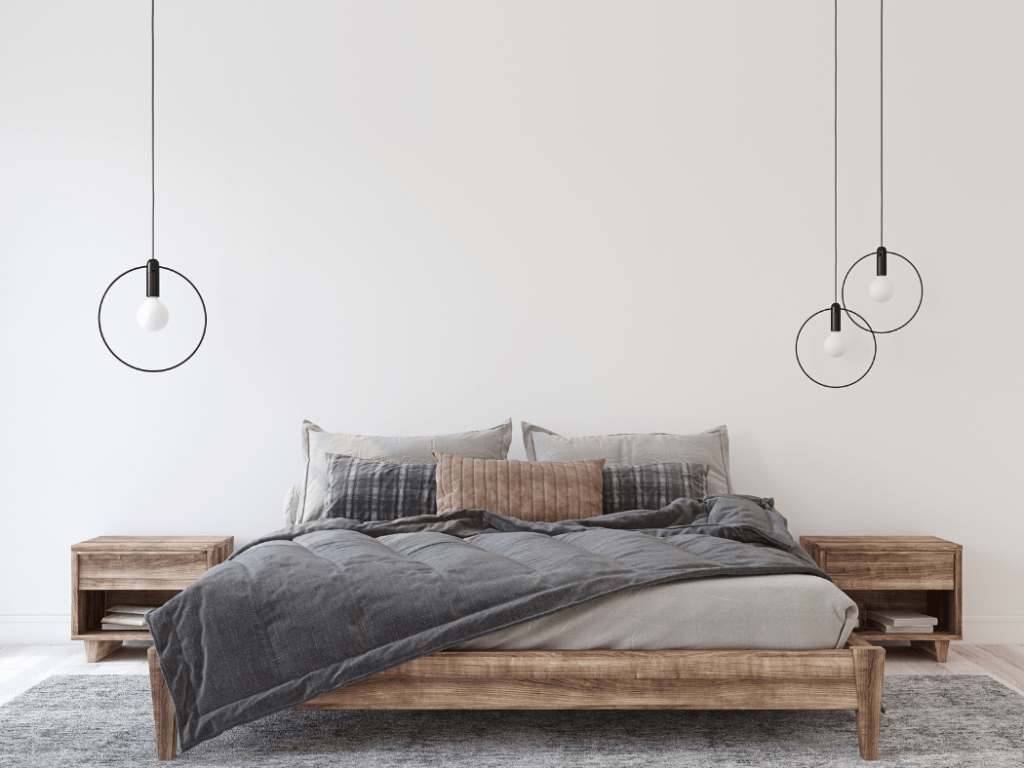 Rustic Simplicity
Crafting your own rustic platform bed has never been easier. With our comprehensive tutorial, you can learn how to construct a beautiful and unique low-deck platform bed that is sure to impress!
Whether you're an experienced woodworker or just getting started, this tutorial will help you bring your vision to life with ease.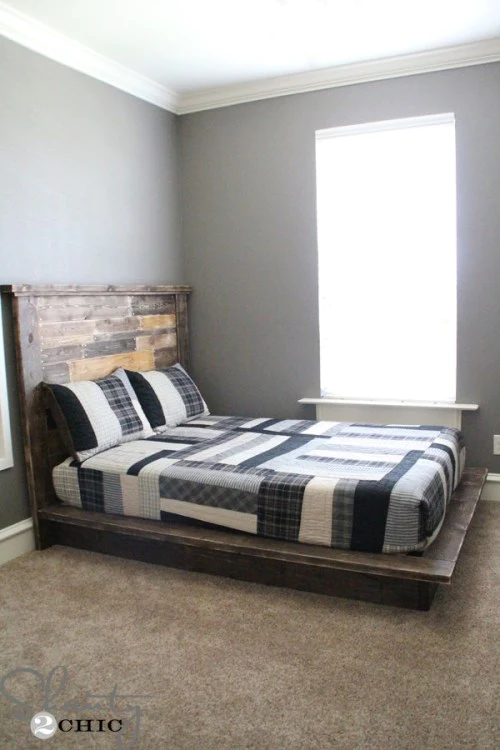 Add More Storage Options
Even kids' beds need a little bit of extra storage space. This DIY storage bed frame will store extra bedding, toys, or clothes discreetly underneath the mattress.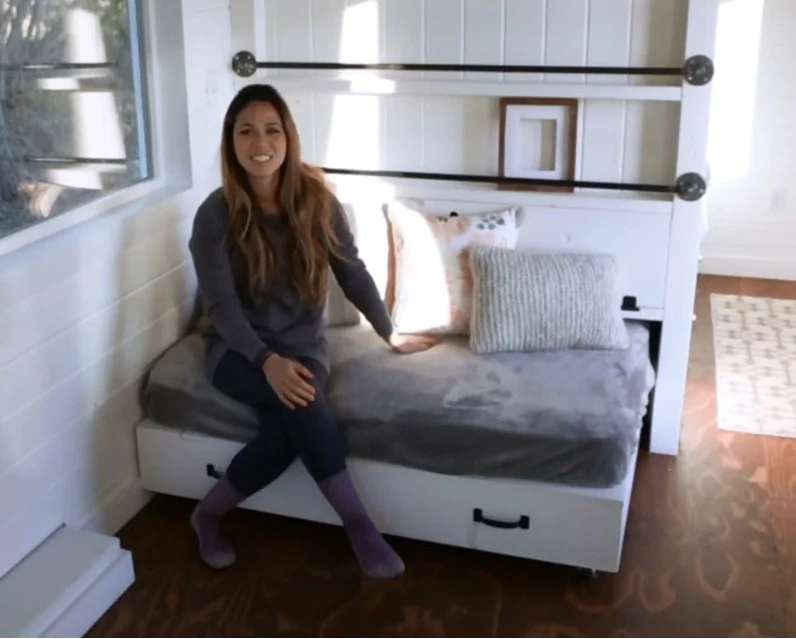 DIY Pipe Platform Bed
Create an industrial-inspired platform bed frame by using pipes! Not only are they a reliable material, but they're also budget-friendly. Pipes make it easy to get the look you want without breaking the bank.
Bonus: You can paint them any color you like, and they pair perfectly with some DIY Pipe Shelves!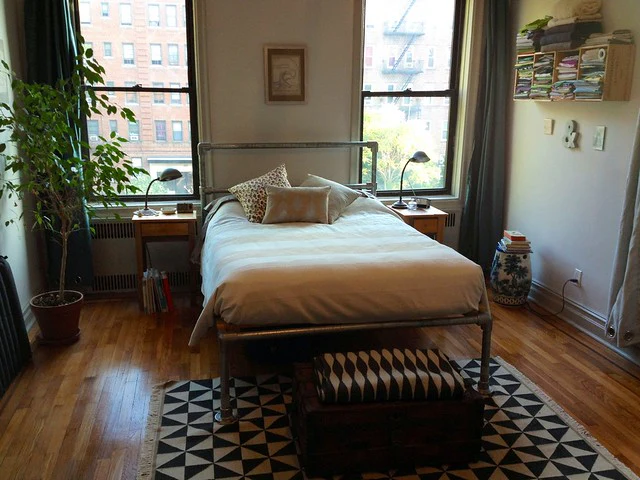 Why DIY Platform Beds are Best
DIY platform beds are the perfect project for those looking to create a stylish and comfortable bed without breaking the bank. They are relatively easy to construct and offer plenty of storage space, making them great for any size room or budget. Plus, you can customize your platform bed with different upholstery or fabric options to create a unique look that fits your style.
One of the best things about DIY platform beds is that they are extremely versatile. Whether you want something modern and sleek, rustic and cozy, or industrial-inspired, multiple tutorials will help you build it. Plus, since most of these designs use basic materials like wood and pipes, they're often more affordable than buying a pre-made bed frame.
In addition to being aesthetically pleasing and budget-friendly, DIY platform beds provide significant benefits in terms of health and wellness. A raised platform helps improve air circulation around your mattress, reducing allergies caused by dust mites or other allergens. Furthermore, because the mattress sits on top of a box spring rather than directly on the floor, it is better supported — helping to prevent aches and pains in the morning due to poor sleeping habits.
Finally, if you need extra storage space in your bedroom without taking up too much floor space, then building a DIY platform bed is an ideal solution. You can easily store extra blankets or pillows underneath the mattress without compromising on your overall design aesthetic — perfect for maximizing small spaces!
Overall, DIY platform beds offer incredible value for money when compared to pre-made alternative frames while also providing comfort and convenience. With so many tutorials available online nowadays, it's easier than ever to create a one-of-a-kind piece that will be sure to impress all who see it!