Creative ways to incorporate decorative pet products & design ideas to accommodate your pet's needs… such as feeding stations, dog beds, scratching posts, climbing walls, and more… in stylish ways.
Our pets become part of the family and – as an extension of that – they become part of the home.
This means your home gets invaded (in a super-cute way) by your new four-legged fur baby as well as all the trappings that come with it.
From dog beds, to scratching posts, to food & water bowls, there are many things that your pet will require to lead a happy and healthy life.
But that doesn't necessarily mean that you have to sacrifice your personal decor style to make room for all things cat & dog.
We've collected some unique and attractive ways to incorporate your dog or cat's needs into your home decor and design.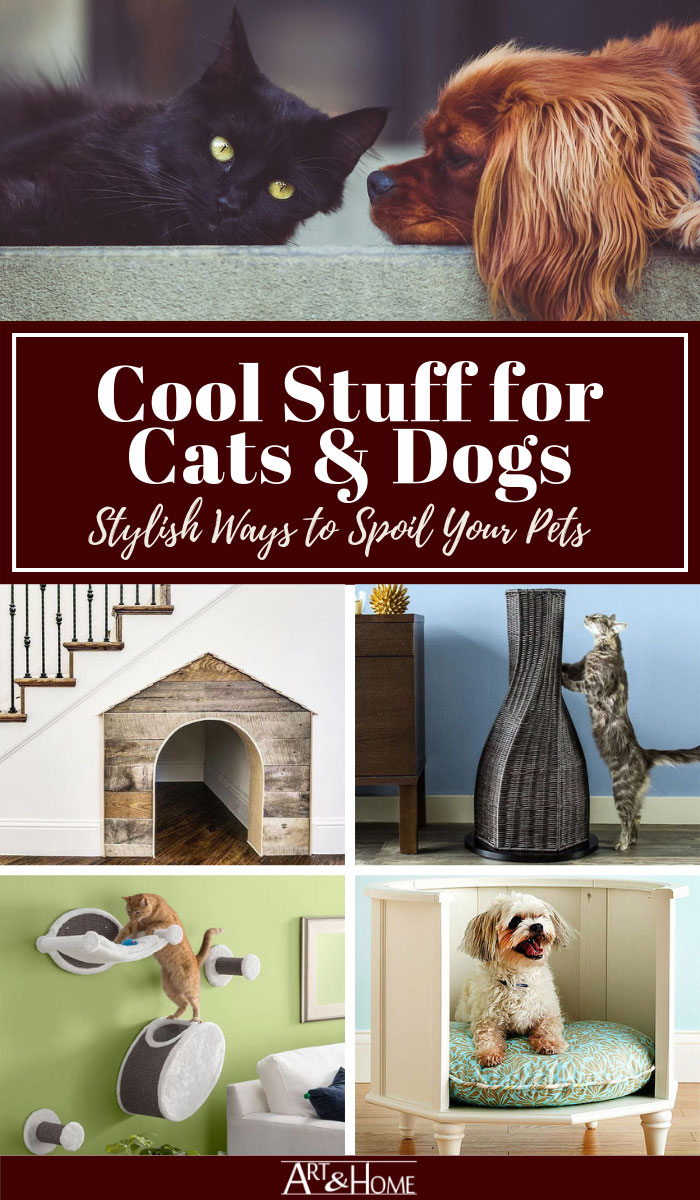 These design and decor hacks are great for making your pet feel at home, and for you to be able to express your personal style.
Before we start, I should warn you that I refer to all dogs – no matter what their age – as "puppies" and all cats as "kitties". So when you read a description and it says "a good place for your puppy" or "perfect for your playful kitty" that does not just limit the application to dogs & cats under 1 year old.
---
Built-In Dog Houses & Beds Under the Stairs
Turn wasted space under the stairs into a clever dog house that gives your puppy a home of their own. These DIY under-the-stairs dog houses and dog beds are a fun and easy way to give your dog a place to rest that is out of the way while providing a unique aesthetic.
You can decide to create something that matches the existing surroundings, or create a unique focal point that is dedicated to your dog.
---
Turn Your Favorite Pet Photo Into Art
Combining your love of your pet with your love of home decor can be easier than you think. With a few tricks and some outside help, you can create a beautiful piece of Pet Photo Art that is worthy of displaying in your well-appointed home.
---
Cool Wall Mounted Cat Tree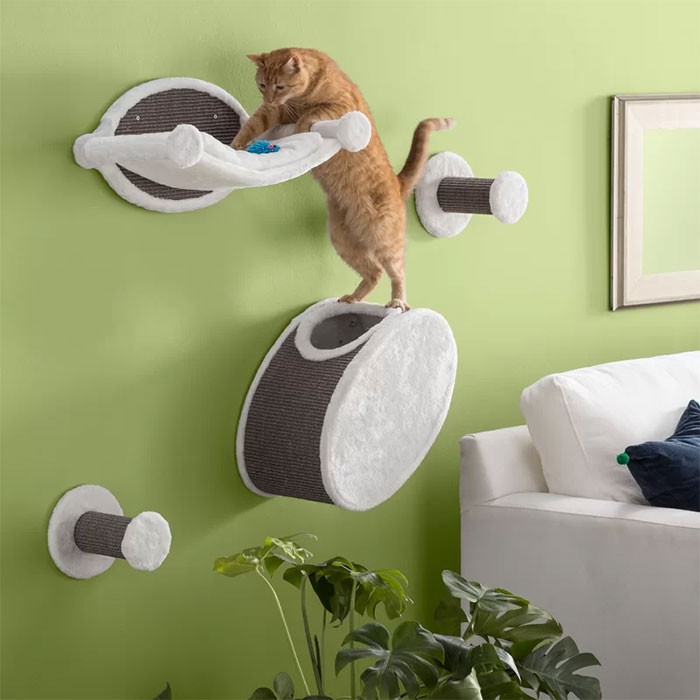 Looking to give your feline friend the perfect place to pounce, play, and nap without taking up too much floor space? This four-piece wall mountable set is a great option for making the most of small spaces, and it's got a cool retro look decorative pet product that isn't going to ruin your stylish living room.
---
Use Decorative Dog Crates
Dog crates do not necessarily need to be utilitarian metal, there are plenty of decorative dog crate options that will give your puppy's bed some style!
---
Pet Feeding Stations
Amazing Bed Dog Ramp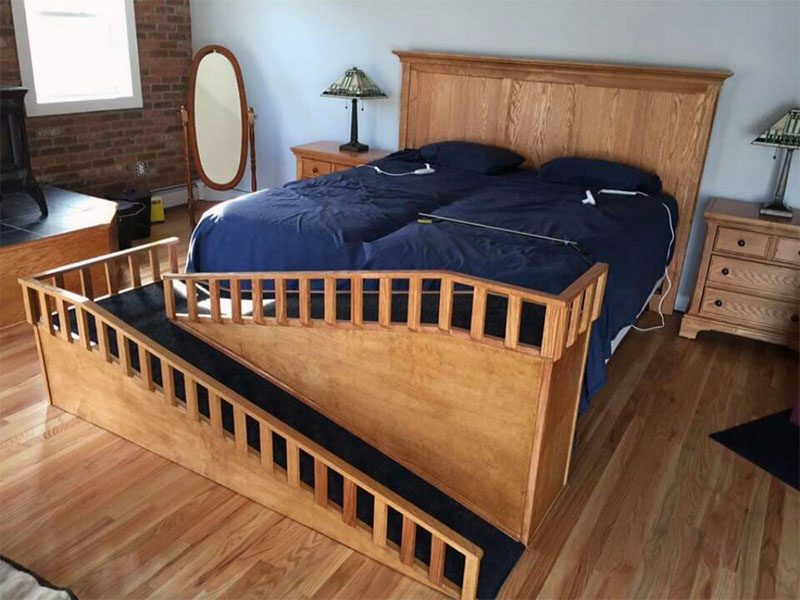 Yes, I know that many dog experts say that you shouldn't let your dog sleep with you. But we all know that it's probably going to happen.
If you're little one can't quite make it up onto the bed, these doggy ramps are a cute way to let them find their way onto your pillow.
---
Modern Cat Scratching Post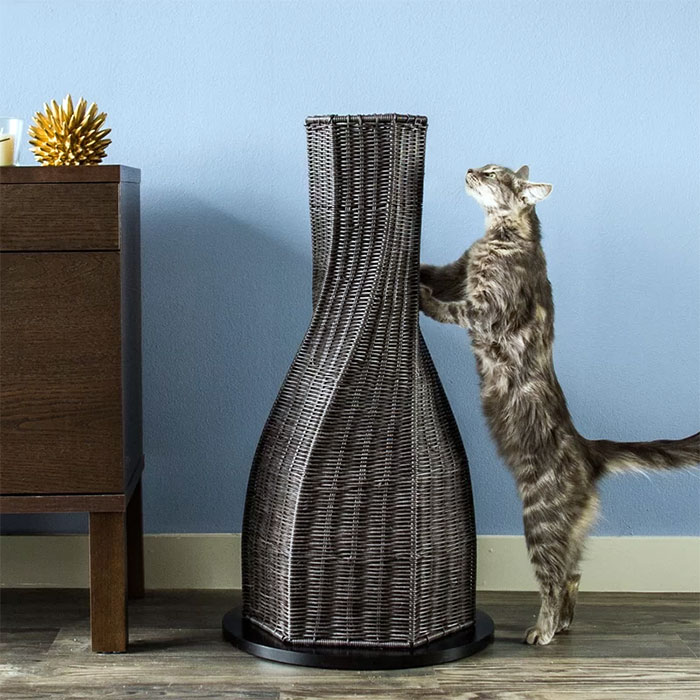 Super strong poly rattan weaved around an eye-catching design, this everlasting cat scratcher from Wayfair.com makes a great cat scratching post as well as a beautiful floor accent piece. Perfect for cats who love to stretch while clawing.
And when not in use, people will just think this decorative pet product is just a unique decorative accent!
---
Laundry Room Dog Bed
Combine a built in laundry sorting station on top with a comfy dog bed at the bottom and you have a place for your dog to rest, and a way to keep your clothes away from your puppy's playful teeth.
---
Pet Food Drawer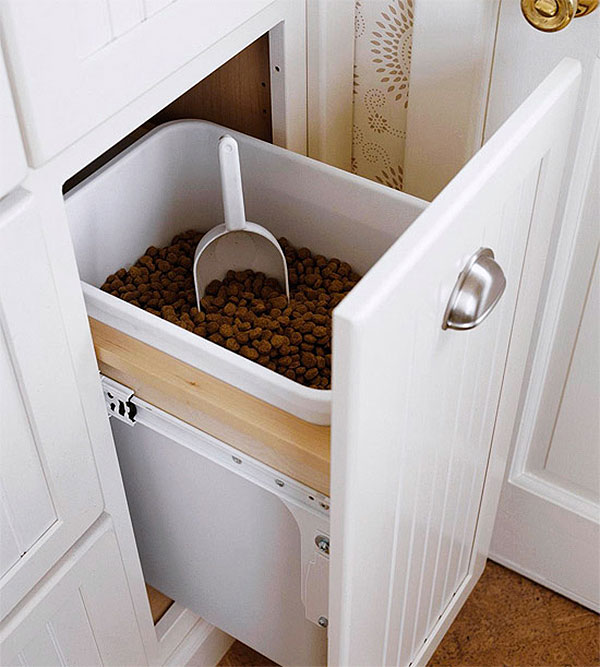 Turn a slide-out garbage bin into a safe and attractive way to store your pet's dry food. A plastic scoop makes dishing out your dog's or cat's food super easy and convenient.
---
Pretty Cat Houses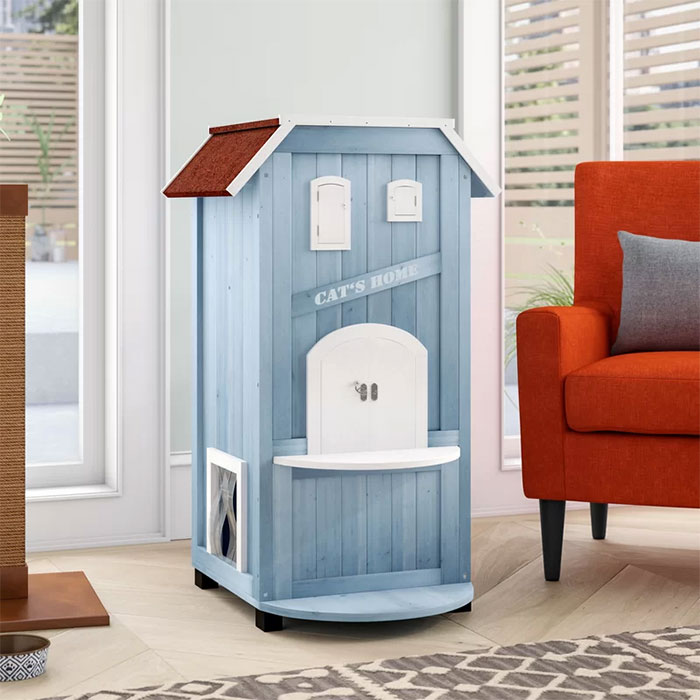 Let's be honest… your cat doesn't really care what their play house looks like, as long as it's entertaining. So why not go for decorative pet products that blends better into your home decor and provides a visual focal point as well as a fun way for your cat to spend the day.
---
Kitchen Island Dog Bed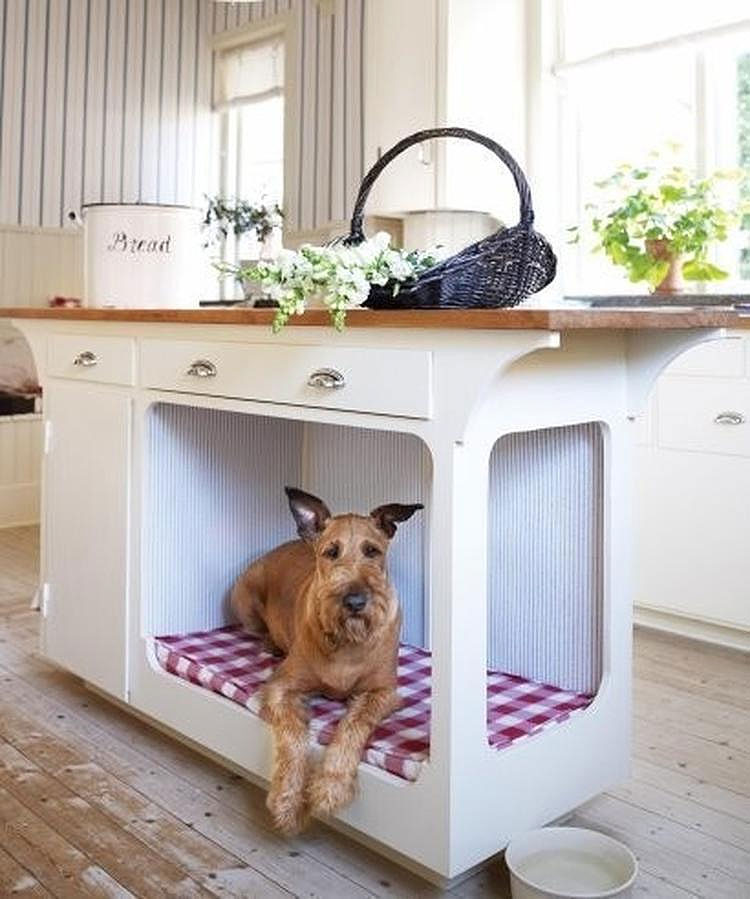 Remove a couple of cupboards from the floating island – you know the ones to take out, they are the ones that collect all of the mismatched Tupperware that you never use – and convert it into a comfortable place for your dog (or cat) to rest.
---
DIY Raised Round Dog Bed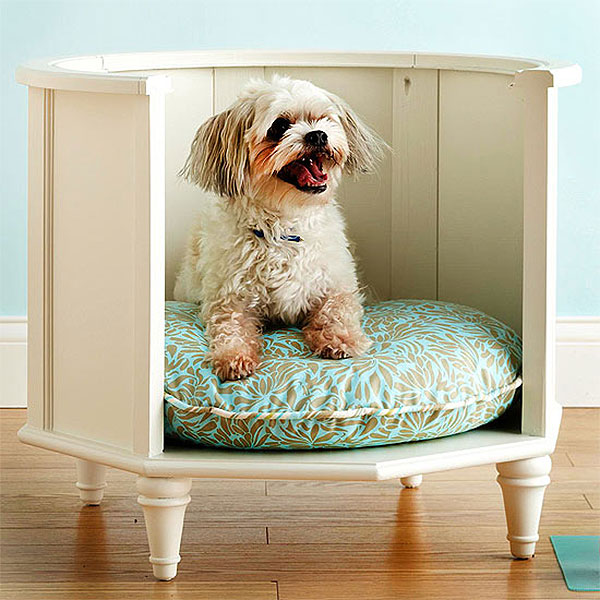 Source: BHG
Add some style to your room while giving your dog an attractive and comfortable place to take a nap.
---
Bench Seat With Pet Nook
A bench seat in the kitchen or by a large picture window is a lovely addition to any home. A nook underneath for a dog bed is a lovely addition for your dog or cat.
---
Stylish Cat Tree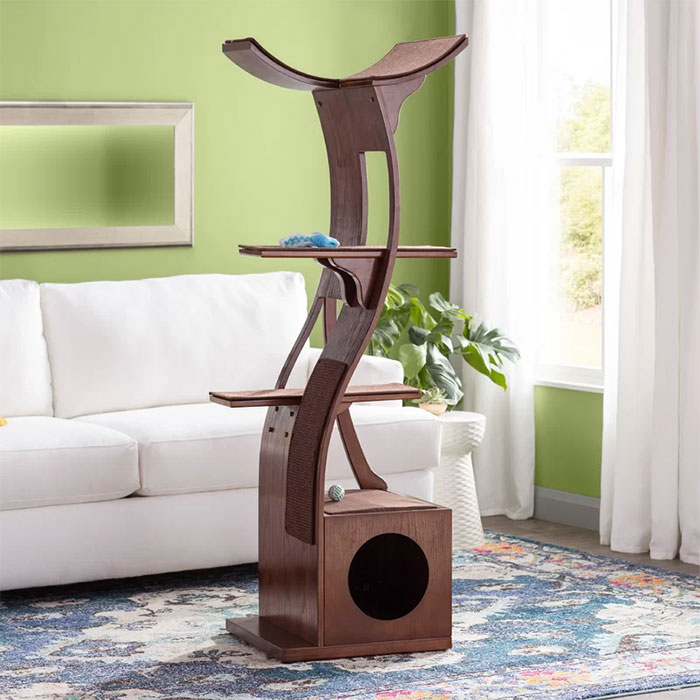 This stylish cat tree from Wayfair.com is the purrfect way to treat your furry feline friend and a must-have for any cat owner! Crafted from a mix of solid and manufactured wood, this decorative cat tree features four tiers of space designed with unique, modern curves that will be an attractive addition to your home.
---
Garden Urn Dog Bowls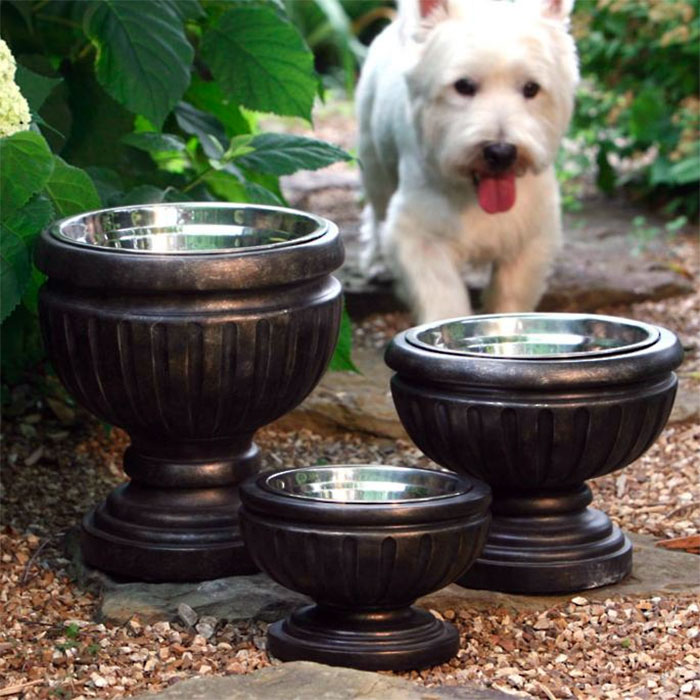 Place your dog bowls inside garden urn planters for an upgraded look. You can even add weight below the bowl to keep your puppy from tipping over their food or water dish.
---
Ottoman Dog House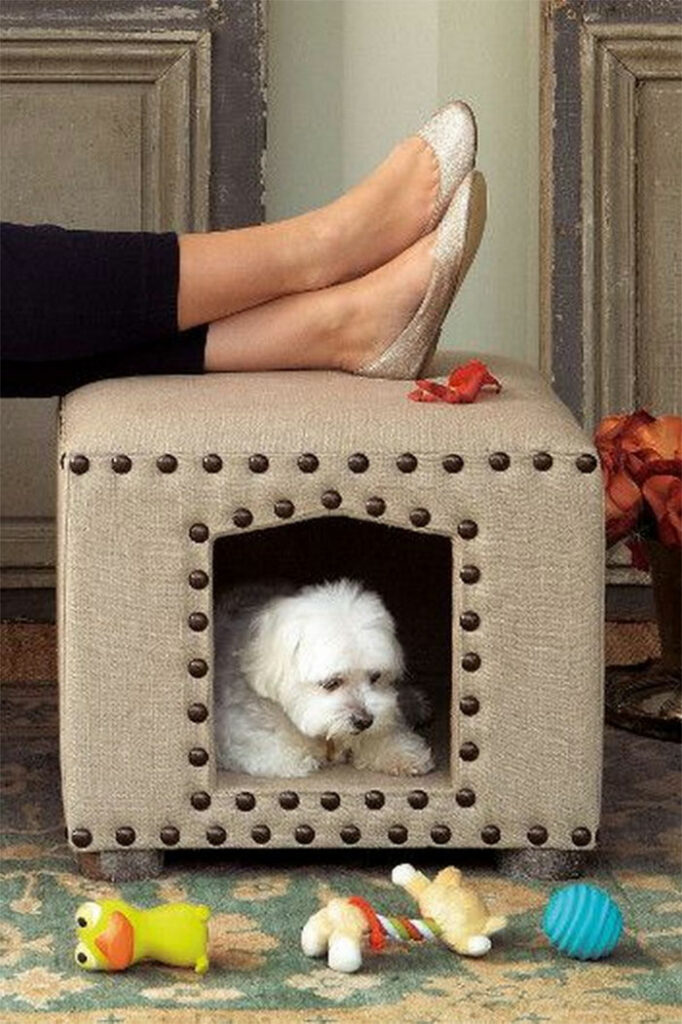 For your smaller fur-babies, this ottoman serves double duty as a place to rest your feet and a place for your little puppy to rest his or her head.
---
Now you have some fresh ideas on how to incorporate decorative pet products into your home that are both functional and attractive. How often does THAT happen??