This bright and refreshing orzo pasta salad recipe is super easy to make, and so light and tasty that you will find yourself being asked to bring it to every picnic or backyard summer BBQ, or pot luck that you attend.
One of the things I like best about this pasta salad recipe is that it uses Orzo pasta, which is not your typical pasta. It looks slightly fatter than normal grains of rice. In fact, it looks so much like rice that people will assume that this is some kind of delicious rice salad. But it's not rice. It really isn't.
If you don't like (or can't find) Orzo pasta, you can substitute any of the smaller types of small pasta. You want to aim for something that is about 1/3 of an inch before it's cooked. Anything larger than that, and the recipe simply DOES NOT WORK. Believe me, I've found this out the hard way.
But the secret to this lively and crisp pasta salad is the SMALL noodles, and that's why orzo pasta is perfect for this recipe.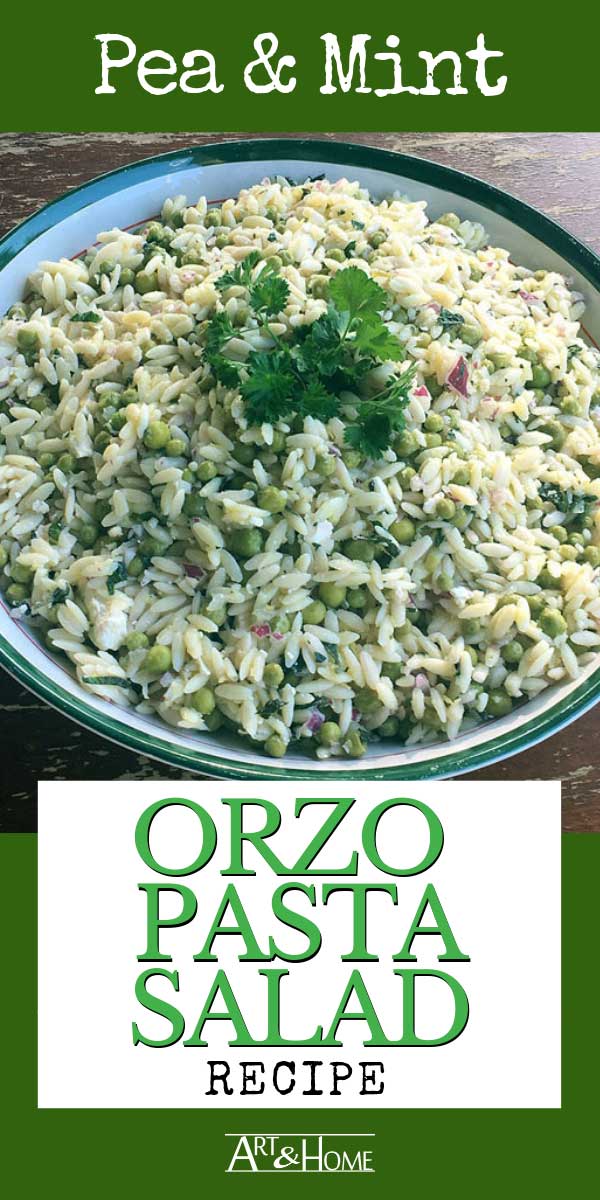 You can play with the proportions of any of the ingredients. For example, if you love peas, toss a few more in – same thing with the lemon juice or cheese. Don't be afraid to add a bit more olive oil if you find it is on the dry side (this might be required if you switch the Orzo for another type of pasta).
Also, any green summer vegetable is very nice in this salad, like mini cubed zucchini (also known as a courgette) or blanched, cooled asparagus. But I highly recommend that you try it first with the peas and then see how you would adapt it. And sometimes you'll discover that if it ain't broke, don't fix it!
Plus, if you want a vegan version, simply forgo the Feta cheese or substitute Vegan cheese in its place.
How to Make This Delicious Orzo Pasta Salad
First you want to gather all the ingredients together so that you're ready to make the salad as soon as the pasta has cooked (which does not take long).
However, if you want to take your time, simply cook the pasta, rinse, and then add the olive oil and lemon juice. Those can set while you prepare the rest of the ingredients.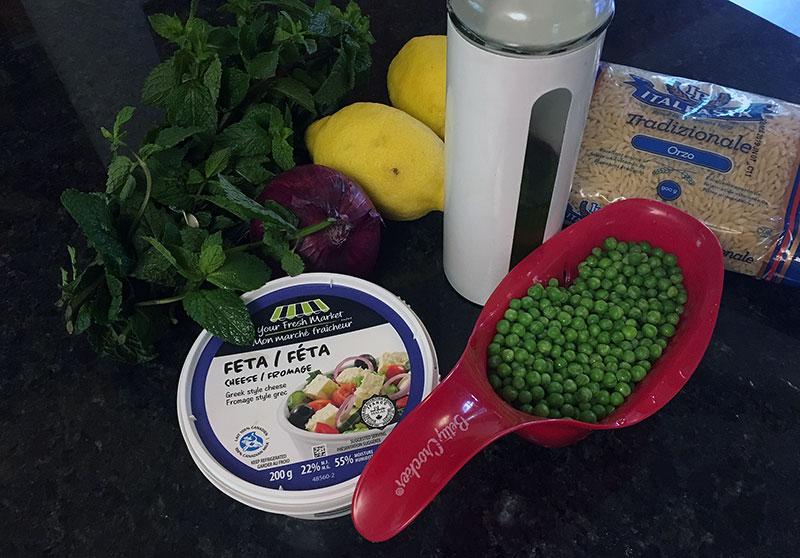 I like to get all of mint chopped up and ready. As well as the feta cheese. And the lemon should be juiced and zested before your start cooking the pasta. .
When chopping onions, I absolutely adore my little food chopper. It makes chopping onions a breeze, and the cleanup is far easier than you would expect. Simply cut the onion up into quarters, place in the chopper, and hit the chop top about 10 – 12 times, until you get the finely chopped consistency you need. When you're done, take the chopper apart and run it through the dishwasher.
Fresh peas need to be cooked for about a minute, just to take the edge off them. Frozen peas just need to be thawed.
Boil the pasta until al dente, thoroughly rinse the cooked orzo pasta in cold water, and then immediately add the olive oil. These first steps are critical to keeping the pasta from gumming up before you've had a chance to turn it into orzo pasta salad magic.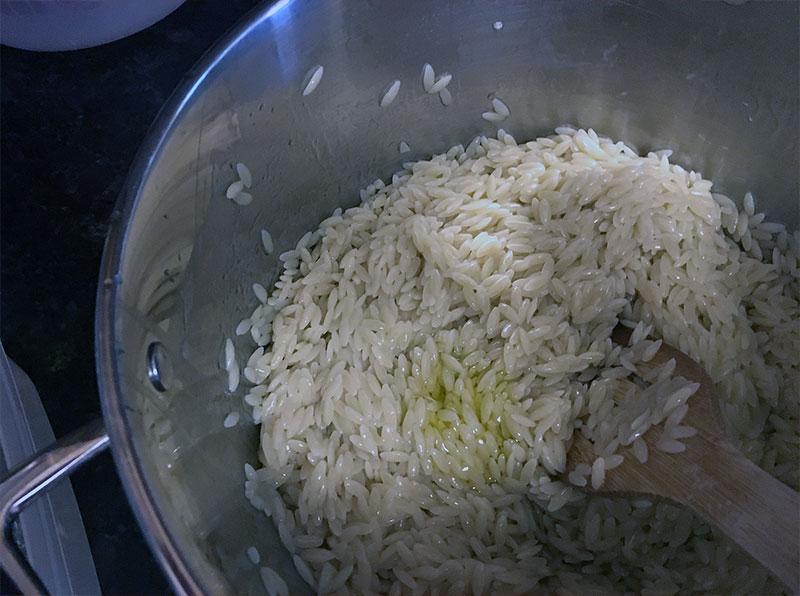 Next, you simply start adding the prepared ingredients… one by one, and mixing gently to fold them into the pasta salad.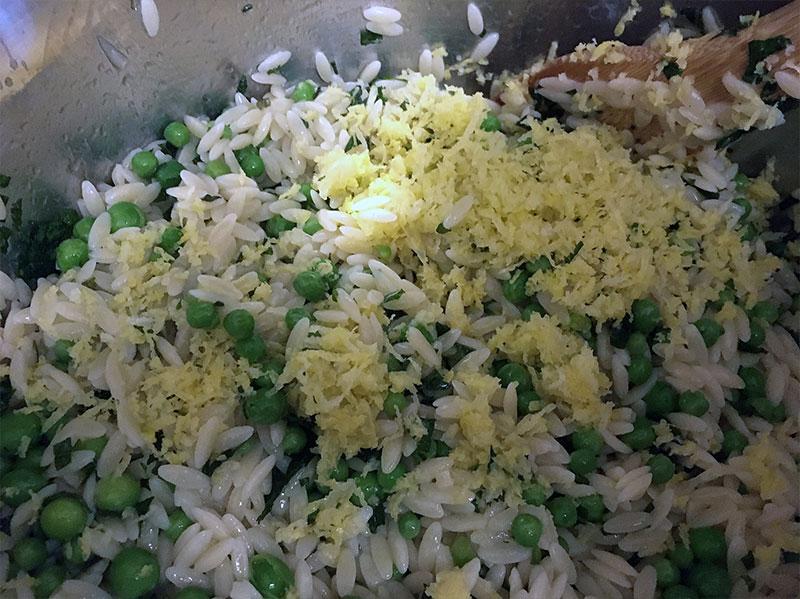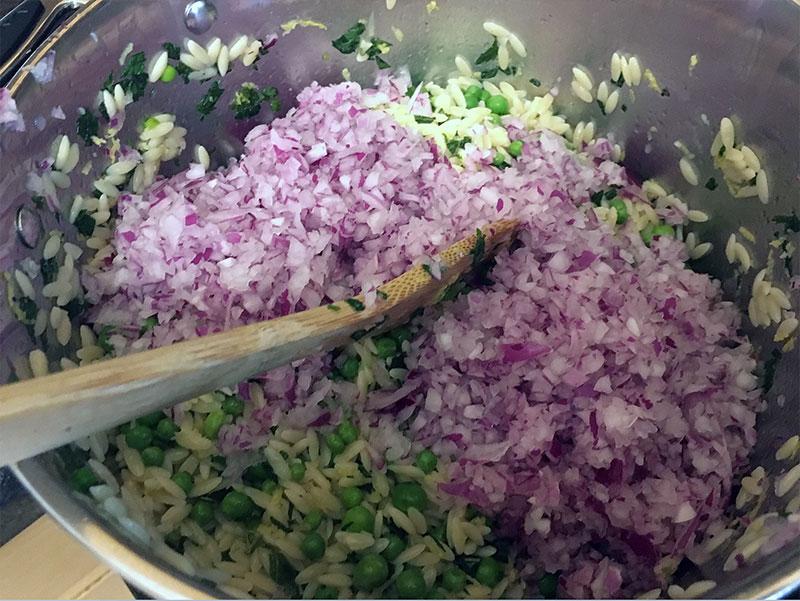 When it's all done, let it chill in the refrigerator for at least an hour, but I find that 12 – 24 hours really lets the flavors come alive.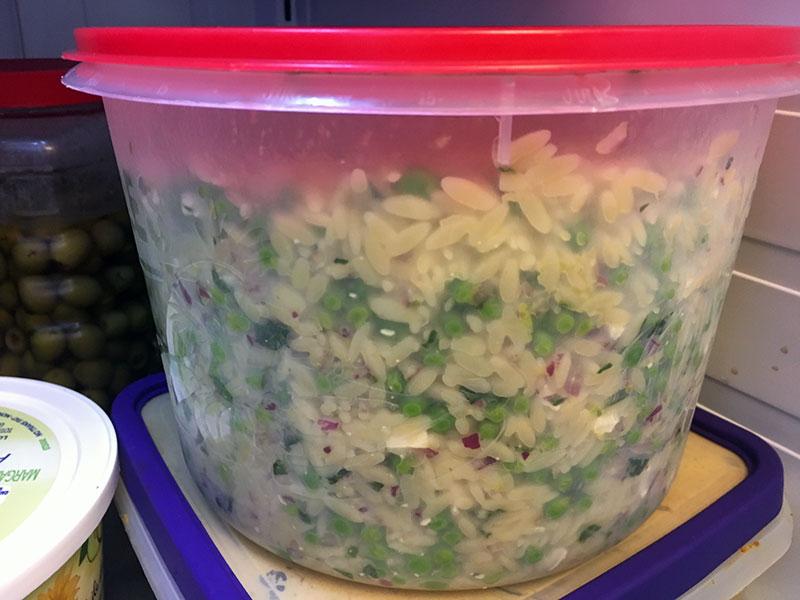 When you're all ready, simple serve the orzo pasta salad up in a nice bowl. You can add a bit of mint or parsley as garnish on top if you like.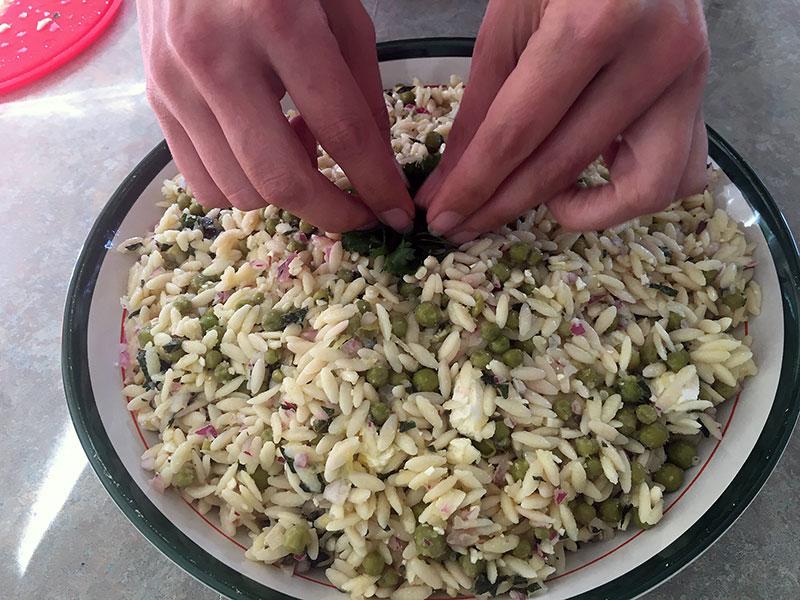 The end result is a surprisingly bright and lively pasta salad that will be a hit among your guests.
---

---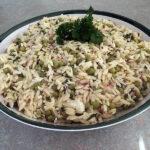 Print Recipe
Pea & Mint Orzo Pasta Salad Recipe
This bright and refreshing summer orzo pasta salad recipe is super easy to make, and
so light and tasty that you will find yourself being asked to bring it to every
picnic or backyard summer BBQ that you attend.






Equipment
Medium Pot

Large Bowl

Measuring Cups & Spoons

Food Chopper

Lemon Zester

Mixing Spoons
Ingredients
1 1/2

Cups

Uncooked Orzo Pasta

1/2

Cup

Extra Virgin Olive Oil

2

Medium

Fresh Lemons

1

Cup

Fresh or Frozen Peas

1

Medium

Red Onion

1

Cup

Feta Cheese

Cut into small cubes

1/2

Cup

Loosely Packed Mint Leaves

Finely chopped

1

Tsp

Sea Salt

1

Tsp

Ground pepper
Instructions
Cook the pasta in salted water until al dente

Rinse thoroughly under cold water, then drain thoroughly. You will end up with about 3 cups cooked pasta.

Immediately toss the pasta with the olive oil and the lemon juice. The pasta itself will absorb both the lemon juice and the oil. This can be done up to a day in advance.

Cook the peas very briefly (one minute in boiling water) and rinse under cold water and drain thoroughly.

Toss the peas and mint with the pasta.

Add salt and pepper (you can add more or less to suit your personal taste)

Add the finely chopped red onions

Add Feta Cheese (skip this step or substitute with Vegan cheese to remain Vegan-friendly)

Chill the salad in the refrigerator for at least an hour but up to 12 hours, then serve, tossing again before it goes to the table.