There's something warm and cozy about Country & Rustic Bedrooms, where comfort comes naturally.  We have brought together a collection of tips and decor ideas to help you create the perfect and cozy country bedroom for yourself or your guests.
In a country bedroom, think bare wooden floorboards and walls painted in warm natural colors. There's no need to worry about matching furniture as you would for modern style bedrooms – the more mismatched and distressed pieces the better!
The look is meant to be relaxed and laid back: vintage-style rugs or handwoven blankets draped over chairs; rustic trunks doubling up as coffee tables; an antique bed frame with chunky knobs… this gives character to your space without any added fuss.
Display plenty of candles (real ones) around the room or use pretty twinkly fairy lights that can easily be switched off when not needed. If it looks like there isn't enough light coming into the room, hang some wall mirrors to bounce the natural light around, or use lamps with country-style shades.
An antique sleigh bed is always popular thanks its comfortable design that's typical of many country bedrooms! A chunky headboard will give you plenty of storage options too so it really does work well as both practical & stylish at the same time. If you're on a tight budget then you can even have a go at creating your own; simply paint the frame in say, pale blue or pink and cover with pretty cushions for an instant update.
A simple white finish is classic country style but there are plenty of other ways to make it work too! Try painting furniture pieces like side tables (with distressed effects) or wardrobes instead – the choice really is yours when you're designing this type of bedroom decorating scheme. You could also use upcycled items which means that they look great without costing much money at all!
For more details on each of the rooms we selected, click on the "Shop the Look" link to explore our affiliate partner sites and explore the ways you can integrate that look into your own space.
Modern Country Rustic Loft Bedroom

What is there not to love about this gorgeous loft bedroom? The whitewashed walls and floors create a rustic but light and airy look. The heritage blue decor accents are perfectly fitting and provide a lovely touch of warmth to the room. The industrial cart bend and a coffee table that looks like it could double as a firepit make you feel like the outdoors has come inside. The end result is absolutely beautiful!
Whitewashed Rustic Bedroom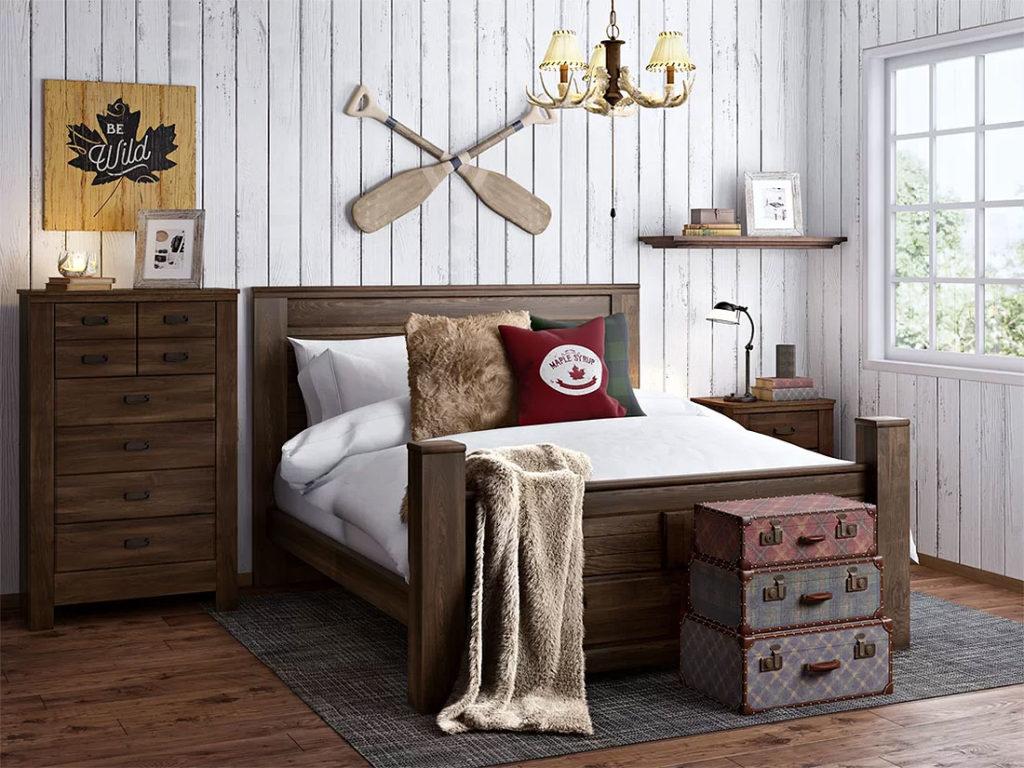 The whitewashed panel walls perfectly offset the warm and rustic furniture. A dash of extra charm is added through the antler light fixture, wall paddles, and the set of "suitcase" storage boxes at the foot of the bed.
Brick and Beam Modern Country Bedroom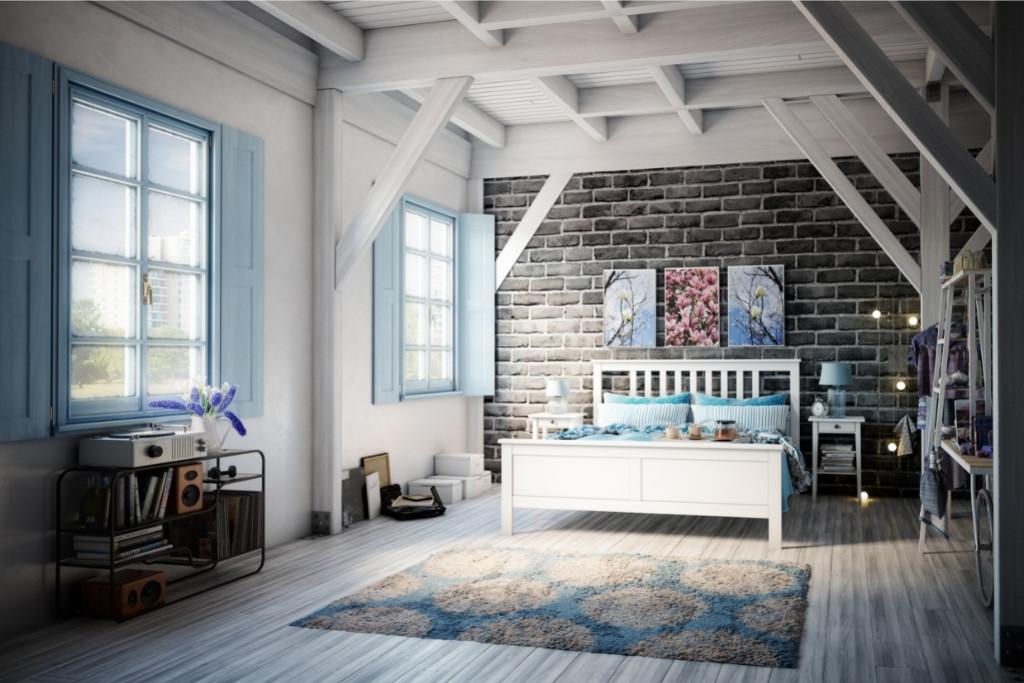 For a slightly more modern take on the classic country bedroom, this space features exposed beams painted in a whitewash finish, exposed brick, and some lovely cornflower blue accents. The overall space is warm, welcoming, and truly lovely.
Country Manor Bedroom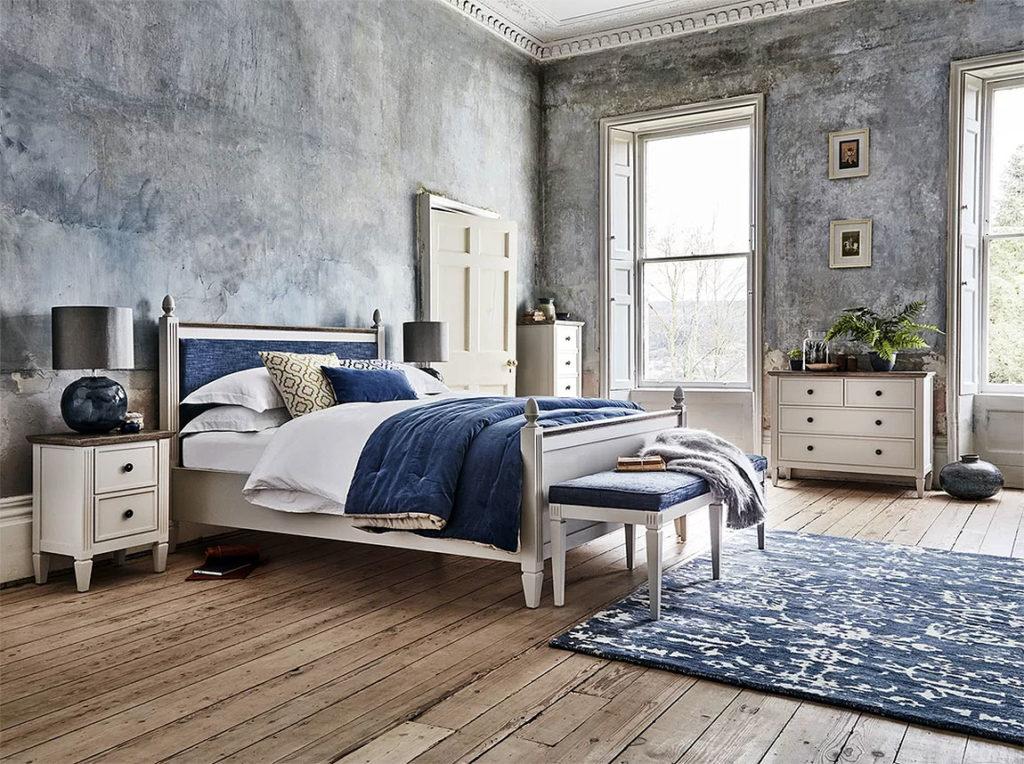 This oversized bedroom, with plank floors, blue-washed distressed plaster walls, high ceilings, and decorative molding looks delightfully countrified with off-white furniture and blue decor accents. You can almost sense the expanse of rolling hills just outside the bedroom windows.
Tree Bark Wall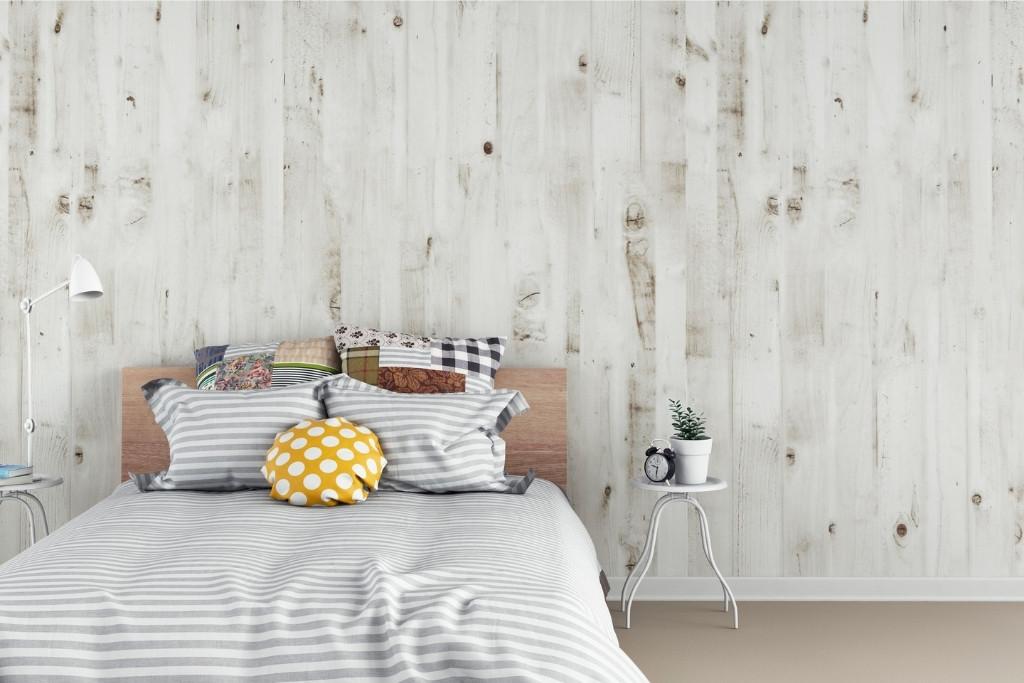 For a quick and easy way to add some country charm to a bedroom, try adding some natural wall treatments, such as this tree back wallpaper.
Barnwood Country Bedroom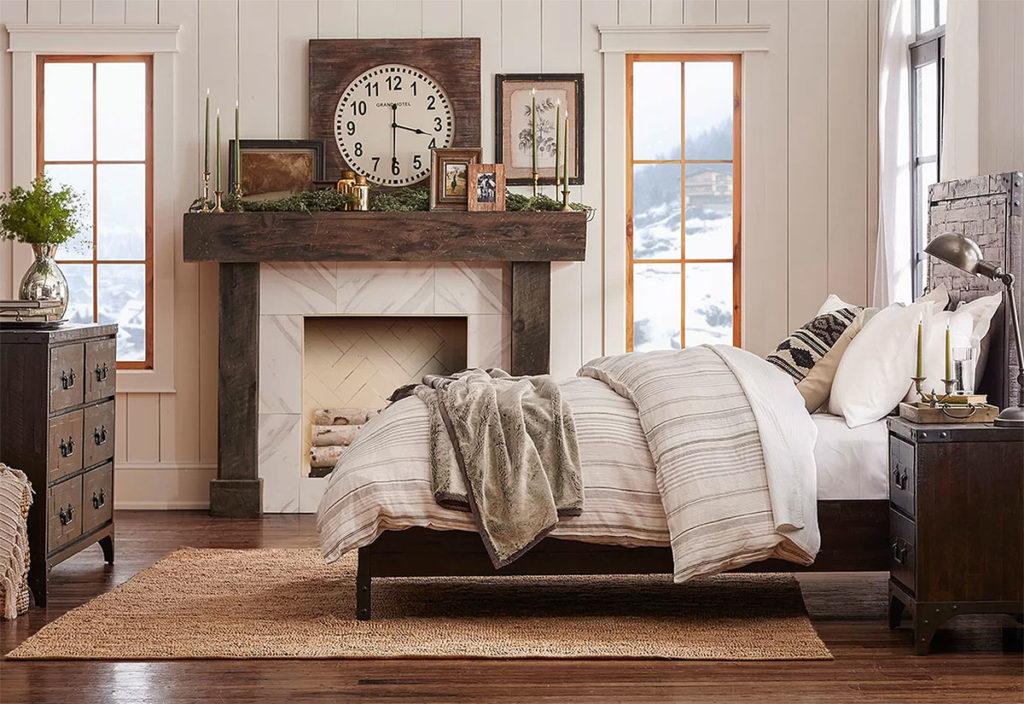 The faux fireplace mantle, headboard, dressers, and even the oversized country clock are all fashioned to invoke the feel of reclaimed barn wood. The warm and rustic feel that emanates from this room is quite fantastic!
Elegant Country Bedroom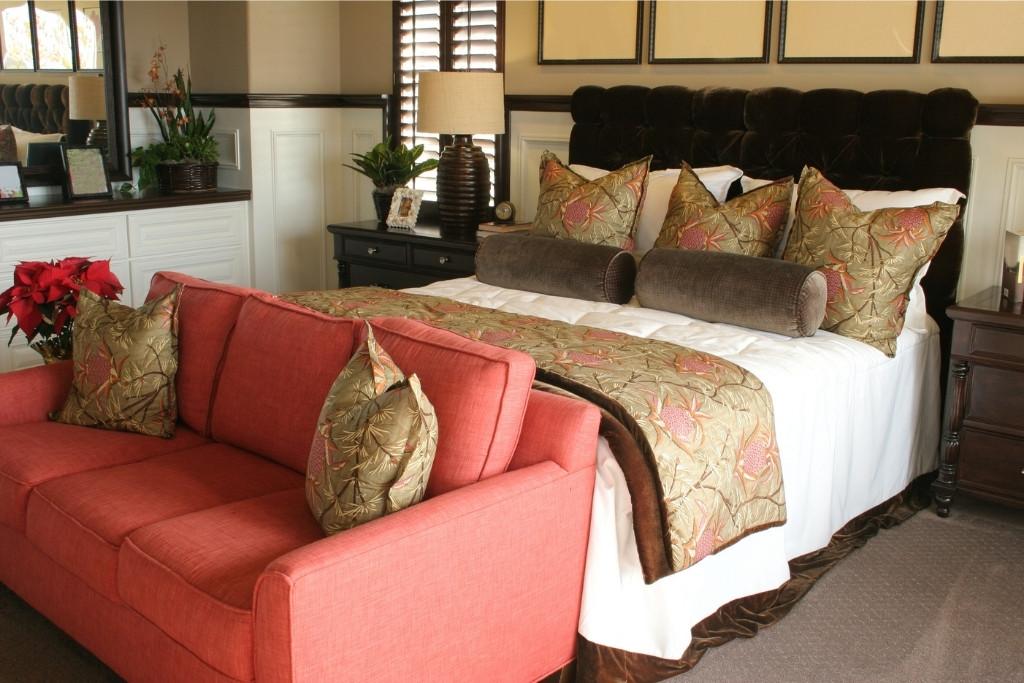 For those who want to bring a touch of sophistication to their country home, this warm and rich design does the trick. Rich fabrics, classic country colors, and white walls combine to create a wonderful space for yourself or your guests. Plus, the small sofa in a coordinating color acts as both extra seating space and a cozy footboard.
Rustic Log Cabin Bedroom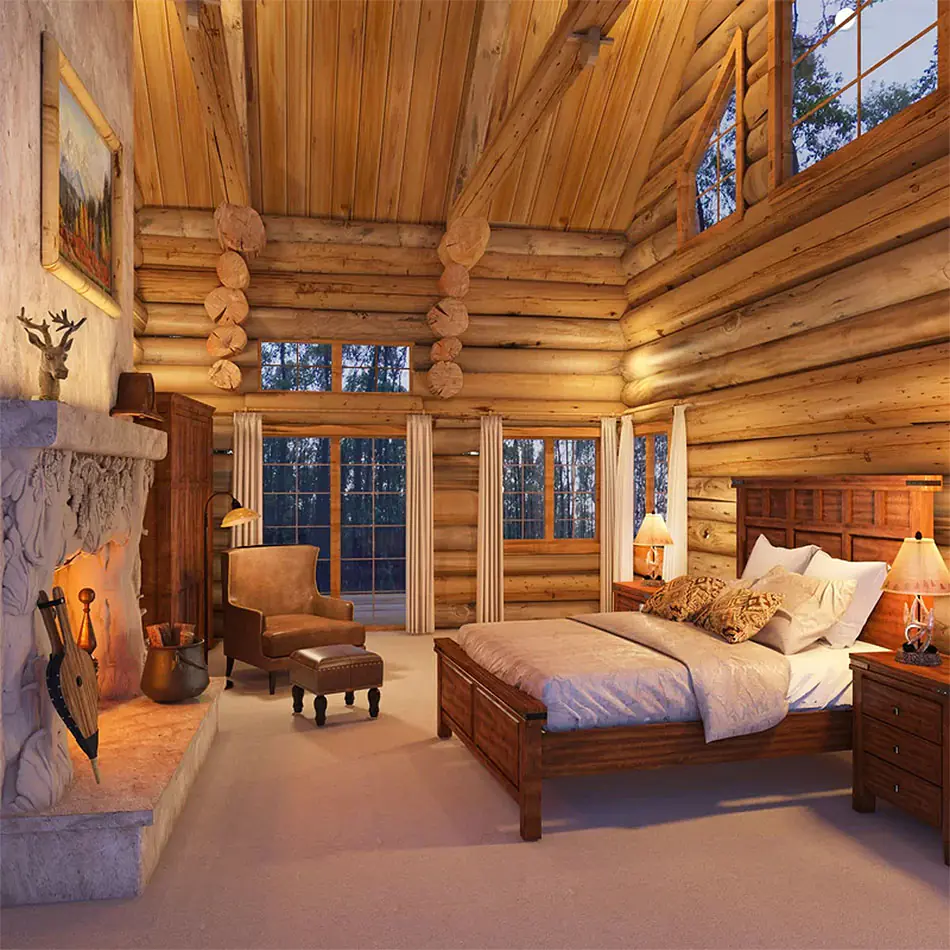 There is something inherently beautiful about the natural charm of a log cabin. This exquisite bedroom takes that charm and turns it up to 11. Take a look at the beautifully sculpted fireplace mantel, the abundance of natural night, and the gorgeous furniture and decor accents that make this bedroom extremely warm and inviting.
Exposed Brick and Beam Country Bedroom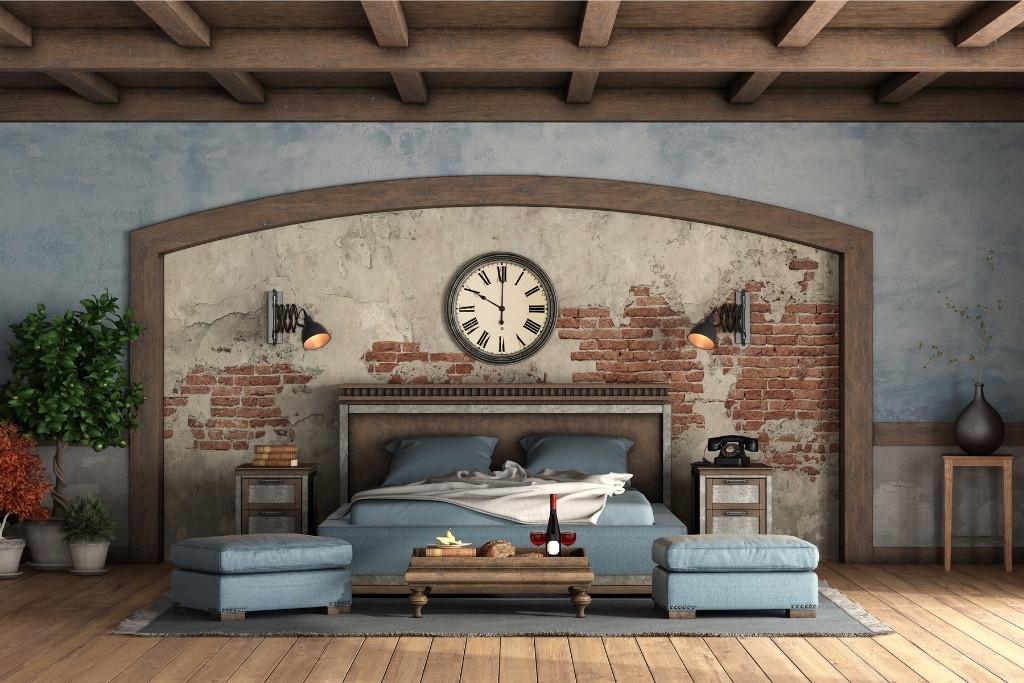 Everything about this room screams country elegance, with a hint of industrial flare. The framed-off exposed brick is surrounded by distressed walls and exposed brick. The bedding and ottomans in Wedgewood blue are the perfect color match to finish this naturally beautiful bedroom.
Woodsy Rustic Bedroom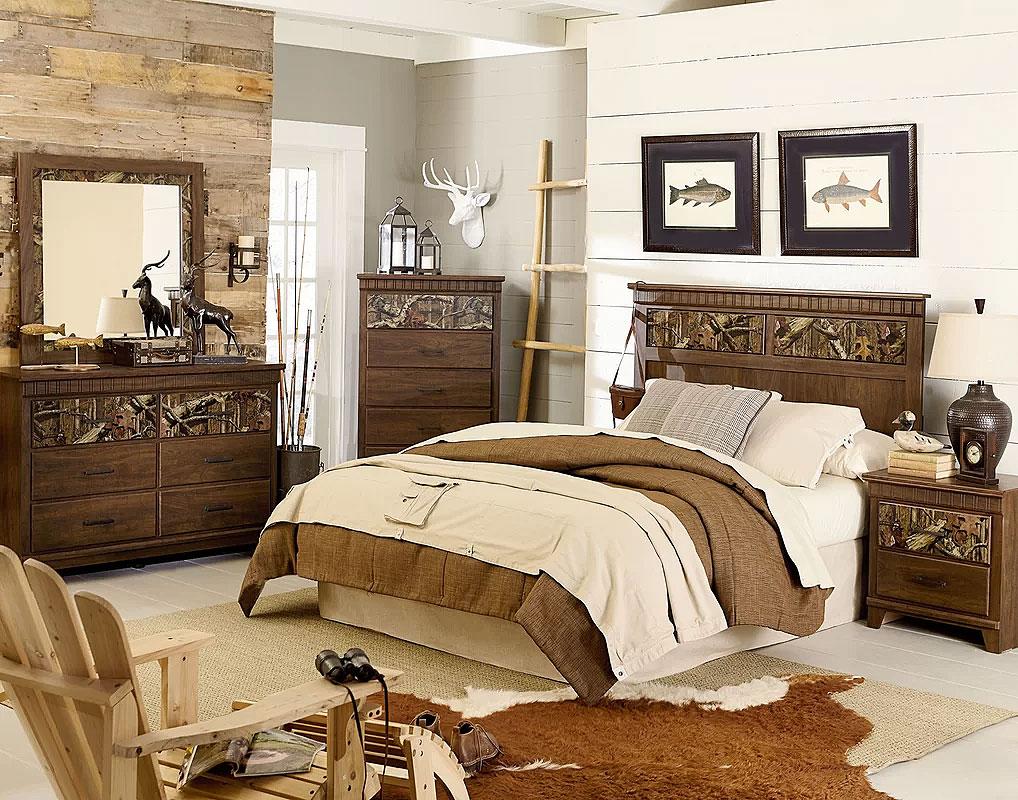 The woodsy inserts on the top drawers of the dresser, across the headboard, and around the mirror, bring an elegant outdoorsy feel to this rustic bedroom.
Modern Country Master Bedroom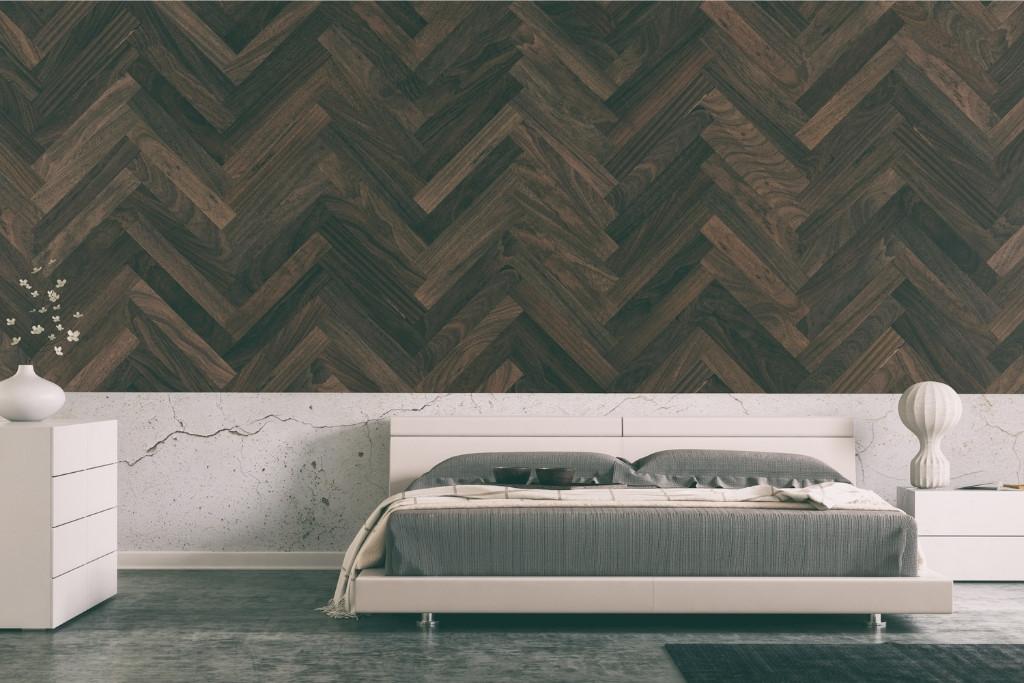 If you want to blend modern and country styles, there is a way to do that as well. The wall treatment and color palette are decidedly country, but the streamlined furnishings and minimalist decor accents give the room a modern flair.
Southwestern Country Bedroom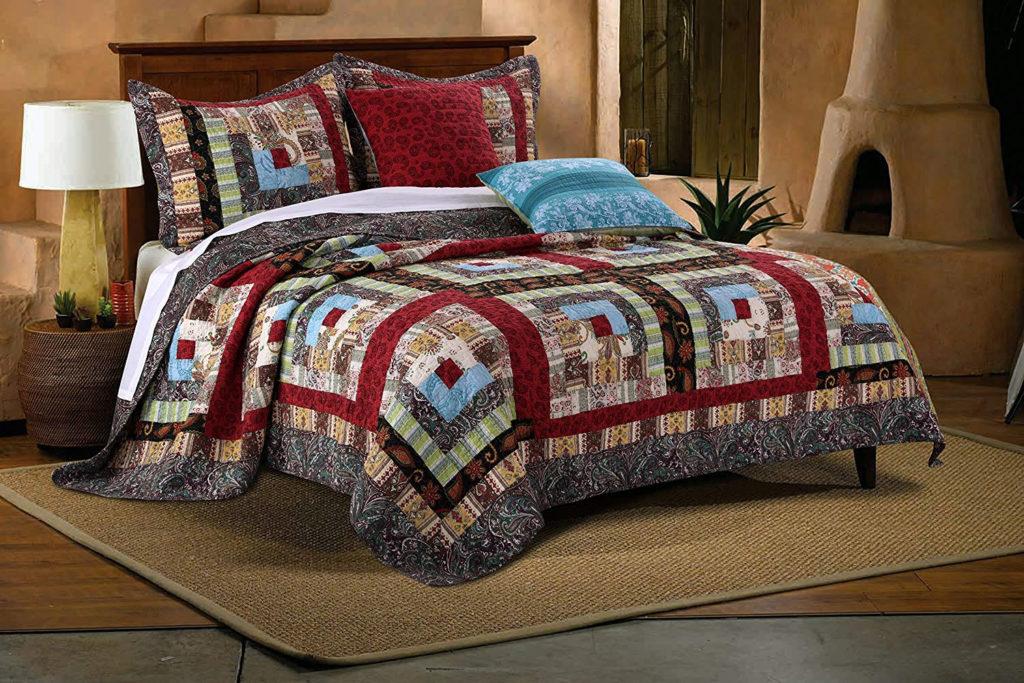 This room blends the adobe feel of the Southwest with the colors and charm of country decor to create a unique look that is rich, warm, inviting, and delightful
Rustic Country Butterfly Bedroom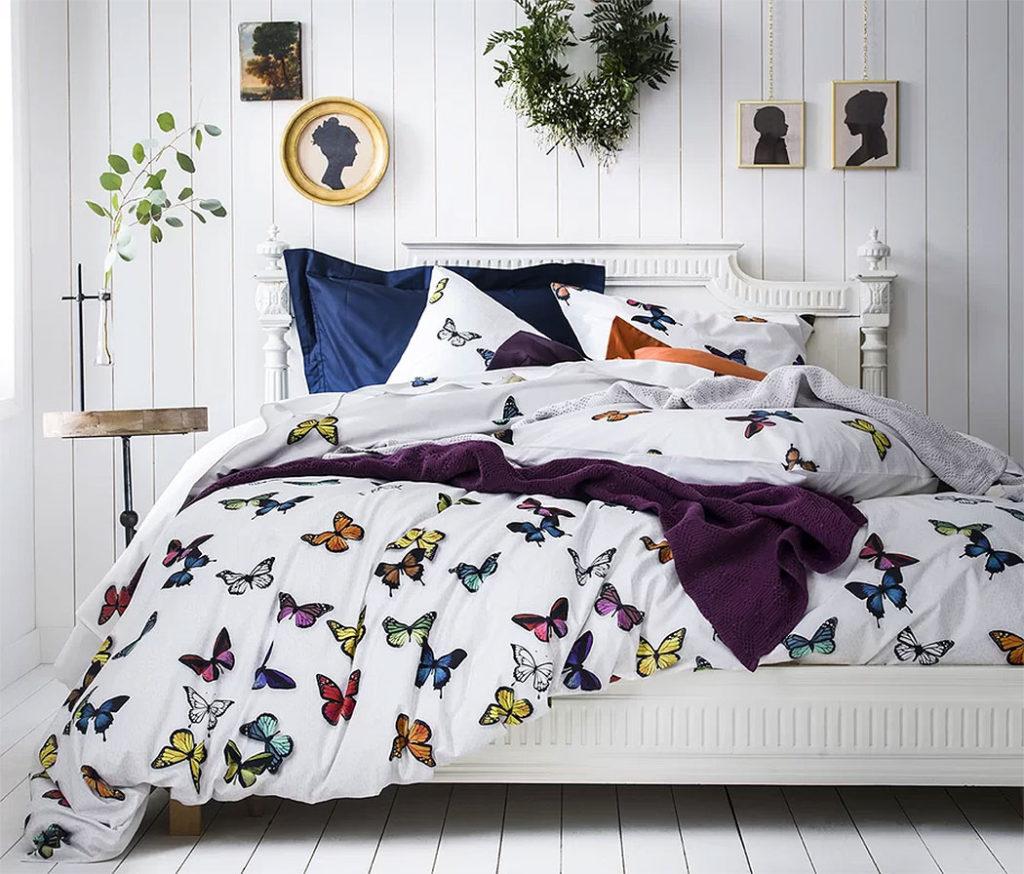 The adorable butterfly bedding set really sets a delightful mood in this bright, airy, and rustic cottage country bedroom.
Country Cart Bedroom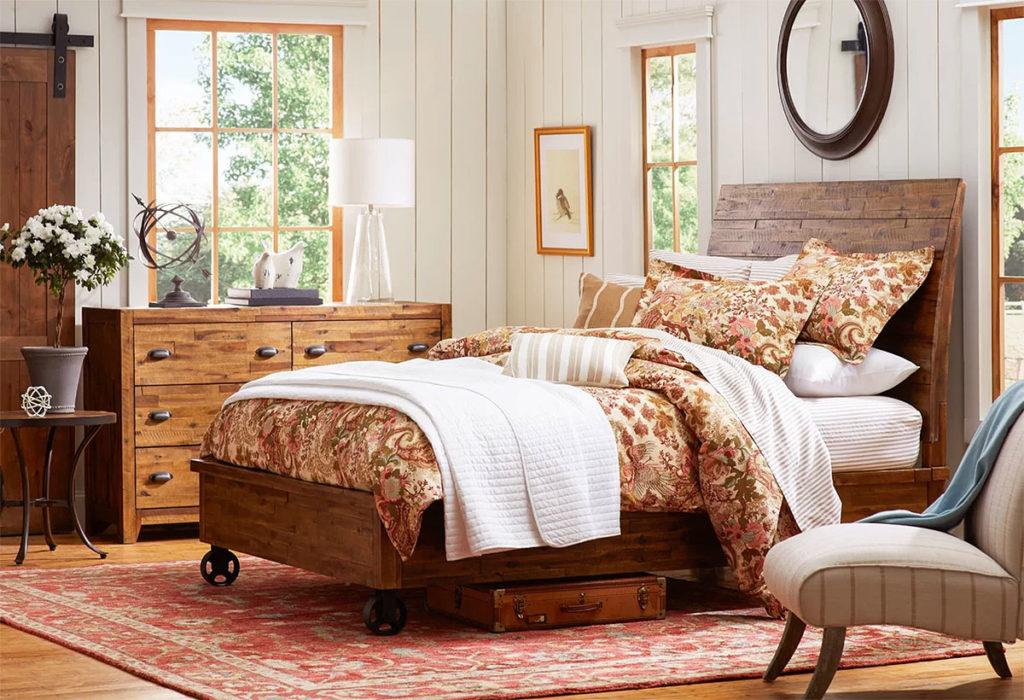 The wheeled country cart bed is delightfully rustic and matches perfectly with the country accent and decor pieces in this beautiful country bedroom.
Classic Country Cabin Bedroom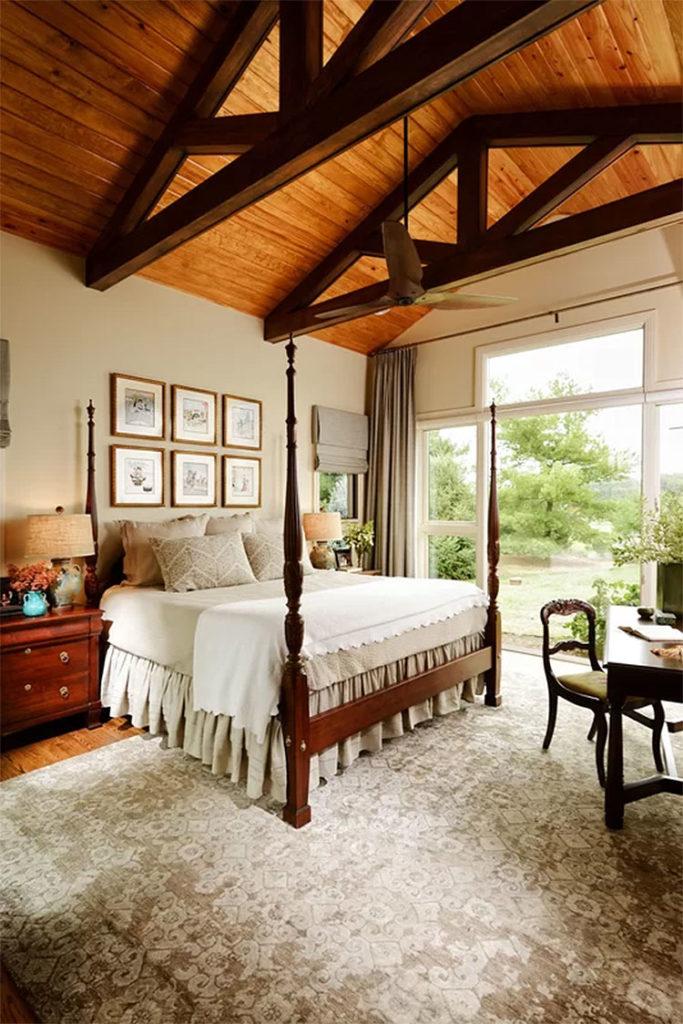 Exposed beams, a Four Poster Bed, Floor-to-ceiling windows overlooking nature, a gorgeous area rug… who could ask for more?
I Can See a Rustic Bedroom, Canoe??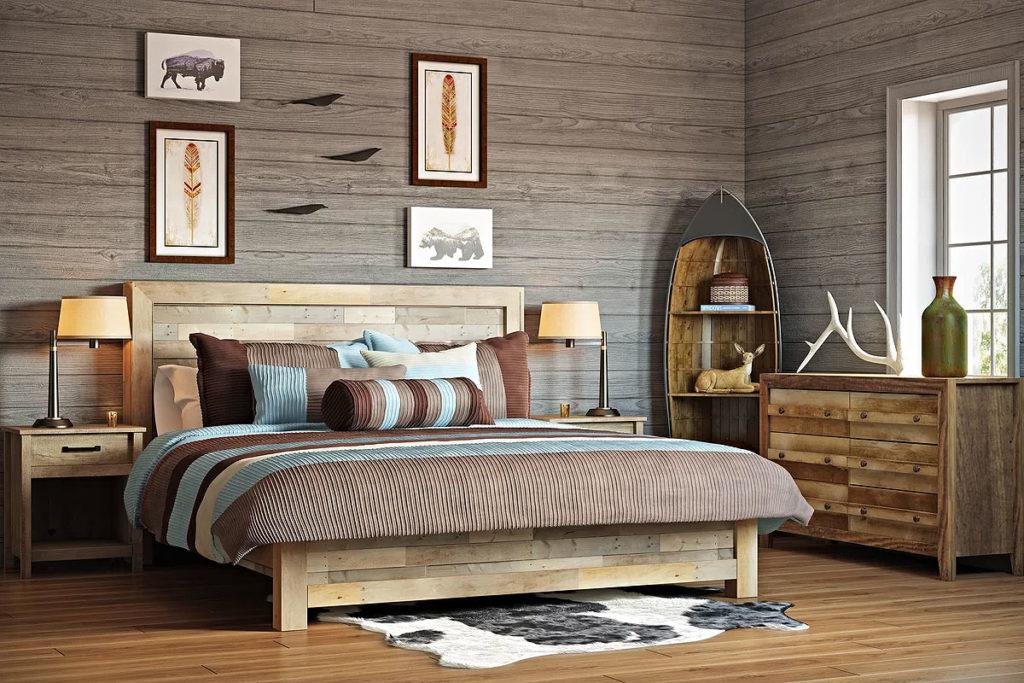 So much charm in this room. The quaint bookshelf, the animal art, and figurines, the rustic furniture. Plus, the addition of the Black Flock Wall Decor Set above the headboard is pure delight!
Rustic Antler Bedroom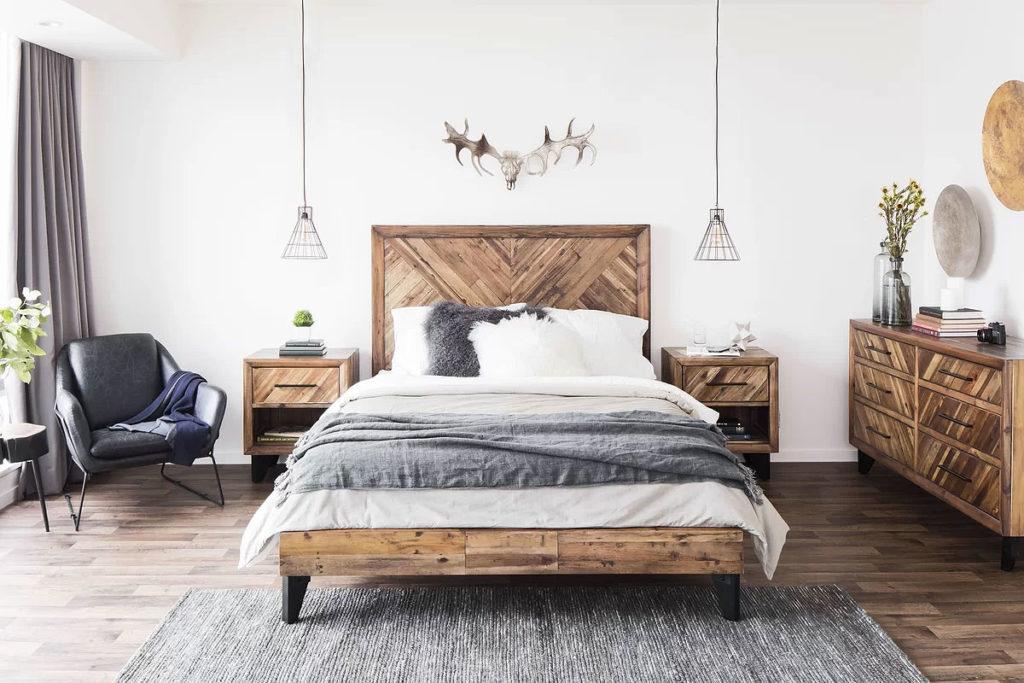 I love the rustic chevron-like pattern of the wood dresser, end tables, and bed. They really stand out against the white walls, with the uniquely rustic antler wall art and hanging pendant lights completing the overall look.
Warm & Rustic Master Bedroom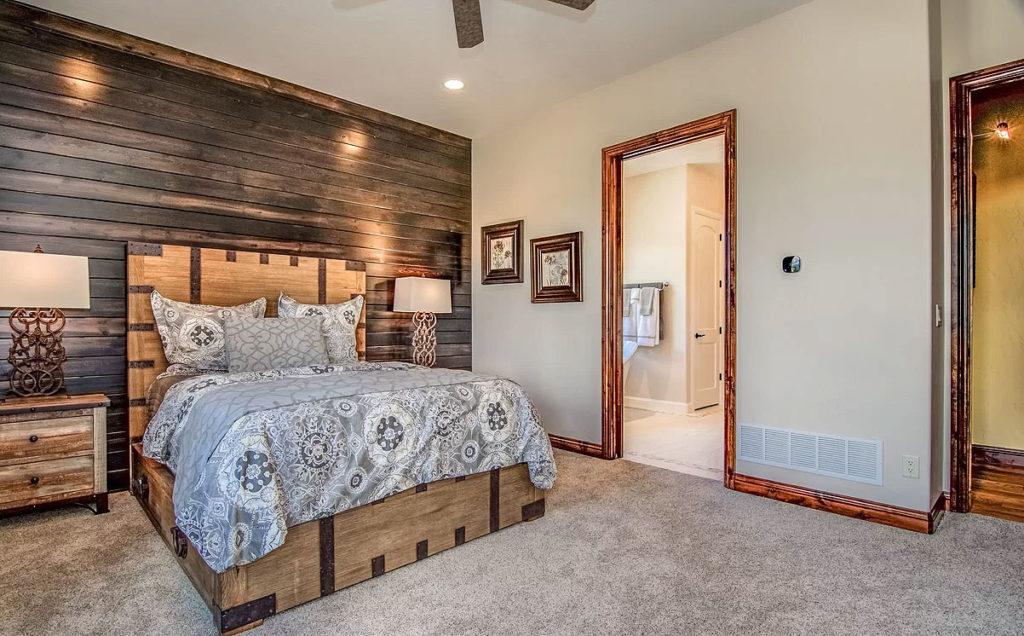 The wood wall and rustic bed create a warm and cozy room that works perfectly with the natural wood trim work around the doorways.
Industrial Rustic Bedroom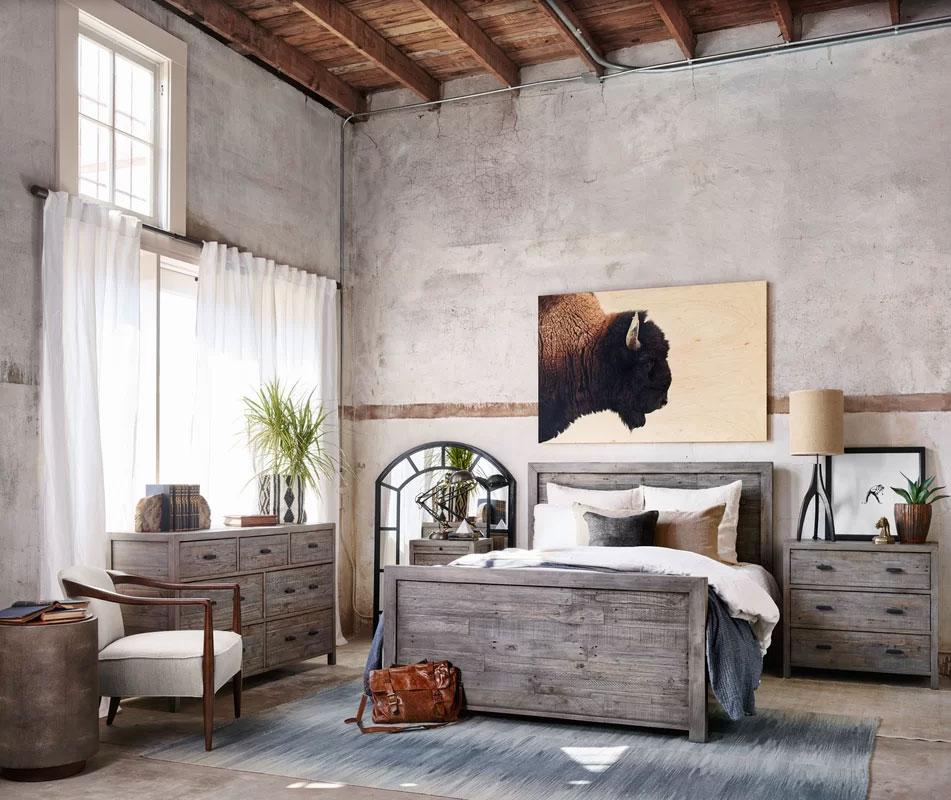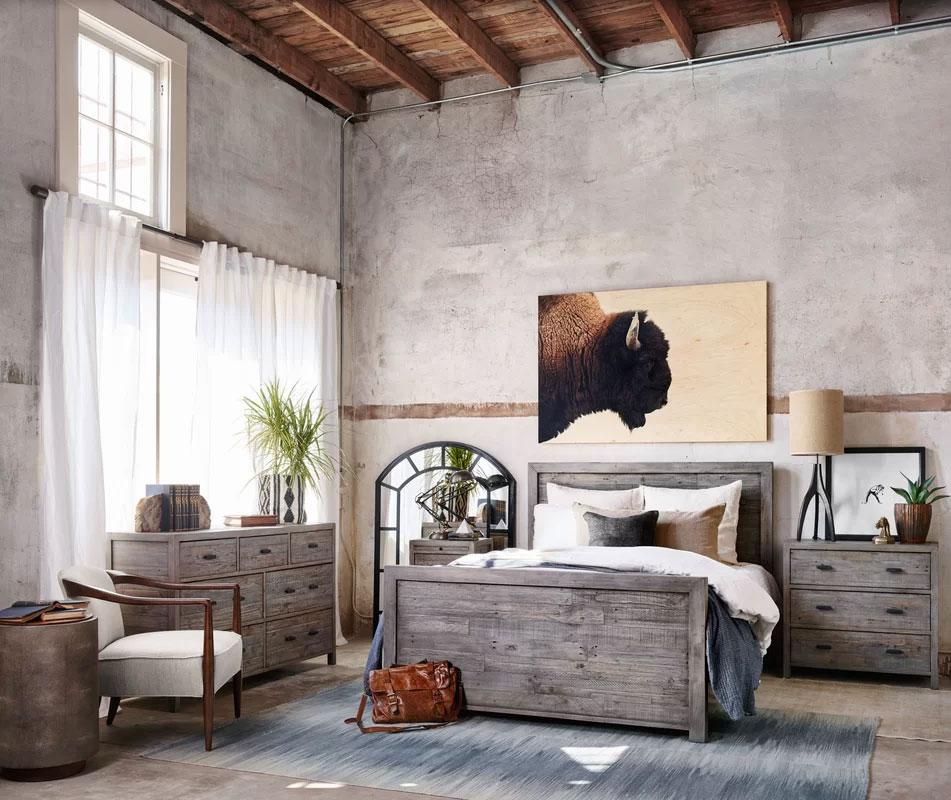 High ceilings and faux concrete walls bridge the gap between Industrial and Rustic in this patina-gray rustic bedroom. Who says you can't mix styles? Not I.
Gatlinburg Star Quilt Country Bedroom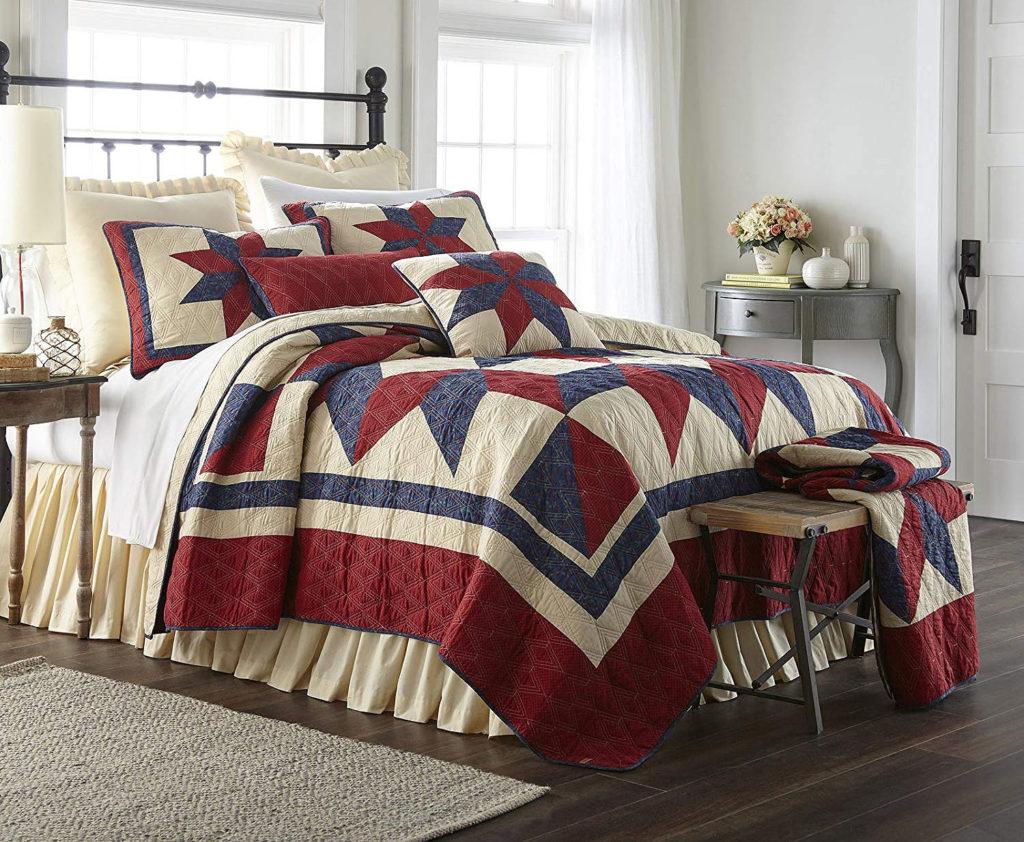 A rich and delicious Gatlinburg Star Quilt creates a delightful focal point in this warm and inviting country bedroom.
Blue Plaid Country Bedroom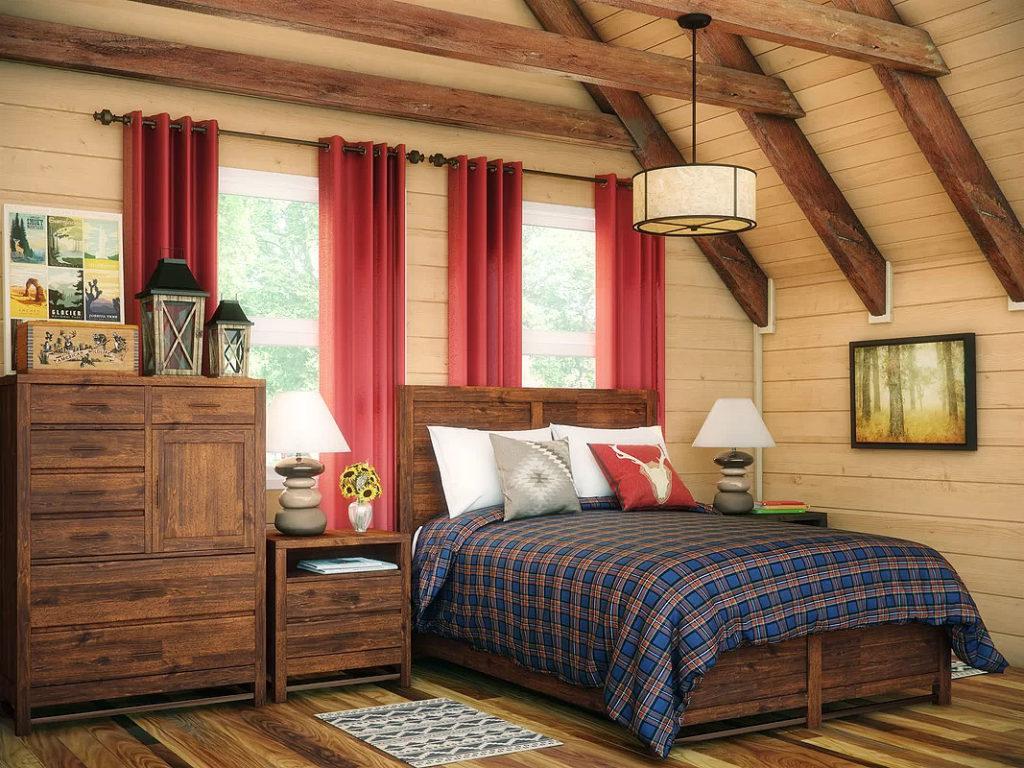 The blue plaid bedding, boarded walls, exposed beams, and delightful decor accents all combine to create this charming country bedroom.
Rustic Lodge Bedroom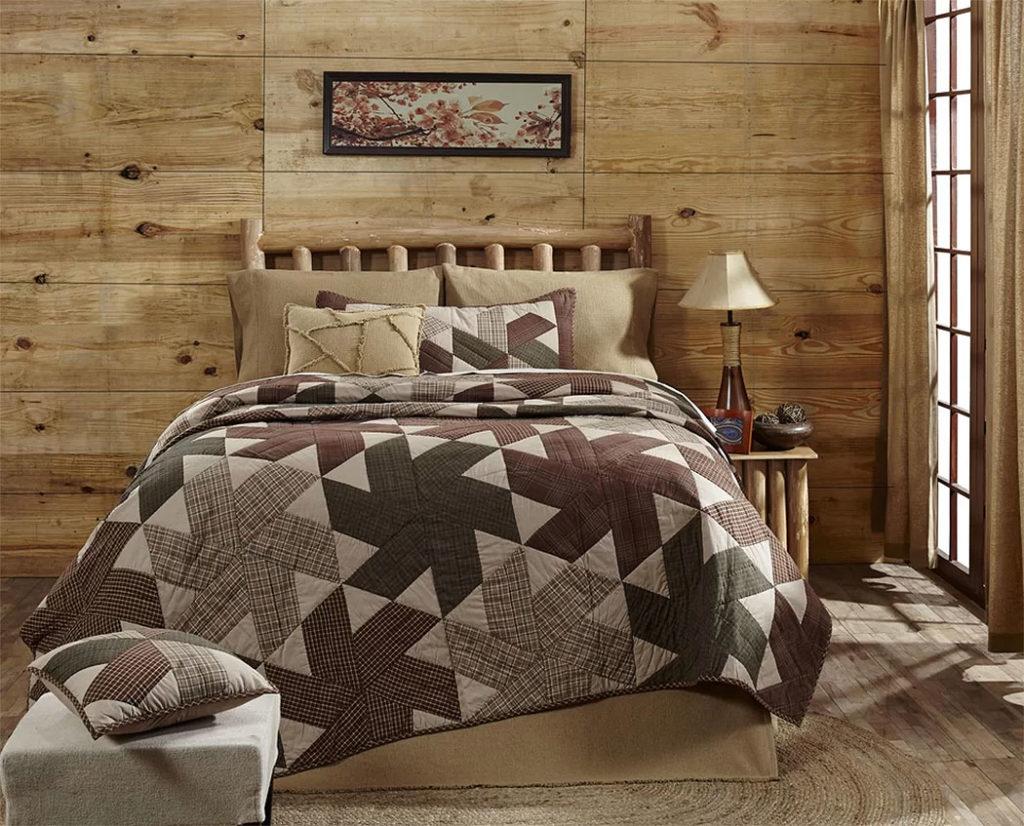 There are few things quite as "down-home country lovely" as a stunning quilt. This rustic lodge bedroom features a log headboard and end table accented by an absolutely gorgeous country quilt that looks exceptionally warm and cozy.
Weathered Country Bedroom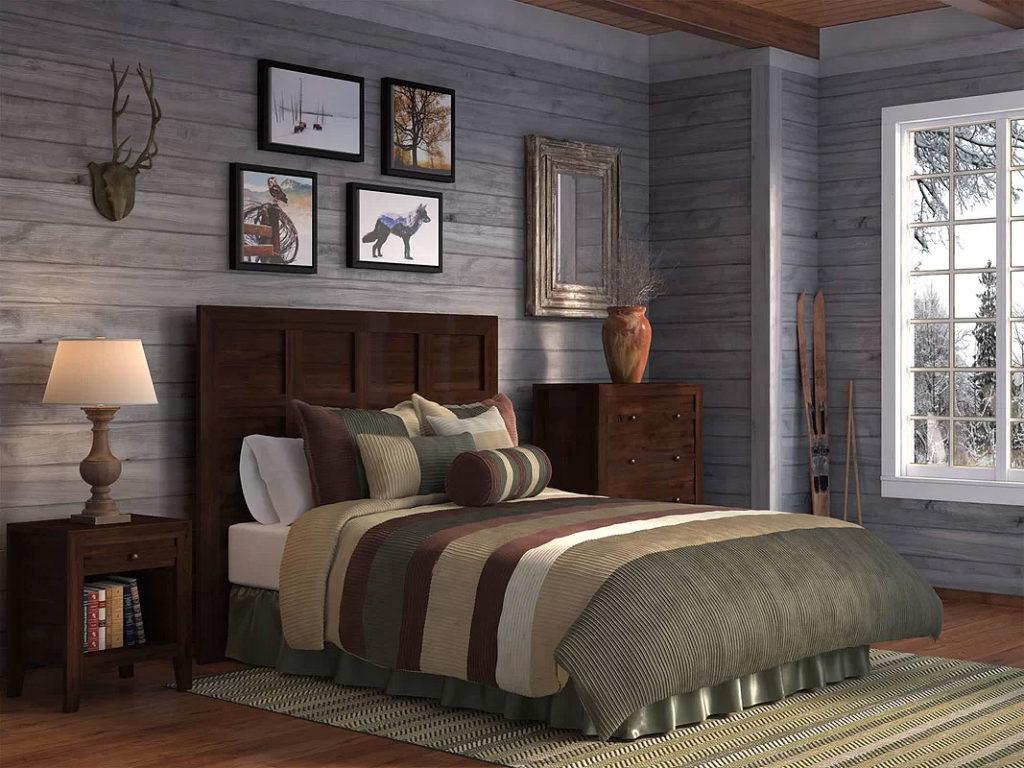 The walls look like they've been crafted from weathered strips of natural wood, creating a wonderful background that is offset by the warm and rich furniture and bedding. The end result is a comfortable and cozy bedroom that will help keep the winter's cold at bay.
Modern Rustic Bedroom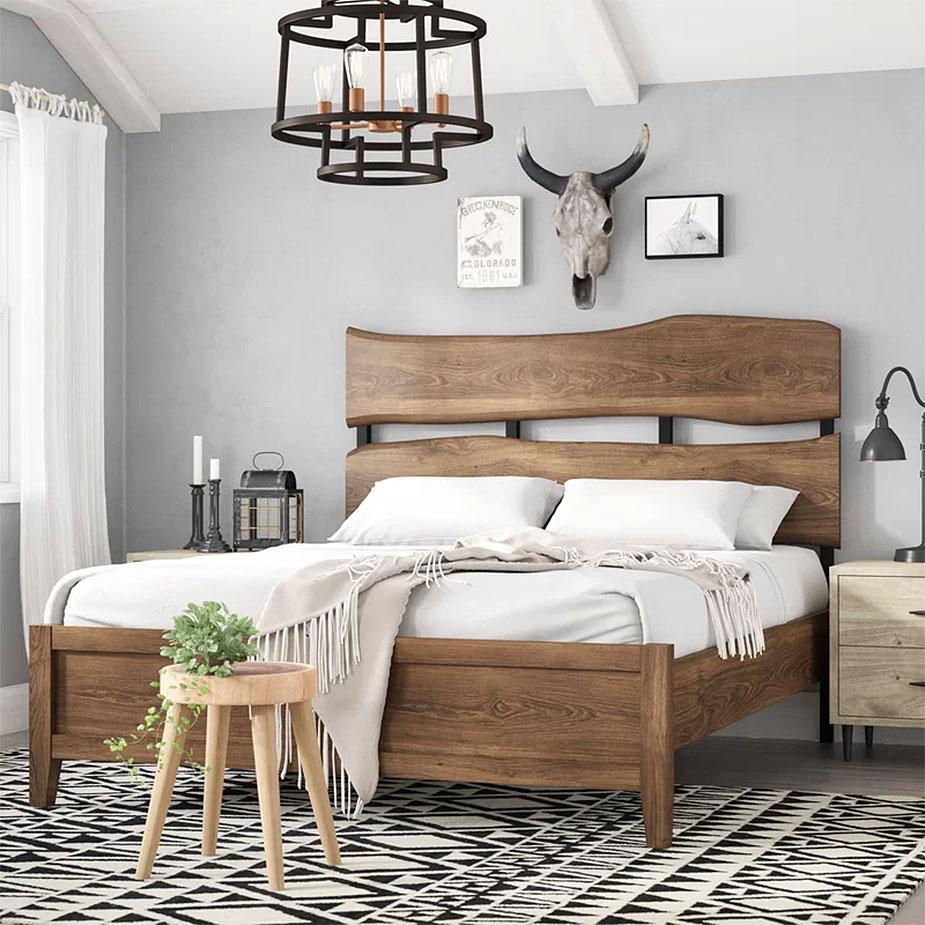 An exquisite mix of rustic and modern, with cool gray walls and crisp white linens against a wonderfully rustic bed frame. The end result is unique and wonderful.
Stone & Beam Country Farmhouse Bedroom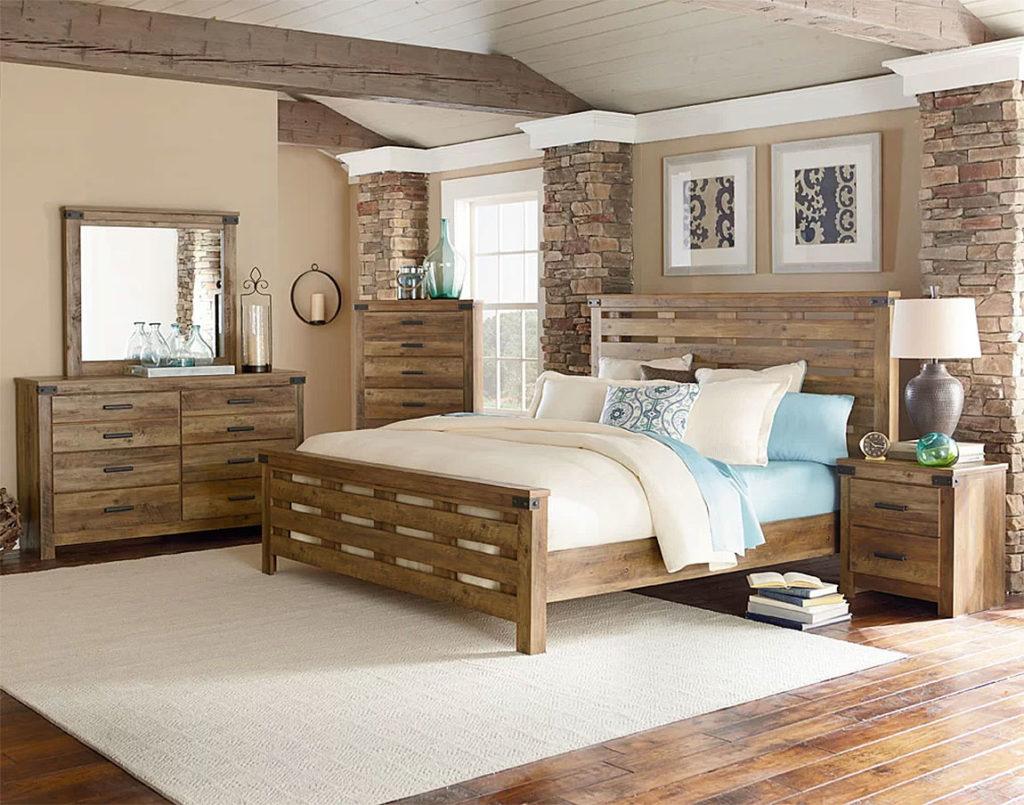 There is so much about this Country Farmhouse Bedroom to love! The exposed stone pillars. The huge ceiling beams and boarded ceiling. The rustic furniture. The crown molding. The soft and welcoming colors. Take your pick!!
Country Bedroom Decor Tips
Use the same color scheme throughout your whole house or apartment. If you are using a lighter shade on the walls then go for darker wooden furniture and vice versa – this gives an instant style update to any space without much effort at all!
Look for items with interesting shapes, textures and patterns – old trunks make amazing coffee tables as do banana leaf baskets, while chunky knobs give character to otherwise simple pieces of furniture.
Display ornate wardrobes in lieu of armoires because they have more storage options built into them already.
Country & Rustic beds come in sleigh styles that can be styled with plenty of pillows and throws for a comfy night's sleep.
If you're working with a smaller decorating budget, try visiting local flea markets, thrift shops, or antique stores; second hand items are often cheaper than brand new furniture, but have plenty of vintage charm.
Don't be afraid to paint wooden pieces either – make them your own with daring colors like hot pink or electric blue!
Make the most out of natural light by painting walls in lighter shades (creams & off whites work best) so there is no need for harsh overhead lighting – this helps keep spaces feeling warm and inviting during the day time too!
During summer months you might want to consider lighter curtains that can be drawn back at night time.
If rustic bedroom furniture just isn't your thing then go for more of a cottage style instead! This essentially means mixing modern pieces with vintage ones, but the overall design effect is still pretty much on point even if you use the right items.
Try using mason jars or tall hurricane vases as accents on side tables; they are inexpensive yet make great decor features in their own right thanks to how versatile they are. Use them for flowers, candles and other home accessories. Mason jar lanterns look amazing when lit up too – simply fill some jars with natural elements such as rocks or pebbles & add tea lights.
Don't forget to use your vertical space; this means leaning mirrors against walls, hanging pictures of varying heights and sizes, even ditching the bedside table in favor of a freestanding lamp or two.
Wall art doesn't have to be restricted to one section either – Country bedrooms are supposed to be more free-flowing than other design styles.
The main colors for this type of design tend toward cream & white, but it's not at all uncommon to see hints of the natural, darker wood showing through. This is also an ideal scheme if you have pets because the fur won't be as noticeable on these lighter shades. If you want to create a more classic look then go with black or dark brown but pair it up with cream or white accessories instead.
Country bedrooms need plenty of light! Use light colored walls and make sure there is sufficient natural light – even in winter months! You can install skylights which let in loads of sunlight so take advantage when they're available to prevent your room from looking dull.
Wood is a great material for creating country style bedroom decorating ideas so start by laying floorboards before getting creative with the furniture you choose to use in this room!
Rustic or farmhouse styled pieces are perfect for this type of design but don't neglect modern items either because they can look stunning when combined with wooden surfaces too.
Don't forget other areas like your window sills; add some wood and plenty of large plants here instead. This will create an instant focal point while also bringing more nature indoors which enhances that country feel even further! Hanging pots & planters are becoming very popular way to decorate with plants because you can get them in all sorts of sizes & shapes to suit your bedroom design too.
Looking for More Rustic Furniture & Decor Ideas?
There's something warm and cozy about Country & Rustic Bedrooms, where comfort comes naturally. We hope you enjoyed browsing this hand-picked collection of Country & Rustic bedrooms, and that it helped inspire some design ideas for your own home.