If you're looking for Modern Bedroom Design ideas, we've got you covered. From sleek modern designs featuring neutral colors to bright, bold, and colorful modern bedrooms, you're sure to find some decor inspiration inside this unique collection.
Modern bedroom design is all about sleek, clean lines and minimalistic decor. That means neutral colors are the dominant hue in most modern bedrooms, but it doesn't mean you can't incorporate other rich hues into your bedroom design in order to give your space a splash of color or accentuate features that you want to feature.
You'll also find an abundance of contemporary furniture styles present inside modern-designed bedrooms as well – think mid-century pieces for a vintage vibe, Scandinavian designs inspired by simplicity and functionality, contemporary platform beds which are perfect for stylish storage solutions underneath them… And so much more. There's really no limit on what types of furnishings you can use to complete your bedroom design.
When it comes to decor in modern bedrooms, you'll also notice quite a few different design elements that are common within the style. For example, geometric shapes and patterns can be found throughout most modern bedroom designs in one way or another – whether they're seen on the bedding itself or present inside artwork pieces featured on walls around your space.
Another thing you will commonly find in modern bedrooms is clean lines, which can include everything from built-in shelving units to lighting fixtures. Not only is this chic but it makes each element feel cohesive with all other items inside the room which creates a balanced look overall.
The world of modern bedroom design is filled with sleek and chic designs that make use of neutral colors like white, gray, black, browns, and more. Not only does this create a monochromatic look throughout your space but it can also be accented by pops of color or other hues if desired to give the room some personality too. Whether these rooms feature rich tones inside accent pillows on the bed or inside artwork pieces around the room… They all have one thing in common: they're absolutely stunning!
It's time to get started with our Modern Bedroom Design Ideas!
For more details on these stunning bedrooms, check out the Shop the Look links (where available) to view more information and find similar products at our affiliated retailer websites.
Modern Zen Bedroom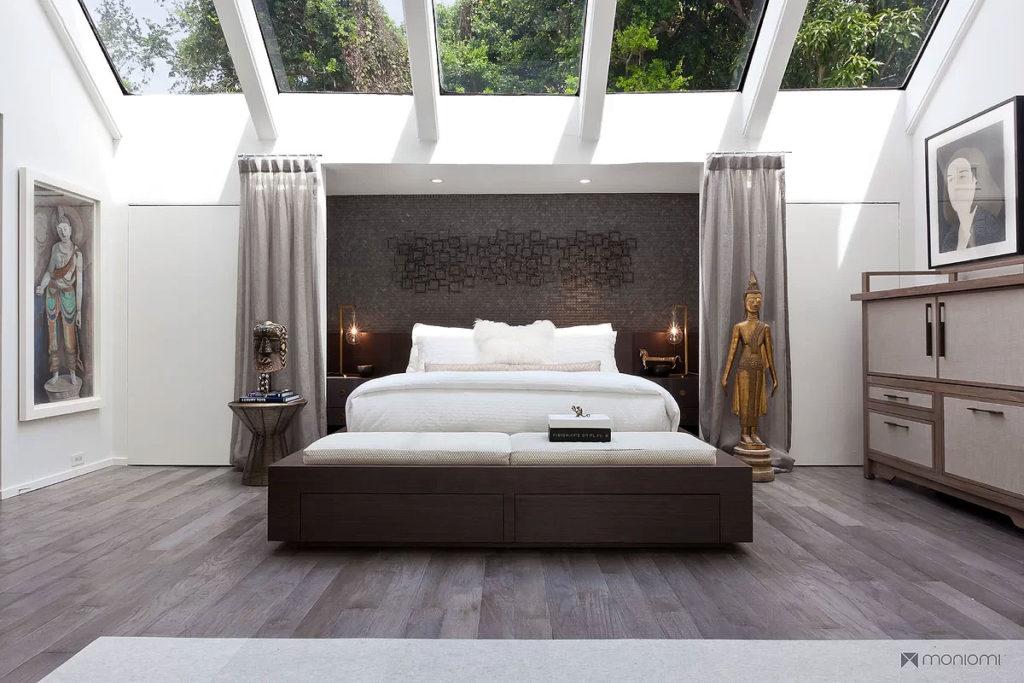 I love the combination of modern design and "ancient" artifacts that create this wonderful design by MONIOMI Interiors.
Mid-Century Modern Modular Bedroom Design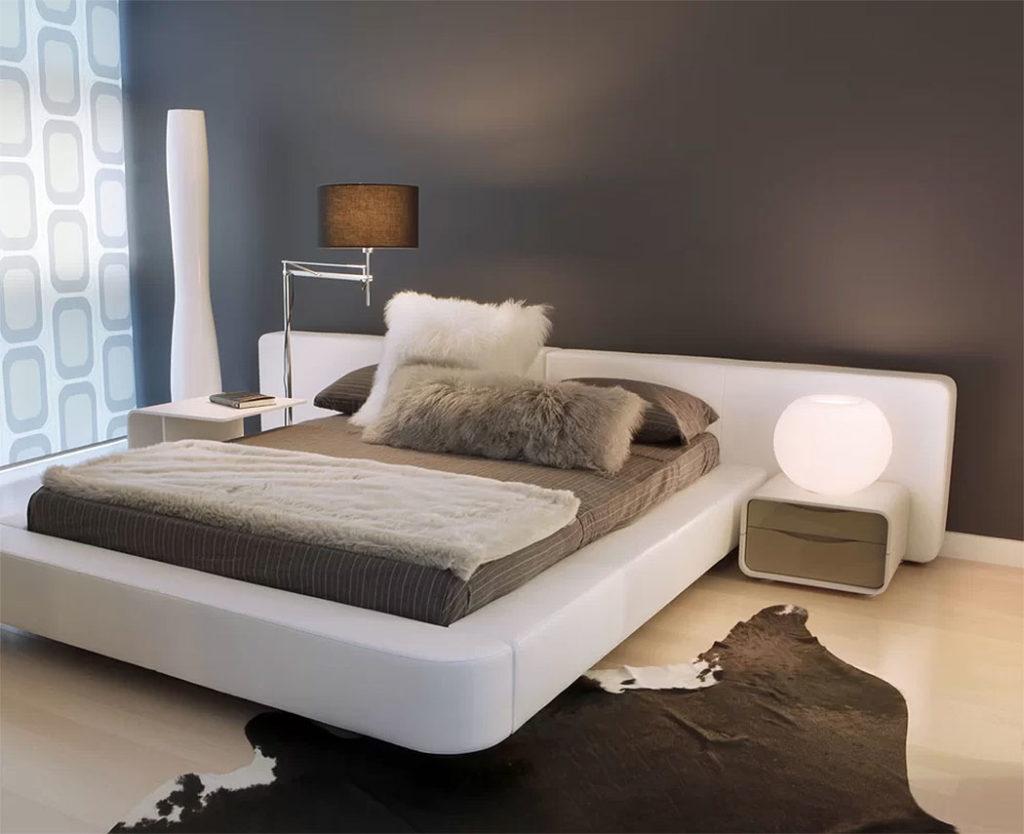 The modular look of this bedroom is quite unique and effective. Bold & modern while simultaneously soft & inviting… with just enough of a retro flair, which is not an easy feat!
Modern Geometry Bedroom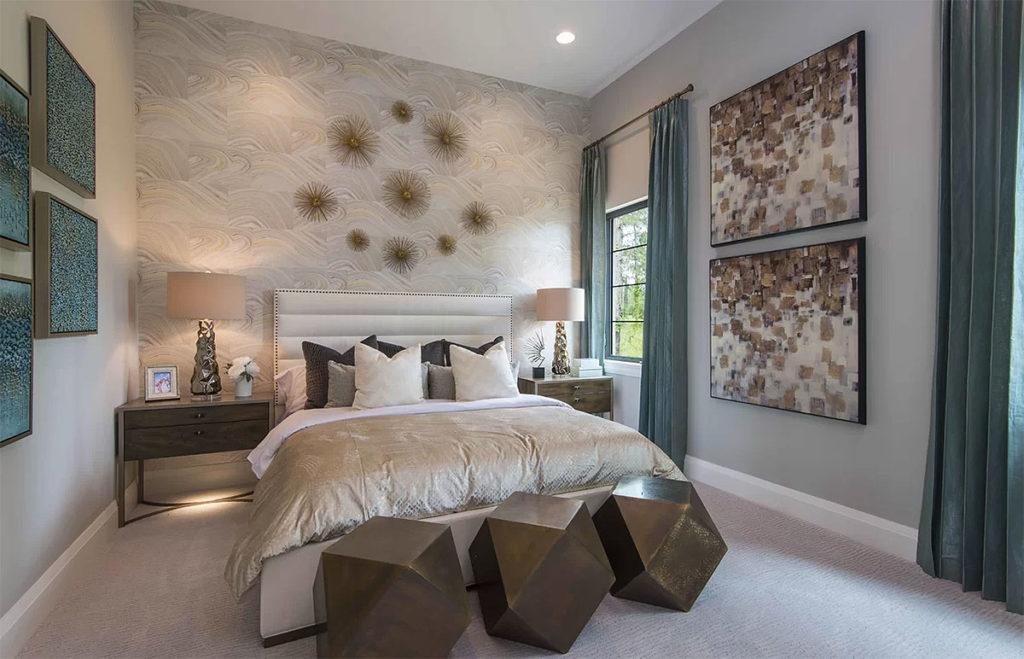 Geometric shapes are the inspiration for this delightful bedroom design. The unique way that the designers used two of Liz Jardine's City Night canvas art to create a repeating pattern on the wall was pure genius!
Garett Wine Bedroom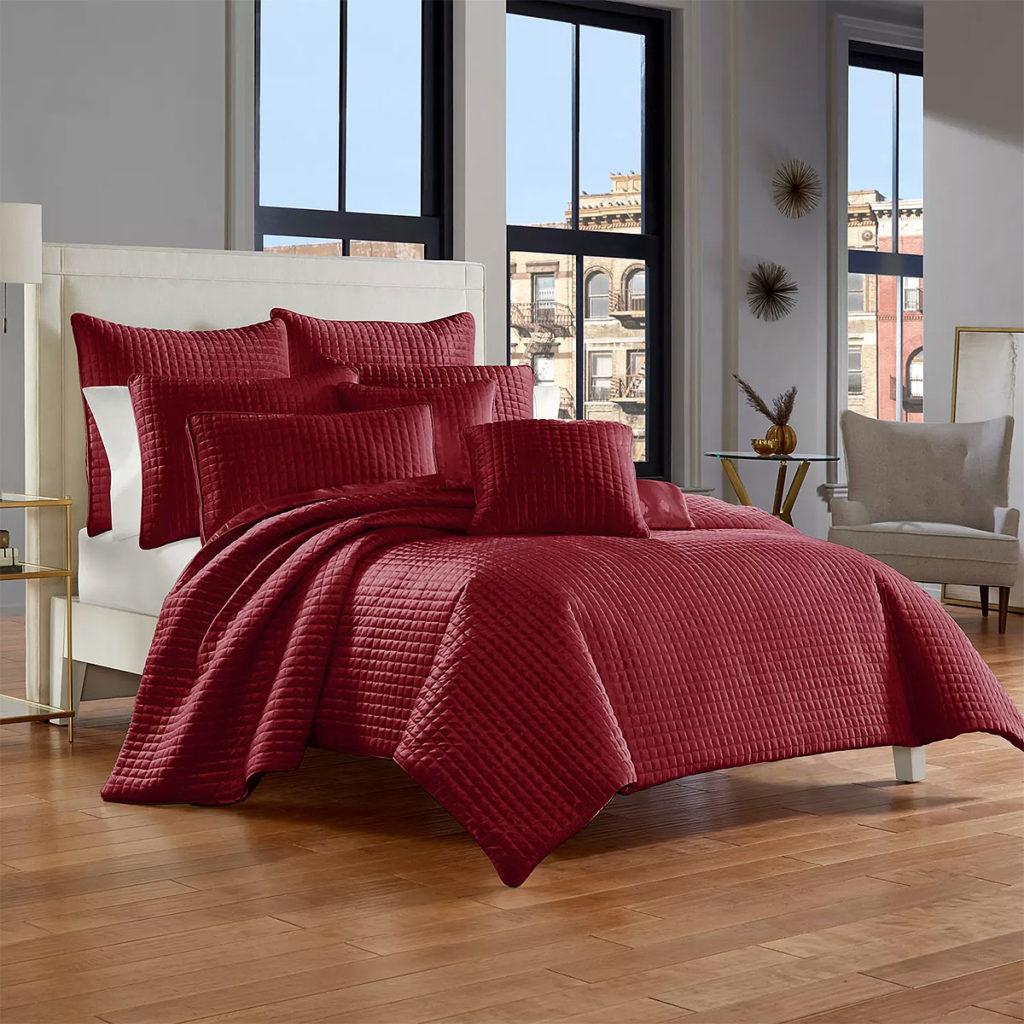 Add some modern luxury to your bedroom with this glamorous Garett Quilt. This fabric is a highly constructed velvet, meant to add drama and comfort to any bedroom.
Modern Classic Bedroom Design by Kelly Hoppen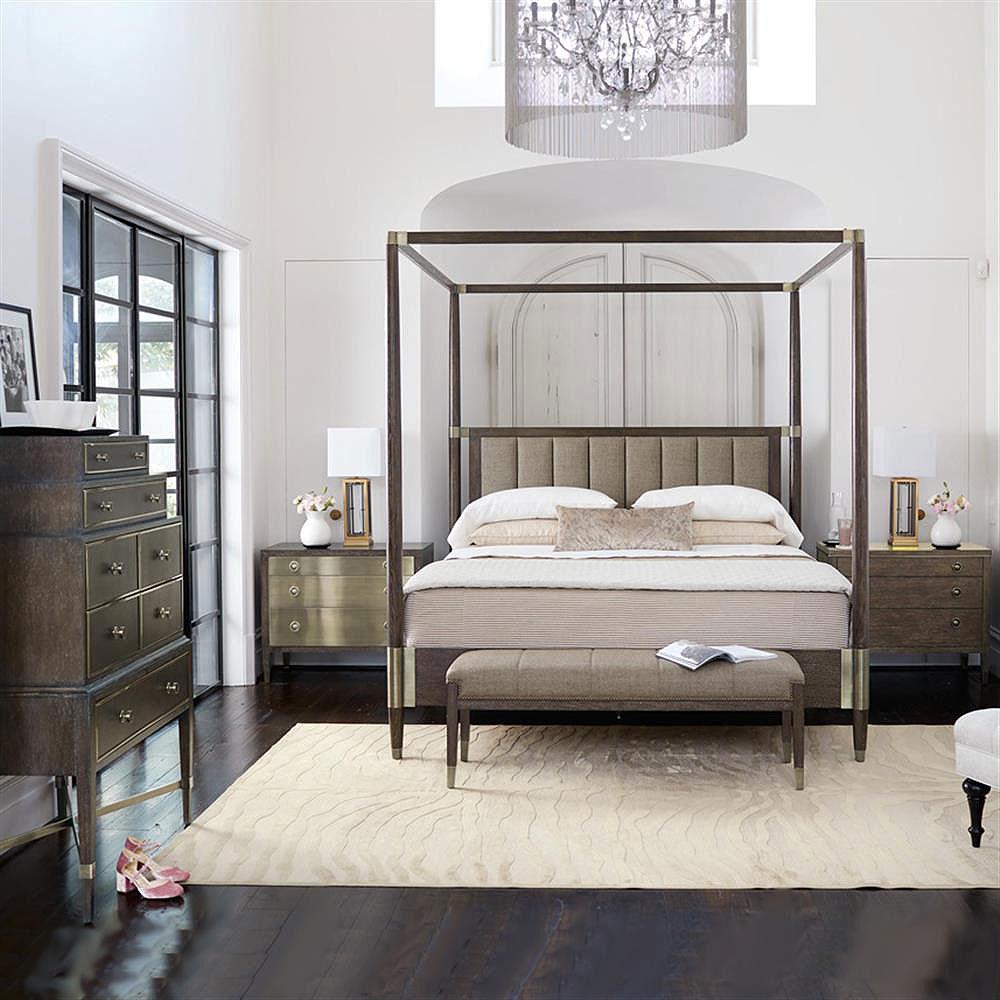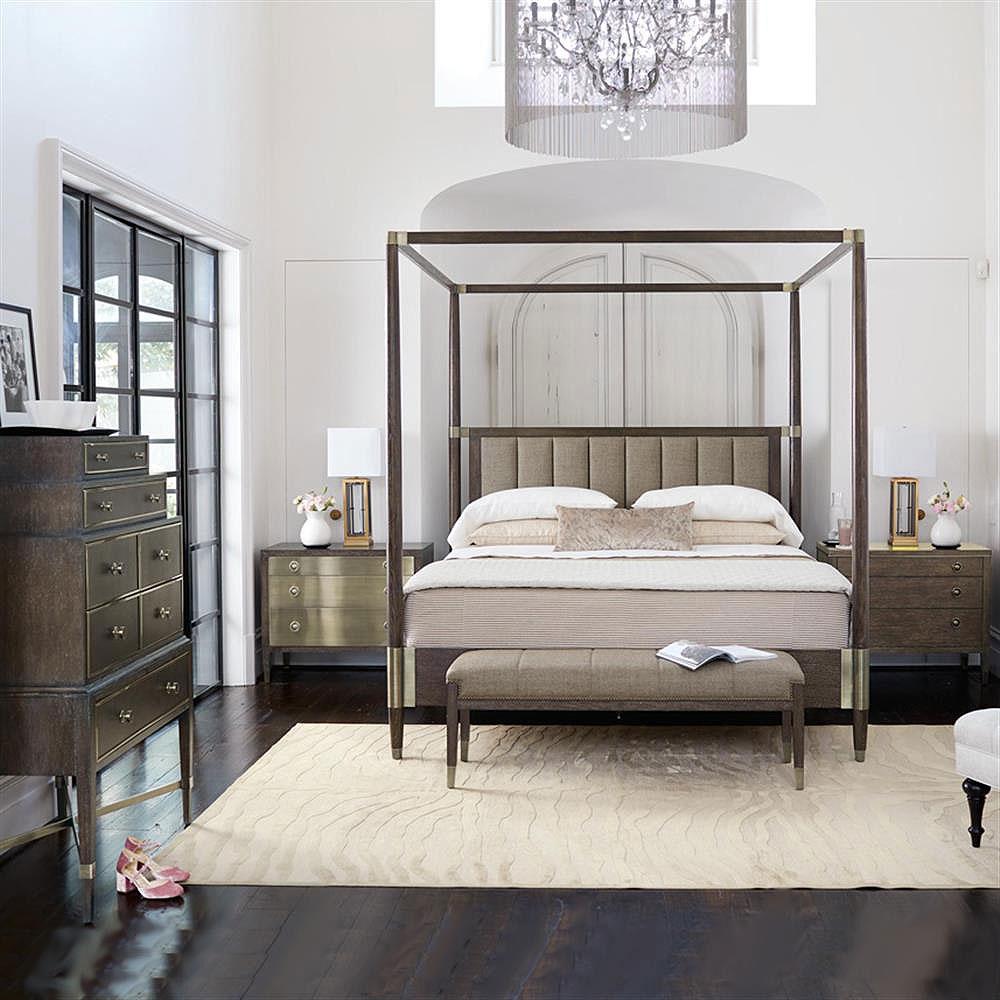 Source: Kathy Kuo Home
Kelly Hoppen is the design mind behind Kathy Kuo Home's wonderful (and aptly named) Kelly Hoppen collection. Since the age of 16, Hoppen has held a relentless passion for design and has grown to become one of the most celebrated names in the industry, renowned for her unparalleled expertise in a textural East meets West aesthetic.
Miami Modern Bedroom Design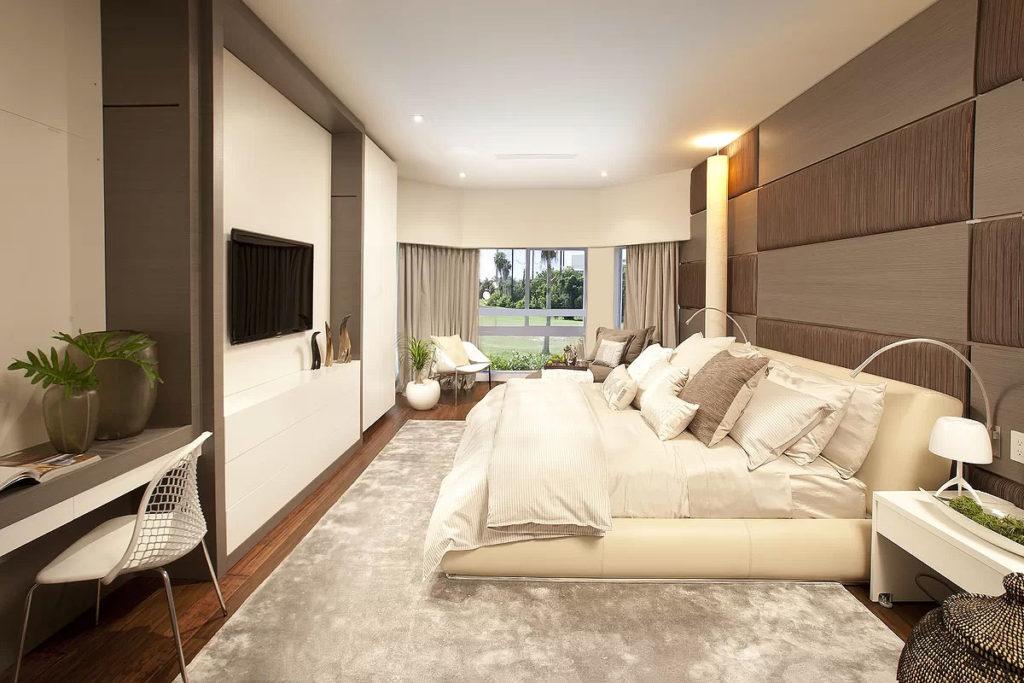 Sleek, contemporary, and comfortable. What more could you ask for?
Modern Velvet Bedroom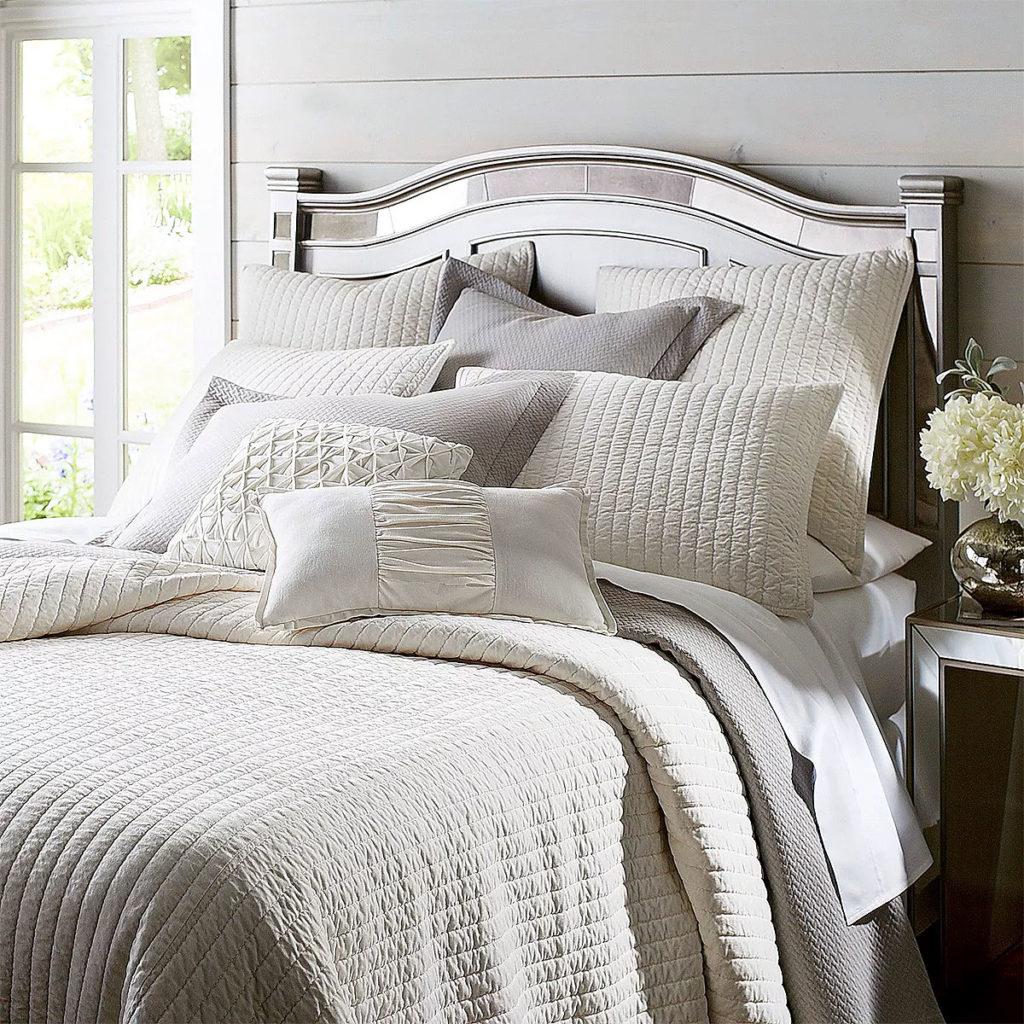 Made of cotton velvet that's been garment-washed to give it a soft, matte finish, Pier 1's Atwood bedding features a channel-stitched design that makes a modern yet elegant impression.
Modern Classic Bedroom Design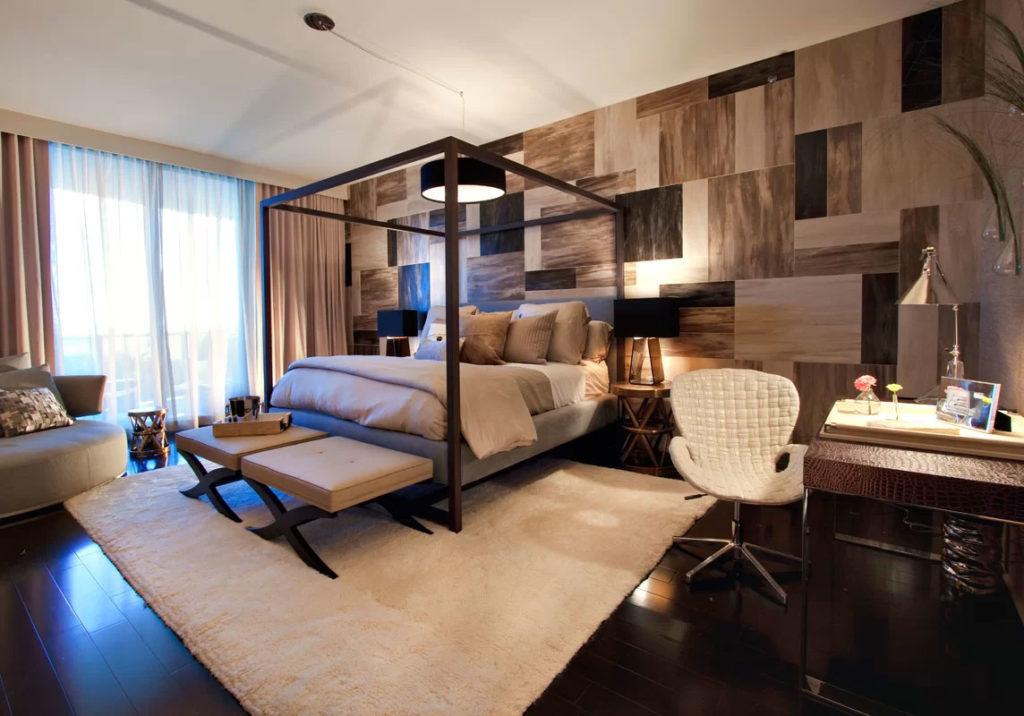 A hint of modern. A hint of classic. A hint of Mid-Century. All combined into one beautiful bedroom design.
Modern & Bright Floral Bedroom Design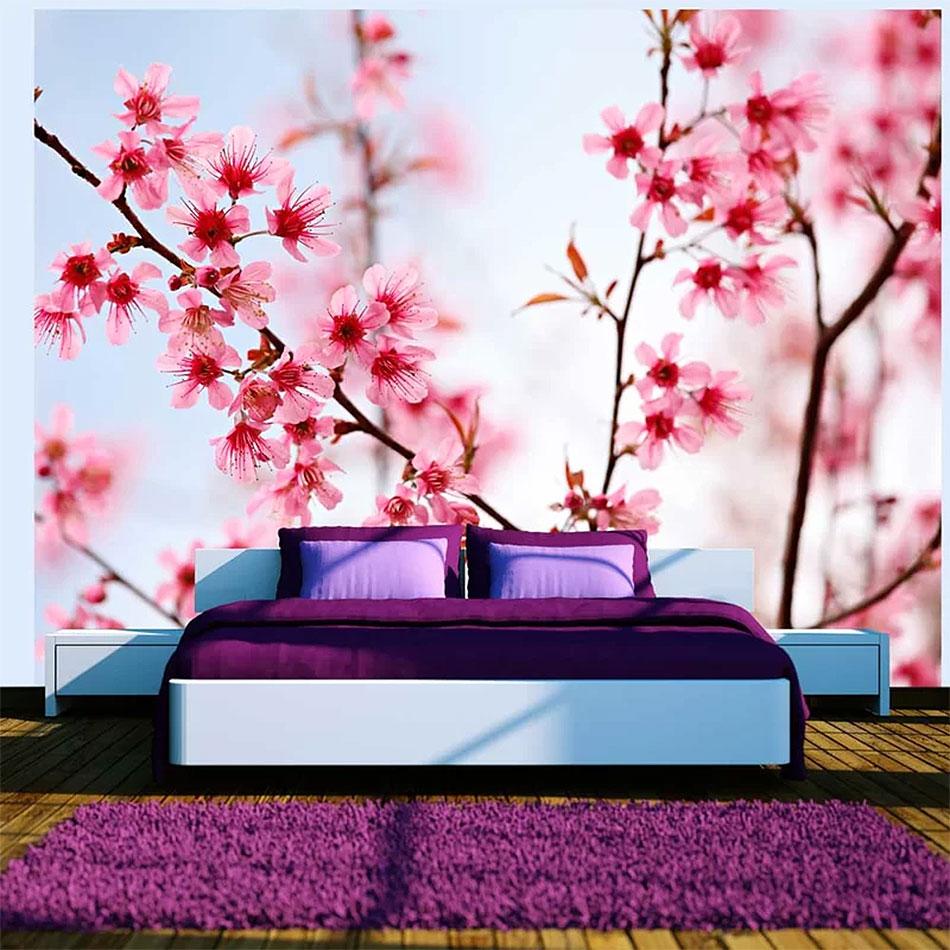 A large floral wall mural creates the backdrop for this unique modern bedroom design. The sleek bed & nightstands combined with the colorful bedding and area rug offset the design and colors in the wall mural to create a fantastic and colorful bedroom design.
Modern Canopy Bedroom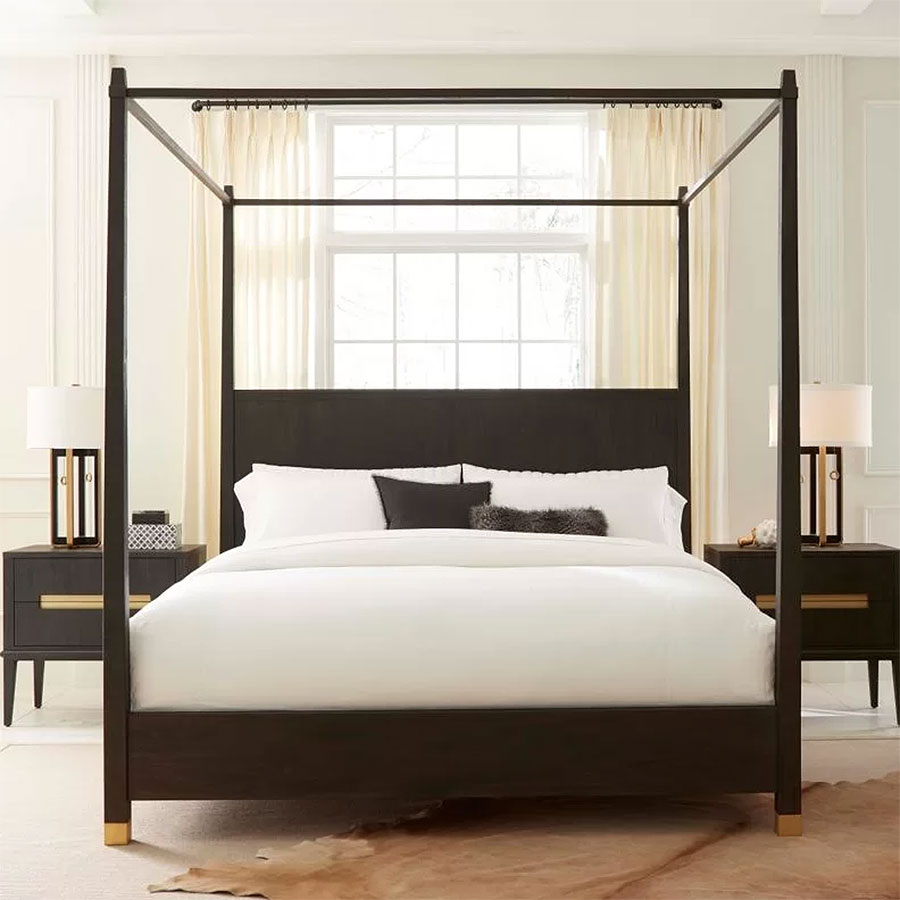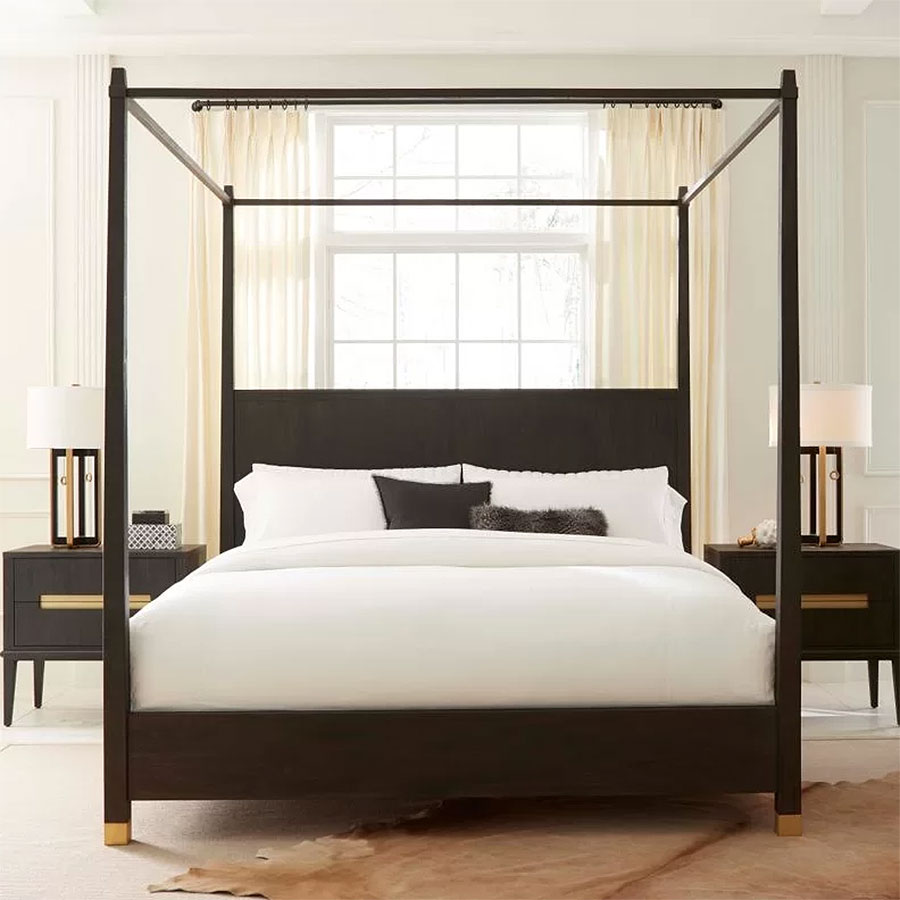 Image: Brownstone Furniture Palmer Modern Canopy Bed
Today's Modern Canopy Beds take that canopy designs into a modern direction, usually characterized by cleaner lines and sleeker profiles. Despite perhaps what some would consider a minimalist Canopy Bed, they still have a quiet grandeur that is awe-inspiring.
Modern Chalkboard Bedroom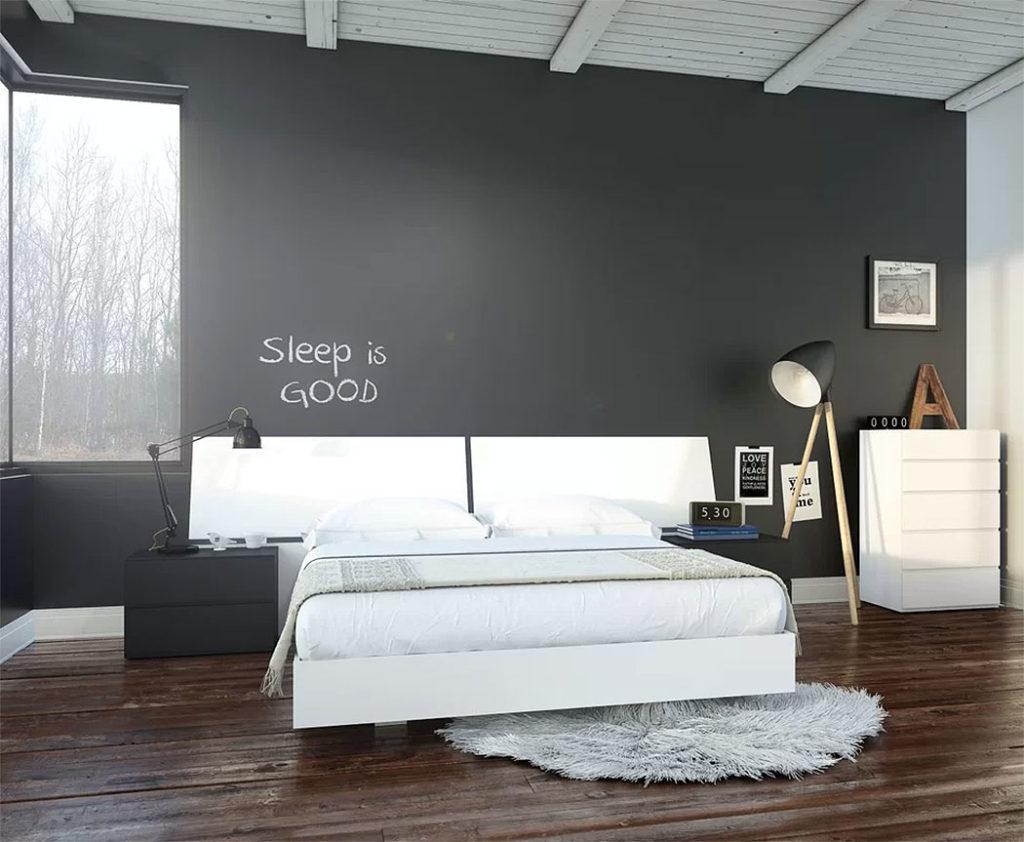 This (basically) black & white bedroom design utilizes chalkboard paint to create a matte black wall behind the bed where you can create a different and unique look whenever you want. The rest of the bedroom design is minimalist and sleek. And I agree… Sleep IS good!
Modern Glam Bedroom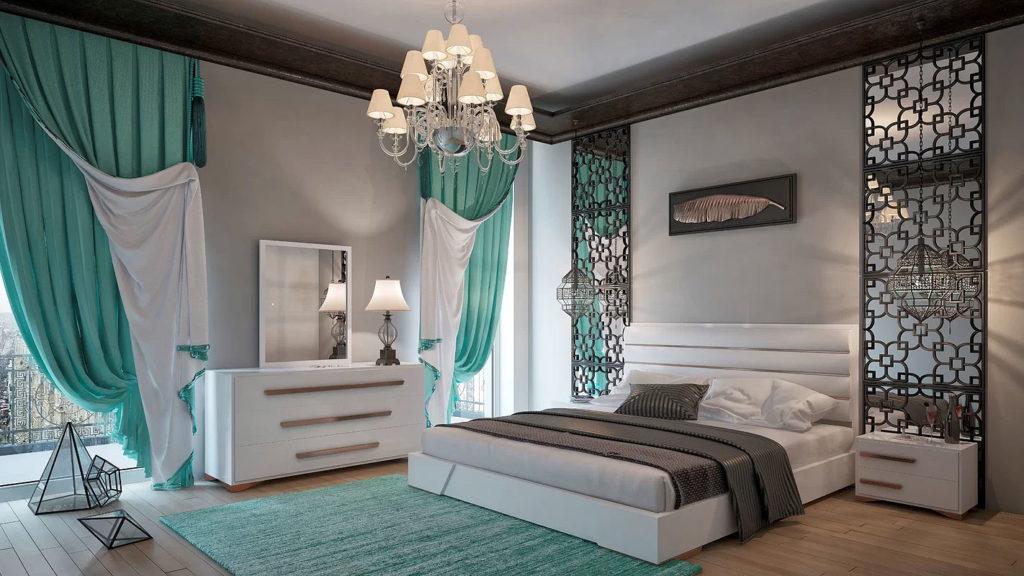 Sophisticated and modern glamour are infused into this bedroom design. Most of the decor and furnishings are a muted white or gray, with the teal curtains and area rug creating a wonderful pop of color.
Urban Modern Swank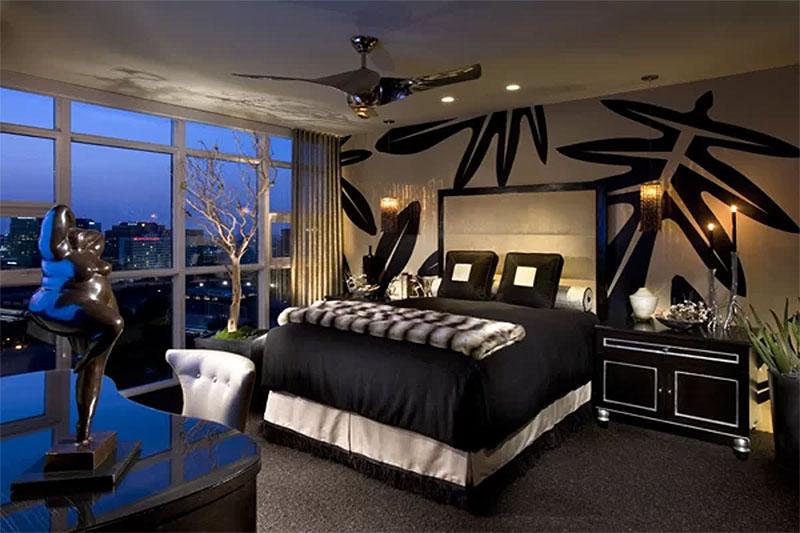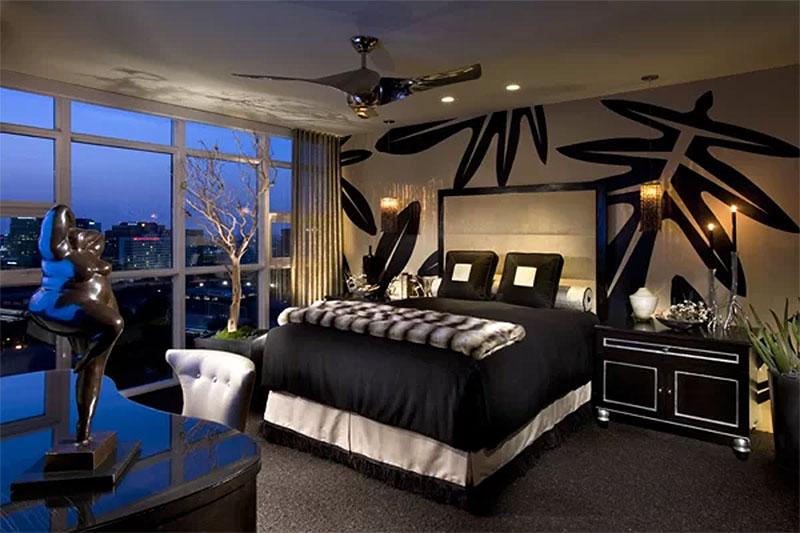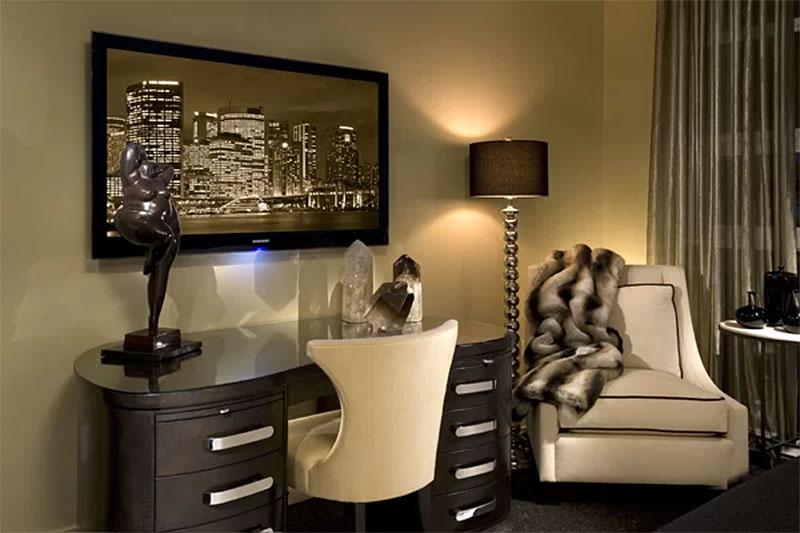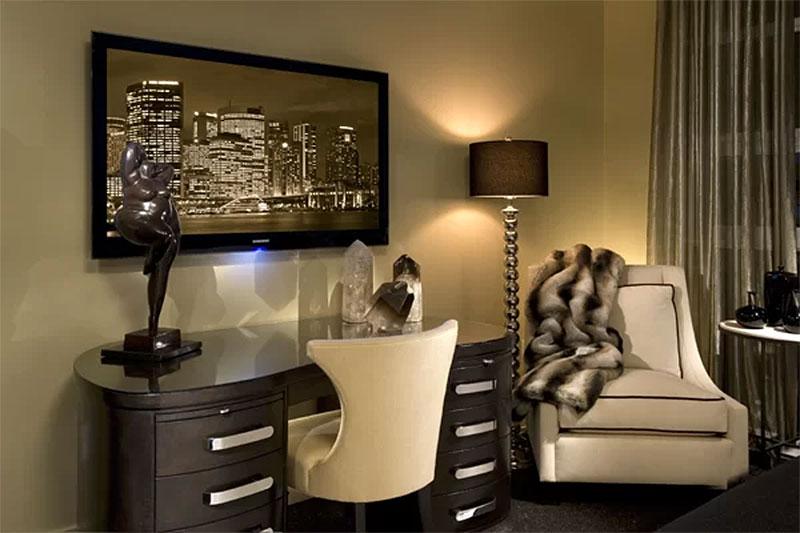 Bold, over-sized black leaves are painted on the back wall, creating a dramatic effect that carries through this modern yet sophisticated urban bedroom. Love the curved desk and chair and how they work together against the otherwise crisp furniture lines to provide additional contrast.
Modern Luxury Bedroom Design
The upholstered sleigh bed is wonderfully opulent, and works perfectly with the gray, distressed "cement" effect back wall. Now, that's what I call Modern Luxury.
Colorful Patchwork Bedroom
The Bayou bedding set is a beautifully updated patchwork using a bright fun color palette of pinks and greens. Printed on a soft 100% cotton this cozy comforter will brighten any bedroom.
Modern Sophistication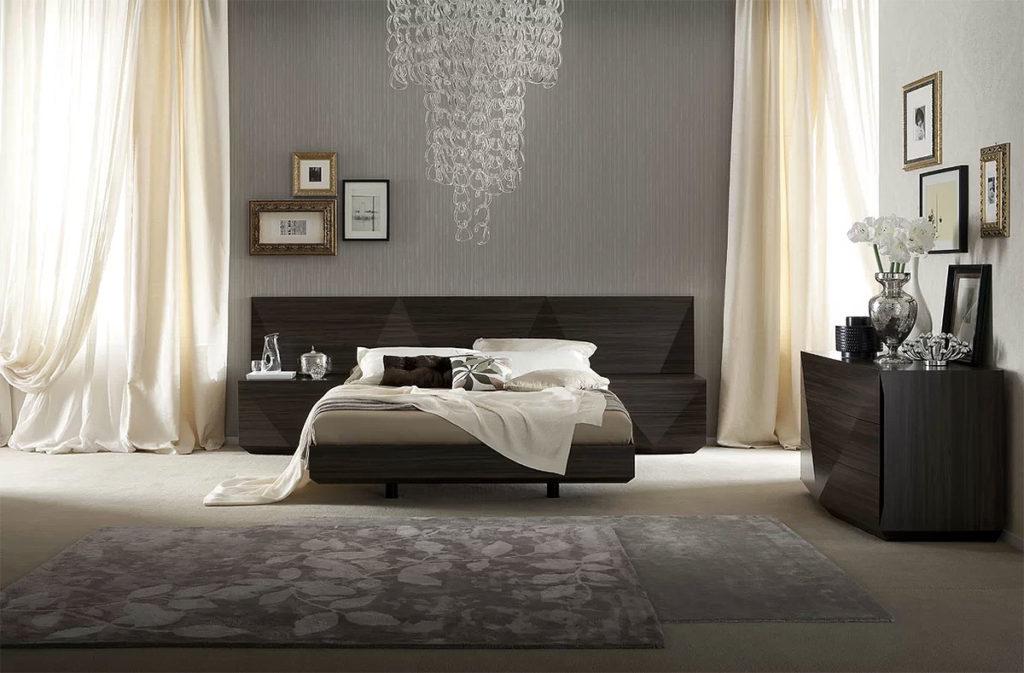 Sleek and sophisticated, this monotone bedroom is absolutely stunning. And, did you notice the light fixture? How could you not!!!
Naturally Airy Bedroom Design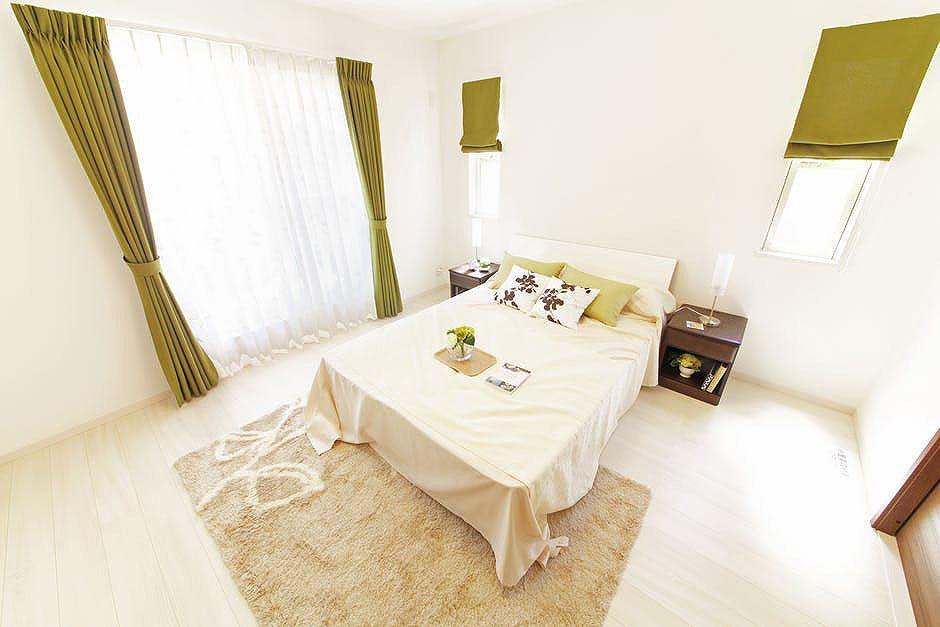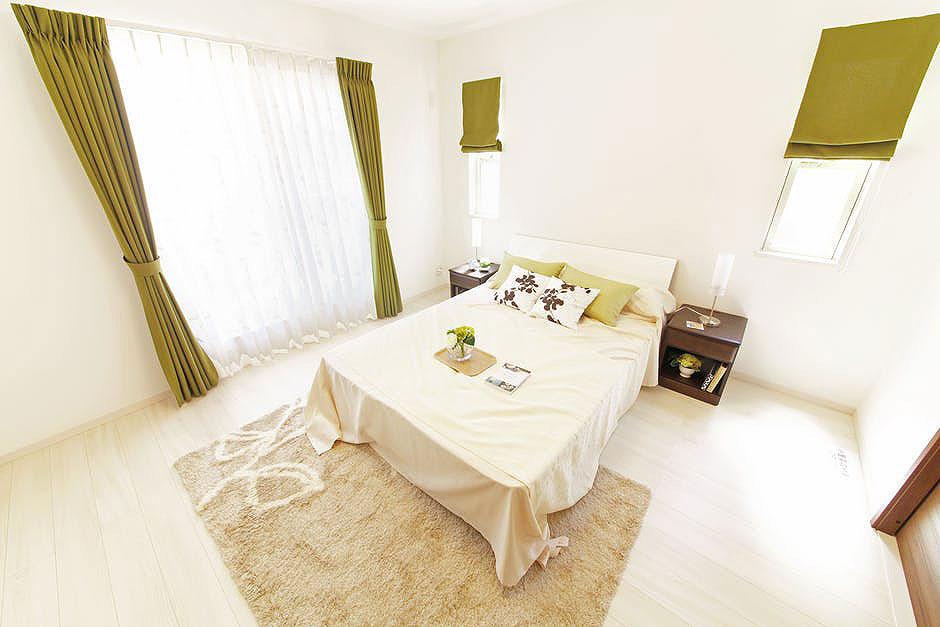 Light, airy, and natural – the colors of this modern bedroom are wonderfully comforting… as if you're walking through an open field of green and gold. Delightful!
Colorful Modern Bedroom Design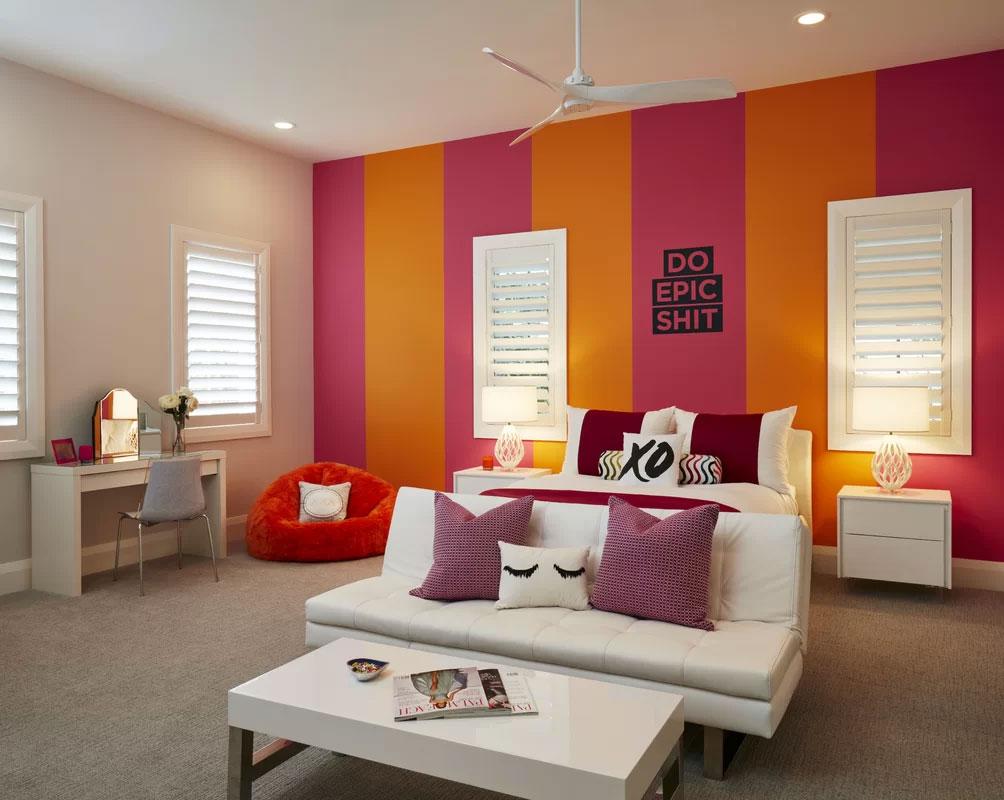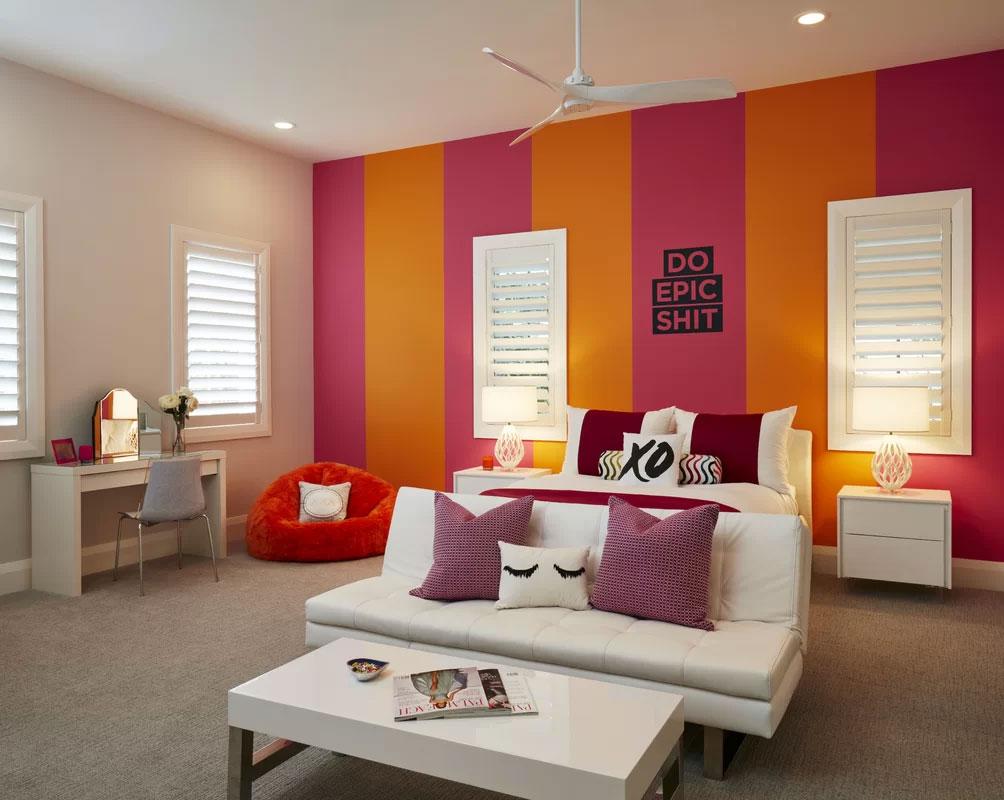 This fun & colorful bedroom has a lot going on, including a wonderful sitting area at the foot of the bed, and fun – yet inspirational – message above the headboard. Painted stripes in Orange and Purple set the stage, which is then accented by delightful bits of decor and furniture that helps draw that color into the rest of the bedroom.
Modern Industrial Bedroom Design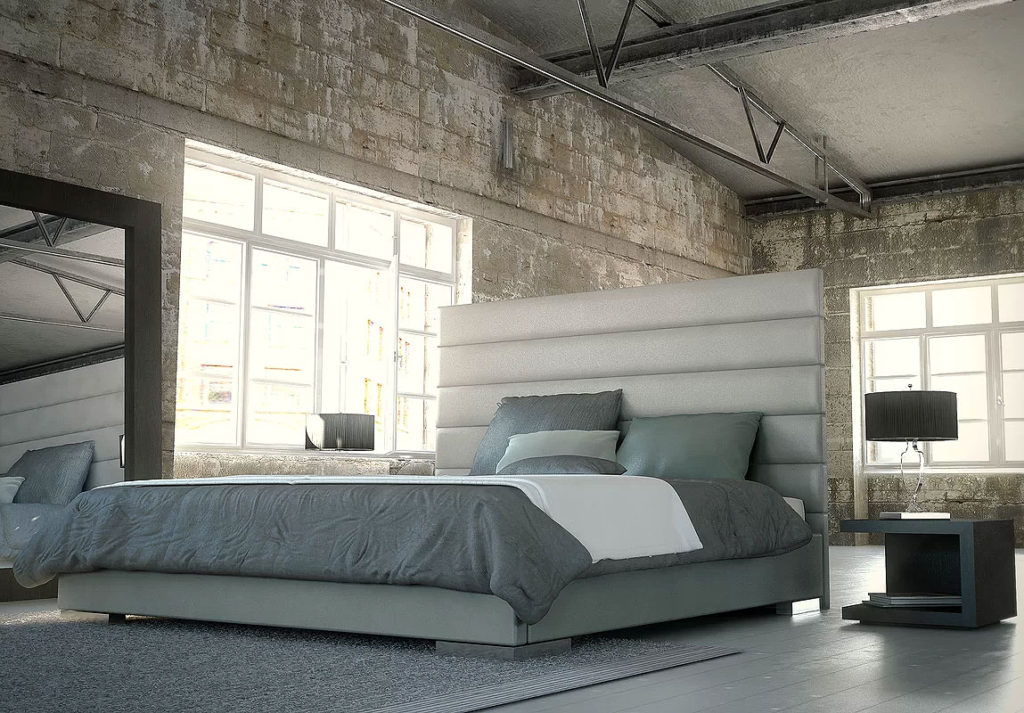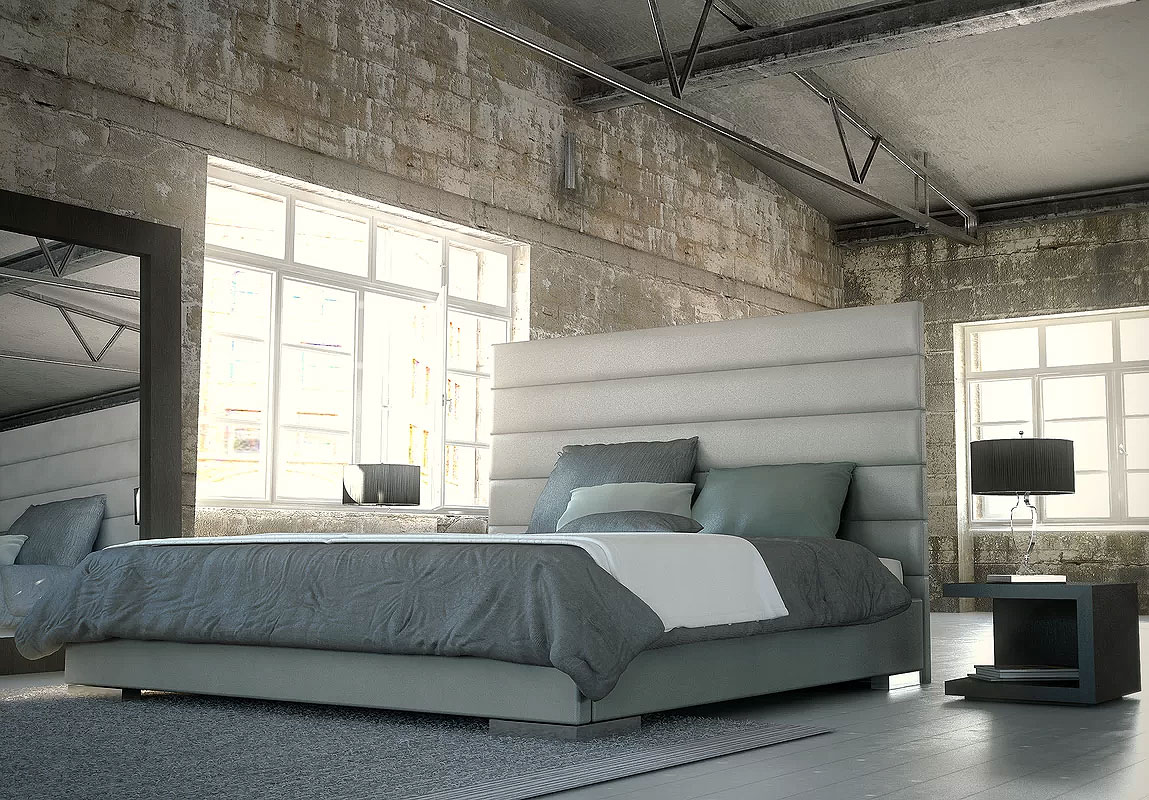 Source: Modloft Bed
A bedroom recently featured in our article on Clever Ways to Feature Exposed Brick & Stone Inside Your Home this stark and industrial modern bedroom creates a very unique and dramatic look.
Mood Lighting Bedroom Design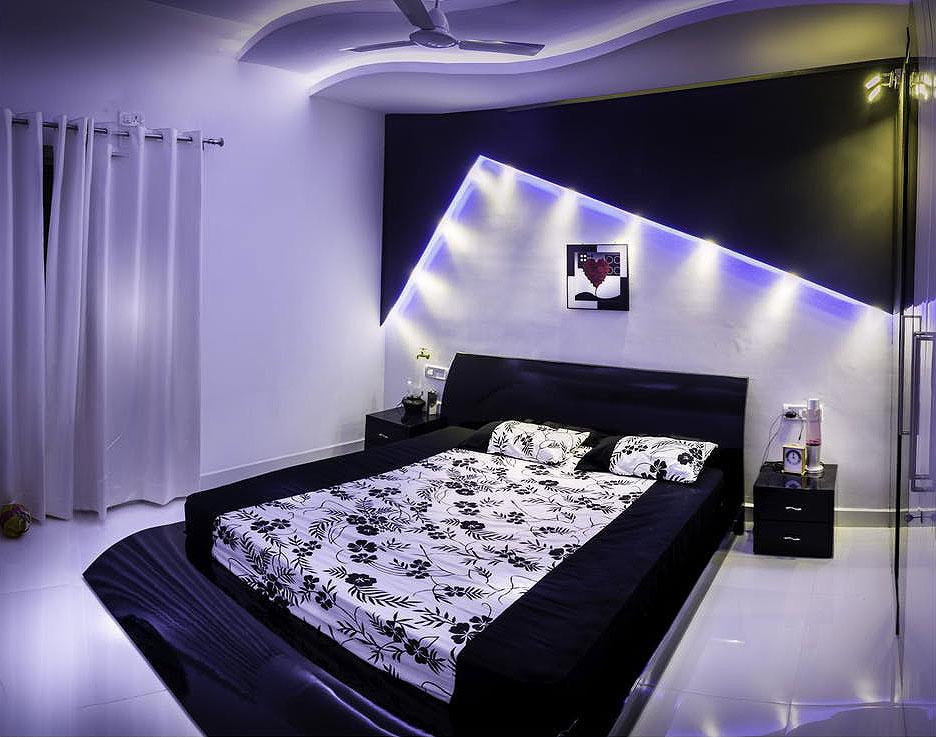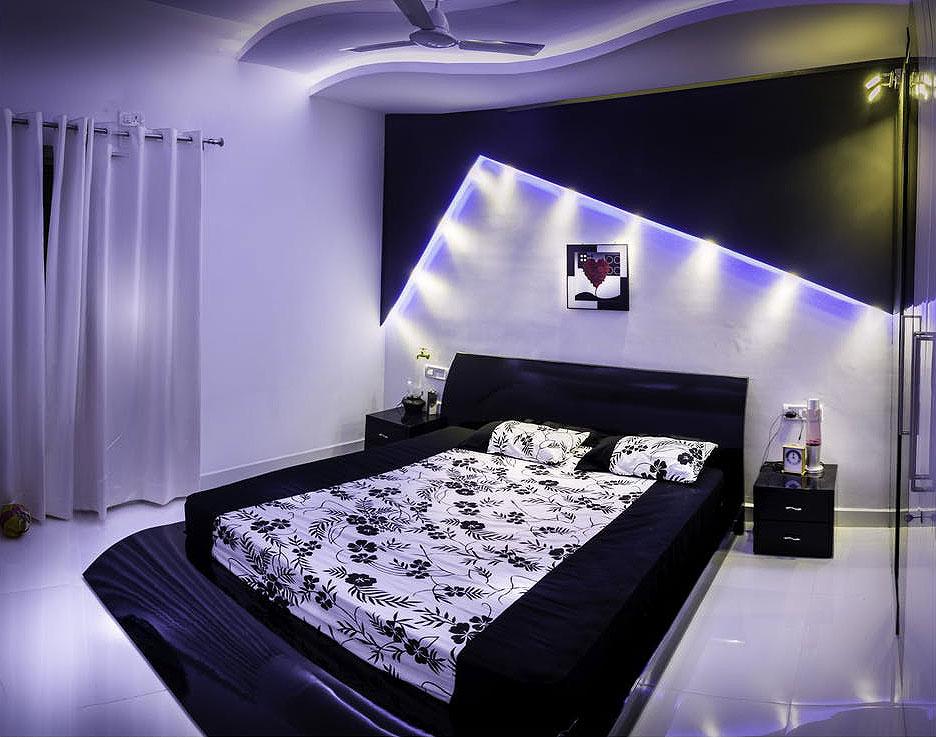 A uniquely modern bedroom, where mood lighting creates a dramatic effect.
Contemporary Bachelor Pad Bedroom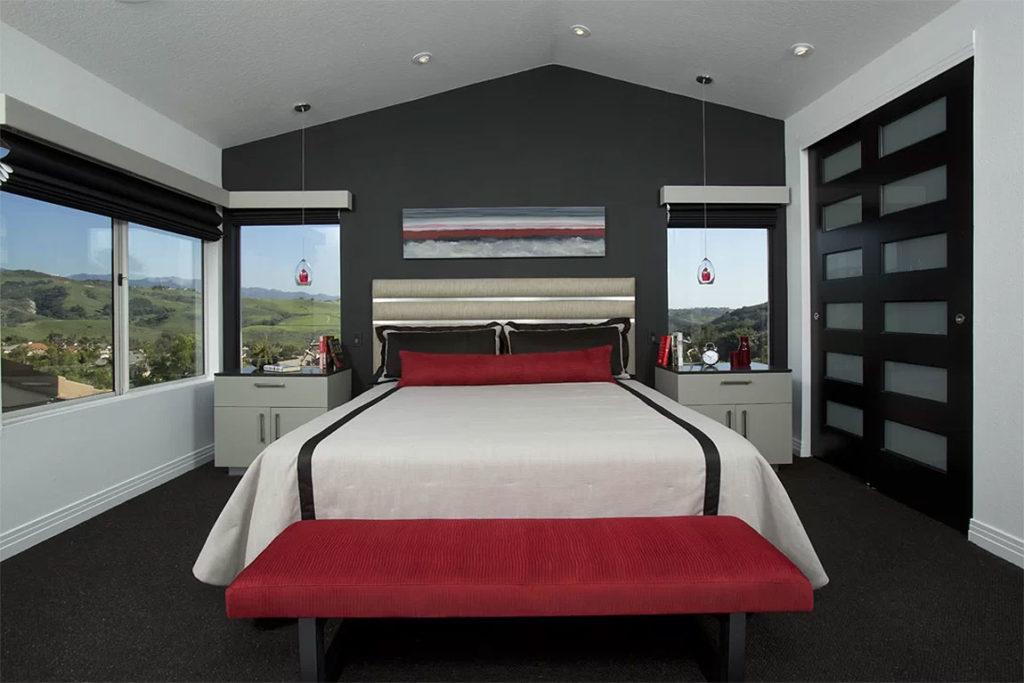 See More Bachelor Pad Designs >>
Red, Black, & White combine effortlessly in this contemporary bachelor bedroom design.
Paneled Bedroom Design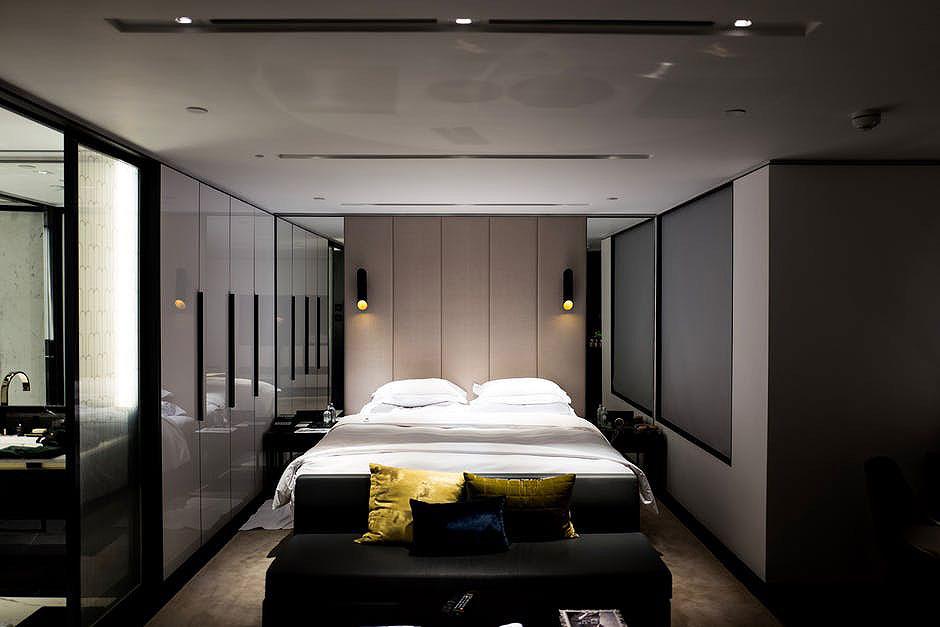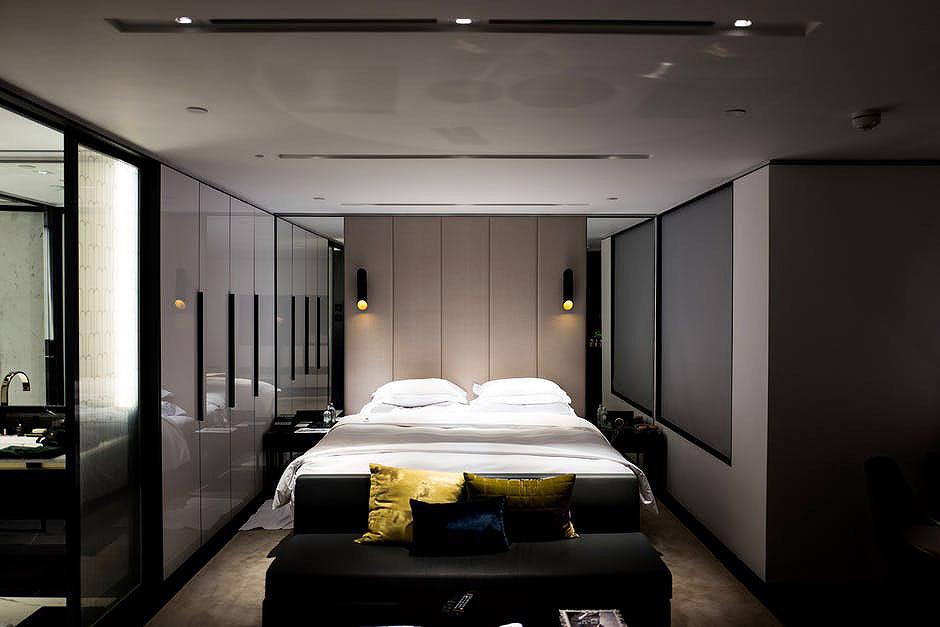 Closet panels, fabric wall panels, and window panels combine to create a sleek and modern bedroom design.
Modern Minimalist Bedroom with a View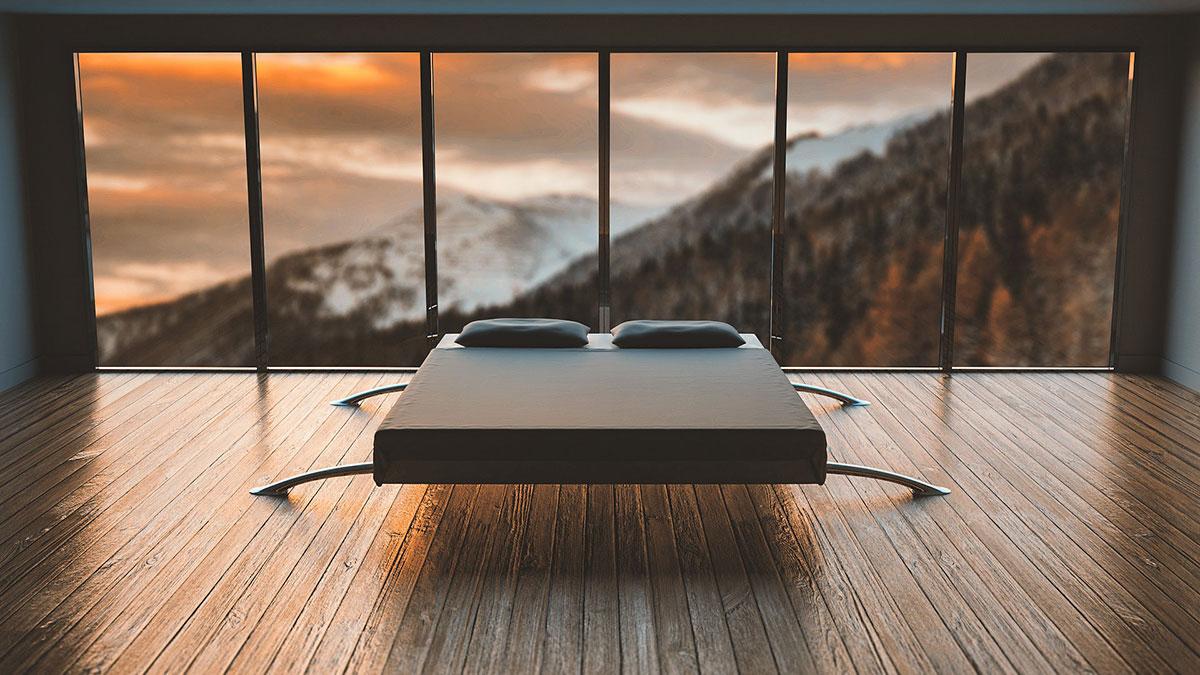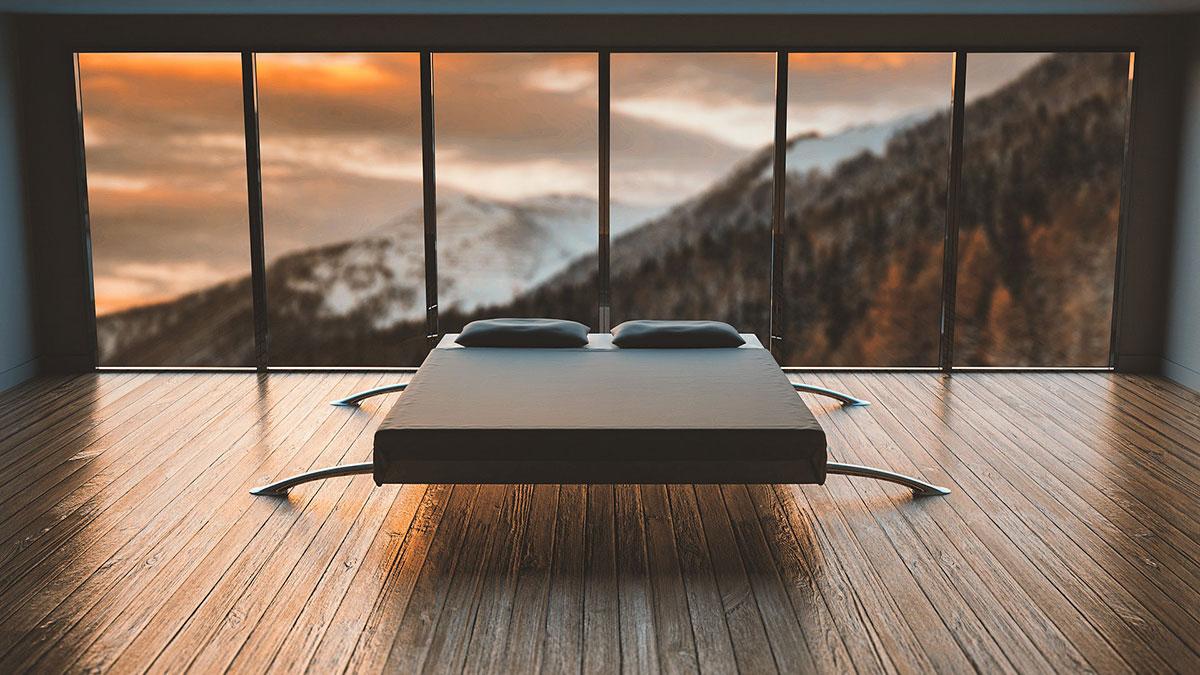 The bed takes center stage in this room. Actually, the bed takes the entire stage in this bedroom, so as not to distract from the extraordinary view on the other side of the window.
Modern Upholstered Sleigh Bed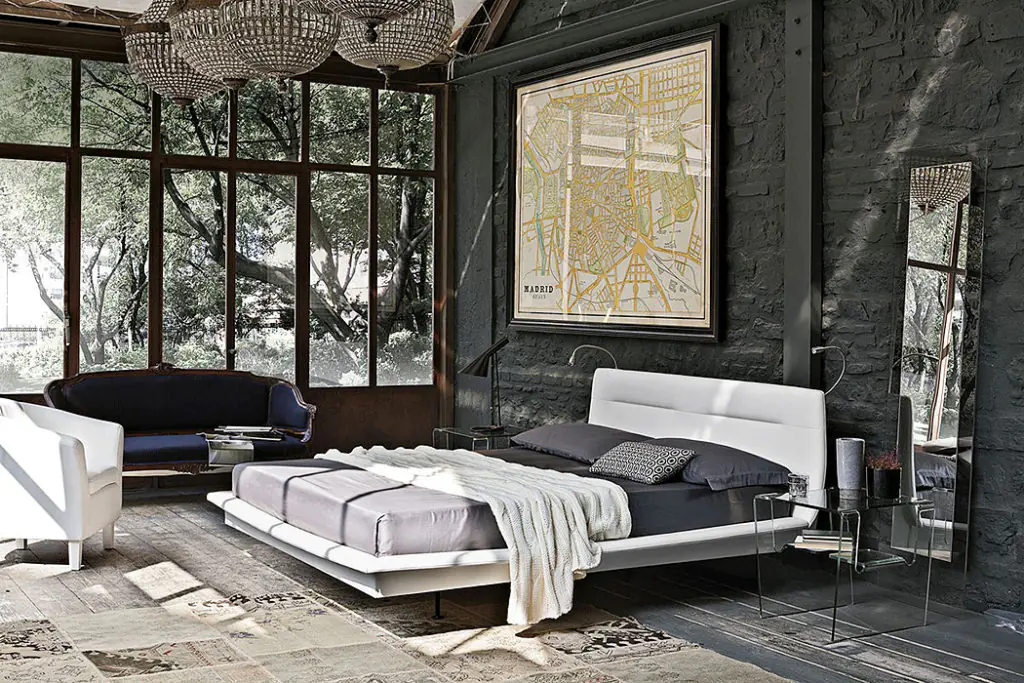 Source: Art & Home
I love the blend of old and new that is used to create this eclectic modern bedroom, recently featured in our 50+ Clever Ways to Feature Exposed Brick & Stone Inside Your Home article.
Modern Red & Gray Bedroom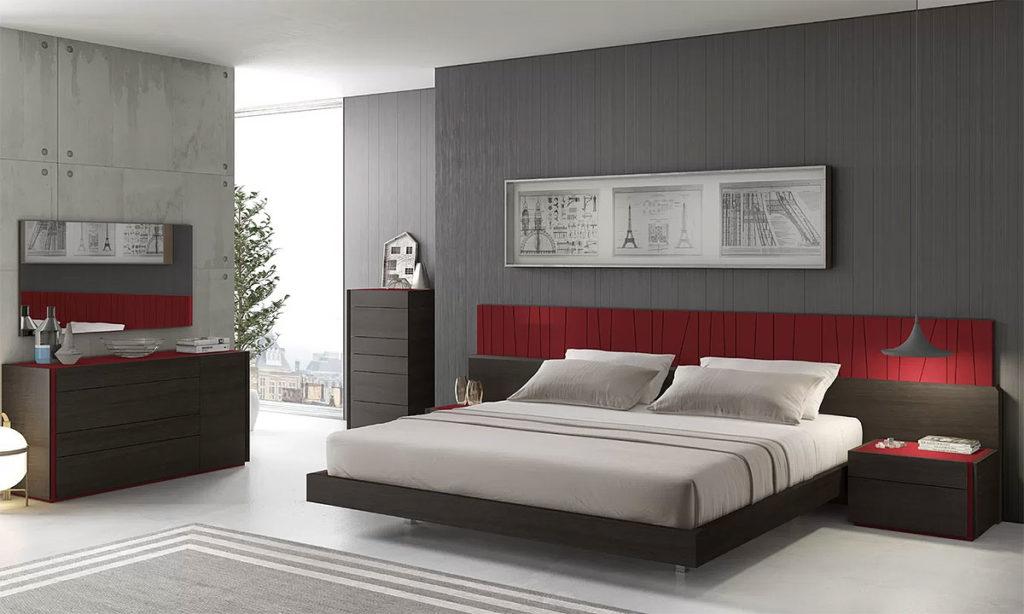 Slate gray, dark gray, and a warm red combine to create this sophisticated bedroom design.
Tips for Creating a Stunning Modern Bedroom
Create an open space in your bedroom by using large furniture pieces and eliminating small accent tables and additional clutter. This will allow for more room to walk around freely inside of your bedroom as well as providing ample storage space!
Use only what you need – don't overdo it with too many different things or accents that just create visual noise.
Choose simple sheets, bedding, etc.. If you want color go bold on one piece such as pillows but keep the rest minimal; otherwise ,it can be overwhelming visually when there are too many colors involved throughout all aspects of the room (i.e.: walls).
Select modern artwork if it suits your taste, but keep it simple and choose one or two major pieces instead of having multiple wall hangings.
For a modern bedroom design, be sure to use colors that are darker in hue such as black , browns, blues/greens etc… Not only do these hues create an elegant look for the room but they also help make the space feel larger since light colored shades will reflect more natural light into the bedroom while dark colors absorb what little sun may come through windows during daylight hours.
A good rule of thumb is if you want lighter reflected color then go with white walls; however ,if you'd rather have less sunlight coming into your room then opt for grey or another neutral shade that slightly darker than cream (these colors are usually relatively easy to decorate with because they will go well with many different types of furniture, art pieces, etc…).
To create a modern bedroom design that really pops, use bright accent colors on one or two key items in the room. For example; if you want your bedding and sheets to be bolder then choose one color (i.e.: orange) while using another neutral hue for the walls. Or maybe you'd like to have blue walls while having green accents throughout other areas of the space such as pillows or an area rug under your bed/nightstands. The best part about this type of styling is it's quick and simple plus it can make all the difference when trying to achieve a truly unique bedroom design.
Thanks for reading! We hope you enjoyed this article and found it helpful when looking to come up with some modern bedroom decorating ideas of your own. If so, please share on social media sites such as Facebook and Pinterest or leave us a comment below with any questions/comments that we can answer as soon as we get a chance!
Looking for More Modern Furniture & Decor Ideas?