A uniquely wonderful furniture trend is the use of fossilized wood to create stunning Petrified Wood furniture pieces.
These pieces take the beauty of wood and the strength of natural stone – forged together through millions of years of fossilization – and use them to create exquisite and unique pieces of furniture.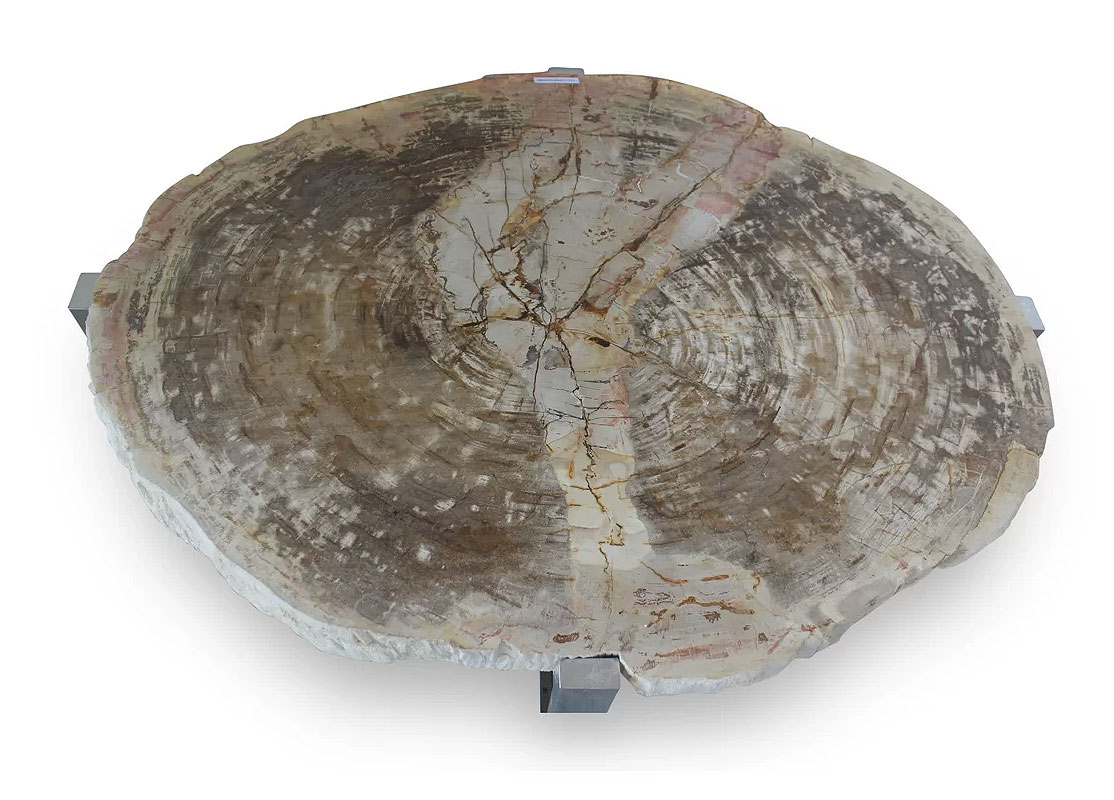 Image: Union Rustic Hopkinton Petrified Wood Coffee Table
Petrified wood is a kind of fossilization process where the organic materials of old wood are replaced over time with minerals, literally turning the wood into stone. The result is a marble-like substance that retains the visual structure of the original piece of wood.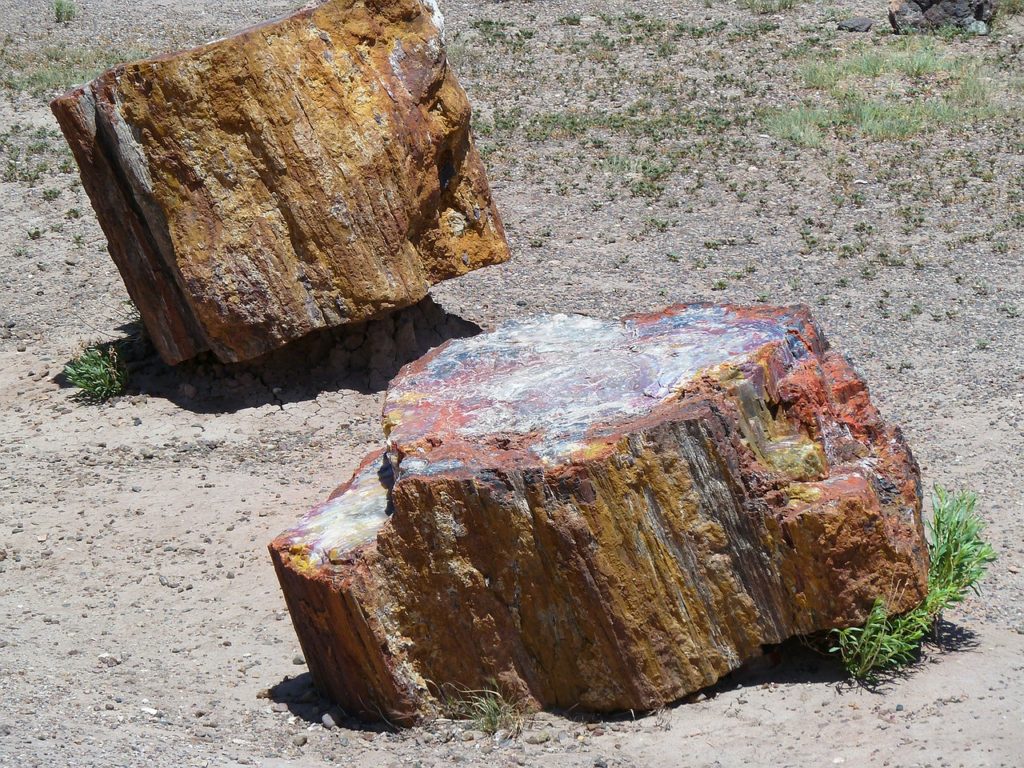 It takes millions of years to create these pieces of stone, but the end results still reflect the original structure of the wood in all its detail… down to the microscopic level. Tree rings, fissures, even fossilized insects can often be observed, making each piece of petrified wood a unique work of natural art.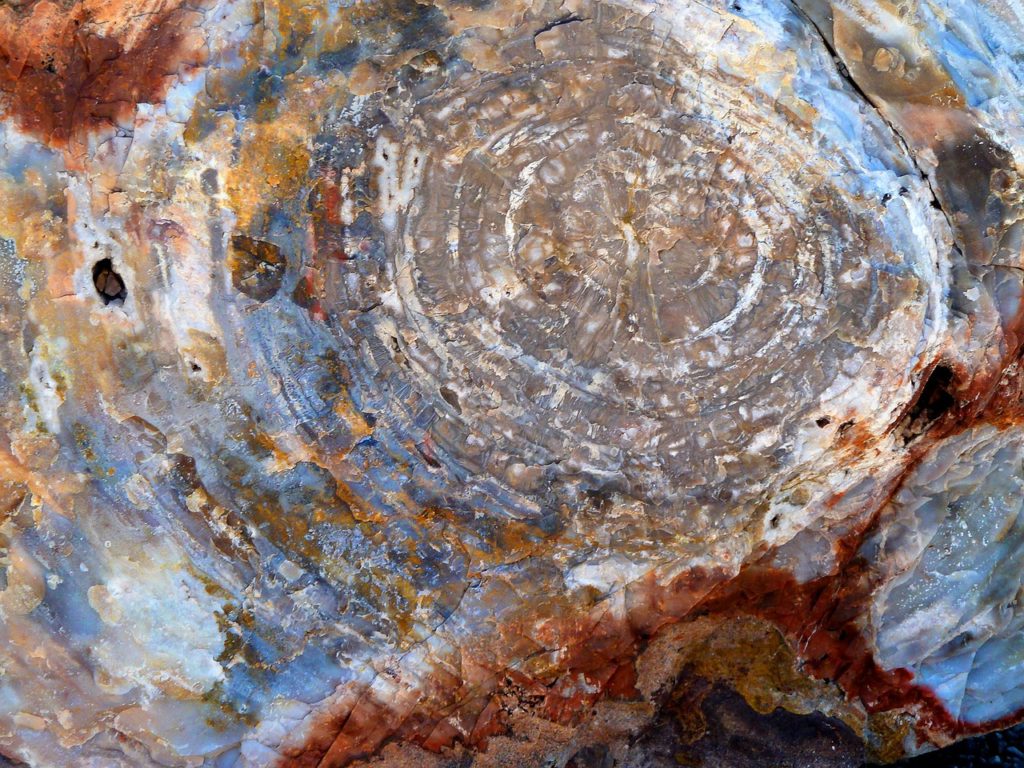 This process makes petrified wood furniture both extremely rare and visually superb.
Making Petrified Wood Furniture
The process of crafting these stunning petrified wood furniture pieces starts with selecting the right fossilized trees; with an eye to the textures, patterns, and colors that have been hidden under layers of volcanic ash, mud, and sediment for millions of years.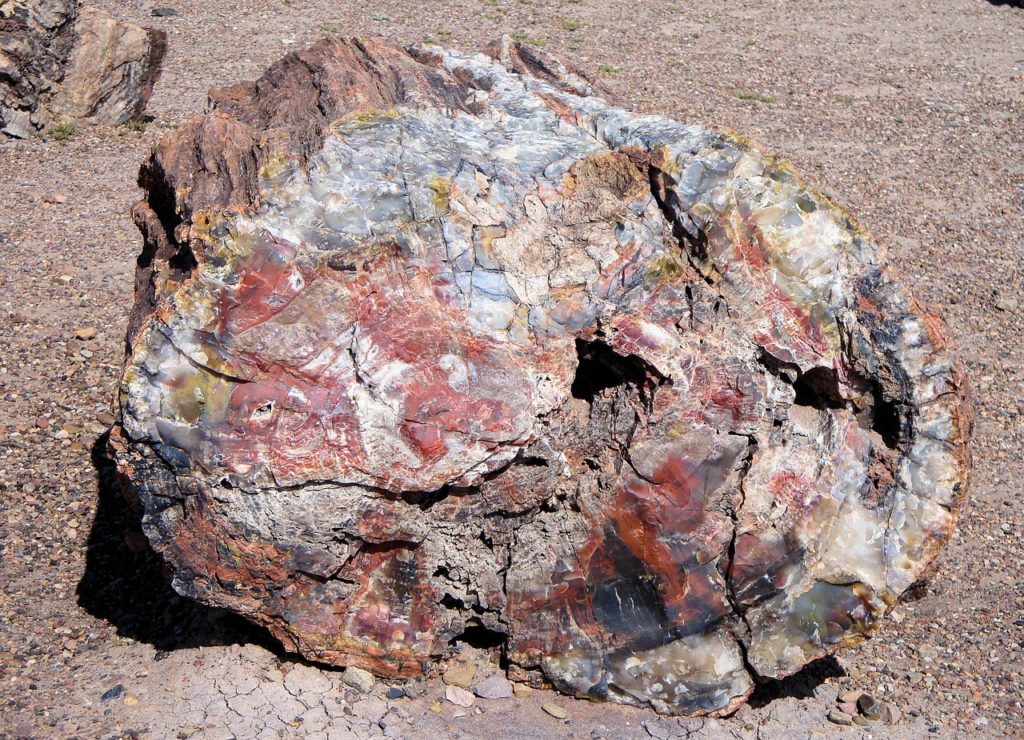 The pieces are then cut, assembled, and – often – polished to reveal the marble-like gloss. However, it is not at all uncommon for the sides of the furniture piece to be left in their natural, raw edge state.
With some pieces, the natural shape of the petrified tree stump is maintained, so that the piece looks like a slice from a marbleized tree trunk.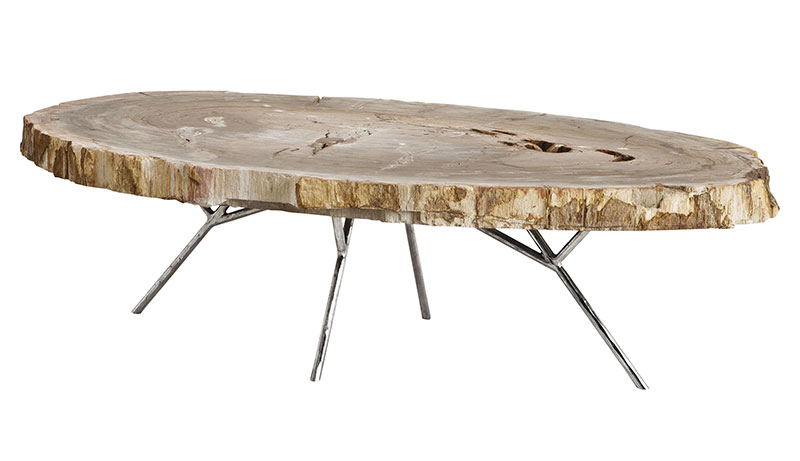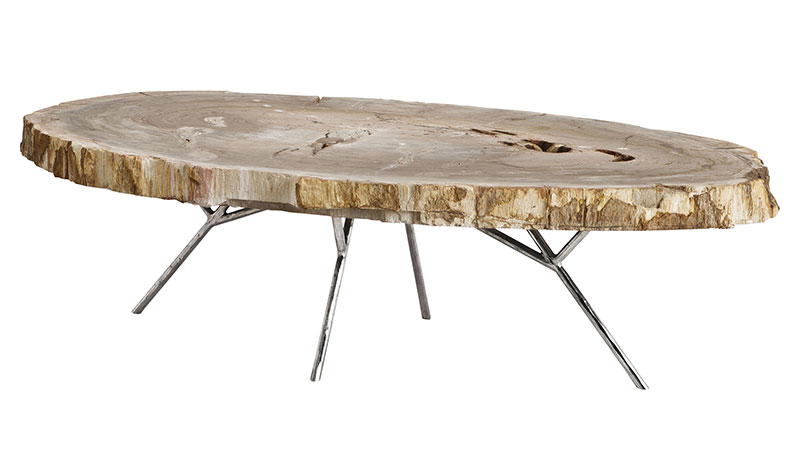 Image: Barrymore Rustic Lodge Petrified Wood Slab Coffee Table | Kathy Kuo Home
Other designs, take slices of petrified wood and combine them to form more standardized shapes like you would see in a marble slab. This technique can also be used to create unique designs using strips or pieces of petrified wood to create a distinct pattern or design.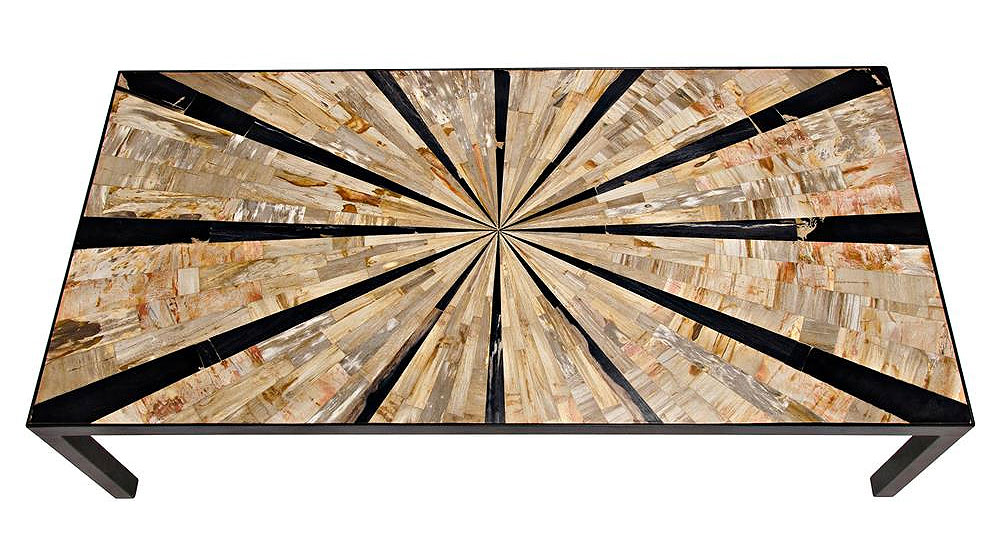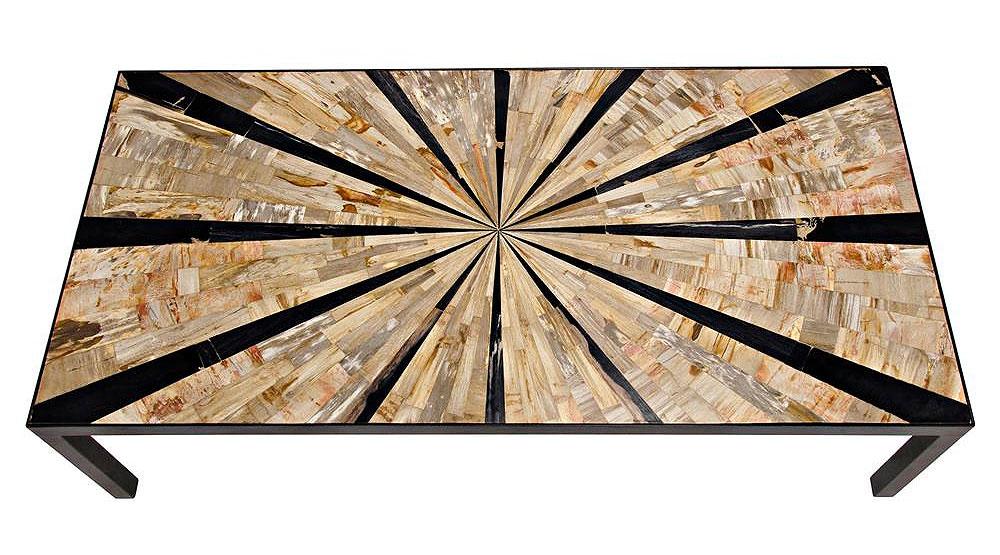 Image: Trista Rustic Metal and Petrified Wood Coffee Table | Kathy Kuo Home
Another beautiful take on petrified wood furniture is using poured resin to encase the piece of petrified wood into the furniture piece, creating a unique focal point in the middle of the tabletop or other furniture item. The combination of the petrified wood and the poured resin, which not only surrounds the wood but fills any available gaps and fissures, is quite dramatic.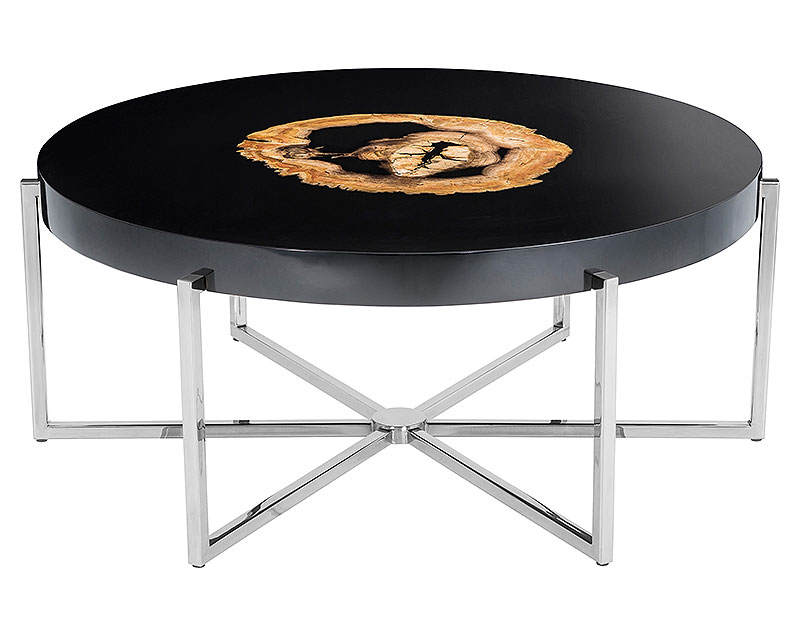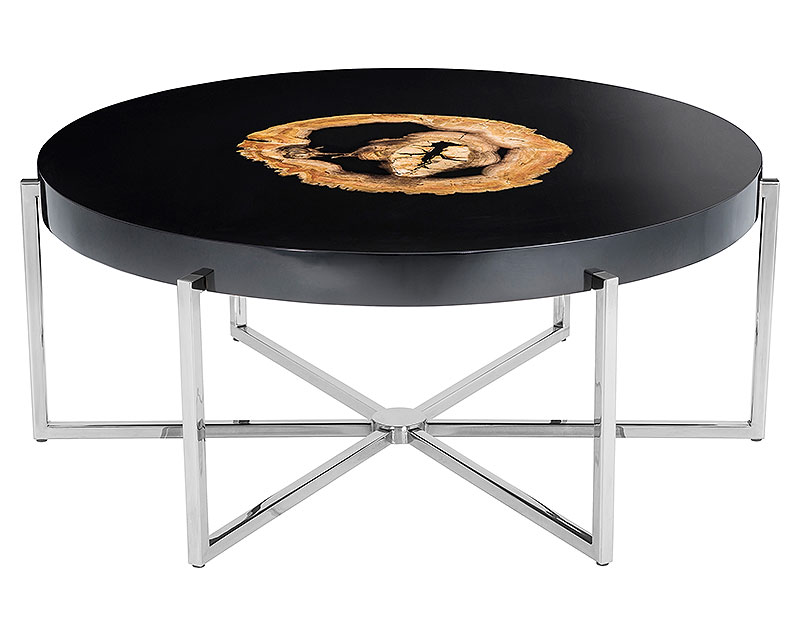 Image: Pompidou High Gloss Black Petrified Wood Round Coffee Table
Finally, because of the rarity and expense of petrified wood, some pieces are crafted using petrified wood veneers. Similar to hardwood veneers, a thin slice of authentic petrified wood is placed on top of another substrate to create the look of solid petrified wood furniture without the expense.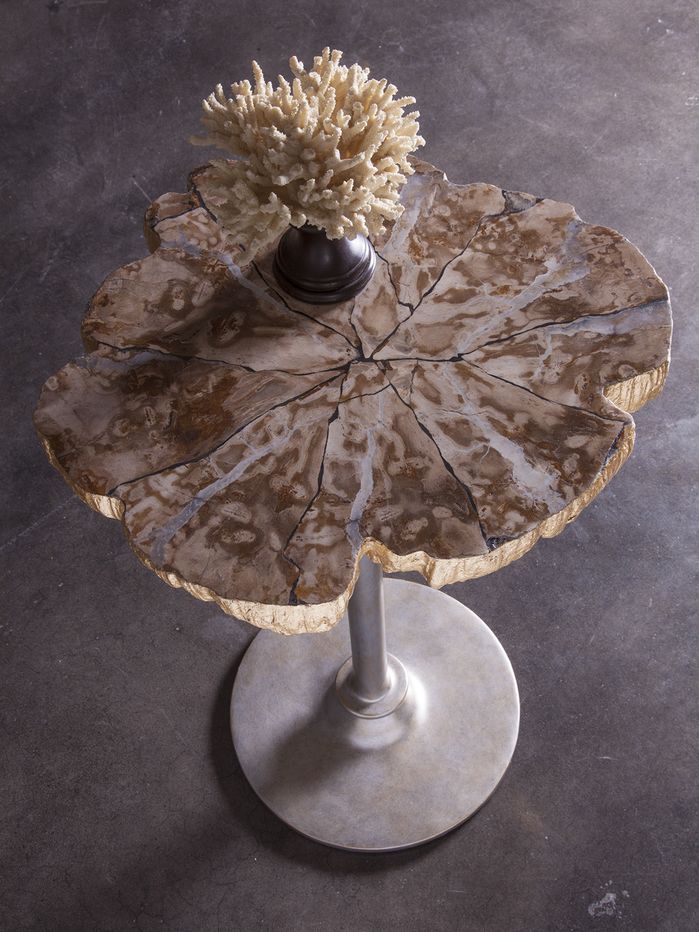 Image: Artistica | Peck Speck Spot Petrified Wood Veneer End Table
Whichever route you go, the intricate beauty of these pieces is unsurpassed. Plus, the raw material has lasted under millions of years of abuse, so you know – with the right care and maintenance – these furniture pieces can last for generations.
The end result is a natural, organic looking piece of furniture with a rare and luxurious feel.
The Cost of Petrified Wood Furniture
Because of the rarity of the raw material, petrified wood furniture pieces are not cheap. A side table can set you back a few hundred dollars while a larger coffee table can run in the thousands or even tens of thousands.
This stunning Live Edge Petrified Wood Coffee table is currently priced at just shy of $4,000.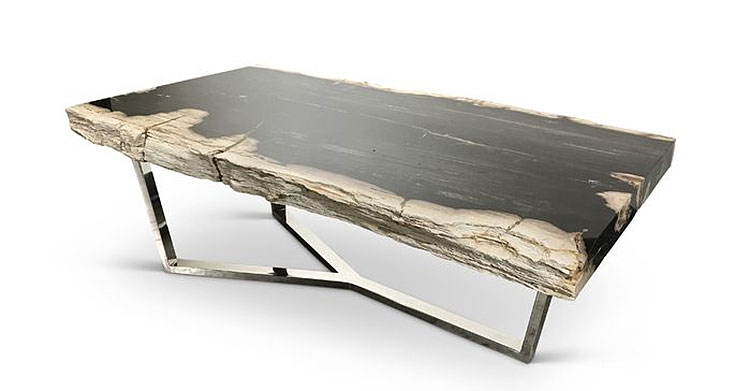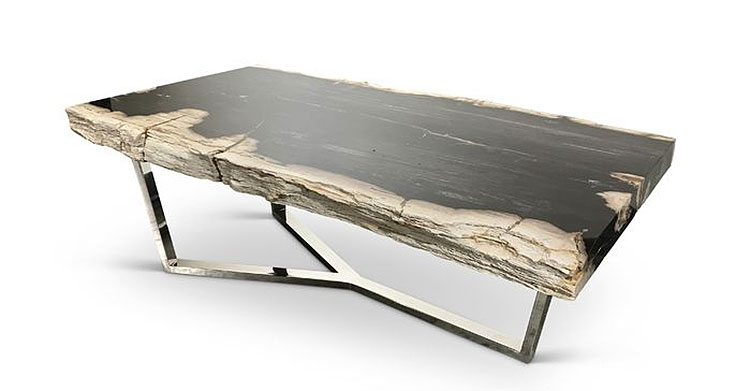 Image: Union Rustic | Kailey Masso Natural Edge Petrified Wood Coffee Table
Here are just a few beautifully unique Petrified Wood Furniture Pieces to help illustrate how truly beautiful these pieces can be.
Petrified Wood Accessories
For those who love the look of petrified wood, but aren't ready to invest in a piece of petrified wood furniture, there are also some exquisite petrified wood decor accessories to choose from.
From bookends to elegant sculptures, these pieces can be a delightful touch of timeless and organic nature to add to your home.
What I love most about these pieces goes beyond the visual appeal, It's the grandeur of the time it took to create these beautiful pieces. You are literally holding millions of years of the world's history in your hands.
If you love home decor, and nature, there really is nothing NOT to love about petrified wood furniture & decor.