This recipe combines three of my favorite Christmas baking recipes, Dark Chocolate & Cranberry Cookies, Shortbread, and Magic Bars into one delicious Christmas treat.
---
Jump to Recipe
---
If you're torn about what to bake this holiday season, have I got the recipe for you!
Taking the best of your classic magic bar recipe, but elevating it by using a melt-in-your-mouth shortbread recipe as the crust, and then substituting some of your traditional magic bar toppings with cranberry & dark chocolate for an elegant and delicious dessert.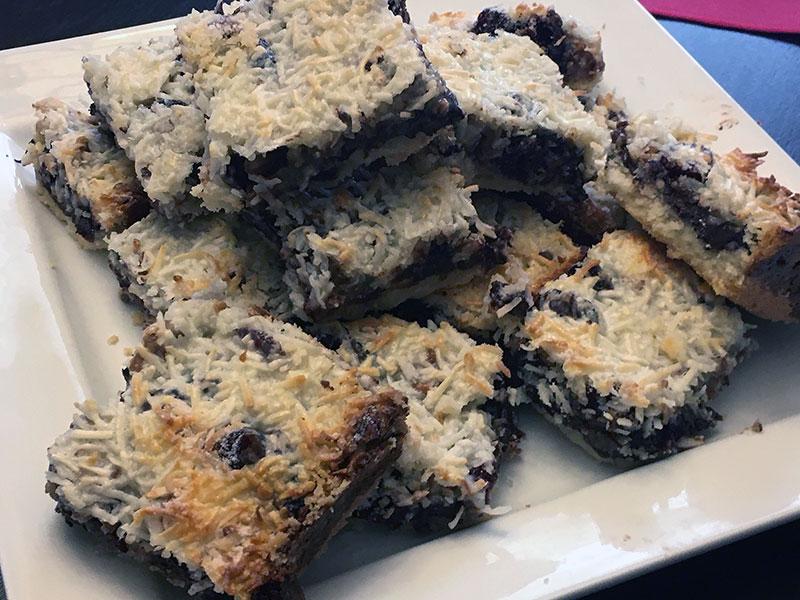 I've always been a fan of magic bars, there's something about the sweet crunch of caramelized coconut that makes me think of Christmas.
Perhaps it's because these little bars have been served up around my house for a couple of decades. But recently, I decided that I wanted to change things up a bit… and move away from the classic magic bar recipe into something a little bit different. But how? That was the challenge.
I will not get into the attempts that led up to this discovery but suffice it to say that neither raspberry nor strawberry magic bars were not as good as they sound. And don't even get me started on my attempts at orange or chocolate banana magic bars. Sometimes, good ideas turn into really atrocious desserts.
But cranberries really struck a chord, partly because of the tart sweetness of them and partly because of their traditional Christmas feel.
And that is how the initial building block of this recipe came to be. The rest was a bit of trial and error, but the final step was a bit of an "ah-ha!!" moment when I was mixing up a batch of Cranberry & White Chocolate Shortbread Cookies that it dawned on me…
Why not use Shortbread as the crust? That melt-in-your-mouth goodness would be the perfect base for a batch of magic bars!
And that's when the whole thing finally came together into what you see before you now.
They really do look delicious, don't they? They may not be the prettiest bars on the block, but they are chock full of ooey gooey goodness!
I'd love to hear your feedback, please let me know what you think in the comments below!
---
Baking Up a Batch of Dark Chocolate Cranberry Shortbread Magic Bars
This recipe is broken down into two critical steps. First is creating the shortbread base, replacing your traditional flower, sugar, butter base. It's almost the same, but what you're going to need is:
1 Cup of Butter (softened)
1/2 Cup Icing Sugar (aka Confectioner's sugar)
1/4 Cup Cornstarch
1 1/2 Cups All-Purpose Flour
A Pinch of Salt
The first thing you want to do is whip up the softened butter until it's nice and fluffy. Then, slowly blend in the sugar, flour, salt, and cornstarch until everything is wet. This keeps the dry ingredients from flying away from you when you tackle the next step.
Turn that hand beater of yours onto the highest setting and whip that shortbread mix on high for 3 minutes. Don't let up until it's fully whipped and blended. It may look a tiny bit crumbly while you're whipping, but don't worry, it will spread out very nicely when you're done.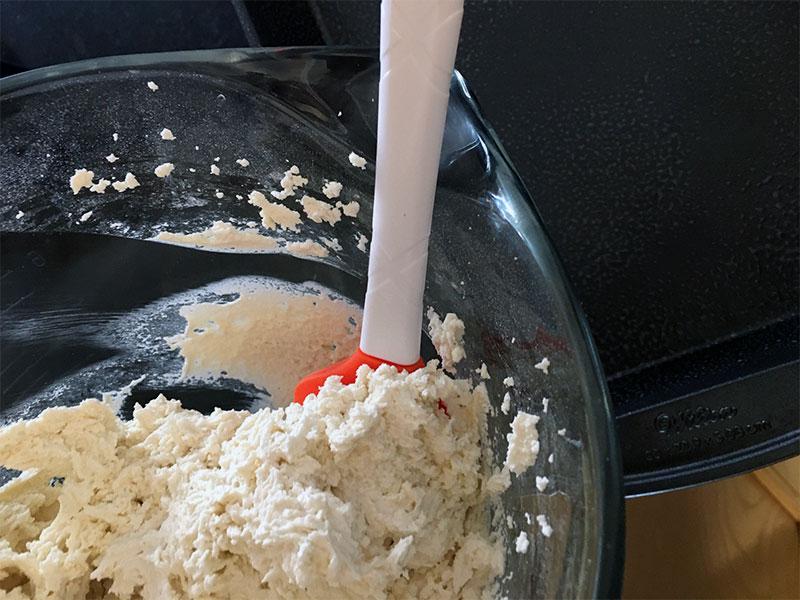 Spread this mixture evenly across the bottom of a lightly greased 9 x 13 cake pan, and bake at 350° F for 12 – 14 minutes, just until the edges start to turn golden brown.
Remove this from the oven, turn the oven up to 375° and then add the delicious toppings, in the following order:
1 1/2 Cups Semi-Sweet Chocolate Ships
1/4 Cup White Chocolate Chips
2/3 Cup Dried Cranberries
1 Cup Chopped Pecans
1 1/2 Cups Shredded Coconut
1 Can of Sweetened Condensed Milk
You want to layer the toppings carefully to completely cover the crust.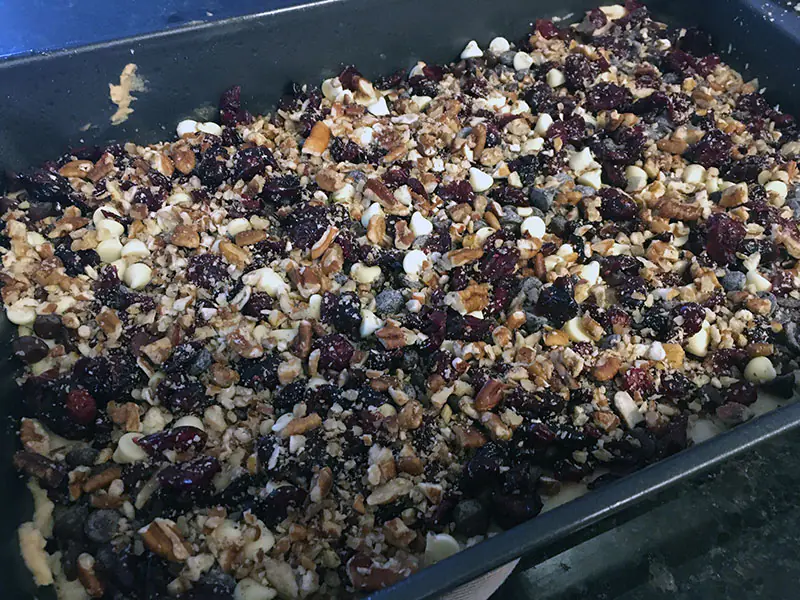 After the Coconut has been added, you can see that all of that dark chocolate and cranberry goodness is buried under a sea of white coconut.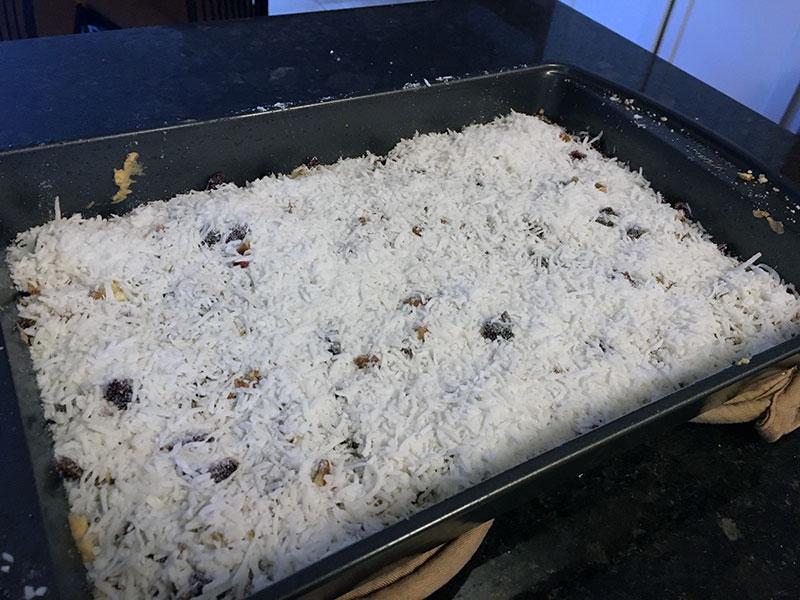 The last step is to smoothly pour the sweetened condensed milk across the top to cover as much of the coconut as possible. Don't worry if a couple of small bits of coconut poke through.
Once that's done, return the entire delicious concoction to the 350° oven and allow to bake for 18 – 20 minutes, until the coconut just starts to turn a lovely golden brown in some spots.
After you're all done baking, just let it cool off before you try cutting it up into delicious magic bars.
These make a fantastic treat when unexpected company drops by, or as an after-Christmas-dinner dessert that goes perfectly with coffee and looks so pretty on a wonderful Christmas Cookie Plate!
---
---
And don't be at all surprised if you get asked for the recipe… a LOT. It's totally your call if you want to share this recipe with them, but we would be honored if you did.
After all, half the fun of creating and posting these recipes is knowing that others have enjoyed them as much as we did!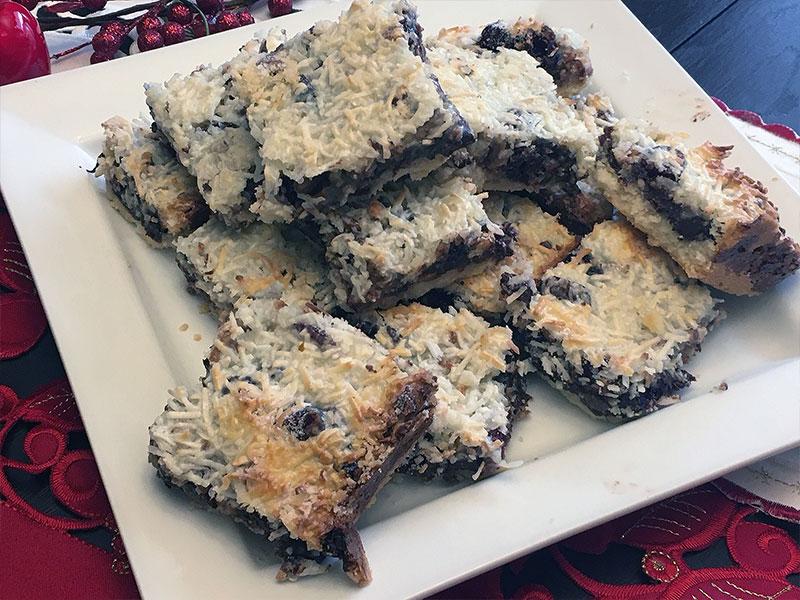 Plus, these wonderful magic bars are exceptionally freezer friendly should you want to store some away instead of eating them all right away like I usually do.
After all, Christmas is NOT the time to worry about one's waistline. That's what New Year's Resolutions are for!
---
And now what you've all been waiting for!!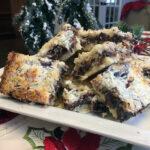 Print Recipe
Dark Chocolate Cranberry Shortbread Magic Bars
This recipe combines three of my favorite baking recipes, Dark Chocolate & Cranberry cookies, Shortbread, and Magic Bars into one delicious Christmas treat.
Equipment
9 x 13 Cake Pan

Measuring Cups & Spoons

Cooking Spray

Spatula

Electric Mixer
Ingredients
Melt-in-Your-Mouth Shortbread Crust
1

Cup

Butter

Softened

1/2

Cup

Icing (Confectioners') Sugar

1/4

Cup

Cornstarch

1 1/2

Cups

All-Purpose Flour

1

Pinch

Salt
Magic Bar Filling
1 1/2

Cups

Semi-Sweet Chocolate Chips

1/4

Cup

White Chocolate Chips

2/3

Cup

Dried Cranberries

1

Cup

Chopped Pecans

1 1/2

Cups

Shredded Coconut

1

Can

Sweetened Condensed Milk
Instructions
Baking the Crust
Whip softened butter until light and fluffy

Gently mix in the confectioners sugar, flour, cornstarch, and salt until just barely wet

Mix on low for 1 minute until thoroughly blended

Whip on high for 3 minutes

Spread evenly across the bottom of the greased 9×13 cake pan

Bake for 12 – 14 minutes until the edges start to turn golden brown

Remove from oven and set on counter to cool for 4-5 minutes
Making the Magic Bar Filling
Layer the Dark Chocolate Chips on top of the shortbread crust

Sprinkle on the White Chocolate Chips

Add the cranberries, making sure that they are spread evenly across the top

Top with shredded coconut

Open and gently pour the sweetened condensed milk across the top, making sure to cover as much of the coconut as possible.

Return to the oven and bake for 18 – 20 minutes, until the coconut starts to brown in some areas

Remove from the oven and let cool before cutting into bars
Still Hungry for More Christmas Cookies?
Take a look at our stunning collection of 50 Amazing Christmas Cookie Recipes.