Celebrate that special someone in style with one of these beautiful birthday cakes! Art & Home has curated a collection of stunningly beautiful birthday cake ideas to help inspire your baking passions and delight to the guest of honor.
It's not the candles that make the cake (nor how many candles happen to be on that cake), it's what is inside – and outside – that counts.
Celebrating a birthday at least once a year, especially when it's someone very special, is a tradition that goes way back in history. The ancient Egyptians celebrated their king's birthday with the "Happiness Cake," which represented life and happiness. The Egyptians carved hieroglyphics on their cakes as a way to wish the king well.
From first birthday cakes to more sophisticated cakes for adults, our selection of beautiful birthday cakes has it all. Want to make a statement at your next birthday party with a truly spectacular cake? Look no further! Our selection of beautiful birthday cake ideas gives you plenty of inspiration and fun ideas to try out.
Whether it's a simple white birthday cake with a lovely royal icing topping or a cake covered in hundreds of beautiful and unique hand-painted flowers, a great birthday cake will certainly delight any guests with its traditional or decorative design.
100+ Birthday Cake Images in 3 1/2 Minutes
These birthday cake ideas demonstrate how piping or adding colorful accents such as orchids, fruit, and even Barbie Dolls to your cake can make all the difference in creating a truly unique and beautiful birthday cake. Bright colors and a variety of shapes and sizes have become a more and more popular trend for birthday cakes. This post provides one of the largest collections of creative ideas about how to add a splash to your birthday cake design.
Decorating the perfect cake for a birthday child is a perfect and unique way to celebrate one of the most joyous days in a child's life. Get inspired with the ideas that are available for kids' birthday cakes. It is always fun to see what clever birthday ideas are possible when you get inspired by these super cool birthday cakes for kids.
But these birthday cakes aren't just for the little ones. Art & Home has compiled a collection of incredible adult birthday cakes that are sure to take your breath away! From wonderfully decorated cakes to show-stopping cakes, Art & Home has curated a collection of delicious and surprisingly beautiful – or crazy fun – adult birthday cake ideas for you to enjoy. We hope your birthday celebration is one you'll never forget!
In truth, a few of these cakes may not "actually" BE birthday cakes, but stick a few candles in them and – BOOM – suddenly they are birthday cakes! And isn't that where the best ideas come from sometimes? By sticking a candle somewhere that it doesn't belong?
An Exquisite Collection of Beautiful Birthday Cake Ideas
From delightfully layered cakes to exquisite frosting and beyond, this collection of birthday cake pictures are here to inspire some cake ideas and provide some truly unique and wonderful cake baking and cake decorating ideas that are sure to impress. Celebrate one more year in the life of someone special with a mix of decorating supplies, edible flowers, candles, and style.
I am neither a birthday cake baker nor a birthday cake decorator, so if you're looking for recipes or how-to articles, you've come to the wrong place. Sorry about that.
However, if you're looking for eye candy or visual inspiration for creating your next birthday cake masterpiece, you'll find a huge collection of truly eye-popping designs. Truly. Eye-Popping!
But before we get there, I am curious. What is your favorite flavor for a birthday cake (not including Ice Cream cakes, of course). Do you lean toward chocolate or are a confetti cake fan? Let the world know by taking our poll.
Birthday Cake Flavor Poll
Let us know the type of cake you prefer, on the inside at least.
In the end, what's inside a birthday cake is only part of the fun. The other part is creating unique and wonderful designs that impress the birthday boy or girl, even if that person is you.
So, let's begin…
Birthday Cake Ideas for 2023
Every time I think I'm done, I stumble open a whole new set of unique and wonderful birthday cake ideas. So I decided to keep adding and adding and adding to this collection as new ideas strike. These are the most recent birthday cakes that I've stumbled upon.
---
The Best Birthday Cake Designs of Anges de Sucre in London
I am going to begin this delicious tour with the most recently discovered collection of amazing birthday cakes. I just love all of the designs from London-based Anges de Sucre bakery, but I did manage to pick out a few of my absolute favorites! And by a few… I mean 12. But who's counting?
Did you know that the calories in birthday cakes don't count?

Technically, calories are incapable of performing basic mathematical functions, so they never "count", but it's worth keeping that in mind!

— Me, On My Birthday
---
A Birthday Cake with a Cherry On Top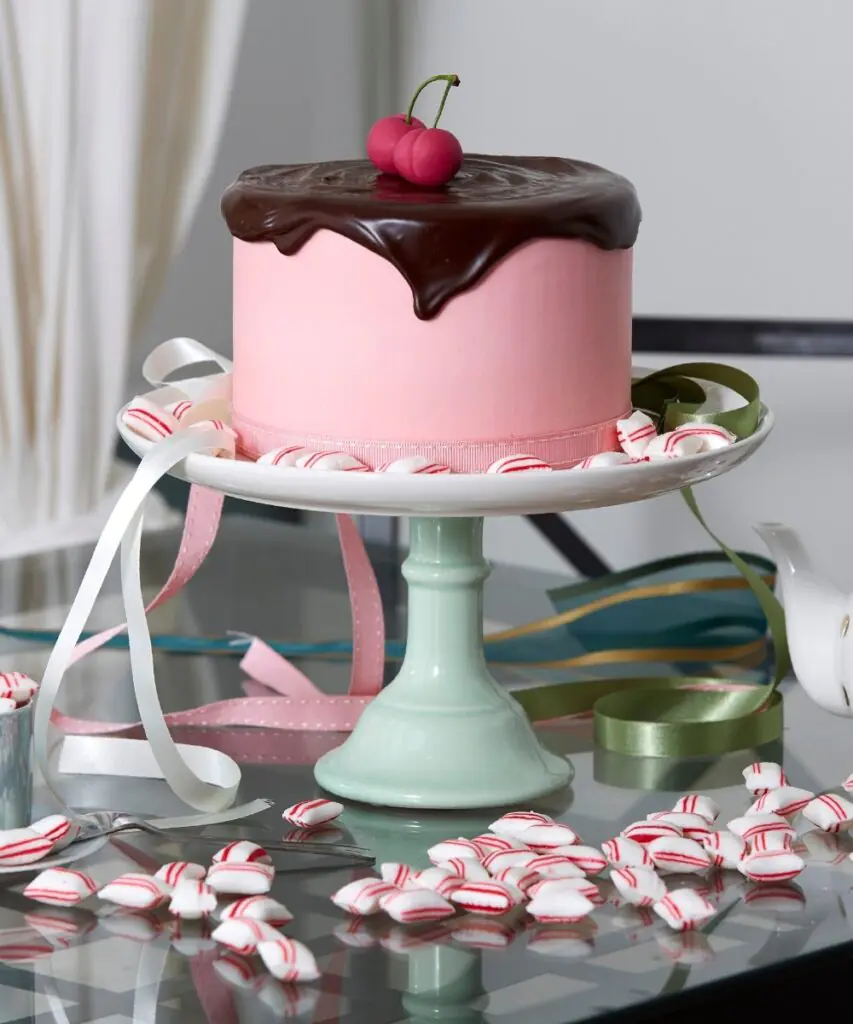 It looks like an ice cream sundae but tastes like a delicious cake.
---
Beautiful Black & White Birthday Cake Design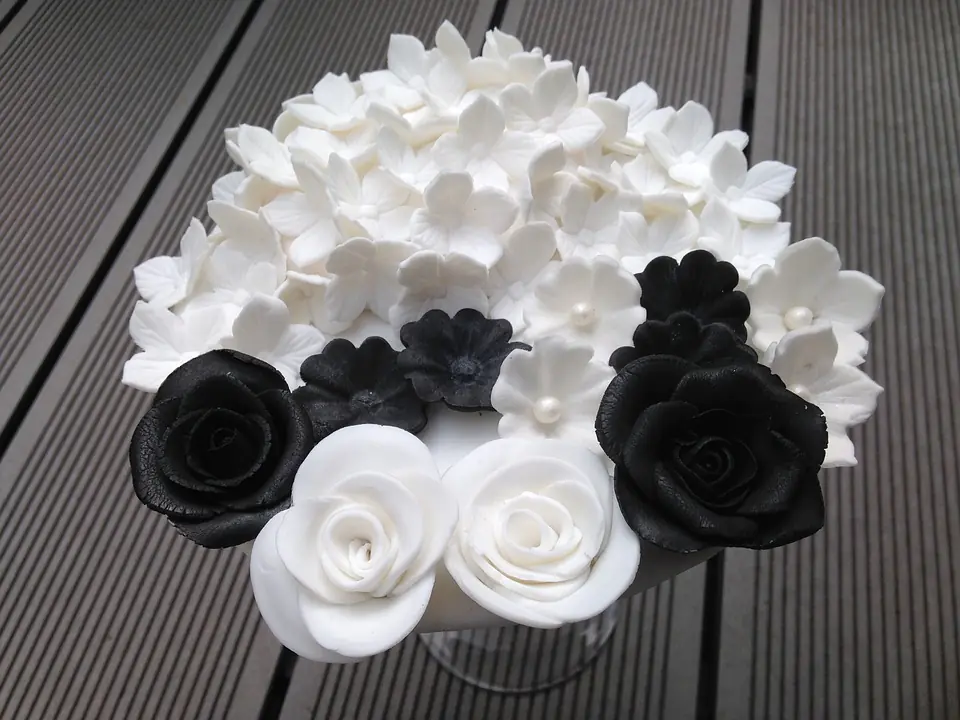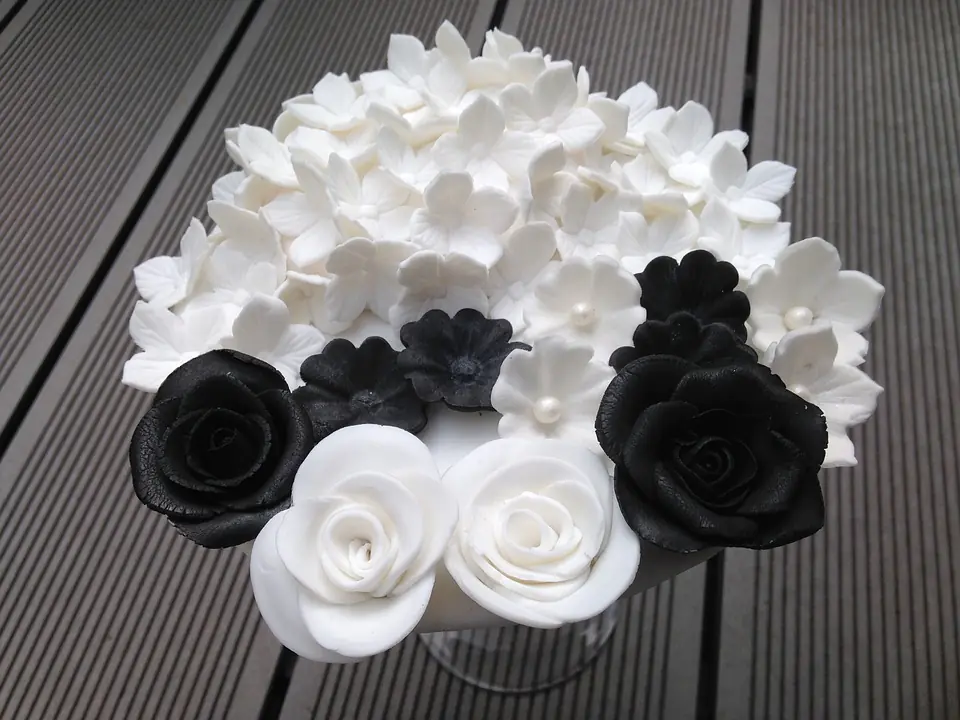 An absolutely stunning creation, nothing says "Happy Birthday" better than a birthday cake that screams elegance!
---
Blue Wave Birthday Cake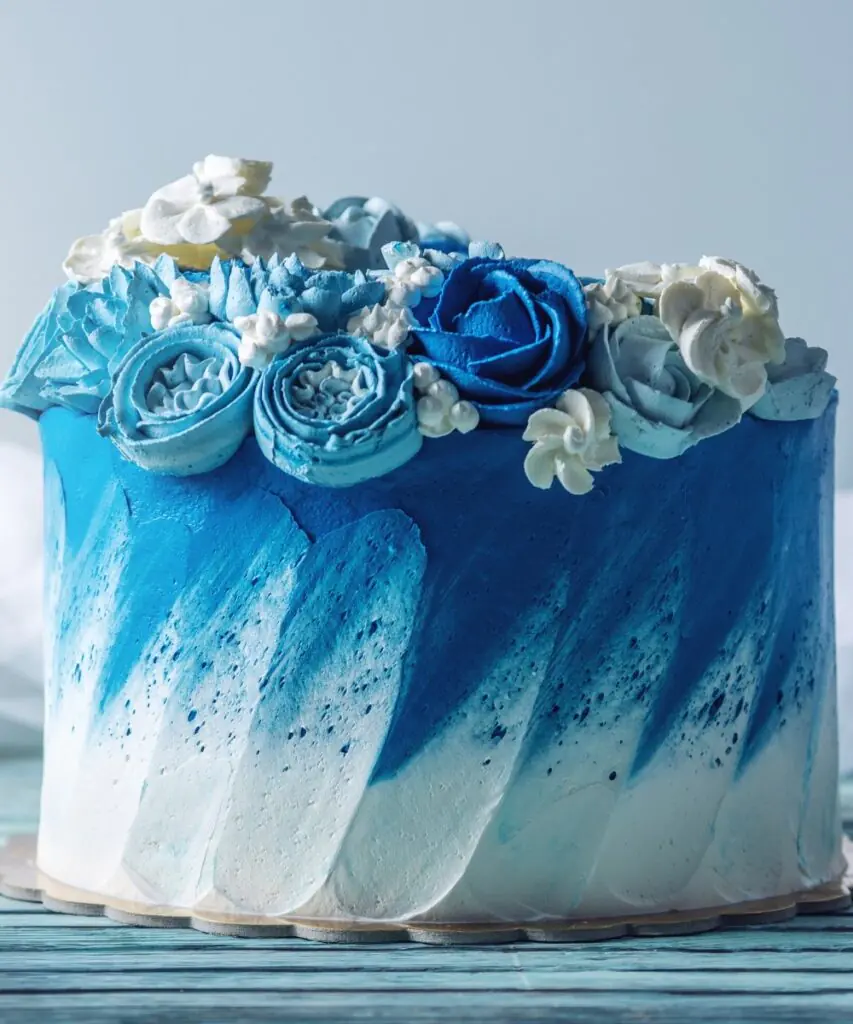 Gorgeous waves of blue and white icing swirl around the outside, while the top is festooned with a variety of blue and white flowers.
---
A Truly Magical Chocolate Cake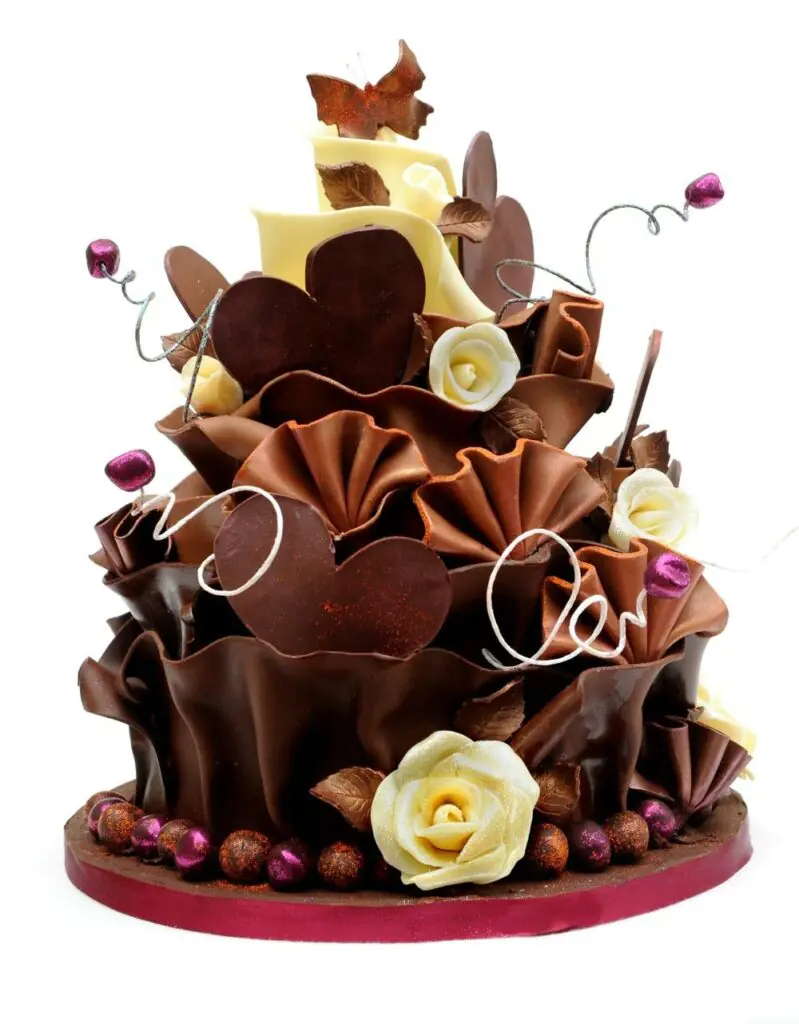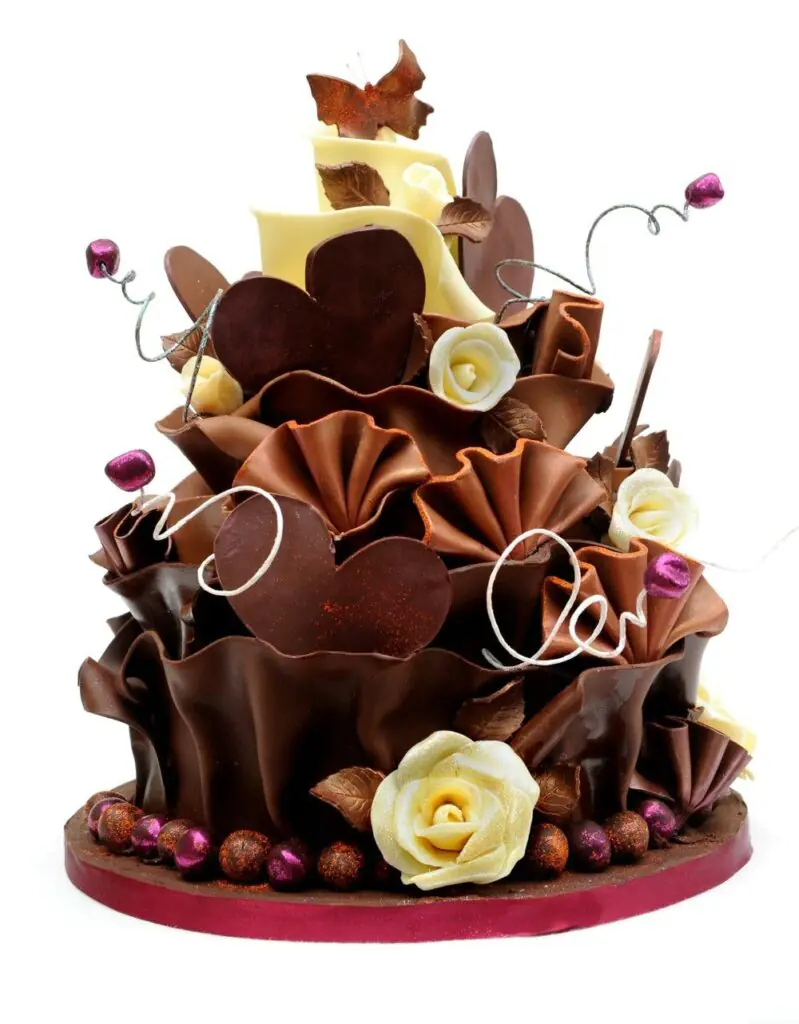 Source: Pinterest.com
I don't know how else to describe this other than Magical! Possibly one of the most beautiful Chocolate Cakes I have ever seen.
---
Unicorn Birthday Cake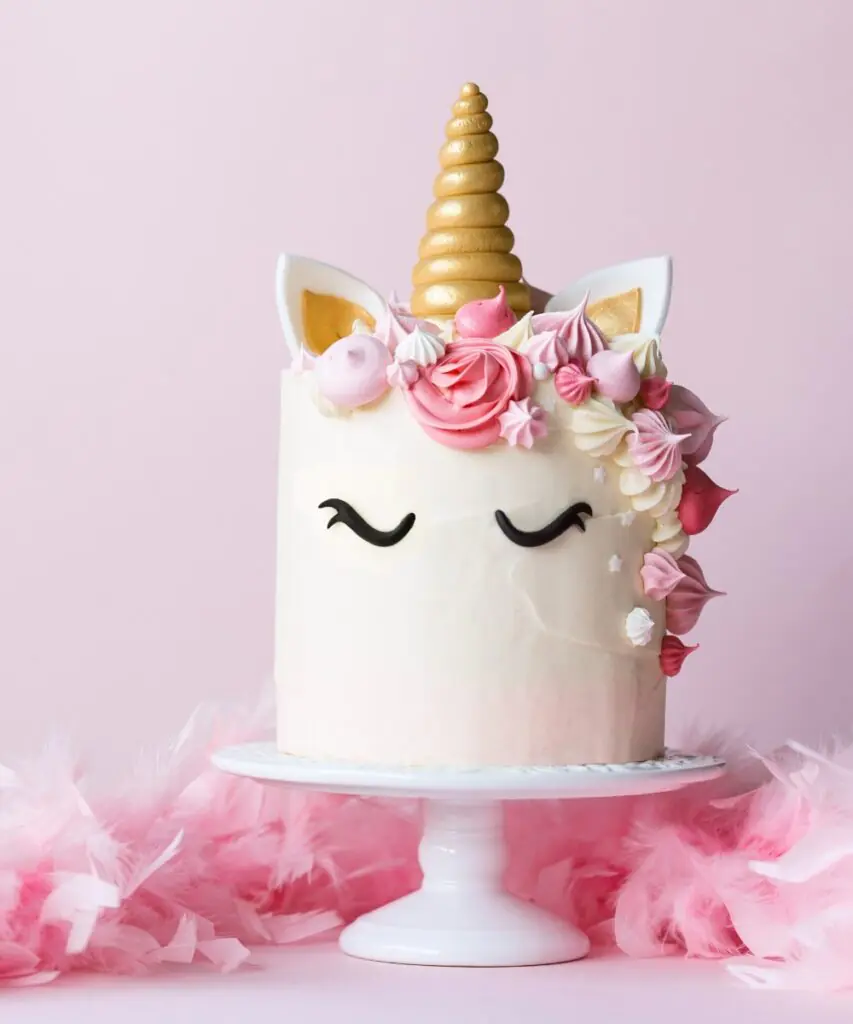 This super-cute unicorn cake is perfect to fulfill any little girl's party dreams (and a few grown adults as well!).
---
---
Galaxy of Fun Birthday Cake
Source: Pinterest.com
What little boy (or adventurous little girl for that matter) wouldn't love this space-inspired Birthday cake?
Need More Blue Birthday Cake Ideas?
The sky is the limit with this particular birthday cake color, but here are just a few more to whet your appetite!
---
White Chocolate Lace Collar Birthday Cake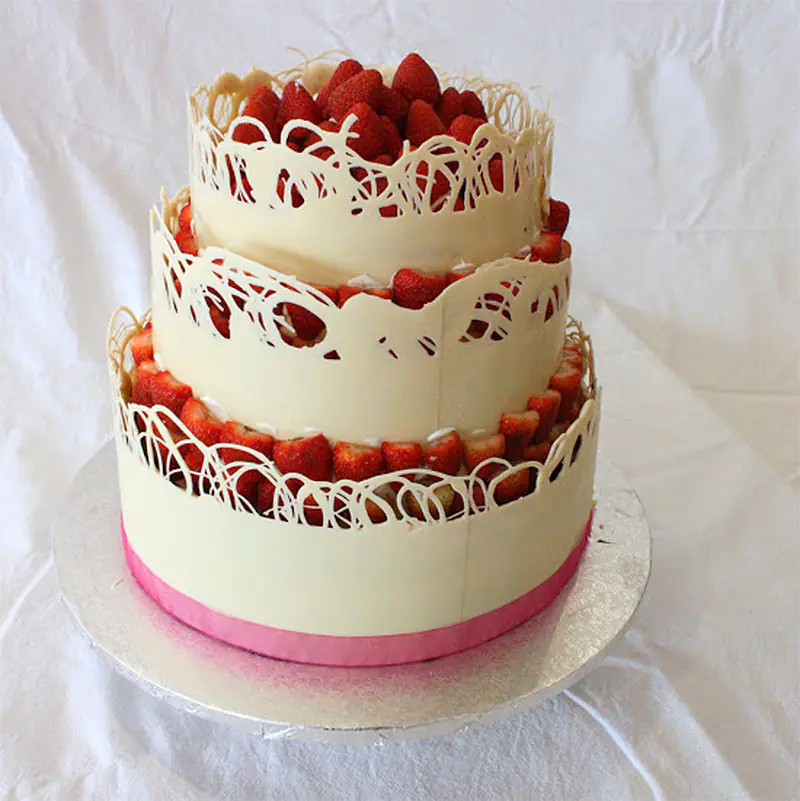 Source: Pinterest.com
This cake would take some time and skill to create, but it is truly stunning.
---
Slice the Rainbow Birthday Cake
White icing and colorful confetti cover the multi-layers of rainbow-colored cake inside. Notice how the sides are also tinted with a hint of color to provide a bit of rainbow inside and out.
---
Ribbons of Pale Blue Icing Birthday Cake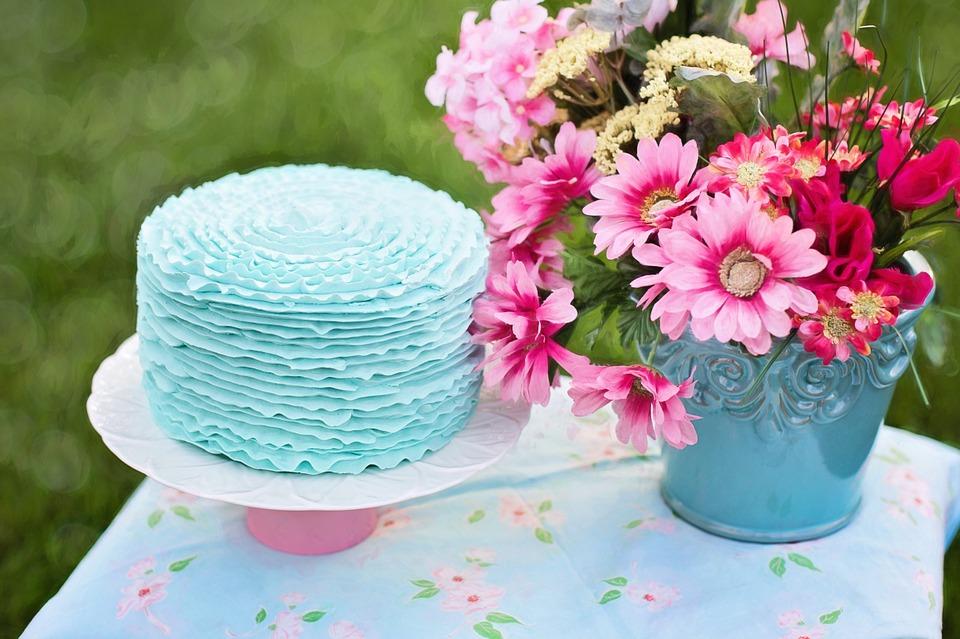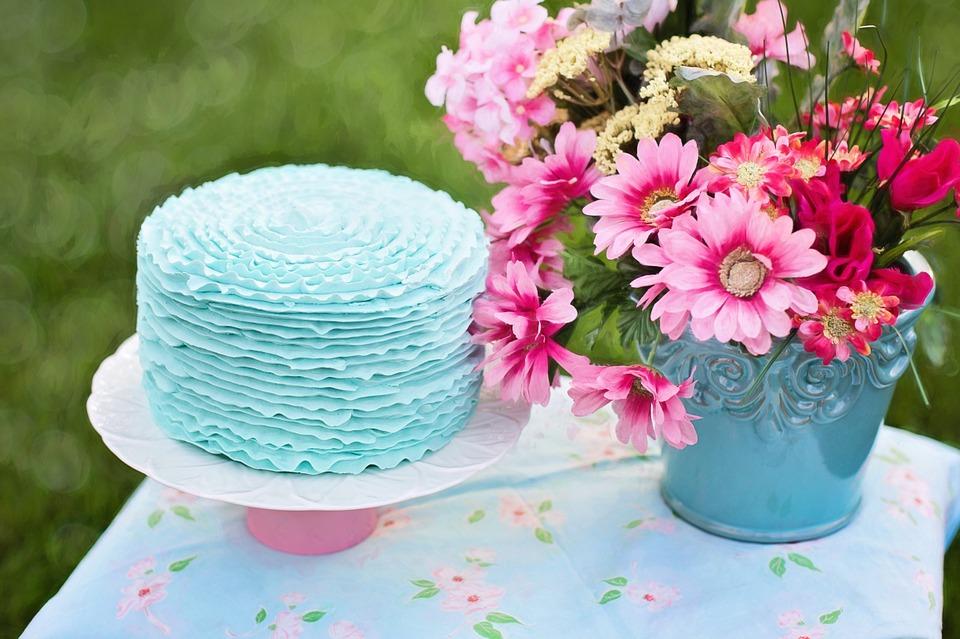 Perfect for a Spring birthday party, this delightful cake uses layers upon layers of blue icing ribbons to create a delightfully festive yet elegant birthday cake design.
---
---
Amazing Butterfly Garden Cake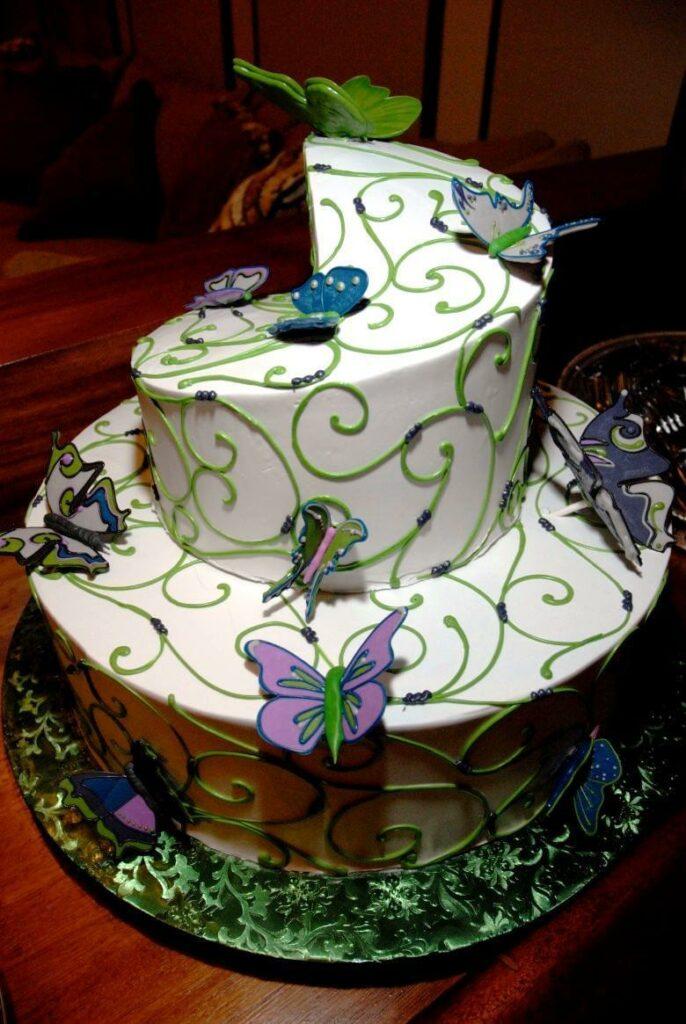 Source: Pinterest.com
The combination of the butterfly garden motif and the unique spiral cut of the cake layers makes this birthday cake truly special.
---
Pink Raspberry Macaron Birthday Cake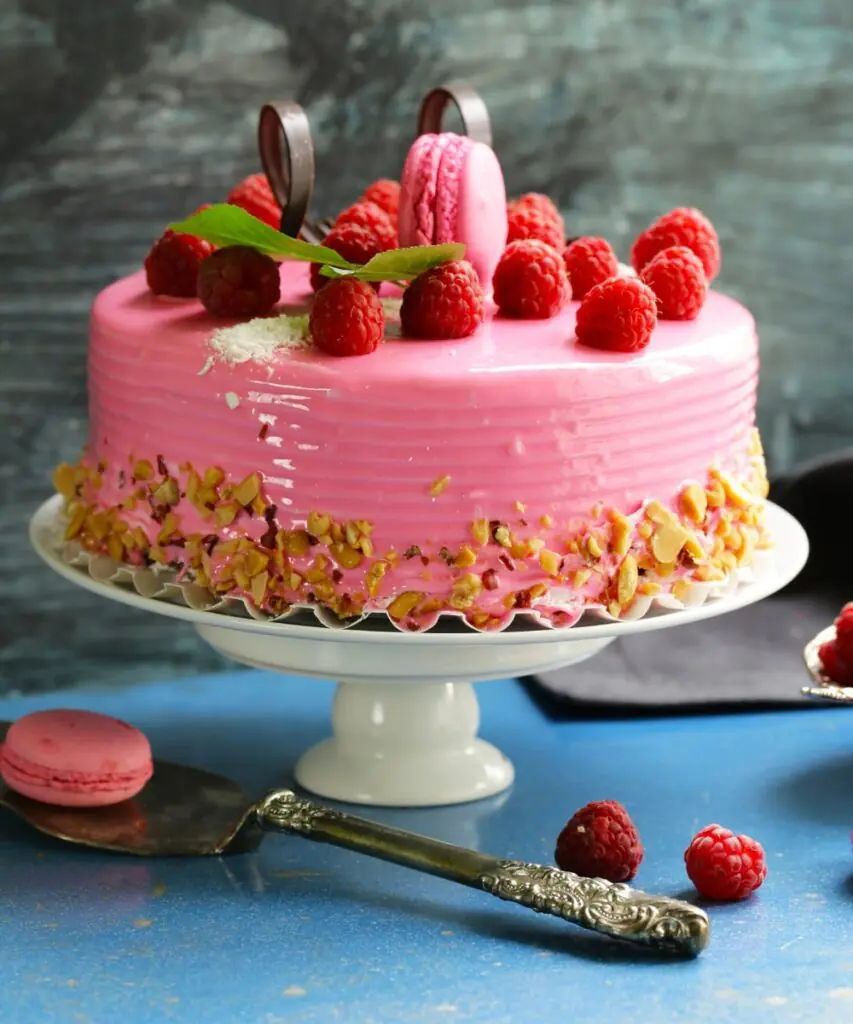 Absolutely gorgeous pink-raspberry icing, topped with fresh raspberries and a pink raspberry macraon.
---
Floating Pastel Butterfly Cake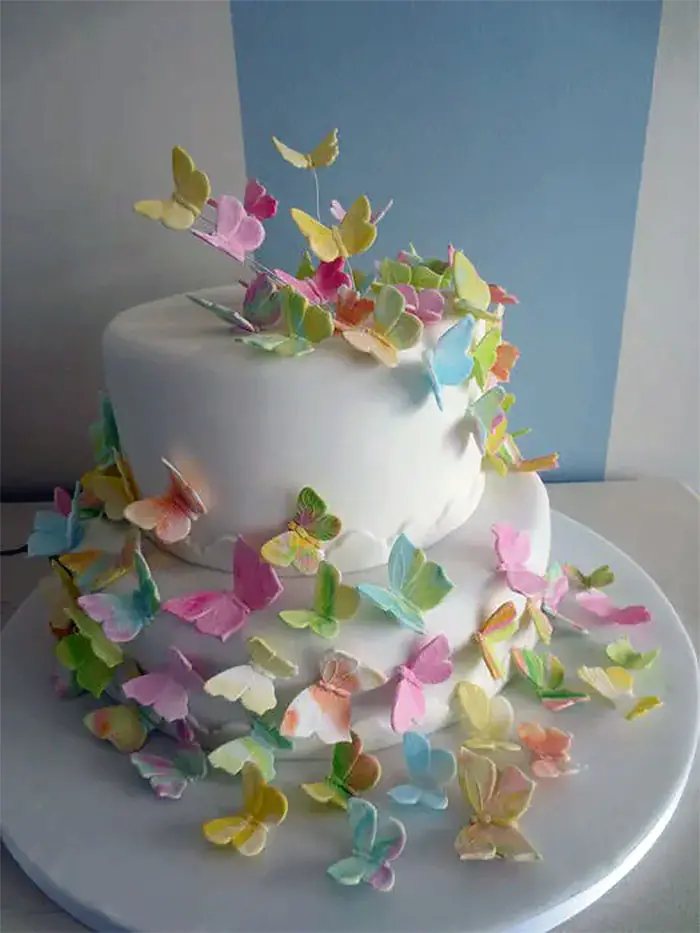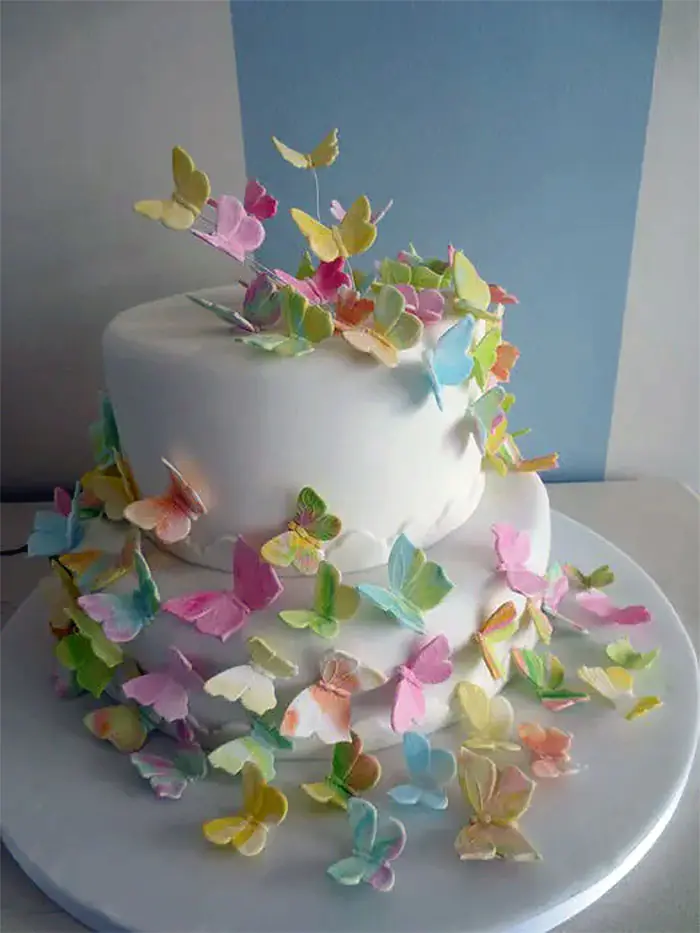 Source: CakesDecor.com
Keeping with the butterfly theme, this cake uses a fairly basic white cake as a backdrop, but it's the kaleidoscope of butterflies that makes this beautiful birthday cake remarkable.
---
Dripping Gooey Chocolate Mocha Birthday Cake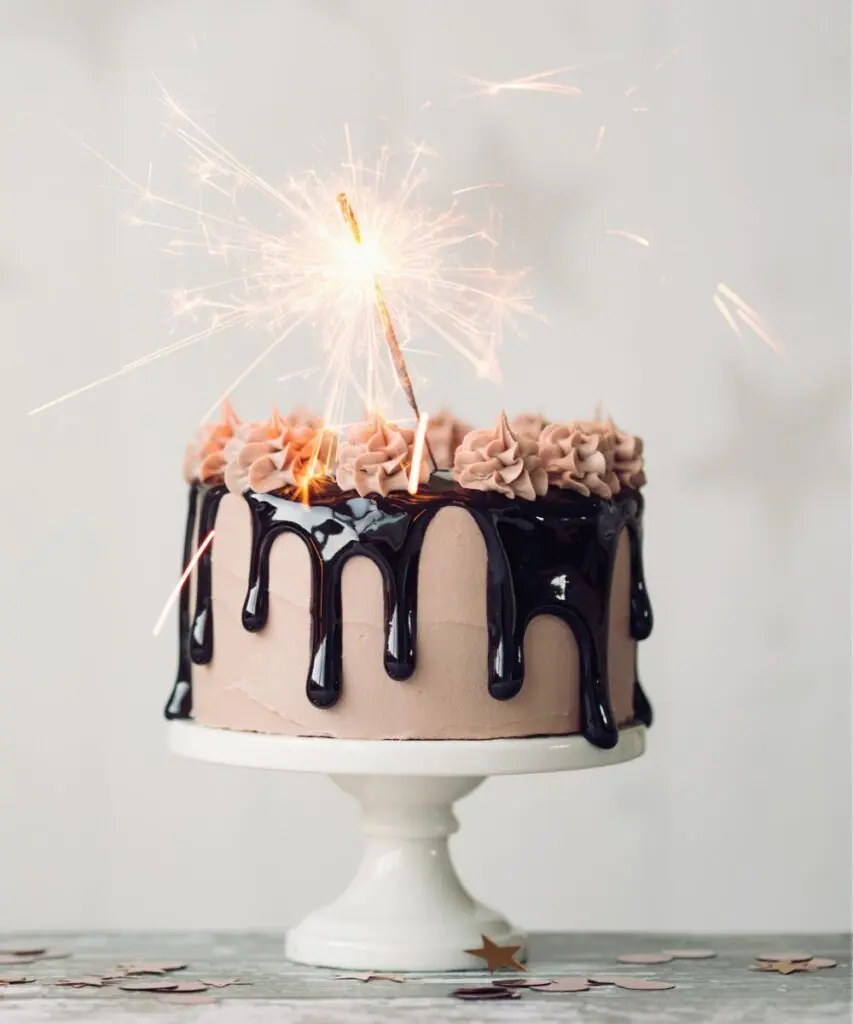 Thick streams of rich chocolate drip down the sides of this delicious mocha cake.
---
---
Princess Castle Cake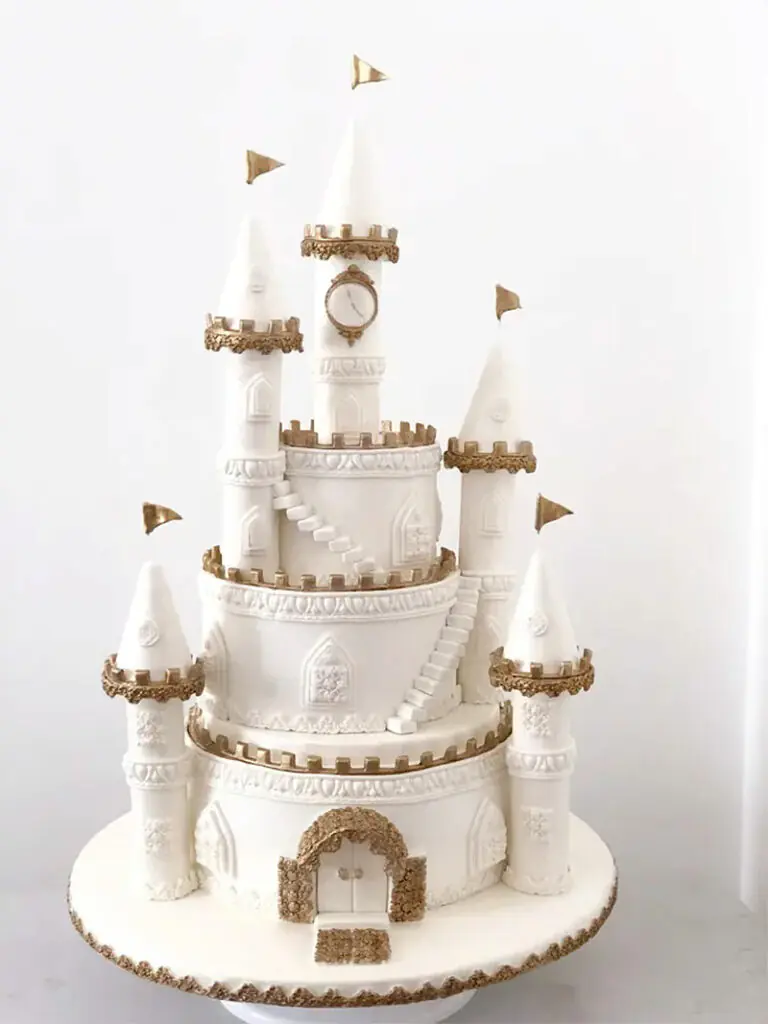 Source: CakesDecor.com
Definitely NOT your everyday birthday cake!
---
Fruit Cornucopia Birthday Cake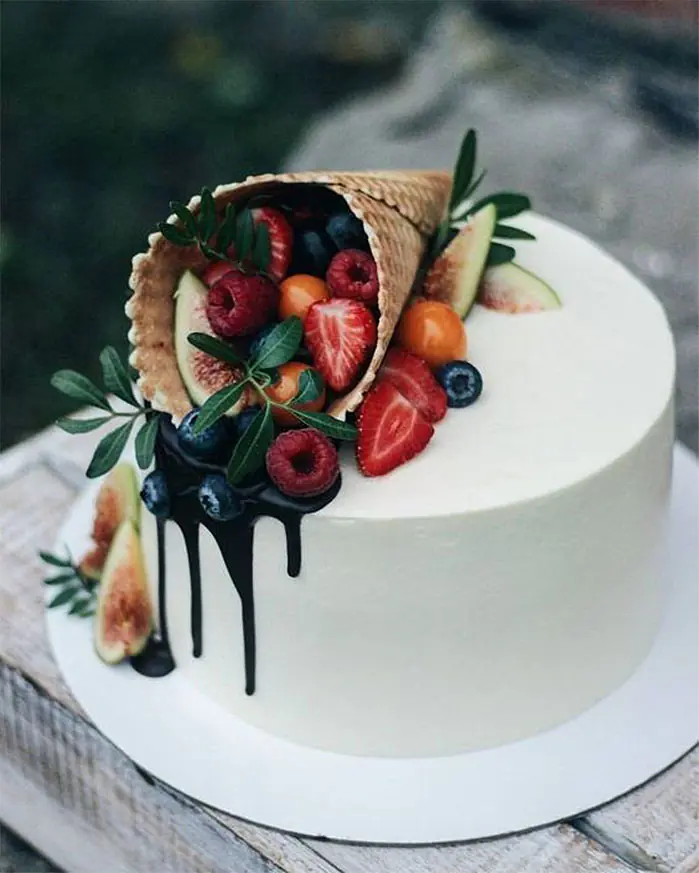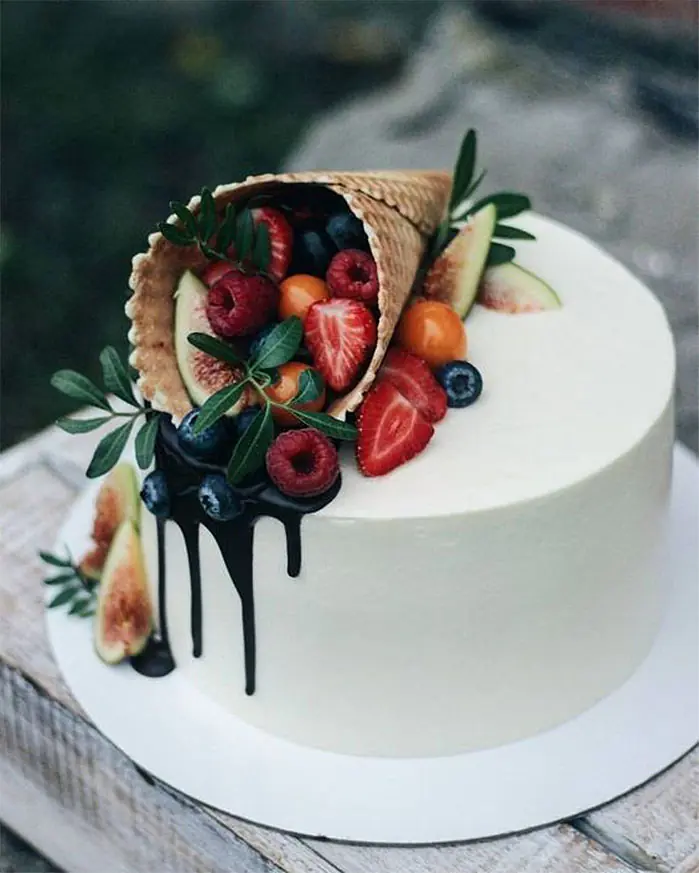 Source: Pinterest.com
A waffle cone holds an overflowing abundance of sweet goodness, creating a dramatic contrast against the crisp white cake.
---
The Ooopsie Doodle Cake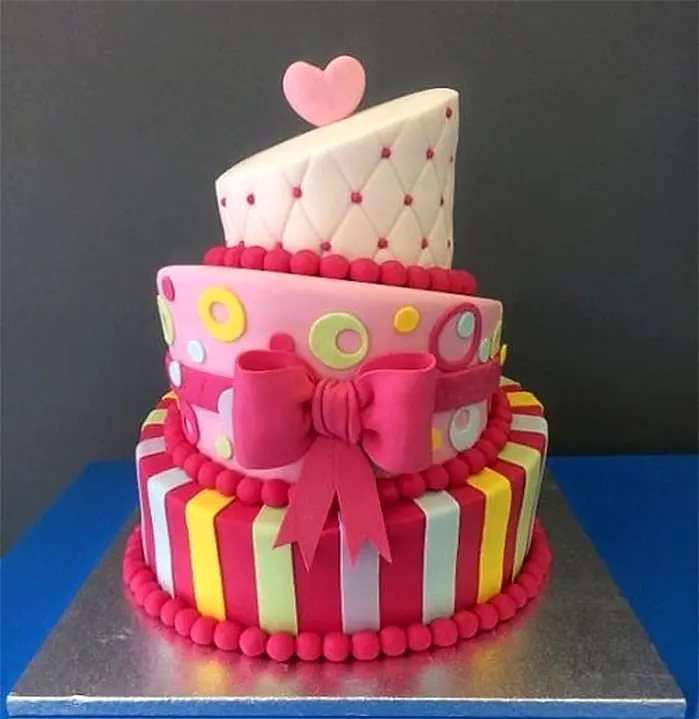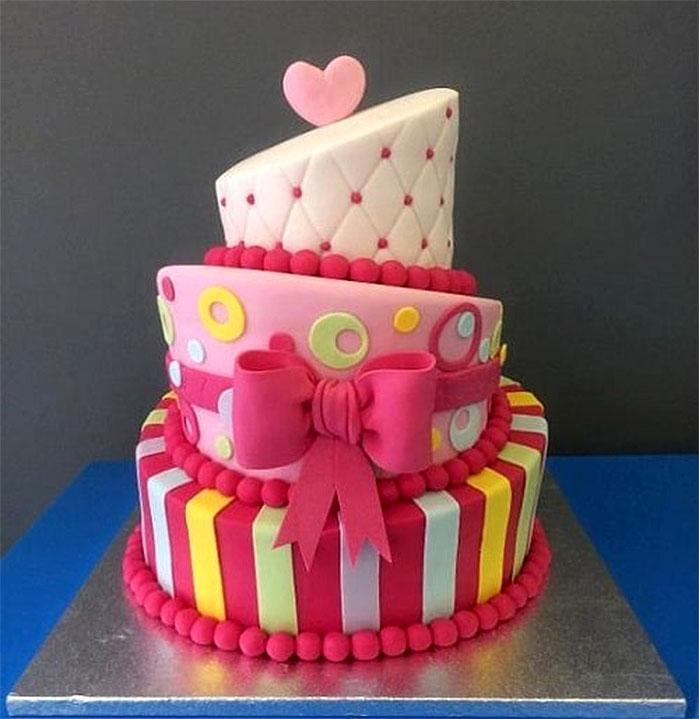 I love the unique angles of this very colorful cake. All topped with love.
---
---
Square Tiered Chocolate & Field Berry Cake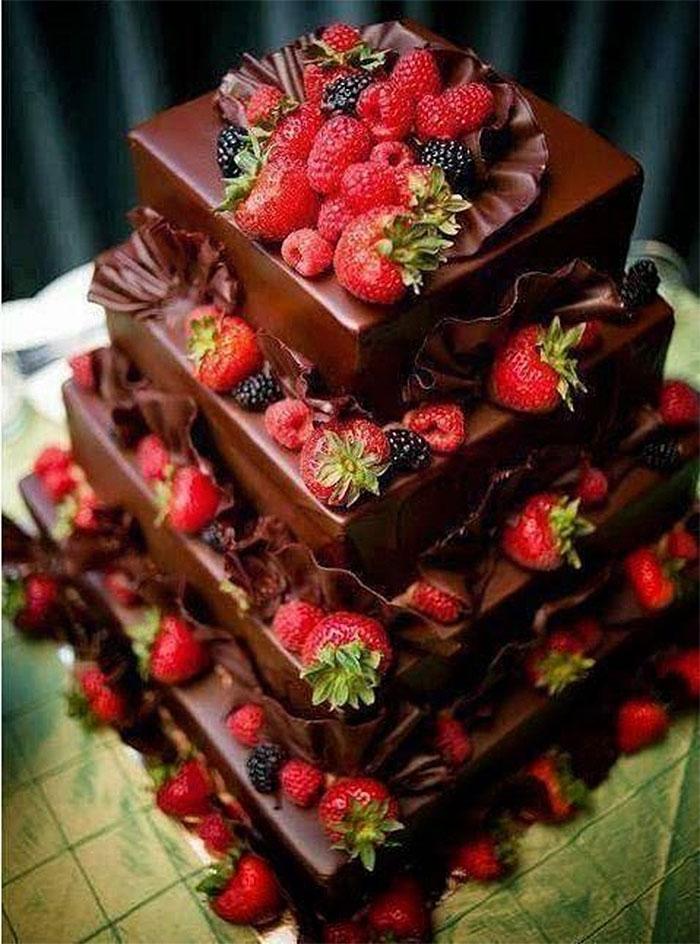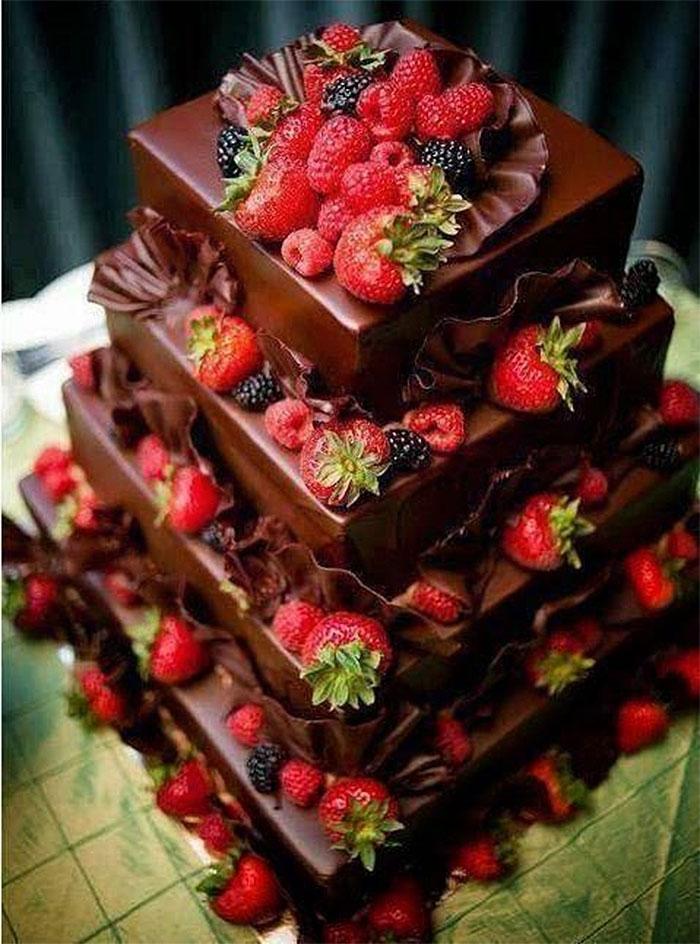 Normally when you see a tiered cake, the tiers are round. This one bucks that trend with stacks of square chocolate cakes, festooned with field berries.
---
Eleganza Birthday Cake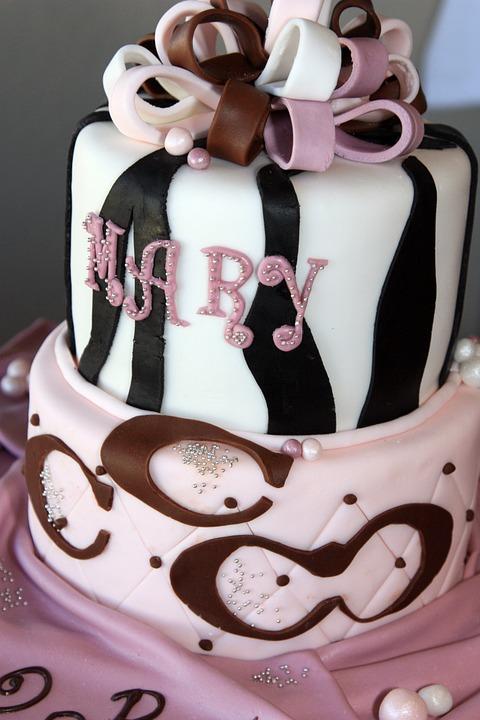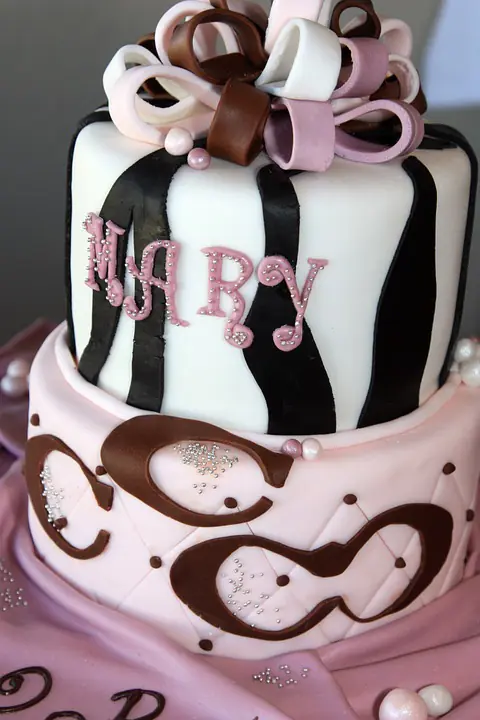 This birthday cake looks like it was inspired by some of the top fashion designers in the world. Elegance and beauty are all baked into a single cake.
---
Exposed Edge Chocolate Strawberry Cake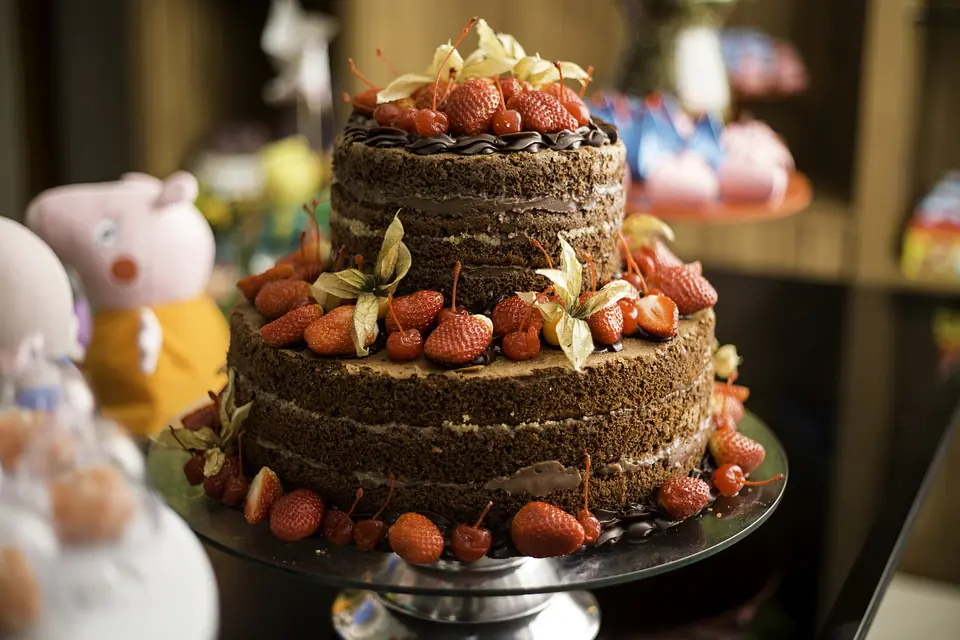 For those who want something a little lighter on the frosting, this cake forgoes the exterior frosting for an array of strawberries.
---
Donut Touch My Cake!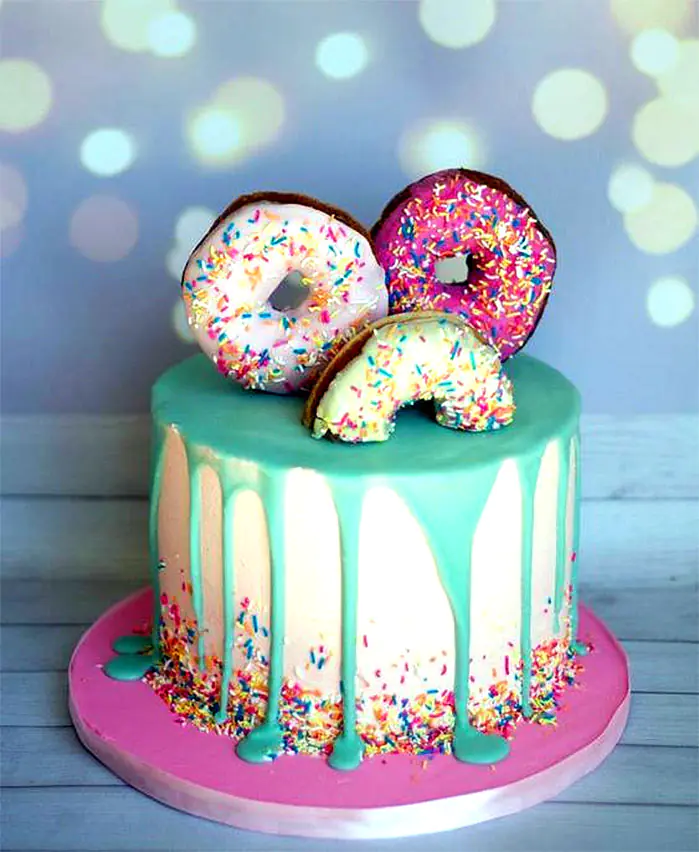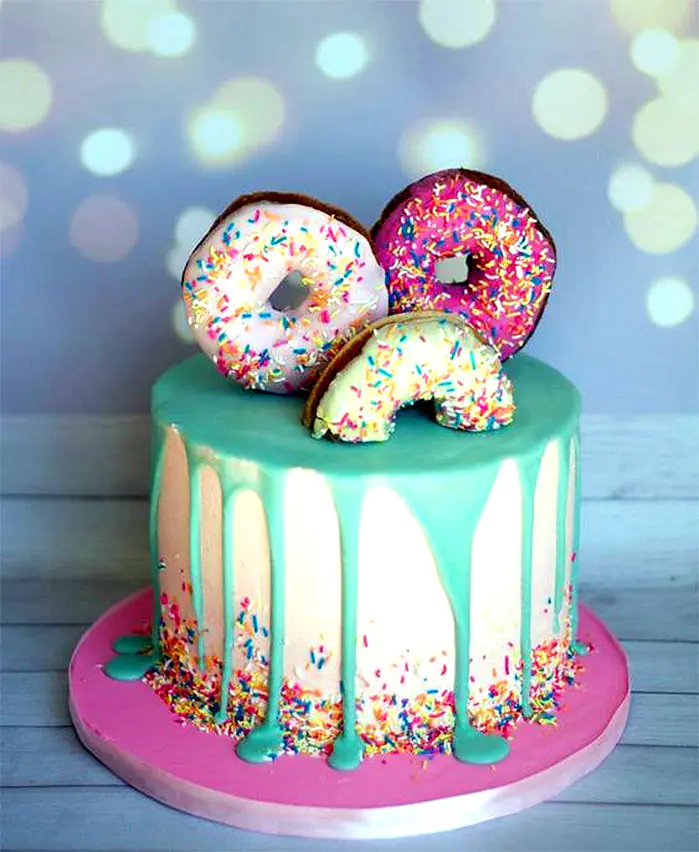 Source: Pinterest.com
The best of two desserts combined into one fun and fancy birthday cake. Perfect for kids, but adults would love this too!
---
The Flamenco Dancer Birthday Cake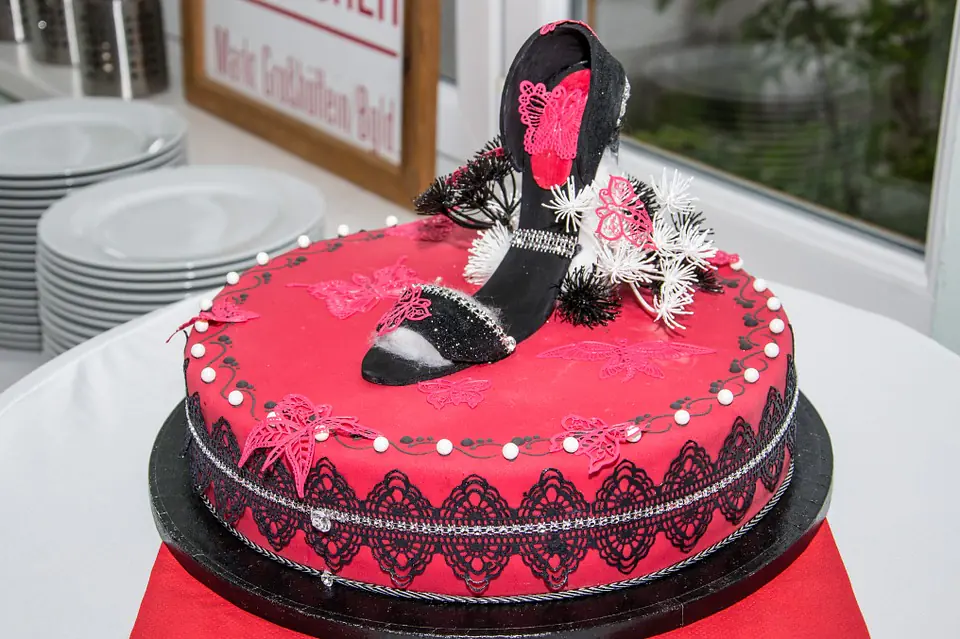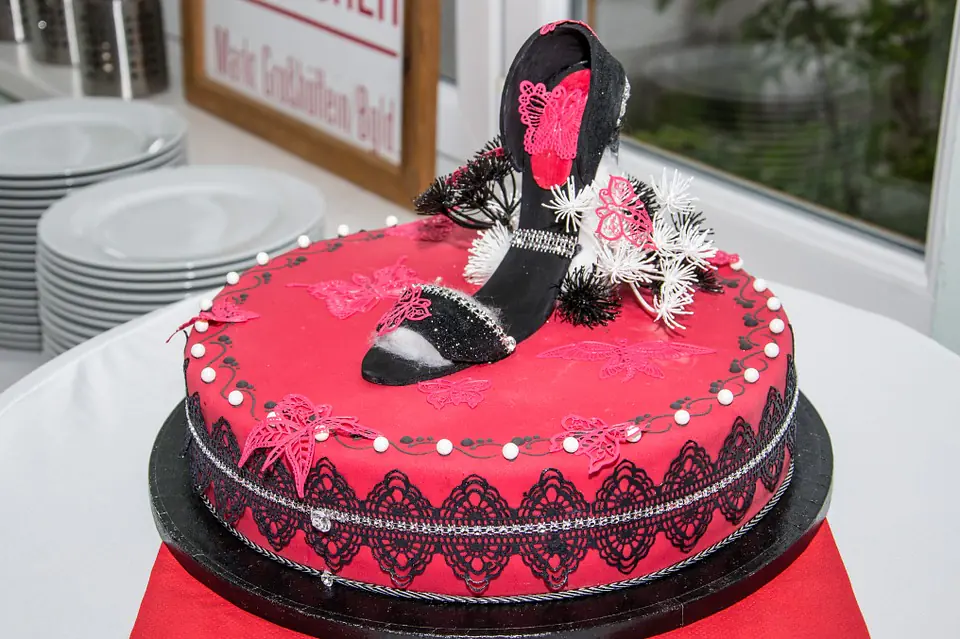 For those with a love of Spanish dances, this bold & beautiful birthday cake celebrates the birthday girl's love of Flamenco. Also perfectly suited for the Fashionista in your life!
---
Dripping with Flavor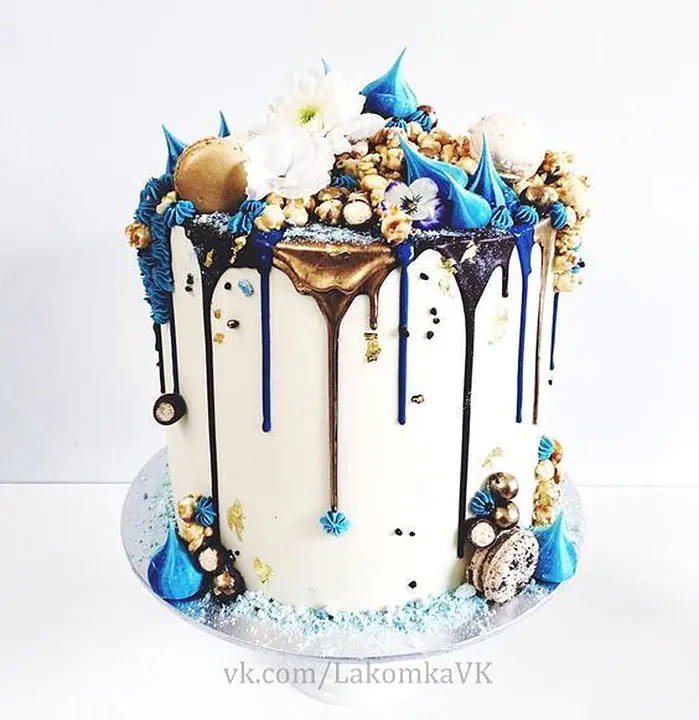 Source: Pinterest.com
It looks like melting ice cream, but so intricately detailed that you want to stare at it rather than eating it… well, for a moment or two.
---
Pink Bunny Birthday Cake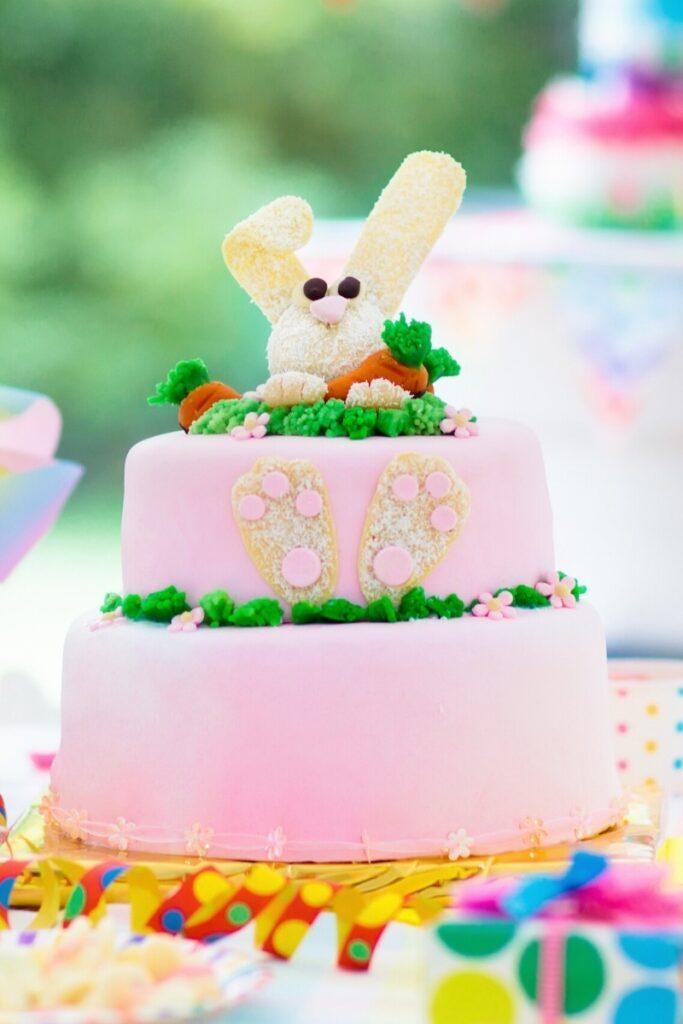 Cute as a bunny, this cake is delightful for a birthday party or Easter celebration. Notice how the bunny's feet are poking out the side of the first tier?
---
Classic Strawberry Shortcake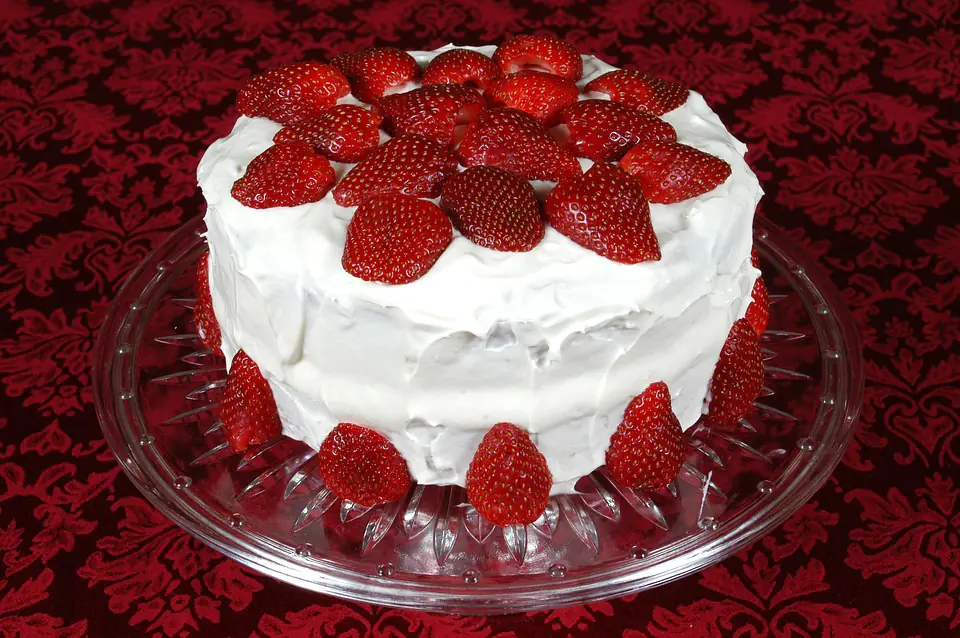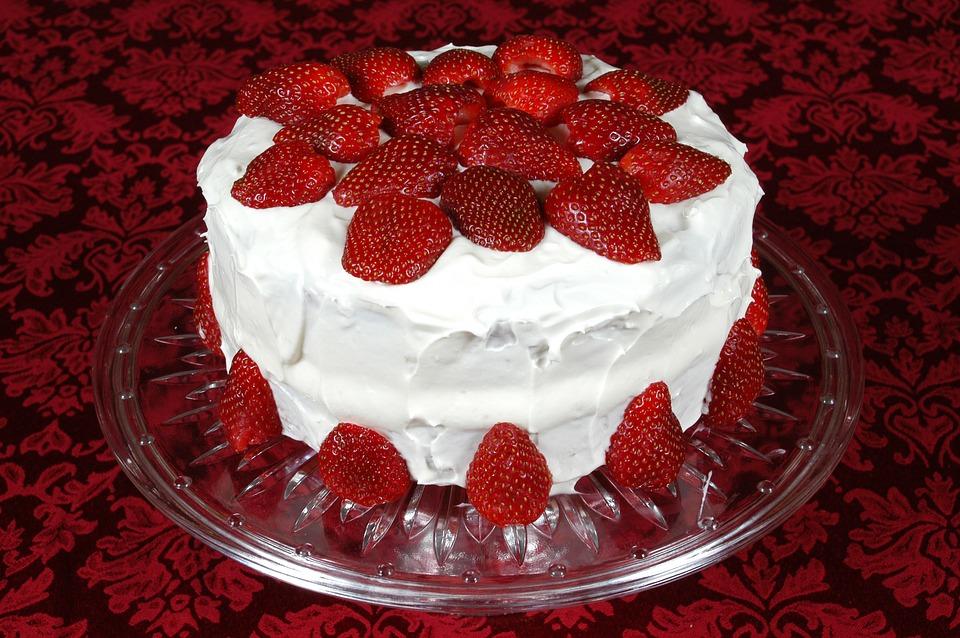 For those who want something a bit more simple, you can't go wrong with the classic strawberry shortcake.
---
Natures Bounty Birthday Cake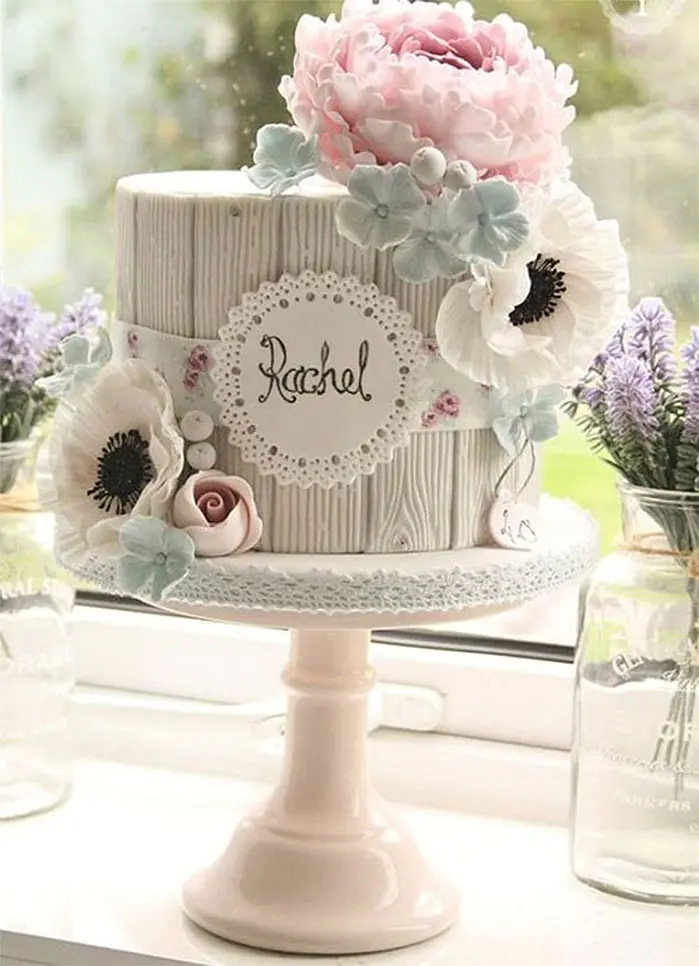 This gorgeous birthday cake celebrates nature – and Rachel (but that can be changed) in all of their glory.
---
Blowing Bubbles Birthday Cake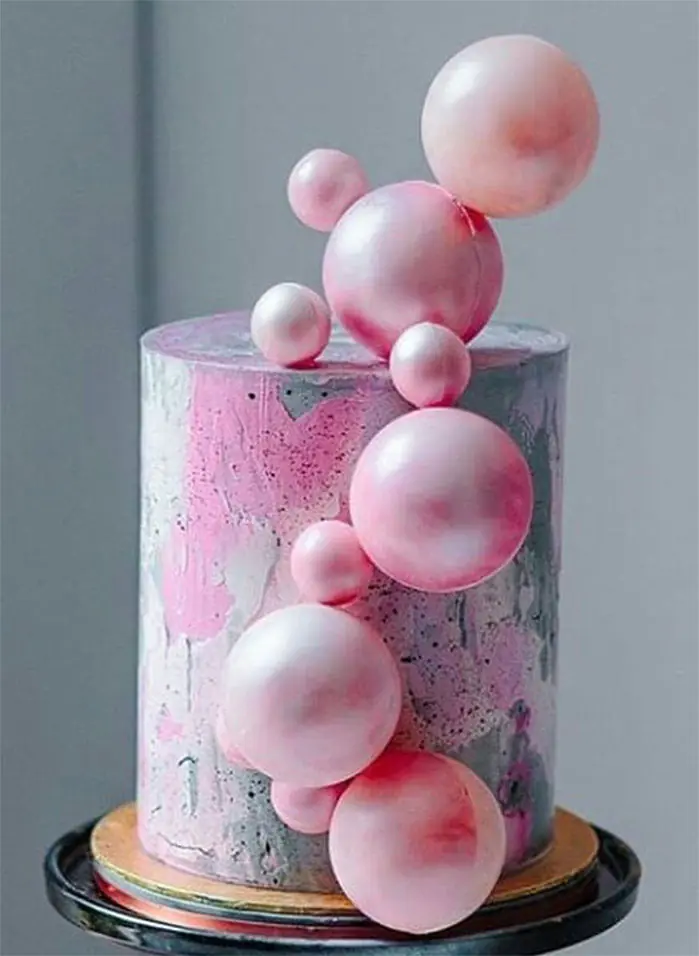 Source: Pinterest.com
For the adult or child who LOVES bubbles, this sophisticated yet fun birthday cake is bubbly perfection.
---
Carved Heart Shape Strawberry Shortcake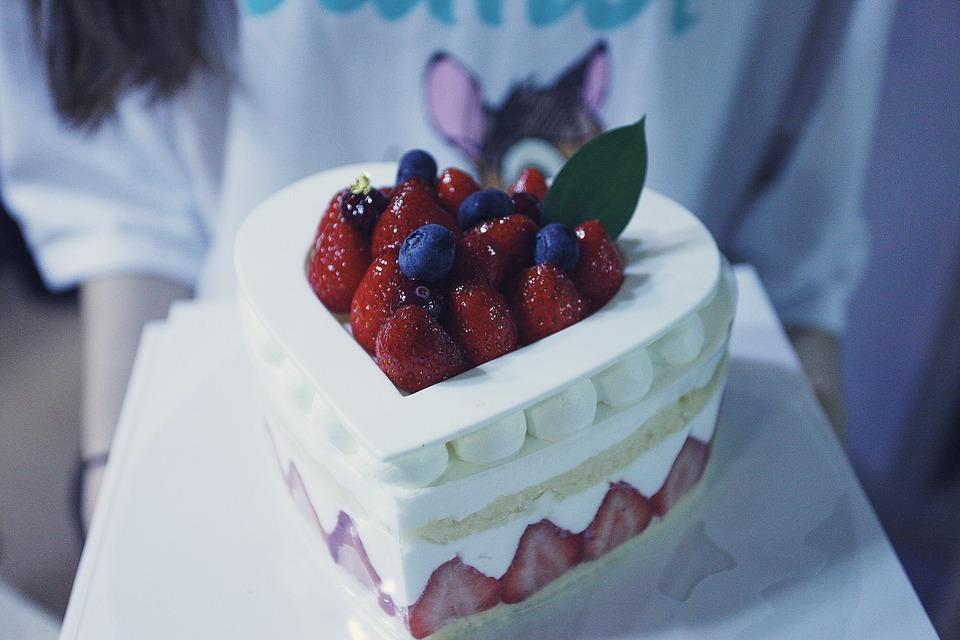 But if you want to take your strawberry shortcake game up a notch, you can try your hand at carving out this delightful heart-shaped strawberry shortcake creation!
---
SHOP CAKE STANDS
---
Spring Beauty Birthday Cake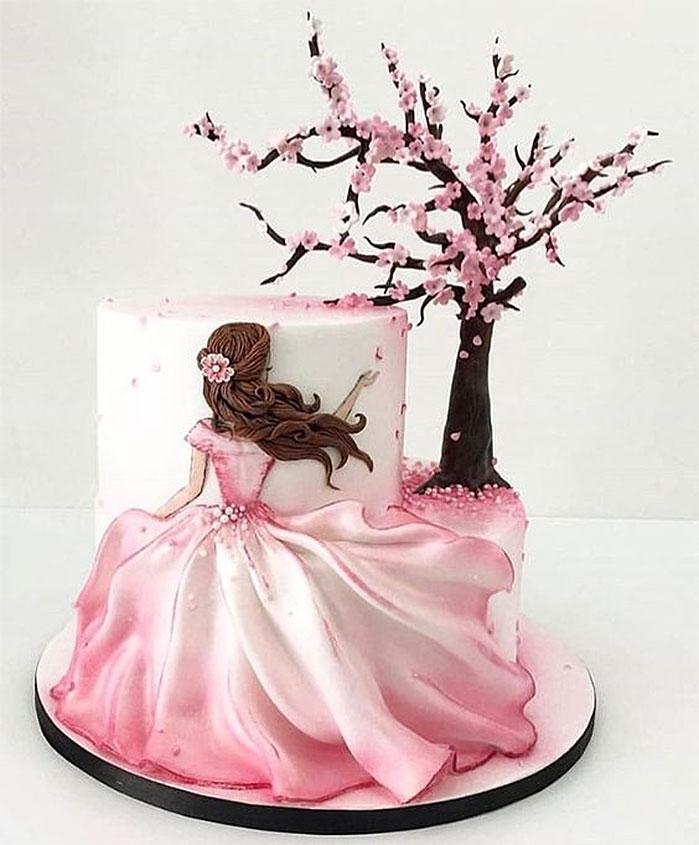 Is she a Disney Princess, or just a beautiful young girl in a beautiful formal gown. You decide!
Need More Birthday Cake Ideas for Girls?
Need even more inspiration for possible girl's birthday cakes, no need to panic, we've got LOTS more ideas! Granted, these could just as easily be for a boy, why limit yourself! Here are just a few more…
---
Birthday Cake Currently Under Construction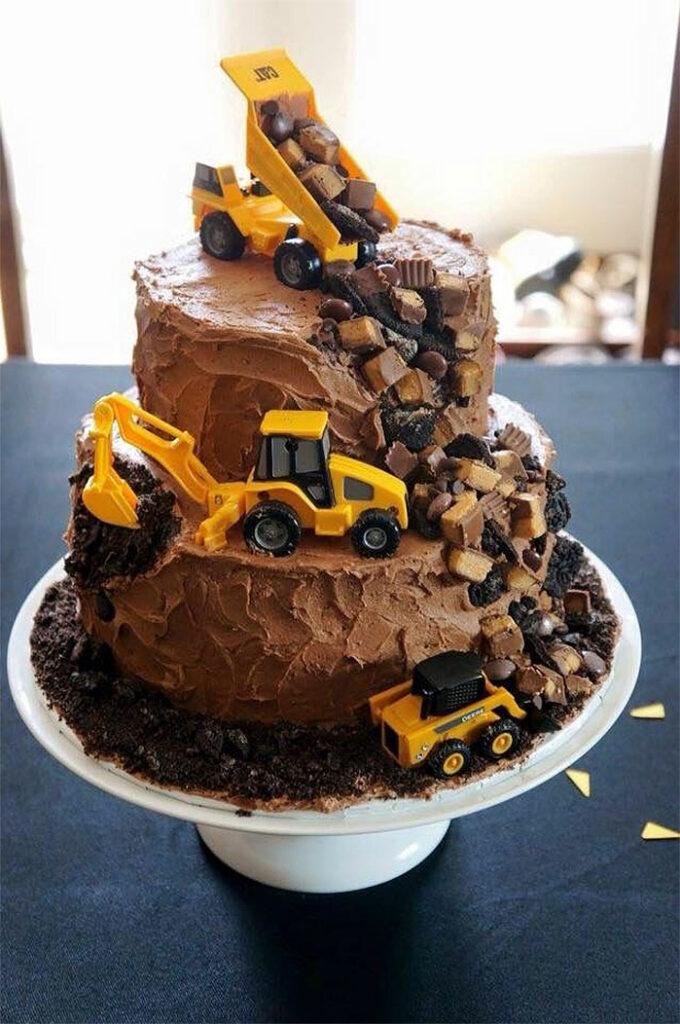 Source: Pinterest.com
What a fun idea! I love the details of the rock-slide of chocolate and the one "chunk" of cake that has been scooped out.
---
Lace & Lattice Garden Cake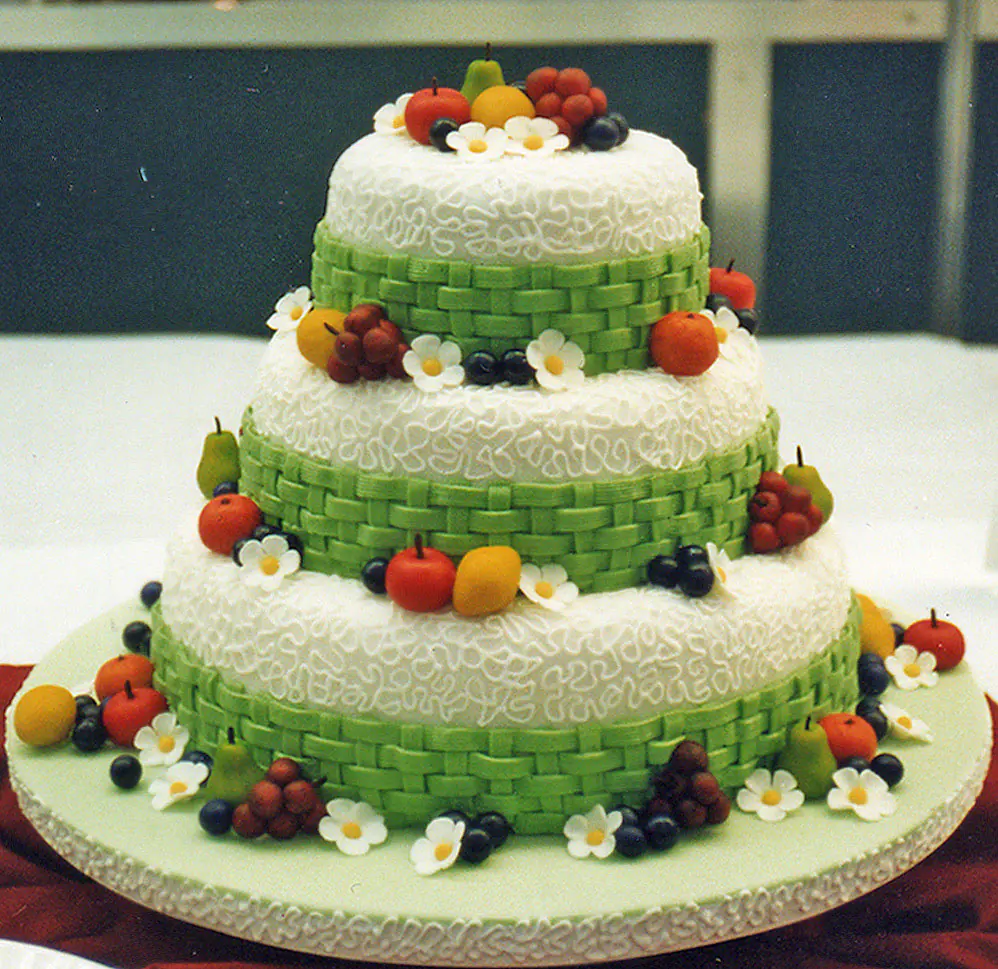 A celebration of summer, this lace and lattice garden-inspired cake looks absolutely phenomenal.
---
Flower Garden Birthday Cake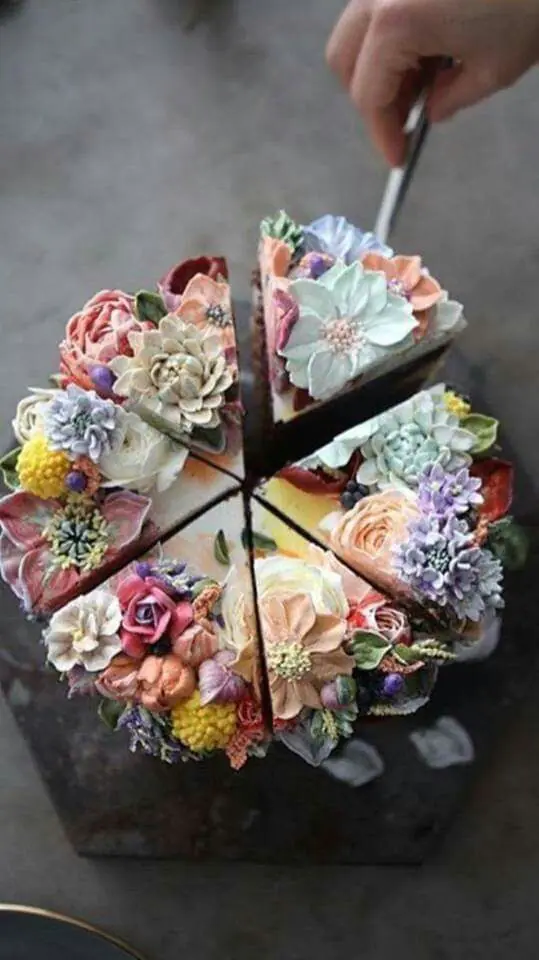 Source: Pinterest.com
A beautiful celebration of flowers, this garden-inspired cake is truly delightful!
---
Pink Macaron Birthday Cake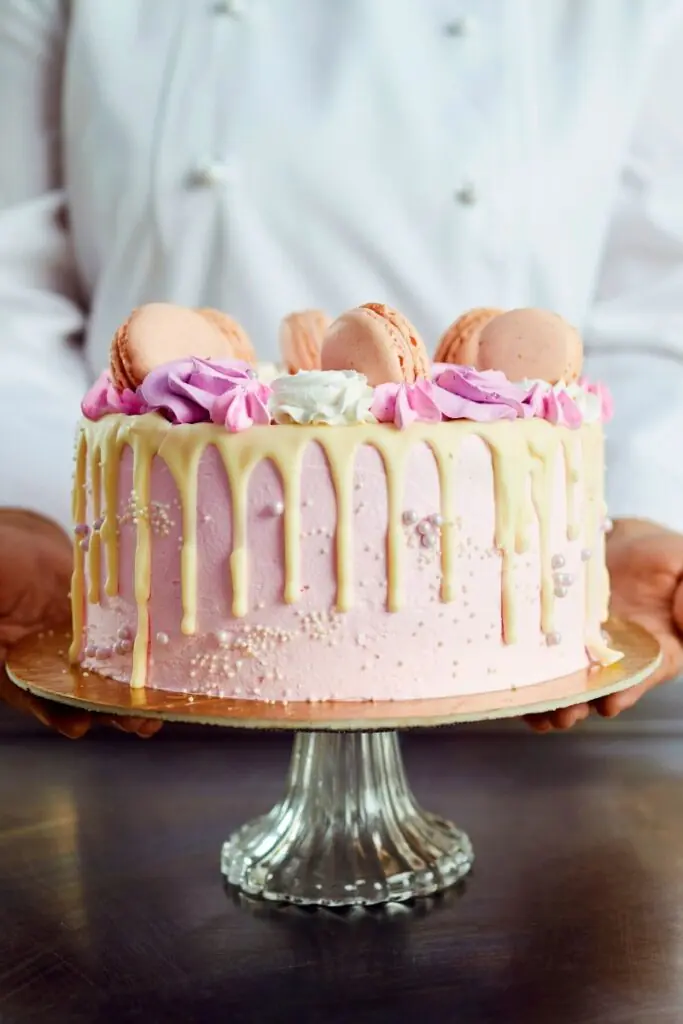 Pink cake, cream drizzled icing, and some delicious pink macarons on top. Simply beautiful!
---
Blossoming Cherry Tree Birthday Cake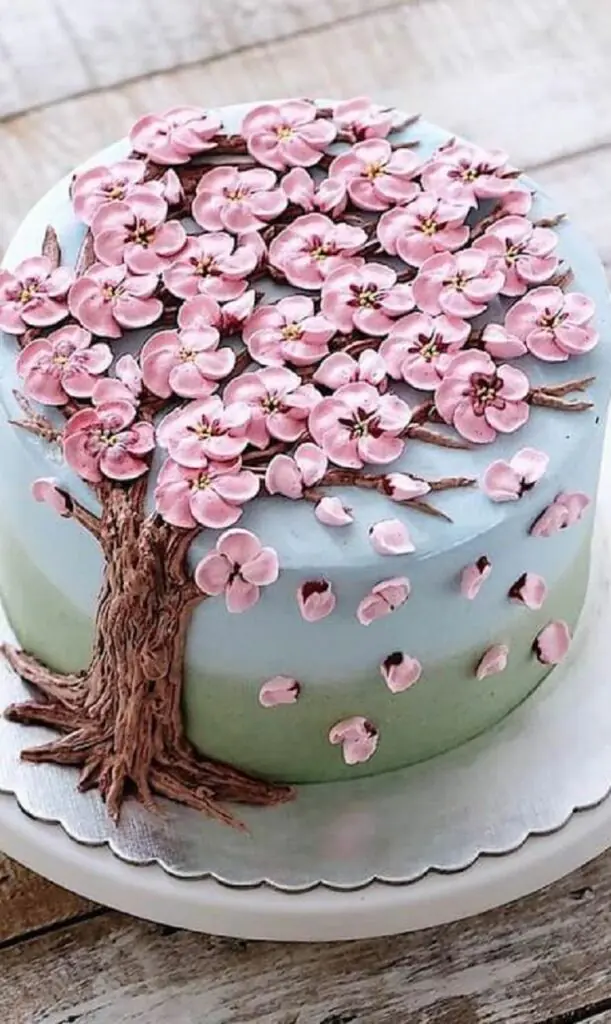 Source: Pinterest.com
I love cake. And I love cherry blossoms. This cake is the best of both worlds in one delicious package.
---
---
The Morning After Birthday Cake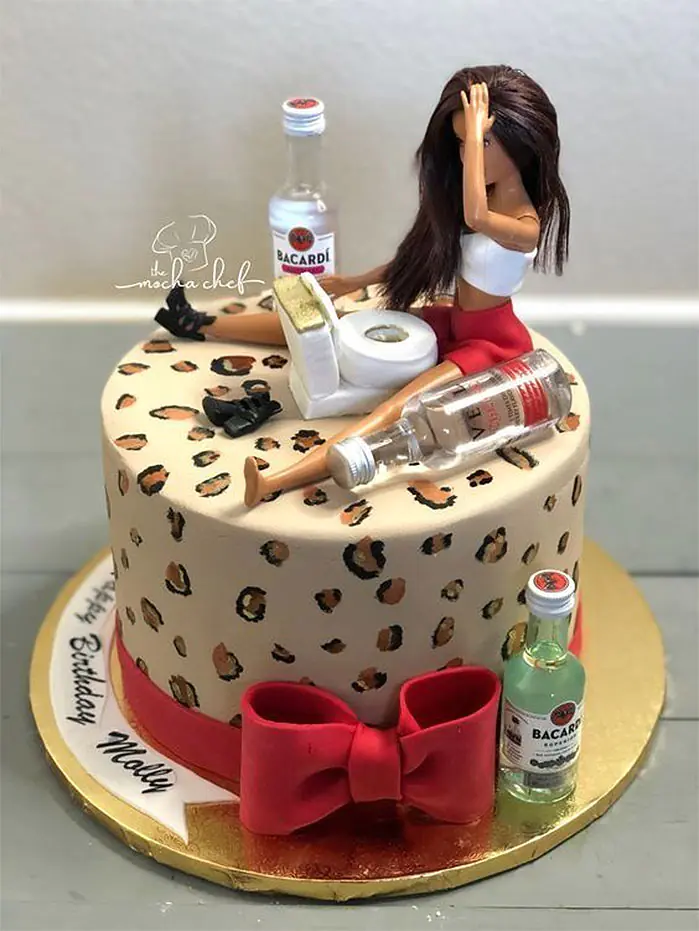 Source: Pinterest.com
So bad that it's SOOOOO good!
---
Fruit Shortcake Birthday Cake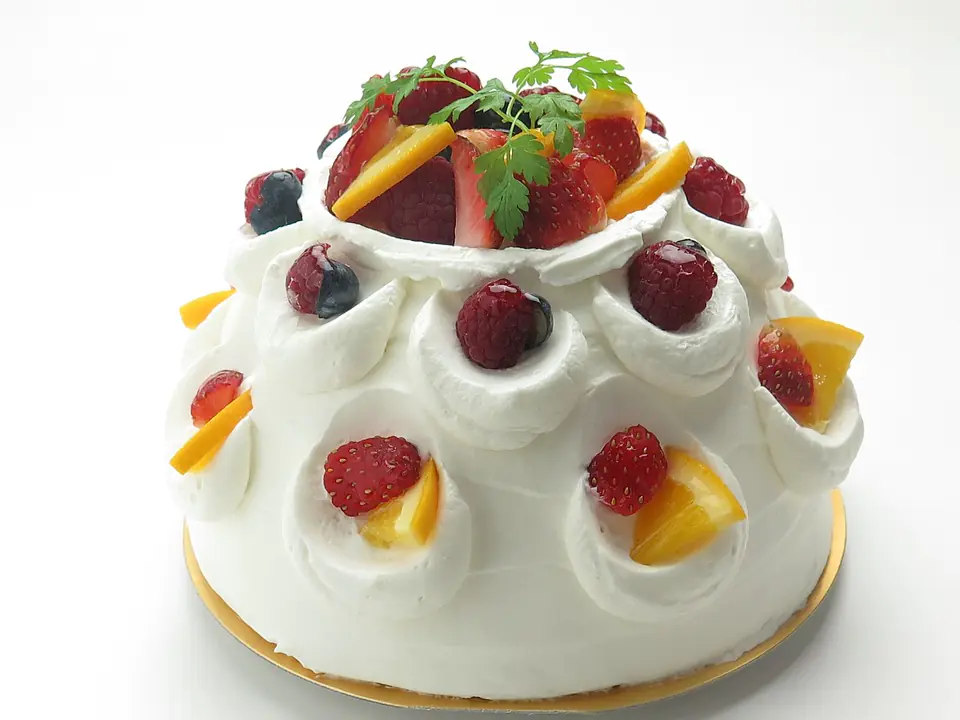 Another take on the classic shortcake, this rounded cake features mounds of fresh berries and slices of orange to create a bright, colorful, and flavorful birthday cake creation.
---
An Overflowing Birthday Cake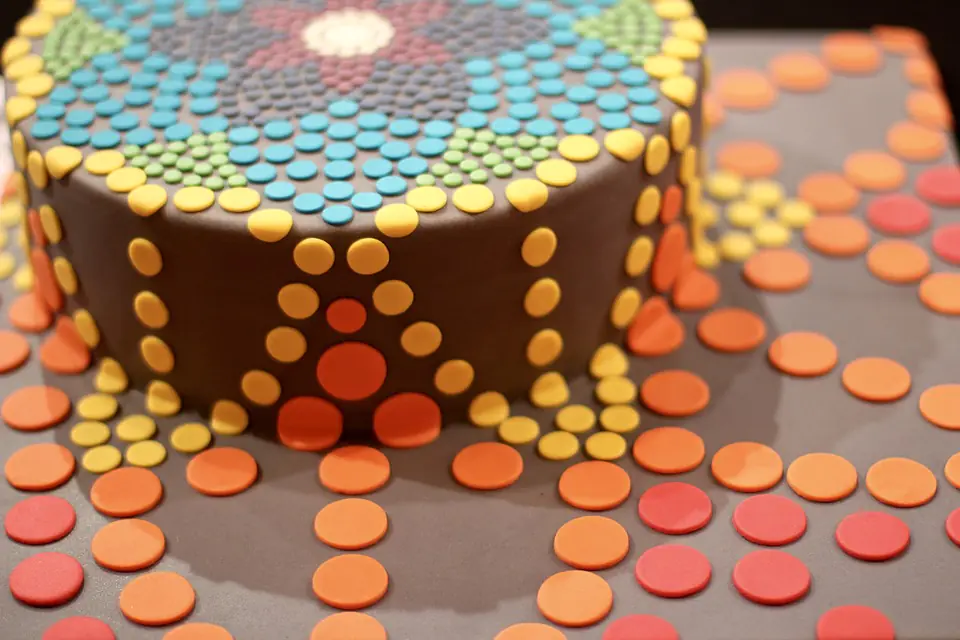 I love how the edible decorations on this cake flow beyond the cake itself and cascade onto the serving platter. A time consuming, but not overly difficult technique to master (I would assume).
---
Teddy Bear Boy's Birthday Cake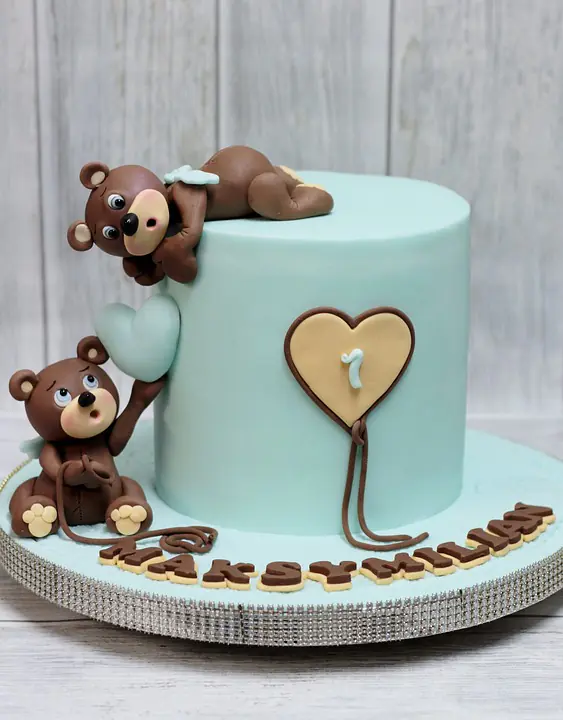 As Chandler Bing might say… Could a birthday cake BE any more adorable??
---
Another Beautiful Teddy Bear Cake
Source: CakesDecor.com
Keeping with the Teddy Bear Cake theme for a moment, what I love about this one is how the Teddy on the top layer is holding up a beautifully wrapped gift. If you can make that gift box out of cake & icing… EVEN BETTER!!
---
Shades of Gray Sugar Ruffles Cake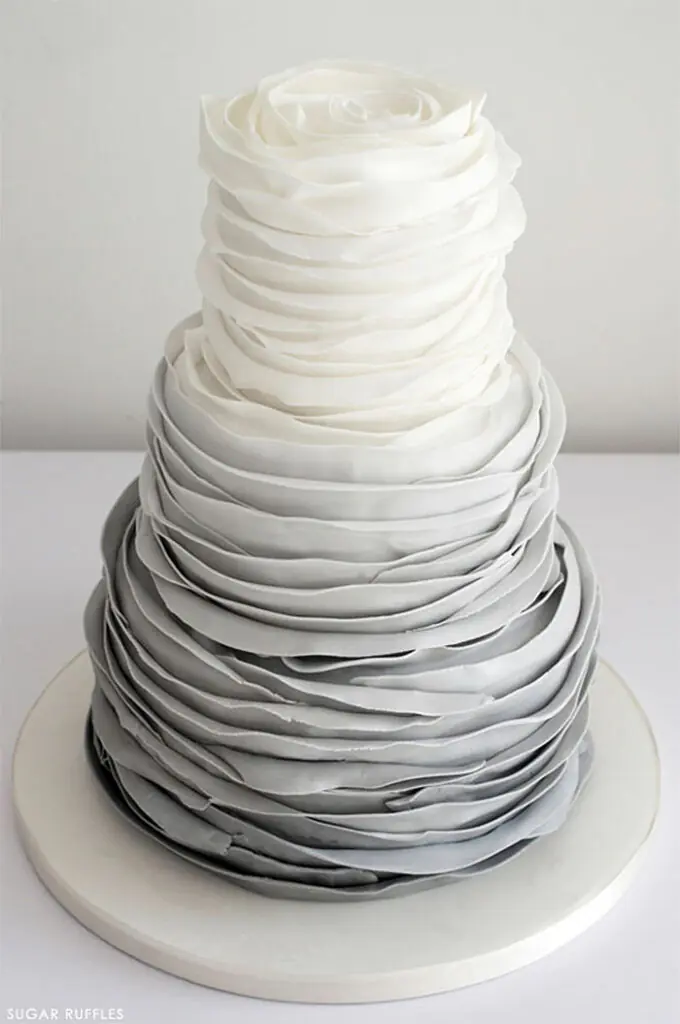 Source: The Stay at Home Mom
So much beautiful icing applied in a sophisticated way. This is a GROWN UP birthday cake!
---
Black Gown Cake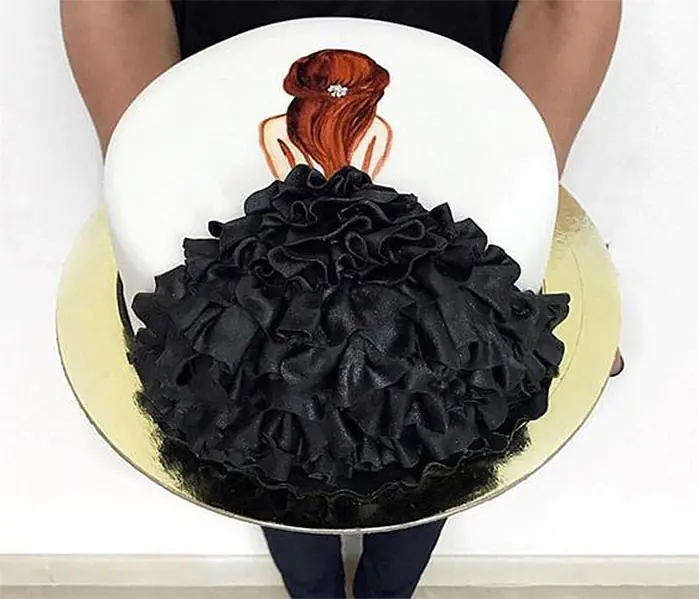 Source: Instagram
A flowing black evening gown made entirely of icing is the primary focus of this amazing cake.
---
Tiffany Blue Ombre Rosette Cake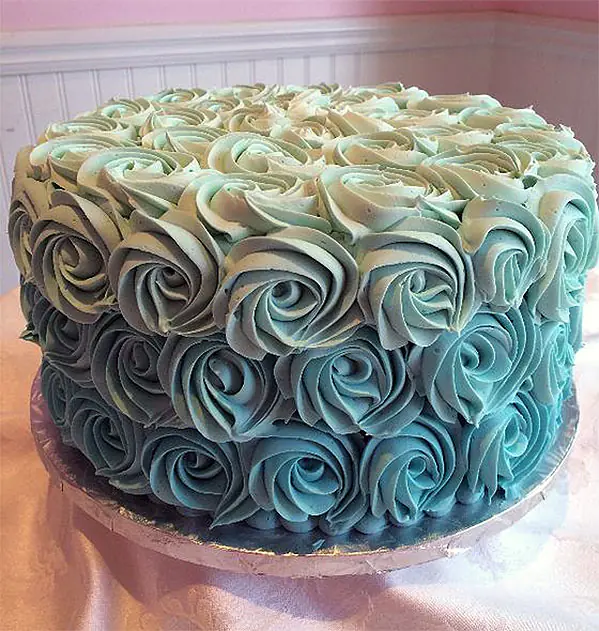 Source: Sweat Pea Cake Studio
So pretty. So elegant.
---
Portrait of a Young Lady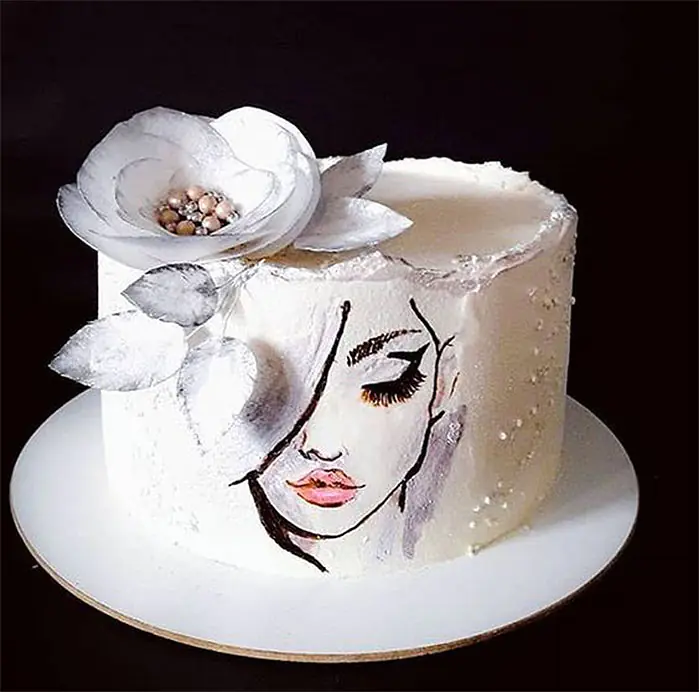 An elegantly drawn portrait creates a beautiful image on the side of the cake, accented by a single flower. It's the perfect way to celebrate a young lady's birthday.
---
KitKat & M&M Cake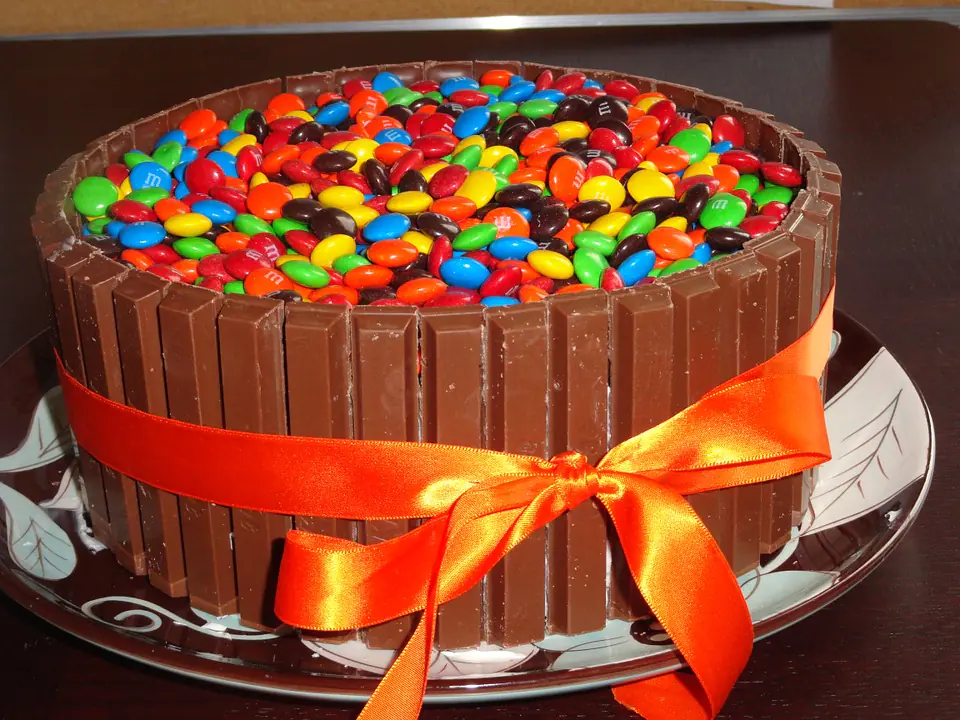 As if cake didn't have enough sugar in it already, this cake goes over the top and around the edges with M&Ms and KitKat pieces surrounding a chocolate cake.
Ok, so maybe this isn't the prettiest cake… but it does look ridiculously fattening!!! And isn't that half the fun??
---
---
Split Open Cakes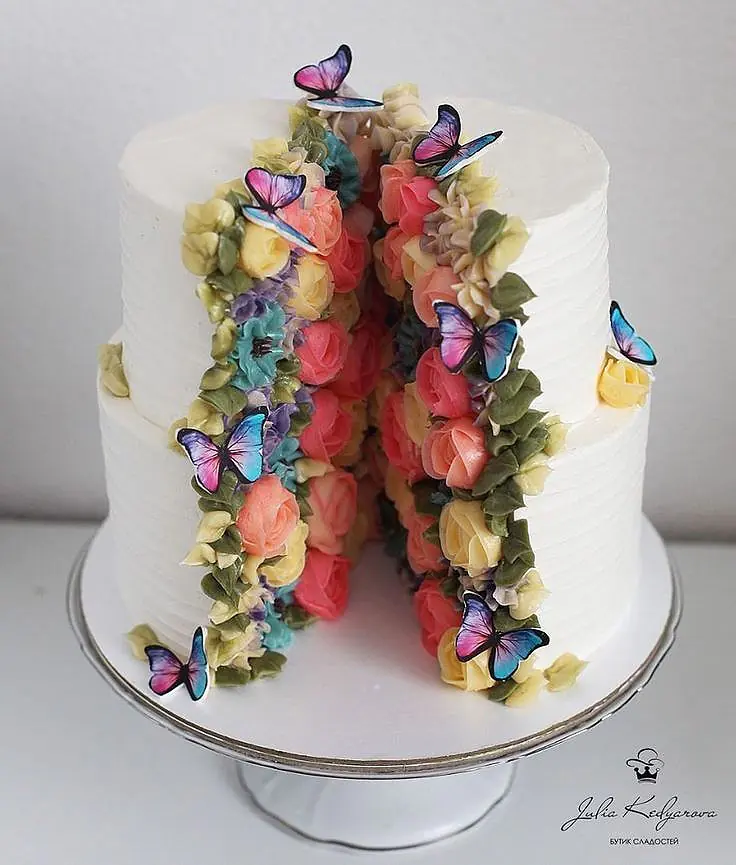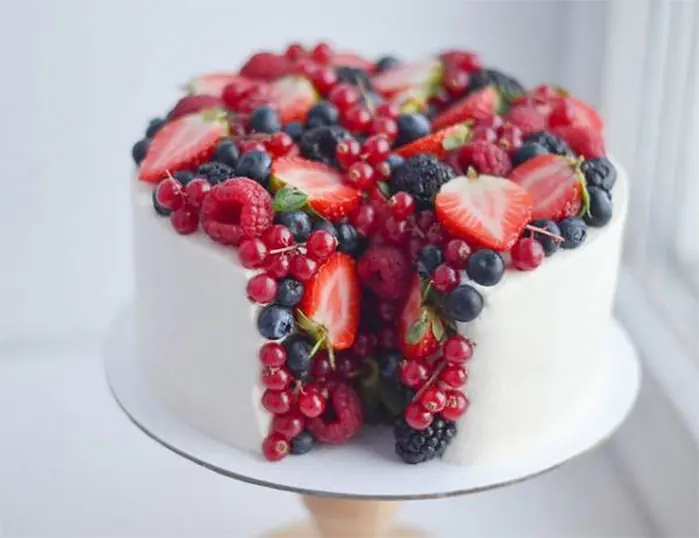 Source: eslamoda
These cakes look like they couldn't possible contain the beauty that was hiding within, so they had no choice but to burst open and display the glory inside.
---
Fluted Chocolate Bundt Cake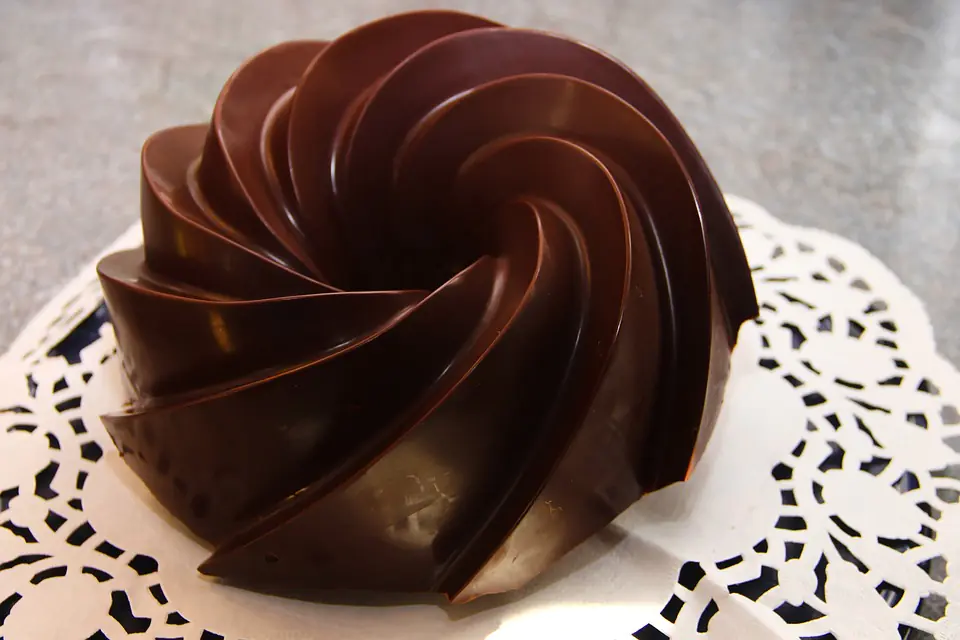 You need a Fluted Bundt Cake pan in order to pull off this particular creation, but it's well worth the investment.
If you want to, you can also create single-serve versions by using the 6 mini-cake fluted pan.
---
Classic Red & White Birthday Cake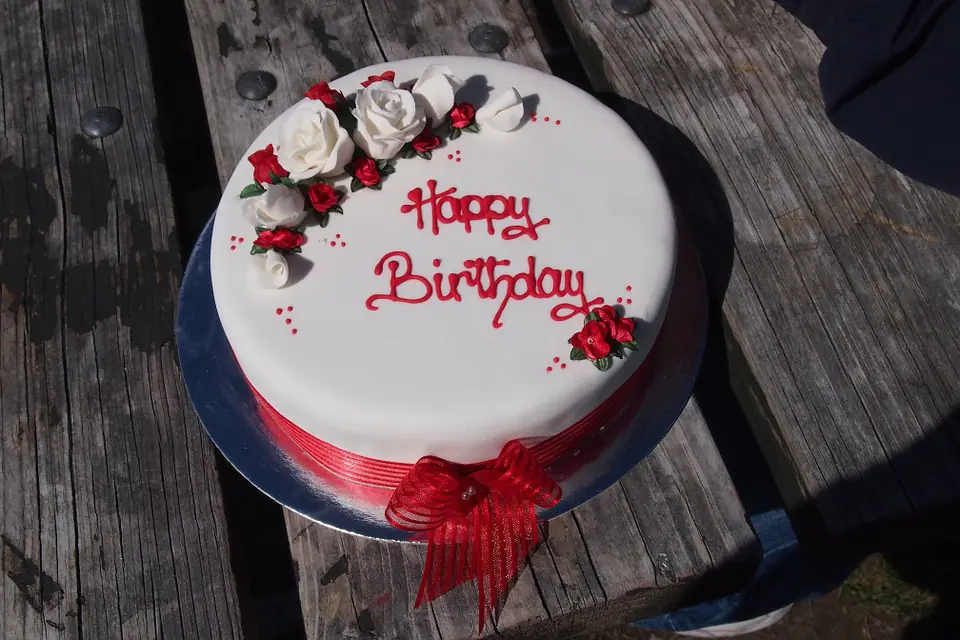 The silky smooth finish of the white ganache frosting contrasts beautifully against the red frosting and red ribbon. Just don't eat the ribbon!
---
Floral Birthday Cake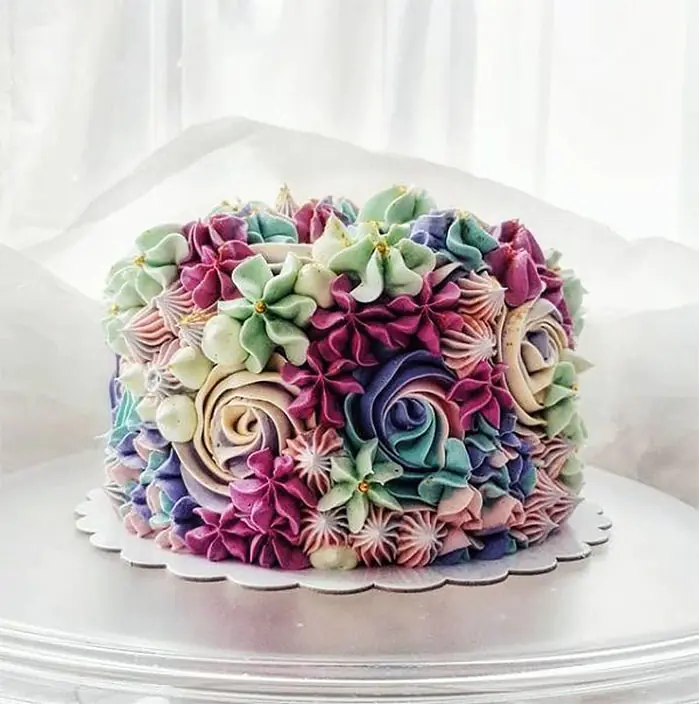 Source: eslamoda
Like a beautiful Summer's day, in cake form.
---
Just Keep Swimming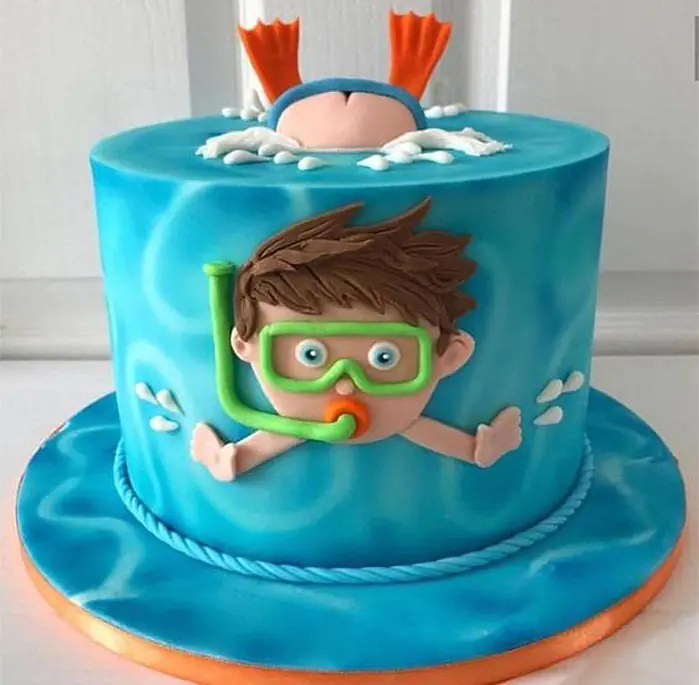 Source: Pinterest.com
It looks like a LOT of work went into this cake, but it is SOOOOO cute, especially for your own littler swimmer.
---
Need More Birthday Cake Ideas for Boys?
Need even more inspiration for possible boy's birthday cakes, we've got you covered like icing on a cake! Granted, these could just as easily be for a girl, why limit yourself!
---
Pink Roses Birthday Cake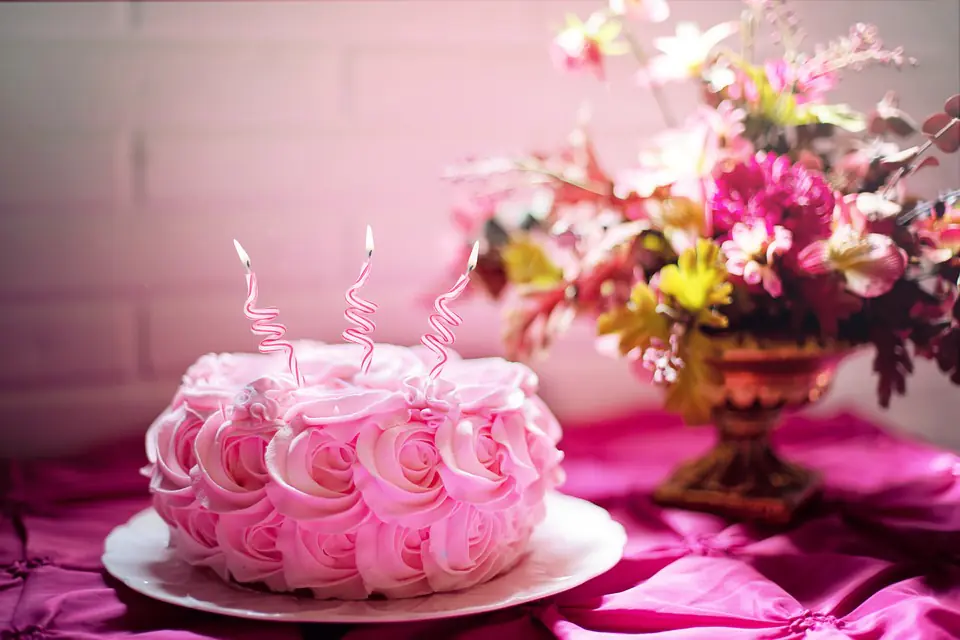 A truly stunning creation with delecate pink roses iced around the entire cake.
---
Rainbow Birthday Cake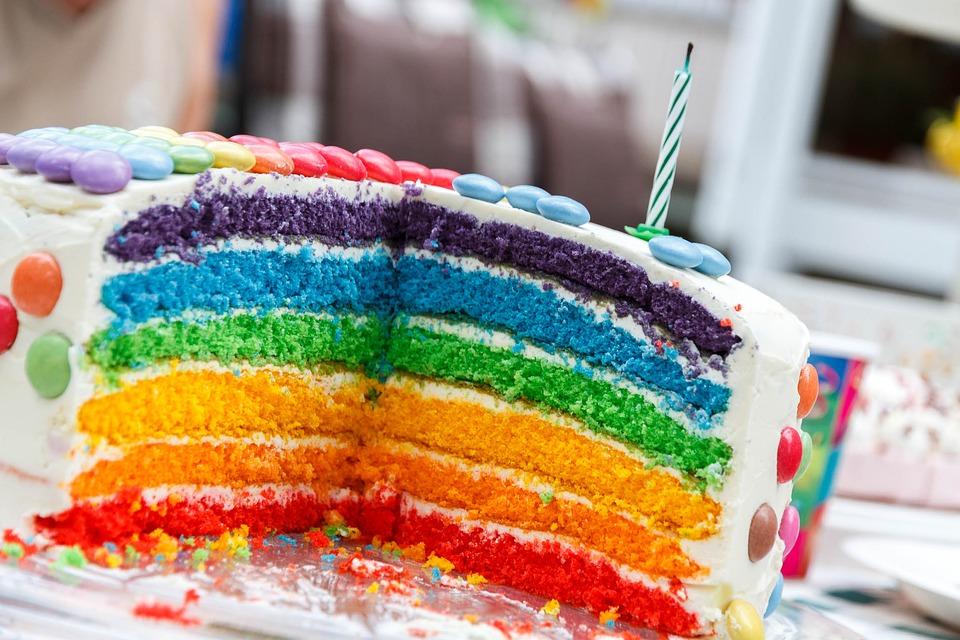 Everybody loves rainbows, and every loves cake (well… almost everybody). Combining the two couldn't be more delicious than in this colorful creation.
---
Rainbows & Butterflies Cake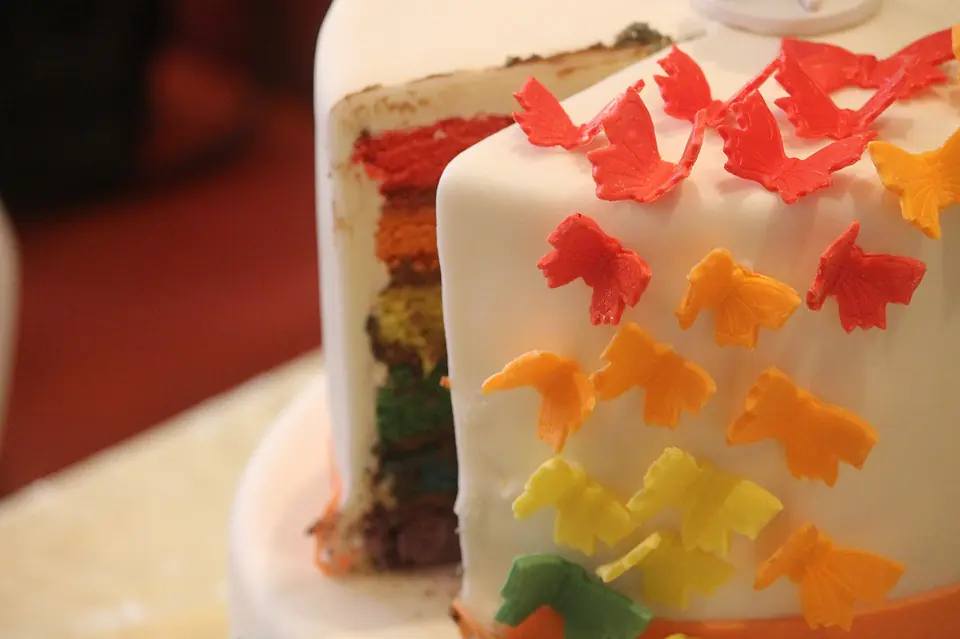 This version of the rainbow birthday cake takes things up a notch by festooning the outside of the cake with delicate and delightful butterflies. You can purchase your own edible butterflies from Amazon.
---
Sushi Roll Birthday Cake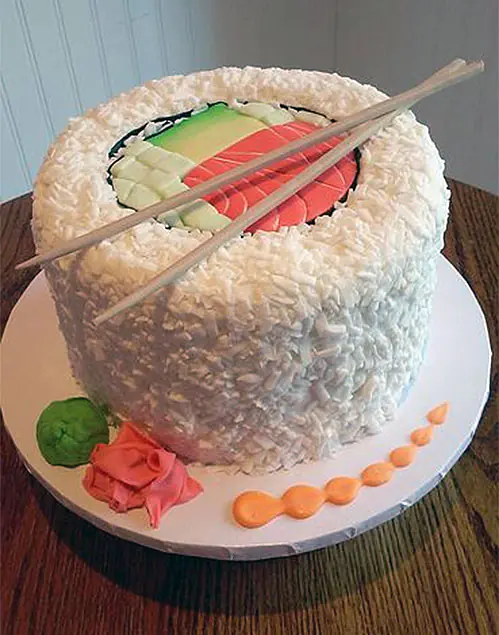 Source: Pinterest.com
I love birthday cake ideas when they look like other things. This clever cake version of a Sushi roll is perfect for the Sushi lover in your life.
---
Perfection in Purple Ombre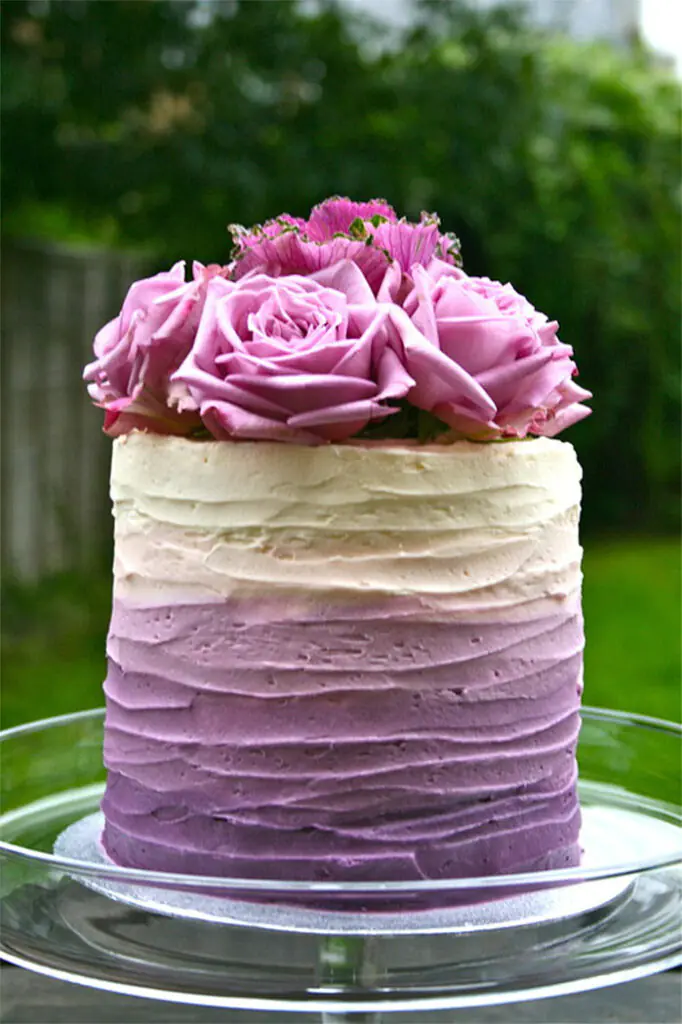 Source: Lady-Aga.com
A beautiful celebration in Purple Ombre, this delightfully decorated confection would make for a super-sophisticated birthday cake.
---
The Birthday Cupcake Tree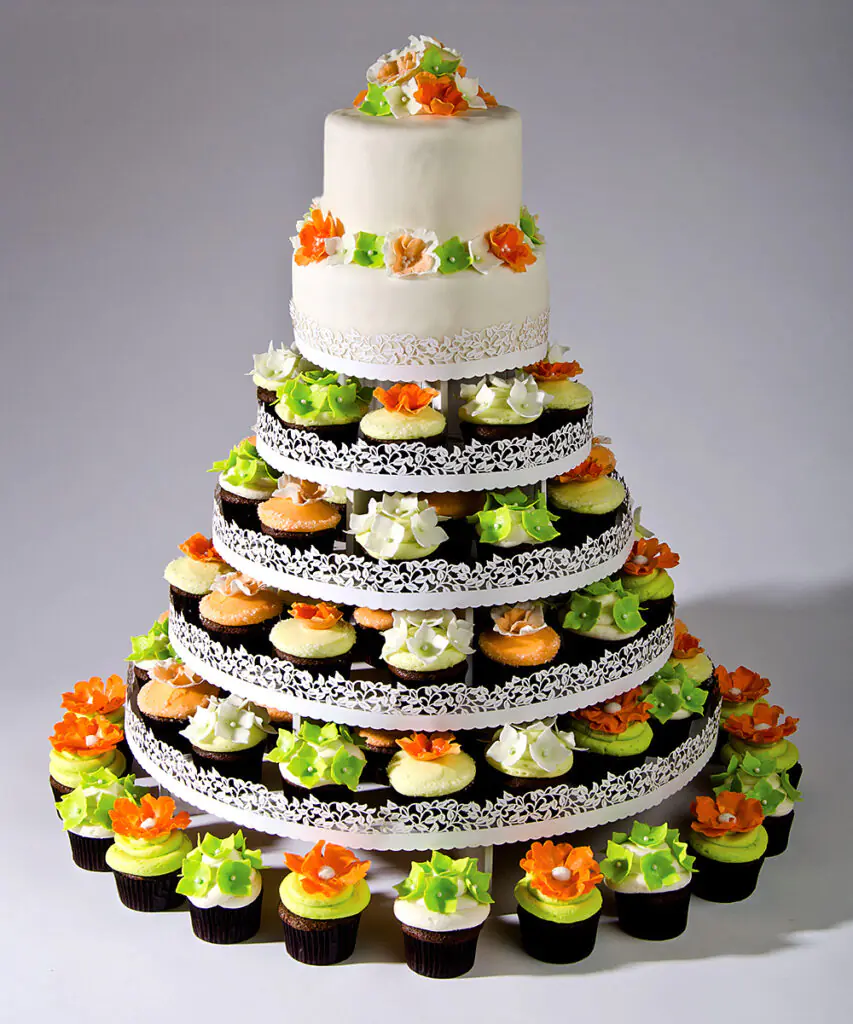 What I love about birthday cupcake trees is their versatility in design and the ease of serving. No need to slice out pieces of cake for each person, simply pull out a cupcake and – voila – your guests are served.
Amazon.com has a large variety of cupcake tree stands that can help make your cupcake tree dreams a reality.
---
Pink and Purple Rosettes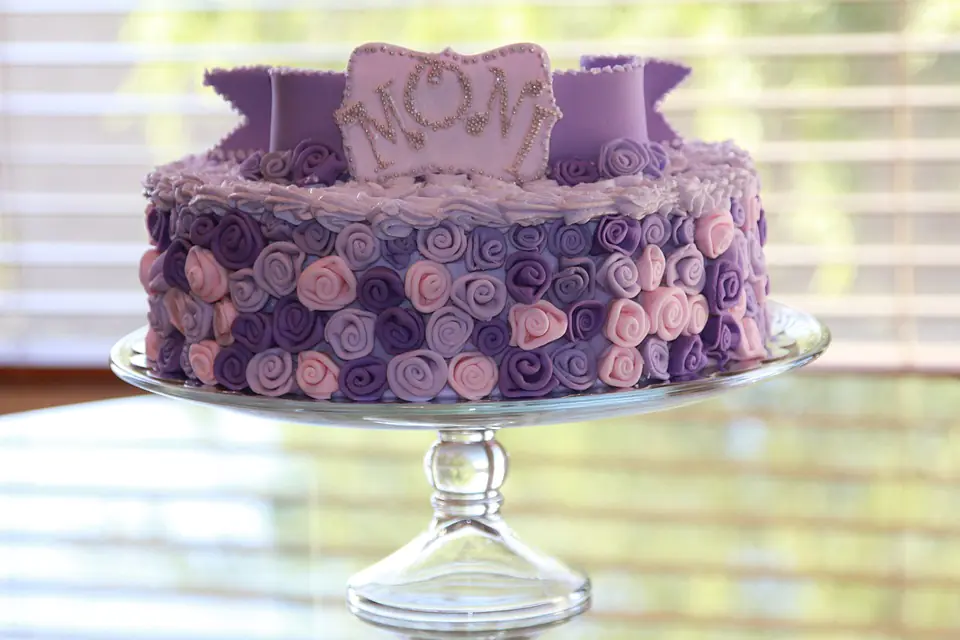 Perfect for Mom, this beautiful and colorful birthday cake looks delicious, fun, and elegant.
---
Marilyn Monroe Cake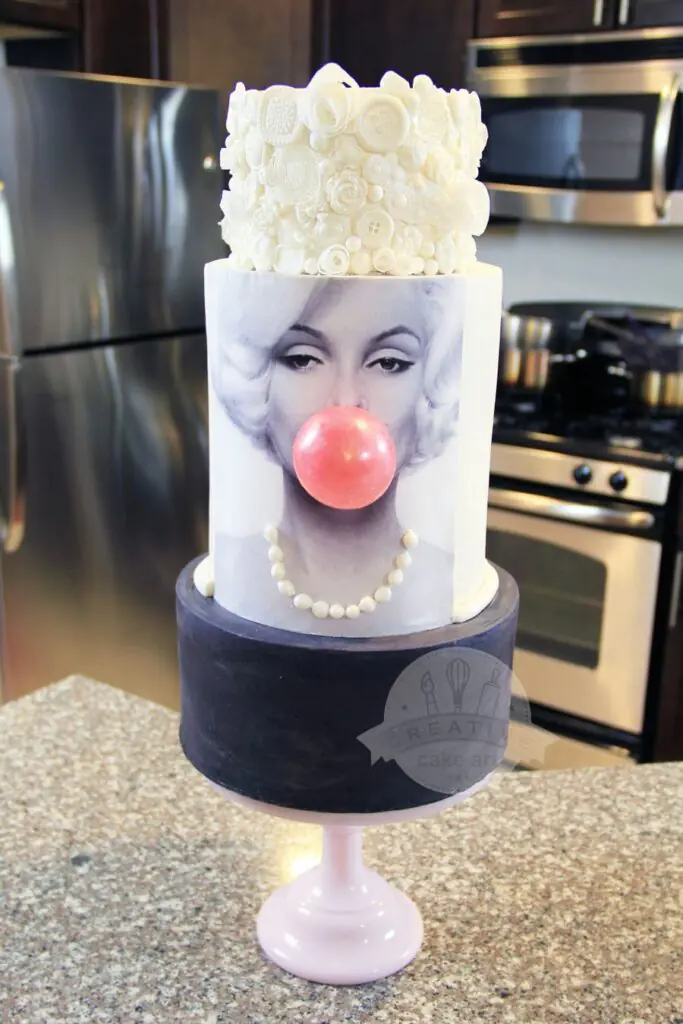 Source: CakeCentral.com
If you love Marilyn Monroe, then you will LOVE this cake. I love the details, from the frilly hat crafted from icing, to the sugary bubble, to the icing pearls. Spectacular!
---
Summer Berry Cake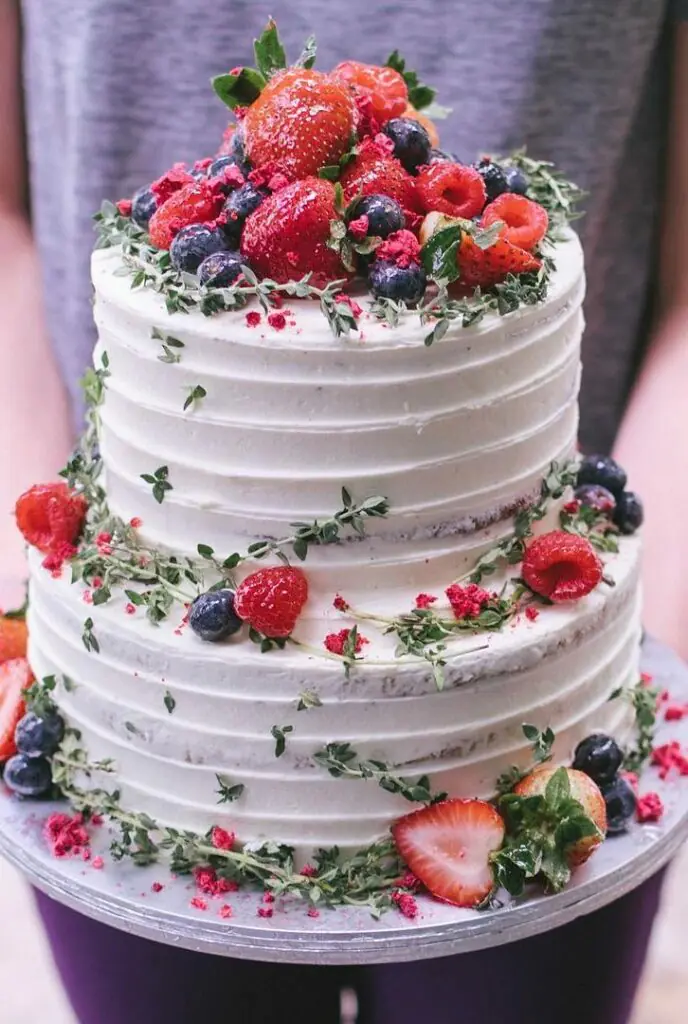 Source: Hot Crochet
Not all of the birthday cake ideas we collected need master-level baking skills to pull off. This summer-inspired cake is easy to make and truly delightful!
---
---
Fairy Tale Fairy House Cake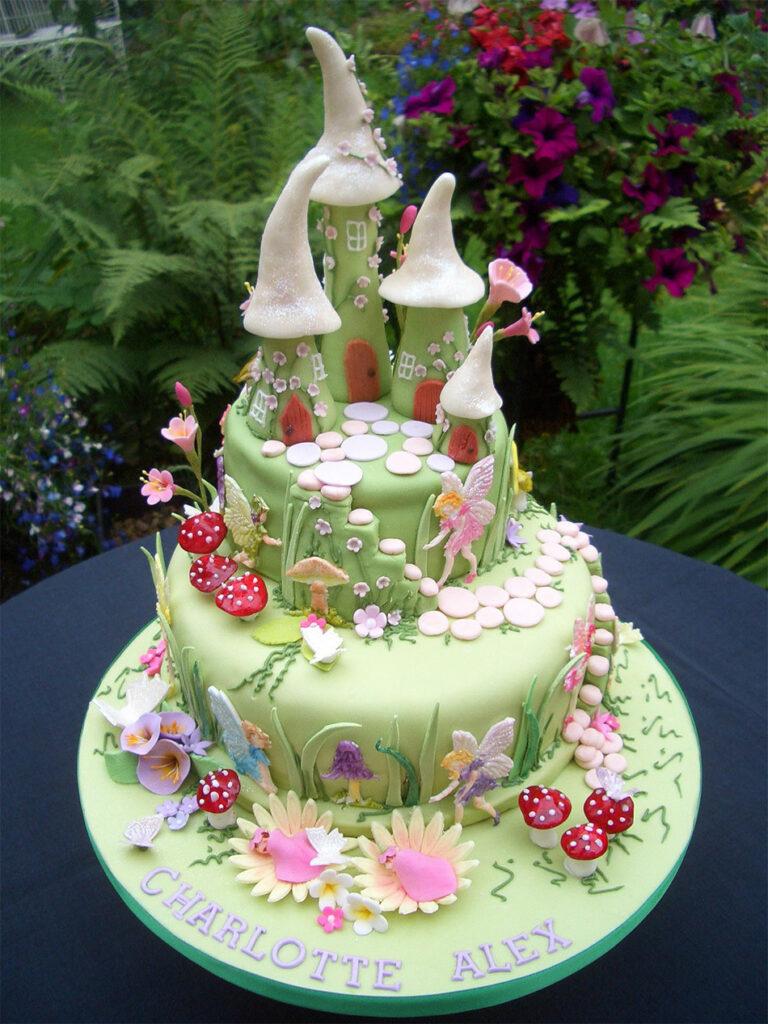 Source: Cakes we Bake
A true fairy tale comes to life with this lively Fairy House Birthday Cake.
---
Elegantly Subdued Gray & Pink Birthday Cake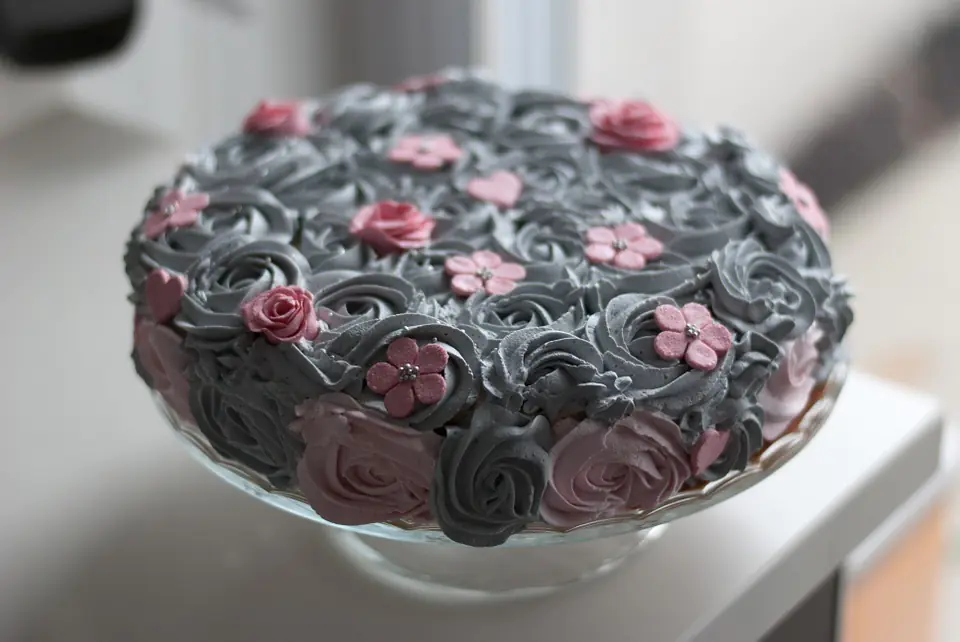 Bucking the traditional bright and lively colors, this beautiful cake takes a bit more of a subdued approach with gray & pink icing.
---
Fashionista Sweet 16 Cake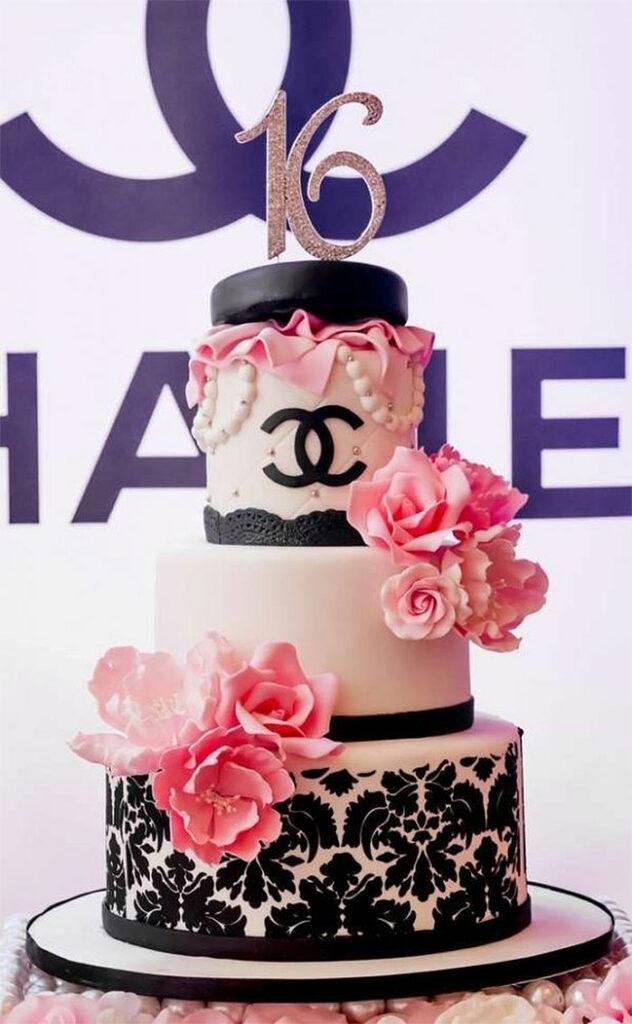 Source: eslamoda
For the fashion-forward Birthday Girl!
---
Mickey Mouse Kids Birthday Cake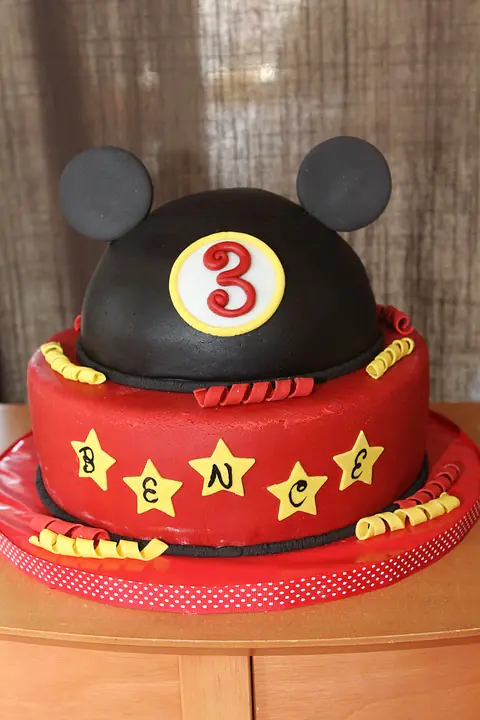 Those unmistakable ears on that unmistakable hat… the perfect birthday cake to help celebrate the birthday of your little Mouseketeer.
---
---
Train Set Kids Birthday Cake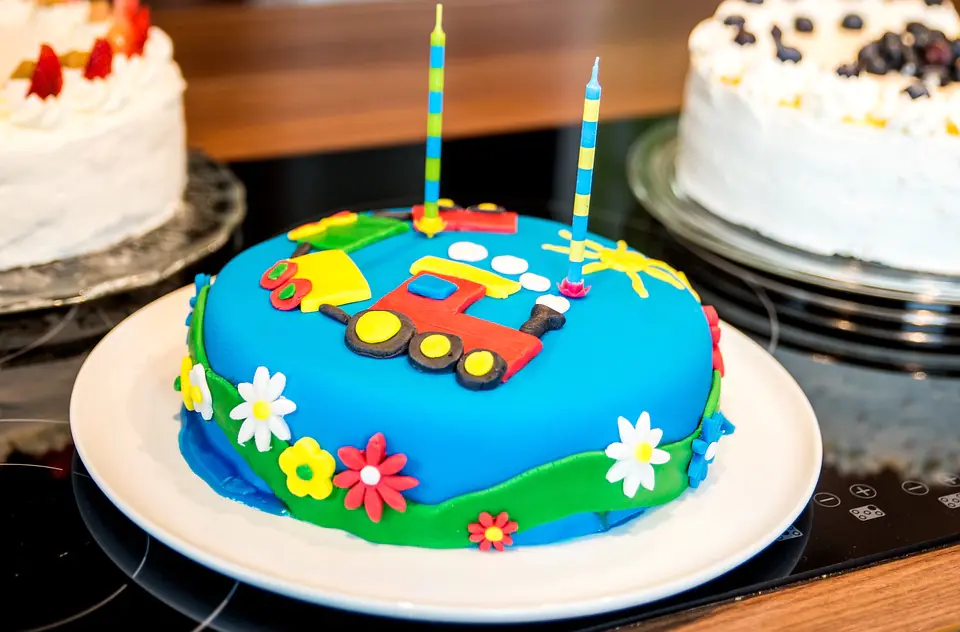 I love the bright, bold, primary colors in this delightfully decorated kids birthday cake. Even the candles seem to fit the theme.
---
---
Pink & White Polka Dot Birthday Cake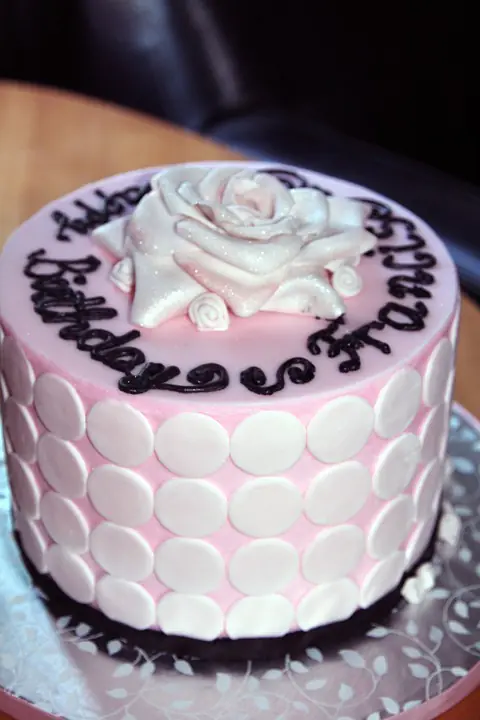 A simple design, but so elegantly executed that we had to include it here. The pink icing, the white polka dots, the black trim & lettering, all finished off by a single blush rose. Perfection on a platter!
Need More Pink Birthday Cake Ideas?
These cakes give whole new meaning to the phrase "Pretty in Pink, and so darn delicious too!" Ok, maybe that second part isn't part of the original phrase, but it soon will be!
---
Pink Easter Lilies Cake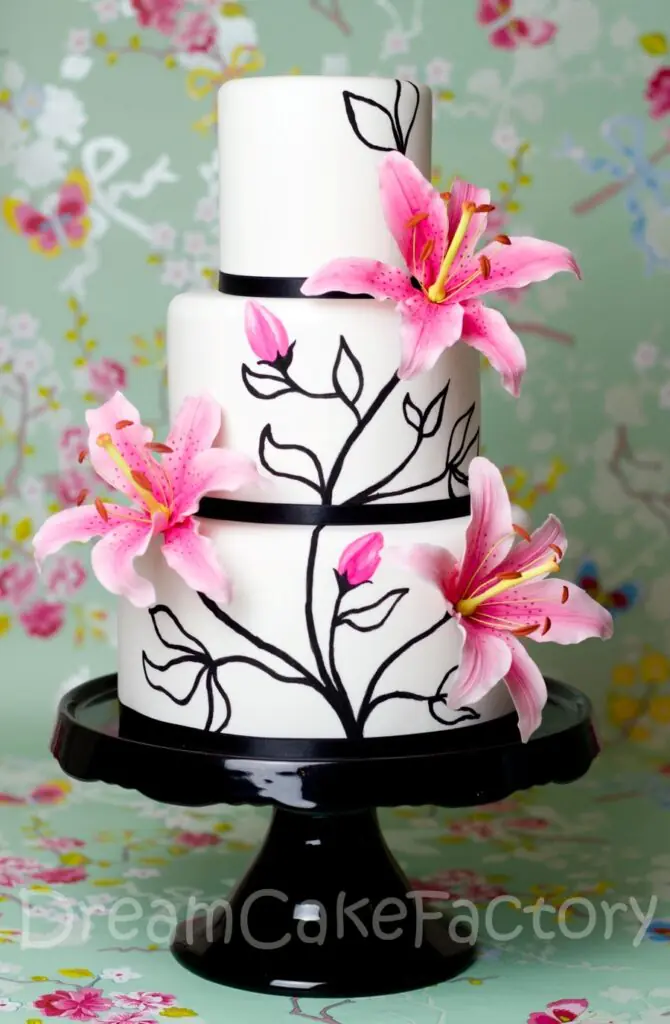 Source: CakeCentral.com
When beautiful birthday cakes and nature combine, you get a glorious piece of edible art. This hand-painted white cake is adorned with live Easter Lilies to create a truly beautiful cake.
---
Alice in Wonderland Tea Party Cake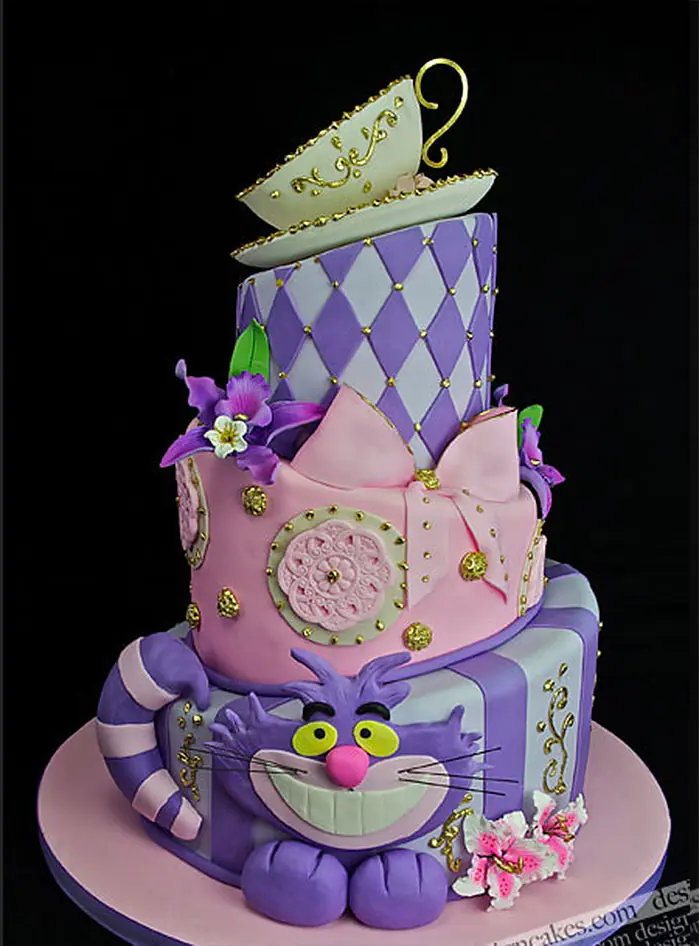 A delightful kid's birthday cake with iconic images from Alice in Wonderland's famous tea party.
---
Cappuccino Swirl Cake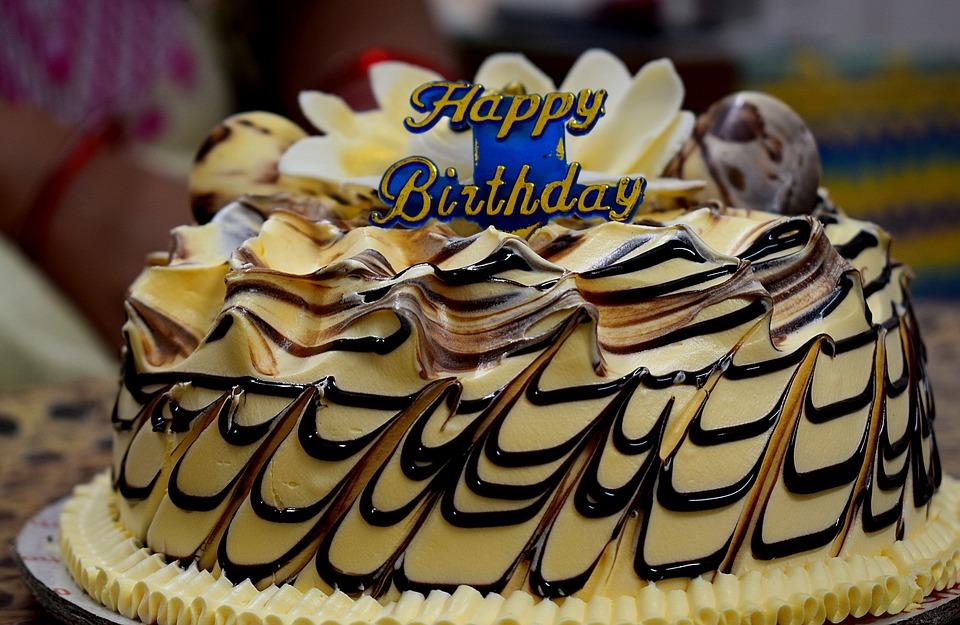 This cake LOOKS like a deliciously crafted cappuccino from your favorite barista. We hope it tastes as good as it looks!
---
Stacked Boxes Birthday Cake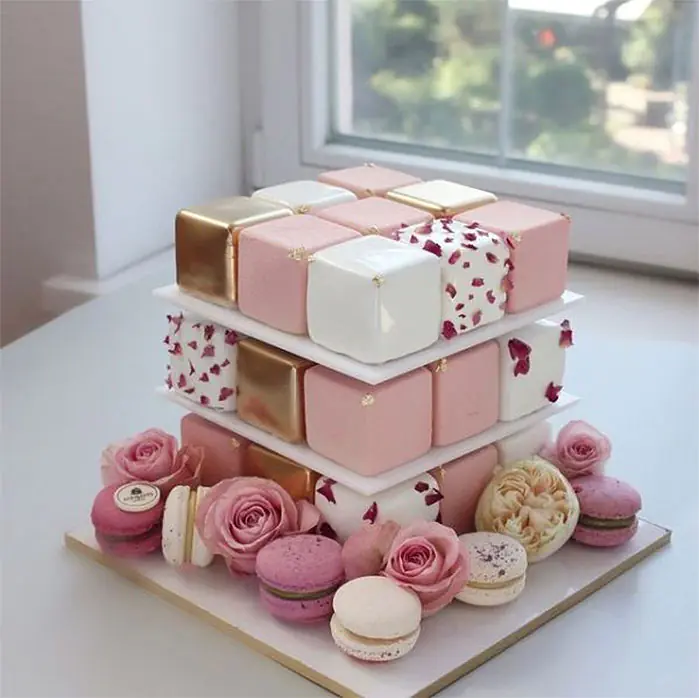 Source: eslamoda
Individual pieces of cake are frosted and decorated to look like tiny gift boxes. So pretty, and easy to serve!
---
Monkey Cupcake Tree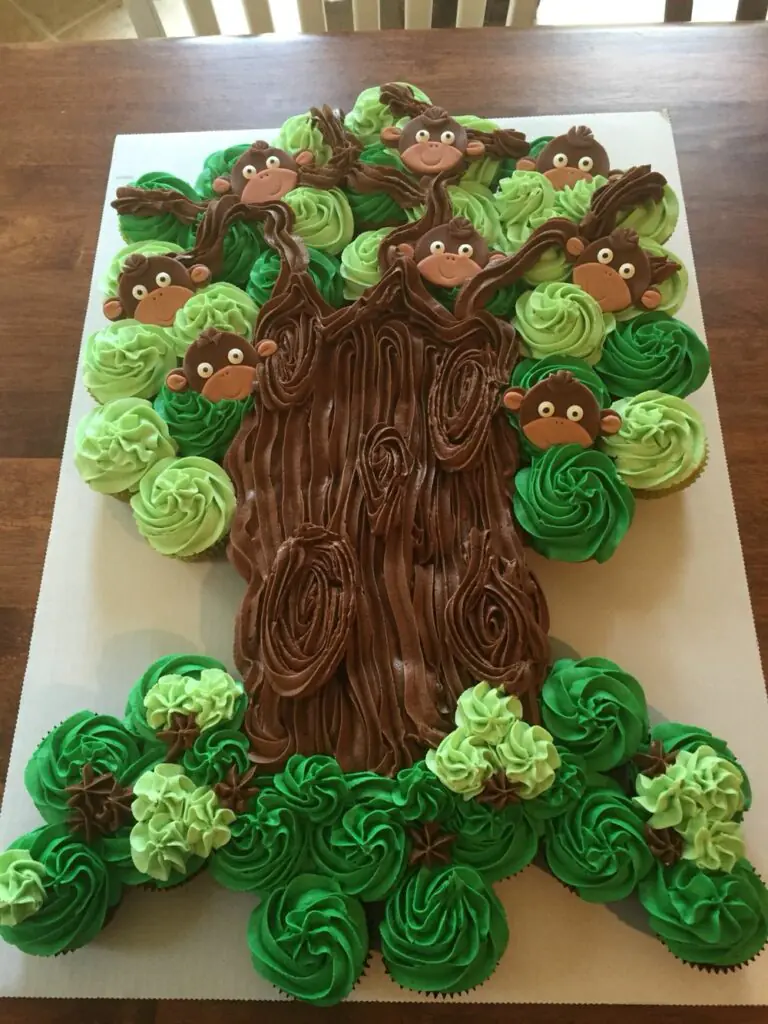 Source: Pinterest
This cupcake tree is – literally – a tree. Perfect for a kids birthday party, or anyone who is still a kid at heart.
---
Square Naked Rainbow Cake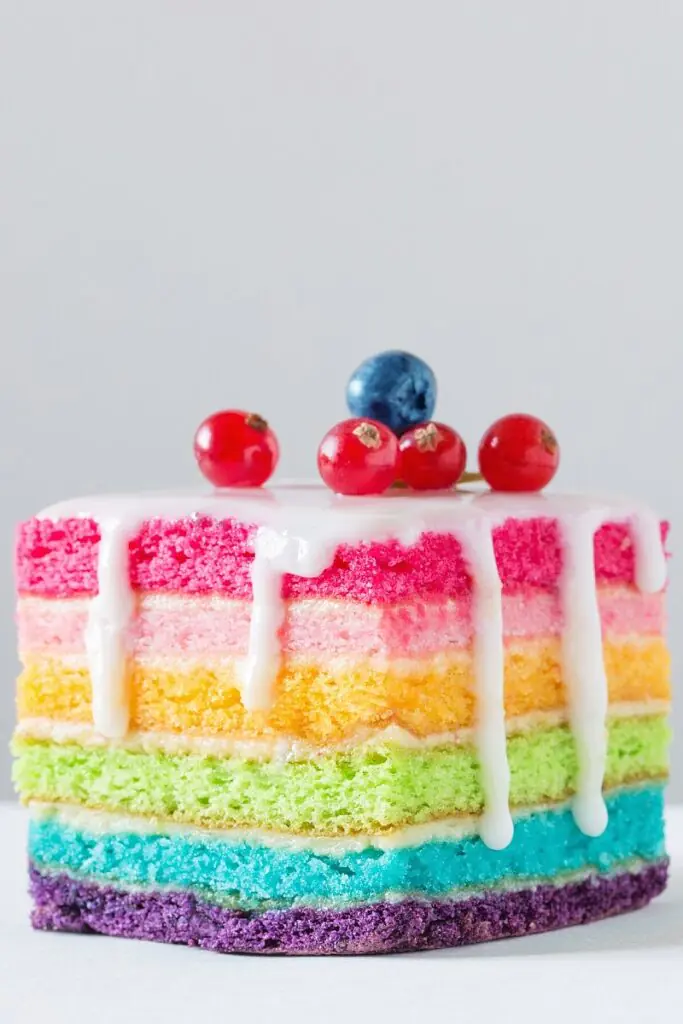 This naked birthday cake allows the colors of each individual layer in the rainbow to shine through. Accented with some vanilla drizzle icing and some colorful berries.
---
Need More Rainbow Birthday Cake Ideas?
No need to search for a pot of gold at the end of the rainbow, this pot of rainbow cakes is pure gold!
---
Cinderella's Coach Birthday Cake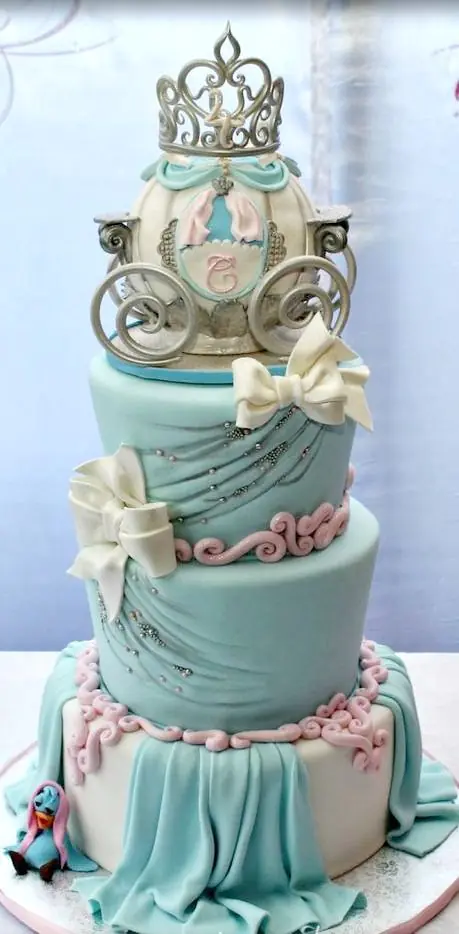 Source: Sandra's Cakes
Make your little Princess' dreams come true with this glorious birthday cake featuring the coach Cinderella takes to go to the ball
---
Disney Princess Birthday Cake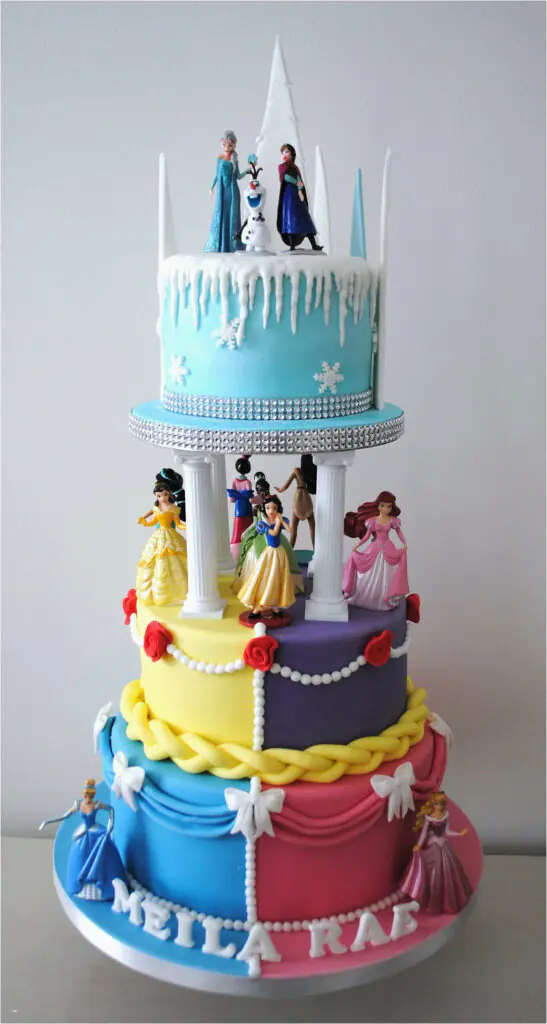 If Cinderella isn't your litter girl's cup of tea (or piece of cake), fear not… as there are plenty of other Disney Princess beautiful birthday cakes to choose from.
Source: 25 Amazing Disney Princess Cakes that You Have to See to Believe
---
---
Wonderful Wilderness Cake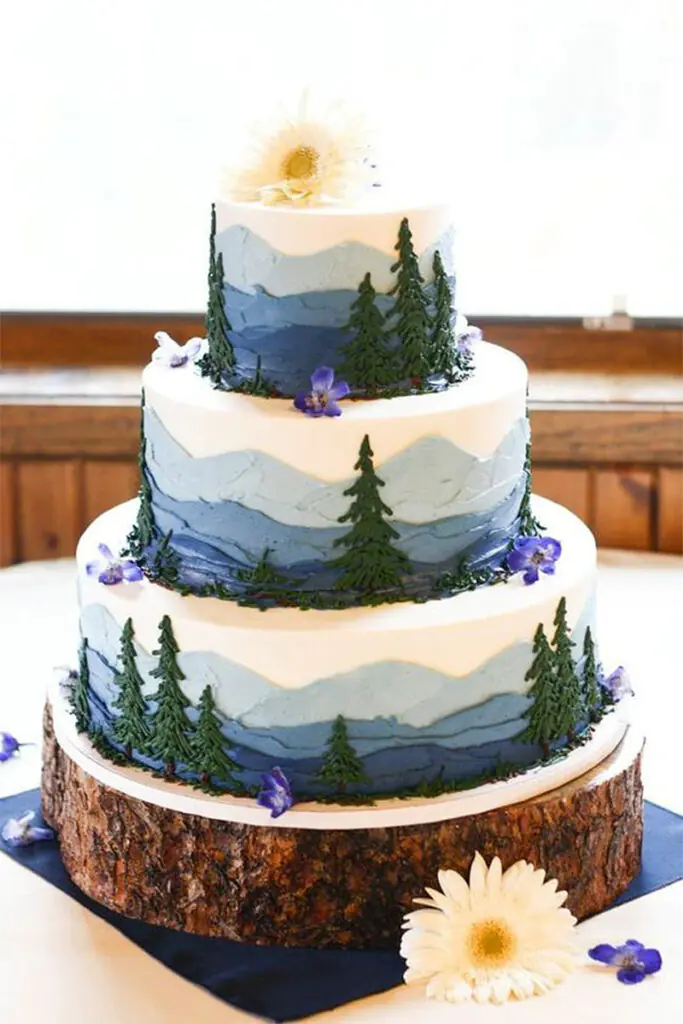 Source: Pinterest.com
For that outdoorsy person, this beautiful birthday cake features a woodland scene complete with mountain ranges and pine trees. All served up on a rustic wooden platter.
---
High Heel Shoe Birthday Cake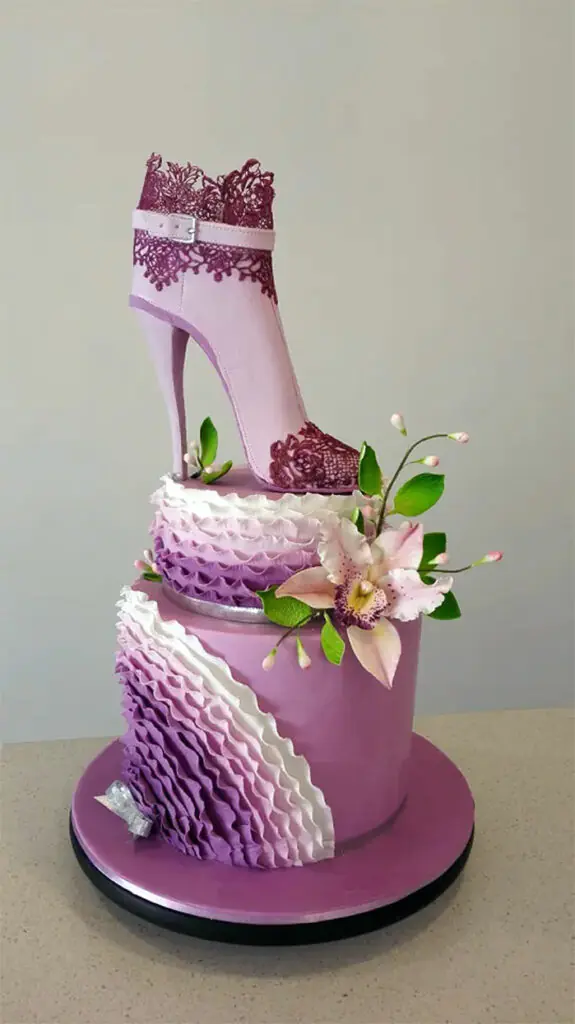 Source: CakesDecor.com
For the fashionista (or shoe lover) in your life, this cake is pure perfection!
---
---
A Cake Filled with Love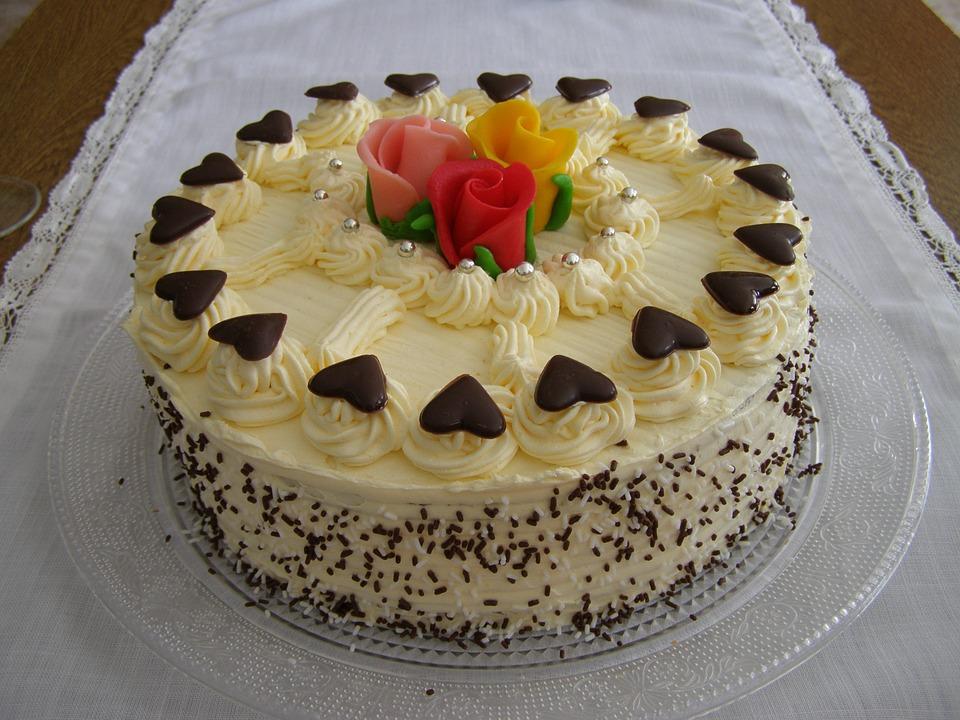 This design falls into the "slightly easier to make" category. Not that I think I could accomplish this design, but most people probably could. Maybe.
I do love the little chocolate hearts around the outside. So simple, but so sweet… in more ways than one.
---
Cougar 50th Birthday Cake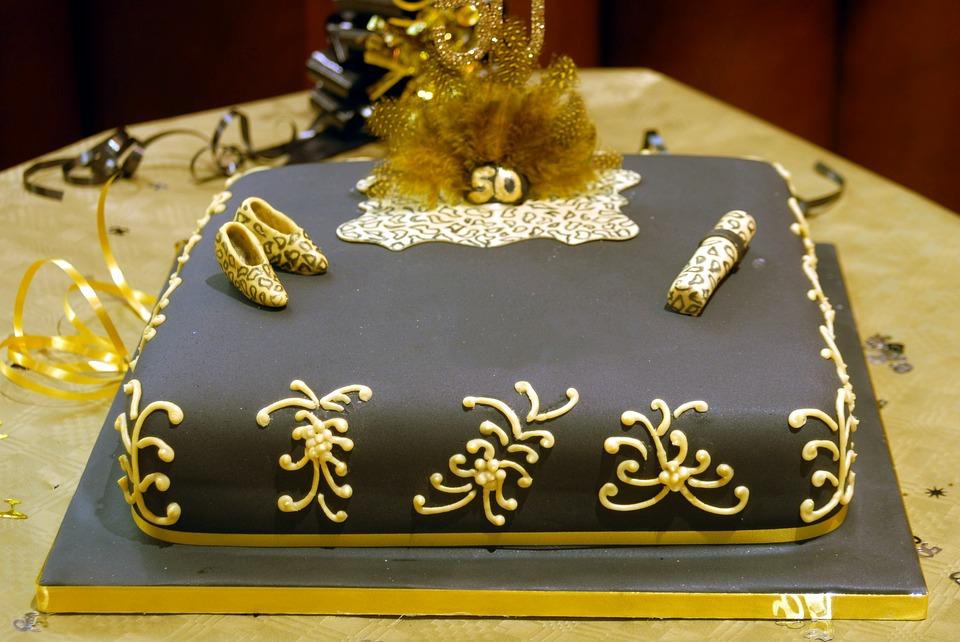 Elegantly designed with some fun accents that help celebrate the Life of a Cougar.
Twists on this could be done to play up (or down) the Cougar aspects of this design.
---
Funny 50th Birthday Cake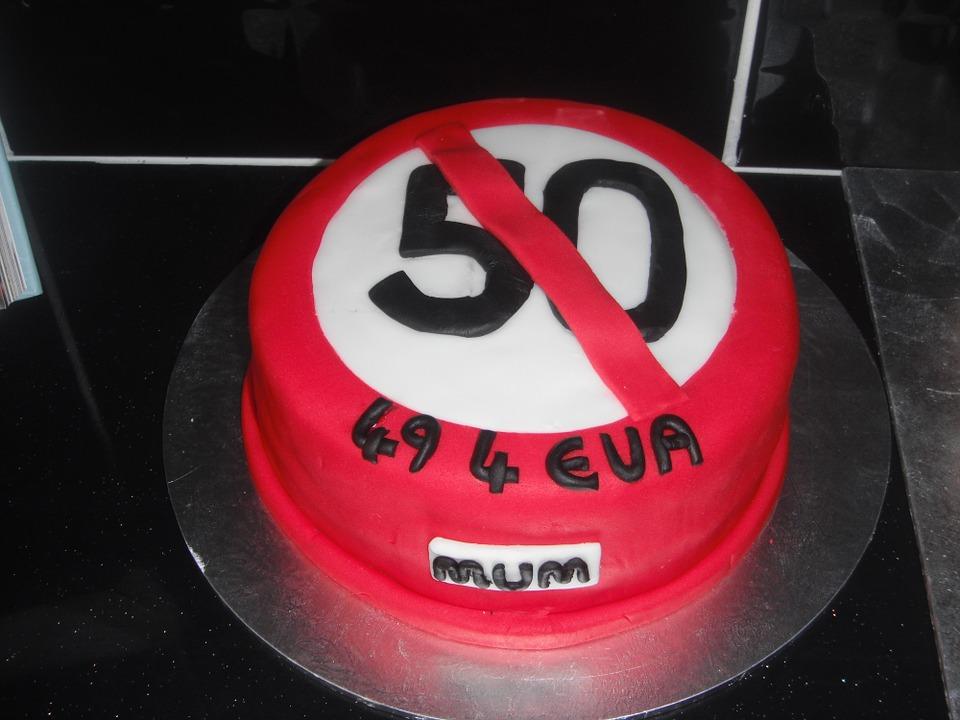 For those who refuse to 'grow old gracefully', this whimsical design refuses to celebrate 50 and – instead – lets the birthday gal (or guy) stay 49 "4 EVA".
---
Single Serve Birthday Cake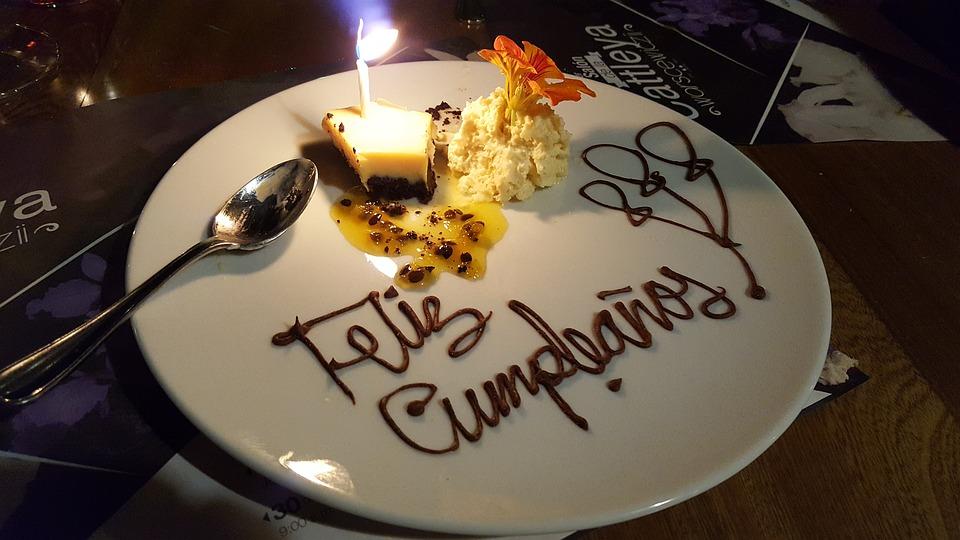 For a sophisticated twist or a diet-friendly twist, try serving a small piece of decadent cake on a decorated plate. Just as much celebration, far fewer calories.
---
Geometry Lover's Cake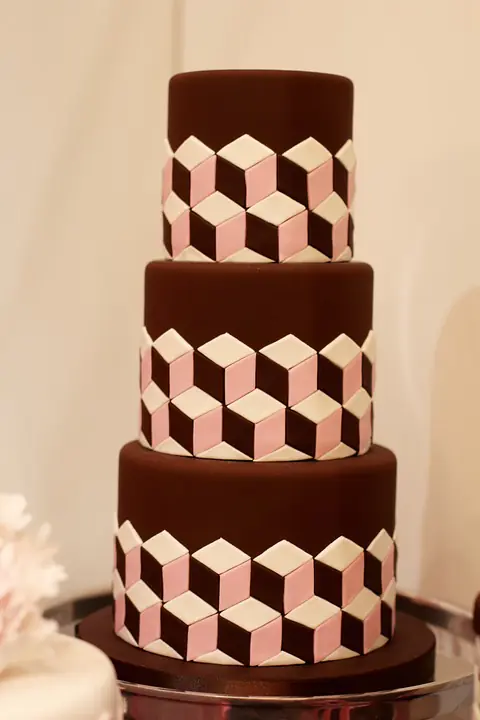 This intricately detailed chocolate cake uses skillfully applied geometric blocks in chocolate and white icing to create a very dramatic effect.
---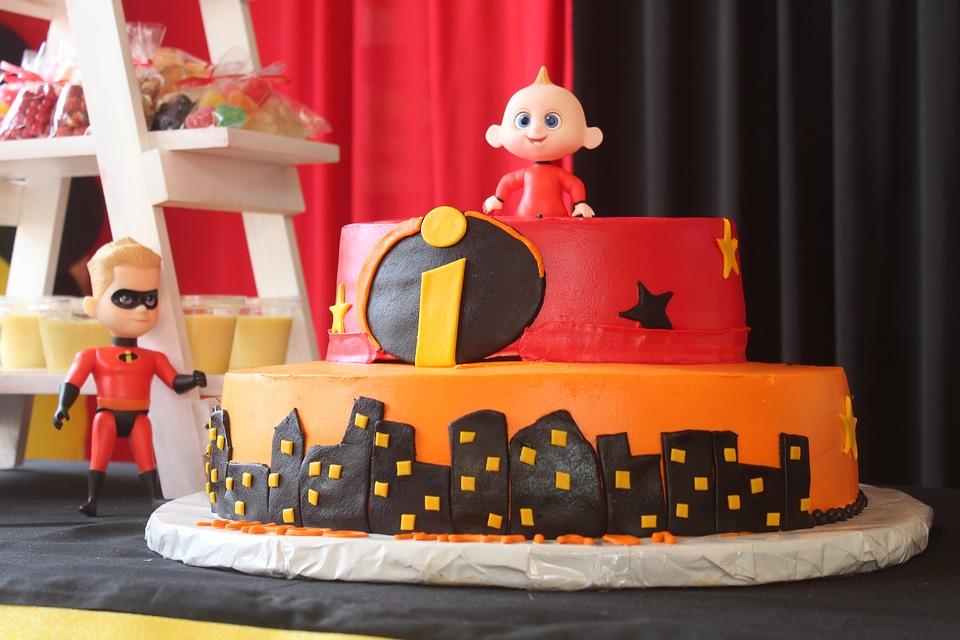 Based on the Pixar studies blockbuster hit, this Incredibles-themed cake is sure to please.
---
---
Spiderman Kids Birthday Cake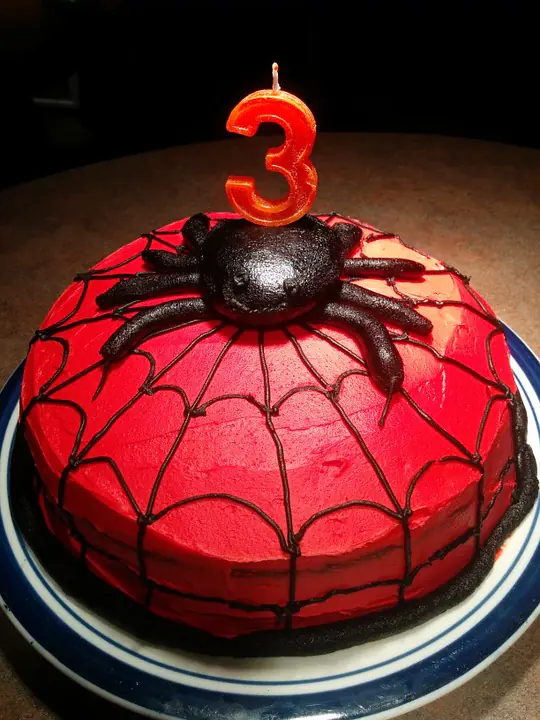 Another super-hero-themed cake that is sure to be a hit with the little ones, this ooey-gooey Spiderman cake looks delicious, even if you are eating a REALLY BIG SPIDER!
---
Princess Crown Birthday Cake
The crowning glory of our collection of Beautiful Birthday Cakes, quite literally, is this beautiful Princess crown birthday cake. It almost looks to beautiful to eat.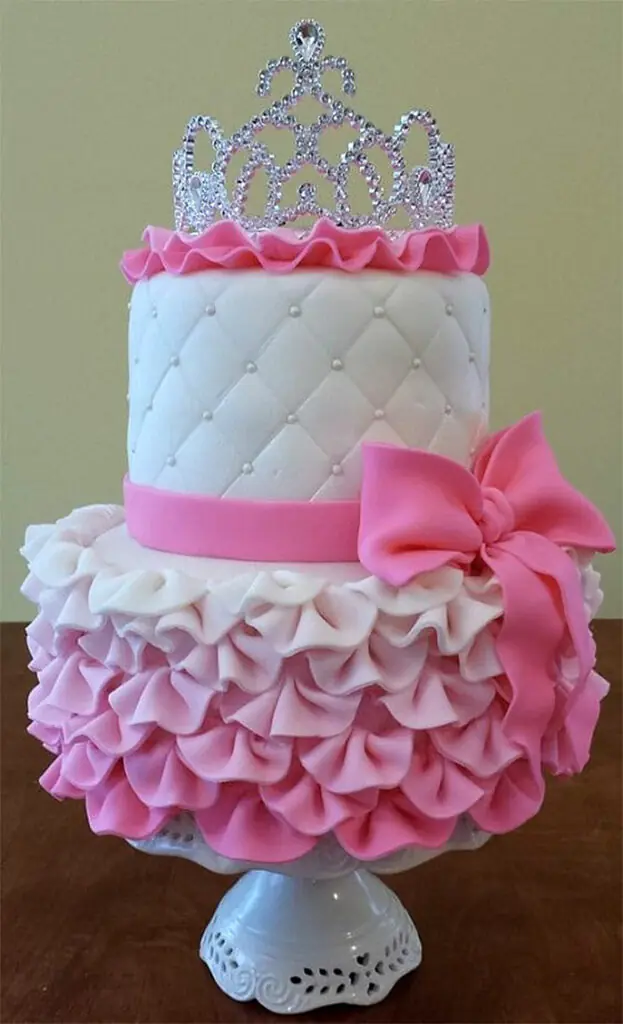 Source: The Whoot
---
Topping the Cake with the Perfect Gift
Now that you have that beautiful birthday cake well in hand, make sure you check out our collection of unique gifts to find that perfect something for that perfect someone.
Birthday Cake FAQs
What are the most popular birthday cake flavors?
Vanilla and Chocolate remain the most popular birthday cake flavors, however, Red Velvet and Salted Caramel have gained significant popularity over the last few years.
What is the history of birthday cakes?
Birthday cakes date all the way back to the Greeks, who would make cakes to honor the moon goddess Artemis. The candles were intended to represent the moon's glow, while the smoke from the lit candles would carry wishes to the various Greek Gods.
How long does a birthday cake stay fresh?
It depends on the cake. Standard bakery cakes can stay fresh for a couple of days (up to 4 if refrigerated). Those with fresh fruit don't tend to last as long and MUST be refrigerated. Cake with whipped cream will only last 1 – 2 days, even in the fridge, so make sure you eat that quickly!
Can I freeze the leftover birthday cake?
Most birthday cakes can be frozen for enjoyment later. Although I do find that ones with fresh fruit, specialty icing, or whip cream do not thaw out as nicely. But just because you can, doesn't mean you should… enjoy your cake now! 🙂
Can a birthday cake be left out on the counter, or do they always need to be refrigerated?
Most cakes with standard buttercream frosting can be left out for 24 hours, as long as your home temperature is well regulated (around 72° F). However, cakes with other types of frosting, such as cream cheese frosting, can be left out for a short period of time but should be refrigerated beyond that.
Is Red Velvet cake just chocolate cake with food coloring?
Not quite. Yes, a lot of the "red" you see in today's Red Velvet cakes is based on food coloring. However, although both Chocolate and Red Velvet cakes rely on cocoa as a base, Red Velvet cake also uses a unique combination of buttermilk & vinegar that create a softer, richer cake than standard Chocolate cakes. In the end, they are similar – like cousins – but not the same.