When creating that retro look for your home, finding the right mix of retro home decor items is critical. Whether your overall look is themed to the 50s, 60s, 70s, or 80s, creating that perfect installation of retro furniture, lighting, and decor accents can make for a magical space in your home.
The real trick with retro home decor is to create a look that is purposeful "Retro" and doesn't just look "Old" or "Outdated".  In order to find that perfect balance, here are 6 Simple Steps to help achieve an awesome retro look.
STEP 1: Selecting Retro Furniture
When selecting retro furniture to suit your retro home decor project, you can either go TRULY retro by searching through various Thrift Shops, garage and yard sales, or online classifieds… or you can pick up some retro-style furniture, which maintains the classic styling of gone-by eras, but with modern materials and craftsmanship.
There are advantages and disadvantages to each, and it really depends on how true you want to be to recreating a retro home or simply infusing the essence of that decor style.
Keep in mind, of course, that some things simply can not (or should not) be vintage, even in a retro home. No matter how cool it might look, a 1960s TV set is not going to give you the viewing options of today's modern, flat-screen TVs.
Here are a few of our favorite Retro Style furniture pieces, available at Wayfair.com.
---
STEP 2: Selecting the right Retro Colors
It's a LOT easier to find paint to match your major furniture pieces than it is to find retro furniture to match your selected paint colors, which is why we suggest choosing your paint colors second.
If you're going for a 50s style home, look at pastel color schemes, as these were among the most popular across most of 1950s decor. Mint Green, Pale Yellow, Lilac, and Chartreuse were among the most common of these color choices, particularly in bathrooms and kitchens, whereas turquoise, classic grey, and pastel blue were commonly found in living rooms, parlors, and bedrooms.
Sherwin Williams names these as being THE most popular colors for the 1950s home.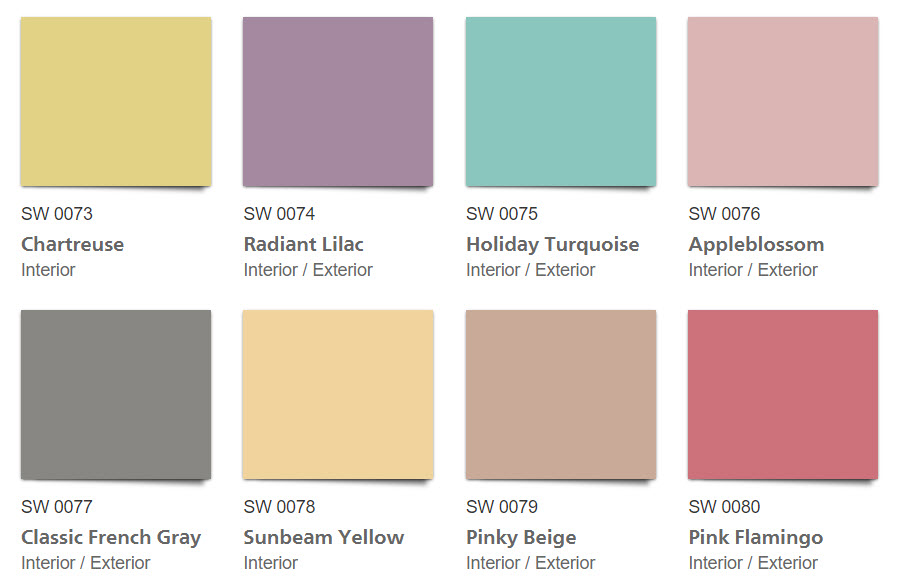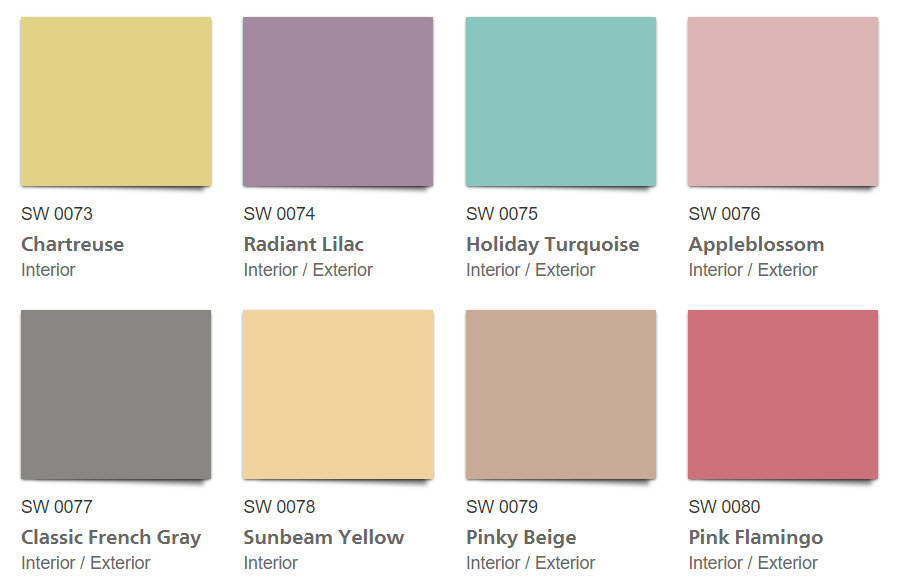 In the 60s, colors became much more vibrant.  Bright, modern, and psychedelic colors were often chosen, with paisley patterns, mod graphics, and clashing colors used to increase the overall impact. Black and white also makes a statement during this decade with super groovy op art and geometric patterns. According to the Retro Planet Blog, combinations such as fuchsia pink and tangerine orange were placed side-by-side in order to create maximum impact for a striking, provocative look.
Here's a look at the Sherwin Williams picks for the most popular color choices from the 1960s.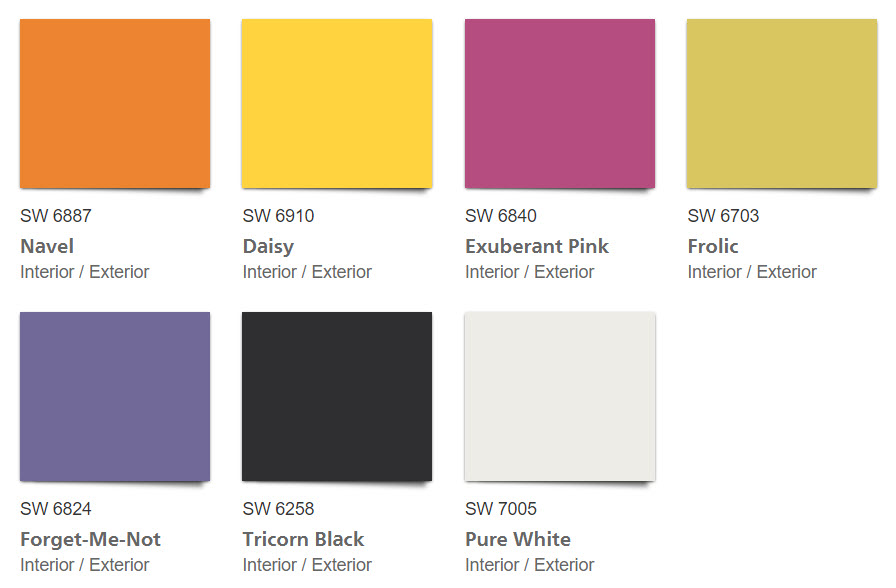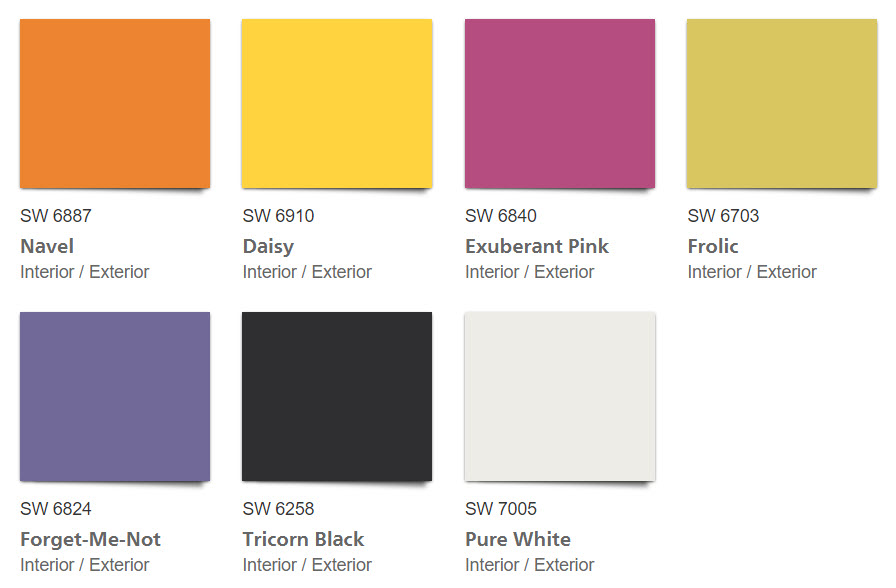 As the world moved into the 1970s, Earth Tones began to dominate the home decor color palette.  Beige, rust, avocado, harvest gold, mustard yellow, earthy brown play together in patterns and solids. Appliances take on these colors as well. Hugely popular color combinations included bright green and blue, pink and purple, yellow and orange, as well as classic black and white.
For the 70s, home, the most popular colors – according to Sherwin Williams were: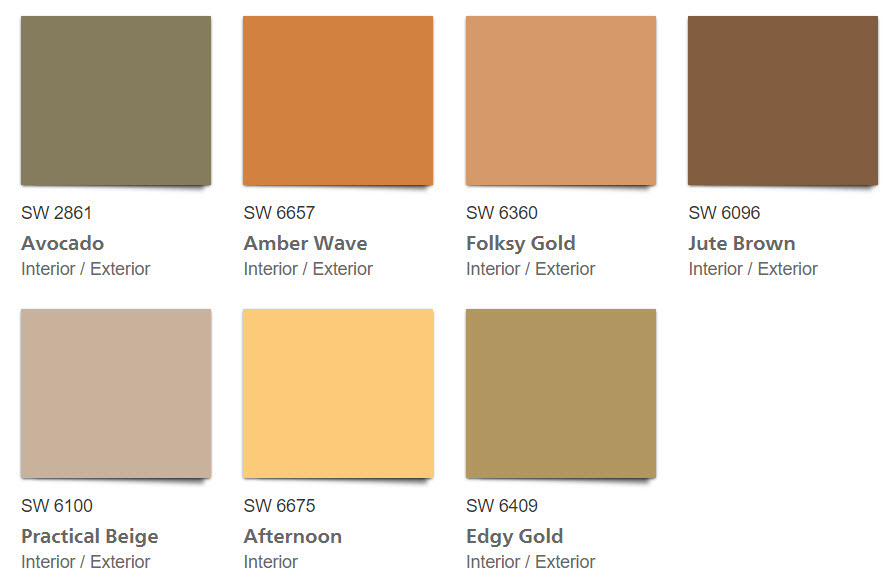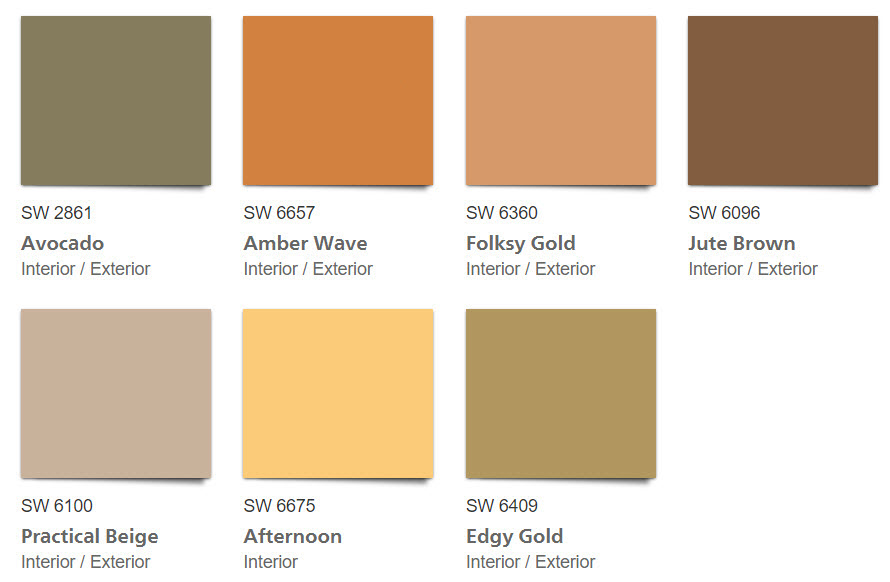 Things take a turn to the Mauve in classic 80s paint colors. What has been described as "the mauving of America" by Sherwin Williams goes into full, big-haired, shoulder-padded swing in the 80s, often coordinated with baby blue or various shades of gray. By the mid-80s, the Miami Vice effect had begun to take over and pastels begin to dominate again, but a different set of pastels as what was common back in the 50s.
These trends are represented in that decade's top color picks, according to the paint experts at Sherwin Williams.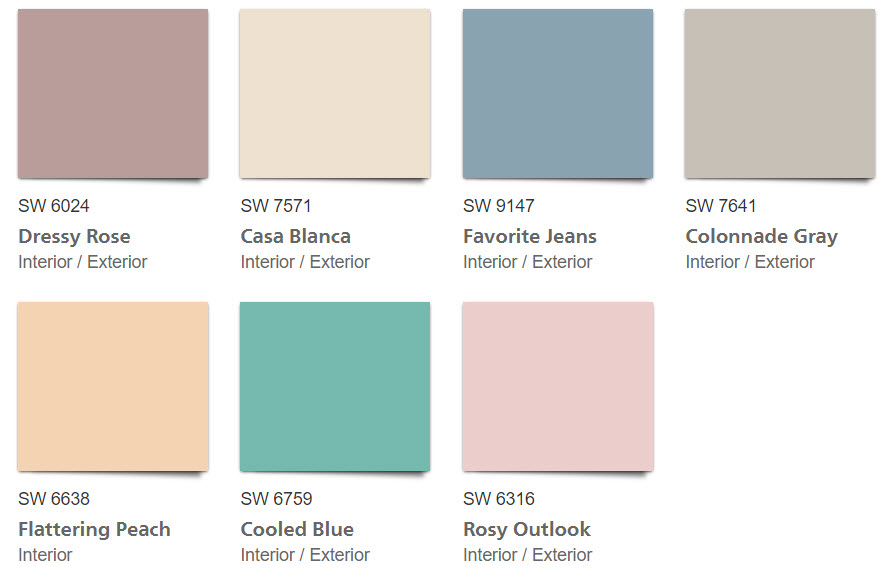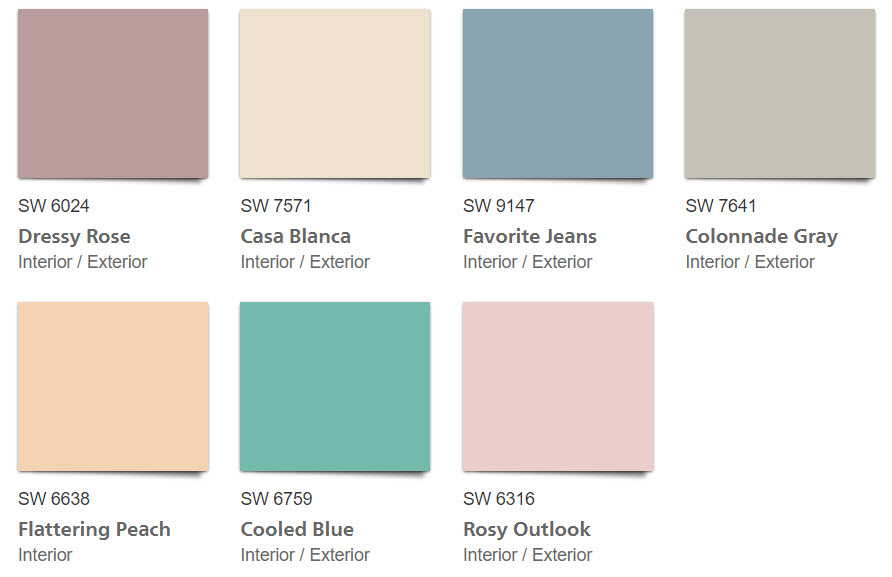 ---
STEP 3: Picking Retro Home Decor Accents
Even if you don't want to go full-out retro, you can add some Retro home decor accents to an otherwise modern room to create a unique focal point.  From Retro style clocks to classic neon signs and vintage tin signs, it's easy to get inspired by some of these unique throwback decor items.
Popular retro home decor accents also include a wide range of branded decor items, showcasing classic and popular brands from each of these decades, including Pepsi, Coca-Cola, Astin Martin, Texaco, and many more.
Browse the entire collection of Retro & Vintage Decor.
---
STEP 4: Add some Retro Lighting
One of the easiest ways to add a touch of retro style to any room is by adding a retro lamp or lighting fixture. What could be easier than setting it up and plugging it in… and VOILA you have a retro accent that is sure to become a conversation piece. Our Retro Lamps collection includes some of the most iconic styles from the 50s, 60s, 70s, and 80s, including:
STEP 5: Getting to the bottom of Retro floor coverings
You can't JUST do retro decor at eye level, you need to think of the entire room — top to bottom — and that includes selecting the right retro area rug to coordinate with your colors, furniture, and decor accents.
From the muted paterns and colors of the 50s to the "groovy" designs that scream "60s", picking the right area rug creates the right foundation for your retro style.
Here are a few of our favorite retro area rugs, available at Amazon.com:
---
STEP 6: Bringing it all together
Now that you've picked everything that you want and need to create the perfect retro-sytle, room, you need to pull everything together into one cohesive look that truly celebrates the style of that era.
To finish off the look, select a few carefully chosen Retro Throw Pillows as well as smaller, and perhaps more subtle Retro Decor Accessories that help pull the entire look together. These can be especially helpful to offset the non-retro elements that may need to be included in a room, such as a modern TV, remote controls, phone chargers, etc.
When you're all said and done, you should be able to step back and take in the entire room with a feeling of wonder and nostalgia.
Image Source: Memphis Design