There's something hauntingly beautiful about the visual impact of abandoned houses. I suppose it's similar, in some ways, to the fascination we have with shipwrecks. Although these abandoned homes have been left to decay for entirely different reasons than being sunk to the bottom of the ocean.
While some people find themselves drawn to abandoned houses for various reasons, the evidence of human life on this Earth is disturbing. Seeing these once-beautiful structures fall to run is not an unfamiliar sight. Often, all that is left is a sad look of disappointment painted over the facades left behind.
Abandoned houses provide one of the few remaining tangible remnants of the sheer magnitude of life. Whether it be homeownership, human connection, or the ideals of our society, the homes we build–and then abandon–tell a great deal about who we are as a people. These abandoned structures are overgrown with flowers, shrubs, and weeds. They are filled with books, decorations, and children's toys. They may be neglected and broken down, but there is still life inside them.
In some cases, abandoned homes offer a stunning glimpse into the past. These dark spaces reveal the beauty of decay. Have you ever found a beautiful abandoned house that you loved? Have you ever found yourself wanting to rescue and refurbish these once-beautiful homes? Don't worry; you're not alone – I have as well.
Inside this post, you will find a visual tour of some of the most incredible abandoned buildings in the world, even if I have no idea where that house is (or if it still exists). These decaying houses may inspire you, they may creep you out, or they may make you feel a sort of nostalgic sadness for something that was once loved.
But there is a beauty buried beneath the decay and devastation. Some buildings have stood the test of time, many abandoned houses have definitely seen better days, while others are only the slightest remnants of once-great structures.
And, although some look creepy now, they are not always haunted. Just because you find an abandoned house along forgotten, rural roads doesn't–necessarily–mean it's a haunted house. 
The owners didn't flee the homes–never to look back–because of things that went bump in the dark.
Some people have simply moved away, and others were forced out. Some lost their homes due to financial troubles, while others were caught in a drawn-out legal battle. So drawn out that the structures were no longer livable once the matter was settled.
Sadly, abandoned homes are not always alone, as entire neighborhoods, cities, or states can end up with a larger-than-normal number of abandoned houses simply because the economic foundation in those areas has also crumbled.
There are over 6 million abandoned properties in the United States alone. Some have been abandoned for decades, while others have only been abandoned recently. Even though some may be just a bunch of old nails and some rotting timbers, some abandoned buildings are inhabited – even though they shouldn't be.
But most have been left alone to fall apart into the camera lenses. These abandoned houses look eerily inviting. It's almost as if they are silently pleading for people to come and live there again or at least investigate their existence and the reasons for their decay. And yes, it's a wonderfully romantic notion that with a bit of elbow grease–or a complete renovation project–many abandoned homes could become habitable again. But it's doubtful that any of these abandoned houses will ever return to being homes.
Some abandoned buildings have a mysterious past, one that offers a hint of the hopes and dreams that once surrounded them. But in almost every case, these were once homes.
Check out this uniquely wonderful collection of abandoned houses below…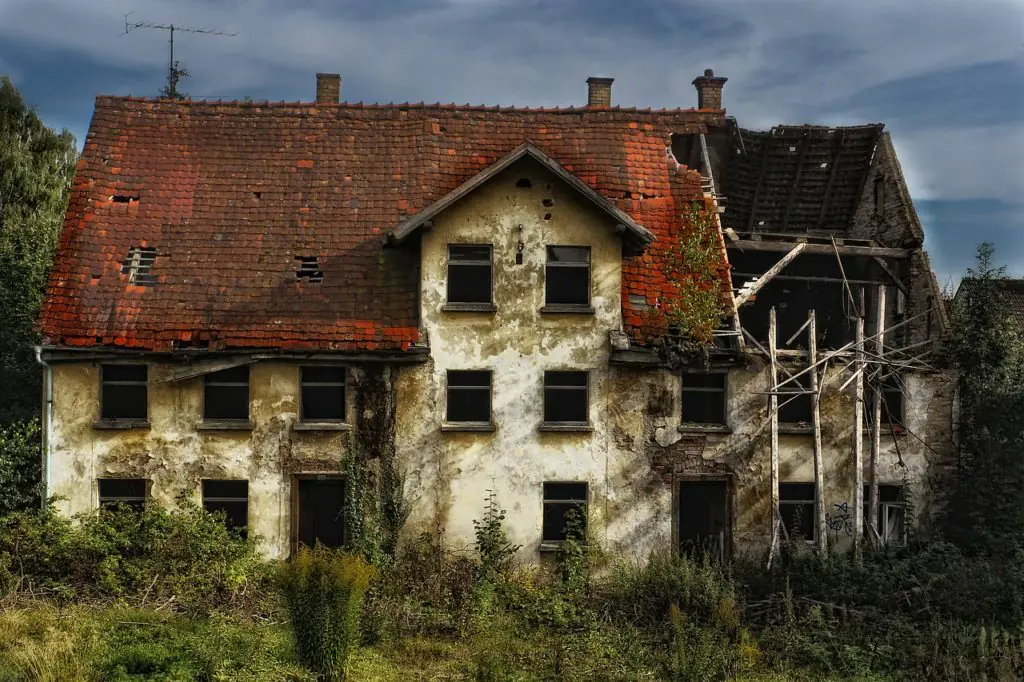 Sometimes there is a history behind the abandonment, but often these once fine and noble homes are abandoned for reasons we may never know or understand, and perhaps that is part of the mystery that intrigues us.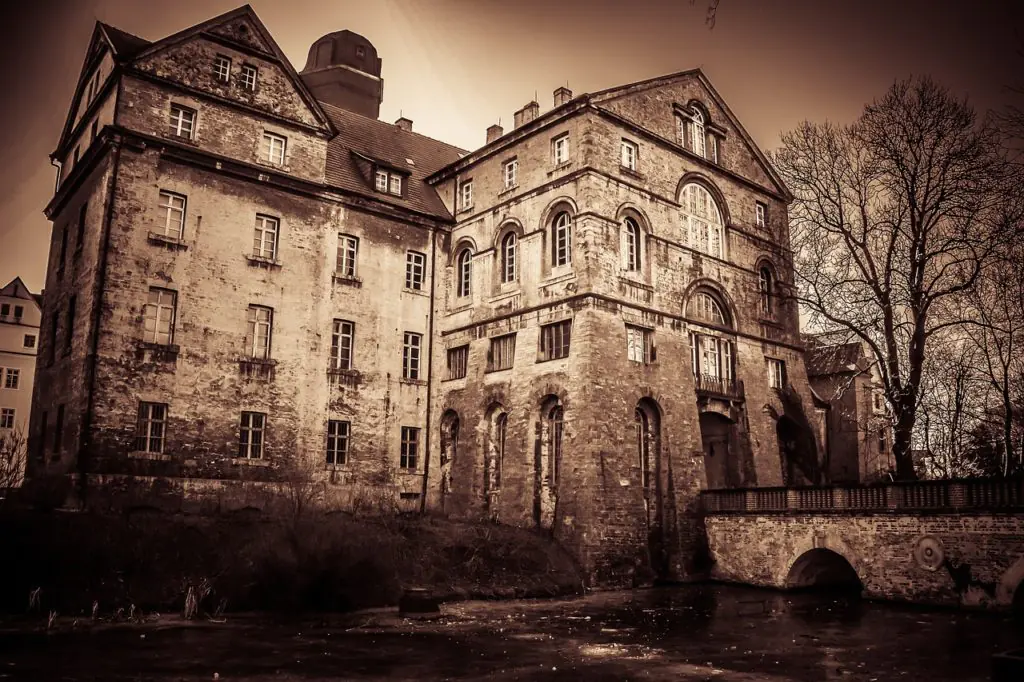 For me, part of the fascination with abandoned homes comes from my love of horror movies. I love ghost stories, and I find that many of these are set in the most beautiful houses. I suppose it makes sense, a home has to be old and interesting enough to have been around long enough to have ghosts (Poltergeist notwithstanding).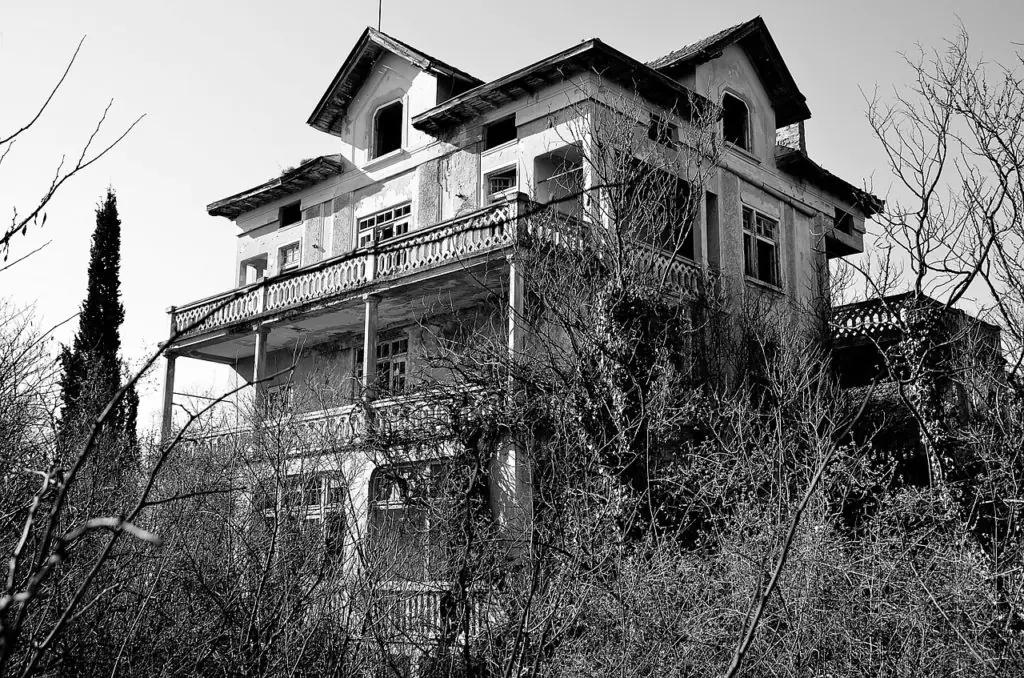 But a house does not have to be haunted to become abandoned. Some are simply too expensive to maintain and fall into disrepair. Picture a grand estate in the countryside, where the spiral staircase once led to a master bathroom adorned with the finest fixtures. Now, dust settles on those same fixtures, and cobwebs drape across the neglected stairs. What was once a renovation project waiting to happen has turned into a sorrowful sight that would sadden any realtor's heart.
Foreclosure might have been a grim fate for this property, as the owners struggled to pay the mortgage. The burden of financial woes, compounded by the need for serious attention to various parts of the house, led to its downfall. Once a house has hit a certain tipping point, the cost to return it to its former glory far outweighs the benefits of doing so.
It's a commonplace scenario in both urban and rural landscapes. A home filled with memories and potential gets overshadowed by the reality of time and expenses. The grand staircase, which once echoed with laughter, stands silent. The bathroom, once a luxurious retreat, becomes a symbol of decay.
However, amidst the loss and abandonment, there might still be a spark of potential. The old house, with its hidden charm and latent elegance, could be waiting for the right person with the vision and courage to breathe life back into it. For every tale of neglect, there's a chance for revival; for every story of decay, there's an opportunity for a new beginning.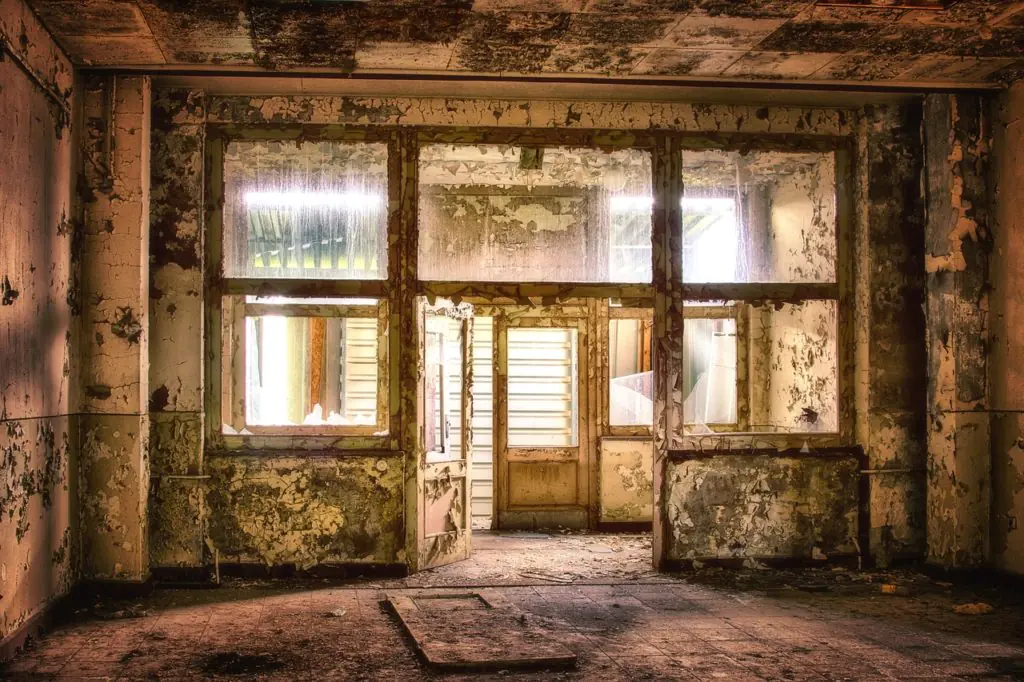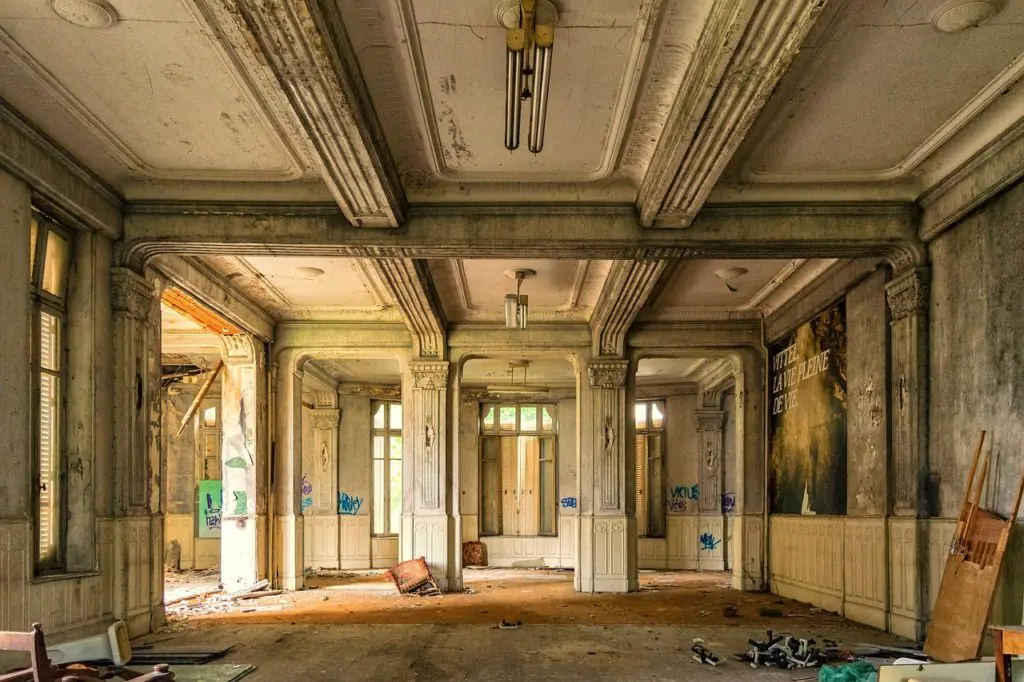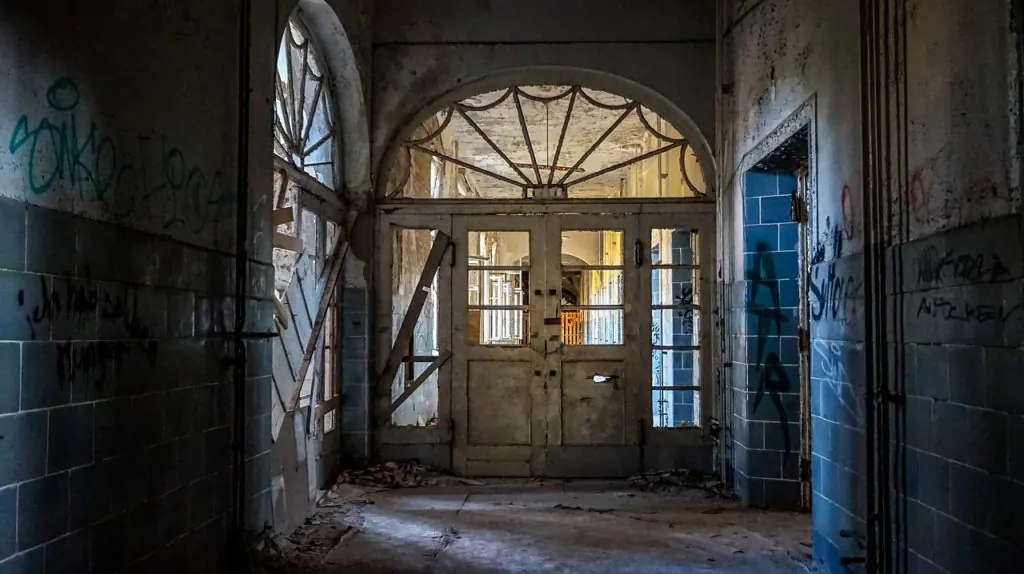 You can see what once would have made for beautiful interior architecture wasting away, for some unknown reasons.
---
---
Collecting Remnants of Abandoned Homes with Pictures on Pinterest
Pinterest is one of my favorite places to discover and explore abandoned buildings. Here is just a preview of some of the unique and wonderful abandoned places I've discovered through Pinterest.
Some of these abandoned homes have a fascinating history behind both the occupation of the house and the eventual abandonment. These abandoned houses have a story. It's not always a ghost story, but it's a fascinating story nonetheless.

Image Credits (where available) include:
Ontario Exploration – Thanks to Laura at Ontario Exploration for the photo on the bottom right of the gallery above.
Take the Winderbourne Mansion, for example

Source: The Washington Post
Built back in 1884, Winderbourne Mansion sits on a 9.3-acre property surrounded by the sparkling waters of Lake Seneca in Boyds, Maryland. To the naked eye, the house looks like it's in grand decay. The windows are broken and boarded. The once inviting front porch is sagging and rotten. One can't help but wonder how a lovely old Victorian-style farmhouse in such a beautiful location ended up sagging, empty, and alone.
But the Winderbourne Mansion holds its share of secrets, including a fascinating history of wealth, parties, and deep sadness. However, despite its now creepy exterior which has given it an unwanted label of being a "Haunted Mansion", there have never been any reports of any unusual happenings in or around the house. It may be a combination of the dilapidated exterior and these inaccurate labels that have kept the house vacant since 2009, despite several attempts to find a new owner.
Webster Wagner Abandoned Mansion in Palatine Bridge, New York
Source: Facebook
Located just west of Amsterdam in the quiet town of Palatine Bridge, New York, this beautiful old Victorian home was once owned by a wealthy railroad tycoon and for his terms as a state senator. It's history now dates back over 100 years.

Webster Wagner was an American inventor best known for creating elegant sleeper cars (otherwise known as "Pullman Cars") and parlor cars onboard trains in the 1800s.
Having amassed a large fortune for himself and his family, and successfully running for state senator for 6 terms, Wagner's future seemed all too bright.
However, on an unlucky Friday the 13th in 1882, Wagner was sleeping soundly aboard one of the sleeper cars he helped design when the train broke down near New York City.
Unaware of the stalled train on the tracks, another train rounded a curve and plowed into the rear of Wagner's stalled train, resulting in a catastrophic train pile-up that killed Senator Wagner and nearly a dozen of his fellow passengers.
His once stately — but now spooky — mansion has since fallen into decay and has earned the nickname "the monster house" because of its mouth-like porch with dangling "teeth" above the entrance.
The Isolated & Abandoned Tillamook Rock Lighthouse
This building was home to the lighthouse keepers who worked there. Known to many as "Terrible Lilly" because the conditions for workers were notoriously rough, this lighthouse still stands off the coast of Oregon. During its time of service, from 1881 to 1957, Terrible Lilly served as a beacon against the rocky outcroppings that claimed the lives of 16 sailors mere weeks before it opened.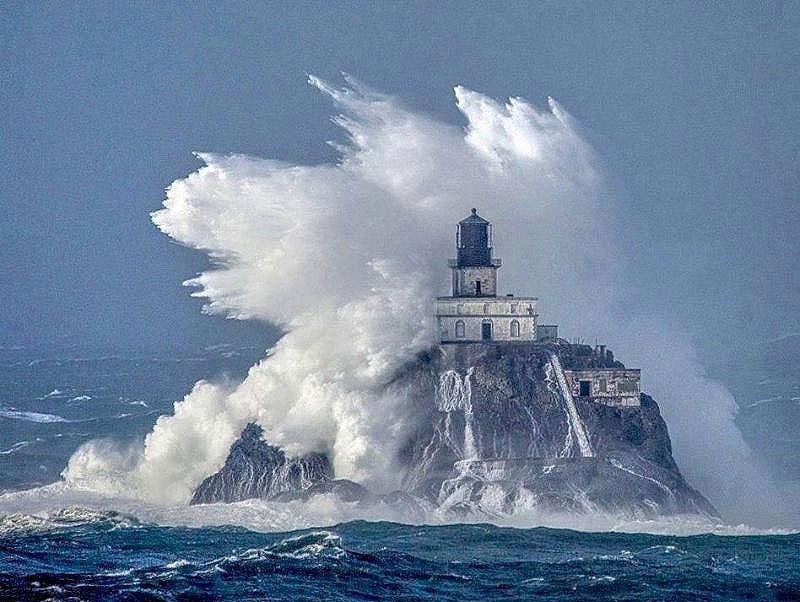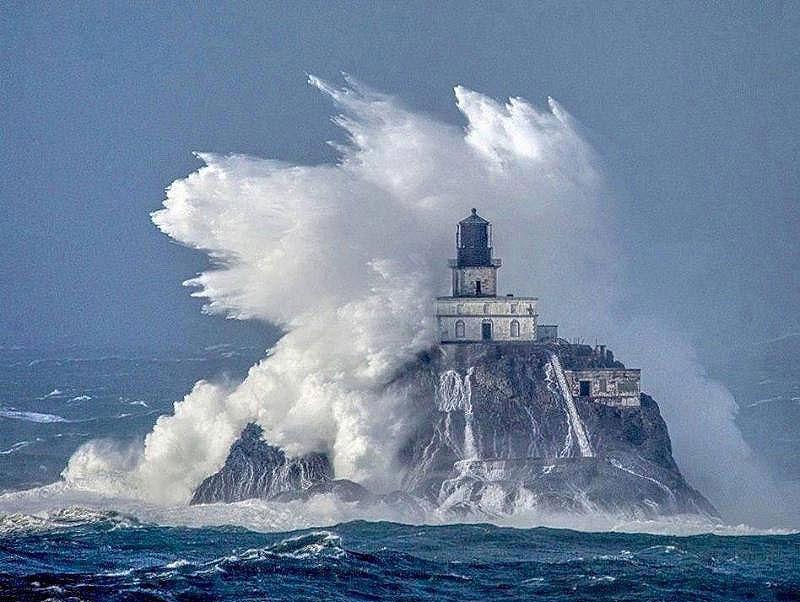 Source: TravelOregon.com
When it closed, the last lighthouse keeper made one final entry into the logbook.
Farewell, Tillamook Rock Light Station. An era has ended. With this final entry, and not without sentiment, I return thee to the elements. You, one of the most notorious and yet fascinating of the sea-swept sentinels in the world.
Decades after the lighthouse was decommissioned it was converted into a columbarium, which was a very odd choice, as this does not strike me as a peaceful resting place to be used to store urns of cremated remains. To this day, the remains of 30 people are still stored inside this foreboding lighthouse.
Abandoned Buildings Appear Frozen in Time
Looking at photos of abandoned homes, mansions, castles, and other buildings I'm always struck by the random personal belongings that often get left behind. By this, I'm not referring to the paraphernalia that is often left behind by squatters, but to the pieces that were in place the last time the house was used and seem to be frozen in time with it.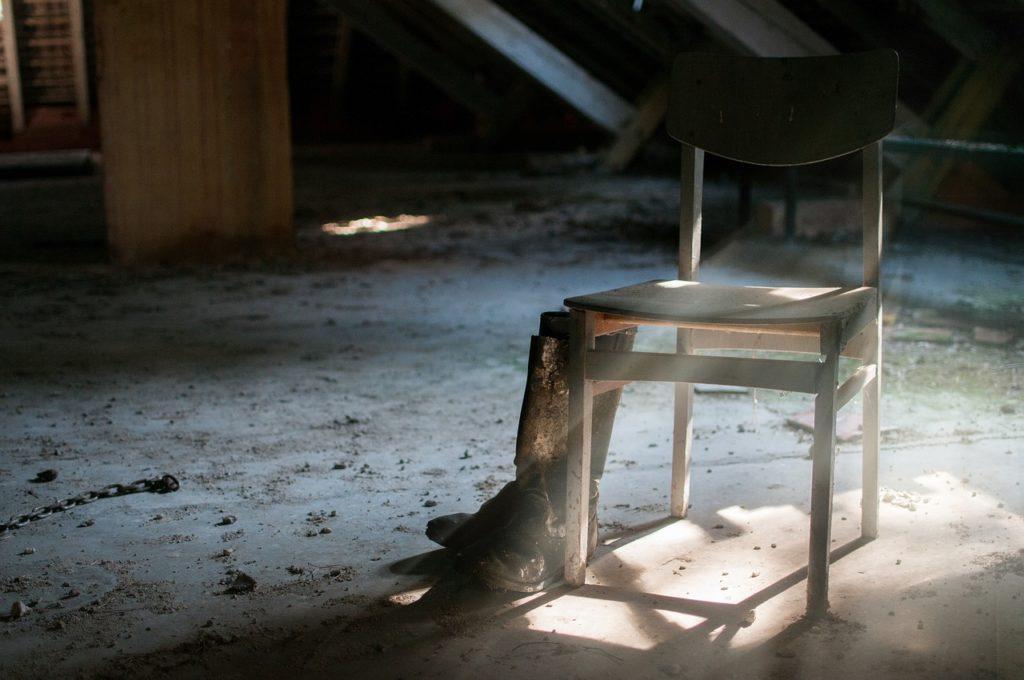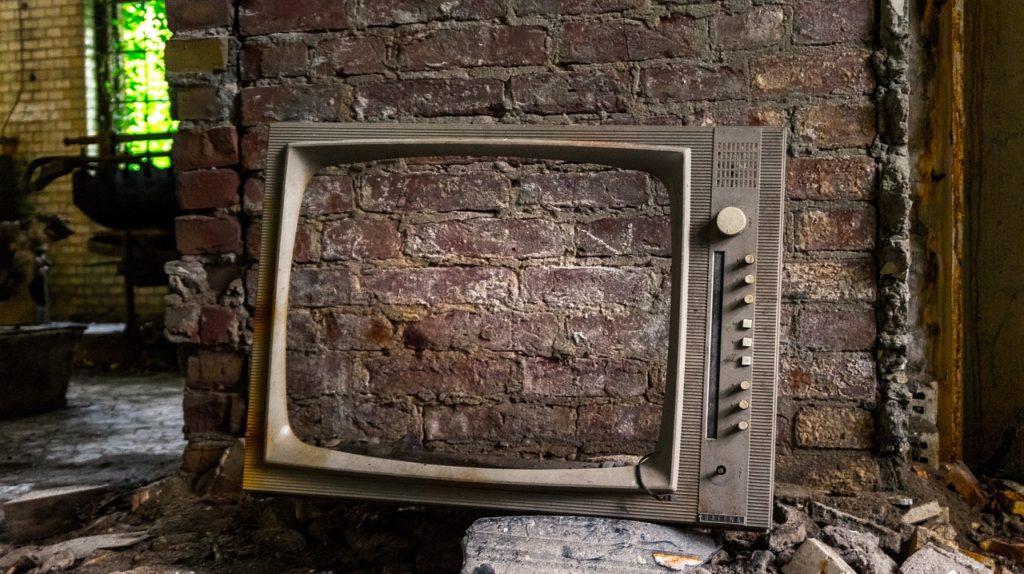 That helps add to the air of nostalgia that surrounds these sad, abandoned places. A few other places seem quite as ironically sad as the Grossinger's Catskills Resort in Liberty, New York.
---
---
Abandoned Providence Methodist Episcopal Church Gets a New Lease on Life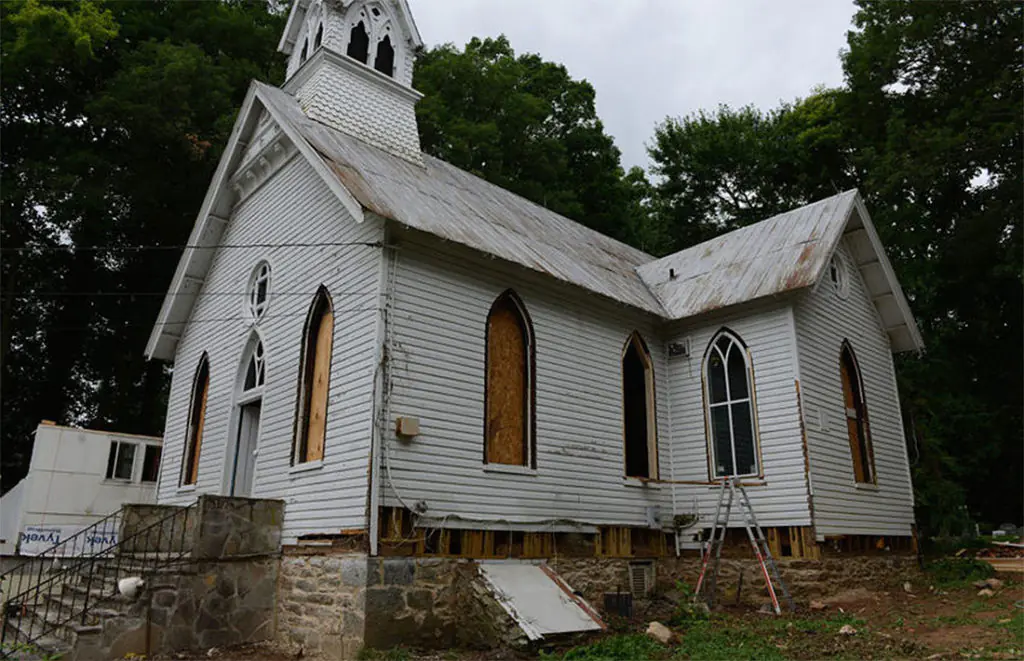 After decades of abandonment, interior designer Stacia Smith purchased the old Providence Methodist Episcopal Church in Glenelg, Maryland in 2012 and then went about meticulously restoring and converting the old building into a stunning residence & home office.
However, the current owner managed to ovrhaul this particular fixer-upper. You can see the stunning transformation from an abandoned church to a beautiful house here!
---
Grossinger's Catskills Resort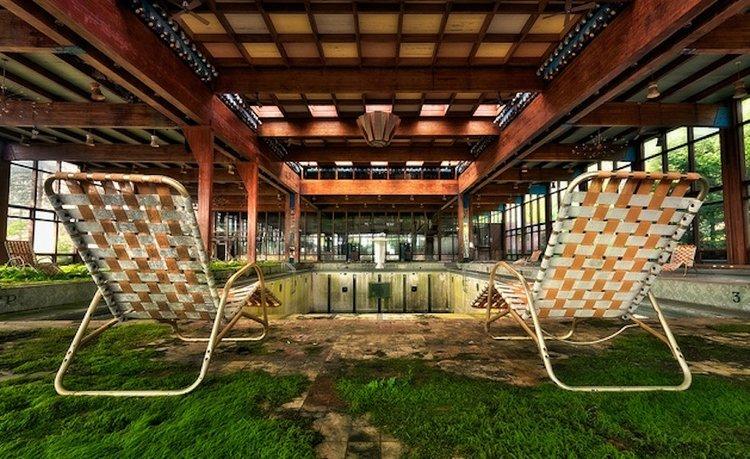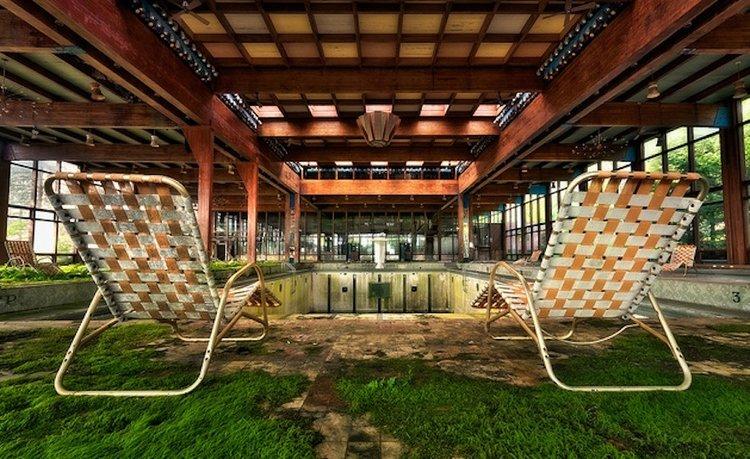 Photo by Walter Arnold
Believed by many to be the inspiration behind the movie Dirty Dancing, this luxurious resort closed its doors one year before the classic movie was released in 1987. During its heyday, this was THE place to be in the summer. Frequented by the well-to-do, it flourished during the peak of the mid 20th century. But as times changed, so did a family's summer vacation plans.  By the time Dirty Dancing could possibly have provided a nostalgic resurgence, the place had already closed, leaving the indoor pool eerily abandoned.  30 years later, it remains a sad reminder of its past glory and a relic left behind at the turn of the new century.
Wyckoff Villa, Carleton Island, New York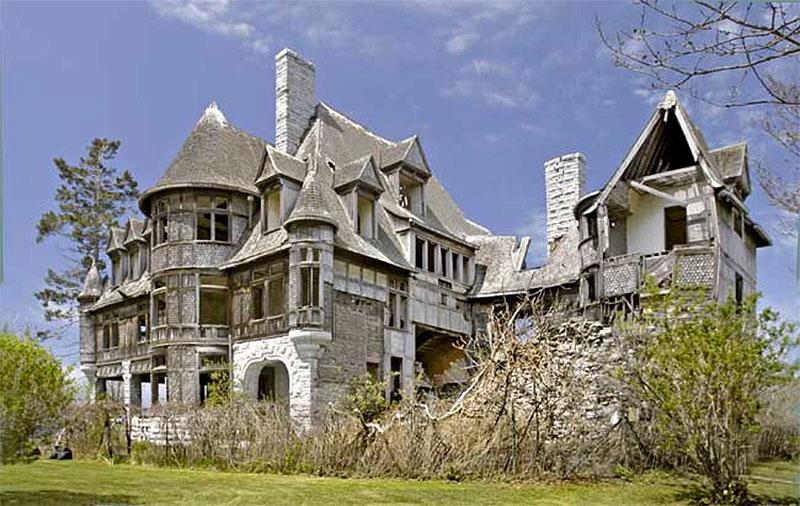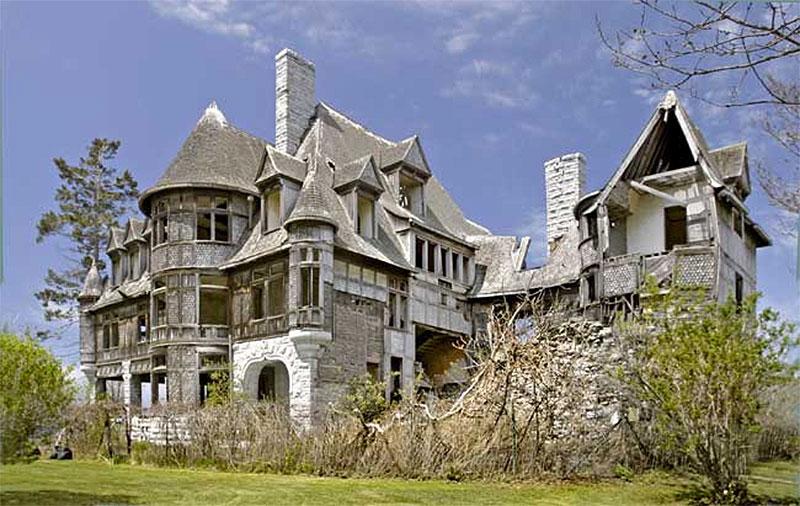 Image Source: PriceyPads.com
Wyckoff Villa was built between 1894 & 1895 for William O. Wyckoff, who made his fortune selling what was – at the time – an exciting new invention… The Remington typewriter. The Mansion was riddled with sadness before it was even completed. Francis Wyckoff, the owner's wife, died of cancer a month before the villa was ready for occupancy. William himself died of a heart attack the first night he spent in the home.
Clarence Wyckoff, the youngest son, acquired the Villa after his father died, but the family lost much of their fortune during the Great Depression and the home was sold to General Electric who planned on demolishing it to build a retreat & a new plant… but that never happened.
No one has lived in the house since 1927, and it is estimated that it could take anywhere from $10 – $20 Million to return the home to its former glory.
Today, even without its windows and doors, Wyckoff Villa's fading facade remains majestic behind a tall fence and barbed wire. Although its once stately walls have fallen victim to vandals despite the 'Keep Out' signs posted around the property, and the large corner tower was pulled down due to safety concerns, Wyckoff Villa remains a piece of slowly crumbling history.
Crumbling Elda Castle in Ossining, New York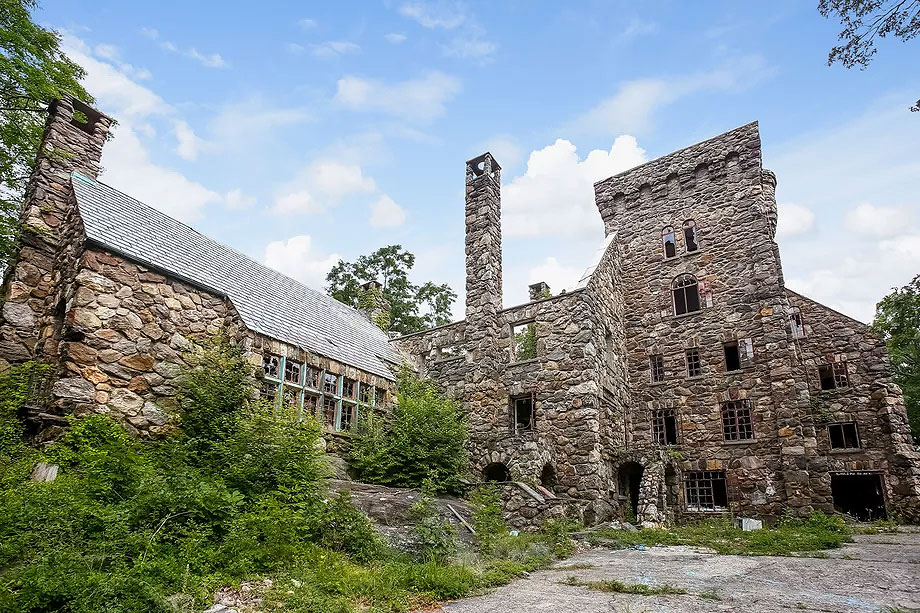 Image Source: Curbed.com
Created by architect Lucy Abbott Cate and built by her husband, Abercrombie & Fitch founder David T. Abercrombie, Elda Castle was erected on nearly 50 acres in 1927. Elda Castle, named after their four children, boasted the over four thousand square-foot home had 25 rooms, including servants' quarters.
In its heyday, this now-abandoned estate was an impressive statement of wealth and luxury.
However, following Abercrombie's death in 1931, the estate sat empty for several years before being sold in the early 1940s. Despite several attempts to utilize the space, Elda Castle has sat empty on and off for much of the more than 8 decades since the Abercrombies lived there. Over time, it has fallen prey to vandals, scavengers, and fires.
Wyndclyffe Castle, Rhinebeck, New York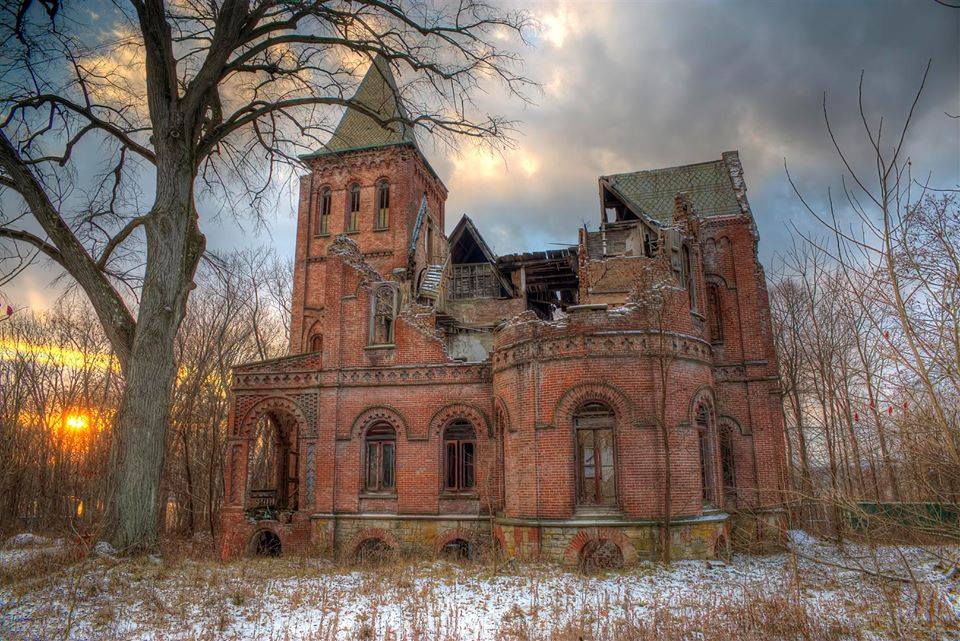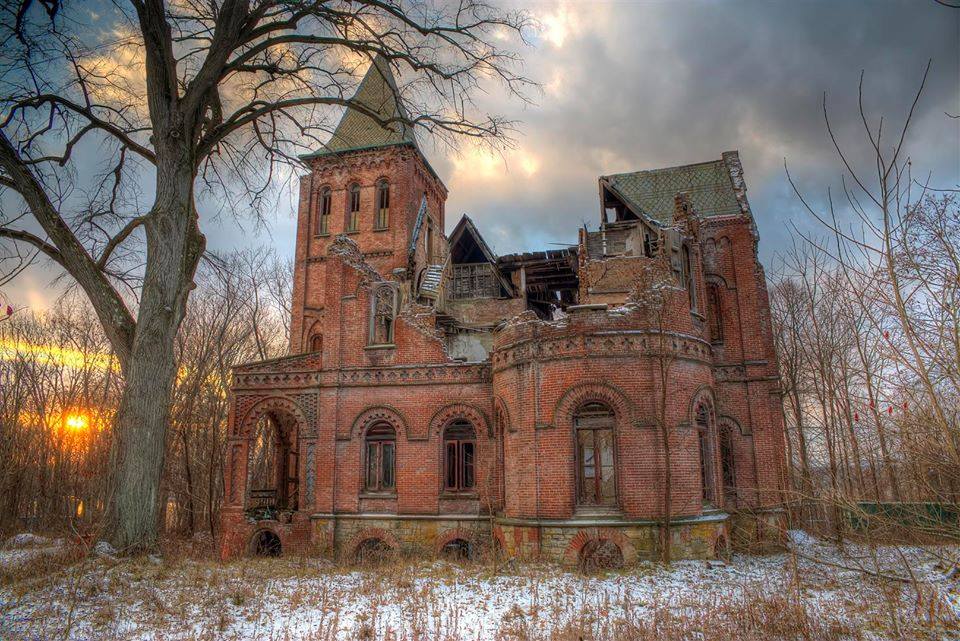 Image Source: abandonedhudsonvalley.com
Have you ever heard the saying "Keeping up with the Joneses"? Of course, you have. Everyone has. Well, here is the house that reportedly inspired that saying.
This 24-room mansion was commissioned as the country home of Manhattan socialite Elizabeth Schermerhorn Jones, a member of a wealthy family and aunt of American novelist Edith Wharton. Before being abandoned in the 1950s, it had a substantial influence on the surrounding estates, hence the creation of the saying.
Although it was once a nine-bedroom prime property with a Tiffany skylight, the home is now in ruins. Entire parts of it have fallen in, leaving a gaping hole in one side.
Exploring Abandoned Buildings with Fellow Travelers on Facebook
If you love abandoned buildings, you should definitely check out some of the amazing Facebook groups that are dedicated to all things abandoned.
Many of these abandoned house lovers share photos of their own explorations, including the ABANDONED HOUSES group on Facebook. A handful of their extraordinary images are featured below.
Abandoned Homes Tell a Story
Whether or not the story is documented in history, each abandoned home gives us a glimpse at life once lived.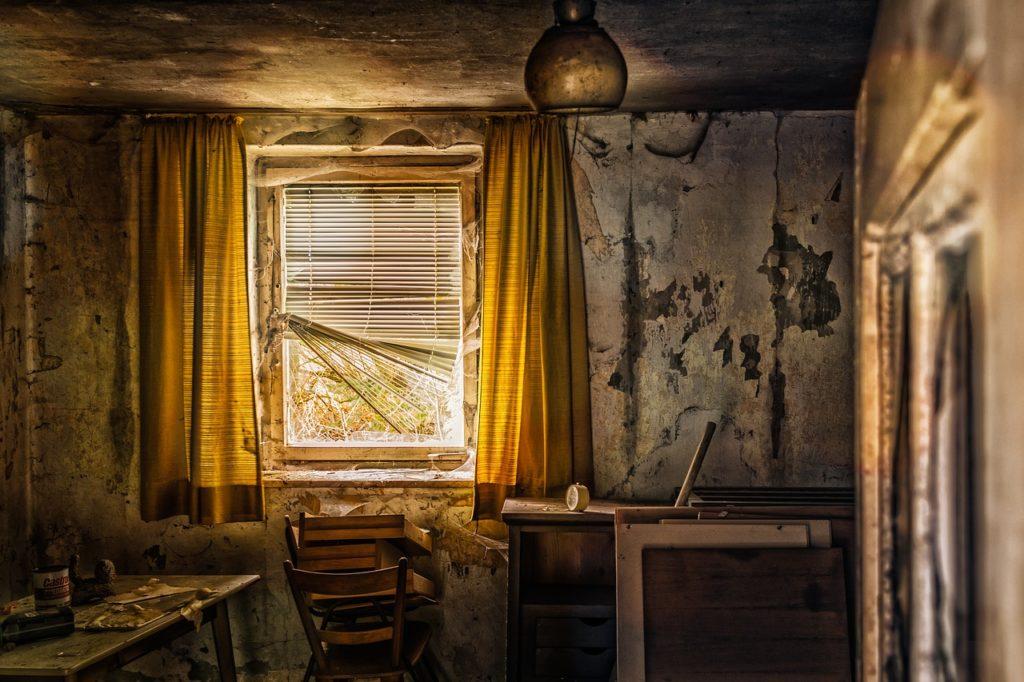 Glimpses of these lives can be seen in what's left behind, sometimes hidden behind the crumbling and the decay.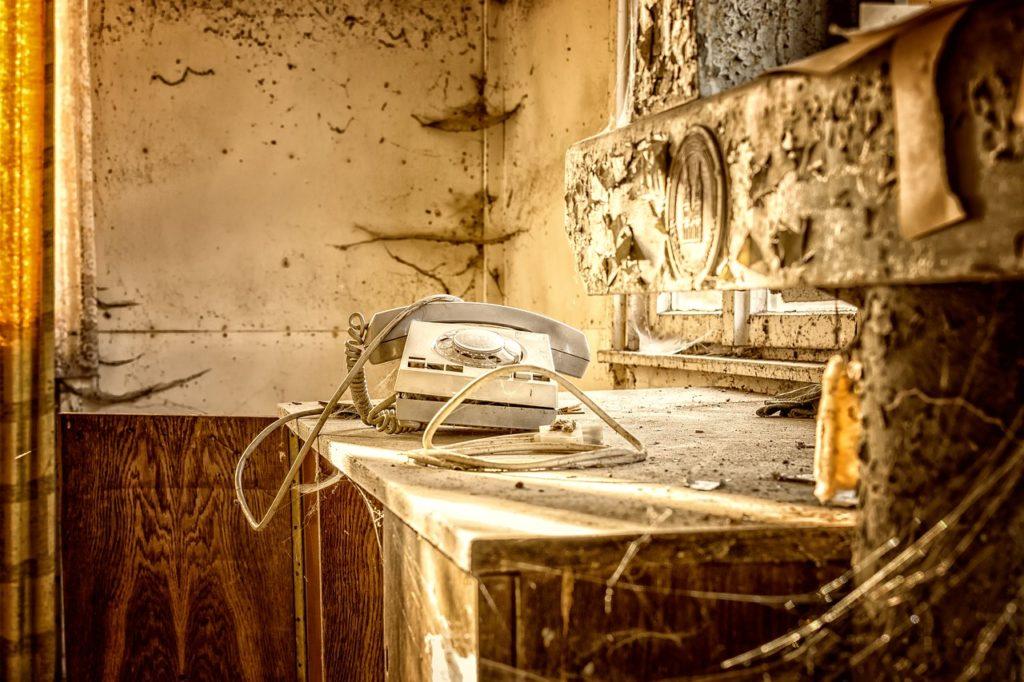 If you take a moment, you can almost picture the people who used to live in these abandoned homes and what the room might have looked like once upon a time, long before the paint started to peel and the brick started to crumble.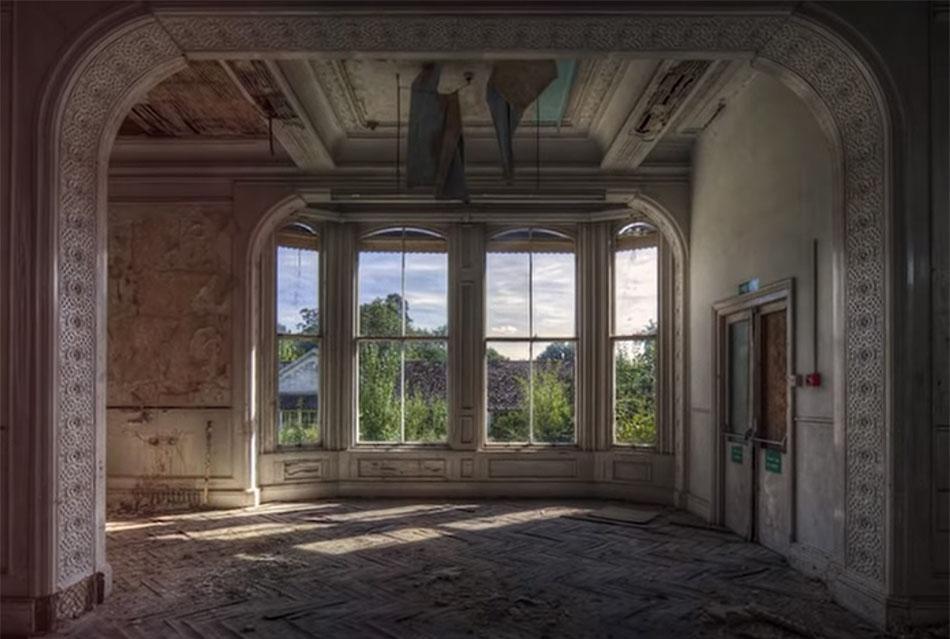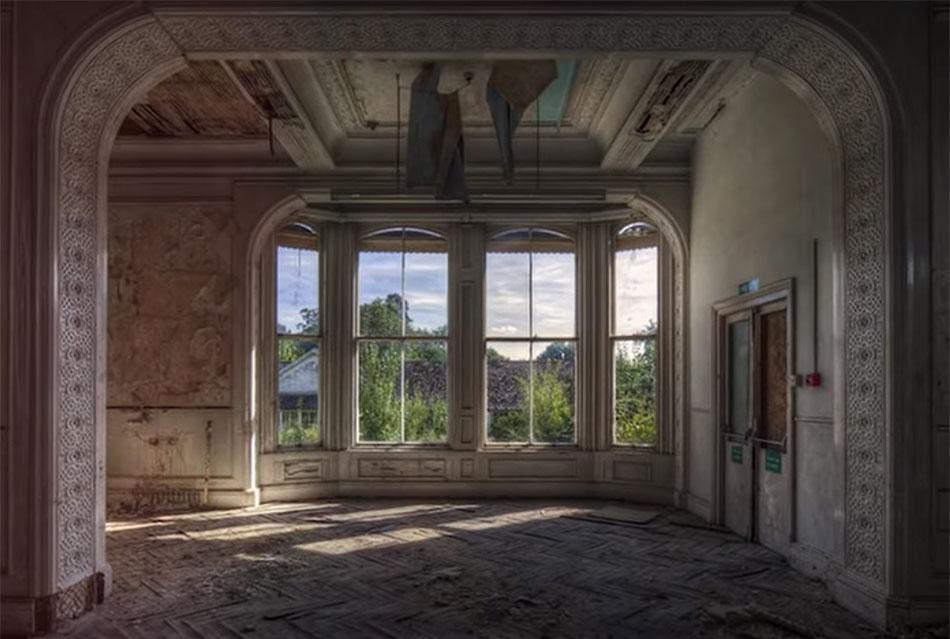 ---
Despite their now ruinous appearance, these abandoned homes were once treasured by their owners. It makes you wonder what happened to allow what used to be a fine home to fall into such disrepair. There's plenty to speculate about when gazing at these worn structures, where the woodwork peeks out beneath the decay, telling a silent story of craftsmanship and care.
My love of abandoned houses started during a road tip many years ago. In a small town where every other building sat empty, one house, in particular, looks pretty desolate but equally eye-catching. Its once vibrant stained glass windows, now dull and shattered, still hinted at the grandeur that must have adorned this place. The rich history embedded in its walls, floors, and even in the remnants of its once fabulous garden, whispered of a past filled with life and luxury.
The woodwork, now worn and weathered, must have been a sight to behold in its prime. Imagine the careful hands that carved the intricate designs, crafting a home that was the coolest in the neighborhood. Stained glass, grandeur, and elegance were not just features; they were statements of pride and joy.
But what now? What has led this architectural masterpiece to fall into oblivion? Perhaps it is a tale of loss, a story of forgotten dreams, or a mystery yet to be unraveled. Whatever it might be, it's a poignant reminder that even the grandest of structures can become a shadow of themselves. In the ruins, however, lies a glimmer of hope, an opportunity to revisit, reimagine, and perhaps rebuild. After all, beauty is often found in the most unexpected places, and these old abandoned houses still have stories to tell.
---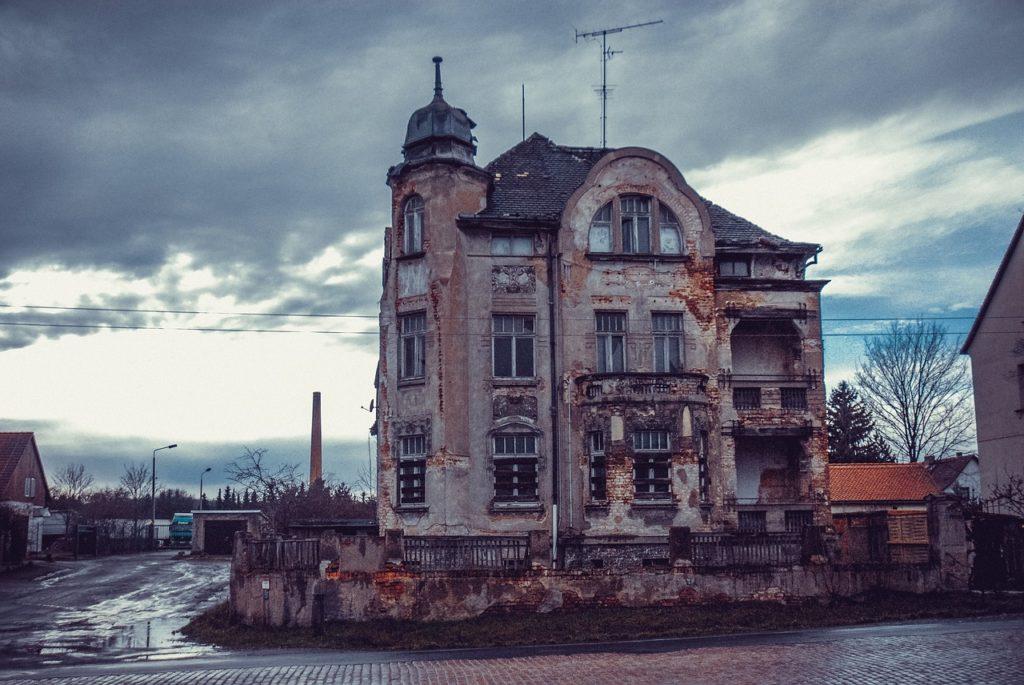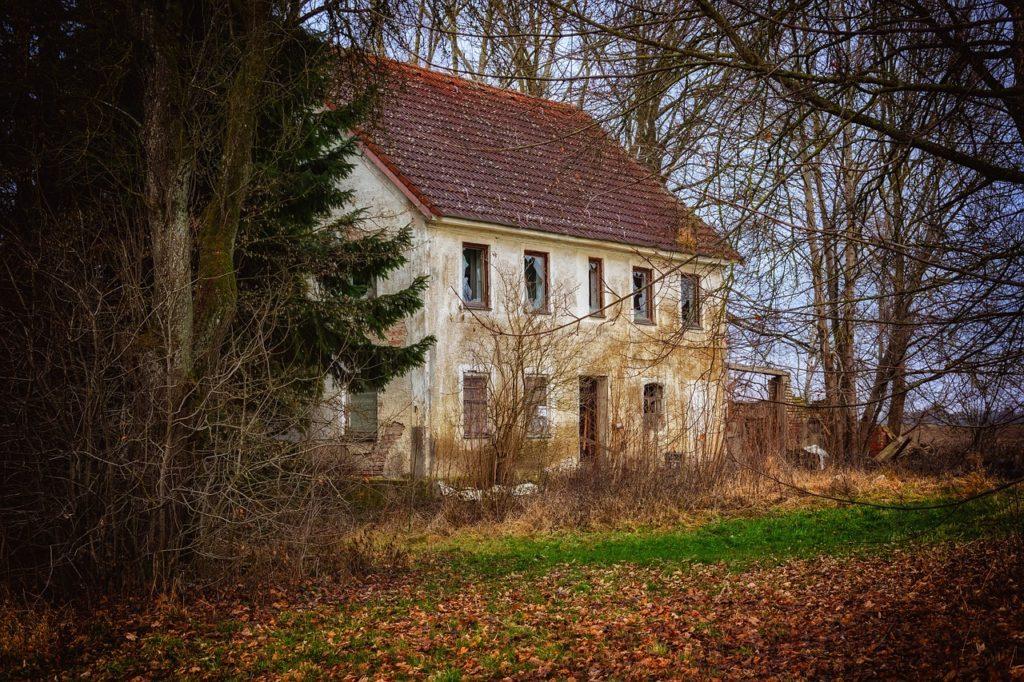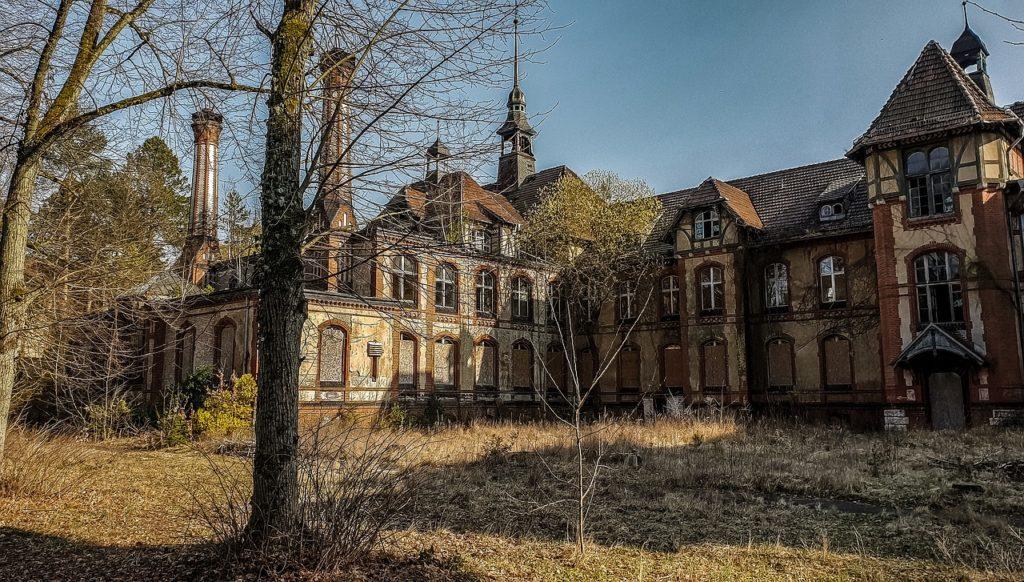 Yes, each abandoned house tells a story. Unfortunately, many of those stories will never be heard.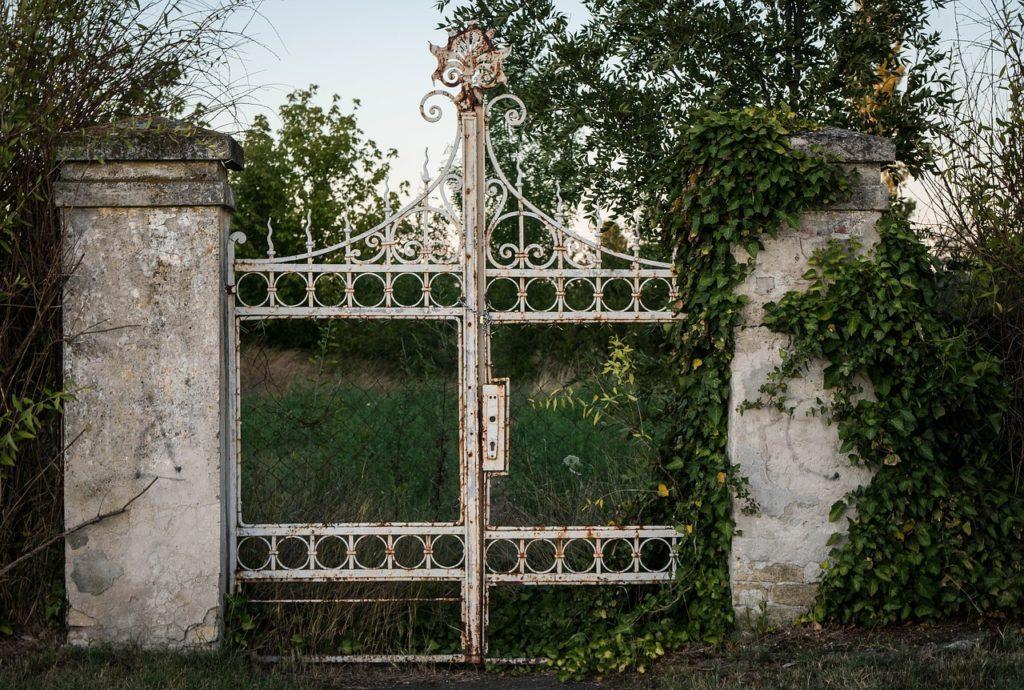 ---
---
Looking For More Haunting Images of Abandoned Homes & Buildings?
You can find hundreds of beautiful and haunting images of abandoned homes and Pinterest by following us on Pinterest.
Here are just a few examples of some of the poignant snapshots of once glorious homes & buildings.
You can find these images and many, many more on Pinterest.