The majestic architectural features of old churches create unique focal points in these heavenly converted church houses. With some of these old church conversions, a majority of the original features remain intact while others create entirely new and unique spaces inside these old – and sometimes abandoned – buildings.
Luxurious Converted Church House in The Hamptons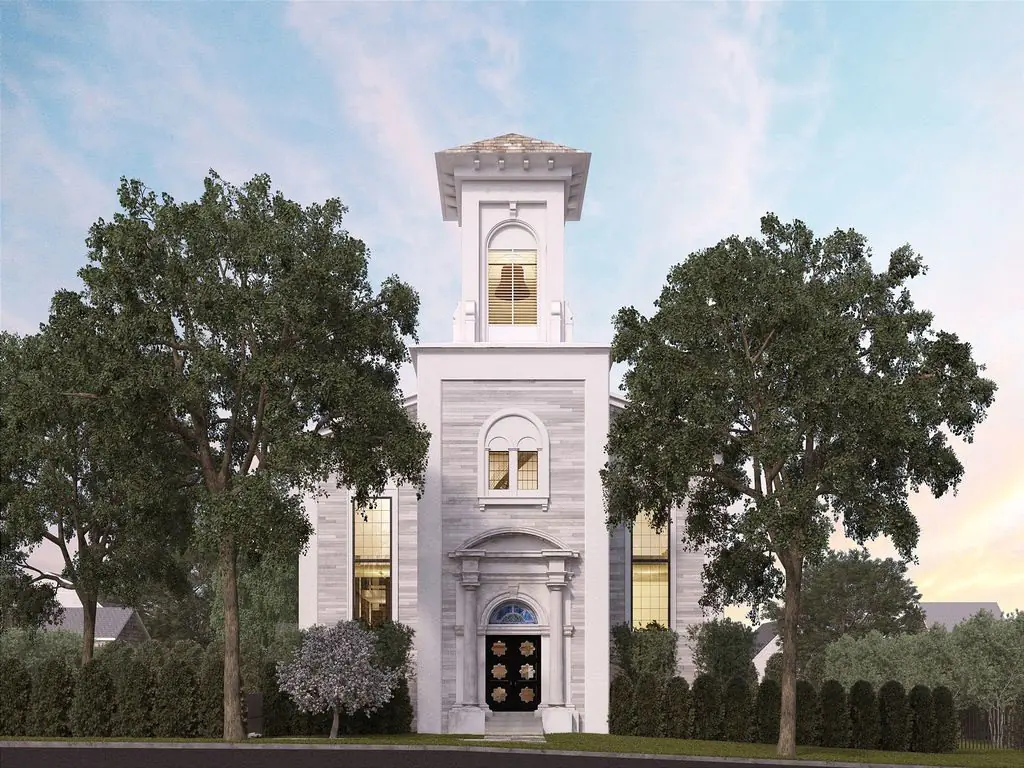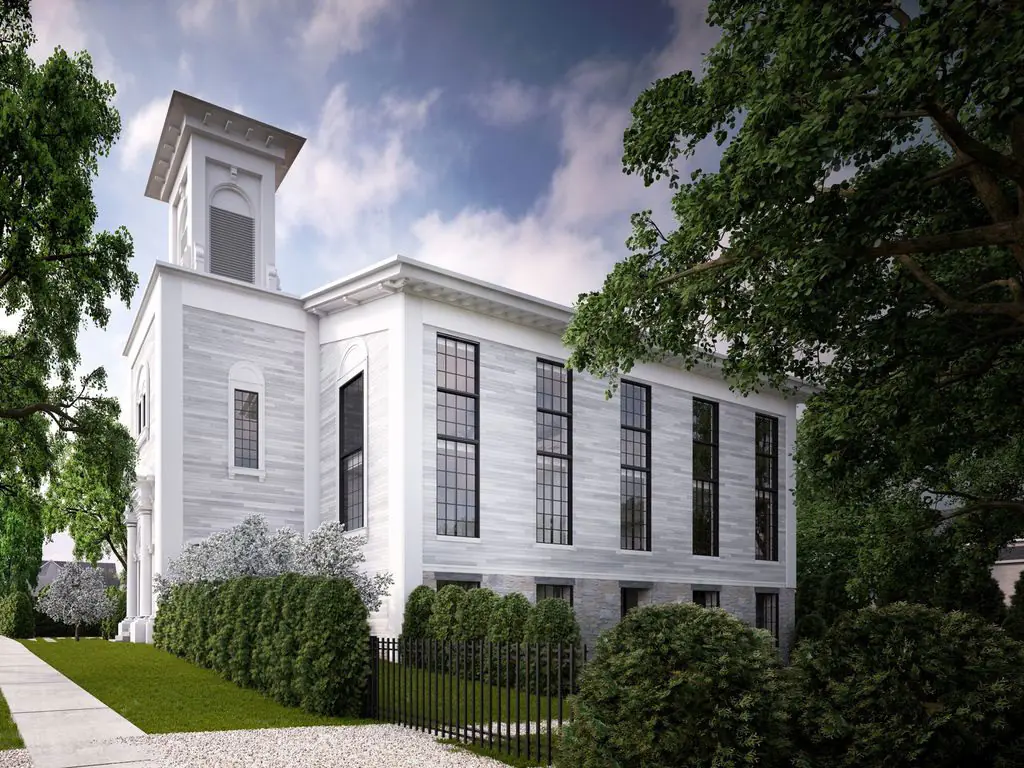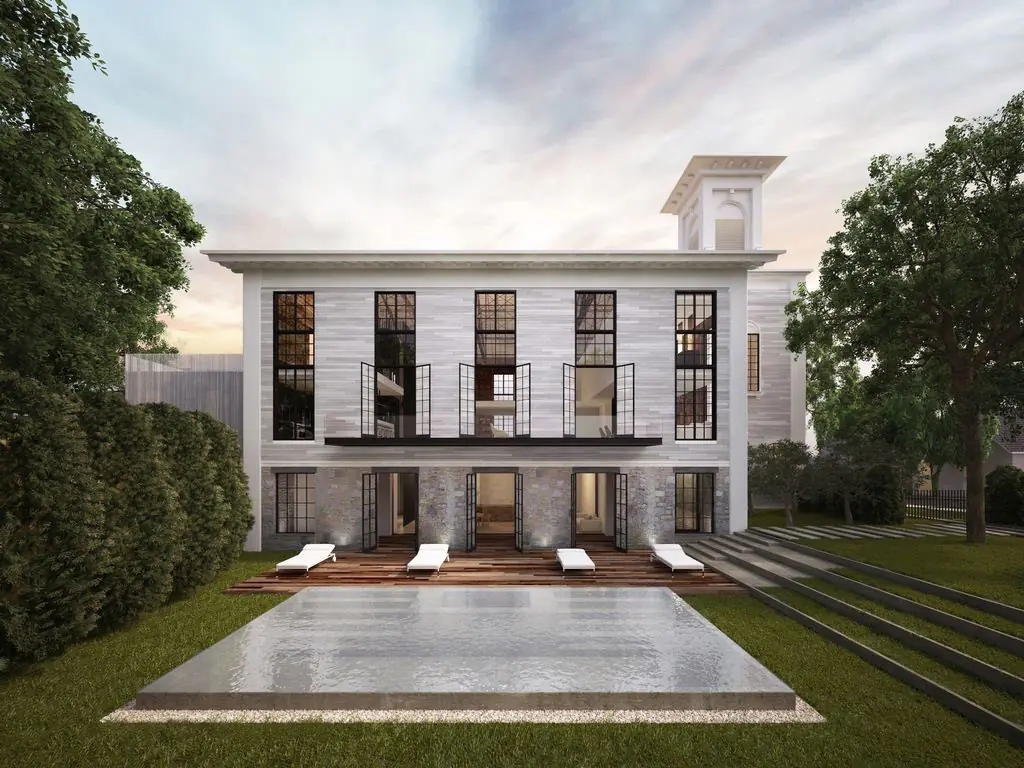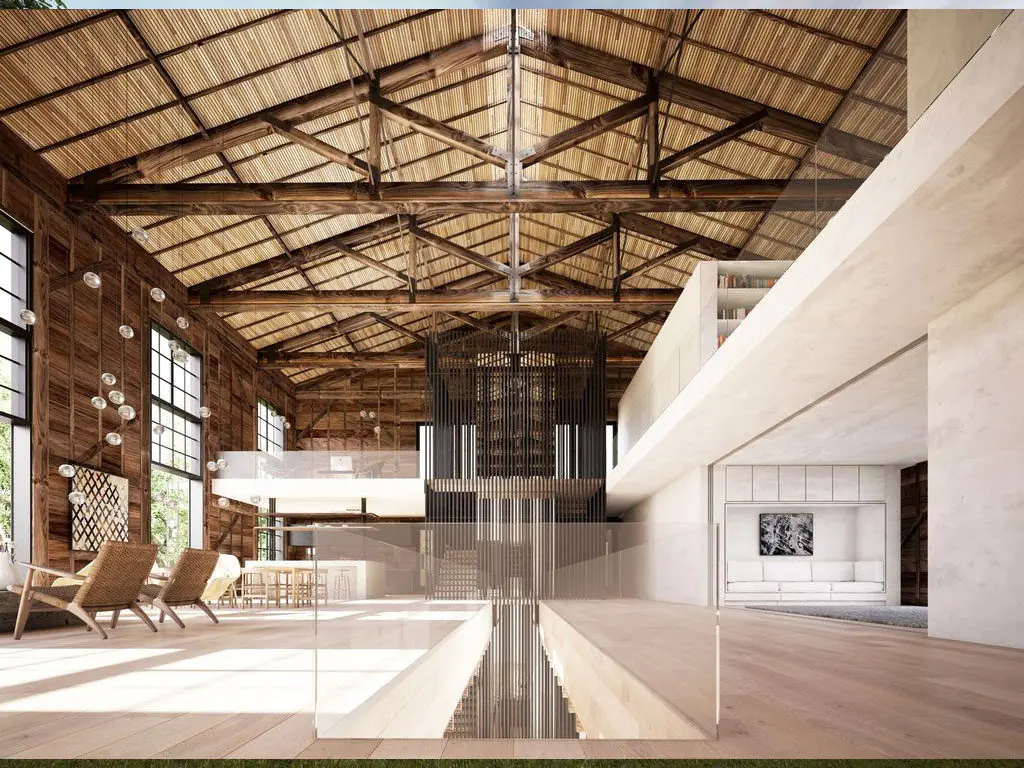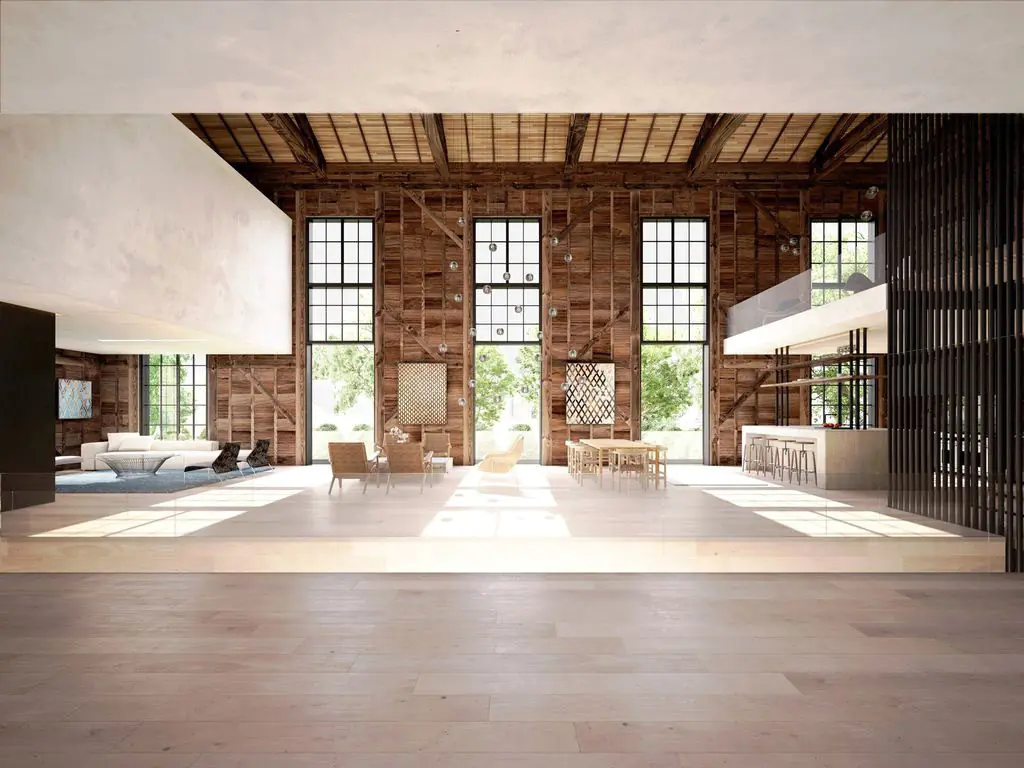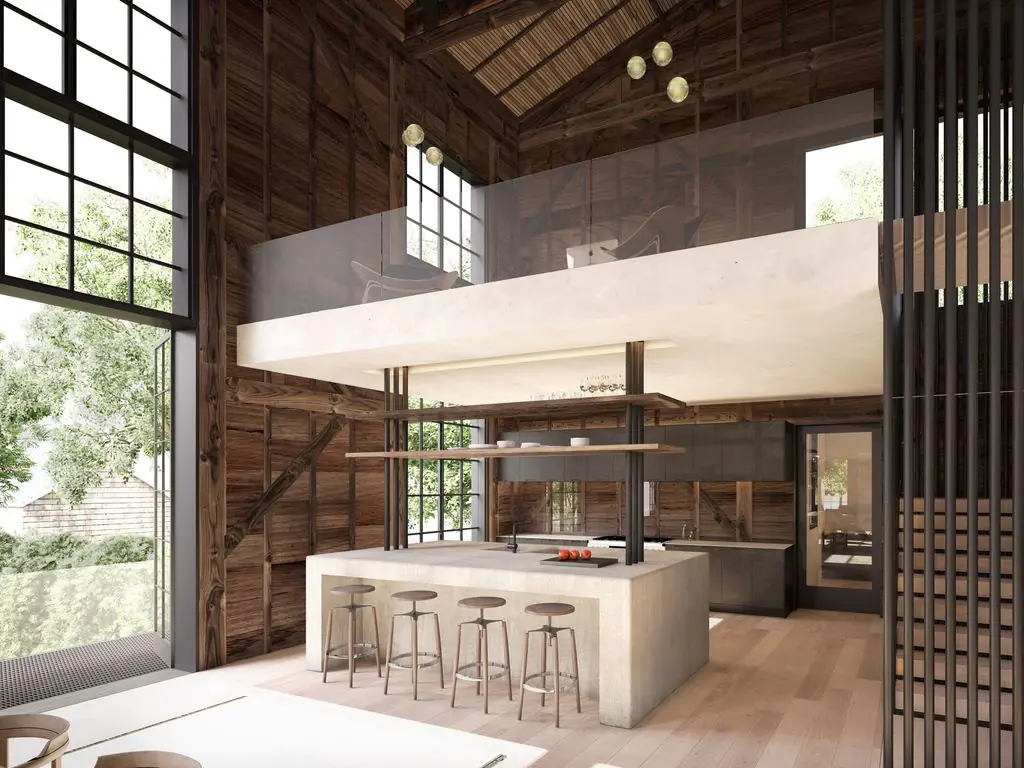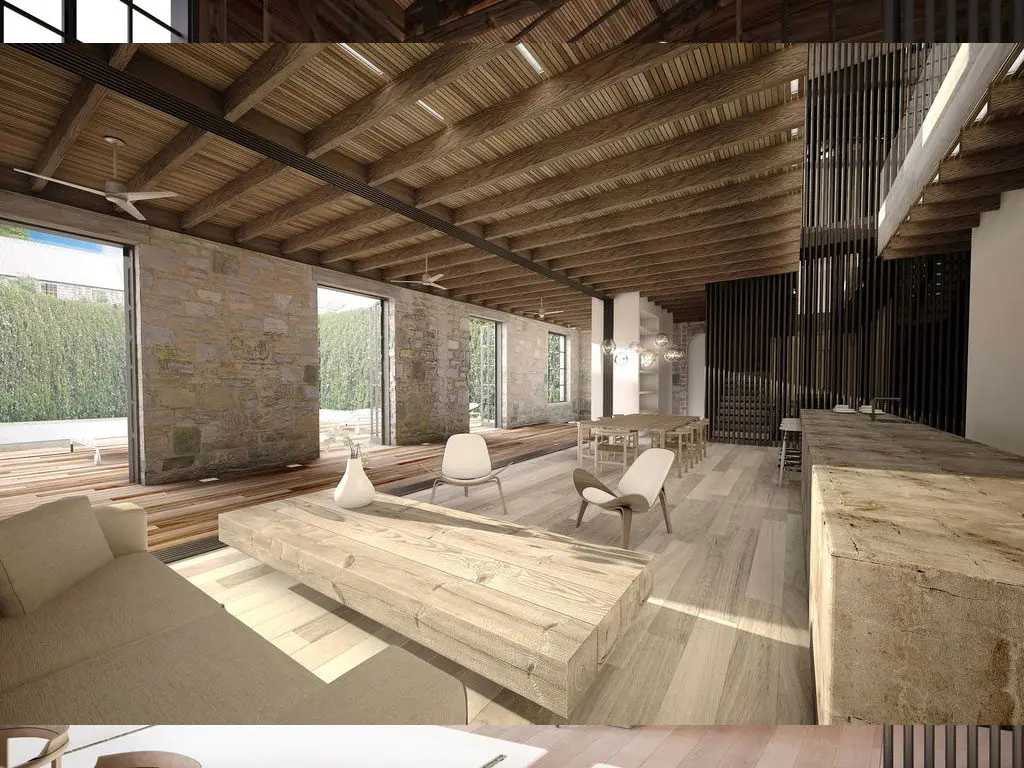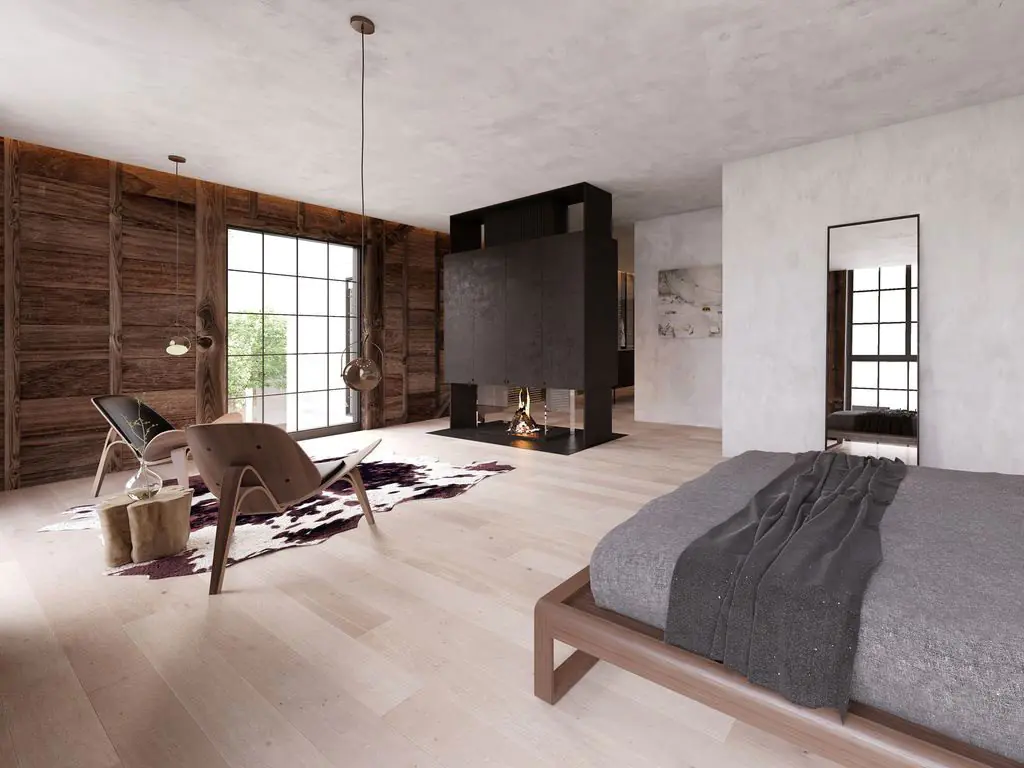 This former church in The Hamptons dates back to 1835 , but the architect-led makeover has created a thoroughly modern and luxurious living space. Dubbed 48 Madison, the 13,000-square-foot home rests just shy of half an acre and features a gorgeous open floor plan. As they say in Real Estate, Location… Location… Location. This stunning home is located only a block off Main Street and comes with some additional luxury perks, including an infinity pool and indoor spa.
You'll need divine intervention if you don't have deep pockets, this converted church house recently sold for $7 Million.
– Realtor.com
Converted Church House in Melbourne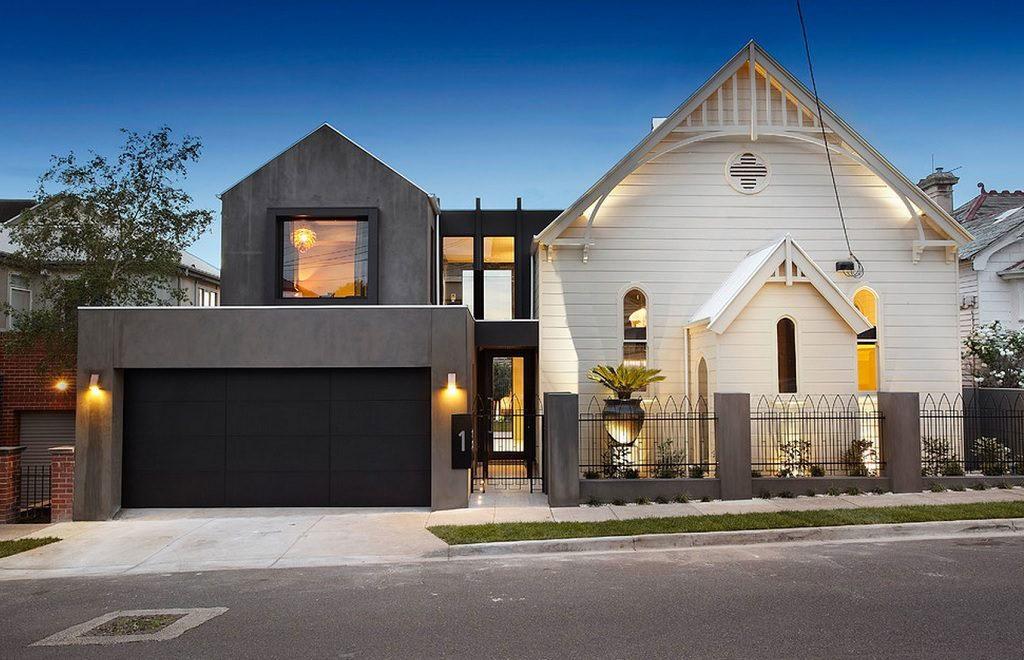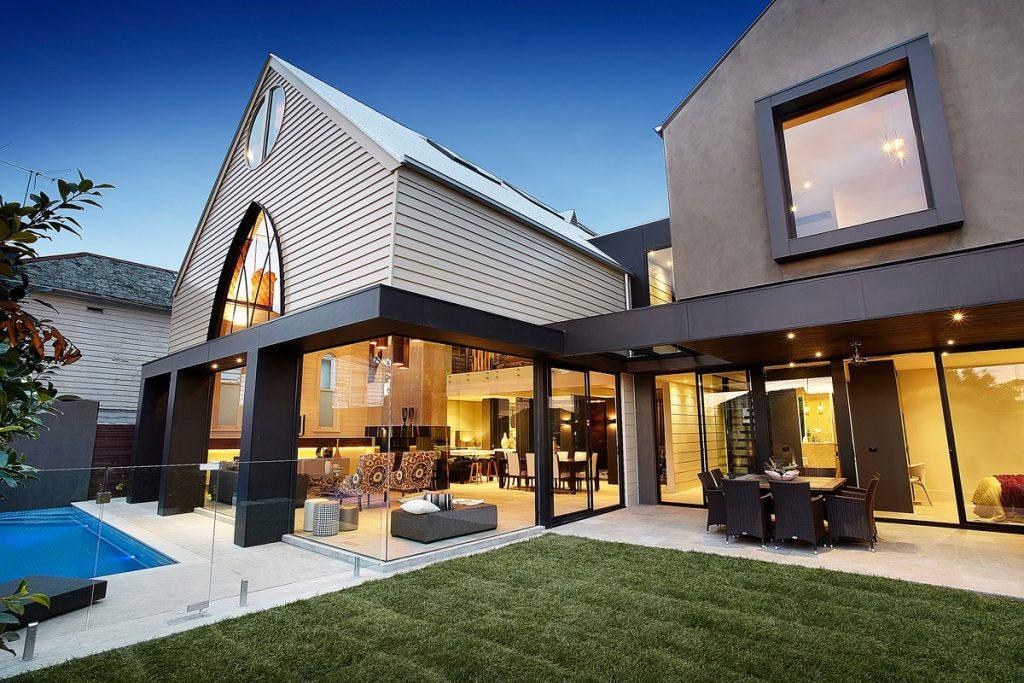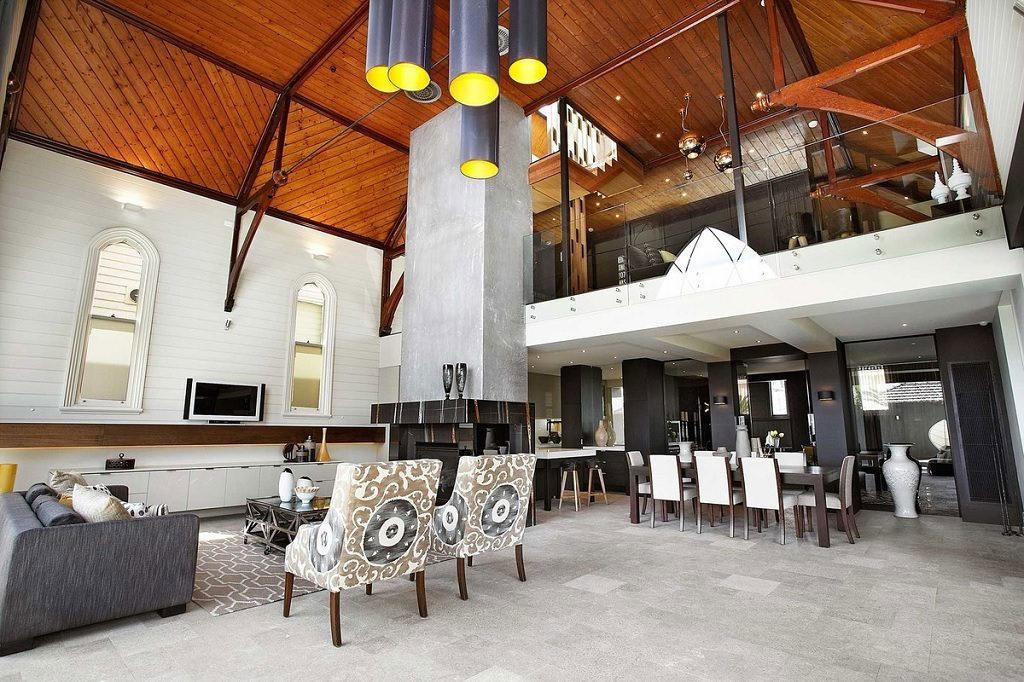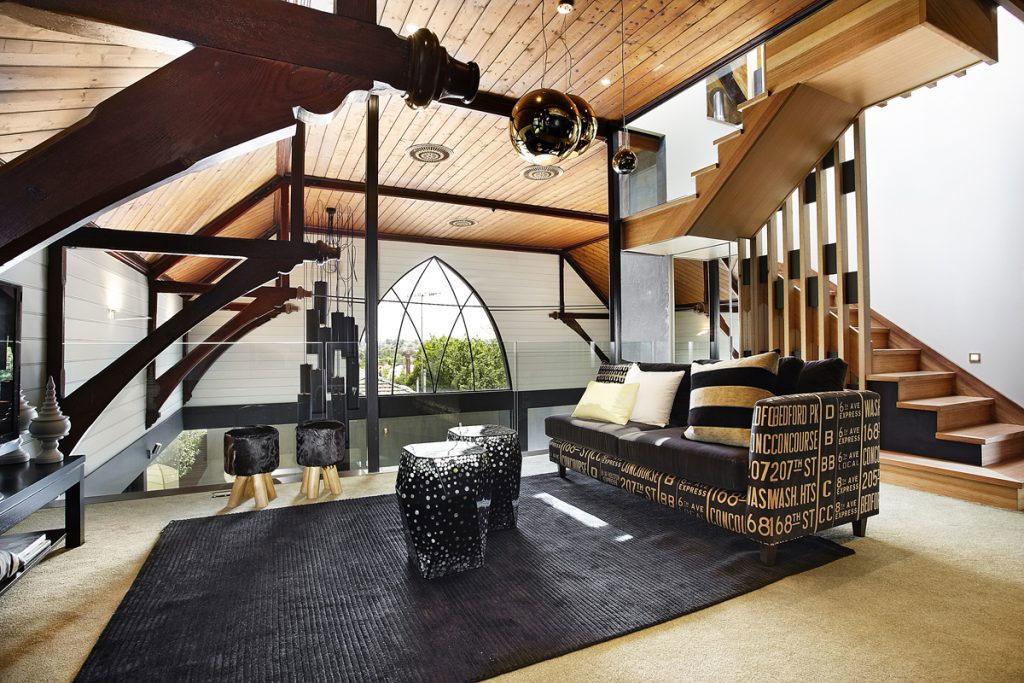 This converted church house is located in Melbourne's Moonee Ponds and was designed by Bagnato Architects. Using the structural basics of a 124-year-old Anglican church, the team stunningly converted into a gorgeous modern home.
What once were houses of worship, are now houses to worship.
– Michael Aynsley
The Church of Living Converted by Zecc Architects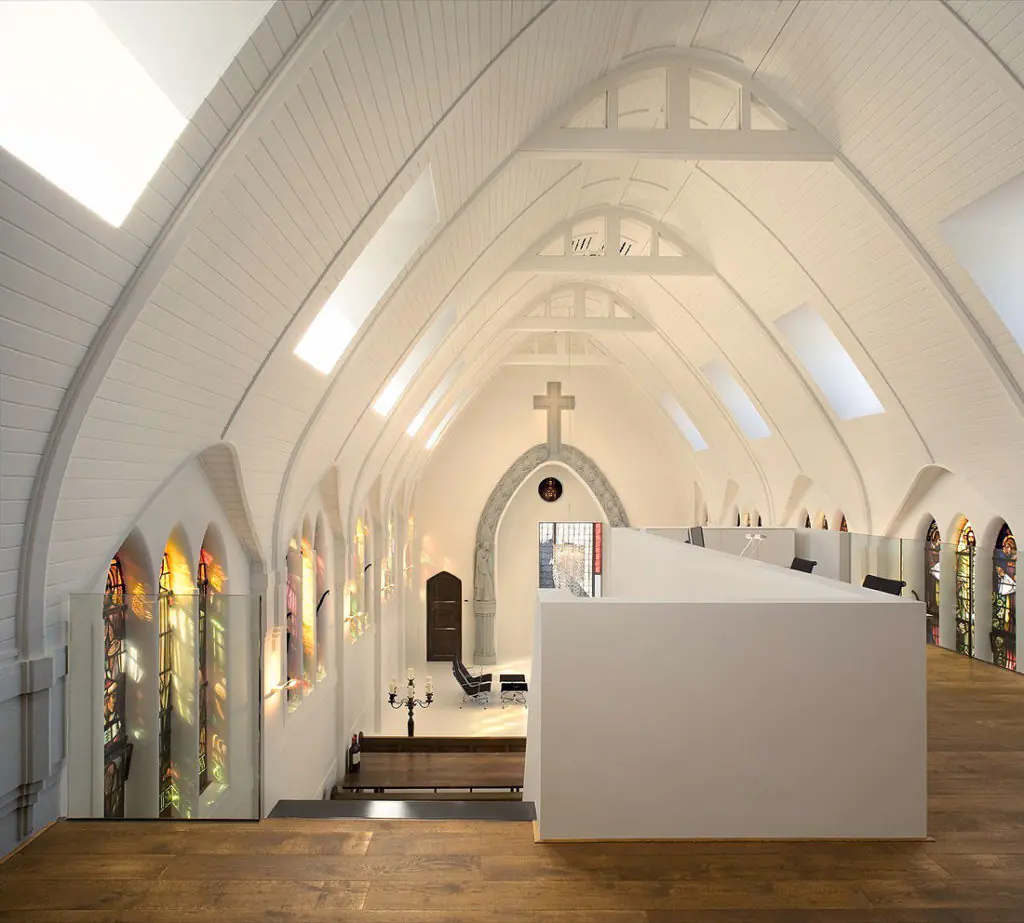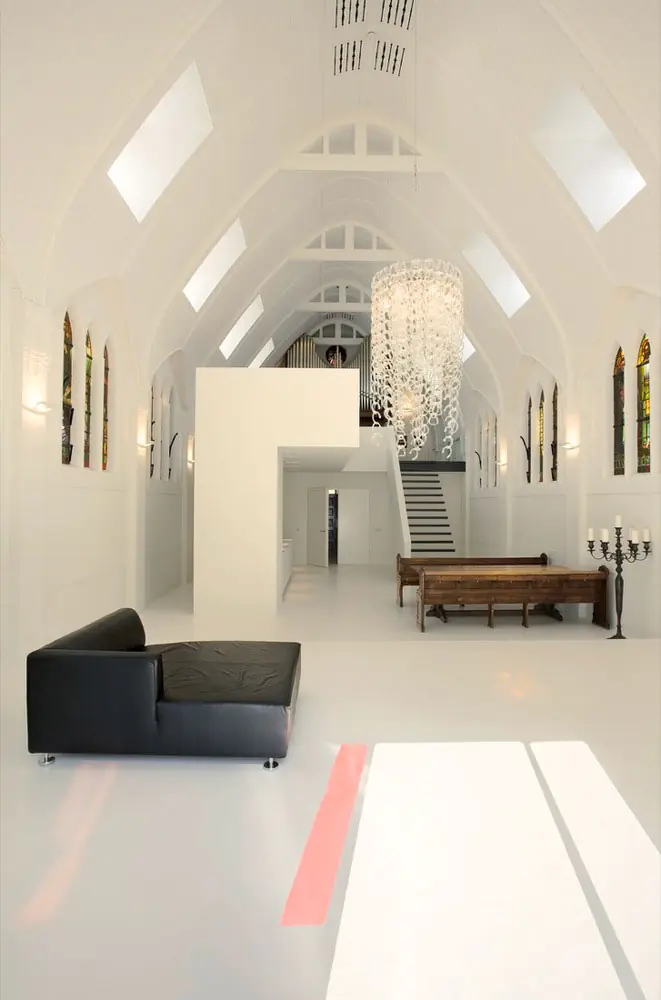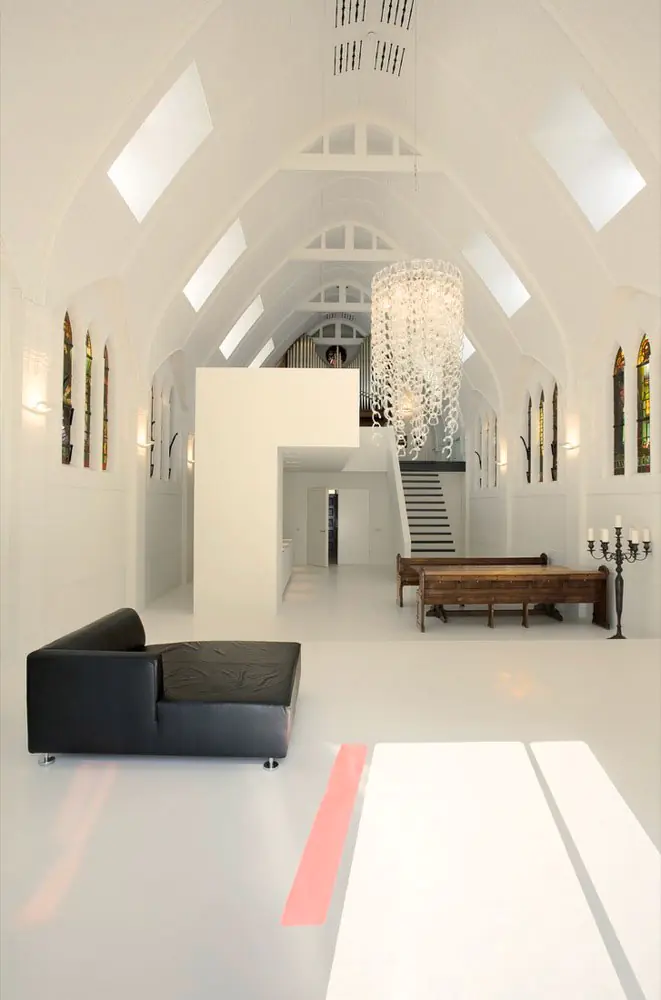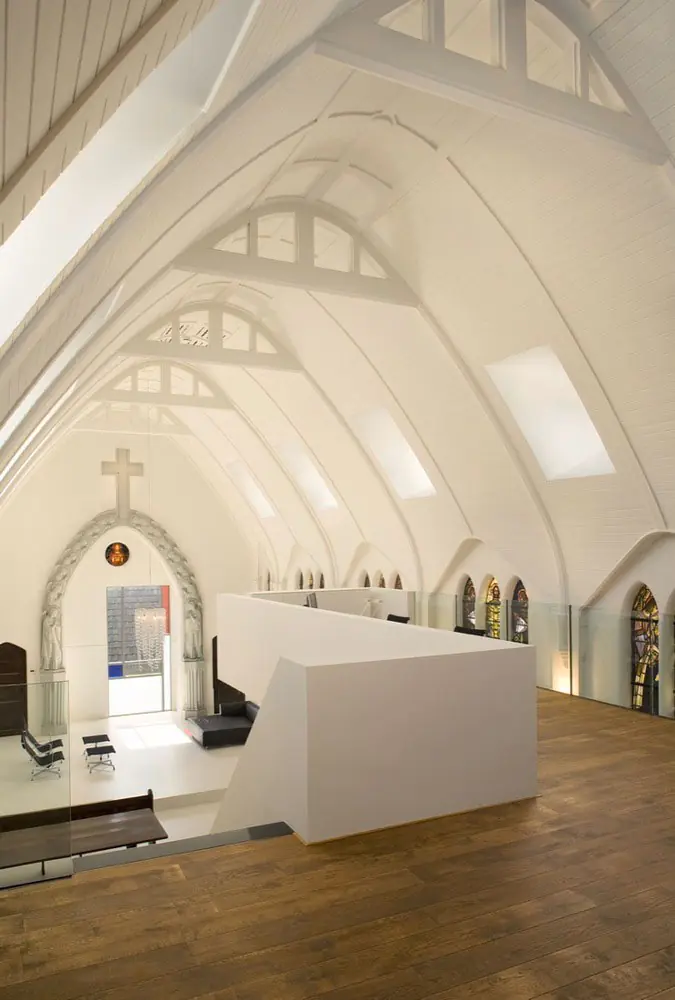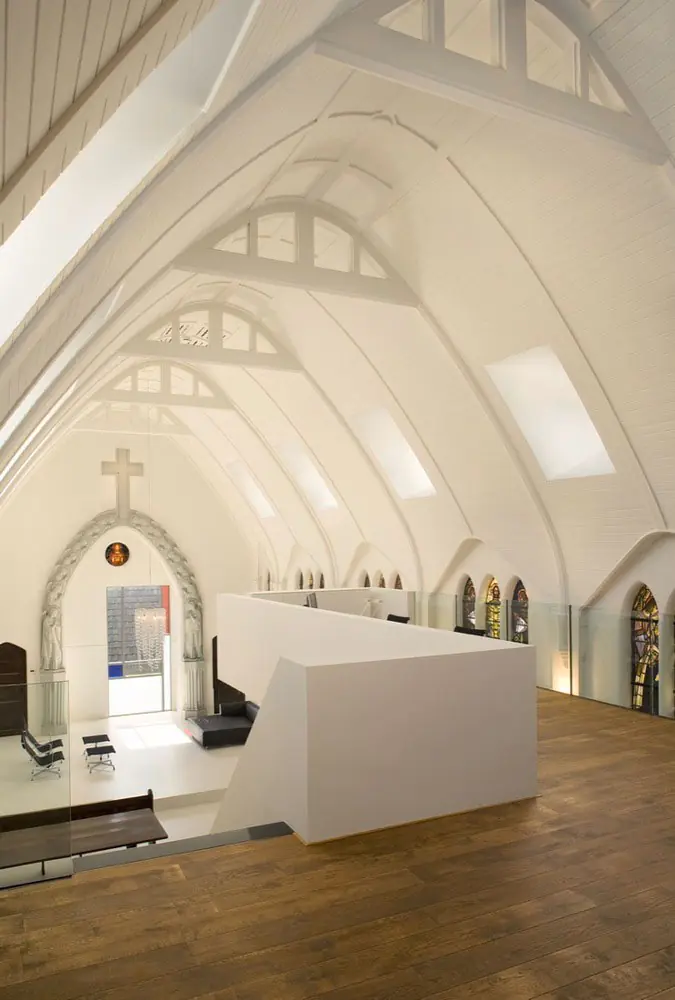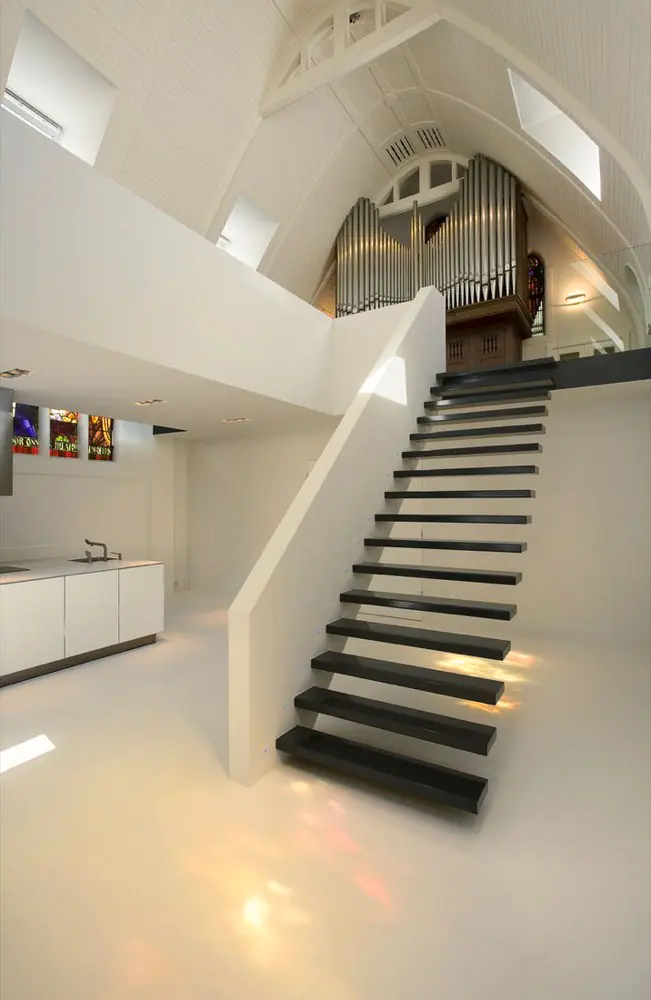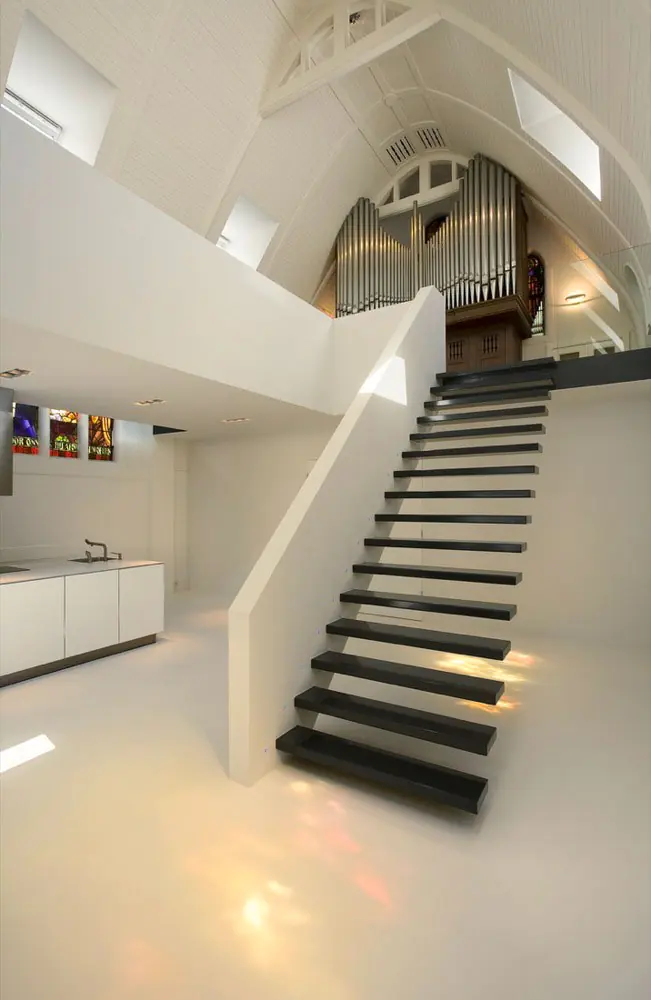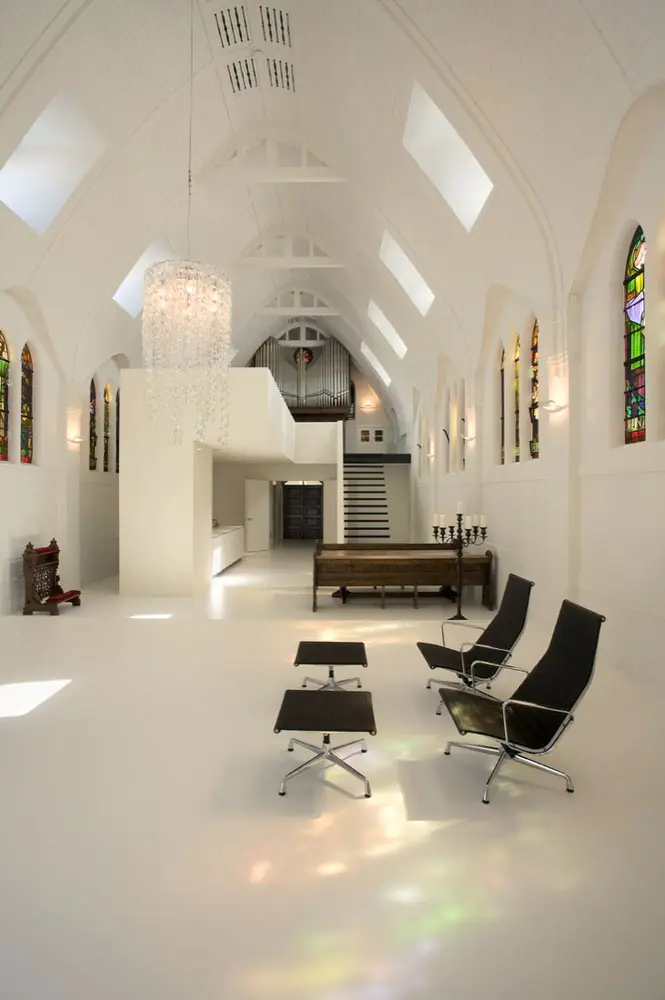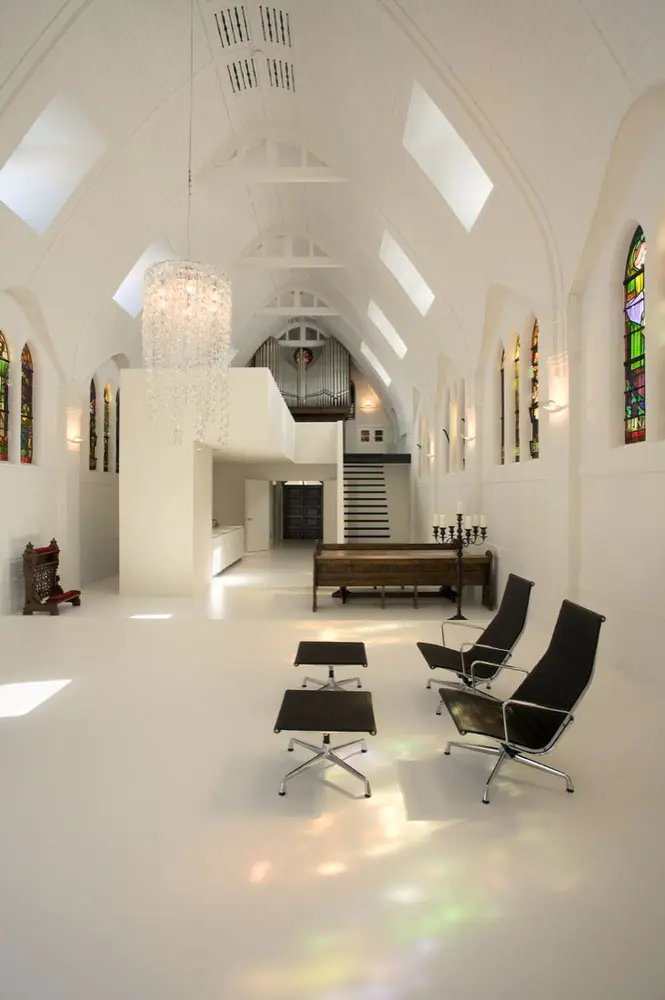 Considered by many to have set the standard for church conversion homes, Zecc Architects tackles converting an old Catholic church in the Netherlands into a thoroughly modern home.
Specific, characterizing elements, like relics, are maintained and used, by which a nice field of tension comes into existence between the old and new function of the chapel.
– Arch Daily
Condo Conversion of Howard Park Methodist Church in Toronto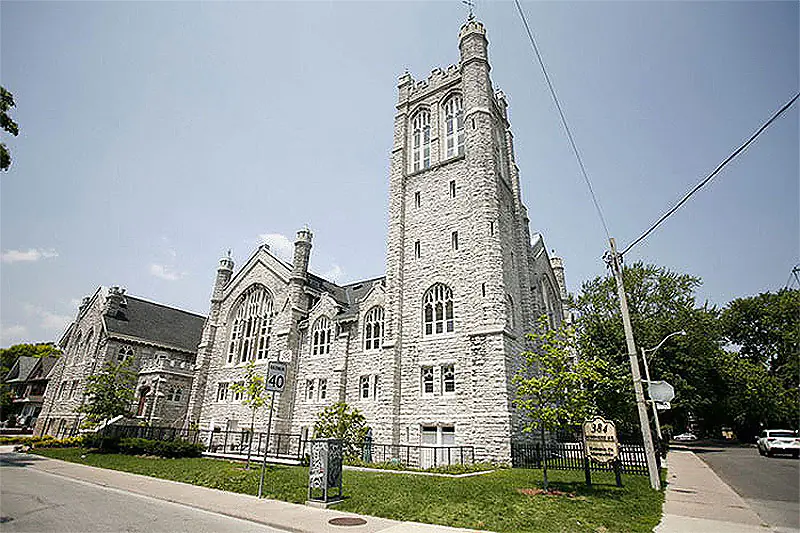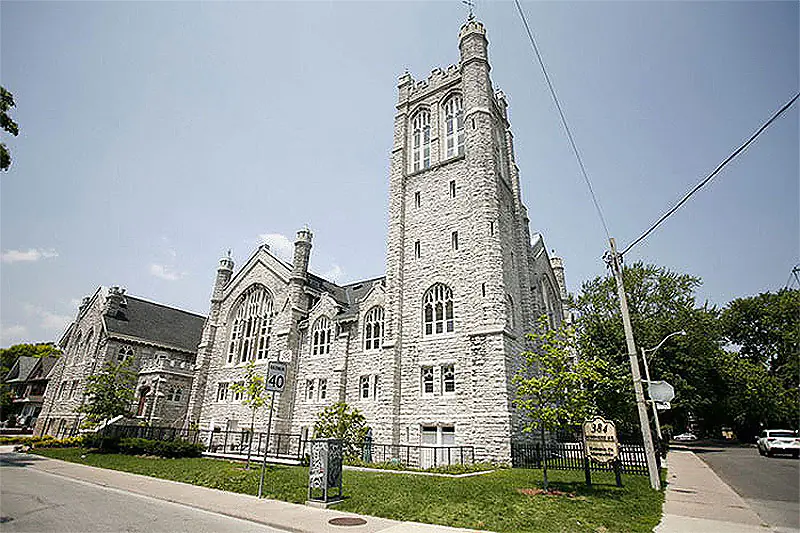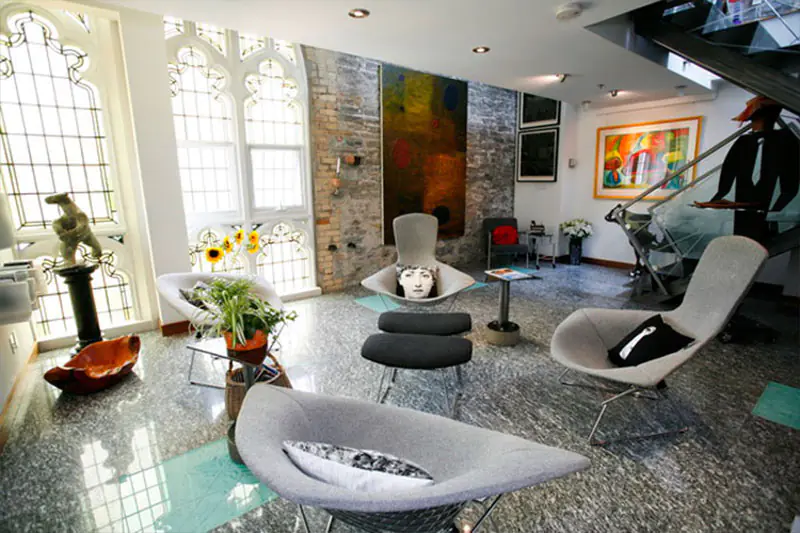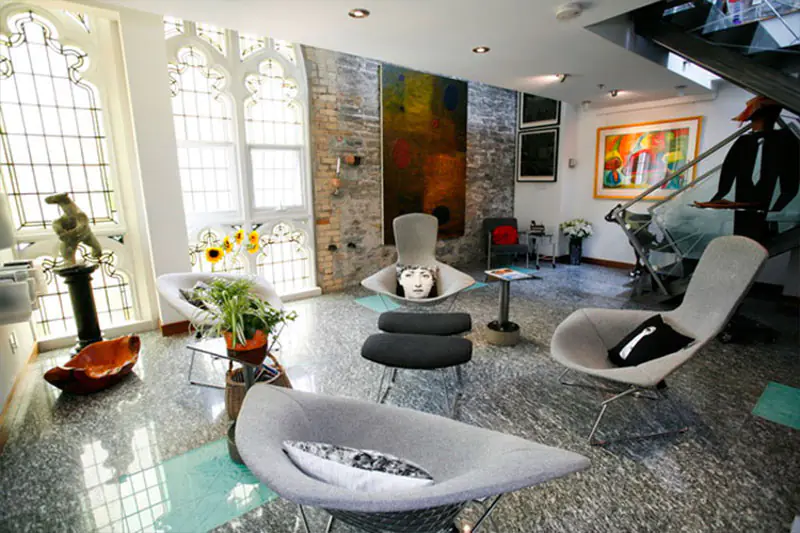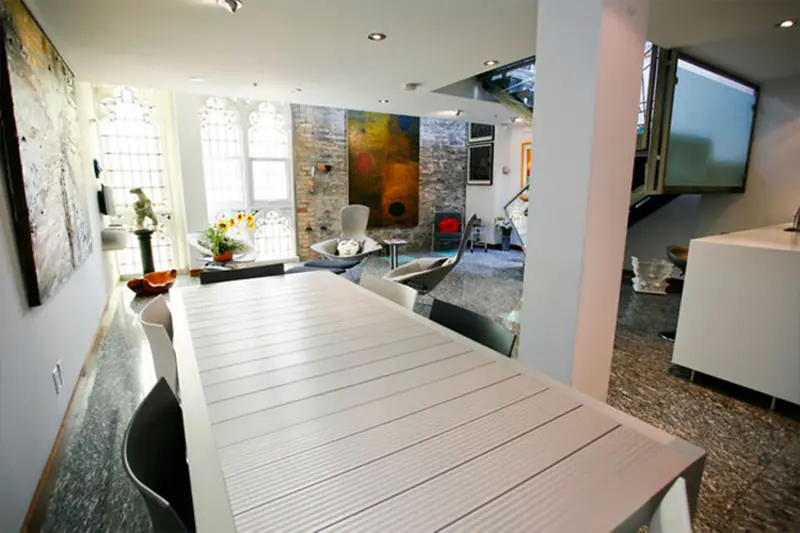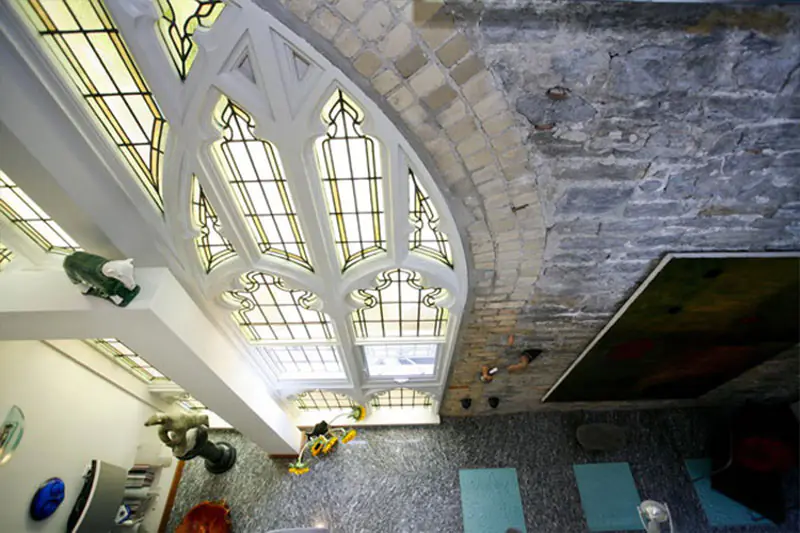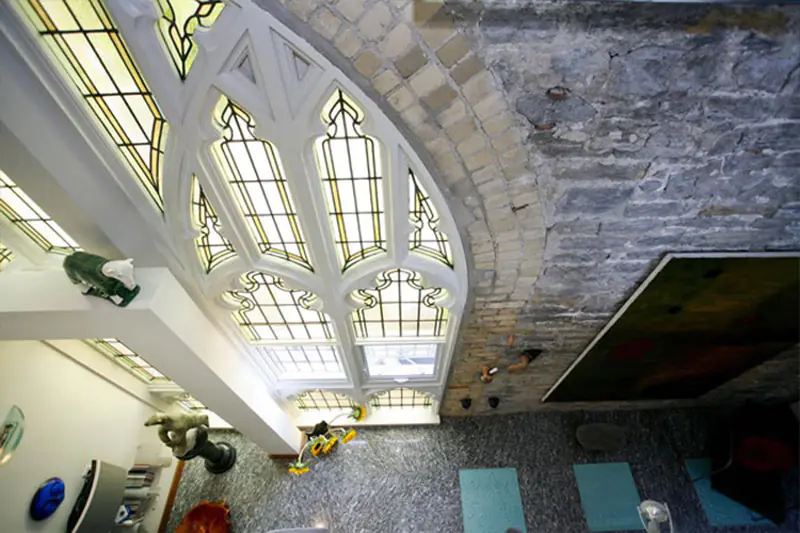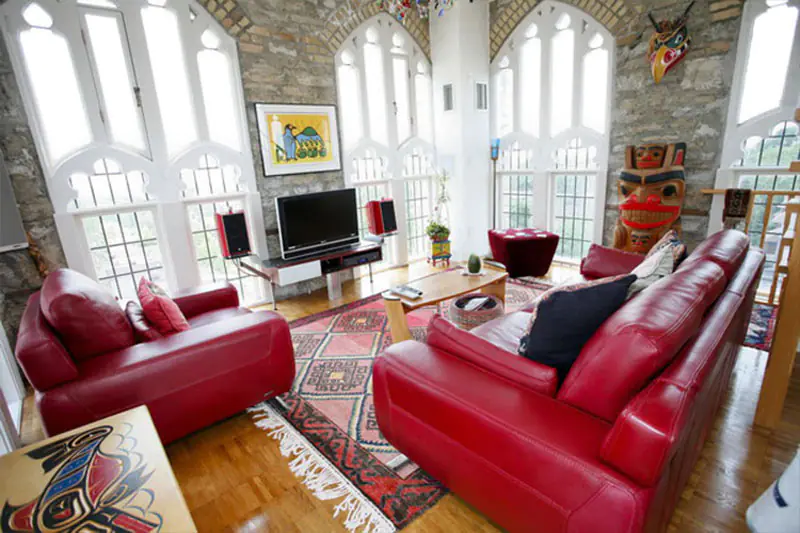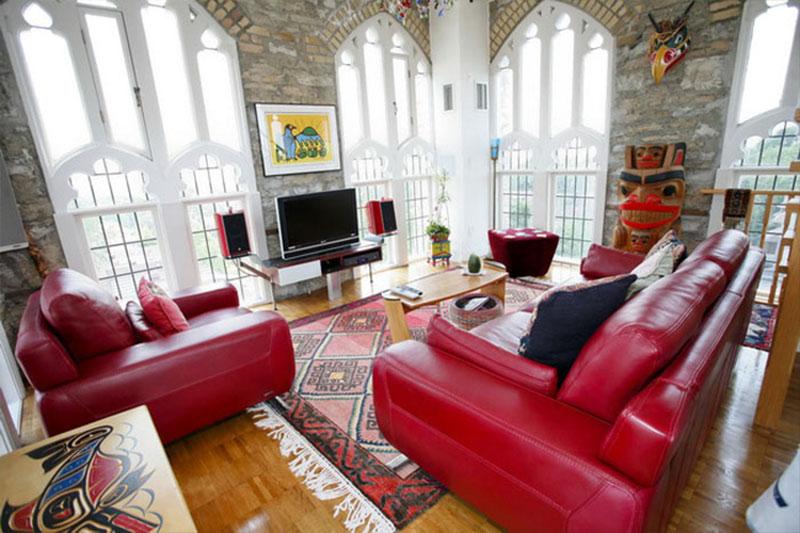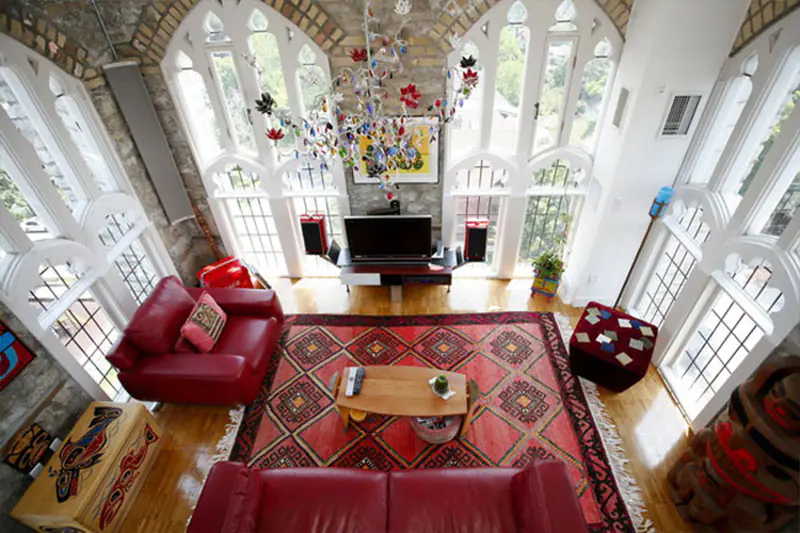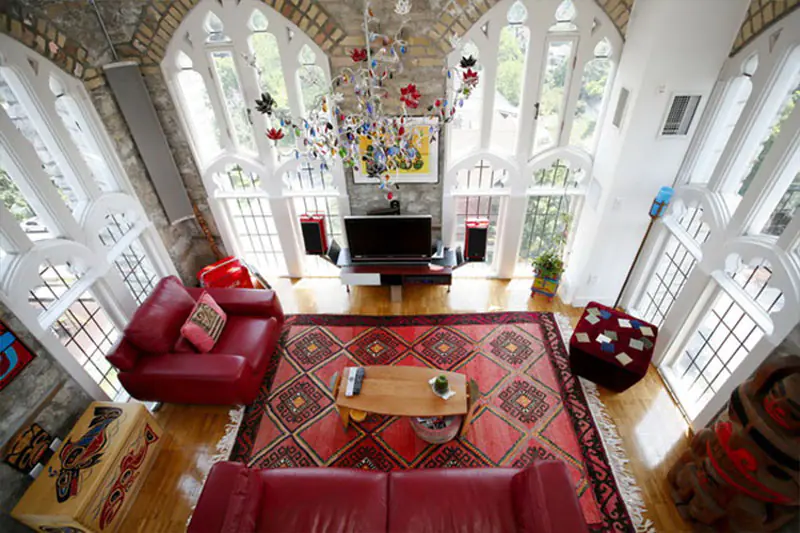 Built in 1910, the limestone-clad Howard Park Methodist Church in Toronto was converted into the Abbey Lofts in 2007. Anything but square, these three-level condos feature high ceilings, twisting staircases, and lookout in the former bell tower (bell sold separately).
This penthouse is the crown jewel of the Abbey Lofts, a former Howard Park Methodist church, built in 1910 in Toronto, Canada.
– HomeDSGN
Converted Church House in California Wine Country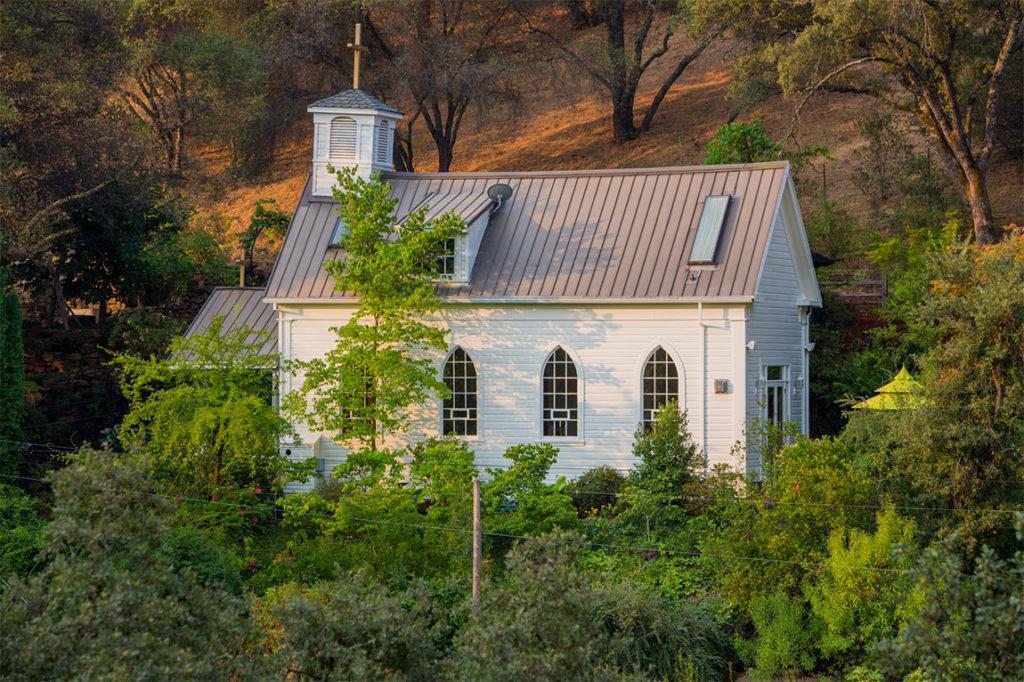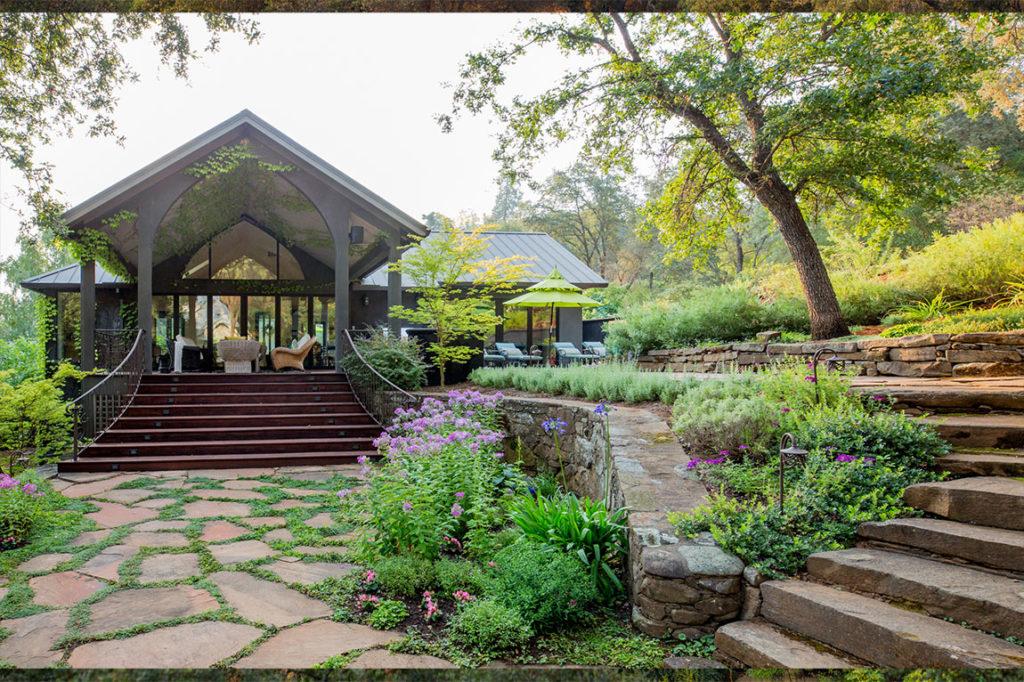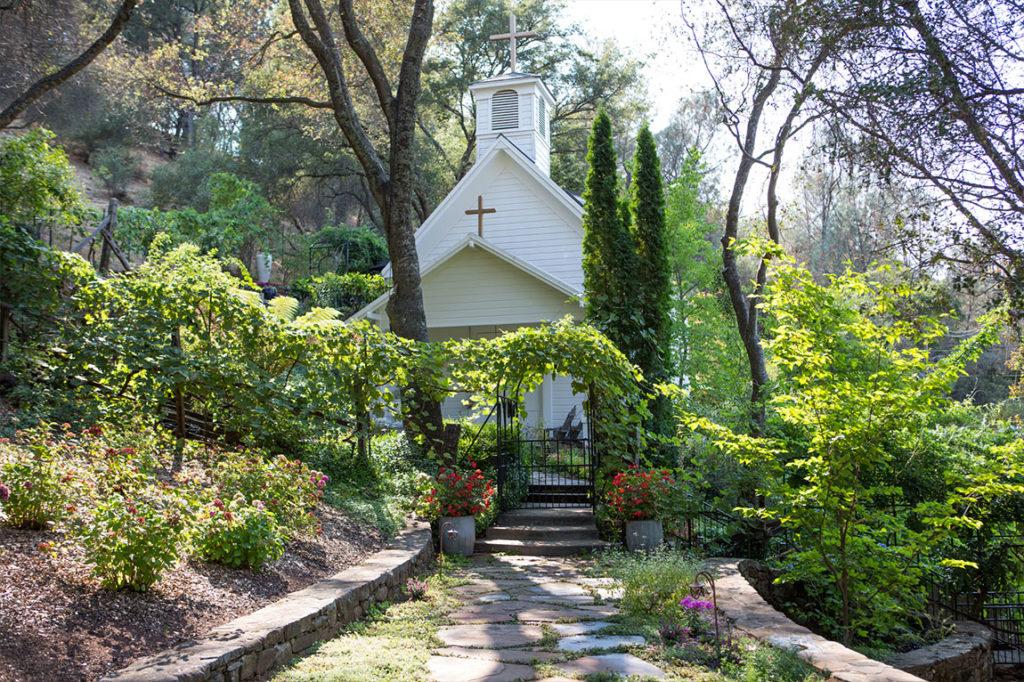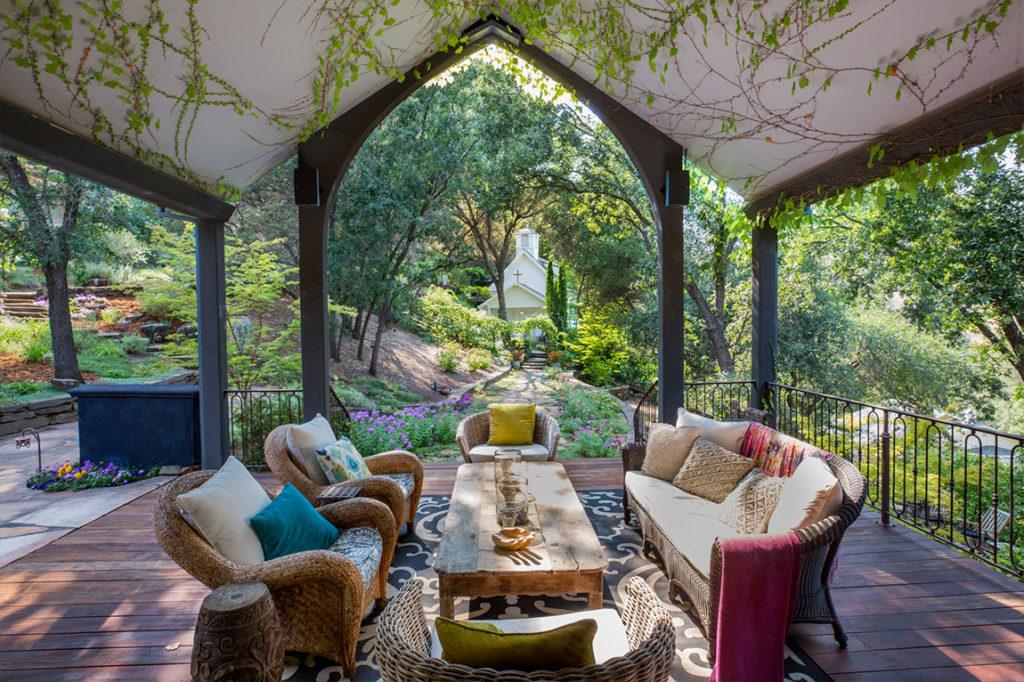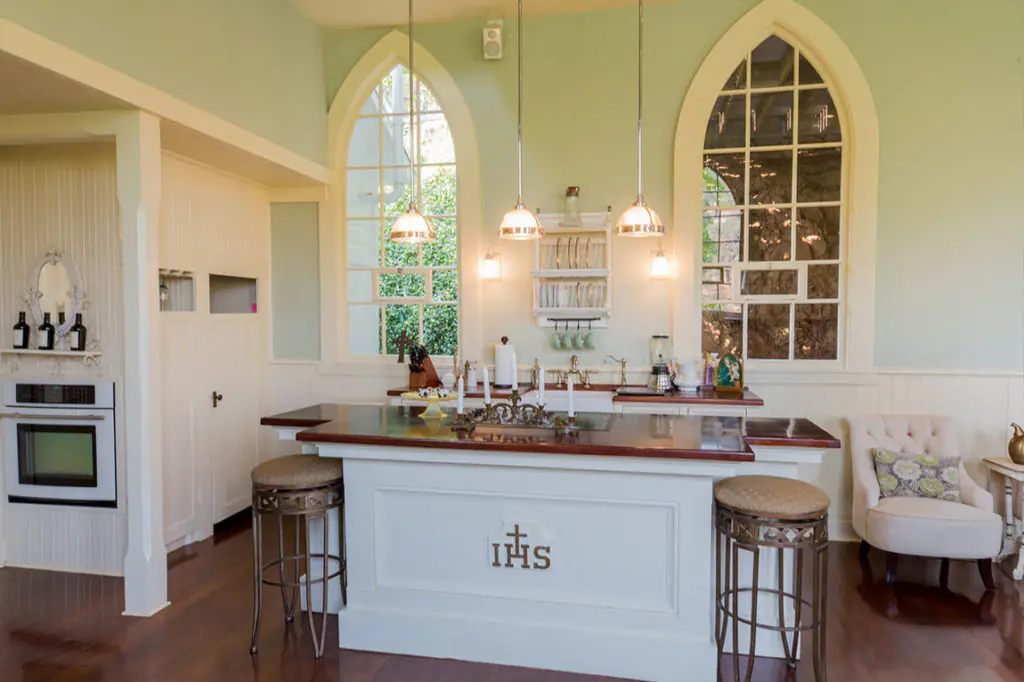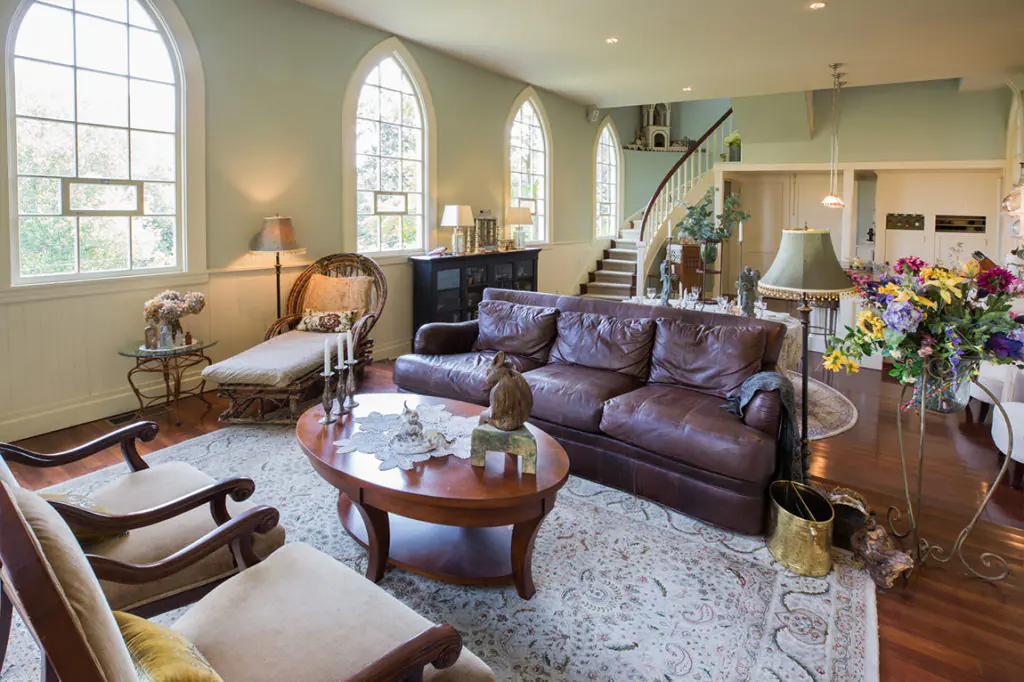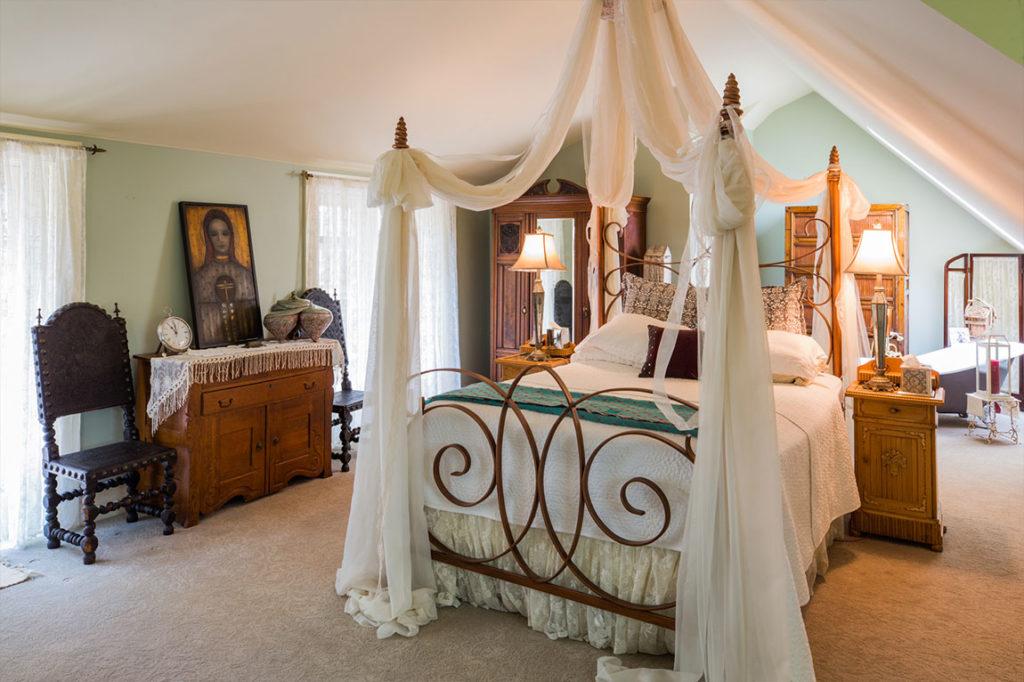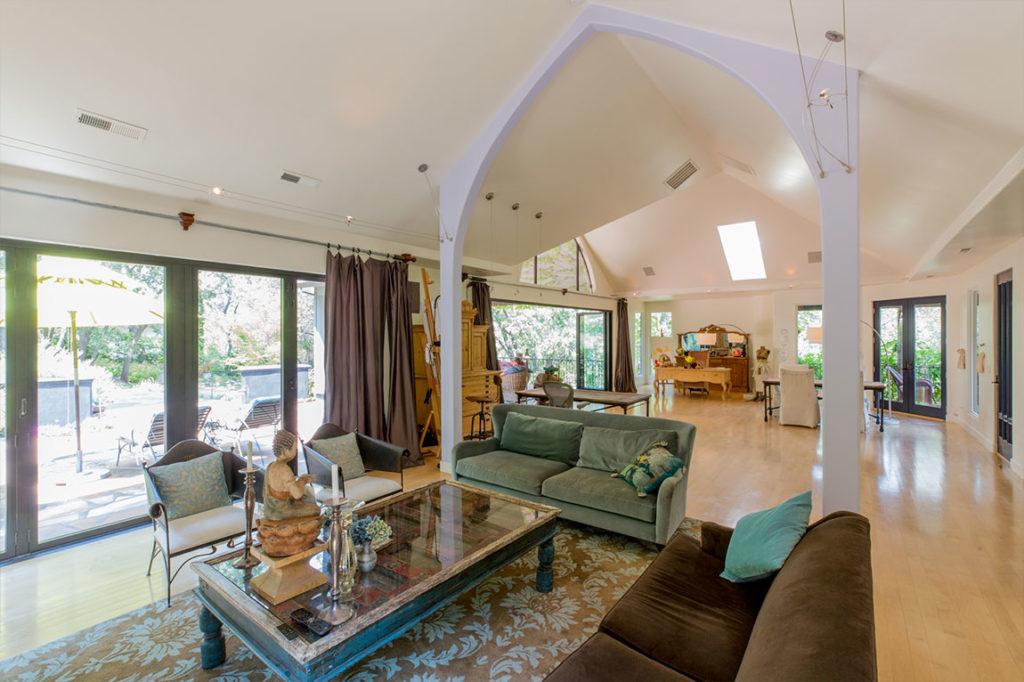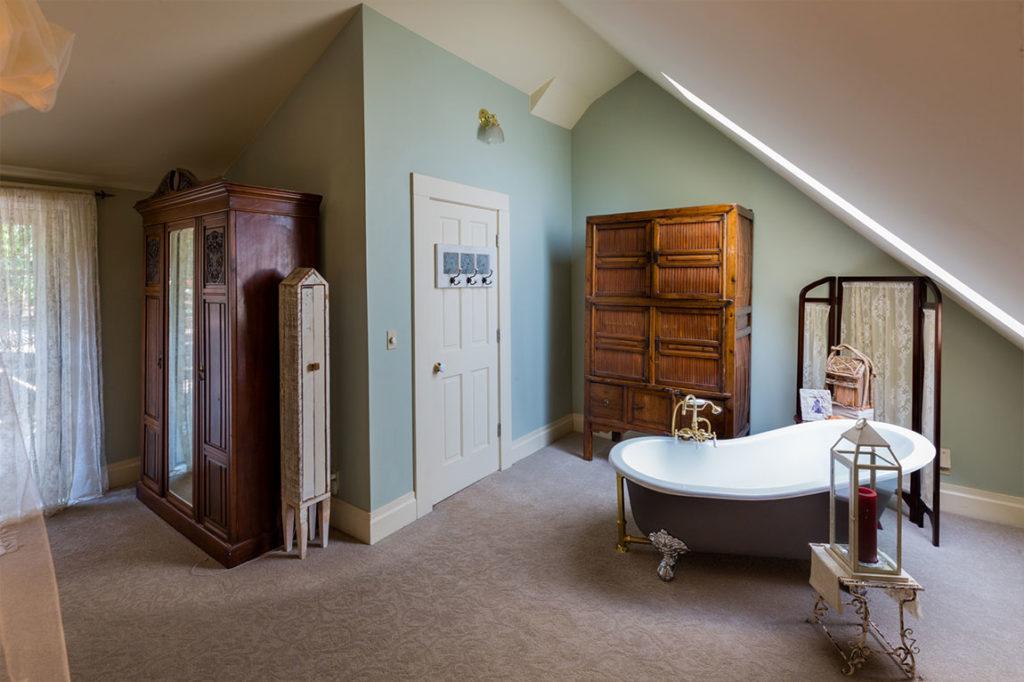 Nestled in the heart of the Shenandoah Valley wine country, this is the ultimate wine country retreat is perfect for secluded getaways or hosting fabulous parties. The property features a meticulously-restored 130-year-old church and a modern guest house on ±1.7 acres of beautifully-manicured grounds.
Between and surrounding the two homes is a garden paradise masterfully blending raw natural beauty, rich architecture, and antique charm, offering a one-of-a-kind property to cherish for generations.
– Debi Roks
St. Jakobus Converted Church in Utrecht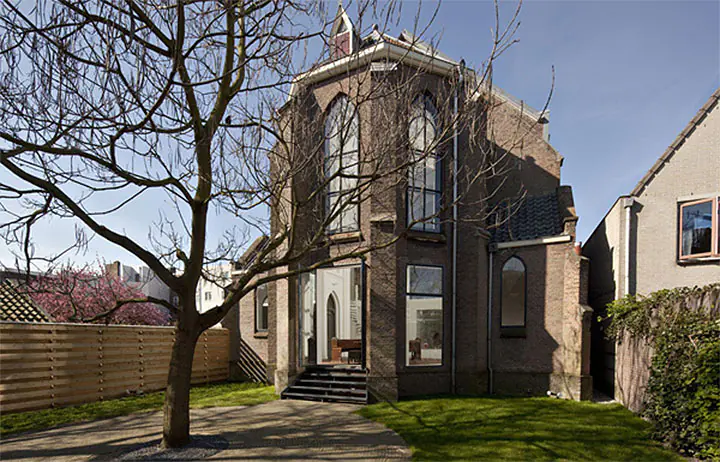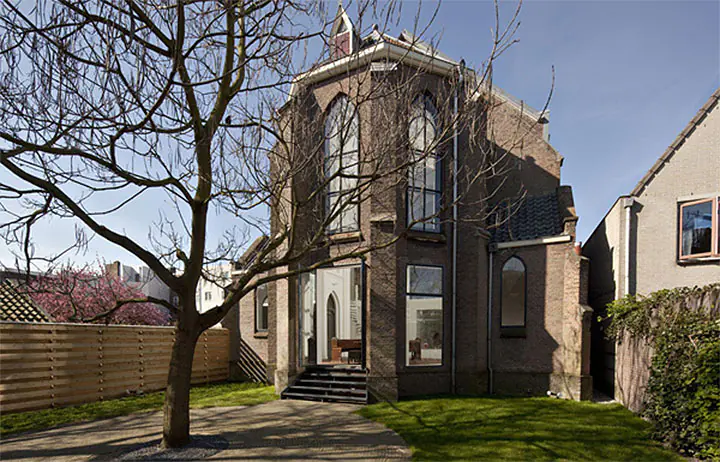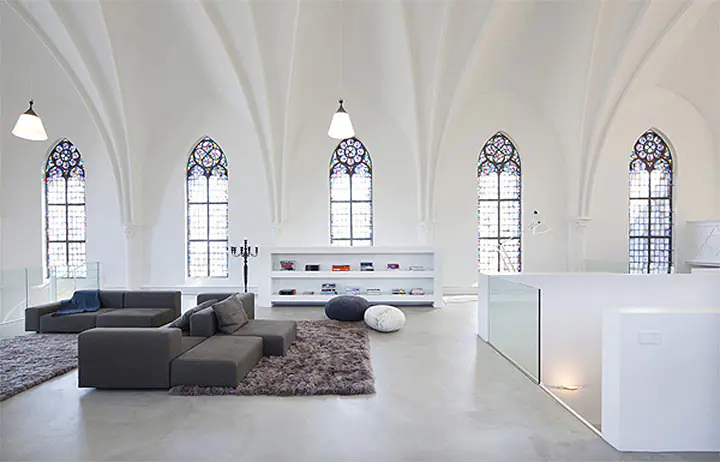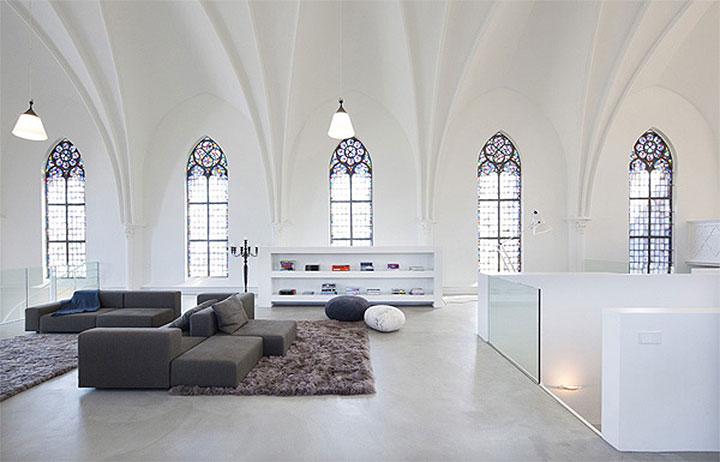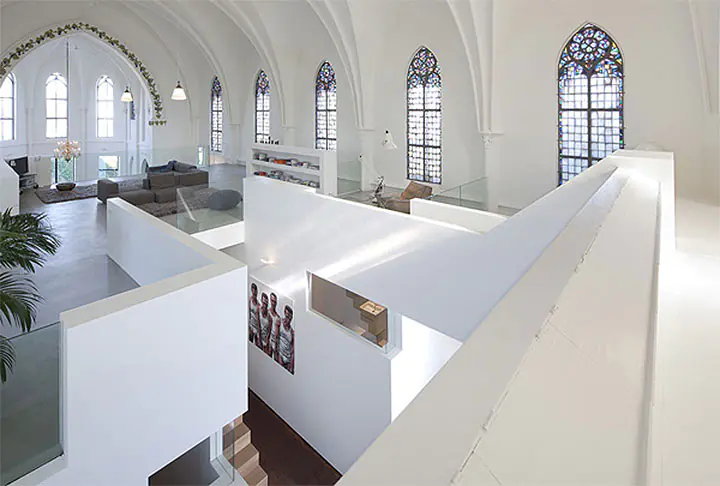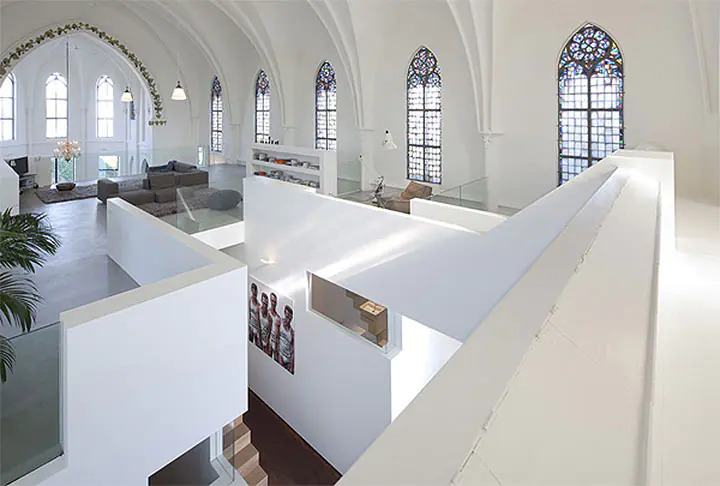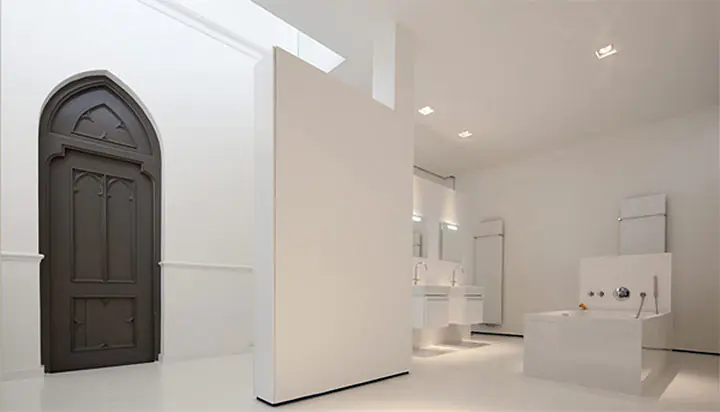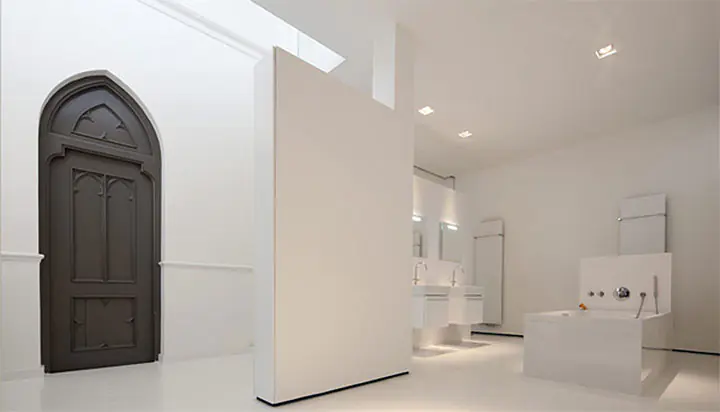 This abandoned church in Utrecht, Netherlands is another converted church house project from the talented team at Zecc Architects. While the outside of this Gothic maintains most of its original charm, the interior of the church underwent a stunning transformation.
The beautiful Gothic building was transformed on the inside into a modern home with a white color scheme with preserved architectural details.
– Interiorholic
Golden Lutheran Converted Church in San Francisco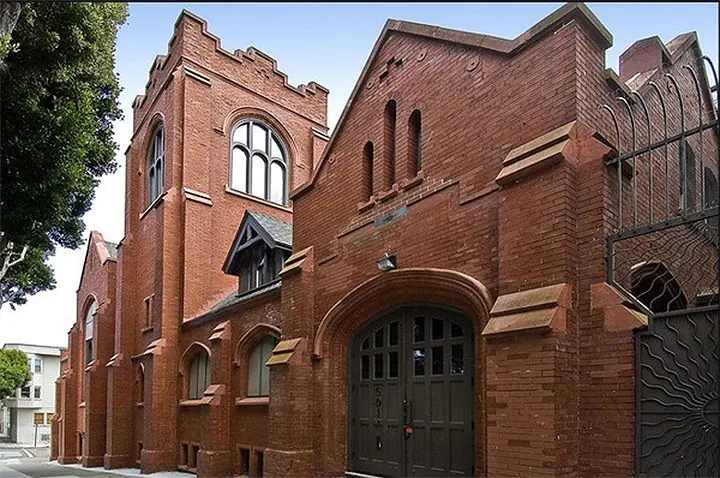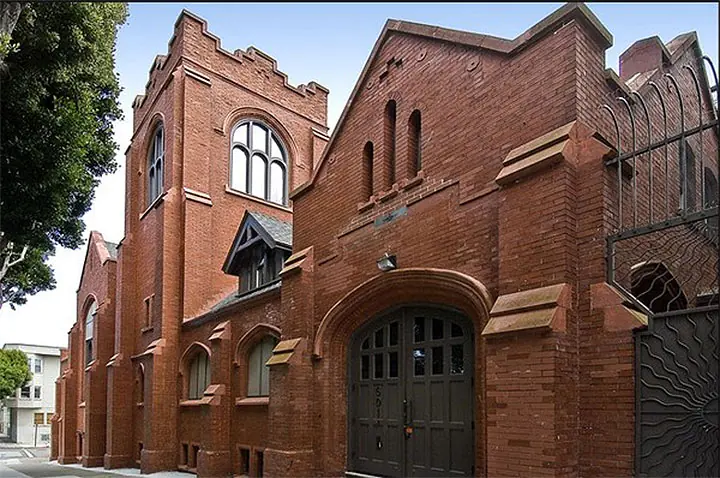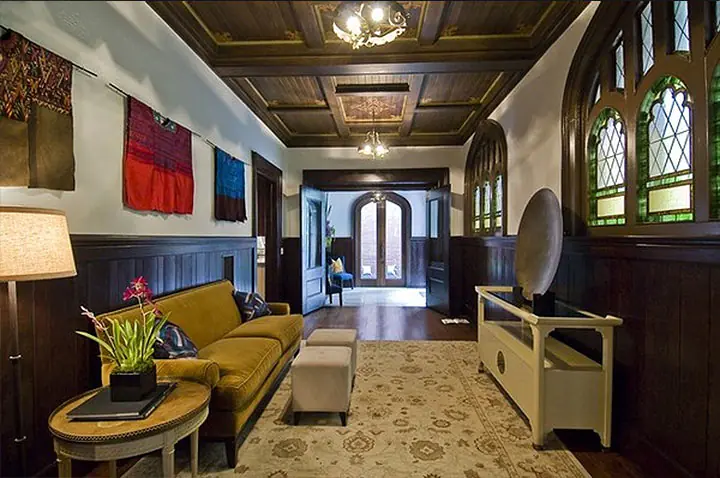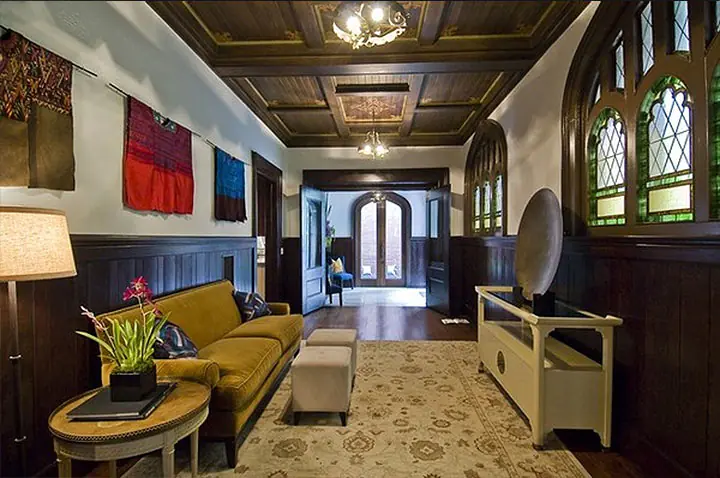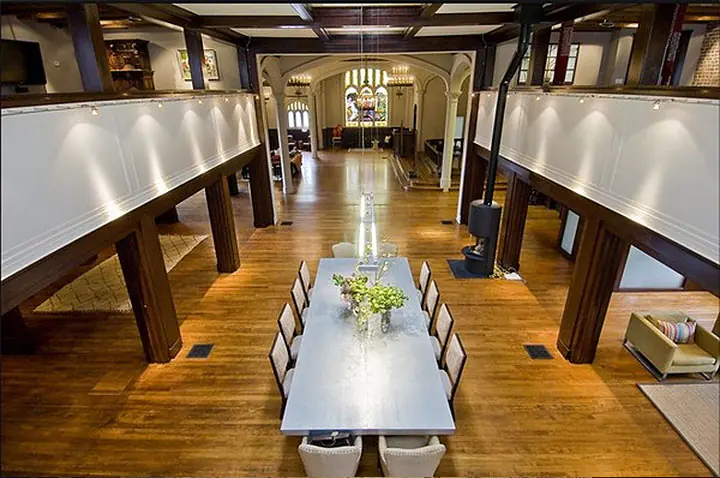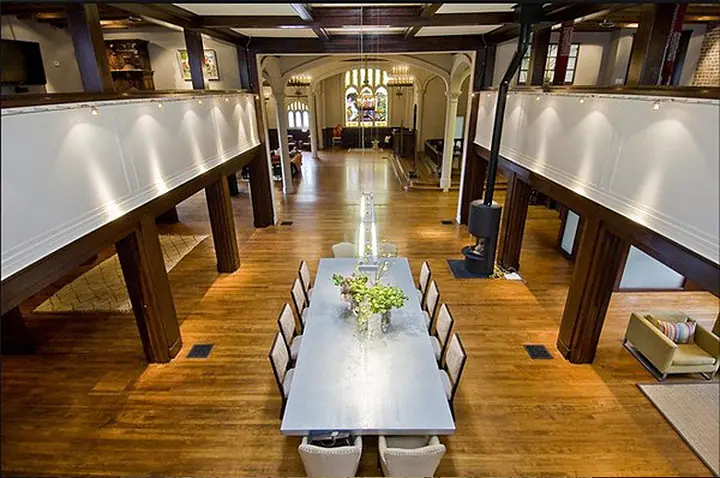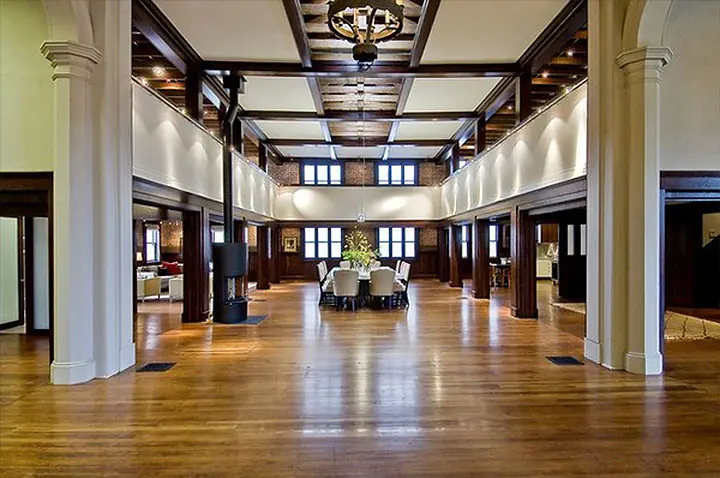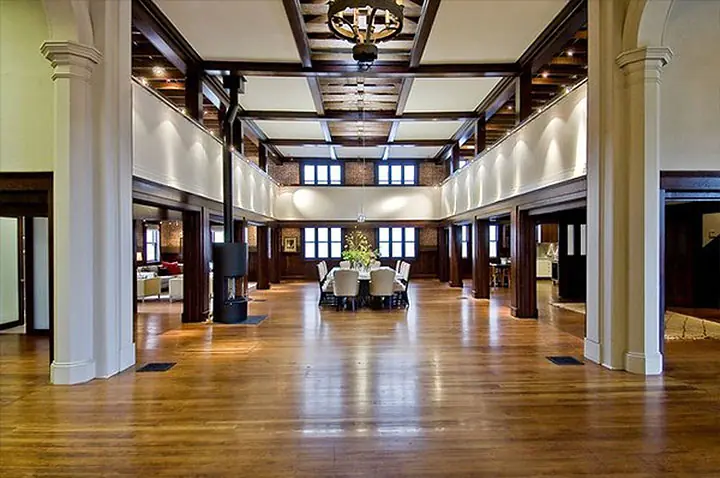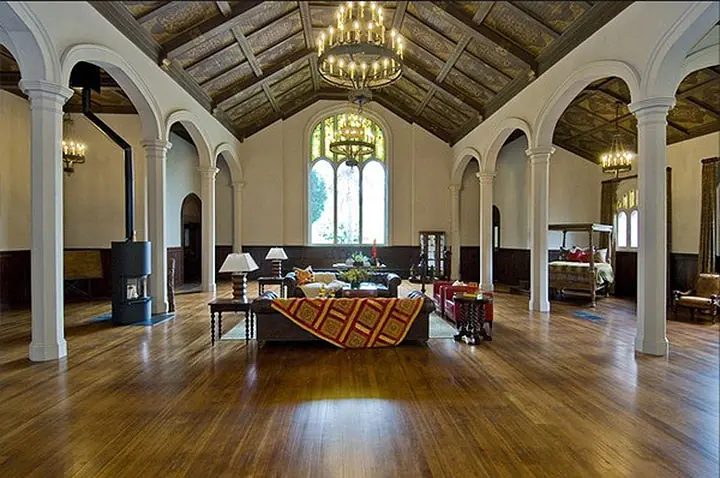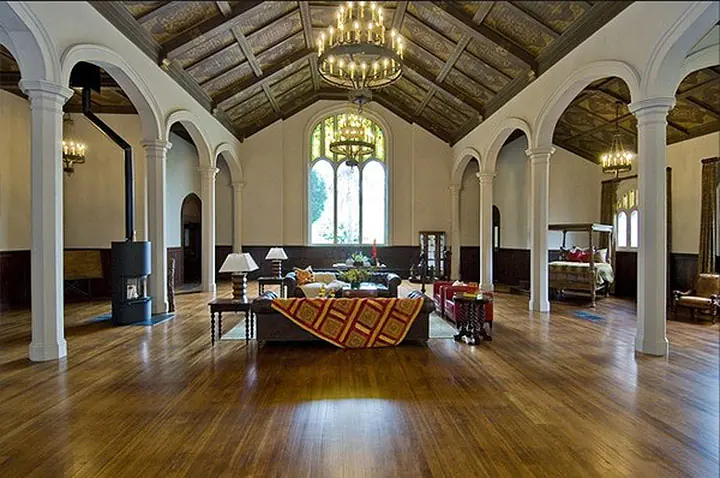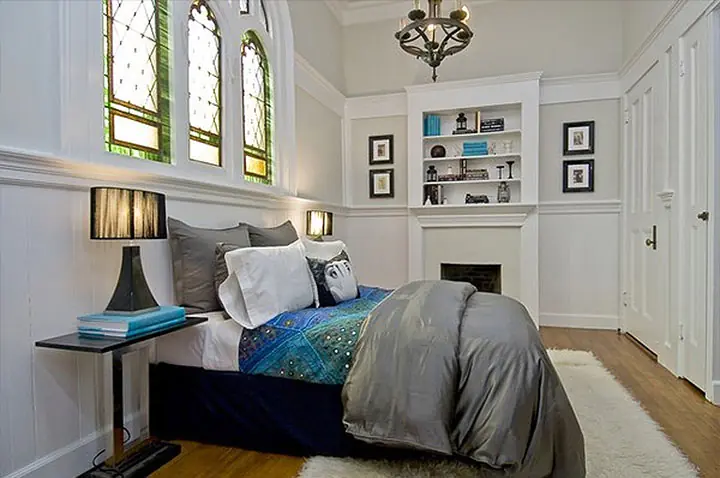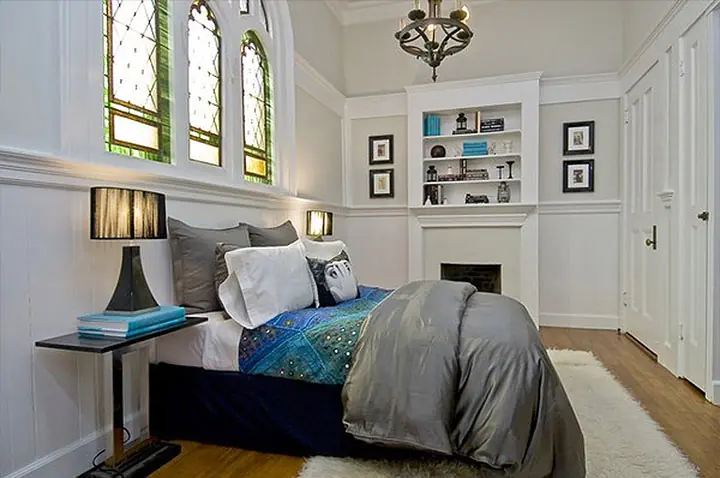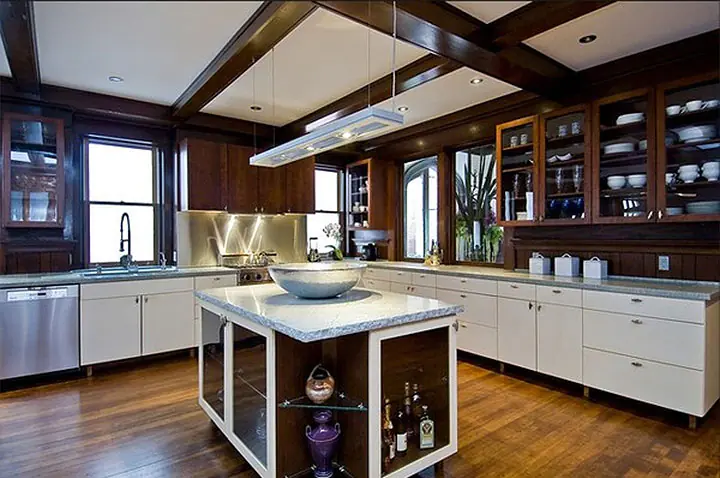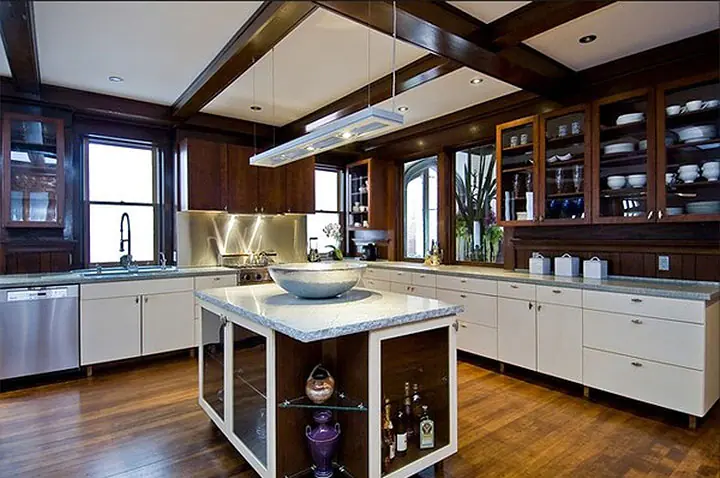 The recently converted church in San Francisco maintains much of the original building's structure while being renovated and transformed into a luxurious residence. This beautiful building, which was built to overlook Mission Dolores Park in 1909, features wood ceilings, exposed brick, and gorgeous stained glass windows that remain a key focal point in the updated home.
The details incorporated in this architectural beauty as well as the incredible view that it offers make this extraordinary construction a very interesting and unique home.
– Home DIT
Circa 1867 Converted Church House in Brisbane, Australia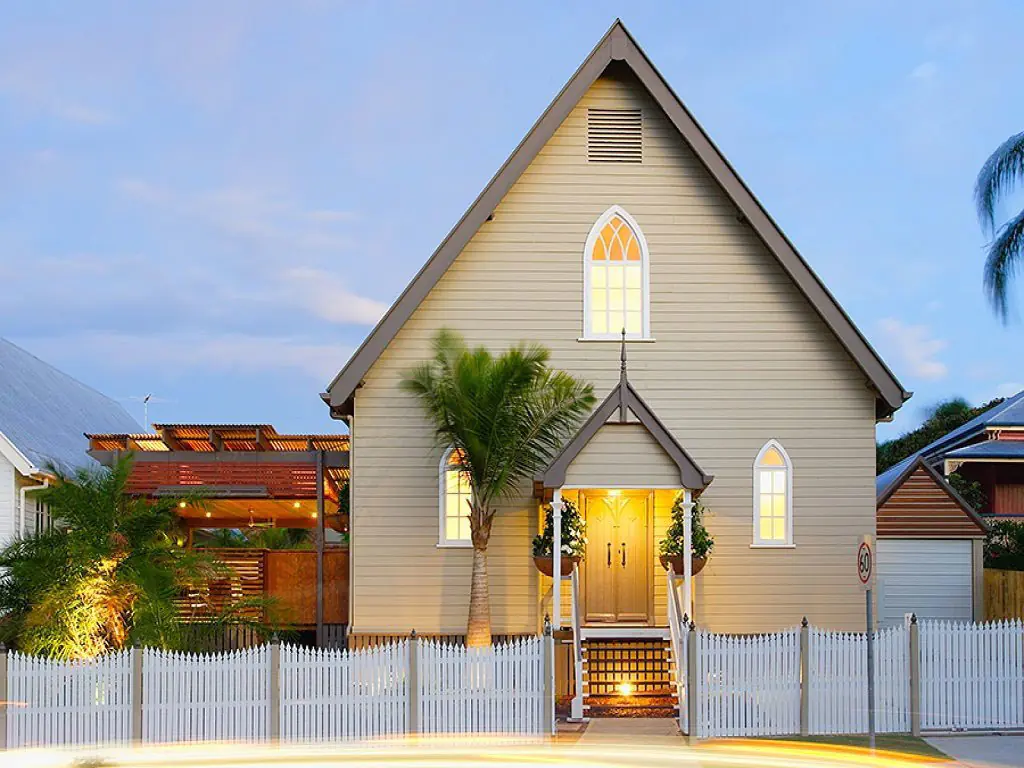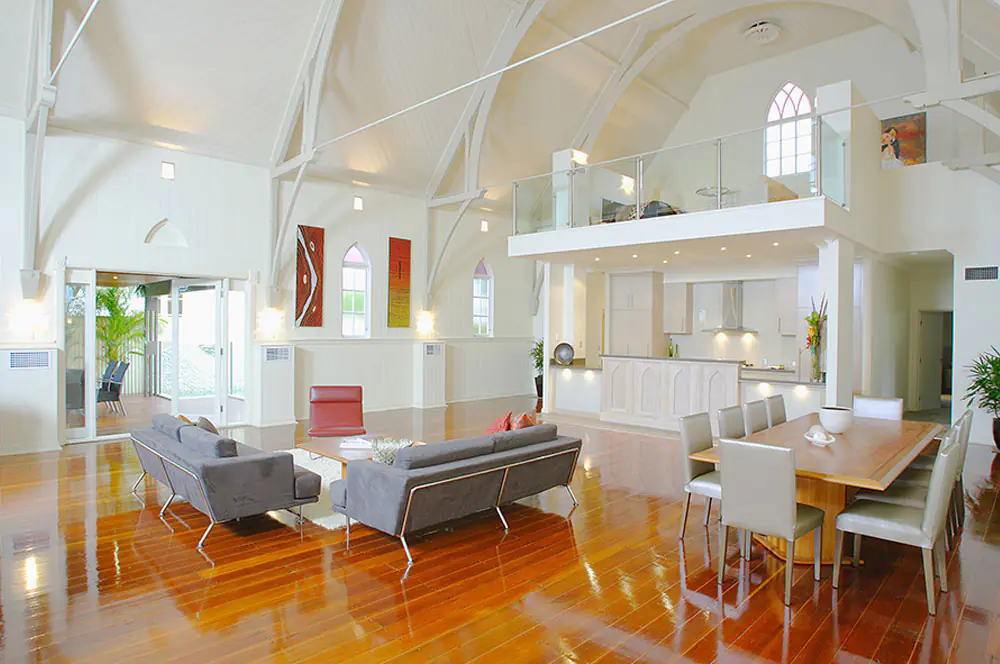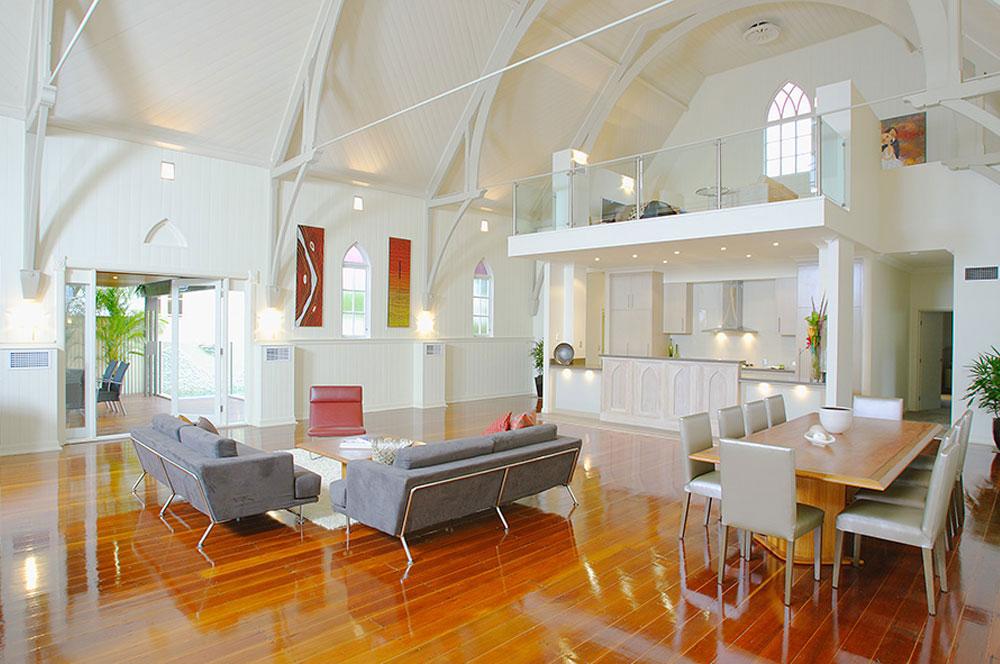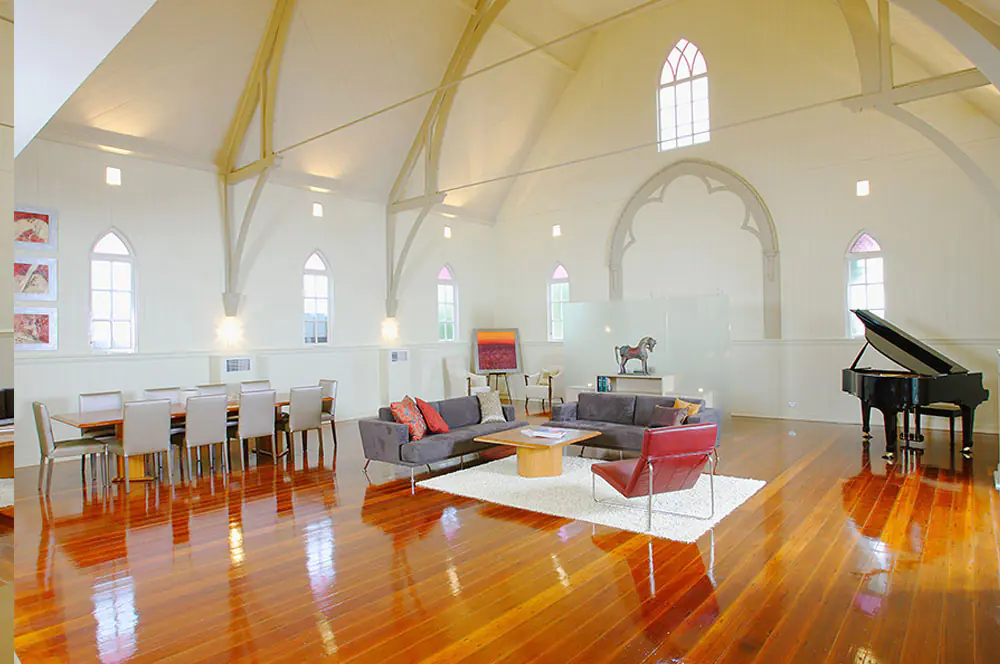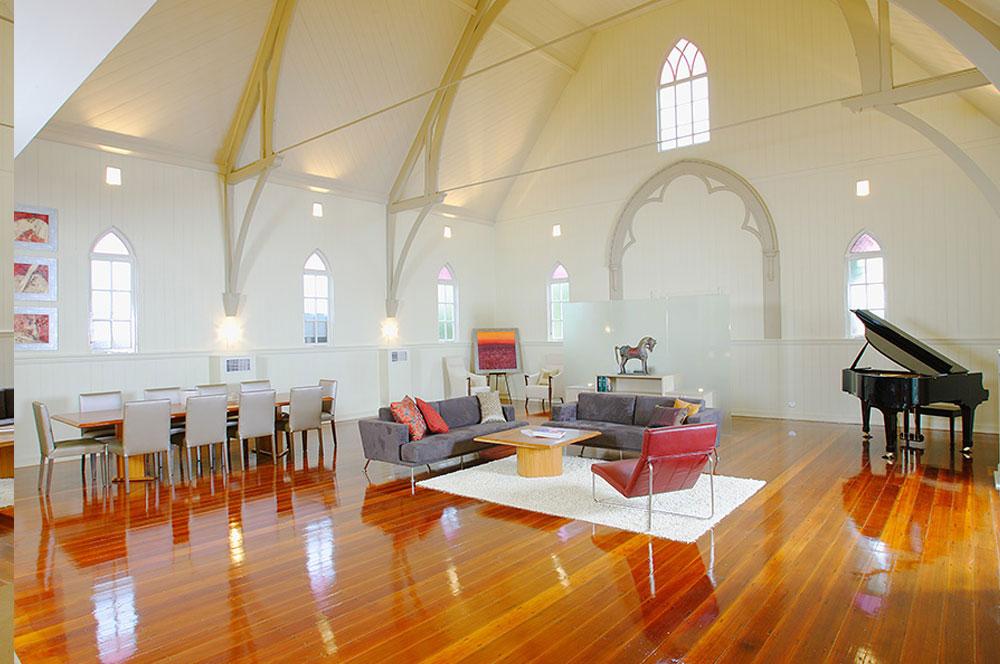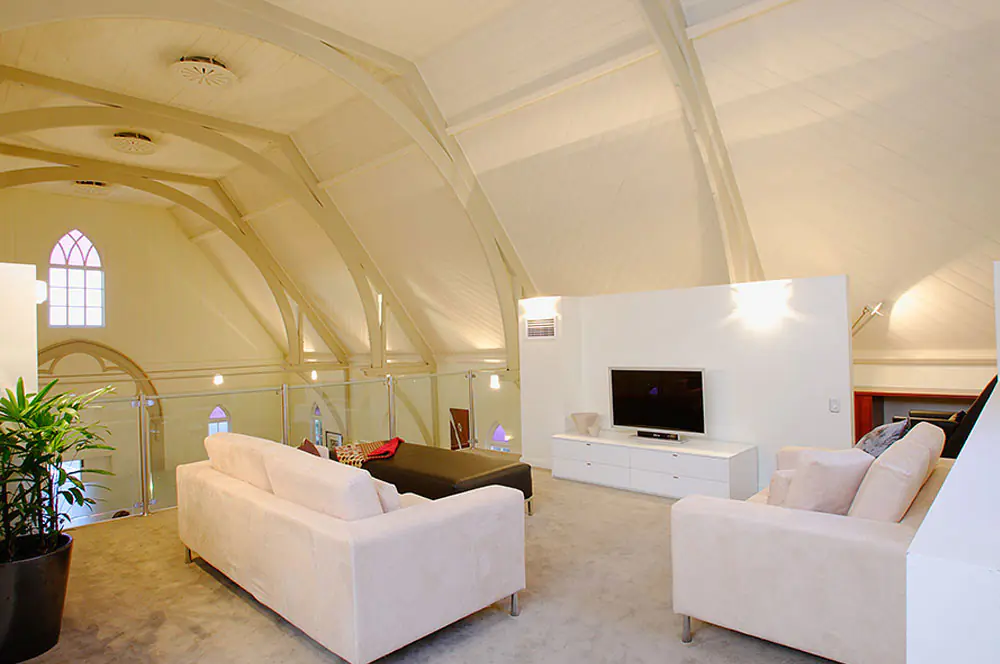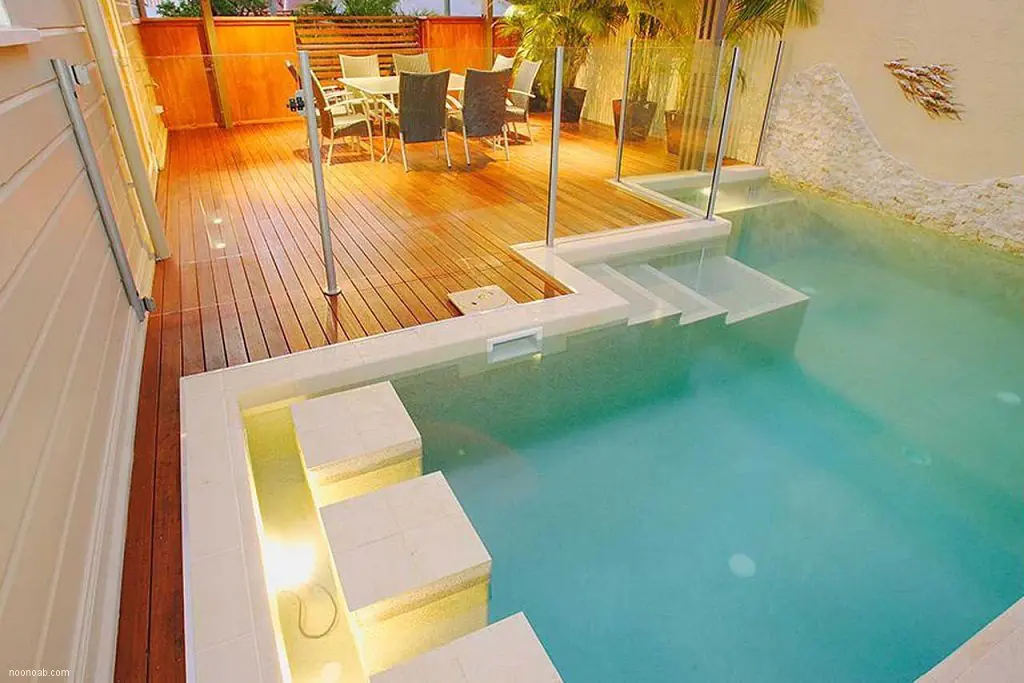 This 151 Year Old Bonney Avenue church in Brisbane, Australia has been converted into a home that is a beautiful combination between past and present. Designed by Willis Greenhalgh Architects, this converted church house into a charming luxury residence, which preserved part of the church's rich history.
Extensive community and heritage consultation ensured the balance between conserving the integrity of the buildings, the subtle introduction of contemporary elements, and the relationship with the surrounding area.
– Home Reviews
Circa 1890 Converted Browntown Church House in Bentonville, Virginia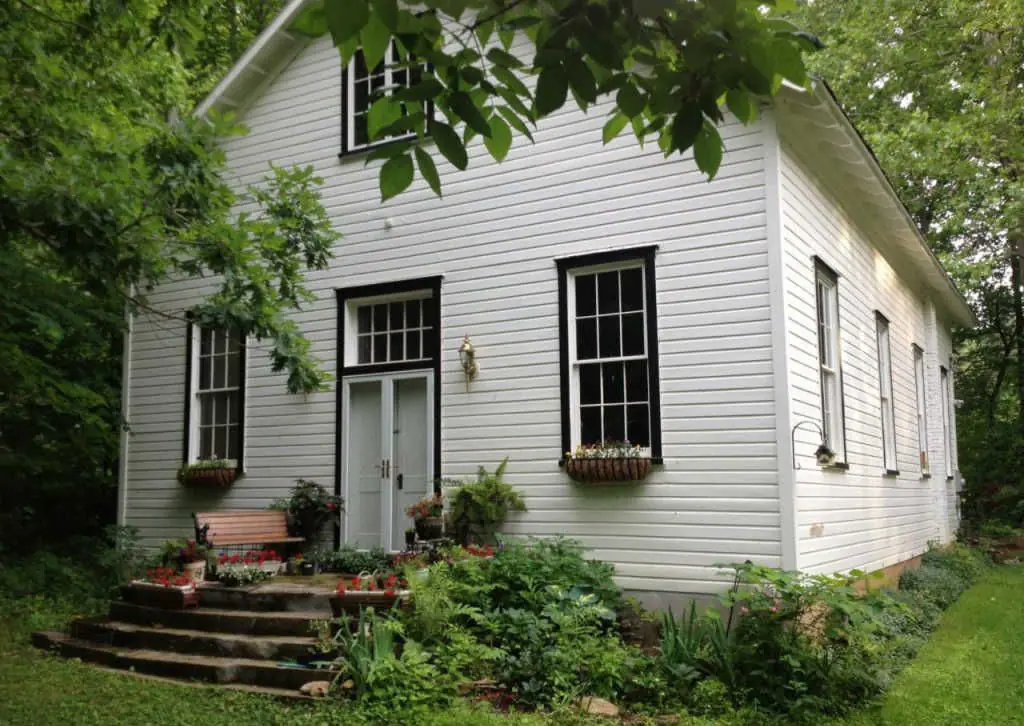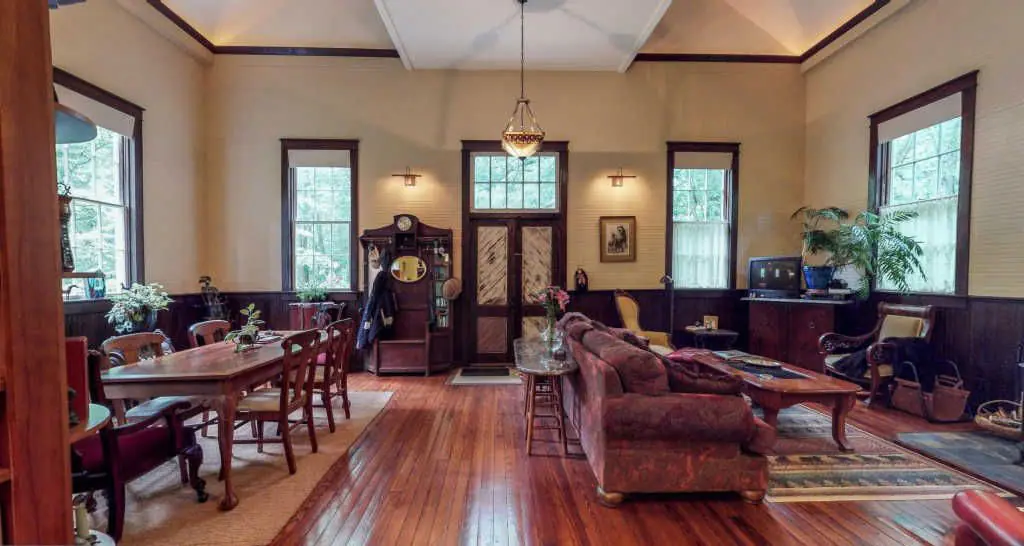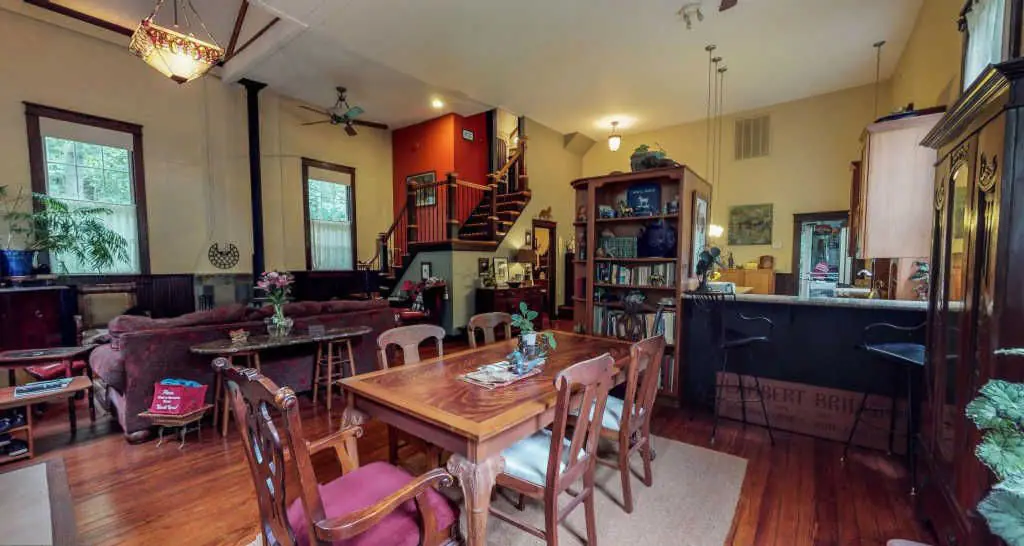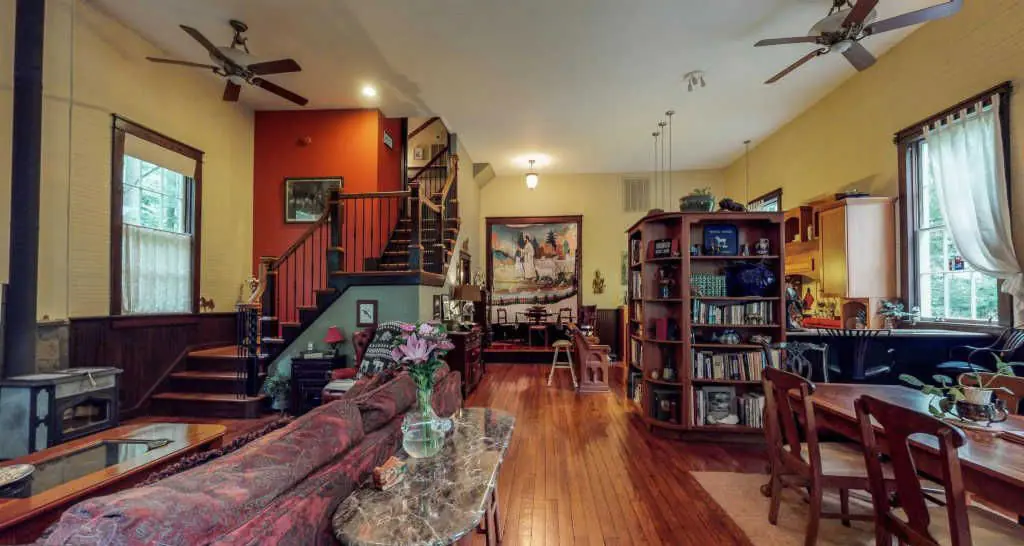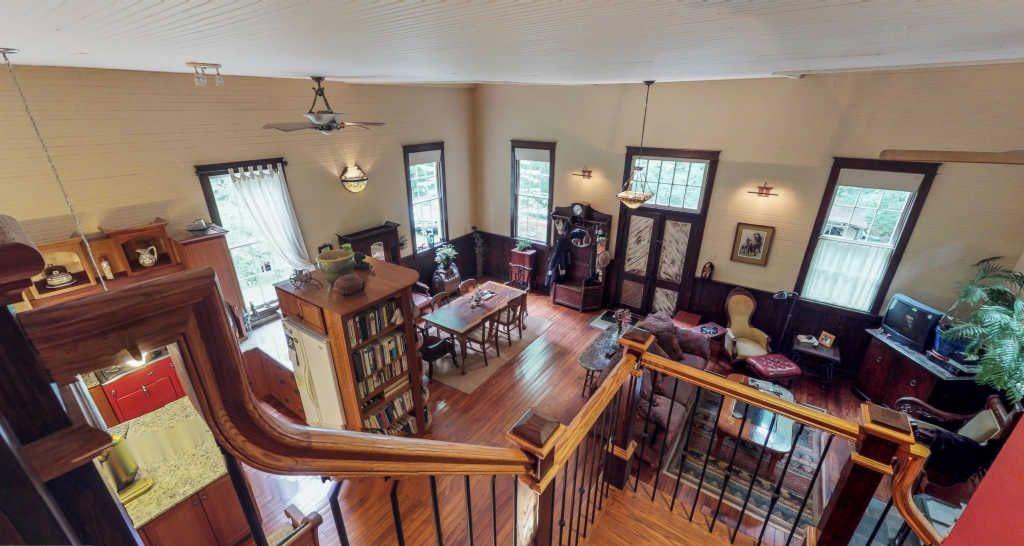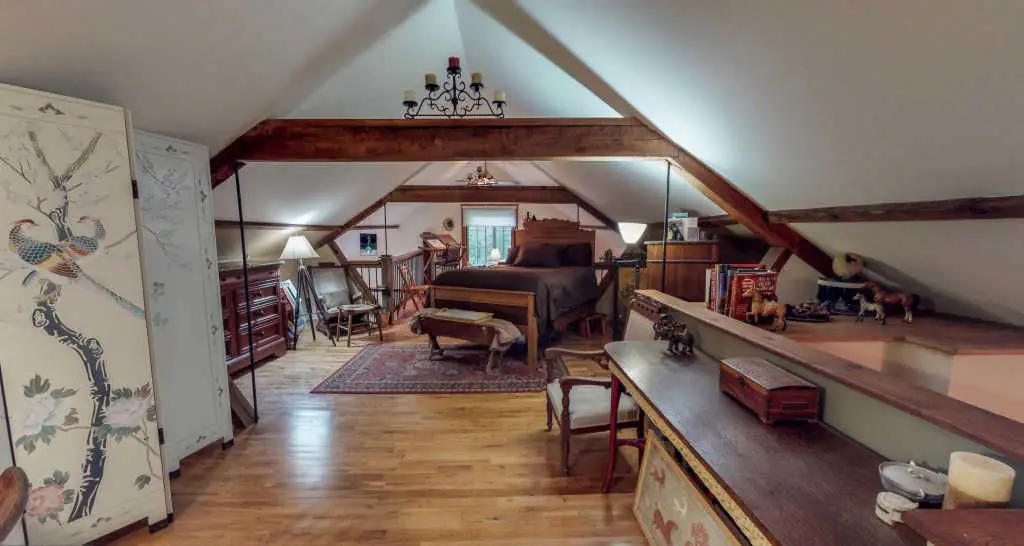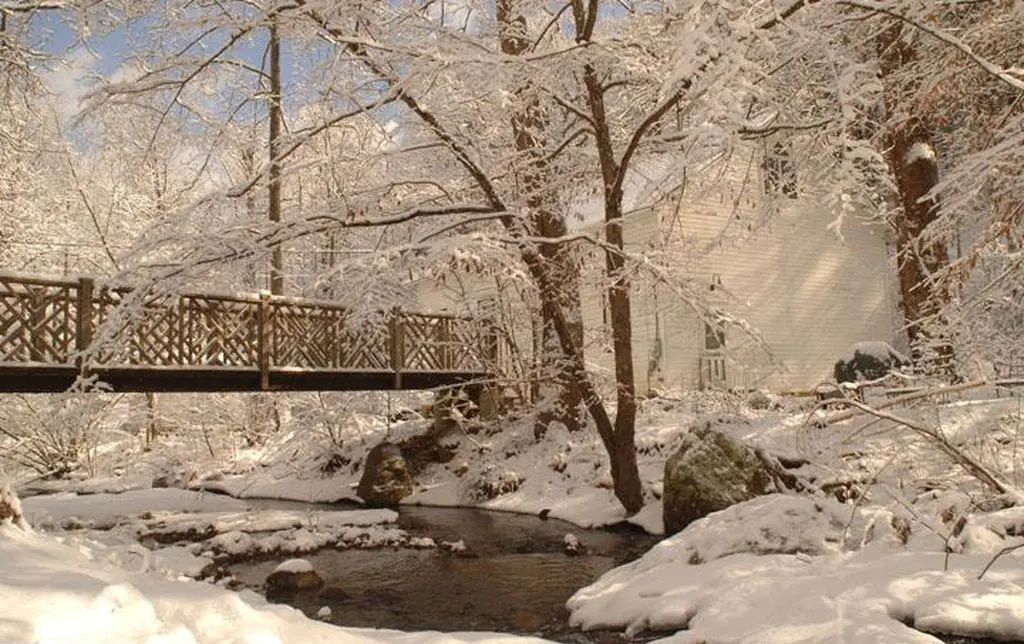 Beautiful as a full time residence or vacation home, this converted Browntown Church House in Bentonville, Virginia is just minutes from national park, hiking, and the river. From the modern jetted tub in the expansive owners suite, you can relax to the babbling of Gooney Run creek just outside your window & steps from the home. This converted church house is currently for sale for $389,900.
Quality abounds in the craftsmanship of this gorgeous c1890 Browntown Church.


– Jessica Cook
English Converted Chapel Holiday House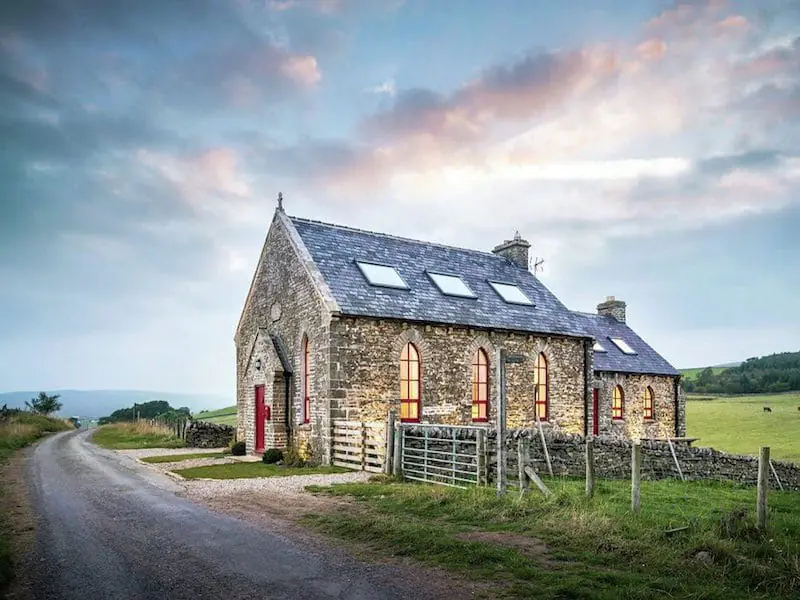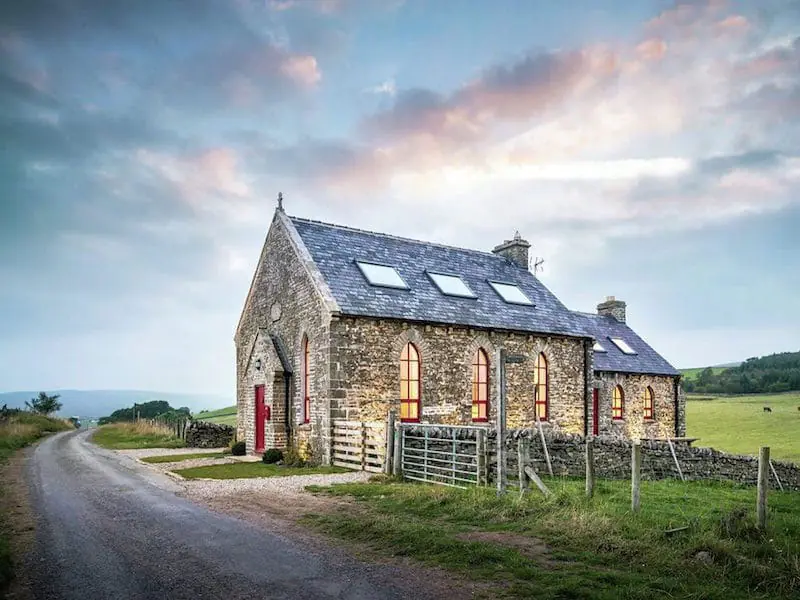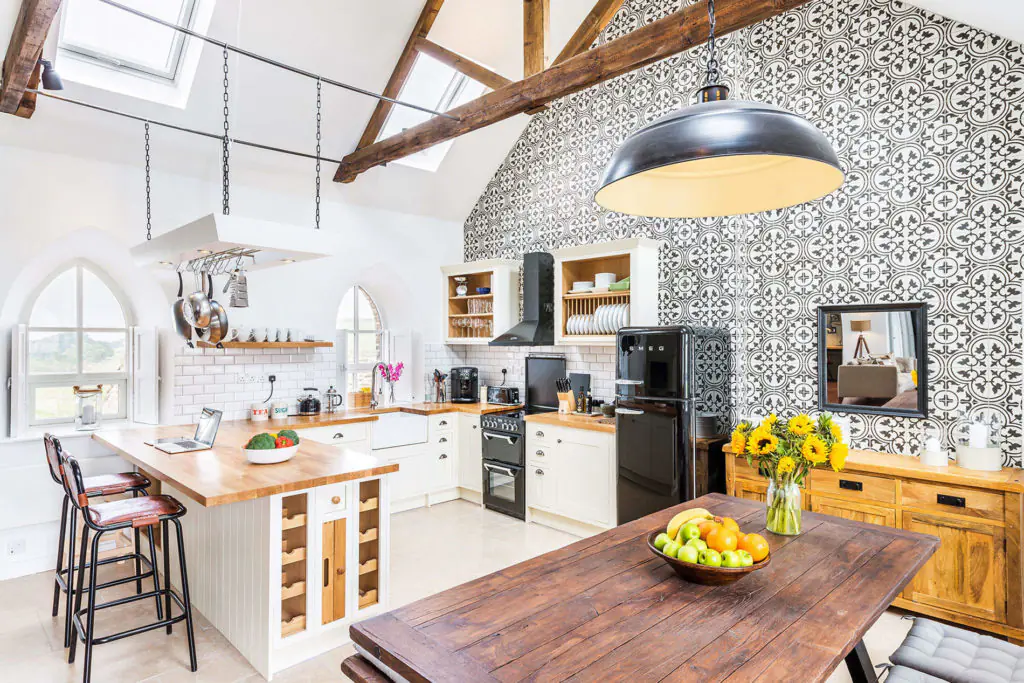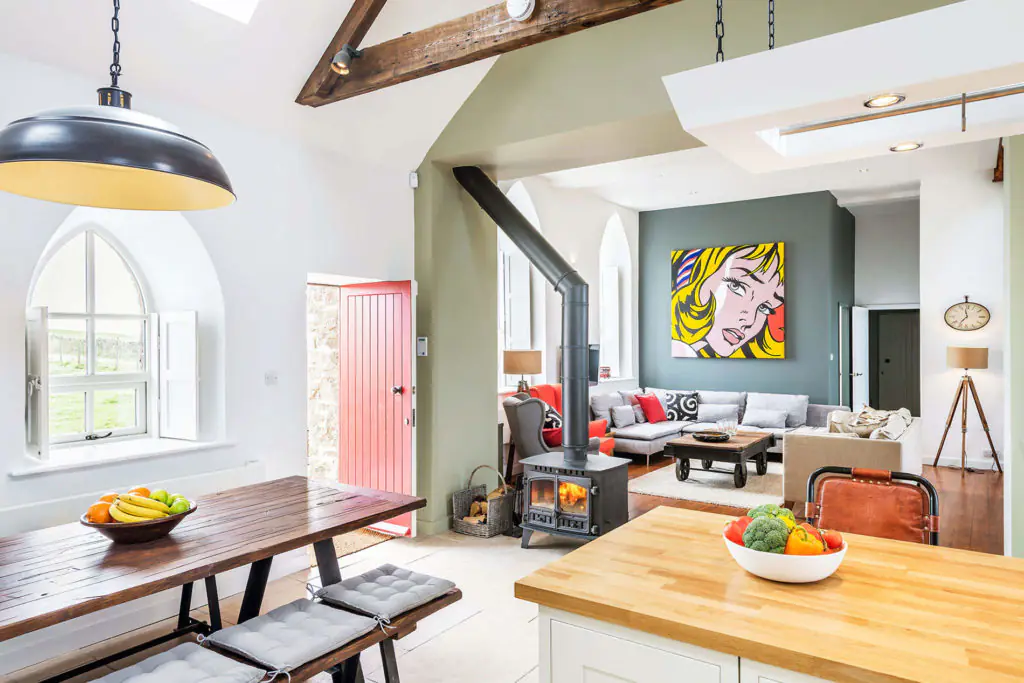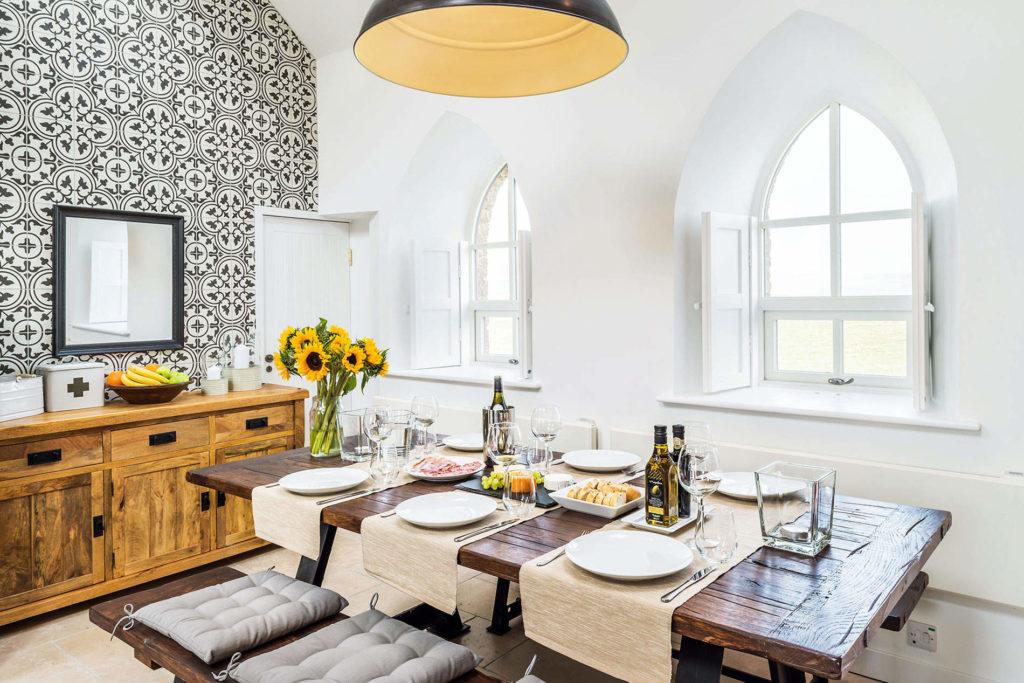 The Chapel on the Hill (available for rent on Air BnB) is a boutique conversion of a Methodist Chapel close to Middleton-in-Teesdale.
Set in a serene and picturesque spot just a short walk from the famous High Force Waterfall, this stunning former chapel keeps much of the historic architecture in place while adding a stunning modern twist to the interior. 19th century windows have been reopened, framing dramatic views of the surrounding dales.
Modern, stylish and yet in the context of the location and its history this space is modern but features a traditional design language that would complement the historic nature of the Chapel.
The redesign of this English church took into account the context and character of the existing building.
– My Modern Met
Converted Church House in Rotterdam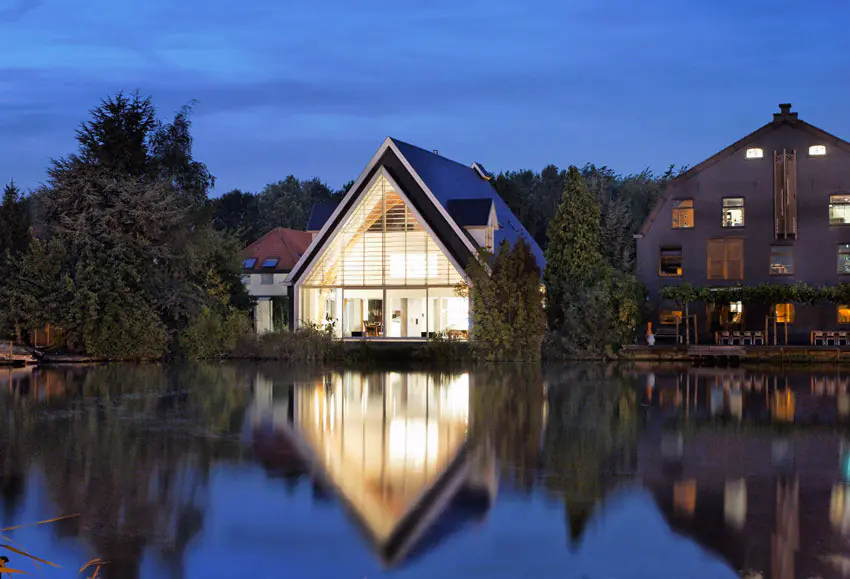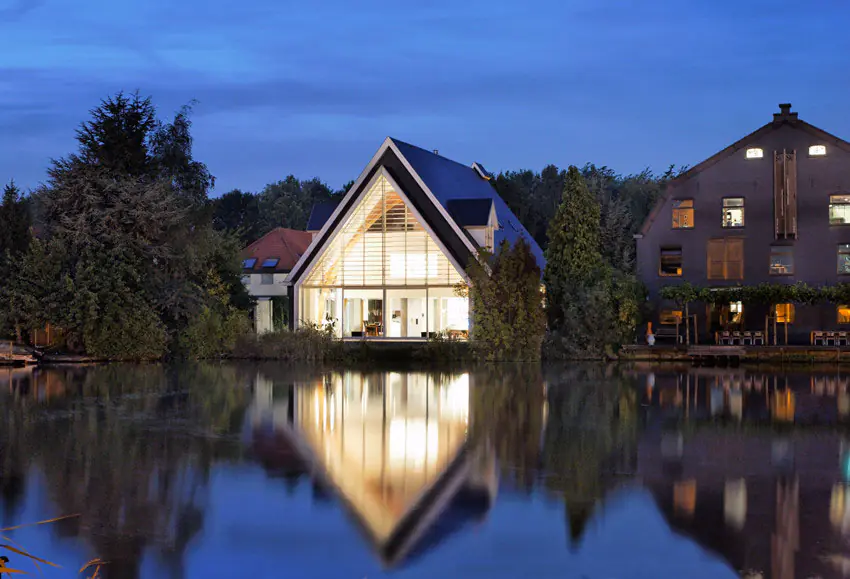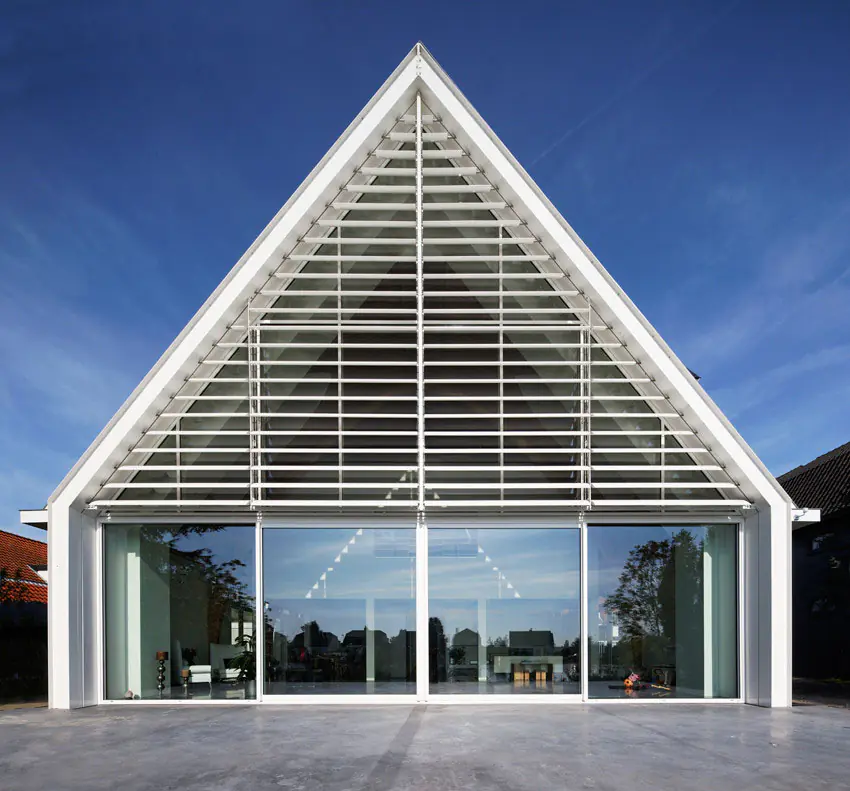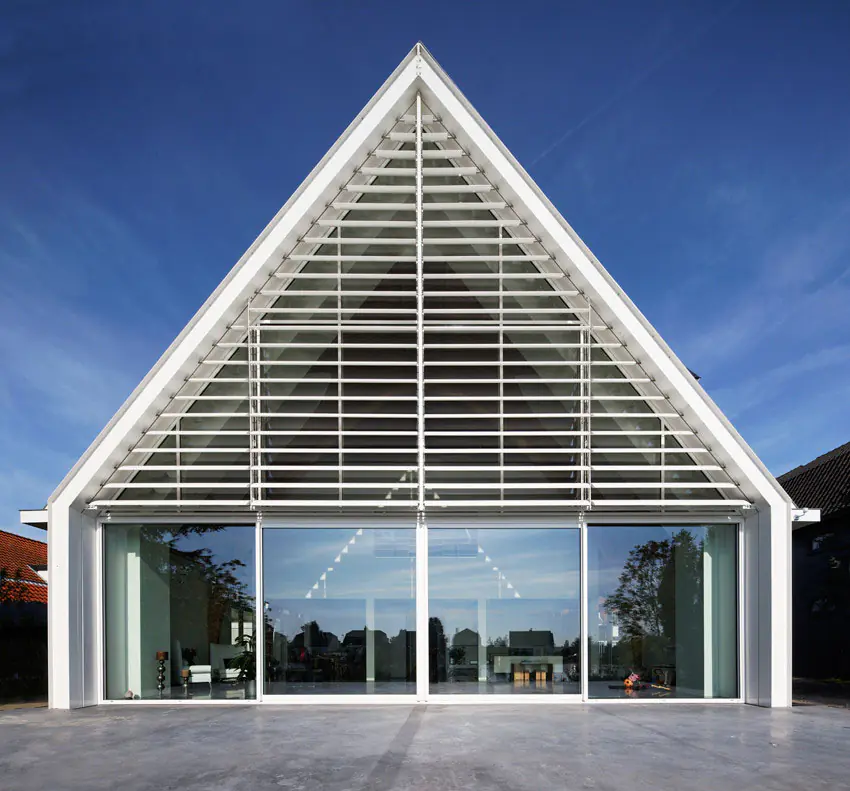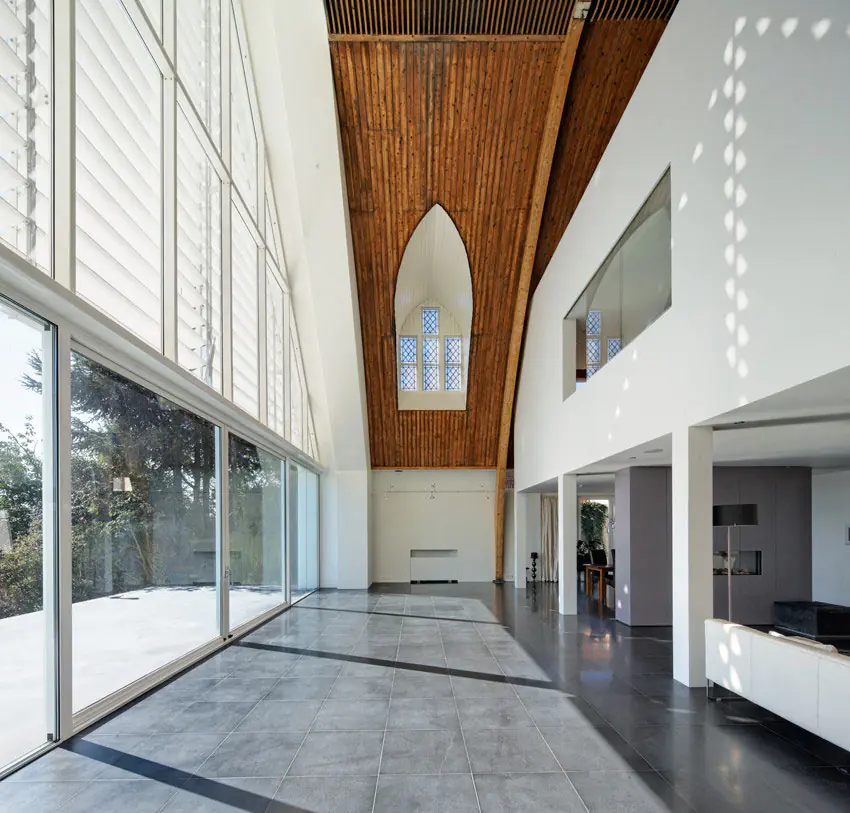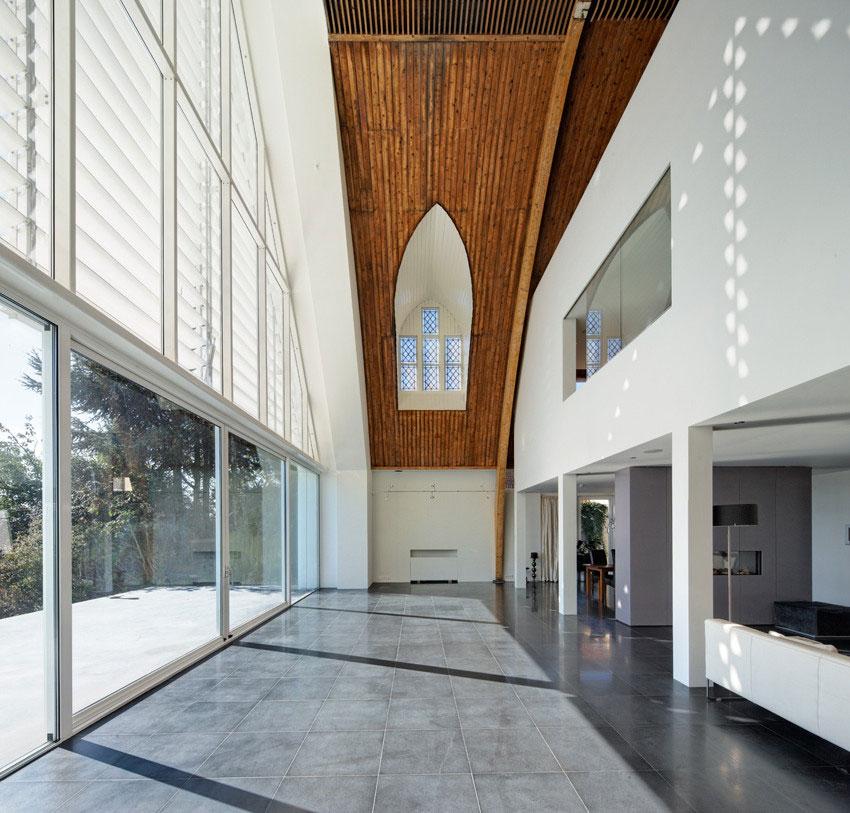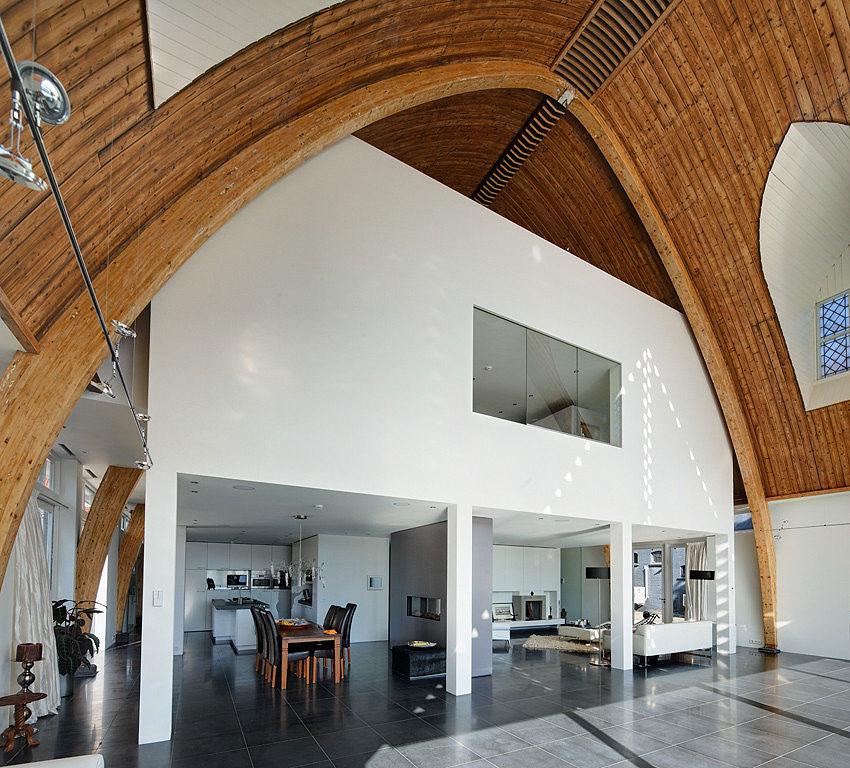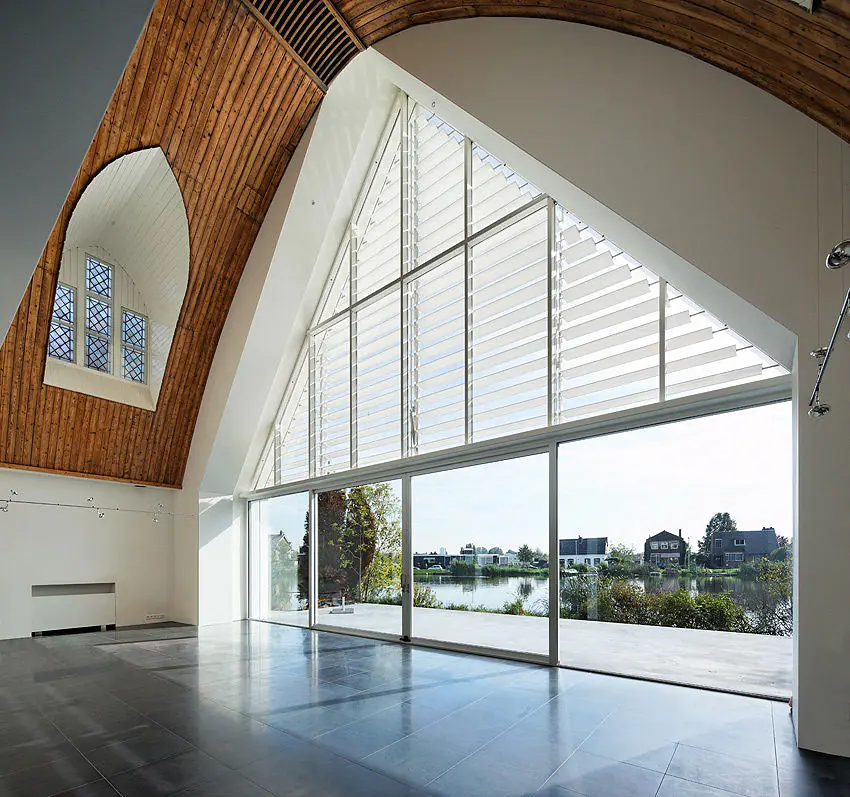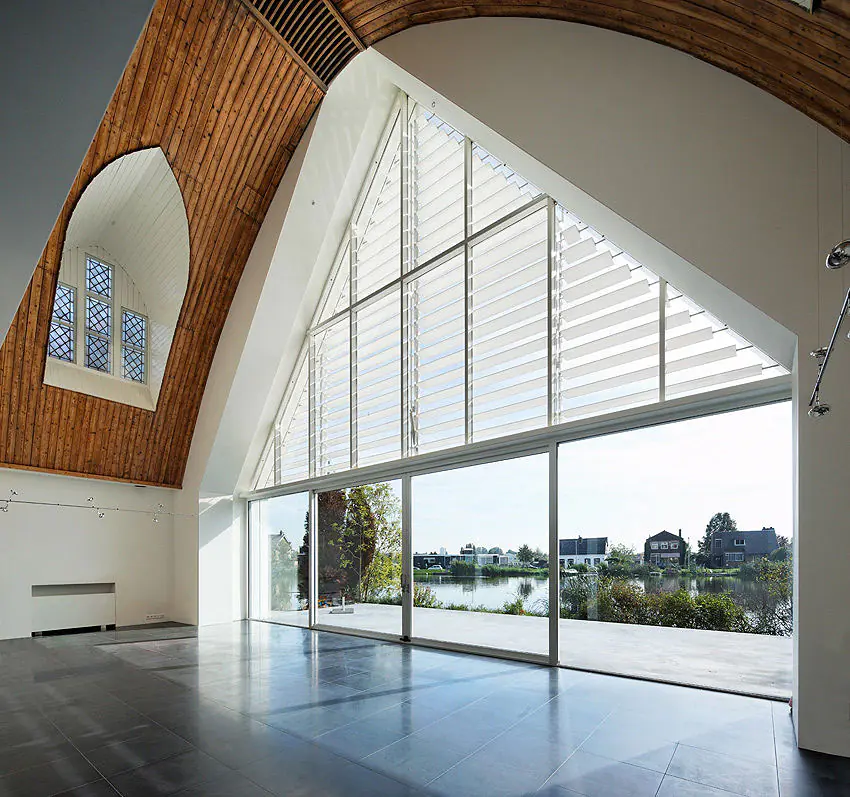 Built in the 1930s, this waterfront church on the river De Rotte in Rotterdam, Netherlands was being used as a garage since the 1960s until it was lovingly transformed into a modern home by Dutch studio Ruud Visser Architects. The open plan, crisp white interior seems to "fit inside" the the wood-panelled vaulted ceiling, walls, and windows of the original building.
The architects have created a new volume within the existing building, allowing inhabitants to walk between the new structure and church walls.
– Dezeen
Empty Chicago Church Given New Life as a Modern Home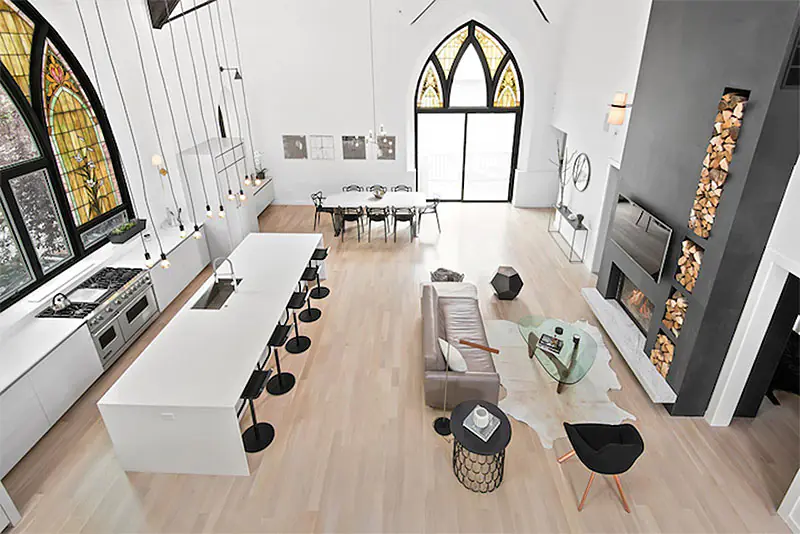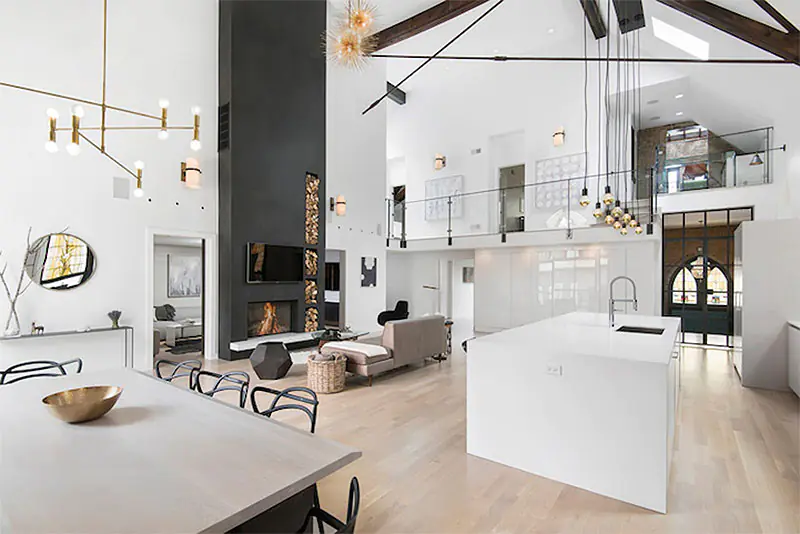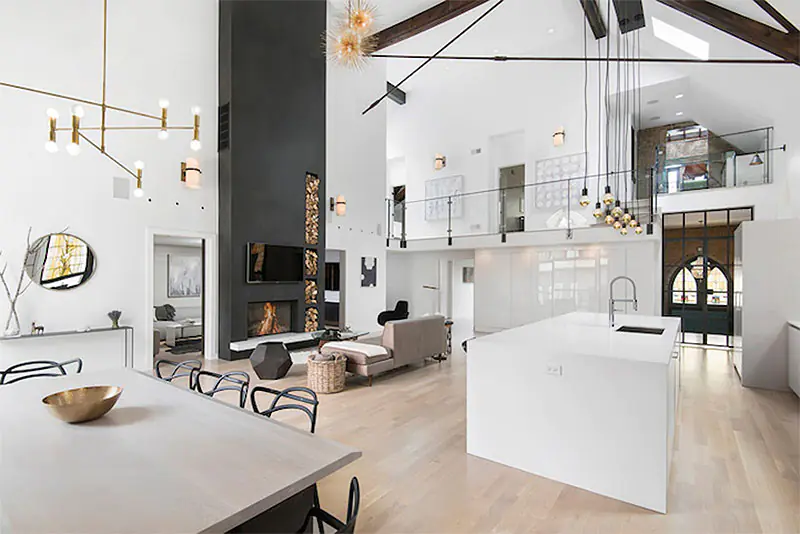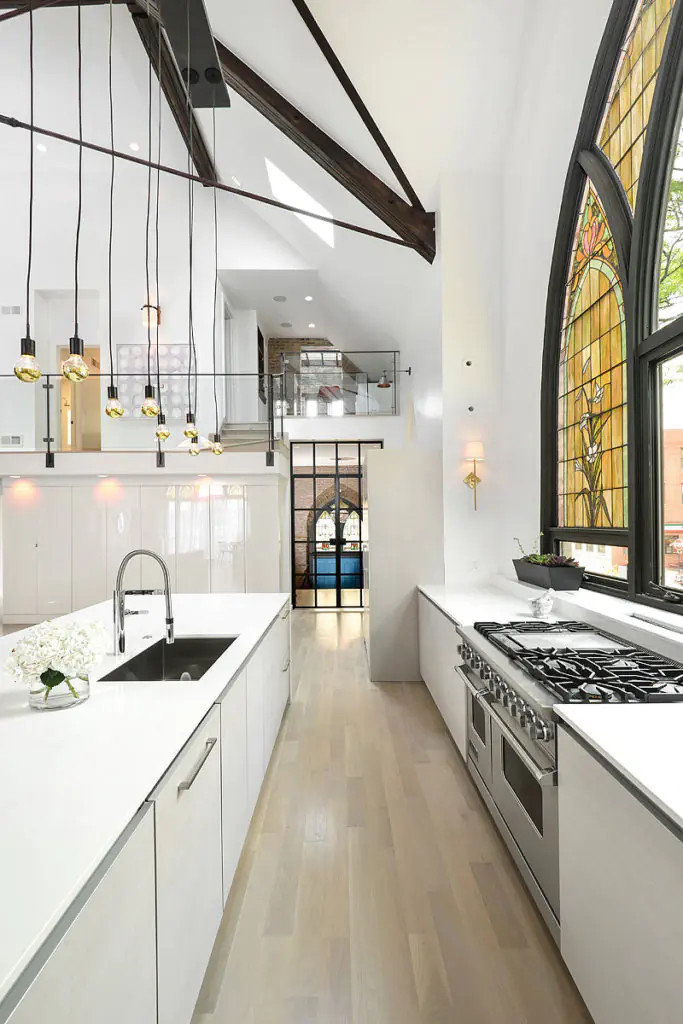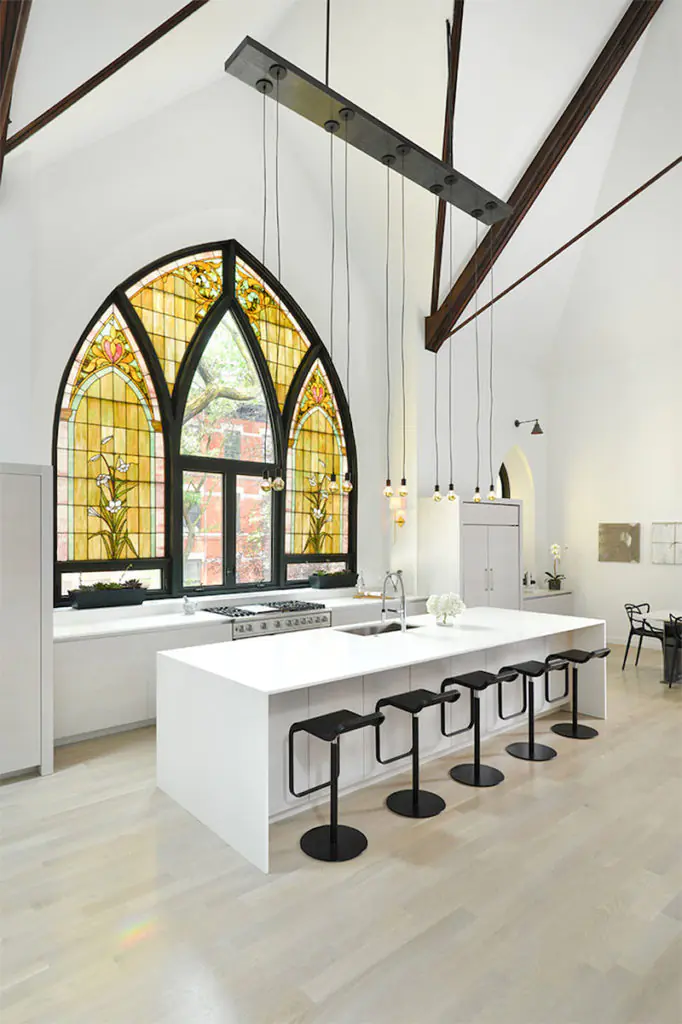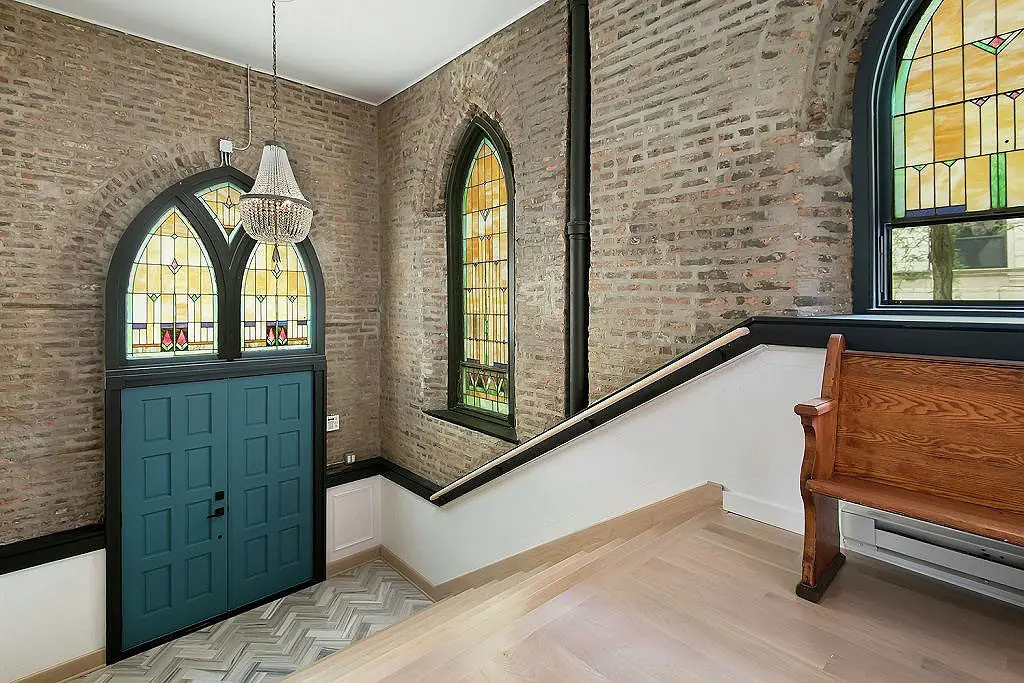 Linc Thelen Design worked with Scrafano Architects to transform this abandoned church into a modern family home in Chicago, Illinois. This converted church house includes 7 bedrooms and 6 baths, with ceiling heights that soar up to 25 feet.
The home showcases historic details of the church with original stained glass windows, bell tower, exposed brickwork and ceiling turnbuckles while integrating all of the conveniences of modern living.
– Contemporist
1869 Gothic Revival Converted Church in Kawartha Lakes, Ontario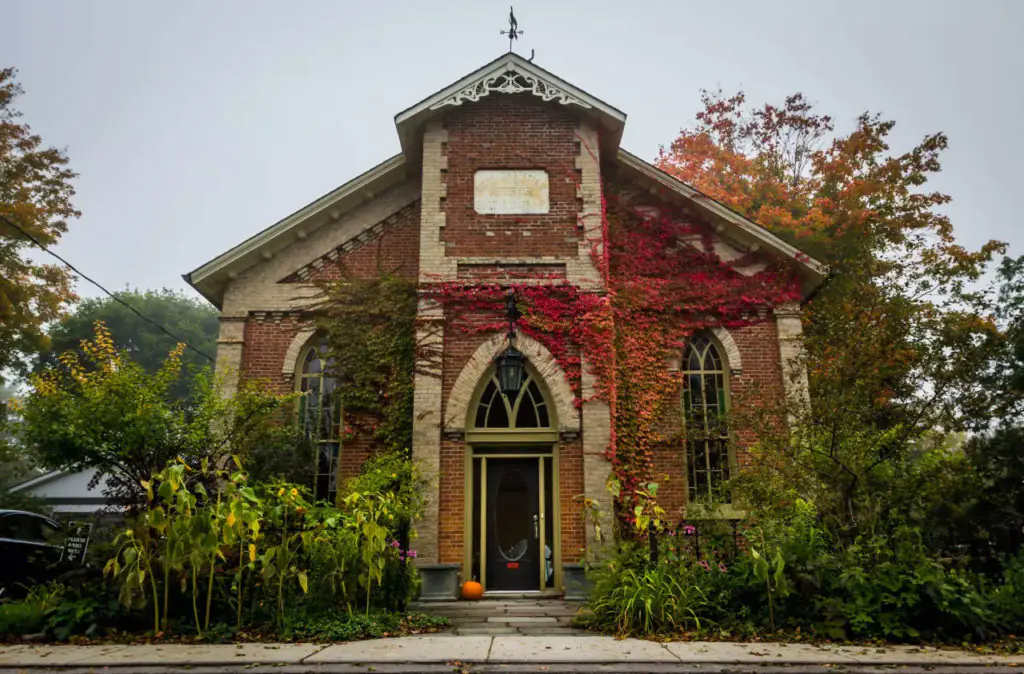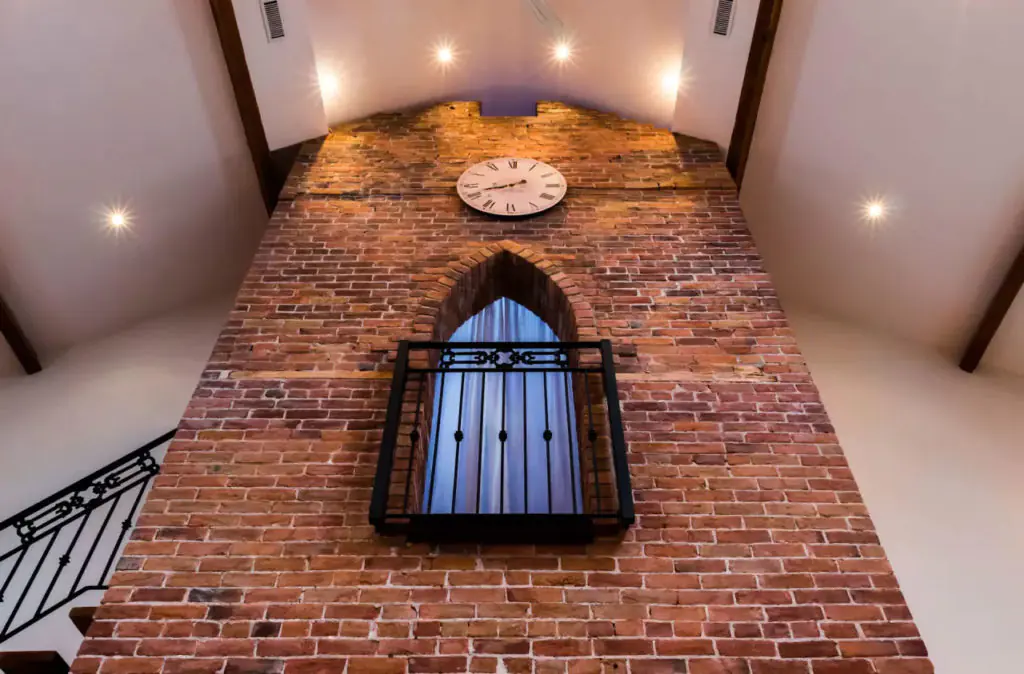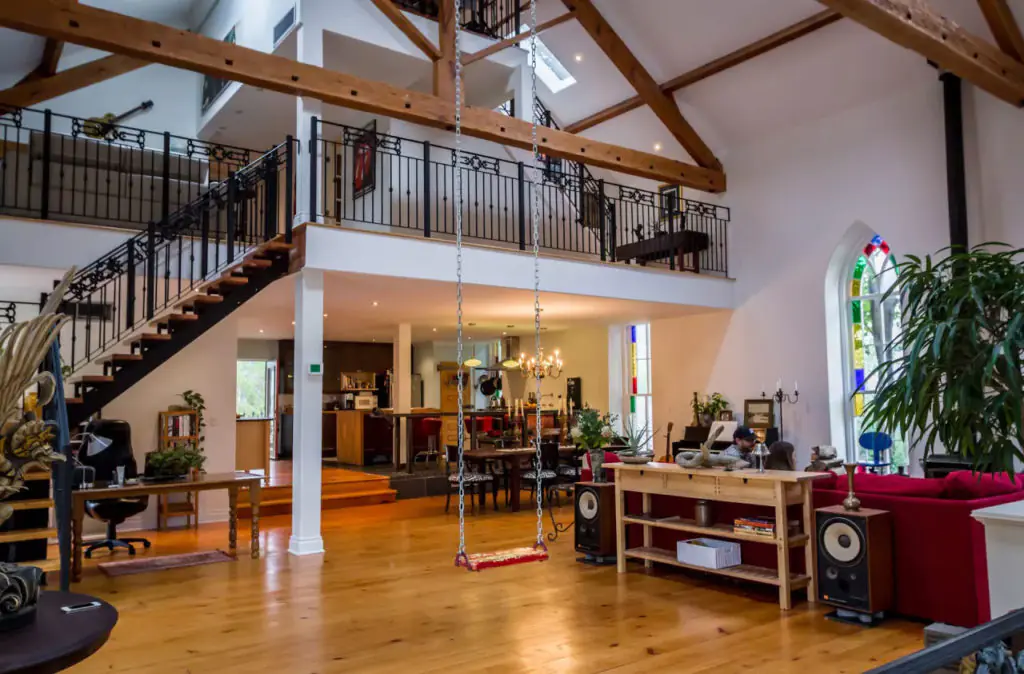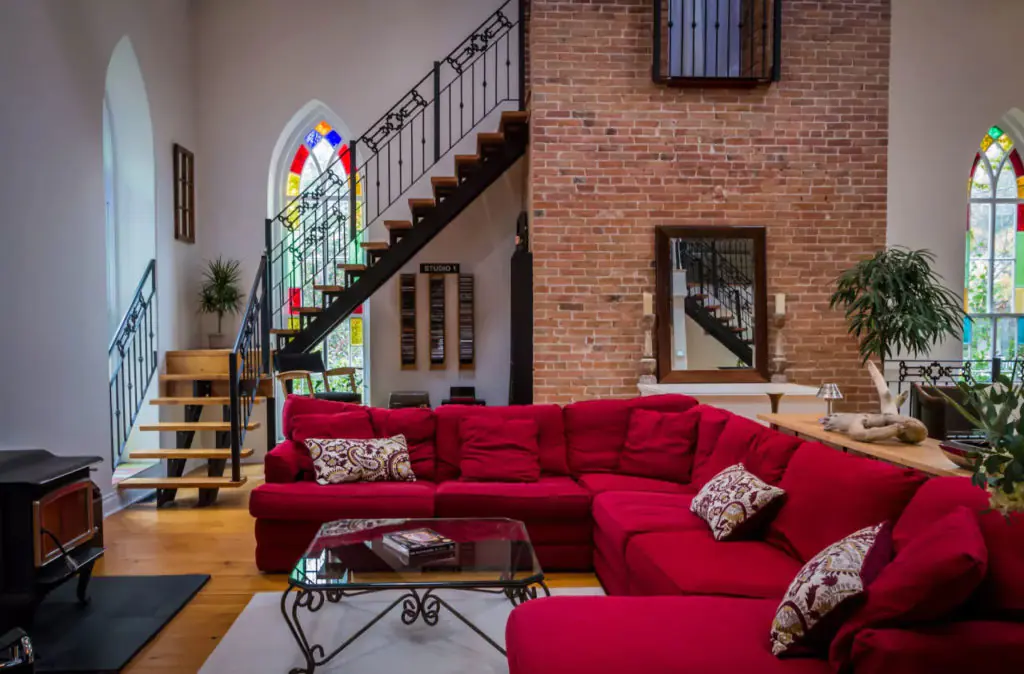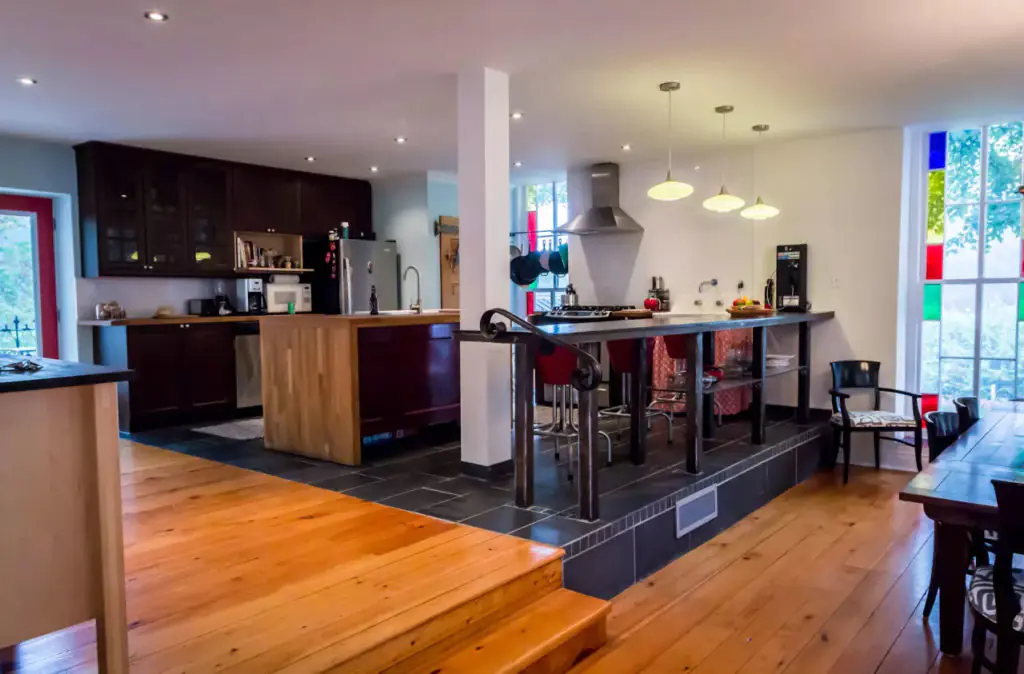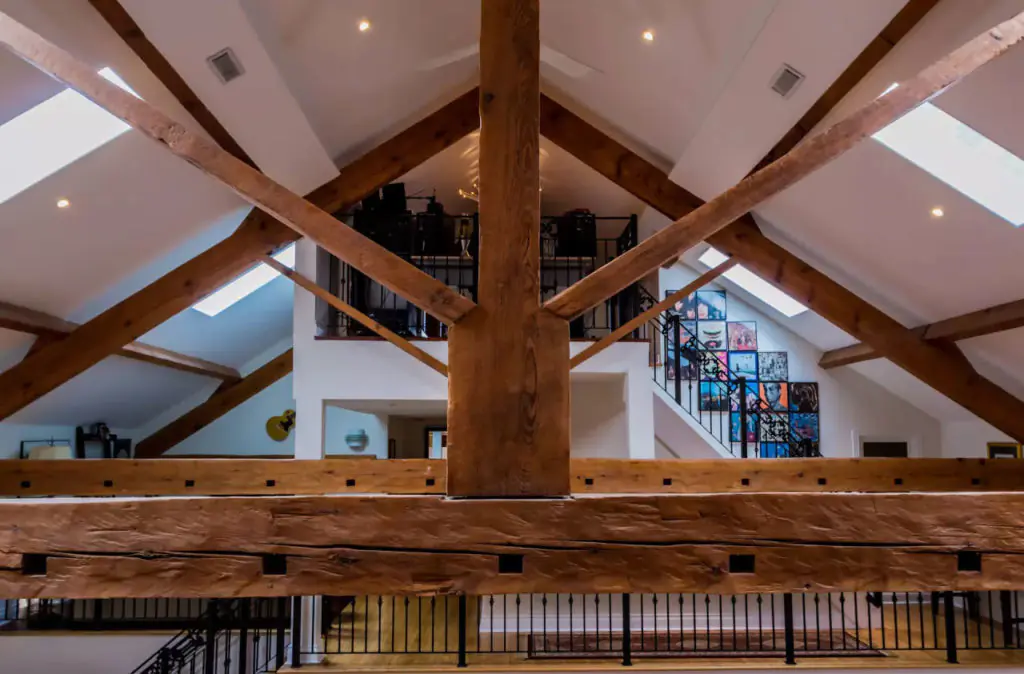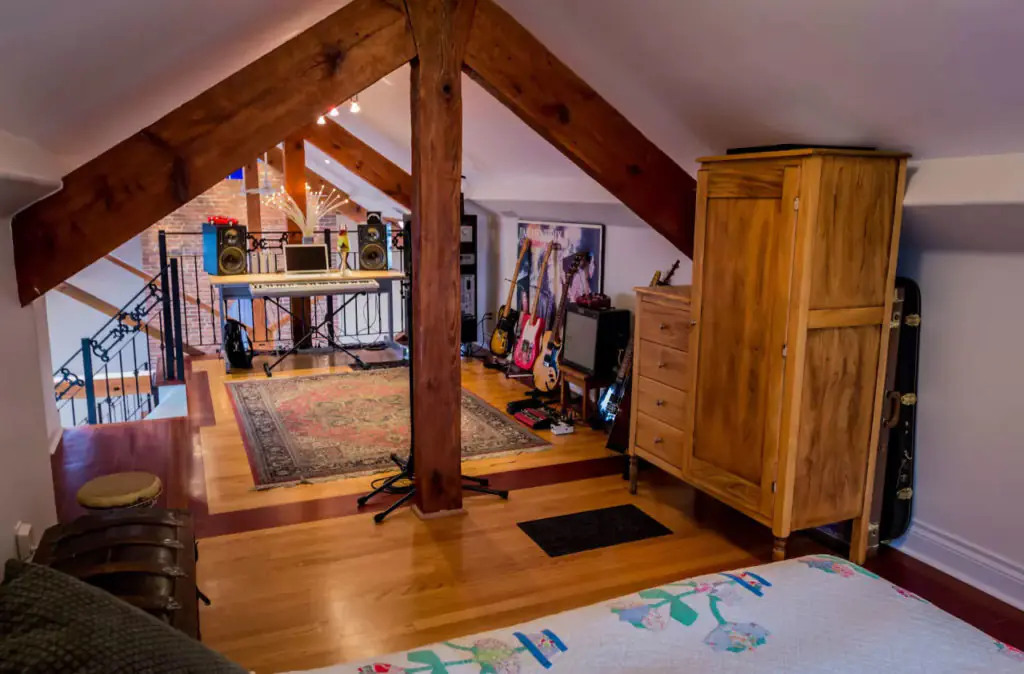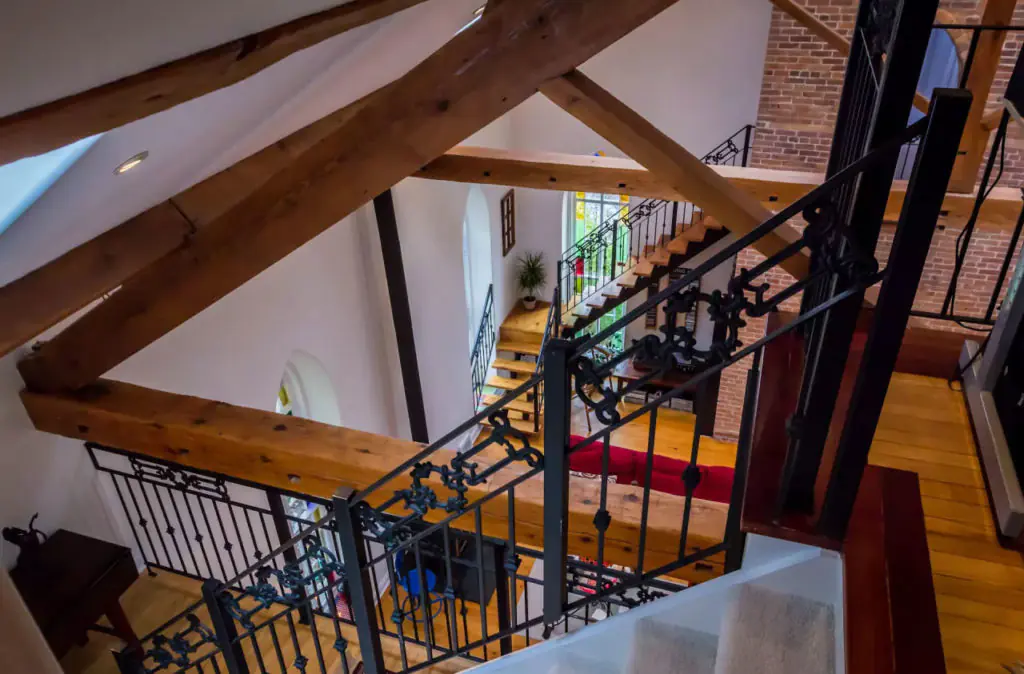 This 1869 Gothic Revival church was converted into a family home in 1999 by Master Craftsman Peter Wenniger, who crafted an immaculate church conversion featuring the original Juliette bell tower balcony, stained glass windows and 30-foot ceilings supported by pressure fit British Colombian Douglas Fir beams.
With a swing in the living room?? Yes, please!
– Livabl
Westbourne Grove Partially Converted Church in England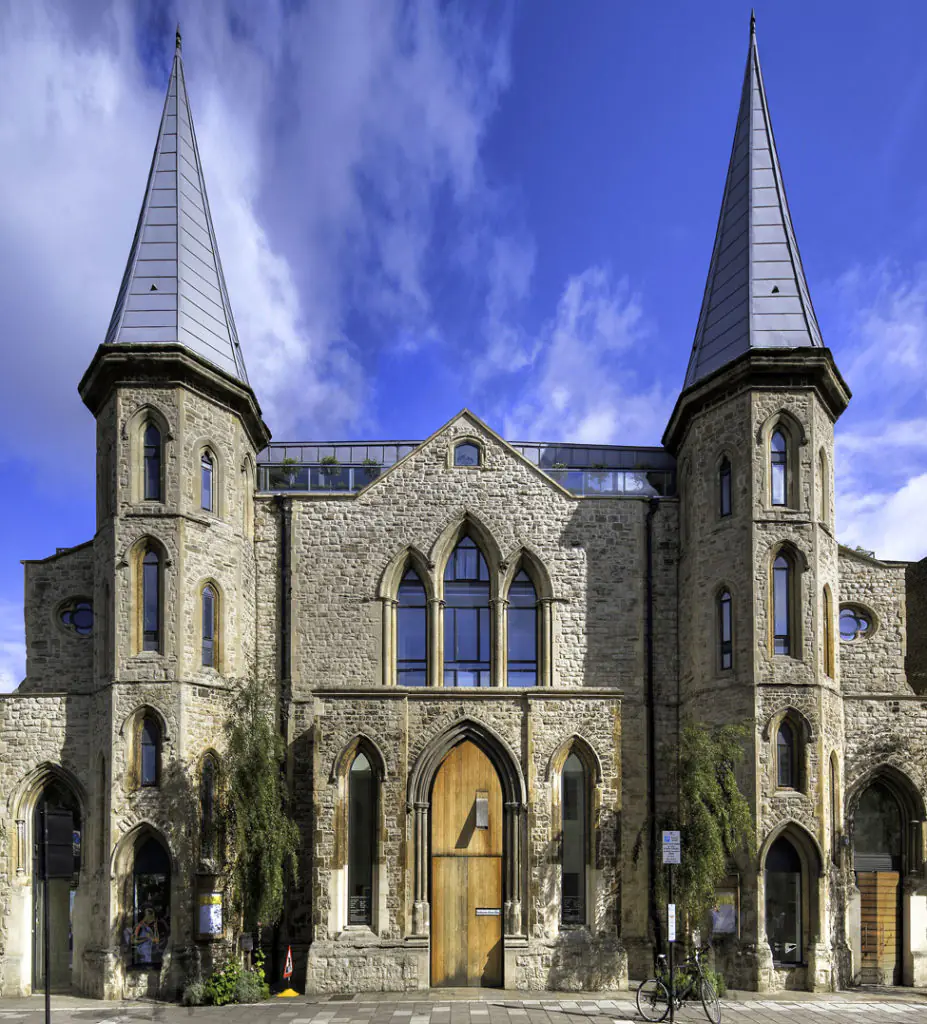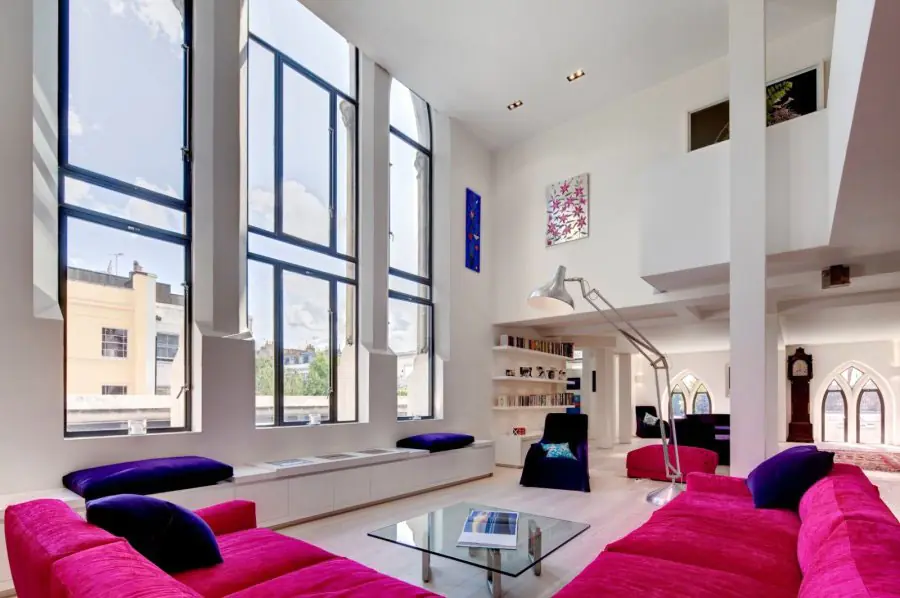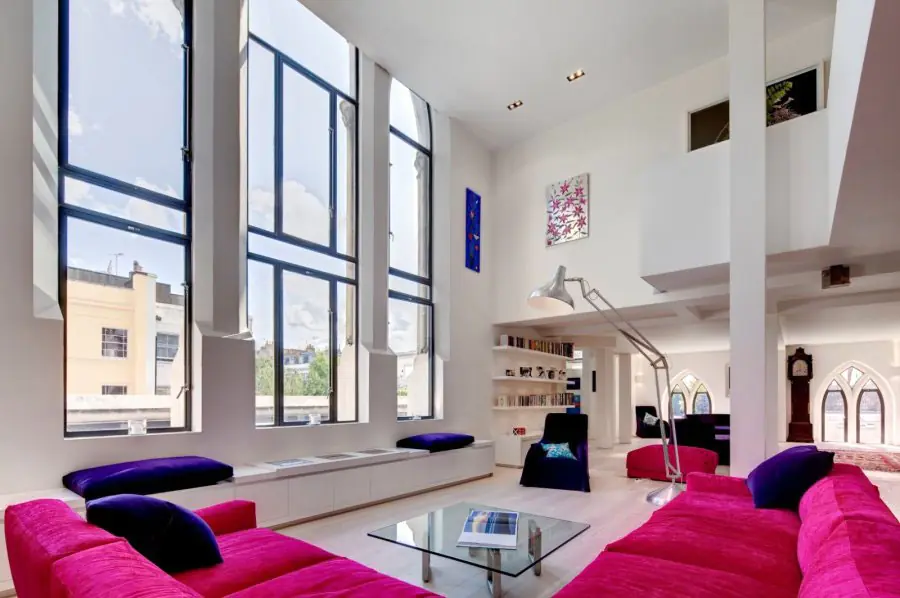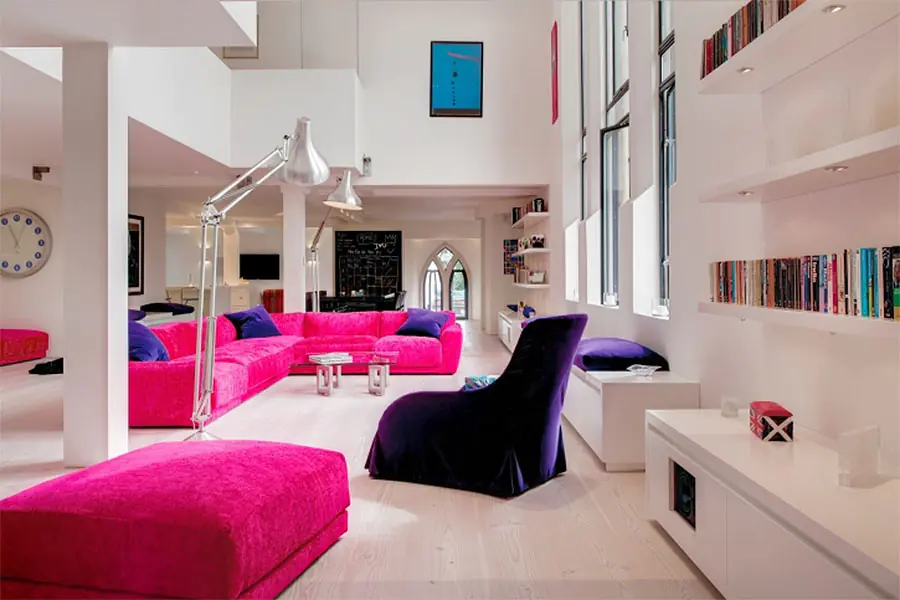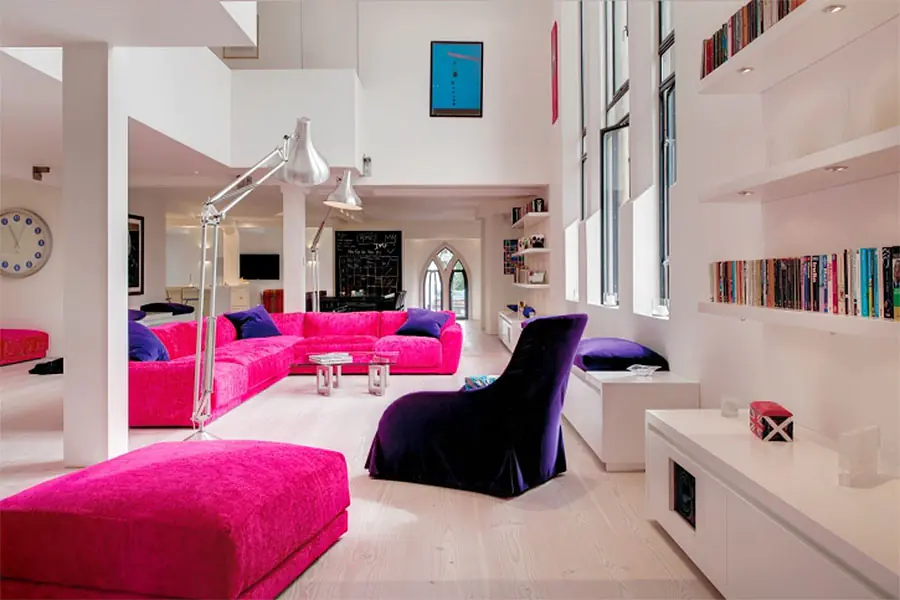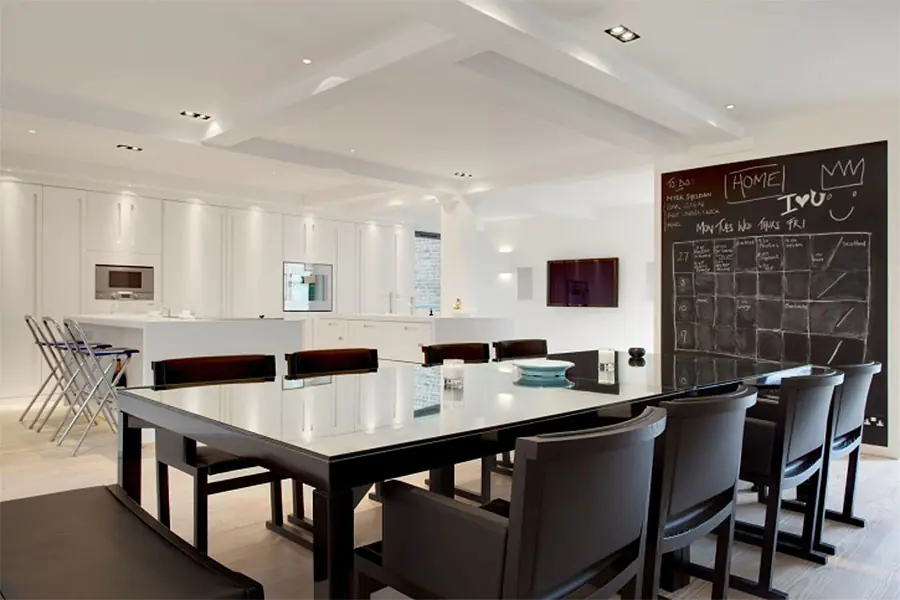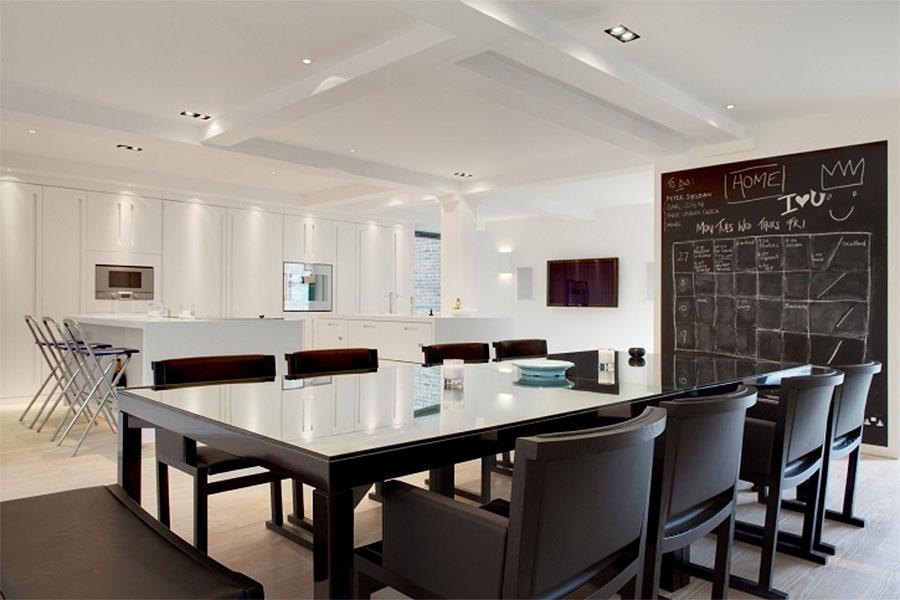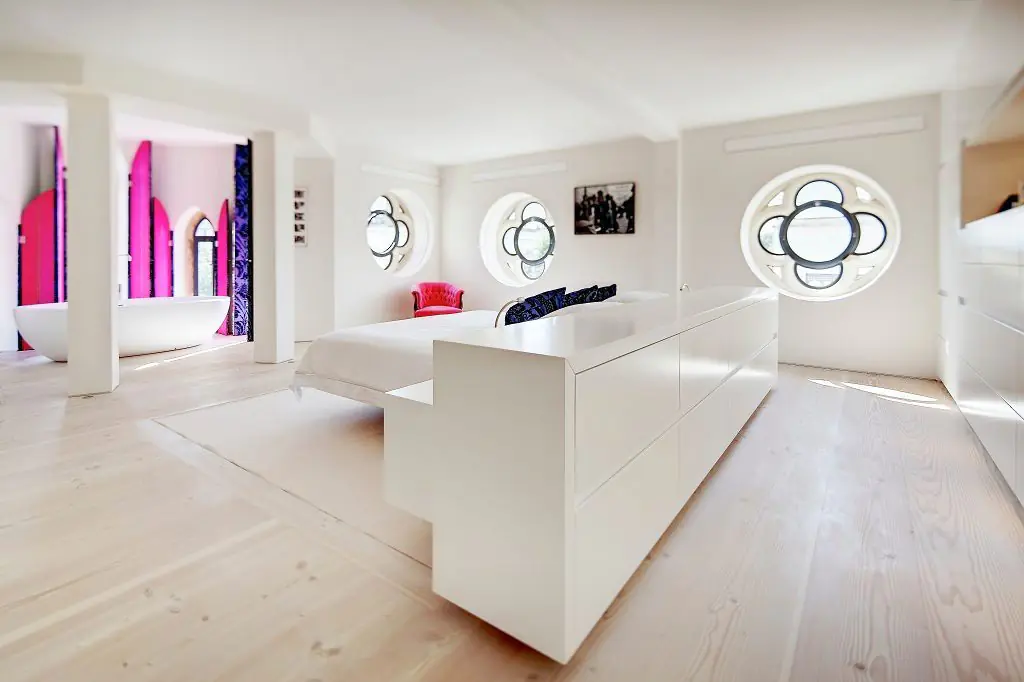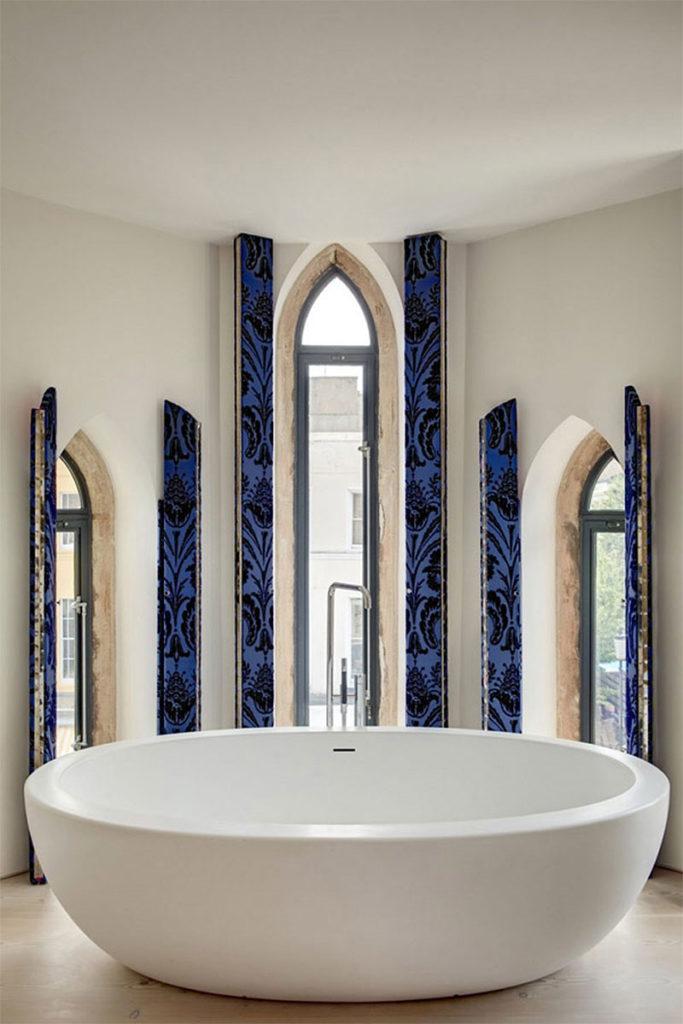 Westbourne Grove Church is boasts one of the oldest Baptist congregation in Notting Hill, formed back in 1823. According to the Westbourne Grove Church Website, the original building was financed by the congregation, including local shopkeepers, merchants, businessmen, and builders.
In 2001 the church shifted it's vision and looked into ways the enormous church building could be used to server the local community. Working with the Manhattan Loft Corporation, the church retains the use of the original first floors of the building, while the top four floors were converted into stunning modern apartments.
The entire 4,300 square foot apartment is centered around a large double-height, light-filled space framed by spectacular arched windows, perfectly encapsulating the views beyond.
– Onekindesign
Chingford Chapel Loft Conversion in London, England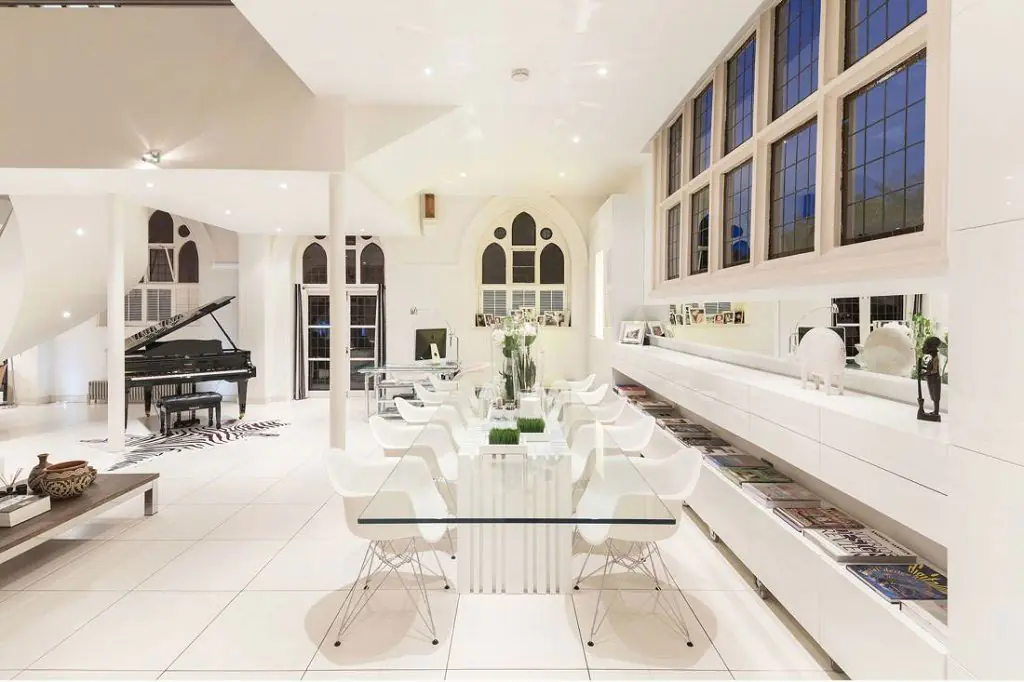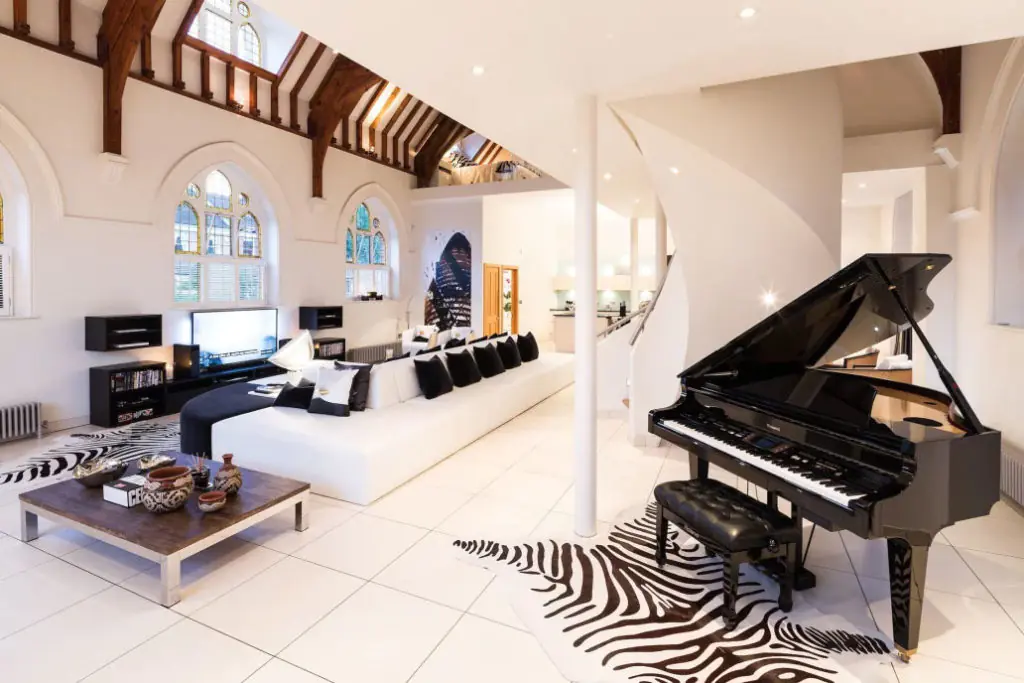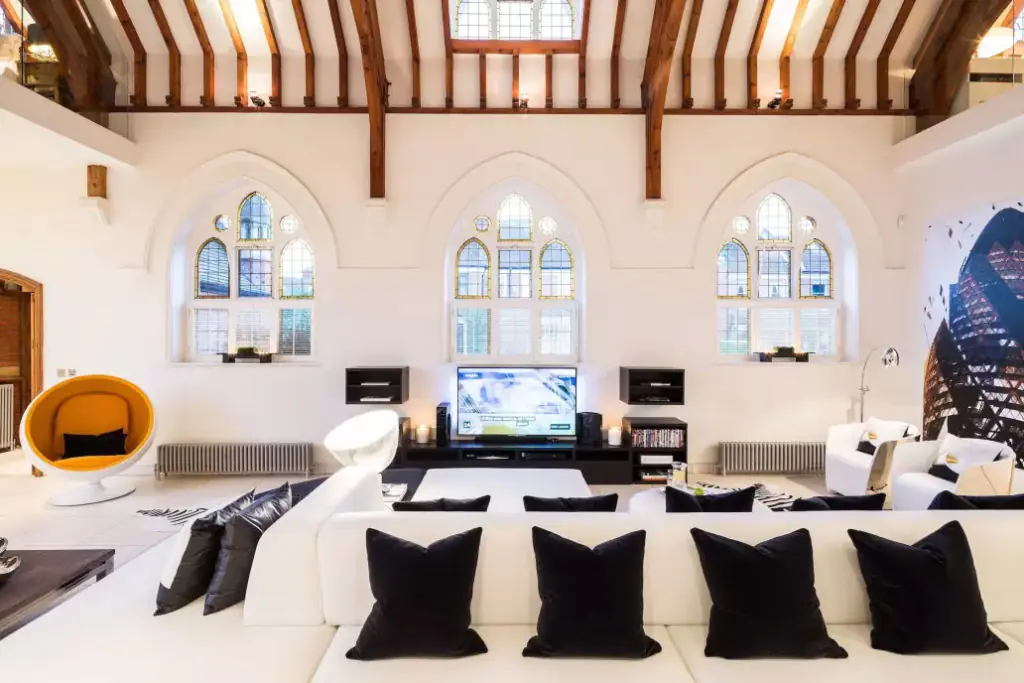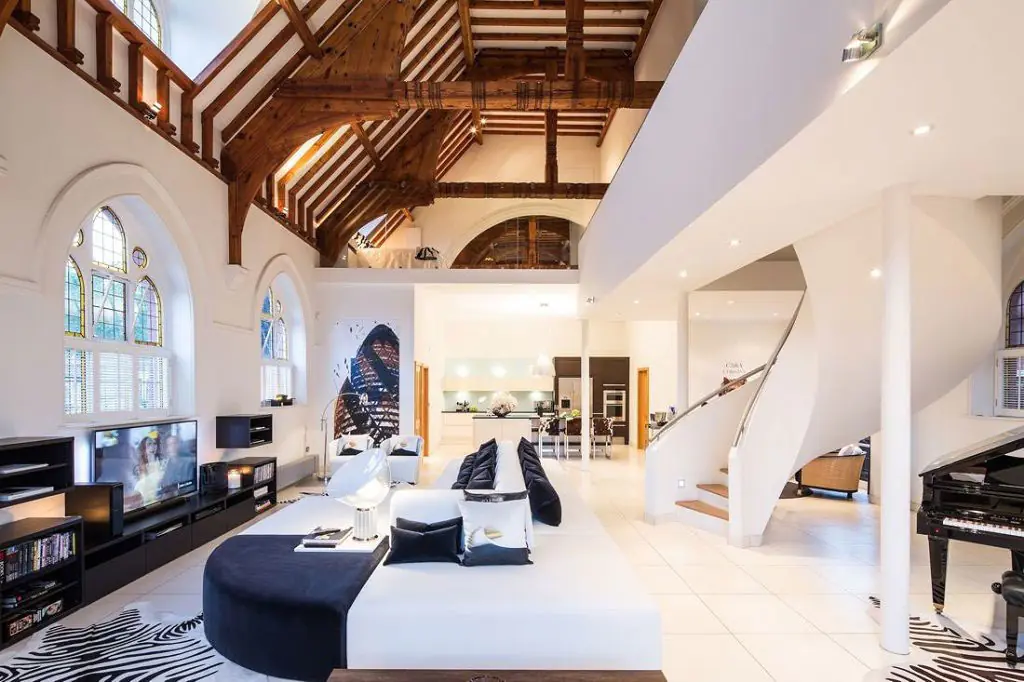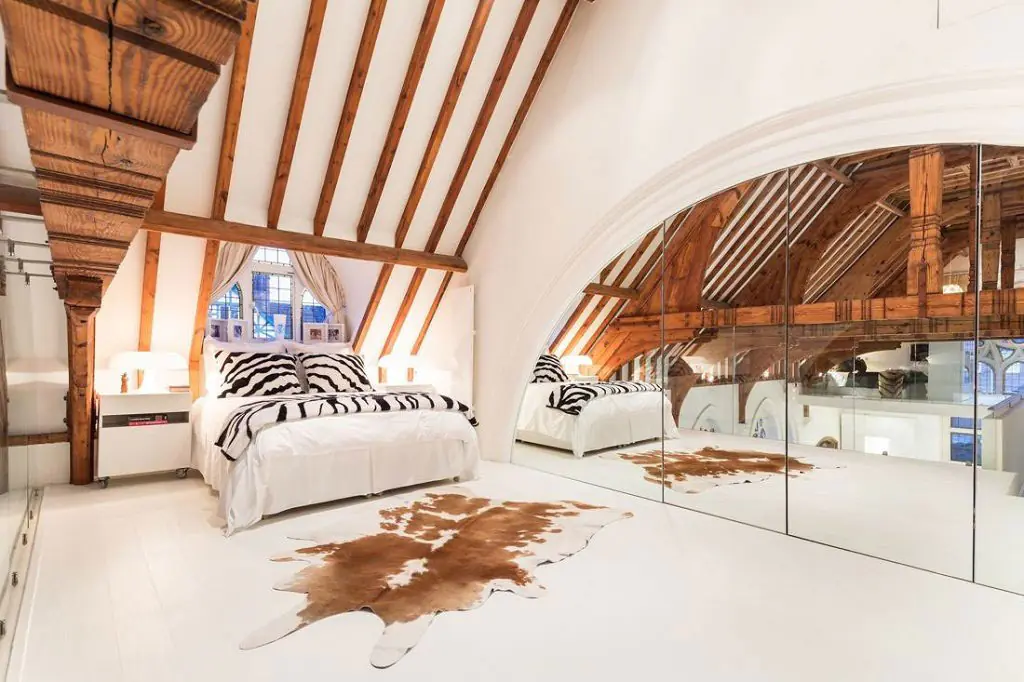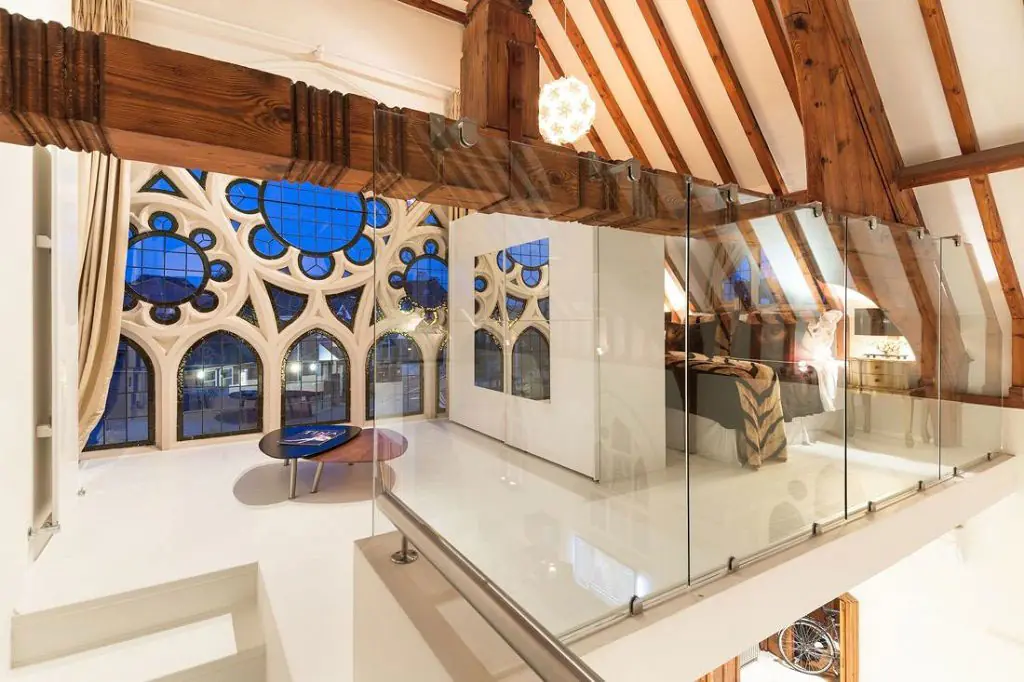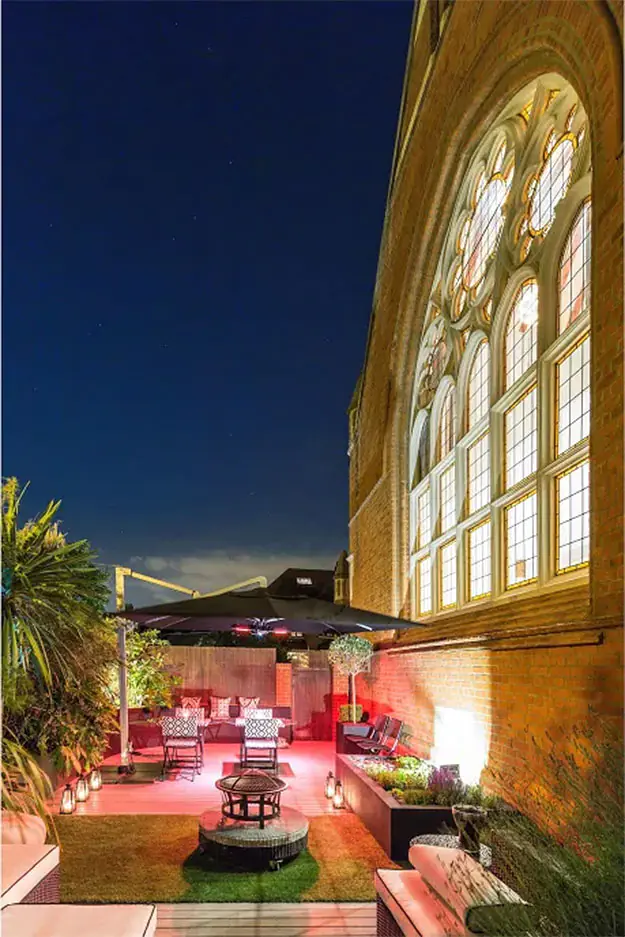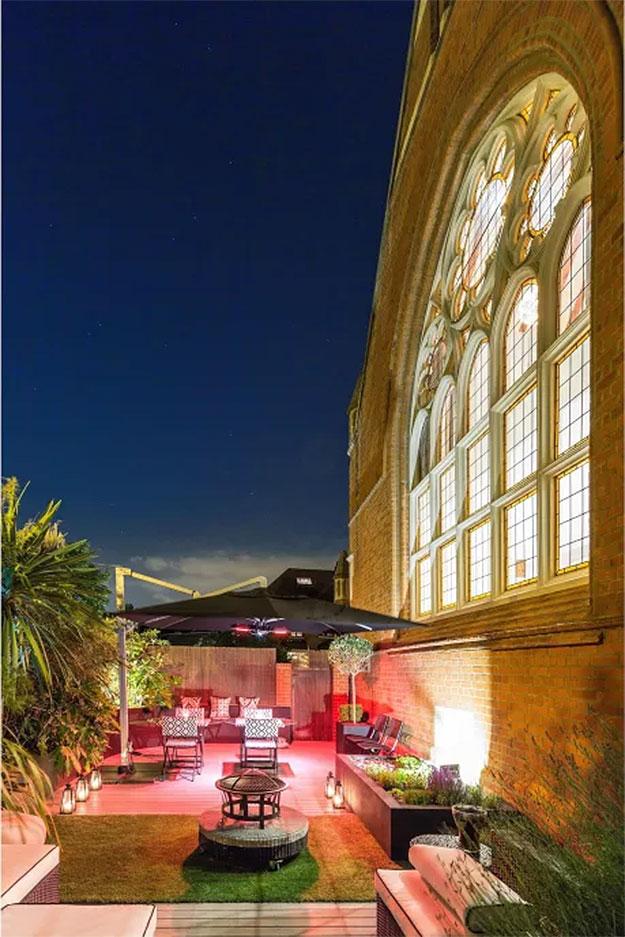 This extraordinary conversion of a circa-1890s Church in London, England is the work of Brazilian interior designer Gianna Camilotti, who earned three prominent international design awards for her work.
Faithfully holding on to the best of the original architectural features and integrity of the space while fully embracing bright white minimalist modern amenities and decor.
– Apartment Therapy
Quaint Converted Church House in San Marcos, Texas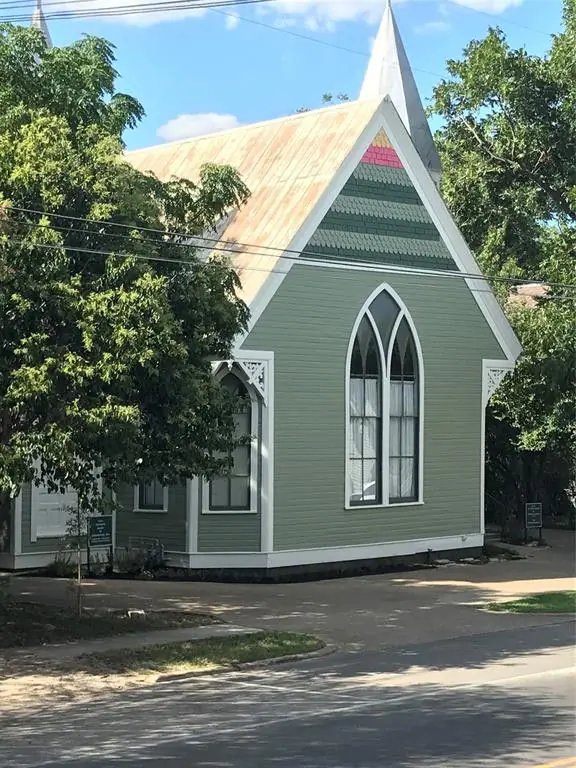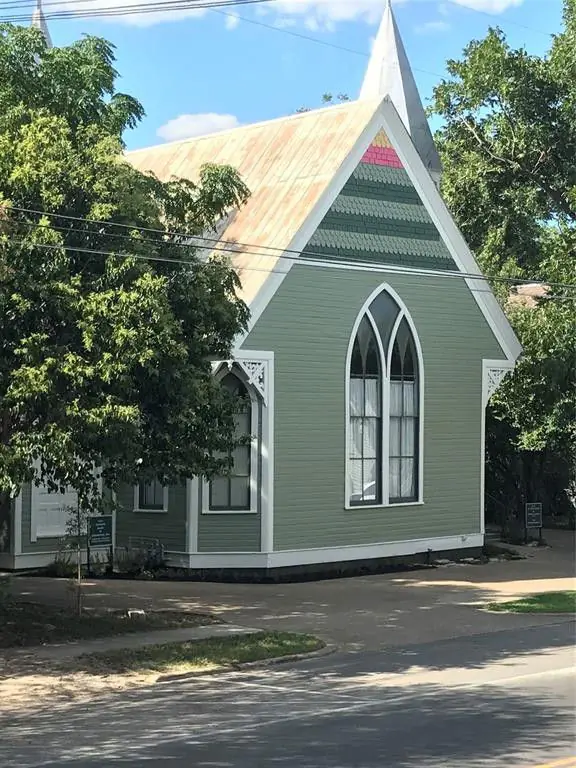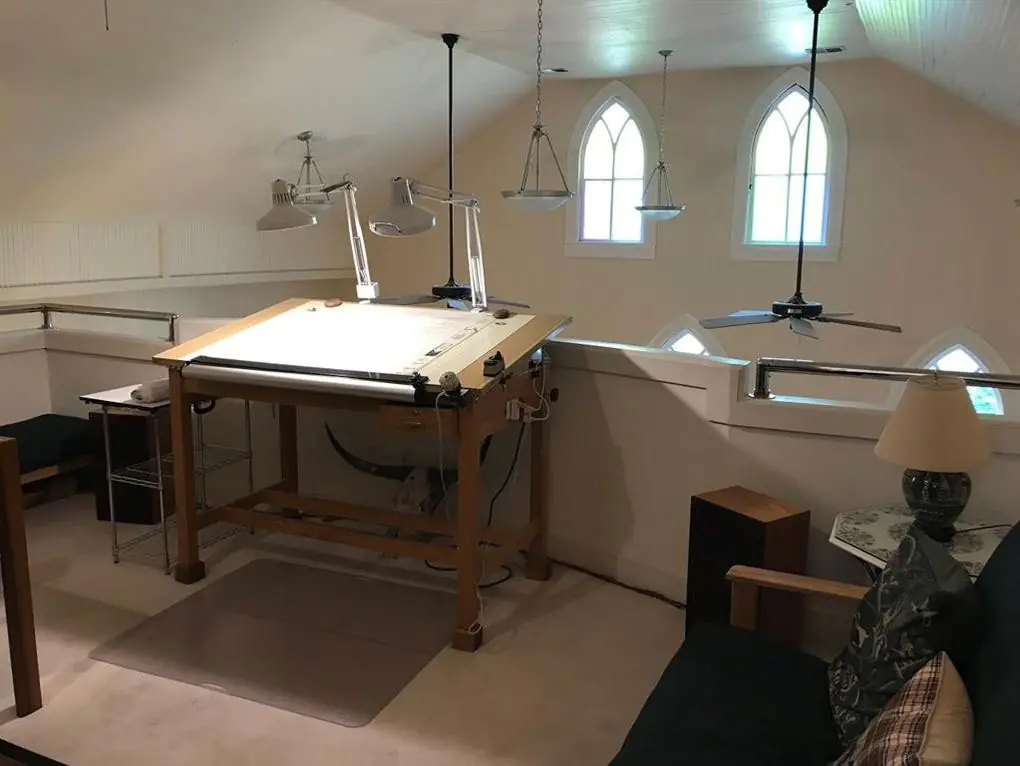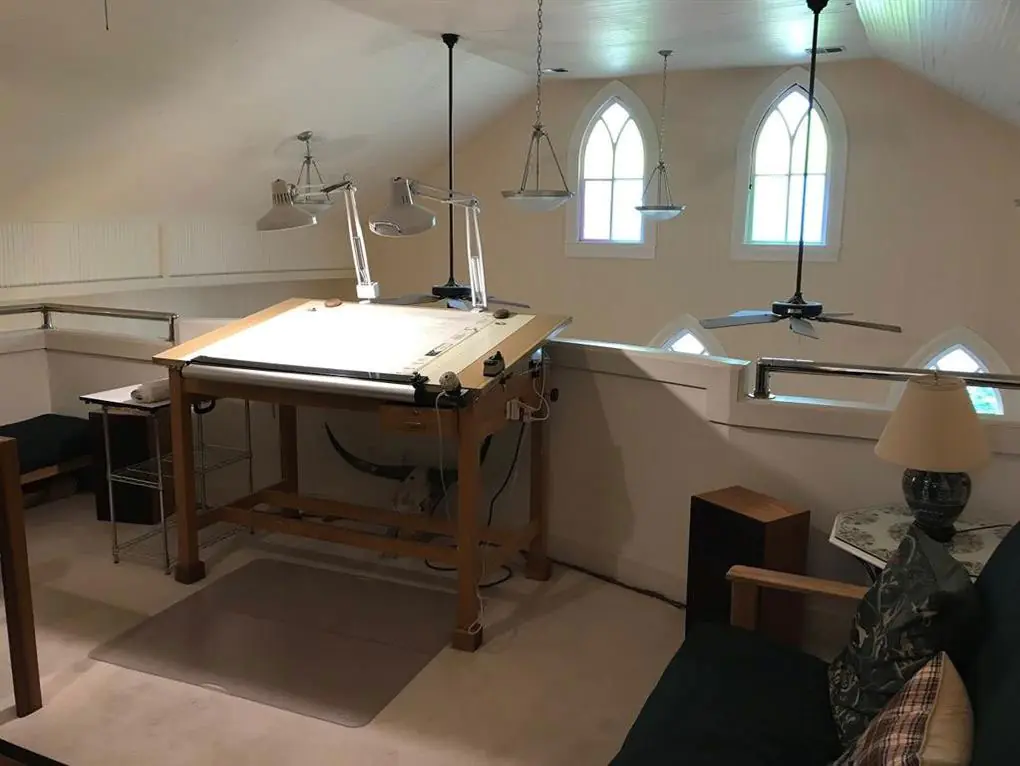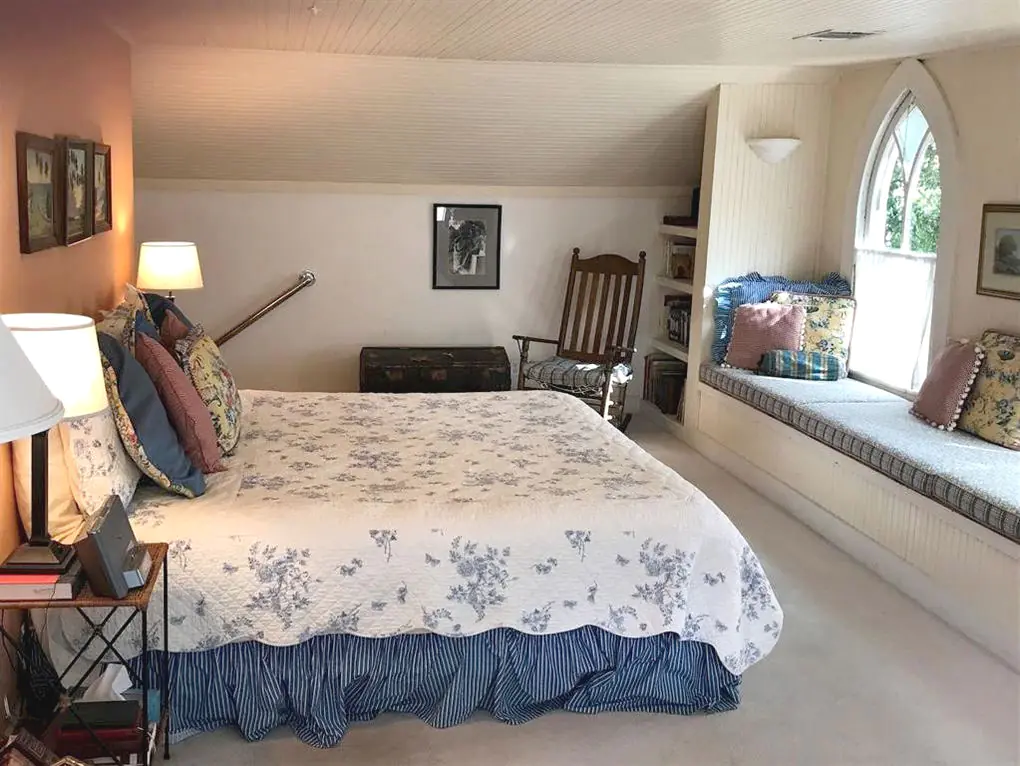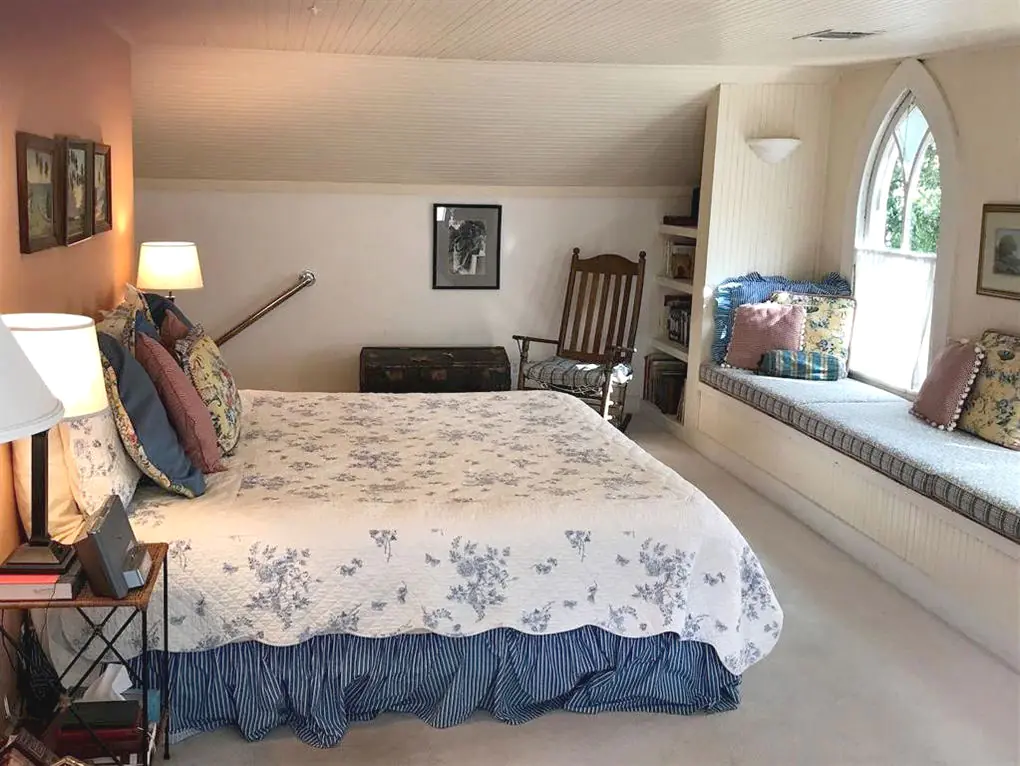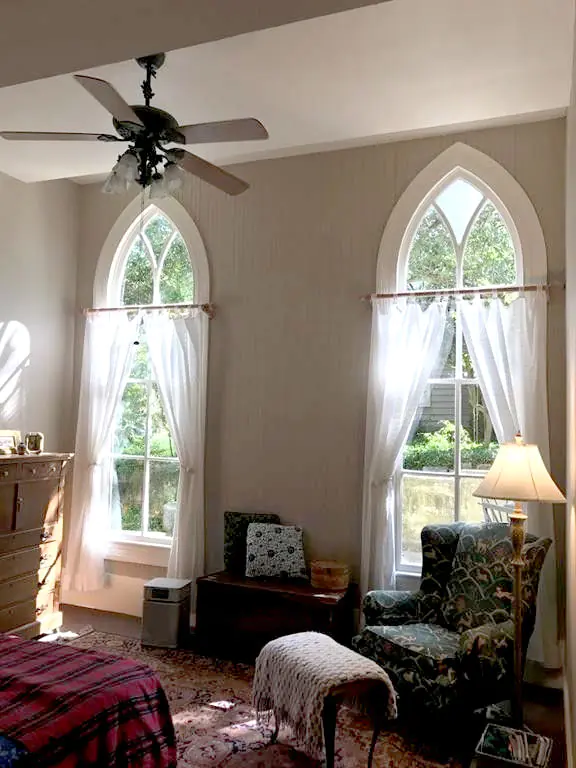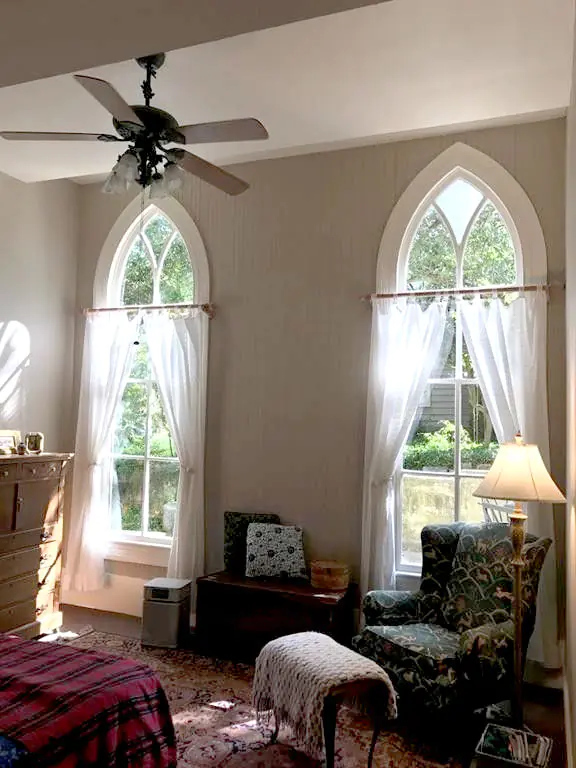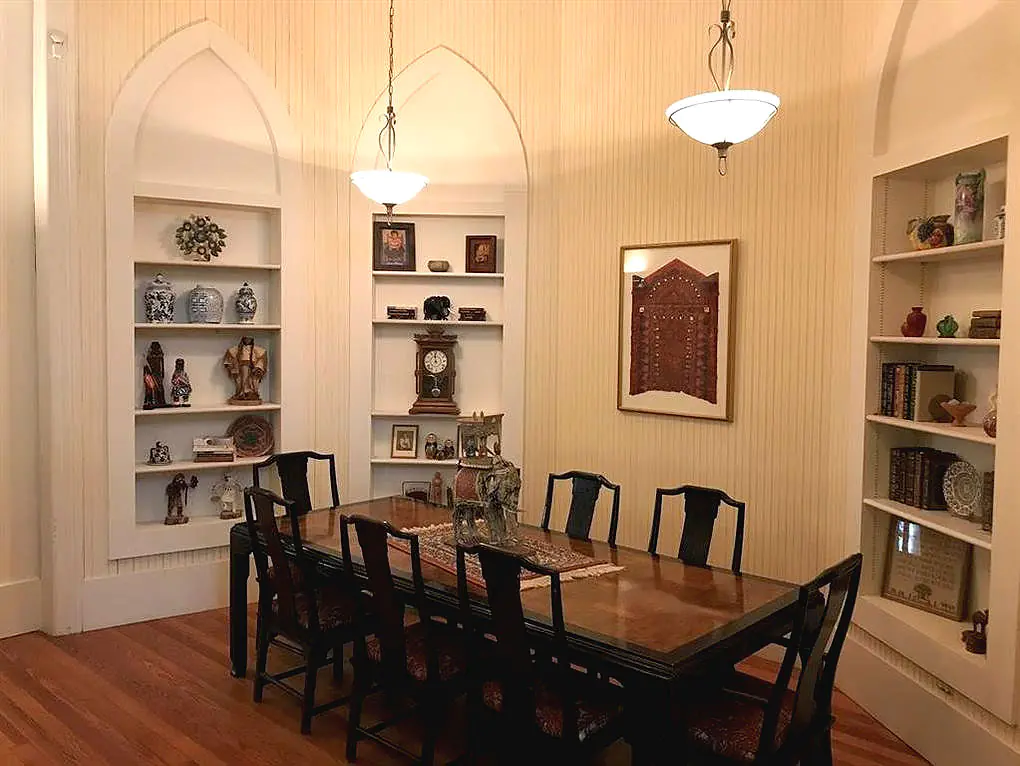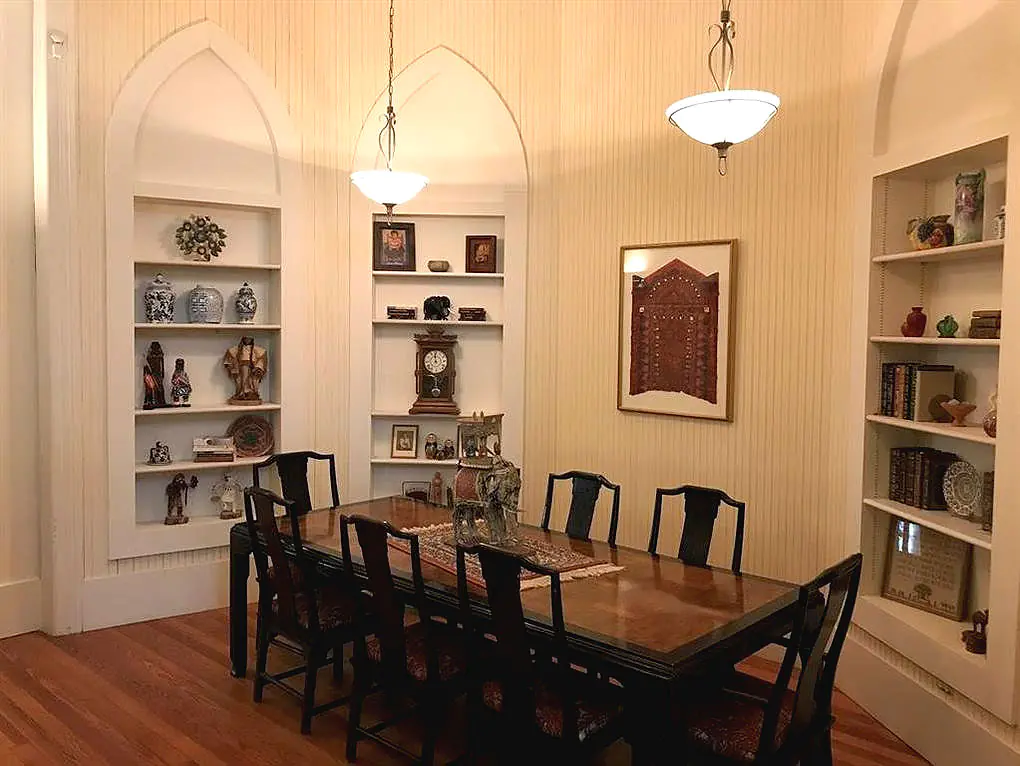 Situated in an old historic church, this lovely old church has been restored and transformed into a beautiful 2-story residence with a 20′ high vaulted ceilings.
With its fully restored interior and vibrantly colored exterior, this former church built in 1901 is begging for a second chance.
Victorian Era Converted Church House in Maryland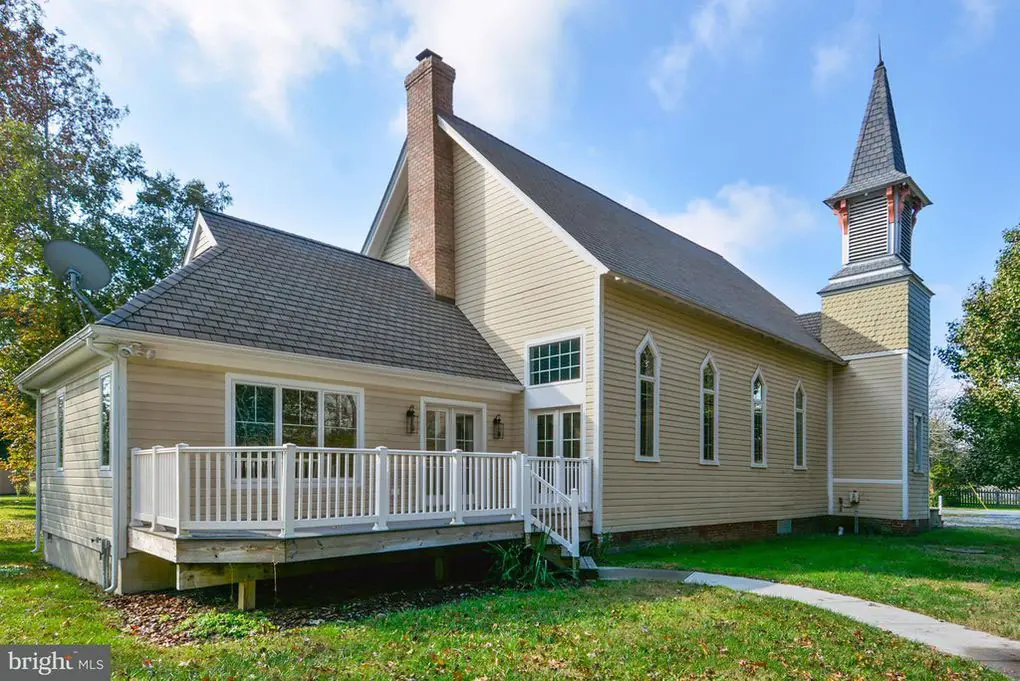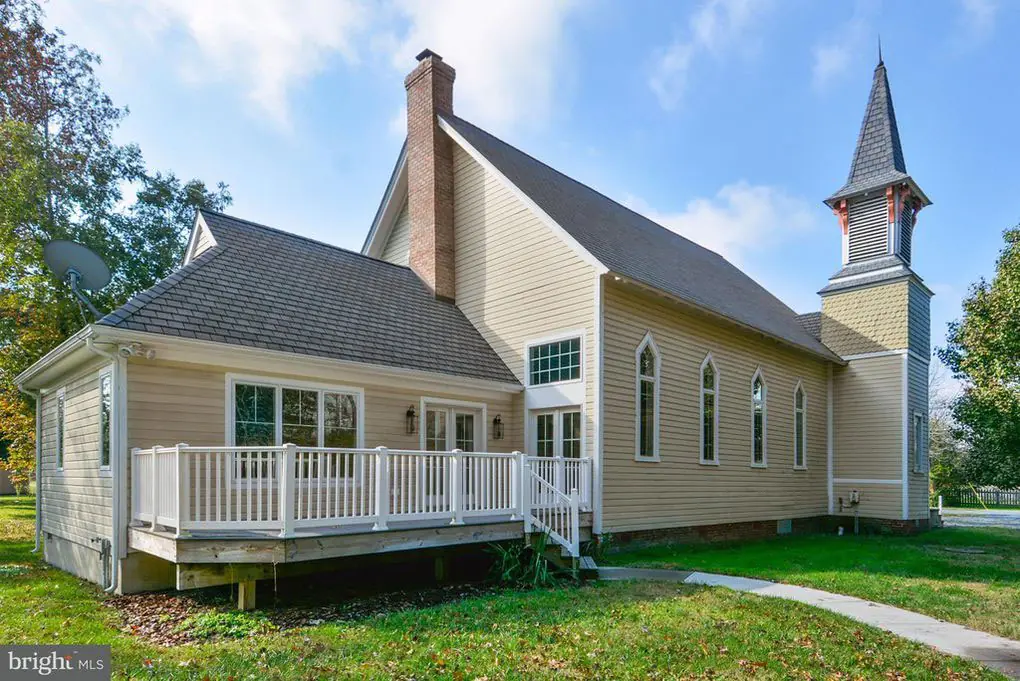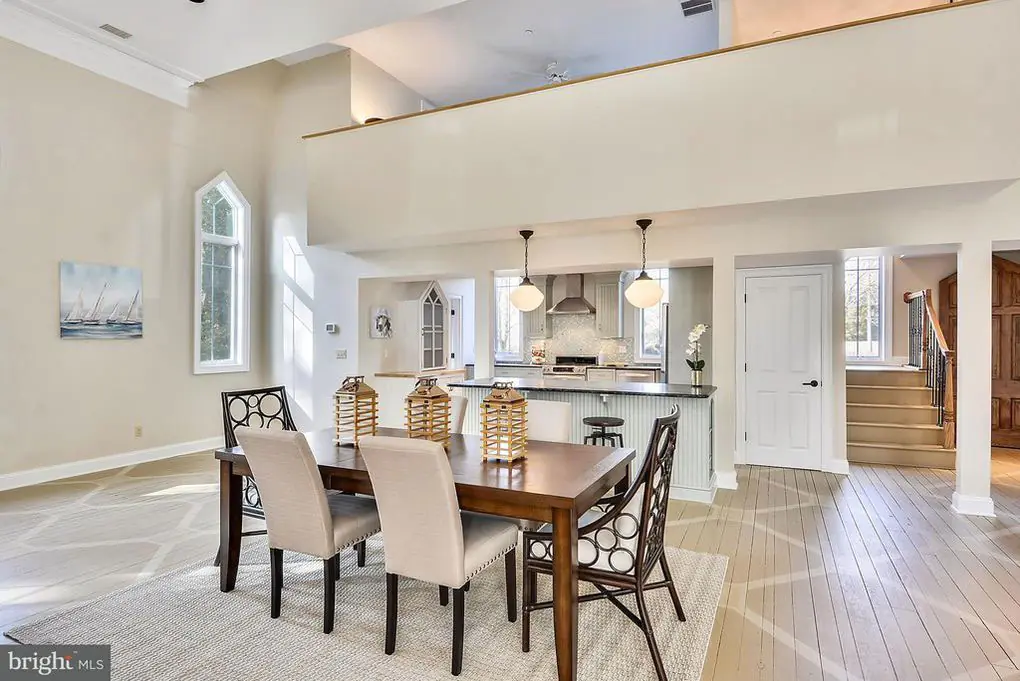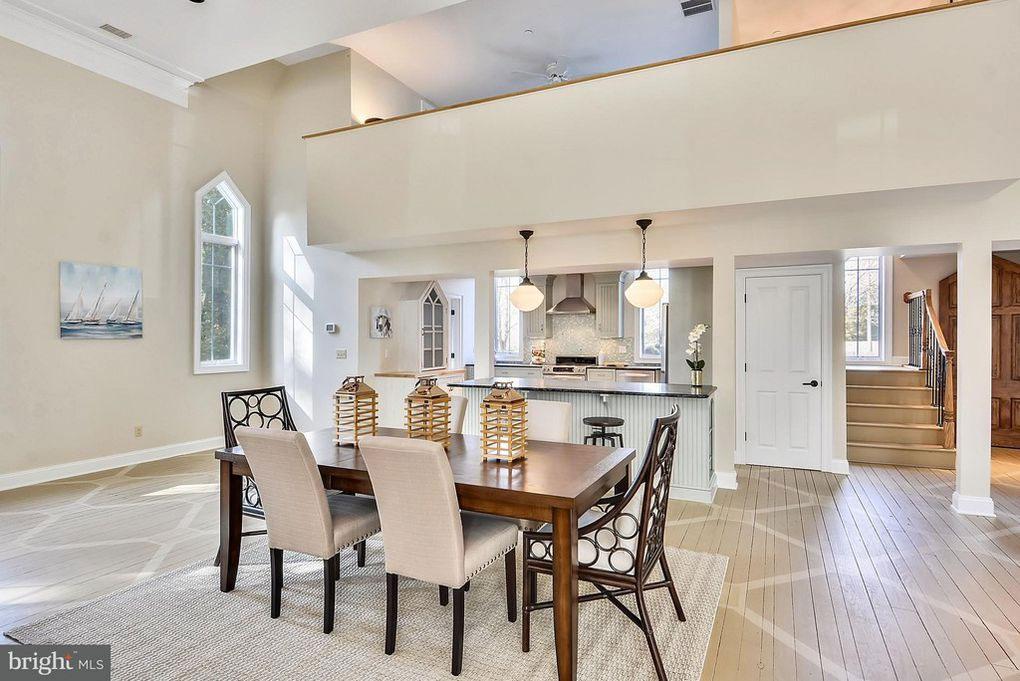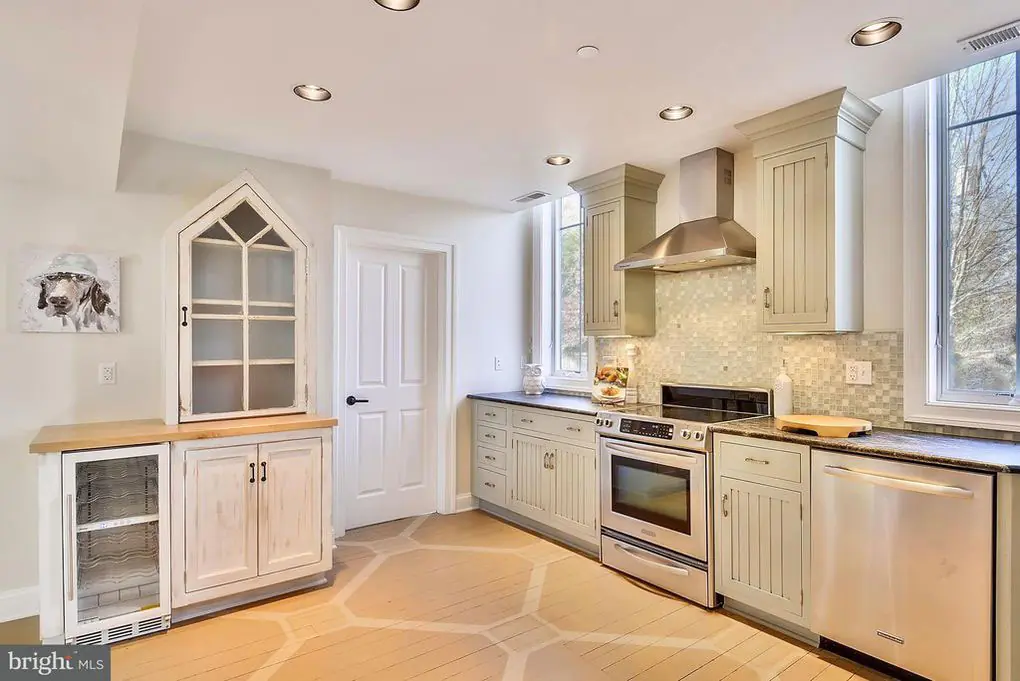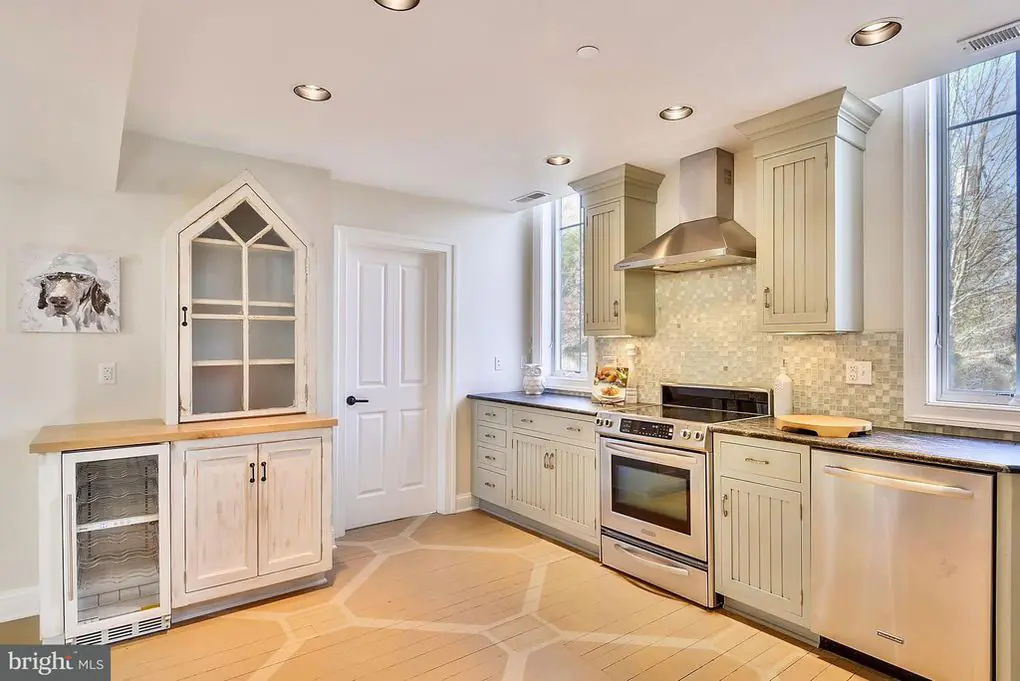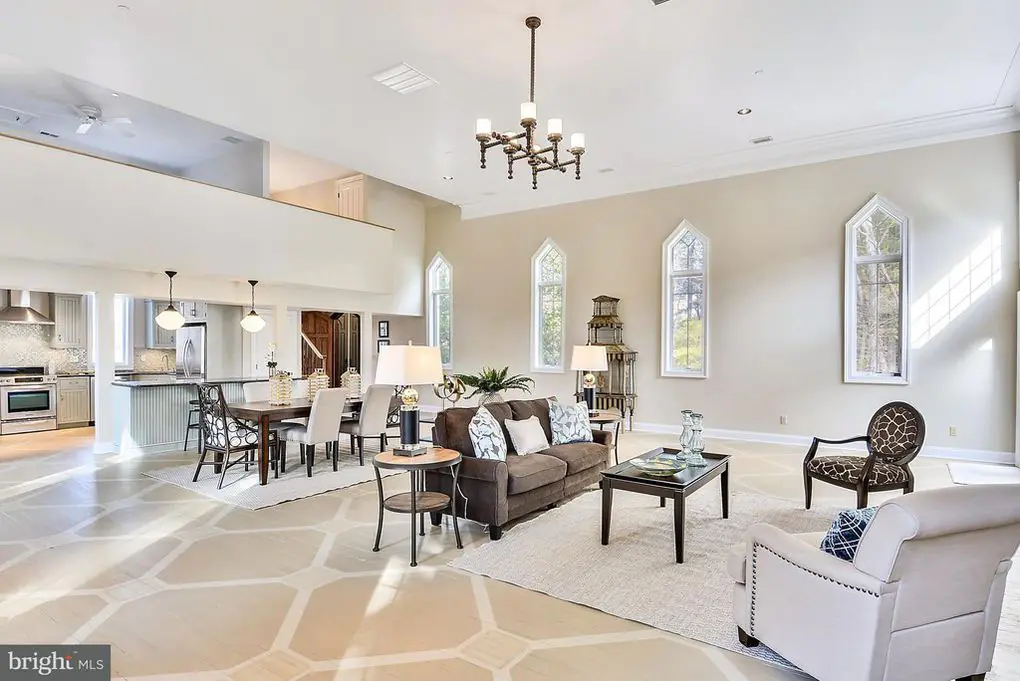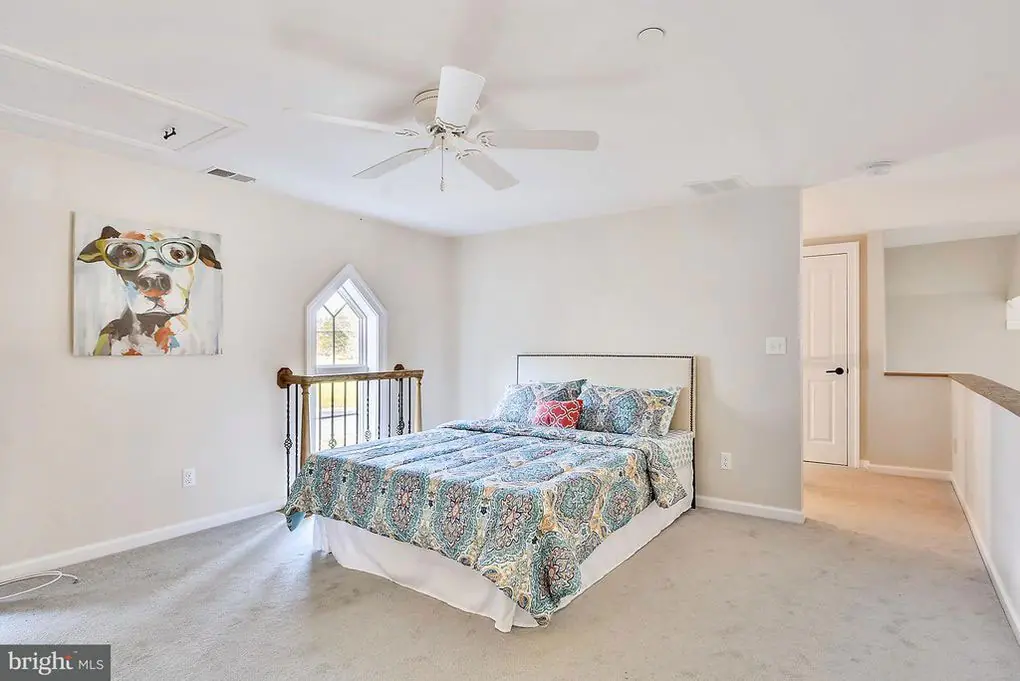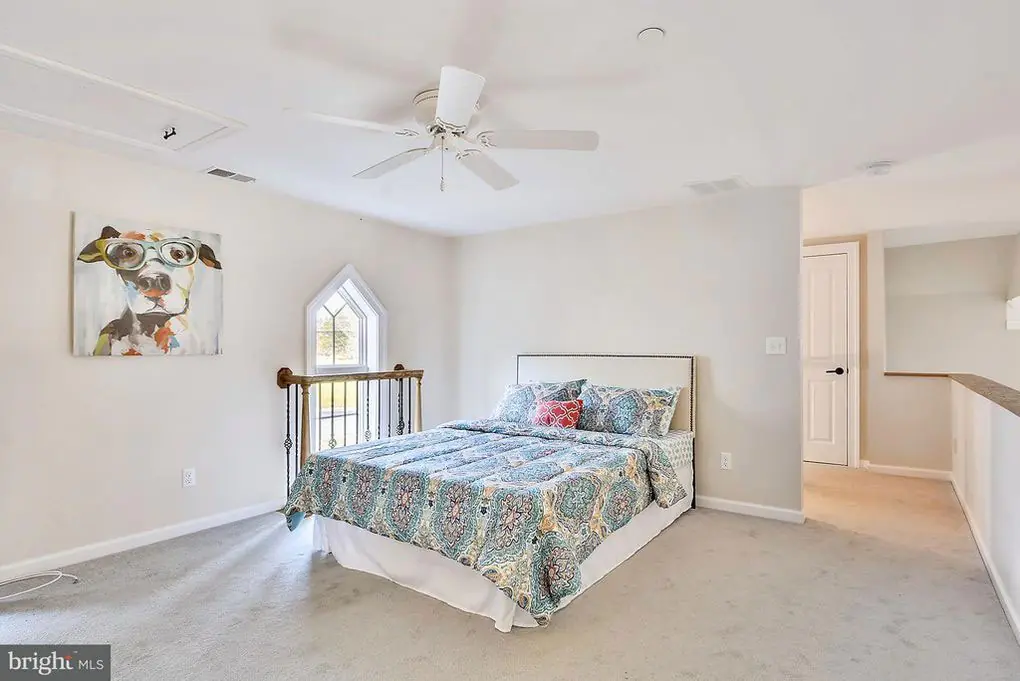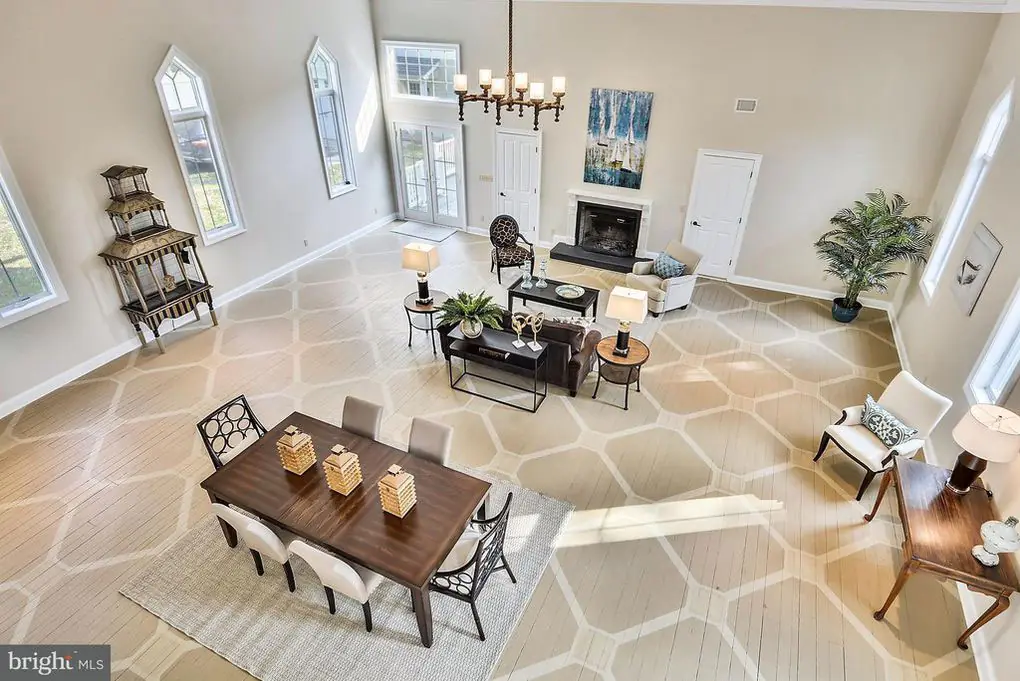 This Victorian-era church is now a two-bedroom home with traditional details such as arched windows and a bell tower. Concessions to modern life include a detached two-car garage.
Incredible transformation of historic church into spectacular and unusual residence of understated elegance.
– Kristine Hansen
Providence Methodist Episcopal Converted Church in Glenelg, Maryland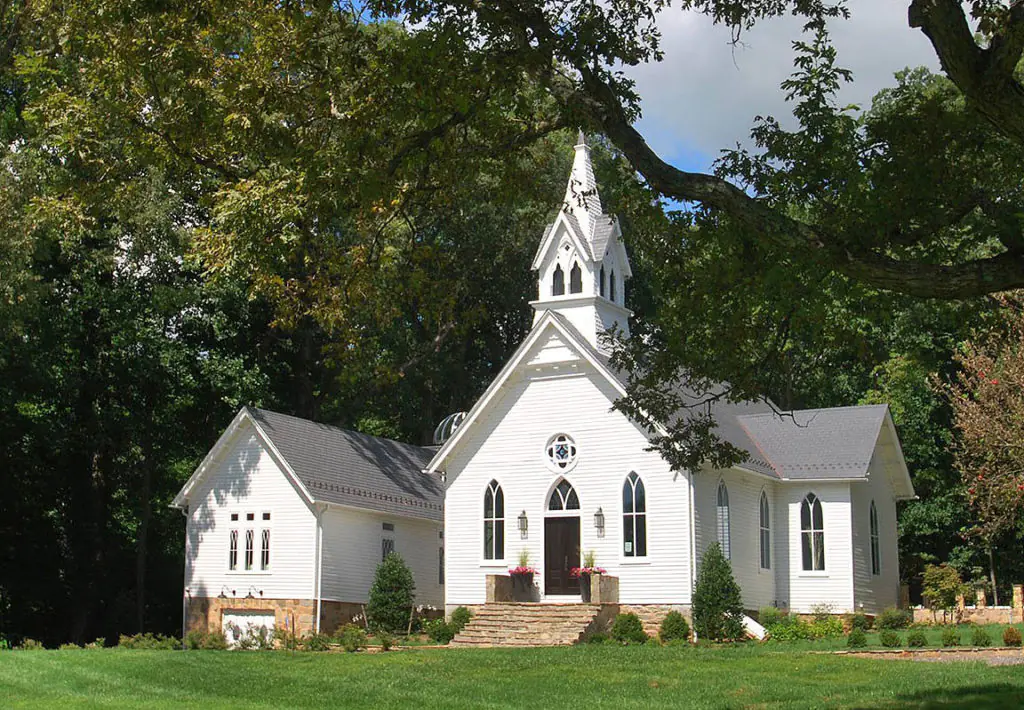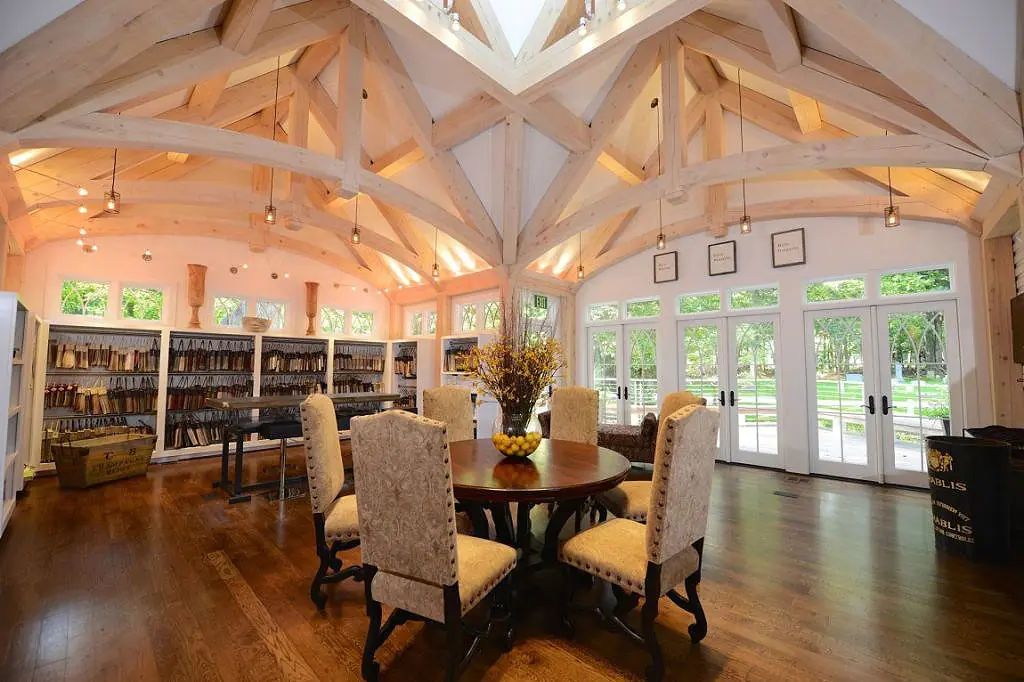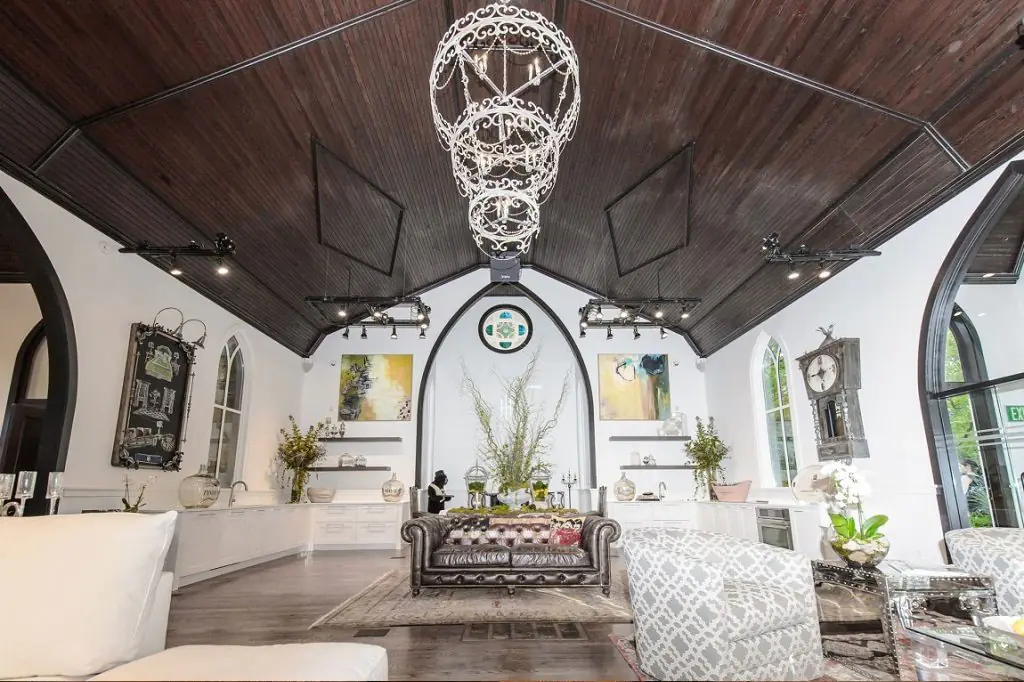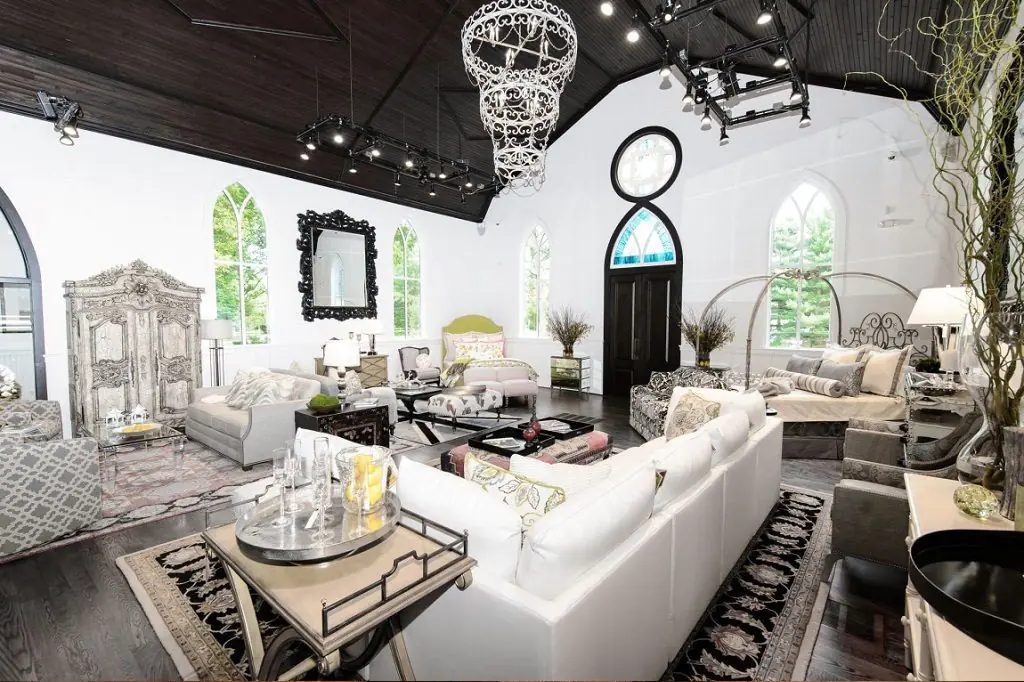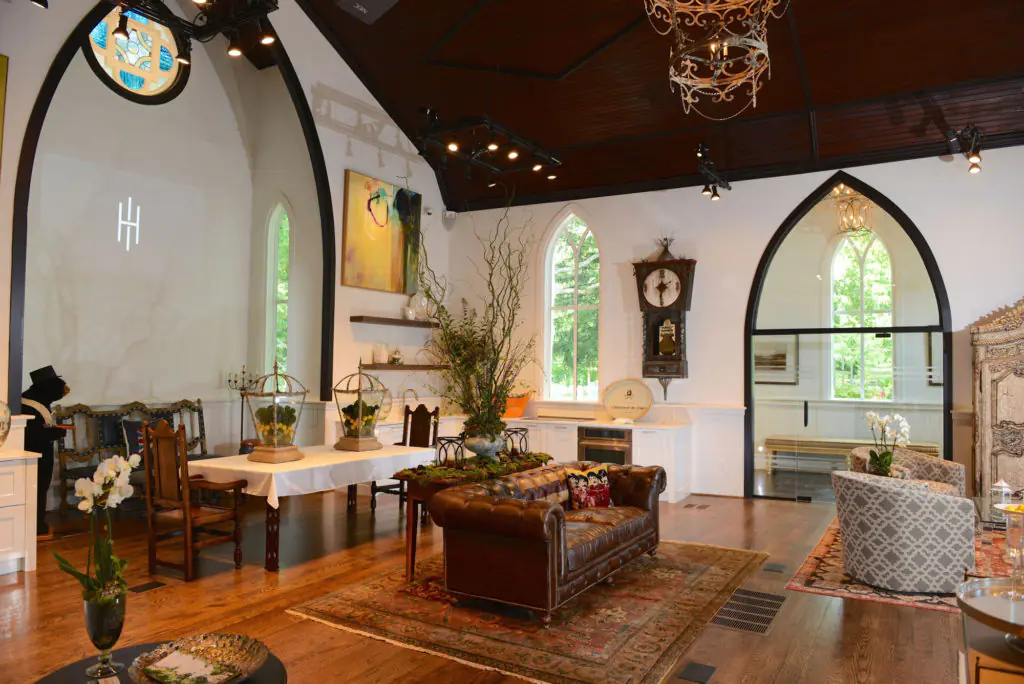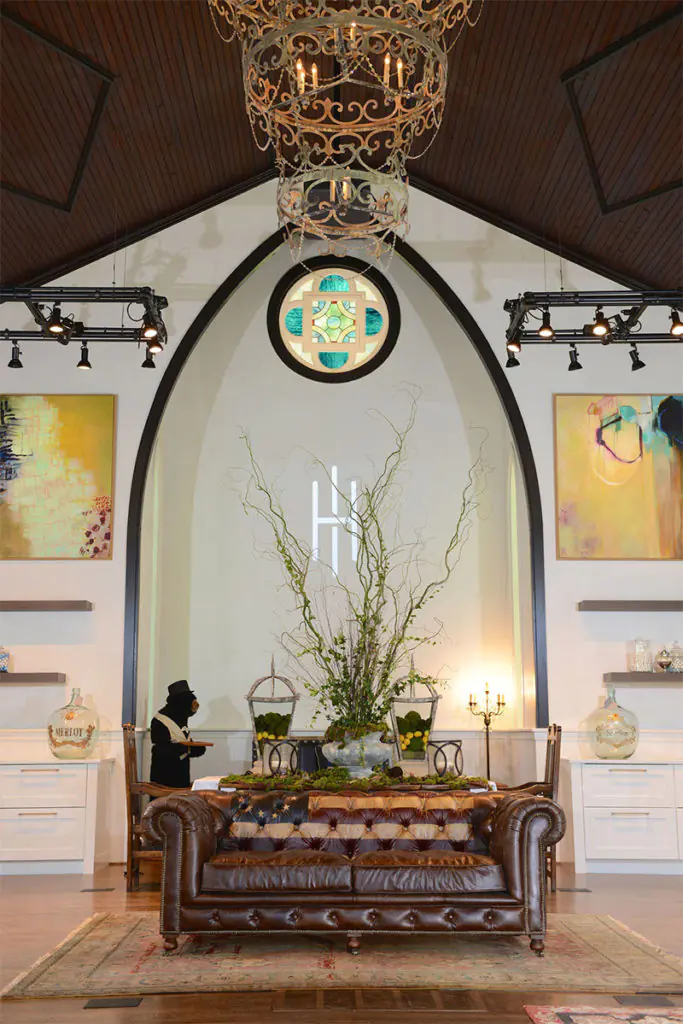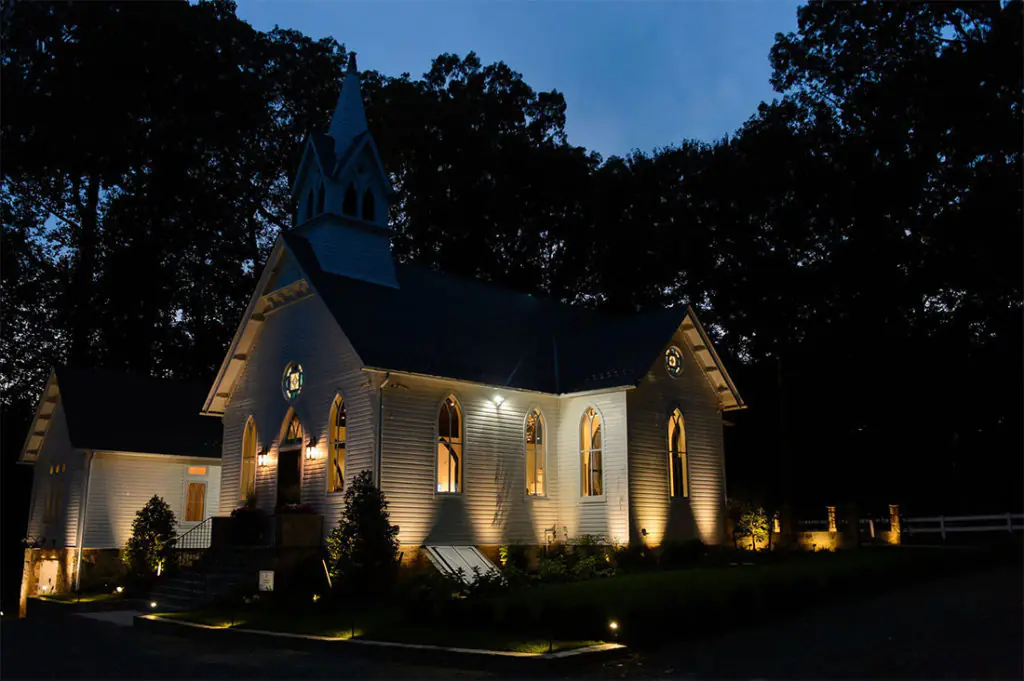 After decades of abandonment, interior designer Stacia Smith purchased the old Providence Methodist Episcopal Church in Glenelg, Maryland in 2012 and then went about meticulously restoring and converting the old building into a stunning residence & home office.
For reference, this is what the old church looked like before the conversion project began.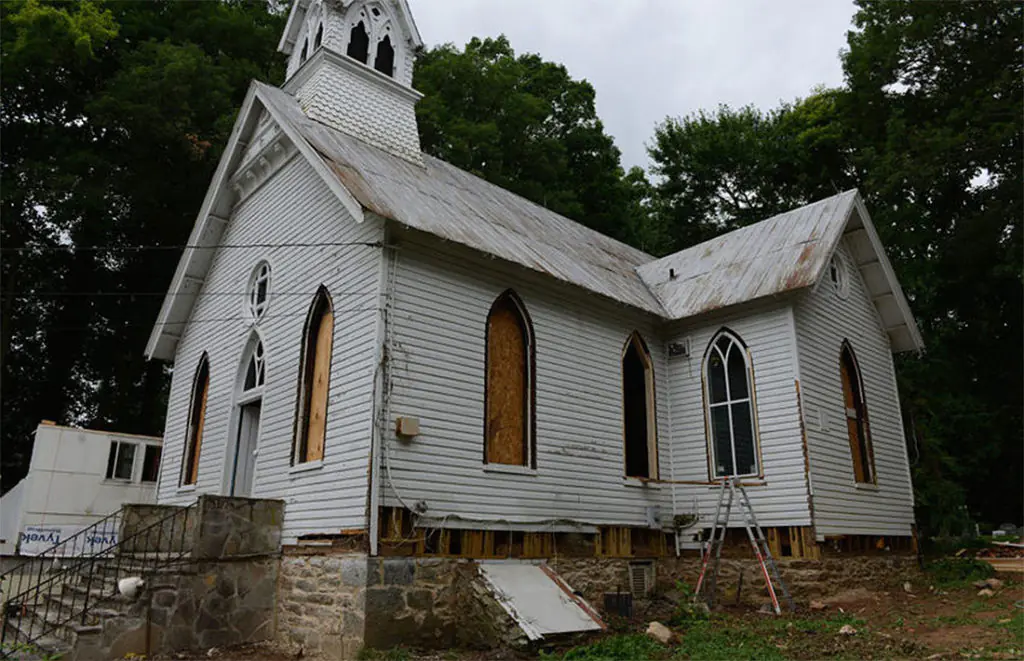 Though we've rehabilitated the exterior, we wanted to ensure that it would match the previous exterior structure. Inside, we worked diligently on the interiors, preserving and restoring many of its original features.
– Stacia Smith, Homewood Interiors
Victorian Tin Chapel in Faversham, England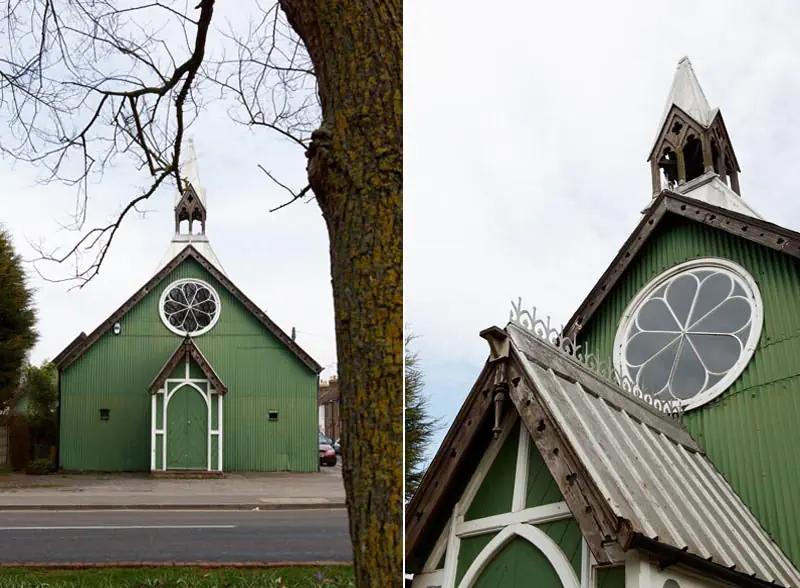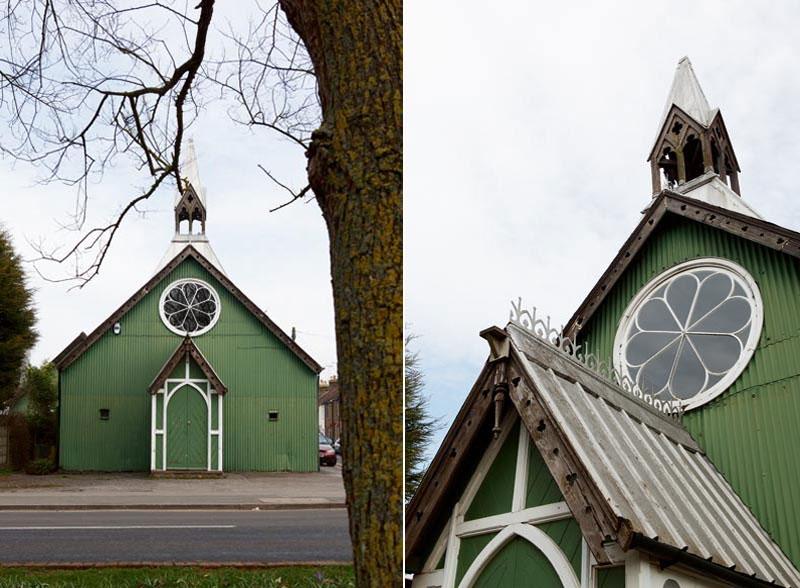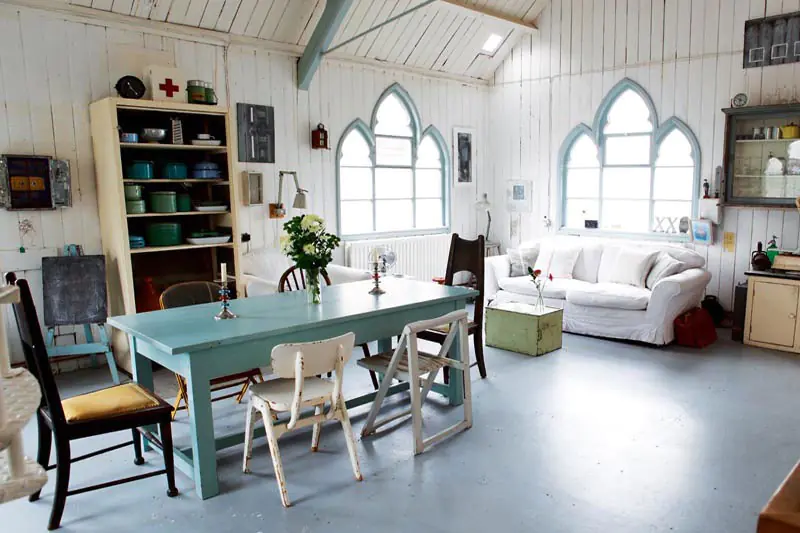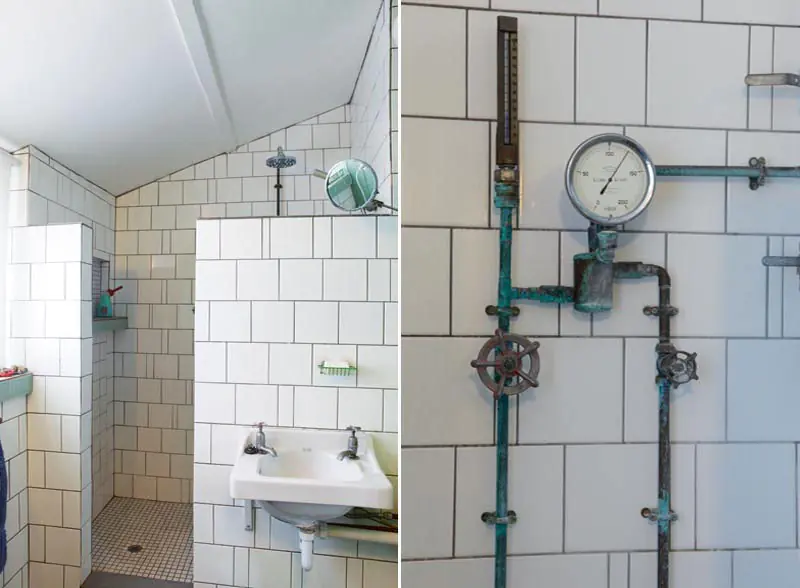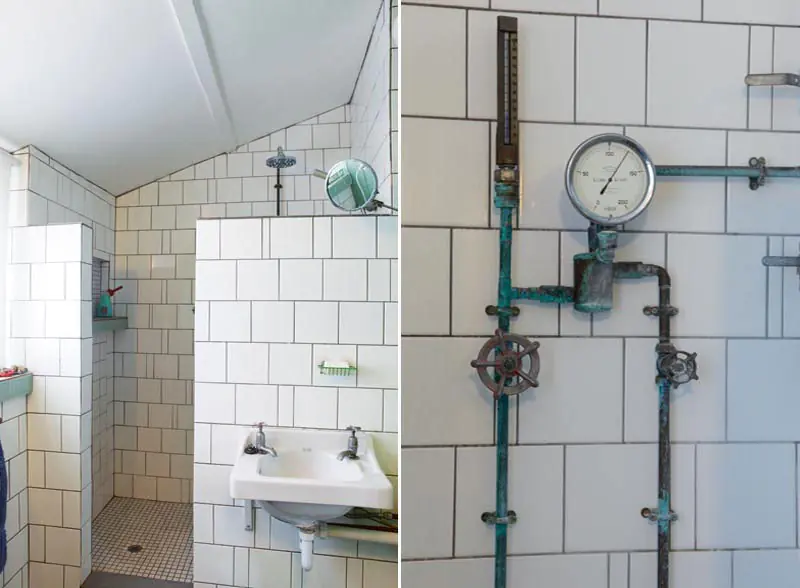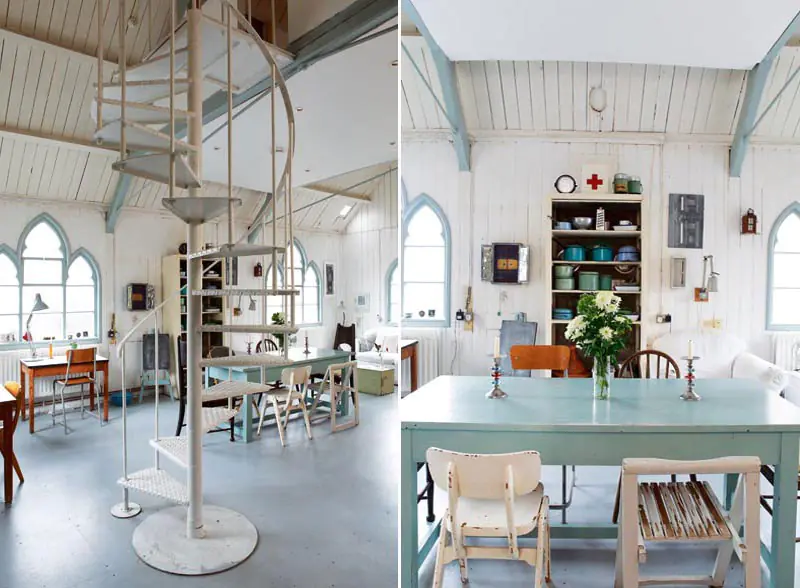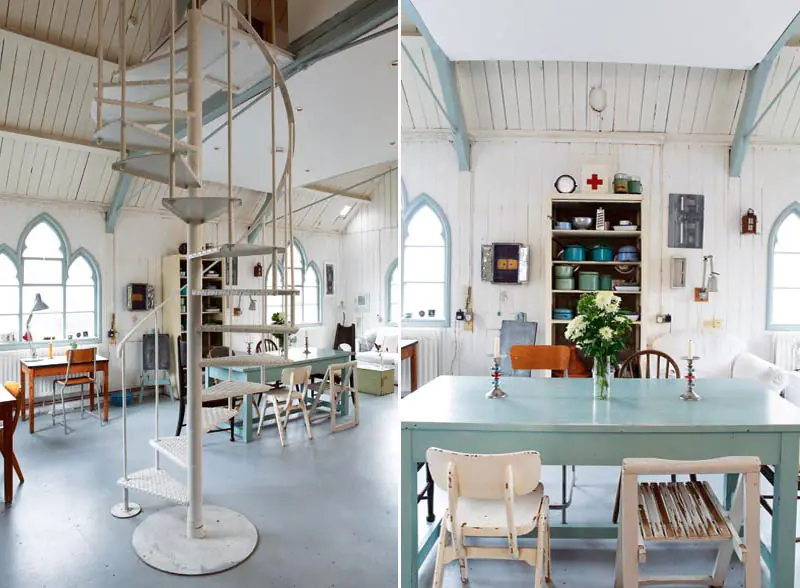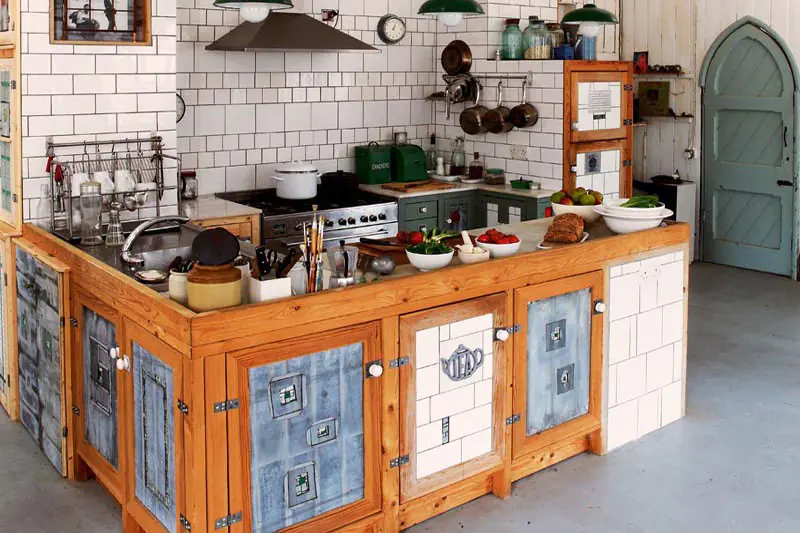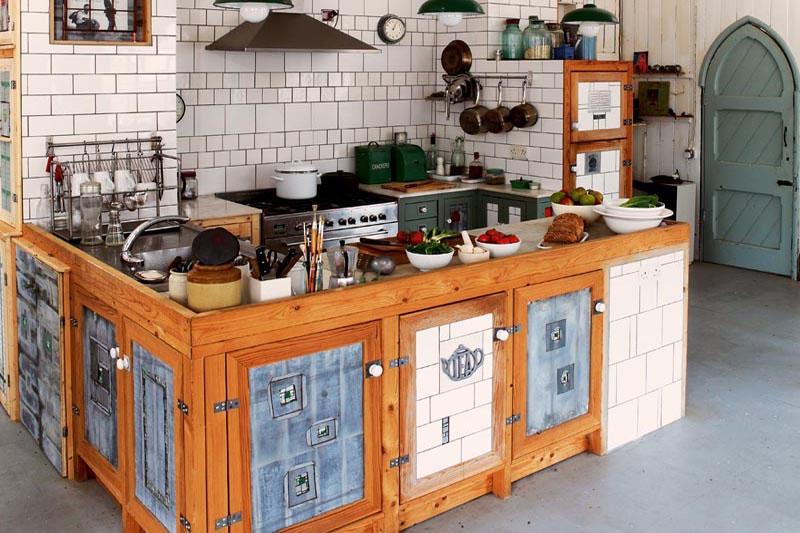 A delightfully rustic converted church house, this one was meticulously created by craftsman Nick Kenny. He took years to convert an abandoned Victorian corrugated-iron chapel in Faversham, Englandusing only recycled and salvaged materials.
Nick had to be extremely resourceful – especially in the bathroom, where it was eventually fitted with a reclaimed sink and a shower made from old boiler room parts.
– Erica Chan Coffman
Circa 1896 Wesleyan Methodist Chapel Conversion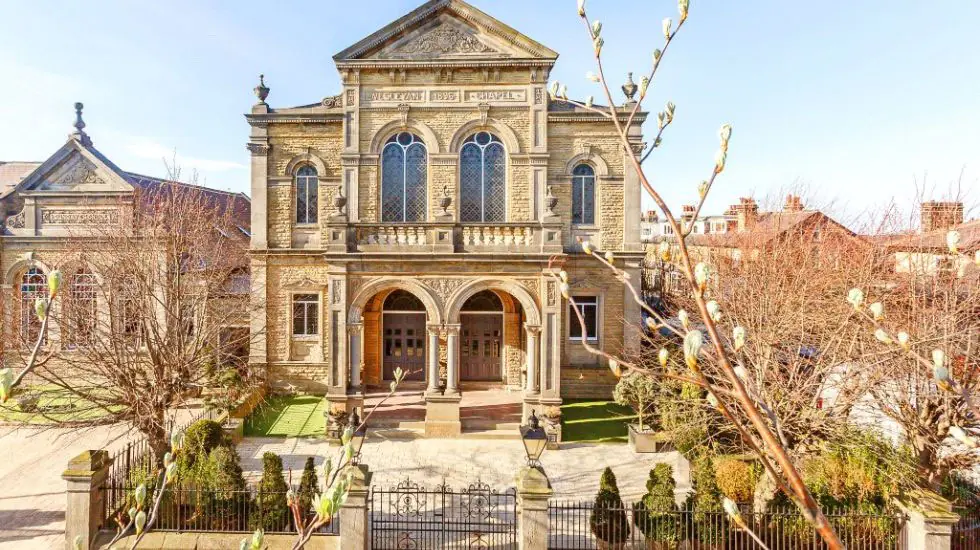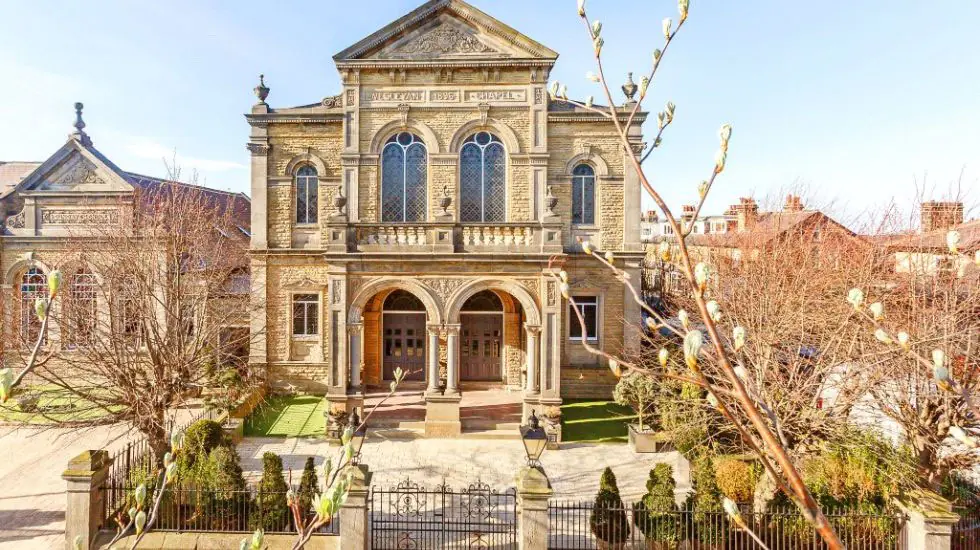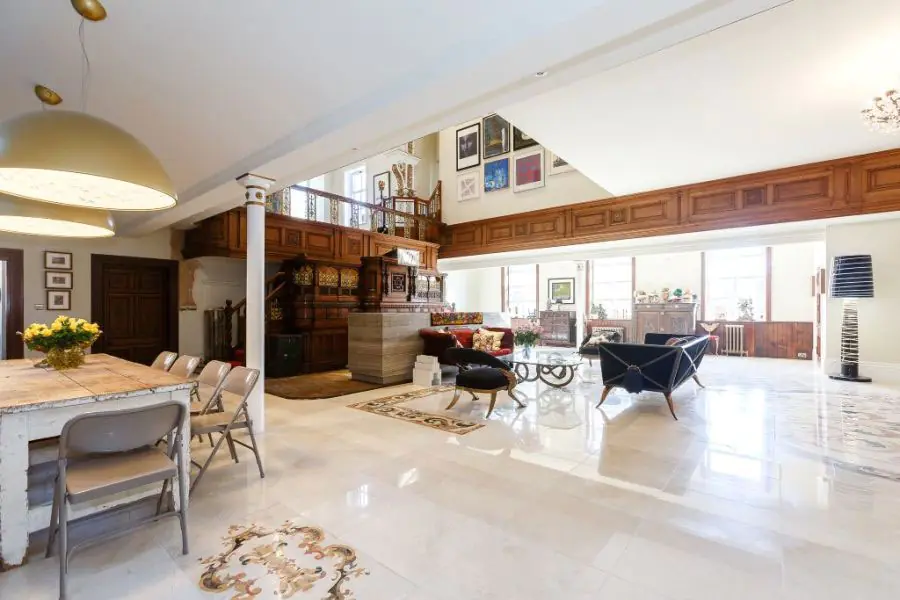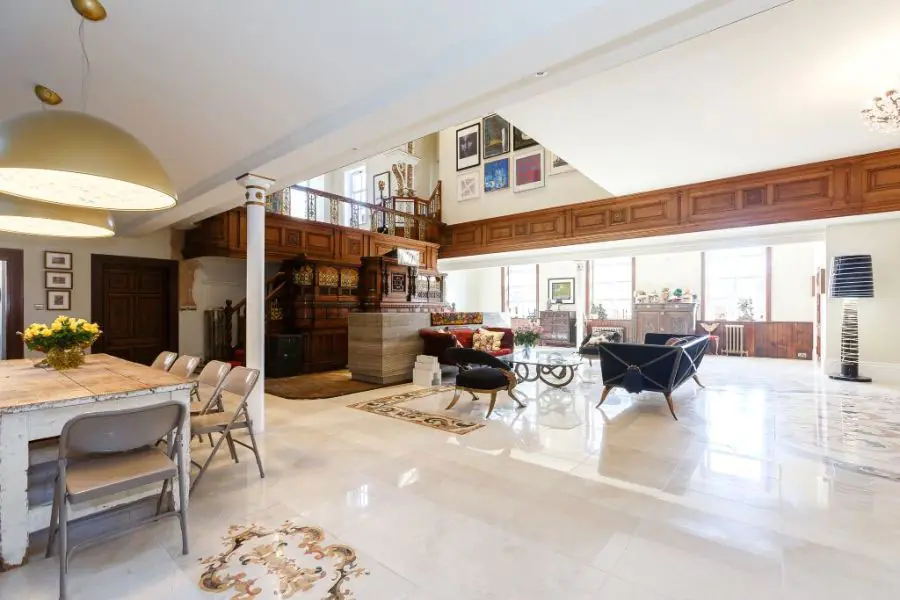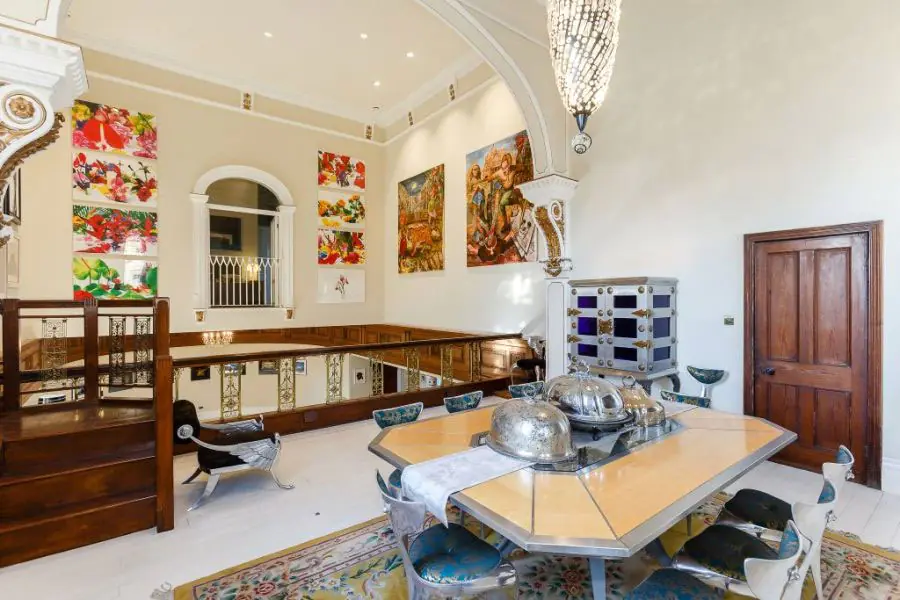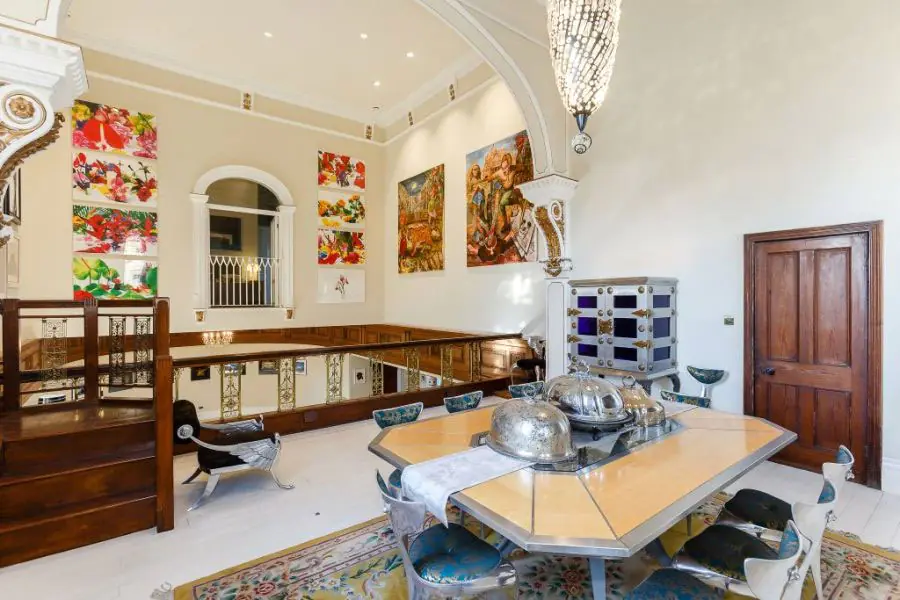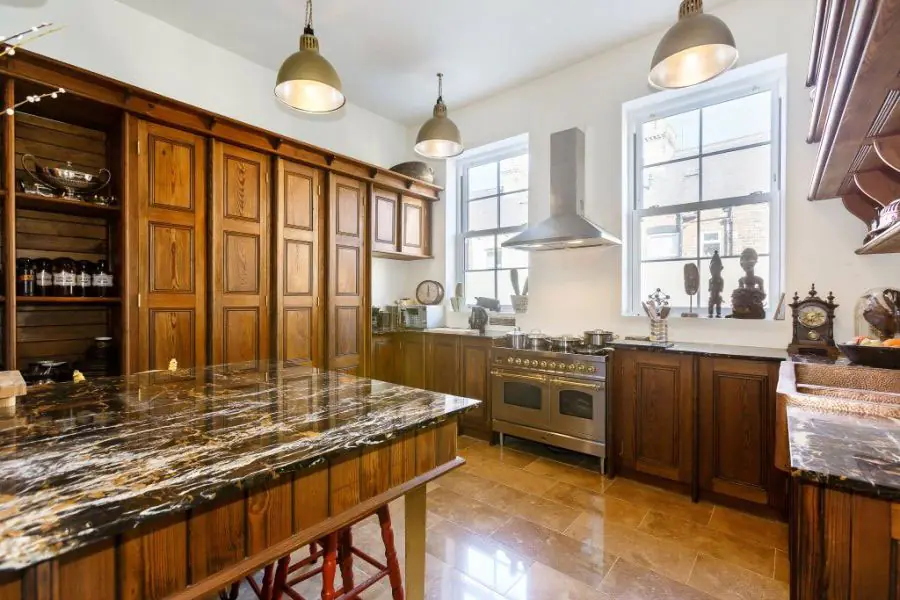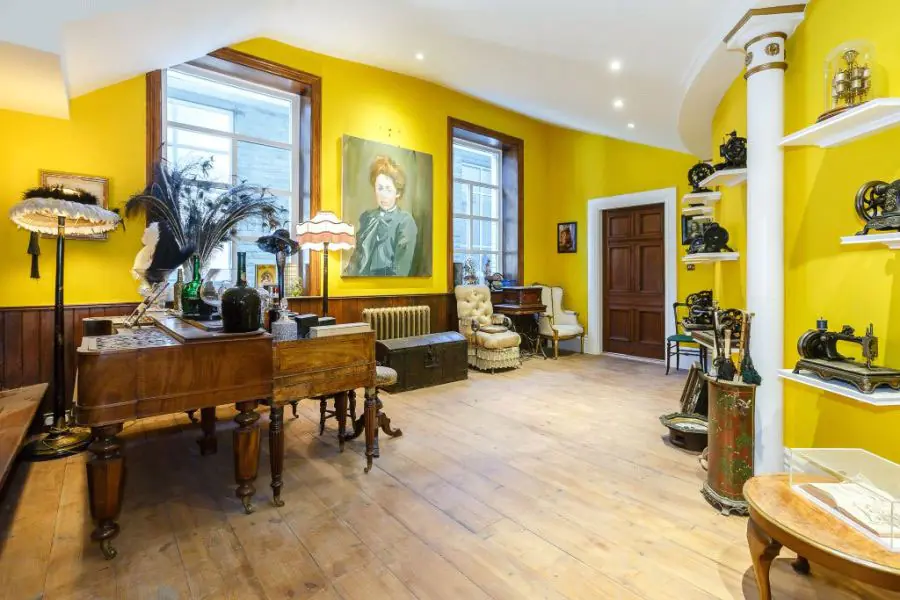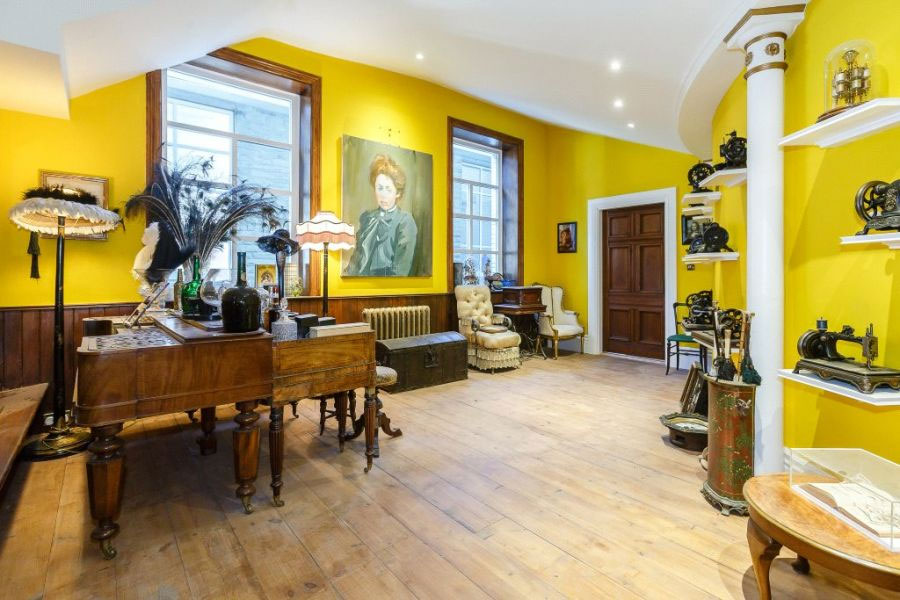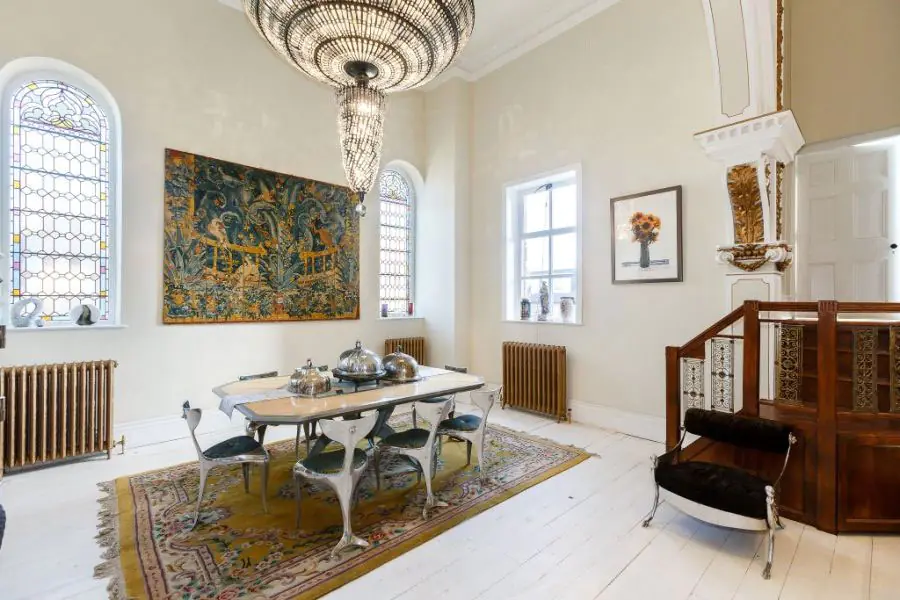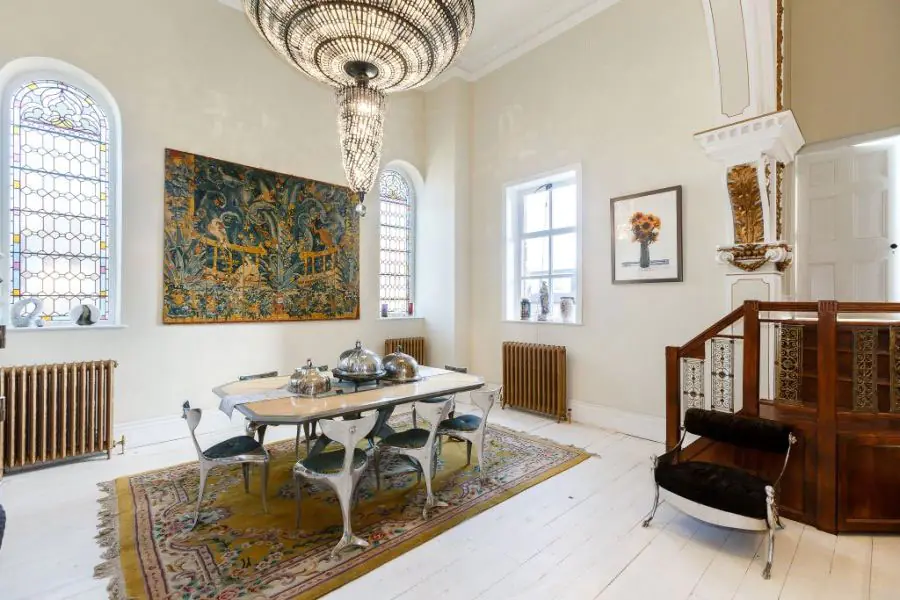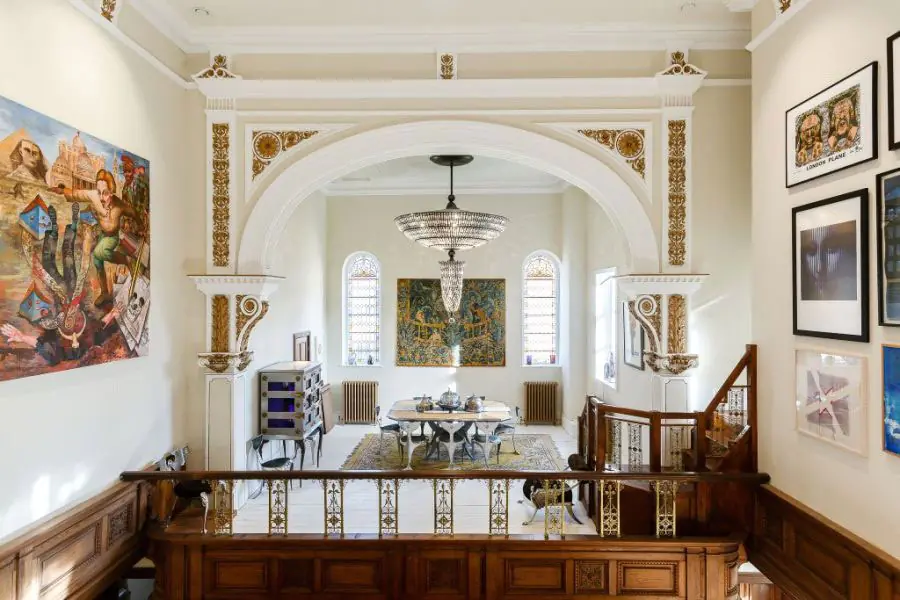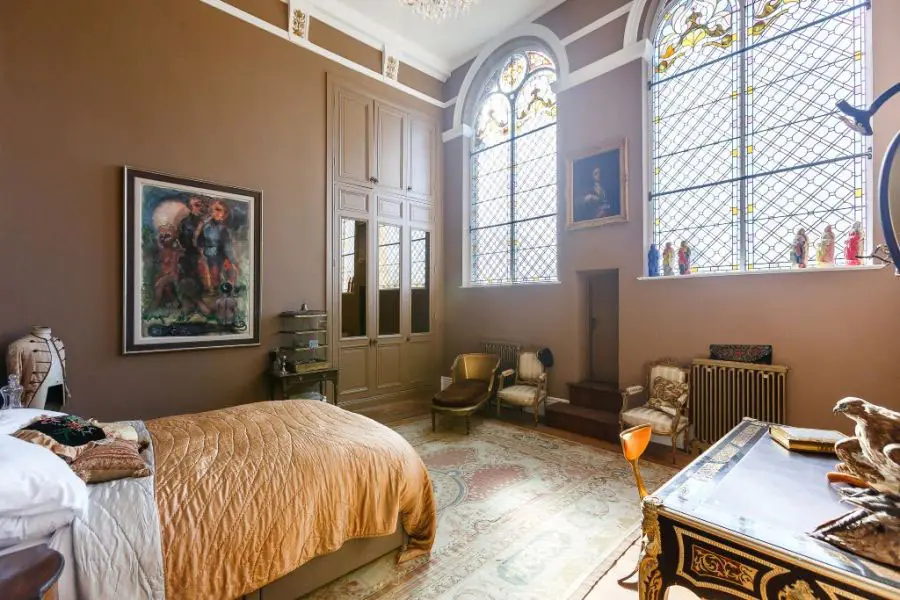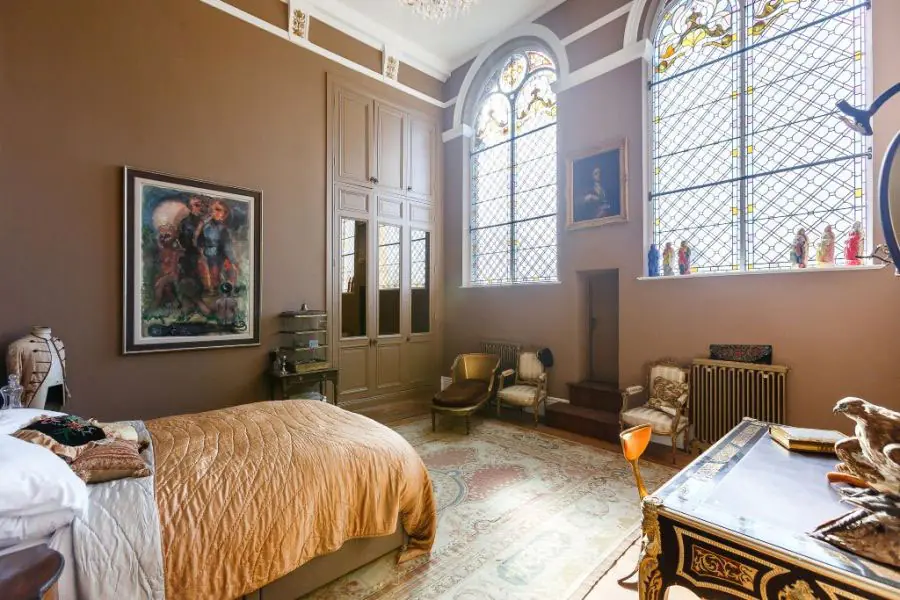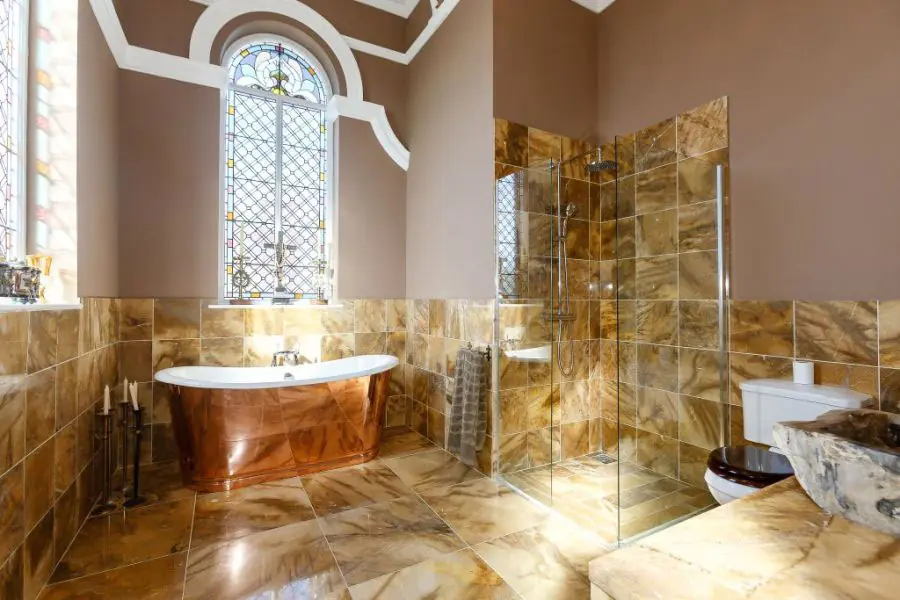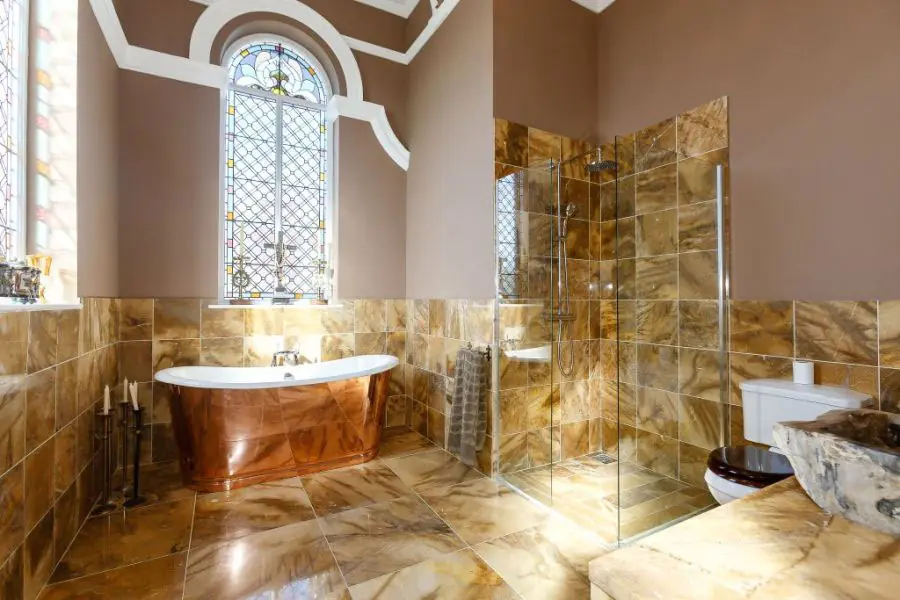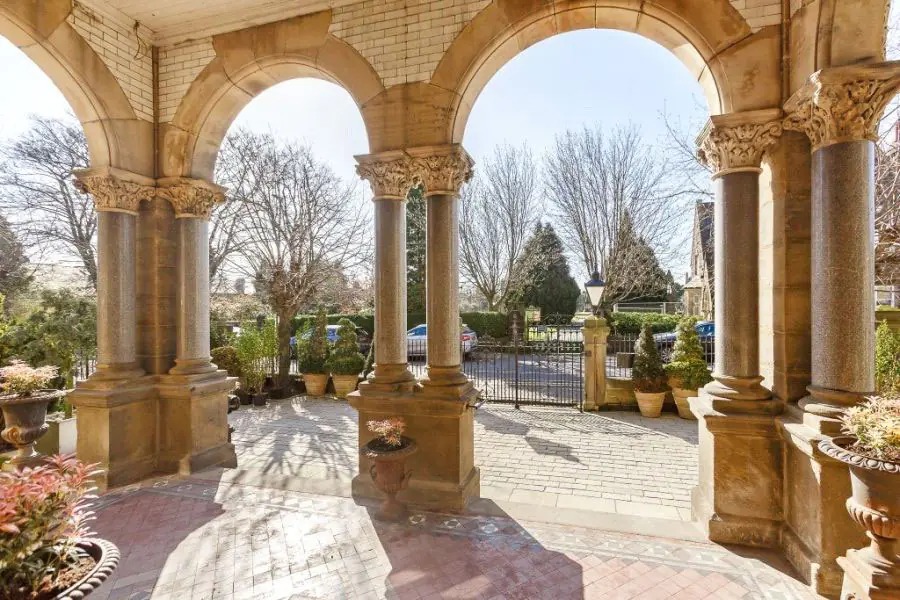 No amount of attention to detail has been spared in this stunning church conversion. From retaining the balcony frieze and pillars, to renovating the italianate corbels, to replicating the missing cornicings, to restoring the Victorian stained glass windows as well as sourcing vintage radiators from the era creating a truly original property.
This a magnificent and unique property that has been the subject of an extensive refurbishment programme, cleverly and lovingly restored by the current owner resulting in an outstanding home.
– James Wort
Stevenson Methodist Church Conversion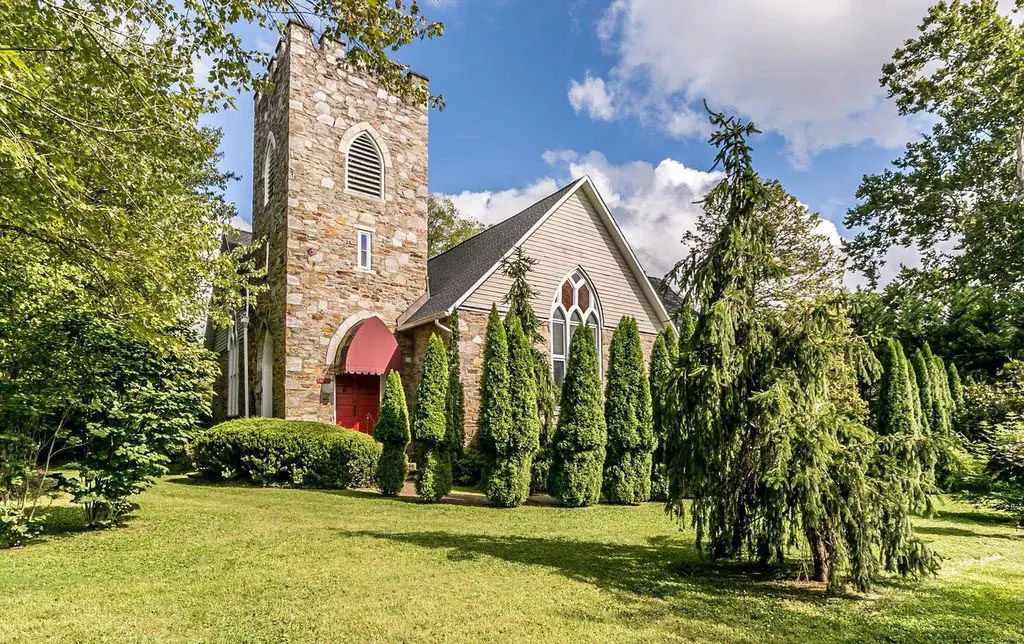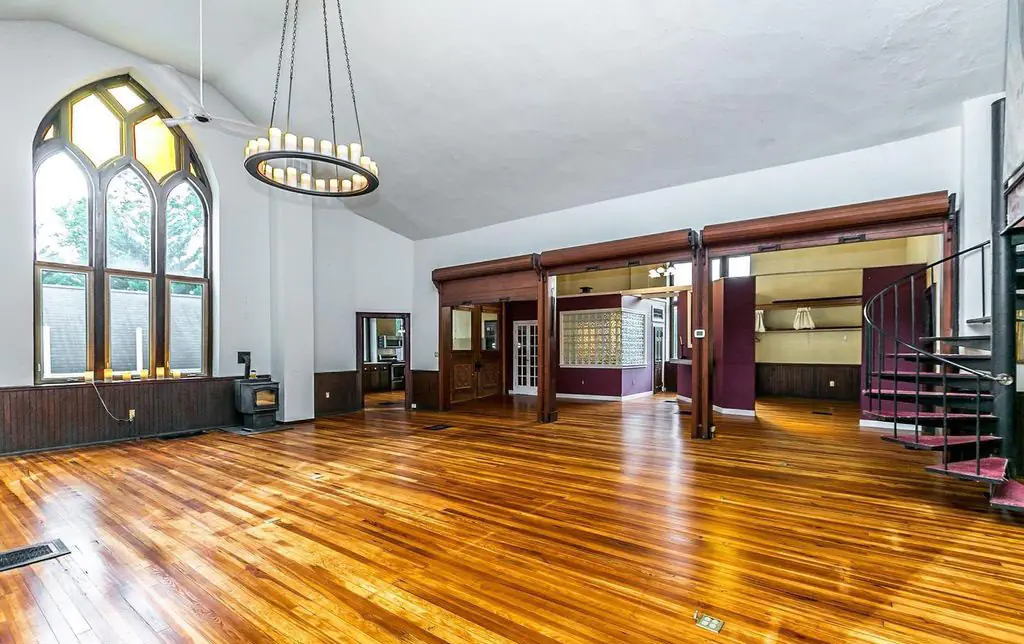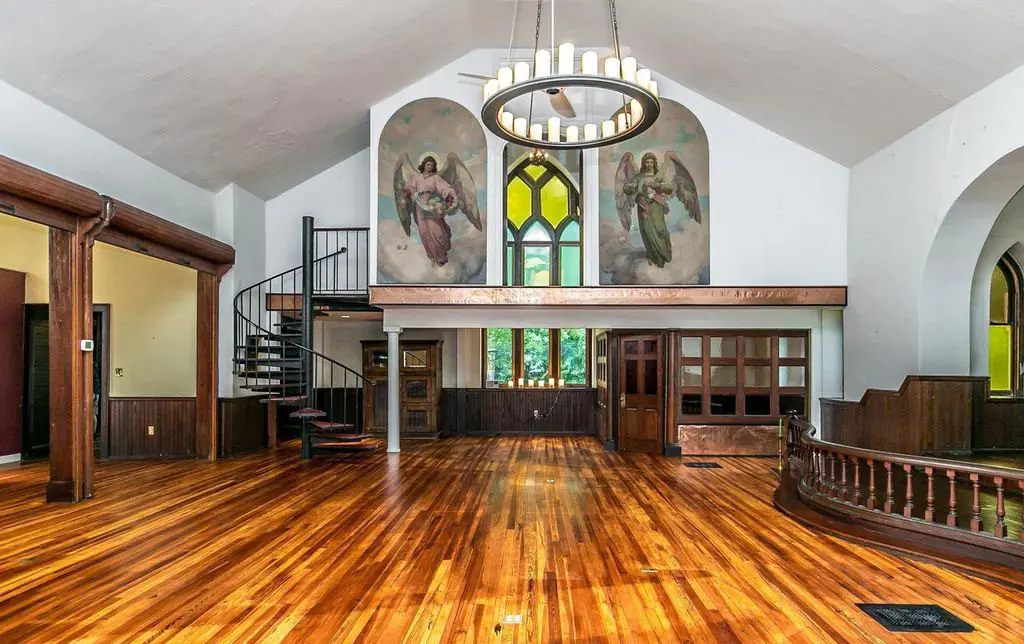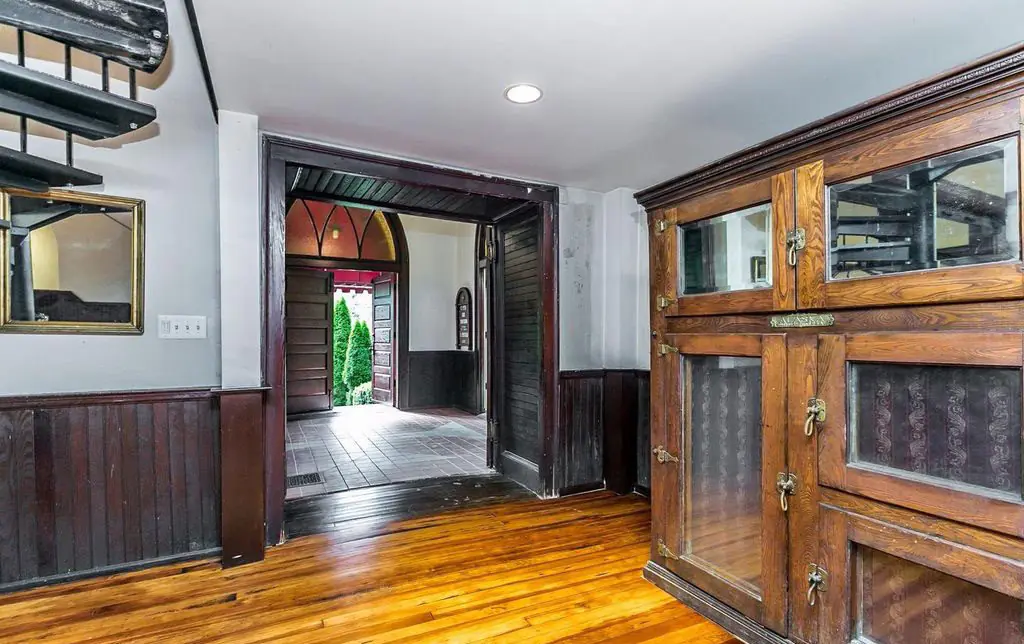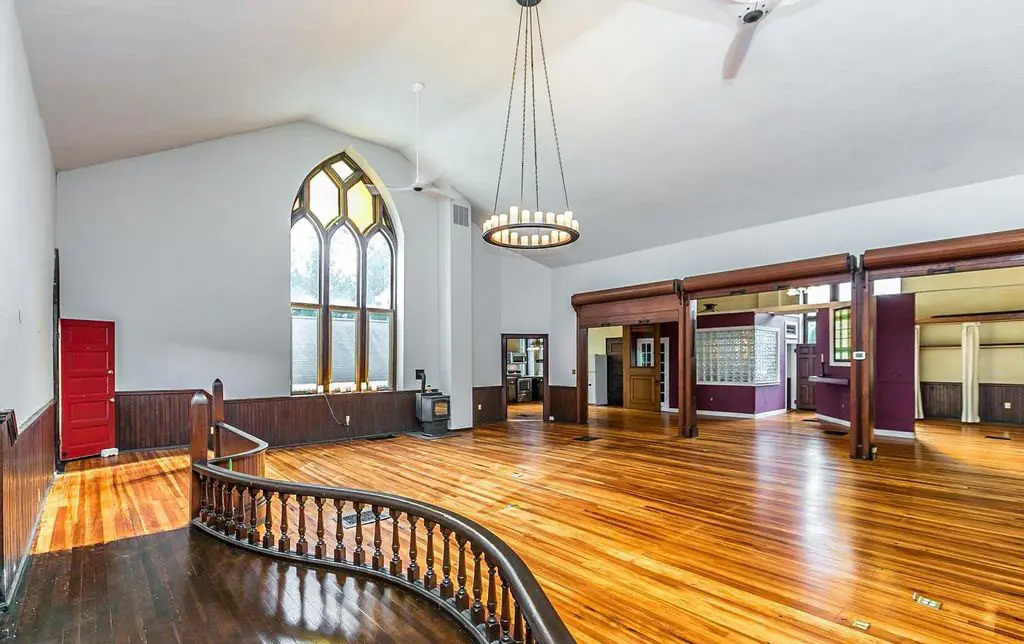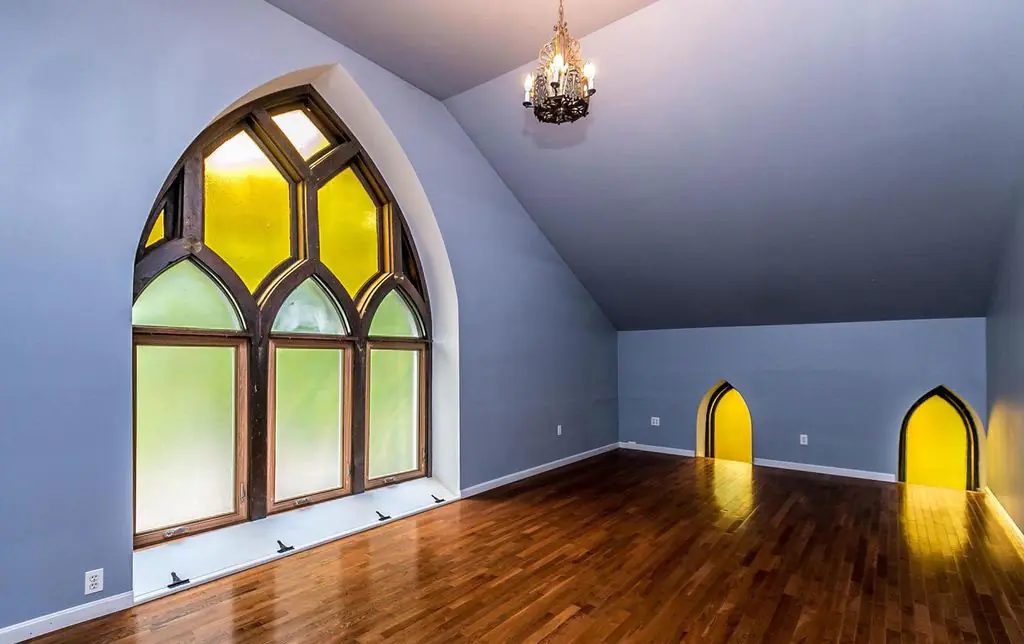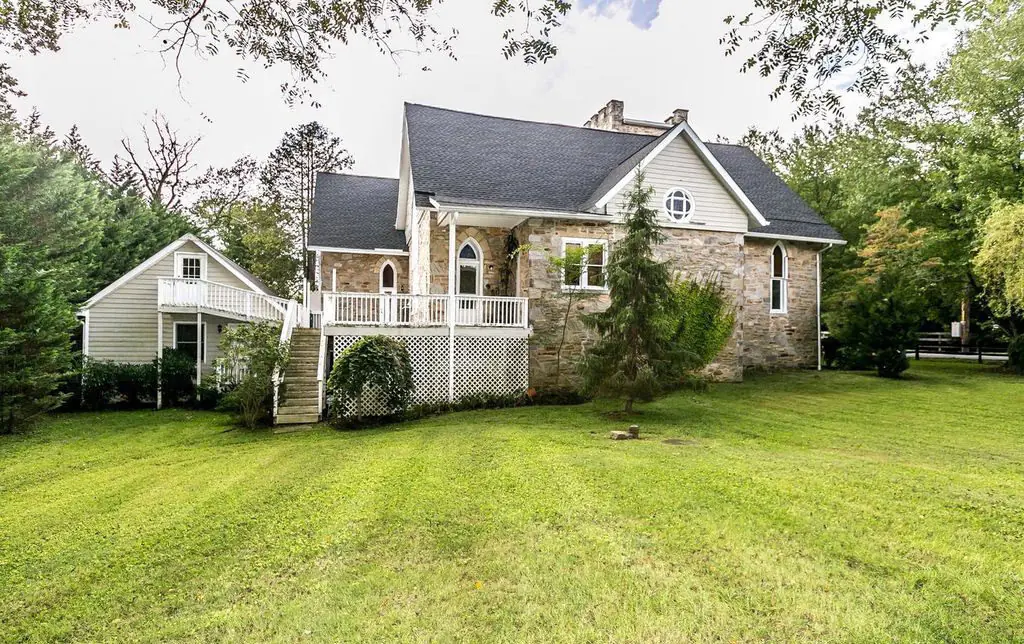 This unique residence was a former church, originally built in 1905. The Stevenson Methodist Church was converted it to a unique residence with a loft bedroom and a 4 car tandem garage. Unlike some other converted church houses, this keeps much of the original church character intact, with minimal changes to the overall structure and elements of the old church. Currently vacant and on the market for just shy of $600k.
The new owner will have a blank palette to create their dream home with a history.
– Whit Harvey
---
Additional Resources:
Lighthouses, Churches, and Other Quirky Conversions | Circa Old Houses
---