Today's homes have kitchens that serve as both a functional space and a focal point of the house. A kitchen should complement the style of the rest of the home style to appear more cohesive. Therefore, you should have a well-designed kitchen that satisfies your preferences and makes your home aesthetically pleasing.
Even as you browse through around a hundred pictures of kitchen design ideas, you may still be unsure of the features you want to add to your kitchen. After all, the kitchen functions as the workhorse of a household, which is used for various purposes throughout the day. If you don't put the effort into designing your kitchen, it will quickly deteriorate and may require expensive repairs, which will cost you a lot of money.
The list of essential features below can help ensure that your kitchen is well-designed, whether you're remodeling your current space or building a new one from scratch. More resources are available online to keep looking for the perfect kitchen design idea. But until then, continue reading this article to learn more.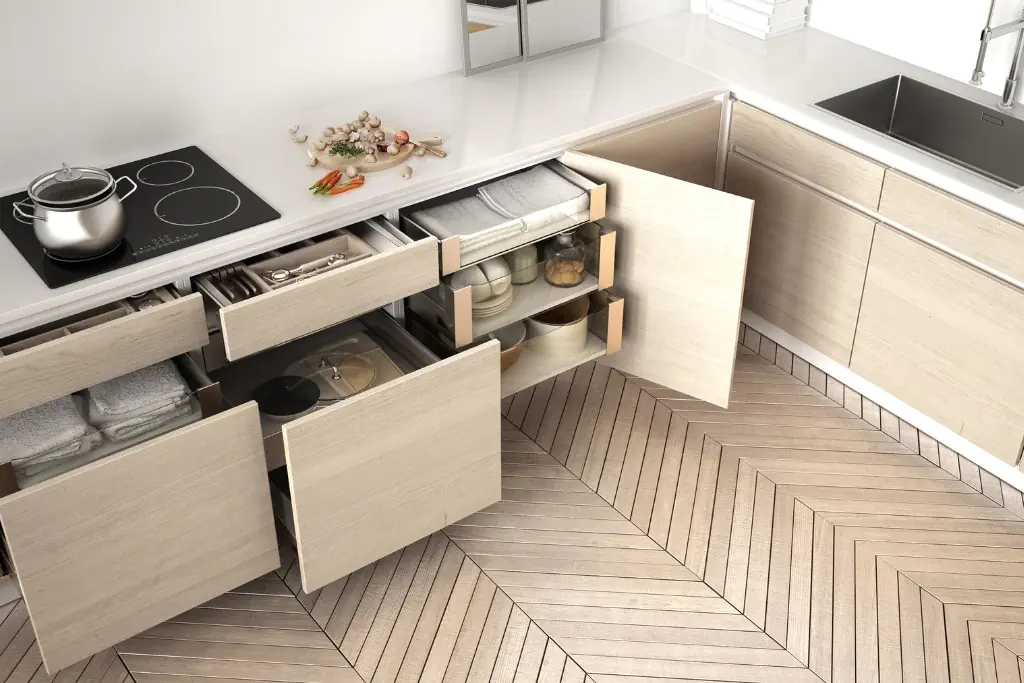 Sufficient Storage Space 
Make sure there is sufficient storage space in your kitchen regardless of the style or theme you're going for. A good kitchen contractor can help you achieve this, even though they may have to work with a small space. The key is to make the most out of the areas you use for storage, especially the vertical ones.
A well-designed kitchen is made not just for the present but also for the future. You may not think you need all those storage spaces now, but you'll be glad you installed them.
Homeowners with many plates, pots, pans, and other small kitchen gadgets and tools but not enough storage no longer find their kitchen enjoyable or efficient. When this happens, the kitchen tends to get disorganized and neglected. This situation can be avoided when your kitchen is built to have enough storage space.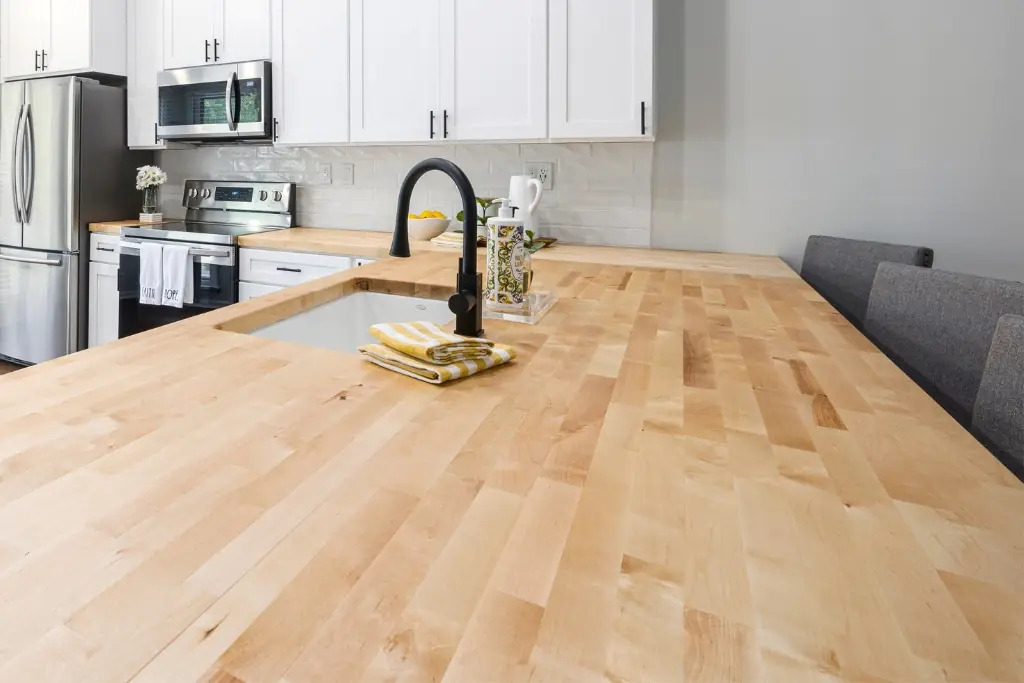 Countertops 
A well-designed kitchen will feature durable, wide, and gorgeous countertops. This is because modern kitchens are more than just a space for cooking and dishwashing. They now serve as a venue for providing food and entertainment for visitors. Therefore, you need countertops that accommodate all your guests and the food you'll be preparing and serving.
Your built-in storage space goes hand-in-hand with having ample countertop space. Your kitchen countertops will be clear of visual clutter when you have enough storage space. You can conceal the small appliances when not in use to make your countertops look clean, neat, and more visually pleasing.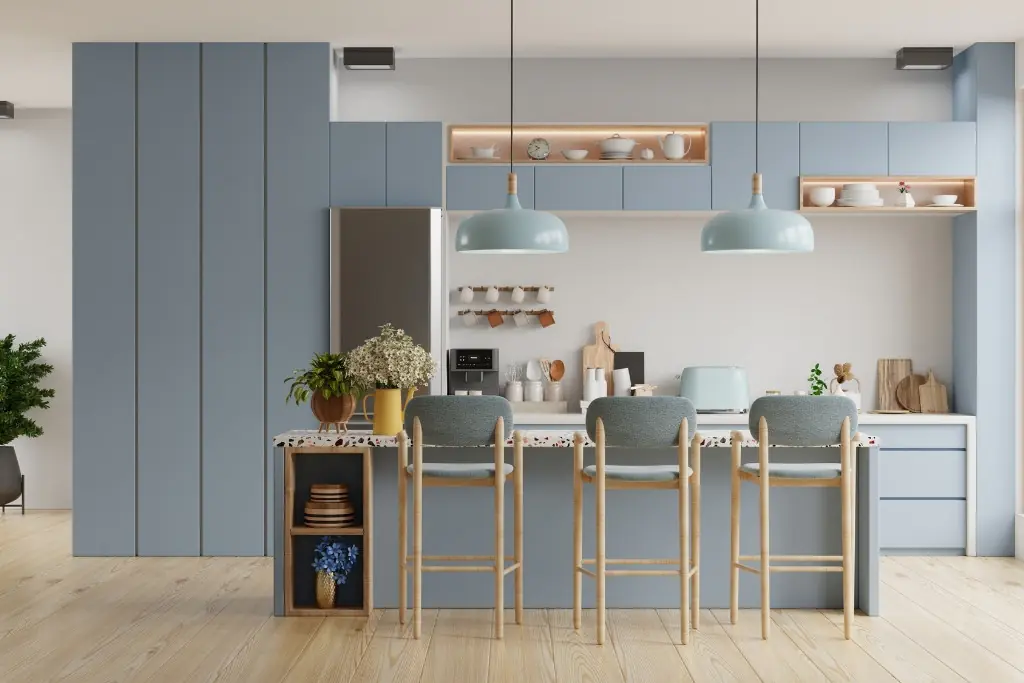 Lighting 
Lighting is everything in a home, even in the kitchen. Having the proper lighting can impact the way your kitchen feels and looks. Given that the kitchen is often referred to as the 'heart of the home,' you'll want it to have a warm and welcoming atmosphere. This means that your kitchen has adequate lighting that doesn't feel overwhelming.
A good technique is to install small pin lights, ceiling lights, strip lights, or wall sconces around your kitchen. This is better than having just one big light, whereby setting and controlling the mood may not be achievable. When you have multiple lights, you can choose which ones to switch on and off to create the feel you're after, particularly when you have guests around.
On the other hand, you only need to have all the lights switched on when you're cooking, as that's when you have to see every detail. It's also a plus to have windows, wherever possible, to let the natural light in during the daytime. Nothing beats natural light, as it can instantly make your kitchen and entire living space feel more relaxed and spacious. Additionally, it's the most cost-effective option for lighting.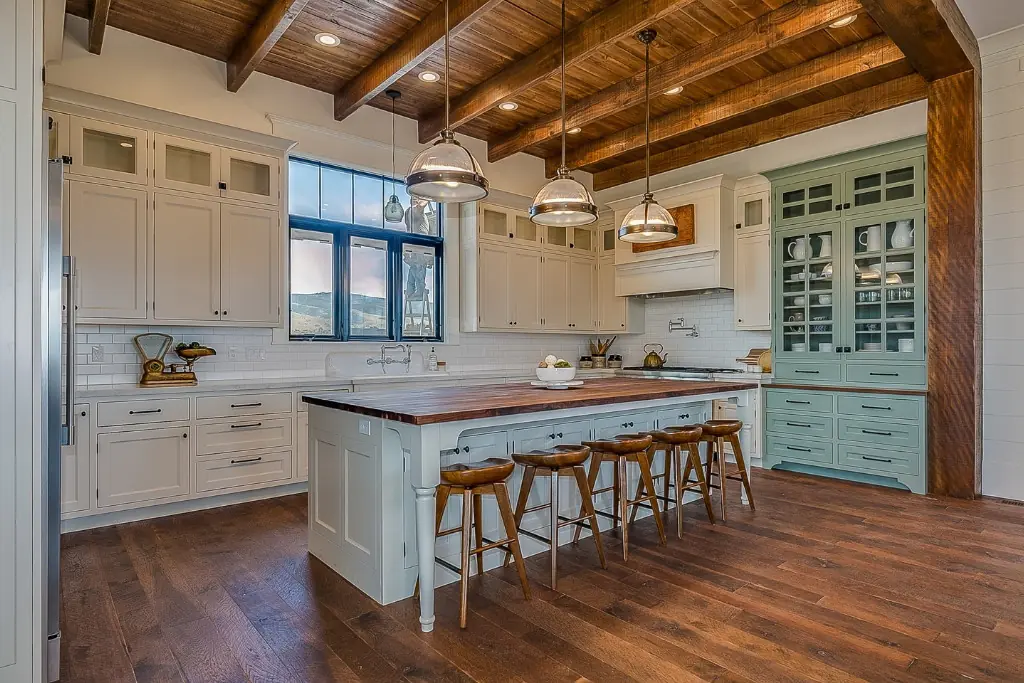 Good Kitchen Layout 
There's no ideal kitchen layout because it ultimately comes down to personal choice and preference, depending on the homeowner's needs.
Being able to freely move from one part of the kitchen to the next is what you should aim for. This means dividing the kitchen into sections. Since washing the dishes is typically done last, placing the sink away from the oven makes sense. On the other hand, it would be great to have your spacious counters placed next to your range, oven, and other kitchen appliances to make your meal preparations easier. This way, you won't have to walk from one end of the kitchen to another as you cook your meals.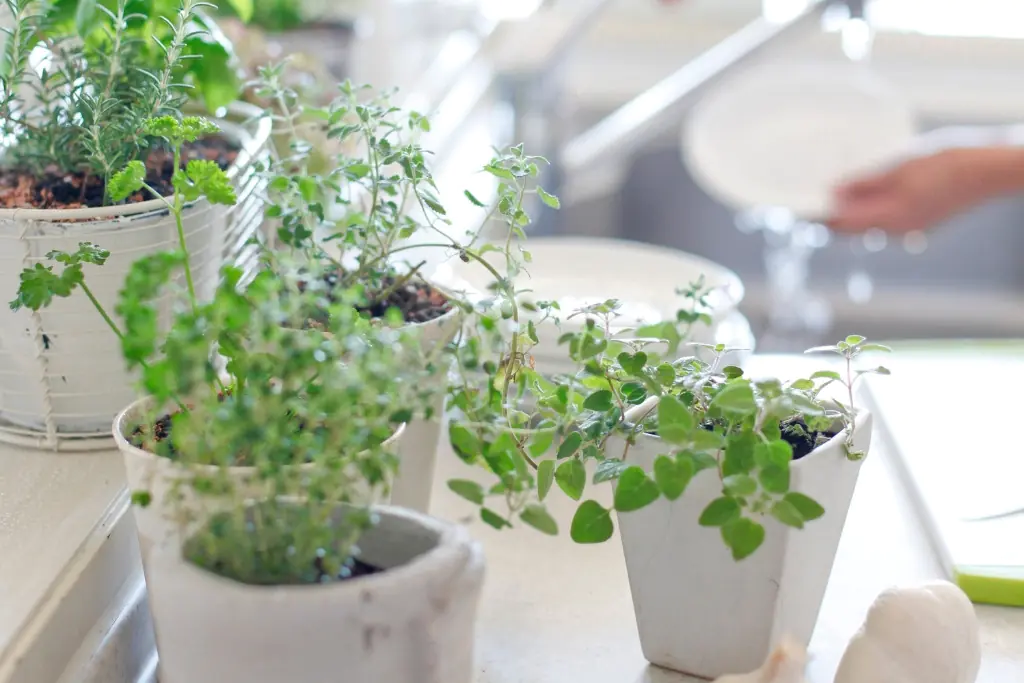 Grow Room 
The wine cooler of vintage kitchens is today's equivalent of the grow room. As the name suggests, it is used by homeowners to grow herbs in a glass-enclosed space that resembles a greenhouse. It's not a full-blown garden. But, it's a space big enough to accommodate small herbs and even vegetables that can be grown in the kitchen.
In addition, the grow room also adds more functionality and aesthetics to your kitchen. Many homeowners use indoor plants as a decorative element in their homes. With a grow room, you can have plants that don't only beautify your space but serve as an ingredient for cooking.
Imagine how nice it would be to have that farm-to-table experience. This is organic farming at its best.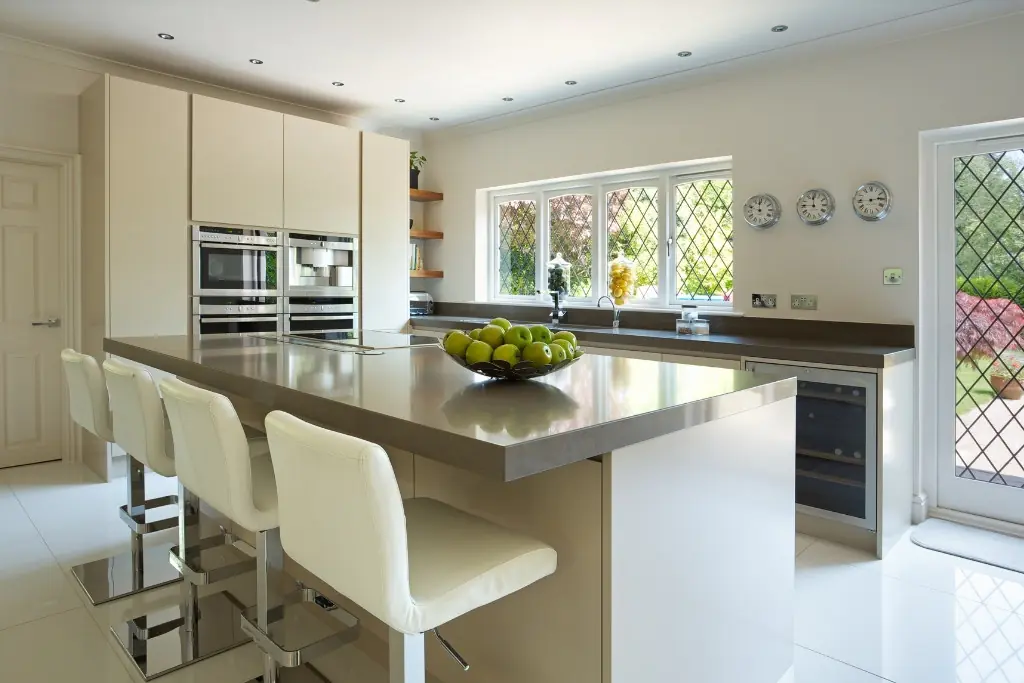 Kitchen Island 
If the space permits one, a kitchen island is another feature you can add to make your kitchen look well-designed. It's a functional feature that also makes the kitchen look less bare.
The added surface or counter space is perfect for hosting parties. Some homeowners also prefer to have the sink and the dishwasher positioned on the kitchen island. That way, they can still entertain guests and enjoy the party even when cleaning up.
Additionally, the kitchen island can be added to accommodate all the additional storage space you need. With it, you can easily access your utensils and keep your kitchen neat.
Lastly, the kitchen island can also double as a breakfast nook. Many homeowners place bar stools around the kitchen island to serve as seats. This feature allows the homeowner to have a kitchen that's ideal for hosting any kind of event. 
Durable Kitchen Flooring 
In the past, tiles may have been the most typical material used for kitchen flooring, but there are now so many options available for you. The choice boils down to your kitchen design and preference.
Regardless of the type you choose, the most important thing to look into is the flooring's durability, as it should be able to withstand wear and tear. The last thing homeowners would want is to go through kitchen renovations frequently. It's unpleasant to deal with because of how costly kitchen repairs and upgrades can be.
A good kitchen contractor or builder can suggest which flooring types are best for aesthetics and durability. Consider your kitchen floor as an additional element of style rather than merely the surface you step on.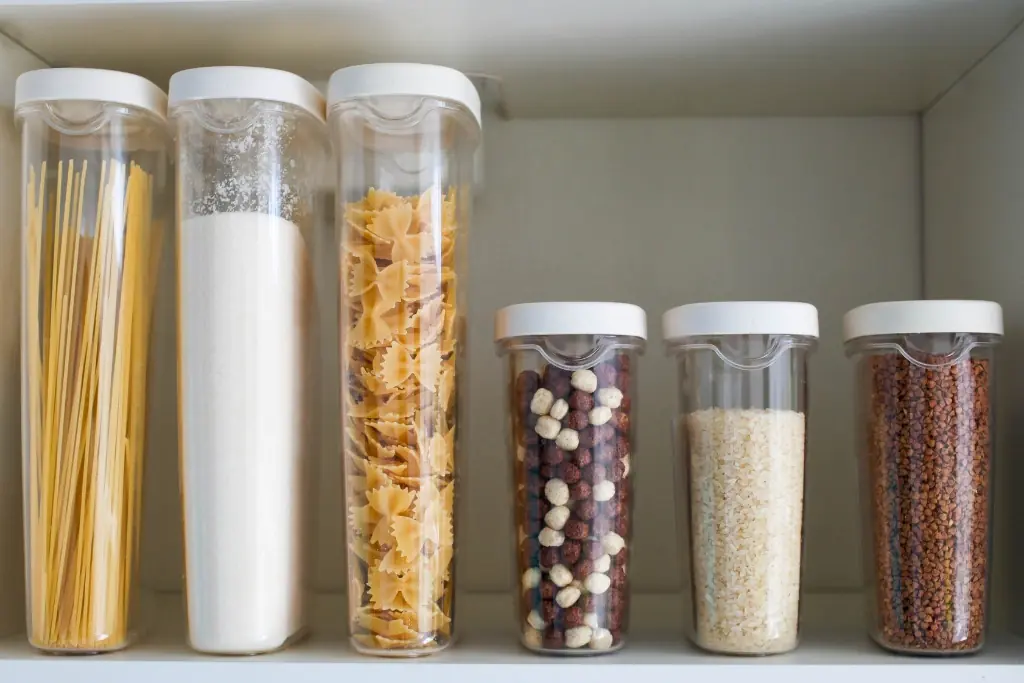 Reasonably-Sized Pantry 
Every homeowner dream of having a pantry of their own. This is because many people know the advantages of stocking up on necessities. However, a lot of space would be required for this.
If you don't know how to do this, you may look online for tutorial videos on home organizing that cover pantry arrangements. Additionally, you can gain inspiration from the images found on websites like Pinterest.
Remember that your pantry's size will depend on your kitchen space and household size. If you have the room, you can create a single walk-in pantry that can accommodate many food items. However, cabinet pantries will do the trick if you're short on space.
When your pantry is ready, enhance the décor by selecting attractive and functional bins and baskets. They can help you organize your pantry so you can easily see what you have stored and know where to find the ingredients you need for cooking.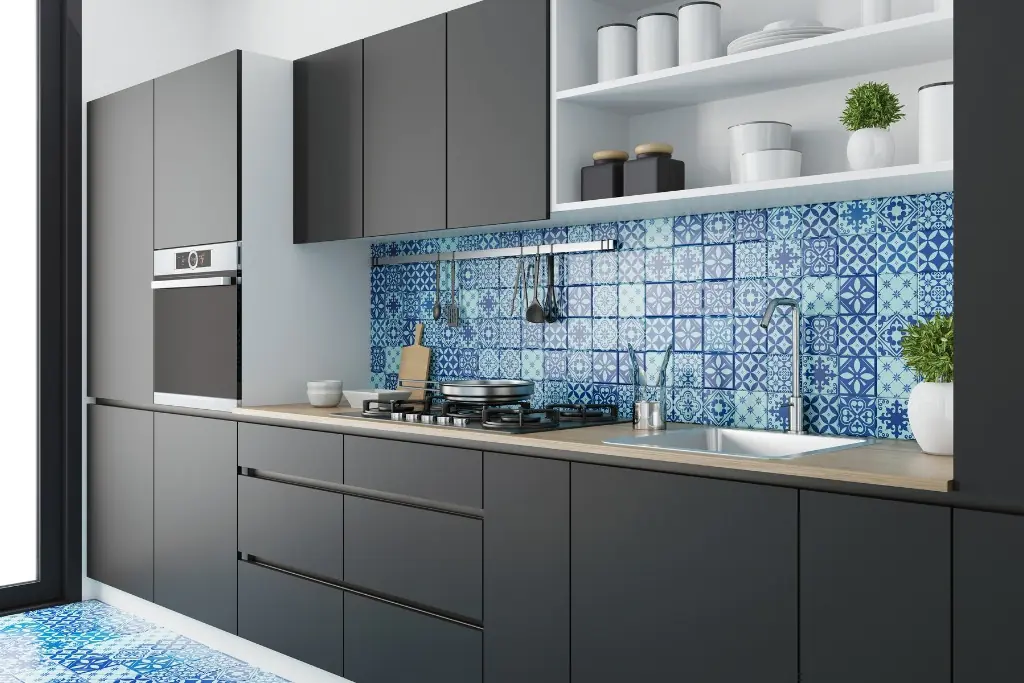 Tile Backsplashes 
Gone are the days when kitchen backsplashes were plain and boring. Kitchens today have more design and elegance because of the style element backsplashes bring.
Even though it's a small element, it improves the way your kitchen looks. Tiles are an excellent choice for backsplashes as they're easy to clean and maintain. For instance, you won't have to be concerned about water or grease damaging it because it's durable.
Don't limit yourself to style. When designed the right way, your tile backsplashes can also serve as your home's accent or focal point.
Final Thoughts
Your kitchen can quickly become disorganized, even on regular days at home or during a party. A considerable percentage of the daily rush happens in the kitchen with all the washing, cooking, and meal preparations that have to take place there. This is the reason why your kitchen needs to be well-designed. Along with functionality, you also need to consider factors like style and your personal preferences. Consider the list of features above as essential components of your checklist. See how each can be incorporated into your design, which can be realized by hiring a competent and dependable kitchen contractor.