Vacuum coffee makers (also known as siphon coffee makers) are possibly the most fascinating way to make coffee. Known by coffee aficionados for delivering a delicious cup of coffee, they brew your morning (or afternoon, or evening) cup of coffee in a unique and visually engaging way.
Please note that Art & Home has an affiliate relationship with some of the merchants listed below and we may receive a small referral fee – at no cost to you – for any purchases that you make utilizing the links provided. We use those funds to continue building Art & Home's unique collection of home decor articles and inspiration. And, you know, to buy stuff.
A vacuum coffee maker brews coffee using two distinct chambers that mix the hot water and the coffee grounds in a unique and wonderful way.
Also known as vac pot, siphon. or syphon coffee maker, this method of making coffee has been around for nearly 200 years but has recently begun to regain popularity.
Perhaps it's because of our desire to get back to the simpler things in life. Perhaps it's the desire to rely less on traditional electronics, including plug-in coffee makers. Or perhaps it's because those who have tried it simply LOVE the results.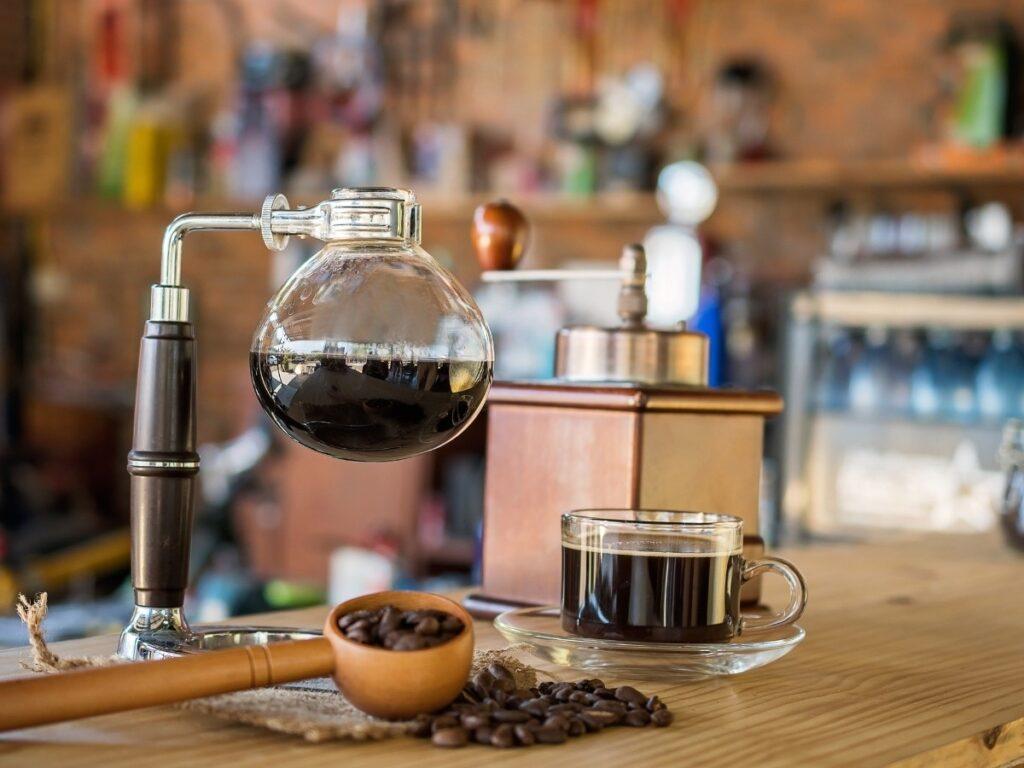 After all, as a coffee lover myself, I truly enjoy a beautiful cup of coffee. There are few things I enjoy more than a fresh cup of coffee on a warm fall morning. If it's just chilly enough, I can see the steam rise from the cup and mix with the crisp autumn air.
As an early riser, I often enjoy a fresh cup of coffee as the sun is rising over the treeline. The mix of a cool autumn morning, the beautiful fall colors, and a rich cup of coffee is hard to beat!
These vacuum coffee makers have been around for almost two centuries but have mostly stayed in the European region of their origins and Asia. It's only been recently that North Americans have begun to discover this unique and wonderful brewing method.
While traditionally vacuum coffee makers used to be considered too complex for everyday use, they were known for producing a superior cup of coffee.
But who is going to let a little bit of complexity get in the way of a delicious cup of coffee?
How Vacuum Coffee Makers Work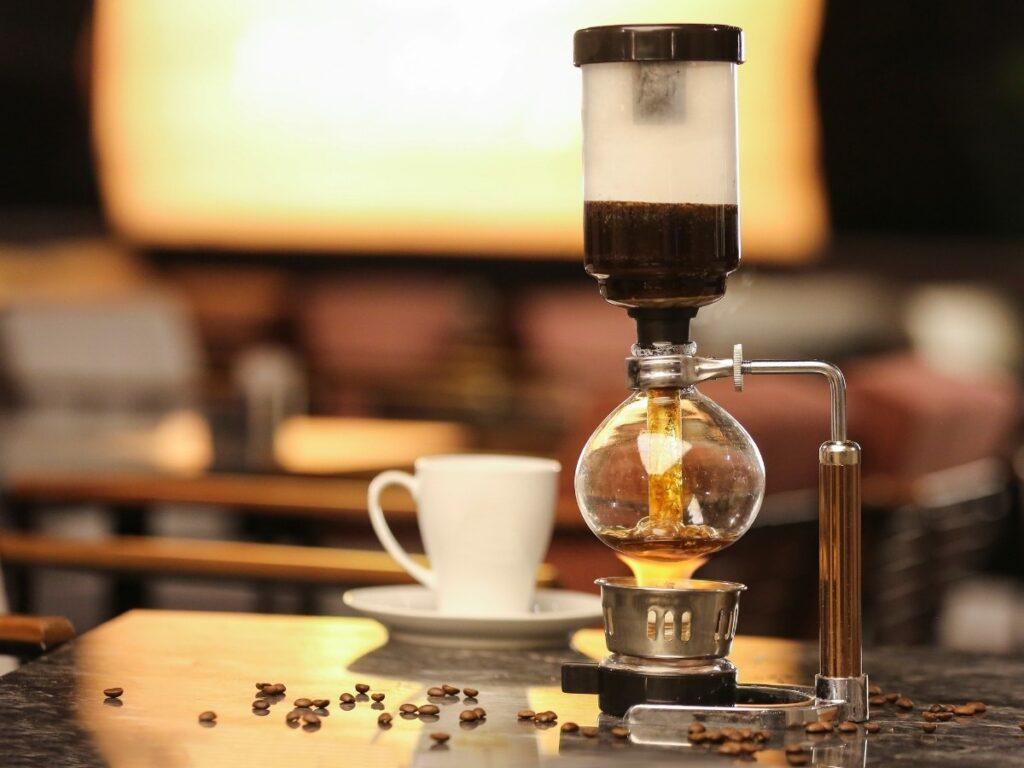 The actual vacuum brewing method is quite simple in concept. Water is heated in the lower chamber, creating vapor which forces the boiling water into to the upper chamber where the coffee grounds are waiting. The two blend in an enclosed container so that no aroma or flavor can escape.
When the heating process is complete, as the coffee cools, the vacuum pressure from the lower container pulls the brewed coffee down, through the strainer, and into a serve-ready container.
The heat source can range based on the style of the vacuum coffee maker you choose. Some include a pedestal with room for a gas burner – often using regular lighter fluid – which heats the water. Others are stovetop models so you can utilize your own heat source. And there are even a few electric models that you can plug in and let them do their thing.
Vacuum vs Siphon Coffee Makers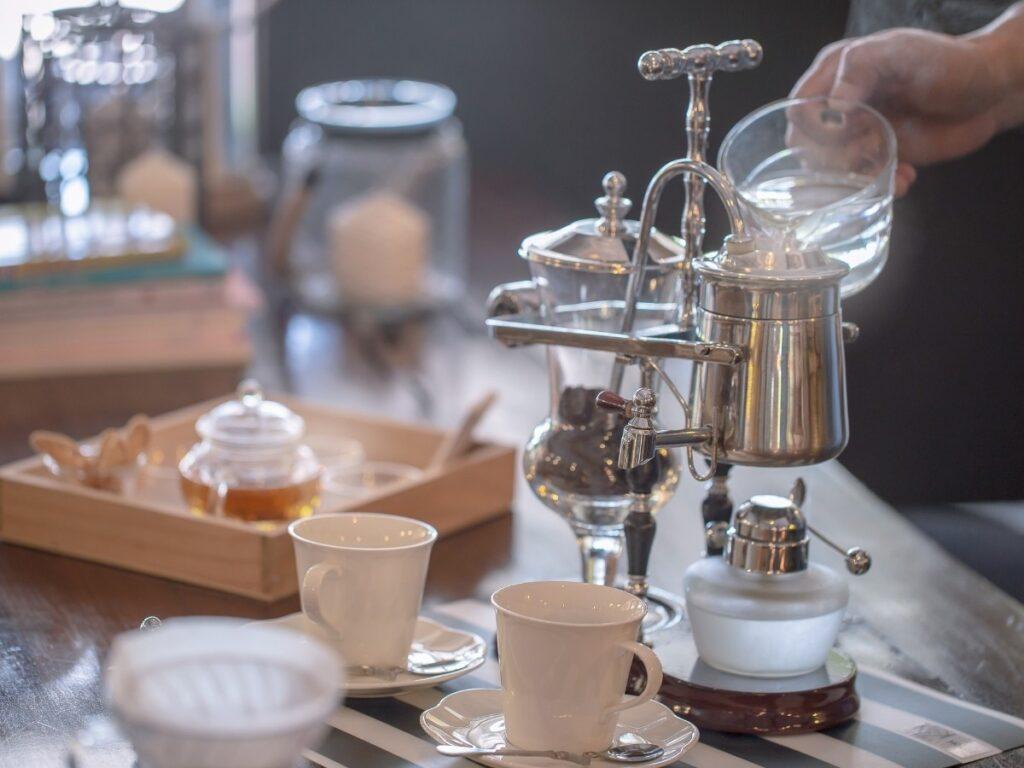 These magic little coffee makers are commonly referred to as Vacuum Coffee Makers, but are also called Siphon Coffee Makers, and there's a reason for that.
Basically, a vacuum coffee maker operates as a siphon, where heating and cooling the water in the lower container changes the vapor pressure. The effect of the vapor pressure changes means that the water is first pushed upwards into the upper container – creating a vacuum in the lower container. As the water cools, the water is then drawn back into the lower container.
Other classic siphon coffee makers use a configuration of multiple pots with stainless-steel (or other material) straws that allow the hot water to pass back and forth between the vessels.
Therefore, these are both Vacuum and Siphon Coffee Makers, which is why the name is sometimes used interchangeably.
Benefits of Vacuum Coffee Makers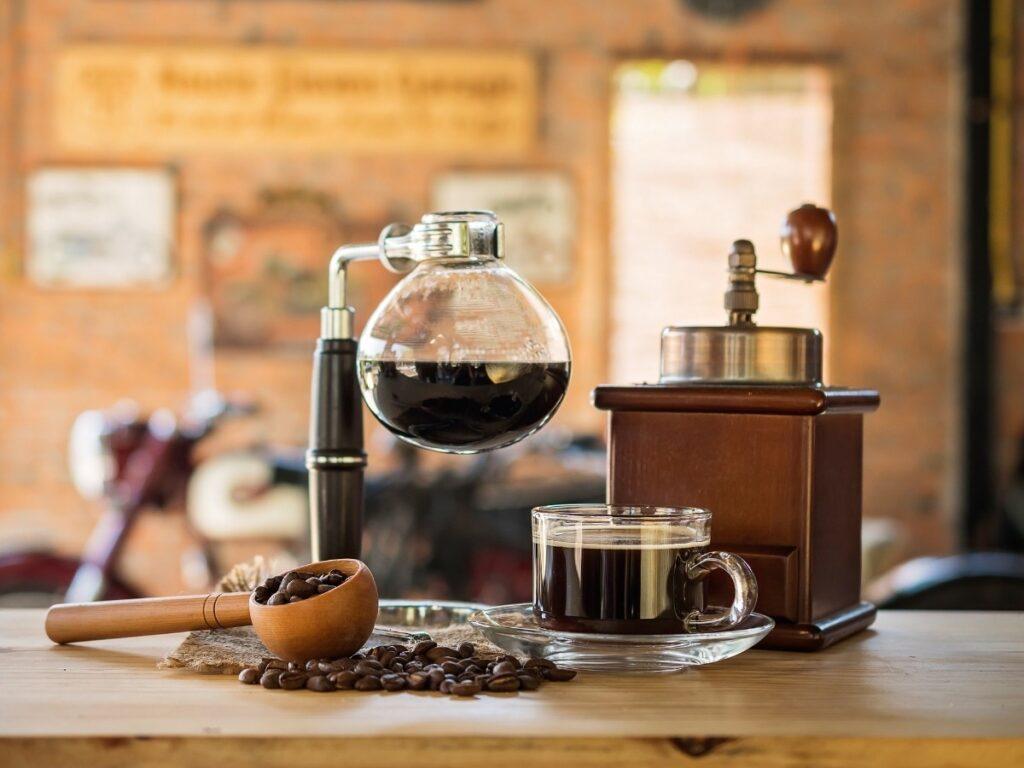 According to their die-hard fans – and there are plenty of them – these are the key benefits that keep coming up when discussing Vacuum Coffee Makers.
A superior cup of coffee – you may agree or disagree with them, but you'll never really know until you try.
No electricity required (for most models) – which makes them perfect for going off the grid, or for a delicious cup of coffee during a blackout.
Visual appeal – the process of watching the brewing process as the water and then the coffee move through two borosilicate glass bowls is quite eye-catching!
Consistency – the brewing time and temperature are perfectly calibrated, ensuring a perfect cup of coffee with each brew.
No flavor wasted – the effective vacuum/siphon brewing method extracts all precious oils of your favorite coffee.
Uniqueness – a very modern coffee maker with an old school charm.
Is a vacuum coffee maker the easiest way to make a cup of coffee? Definitely not! Does the bit of complexity create a superior brew that is worth the effort? Well, that's a question only you can answer.
About PEBO Vacuum Coffee Makers from Bodum
At Bodum, they take the coffee brewing process very seriously, which I appreciate. They don't offer papers filters or capsules, just a selection of products that guarantee a great cup of coffee every single time. Art & Home is pleased to partner with Bodum to present some stunning Vacuum Coffee Makers from their unique coffee-lovers collection.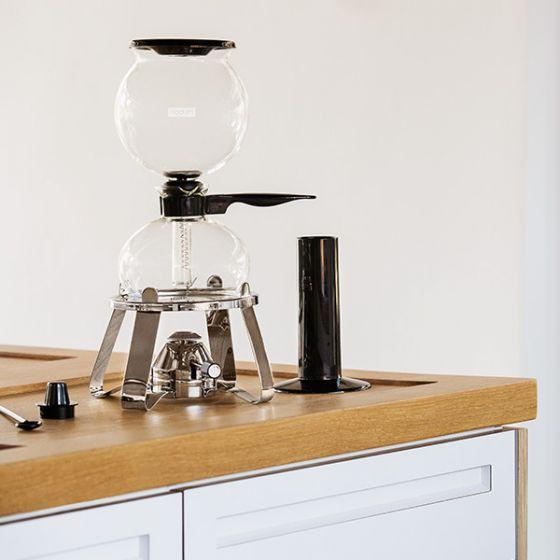 PEBO® Vacuum Coffee Maker with Burner and Accessories
Coffee is one of the pleasures we just can't do without – even if we're out in the middle of nowhere. In fact, an excellent cup of coffee tastes even better out in the green as it's such a pleasant surprise. It doesn't get more reduced to the max when it comes to brewing coffee than the PEBO® vacuum coffee maker with its stand and gas burner.
MSRP: $149.99
---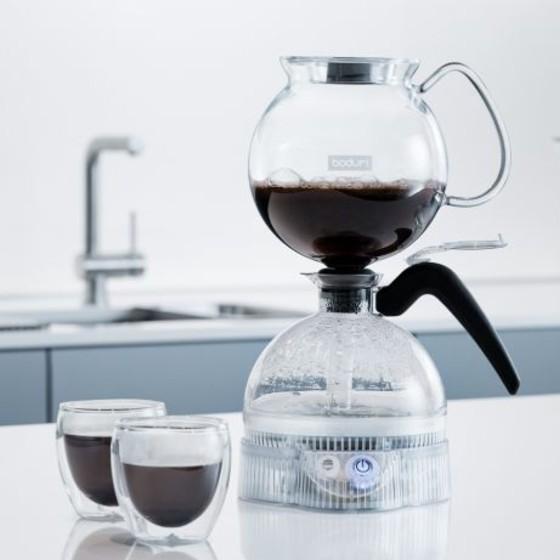 ePEBO Electric Vacuum Coffee Maker
Take your coffee brewing to the next level with the ePEBO siphon coffee maker. Part art, part science with a dash of gravity-defying magic, this electric vacuum coffee maker brings a theatrical air to the brewing process. And the results are truly extraordinary.
MSRP: $249.99
---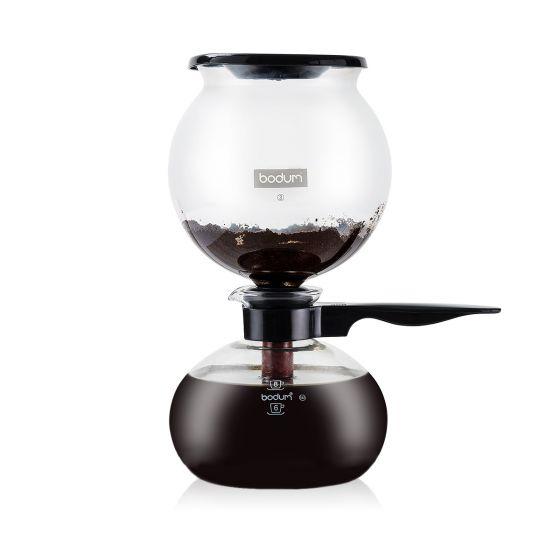 PEBO® Classic Vacuum Coffee Maker
No other coffee maker has fascinated passionate coffee drinkers like the PEBO® (former SANTOS).
This version uses your own heat source, either on an electric, gas or methylated spirits stove. For some stoves, you should consider using a heat diffuser to protect the glass and improve the brewed coffee flavor. And of course, always follow the instructions!
MSRP: $79.99
Vacuum Coffee Brewing in Action
Want to see how the entire vacuum coffee making process works? Checkout this demonstration video from Bodum, the makers of the famous PEBO Vacuum Coffee Maker.
As you can see, this unique process for making coffee is just as entertaining to watch as it is delicious to drink! Want to show off for your overnight guests? Make sure you have one of these vacuum coffee makers handy so that they can enjoy the visual journey the coffee takes from start to finish.
Is Vacuum Coffee for You?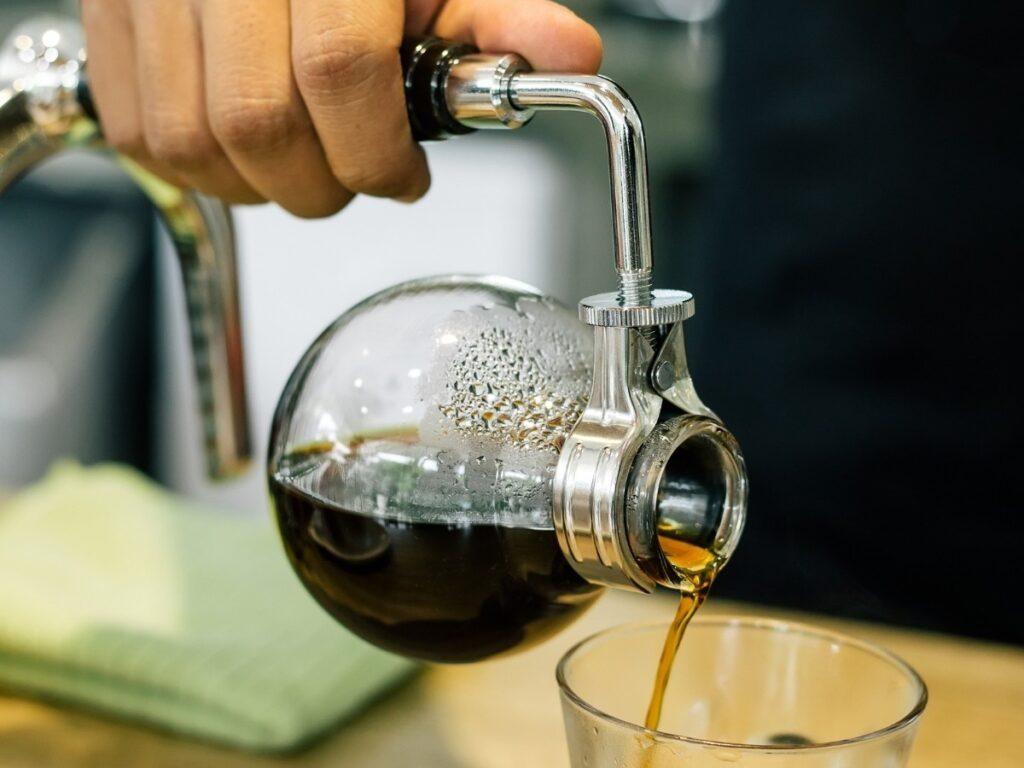 The vacuum brewing method has long been known to deliver an abundance of taste through sheer simplicity and pure materials such as borosilicate glass. A vacuum brewer, either a stove-top version, an electric version, or on a simple stainless-steel pedestal with a gas burner underneath it, is a unique and wonderful way to make a delicious cup of coffee. In about 15 minutes, the entire process is complete, and you can serve your guests possibly the most unique cup of coffee they have ever seen or keep the entire pot to yourself.
Browse the Entire Collection of Vacuum Coffee Makers from Amazon!