If you are shopping for new bedroom furniture or a new mattress, one of the first decisions you have to make is determining which bed size is right for you, your lifestyle, and your bedroom.
From Twin to California King, there are a lot of options to choose from when picking the right bed size, and more that one factor goes into how to make the right decision.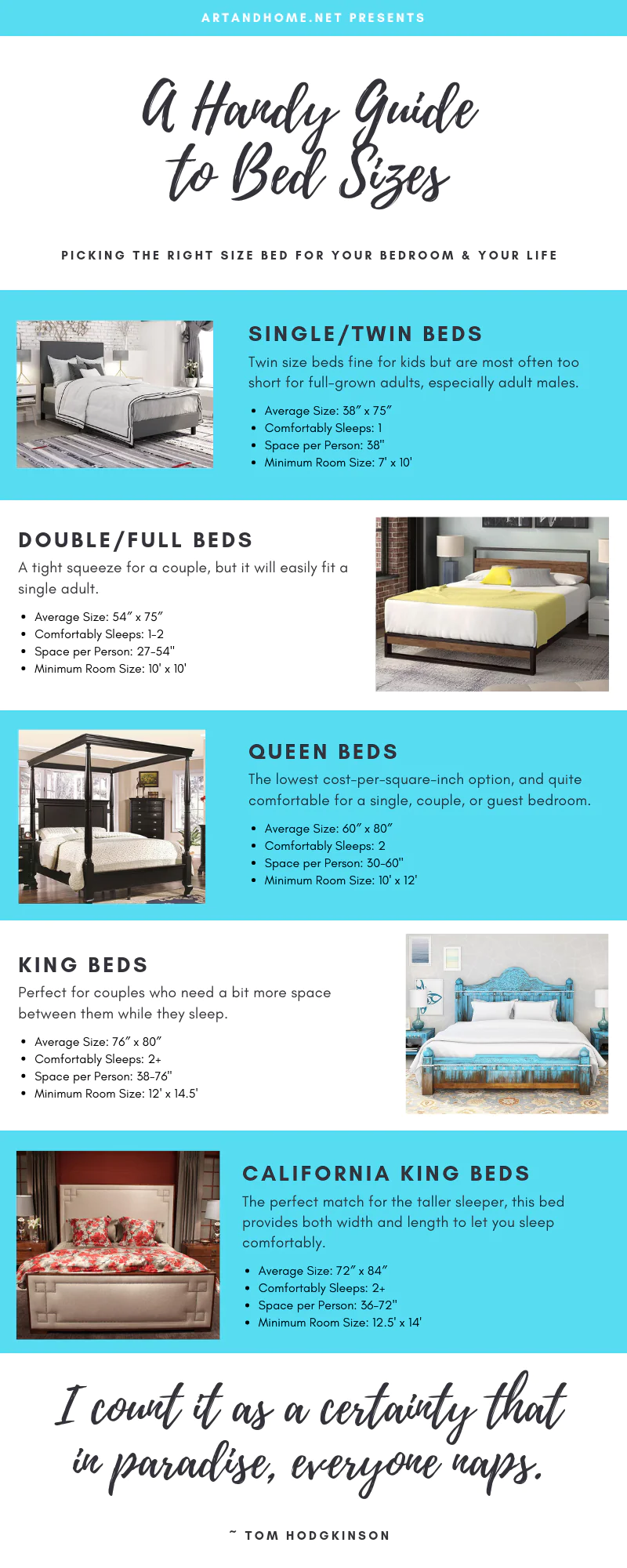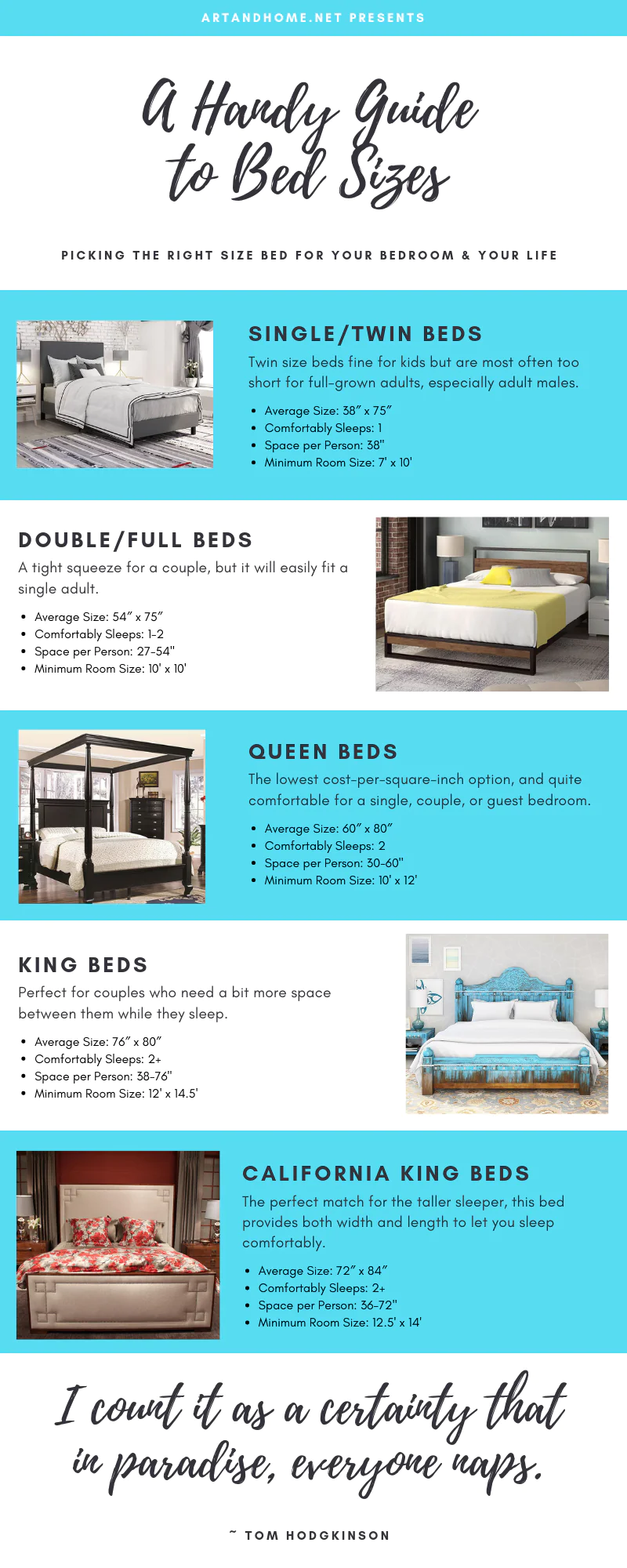 Need more details? Let's start with the typical bed sizes…
TWIN BED SIZE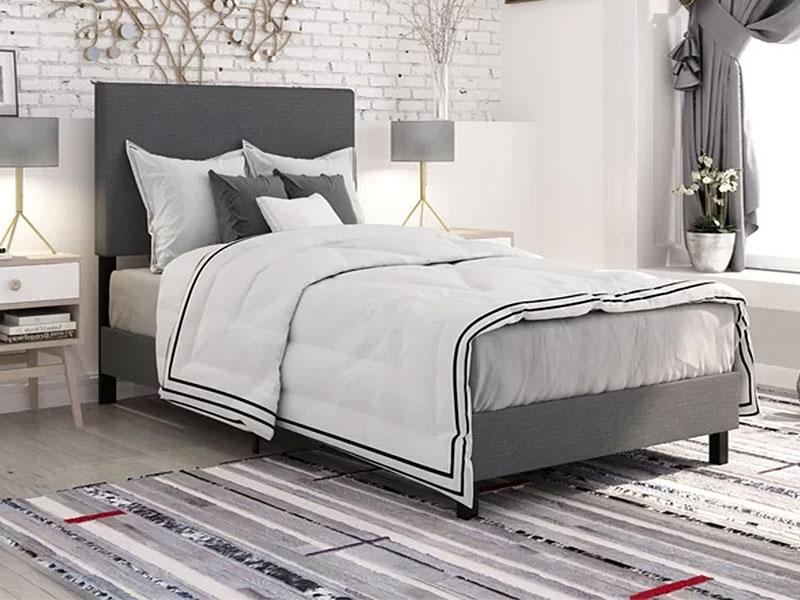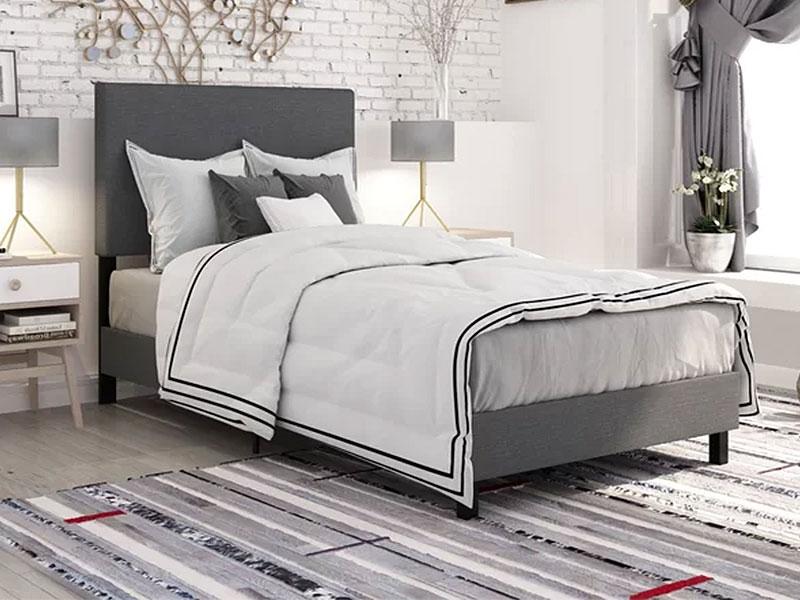 Unless you are under 18, a creepy serial killer, or are single & celibate and wish to make the statement that you intend on staying that way for a very, very long time, a single bed is probably not for you.
Exceptions, of course, apply if a Twin bed is the only size that could possibly fit into the closed-sized apartment in a place like New York City.
Otherwise known as a "Single Bed", a Twin Size Bed is supposed to be one of a matching pair, aka one half of a set of Twins. Twin beds are most often used in a room that is shared by young siblings or can sometimes be seen in low-budget hotel (as your better hotels will provide two queen beds for this situation) or guest rooms that are meant to be shared by more than one person.
Measuring around 38 inches wide by 75 inches long twin size beds are often too short for full-grown adults, especially adult males.
There is an XL (Extra Long) version of the twin bed if you truly, truly insist on getting a a Twin Bed which give you the same 38″ width but the Queen-size 80″ length.
However, be warned, XL Twin sheet sets are a bit harder to come by and might end up costing you more because of their uncommon size.
DOUBLE / FULL SIZE BEDS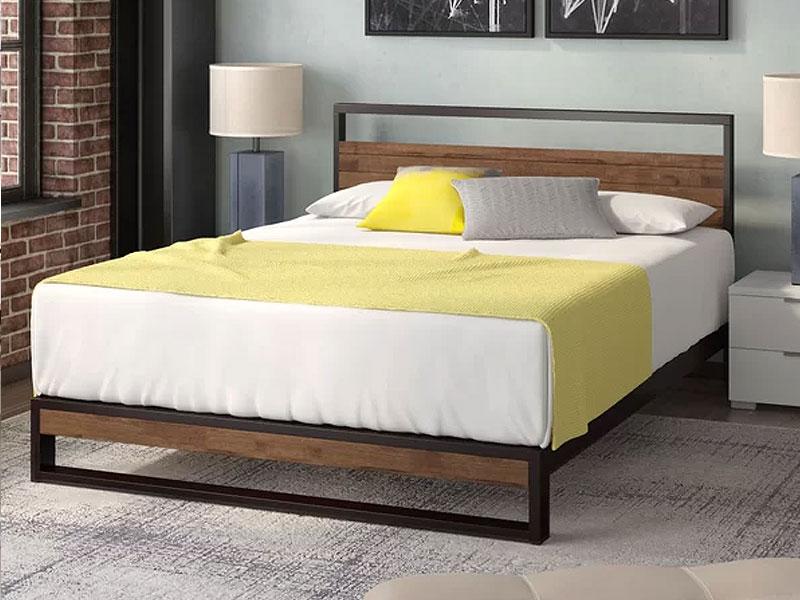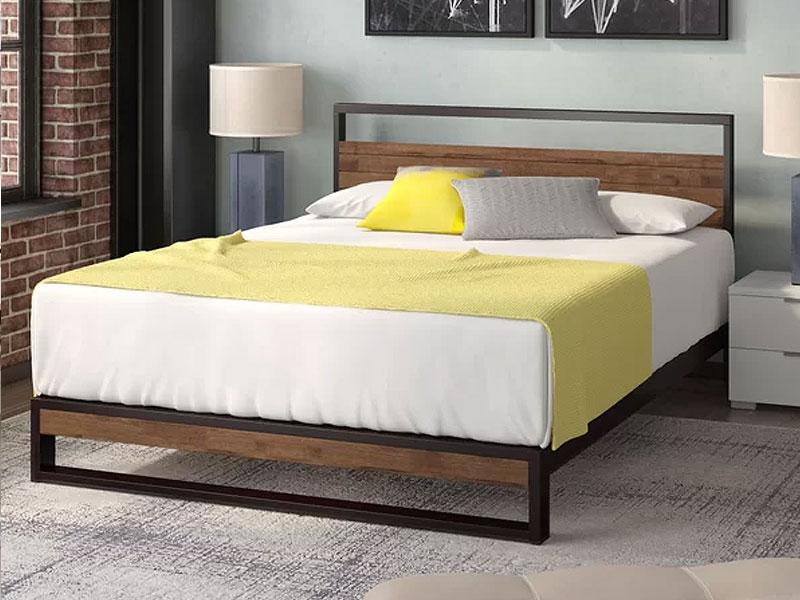 I often find it ironic that the second step in the bed size chart is sometimes called a "Full Size" Bed, as it's far from the Fullest Size you can get. Otherwise known as a Double Bed, because this bed can – in most cases – comfortably fit two people, although perhaps a bit cozier than some couples would like.
However, that being said, a Full Size or Double Bed is the first real step in the adult bedroom furniture category.

 
Measuring 54 inches wide by x 75 inches long, it gives you 16 more inches than a Twin Bed, but the same amount of length, which means it could still be considered too short for a tall male sleeper.
This size is ideal for the single adult, as it allows for room for the occasional guest (no judgement here), or for a newly married couple as it provides a more intimate sleep setting, perfect for cuddling as there is not a lot of space to allow distance between the sleepers.
For two people to share the bed on a regular basis, a double could be considered – by many – as being far too small.
After all, that's only 27″ per person – which is about the width of a crib mattress.
SLEEPING LIKE A QUEEN ON A QUEEN SIZE BED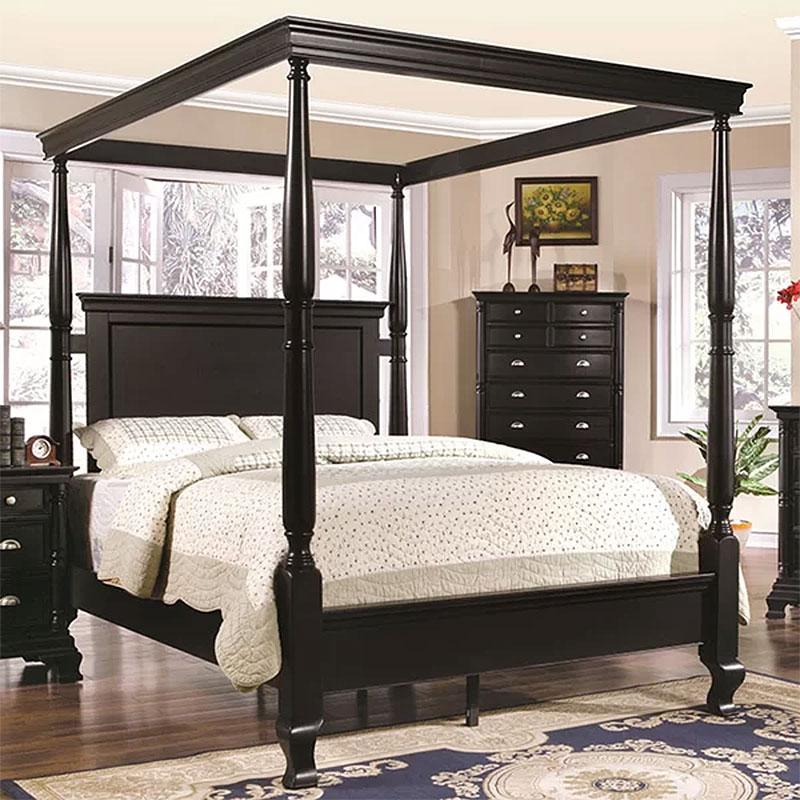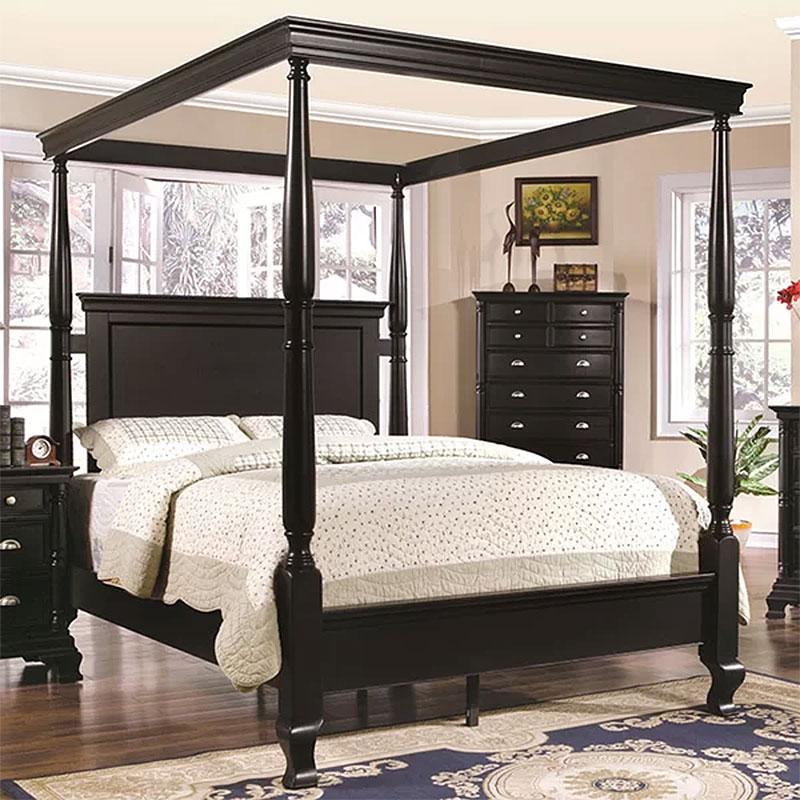 Moving up one size category from the Double Bed is the popular Queen Size Bed. This size is very well-liked because it gives the sleeper additional width and length without becoming overbearing in smaller rooms.
Measuring 60 inches wide by 80 inches long, it's not significantly larger than a double bed… but just enough to give a bit more breathing room from side-to-side and end-to-end.
It is also the first adult bed size to extend beyond the 75″ that is common to both the Single and the Double bed.
Introduced into the US Market in the 1950s, the Queen Bed gets is name as a play on the traditionally larger King Size Bed.
Although some believe that the Queen Bed & King Bed are modeled – size wise – after European Royalty, the Queen Bed being the size the Queen Slept in and the King Bed being larger because he was – after all – the King.
But both sizes were, in fact, a marketing invention to help people "Sleep like a King!" or… in this case… like a Queen!
THE ROYAL TREATMENT OF A KING BED SIZE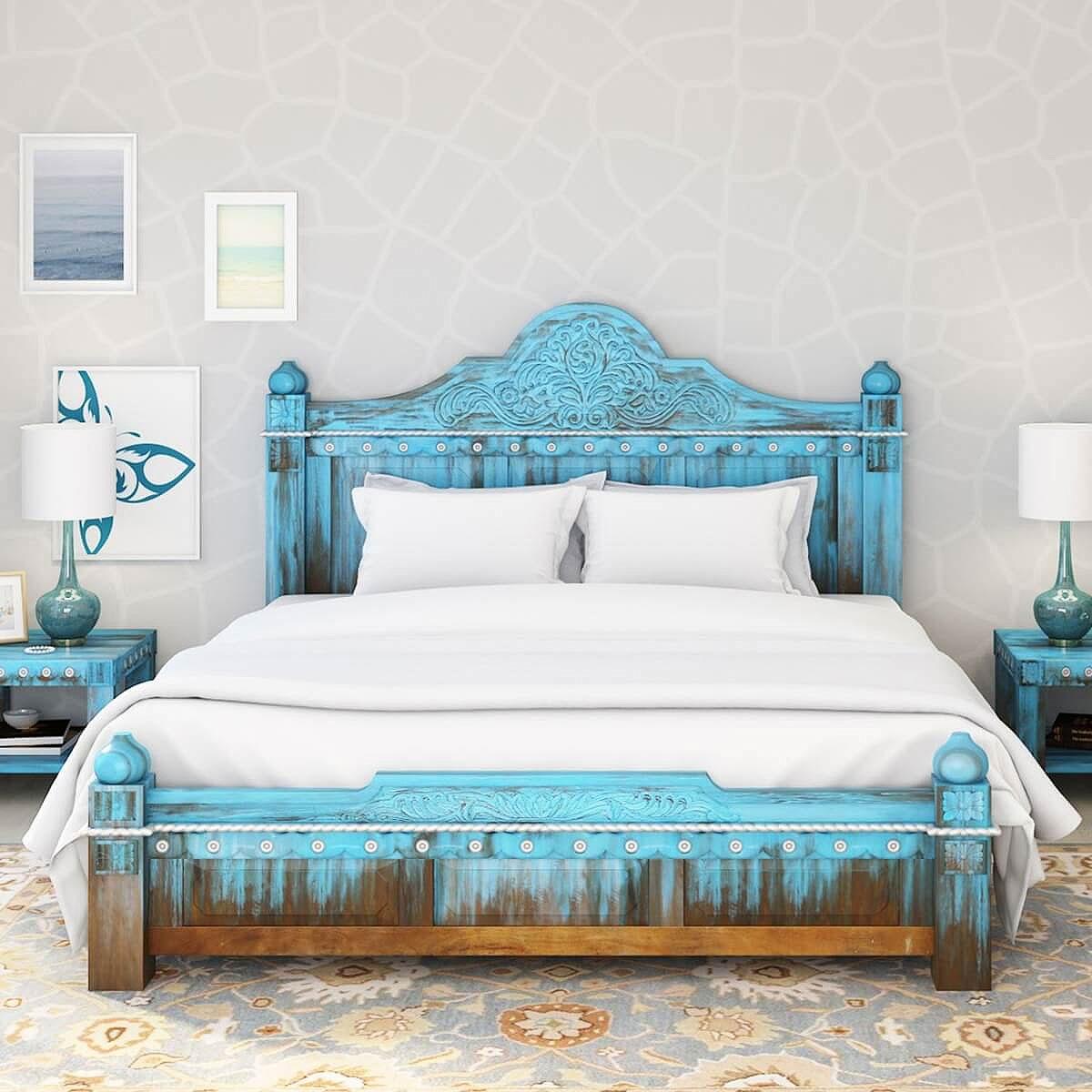 The King bed takes a solid jump from the Queen by adding an extra 16″ to the width.
Introduced in the 1950s, it took nearly a decade for these oversized mattresses to gain popularity, but by the mid-1960s they had become a staple of American bedroom furniture, mattresses, and bedding.
The standard king measures 76 inches wide by 80 inches long, making it the same width as two twin beds pushed together, which was how it was initially marketed.
However, one of the key differences when the King mattress was launched (and still is today) was that the King Bed was also 5 inches longer than your twin or double mattress – which were the prevalent mattress sizes at the time.

 
As the American – and the world's – population evolved into a taller and taller species, mattress manufactures capitalized on that by offer "Supersized" mattresses meant to fit today's man.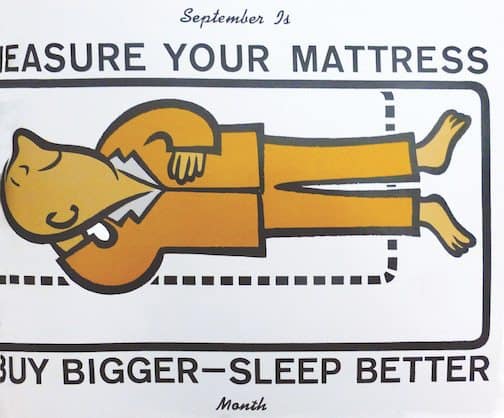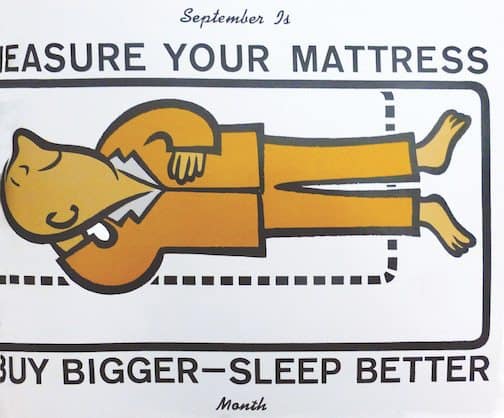 A STAR IS BORN WITH THE CALIFORNIA KING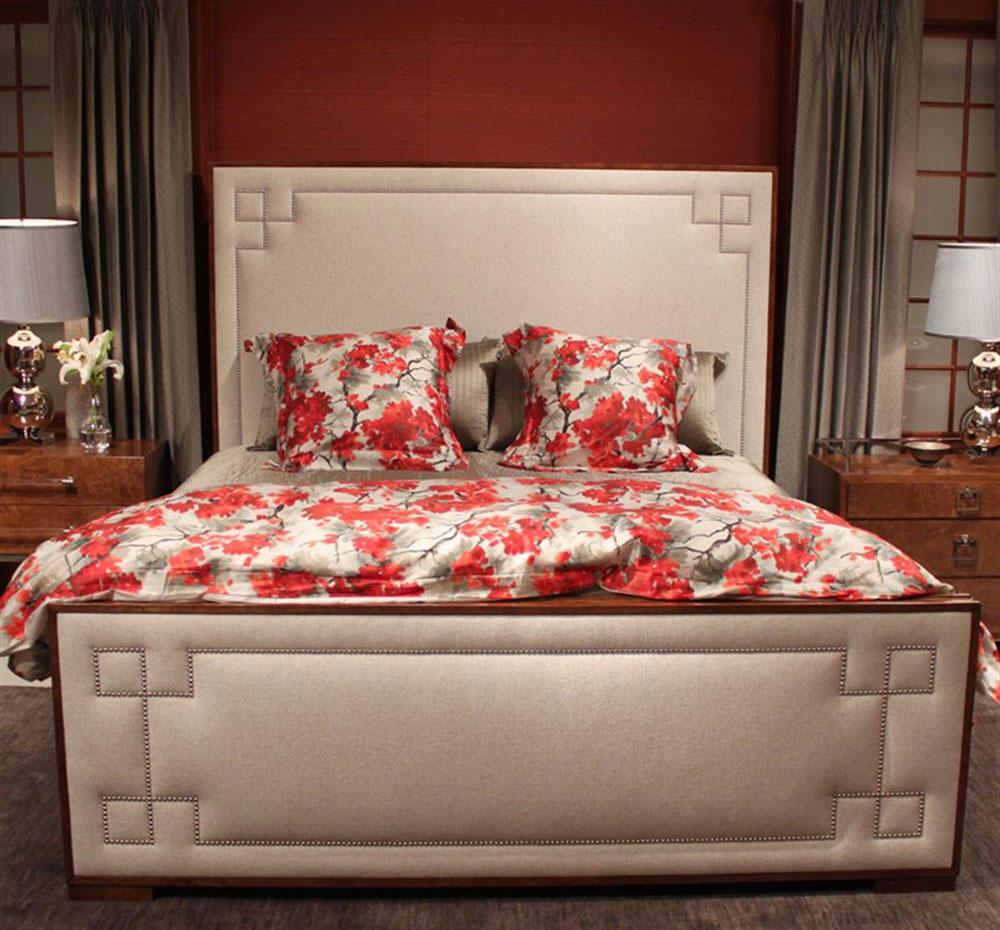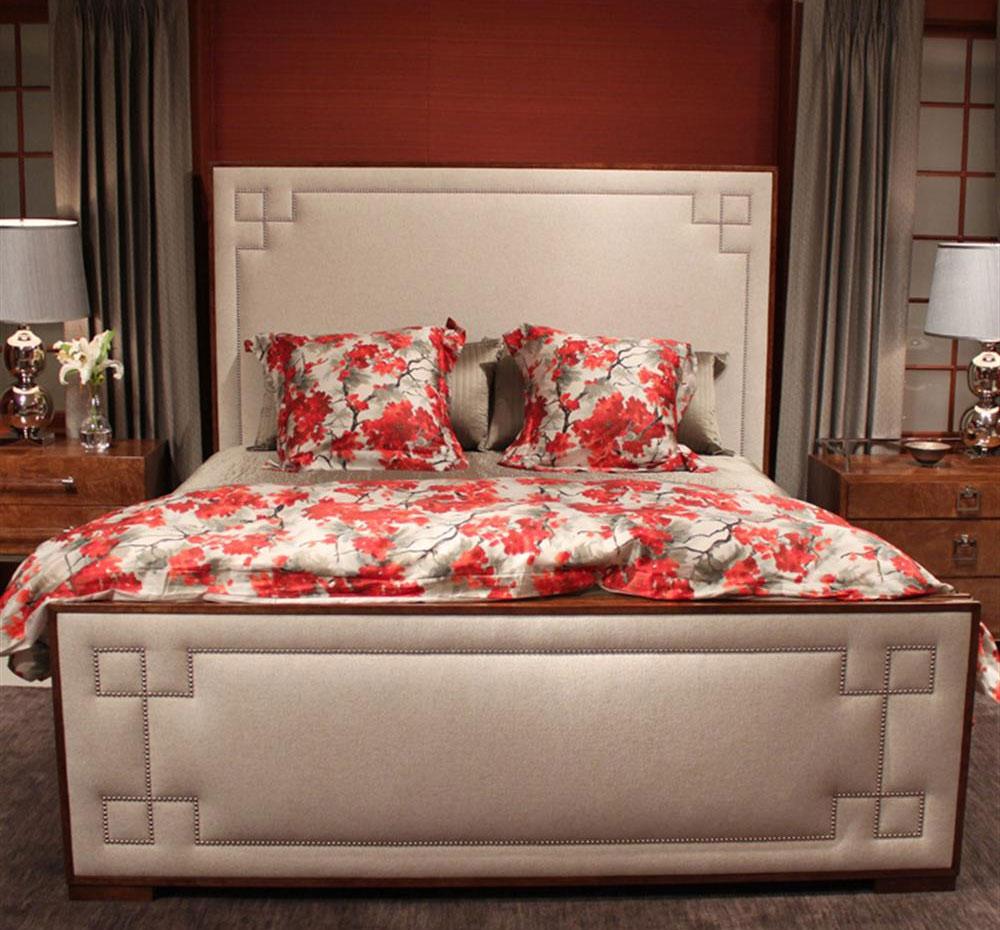 Because – sometimes – bigger is better, about a decade after the Queen & King beds hit the US Market, a set of "gigantic beds" started becoming popular amount the wealthy and elite… particularly in the opulent state of California.
A Lifestyles of the Rich and Famous piece of furniture, these were initially purchased by movie stars, athletes, and other members of the super-wealthy. Since then, however, they have become far more popular, especially for today's larger bedrooms that need furniture to balance the space.
Although many people assume that the California King is the biggest of the beds – by all dimensions – it is actually slightly narrower than your Standard King.
Measuring 72″ wide by 84″ long, it is 4″ thinner but also 4″ longer than your Standard King, making it perfect for tall sleepers.
However, as with the King Size bed, you need to make sure that the room itself will support such a Super-Sized bed, as you don't want to end up with all bed and no room for other important bedroom element.
I stayed in a top rated hotel in New York City once, and they had a California King Bed, a couple of night stands, a Dresser, and Desk. Not a lot of furniture for your typical hotel room, but what was left in floor space was BARELY enough to shimmy around the bed.
And Heaven forbid if you wanted to take your shoes off as there was no place to put them that didn't instantly become a tripping hazard.
That room would have been FAR better suited to the comfortable queen.
BED SIZE COMPARISON CHART
Single/
Twin
Full/
Double
Queen
King
California King
Size
38″ wide
75″ long
54″ wide
75″ long
60″ wide
80″ long
76″ wide
80″ long
72″ wide
84″ long
Sleeps
1
1-2
2
2 +
2 +
Space per
Person
38″
27″ – 54″
30 – 60″
38 – 76″
36 – 72″
Recommended Minimum Room Size
7′ x 10′
10′ x 10′
10′ x 12′
12′ x 14.5′
12.5′ x 14′
Cost
As the smallest mattress, this is also the most affordable size.
The typical double mattress is about 42% larger than your standard single mattress, so you can expect to pay about 25% – 40% more for this size.
The biggest bang for your marketing buck, the Queen Mattress is 19% bigger than your typical Double mattress, but usually only costs a few bucks more.
The next largest leap in size is the King size, which is 27% larger than a standard Queen, and the cost appropriately reflects that size increase.
Although technically ever-so-slightly smaller than a standard King, the California King is usually priced at the same cost as a Standard King.
Pet Friendly
Although a small child might be able to share this size bed with a pet, your average adult human will take up all of the space available in a Twin.
When it comes to pet friendliness, a single person may be able to share this space with a small pet, but a couple would find it to be a VERY tight squeeze if they shared this space with a Fur-Baby.
The average Queen bed could accommodate a small pet alongside a single person or a couple.
The King bed is the first to truly be pet friendly, although larger pets may still become a nuisance no matter what the bed size as they tend to be space hogs.
The additional length of the California King makes it the most friendly, particularly if your Fur-Baby likes to lie at your feet.
Easy to Make
Twin beds are relatively easy to make, which is why they are perfect for young children.
Making a double bed is still an easy chore, because the width and length of the sheets are easy to work with.
Unless you are a skilled bed-maker, a Queen bed can be a bit of a challenge to make,
The King bed is the most challenging and awkward to make because it's hard to get the sheets placed correctly without several trips around the bed. Perhaps a bed-making guru would be able to handle this in a snap, but us normal people will find this to be a bit of a chore (pun intended).
Because it's slightly narrower, the California Kind bed is actually a little bit easier to make than your standard King.
Summary
A twin bed will do in a pinch if you have absolutely no other choice.
A bit of a tight squeeze for a couple, but it will easily do the trick for a single person if space is limited.
The lowest cost-per-square-inch option, and quite comfortable for a single, couple, or guest bedroom.
Perfect for couples who need a bit more space between them while they sleep, as this is the widest of the common bed sizes.
The perfect match for the taller sleeper, this bed provides both width and length to let you sleep comfortably, but you need a big bedroom to fit it properly.


Here is a Pinnable version of the Size Comparison chart for our friends on Pinterest.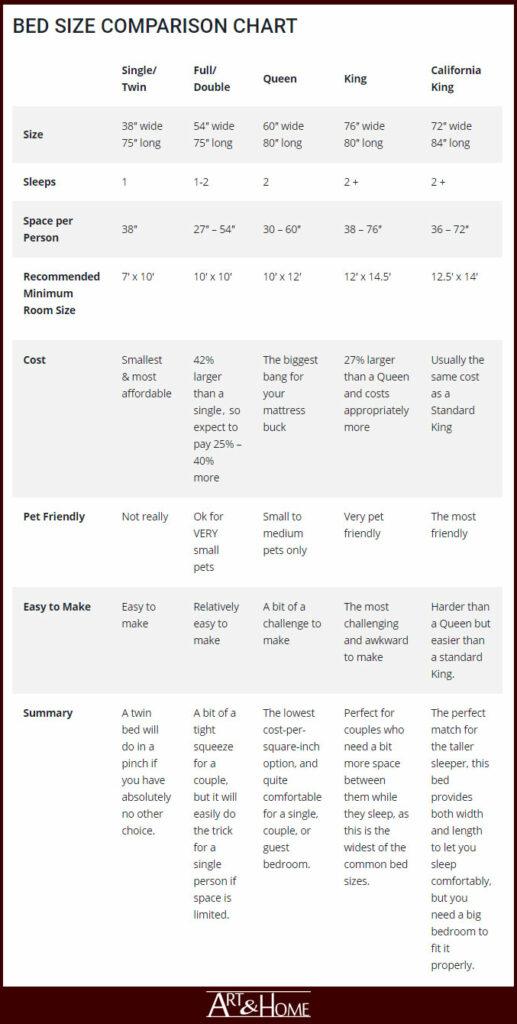 FINAL THOUGHTS ON SELECTING THE RIGHT SIZE BED
Picking the right bed comes down to two critical factors:
Space needed IN the bed
Space needed AROUND the bed
Although you want to make sure that your bed is large enough for you to sleep comfortably, you also want to make sure you have enough room around your bed for the room to "breathe" normally.
Yes, the bed can take up a majority of the space in the room (it is called a "Bed Room" after all), but unless you have the luxury of an entirely separate room that you can use as your dressing room, you do need space to move around the bed without tripping over your own feet.