The Jack (The Bartender) by Will Rafuse tapestry wall hanging has a texture not found in any other art form.
Will Rafuse was born in Calgary, Alberta, and has had a passion for art from a very early age. His art carries a unique translation into tapestries. Will is best known for his bold use of color and the ability to give both personality and vibrancy to the subjects that he paints. The slightly animated twist of his characters has led to the popularity of his art for those youthful and young at heart. His signature style can be recognized in galleries, movies, television shows, and both private and corporate collections worldwide. His art has a universal appeal to those who are looking to add a lighthearted, witty image to their environment.
Enhance the tapestry of your life, the tapestry of your style, and the tapestry of your home decor with this stunning woven tapestry wall hanging. The combination of the threads and weave create a unique art experience that changes with each viewing angle.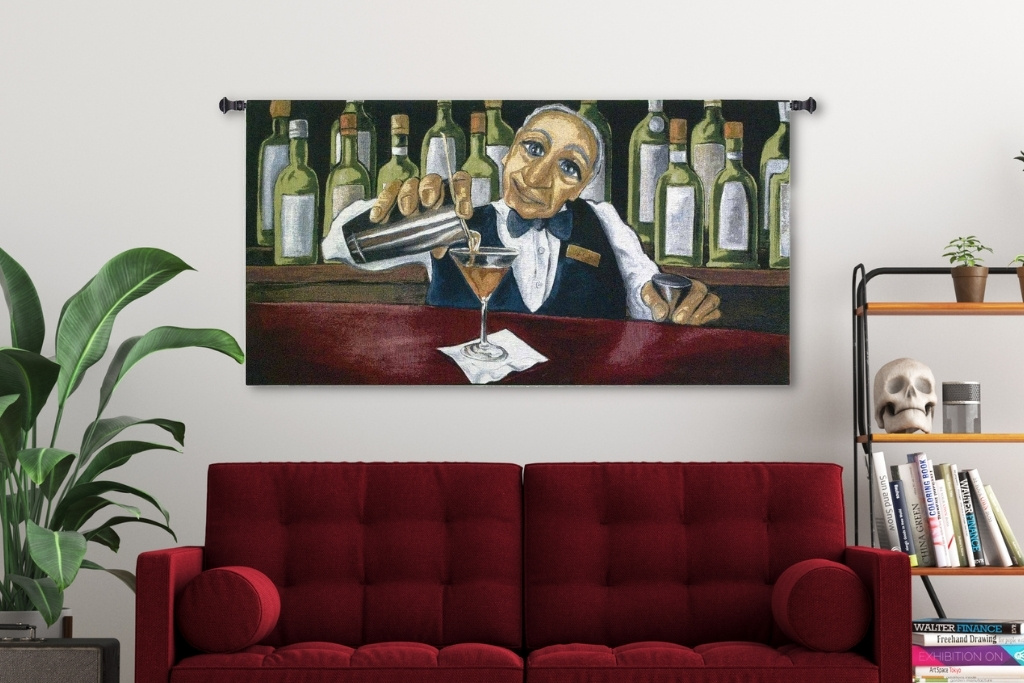 Jack (The Bartender) by Will Rafuse Tapestry Wall Decor Features:
Size: 53″ x 37″
Jacquard-woven to produce superb depth, texture, and richness
A unique art installation that provides acoustic benefits by softening the noise in any room.
Hand-finished and ready to hang
Proudly Manufactured in the USA
Tapestry Hanging Rods, Finials, and/or Tassels are not included.
All tapestries are special order items. Most tapestry orders will ship within 3 – 5 business days of purchase.
About Fine Art Tapestries:
Fine Art Tapestries are quality weavers with an attention to detail that can only be found in classic American-made products. All Fine Art Tapestries wall hangings are Jacquard-woven from 100% Cotton to create a style that provides outstanding color, extraordinary detail, true depth, texture, and richness
Each tapestry wall hanging arrives lined with cotton backing and includes a rod pocket for easy hanging.
Tapestry Wall Decor Care and Maintenance:
Tapestry Wall Hangings are extremely durable and crafted to last for generations with very little maintenance other than a light, occasional dusting. We do, however, recommend that you keep tapestries out of direct sunlight, as prolonged exposure can cause the tapestry fabric to fade over time.
Art & Home is a family-owned and operated business. For over 10 years, our family has been proud to provide your family with an exquisite collection of unique and wonderful home decor products. Here are just a few of the overwhelming responses we've received about our tapestries.
"A beautiful addition to my home decor. Extremely pleased."
"This Is Gorgeous. Five Stars!"
Take a moment and browse the entire Tapestry Wall Hanging collection.
Browse Other Fantastic Contemporary Tapestry Wall Hangings
Decor Shopping at Art & Home
This striking piece is just one of the loads of fantastic decor products that we have carefully chosen to help you decorate your home.
To realize this Art & Home has joined up with today's top manufacturers & retailers of fine home decor and furnishings to bring you some of the most outstanding home decor and furniture elements available on the market today. Through this and other collaborations, Art & Home is empowered to provide you with access to scores of splendid home decor products and save you the time & bother of researching dozens of different retail websites.
From Contemporary Rugs to Dining Tables to Wall Tapestries, Art & Home focuses on unearthing the most remarkable furniture & decor so that you can create the home of your dreams. As a family-owned and operated company, Art & Home knows how important it is to love your home.
Buying from our retail partners is trouble-free. Simply click on the Unlock Current Deal button above to see the complete details, up-to-date pricing, and obtain a shipping estimate to your home.
We hope you enjoy uncovering this stunning collection as much as we enjoyed fashioning it.
All the Best!
Art & Home
Read More from Art & Home
---