This classic image comes to life as a tapestry wall hanging. A recreation of Botticelli's masterwork, uniquely woven as a wall tapestry. The birth of Venus is an iconic piece and this version is woven with great detail.
Feast your eyes on Botticelli's masterpiece come to life like never before. This tapestry wall hanging is a recreation of his iconic painting, the birth of Venus. With gorgeous imagery and colors, this unique piece will make a beautiful addition to any home.
Inspired art, this richly woven tapestry wall hanging brings together texture and design. The combination of the thread colors and weaves creates a unique art experience.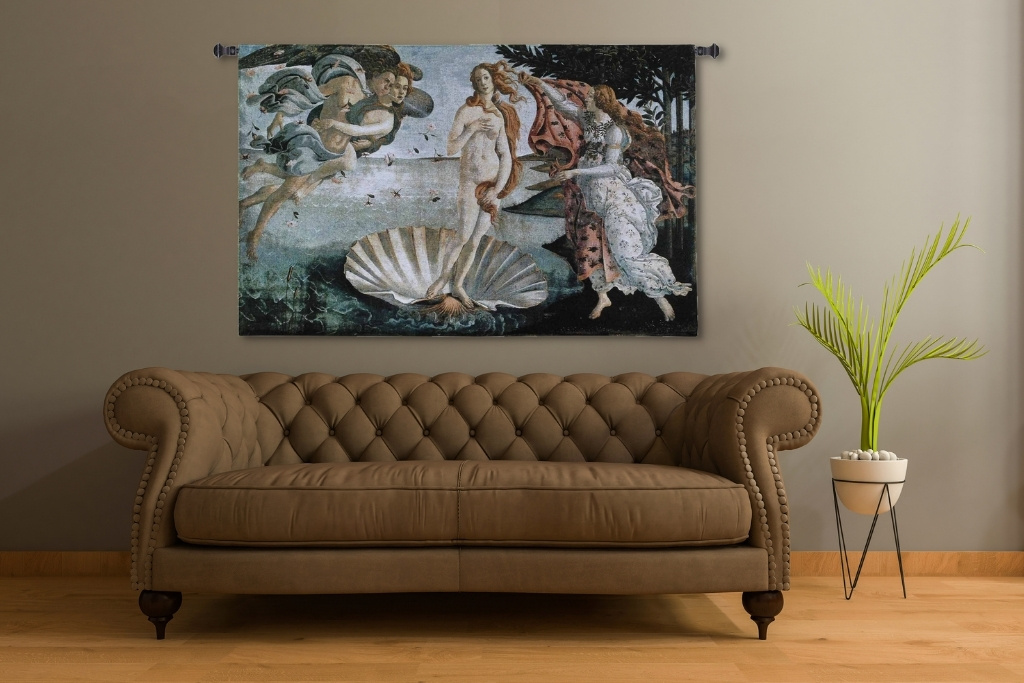 Birth Of Venus Woven Tapestry Features:
Size: 34 x 53
Jacquard-woven to create outstanding color, exquisite detail, true depth, texture, and richness
Beauty and functionality combine based on the sound softening acoustic benefits
Hand-finished, lined with cotton backing and includes a rod pocket for easy hanging.
American Made
Rods, Finials, and/or Tassels are not included.
All tapestries are special order items. Most tapestry orders will ship within 3 – 5 business days of purchase.
About Fine Art Tapestries:
Fine Art Tapestries are quality weavers with an attention to detail that can only be found in classic American-made products.
Each wall hanging is then hand-finished for extraordinary detail.
Woven Tapestry Care and Maintenance:
Wall Tapestries are one of the lowest maintenance decor items you could ever own. Based on the heirloom-quality of these pieces, a tapestry wall hanging will only require light dusting and the occasional vacuum using the appropriate upholstery attachment. Plus, any marks or scuffs that occur naturally on a tapestry simply add to the history and the uniqueness of each individual artwork.
For more than 10 years, our family has been proud to provide your family with an extraordinary collection of unique and wonderful home decor products. Here are just a few of the overwhelming responses we've received about our tapestry wall hangings.
"Pricing was excellent for the quality. I am very pleased."
"This Is Gorgeous. Five Stars!"
This wonderful piece is part of our unique Woven Tapestry Decor gallery.
Browse More Beautiful Traditional Tapestry Wall Hangings
Decor Shopping at Art & Home
This lovely piece is just one of the tons of wonderful decor products that the design team at Art & Home has picked to help you embellish your home.
To arrange this Art & Home has joined forces with some of America's most recognized retailers & manufacturers of fine home decor and furniture to bring you some of the most amazing home decor items available on the market today. Through this and other partnerships, Art & Home is empowered to provide you with access to heaps of superb home decor products and save you the time & nuisance of combing through dozens of different retail websites.
From Canvas Wall Art to Tables to Clocks, Art & Home concentrates on showcasing the most remarkable furniture & decor so that you can create the home of your dreams. As a family-owned and operated company, Art & Home knows how important it is to love your home.
Purchasing from our partners is fast & easy. Just click on the Unlock Current Deal button above to see the full details, current pricing, and get a shipping estimate to your location.
We hope you enjoy exploring this splendid collection as much as we enjoyed curating it.
All the Best!
Art & Home
Read More from Art & Home
---