When you first think about a coastal paradise, what comes to mind? While it's generally the design theme for beach houses, it doesn't mean that a coastal-themed home is only limited to such. You can have a home miles away from the beach and still incorporate the modern coastal design concept with a few simple touches.
By definition, a coastal-themed design is all about serenity and simplicity. With a coastal home, the whole premise is to have a laidback feel to your home. It's a detailed but fuss-free one that's a perfect mix achieved when you blend white and hues of blue. It feels open and bright. The moment you walk into your home, you'll have that resort-like feel, where you're enveloped in a feeling of warmth and relaxation.
Modern Coast Home Decor Tips
To help you further achieve your goal, below is a guide from the experts to help you transform your home into a modern, elegant, seaside paradise.
Put In Some Driftwood Elements
What's a coastal interior without driftwood? As its name suggests, driftwood refers to wooden elements that have drifted on the shore. It's a very unique decorative element, simply because one will never be like another. It has a one-of-a-kind charm, and it's as raw and natural as it can get.
When you're by the sea, and you come across driftwood, pick some up and bring it home. Driftwood adds a nice hint of style and touch to your home.
Moreover, driftwood is a very versatile decorative piece. You can place it anywhere, depending on the size you have. Smaller ones are great as table toppers, while the bigger ones can be accent pieces on blank walls.
Incorporate The Appropriate Colors And Accents
Getting the right colors for your walls for your modern coastal home is very important. Otherwise, if you're using the wrong colors, then you may not be able to achieve the contemporary coastal vibe you're after.
As a general guide, you'll want to lean towards neutral colors and white. Avoid dark shades. Likewise, stay away from pastels, too. These may have been a common sight for older beach homes, but it's a thing of the past. Because you're after a more contemporary vibe, it's best to stick to white and neutrals, such as the White Sails II coastal tapestry.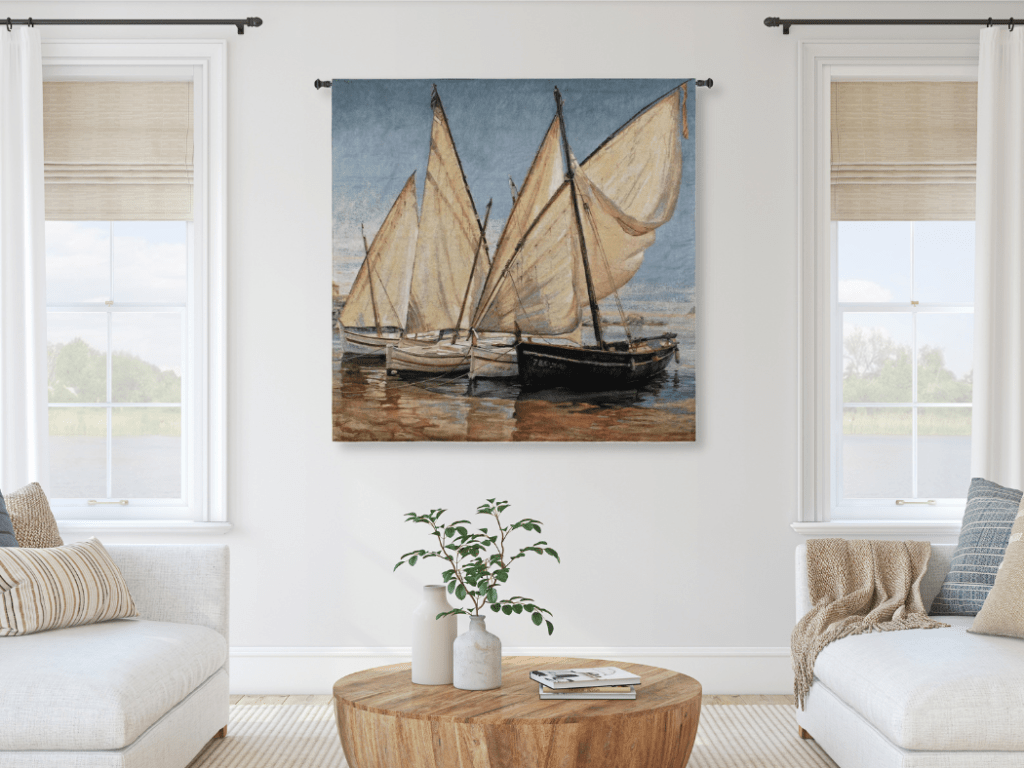 For your accent details, that's when you can play around with darker earth tones, blues, turquoise, and even shades of green. You don't have to limit yourself only to the usual light or dark blue colors. You can incorporate those in your sheets, accent walls, pillowcases, throw pillows, and even your curtains.
Bring Some Natural Light In
A modern coastal home is also sun-drenched, particularly if you have a nice beach view as is the case with most vacation homes. The area fronting the beach should be devoid of closed walls. It's a better choice instead to have big, floor-to-ceiling glass windows.
During the day, you can open up your curtains and let the sun shine through your home. When the weather permits it as it's breezy, you can even open up those glass doors to allow some fresh air inside.
With this, the warmth can continue throughout your home, not just as to style but even adding to that comfortable feeling. Your modern coastal home will be every bit of what a relaxing beach home should be.
Stick To A Simple Layout
This next interior design tip is a redefined difference from the beach houses of the past. Older coastal homes are usually characterized by an overly frilled design. It means that there's just so much going on and there are a lot of divisions for every space.
Contemporary coastal homes are a stark contrast, given the simplicity of the layouts preferred. An open living plan is also still the best choice.
Having a simple layout, however, doesn't mean that your coastal-themed home shouldn't have accessories and decorative elements. It still can, by balancing those details with the desire to achieve a modern minimalist look.
This characteristic is one of the factors that can truly make a modern coastal home a relaxing and peaceful abode. There's an only minimal visual nuisance, which, when overdone, may come off as clutter.
The key here is to prioritize having space over things. Keep your home fuss-free and breezy so it's easy to move around. Air can move freely around the house, as there are not too many things strewn along the way to block such. Modern coastal homes are supposed to have that open and expansive feeling to them.
Go Bold With Accents
While it's best to keep your walls in neutral colors, you don't necessarily need to have just plain walls for the entire home. If you want pops of colors here and there apart from the blue and green hues, you can still do it. Go bold with accents through your door or an accent wall.
Wallpapers are big these days because they're easy to install at a reasonable price. There are so many designs you can choose from, so you won't be limited to your possibilities.
For example, palm trees, leaves, and bright florals can work well as accent walls in your modern coastal home's foyer, entryway, or hallways. Those are statement pieces that can surely make your home pop. Now, you can stand out from many other coastal homes that stick only to blues and browns.
Use Slip-Covered Furniture
One of the common characteristics of coastal homes is to have furniture that is made of wood, solihiya, rattan, or wicker. There's nothing wrong with this, except that you draw the line when it's too much. Other furniture pieces can still give you that modern coastal vibe you're after, one of which is slip-covered furniture.
Take note that beyond the style, you're also trying to evoke the comfort and relaxation that the sea brings right to your home. At least in your living room, you'll want to go for those pieces of furniture that are comfortable and plush. Couches or sofas are still a no-fail.
However, instead of the usual sofa, slip-covered furniture is great to bring in that whole coastal vibe. As its name implies, it's a sofa with a slipcover, usually made of linen or organic bamboo. Ideally, you'll want to go for a white slip.
If you're worried about the mess, that's the beauty of slip furniture. You can easily remove the covering, put it in the wash, and replace it with a new one. It makes it easier for you to manage your home, especially when it's a beach house and you have kids. Remember, no matter how well-designed your home may be, if it's messy, it still won't look pleasant and inviting.
Incorporate Classic Stripe Patterns
When you think nautical, the first thing that comes to mind is red and stripes. While you can have the same in your coastal-themed home, you don't need to confine yourself only to red and blue. Don't skip on the stripes, yes, but play around with other colors as well.
Stripes are great to have for your floor rugs, bedroom sheets, curtains, and even for hand towels, you'll have rolled in your guest bathrooms. Just think about this: there's a reason why beach towels in resorts are usually in a striped pattern? It's hard not to associate stripes with the beach, so be sure to have those prints in your home.
Let Go Of Seashells
Seashells' designs are too yesterday. Beach houses from many years back will have those almost everywhere in the home: from little details like soap dispensers and wind chimes to décor here and there.
With a modern coastal home, interior designers are letting go of seashells. You may still have a few pieces in your home, but at least keep them very mellow and limited. Don't overdo it with the seashells anymore. If you're going to infuse seashells into your modern coastal home, use something that takes a unique look at this classic motif, such as this Woven Coastal Tapestry Wall Hanging.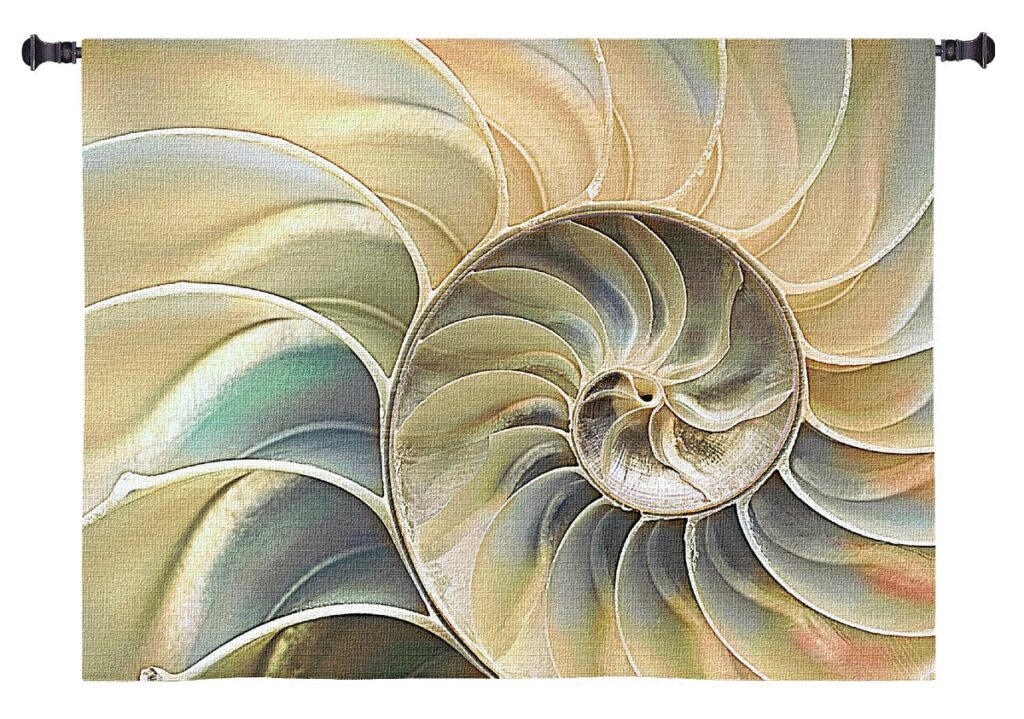 Along with seashells, another common design element to forego are anchors and beach signs. They're just too mainstream or too predictable. That is unless the anchor has a meaning, like if a member of your home was a sailor, and that's from their old ship. Because it's personal memorabilia, then go ahead and hang it. But, if you were to buy one of those common, generic, and mass-produced beach-themed decors, then it's best to spend your money on other design elements instead.
Add Lots Of Natural Fiber
Because you want to achieve a modern coastal look, now's not the time for you to choose a heavy fabric like suede, velvet, or silk. You'll want to focus on more natural fibers like organic cotton and linen.
For example, linen curtains are good to have because they also make a home feel breezier. They're light, so they're not too restrictive. As for your carpets, you can't go wrong with jute or rattan.
Turn Your Coastal Home Into A Paradise Now
As you may now gather, coastal home is your very own paradise that is reminiscent of what it's like to be by the beach. Picture out fresh, light colors, plants, and an airy feel. You may not necessarily live by the beach, but you can bring that feeling of calmness and serenity wherever you may be. Better yet, if you have a beach house, you can elevate its style with the design concept above. A beach house doesn't have to be frumpy and old when you can turn it into your paradise.