Looking to maximize the space in your child's room? Try these handy storage ideas for kids' bedrooms. There are plenty of clever and creative storage ideas that you can use to make the most of space in even the smallest of rooms. 
If you are like most parents, you want your kids' bedrooms to be as organized and clutter-free as possible. But with all of the toys, clothes, and other items that tend to accumulate in a kid's room, this can be a daunting task. never fear – we have some great ideas for you! In this blog post, we will discuss some clever storage solutions for kids' bedrooms. So read on and get inspired!
The kid's bedroom is usually the smallest bedroom in the house and can be very cluttered and overstuffed.
However, there are plenty of clever and creative storage ideas that you can use to make the most of space in even the smallest of rooms. Let's take a look at some of the storage ideas you can consider for your own kids' bedroom, including:
Storage Bins for the Closets
If you're lucky enough to have a walk-in closet attached to the kids' bedroom, you should make the most of that space by keeping it well organized. The closet isn't just for clothes, either. You can store toys, bags, shoes, and other items there as well. A great way to make the most of closet space is to keep storage bins on the floor and hang clothes on the clothes rack above. This way, you make the most of vertical space and use floor space that would otherwise be wasted on clutter.
Keep separate colored bins for separate items so that the kids can also easily distinguish between them and make use of them. For example, the kids will know that the blue bin is for their art supplies and the red bin is for their shoes.
Racks and Hooks on the Doors
The doors in the kids' bedroom have lots of storage potential that most people don't consider. You can hang hooks and racks on the backs of the doors for various items. The kids' backpacks and coats can be hung there, or you can keep books and toys on the racks. Things stored behind doors can also be easily accessible so that you don't have to rummage through toy bins to find what you're looking for.
Want something super simple to install? Simply install a few coat hooks and then hang brightly-colored, durable tote bags on each hook. These totes can be used to store toys or other items that are easy to access.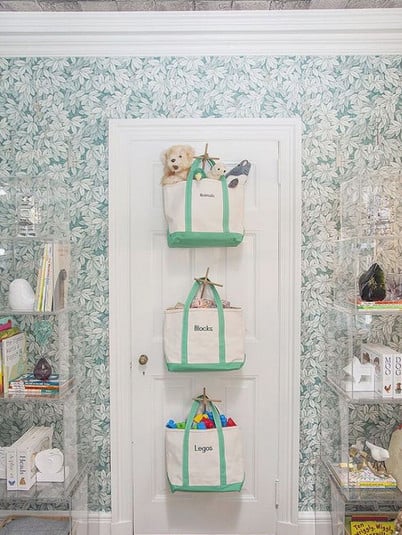 Cube Shelves for Toy Baskets
Cube shelves are a great way to make the most of the floor space in the bedroom that would otherwise be unoccupied. The shelves can be fit together and placed in different layouts, making them versatile and convenient. If you prefer open shelving to find things at a glance, cube shelves are an excellent option for you.
Additionally, if you like all the clutter hidden away, you can get cubby-style toy baskets to put on the cube shelves. Cube shelves are also great for a bedroom that two or more kids share. The kids can have their own designated shelves, which can reduce mix-ups in their belongings and any fights that may occur because of those mix-ups.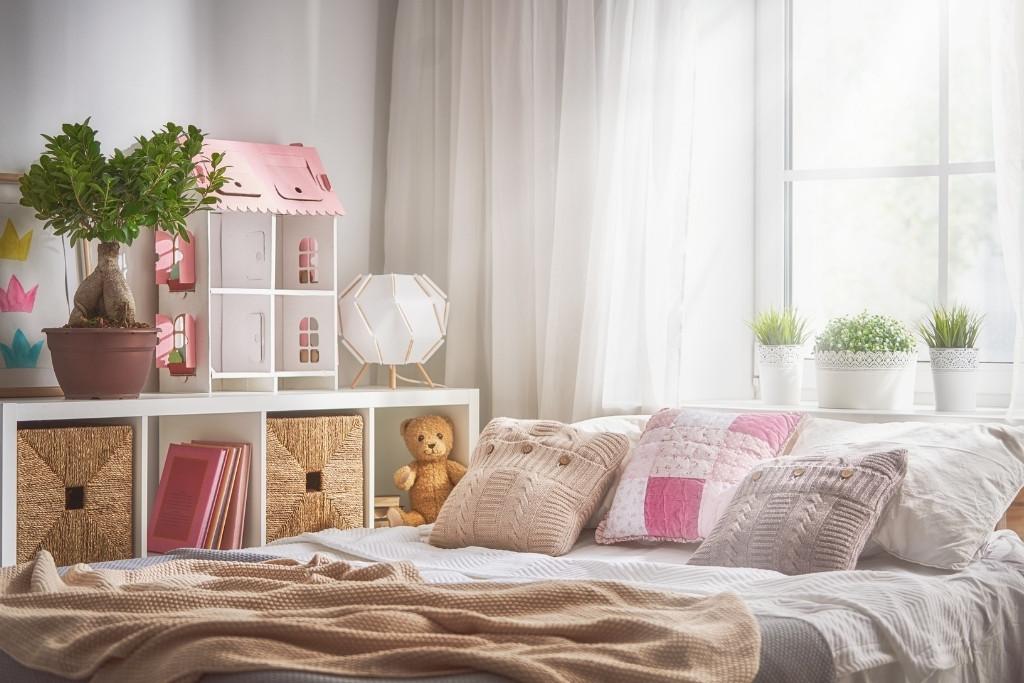 Floating Wall Shelves
While most of the kid's belongings should be at a height where the kids can easily access them, some things that aren't used too often can be placed on higher wall shelves. For example, if there is an empty wall space above the bed or the desk, you can use it all up with floating wall shelves. Not only can you place books, toys, storage bins, and other items on the shelves, but they can also work well for decorating the room. You can put framed photos of the kids, pets, or other family members on the floating shelves.
Raised Bed
Creating a raised bed is a great way to maximize the space in your child's bedroom. And it's super-fun for them to literally climb into bed! You can turn the space below the bed into storage, a desk, or whatever else you please. And even the stairs themselves can be a storage opportunity. Just add a few slide-out drawers and you're good to go!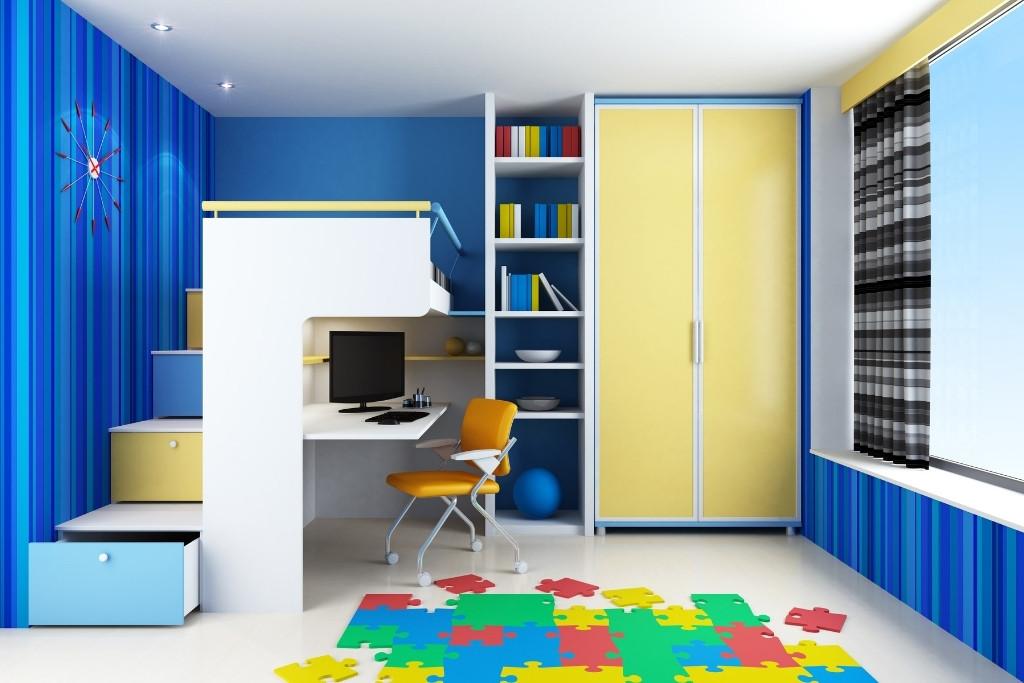 Storage Oriented Kid's Beds
Kids beds that are specifically designed to keep storage in mind can also be a great way to make the most of a small room. For example, many beds come with rolling drawers underneath them. These drawers can store linens and other such items in them. They also reduce clutter and the collection of random items underneath the bed. Another option is getting bunk beds to make the most of vertical space if two kids share the room. There are also loft beds available that give you space for a desk or some beanbags under the bed.
Under-bed Storage
The space under the bed is often wasted because it's difficult to access and people tend to forget that it's there. But if you invest in some storage containers that fit snugly under the bed, you can store all kinds of things there – from clothes to extra blankets to toys. Just make sure that you get containers with lids so that the dust doesn't accumulate on them. And if you want to be really organized, label the containers so that you know what's inside them without having to open them up.
Under-bed storage is a great way to make use of the space that is often wasted beneath kids' beds. You can buy special storage containers or bins that fit perfectly under the bed. Or, you can get creative and repurpose other items such as old suitcases or laundry baskets. Just be sure to measure the space before you go shopping so that you know what will fit!
Door Racks & Shelves
The back of the door is often an overlooked spot for storage. But it's actually a great place to hang hooks or shelves! This is especially useful in kids' bedrooms where there are often lots of coats, bags, and shoes that need to be stored. You can also use door racks and shelves to store books, toys, and other items. Just be sure to secure them properly so that they don't fall and hurt anyone.
Built-In Storage Cabinets
If you have the budget for it, built-in storage cabinets and closets can be a great way to make the most of a small space. They are especially useful in kids' bedrooms because they can be customized to fit any size room and any need. You can even have them designed with doors that match the décor of the room!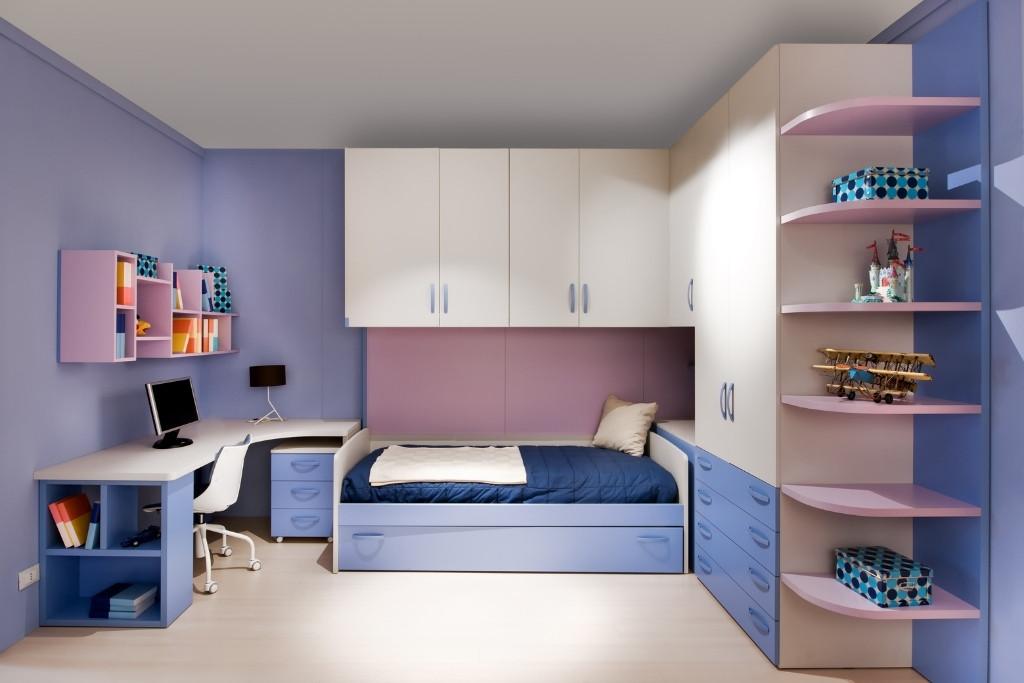 Our Final Thoughts
There are plenty of other ways that you can make the most of space in kids' bedrooms. These are just a few ideas to get you started. With a little creativity, you can find storage solutions that work for your family and help to keep the bedroom tidy and organized. What are some of the ways that you have made the most of space in your home? Share your tips and tricks with us in the comments!
So what do you think of the storage ideas that we've talked about? Do you think you'll be trying any of them out in your own kids' bedrooms to make the most of the space and reduce clutter?
Before we finish, here is one last tip for you to consider! It would be a great idea to keep your kids involved when making decisions about storage in their bedrooms. If the kids can pick out the kind of beds they like or cubbies and shelves in their favorite colors, they'll be more likely to use the storage as it was intended, put their things in the right places, and keep their room free of clutter.