Hanging multiple pieces of art on the same wall can be frustrating, but some easy tips make the process smoother, easier, and faster.
If you're tired of the "if at first, you don't succeed, make another hole in the wall" method of picture hanging, experts recommend using cut-outs that are the same shape and size as the pictures you are hanging and pre-arranging them on the walls.
Creating these art placeholders to make picture hanging easier involves 4 Easy Steps!
---

Create Paper Versions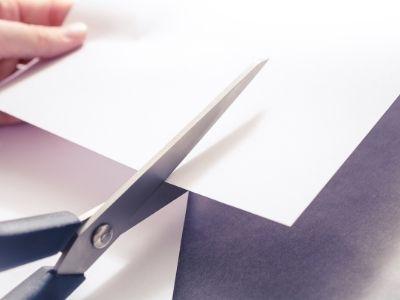 Simply trace the dimensions of the artwork onto a piece of Kraft paper, construction paper, or heavy card stock. Even cardboard will do in a pinch, but corrugated cardboard may be too heavy.
---

Mark the Hook Locations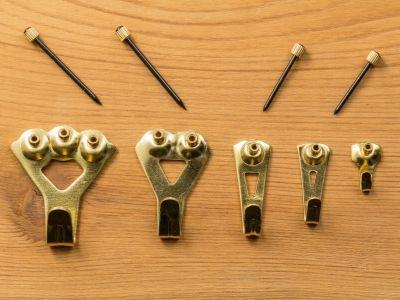 As different frames can have very different wire lengths or hook locations, align the cutouts to your frames and mark on the cut-outs where the hanging point is (such as the wire or D-hooks on the back of the artwork).
---

Arrange Your Artwork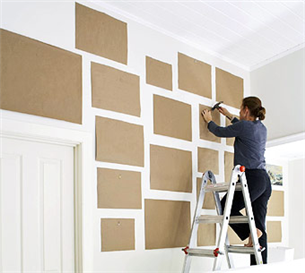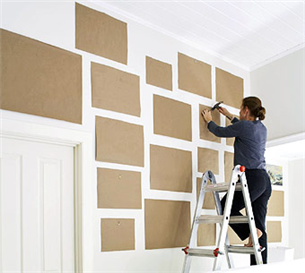 Use blue painter's tape, Sticky Tack, or something that won't take the paint off the walls with it in order to arrange the cutouts to complete the finished look on your wall. Move them and rearrange them as needed. (Image Source: LifeHacker.com)
When you're happy with the arrangement, put your wall hooks (or nails) in order to align with the spots you marked on each piece of paper.
Remember that the spots you marked are where the picture hangs from, so you need to make sure to allow for the size J-hook you are using. One common error – even with this method – is to use those markings to indicate where the NAIL should go. But it's actually where the hanging point is. If you are using J-hooks or other picture-hangers, that won't always be the same thing.
Especially if your J-hooks are all a bunch of random sizes!
---

Hang the Real Thing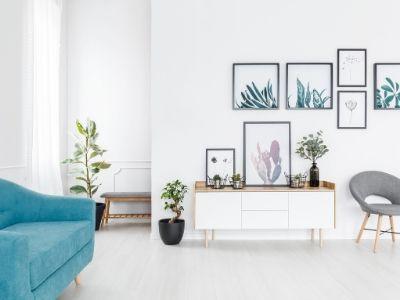 One by one, you can now take down the paper cutouts of your artwork and hang the real thing in its place. If you've done it correctly, you won't need to adjust any of the placements… which means fewer nail holes in your wall.
If you do need to adjust one or two of them, see if you can do so using the wire on the back of the artwork itself or by changing out the J-hook rather than – as a last resort – moving the nail itself.
A clean, crisp arrangement of pictures or canvas wall art can make a big difference to a home's decor, and sometimes the tiniest thing, like a different length J-hook, can make or break the look.