If you've ever come across a really bad parking job and just wished you had a set of Bad Parking Business Card Notes handy to leave one on their car… don't worry, we've got you covered!
With the Holiday Season comes holiday shopping. And with holiday shopping comes trying to find your way in and out of packed parking lots at various shopping centers.
And with trying to find your way in and out of packed parking lots comes the invariable bad parking job that will make you wish you could leave a subtle – yet passive-aggressive – note to let them know just how annoying their parking job is to everyone around them. Or, if you're slightly nicer than me and you don't want to publicly shame them, you can also pick up some colored envelopes and pack these cards neatly inside. That way, you can pass on a more discreet message.
Well, fear not my weary shoppers… I am delighted to present to you this collection of 18 wonderfully sardonic bad parking business card notes that you can print off and bring with you the next time you go shopping.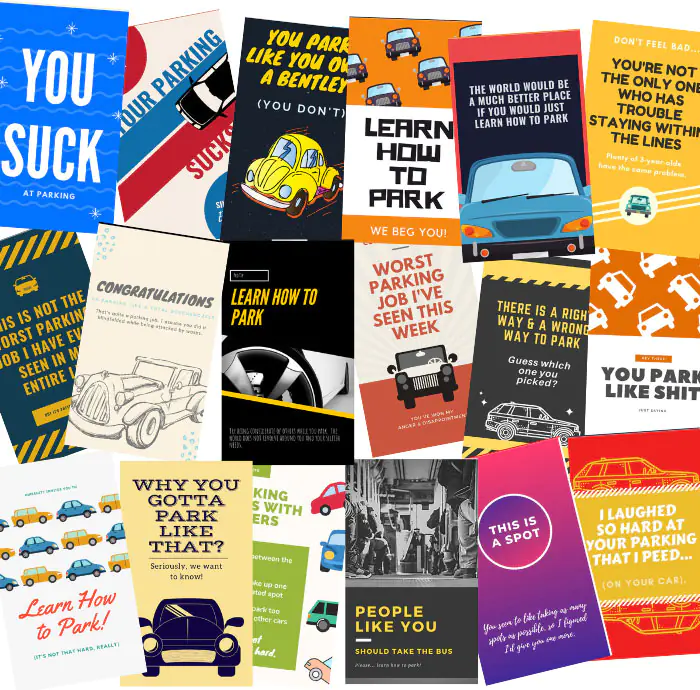 They were designed after a recent encounter with a wonderfully bad parking job during a trip to the local store.
I am more than happy to share them with you. Together, we can make the world a better place to park!
18 Printable Bad Parking Business Card Notes
That's quite a parking job. I assume you did it blindfolded while being attacked by wasps.

This is a spot. You seem to like taking as many spots as possible, so I figured I'd give you one more.

I laughed so hard at your parking that I peed… on your car.

This is not the worst parking job I have ever seen in my entire life. But it's pretty darn close!

People like you should take the bus.

How to share parking lots with others.

Learn how to park! It's not that hard, really.

Why you gotta park like that?

You're not the only one who has trouble staying within the lines. Plenty of 3-year-olds have the same problem.

You suck at parking.

Pro Tip: Learn how to park

The world would be a much better place if you would just learn how to park

Learn how to park, we beg you!

You park like you own a Bentley

Hey There. Your Parking Sucks.

Worst parking job I've seen this week

There is a right way & a wrong way to park. Guess which one you picked?

You park like shit.
Click Here to Download the PDF File with All 18 Printable Bad Parking Business Card Notes
The file even includes crop marks and bleeds to make it easy for you to print off as many as each as you'd like!
And if you ever receive one of these bad parking notes on your own car, understand that you've done something terribly, terribly wrong.
Want to Say Thanks for These Fantastic Bad Parking Business Card Notes?
Like Art & Home on Facebook! We'd love to have you as part of our family!