Butterflies have always been a sign of elegance and beauty. They are the perfect thing to add to your home in order to give it a touch of sophistication. If you're looking for something new to decorate your walls with, butterfly wall decor is a perfect choice!
You don't have to be an Entomologist to love butterflies! Not only do butterflies look beautiful, but they also represent transformation and change. In this article, we'll discuss the benefits of adding butterflies to your home, as well as some of the different types of butterfly wall decor that you can choose from.
The Meaning & History of Butterflies
Butterflies have been beloved by many cultures throughout history. In ancient Greece, they were seen as the personification of the soul. Native Americans believed that butterflies represented joy and change. In China, they are symbols of longevity and marital bliss.
People started collecting butterfly art in the early 1800s. The first butterfly collection was created by a man named James Francis Stephens. He was a famous English entomologist and started the trend of collecting butterflies as decorative pieces. His collection, along with others from that time, was often pinned to boards and displayed in homes as art.
These days, butterfly decor has evolved from simply pinning them to boards. There are now various types of butterfly wall decor available, including butterfly wall stickers, framed butterfly artwork, and 3D butterfly displays.
No matter what culture or belief system you come from, there's no denying that butterflies represent positivity and transformation.
Why Add Butterfly Wall Decor to Your Home
Adding butterfly wall decor to your home will bring feelings of positivity and change into your space. It's also a fun and unique way to add some color and interest to your walls, as their brightly-colored wings can liven up any room, while simultaneously adding a touch of elegance to any space.
Butterflies are stunning creatures, and their beauty is undeniable.
Found all over the world, there are many different species of butterflies. Some butterflies can be quite large, while others are quite small. In fact, the largest butterfly in the world is the Queen Alexandra's Birdwing. It is found in Papua New Guinea and can grow up to 11 inches in size!
Butterflies go through a process called metamorphosis in which they change from caterpillars into adult butterflies. This process can take weeks or months, depending on the species of butterfly.
When it comes to life and vitality, butterflies are important pollinators, and they play a vital role in the ecosystems where they live. They help to spread pollen from flower to flower, which helps to fertilize plants and create new seeds.
But the most common meaning connected to butterflies is their symbolism of transformation and change, which is why they are often used in art.
Butterfly wall decor is a great choice for your home because it adds both style and meaning. They bring a touch of elegance and beauty to any room, while also representing positive ideas such as transformation and joy.
Butterfly wall decor can also add a pop of color to your walls. Many butterfly designs feature vibrant hues, such as the bright pink and orange of a Monarch butterfly or the deep blues and purples of a Blue Morpho butterfly.
Types of Butterfly Wall Decor
There are many different styles and options when it comes to butterfly wall decor. Here are just a few examples:
Butterfly Artwork or Photographs
These can range from realistic butterfly photos to more abstract, artistic depictions of butterflies.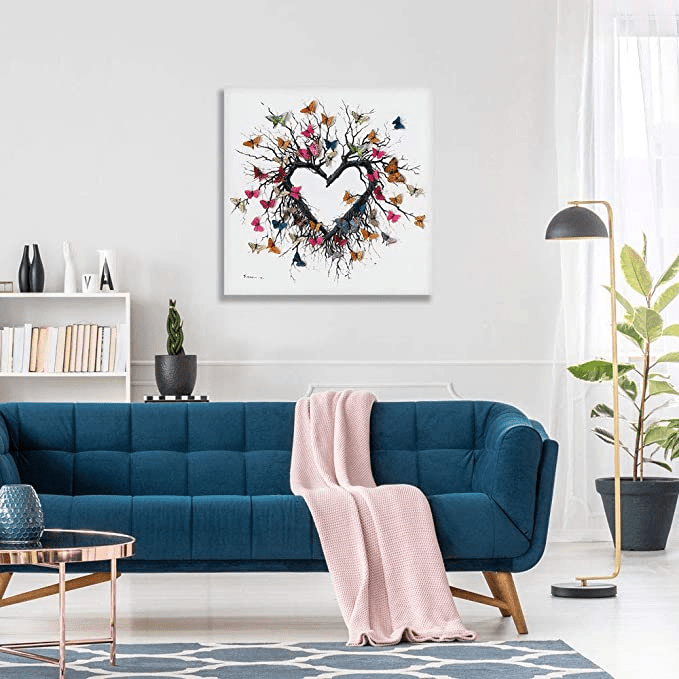 The heart-shaped branch tree is full of colorful butterflies that seem to be dancing at any time. This large canvas painting would look great anywhere that you'd like to add a touch of romantic whimsy.
Butterfly Wall Decals
These are a unique and easy way to add some butterfly decor to your walls, as they are simply adhesive designs that can be applied and removed without causing any damage to your walls.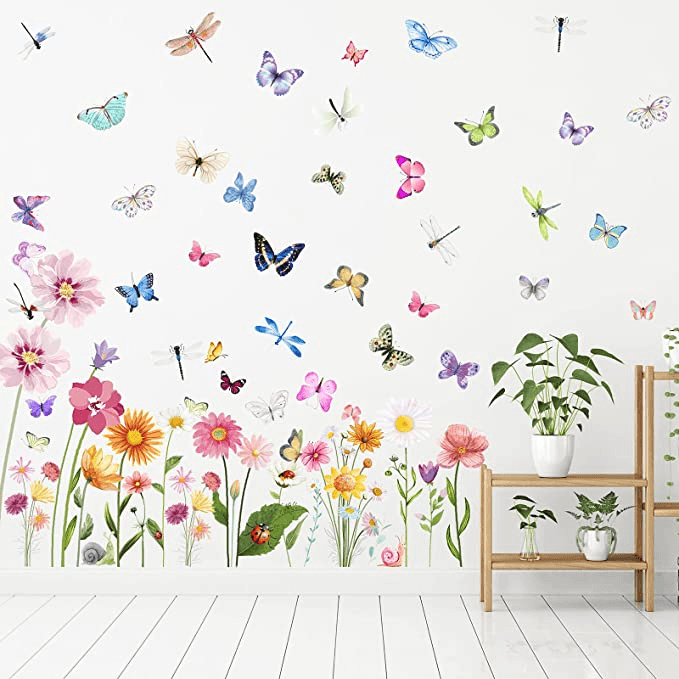 The garden flowers wall stickers are perfect for adding a little bit of Springtime in your room. With all different types, including chrysanthemum designs with butterflies and ladybugs on them; realistic-looking dragonflies or even just beautiful bouquets without any decoration at all – there is something here to suit every taste!
Butterfly Tapestries or Wall Hangings
These beautiful butterfly tapestries are larger, fabric pieces of butterfly decor that can be hung on your walls to add some color and interest to a room.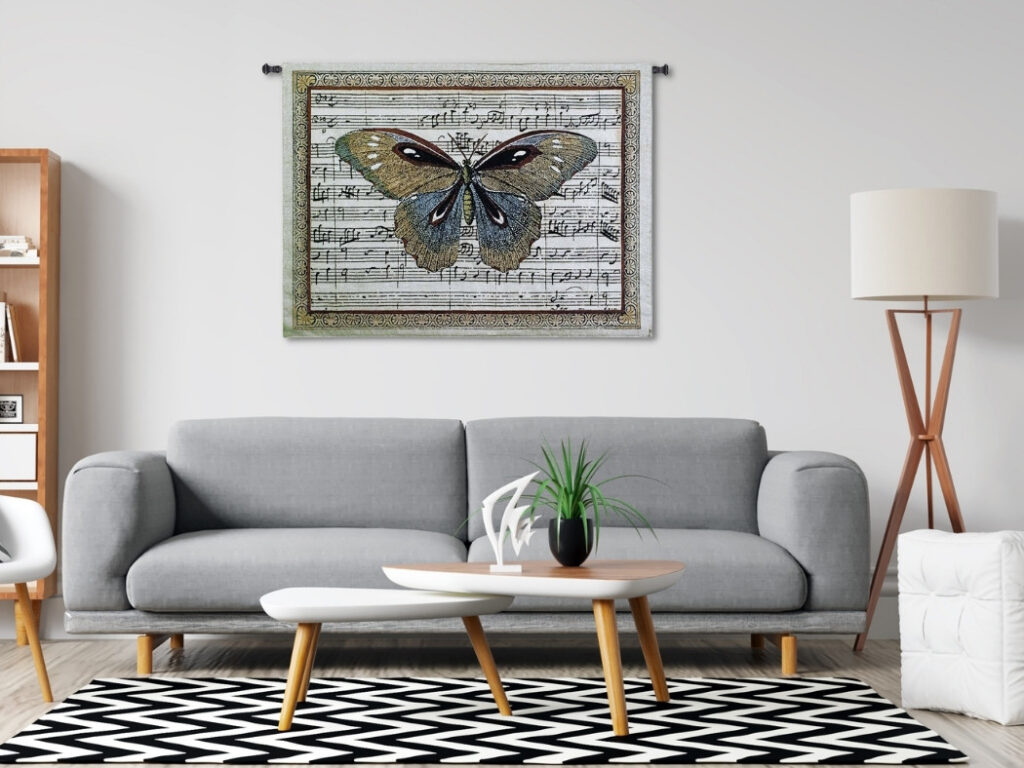 What's more beautiful than butterflies and music? This tapestry wall hanging brings the two together in a unique way!
Metal Butterfly Wall Art
These are more dimensional pieces of butterfly decor that can add depth and dimension to your walls.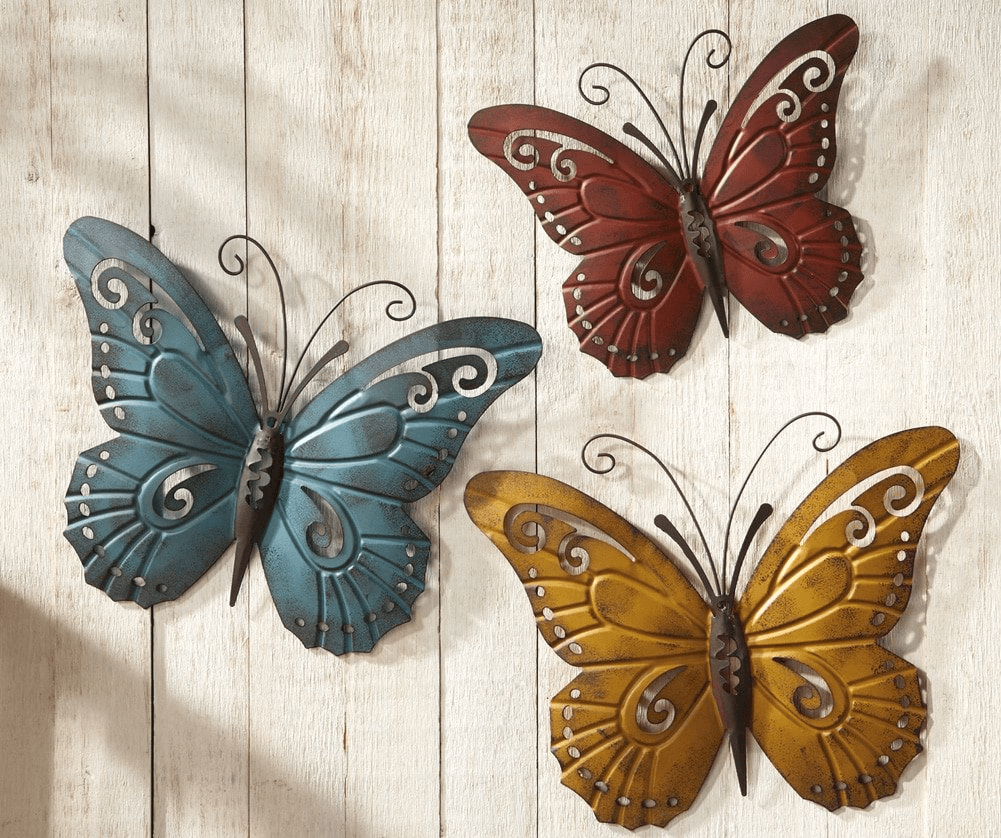 This 3-piece metal wall art set is a must-have for any room in your home. The pieces can be used indoors or outdoors and they're perfect to display on their own, along with some plants! Each piece features beautifully painted designs that will make it easy to create an elegant-looking interior space without much effort at all.
Butterfly Wallpaper
This is a fun and unique option for adding some butterfly decor to your walls. Choose from a variety of different patterns and colors to bring some life into your space.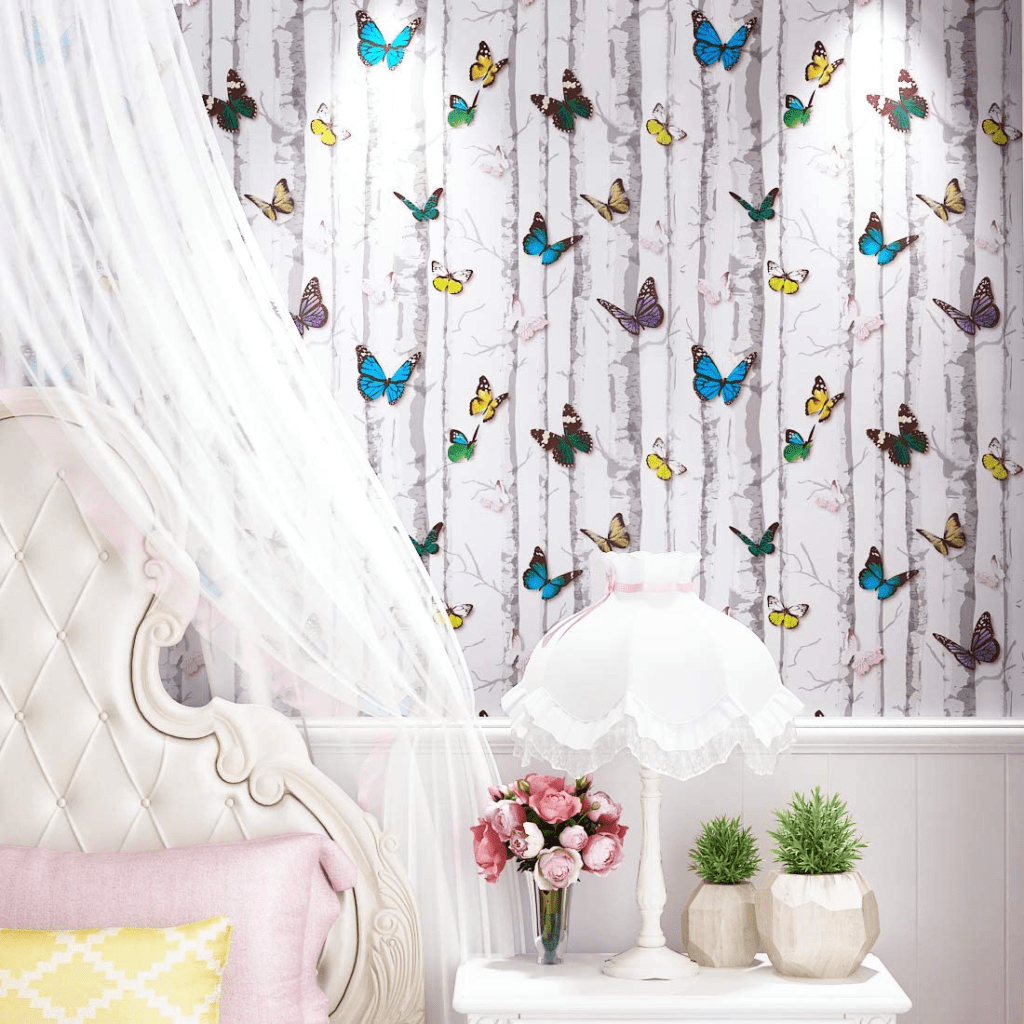 Other Fun Butterfly Decor Ideas
If you love butterflies and want a unique way to add them to your home besides wall decor, here are some lovely ways to incorporate butterfly decor accents into your home.
Butterfly Stained Glass
This is a beautiful and unique option for adding some butterfly decor to your windows or as a decorative piece in your home.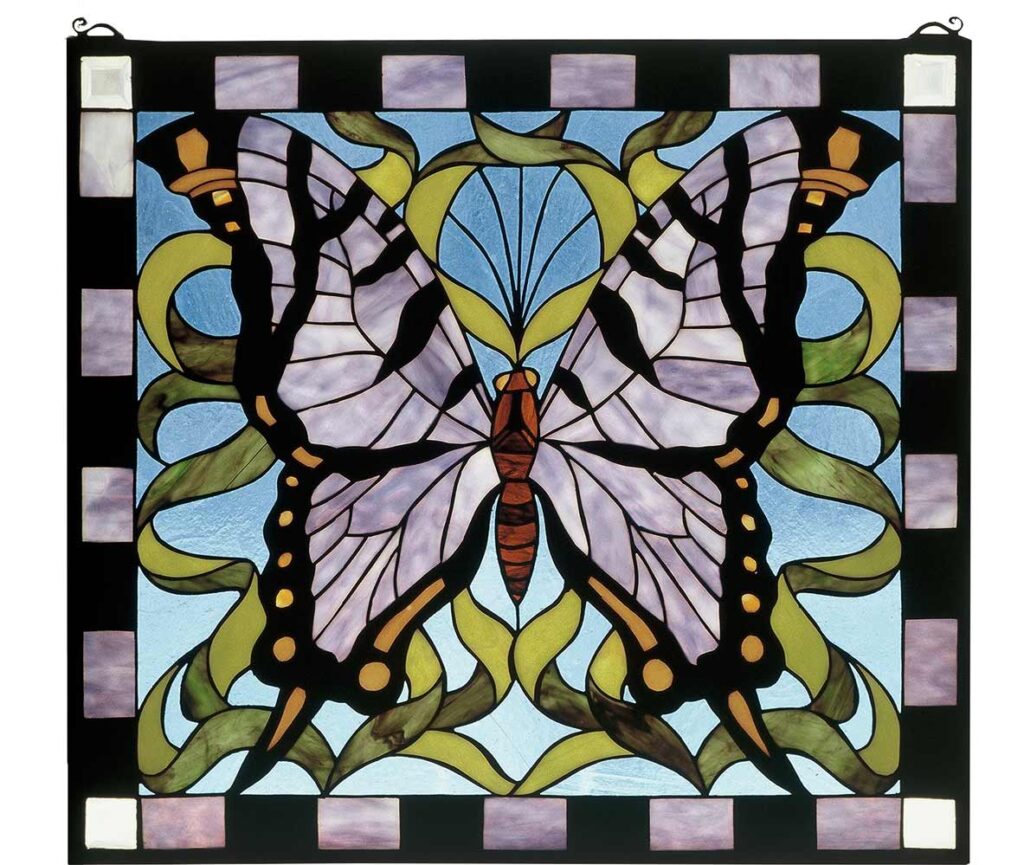 Amethyst wings patterned with Ebony and Amber bring flight to this delightful Butterfly that soars over a ribbon of Garden Green in a Clear Blue sky. Handcrafted utilizing 380pieces of stained art glass encased in a solid brass frame.
Butterfly Wind Chimes
These make for a lovely addition to any outdoor space, as the butterflies will dance and flutter in the wind while also adding some beautiful music.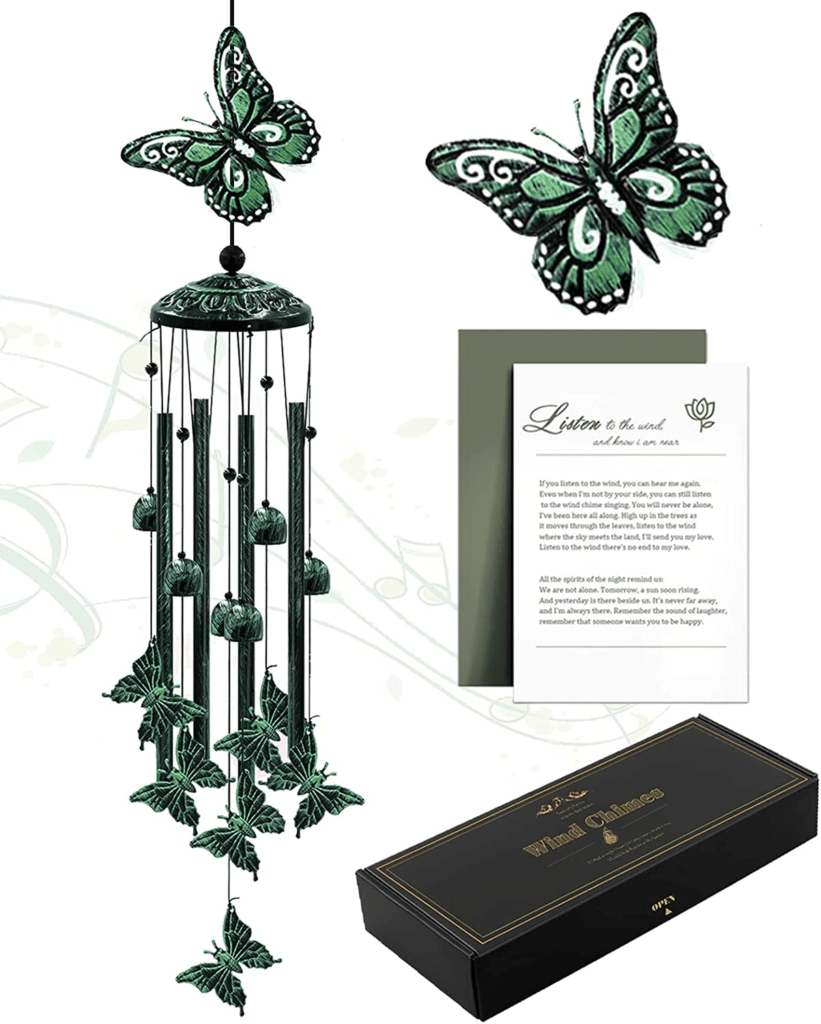 The delicate, yet bold design of this butterfly wind chime will add instant appeal to your patio or garden. The dark green hues provide an elegant look that you'll proudly display on the deck or under sunny skies while enjoying nature's beauty.
Butterfly Throw Blankets
These are a cozy and fun way to add some butterfly decor to your living room or bedroom.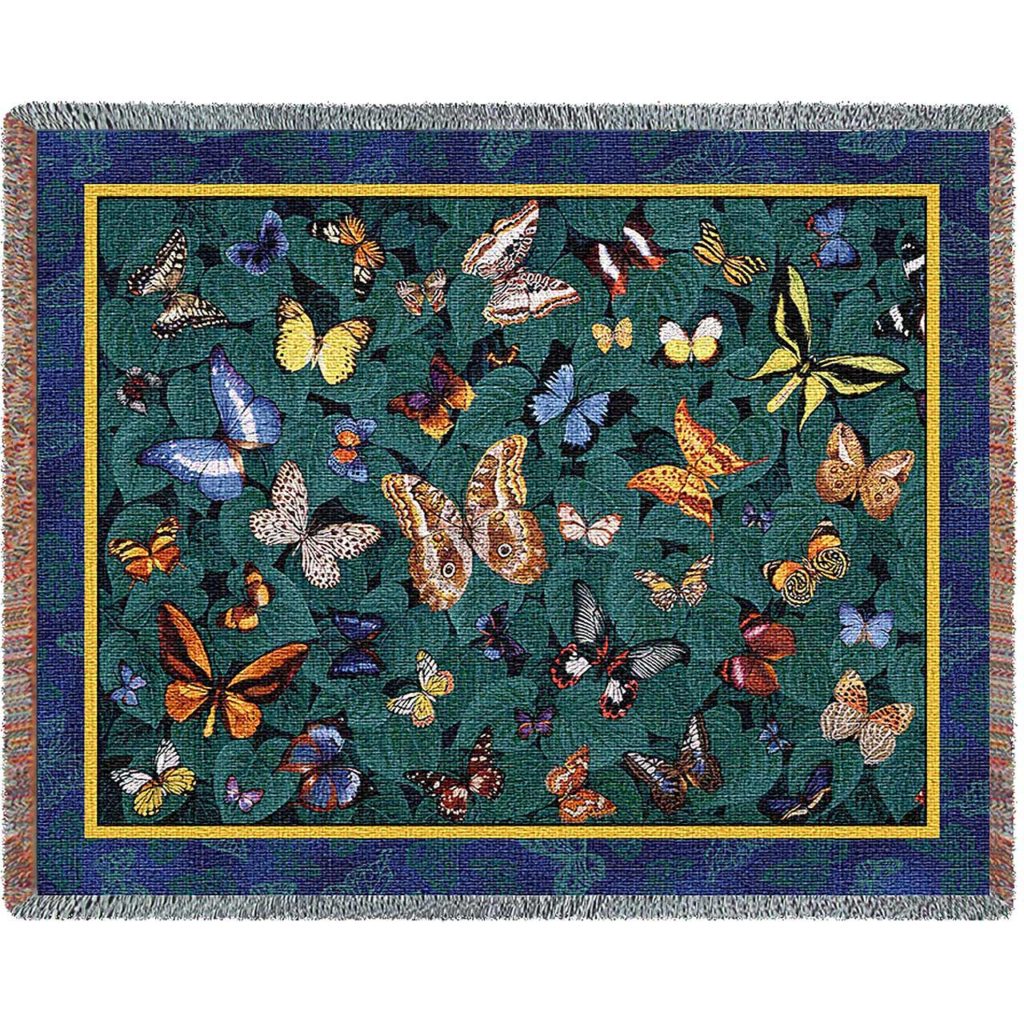 This tapestry throw is a must-have for any nature lover. The rich colors of the butterfly and forest are absolutely breathtaking, sure to please anyone who enjoys spending time in their room watching insects flutter around or just relaxing after work with some reading material.
Butterfly Wall Decor For The Win
Butterflies are a great addition to any home for a number of reasons.
First and foremost, they add beauty and elegance to any room. Their brightly-colored wings can really brighten up a space and add some interest.
Secondly, butterflies have symbolism that is often connected to positive ideas such as transformation and joy. So adding butterfly wall decor to your home can be a way to bring these good vibes into your space.
Thirdly, butterflies are important pollinators, and they help to fertilize plants and create new seeds. This makes them an essential part of the ecosystem and something worth celebrating.
So if you're looking for a way to add some style and meaning to your home, butterfly wall decor is the way to go!
No matter how you choose to incorporate butterfly decor into your home, it is sure to bring some positivity and transformation into your space. So why not add some lovely butterfly wall decor today?