Adding floor decor, like area rugs, can really help to change the appearance of your home. There are so many different types and styles of rugs available that it can be difficult to know which one is right for you. These rug decor trends provide some unique ways to create a stylish and comfy home.
If you want to add a fresh bit of decor to your home, but are struggling with where to start, start by looking down.
One of the easiest, fastest, and simplest ways to upgrade the appearance of your home is by adding an exquisite rug to it! Fall is here, and you will probably want to change how your home looks! You would most likely want it to exude cozy and warm vibes now!
In this blog post, we will discuss some popular rug decor trends that will help you create a stylish and comfy home!
Adding rugs to various parts of the house is a great way to make your home stylish yet comfy! If you have the eye to find the right pieces for your home, you can't go wrong with choosing pretty-looking rugs.
Floor ornamenting is real, and people with incredible aesthetic sense acknowledge it fully! Adding a rug to the floor lets you give your home a makeover and complement the interior. Alongside this, it helps save the floor from all kinds of damage and harm.
If you are ready to welcome fall with a warm and cozy home, here are some amazing rug decor trends to follow:
Go Natural With The Fiber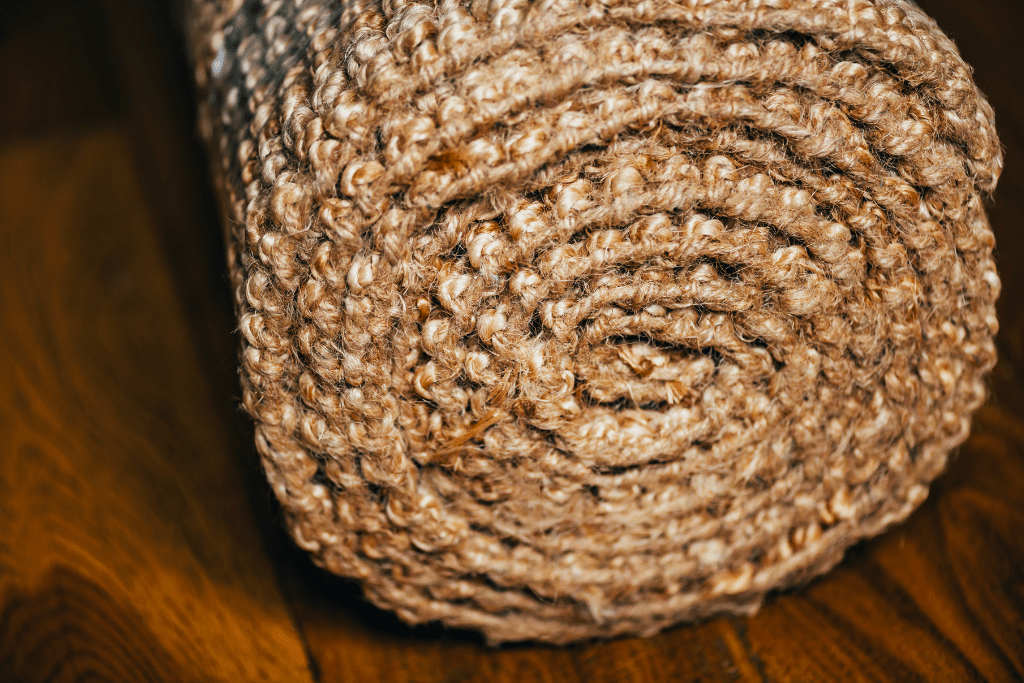 If you love experimenting with your home decor, you can do so with the fiber of your new rug! You don't really need to adhere to the old-fashioned, woolly rugs. Instead, you can opt for something new.
Fiber rugs don't only appear different but are also great for the environment. They look modern and trendy. When it comes to choosing a color, you can either go for the natural color of the fiber, which would be neutral or add a secondary rug to it and bring out some vibrance through it!
Modern rugs are monochromatic! Rather than focusing much on shade and vibrance, interior designers opt for earthy tones. By keeping the floor neutral, you can add some colorful kilims on the walls to give a special touch to your room.
However, make sure that you opt for quality rugs, or else it will get quite difficult to walk on! The fiber needs to be soft so you don't hurt your feet while stepping on it.
Earthy tones are the new "it" thing! Be it the jute rugs or those made of sisal, today's most common choice is neutral and basic. If you don't want to appear way too extra but need to give your home a quick makeover, opt for the fiber rug, it will turn into your best decor decision so far!
Go For Layering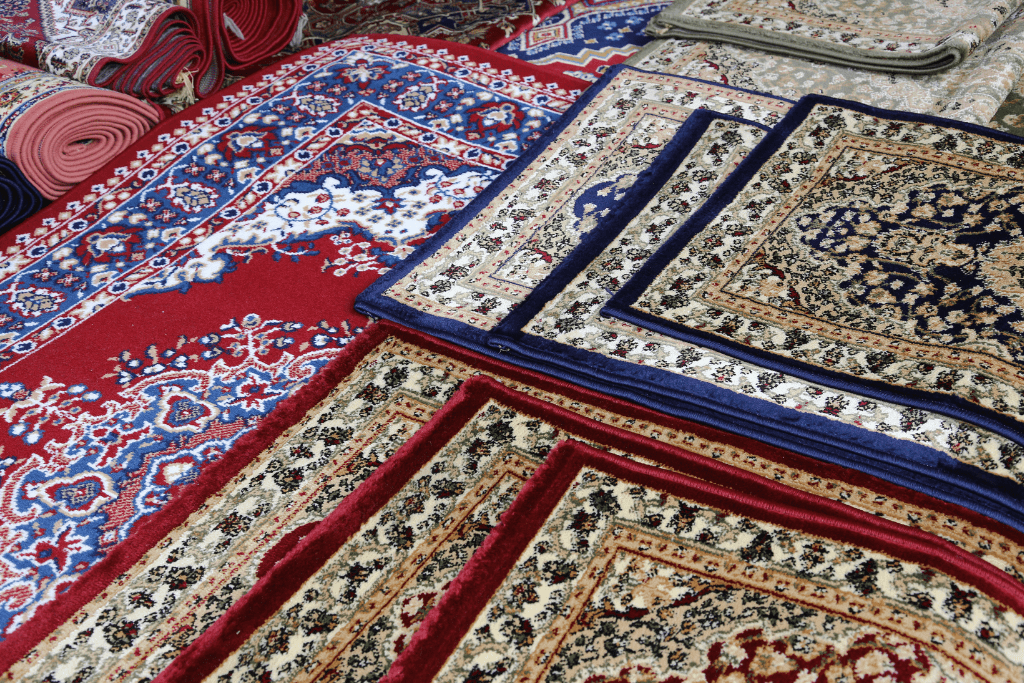 To make your home appear comfy this fall, you need to go for the layering technique! Yes, you read that right. You can definitely layer your rugs on each other to make the whole space exude vibes of warmth and comfort.
It is a growing trend that many interior decorators are nodding at! You can add some drama to your otherwise dull living area simply by adding a vibrant-colored rug over a neutral one.
To layer rugs in a room effectively, start by placing the largest rug in the center of the room. This will be your base rug. Then, place smaller rugs around the edge of the larger rug. Make sure that the edges of each rug line up correctly.
Layering rugs not only add visual interest but also adds extra comfort and warmth to your floor. Not only can this create a unique look, but you can mix and match patterns to create a look that is 100% your own.
Mostly, the layering technique looks good where the space is huge! But you can use this technique in any room in your home, not just the living room! In smaller areas, the layering can make the room appear congested, so be a bit more cautious with the layering in smaller spaces.
Opt For Irregular Shapes And Patterns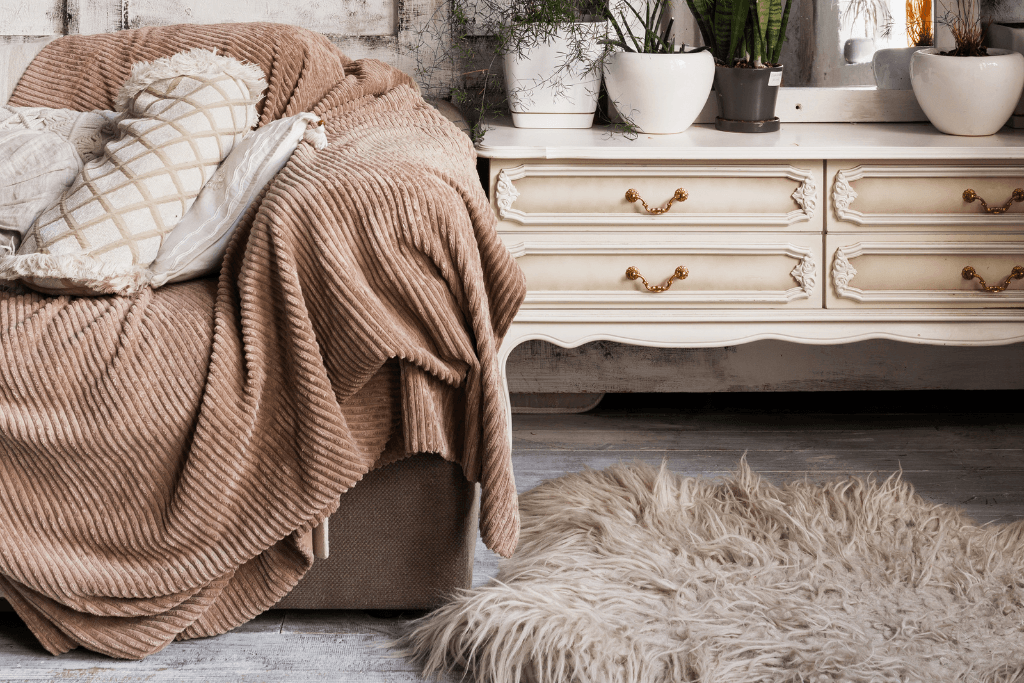 Enough of being regular and basic! Now is the time to opt for some irregularity in the form of your new rug! It's a great trend that's gradually taking acceptance from decor experts. Irregular rugs with fluid shapes add modernity to the space with great ease.
Regularly patterned rugs are versatile. They can stay in your house for a very long period, without you feeling bored with their presence! If you can keep them intact in their place, irregular rugs are surely worth the money!
The most popular rug shapes include round, oval, and rectangle. But now, it's time to add some fluidity and fluid shapes in the form of your rug! Irregular-shaped rugs create room for uniqueness in your floor decor and make a bold statement. These are just some of the top rug decor trends that will help you create a cozy and stylish home this
The most popular rug patterns include geometric, floral, and abstract designs. But it's easy to add character with irregular patterns! These unique designs will make a statement in your floor decor and add interest to any room. The best part is that rugs are easy to rearrange within a room, or a house, so don't be afraid to think out of the box
Trying Out Vintage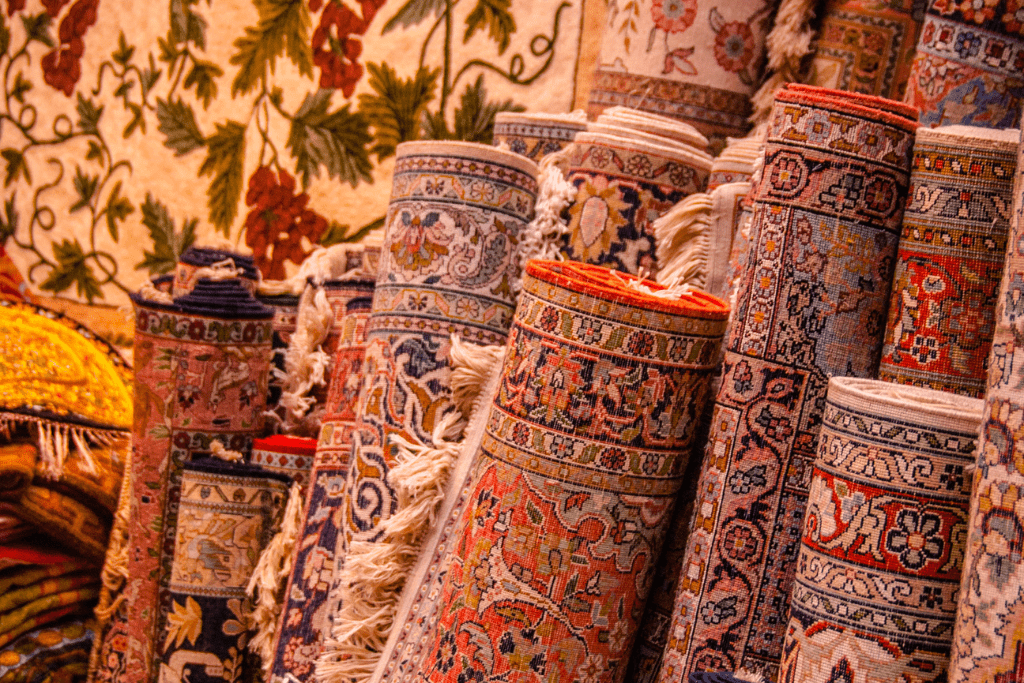 Adding some elements of the vintage era to your home is a great way to enjoy the fall season. Vintage rugs are an absolute favorite during the fall season for a lot of home decor enthusiasts.
The neutral colors of Turkish Oushaks make them popular among everyone. Apart from this, their designs are quite fun, and you would enjoy having such a rug in your living room.
Vintage rugs have a history to them! If you like each room of your house to exude some personality, a vintage rug is undoubtedly something you need to adorn your home with. Though these rugs are a tad bit expensive, they are surely long-lasting. Generally, they can pass through generations and remain relevant through decades!
The best places to find vintage rugs are at flea markets, estate sales, thrift stores, and online auctions or marketplaces such as Craiglist, or Facebook Marketplace. Be sure to do your research before purchasing a vintage rug, as some may be in poor condition and not worth the price.
7 Tips to Make Decorating With Area Rugs Easy
1. Choose the right size rug for the room – make sure it's proportional and fits well within the space
2. Use rug pads to prevent slipping and protect the flooring underneath
3. Consider traffic patterns when placing rugs – they should not obstruct doorways or walkways
4. Layer multiple rugs in different sizes and patterns for added interest and texture
5. Mix materials such as natural fiber rugs with synthetic options
6. Use rugs to define seating areas or create separate spaces in an open floor plan
7. Don't be afraid to experiment with bold colors or prints – they can add a pop of personality to any room!
Ready To Bring In Some Cozy Vibes?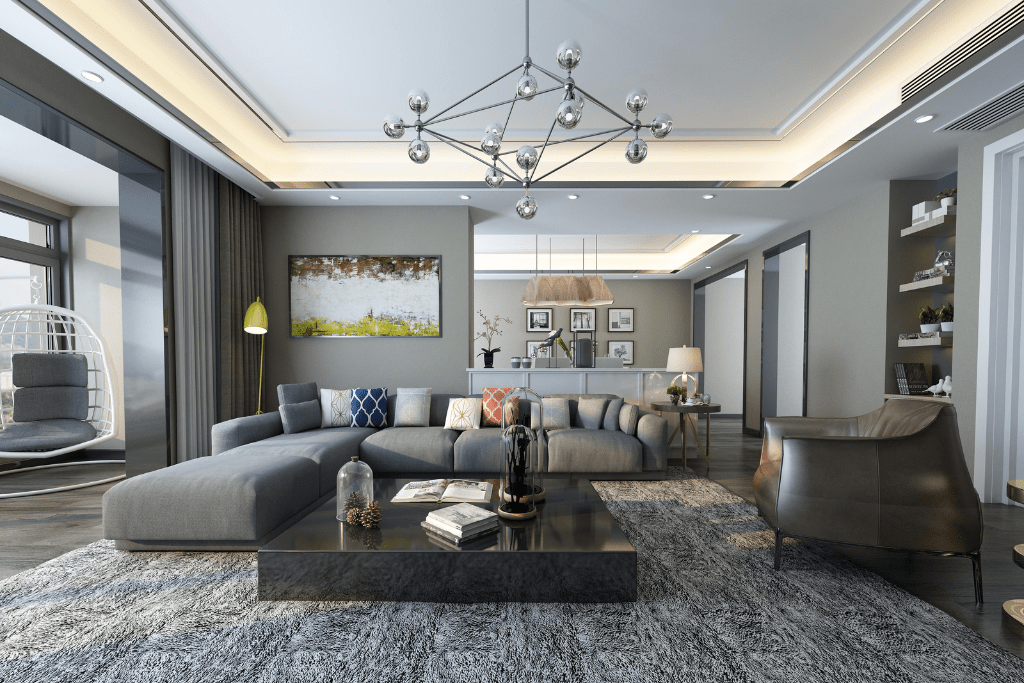 A beautiful rug is a great investment! Paying for it means you are getting your floor shielded from stains and scuffs. On top of that, it can make your room appear cozy, comfortable, and warm!
Hurry up to make your living space appear homey and stylish! Go ahead and get your rug today!