Looking for inexpensive ways to spruce up your bathroom? Here are some of the best thrifty bathroom decor ideas to add some WOW without breaking the bank.
A hundred years ago, a kitchen was the focal point of the house. While it still is quite important, with the expansion of the self-care industry, bathrooms have gained strength on the scale of importance. When you're doing your morning or night routine or just chilling underwater – you want that chic, spa-like vibe around you. But, buying everything to style your bathroom in that way can be expensive. We get it. That's why we've come up with these six thrifty yet chic Decor ideas for your bathroom.
#1 Make a photo collage
When we say "thrifty and chic," – we mean it. So, it's not a surprise that we will first advise you to go on a treasure hunt in a thrift shop. Seek framed pictures and little works of art at your neighborhood thrift shop to assemble a gallery wall. Without spending a fortune, you can add a touch of your style to your bathroom with this simple DIY project.
To liven up a plain lavatory, you might either adhere to a single color palette or go all out in your search for decorative accents. If you have a lot of vibrant colors on your art pieces, it might be best if you contrast with neutral hues on the walls. You may get the same look with just one giant print instead of a gallery wall if that's more to your taste. One thing is sure – with just a little effort, you'll have a magazine-worthy bathroom!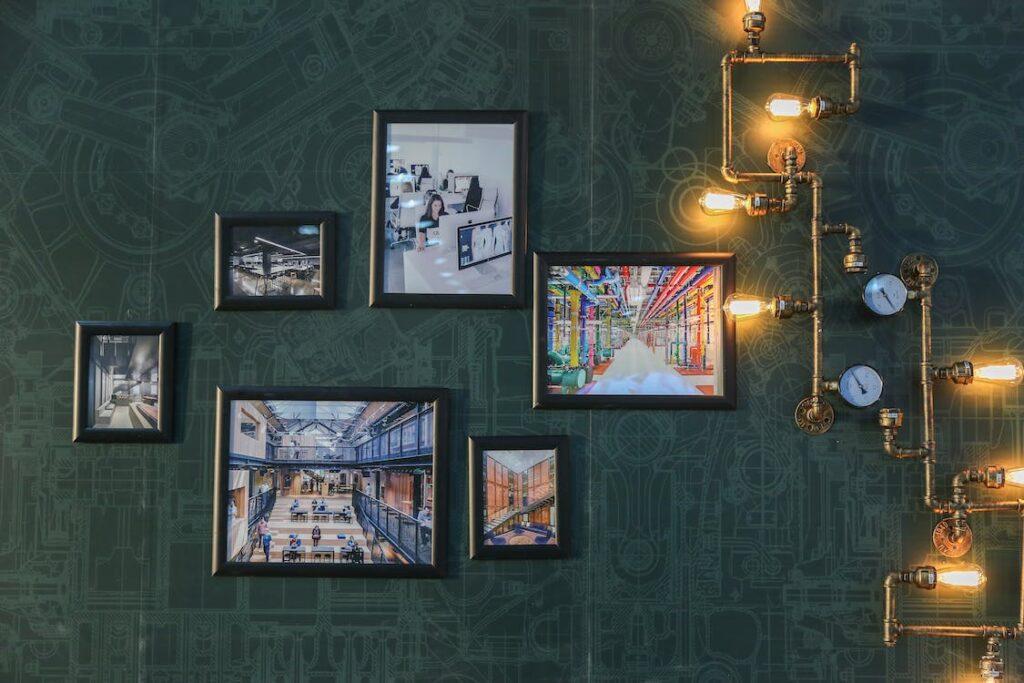 #2 Create an appealing bathtub
You may not have the money for those fancy tubs you see online. However, you have two hands and the motivation to craft! Paneling the outside of your bathtub can give it a stunning classic look. Make the deck out of plywood covered in waterproof laminate, and just cover the edges with solid stock to prevent wood rot. You should panel the outside with external beadboard plywood and finish the floor with baseboard.
Corrugated, galvanized-steel roof paneling is a perfect solution if you want to create a rustic, rust-proof surround for your drop-in bathtub. All of these supplies can be purchased for under $100 at local home improvement stores.
#3 Find a creative storage solution
Shelves are an excellent option for bathroom storage. But you can take that a step further by opting for open shelving that may double as a design element. You may use them to hold daily necessities like soaps, cotton balls, floss, etc. (in gorgeous Mason glass jars, if you wish). You can also combine it with decorative elements like candles or adorable folded towels for a more put-together look. Of course, in that case, you'll have to get a bit creative to avoid clutter in your bathroom.
Sometimes creating a storage solution in your bathroom may be a simple DIY job. But there are cases when it can take a bit more renovation and planning. It all depends on the size of your bathroom and how you want to decorate it. So, when combining thrifty and chic Decor ideas for your bathroom, you might need to take some things or elements out of it. If you don't want to throw or donate them, but don't have a place to keep them, consider renting a storage unit. Storage experts at Verified Movers say that the best solution for achieving a chic and decluttered look is always renting a storage unit appropriate to your needs. It will keep your items safe if you ever want to revert to the original decoration or use them for another renovation project.
#4 Use a color other than white on the ceiling
Ceilings painted in a color other than white are now trendy and a terrific way to add visual interest to any room, particularly a compact one like a bathroom. By consulting our numerous interior design blogs, DIY enthusiasts may learn the ins and outs of painting a ceiling.
Graphite or ash hues of gray are exquisite, so if you're feeling bold and want to have the gothic effect in your bathroom, we suggest opting for those colors. On the other hand, if you want to create a calm and peaceful environment in your new bathroom, we suggest that you consider the pastel colors. It's no secret that paint color has a huge impact on your mood. So, use it to boost your creativity and create a surrounding that you and your family will enjoy every day.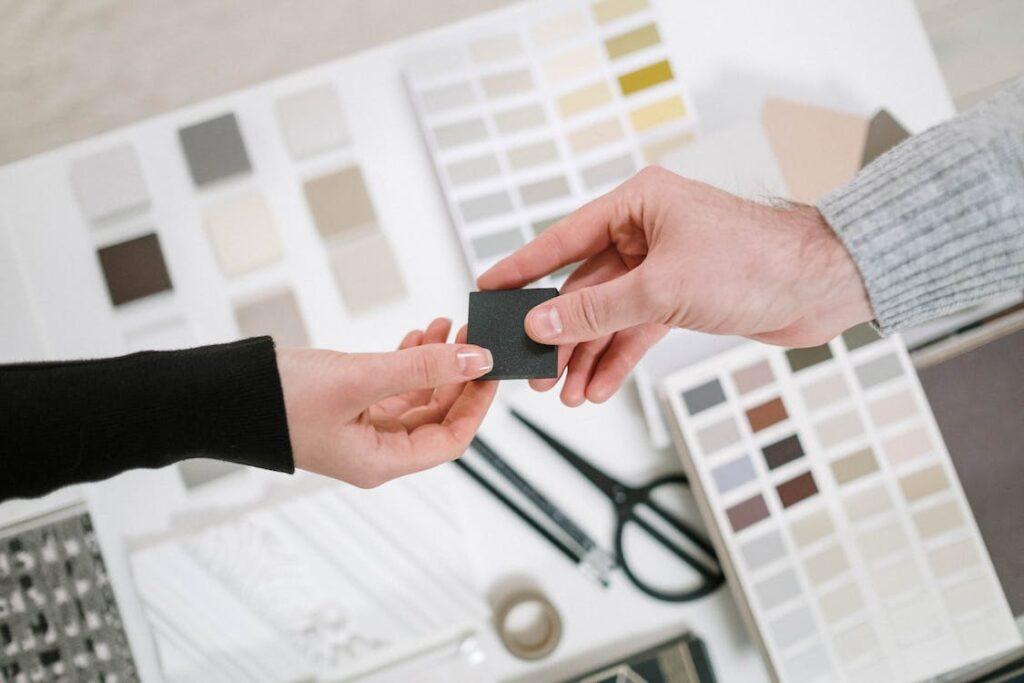 #5 Play with wallpaper
Wallpaper in the bathroom? There's no way those two things go together. However, this is possible if you take additional precautions while selecting and hanging your wallpaper. If your bathroom doesn't have good ventilation, you should choose wallpaper made particularly for bathrooms. Also, avoid hanging it in areas where it will be constantly exposed to water (like in the shower!). Use an extra-strong wallpaper adhesive, and consider adding a coat of clear varnish. That will preserve the wallpaper for a more extended period.
As you see, it's essential to make a plan when you decide to renovate to avoid all these unwanted scenarios. The plan should include three essential things:
your vision
all the possible bumps in the road (with ready solutions)
numbers of reliable pros that can help (it's important to know when something is out of your expertise)
#6 Just add plants (live or faux)
Keeping up with the biophilic movement, including the finest air-purifying plants in your design, is an inexpensive way to bring nature into the bathroom. Some of the many health advantages of having house plants include an increase in productivity and an improvement in happiness. There are many options, from macramé plant hangers and ceramic pots to do-it-yourself herb stands and living walls. Whatever you choose, you'll surely have a gorgeously decorated bathroom without spending much money.
Pay attention to the plant's needs
Select bathroom plants that can handle high humidity levels. Some hardier types may survive with only a mist or spray of water every so often. On the other hand, the best advice we can provide for a windowless bathroom is to decorate it with artificial plants.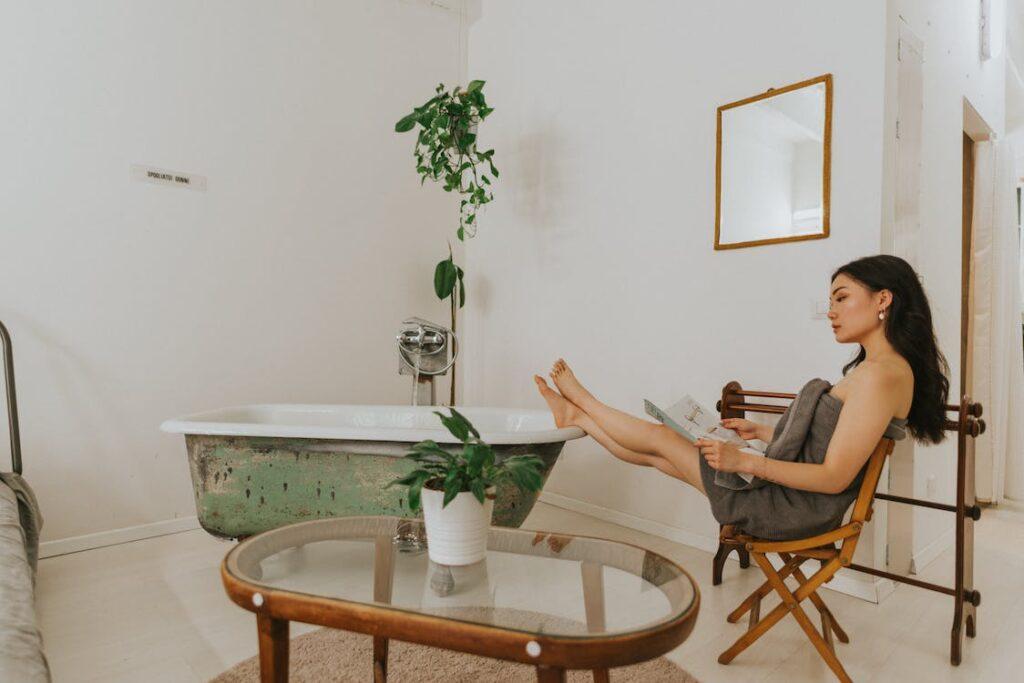 Try out these thrifty yet chic Decor ideas for your bathroom
Now that you have some perspective of what can be done – it's time to go to work. You won't even break a sweat trying out these thrifty yet chic Decor ideas for your bathroom, but you can end up with the most unique and satisfying results. Of course, everything is up for interpretation and alteration according to your taste. The bottom line is, whatever you choose to do, make sure you have fun while doing it. That is the only path to true satisfaction with the results!