Welcome the season of new beginnings with these 16 stylish and functional backyard ideas. From outdoor fire pits, to vegetable gardens and al fresco dining areas, you can create a fun gathering space that is perfect for enjoying the warmer spring weather. Enjoy an evening stroll through your garden or host a family game night in your own private oasis – find all the inspiration you need here!
It's time to brush those winter blues aside, spring is here! After months of hibernating indoors, it's time to step outside and have some fun in the backyard. Are you planning a pool party or inviting your pals to al-fresco backyard events? If all these are running through your mind, spring will be an ideal season to decorate your backyard and arrange a great party!
But let's face it – a plain and boring backyard can really put a damper on any get-together. But fear not, because you don't need to break the bank or hire a fancy landscaper to make your garden pop this season!
I've compiled a list of the top 16 backyard ideas that are not only stylish, but also functional. So get ready to transform your outdoor space into a beautiful oasis that will make your neighbors jealous. And who knows, maybe even the birds and squirrels will start inviting themselves over!
Plan a dining zone
Your backyard would be an ideal location for hosting a party with endless BBQs and wines, creating a perfect outdoor dining experience. Also, you don't need to spend a fortune to construct this dining area for your guests who love food.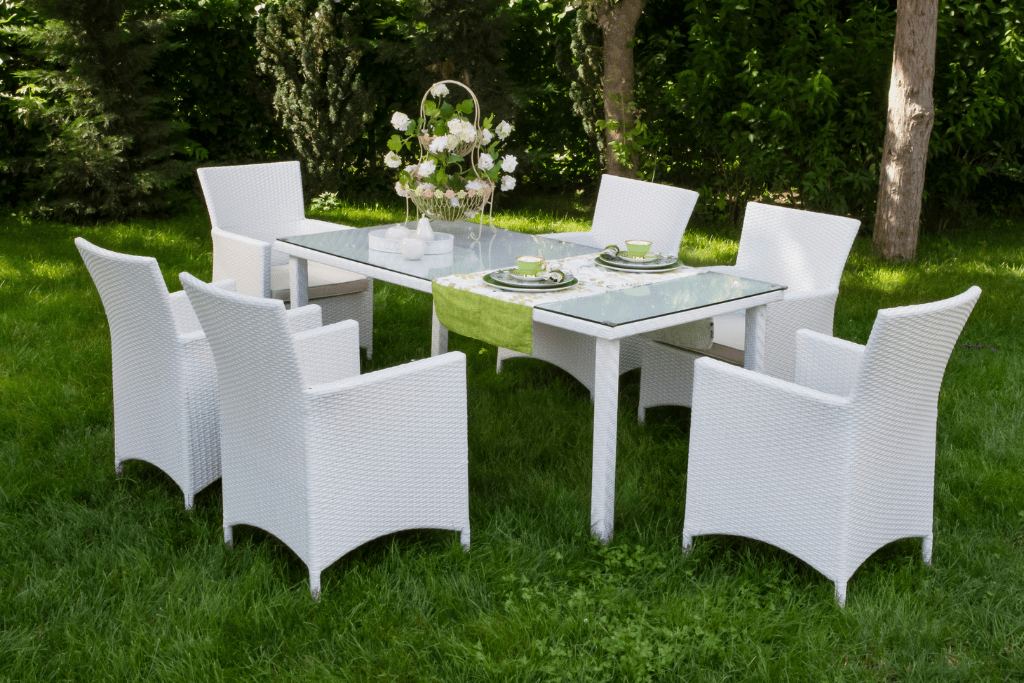 While planning this, remember some basic things, like outdoor furniture adaptability, furnishing styles, and the number of seats needed. The dining area can be visually separated from the remaining portion of the yard by using mulch or pebbles.
Boost the mood with a hanging candle holder
To add a touch of elegance to your simple and charming backyard dining table, consider using a refined hanging candle holder with a few clear votives on top of some faux greenery. This is a great way to enhance the design without compromising on minimalism.
Recreate a natural spring in your backyard
If you have visited Yellowstone, you might still remember the beauty of the natural springs that flowed seamlessly. The water suddenly bubbled up from the ground. While we cannot guarantee the same magnificence as the national parks, you can create a small stream that evokes a similar feeling of wonder in less than an hour.
Don't just sit there, go the extra mile with a unique bench
To replace the hammock with firm seating, consider putting up some backyard benches that are resistant to water and won't get damaged easily.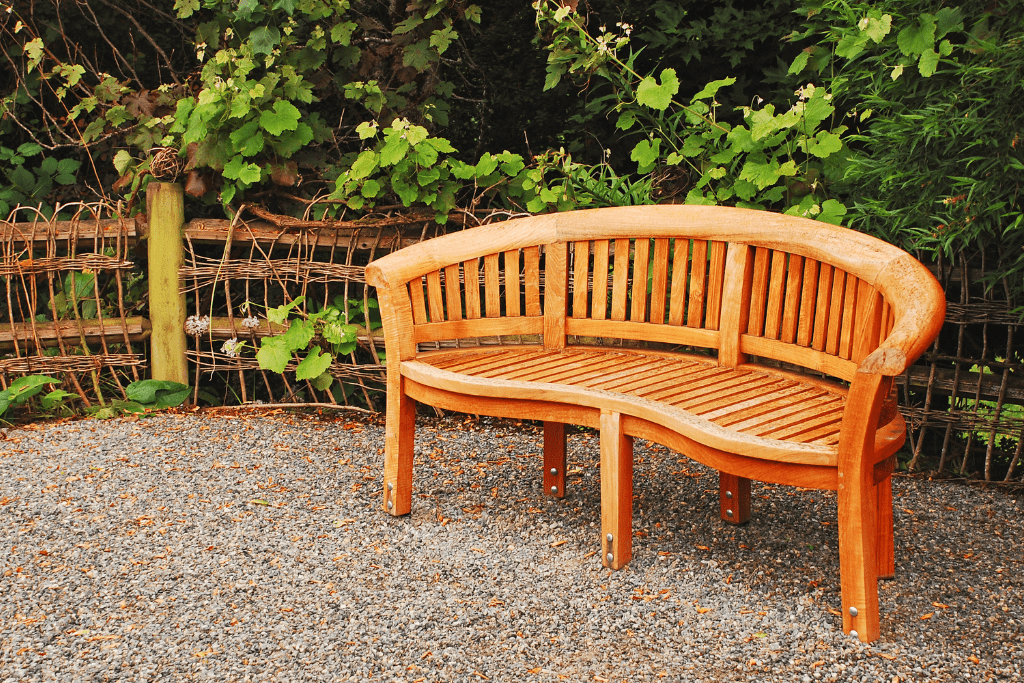 You can set them up to highlight a specific view or place them next to plants or under a tree canopy for added style.
Utilize woven accessories
No, we're not talking about tapestry wall hangings or throw blankets. Although they would be lovely, they aren't constructed to withstand the elements. However, your outdoor area can have a unique touch by serving simple treats and cool drinks on a woven tray.
Wall Border with No-Trim
To make lawn maintenance easier, lay a row of stones below the fence or retention wall you're building. This will allow you to mow the lawn right up to the wall without manual trimming. To keep the grass from growing onto the rocks, make sure they're at least an inch above the ground and extend about 4 inches from the base of the wall.
Jump in a natural pool
Natural swimming pools use plants and ecological systems to filter and keep the water clean, without the use of chemicals. These pools are low-maintenance and can enhance the overall look of your backyard.
Beautiful potting table
If you love to grow but lack the area for a vast yard, consider constructing a potting bench or table this spring. This old cabinet is ideal for keeping your gardening tools, relocating a few plants, and exhibiting your container garden as it grows. 
You can create a workspace that adds to the ambiance of your outdoor area by selecting a unique or vintage piece of furniture, regardless of the size of your space. Just make sure that it's one that can withstand the natural elements or will weather nicely over time.
Go with all-white furniture
If you want your outdoor area to have a classic look, consider using all-white furniture. A white reclining chair would be a good starting point, and you can add to the effect by placing lots of foliage on top of an antique table.
White garden furniture can also make the space appear larger and brighter. And, of course, it's easier to match with other colors and decor styles.
Trim your table
If you want to make your outdoor socializing more interesting, consider updating your patio or porch dining set with colorful elements or new seating arrangements. A vintage set can be used as a source of inspiration.
Create a fire pit
Fire pits are a great addition to backyard design because they offer an inviting and warm atmosphere that can be enjoyed in any season. Fire pits create a safe outdoor space to gather around with friends and family. Not only do they provide warmth, but the open flames also create a mesmerizing ambiance that encourages conversation and laughter.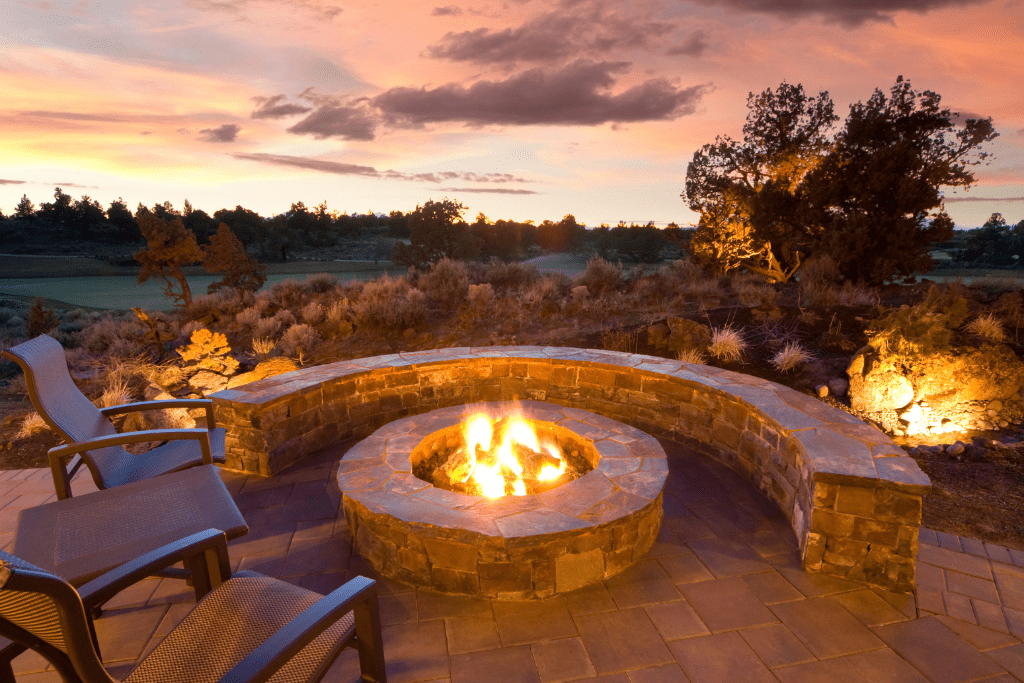 Fire pits are also versatile as they can be used to roast marshmallows, make s'mores, and cook food over an open fire.
Additionally, they provide a beautiful focal point for your backyard decor and add interest to your landscape. Furthermore, you can customize the fire pit to suit your needs; it can be made from different materials such as wood, stone, or metal and can come in various shapes and sizes such as round, rectangular or even geometric designs.
To create a simple fire pit for the barbecue area, arrange the paving stones in an arc shape. It is tip-proof even without using cement, and the entire process takes only 20 minutes. But remember to check for local fire pit regulations, as you may need to fire permit to operate one in your area.
Build a top-notch statement backdrop
One way to create a statement backdrop in the garden or on the patio is to use trellis walls. These structures are made up of an upright lattice framework that can be used to grow climbing plants like ivy, honeysuckle, and clematis. They provide a beautiful natural frame for your outdoor space, adding greenery, texture, and vertical interest. To make your trellis wall stand out even more, consider painting it in bold colors like deep blue or emerald green.
You could also add a few planters with colorful flowers at its base to further enhance the look. If you have enough space, string up some fairy lights around the trellis for added ambiance when you're hosting guests outdoors at night.
Another option is to hang a fabric curtain from the ceiling or wall of your patio or porch. A lightweight sheer fabric looks particularly lovely when it billows in the breeze and lets light filter through it. Alternatively, you could opt for patterned curtains that match your existing decor style to add an extra layer of detail and visual interest.
Finally, if you want to bring in a bit more rustic charm into your backyard area without sacrificing on style, consider installing a pallet wall. Pallets are easy to repurpose into unique designs with just a little bit of creativity – simply stack them up and then secure them together with screws or nails before painting them in any color of your choice.
This feature will make an eye-catching addition to any outdoor area while providing plenty of practical storage solutions too!
Build a backyard swing
A hanging seat, often referred to as a "porch swing," is a versatile piece of furniture that can be placed in various locations. Unlike regular chairs, it doesn't require a flat, solid surface for proper placement. Although considered suitable for porches, this kind of swing can be placed almost anywhere.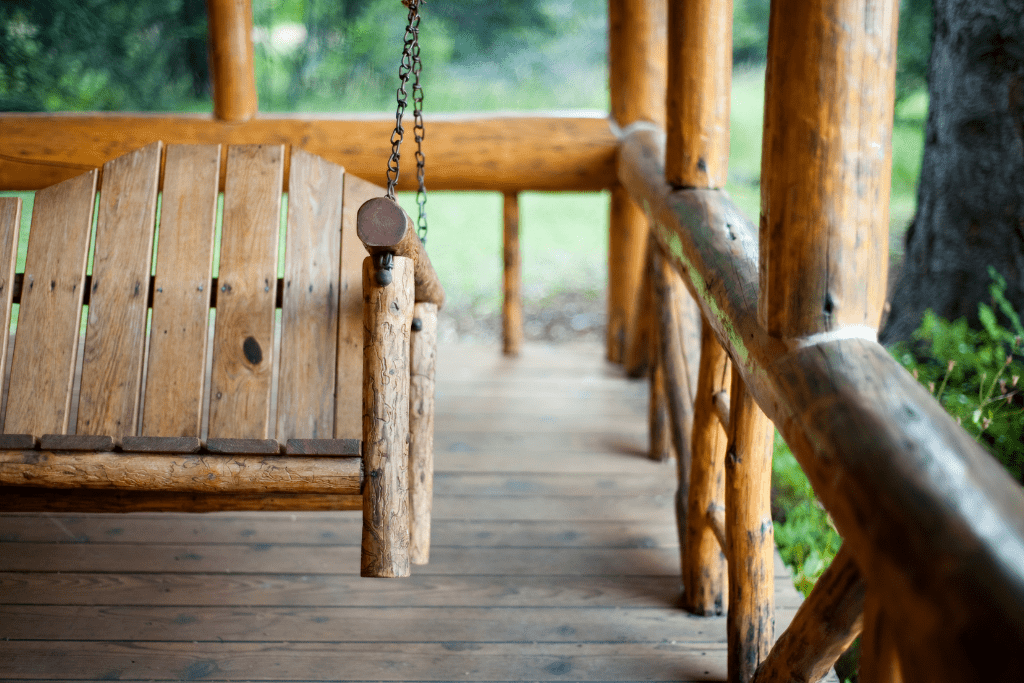 Adding a backyard porch swing is an excellent way to bring a touch of relaxation and coziness to your outdoor area. It is the perfect place for lounging with a good book, having coffee with friends on summer mornings, or simply taking in the fresh air. The design possibilities are virtually endless when it comes to backyard porch swings. You can opt for traditional styles like suspended wooden swings with thick cushions, or choose modern designs made from lightweight materials like aluminum and steel. You could even add color and texture by draping it in curtains or colorful patterned fabric.
A porch swing can be an ideal spot with which to enjoy the outdoors – it's height provides stunning views of the sky above and any surrounding landscapes. Plus, its low-slung posture allows you to slow down and appreciate nature's beauty at a relaxed pace while also providing comfort on hot days thanks to its breezy airflow.
Plant in raised beds
When it comes to modern buildings, the views are often straight and clear instead of hidden and revealed. If you want to create this type of pattern in your outdoor space, elevated garden beds and half walls are great options. One practical example is using Corten steel to divide the area into color-blocked containers for planting. This can help create a more organized and ordered look.
Overall, beautiful scenery is usually a great inspiration for exploration.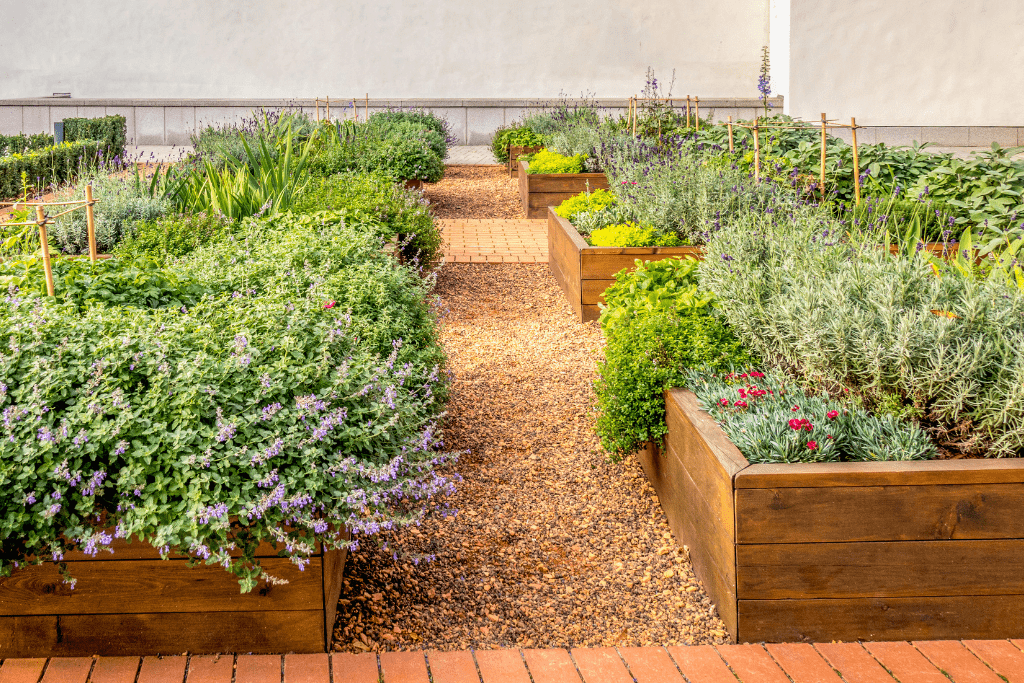 Contemporary gardens that incorporate uniformity or repetitive features make it easier for homeowners to maintain them, as they only need to understand how to care for a few types of plants or keep the concrete elements in the same condition.
Never forget the lighting
Having outdoor lighting is important to create a better atmosphere as it gets darker outside, and it is also useful. Many people opt for embedded spotlights in paving for a trendy garden look, while plain, architectural wall lights can be a creative way to light a path. For areas with steep inclines, strip lighting is another option to consider.
Consider emphasizing the plants along the borders, as demonstrated in this design. By using just a few spike spotlights placed strategically, you can accentuate their shape and create striking shadows on adjacent walls and fences.
Add a garden room
If you want to use and expand your space, a garden room (often referred to as a She Shed) is a great option for a home office or yoga studio. Typically, it doesn't require approval from the municipality (but that can depend on the size and the complexity of the outbuilding, so check with your local bylaws before you start building).
If you have a spacious hut or summerhouse in your backyard, you can use it to host visitors during the spring season or provide additional guest accommodations. You can enhance your backyard experience beyond just dining, drinking, and enjoying the spring sunshine by exploring various ways to convert the space.
Get Started and Make the Most of Spring In Your Backyard
No matter what size your backyard is, adding or refreshing some furniture and decorations can bring new life to it. Whether you're looking for a cozy seating area or an alfresco dining setup, there are plenty of ideas on how to make the most out of your outdoor space this spring. From creating a fire pit to planting in corten steel beds, there are plenty of ways to liven up your backyard and make it a place where you can enjoy the great outdoors. Don't forget to include adequate lighting to take your outdoor space from day to night. Finally, turning a part of your backyard into an extra room is the perfect way to spend some quality time with friends or family. Get started today and enjoy the sunny days of spring in your backyard!
These are the top 16 vogue and functional backyard ideas to enjoy this spring. Do a few modifications to your backyard, and make everyone awe-struck.