Combine your love of music with your love of butterflies in this unique and wonderful Butterfly Dance II tapestry wall hanging. ? Hang it alone, or along with its partner artwork Butterfly Dance I.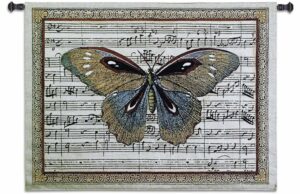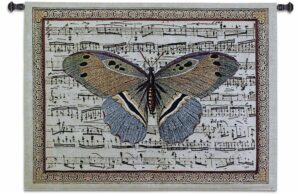 Featuring a beautiful butterfly floating above an intricate piece of sheet music, this piece is lyrical and lovely.
One of our favorite pieces from the tapestry wall hanging collection, Art and Home is delighted to showcase the stunning Butterfly Dance II woven wall tapestry in all its glory. It is certain to make a beautiful addition to your home decor, especially if you are a fan of butterflies.
Between the unique imagery and the jacquard weaving process, The Butterfly Dance II tapestry is a finely crafted fine art tapestry wall hanging that has a texture not found in any other art form.
The texture in this tapestry wall hanging creates an inherent uniqueness to the art, asking the mind to question the very image before the eyes. The combination of the threads and weave create a unique art experience that changes with each viewing angle.
The Butterfly Dance II Woven Wall Tapestry Features:
Size: 53″ x 41″
Jacquard-woven to produce astonishing color, superb detail, amazing depth, texture, and richness
A unique art installation and provide acoustic benefits by softening the noise in any room.
Hand-finished and ready to hang
Crafted in the USA
Rods, Finials, and/or Tassels shown are not included.
These wonderful tapestry wall hangings are usually ready to ship within 5 – 7 business days of your confirmed order. We're sorry, but rush shipping is not available on these unique products.
See More Beautiful Butterfly Decor Items
About Fine Art Tapestries:
Fine Art Tapestries are quality weavers with an attention to detail that can only be found in classic American-made products. The true, heirloom-quality of Fine Art Tapestries wall hangings is because these are woven works of art utilizing between nine and seventeen miles of thread in each design.
Each wall hanging is then hand-finished for extraordinary detail.
Art & Home is a family-owned and operated business. For more than 10 years, our family has been proud to provide your family with a stunning collection of unique and wonderful home decor products.
Here are just a few of the overwhelming responses we've received about our tapestries.
"The colors are wonderful, and I am very pleased!"
"This Is Gorgeous. Five Stars!"
Our family loves these Beautiful Tapestries and we're certain your family will love them too.
Read More from Art & Home
---